In this post, I'm thrilled to be highlighting a protective hairstyle that has, quite frankly, taken over the beauty industry. This style is known as Knotless Braids. Similar to box braids, knotless braids utilize three strands of hair to form plaits or cornrows. 
The only difference is the latter follows the seamless feed-in technique as synthetic hair is gradually braided into your natural hair, beyond the root, rather than using knots as part of the installation process.
Owing to this reason, knotless braids have become a go-to style, since apart from being a super cute look, the feed-in technique is a safer way to achieve a braided hairstyle; shielding you from hair loss that can be caused by tightly installed synthetic hair.
A simple look to achieve, these braids deserve all the praise they've been receiving, and I'm about to show you a compilation of knotless braids styles that will have you singing the exact tune.

1. Thick Black Knotless Braids
Thick black knotless braids are the first on my list and look how glamorous they are.
I believe the thicker the braids the more you're able to appreciate the silky look. Definitely sleek your baby hairs to match this stunning style.
2. Small Black Knotless Braids
For a neater look, these smaller-sized knotless braids have taken up the charge. Opt for black synthetic hair to maintain a classic edge.
3. Short Black and Purple Knotless Braids with Beads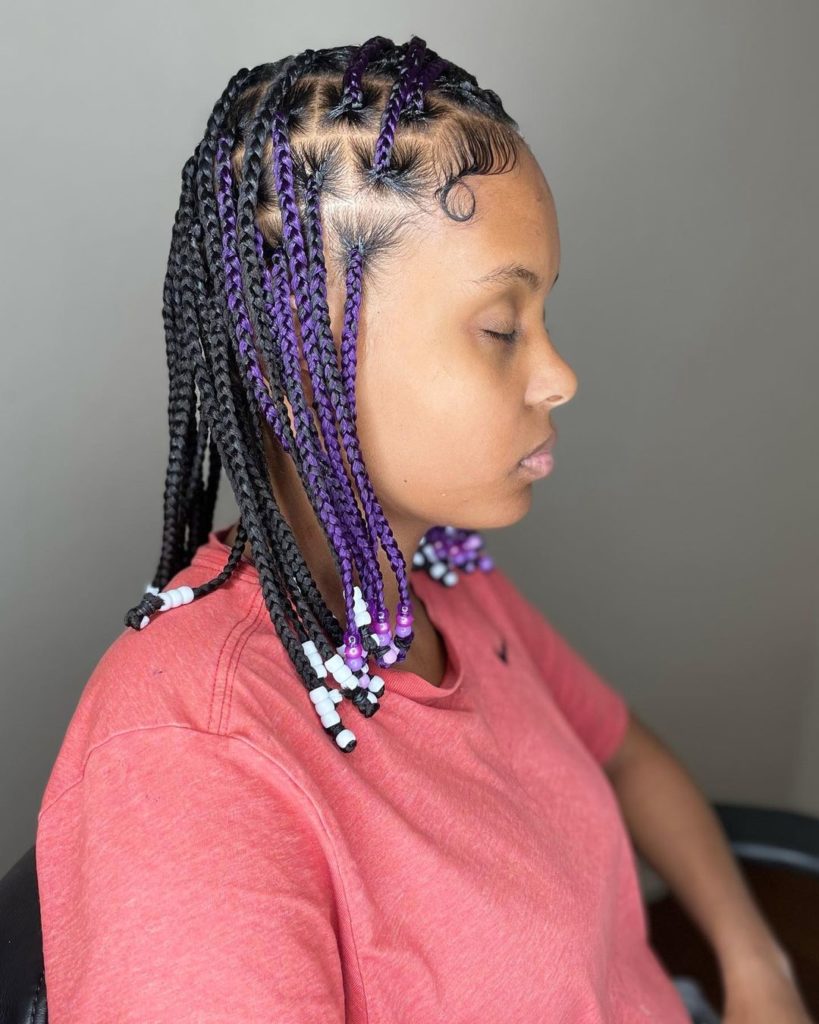 Short knotless braids are super cute too. Add colored hair to infuse your own style into the look with white beads at the end for a stunning contrast.
4. Long Blonde Knotless Box Braids
Long knotless box braids cascading down your shoulder is always a flattering way to wear your protective style. Weave blonde synthetic hair along with your natural hair for a chic blend.
SEE ALSO: 70 Trending Knotless Box Braid Hairstyles
5. Black Knotless Braids in a High Bun
One of the qualities I really adore about knotless braids is how light they both look and feel. Thanks to the feed-in technique, a seamless transition is made where the synthetic and natural hair meet.
This quality is really highlighted when you wear a knotless braid bun. The end result is a neat and flawless look.
6. Jumbo Blonde Knotless Braids
As if this blonde braided look could get any cuter, the parts were done in a charming heart design. It's also recommended to keep your baby hairs sleek to complement the femininity of this style.
SEE ALSO: 31 Trending Jumbo Box Braid Hairstyles
7. Burgundy and Blonde Knotless Braids in a High Side Ponytail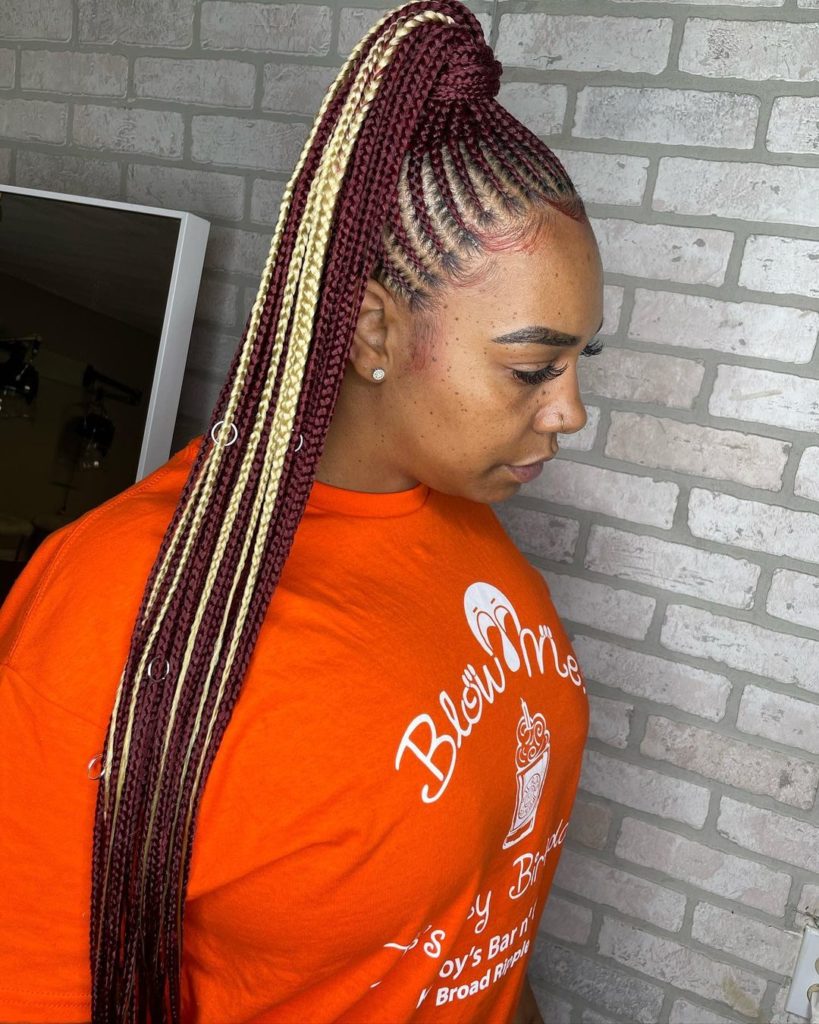 Make your braided style unique with two bold colors that demand attention. Beginning with burgundy knotless cornrows, allocate a few plaits to be blonde. Rock the finished look in a high ponytail to the side for a sassy vibe.
8. Black Knotless Braids in a Large Side Bun
Wearing your hair to the side is a flattering angle that shows off the profile of your face. For a bold and stylish look, tie your knotless box braids into a high side ponytail, then wrap the ends into a large and beautiful bun.
9. Light Blonde Knotless Lemonade Braids
Brighten up your entire countenance with light blonde knotless cornrows. Have them braided back in a slight zig-zag and spiral pattern for a knotless lemonade braid look.
10. Black Knotless Goddess Braids with Two High Buns
One of the trendiest braided hairstyles ever involves two high buns worn on either side of your head with a few plaits left to fall by your temples. 
It's a common style that so many women love but you can make it your own by adding a few touches; loose curls at the end with stylish clear beads.
11. Small Black and Brown Knotless Box Braids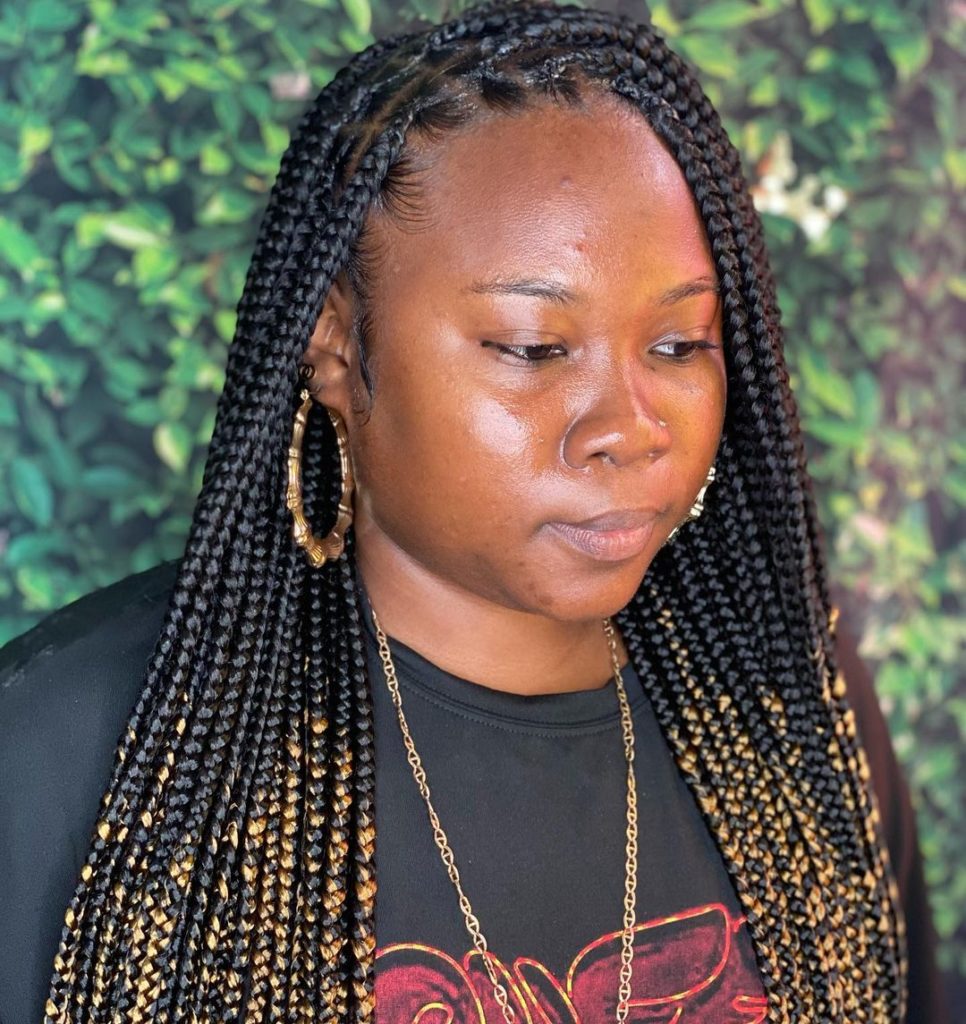 At some point, you'll want to try something different from the traditional black braided hairstyle. For a stylish combo that still looks natural, at mid-length, attach brown synthetic hair and continue to the end, creating a faux-ombre effect.
12. Thick Wine Purple Knotless Box Braids
When your makeup is on point and your nails too, it's only fitting that your braids follow the same script. These thick wine purple knotless braids are simply gorgeous, so much so, that you'll always look dressed up.
13. Brown Knotless Goddess Box Braids
Brown is considered to be a neutral hue with a warm undertone. As a result, it has the natural ability to give you a fresh-faced and bright-eyed look. 
That's why these brown knotless goddess braids are a must-see. You'll be the true definition of, "I woke up like this!"
14. Black Chunky Knotless Ghana Braids
We all have a hairstyle that we feel comfortable wearing every day because it's laid back but still cute. If you'll be braiding your hair soon, and need a low maintenance style try these chunky knotless Ghana braids, tied into a low bun.
15. Small Black Knotless Box Braids in a Center Ponytail
Got your heart set on a cute braided style with beads? Once your knotless box braids have been installed, tie them into a neat center ponytail, leaving two plaits to sway on either side of your face.
16. Long Black Knotless Braids with a Swoop Bang and Ponytail
Give your brand new look a unique twist by using a few braids at the front to create a swoop bang. The next step? Tie the ends of those plaits along with your remaining braids into a long rapunzel-esque ponytail.
SEE ALSO: 70 Twist Braid Styles That look Absolutely Stunning
17. Black, Pink, and Blonde Knotless Box Braids
Mixing and matching various colors of braiding hair is so fun to do and it's even more fulfilling when the finished look is just how you imagined. 
If you want a girly style with an edgy vibe, opt for black knotless braids with streaks of pink and blonde.
18. Brown Half-Up, Half-Down Knotless Braids in a High Ponytail
For an extra girly appeal, half-up, half-down knotless braids are so fitting. Tie the top half into a high ponytail and add beads for a more dramatic effect.
19. Burgundy Knotless Faux Locs
After trying traditional black faux locs, the next time around you may need a less hectic installation process with a more vivacious shade to work with. This burgundy shade is a great option, with no knot in sight.
20. Black Half-Up Half-Down Knotless Passion Twists
Likened to Senegalese twists, passion twists feature looser curls with a slightly unraveled finish. Combined with the feed-in technique, this silky look will feel like heaven once installed.
21. Medium to Large Knotless Lemonade Braids
With lemonade braids, your hairline is always on full display. For a look that's as neat and refined as possible, whether your cornrows are medium-sized or large, the knotless style is best.
22. Small Metallic Brown Knotless Goddess Braids
In this look, small knotless plaits are braided in a metallic brown color with wavy curls at the end, transforming this look into a goddess braid masterpiece. 
You get the best of both worlds with these braids; you'll have a long-lasting protective style that's perfect for any occasion.
23. Shoulder-Length Knotless Butterfly Locs
These butterfly locs are so pretty, with a stylish disheveled appearance that distinguishes them from the classic faux locs.
It's no secret, however, that faux locs, no matter the variation, can be tight on your scalp for the first few days because of the yarn wrapping process that takes place around each braided section.
With the knotless method, you can breathe easily, as your scalp isn't subjected to as much tension and the result is even more seamless.
24. Black Knotless Stitch Braids in a Ponytail
In this braided ponytail style, the stitch technique is used, following the same knotless method where the braid begins with your natural hair.
However, a considerate effort is required to achieve thin horizontal lines across each cornrow. This look is a go-to as it is generally long-lasting once maintained properly and depending on the rate of hair growth.
25. Knotless Zig-Zag Cornrow Ghana Braids
Zig-zag cornrows are among the trendiest braided looks. Have yours done in a Ghana braid style, all the way to the back, long enough for you to flaunt your braids over your shoulders.
26. Orange Knotless Box Braids with a High Ponytail
Bright-colored braids always see a return for Summer but what's also important is a style that is simple to do and comfortable to wear while you're having fun.
This look fits the description, with curved knotless cornrows pulled into a high ponytail in a lovely orange shade.
27. Thick Burgundy Knotless Box Braids
Not quite ready for orange? How about burgundy? This time, with thick, silky knotless box braids. It's a stunning look that doesn't require further styling as all your plaits fall right into place, ready for a laid-back beach day.
28. Fiery Red and Blonde Knotless Box Braids
Rock your knotless braids in a fiery red shade for a look that'll never grow old. Mix it up with streaks of blonde if you're feeling spunky.
29. Short Brown Knotless Lemonade Braids with Spring Twists
To spruce up a short knotless cornrow style, ending your braids in spring twists will spark a box braid variation that you'll love. Get creative with your cornrow patterns as well for a lemonade braid infusion.
30. Black and Red Chunky Knotless Goddess Braids in a High Bun
Enjoy a gorgeous boho-chic hairstyle with chunky knotless goddess braids and a feature heart-shaped design at the side. Scoop the remaining braids into a high bun, carefully selecting a few curly strands to hang loosely behind.
31. Black, Shoulder-Length Knotless Box Braids with Beads
Knotless braids remain cute, irrespective of their length. For a no-hassle look that you can style however you want, small shoulder-length box braids will look amazing. 
If you still feel like you need more style, include decorative beads at the end.
32. Short Black Knotless Goddess Braids with Thick Curls
It's the fluffy curls for me! This braided style is short and cute with thick knotless plaits that lead into luscious, velvety curls. It's an effortless look that doubles as glamorous.
33. Long Blonde Half-Up, Half-Down Knotless Box Braids in a High Ponytail
Long braids leave a lot of room for you to experiment with new styles. One look that vows to make you look gorgeous is a chic half-up, half-down ponytail.
34. Black Knotless Goddess Braids with Stitch Cornrows
Feed-in stitch cornrows are back but in chunky goddess braid fashion. Style them into a long ponytail for the perfect everyday hairdo.
SEE ALSO: 100 Trending Feed-in Braid Styles
35. Black Knotless Fulani Braids
I'm so in love with ghana braids as cornrows are taken all the way back, resulting in a clean-cut look. 
These aren't your normal ghana braids though, because both sides of the face feature a cornrow braided toward the front rather than the back for a Fulani style takeover.
SEE ALSO: 35 Trending Fulani Braid Styles
36. Knotless Braids with Stitch and Zig-Zag Cornrows
Add a creative element to your knotless cornrows with a trendy zig-zag design. Incorporate the stitch technique as well for a sophisticated and unique mix of styles.
37. Black Knotless Braids with Criss-Cross Cornrows
Knotless stitch braids are truly taking over as they're featured once more in this beautiful style, but the spotlight remains on the series of gorgeous criss-cross cornrow patterns. 
I love how it looks as if the cornrows themselves are accessorizing this protective style because of how intricate the design is.
38. Large Blonde Knotless Braids with Heart-Shaped Parts
Blonde braids have such a chic look that provides a flattering contrast regardless of what you wear them with. So, for a lasting impact, opt for large-sized knotless box braids. 
Make this style even cuter by sectioning your plaits into heart-shaped parts.
39. Black and Pink Knotless Braids with Zig-Zag Cornrows
Include all the cornrow patterns you can think of for a knotless braid style that's special to you. This look features a black-pink mix with stitch cornrows in a zig-zag design while spelling out the word "love" in bold letters.
40. Long Black Knotless Box Braids with Brown Beads
It's totally normal to want your knotless braids to vary from the average. To bring that dream to life, add cute beads at the end of each braid.
Even warm-toned brown beads will look great while helping you maintain an easy-going and natural appearance.
41. Black Bohemian Knotless Braids with Stitch Cornrows
Loose curls with box braids result in a fabulous bohemian finish. Employ the knotless application method with slender cornrows and you'll have a sleek hairstyle that's worth admiring.
SEE ALSO: 25 Coi Leray Braid Looks (How to & Styles)
42. Black and Burgundy Knotless Ghana Braids with Mixed Cornrows
In the mood for large and small cornrows but can't decide? You can have both by switching between sizes in a ghana braid style. Mix two contrasting colors such as black and burgundy for added style.
43. Small Black and Blonde Knotless Goddess Braids
Here's a hairstyle I'm sure you'll delight in; knotless box braids with goddess curls. The plaits were done small, giving a light and flowy appearance, along with a black and blonde color pairing for a classic look that has an ultra-chic flair.
44. Long Black Knotless Bohemian Braids with Zig-Zag Cornrows
This look begins with slender zig-zag cornrows that tease out into a body of unraveled curls. A few braids were left intact, prompting a knotless bohemian braid combination.
45. Black Shoulder-Length Knotless Faux Locs
This hairstyle is extremely classy as faux locs are done at shoulder length with sleek baby hairs completing the look. Don't let this style go to waste; it's perfect for a special night out, thanks to its soft, feminine appeal.
46. Black, Medium-Sized Knotless Fulani Braids
You can rock knotless Fulani braids in a simple yet stylish way by laying a few plaits over your shoulder with the rest left behind you. It's up to you to dress this look up with your fave accessories.
SEE ALSO: 50 Trending Medium Box Braid Hairstyles
47. Black Knotless Stitch Braid Bun
Isn't this stitch braid bun the cutest? From the root to the high bun, this hairstyle is refined and worth every second in that salon chair.
48. Black Beaded Knotless Braids with Zig-Zag Cornrows
Show off zig-zag cornrows in fine style with decorative beads stacked where your plaits end. Dress this look either up or down and you'll still be fabulous.
49. Brown Knotless Braids with Thick Cornrows and Heart-Shaped Parts
Add a sweet touch to your knotless braids with two opposite-facing heart-shaped parts. Each part is connected to thick cornrows, giving this style a super feminine look.
50. Long Black Knotless Ghana Braids
A style that's so easy to pull off, ghana braids will never lose their flair. Rock yours down to your waist in a classic black shade.
SEE ALSO: 60 Hot Crochet Braid Styles That You'll Love
51. Black and Blonde Ombre Knotless Faux Locs
Ever thought of knotless ombre faux locs? Get all the inspiration you need from this black to blonde gradient hip-length style. It's chic and eye-catching, just how it should be.
52. Red, Medium-Length Knotless Box Braids with Clear Beads
Be daring with red medium-length knotless braids, embellished by cute clear beads. The color of this style is one that pulls you in so dress to impress because all eyes will definitely be on you.
53. Black Double-Dutch Knotless Braids in a Low Bun
This look is so easy to achieve I can see myself wearing it for days on end. Jumbo knotless cornrows are braided using the stitch technique with the ends used to form an elegant low bun, suitable for formal or casual settings.
54. Black Knotless Fulani Braids with Gold Hair Accessories
Thinking of ways to enhance a knotless Fulani braid style? You can never go wrong with hair accessories. Try gold stretchy metallic cords and hair cuffs to get an upgraded look in just a few minutes.
55. Black Knotless Double Dutch Braids
The double dutch braided style can be worn in more ways than one. The simplest look is to have both plaits lay freely behind you or over your shoulders. 
To maintain this style, a satin bonnet that you can wear at night will become your best friend along with styling gel.
56. Black Butterfly Locs with High Ponytail
After wearing your butterfly locs down for a few weeks, it's time to try a new style that you'll love. Tie all but two of your locs into a high ponytail, leaving the others to frame the side of your face.
57. Black Knotless Braids with Two High Buns
It's top knot bun time! Divide stitch cornrows into two sections, forming cute buns on either side of your head. This is a fun look that instantly gives your face a natural lift.
58. Long Blonde Knotless Bohemian Braids
Blonde hair gives you a natural glow that makes it stand out from many other colors. So, let platinum blonde be your shade of choice for long girly knotless bohemian braids.
59. Black Half-Up, Half-Down Knotless Braids with Criss-Cross Cornrows
This style features some of the most unique elements to make your braids differ from everyday looks, with criss-cross cornrows that lead into a high bun, while the remaining braids are worn down.
60. Long Knotless Faux Locs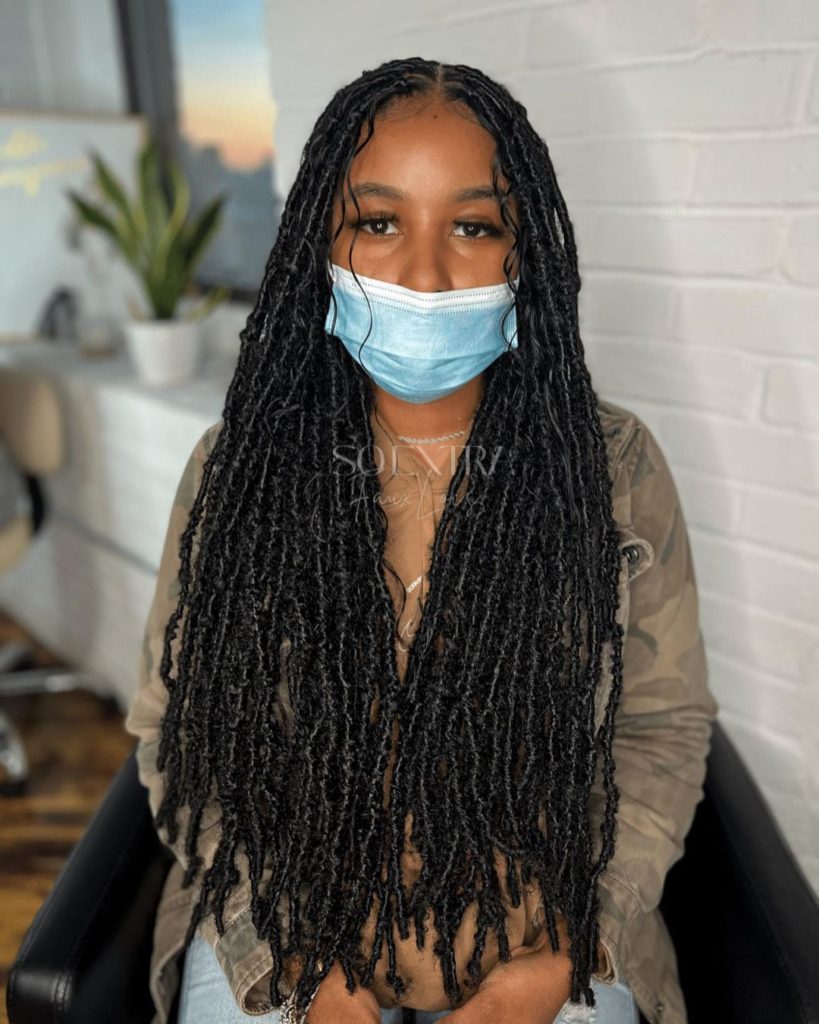 If you're getting long faux locs done then a gorgeous style you may overlook, because it's so simple, is to wear your hair over your shoulders, with no section pushed to the back.
This will allow the length and thickness of your locs combined to frame your face just like a painting.
61. Light Pink Knotless Braids with Two Low Buns
If you're a fan of braided buns then chances are you've tried every style known to man. 
Even so, you can set your next look apart by having your stylist apply the knotless technique along with a spunky and cute color that has always been on your list. Why not give this cute light pink shade a go?
62. Black Knotless Lemonade Braids in a Center Ponytail
Have your lemonade braids look neater than ever by forsaking the knot at the root, allowing for a seamless start to your cornrows. Complete the style with a modest center ponytail.
63. Burgundy Knotless Braids with a Large Bun
Receive a refreshing spring-worthy look with a pretty burgundy shade and your plaits tied into a large bun. Two large hoop earrings would complement this style perfectly or stay jewelry–free for that au–natural feel.
64. Multi-Colored Knotless Braids
Now here's an exciting knotless braid look that I'd try in a heartbeat. A pretty pink shade is the dominant color that leads to this girly theme.
White, burgundy, red, and purple synthetic hair are brought into the mix as well for a vibrant and mind-blowing color combo.
65. Black and Gray Knotless Fulani Braids with Beads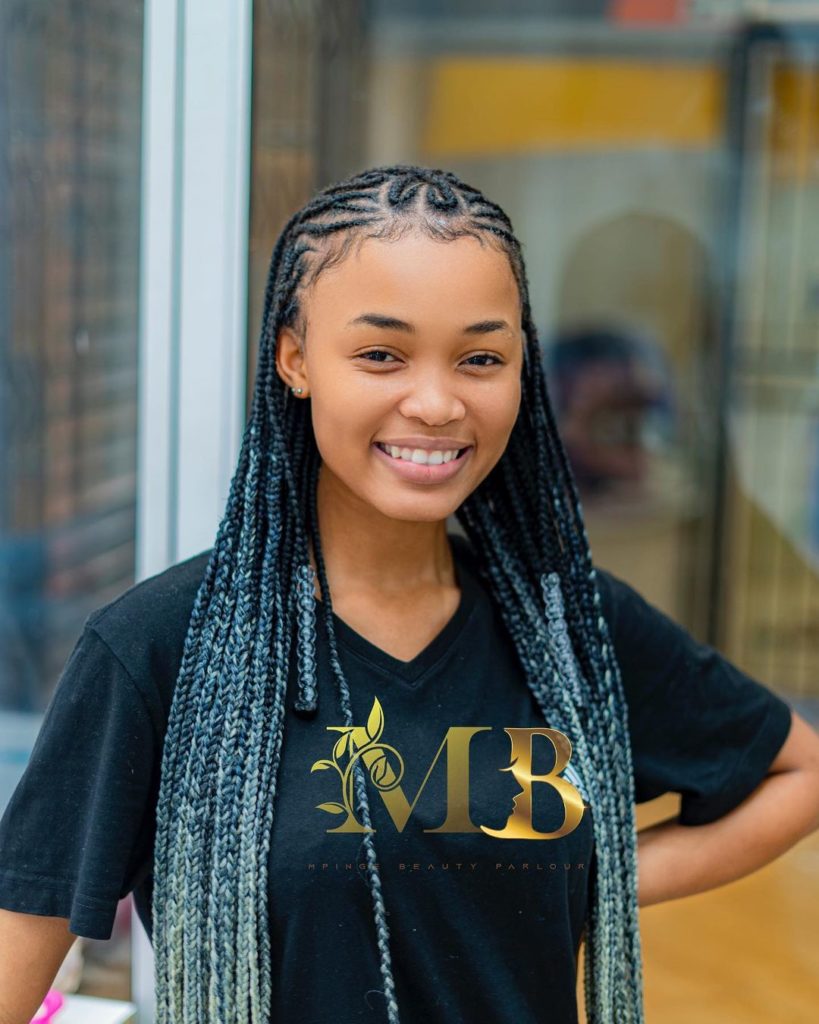 Give your braids a moonlight aesthetic with knotless Fulani braids that go from black to multiple shades of gray at shoulder length. For accessories that fit the theme, add clear beads to your braids at the front.
Summary and Top Picks
Knotless braids really are one of a kind. Not only do they go the extra mile in protecting your natural hair, but they do it so flawlessly. Plus, you can incorporate the knotless technique in any and every braided style.
My ultimate favorites are looks 8, 38, and 57 because of how effortlessly cute these styles are. Yet, they can elevate the most casual of ensembles and hold their own with my dressier pieces.
What about you? Did any of these knotless braid styles steal your attention for a few extra seconds? If so, what features about these styles made you a fan? Share your thoughts on this compilation along with any questions you have down below.