If you're not getting your braids twisted, chances are you're getting the classic box braids. This style is favored among braid lovers, and for more reasons than one. Box braids are fashion-forward, easy to do, and long-lasting, everything we look for in a protective style.
The popular style originated in 3500 B.C. in South Africa, worn as a way to conceal graying hair and achieve longer locs. The whole process is done by dividing your hair into square-shaped parts and then separating synthetic hair to form three-strand plaits.
These plaits are braided into your natural tresses and can last for 6 to 8 weeks, generally depending on the size. That's right, the sizes of box braids range from micro to jumbo, and the latter is what the spotlight will be on for this post.
The thickest version of its kind, jumbo box braids are incredibly trendy and stylishly loud, a major outfit enhancer and instant confidence booster. All things included, they deserve their very own compilation. Here are jumbo box braid styles you need to see.

1. Black Super Jumbo Box Braids
Let's get this list off to a fine start with these lustrous black box braids. This look is achieved by dividing your hair into large sections. The plaits aren't braided tightly either, resulting in a slight butterfly braid style.
2. Black Jumbo Box Braids with Beads
Beads bring such a stylish flair to jumbo braids. Go for neutral-tone brown beads stacked at the end of each braid to keep this trendy style looking natural.
3. Black Jumbo Goddess Knotless Box Braids
This look is a merger between box braids and goddess braids with well-defined curls that add an ultra-feminine touch. P.S. The knotless feed-in technique was applied to this hairstyle too, so it promises to be extra comfortable to wear.
SEE ALSO: 100 Trending Feed-in Braid Styles
4. Black Jumbo Angled Bob Box Braids
Let's switch things up with a sophisticated angled bob. This style caresses the angles of your face and makes you the immediate focus. Feel free to add your own special touch with silver hair cuffs.
5. Baby Pink Jumbo Box Braids
Ready to venture out into some lighter shades? These baby pink braids will have you staring in the mirror for extended periods. Toss a section over your shoulder, leaving the rest at the back for a sassy vibe.
6. Blue and Pink Jumbo Box Braids
Torn between two of your favorite shades for the season? Choose both! This girl is rocking half of her jumbo braids in blue and the other half in pink with her edges beautifully laid.
7. Black and Brown Jumbo Bohemian Box Braids
Two warm neutral tones, brown and black, united for this chic braided style, creating a natural, down-to-earth look. This look also features loose curly strands all over for a boho-chic touch.
8. Classic Black Jumbo Box Braids
We've already taken a look at black jumbo braids, but this style's plaits aren't as thick as the ones previously mentioned. So, if you've got jumbo braid fever but prefer the classic smaller version, here's the gorgeous alternative.
9. Half-Up, Half-Down Red Jumbo Box Braids with Two High Buns
Your decision to go red is a declaration of how dauntless and fashionable you are. Red jumbo braids get you noticed in a flash and say that you're the life of the party. 
Add some oomph to your look with a half-up, half-down style featuring two high buns.
10. Blonde and Gray Ombre Jumbo Box Braids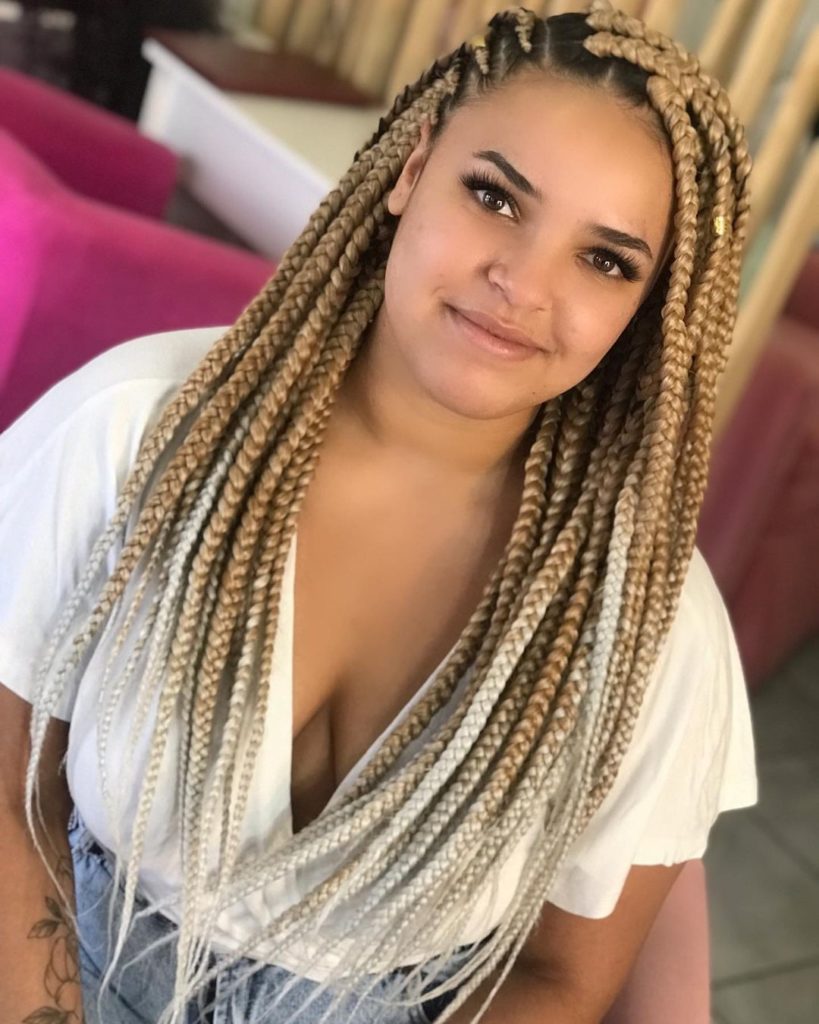 Getting blonde braids is almost always the next step after completing your black braids cycle but this isn't your ordinary alternative blonde look. It's actually an ombre blend with the ends braided in white. 
Ombre braids are chic and trendy, and wearing them is a sign that you're in tune with the popular styles.
11. Green Jumbo Box Braids
Green is one of the treasured shades of the fall season but you can enjoy this earthy hue all year round. It's an intense shade with a warm nuance, allowing your braids to fit suitably amidst a number of color schemes.
12. Black Jumbo Box Braids in a Top Knot Bun
With one braid falling at the side, tie your box braids into a top knot bun for a cute versatile style that you can wear absolutely anywhere.
13. Purple Jumbo Box Braids with Multi-Colored Hair Cords
This braided style has Summer written all over it. Purple hair is braided down to the waist with multi-colored hair cords used to create stylish criss-cross patterns. 
You can rely on this look to dress up your casual pieces such as a simple top, denim shorts, and sneakers, or wear it to complement your more fashionable ensembles; a stunning black bodycon dress comes to mind.
14. Classic Blonde Jumbo Box Braids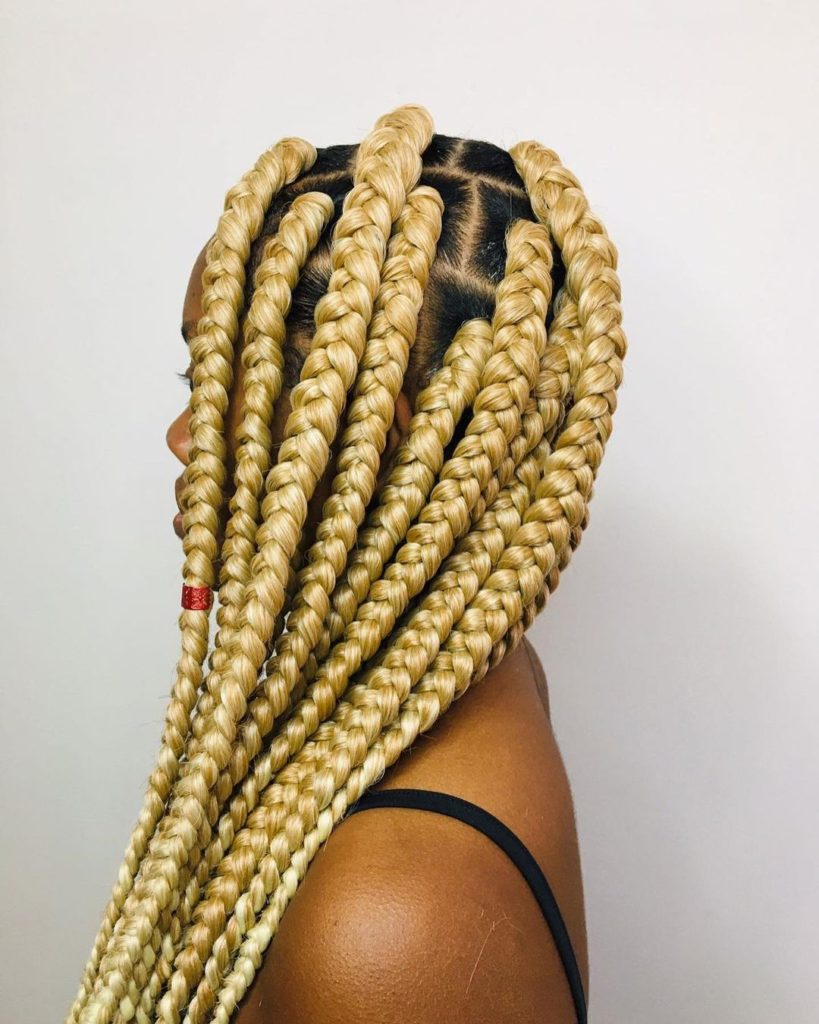 Feeling for an all-blonde look? These stylish box braids will not disappoint. It's a chic look that brightens up not only your outfits but your face as well, making your skin glow and creating a sun-kissed effect.
15. Burgundy Jumbo Angled Bob Box Braids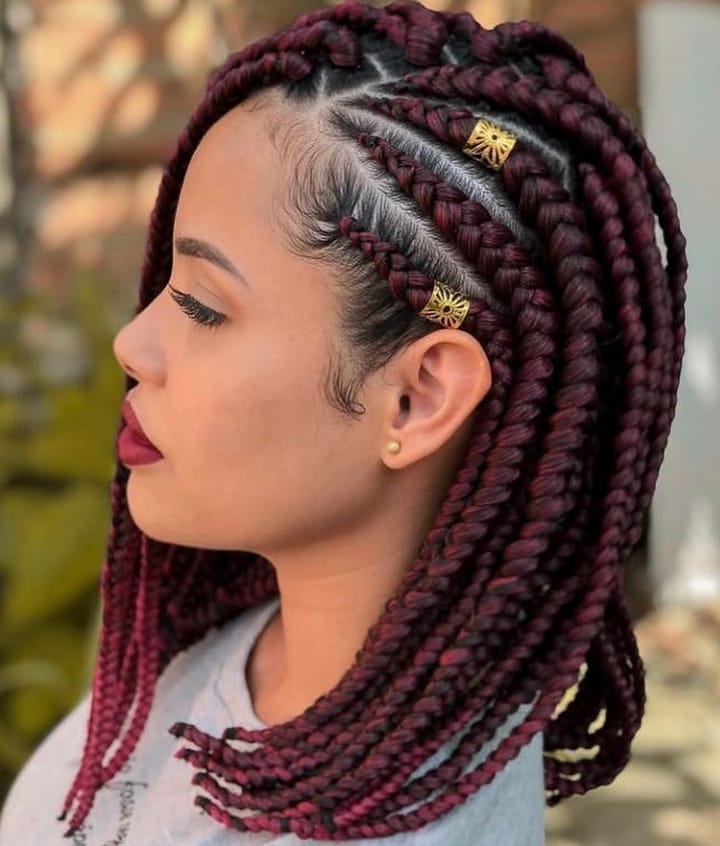 Burgundy is one of the most ideal shades for your jumbo angled bob because it has such a classy and mellow tone. 
Consisting mainly of brown and red, burgundy sits right between a warm and bold undertone, forming a blend that's sophisticated, easily suiting short hair.
16. Blonde Double Dutch Jumbo Box Braids
These blonde double dutch braids are so cute and have a youthful edge. In this style, small and intricate criss-cross cornrows are braided at the side, adding a trendy flavor to the finished look.
17. Blonde and Pink Jumbo Goddess Box Braids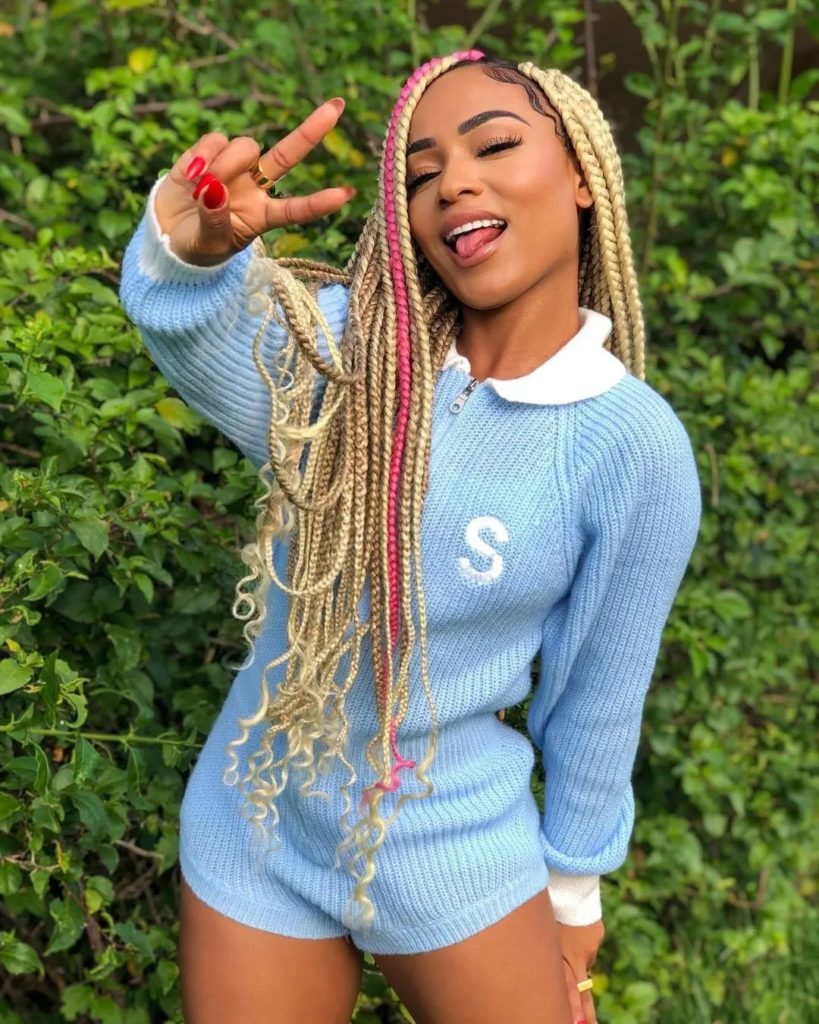 These braids are on fleek and flirty to the highest degree with a single pink plait that enhances this gorgeous blonde look, instantly grabbing your attention. The icing on the cake for this crowning glory? That curly goddess braid finish.
18. Black Jumbo Goddess Box Braids in a High Ponytail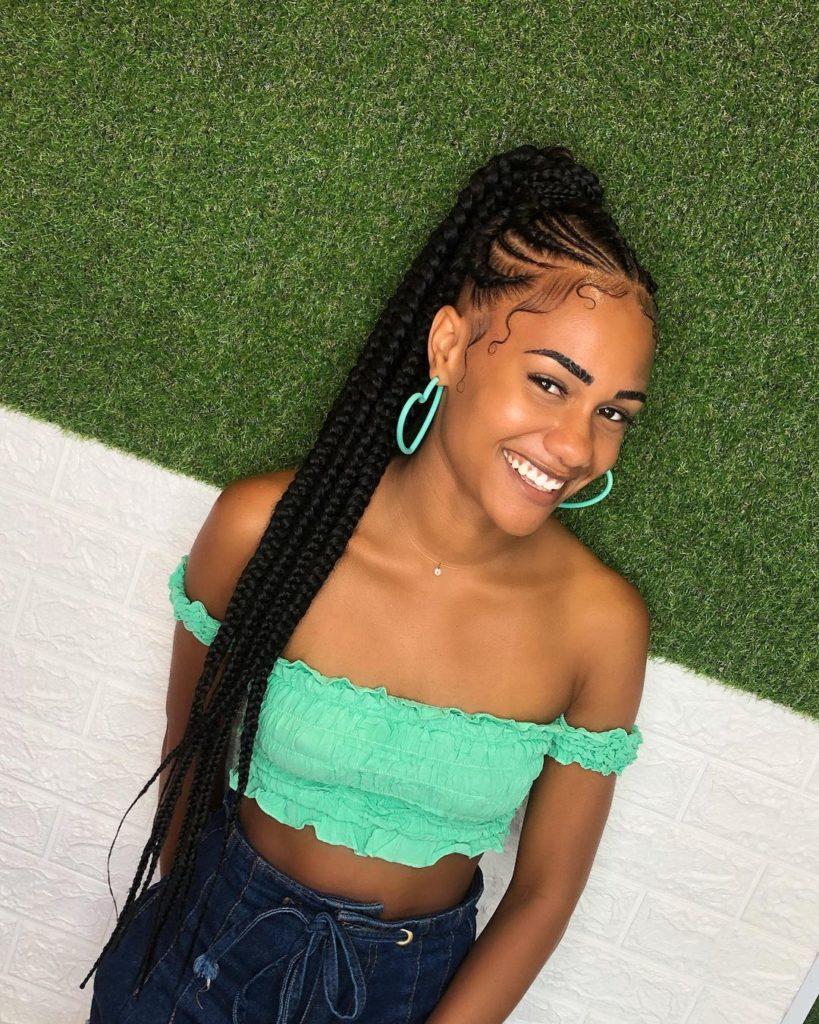 There's nothing quite like a braided ponytail. It's one of those simple styles that doubles as elegant and extremely attractive. Make it a jumbo braided style for an ultra-chic and confident look.
19. Medium-Length Black and Brown Jumbo Goddess Box Braids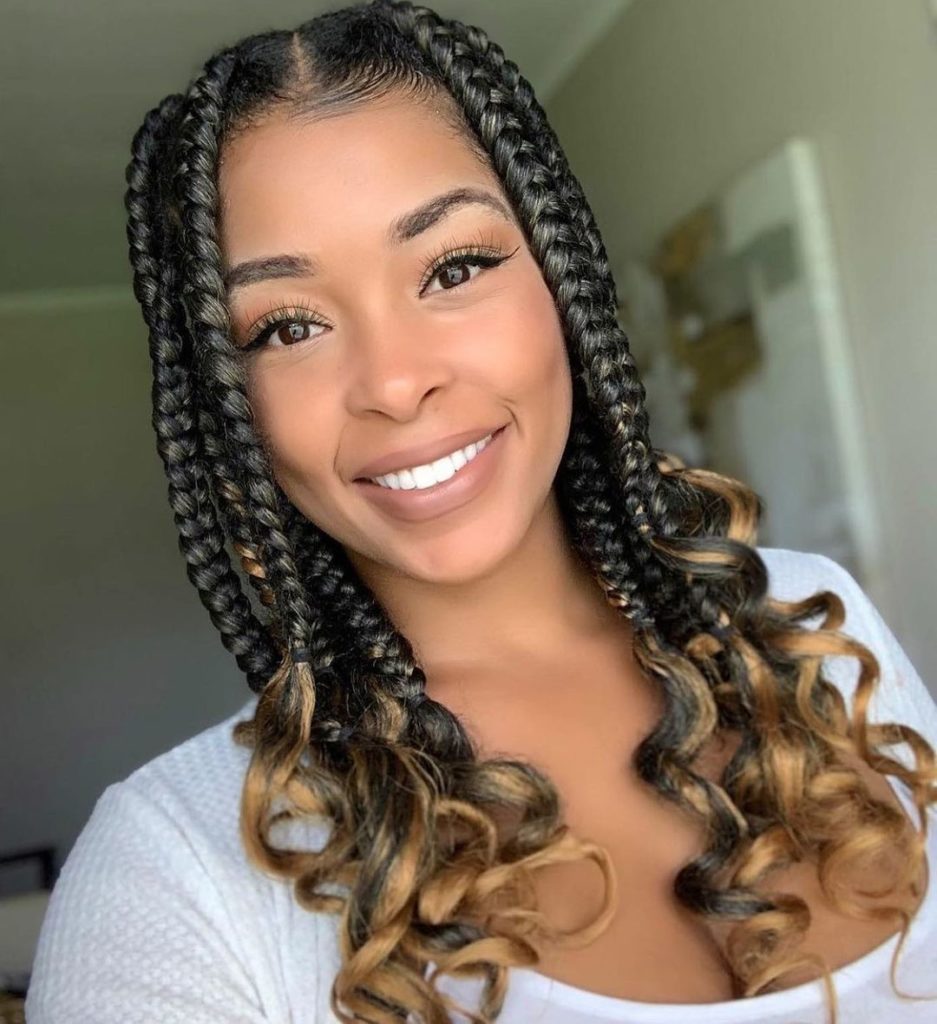 These jumbo braids have the most refreshing look. I love how the silky brown curls add a radiant contrast to the black braids, and being at bust-length, they add a natural glow to the face.
SEE ALSO: 50 Trending Medium Box Braid Hairstyles
20. Black and Blonde Jumbo Box Braids in a Large High Bun
You can also wear your jumbo braids in a large high bun. Not only is this style neat, but it's also classy and comfortable, particularly if you've had your braids in for a while and they've gotten looser at the roots.
21. Long Brown Jumbo Box Braids
Enhance your natural beauty with long brown box braids. You can have a lot of fun with the length too. You can wear your braids down for an easy-going casual vibe, in a low bun for a classy twist, or in a ponytail to look simple and cute.
22. Half-Up, Half-Down Black Jumbo Box Braids with Large Messy Bun
As thick as they are, your jumbo braids can be styled in numerous ways. A cute option is to section your hair into two parts with the top half tied into a large messy bun and the other worn over your shoulders.
23. Black Jumbo Fulani Box Braids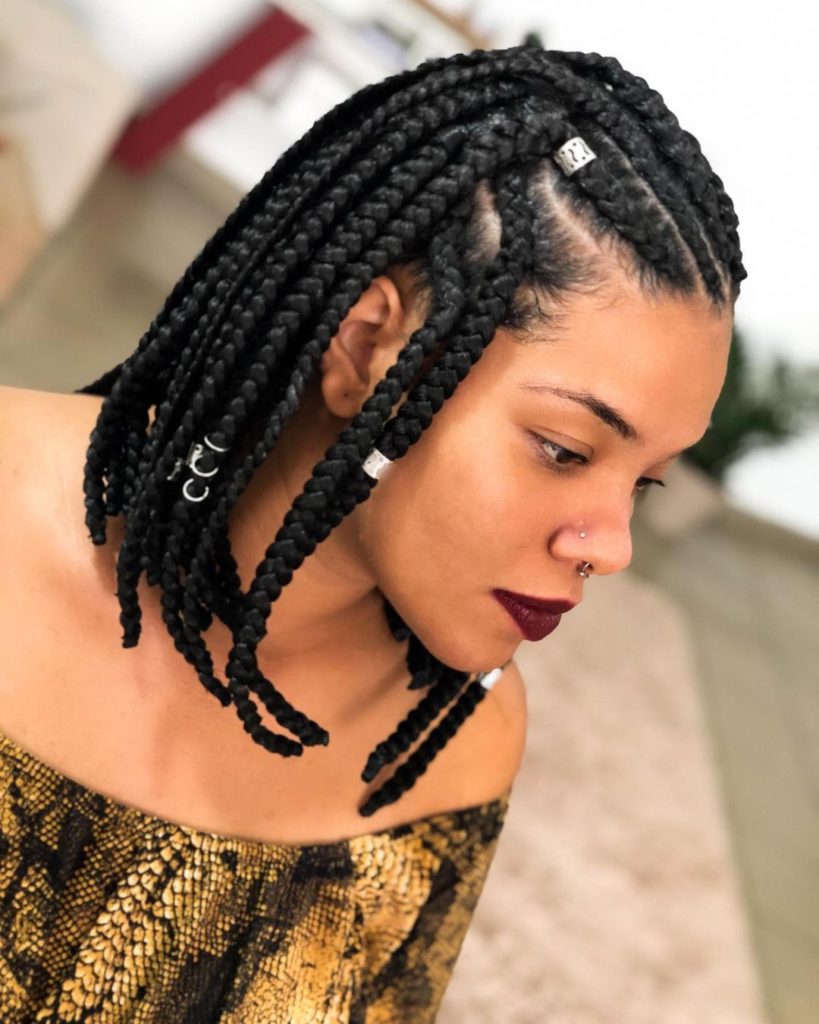 Just like a snazzy outfit, your jumbo braids can be fancy too. If you're ready for a change from the traditional box braids, try this gorgeous style. It's a hybrid of box braids and Fulani braids, styled into a cute bob.
24. Soft Pink and Purple Jumbo Box Braids
It's time to spoil yourself with cute colored jumbo braids. Bright shades are amazing but soft hues like this pink and purple combo that effortlessly complement each other will make your braided style a definite hit!
25. Black Jumbo Ghana Box Braids
Cornrow braided back has been one of the hottest protective styles for decades. It's the jumbo Ghana braid flair and it's easy to pull off. It also keeps you looking neat while accentuating your facial features.
26. Black Jumbo Box Braids with Rope Twist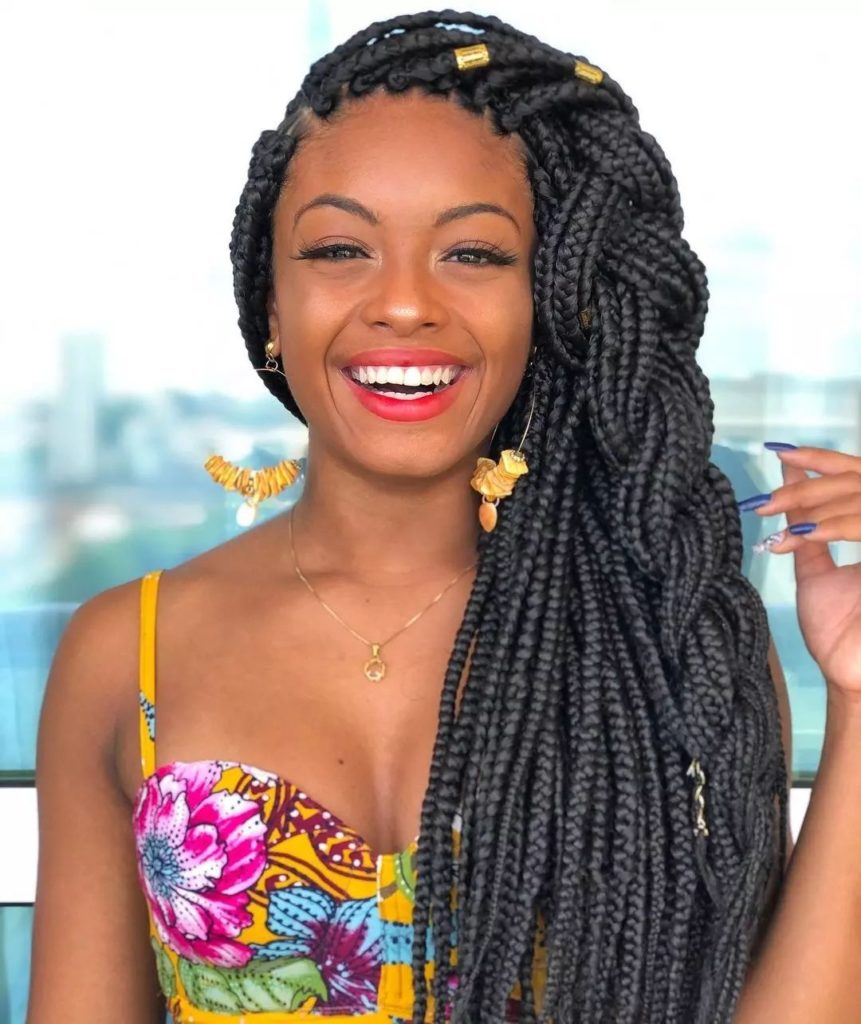 With enough braided plaits you can rock this stylishly creative look. Here, braids are entirely swept to the side and over the shoulder, with a section at the front used to form a jumbo rope twist. 
This look is also accessorized by cute gold hair cuffs, contributing to a regal finish.
27. Black and Green Jumbo Ghana Box Braids
For a pop of color, green is perfect if you don't want the finished look to be too bright. In this look, synthetic green hair is braided in the inner sections of the jumbo braid style. This technique ensures that black remains the primary color.
28. Platinum Blonde and Brown Jumbo Box Braids
As opposed to the previous style, these striking blonde braids are strategically placed not only in the inner section of the style but also at the front. 
As a result, your eyes are immediately drawn to admire this look because of the gorgeous contrast between the platinum blonde and brown braids.
29. Pink Jumbo Box Braids with Heart-Shaped Cornrows
Known as a color of romance, heart-shaped cornrows fit right in with these pink jumbo braids. Whip them over your shoulder for a girly look that has Summer calling your name.
30. Pale Purple Jumbo Box Braids
If you're always on the go, I know that quality time to get your hair done may seem like a foreign concept. That's why these braids are just right for all the busy women out there.
Sporting a pale purple shade, this look is versatile, stylish, and professional, just what you need for the office.
31. Brown Jumbo Box Braids in a High Ponytail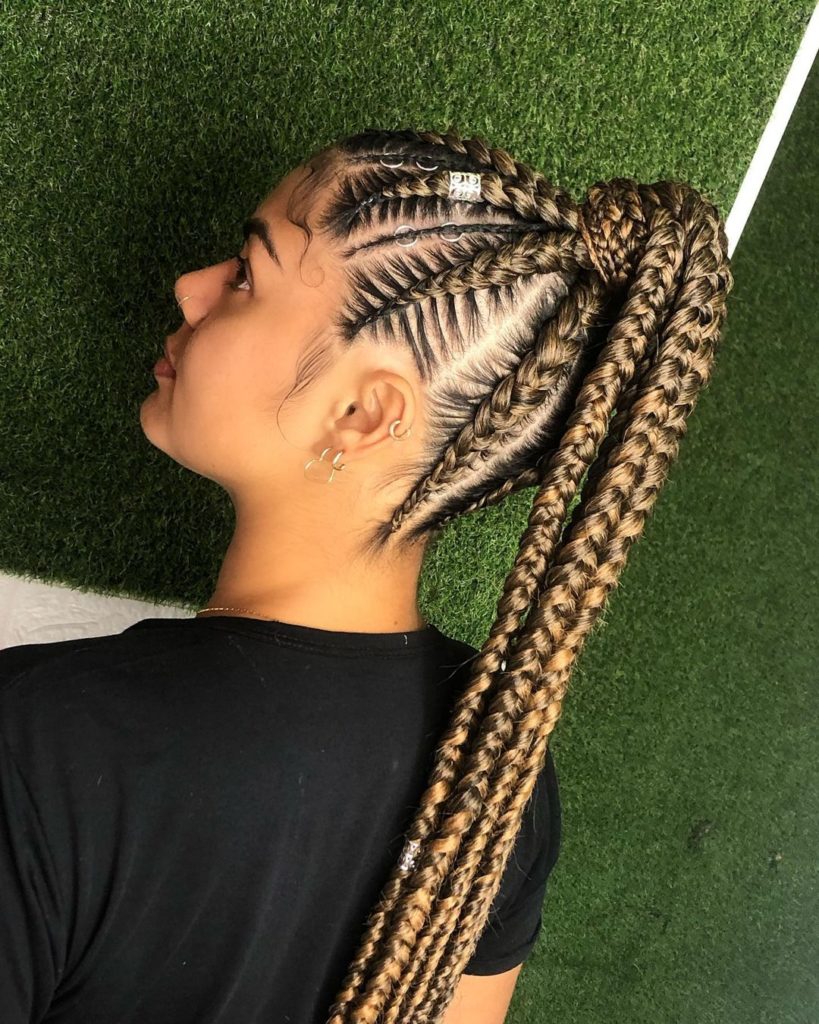 Let's wrap things up with a cute braided style, literally. In a pretty brown shade, these jumbo braids were wrapped into a neat ponytail. This look is so cute that it's amazing on its own but a hair accessory here and there is always a plus.
Summary and Top Picks
Never be out of the loop again; with this compilation as your guide, I just know you'll have everyone stunned by your trendy jumbo braids. Styled in a bun, to the back, or over the shoulder, these are just some of the many ways you can rock your box braids. 
Some of the other ultra-chic options include my ultimate faves, styles 1, 17, and 26. Can you guess why? Well, it has a lot to do with the key features that each look has; the thickness of the braids, the striking colors, and that creative twist, respectively.
What about you? Which jumbo box braid styles did you find most memorable? Are you excited to wear any style in particular? If so, which one? I'd love to know. Share your thoughts along with any questions you have down below.