As the braiding hair community continues to progress, feed-in braids have become the standard. It's the ultimate protective style technique that's known for limiting hair loss, as well as tension on the scalp, and that's a big deal because we all love our natural hair.
So, how do feed-in braids protect your crowning glory? It's a process during which the braided style starts with your natural hair. Synthetic hair is then gradually added; often done to form thicker braids or to achieve a neat and smooth finish at the hairline.
The best part is that the feed-in technique can be applied to every type of braided style, from simple Ghana cornrows to box braids and lemonade braids. You name it! You can take a breather knowing that your protective style is doing exactly what the term implies.
That's why this article is all about feed-in braid styles that are trending right now! Let's begin, shall we?

1. Classic Black Box Braids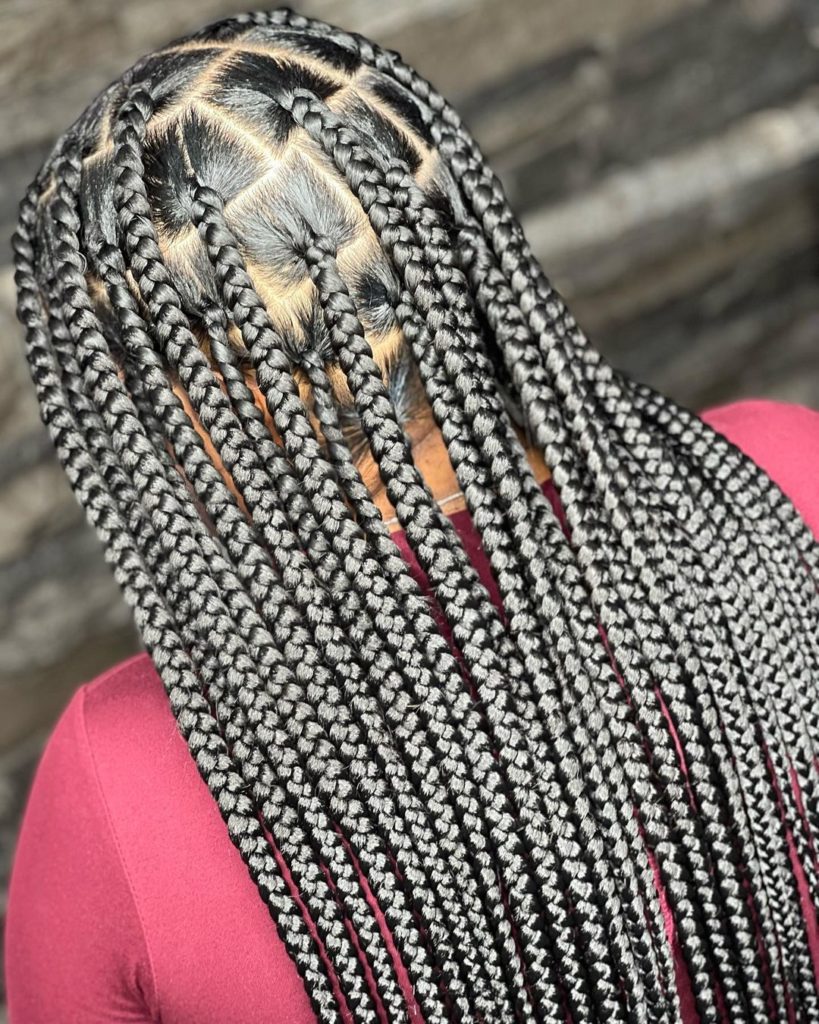 We're starting with a protective style that has been a favorite for so many of us. Box braids have come through on numerous occasions for a neat and stylish look.
These braids can look even sleeker when you say goodbye to the anchor knots at the root. Start with your natural hair and add medium-sized strands of braiding hair step-by-step to achieve this look.
2. Ghana Braids with Low Ponytail
Look how neat these Ghana braids are when the feed-in technique is used. The ends were braided together into a cute low ponytail and kept in place by a stretchy metallic hair cord before flaring out at the end.
3. Brown Chunky Cornrow Braids with Curly Ombre Weave
For this look, the top half of the head was styled into chunky feed-in cornrows as thicker strands of braiding hair were continually added for a bulkier look. 
The lower half was worn loose, creating a braid and weave combo with brown and blonde ombre curls cascading over both shoulders. It's super stylish and will be a hot topic for Summer.
4. Black and Blonde Goddess Cornrow Box Braids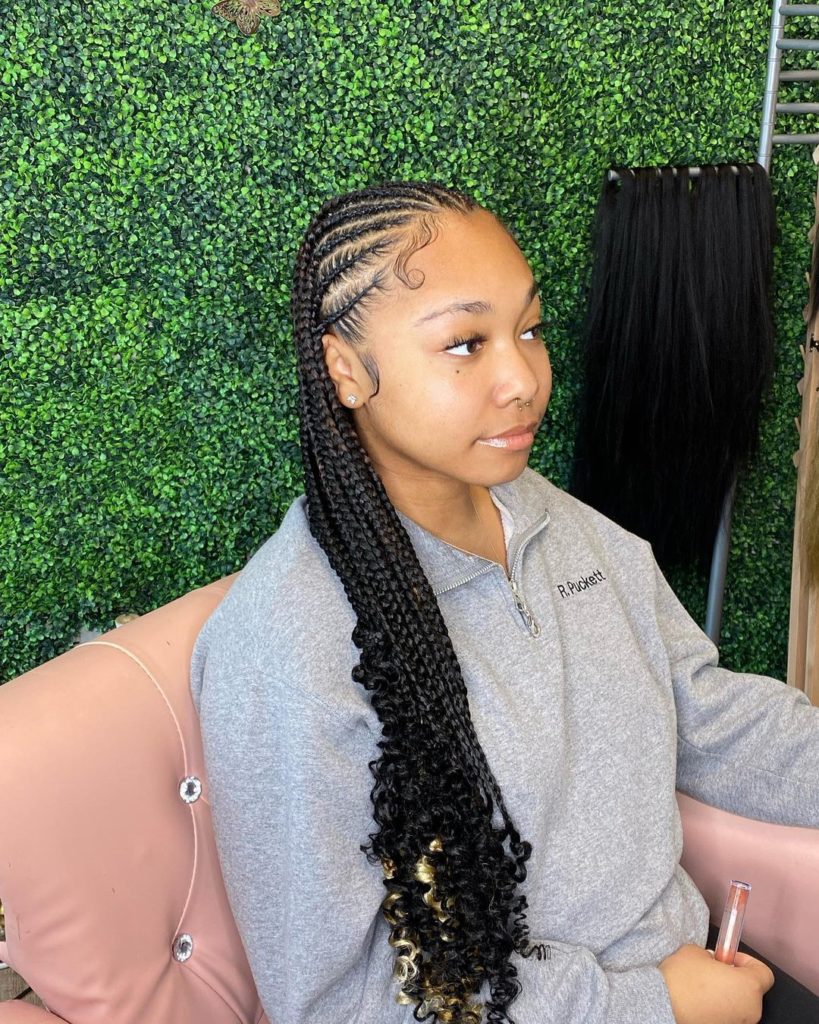 Curly box braids are where it's at! They're cute and easy to achieve, attracting tons of attention online. It all begins with medium-sized feed-in cornrows that extend into long goddess box braids. 
The curls at the end of this style give this look a sassy feel and a modern twist. Not to mention, those blonde streaks, adding a chic contrast to the black braids.
5. Brown Goddess Box Braids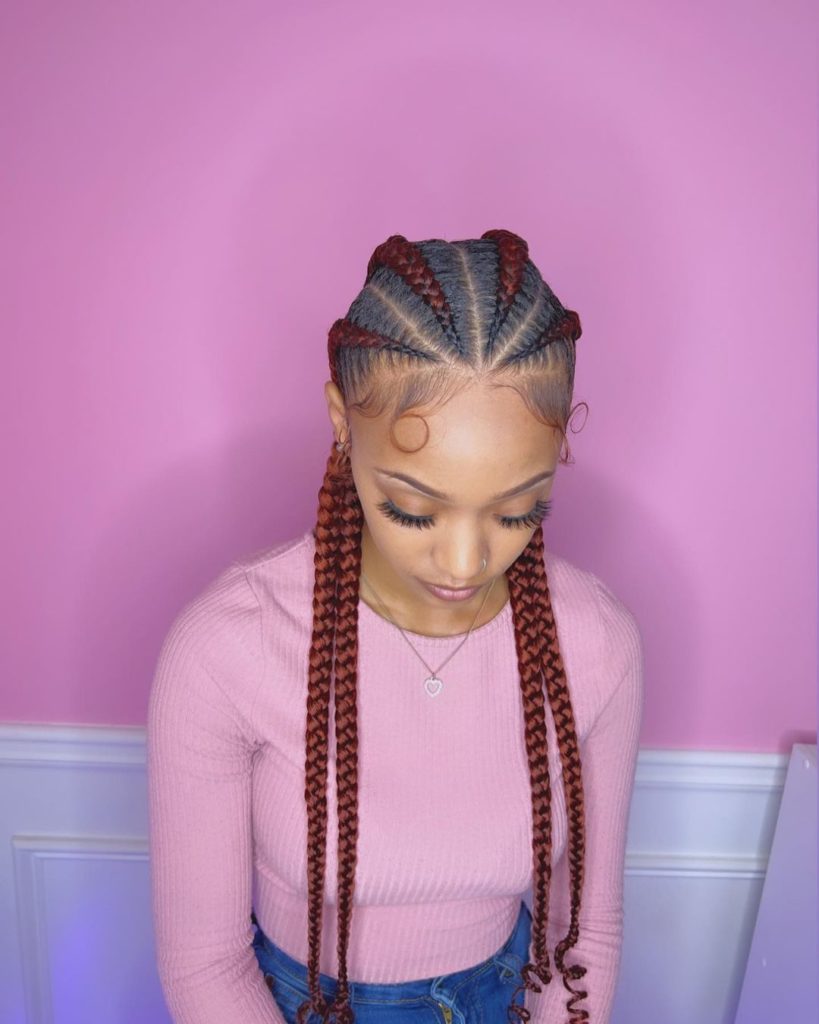 Here, you can clearly see where the natural black hair starts the style, as a result of the stark color difference. 
Brown artificial hair is then steadily added, forming jumbo cornrow box braids. Tendrils were included at the end for a cute touch.
6. Black Stitch Ghana Braids
Along with the feed-in technique, stitch cornrows also give your braids a neat finish as hair is sectioned into thin lines, horizontally. The cornrows increase in size as they go along before ending in thick plaits.
This style can be worn casually with a cute top and jeans or you can spruce it up with accessories such as hair cuffs, cords, or cowrie shells for fancier outings.
7. Black Cornrow Box Braids with High Bun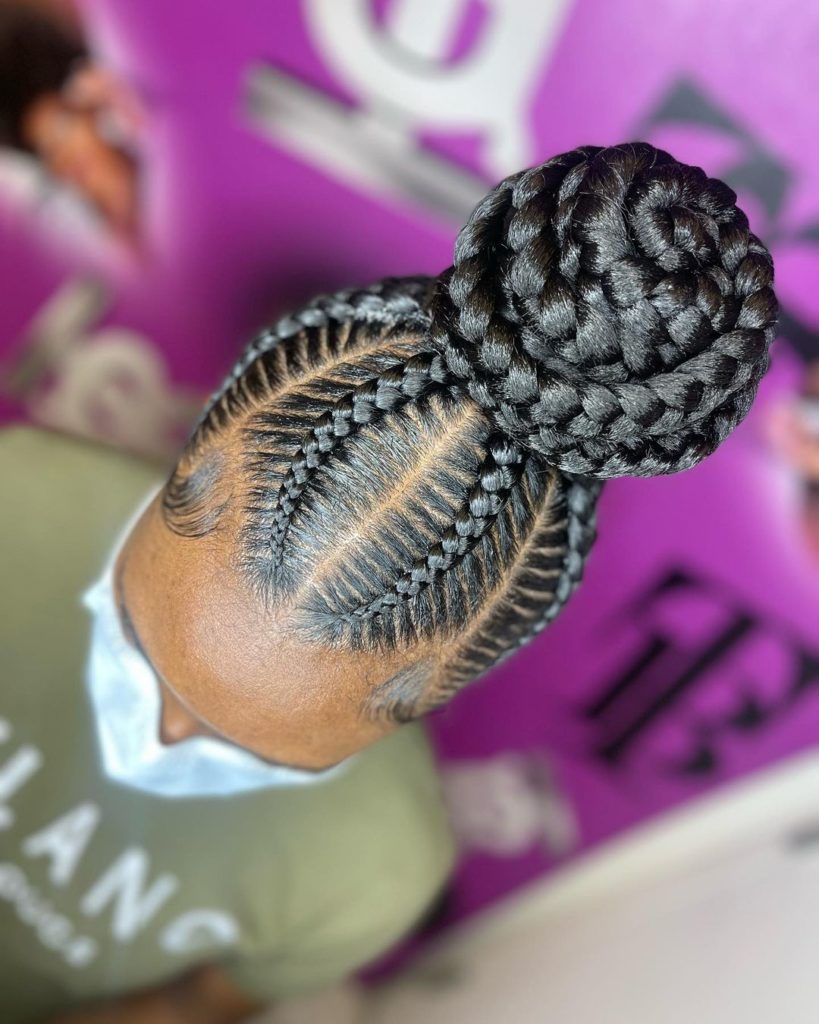 A braided bun is a go-to style that makes your hair look neater than ever while keeping braids out the way and making you look elegant as well. 
With these feed-in cornrows, you won't have to worry about your scalp feeling tense or too much pressure being placed on your hairline. You can toss your braids into that neat bun as soon as your style is done.
8. Black Jumbo Passion Twists with High Ponytail
Passion twists are among the sleekest braid styles with a silky look and texture that is superior to traditional twists, so it makes perfect sense to rock this look in a feed-in or knotless style.
If you're wondering how long this cute look will last you, especially with the feed-in process, rest assured. These braids, with proper upkeep, can suffice for as long as two months, with a little frizz here and there, of course.
9. Black Fulani Box Braids with Zig-Zag and Heart-Shaped Cornrows
It's time to get creative with a feed-in tribal braid style. This Fulani braid look features various styles of cornrows with a zig-zag pattern and heart shape being the highlights.
I also love that these braids were done in small to medium-sized plaits, offering a neat look as they fall behind you or over your shoulder; whatever way you decide to wear them.
10. Burgundy Cornrow Braids with Curly High Bun
I love braided styles that end in curls. The combo is so beautiful and adds extra flair to your daily outfits. 
For this look, burgundy braiding hair is woven into natural black tresses with two thick cornrows on top. 
You can then add smaller cornrows on the side for diversity, before tying your braids into a high bun, putting those bundles of curls on display.
11. Classic Black Passion Twists
Passion twists are naturally elegant, so you don't need to manipulate them too much, and with the feed-in technique, they're comfortable to wear and sleeker than ever.
In the event that you do want to play around with your new look a bit, a high bun always looks amazing with these silky twists. Leave a few braids out at the front for a flirty touch.
12. Long Brown Goddess Box Braids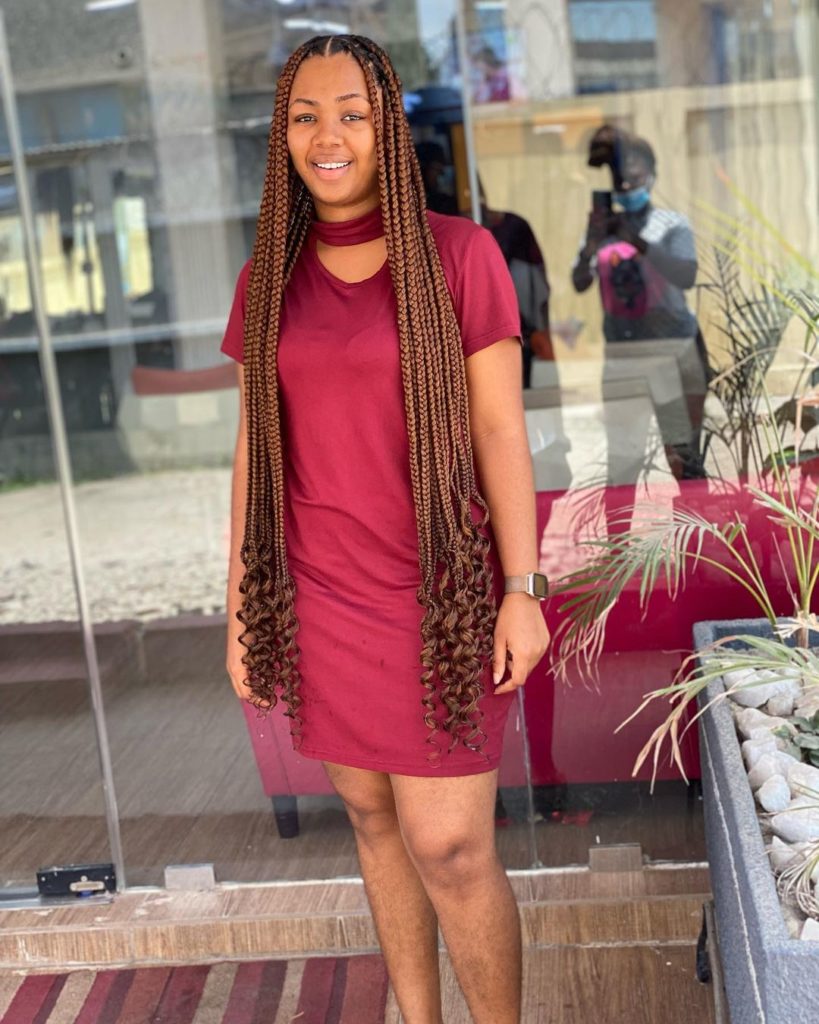 Long braids are always fun to style, even more so when they feel extremely comfortable to wear. Step away from traditional black braids and rock a chic brown look instead with cute tendrils at the end to accentuate this style.
13. Black Hybrid Cornrow Box Braids with Low Bun
The low braided bun is ever faithful, bringing style and flair to our daily ensembles for as long as we can remember. 
For an impression that lasts, go for thick cornrows braided around the shape of your head, with smaller versions separating each. It's a suitable style for any setting, a casual day out, in the office, or a classy restaurant.
14. Small Black Distressed Faux Locs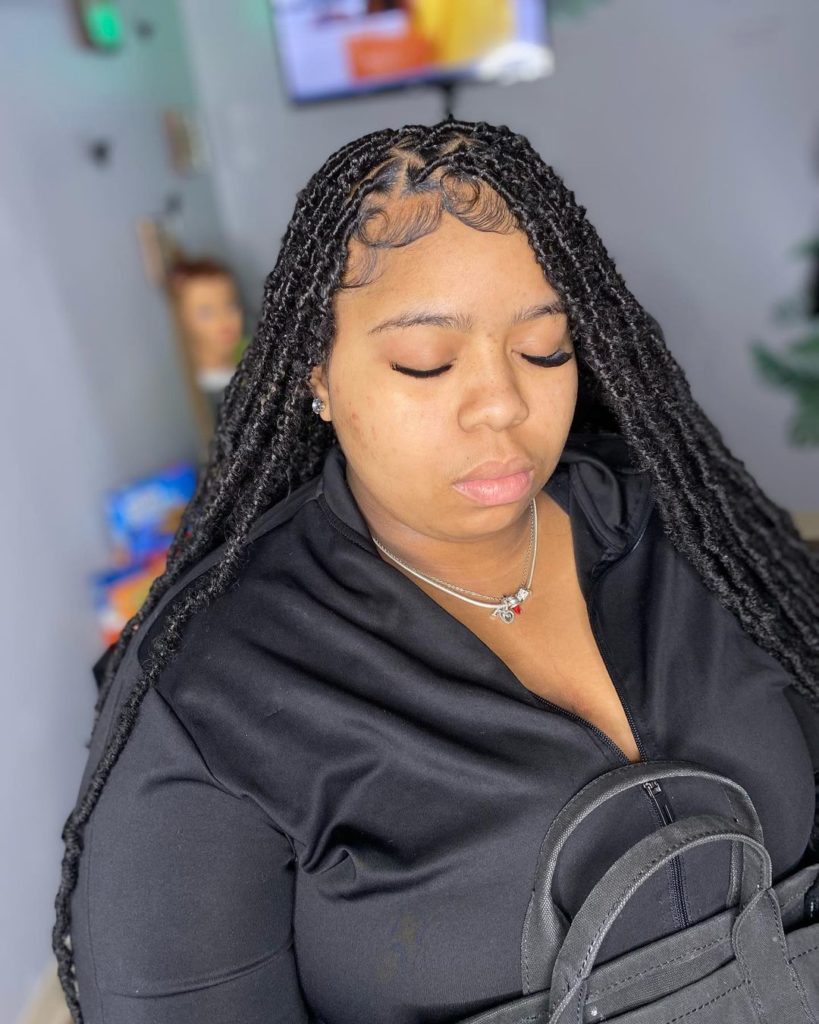 Let's not be mistaken, faux locs are just as trendy as they've always been. You should definitely try them in a distressed style for a more natural look. Have them done small and they'll last up to six weeks or more with proper maintenance.
15. Long Black, Blonde, and Brown Faux Locs
Length isn't the only factor that makes your faux locs stand out. Introducing distinct colors for variation is also key, just as these blonde and brown streaks complement black locs for an intensely stylish look.
16. Black Zig-Zag Cornrow Braids with Curly High Bun
If you love unique hairstyles, distinct cornrow braids are just right for you. These cornrows are done in a zig-zag design, and they're fairly small which adds to how neat they look. 
They're undone at the end too, allowing loose curls to fall freely from a messy high bun.
17. Blonde Hybrid Cornrow Box Braids with Twin Buns
Twin braided buns are so cute. I just love seeing the plaits as they're wrapped around each other to form top knots, but we can't ignore the small and jumbo hybrid cornrows that led to this cute look. 
They were braided using blonde synthetic hair for a fashionable and high-contrast finish.
18. Brown and Blonde Ombre Goddess Box Braids with High Ponytail
A brown and blonde ombre braid look is just what you need to get that natural glow for Summer. This gorgeous gradient style features full-bodied wavy curls that seem to flow together. 
The even greater news is that, after installation, you can wear these braids any way your heart desires. A high ponytail would definitely do justice.
19. Shoulder-Length Blonde Cornrow Box Braids with Beads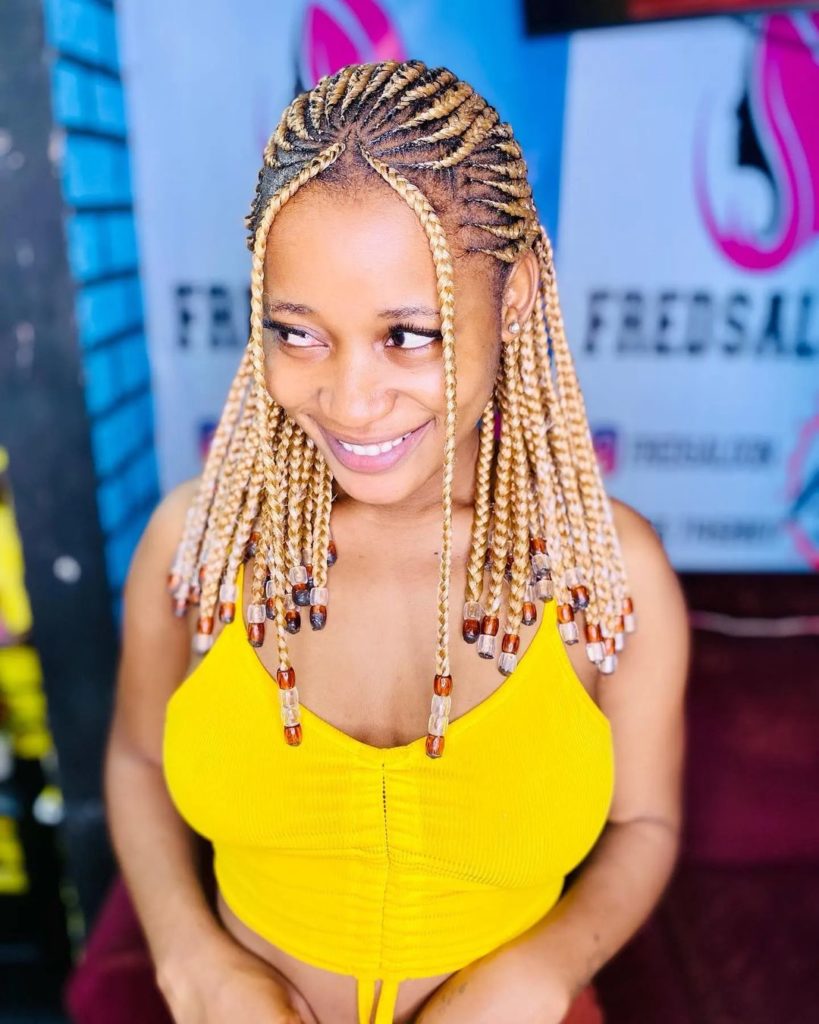 For this look, blonde synthetic hair has turned a classic cornrow braid style into a chic and sunny look that instantly brightens up your entire appearance. Adorn with neutral-toned beads to round off this trendy style.
20. Black Butterfly Locs
Here we have a feed-in butterfly loc style with a bohemian flair, achieved when a crochet needle loops wavy hair into a braid before it's wrapped to create an unraveled or distressed appearance. 
When the installation is complete, the finished look is beyond cute and flirty, resembling the fluttering wings of a thousand butterflies.
SEE ALSO: 60 Hot Crochet Braid Styles That You'll Love
21. Shoulder-Length Black Fulani Box Braids with Beads
Fulani braids truly enhance your natural beauty. The intricate cornrow designs are so attractive and easily bring attention your way. To make this shoulder-length style your own, add chic clear beads at the end of each braid.
22. Half-Up, Half-Down Black Box Braids with High Ponytail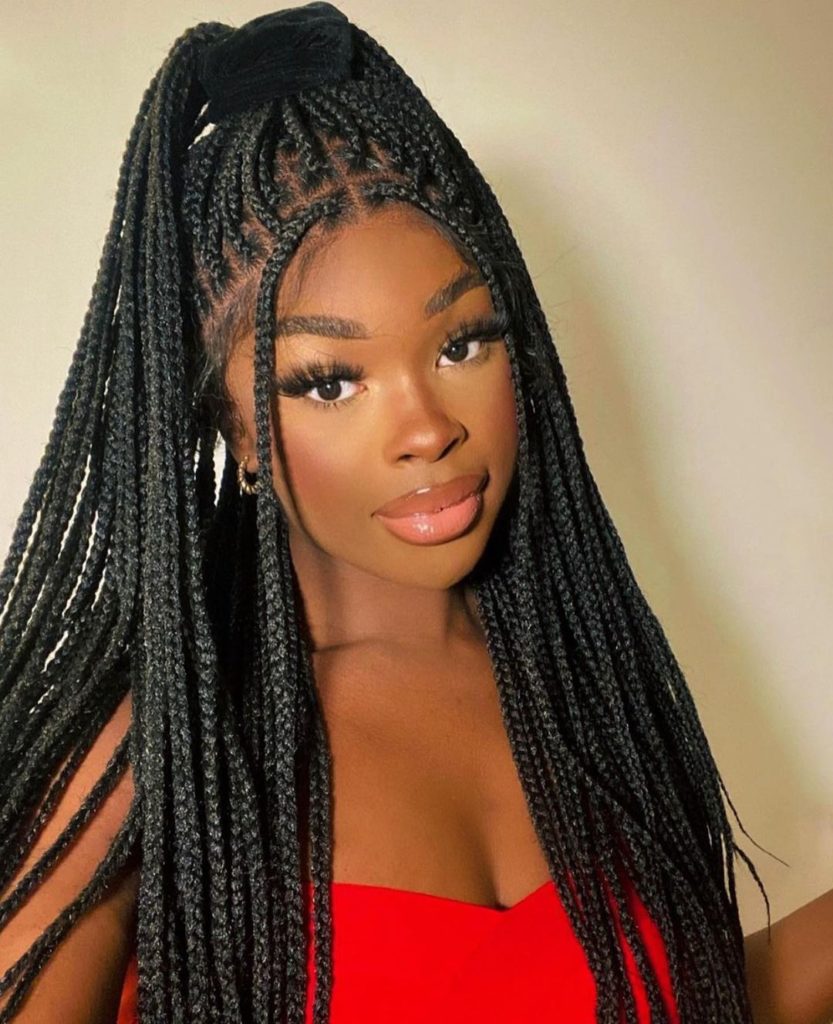 A half-up, half-down ponytail look always gets a yes. Style your box braids this way and look irresistibly cute. Leave two braids to fall on either side of your face to top off this trendy style.
23. Long Black Cornrow Box Braids with High Ponytail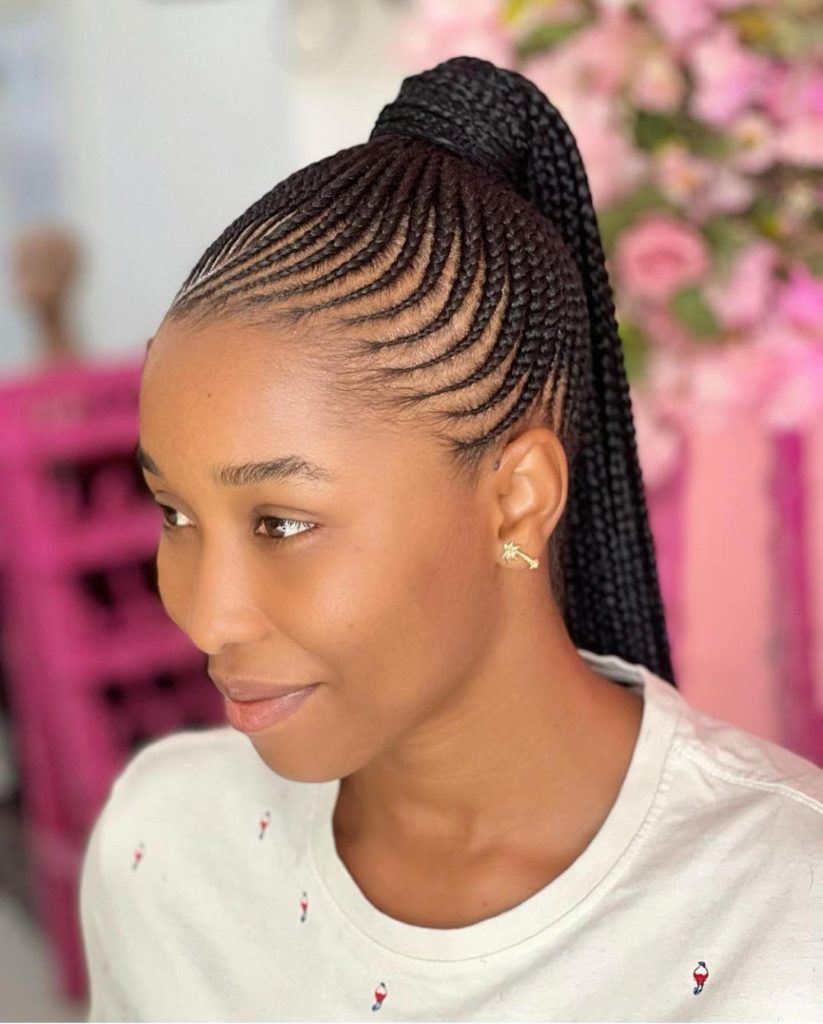 Braiding your feed-in cornrows in a curved style makes achieving a high ponytail effortless. Have your braids done long and in small to medium-sized plaits for an extra neat finish.
24. Large Black Goddess Box Braids Pulled Back
One of the simplest yet cutest styles you can do with your braids is to gather a few from each side and tie them together at the back into a small ponytail. Take things a step further by accessorizing your plaits with stylish hair cuffs.
SEE ALSO: 100 Trending Pop Smoke Braid Styles
25. Black Spiral Lemonade Braids
For a trendy and eye-catching lemonade braid look, have your feed-in cornrows done in a stylish spiral design, braided all the way down to the nape of your neck. 
Your braids will look exceptionally neat but be sure to cover them with a silk cap before bed to reduce frizz.
26. Medium-Length Black Faux Locs
Try these distressed faux locs for a natural and fashionable look that you can dress up or down. Plus, even when weeks have passed, you'll still look amazing as faux locs tend to get better with age.
27. Small Brown French Curl Box Braids with Ponytail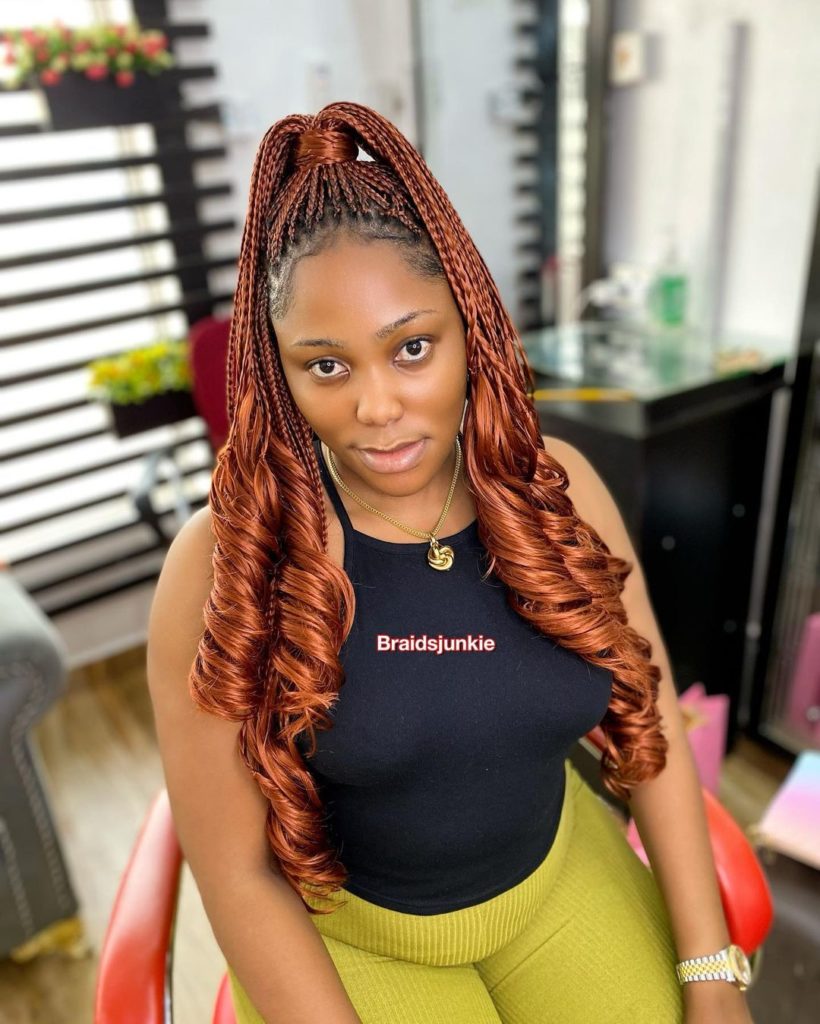 Even more glamorous than those cute tendrils you can add to the ends of your braids are thick wavy french curls. 
Flowing from small feed-in box braids, you can rock this style in a high ponytail and show off those stunning curls over your shoulders.
28. Brown Jumbo Goddess Box Braids with High Ponytail
You may have thought that because of the size of these braids, a ponytail would be far-fetched but even jumbo braids look amazing in an updo. 
Plus, the feed-in technique makes the process a whole lot easier. Add loose curls at the end to up the femininity.
29. Half-Up, Half-Down Black Fulani Box Braids with Criss-Cross Cornrows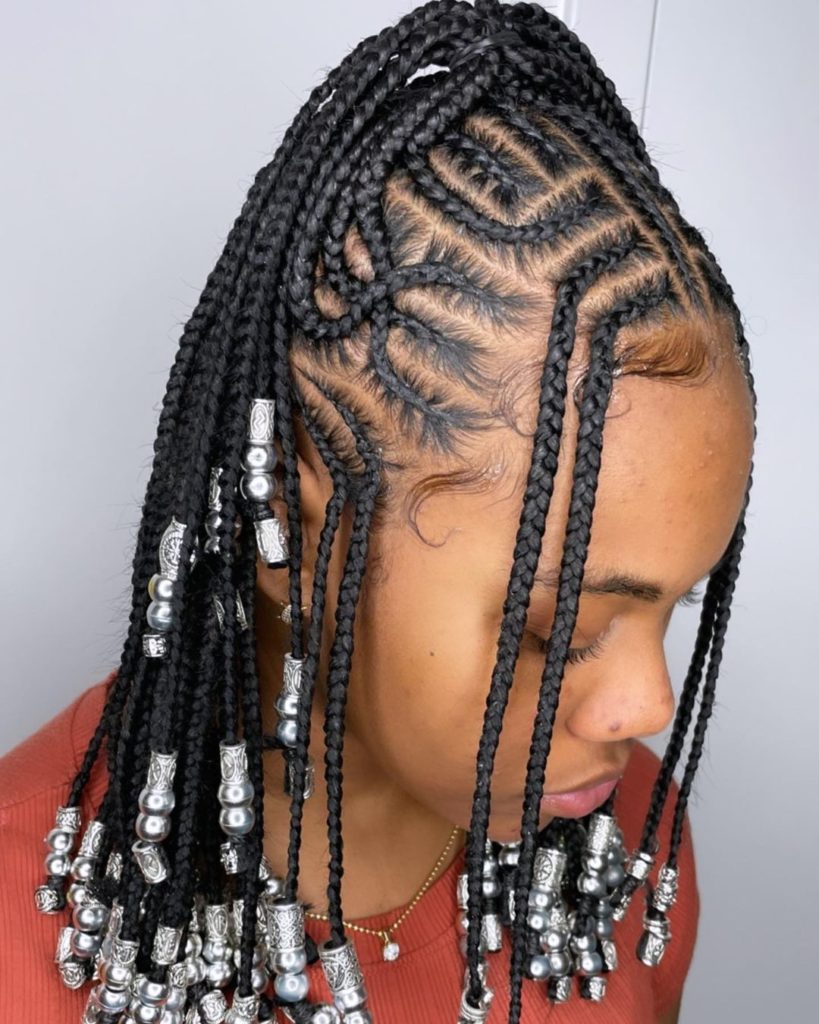 These shoulder-length box braids were enhanced by a stylish criss-cross cornrow design and layers of silver beads. I also love this tribal braid look because it's Fulani-inspired. Peep those nifty reverse cornrows at the side.
30. Black Gypsy Box Braids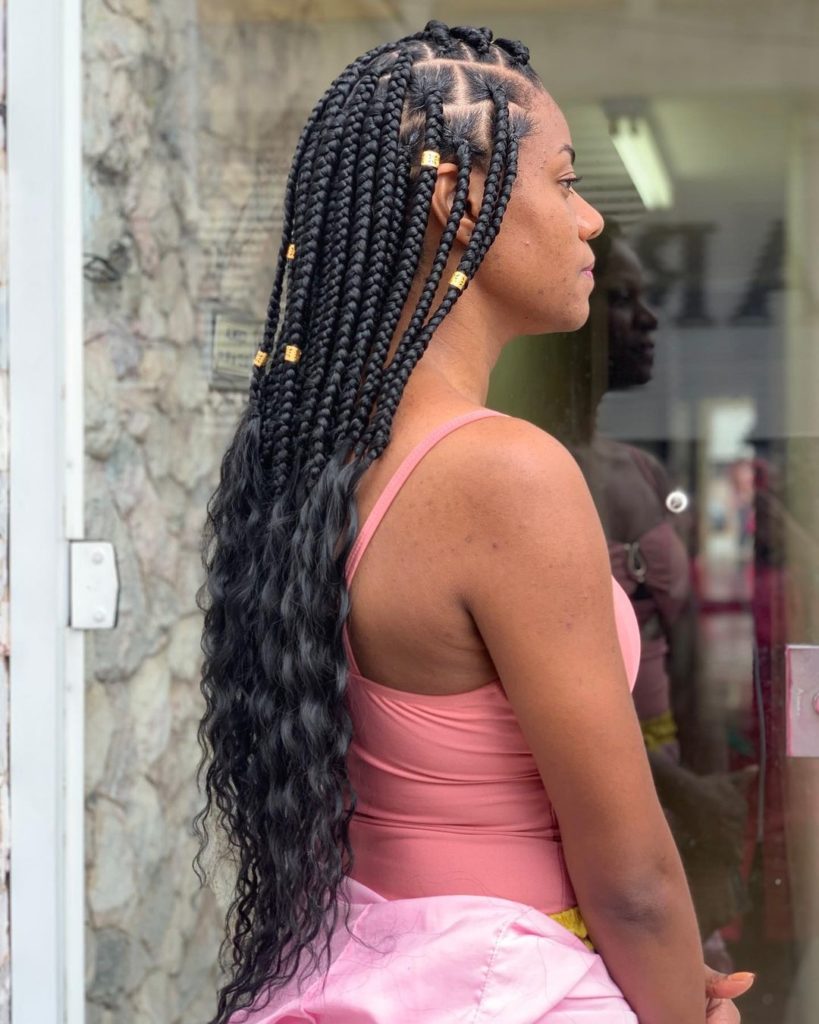 These beautiful black braids are a combination of the bohemian and goddess styles, sometimes called gypsy braids, as the plaits are left undone midway, leading to loose curls. 
It's a flirty look that will "wow" you even more, when you get all dressed up. So, go ahead and amp up this cute style with a few hair accessories.
31. Large Black Box Braids with High Side Ponytail
This braided style says, "I know what I want, and I'm about to go get it!" You'll be giving tons of fashion attitude when you rock feed-in box braids in a high side ponytail, and the thicker your braids, the easier you'll get your message across.
32. Black Box Braids with Top Knot Bun
All hail the top knot bun! A look of elegance with a relaxed vibe is easily found in this feed-in style. This could be you: out to eat, at work, or even at home. Dress up or down to fit the affair.
33. Long Black Jumbo Senegalese Twists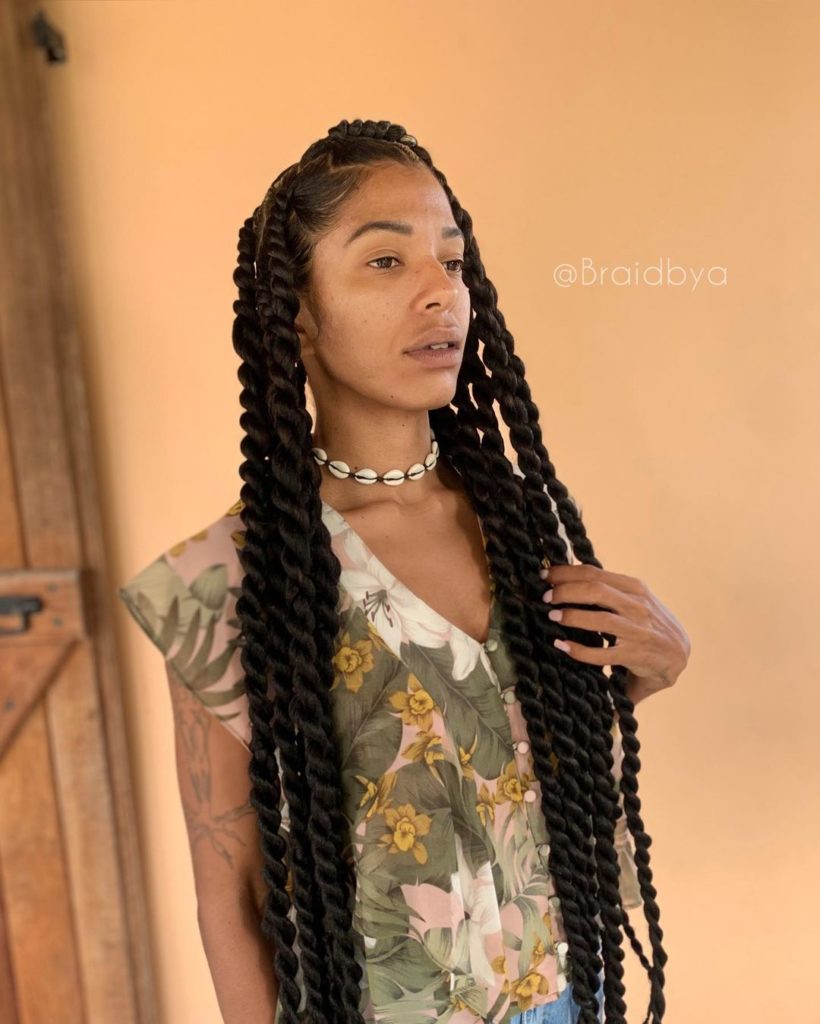 Surprise! You can also enjoy a feed-in Senegalese twist style. I know these braids are a fave for so many women because of their soft, rope-like appearance. 
While it's true that this look won't last as long as some of the others on this list, their beauty makes them worth it.
34. Small Black Ket Braids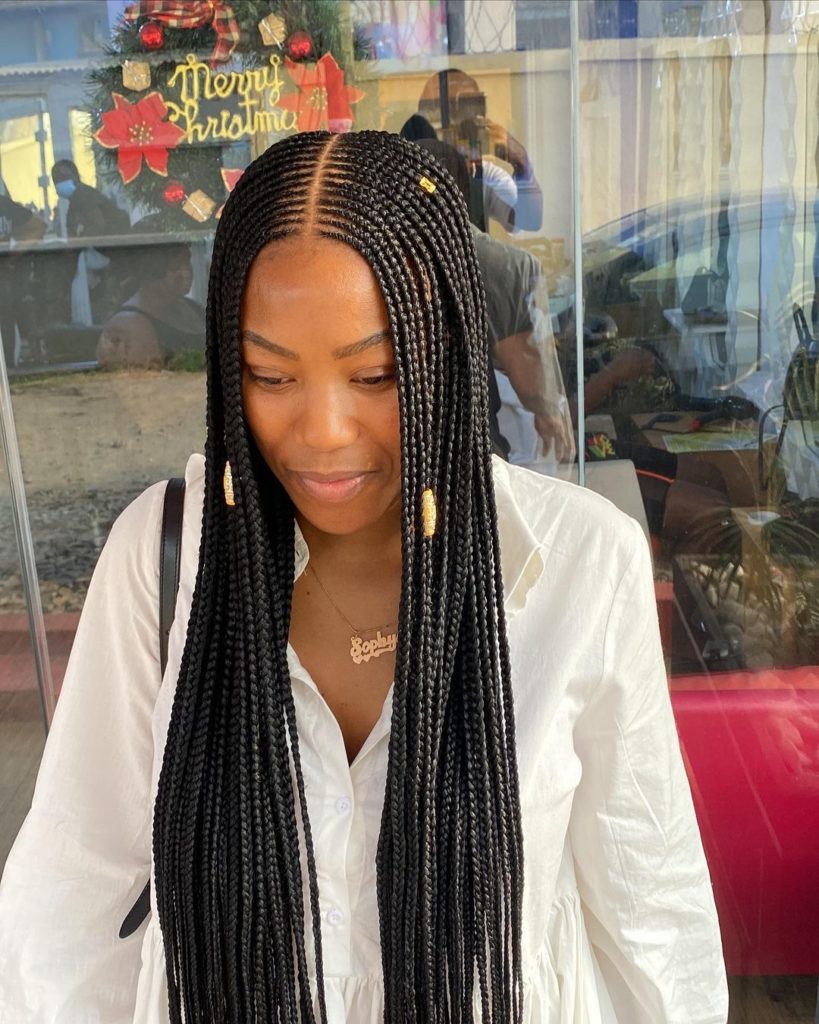 Rock small ket braids for a neat cornrow box braid combination that will keep your natural locks safely tucked away for several weeks. 
The knotless application, length, and thin braid structure all work together to give this look a sleek execution.
35. Black Ghana Braids with Beads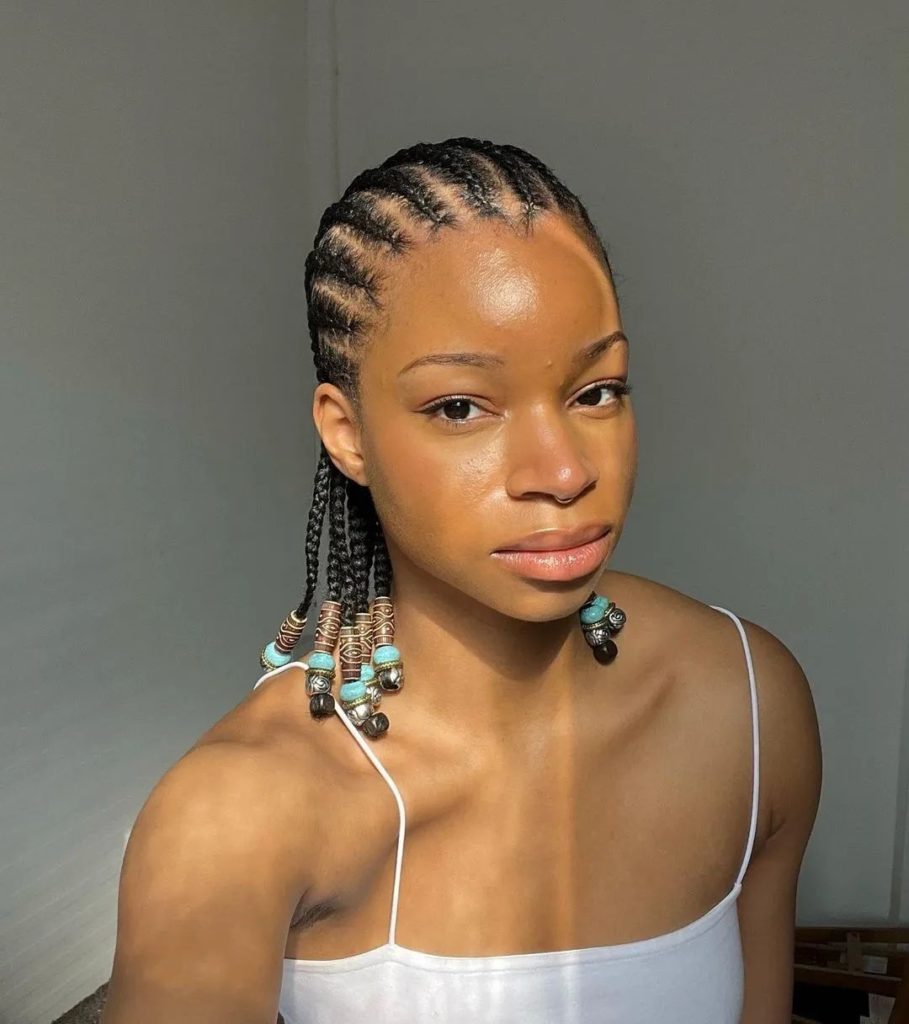 Give your Ghana braids an upgrade with pretty neutral and pastel beads. They immediately transform this style from your simple everyday cornrow look to one that's fresh and feminine.
36. Long Black Faux Locs
Faux locs are known to feel tight and heavy after installation, so, the feed-in technique is a literal lifesaver when you're getting this style done. 
Faux locs are a time-consuming style as synthetic strands are wrapped around each braid until the desired length is achieved. Nonetheless, they are long-lasting and so beautiful, which is why we can't get enough of this style.
37. Black Stitch Cornrow Box Braids with Low Bun
Make a low-braided bun look special with chunky stitch cornrows on top. In the middle, a thin cornrow is braided back, giving this style an intricate and unique appearance.
38. Classic Black Lemonade Box Braids
It's so satisfying to see such seamless lemonade braids. With this style, extra emphasis is placed on your hairline as cornrows are braided in a curved design all the way to the other side, so it's important that the finished look is super neat.
39. Half-Up, Half-Down Black Bohemian Box Braids with High Ponytail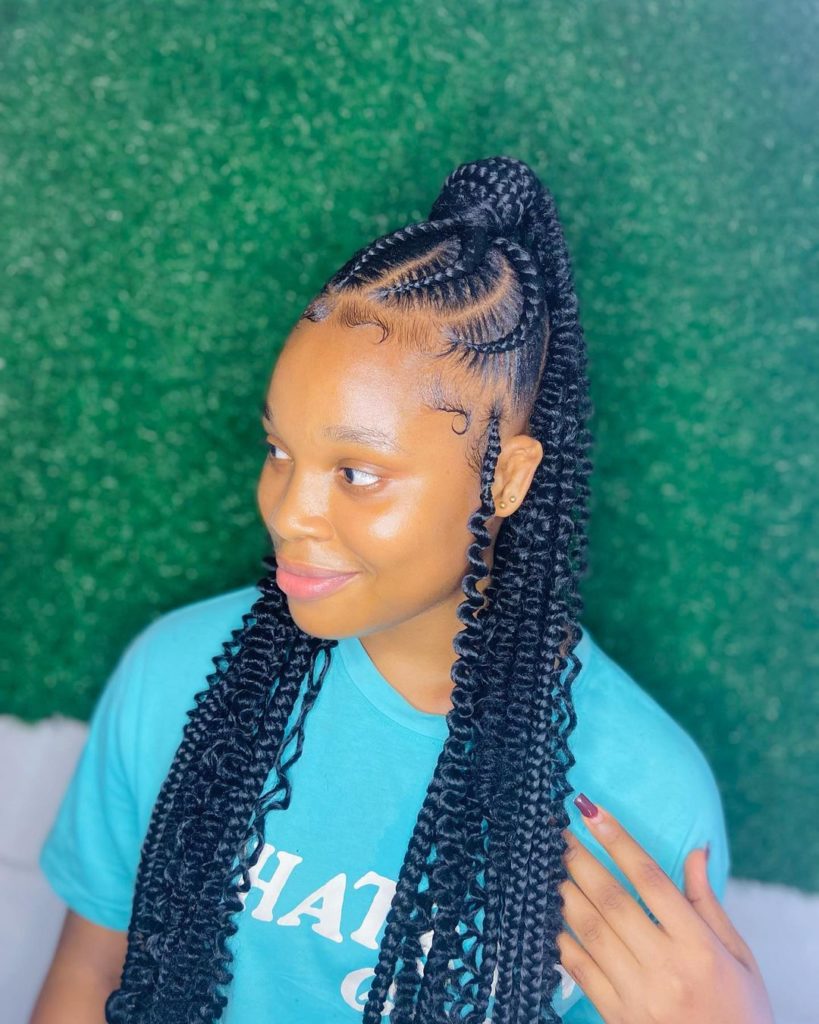 Chunky cornrows and bohemian-styled box braids are the focus of this snazzy feed-in braid style. 
The stitch technique was also applied to the cornrows, giving them a neater look. Rock these braids in a half-up, half-down style with a cute ponytail.
40. Black Passion Twists with Ponytail
This stunning look is a reflection of how your feed-in passion twists will look after a few weeks. They're still super cute and to switch things up, you can style them in a high ponytail with a stylish bow headband to give them a comeback.
41. Black Box Braid Mohawk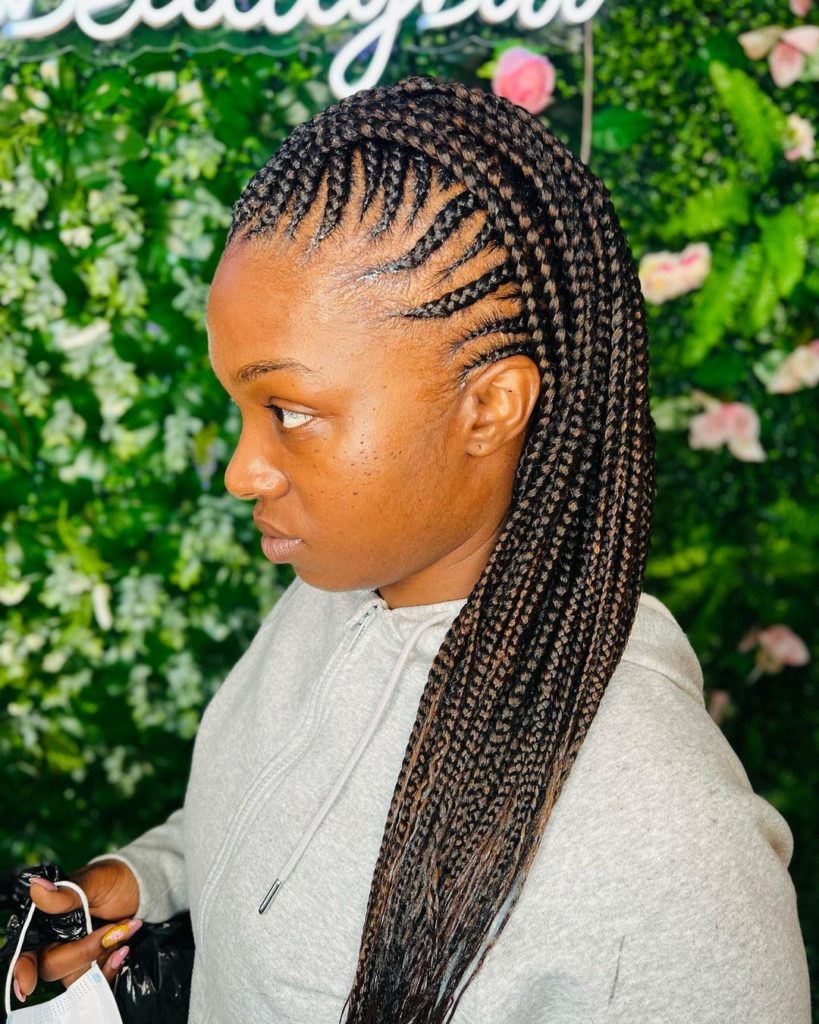 Be prepared to stand out in this protective style. This braided mohawk is attention-grabbing and fashion-forward as thick cornrows slope upwards into a collection of plaits. You can wear these braids behind you or over the shoulder.
42. Brown Pop Smoke Box Braids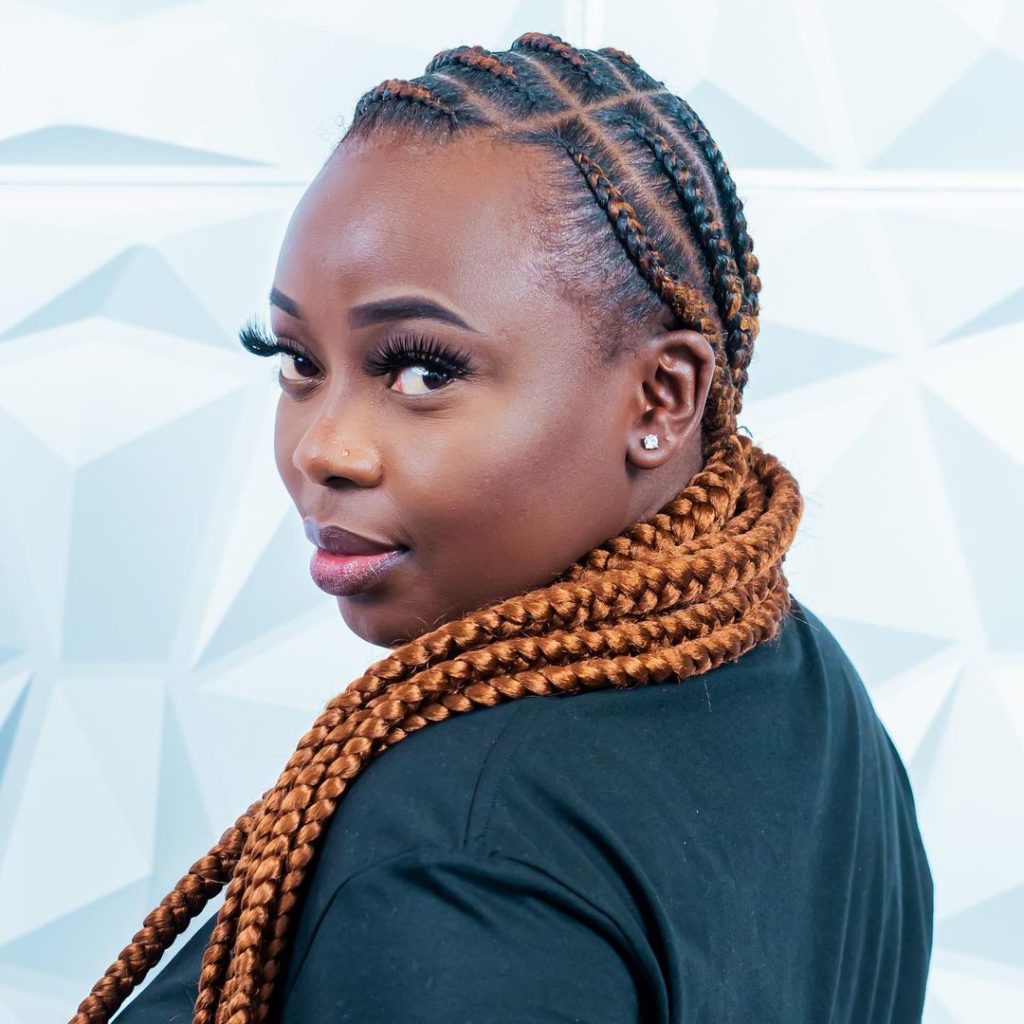 This chic pop-smoke style starts off with feed-in cornrows that come to an end a few inches in before branching out into thick box braids. The color choice also makes this look chic. That's the impact of brown braids.
43. Small Brown Curly Box Braids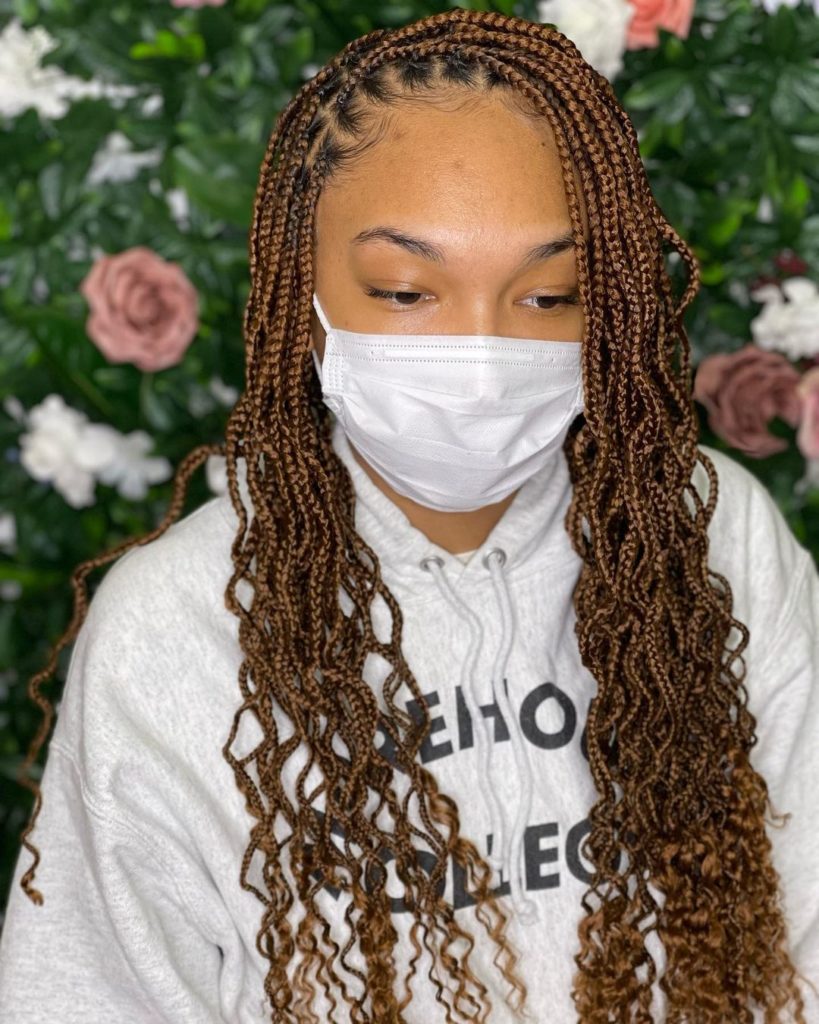 This look is super easy to attain. All it takes is a finished knotless box braid style, rollers, and boiling water, then after a few minutes, this curly style is all yours. The ends are also left undone for the introduction of stylish loose curls.
44. Black Cornrow Braids with High Curly Weave Ponytail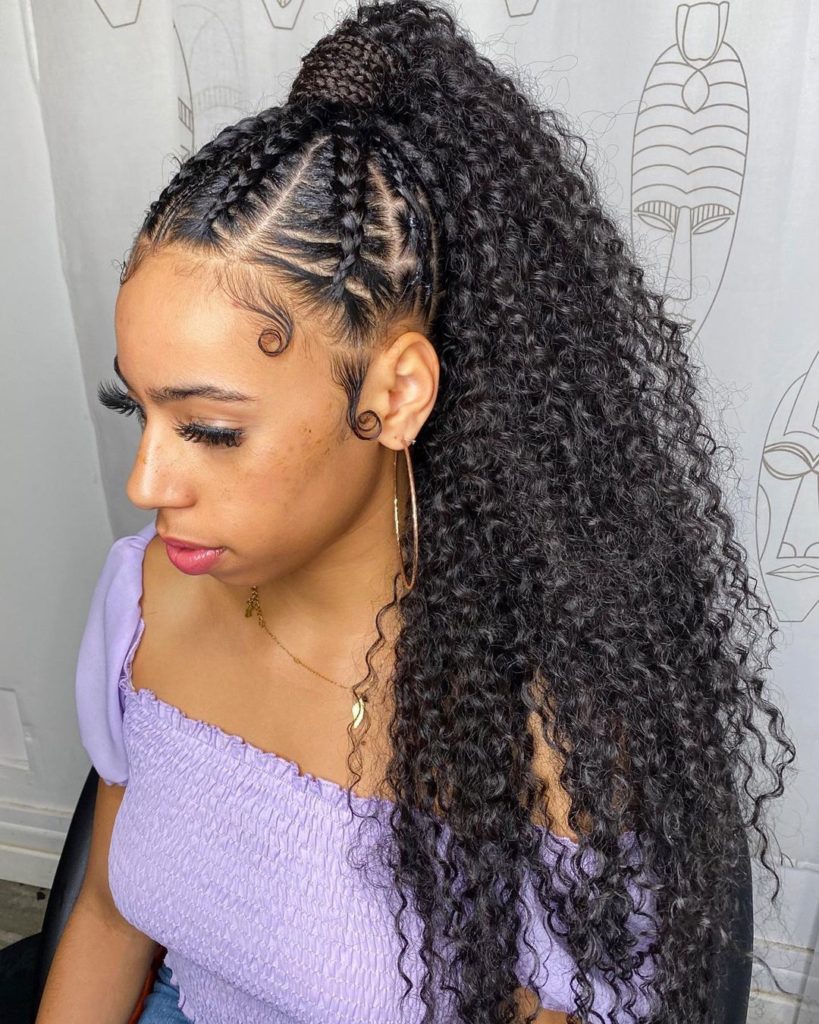 For this style, hair is sectioned into large parts and braided into chunky stitch cornrows tied into a high curly weave ponytail. 
If you don't mind all eyes on you, then don't let this style pass you by. It speaks volumes about your admirable fashion sense, and you'll have so much fun wearing it.
45. Black Jumbo Bohemian Box Braids
When you get your braids done, you should feel good about yourself, and luckily, that won't be a problem with these boho-chic feed-in braids. 
The plaits are jumbo-sized, so you'll enjoy wearing this confident look down in a relaxed style; a cute ponytail is also an option.
46. Black Cornrow Box Braid Bun with Burgundy Streaks
Streaks of colored hair are great for giving your braided bun a style boost. If you'll be wearing black cornrow box braids then burgundy is a great shade that will easily complement your new style.
47. Multi-Colored Box Braids
Show off your vibrant personality with multi-colored box braids that carry the same vibe. Orange, blonde, and brown braiding hair give this look a bright and warm tone. I can definitely see this being a hit for the fall season.
48. Black and Burgundy Bohemian Box Braids with Beads
A cute and unique way to wear bohemian box braids is to have your curls done in a contrasting color like burgundy, especially if you'll be wearing black braids. To complete the look, add clear beads for a youthful and chic flair.
49. Long Black and Pink Ket Braids
Speaking of vibrant styles, I'm in love with these black and pink feed-in box braids but before we get to this stunning color combo, it's vital to note that these braids vary just a bit from traditional box braids.
Each braid begins with cornrows until the plait starts a few inches in, perfect for a neater hairline. As our eyes travel downwards, we're welcomed by bright pink braids on the inside, and they make a bold fashion statement.
50. Brown Jumbo Goddess Box Braids
Apart from being the ultimate protective style, feed-in braids help us get in touch with our inner fierceness, even more so when large braids are involved. 
For this look, brown chunky box braids are wrapped around each other to form a jumbo braid. Completing the style, thick curls cascade over the shoulder for a look of ease and elegance.
SEE ALSO: 25 Coi Leray Braid Looks (How to & Styles)
51. Gray and Light Purple Ombre Box Braids
You can get creative with a feed-in ombre style as well – it all depends on the type of hair you buy. This edgy look features a two-toned gradient style, with gray braids on one side and light purple on the other, creating a high-contrast combo.
52. Large Black Bohemian Box Braids with High Bun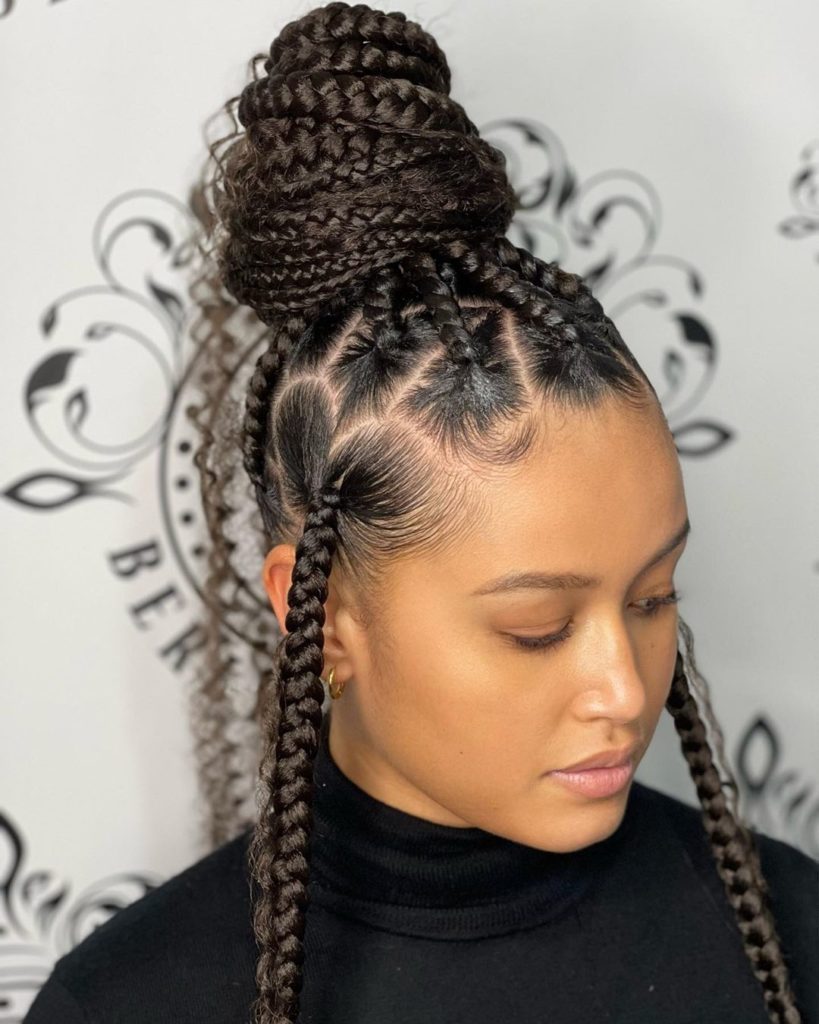 Bohemian Box Braids look really pretty in a high bun. I just love seeing those tendrils falling gracefully wherever they see fit. 
The attractiveness of this style is enhanced by a cute heart-shaped part and two box braids hanging on either side, framing the jawline and calling more attention to that elegant bun.
53. Small Orange Box Braid Bob with Beads
Sometimes short and spicy is just how we like it, and orange braids are perfect for that theme. The hair was also braided in small plaits for a super neat execution with jumbo transparent beads to keep up with the trend.
54. Half-Up, Half-Down Black Faux Locs with High Bun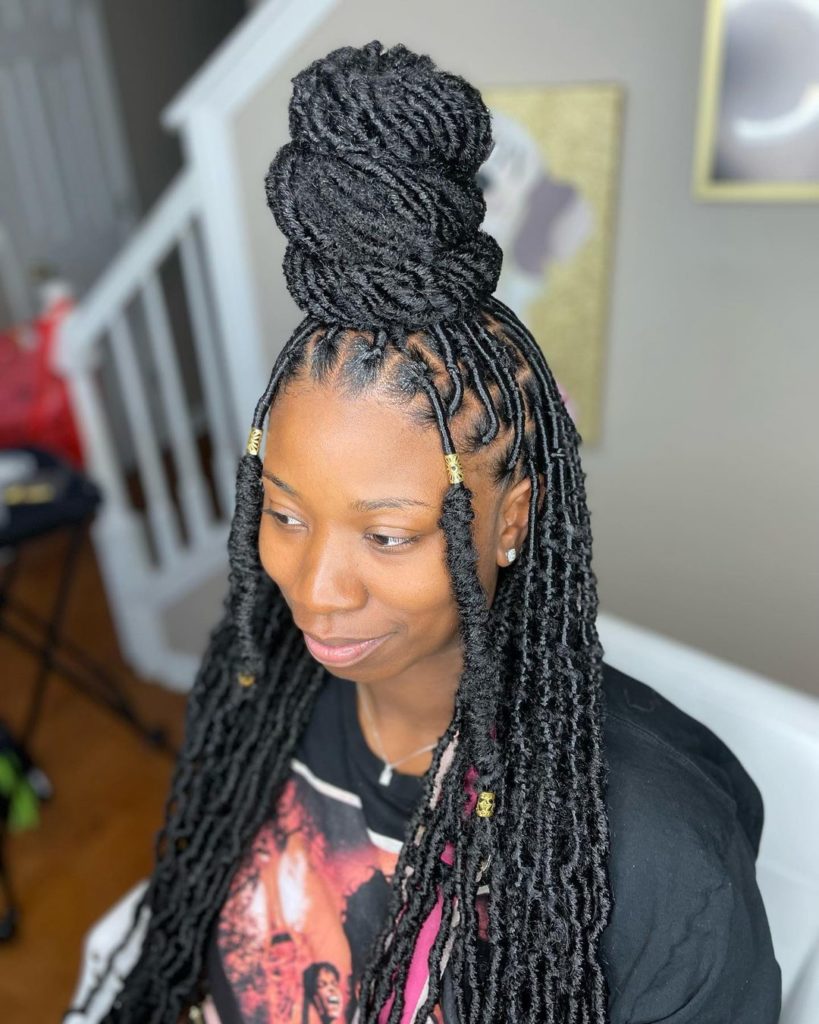 Once the installation of your pretty feed-in faux locs is done, feel free to rock some of your favorite styles to flaunt your new look.
Try sectioning your locs into two parts, tying the top section into a large high bun with the other half worn over your shoulders. Enhance this gorgeous look with stylish accessories like gold hair cuffs to enjoy this look to the max.
55. Black Goddess Lemonade Box Braids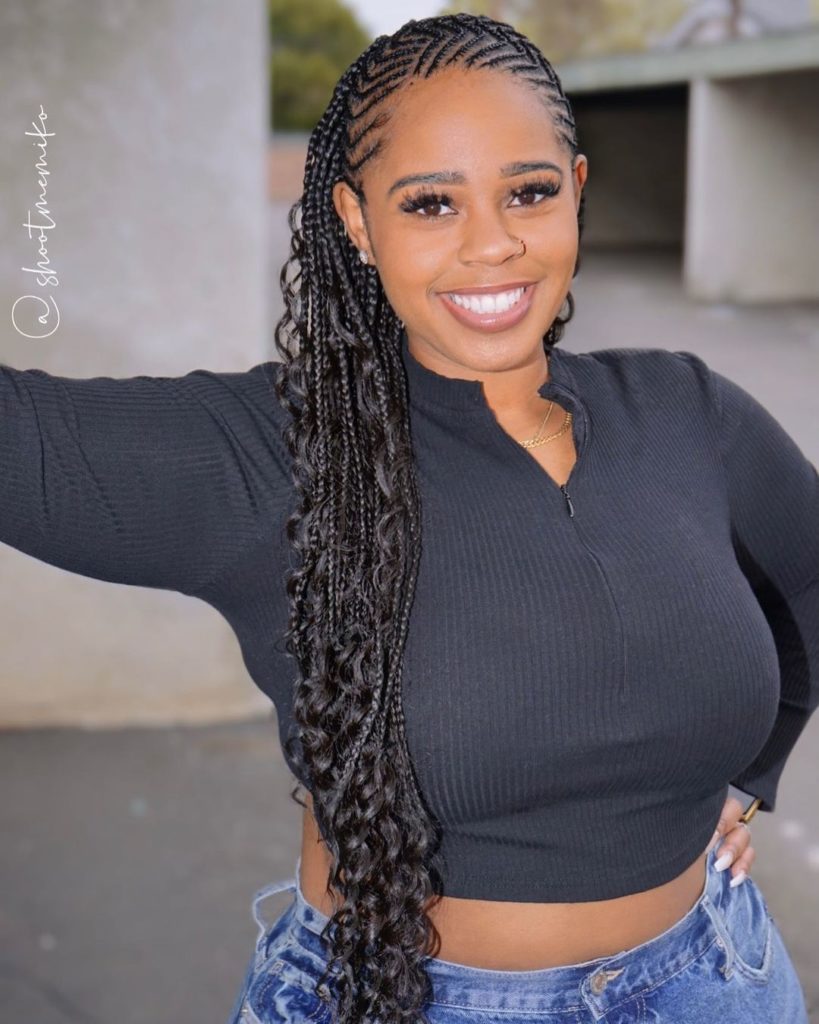 This trendy style is a fusion of lemonade and goddess box braids with neat zig-zag cornrows for your own special touch. Flaunt this look over your shoulder to place emphasis on those cute curls.
56. Long Black Faux Locs Pulled Back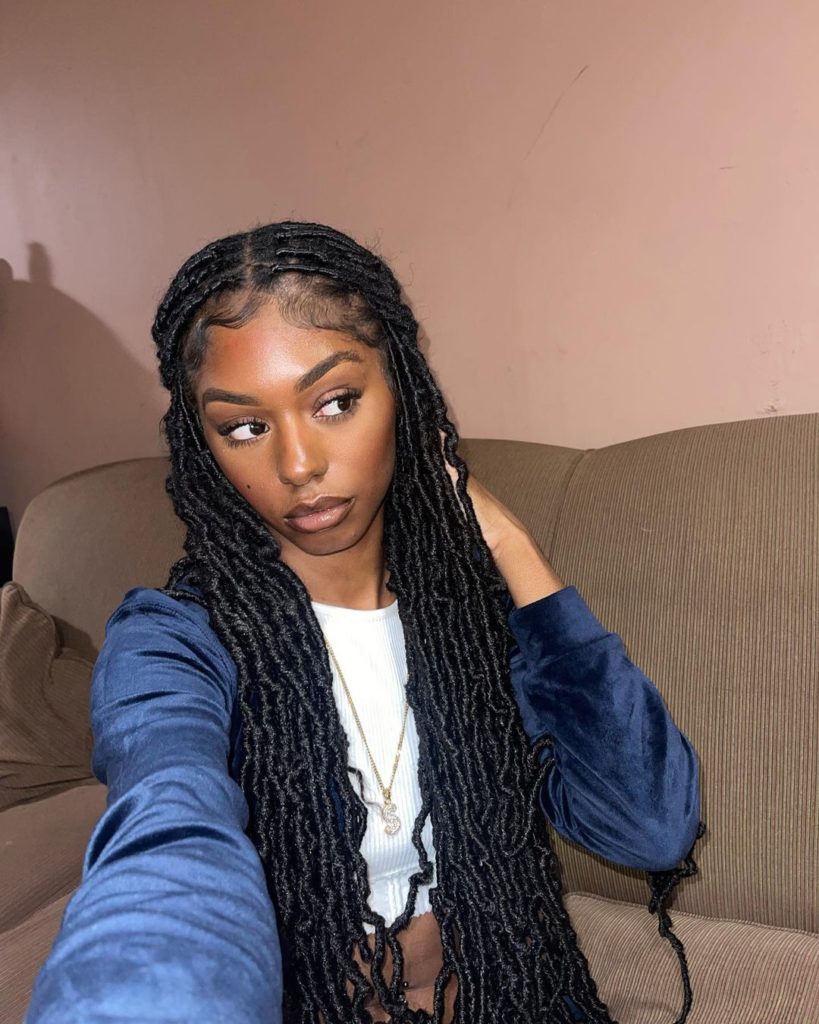 For a simple look that you can wear day-to-day, tie a few of your faux locs from either side into a small ponytail at the back. Take advantage of the length and allow the remaining locs to fall beautifully along the sides of your head.
57. Small Blonde Box Braid Bob
This small braided bob will delicately frame your face placing focus on your main facial features. In a blonde shade, these braids are highlighted all the more, and as a result, you will be too. 
The hair was given a side part for a slightly angled look which can be seen as more modern and flattering than the transitional center part.
58. Large Black Cornrow Box Braids with High Ponytail
Give chunky cornrow box braids an elegant flair by tying them into a bold high ponytail. This is a simple style that you can wear absolutely anywhere and still look fashionable. Add your favorite hair accessories to round off this look.
59. Black and Blonde Criss-Cross Cornrow Box Braids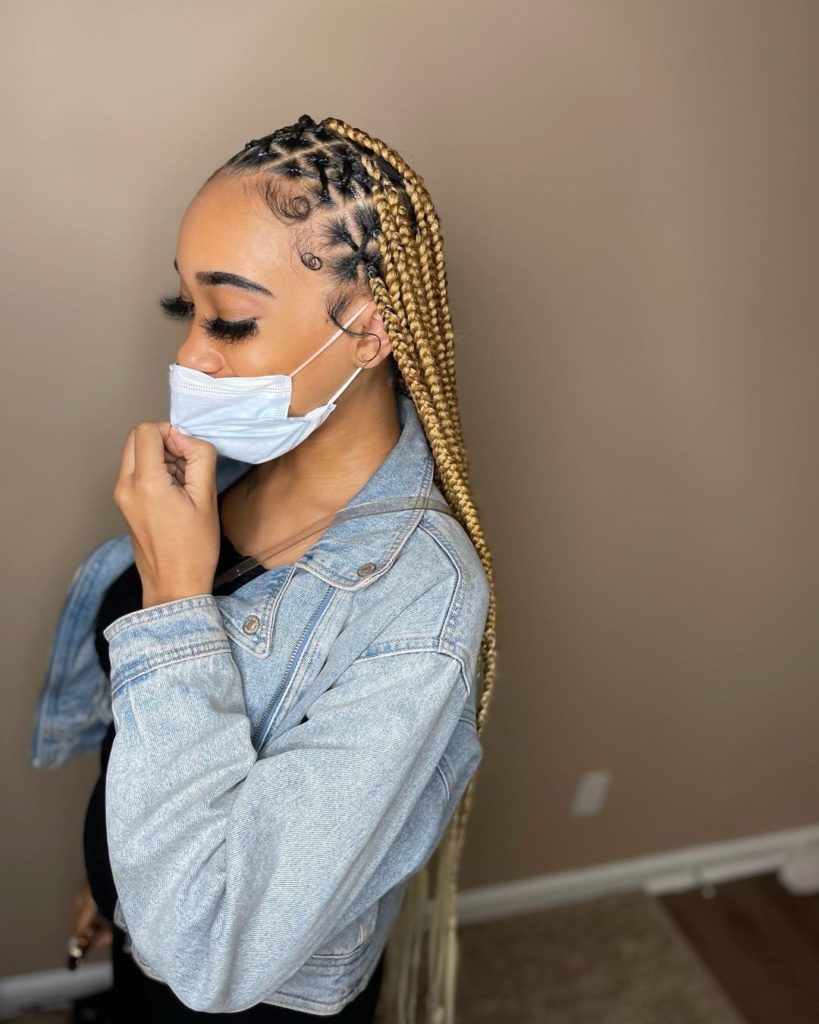 If you're like me, your next pick after black braids is generally a blonde look. As a matter of fact, blonde braids have only increased in popularity over the years because they're one of the most fabulous protective styles.
That said, you may want to set your blonde braids apart from the crowd. To help with that, I recommend a cool criss-cross cornrow design at the front before the blonde hair makes its intro.
60. Black Faux Locs with Large High Bun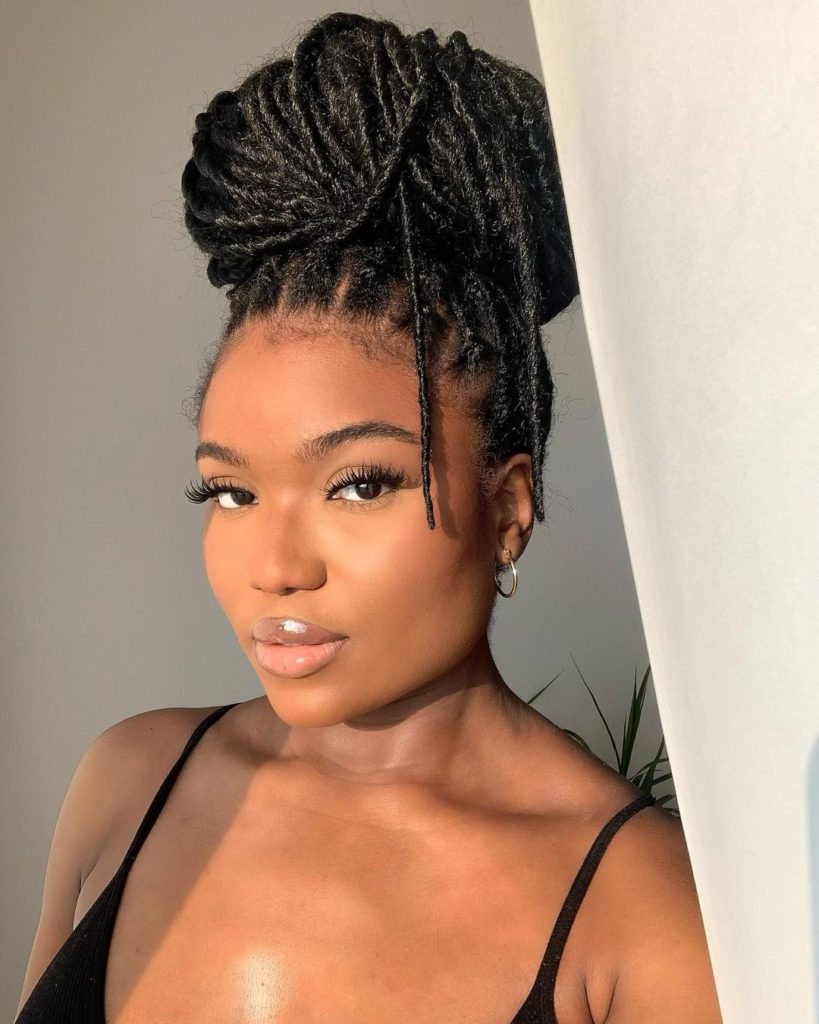 Give me faux locs in a bun any day, and I'll be the happiest woman alive. This style gives you a classy and natural look as it copies dreadlocks, minus the commitment.
61. Large Red Butterfly Box Braids
These are the box braid alternatives to passion twists, also known as butterfly box braids. They maintain the same distressed look, resulting in looser and fluffier braids. 
Why not try this fab style in a color you love? How about red? If you're feeling fierce.
62. Small Black, Brown, and Blonde Ombre Goddess Box Braids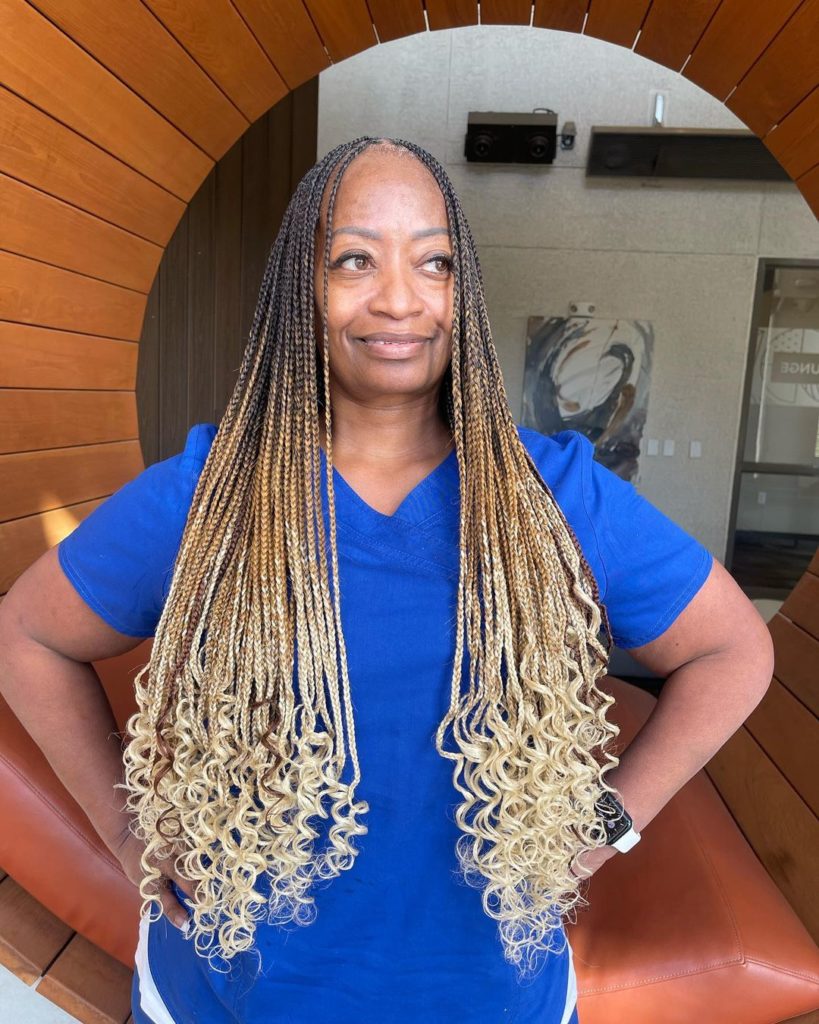 These well-defined coils sealed the deal on this look. Braids are done small, in a magical ombre blend, starting off with black hair, then brown, before stylish blonde curls take over.
63. Brown Jumbo Cornrow Box Braids Pulled Back
Keep your jumbo box braids looking neat even after a few weeks by pulling a few braids to the back in a ponytail style. You can also snip those flyaways and re-dip your hair in hot water to regain a sleek look.
64. Black and Brown Jumbo Twin Braids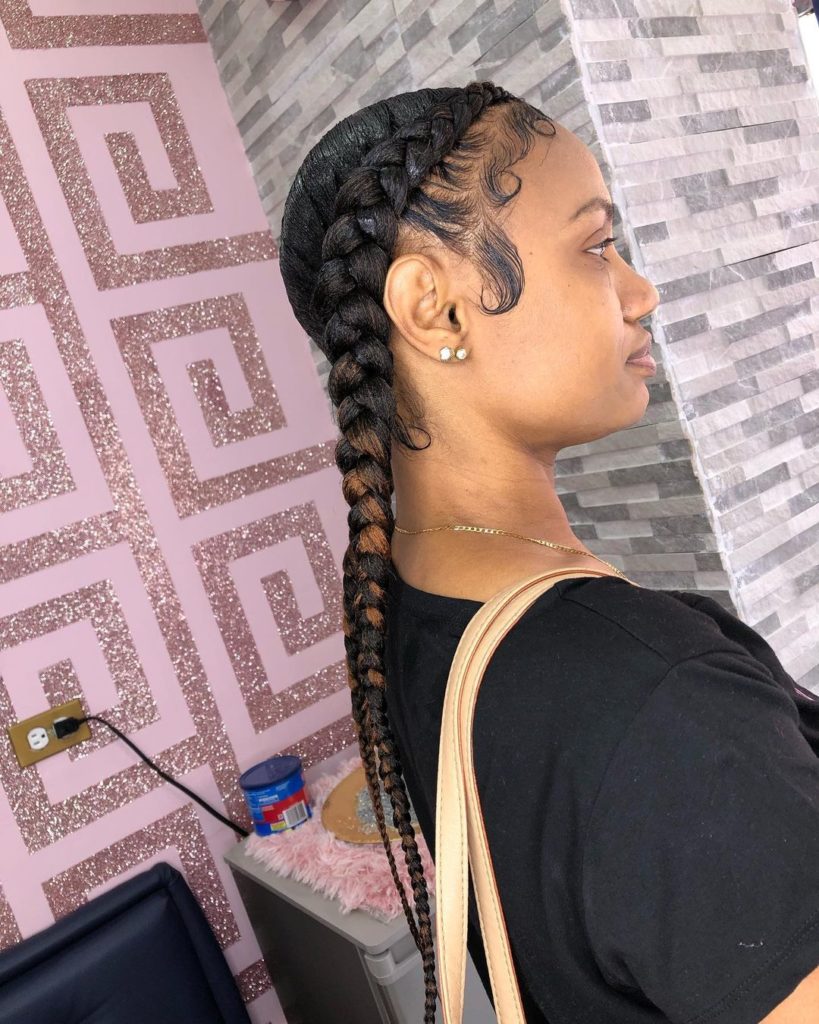 Few styles can compete with the cuteness of feed-in twin braids. Two Jumbo cornrows are braided all the way back in this youthful Summer-worthy style with brown braiding hair intertwined for a hint of color.
65. Shoulder-Length Dark Brown Butterfly Locs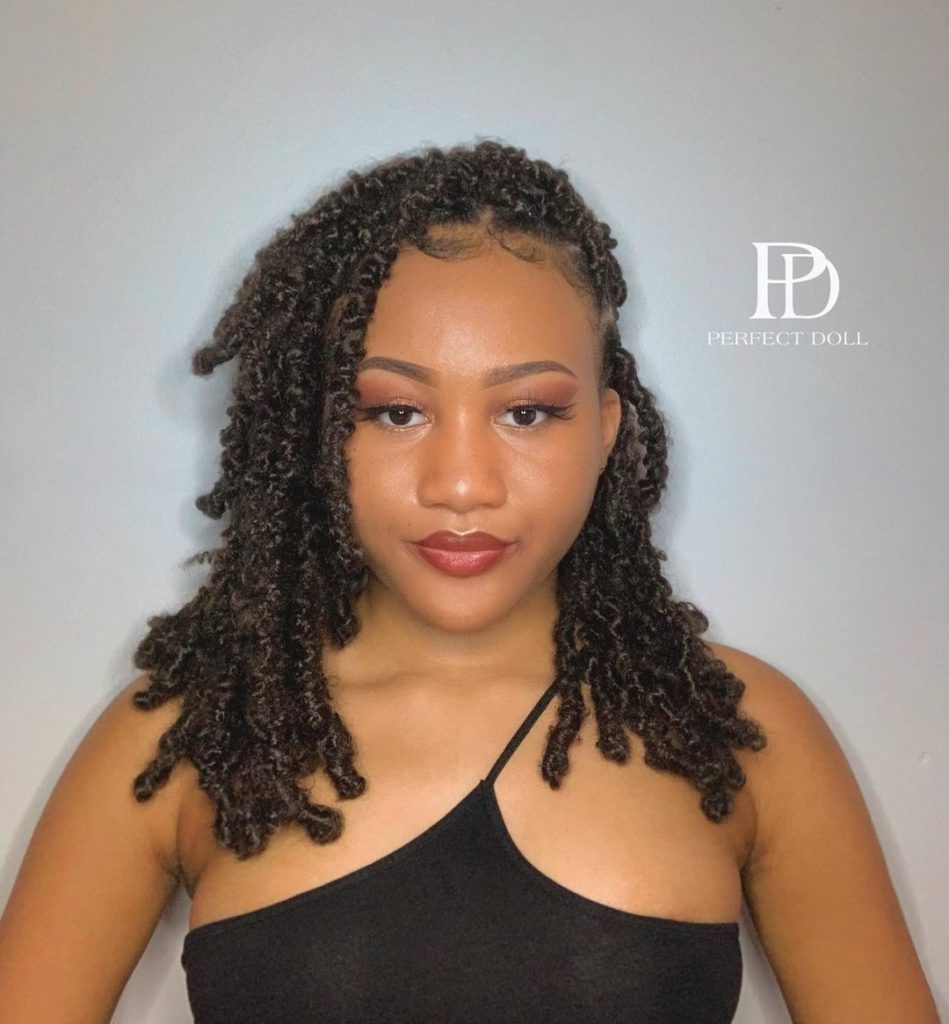 Butterfly locs at shoulder-length are so beautiful. Flaunt this pretty style as is or in a half-up, half-down look. Either way, you'll look perfect!
66. Black Stitch Cornrow Box Braids with Low Bun
Fuse a creative cornrow style with simplicity by tying the ends into a snazzy and laid-back low bun. With the braids pulled back, it places even greater focus on the intricate zig-zag and stitch cornrow patterns.
67. Black Box Braids with Brown Faux Locs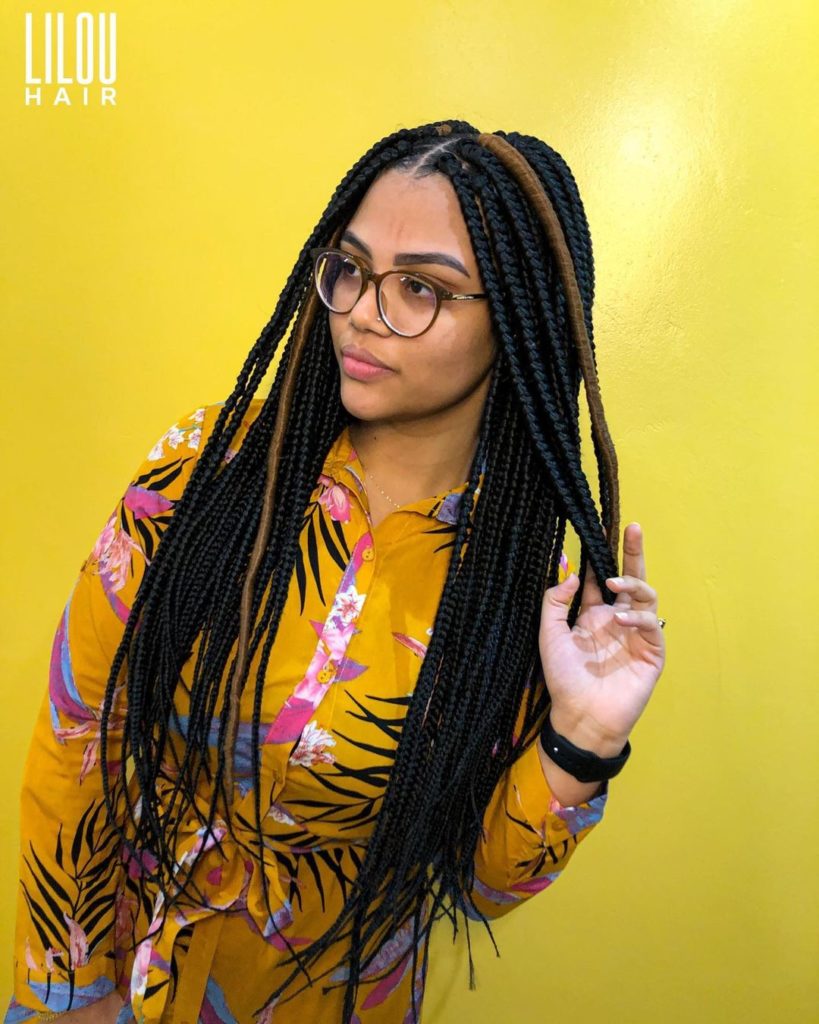 Throughout this compilation, we've been raving about box braids and locs as well, but this look brings both styles together, and I'm loving the combination. 
Black box braids are the star of this style but a team of two brown faux locs on either side makes this look a head-turner for sure.
68. Black Jumbo Twin Braids with Curls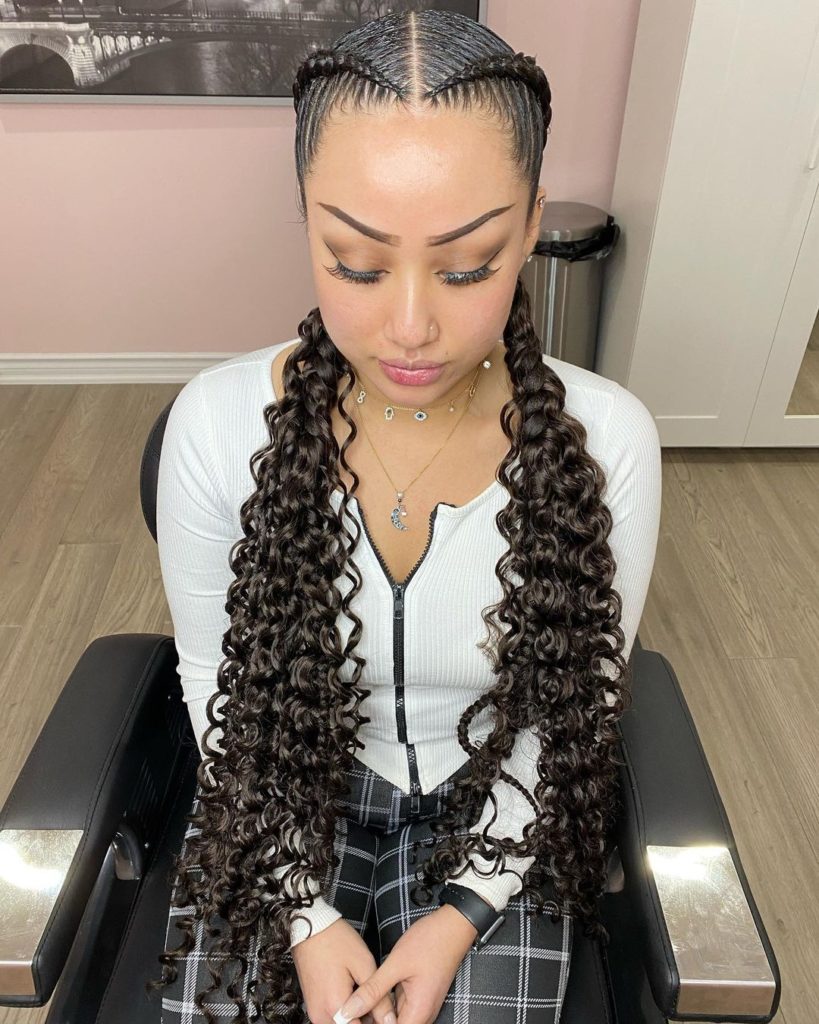 Maybe you're accustomed to jumbo twin braids, but have you tried this trendy style with the ends unraveled into thick beautiful curls? Here's the sign you needed. Give this style a try, and have fun getting dressed up in the mornings.
69. Large Black Stitch Goddess Lemonade Braids
For this look, large stitch cornrows are braided around the shape of the head in a spiral pattern. The ends are done up in cute curls for a goddess braid-inspired style.
70. Black Faux Locs with High Ponytail and Decorative Cords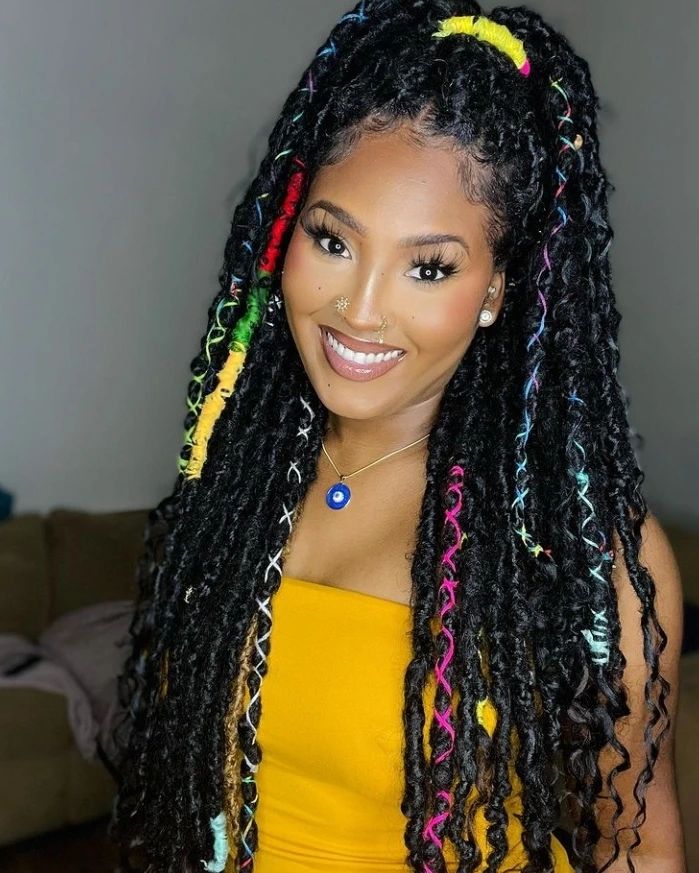 Brainstorming how to get colorful locs without using tons of different hair? This look is absolutely perfect for you. 
First, pull your hair into a high ponytail, then use hair accessories, primarily decorative cords, to wrap around a few locs on either side. By the time you're through, you'll be obsessed with your new look.
71. Long Black and Dark Brown Zig-Zag Cornrow Box Braids
Achieve a look that's neat and flawless with feed-in zig-zag cornrows. These cornrows were braided in large sizes for a bold finish. 
The look was completed with a trail of long box braids that you can style in plenty of ways: in a ponytail, high bun, or simply as is.
72. Black Faux Loc Bob with Two Top Knot Buns
Transform a faux loc bob into one of the cutest styles ever with two top knot buns. With the feed-in technique, this style will be a lot easier to achieve without having to wait days or weeks for your locs to loosen at the root.
73. Black Stitch Cornrows with Low Curly Weave Ponytail
For this look, large stitch cornrows are left unraveled at the end to display a curly weave ponytail. You can rely on this cute style to upgrade casual day-to-day outfits. 
Just be sure to limit frizz and protect your curls from getting tangled. Hairspray and a silk bonnet can assist with both, respectively.
74. Black Jumbo Twin Braids with Small Side Cornrows
Add your unique touch to feed-in twin braids with smaller versions on both sides woven into the jumbo-sized cornrows. 
This style will last a bit longer than traditional twin braids as less hair will be subjected to frizz and be pulled from the braid after weeks of wear.
75. Black Bohemian Triangle Box Braids
The unique flair of these boho-chic box braids has everything to do with the way your hair is parted. To achieve this look, hair is divided into triangular sections that make each part look sharp and extremely neat.
76. Half-Up, Half-Down Black Fulani Braids with Top Knot Buns
This style features Fulani braids in a half-up, half-down style with two top knot buns gracing the crown of the head. It's a trendy twist to a trailblazing style. Add a few trinkets here and there to amp up this gorgeous tribal braid look.
77. Long Black Goddess Locs with High Side Ponytail
Do you know what's even cuter than classic faux locs? Faux locs in a high side ponytail. The attitude and flair this look has is something else with wavy curls that bring an ultra-feminine touch. Dress these locs up or down. The choice is yours.
78. Black and Brown Jumbo Box Braids with White Hair Cord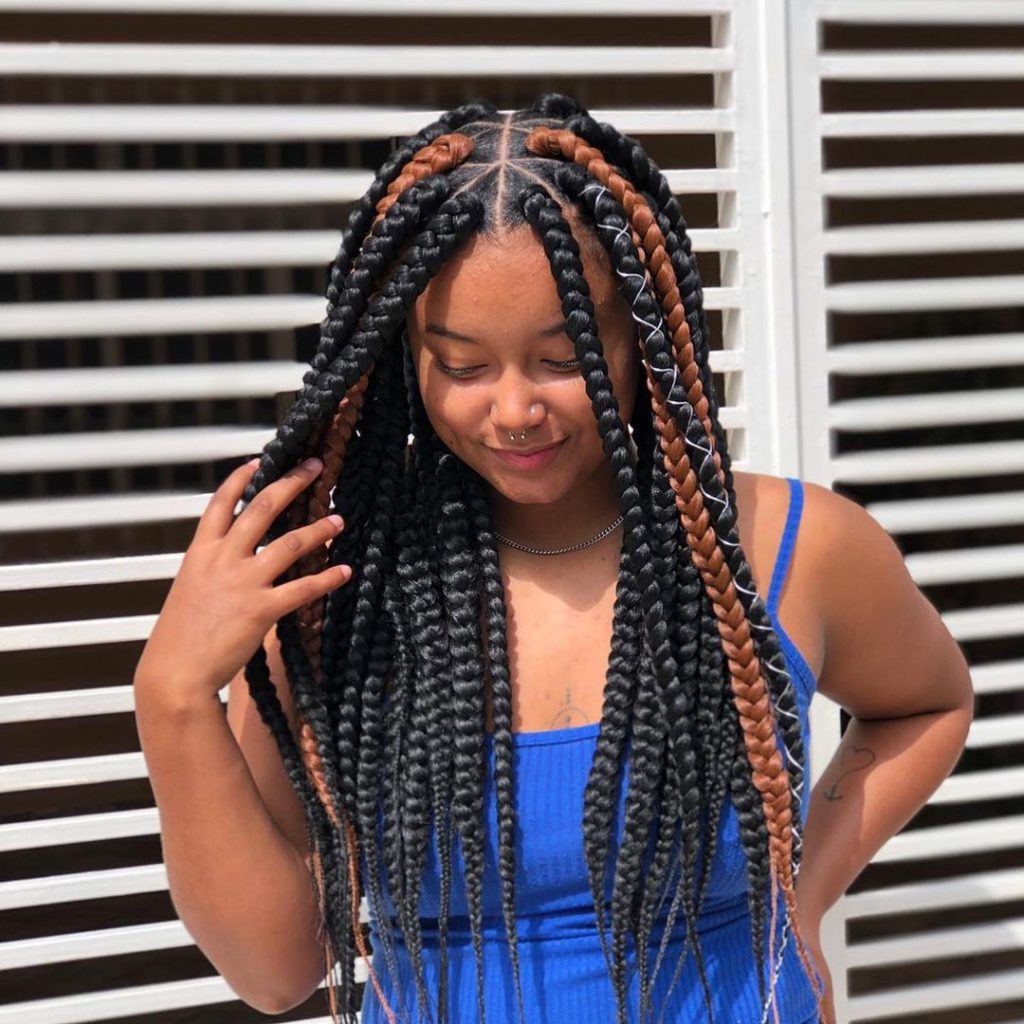 Jumbo box braids have such a vibe. Rock yours during any season in a stylish black and brown combo, accessorized by a cute white metallic braid cord.
79. Small Black and Burgundy Box Braid Bun with Beaded Side Bang
This box braid style features small spiral cornrows tied into a stylish top knot bun. At the side, beaded braids, resembling a side bang are worn at chin length for an overall neat and classy look.
80. Black Jumbo Goddess Box Braids with High Ponytail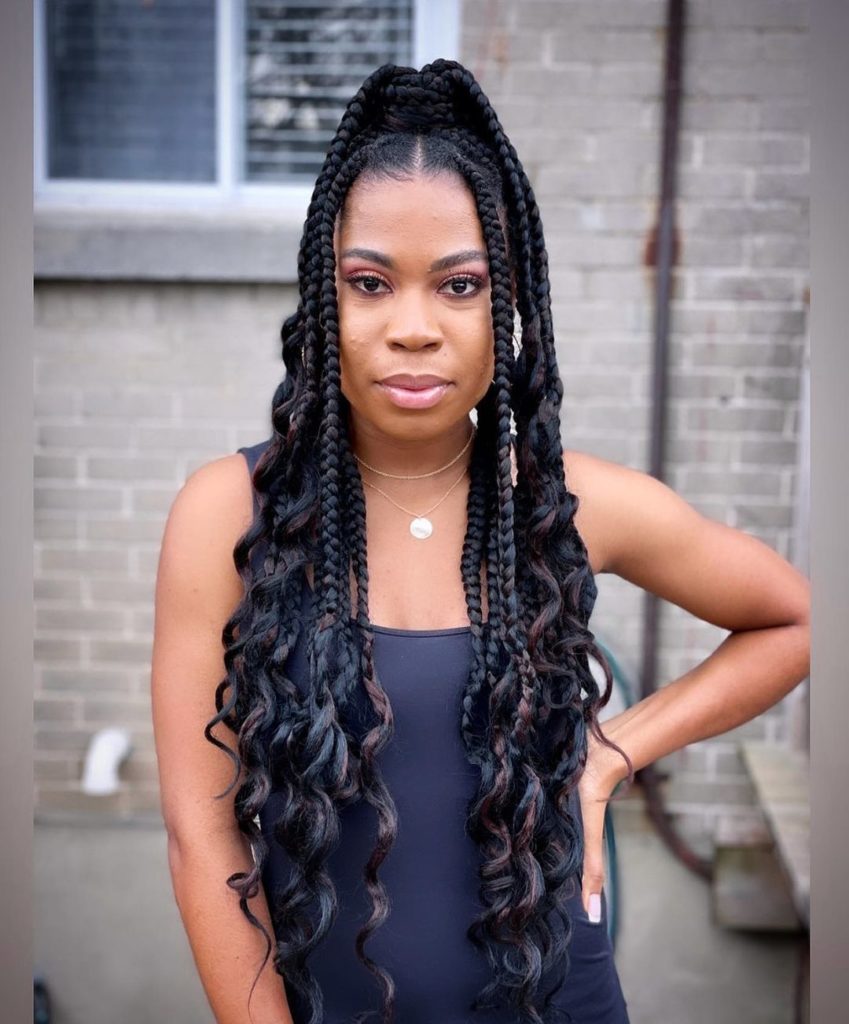 You'll never have to worry about standing out with these braids. Jumbo goddess box braids are eye-catching, to say the least. Style this look into a cute high ponytail with a braid left to fall on either side of the face.
81. Long Black Jumbo Twin Stitch Braids with Beads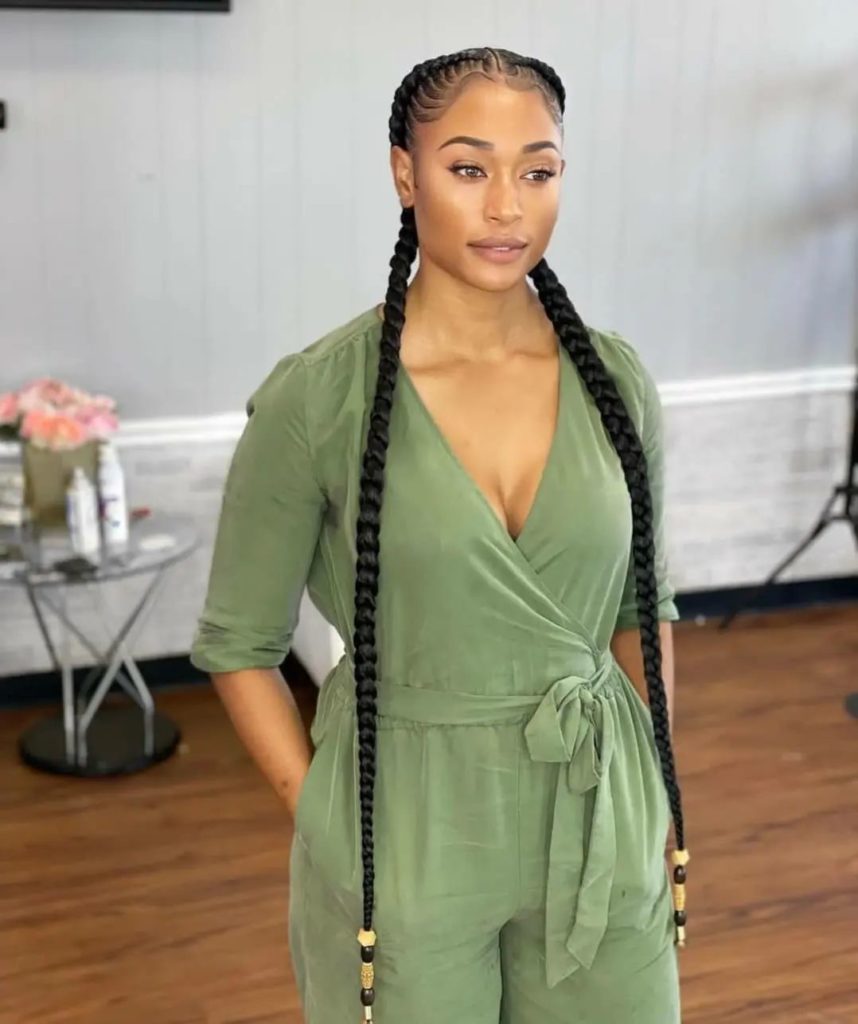 At first glance they appear to be your average jumbo twin braids, but on the contrary, these are far more magnificent. 
Beyond hip length, this chic look was achieved by feed-in stitch cornrows, embellished with neutral-toned beads at the end, perfect for complementing your fall outfits.
SEE ALSO: 65 Trending Stitch Braid Hairstyles
82. Small Half-Up, Half-Down Brown Box Braids with High Bun
Brown braids have a knack for brightening up your entire appearance, giving your face a fresh look. It's a neutral hue as well so your hair will look amazing with bright multi-colored outfits and warm-toned ensembles, just the same.
83. Long Black Ghana Box Braids with Stitch Cornrows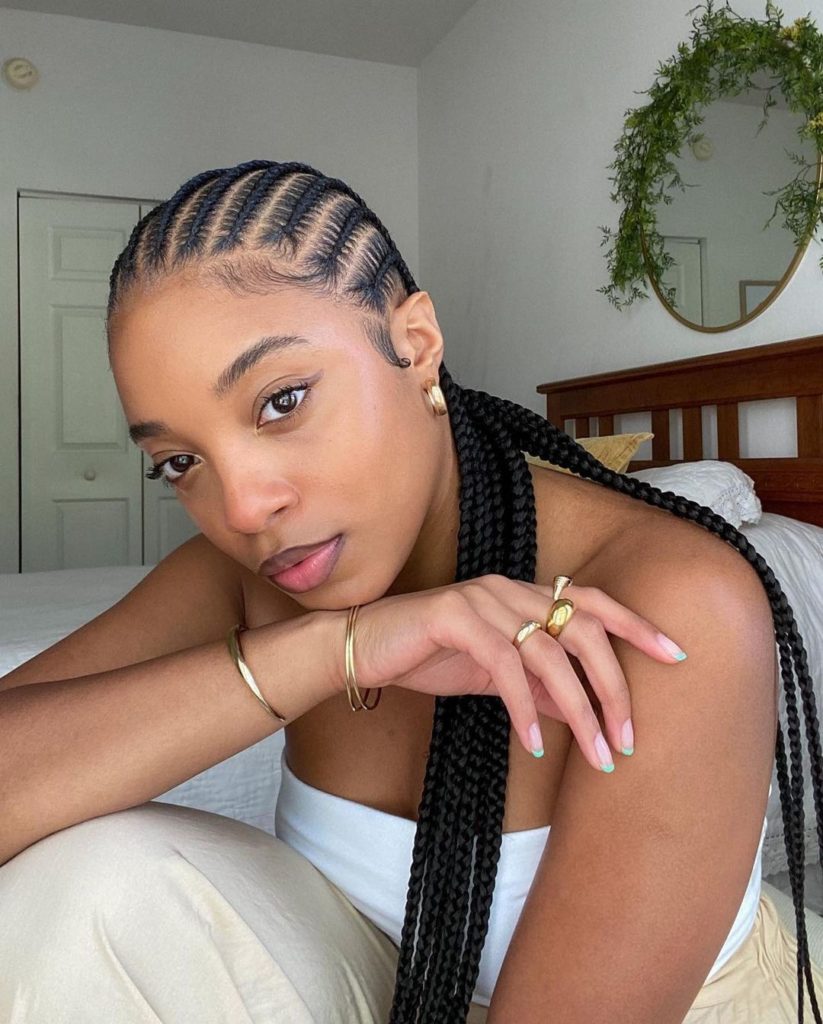 Long box braids make Ghana cornrows look even more refined. Plus, this style was braided using the stitch technique, ensuring each cornrow lays flat against the scalp for a guaranteed neat and flawless look.
84. Small Brown Fulani Box Braids with Beads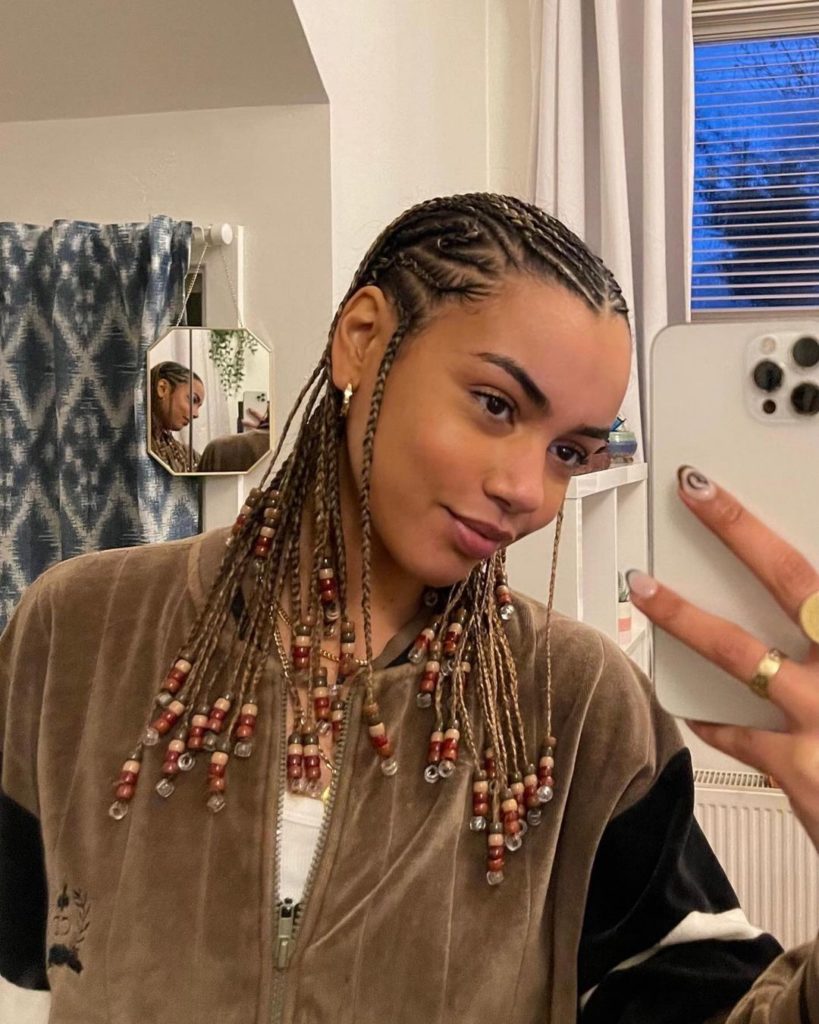 Here's another impressively neat style to feast your eyes upon. Intricate cornrows braided back lead to thin brown braids, adorned with brown and transparent beads for a super cute look. 
This style also features a reverse cornrow on both sides for a Fulani braid blend.
85. Black Cornrow Box Braids with Straight Weave Ponytail and Hair Cords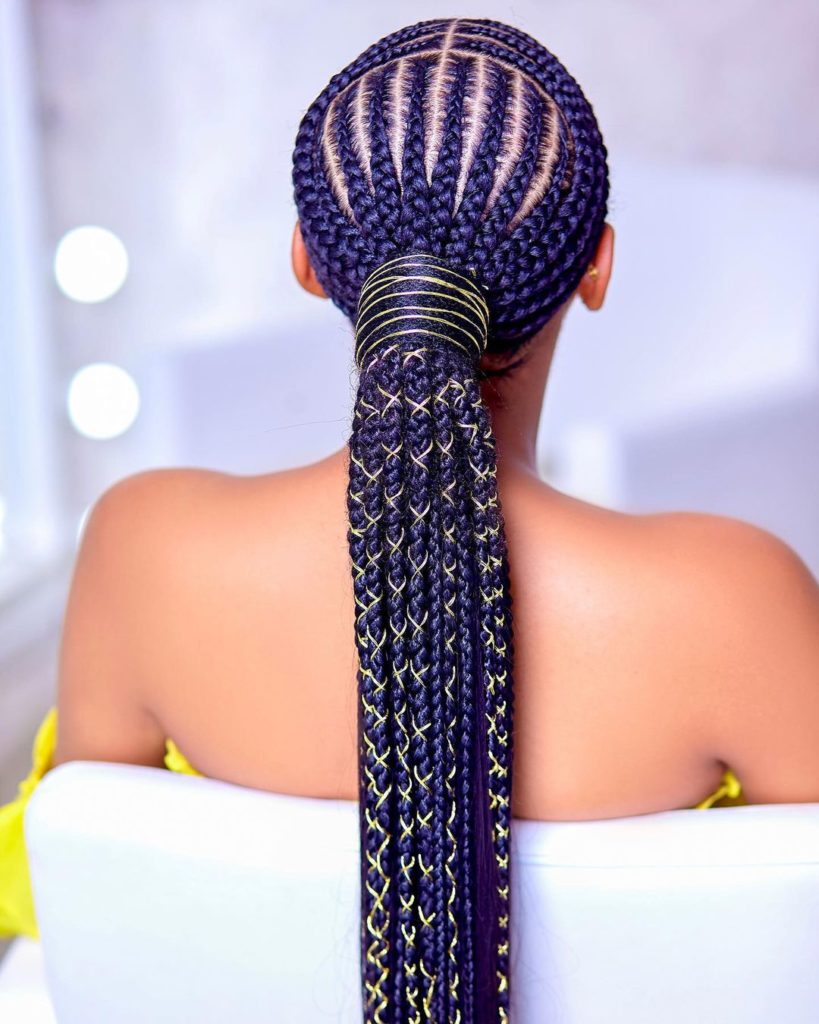 For this look, medium-sized cornrows are braided on either side of a center part around the contour of the head with a section of cornrows braided back as well. 
They were pulled into a neat weave ponytail and adorned with bright-colored hair cords for a look that's extremely fashion-forward.
86. Long Blonde Box Braids with Low Ponytail and Headband
For a braided style that's refreshing, youthful, and perfect for Summer escapades, long blonde box braids are highly recommended. 
Get them done in a feed-in style to ensure comfort and ease when you tie them into a cute ponytail. Secure a headband on top for a girly finish.
87. Large Brown Box Braids with Butterfly Cornrows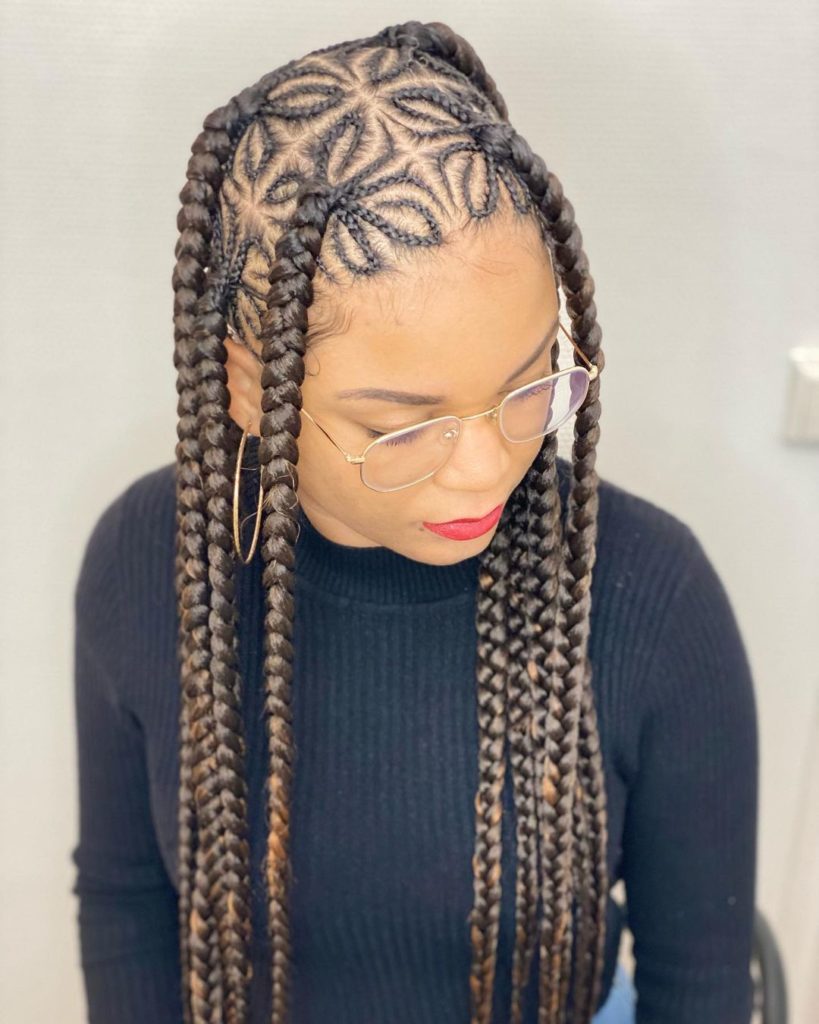 This box braid look consists of butterfly-shaped cornrows braided into long thick plaits. It's an intricate design that offers you a neat and unusual style with lots of flair and personality.
88. Black Goddess Braids with Low Curly Weave Ponytail
A hairstyle that makes you look and feel confident is worth every dime. That's the vibe of these cornrow goddess braids. 
Large cornrows shape both halves of the head, separated by a center part for a sophisticated look. A curly weave ponytail is worn at the nape of the neck for an all-together chic style.
89. Small Black Box Braids with Voluminous Shoulder-Length Curls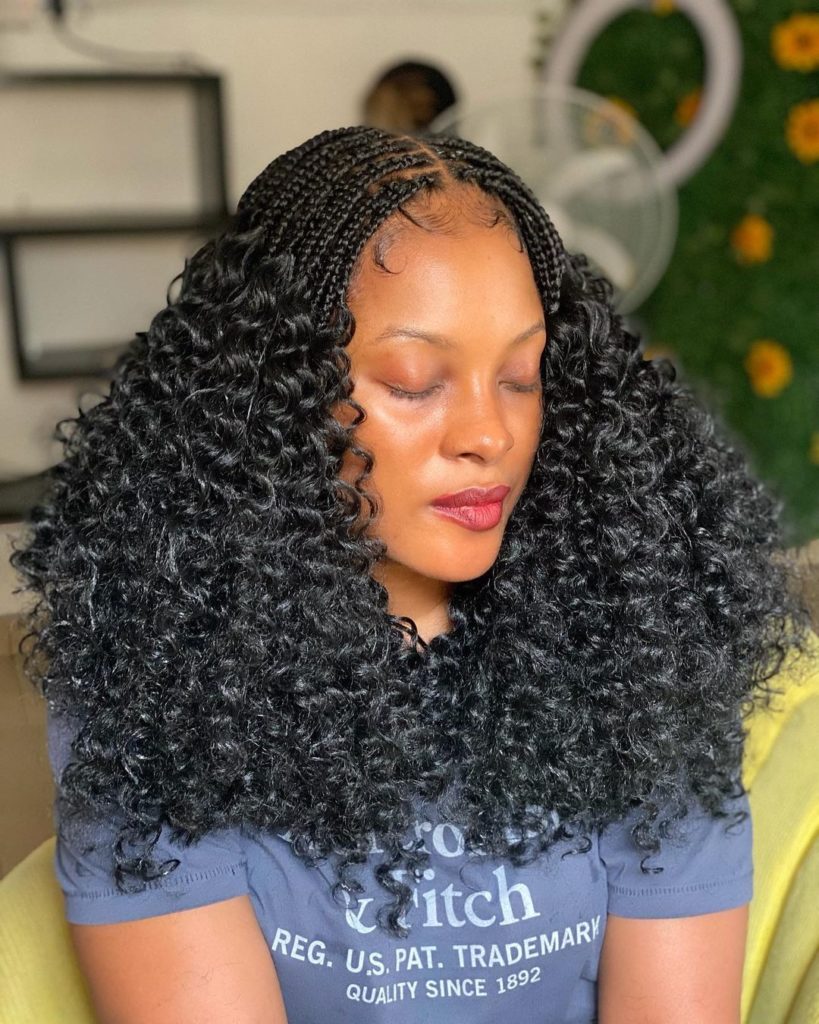 This feed-in style will get you in the mood to get dressed and go out, instantly. It starts off with neat, small box braids before voluminous shoulder-length curls take center stage.
These striking curls boldly surround the face and with such elegance as well. You can wear this look as is or in a half-up ponytail style to exhibit versatility.
90. Black Micro Goddess Box Braids with Ponytail
Micro box braids have long been praised for how immaculately neat they are and with the feed-in technique that quality is greatly enhanced. 
I also love the inclusion of wavy curls at the end, upgrading a casual style into one that's more eye-catching.
91. Black Criss-Cross Lemonade Braids
Give your lemonade braids a distinct look with a single criss-cross cornrow design at the side. It's an immediate attention-grabber that leads onlookers to admire the entirety of your braided style.
92. Long Brown Cornrow Box Braids with High Ponytail and Beads
Now, that's a fresh look! The color, the style, the length; they're everything. At the crown of the head, hair is sectioned into two parts for curved cornrows on one side and shoulder-length box braids on the next, recreating a side bang.
The hair is pulled into a neat high ponytail, and I'm loving how sleek and long it is. Brown and white beads were popped onto the braids at the side for an utterly fabulous finish.
93. Long Black Spiral Lemonade Box Braids
The style of these lemonade braids is contingent on the direction your hair is braided in. To achieve the look, cornrows are done in a spiral pattern from various sides of the head.
It's a style you can have lots of fun with as you can wear these braids as is or in a low or high ponytail, leaving the braids at the front for a side bang effect.
94. Black Fishtail Box Braids
A ponytail isn't the only way to keep your braids together, you can also try a fishtail braid. This style is cute, noticeable, and easy to achieve so you can definitely have it done yourself.
Separate your hair into two parts, pulling a small portion of braids from each section. Then, tuck each portion under the opposite side. Continue this method until the very end and you'll achieve a beautiful easy-to-wear hairstyle.
95. Burgundy Box Braids with Beads
We're all about finding the latest trends and giving them the love they deserve, and these burgundy box braids have earned their spot on this list. 
As if this color wasn't hypnotizing enough, it's enhanced by decorative clear beads, a contrast we all live for.
96. Short Brown Butterfly Locs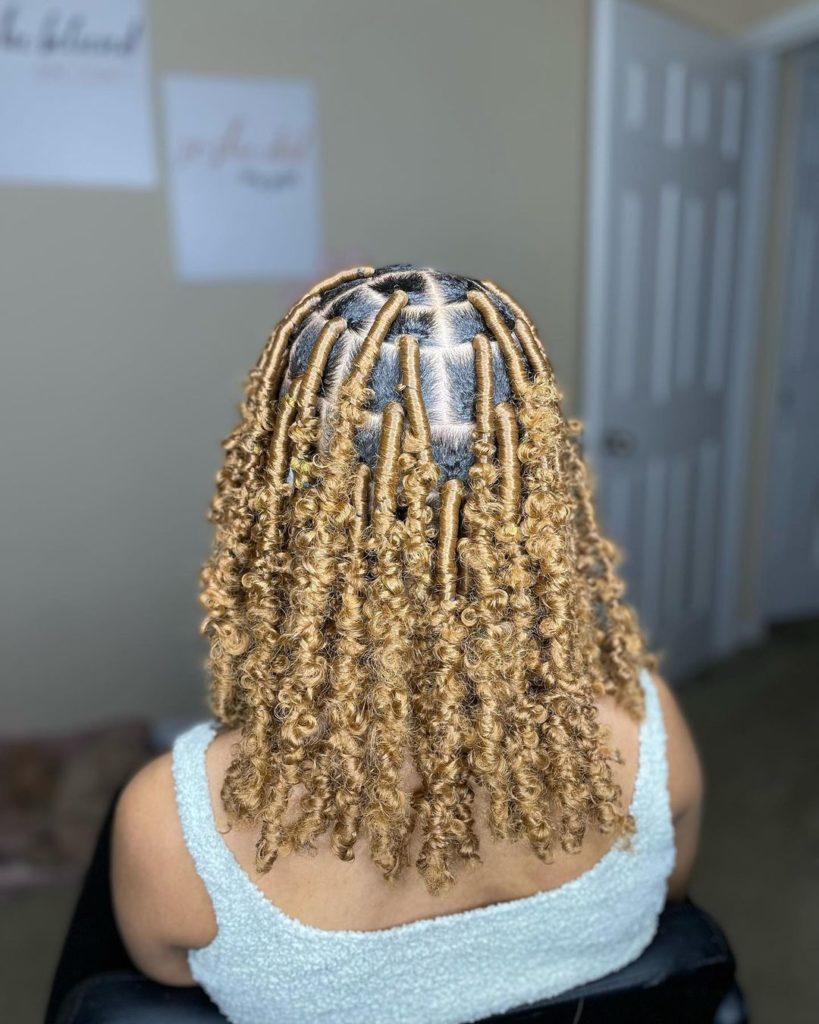 These short butterfly locs are simply astounding, done in a bright brown shade that beautifully enhances the unraveled look. Can you see yourself rocking this stunning style?
97. Medium-Sized Black Bohemian Box Braids with High Bun
Bohemian box braids have a cute messy look, owing to the loose curls that accompany this hairstyle but you can give these braids a neater finish by employing the feed-in technique for a sleek hairline.
You can also opt for medium-sized plaits to aid in achieving more refined updos like this chic high bun.
98. Black Jumbo Butterfly Box Braids
This look features bold and luxurious butterfly box braids that'll make you stand out no matter your outfit or the occasion. However, the real highlight of this feed-in style is the unraveled braid ends, held in place by black rubber bands.
99. Black and Burgundy Double Braided Bun with Small Cornrows
Let's dispel the notion that buns only come in handy when we're out of hairstyle ideas. A bun can be super fashionable while helping our braids look neat for the entire day.
If you want to add an extra special touch to your braided bun, try an intricate cornrow design on the crown of your head. For this look, twin jumbo braids were complemented by much smaller cornrows, designed in a cool and playful pattern.
100. Black Freestyle Ghana Braids
Style your Ghana braids however you like with cornrows braided in multiple patterns. This super cool look has it all: regular cornrows, criss-cross designed, and heart-shaped.
Summary and Top Picks
Feed-in braids are heaven-sent, just what every protective style lover needs. I really hope this article has opened your eyes to all the benefits of this style. Feed-in braids, in all variations, are beautiful, comfortable, and worth every second in that salon chair.
The braids highlighted throughout this compilation are amazing and remarkably diverse, so choosing my top picks was no simple feat but in the end, styles 6, 8, and 75 came out on top for their polished and feminine look.
What about you? Which feed-in styles turned out to be your ultimate favorites and what are the features that stood out the most? Share your thoughts and any questions you have down below.