Getting our hair braided is an act of self-care and personal beauty that so many of us look forward to, and the more we wear these protective styles, the greater our desire to try new looks or improve our all-time favorites becomes.
Aside from pairing colors, we can jazz up our braids with the help of accessories—from stylish hair cuffs to metallic cords and other cute trinkets. One of the most popular ways is to add beads to the ends of your braids. 
Beads allow you to be creative with your protective style as you can slide them on in different colors, such as brown, red, yellow, or pink. You can also combine colors and different styles of beads for an ultra-chic or tribal look.
Beads allow us a simple and effective way to set our braids apart and add our personal touch without any hassle. If simplicity and style are your goals, then you're at the right place! Here are braids with beads that you need to try right away.
1. Brown Box Braids With Clear Beads
Complement your brown box braids with clear beads for an effortlessly chic look. The clear beads won't distract in any way from your braids. Instead, they'll highlight the color and bring diversity to your protective style.
2. Black Box Braids With Clear and Brown Beads
If you're rocking classic black braids, then a great idea is to accessorize each with clear and brown beads. The mix of tones makes this braided look way more interesting while maintaining that neutral, versatile appeal.
3. Short Black Cornrow Box Braids With Brown Beads
I've been having a greater appreciation for shorter braids recently. I find them to be so cute and easy to style. 
Starting with neat cornrows, these box braids are completed by long brown beads, and I can already confirm that this look is a favorite!
4. Black Box Braids With Clear Beads
It doesn't get any simpler than black braids with clear beads. This look is a no-brainer if you want to amp up your protective style in no time, especially if versatility is a big deal for you.
5. Burgundy Box Braids With Clear Beads
Burgundy braids also look amazing with clear beads. Paired together, the color of your braids will really get the chance to shine. Plus, the beads add a chic touch that will enhance your everyday outfits.
6. Red and Black Box Braids With Clear Beads
Red and black braids automatically give you an edgy vibe. Complete the look with clear beads, and you'll be rocking an even more fashionable protective style.
7. Short Ghana Braids With Clear Beads
Beads also help to enhance a simple braided style. If you are wearing Ghana cornrows, adding clear beads to the ends will immediately transform your look into one that's chic and trendy.
8. Black Box Braids With High Bun and Brown Beads
A braided bun is one of my favorite styles. Buns are easy to achieve, versatile, and so classy. You can achieve an even more flattering look by adding beads. Here, beads in shades of brown bring a sophisticated vibe that's perfect for fall.
9. Long Brown Ghana Braids With Clear Beads
Braids look just as amazing on long braids as they do on short ones. For this look, stitch cornrows begin the style, braided all the way back into plaits. At the ends of each, clear beads are added to add extra oomph.
10. Brown Box Braids With Two Ponytails and Pink and Blue Beads
Double ponytail braid styles are the cutest. They're even more attractive, accessorized by cute beads in baby pink and blue.
11. Black Stitch Cornrow Box Braids With Curly Weave and Clear Beads
Wearing a curly weave with your braid is one thing but adding beads takes your look to a new level. The braids could easily get lost amidst the curly hair, but with those clear beads, they're brought back into the forefront.
12. Black Box Braids With Criss-Cross Cornrows and Brown and White Beads
These criss-cross cornrow braids are trendy and creative, making this box braid look so eye-catching, but it doesn't stop there. White and brown beads adorn the end of each braid, adding a touch of color to this protective style.
13. Black Box Braids With Two High Buns and Clear Beads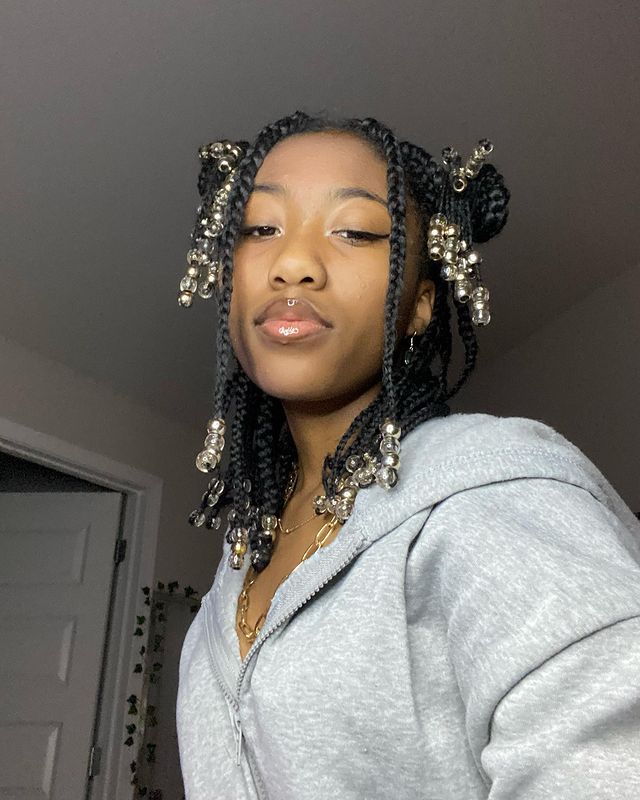 Small buns make achieving a super cute look so easy. For this box braid style, clear beads are used to accessorize every part of this look, from the buns to the plaits falling loosely on either side.
14. Black and Blue Box Braids With Clear Beads
When wearing colored braids, clear beads can help strike a balance. For this braided style, blue braids are paired with black to add a pop of color. The beads complement both shades so that the combination works effortlessly.
15. Bright Pink Cornrow Box Braids With Clear Beads
Go all out by decorating your bright pink braids with clear beads. Since the beads are transparent, they won't clash with the color or diminish the vibrancy of your hair.
16. Black Ghana Braids With Stitch Cornrows and Brown Beads
First of all, I love the curved stitch cornrows that begin this braided style. If you're looking for a chic Ghana braid style that's super neat, you should definitely use this as inspiration. Be sure to add beads in shades of brown to enhance the look.
17. Black Fulani Box Braids With Brown Beads
Fulani braids are one of the most popular styles, and with good reason. The unique features set this protective style apart, specifically the reverse cornrows. 
To make this look even trendier, add brown beads. You'll achieve a fashion-forward look without compromising versatility.
18. Long Black Box Braids With White Beads
This is definitely a show-stopping look. Who knew black braids would look so stunning with white beads? I also love how neat this look is despite the large plaits and boxes that the hair is sectioned into.
19. Large Black Pop Smoke Braids With Clear Beads
Jazz up your pop smoke braids with a few clear beads to stand out. This style is incredibly popular, and because of its standard look, there aren't many ways to differ from the norm. That's why these beads make such a major difference.
20. Black Lemonade Braids With Blue and White Beads
Lemonade braids with beads are such a look! But not just any beads—blue and white beads that give you no choice but to admire this stylish look.
21. Black Box Braids With Bang and Brown and Nude Beads
This box braid look has beads all over, and I'm here for it! You can flaunt your beads on the ends of each braid and on a bang too. The latter is bound to have all eyes on you. 
22. Medium-Length Box Braids With Beads
The collection of beads on these braids is so beautiful. Clear, nude, and olive beads are combined for an outdoorsy look as they embellish these medium-length box braids in the classiest way.
23. Golden Brown Box Braids With Clear Beads
Golden brown braids with clear beads are a yes for me! This look can't fail. You already know how much I love this shade because it reminds me of the chic casual flair of summertime.
24. Black Box Braids With High Bun and Red, Clear, and White Beads
Leave it up to beads to totally transform your classic black braids. This look says it all as red, clear, and white beads unite to create a sassy and creative box braid look.
25. Black Ghana Braids With Zig-Zag Cornrows and Clear Beads
These braids are what you call ultra-chic! Here's what I love about them: the stylish cornrows, the braided back style, and of course, the clear beads that add the finishing touch.
26. Brown Box Braids With Heart Cornrow and Beads
Your beads don't have to be the only thing that's dressing up your braids. A trendy cornrow design can also make your protective style stand out. 
For this look, a cornrow is braided in the shape of a heart at the side of the head. It loops down into regular plaits before being accessorized by black and white beads.
27. Black Tribal Braid Updo With Cornrows and Brown Wooden Beads
Look like a superstar in a bold tribal braid updo. Cornrows loop around the front of the head with some framing on the side. Brown wooden beads with carvings adorn each braid, making this look irresistible.
28. Burgundy Box Braids With Two Ponytails and Clear Beads
Style your burgundy braids in a chic double ponytail. Leave a few braids on either side of the face to add to the fashionable appeal. Complete the look with clear beads to achieve a trendy vibe.
29. Large Black Ghana Braids With Clear Beads
Thinking of ways to amp up your black Ghana braids? One of the simplest and most effective ways is to accessorize with clear beads. Just like that, your braids will be ready for any setting, casual or a more dressy occasion.
30. Black Pop Smoke Braids With Brown Beads
If you want a look that's above the ordinary, dress up your Pop Smoke braids with brown beads. These ones come in variations, some solid-colored and others with patterns for a cutesy look.
31. Black Box Braids With Colorful Beads
This compilation wouldn't be complete without showcasing a braided style with colorful beads. This look says, "you can have it all," and is perfect if you don't want to be restricted to one color for your beads.
32. Black Ket Braids With Beads
Plot twist! Your beads don't have to be limited to the ends of your braids. You can add beads throughout your protective style, as is seen with these ket braids. You can also pair the beads with other cute embellishments like metallic hair cords.
33. Short Black Box Braids With Bun and Beads
Now, this look is cool! It features shoulder-length box braids in a half-up style with a cute bun at the back. Falling over the shoulders are several plaits, each dressed up by an assortment of beads in red, black, brown, and white.
34. Black Twist Braids With White Beads
Rocking twists instead of box braids? Your protective style will still look amazing with beads. For a simple look that you can wear with anything, opt for white beads. Neutral tones are always the most versatile.
35. Black Jungle Box Braids With Dark Brown Beads
Put your personal touch on your jungle box braids by adding beads. Although these beads are dark brown, they still enhance the style of this look, bringing a mature and classy flair which I really appreciate.
Summary and Top Picks
One of the main reason braids are so popular is thanks to the simplicity and ease they provide us with. Nonetheless, I know sometimes you want to spruce things up and make your protective style stand out from the crowd, and that's where beads come in.
I was really impressed by the braid styles in this round-up, but my top picks would have to be:
#3 Short Black Cornrow Box Braids With Brown Beads: The chin-length is really what I love most about this look. It's such a simple style, and it's amazing to see how the beads transformed it.
#8 Black Box Braids With High Bun and Brown Beads: I love a good braided bun, and I love brown. Pair both together with fashionable beads, and you've got me.
#33 Short Black Box Braids With Bun and Beads: The short styles really won me over. This look is like a combination of the above. That's why I love it so much.
Now, I'd love to hear from you! Which of these braid styles with beads are you feeling the most and why? Let me know in the comments below.