Box braids are one of the most common and beloved protective hairstyles women opt for as often as every day. A longer-lasting option, as opposed to twists, and a less time-consuming style compared to faux locs, box braids are truly incomparable.
Box braids are achieved when three strands of synthetic hair are added to your natural tresses and intertwined. The end result is square-shaped braids or plaits that make you fashionably ready each day of the week since your hair is pre-styled.
Box braids can be worn in various colors, lengths, and sizes, too—from jumbo to medium and small. The latter will be our focus throughout this post. 
Small box braids help you create super neat hairstyles, whether your braids are worn down, in a ponytail, or in a snazzy high bun. At the same time, your braids will last several weeks because the smaller they are, the less frizz and unraveling will take place.
If you're scouting for a protective style that saves you time each day while ensuring you look fashionable for every occasion, stick around for these small box braid styles that are trending right now.
1. Small Black Box Braids
Black braids really are the foundation. This look can be styled with absolutely anything, and you'll look chic and ready for the day. These small plaits look so neat, too, so much so that it's almost like wearing your hair flat-ironed and straight.
2. Small Black Box Braids With Red Highlights
Amp up classic black braids by adding a different color. This look features red braids, acting as highlights or streaks of color to spruce up this protective style. If you're feeling for a laid-back and edgy look, this style is just for you.
3. Small Brown and Blonde Box Braids
In the world of box braids, generally, if it's not black, it's brown or blonde. This time, it's both, as braids in both colors teamed up for a super pretty gradient look.
4. Small Black and White Box Braids With Small Ponytail
The black and white box braid combo is another classic look that's still popular today. 
Its edgy flair makes it a timeless option, and the neutral tone of both hues makes for a chic protective style. Tie a few braids back into a small ponytail for a cute touch.
5. Small Blonde Box Braids
Blonde braids never fail! They've been a go-to when women want to brighten up their daily looks and feel a bit more confident thanks to the boost in their mood the color gives—just a few of the many reasons you should rock this look!
6. Small Shoulder-Length Black and Brown Goddess Box Braids
Your small box braids don't have to be long to make you look and feel gorgeous. These shoulder-length extensions are just as stylish—a combination of black and brown synthetic hair with cute tendrils at the end for a girly appeal.
7. Small Platinum Blonde Goddess Box Braids
For something different, these long goddess box braids will give you the fabulous feeling you've been longing for. Braided in platinum blonde with loose curls, it's the kind of look you want to show off every chance you get.
8. Small Black Box Braids With Beads
Adding hair accessories to your protective style makes achieving a cute look so easy. That's why I love box braids with beads, and when your hair is braided small, the beads really enhance them, exactly as these white ones are.
9. Small Black and Blonde Ombre Goddess Box Braids
It's the loose blonde "s" curls for me. They give these small box braids a full-bodied look along with a beautiful glow, thanks to the ombre blend, which brings a contrast to this look.
10. Small Black Box Braids With Gold Hair Cuffs
Jazz up your braids by simply adding cute hair accessories. Gold hair cuffs are among the most common. Place as many as you want wherever you want to add your personal touch.
11. Small Deep Brown Box Braids With High Ponytail
A box braid ponytail will forever be one of the cutest styles you can wear your hair in. plus, it's super easy to achieve and takes only a matter of seconds. You can wear this look for any purpose, from casual to the most elegant of settings.
12. Small Black Box Braids With Purple Highlights
This look is the perfect example of why I love box braids. They fall in line so effortlessly and always look neat. 
I'm so loving the pops of color incorporated in this look; a few braids were done in purple with yellow metallic hair cords, adding the final touch.
13. Small Purple Box Braids With White Metallic Hair Cord
If streaks of color aren't daring enough for you, have your hair braided entirely in a color of your choice. 
Dark purple is a great hue to pick since it's not too shocking but still eye-catching. Complete the look with hair cords in white to add color contrast.
SEE ALSO: 53 Butterfly Braid Styles That Are Trending Right Now
14. Small Black Box Braids With Middle Part
I love box braids with a middle part. This look is so classic and versatile with a cute sporty vibe. Wearing your box braids over your shoulder can also create a laid-back look best suited for casual outfits.
15. Small Black and Brown Ombre Box Braids
You can't go wrong with ombre box braids. When you want a hairstyle that has it all; color, diversity, and a chic look, the ombre style will always top the list.
16. Small Black Bohemian Box Braids
One of my all-time favorite protective styles is bohemian box braids. I simply love curls which are a major part of this look. Loose strands are paired with plaits, resulting in a super girly look that will be stylish no matter how you wear it.
17. Small Maroon Goddess Box Braids
Not in the mood for the fierceness that red braids bring and ready to try something new from the easy-going brown box braids you're used to? You should definitely go for maroon box braids.
The color is subtle enough to complement a neutral OOTD and bold enough to make you look confident all day long.
18. Small Brown and Platinum Blonde Box Braids
Brown and platinum blonde really do make the perfect team. Braid your hair in both colors in long box braids for a stunning look that will keep you runway-ready.
19. Small Burgundy Ombre Box Braids
Braiding a fraction of the head while the other side is shaved has become a popular trend, and these long burgundy box braids prove there are no limitations to the styles you can achieve when rocking that look.
20. Small Black and Blonde Box Braids
Another popular trend is pairing black braids with blonde. The color combo is exceptionally chic and everything a sophisticated protective style lover could ever ask for.
21. Small Black Box Braids With Two High Buns
Try a style that's creative by placing two sections of your hair into small top knot buns. Allow the remainder of your braids to fall freely over your shoulders, with two plaits worn on either side of the face for a cute touch.
22. Small Black, Brown, and Blonde Box Braids
I call this look the neutral fall protective style because of the warm-toned colors used to achieve it—black, being the primary hue, brown and blonde. If you need a laid-back, chic box braid look for the season, this is it!
23. Small Medium-Length Black and Blonde Ombre Box Braids
Have you ever just been in the mood for medium-length braids? Oftentimes, long or short braids gain first preference. However, this look is all the reason you need to ditch the norm. Plus, the blonde ends are too stylish not to try.
24. Small Black Box Braids With Blonde Highlight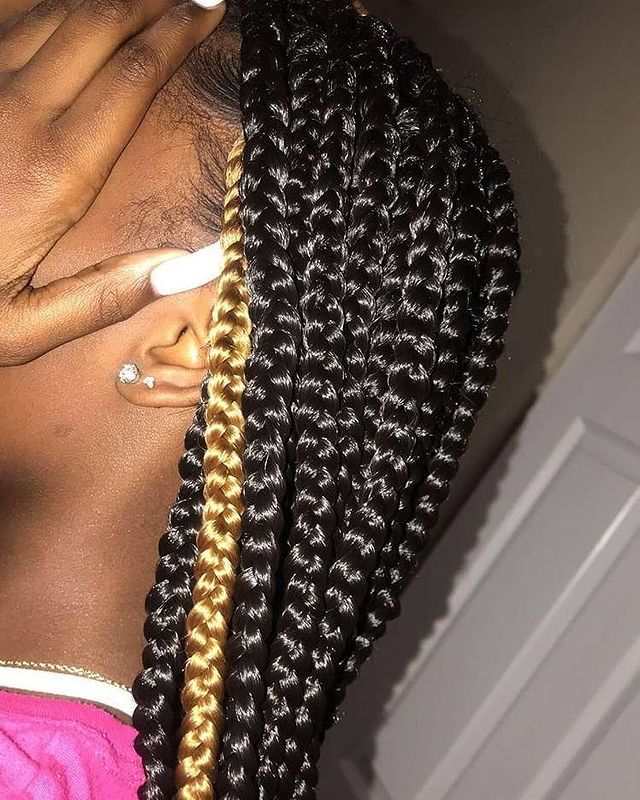 Sometimes you really just need a pop of color and nothing more. For that, give your black box braids a highlight with one braid in blonde. It'll be the difference your protective style needs. 
25. Small Black Crimped Goddess Box Braids
For those who feel like wearing box braids limits your style expression, allow me to introduce you to this beautiful crimped goddess box braid style. This look merges plaits with disheveled curls for a very youthful and bohemian chic effect.
26. Small Black and Brown Ombre Goddess Box Braids
Here's another fall-worthy box braid look. It keeps black as the main color before transitioning to shades of brown in a flawless ombre style, enhanced by well-defined spiral curls.
27. Small Burgundy Goddess Box Braids
Goddess box braids are everywhere these days, and this stylish curly braid ends craze isn't slowing down any time soon. So, why not join the fun with these burgundy box braids with the ends curled all the way, of course?
28. Small Black Box Braids With High Ponytail and Clear Beads
The cuteness of a box braid ponytail never ceases to amaze me, and this look is no different. Accentuating the end of each braid are clear beads. 
Beads are a go-to accessory option for braid lovers. They're easy to slide on and upgrade your protective style instantly.
29. Small Golden Brown Box Braids With French Curls
Fancy, fabulous and fierce are just some of the words I'd use to describe these luscious knotless box braids. 
To say they're neat would be an understatement. The curls give such a gorgeous doll vibe, and that golden brown color is, without a doubt, breathtaking.
30. Small Black Box Braids With High Bun
A high bun will never let you down—for days when you don't know how to style your box braids and for days when you just need a casual or classy hairdo.
31. Small Black and Pink Box Braids
Pink braids will easily add a girly vibe to your small black box braids. If you don't want them to overpower your look, braid them on the inside toward your face. That way, you can enjoy a look that's both edgy and girly while still being simple.
32. Small Black Box Braids With Heart Cornrow
Heart cornrows make achieving a trendy protective style a walk in the park. After all, they're all the rave these days, and for good reason. Heart cornrows are cute while adding a unique touch to your box braids.
33. Small Black and Blonde Box Braids With Heart Cornrow
Go all out with your box braids style, not only with a trendy heart cornrow but with sections of your hair braided in platinum blonde. The striking easily brings attention to your overall hairstyle, as it works well with black.
34. Small Black and Burgundy Bohemian Box Braids
If you're looking for something that's fresh, pairing curls with your box braids is one of the trendiest ways to do so. It's the bohemian style that everyone's gushing over as it couples versatility with a girly taste.
35. Small Brick Red and Brown Box Braids
We've seen fall-inspired looks already, but these box braids have a combination of brighter hues that gives this style a natural flow. It's a mixture of brick red and a brownish-orange shade reminiscent of the leaves during autumn.
36. Small Black and Brown Box Braids With Criss-Cross Cornrows
Criss-cross cornrows add such a level of creativity to your box braids, transforming your look from one that's simple and cute to one that's modern and fashionable.
37. Small Brown Box Braids With Clear Beads
Want to keep things simple but not too laid back? Brown braids are the answer. Just add some clear beads to the end of each braid to make your look more stylish.
38. Small Black and Burgundy Box Braids With Small Ponytail
One of the best parts about combining colors for your box braids is that you can create cool looks like this. The burgundy braids stand out all the more when pulled black into a small ponytail.
39. Half-Up Small Brown Box Braids With High Bun
A great alternative to either wearing your braids down or in a bun is to have it both ways. This half-up style is super trendy and cute, perfect for those days when you don't want to choose.
40. Small Black and Orange Ombre Box Braids
If you liked the last look with braids worn with shaved hair, then you'll love this one. The black-to-orange ombre transition guarantees that this style will be one of your most memorable yet.
41. Small Black Box Braids With Silver Hair Cuffs
Spruce up your black box braids with a few silver hair cuffs. I generally see gold hair accessories used, however, silver embellishments are just as amazing, giving an edgier but still classy vibe to your braids.
42. Small Black Box Braid Bob
For all my short hair enthusiasts, this fab box braid bob is just for you. Braided small, this bob is sharp and chic, ideal for sophisticated settings, and worn with blazers and your fave office dresses.
43. Small Brown Bohemian Box Braids
Bohemian box braids are a favorite for so many women because they couple curls with plaits for a feminine look that's not too girly at the same time. 
For such a cute style, it's only right that you flaunt it in a color that will show it off. This brownish-orange hue is doing a fantastic job.
44. Long Black and Brown Ombre Box Braids
The neat look will have you turning heads no matter where you go. So too, the ombre style and color. Black and brown really know how to make a chic combination.
45. Small Blonde and Purple Box Braids
We've seen the ever-chic blonde and black, but how about blonde and purple? I'm really loving how the colors complement each other in this look. None is overshadowing the other, but they still make these box braids jaw-dropping.
46. Small Blonde Box Braids With High Bun
Blonde braids in a half-up high bun hairdo? I'm here for it! It's a fabulous look that has it all, stunning color and diverse style.
47. Small Purple and White Fulani Goddess Box Braids
This is one of the prettiest box braid styles I've ever seen. The Fulani-inspired cornrows, those wavy goddess curls, and that purple-and-white combo are simply mind-blowing.
48. Small Black Box Braid Angled Bob
If you like your short box braids to have that extra oomph, an angled bob will have you looking like a fashion maven all day, every day. 
49. Small Black Bohemian Box Braids With High Bun
When you've had your bohemian braids in for a while, it may be time to start switching things up. A cute look you can try is a high bun with two braids along either side of the face. Allow a curl or two to fall from your bun for added effect.
50. Small Black Box Braid Bob With High Ponytail
We oftentimes view braided bobs as restrive hairstyles because of their length, but this look gives you a stylish way to add your own spin to your braids. 
Tie a few plaits into a high ponytail, leaving a few to act as a side bang. It's a fresh take on the classic shoulder-length braided bob.
51. Small Black Box Braids Pulled Back
Keep things simple and cute by pulling a few braids into a ponytail with the rest worn over the shoulders. Give it a sassy twist by sectioning your braids into a side part.
52. Small Gray and Blonde Ombre Box Braids
Who knew gray and blonde could be such a stunning combination? I'm loving how beautifully both hues blend in this ombre box braid look.
53. Small Black, Pink, and Brown Ombre Box Braids
Speaking of mind-blogging color blends, isn't this box braid style beyond fabulous? The look starts off basic with black braids before shifting to a gorgeous pastel palette of pink with brown.
Summary and Top Picks
Small box braids have never let me down, nor have they disappointed thousands of women who rock this look daily, so I know you'll be glad you gave them a try, especially since they're not only long-lasting but stylish regardless of how you wear them.
As you think about which styles are your favorite, I'm excited to share with you my top picks.
#1 Small Black Box Braids: This classic look is really where it all starts. It's the foundation of all others.
#5 Small Blonde Box Braids: Because if it's not black box braids, it's definitely the chic blonde alternative. 
#53 Small Purple and White Fulani Goddess Box Braids: Believe me when I say it really was love at first sight with this look. The color combination is simply amazing!
Now, I'd love to hear from you! Which of these small box braid styles are you most excited to try? Let me know in the comments below!