Classic lemonade braids are a side-swept cornrow style. The braids are worn long, sometimes to the waist. They have been trending since 2016 when Beyonce wore them in her visual album, "Lemonade." 
Lemonade braids last a long time and take less upkeep than other styles. One thing I love about this look is how much they've evolved since 2016. One of the hottest ways to wear them is as ponytail lemonade braids. 
Are you looking for new ways to wear your lemonade braids? Check out some of these gorgeous ponytail looks for inspiration.
1. Red and Black Lemonade Braids Ponytail
Red lemonade braids are eye-catching and fun. They add a touch of edginess to this elegant style. Pulled back in a mid-height ponytail, she's ready for a night out on the town.
2. Lemonade Braids Half Ponytail With a Bun
Lemonade braids are versatile. This half ponytail gives a little updo while maintaining length. I also love the choice of a bun over a standard ponytail. It adds a touch of sophistication to the style.
3. Super High Wraparound Ponytail With Lemonade Braids
High ponytails look amazing with braids. Wrapping extra braids around the base of the ponytail creates a super high style. I'm living for the length and pop of color. Blond and pink are the perfect combo for a lemonade braid peek-a-boo.
4. Zigzag Part Lemonade Braids With Ponytail
This flirty style is beyond cute. The zigzag part adds a unique element to this trendy hairstyle. I like the medium height of the ponytail. This is a perfect look for the office or a day out with the girls.
5. Long Ombre Lemonade Braids in High Ponytail
I don't know if blonds have more fun, but this style sure makes it look that way. The high ponytail and super-long lemonade braids are playful, with an ombre fade from dark to light.
6. Jumbo Lemonade Braids With Purple Ponytail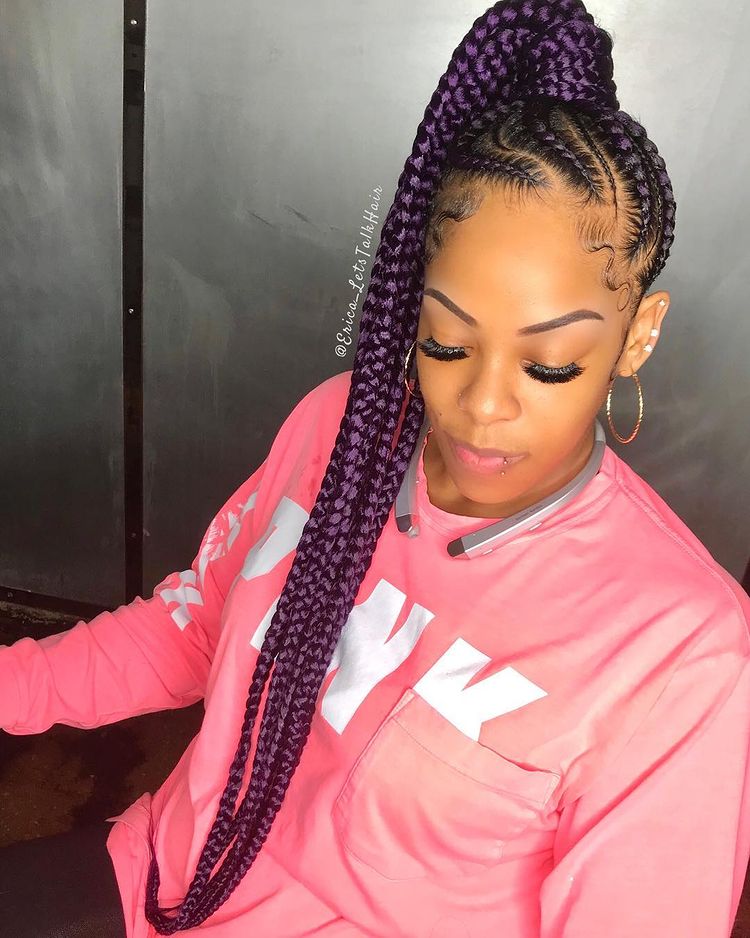 Ah! This purple slays all day. I love the richness of this color in her braids. It makes her hair look super shiny and healthy. The jumbo braids are playful, especially pulled back in a high ponytail.
7. Medium-Length Lemonade Braid Updo
Classic lemonade braids in a simple updo look casual and sweet. The medium length looks easy to maintain and manage, two of my favorite things about lemonade braids.
8. Black to Blond Lemonade Braids Ponytail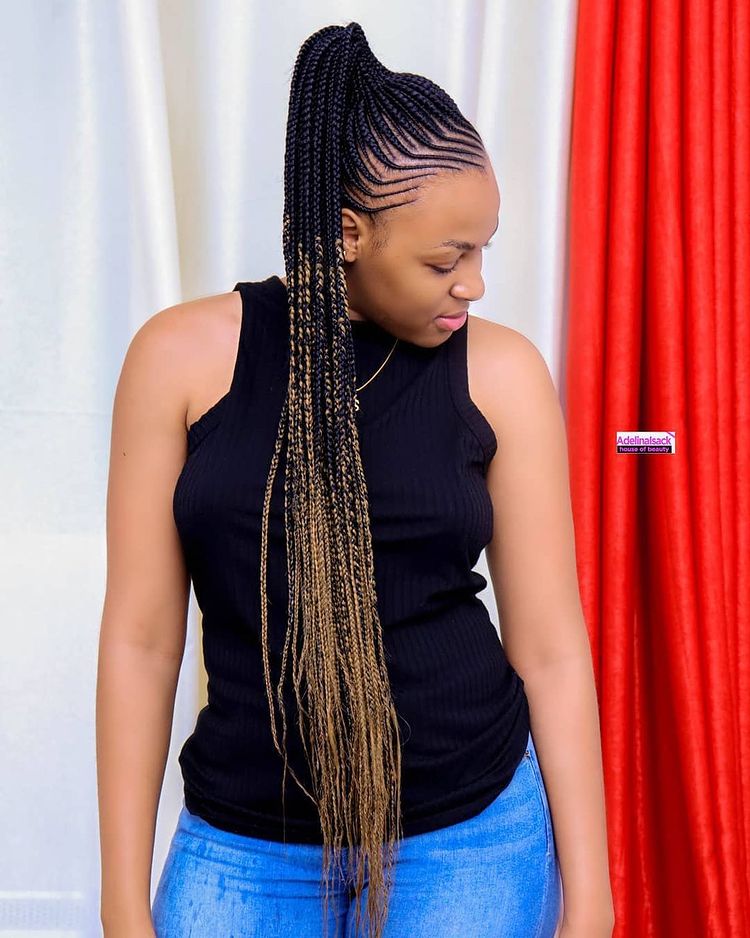 I'm digging the "v" zigzag at the front of each cornrow. It creates clean lines around the face, transitioning into a gorgeous ponytail updo. The interwoven blond braids look stellar with this style.
9. Lemonade Braids Ponytail With Heart Design and Blue Hair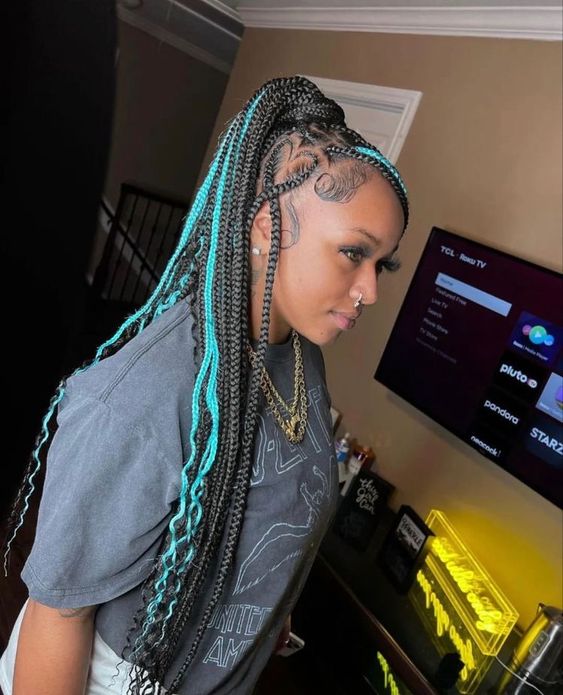 How cute is this heart design? The light blue hair enhances the youthful energy in this style. A high ponytail with long braids creates the perfect look for a special event or party.
10. Black and Caramel Lemonade Braids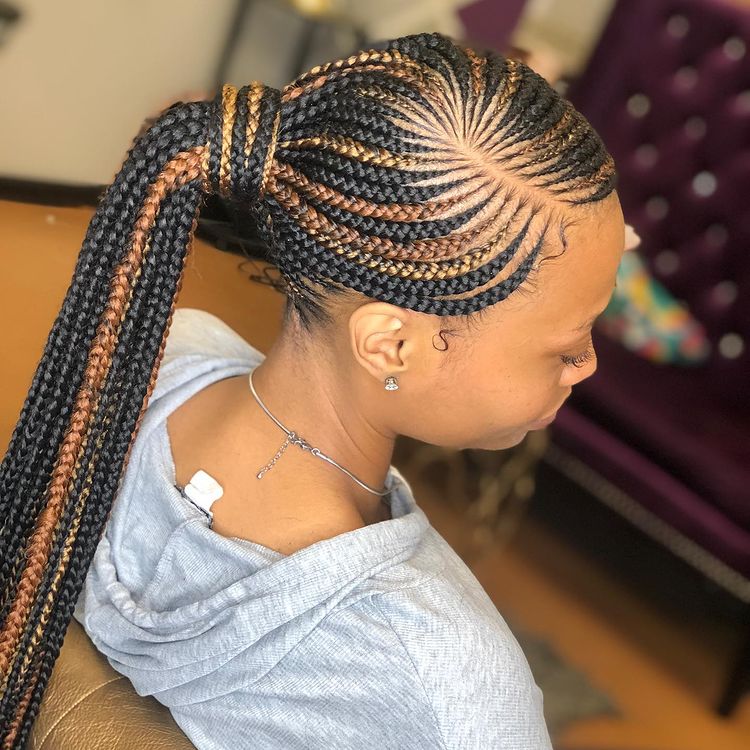 Adding color to a lemonade braids ponytail is a fun way to create new looks with a favorite style. I love this combination of black and caramel. It's softer than some of the intense blond shades out there.
11. Dramatic High Ponytail With Edges that Slay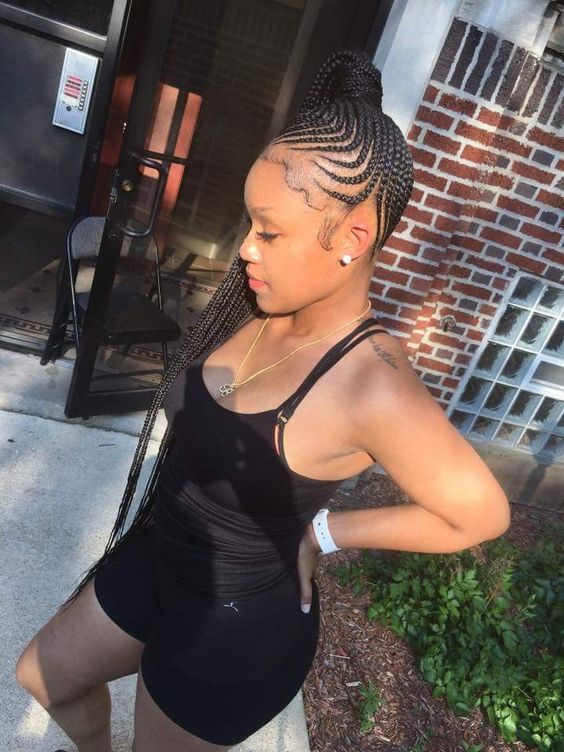 This is a woman who knows what she wants. Her lemonade braids in that high ponytail create a dramatic and powerful look. I'm loving her edges. They're so soft and subtle, adding a light feminine touch to the style.
12. Long Side Swept Braided Ponytail
This side-swept lemonade braids ponytail has "boss lady" written all over it. Some side-swept styles are so soft and romantic. This one is edgy and elegant. It's also a great way to keep braids out of your face during a workout.
13. Swirly Lemonade Braids in Low Ponytail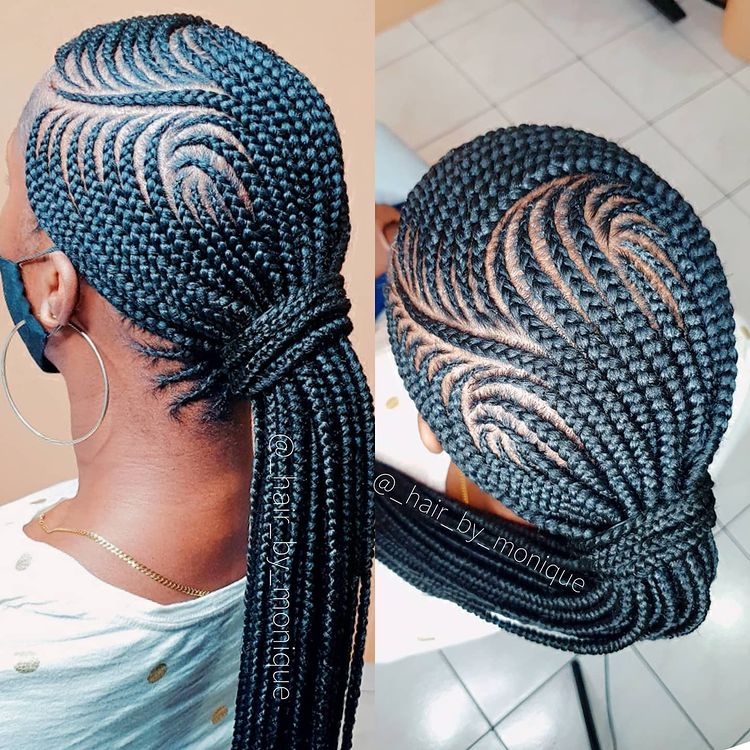 This is a great look for the work week. A low ponytail keeps hair out of your face and creates a modest yet versatile style. I like the swirly design of her cornrows. It softens the look.
14. Deep Side Part Lemonade Braids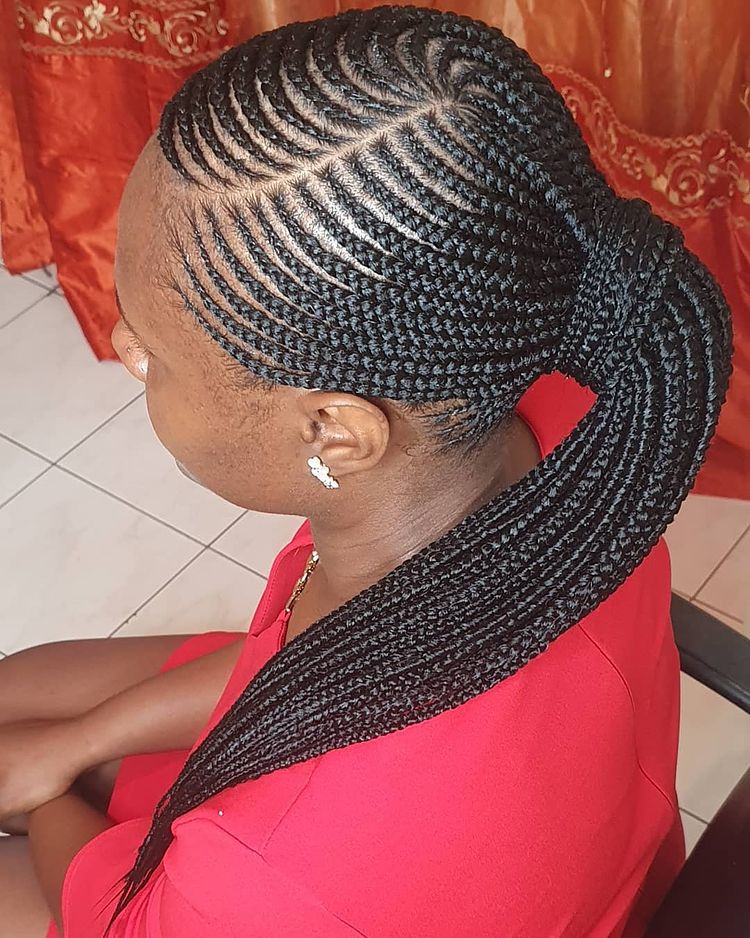 There's nothing simple about this casual style. The deep side part adds a little drama to her lemonade braids. The low ponytail keeps things manageable and maintains a subtle look for work or play.
15. Gorgeous Green Lemonade Braids in a Ponytail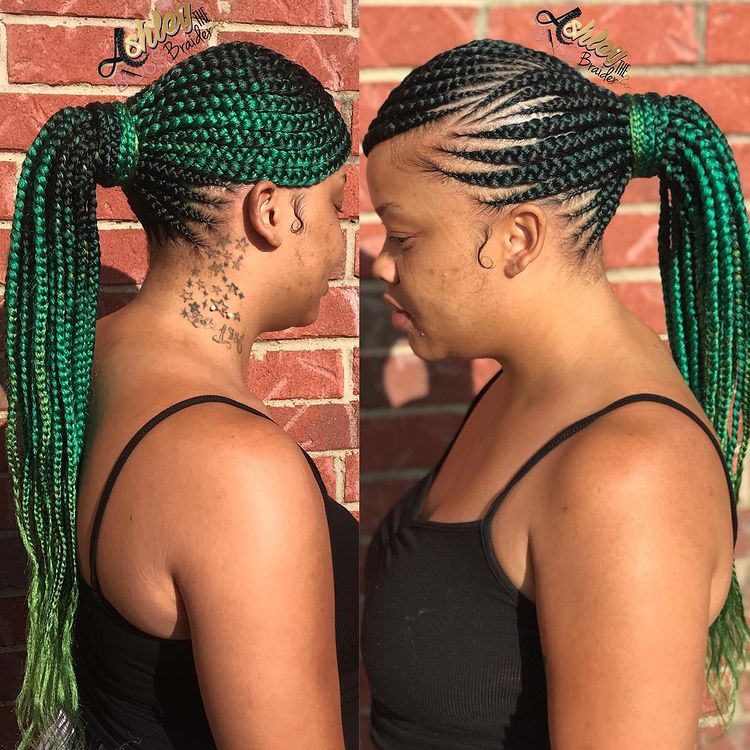 Green is such a fun color for lemonade braids. I love this bright, energetic hue in her hair. The high ponytail is a great way to show off the small tattoos on her neck.
16. Lemonade Braids to Curls High Ponytail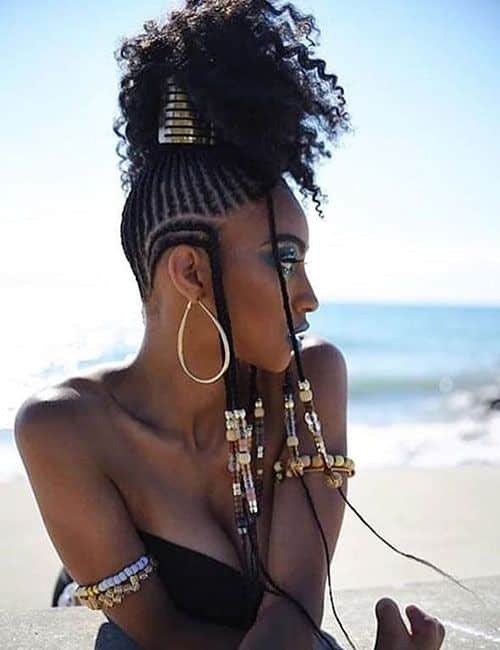 This stunning look will turn heads for sure. I love the embellishments of metal rings and beads to add height and sparkle to the style. The gold gives her a regal look, I'm living for.
17. Extra-High Ponytail With Swoop Bangs in Bright Red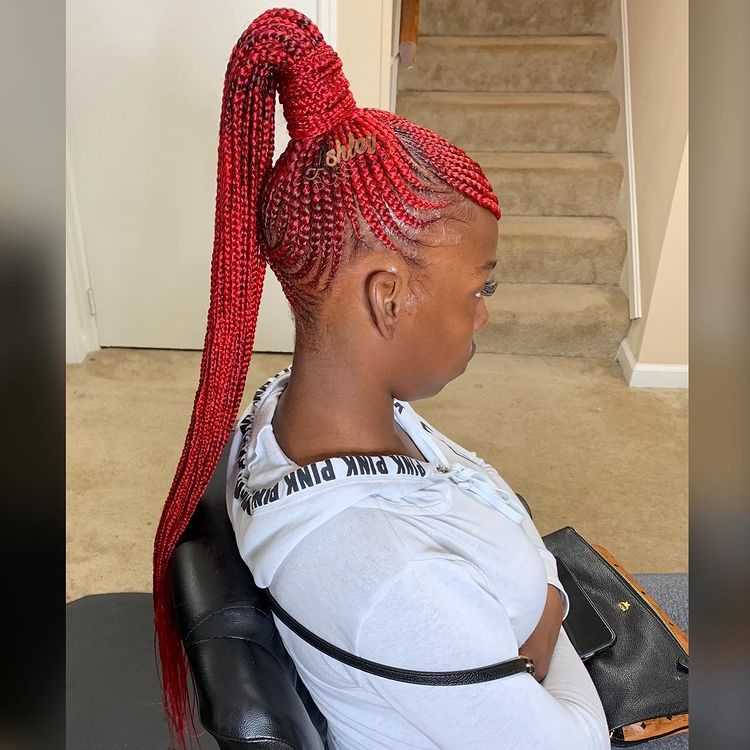 The bright colors are super trendy for lemonade braids this year. I love this vibrant red on her. The extra-high ponytail emphasizes the drama in this style. It would look fantastic with black leggings and heels.
18. Side Swept Low Ponytail With Lemonade Braids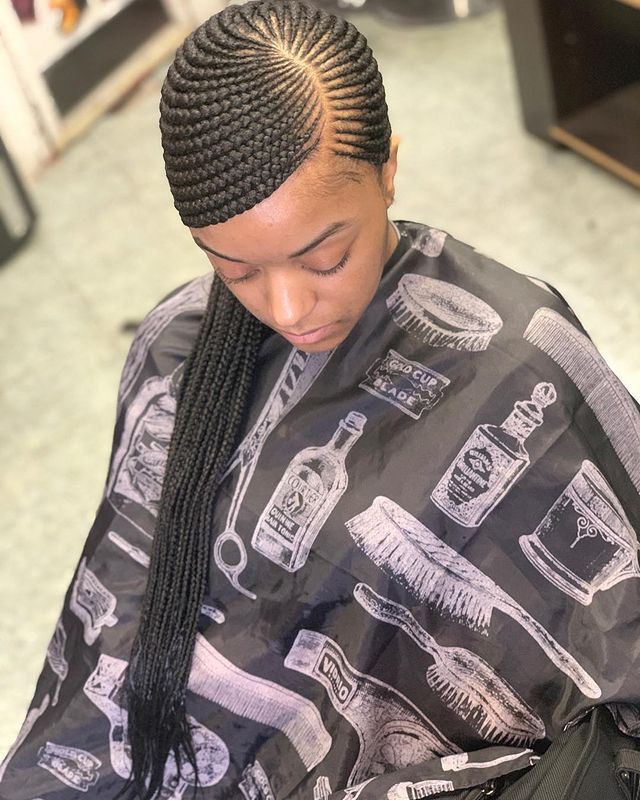 Perfectly aligned side-swept lemonade braids look fabulous on her. Finding a good stylist is a blessing in this world. That part is so clean. I like the slightly chunkier braids and low ponytail for a classy look.
19. Some Up Some Down Lemonade Braids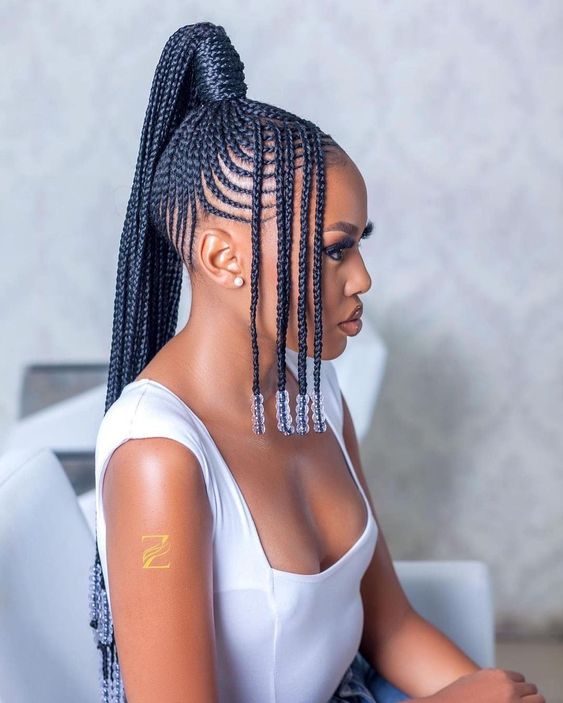 This fun style includes the best of both worlds with an updo and loose braids. The side-swept lemonade braids look fantastic, all swooped up into a high ponytail.
20. Fancy Designs in Lemonade Braids Ponytail Style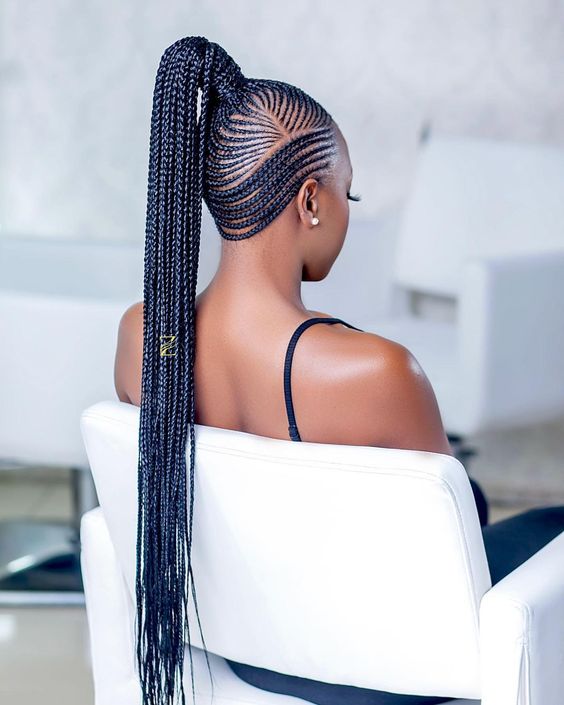 Lemonade braids offer a blank canvas for hair design. I love seeing the many intricate designs professional stylists create. This multi-part high ponytail look is killing it.
21. Keeping it Casual Lemonade Braids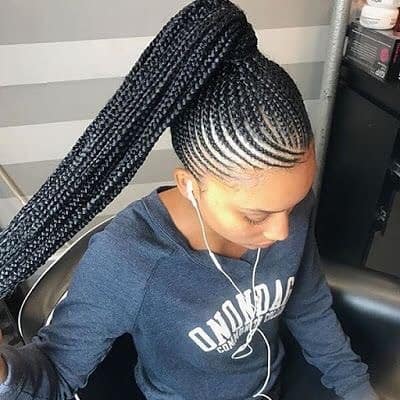 A super casual lemonade braids ponytail is perfect for lazy days at home or busy days at the office. I love how healthy and shiny her hair looks in this protective style.
Summary and Top Picks
Ponytail lemonade braids are a game changer. I'm a big fan of the high ponytail created by wrapping braids around the base. The side-swept cornrows add a romantic and youthful element to the look. Perfect for any occasion. 
I love all of these lemonade braid ponytail styles, but my top three are:
#1 Red and Black Lemonade Braids Ponytail: I love the pop of color in this trendy style. Red and black give the ponytail an edgy vibe.
#11 Dramatic High Ponytail with Edges that Slay: This elegant yet powerful look is ready to take on the world. I love a woman on top, and this style is a confidence booster.
#19 Some Up Some Down Lemonade Braids: Lemonade braids are super versatile, and I like this take on the design. Leaving a few loose braids softens the updo.
Playing with color and embellishments are a great way to set your lemonade braids apart from others. What are some of your favorite ways to jazz up this modern braid style? Comment below and let me know!