If you asked me the prettiest braid style I've seen, I'd show you a photo of butterfly braids. Not to be mistaken for bohemian or goddess braids, this style is characterized by slightly unraveled braids created by lightly pulling on the extension hair.
This subtle action is done on either side of the braid to resemble the fluttering wings of butterflies. Despite the unraveled appearance, butterfly braids can be long-lasting—the style is often applied to box braids and even faux locs; both versatile protective style options. 
That means you can rock your butterfly braids in a high bun, or ponytail or leave your extensions flowing down your back for a relaxed and super cute look. Butterfly braids also look amazing in jumbo size as the details of the braid are put on display.
If you're a braid lover looking for a gorgeous new style to try or a new enthusiast seeking to start your protective style journey, you're at the right place! Here are butterfly braid styles that you need to see.
1. Half-Up Black Butterfly Braids With High Ponytail
Half-up, half-down styles really are the cutest, giving your butterfly braids an effortlessly girly look. The butterfly effect of this look is also very distinct and will definitely place emphasis on your OOTDs.
2. Jumbo Black Butterfly Braid With Side Part
This jumbo butterfly braid style is so elegant. The braid wraps around the side of the head, sectioned in two by a stylish side part. The final look has a silky texture which adds to the flirty appeal.
3. Black Butterfly Braids
The simplest way to rock your butterfly braids is by letting them down. The unraveled design will be on full display. I recommend adding curls at the end to play up the ultra-feminine effect.
4. Shoulder-Length Black Butterfly Braids With Two Top Knot Buns
There are tons of ways you can spruce up shoulder-length butterfly braids. One such way is by sectioning your braids into three parts. 
Create two small top knot buns and leave the remaining braids to fall above your shoulders for a super cute style.
5. Black and Purple Butterfly Braids
Adding color to your butterfly braids is another great way to set them apart. Keep things simple but stylish with some braids done in a medium purple hue. This shade of purple complements black without dimming the classic vibe.
6. Black Butterfly Braid Bob With Silver Hair Cuff
There's so much beauty in simplicity—these butterfly braids are styled as a cute bob. The only thing amping them up is a set of silver hair cuffs slid unto each braid for a classy touch.
7. Golden Brown Butterfly Braids
If your comfort zone is wearing black braids, then you should definitely go for something different with these golden brown butterfly braids. The color alone will be like a breath of fresh air, adding a natural tone to your daily looks.
8. Black Butterfly Faux Locs With Two High Ponytails
Let me just say I'm in love with this look, and it's not just because Brandy is wearing it, but I genuinely love faux locs and the natural vibe that they bring. With the butterfly effect tied into two high ponytails, their beauty is truly enhanced
9. Brown and Blonde Butterfly Braids
Looking for a stylish butterfly braid color combo idea? Brown looks amazing with blonde. As these braids depict, when the sunlight hits this combo, the glow won't go unnoticed. Plus, both hues are the perfect match for fall fashion.
10. Half-Up Black Butterfly Braids With High Bun
A high bun is an easy way to jazz up your butterfly braids. Simply section your hair into two to achieve this gorgeous half-up hairdo.
11. Black Butterfly Box Braids With High Bun
There's so much to love about this style. What would have been your average box braid high bun hairdo is now an incredibly chic and classy butterfly braid style. 
I'm also loving the two braids gracing the temples and beautifully framing both sides of the face.
12. Black Butterfly Braid Bob
These butterfly braids have a teased look that gives them a curly bob effect. It's the perfect look to bring a girly touch no matter your outfit for the day, whether sporty, professional, or casual.
13. Black and Pink Butterfly Braids With High Bun
Let's be real; no color adds an effeminate feel as perfect as pink. Paired with black, this is the ideal ultra-girly butterfly braid style. A high bun further enhances this style, making it even more eye-catching than it already is. 
14. Black Butterfly Braids With Sea Shells
Looking to add a tropical or boho-chic vibe to your butterfly braids? Adding accessories such as sea shells at key points will add that free-spirited gypsy flair.
15. Black Butterfly Braids With High Ponytail
The wing effect that butterfly braids have make achieving a flirty look so easy. Tie them into a high ponytail with two braids gracing either side of the face to play up that flirty feel.
16. Large Black Butterfly Braids
Wear your butterfly braids to the back in a way that shows off your face and outfit too. It's a simple yet versatile and super cute look for everyday wear. If you ever need to jazz things up, a few hair accessories will do the trick.
17. Black Butterfly Braids With Orange Barette Balls
You don't have to forsake the trends of old, and these butterfly braids are proof. They're sectioned into heart-shaped parts and styled with an orange barrette or hair balls to evoke the playful side of you.
18. Burgundy Butterfly Braids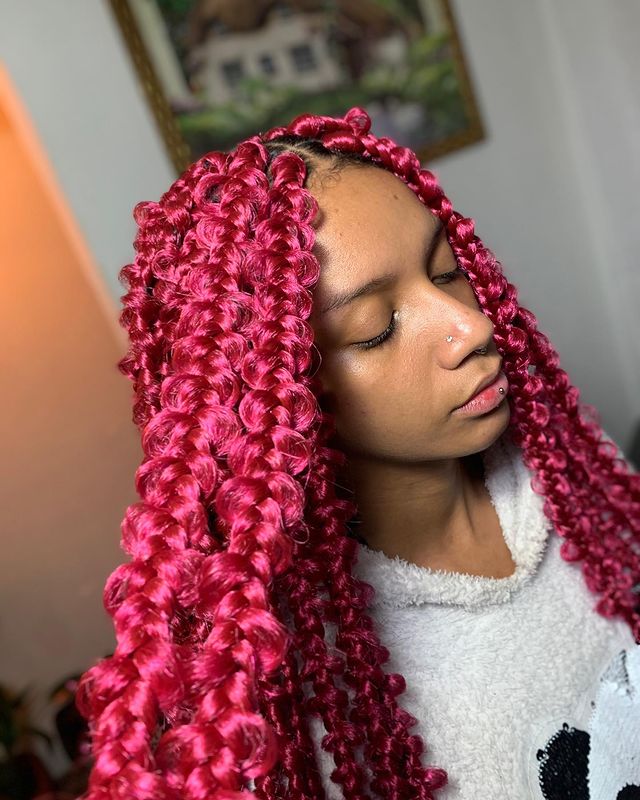 A pretty style such as butterfly braids deserves a color as beautiful as burgundy. Not only will you be mesmerized by your wing-styled braids, but the vibrant hue will be just as enthralling.
19. Black Butterfly Faux Locs With Brown Highlight
I love bob-styled braids, so these butterfly faux locs are a yes for me, but what really makes this look the perfection that it is, is that brown faux loc braided at the side. It's amazing how one feature can transform your entire protective style.
20. Light Pink Butterfly Braids With High Ponytail
These butterfly braids add a soft glow thanks to their light pink hue. This color, paired with the butterfly effect and your braids tied into a high ponytail, adds such a whimsical and girly feel that it is simply adorable.
21. Black Butterfly Braid Angled Bob
You can turn your butterfly braid style into an angled bob by tossing a few braids over to one side to create the illusion of a side part. 
These short faux locs would look stunning in a classy setting with minimal jewelry because your gorgeous hair would be doing all the talking. 
22. Black Jumbo Butterfly Braids
Don't underestimate how beautiful jumbo butterfly braids can be. This look has it all, a thick texture, definition, attitude, and a youthful appeal.
23. Black Butterfly Faux Locs With High Bun
Short butterfly faux locs with a high bun? I'm all in! Short braids are naturally elegant as they keep things on a modest level and easily complement any outfit and makeup style. Completed with a neat high bun, you'll be quite the hot topic.
24. Long Black Goddess Butterfly Box Braids
For a lot of women, the longer, the better. If that's your style preference, I know you're already gushing over these butterfly box braids. They're completed by cute tendrils for a goddess braid appeal.
25. Jumbo Black Butterfly Box Braids
The styling of these braids reminds me so much of a Pop Smoke braid, with the only difference being that these are jumbo plaits braided side by side as opposed to stitch cornrows. 
26. Brown Butterfly Passion Twist Braids
We've seen butterfly box braids and faux locs—now, let me introduce you to butterfly passion twists and what a beauty they are! 
These braids bring an even curlier texture. In the end, they transition to a crimped curly style for a unique touch.
27. Black and Burgundy Butterfly Faux Locs
Here's another color combo worth trying—black and burgundy faux locs but with a twist, as strands are pulled on either side to achieve the coveted butterfly effect.
28. Brown Gradient Butterfly Box Braids
Did someone say, "autumn!" because that's exactly what came to mind when I saw the fusion of brown shades in this stunning butterfly box braid style. 
Not all the braids are boasting the butterfly wing effect though, which you may appreciate if you prefer to mix things up a bit.
29. Large Burgundy Butterfly Box Braids With Triangular Parts
Take a different approach to your butterfly box braids by opting for triangular parts instead of square-shaped ones. Along with this bright burgundy color, your braids will be set apart in every aspect. 
30. Brown and Platinum Blonde Butterfly Box Braids With High Ponytail
I really like the messy vibe of these butterfly braids. This can be achieved with the texture of synthetic or human hair used or if you've been wearing your braids for some time. 
Worn in a high ponytail, it's still a super cute look that you can rock on a day-to-day basis.
31. Burgundy Butterfly Box Braids With High Ponytail
When a week has passed, and you've grown tired of rocking your hair down, a high ponytail is always a cute option. This style looks even prettier with colored hair, such as these burgundy butterfly braids.
32. Platinum Blonde Butterfly Box Braids
One of my favorite colored braid styles is platinum blonde. What better way to make your butterfly box braids striking and the talk of the town than with this fabulous hue?
33. Red Butterfly Box Braids
For a feisty and fierce vibe, it's red butterfly braids all the way! Amped up by gold hair cuffs, this look is charming, alluring, and so fashion-forward—the perfect color to bring life to your daily outfits.
34. Black Butterfly Braid Ponytail With Silver Hair Cuffs
Add your own special touch to your jumbo butterfly braid with silver hair cuffs clasped along the length of the braided ponytail. The simple accessories make a major difference, giving your hairdo a doll-like look.
35. Golden Blonde Butterfly Braids
If you're like me, then summer has you browsing online for the hottest hairstyles to try for the season. One that always comes out on top is golden blonde butterfly braids. 
The color complements the warmth of the season, giving you an effortless and youthful glow at the same time.
36. Black Butterfly Braids With High Ponytail and Butterfly Accessories
It doesn't get more authentic than this—butterfly hair accessories are used to embellish these stylish butterfly braids. I love that they're added in a different color so you can enjoy pops of color all over your braids.
37. Black Butterfly Braids With Swoop Bang and High Ponytail
Swoop bangs aren't only for natural or relaxed hair. They've actually gained popularity with braids over the years. 
This swoop bang adds a cute and classy touch to these butterfly braids. I also love that it was paired with a high ponytail since both complement each other so well.
38. Jumbo Black Butterfly Braids With High Wrap Ponytail
You can enjoy versatility with your jumbo butterfly braids too. This look features a half-up, half-down style with a high-wrap ponytail. Altogether, these braids are bold and stylish, just what you need to make a lasting fashion statement.
39. Jumbo Black Butterfly Braids With Spiral Curls
Whoever said braids couldn't be elegant has never seen these butterfly box braids. They're jumbo-sized with cute spiral curls at the end, perfect for stylish satin dresses and other classy attire.
40. Jumbo Platinum Blonde Butterfly Braids
While we're on the topic of jumbo braids, let's take a moment to appreciate these platinum-blonde butterfly braids. The style of these braids is already immaculate. Worn in such a stunning color, it only gets better.
41. Black and Blonde Butterfly Faux Locs With Swoop Bang and High Ponytail
Give your butterfly faux locs a chic look by pairing black with blonde. Complete this style with a swoop bang and high ponytail to show the world how trendy you are.
42. Jumbo Black Butterfly Box Braids With Loose Curls
We've shown so much love to jumbo braids in this compilation, but there's something different about this butterfly braid style—those gorgeous loose curls can't go unnoticed. They bring a super girly flair to this look.
43. Jumbo Blonde Butterfly Braid Ponytail
Flaunt your butterfly braid ponytail in blonde and watch how the color enhances your beauty effortlessly. That's the natural effect of blonde. It's attention-grabbing and, of course, so pretty.
44. Blonde Ombre Butterfly Box Braids
The beauty of these butterfly braids is truly unmatched. The light gray tinge adds an edgy tone before transitioning to a light blonde hue in a flawless ombre blend. Ultra-chic doesn't even begin to describe these box braids.
45. Burgundy Butterfly Braids With Middle Part
Simplicity wins with this cute burgundy butterfly braid style. It features a middle part with each braid tossed over the shoulders. It's a laid-back look with a chic edge.
46. Jumbo Burgundy Butterfly Braid Cornrows With High Bun
What's not to love about this look? From the jumbo mermaid butterfly braids to the nifty high bun, this is a runway-ready look. With the right outfit, it'll be a showstopper!
47. Asymmetrical Dark Brown Butterfly Braid Bob
What I love about these butterfly braids is the asymmetrical bob style, as well as the color. Both are such flattering features, elegantly framing the face and bringing a natural vibe, respectively.
48. Black and Brown Butterfly Faux Locs With High Bun
This look is a combination of black and brown hair to create a chic neutral butterfly faux loc style. A high bun is perched on top for a cute messy bun vibe, with two braids framing the face for a girly touch.
49. Short Black, Red, and White Butterfly Faux Locs
When red and black meet, an edgy protective style is the result. This look, however, also features white locs. Although few, they bring a lovely contrast to this look.
50. Brown and Platinum Blonde Butterfly Braids
This look also combines two colors for a contrasting effect. I've always found that brown and blonde make a sophisticated team, and these butterfly braids prove that to be true.
51. Golden Blonde Butterfly Braids With Crimped Curls
The style of not braiding your hair entirely has been trending for several years. This is often done with braids that have a curly texture. 
Here, the ends of these golden brown butterfly braids are left unbraided to reveal cute crimp-styled curls.
52. Jumbo Black Butterfly Braid Cornrows With Low Bun
If you're not feeling the high bun trend, a low bun is a cute alternative. 
Both sides of the head are braided into jumbo butterfly braid cornrows and wrapped into a bun at the nape of the neck, with a small cornrow separating the two.
53. Black Butterfly Faux Locs With Two High Buns
If you love box braids with buns, then you'll definitely love them with faux locs. For a more natural look, this style is top-tier, and you can make it even cuter with two locs gracing the sides of your face.
Summary and Top Picks
For the cutest alternative to the braid styles you've grown accustomed to, whether it be box braids, faux locs, or even passion twists, the butterfly effect is the answer. Curls are generally the go-to when we want to add a girly touch, but butterfly braids bring diversity.
I really love all these braid styles, but if I were to choose my top picks would have to be:
#12: Black Butterfly Braid Bob: A classic black bob is always worth it. With the butterfly effect, this style becomes even more flattering.
#18: Black Butterfly Faux Locs With Brown Highlight: The bobs are really doing it for me, and the brown highlight in this look immediately won me over.
#22: Black Jumbo Butterfly Braids: The next time I do my braids in jumbo size, this is definitely the look I'm going for!
Now, it's time to hear from you! Which of these butterfly braid styles do you love the most and why? Also, which of these styles are you eager to try? Let me know in the comments below.