Crochet braids are a long-lasting protective style option that promotes hair growth while allowing you to look absolutely fabulous. As it relates to braiding, the technique requires the looping of synthetic hair through your natural tresses using a crochet sewing hook.
A major plus about this look is the various styles you can achieve. You can wear your hair in crochet curls, twists, faux locs, wavy extensions, and so much more. Also, crochet braids are generally inexpensive and require less time than traditional braids.
Depending on the style you choose, you can expect to devote two to five hours on average to get your crochet braids done. For other popular styles, such as box braids, the length of time can run from four to sometimes six hours.
Thanks to the versatility of the crochet method, I was able to compile a mind-blowing list of braid styles to inspire your next look. Aiming for a crochet braid style that's curly and chic or natural and fabulous? Continue reading, and you'll find all that and more!
1. Shoulder-Length Black Crochet Box Braids
These crochet box braids are stylish with a youthful taste. They're not too small and not too large, elegantly framing the face as they fall above the shoulders. I also love the gold hair cuffs added to accessorize this look.
2. Black Crochet Faux Locs
Long faux locs can also be achieved using the crochet technique. Make it look chic by tossing a section of locs over to one side and wearing your hair over your shoulders. 
With pre-braided hair, this style can be achieved in half the time as opposed to if you had your stylist braid each section individually.
3. Black and Red Crochet Curls
I love the definition and volume of these black and red crochet curls. They frame the head like a large afro would, falling in cute coils. The color combination is also something to marvel at, as both hues create an edgy and modern look.
4. Long Black and Blonde Crochet Curls
These long crochet curls would make me want to whip my hair back and forth just to show them off. My favorite part though is the ombre effect. I love the subtle blend from black to blonde, turning a classic look into one that's so chic.
5. Shoulder-Length Burgundy Ombre Crochet Passion Twists
For a look that's cute and also classy, these shoulder-length crochet passion twists are perfect. The color adds a special touch to them as well, transitioning between shades of burgundy.
6. Black Crochet Curls With Side Cornrows
For an ultra-girly look, the more curls, the better! This trendy crochet style also features side stitch cornrows, adding a lovely twist.
7. Brown Crochet Curls With Side Part
Style your crochet braids by wearing more curls on one side with a cute side part. These brown spirals look particularly flattering because of their voluminous quality, making this protective style bold and super fashionable.
8. Brown Crochet Twists Ponytail With Criss-Cross Cornrows
Make your crochet braids stand out by braiding the front in incredible criss-cross cornrows. The stitch method is used to ensure a neat finish. Completing the look is a high ponytail of brown crochet twists to make this style extra girly.
9. Black Crochet Crimped Curls With Side Part
I love the crimped style of these crochet curls. They add so much definition to this look with a nifty side part that brings an elegant flair.
10. Black Natural Crochet Curls With Side Part
Achieve a more natural vibe with fluffy crochet curls. The definition is still there but with a wavy pattern and silky texture. This look also features a side part which adds a sassy touch.
11. Black Jumbo Crochet Senegalese Twists With Side Ponytail
Big hair, don't care! These thick Senegalese twists are everything and more, worn in a half-up style with a side ponytail. This look is bold, trendy, and fierce, all while protecting your natural hair.
12. Golden Brown Ombre Crochet Curls
These crochet curls are giving me life. Their silken texture and curl pattern are so beautiful but what makes this look even more flawless is the ombre color combo, from dark to golden brown.
13. Black Curly Crochet Afro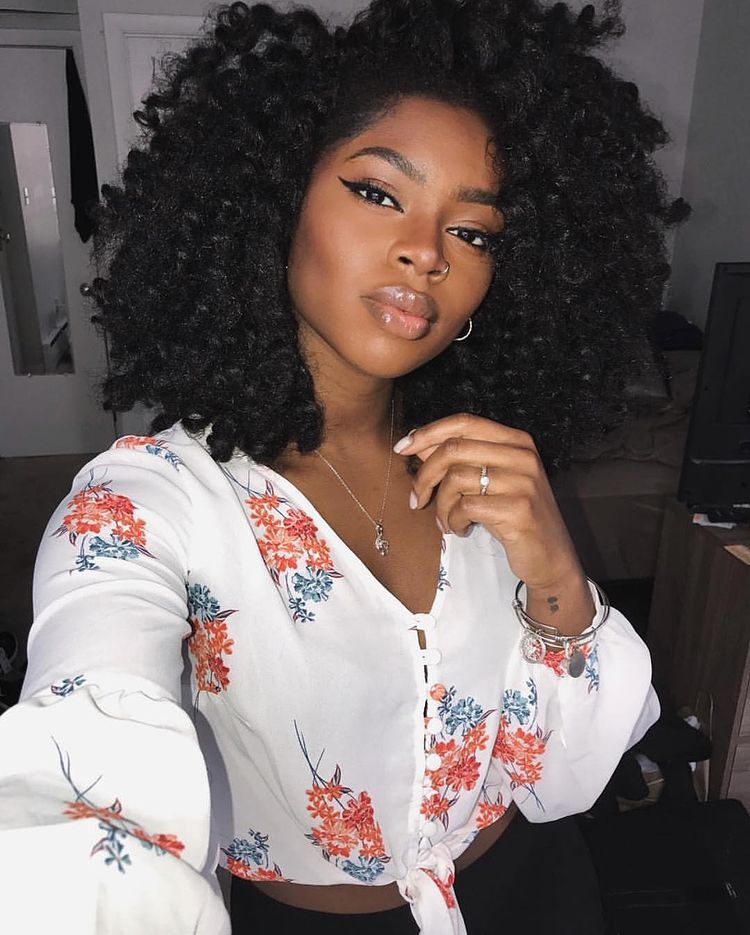 If you love a natural braid style, then these bob-length puffy crochet curls are perfect for you. This gorgeous afro gives you the best of both worlds, with a natural flair and distinct curl pattern to flatter all your outfits.
14. White Crochet Passion Twists
Nothing is more striking than a crochet braid style done in white. These are passion twists, specifically, which add to the girly appeal. This style is perfect for versatility, so you can dress up or down while still looking amazing.
15. Burgundy Crochet Coils With Side Part
Curly burgundy hair is such a fab look! I've always loved the gorgeous neutrality of burgundy, as it creates a balance between brown and the ever-bold red. You'll look both chic and fierce, rocking these crochet coils.
16. Brown Crochet Goddess Box Braids
A high ponytail always gives a girly look, even more so when curls are in the mix. Make it happen with crochet box braids that transition to loose curls. Leave a few braids out on either side of the face to amp up that cute vibe.
SEE ALSO: 53 Butterfly Braid Styles That Are Trending Right Now
17. Black and Light Brown Crochet Curly Bob
I'm loving the effortless look of this ombre crochet style. The curls fall freely in a sophisticated bob style with a light wispy appearance, enhanced by the light brown hue that completes the look.
18. Tousled Black and Burgundy Crochet Curls
Another way to achieve natural-looking crochet braids is by opting for curls with a tousled effect. 
The definition of each spiral is still present but with a stylishly windswept appeal. This look also blends black with burgundy for a highly fashionable finish.
19. Black and Platinum Blonde Ombre Crochet Curls
Being fashionable doesn't just speak to the outfits we wear but also the hairstyles we flaunt, and this look is proof! Black hair transitions to platinum blonde in an ultra-chic unraveled ombre style, one so gorgeous, it'll blow your mind each day.
20. Black Crochet Spiral Curls
You can also wear your crochet curls in the form of cute spirals. Spiral curls stay right in place and are easy to style to your liking each day.
21. Black Crochet Goddess Faux Locs
Faux locs are already one of the most stunning and long-lasting protective styles. Paired with curls, you'll achieve a runway-ready crochet look that will enhance anything you wear.
22. Small Black and Brown Curly Crochet Passion Twists
Nothing beats a high bun! Elegance and poise come easy when you wear your braids in this style. What makes this look even more fabulous are the light waves shown off when you rock this style over the shoulders.
23. Purple Gradient Crochet Curls
These crochet braids are bold with a soft tone that I love so much. The volume of this curly style really brings it off, along with its wispy look and dark to light purple gradient hue. 
24. Long Black Wavy Crochet Curls With Side Part
The length of this crochet look really shows the beauty of the curls. The curls are full-bodied and have a wavy pattern. The side part adds a stylish touch that makes this look extra posh.
25. Brown Crochet Passion Twists With Wrap Ponytail
I find these crochet twists to be so girly, and I love them for it. The elegant ponytail says it all with a wrapped style hoisted at the top of the head. This look would make your braids ready for a formal event, acting on their versatility.
26. Brown Ombre Crochet Passion Twists
Wear your crochet passion twists down to show off a stunning neutral ombre style. This look couples dark and light brown for stylish everyday braids that your can rock for any occasion, from professional to casual.
27. Black Crochet Faux Locs With Shells
Do you know what makes crochet faux locs even more breathtaking than they already are? Adding cute hair accessories. This look is accentuated by cream shells, and I'm getting total tropical babe, beach vibes.
28. Blonde Ombre Crochet Curls With Side Part
I love the color, I love the curls, and I love the length! These blonde ombre crochet curls are simply amazing, falling just below the shoulders in a refined and chic way.
29. Burgundy-Purple Crochet Spiral Curls With Cornrows
Colored braids are everything these days. Join the trend with this cute burgundy curly crochet look. With its purple undertone, this look is super pretty to complement the girly girl in you.
30. Black Bohemian Crochet Afro Curls
This look is definitely a favorite. The natural effect has won me over, and I'm loving the mix of kinky coils with spiral-shaped curls, resulting in a gorgeous bohemian crochet style.
31. Burgundy Ombre Crochet Havana Twists With Side Cornrows
Pair chunky cornrows with crochet Havana twists for a diverse look. These mambo twists are large with a beautiful burgundy ombre blend that makes them pop.
32. Black and Brown Ombre Crochet Curl Angled Bob
There's nothing quite like full-bodied curls. Woven in a chic angled bob, this ombre style is everything you need and more for a versatile and effortlessly cute crochet look.
33. Burgundy Wavy Crochet Weave
If you're going for the perfect blend between a straight crochet braid style and one with a curly pattern, this light wavy look will work like a charm. The beautiful burgundy shade is sure to turn heads, enhancing even your simplest of outfits.
34. Brown Ombre Crochet Faux Locs With High Ponytail
Toss your crochet faux locs into a half-up high ponytail for a fabulous and feminine protective style that will have all eyes on you. 
Worn over the shoulders, this look is super girly—not to mention, the ombre blend and curly ends that add a cute touch.
35. Black and Gray Ombre Crochet Passion Twists With High Ponytail
If you'd like a mature style or simply one that's chic and a bit edgy, black and gray ombre crochet braids are the way to go. These passion twists have a youthful and trendy vibe, especially worn in a half-up high ponytail. 
36. Brown Ombre Crochet Crimped Faux Locs With "S" Curls
Give your crochet braids that extra oomph by styling the ends in "s" curls. The well-defined pattern easily complements the crimped appearance of these faux locs. The finished look is all enhanced by the lovely ombre style.
37. Burgundy Ombre Crochet Curls With Side Part
I love crochet curls that have a teased effect. Worn in this beautiful burgundy shade, these dainty, light curls look angelic. Perfect if you want a super pretty crochet style.
38. Black and Brown Crochet Curls With Cornrows and High Ponytail
For a sporty look, crochet curls with cornrows easily bring that vibe. These braids begin with lemonade cornrows tied into a high ponytail followed by brown "s" curls, worn over the shoulders for that flirty vibe.
39. Black Crochet Spiral Curls With Blonde Faux Locs
I love protective styles with streaks of color. This look is great if you don't want to take away too much attention from the primary hue, which is black. 
This style incorporates blonde highlights in the form of faux locs, not only enhancing these spiral curls in terms of color but bringing diversity with a different texture.
40. Black Wavy Crochet Curls With Side Stitch Cornrows
Bring a stylish twist to your crochet curls with trendy stitch cornrows braided on the side. 
Just as crochet braids protect your natural hair, stitch cornrows are a feed-in style that keeps tension away from the scalp. Paired with these wavy curls, you'll enjoy a diverse and super cute protective style.
41. Long Brown Crochet Spirals Curls With Middle part
I love the length of this style because it places these crochet spiral curls on full display. Worn with a middle part, these crochet braids will have you looking like a doll. Wear them in a ponytail for a more casual flair.
42. Brown Crochet "S" Curl Bob
Short and fun is the perfect way to describe these sassy crochet curls! First of all, I adore the color. That medium brown adds a youthful glow an
43. Golden Brown Crochet Spiral Curls
The ideal look for summer is all I see when I look at these golden brown spiral curls. Summer is all about fun, flirty styles, and these cute crochet extensions understood the assignment.
44. Brown Jumbo Crochet Senegalese Twists With High Ponytail
Jumbo Senegalese braids hold a special place in my heart. I love seeing thick, silky twists, especially styled in cute ways, and this high ponytail look is one of them. 
It's enhanced by two twists worn on either side of the head with gold hair cuffs to amp things up.
45. Brown and White Crochet Faux Locs
Combining brown with white will create a striking color combination that will have you staring in awe each time you see your crochet braids. Done in faux locs, this look will last you several weeks before your next appointment. 
46. Brown Crochet Passion Twists With High Bun
Wear your passion twists in a high bun for a mature look that has a flirty appeal. Because of the curls, this look has an added elegance, so it's perfect for formal events and semi-professional settings.
47. Black Crochet Zuzu Braids
There's no easier way to a braided afro than this. These Zuzu crochet braids are all about a thick, kinky texture with a slightly crimped curly pattern. Rock this style and look confident and fashionable at the same time.
48. Black Crochet Curls With Brown Highlights and Headband
Complement your curly crochet tresses with a stylish headband. This animal print brings an even more playful and super cute touch to these defined "s" curls.
49. Black Voluminous Crochet Curls
The more volume your crochet curls have, the bolder the look. I'm loving the natural-looking style, as well as these braids blend between crimped and loose curls for a fun, fabulous everyday look.
50. Short Blonde Ombre Crochet Curls
If something short and sassy is what you're going for, you don't need to look further than this look. Resting along the jawline, these ombre crochet curls are so cute. Despite their length, they'll definitely jazz up your outfits on a daily basis.
51. Black Crochet Ocean Waves Bob
This look is beyond stunning! You would never believe these are crochet braids, but they are. Large wavy curls layer each other with brown highlights to add intrigue, styled into a bob with a side part that is so gorgeous.
52. Brown Kinky Crochet Afro With Twists
What I love most about this style is its frizzy appearance. It adds a natural vibe that enhances the effect of these kinky crochet curls. Small twists can be seen adding texture and personality to this look as well.
53. Black and Brown Ombre Crochet Goddess Faux Locs
These crochet faux locs look as if they've been dipped in caramel, giving them a super sweet and charming look. Worn with a side part with a curly pattern, that flirty flair is only enhanced.
54. Short Black Crochet Curl Bob
Here's another bob-length style for all my short-hair lovers. If you need a break from the usual straight shoulder-length bob, this cute curly crochet style is worth giving a try.
55. Black Crochet Makeda Curls With Side Part
Your wispy crochet curls don't have to appear frail. They can look voluminous and healthy, just like these natural-looking Makeda curls. 
This style is sure to upgrade any outfit, and it's so beautiful that you don't need jewelry to bring it off.
56. Brown and Platinum Blonde Crimped Crochet Faux Locs
Step outside of the ordinary and trade black faux locs for brown crimped crochet locs, adding a chic touch with an ombre blend that ends in platinum blonde.
57. Burgundy Crochet Curls With Bang
Crochet curls with a bang? You don't have to ask me twice. This crochet look is fabulous and will help you stand out thanks to its eye-catching burgundy hue.
58. Light Brown Kinky Crochet Curls
These light brown crochet curls are the perfect blend between 3C and 4C hair as the kinky texture and defined curl pattern combine like a wash and go for an ultra-chic and fashion-forward crochet style.
59. Black Crochet Fulani Braids With Curls and Beads
Nothing says you're staying on top of the trends better than a crochet Fulani braid style. The stitch cornrows add a cute tribal braid look and are accentuated by yellow and clear beads.
60. Black Crochet Double Dutch Braids With Curls
I've always loved double dutch braids, and in a crochet style with sleek stitch cornrows, nothing has changed. The "s" curls add a boost of energy to this look as well, coupled with a youthful flair and chic flair.
Summary and Top Picks
If you've been wondering whether or not to get crochet braids, let this stellar compilation be all the encouragement you need. With so many stunning options to choose from, you'll never run out of protective style ideas.
I'm so in awe of the versatility that crochet braids offer, and I definitely have a few favorites. 
#10 Black Natural Crochet Curls With Side Part: I love that this look doubles as an afro and curly bob. It's perfect for daily wear.
#12 Golden Brown Ombre Crochet Curls: The definition of the curls and the beautiful brown ombre color make this the flawless look that it is.
#60 Black Crochet Double Dutch Braids With Curls: Double dutch braids are one of the cutest protective styles. Paired with curls and stitch cornrows, this look is in a league of its own.
Now, it's time to hear from you. Which of these crochet braid styles made a lasting impression on you? Let me know in the comments below!