It's time to go above and beyond with the stylish cornrow derivative, stitch braids, a style I like to call the expert version of traditional cornrows. It requires a more precise technique to accomplish, however stitch braids are a trendy alternative to its classic forerunner.
Applying the feed-in method, this technique isn't difficult once you get the hang of it but requires a skilled braider to form neat horizontal lines, using the pinky finger, preferably with a nail, to navigate the hair until each stitch is complete.
This protective style applies slight pressure on the scalp to achieve that sleek finish but as this compilation will confirm, the end result is impressively neat and can last up to two months depending on how speedily your natural hair grows.
You won't be robbed of variety with this style either since you can wear stitch cornrows in a straight-back Ghana braid style or amp them up with cute buns, ponytails, or even rock them as a classy bob.
The option also exists to accessorize with stylish hair jewelry. You're about to see all that and more in this amazing round-up of trending stitch braid styles. Let's get right into it!

1. Long Ghana Stitch Braids
A fresh look for Summer, these stitch cornrows are edgy and chic, braided all the way back in a long Ghana braid style.
2. Brown Ghana Stitch Braids
Classic black Ghana braids for Summer, and brown stitch braids for fall. Rock this neat look with your favorite earth-toned pieces and watch the color of these braids really come to life.
3. Black Twin Bun Stitch Braids
There's nothing cuter than twin bun braids. Get this look by sectioning your hair into four parts, then braid stitch cornrows all the way back. Tie two braids from each section together and neatly wrap them into a stylish low bun.
4. Black and Red Jumbo Stitch Braids with Low Bun
Add some color to amp up your stitch braids. Red easily complements black so you'll be guaranteed a stylish combination. When your braids are complete, wrap the ends into a low bun at the back for a cute touch.
5. Brown Stitch Braids with High Ponytail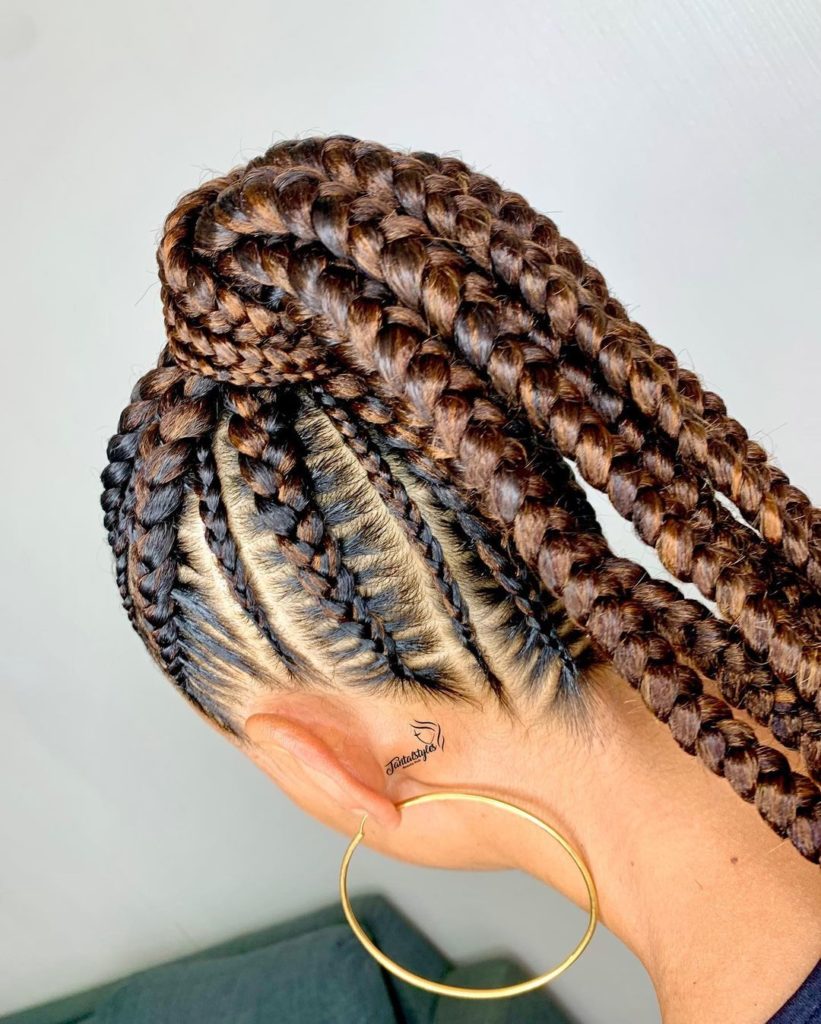 A ponytail looks great in any style but will look exceptional with stitch cornrows, on account of how super neat your braids appear when worn in an updo, with emphasis placed on the linear design of each cornrow.
6. Long Black Hybrid Stitch Braids
Alternate between small and jumbo stitch cornrows to achieve this diverse style. Braid your hair long enough to rock the look over your shoulders or perhaps in a more laid-back style with a low bun.
7. Black Jumbo Lemonade Stitch Braids with Low Ponytail
These jumbo lemonade braids are flawless. Kudos to the sequence of horizontal stitch lines that heighten the seamless finish of this style.
8. Black Spiral Goddess Stitch Braids with High Ponytail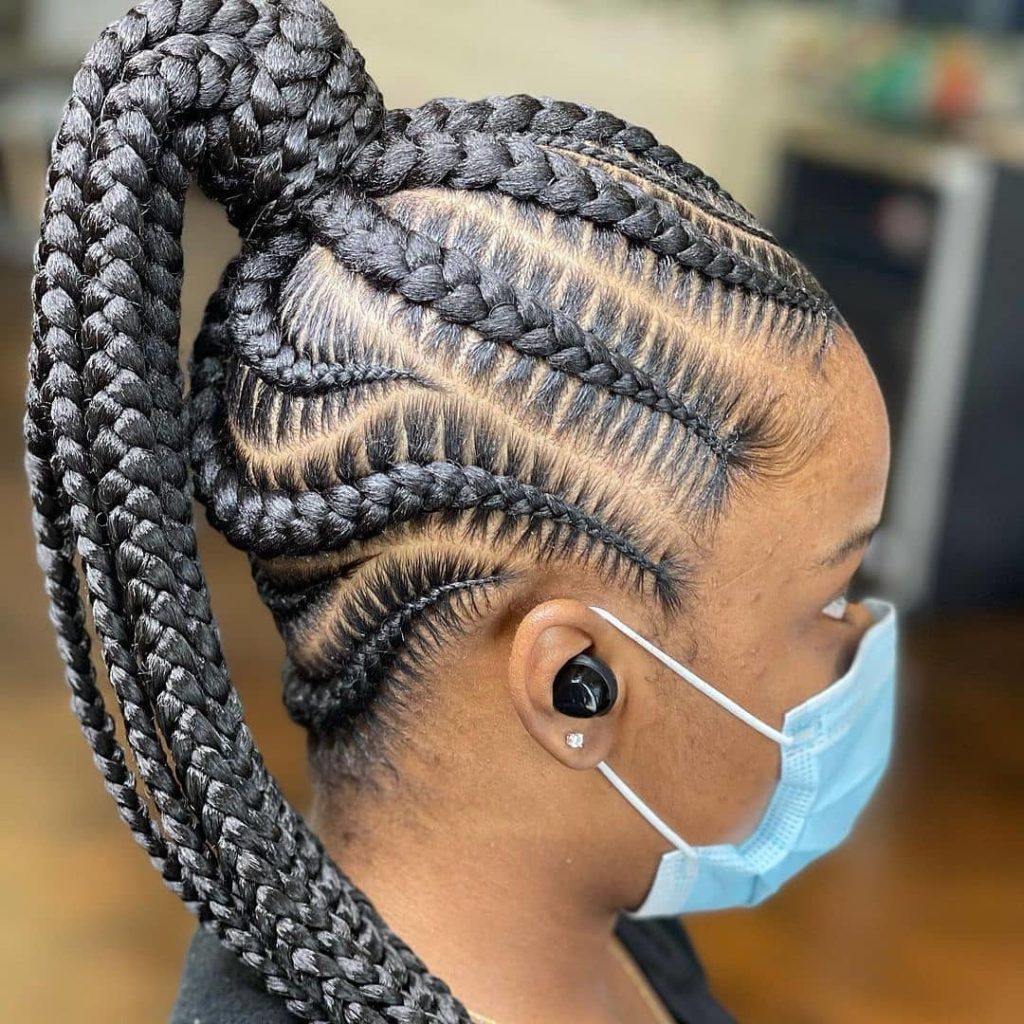 It's the chunky cornrows for me! They keep the spotlight all over these stitch braids. They were tied into a neat high ponytail, highlighting the stylish spiral pattern of this look.
9. Black Spiral Hybrid Stitch Braids
We're continuing the spiral trend but with stitch cornrows braided all the way back, styled from jumbo to small for a versatile and unique look.
10. Black Stitch Braid Bob
A great way to introduce stitch cornrows into your bob is by braiding them on one side where they can stay tucked behind the ear. It'll bring a cute flair to a classic look.
11. Burgundy Lemonade Stitch Braids
For this look, burgundy hair is gradually added so the cornrows get larger until the desired thickness is achieved. 
With lemonade braids, attention immediately goes to the hairline, and so the stitch braid technique is a great way to maintain that sleek, eye-catching look.
12. Black Box Braids with Three Stitch Cornrows
Enhance a classic box braid style with three stitch cornrows braided on one side. Add cute hair accessories, for example, a silver hair cuff to highlight your new look.
13. Burgundy Goddess Stitch Braids with Two High Buns
Bring a girly vibe to burgundy stitch braids with two top knot buns. Accessorize with hair cuffs to enhance the color and accentuate those gorgeous goddess cornrows.
14. Half-Up, Half-Down Fulani Stitch Braids with High Bun
Stitch cornrows also look fantastic with smaller-sized braids. They add an extra neat finish to this tribal style, causing you to automatically admire the unique cornrow pattern. 
Worn in a half-up, half-down style with a high bun, this look is holding nothing back.
15. Platinum Blonde Jumbo Stitch Braids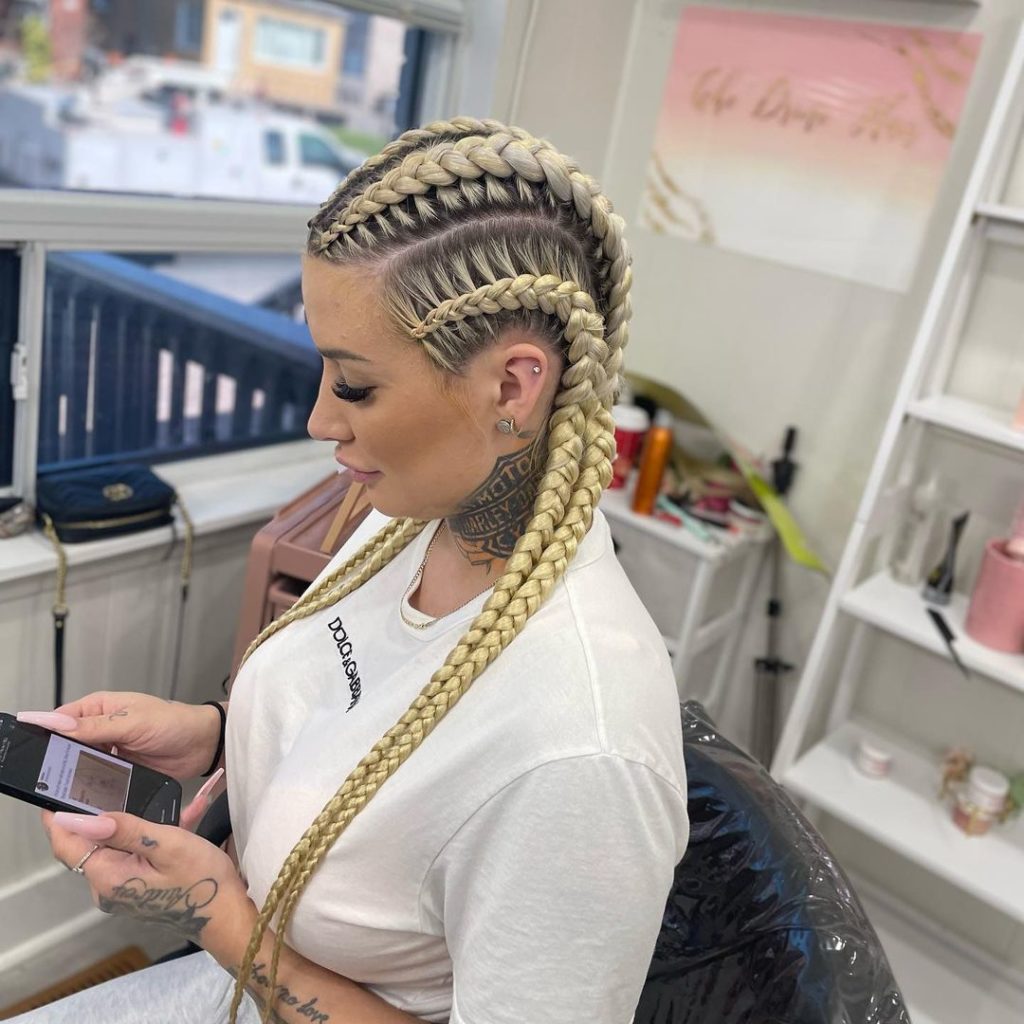 You can already tell that this style will be a hot topic, with stitch cornrows braided in a platinum blonde shade for the ultimate fashion statement.
16. Black Stitch Braids with Two High Buns and Curls
I love the loose curls featured in this stitch braid style. They fall from two small high buns, giving this look a girly appeal. Let's also note the upward direction these cornrows were braided in. It makes achieving an updo a walk in the park.
17. Black Stitch Braids with Heart Cornrow
Heart cornrows just scream Summer fun, don't they? These stitch braids provide such a laid-back and cute style but require intricacy to receive a detailed pattern. Nonetheless, you'll love the finished look.
18. Long Black Goddess Stitch Braids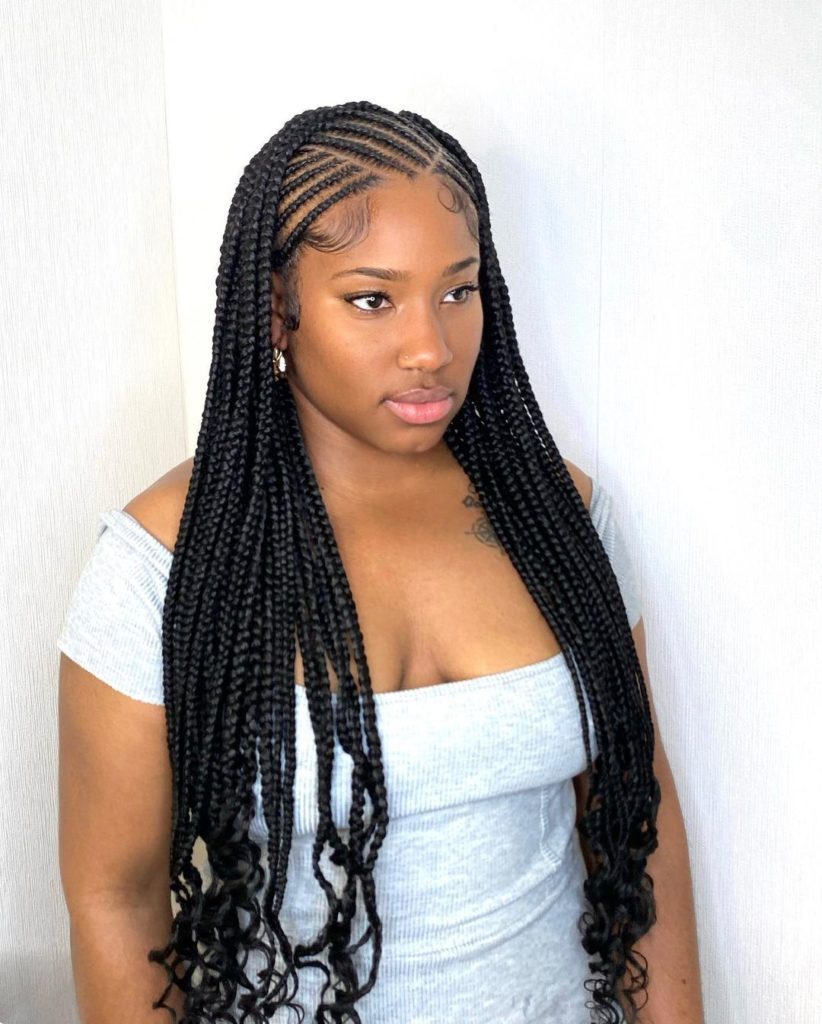 I'll take goddess stitch braids any day! Those loose curls are heavenly, and I love the diverse pattern of the cornrows with sections braided down the side while the top section is woven in a diagonal pattern, all for a chic and unique twist.
19. Black Stitch Braids with High Bun and Purple Streaks
The high bun has always been immaculate but with stitch cornrows, the style is undefeated. 
The combination presents a super sleek finish and the horizontal lines are guaranteed attention-grabbers. Round off this fire look with streaks of colored extensions to make that high bun pop.
20. Black Jumbo Stitch Braids with Zig-Zag Cornrow and Beads
Enhance your stitch braids with a stylish zig-zag cornrow braided at the side. Then, pop on some chunky mustard yellow beads at the end to dress up the finished look.
21. Black Fulani Stitch Braids with Afro Puff
Put your natural hair on display with a cute high puff. Small stitch cornrows keep this hairdo looking neat while placing emphasis on the afro. A few plaits were added on both sides as well to give this look a Fulani braid effect.
22. Intricate Stitch Box Braids
For this look, hair is sectioned into medium-sized parts, after which four small cornrows are braided into one plait, creating a criss-cross effect. 
The choice of design places emphasis on the horizontal stitch lines, enhancing the neat finish of the overall look.
23. Black Criss-Cross Stitch Braids with Curly High Puff
If you have colored hair, there's no better way to show it off than in a stylish high puff. For a seamless hairline, opt for stitch braids, featuring criss-cross cornrows for a unique touch.
24. Black Ghana Stitch Braids with Small Low Bun
I love a simple look that doubles as cute. Make it happen with medium-sized Ghana stitch braids tied into a dainty low bun. This look is a classic one that you can dress up or down.
25. Black Passion Stitch Braids
That's right! It's time to feature the ever-fashionable passion twists. When this style debuted in 2018 with its gorgeous curl pattern and fluffy texture, the internet went wild and now, it's caught on to the stitch braid trend as well.
26. Red Ghana Stitch Braids with Low Bun
Red braids are for standing out, and you can do that easily with stitch cornrows braided all the way back. Complete this style with a low bun to maintain an effortlessly cute look.
27. Black Twin Stitch Braids
I've never seen twin braids that don't look absolutely amazing. This style is so easy to achieve and is beyond cute, featuring two medium-sized cornrows braided at the side to highlight those flawless stitch lines.
28. Black Sitch Braids with Curly Weave
Another one for the books is this stitch braid weave combo. This look starts off with stylish feed-in cornrows braided to the crown of the head. A gorgeous waist-length curly weave then takes over for a boho-chic finish.
29. Black Jumbo Spiral Stitch Braids
These jumbo cornrows are absolutely breathtaking, braided around the contour of the head for a stylish spiral pattern. 
The silky texture of each braid is magnified by its chunky size—a feature further enhanced by the stitch technique used to achieve each cornrow.
30. Black Goddess Stitch Spiral Braids
For a more refined look, pair your jumbo spiral cornrows with smaller ones braided in between. This combination brings a diverse look to your protective style. Amp it up with stylish hair accessories such as hair cuffs and cute beads.
31. Shoulder Length Goddess Stitch Braids with Curly Weave
Seasonal looks are still a thing and this protective style is a hot pick for Summer. The heat will definitely be on, so a shoulder-length look is perfect if you're planning to rock a curly weave along with your stitch braids.
32. Black Jumbo Criss-Cross Stitch Braids with Low Twin Buns
Your stitch braids can be done in so many unique styles. For a cute everyday look, rock them in a criss-cross design with jumbo cornrows tied into low twin buns.
33. Golden Brown Stitch Braids with High Ponytail
It's the cornrow pattern for me! I love the curved design of each braid and how flattering it makes this protective style look. Woven with golden brown hair, these stitch braids are ultra-chic and look fabulous in a high ponytail.
34. Black and Blonde Zig-Zag Stitch Braids with Curly High Bun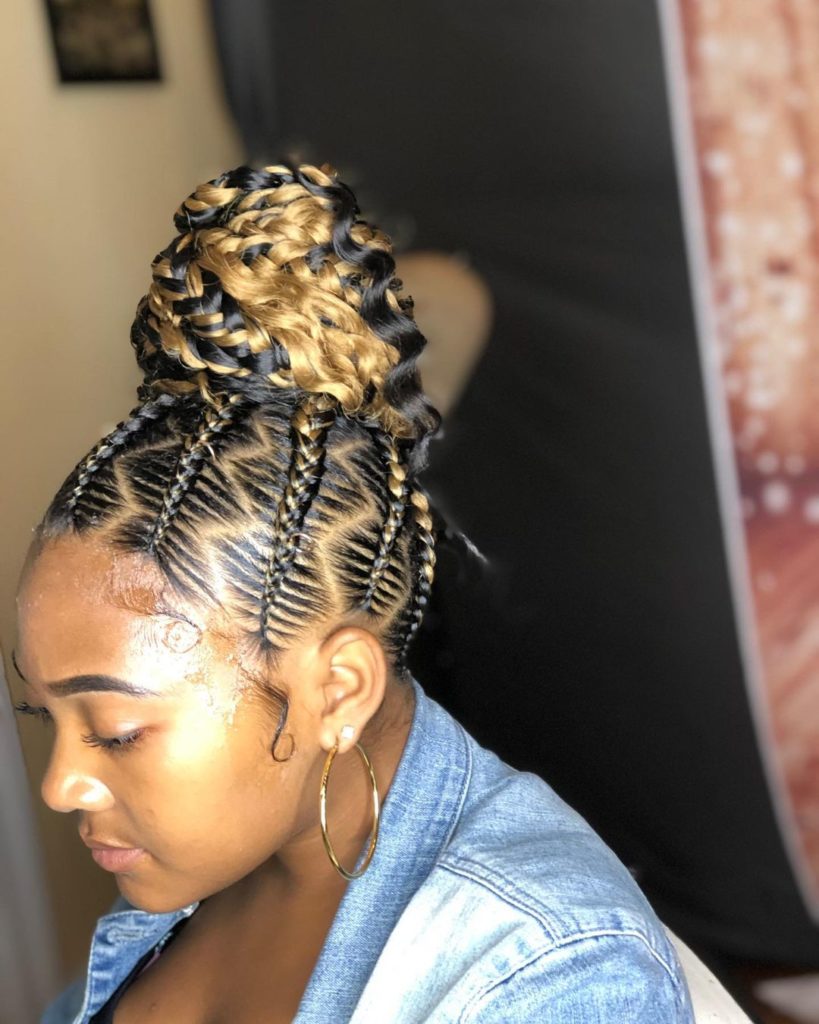 Make your stitch braids even more creative by sectioning your hair into zig-zag parts. Leave your ends curly then tie them into a cute wavy high bun—a stylish option, especially if colored hair is included in your look.
35. Black Bohemian Stitch Braids with High Ponytail and Red Streaks
Another stylish look worth saving for later, this braided ponytail is poised and eye-catching. 
It begins with medium-sized stitch cornrows braided to the center of the head and then wrapped into a long bohemian box braid ponytail with pops of red to highlight the fashionable do.
36. Blonde Jumbo Stitch Braids with High Bun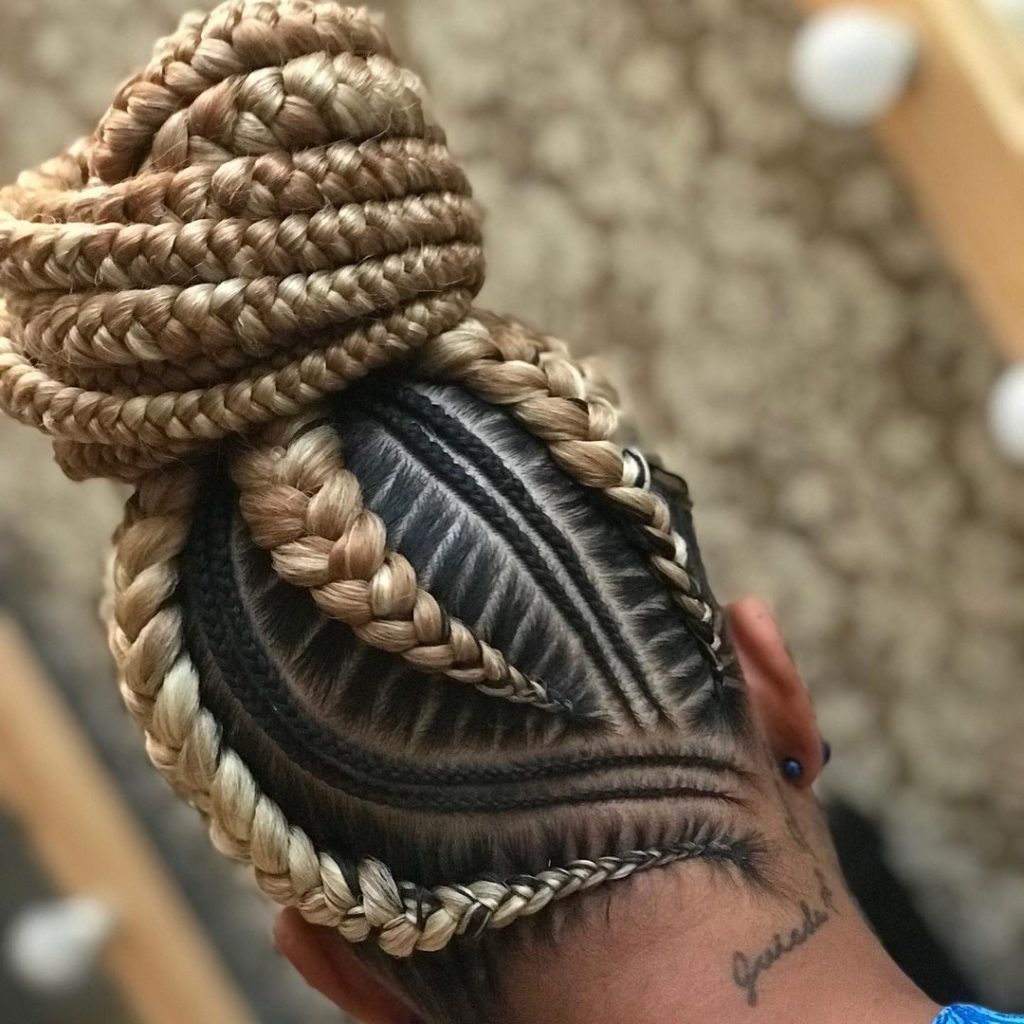 I love everything about this style, from the intricate cornrows to the striking blonde hue, not to mention that impressive high bun. These stunning stitch braids get full marks.
37. Black Criss-Cross Stitch Braid Ponytail
Go all out by incorporating stylish stitch braids with criss-cross cornrows. For the finishing touch, style your loose ends into a braided ponytail for a fabulous look.
38. Stitch Braids with White Beads
Spruce up your protective style by letting your hair remain loose in the back. Braid stitch cornrows on top and add chic white beads to play up your new look.
39. Black Stitch Braid Bun with Hair Accessories
Elevate your high bun with accessories to add a personal touch to the updo. By clasping gold hair cuffs onto every other stitch cornrow, you can add a chic flair to this classic look.
40. Black and White Jumbo Ombre Stitch Braids
Jumbo stitch cornrows give your protective style a bold look. Braid smaller traditional cornrows in between to add a chic balance with white synthetic hair intertwined towards the end for a stylish ombre blend.
41. Half-Up, Half-Down Black Stitch Braids with High Bun
This half-up, half-down stitch braid style is a classic look made unique. It features jumbo cornrows sectioned into leaf-like parts with a neat high bun.
42. Red Jumbo Stitch Braids
Now here's a fierce look worth recreating. All-red braids are super trendy and a sure way to enhance any outfit. Style them with jumbo feed-in stitch braids for an ultra-chic finish.
43. Black and Pink Ghana Stitch Braids
For a girly flair, intertwine black with pink extensions to amp up your stitch braid style. Add hair accessories here and there to make your look even more fashionable.
44. Black Fulani Pop Smoke Stitch Braids
Pop Smoke-inspired braids are trending right now. Get the look by braiding feed-in cornrows on either side of your head, using the stitch technique to achieve neat horizontal lines.
This look also features a cornrow braided down the middle, a feature common in Fulani braid styles.
45. Jumbo Blonde Ghana Stitch Braids with Low Bun
If Summer braids had a look this would be it—jumbo blonde stitch cornrows braided back and tied into a cute bun at the nape of the neck. It's the type of style that looks amazing with large hoop earrings.
46. Large Black Stitch Braids with Two Low Ponytails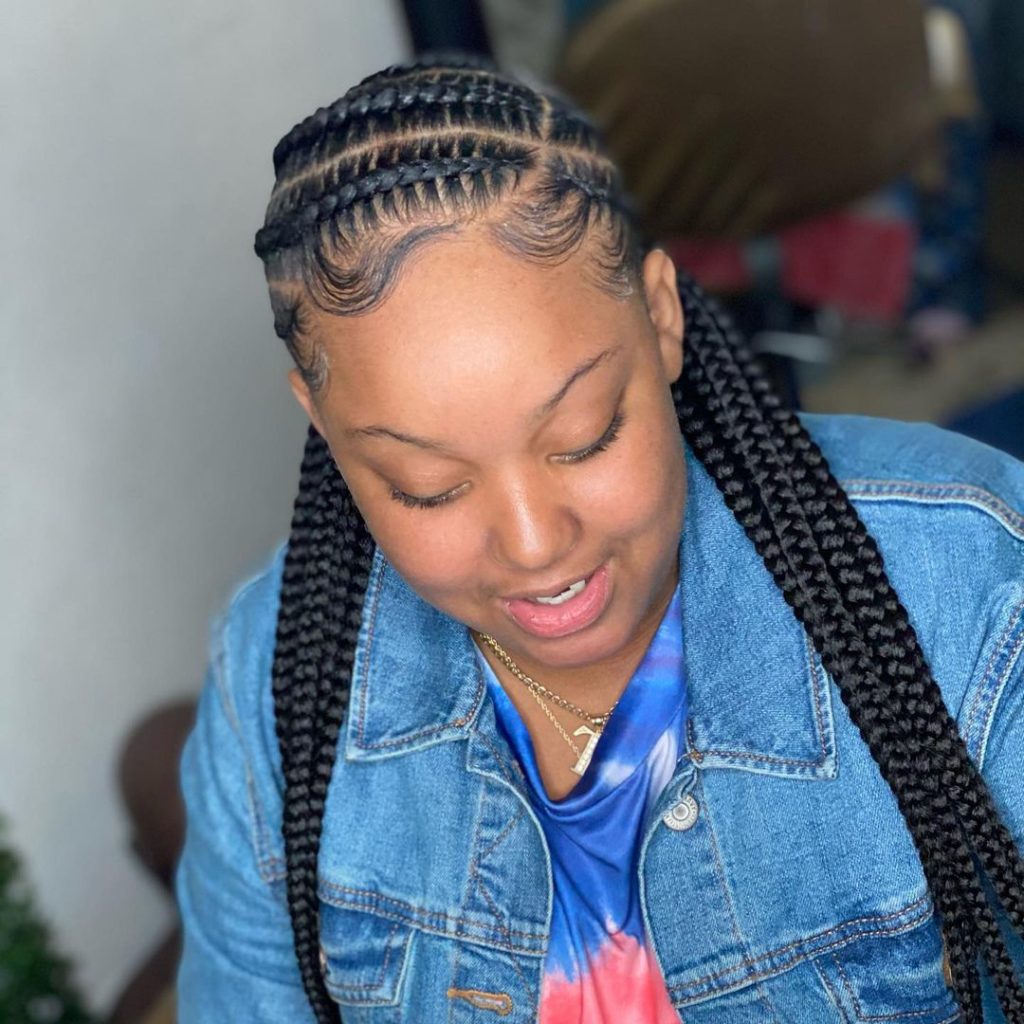 You can't go wrong with a cute laid-back protective style, and this look makes that easy to achieve as large stitch cornrows are braided around the shape of the head and tied into two adorable ponytails at the back.
47. Blonde Ket Stitch Braids
Ket braids bear similarities to Pop Smoke braids as they too are initiated by cornrows before transitioning to plaits a few inches in.
A fashion-forward look that can fit any occasion, this style looks stunning when braided with colored extensions, and blonde is no exception.
48. Black Bohemian Stitch Box Braids
Bohemian box braids can do no wrong. Rock this style with stitch cornrows to make them even more captivating.
49. Light Brown Bohemian Stitch Braids with High Ponytail
If you're feeling your new bohemian-styled braids, flaunt them in a high ponytail for an extra cute look. Opt for a shade that will enhance your hairstyle—light brown is a versatile color you can rely on any time of year.
50. Pop-Smoke Stitch Braids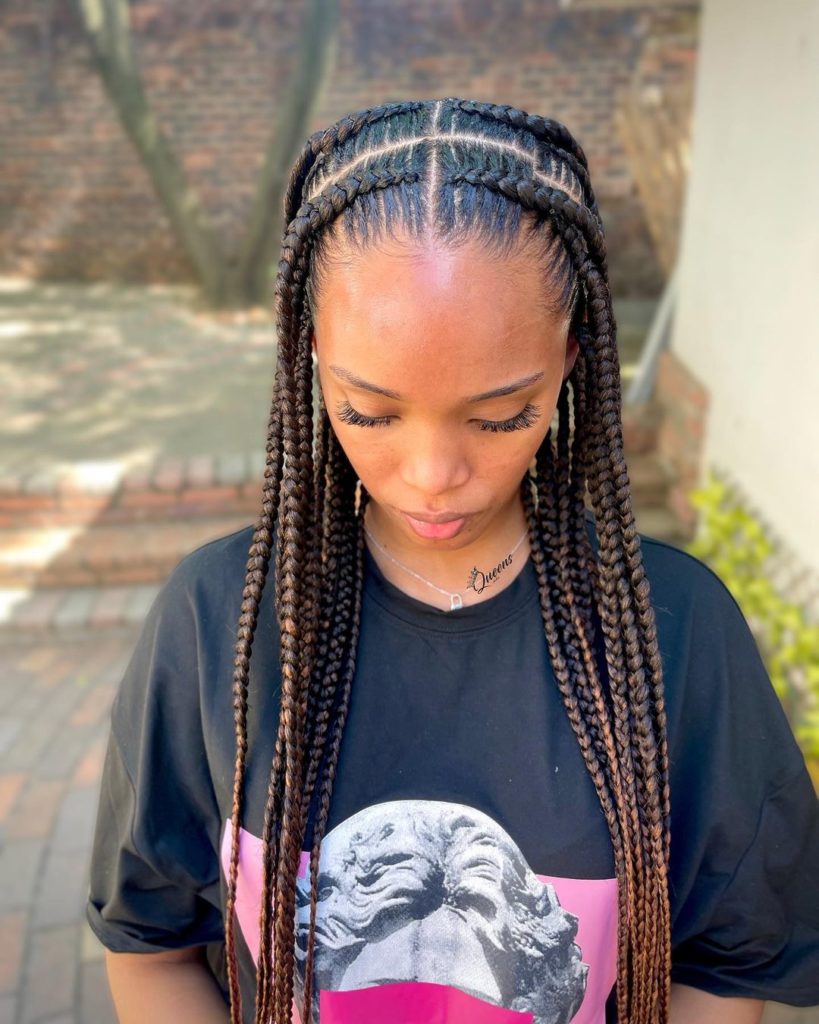 Similar to traditional Pop-Smoke braids, this look features four feed-in cornrows braided on either side of the head. At the back, however, additional cornrow box braids are included, allowing for greater versatility with this protective style.
51. Black Goddess Ghana Stitch Braids
Add an ultra-feminine touch to Ghana braids by styling the ends into goddess curls. Stitch cornrows are perfect for straight-back braids as they assist in the control of flyaways. Simply keep your baby hairs slick to complement the look.
52. Black Stitch Braid Mohawk
Mohawks are edgy and fun to wear. Give yours a chic twist with small and large stitch cornrows on either side, braided into a high top.
53. Black Stitch Braids with Straight Weave
To match the sleek look of your stitch braids, opt for a straight weave. You can rock this cute look down your back, over your shoulders, or in a bun, low or high.
54. Black Fulani Stitch Braids with High Bun
Here's all the proof you need of the versatility of Fulani braids. Tied into a bun, this look is classy and easy to do. Add just a few hair accessories to spruce things up.
55. Black Stitch Braid Ponytail with Beads
This cute ponytail style is made easy by braiding cornrows around the shape of your head toward the center. 
To jazz up this protective style, part three sections at the front, on either side, to facilitate box braids. Round off this cute look with stylish beads.
56. Long Black Stitch Braids with Four Cornrows
For this style, hair is parted into four sections and then braided back into long stitch cornrows. With such neat parts and a linear stitch pattern, this look is one of the sleekest I've ever seen.
57. Fulani Stitch Braid Bun with Heart Cornrows
Heart cornrows have become extremely popular. Not only are they cute, but they can be worn with almost any protective style. Try them with a stitch braid bun for a fresh Fulani-inspired look.
58. Black Zig-Zag Stitch Braids
These stitch braids were perfectly executed, starting with stylish zig-zag cornrows before the look is completed by classic box braids, all for a flawless and trendy protective style.
59. Black Ghana Stitch Braids with Brown Beads
The beads are back in fine style, neatly adorning the ends of these Ghana braids. With stitch cornrows adding a sleek finish, this look can't be ignored.
60. Half-Up, Half-Down Stitch Braids with High Bun and Hair Accessories
Mix versatility with style in half-up, half-down stitch braids. This look features a high bun and box braids accessorized by hair cuffs, cords, and beads for a fashion-forward appeal that'll elevate a pantsuit just as it would a sundress.
61. Large Ombre Stitch Braids with High Ponytail
The curved design of each cornrow is what makes this look so special—it causes them to swerve upward, enhancing the style of this high ponytail. 
Two cornrows were braided toward the forehead, falling along the side of the face, adding a super cute touch.
62. Black Fulani Stitch Braids with Zig-Zag Cornrows
All you need for a trendy stitch braid style—traditional and zig-zag cornrows braided back with reverse cornrows braided at the side. In the end, you'll have the perfect tribal braid look for Summer.
63. Large Stitch Braid with Curly Weave
Stitch braids are truly universal. For this look, a large stitch cornrow is braided along the hairline into a sleek plait, making this curly weave style a lot more memorable and eye-catching.
64. Golden Brown Stitch Braid Twists with High Bun
I fall deeper in love with these twists the more I see them. Styled into a half-up, half-down style with golden-brown hair, this beautiful look is enhanced by a set of large stitch cornrows braided at the front.
65. Black Butterfly Box Braids with Criss-Cross Stitch Cornrows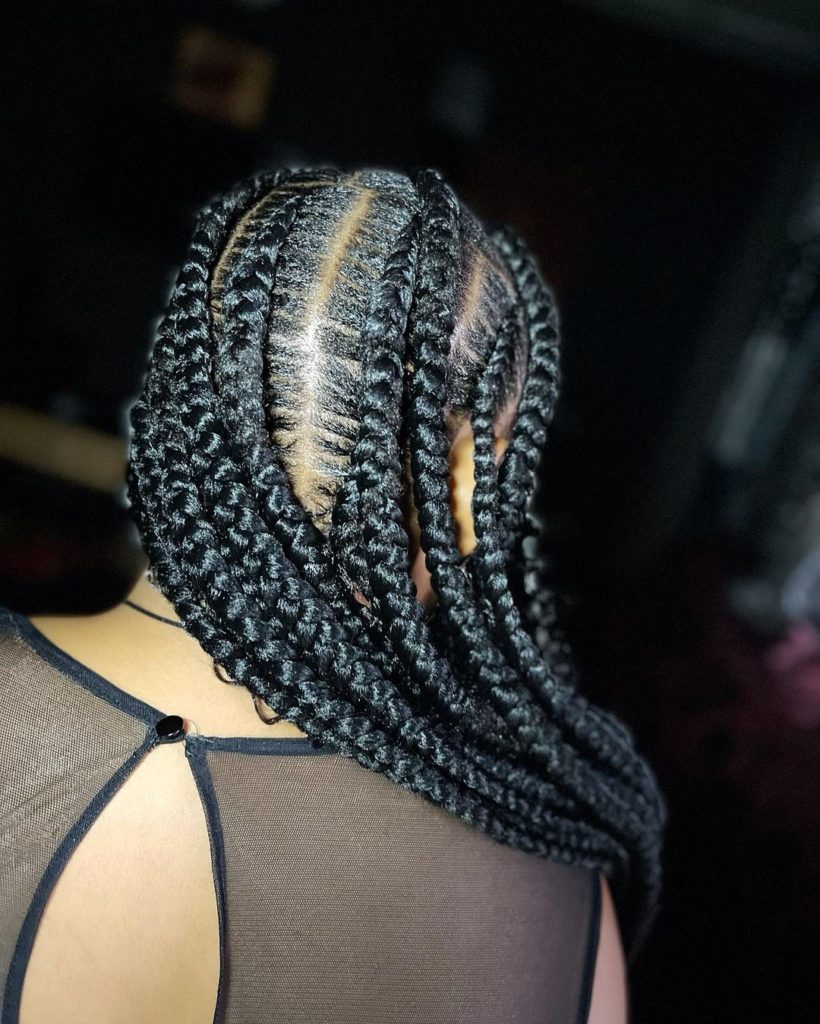 Confession: These box braids are another fave. They begin with gorgeous criss-cross stitch cornrows before transitioning to thick box braids. They're slightly unraveled at the end for a stunning butterfly effect.
Summary and Top Picks
Stitch braids are yet another protective style that deserve all the attention they're receiving. The neatness and versatility they offer are vital for braid lovers, and might I reiterate that this look is trendy all year round.
When hairstyles are on-trend, you can't help but want to try them. That said, my faves are styles 24, 31, and 56. I've gained such an appreciation for the chic laid-back look of Ghana braids, and I love mixing curls with my braids to get that bohemian vibe as well.
What about you? Will you be rocking stitch braids more often? Which of these styles are your favorites and why? Share your thoughts and any questions you'd like to ask down below.