Whenever I need a manicure that's glamorous or one that's flirty and cute, pink nails are a go-to. They automatically come to mind for their versatility, making me feel confident no matter how I plan to style my outfits for the days ahead.
Despite not being a neutral color, pink acts as the perfect base for a manicure, whether you're wearing a solid pink design or playing around with complementary or contrasting hues and nail art to achieve a more dynamic look.
I immediately think back on the timeless style of Elle Woods from the 2001 film, Legally Blonde. Her love for pink inspires so many women to this day, and that includes the subtle pink nails she'd sometimes flaunt with her dazzling outfits. 
And now, to inspire you even further, I've compiled some of the cutest pink nail designs I've ever seen that you definitely need to see too. French tips, jelly nails, chrome finishes, croc print, and so much more—they're all here, in the round-up below.

1. Pastel Pink Coffin Nails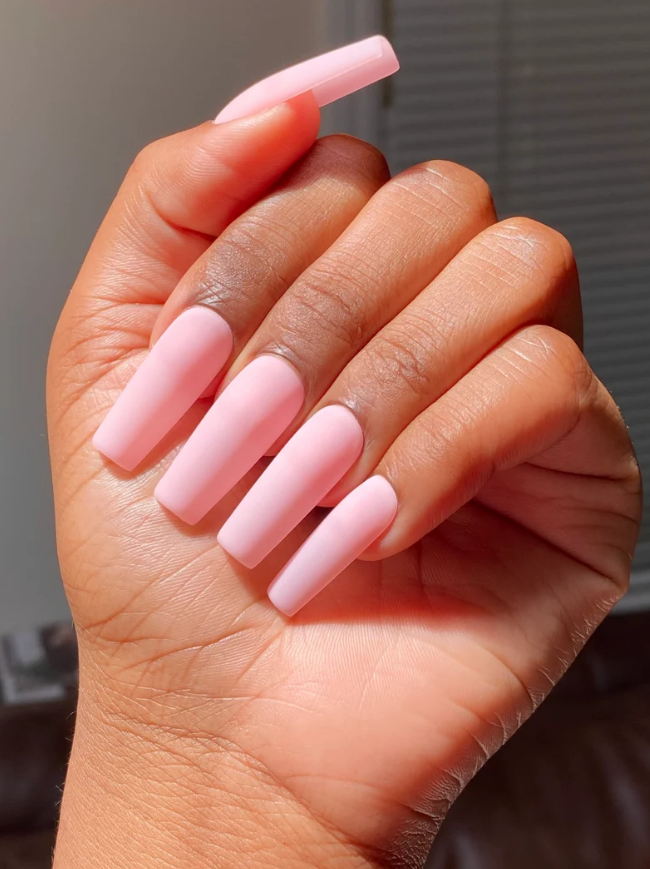 I live for subtle pink nails. The soft tone of this look is so relaxing and flattering at the same time, painted over coffin extensions that highlight the beauty of this design. You can get these nails at Etsy.
2. Pink and Nude French Almond Nails with Cherries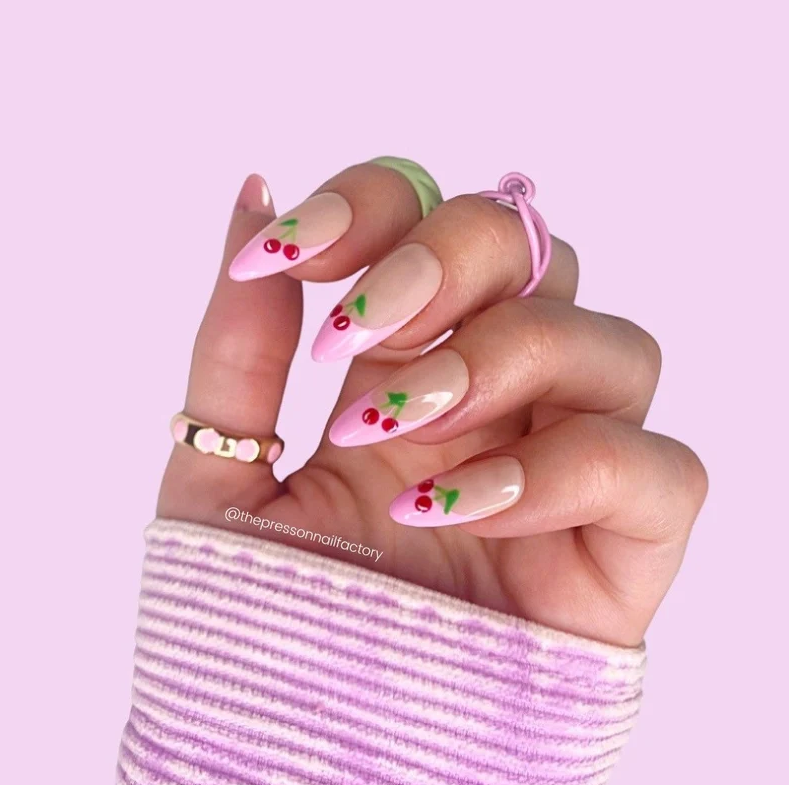 Cherries on top make everything sweeter, and these glossy pink french tips are no exception. They were paired with a nude base that totally complements the softness of this cute design. You can get these nails at Etsy.
3. Multi-Shade Pink Floral Almond Nails with Silver Sequins
Decorate your nails with flowers and see first-hand how floral designs beautifully complement pink nails. Add a few silver sequins to bring some sparkle into this cute look. You can get these nails at Etsy.
4. Light Pink Deep French Coffin Nails
One of the most sophisticated manicures ever, french tips are a staple. For a cute and trendy look, opt for a deep french design, coating your tips in a light pink shade with a glossy finish to achieve that soft glow. You can get these nails at Etsy.
5. Blush Pink Cow Print Coffin Nails
Animal print makes a pink mani even cuter. Pair blush pink nails with cow spots painted in the exact shade over a white base to enjoy a girly and trendy design. You can get these nails at Etsy.
6. Hot Pink Raspberry Vine French Coffin Nails
This look features pink raspberry vines styled into a deep french design—indicative of the sweet aura intended to be portrayed. Paired with hot pink nails, this mani can't go unnoticed. You can get these nails at Etsy.
7. Pink and Nude Freestyle French Coffin Nails
This look is an example of some of the fun and cute ways you can use pink to dress up a nude base—with looping hearts, a french tip design, and swirl art. You can get these nails at Etsy.
8. Glossy Light Pink Almond Nails
For this look, light pink nail polish is painted over almond nails, resulting in an undeniably elegant finish. Completed with a glossy top coat, I'm fully persuaded that classy pink nails win every time. You can get these nails at Etsy.
9. Hot Pink Cheetah Coffin Nails
Cheetah nails are fierce, especially when incorporated into a matte hot pink-themed design. The bonus is that you get to give a trendy twist to a bold and girly look. You can get these nails at Etsy.
10. Glossy Bubblegum Pink Coffin Nails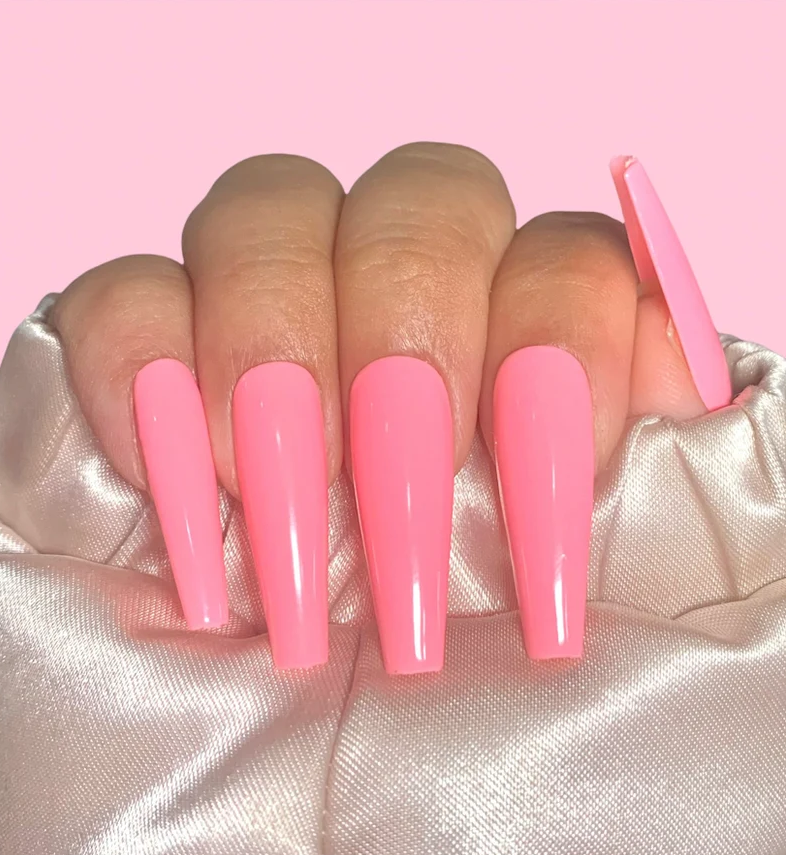 It's soft glam made easy with glossy bubblegum pink nails. It's a fab look that you can dress up or down and is the perfect reason to bring out those cute gold knuckle rings as additional hand decor. You can get these nails at Etsy.
11. Pink and White Glitter-Encrusted Coffin Nails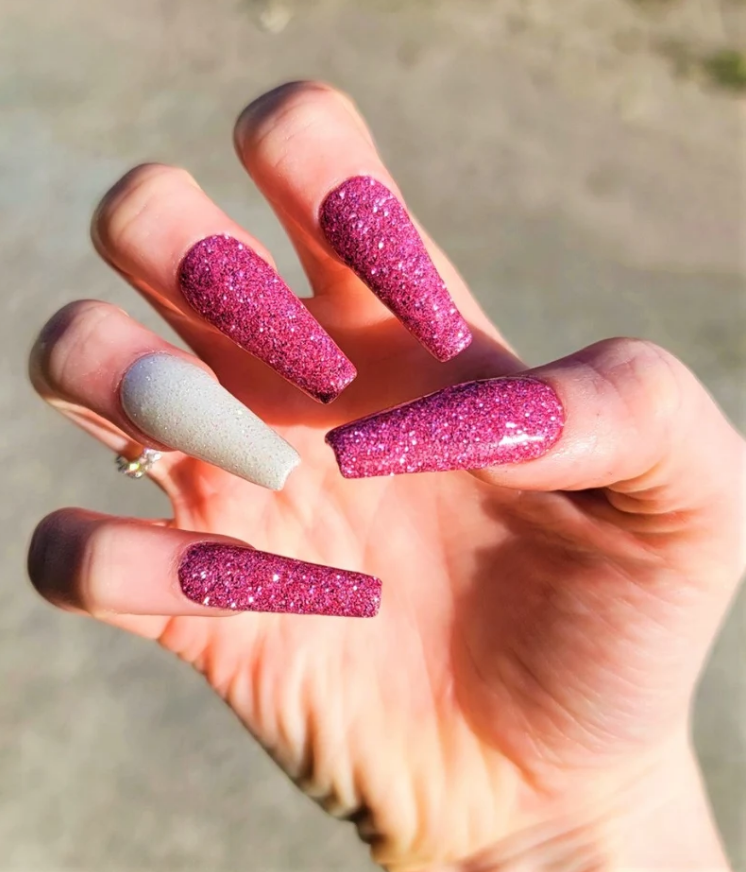 Glitter is like the icing on the cake for a pink nail design. It brings so much personality and style to the finished look. 
To make things even more interesting, flaunt an accent nail design on your pinky finger, using white for a boost of elegance. You can get these nails at Etsy.
SEE ALSO: 30 Trendy Rainbow Glitter Nail Design Ideas to Jazz Things Up
12. Matte Pink Marble Coffin Nails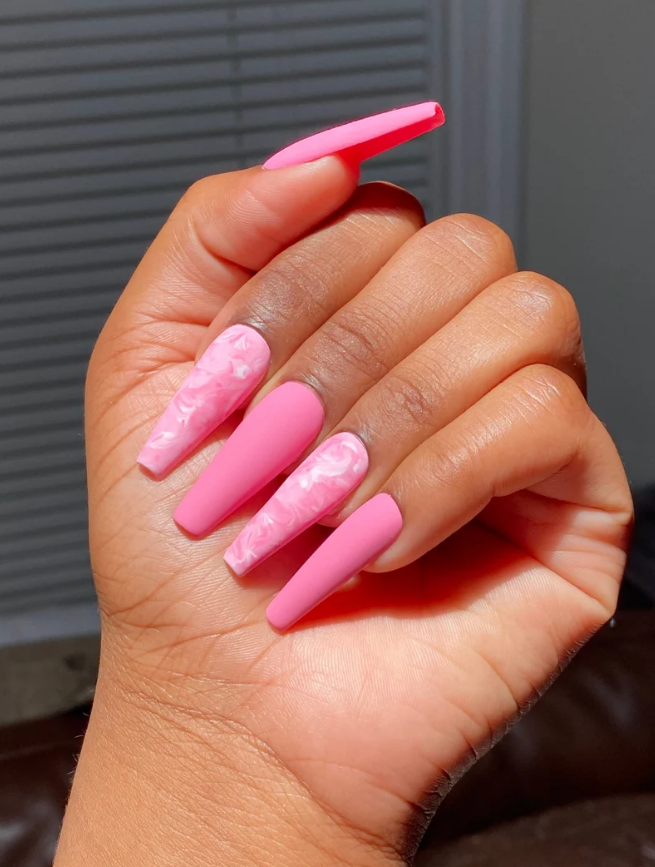 If you're not in the mood for a solid pink shade on all nails, switch things up with a trendy marble design. Go for a matte finish to make this look even more fabulous. You can get these nails at Etsy.
SEE ALSO: 21 Super Cute Pink and Brown Nail Designs
13. Pink Glitter Angled French Coffin Nails
If you love glitter as much as I do then you're already won over by this look—sparkly pink nails paired with a sheer pink base and amazing glitter french tips. You can get these nails at Etsy.
14. Sheer Pink Stiletto Nails
For utmost elegance, opt for stiletto nails varnished in sheer pink nail polish. The muted tone of this shade gives this mani an airy feminine vibe that I can't get enough of. You can get these nails at Etsy.
15. Multi-Shade Pink Angled French Almond Nails
Go against the grain by swapping a classic look for something more contemporary with angled french nails. Coat your tips in pastel and hot pink shades to complement the chic design. You can get these nails at Etsy.
16. Monochromatic Pink Swirl Coffin Nails
This look screams vibrant sophistication, as large pink swirls overlay transparent nails for a creatively chic and eye-catching design. You can get these nails at Etsy.
17. Short Pink Gradient Nails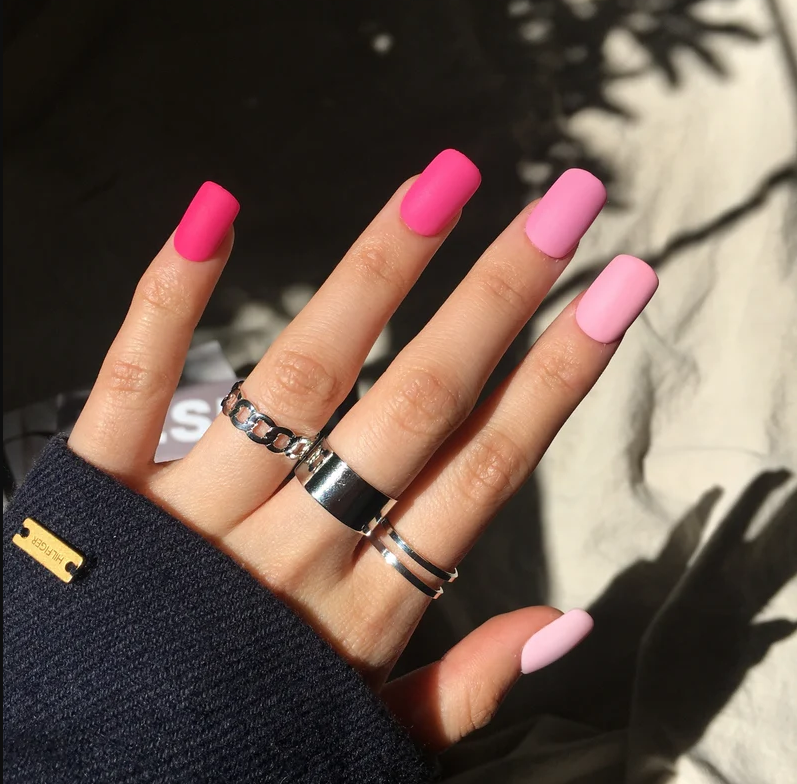 The gradient effect has truly changed the game—there's nothing quite like a short mani boasting a pink ombre design.  As the hues get lighter with each nail, this look becomes more fabulous and trendy. You can get these nails at Etsy.
18. Short Pink and Lavender Nails
Lavender pairs so well with pink as both shades have a feminine undertone. Painted side by side, you get the opportunity to admire the beautiful contrast of both colors in this chic nail design. You can get these nails at Etsy.
19. Hot Pink and White Cow Print Coffin Nails
I'm such a fan of these bold cow spots. Their large size makes them easy to design and saves time as well, as opposed to if smaller spots were painted.
I also love the use of baby pink for the base and hot pink for the cow print with white separating the two. The arrangement of hues makes this design more flattering. You can get these nails at Etsy.
20. Glossy Pink Glitter Jelly Coffin Nails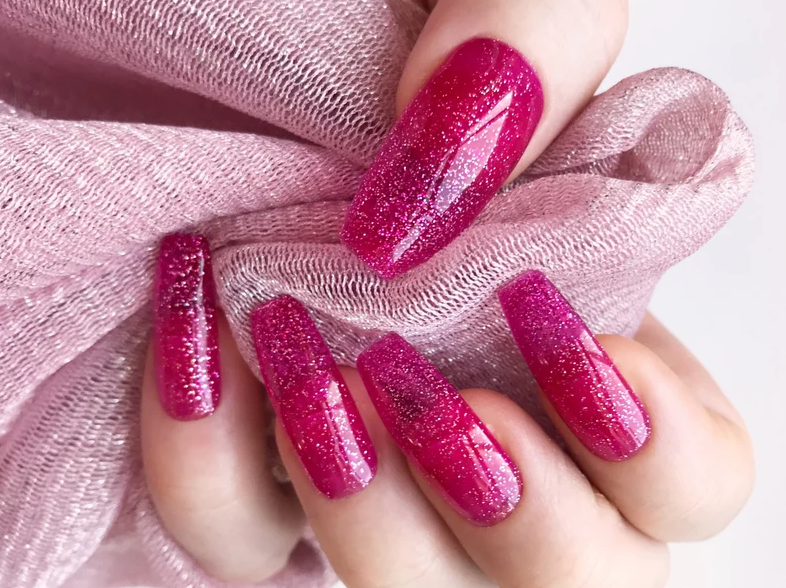 For a cute nail design fit for a party, I highly recommend pink jelly nails with glitter. This look can be easily achieved by mixing pink and clear nail polishes and applying a high shine top coat for a glossy finish. You can get these nails at Etsy.
21. Matte Light Pink Coffin Nails with Magenta Glitter Flakes
Looking for a fresh take on glitter nails? Opt for glitter flakes. They're larger and oftentimes have an iridescent tone, shifting hues as they encounter light. Apply these accents over pale pink nails and achieve a super easy-to-do posh design. You can get these nails at Etsy.
22. Pastel Pink and White Watercolor Coffin Nails
Some of my favorite designs have come together in this beautiful pink manicure; glitter, watercolor art, and an accent nail. Combining mauve, rose pink, pastels, and white, this look is simply gorgeous. You can get these nails at Etsy.
23. Pink Pastel Swirl Coffin Nails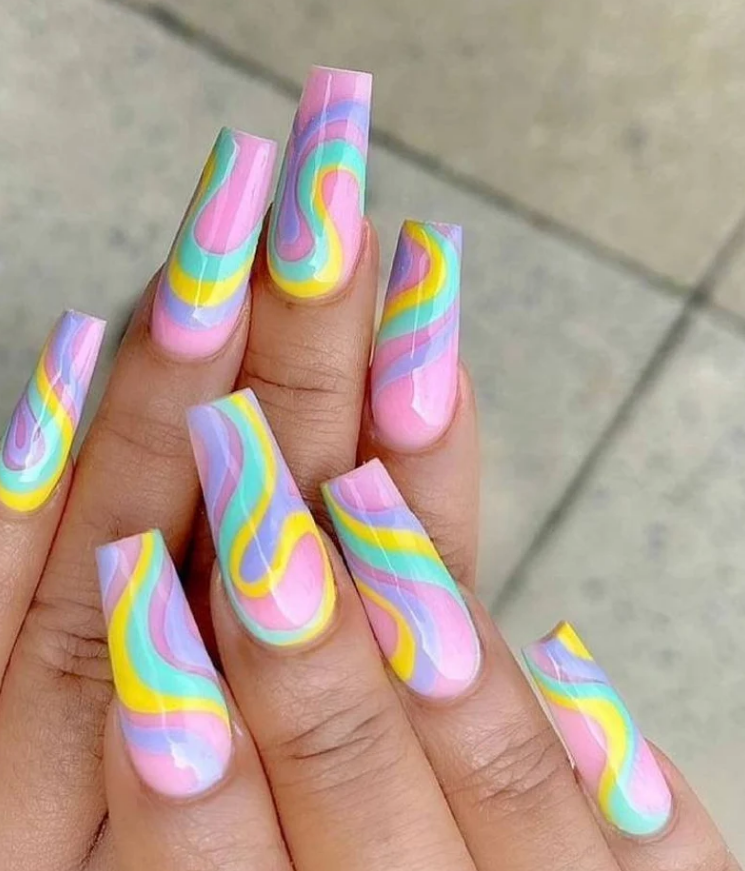 These pastel swirls are right on time for Spring, designed over a light pink base for a cute and playful nail design. You can get these nails at Etsy.
24. Peach-Pink Coffin Nails with Gold Glitter Leaves
This peach-pink design was enhanced by transparent nails layered with gold glitter leaves. This is such an elegant option for a wedding or brunch date as the combination denotes a graceful and feminine flair. You can get these nails at Etsy.
25. Pink and Burgundy Sweater Almond Nails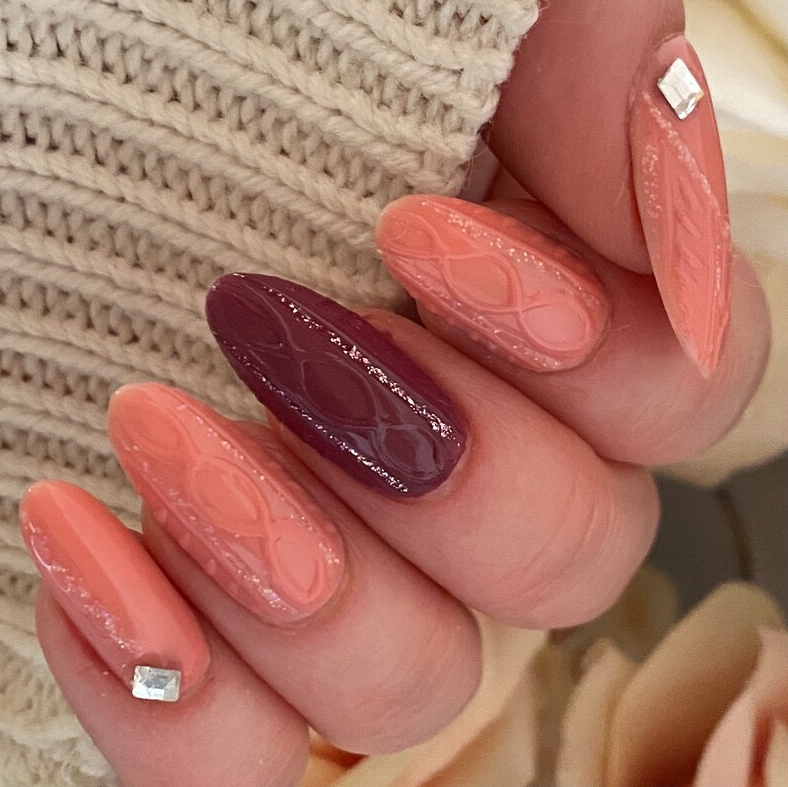 Don't you just appreciate the intricacy of these details? I sure do! Cable knit sweaters are as cute to wear as they are to design on your nails. Along with that gorgeous burgundy accent nail to top it all off. You can get these nails at Etsy.
26. Tropical Pink Ombre Coffin Nails with Glitter
Add a tropical touch to sparkly pink nails with cute palm tree silhouettes overlaying a subtle pink ombre design. We definitely can't deny that this is the ideal look for a summer vacation. You can get these nails at Etsy.
27. Blush Pink Coffin Nails with Black Hearts and Dots
Pink nails serve as great inspiration for sentimental nail art. Starting with a blush pink base, apply small black hearts and dots to amp up a cute and subtle manicure. You can get these nails at Etsy.
28. Bright Pink French Almond Nails with Red Hearts
Here's another cute design with romantic flair—bright pink french tips overlaid with small red hearts, plus a glossy top coat to highlight this flirty look. You can get these nails at Etsy.
29. Pastel Pink Glitter Coffin Nails with Palm Leaves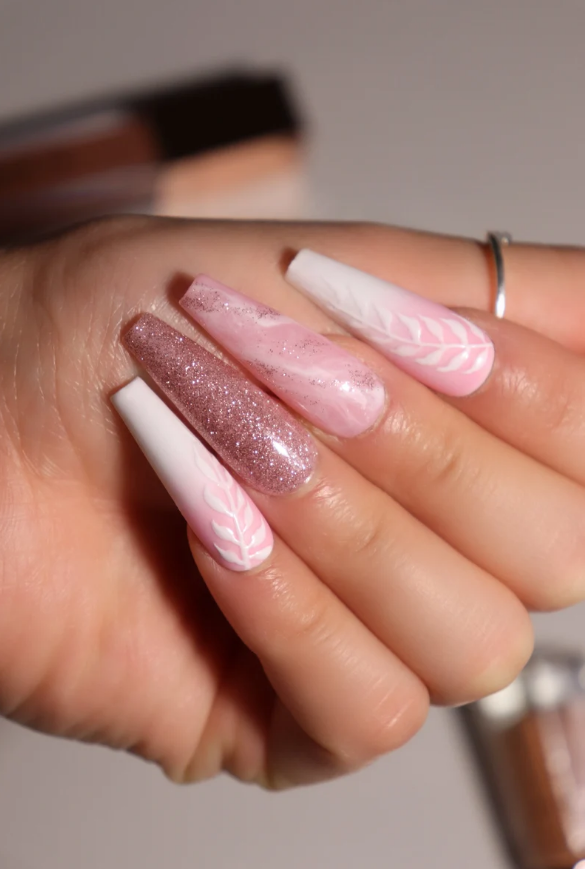 Achieve effortlessly cute nails with subtle pink lacquer and hints of glitter for a dash of elegance. This look also features palm leaves, a great idea when you want to add simple nail art to your mani. You can get these nails at Etsy.
30. Pink, White, and Caramel Swirl Coffin Nails
The swirls on these nails caught my eye immediately. Designed in shades of pink, caramel brown, and white, they are absolutely immaculate, to say the least. You can get these nails at Etsy.
31. Blush Pink Daisy Square Nails
The beauty of these blush pink nails is really enhanced by these white daisy petals. I also love the silver sequins that add a sparkly touch and the broad square nail shape that makes adding nail art super tempting. You can get these nails at Etsy.
32. Baby Pink Glitter Flame Coffin Nails
This manicure is cute with an edgy twist. It all starts with a baby pink base enhanced by a pink glitter overlay, sequins, and flame art for a more compelling and trendy design. You can get these nails at Etsy.
33. Light Pink and White Ombre Coffin Nails
In this look, light pink lacquer fades to white in a flawless ombre design that will make you look cute and trendy without even trying. You can get these nails at SHEIN.
34. Sheer Pink Jelly Coffin Nails with Heart Sequins
I love the use of silver sequins to create this cute heart design. Each sequin also has an iridescent quality that causes them to glimmer beautifully as they overlay and complement these sheer pink jelly nails. You can get these nails at Etsy.
35. Blush Pink and White Swirl Almond Nails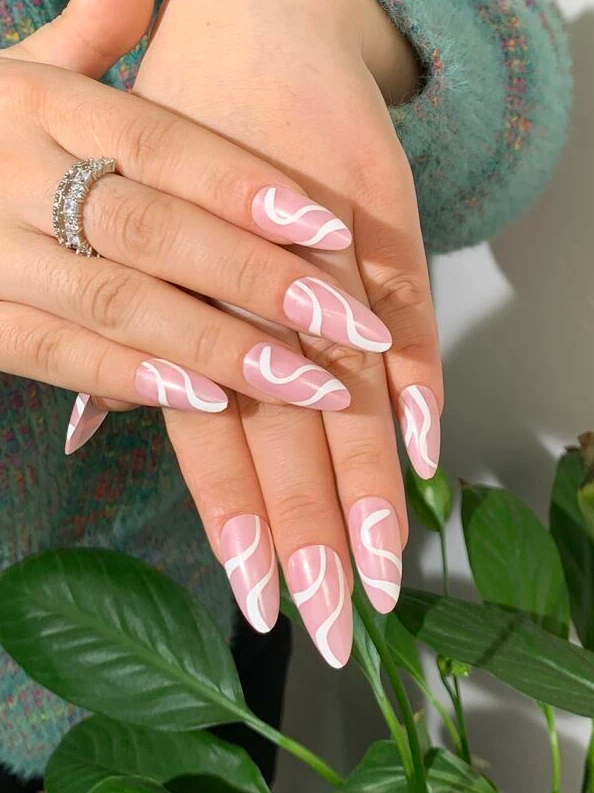 Swirls are the perfect design to match the delicacy of a blush pink mani. In fact, the almond shape of these nails also fits right in, further enhancing the classy appeal. You can get these nails at SHEIN.
36. Bright Pink and Sheer Marble Coffin Nails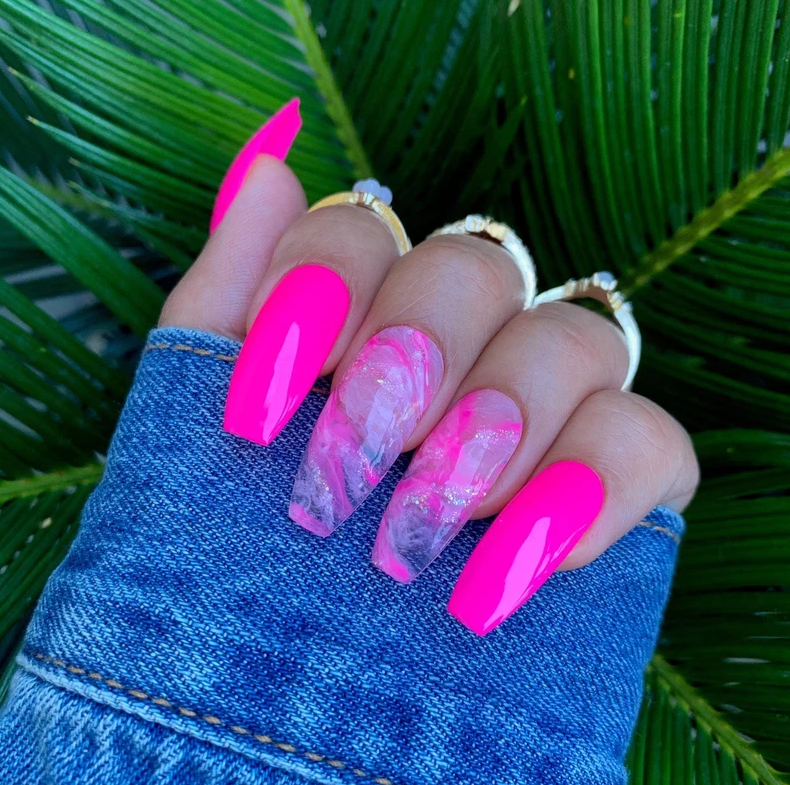 Bright pink nails with a transparent marble effect? I wouldn't have it any other way. Featuring hints of pink, white, and glitter too, this pink marble design is both cute and impactful—a mani you won't be getting over any time soon. You can get these nails at Etsy.
37. Pink Leopard Print French Coffin Nails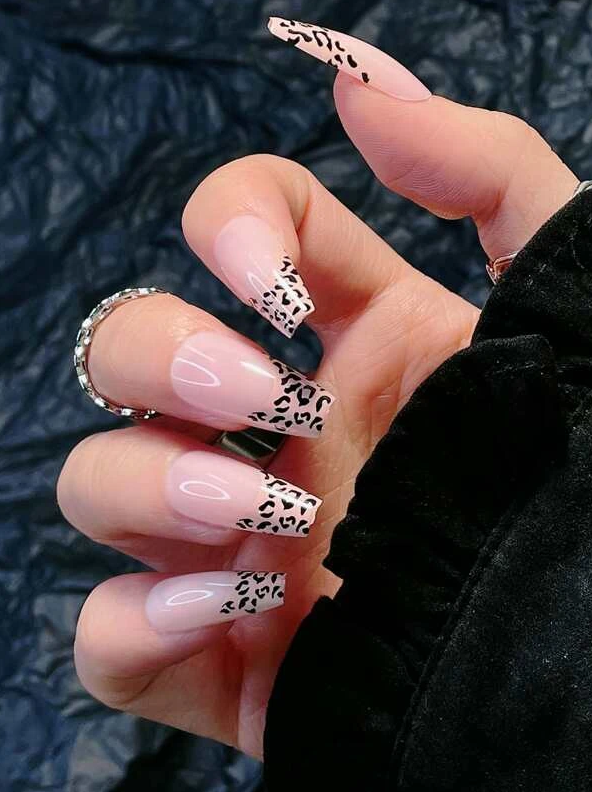 Leopard spots will forever be a vibe. Rock the print in a french tip design to add some spunk to your new pink manicure. You can get these nails at SHEIN.
38. Short Pink Glitter Nails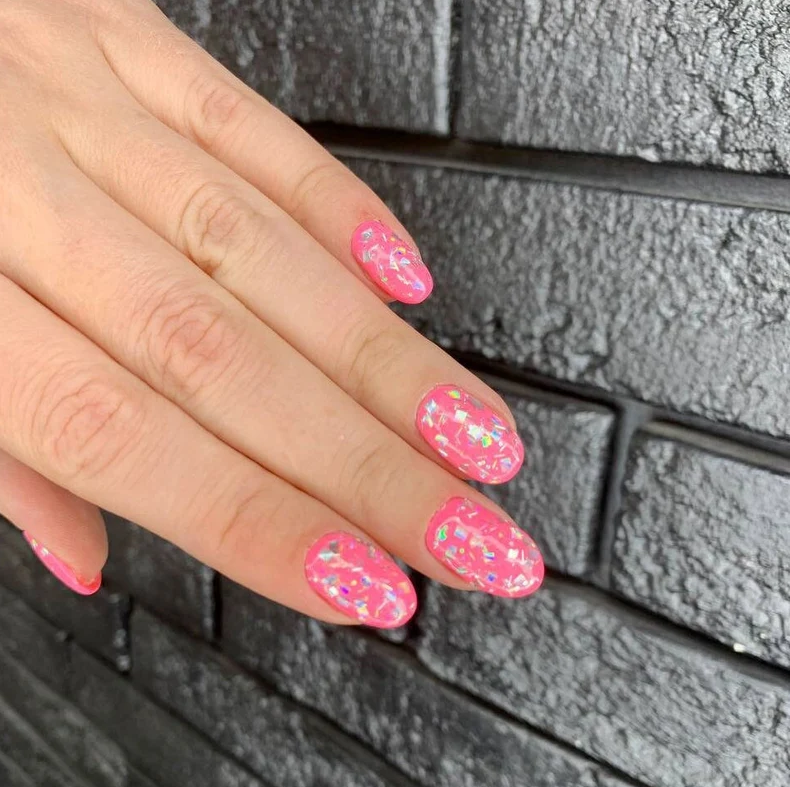 Short and pink with glitter on top—these nails have all the ingredients of a glamorous nail design that can play up even the simplest of outfits. You can get these nails at Etsy.
39. Pink and Mauve Round Nails with Gold Lines
These gold lines are my favorite part of the entire design. They claimed my attention at first glance as they accentuated this subtle pink and mauve combo in the most stunning way. You can get these nails at SHEIN.
40. Long Matte Blush Pink Coffin Nails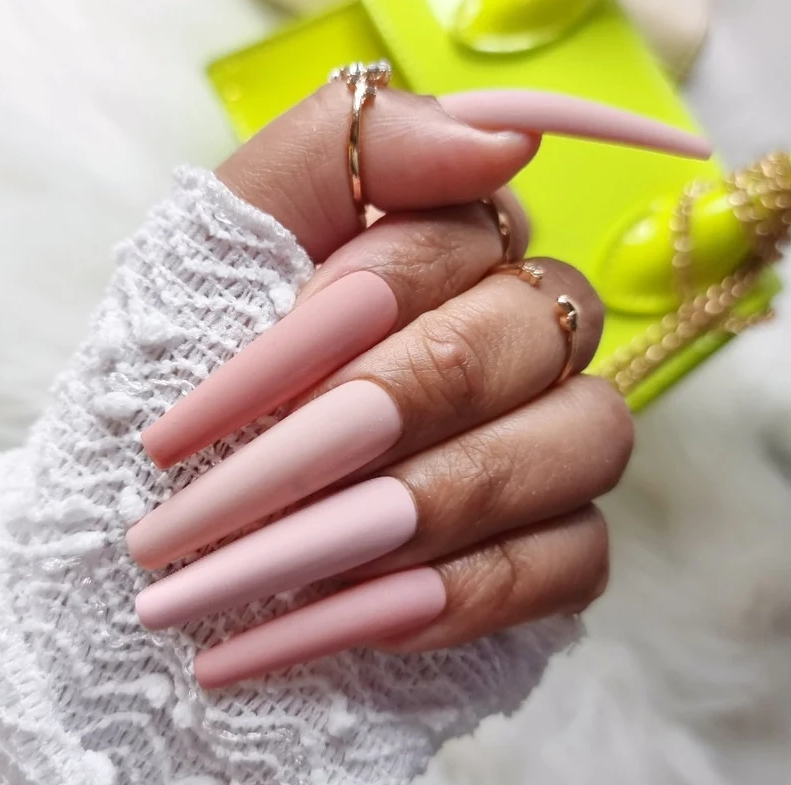 Long, matte, and distinct—the type of nails that guarantee a chic finish. Combine those qualities with blush pink nail polish, and you've definitely got something special. You can get these nails at Etsy.
41. Orange-Pink Ombre Coffin Nails
In search of a trendy ombre design? You've found it! Fading from milky white to orange-pink, this look has the right amount of subtlety and charm needed for an ultra-feminine manicure. You can get these nails at Etsy.
42. Frosty Pink Sweater Coffin Nails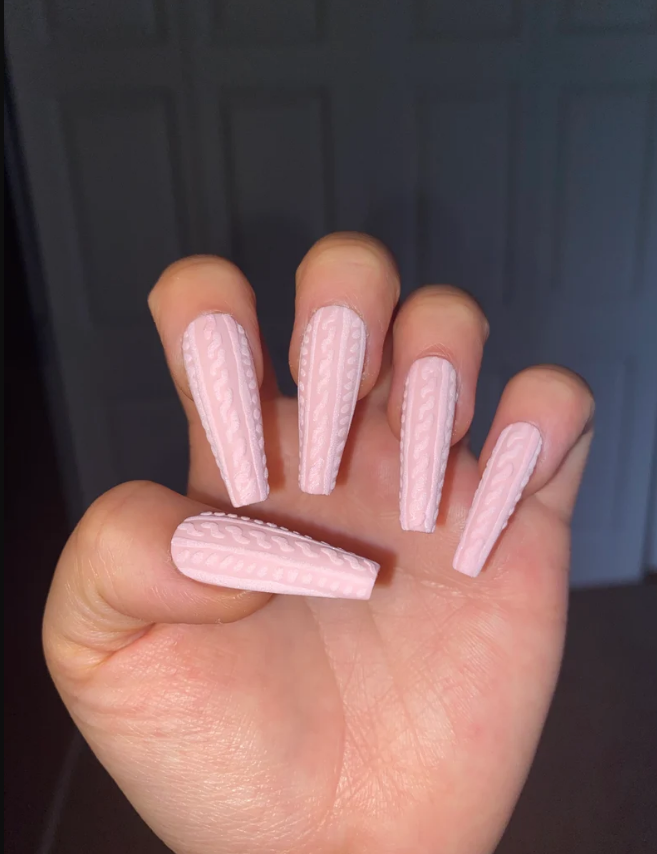 For a detailed sweater nail design try this cool cable knit pattern. Polished in a soft frosty pink hue, it's a cozy and girly manicure to keep you looking stylish through Winter. You can get these nails at Etsy.
43. Baby Pink Coffin Nails with Roses
Floral designs paired with pink are like roses in the summertime and so, it's absolutely fitting that these baby pink nails be accentuated by perfectly detailed roses with lush leaves for an authentic feel. You can get these nails at Etsy.
44. Matte Pink Rose Almond Nails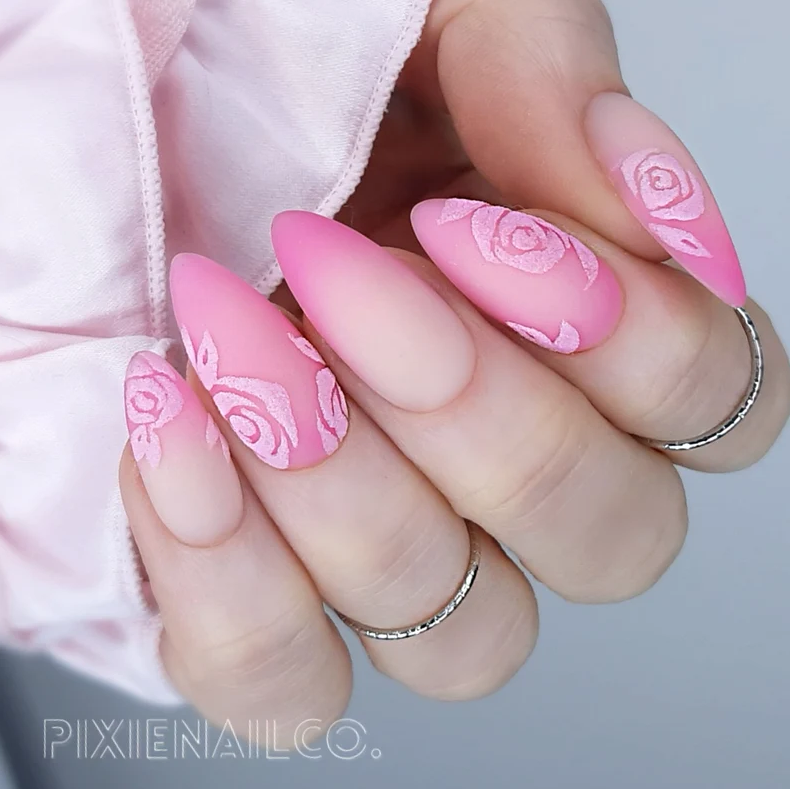 If you're out for a less conspicuous floral design, go for a softer finish like this matte powdery pink look, embedding shiny white roses on as many nails as you desire. You can get these nails at Etsy.
45. Light Pink Coffin Nails with Small Red Hearts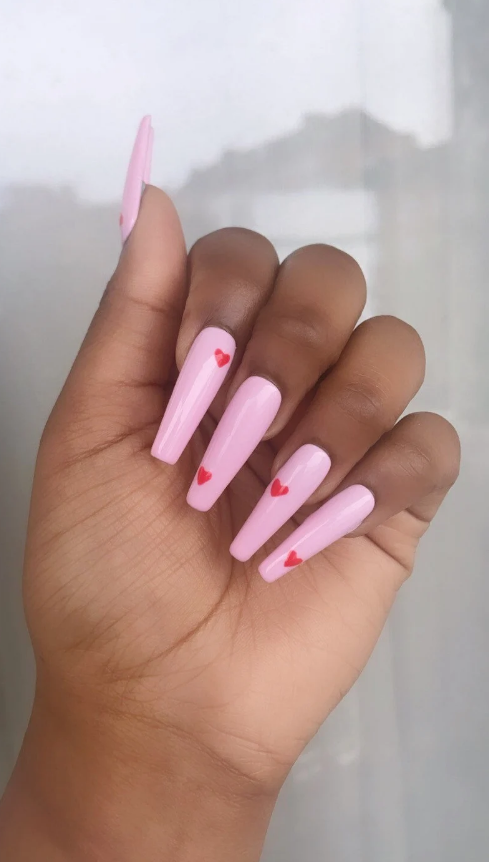 We can never run out of nail art ideas but to set a flirty or romantic tone, heart designs are the standard. Achieve the look by placing a small red heart on each nail. This simple touch never fails. You can get these nails at Etsy.
46. Blush Pink and White Winter Stiletto Nails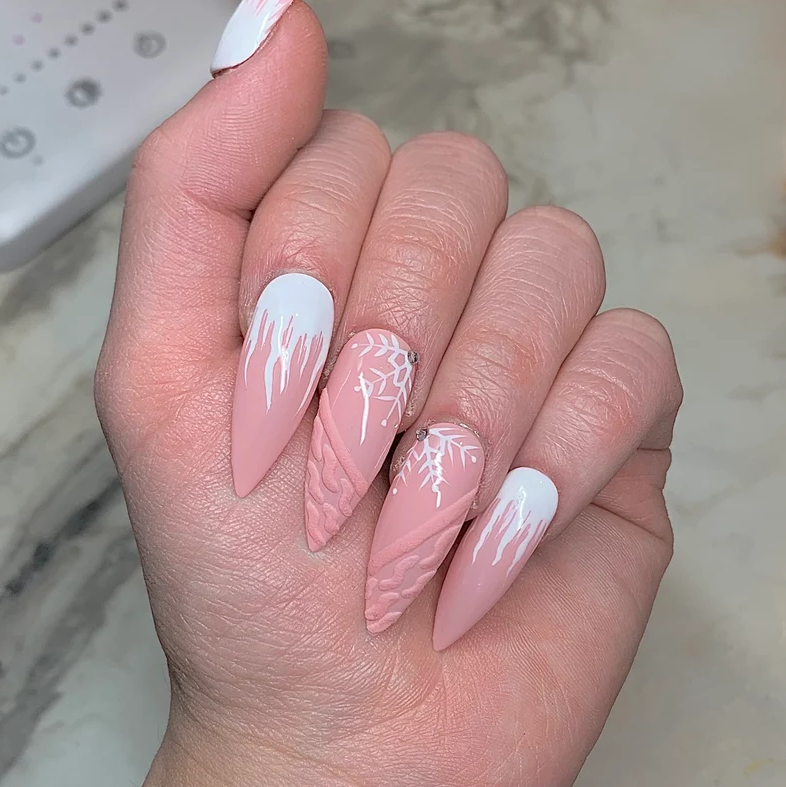 Here's a creative subtle pink manicure for wintertime, with all the cute designs you need to make your nails stand out—icicles, snowflakes, and even an angled cable knit sweater pattern. You can get these nails at Etsy.
47. Short Hot Pink Watercolor Marble Nails
Watercolor nails have got to be among the most aesthetically pleasing designs. For this look, glitter hot pink nail wraps are applied over each nail and the result is a soft yet detailed marble texture that is simply breathtaking. You can get these nails at Etsy.
48. Pink Heart Coffin Nails with Silver Sequins
I love the use of a clear nail to form the base for these cute pink hearts. Complementing this standout feature are solid pink nails accentuated by silver sequins for an ultra-chic touch. You can get these nails at Etsy.
49. Pink Cherry French Coffin Nails
This look features a french tip design, stars, and heart-shaped cherry nail art, combined for a chic and girly finish that's sure to set some trends. 
The use of a light pink hue is perfect, effortlessly complementing the large cherries which are the main highlight of this look. You can get these nails at Etsy.
50. Pink Hibiscus French Coffin Nails
A great substitute for daisy designs during Spring, hibiscus flowers are getting the highlight they deserve as they accentuate these super chic pink french nails.
51. Pink and Blue Splatter Art Almond Nails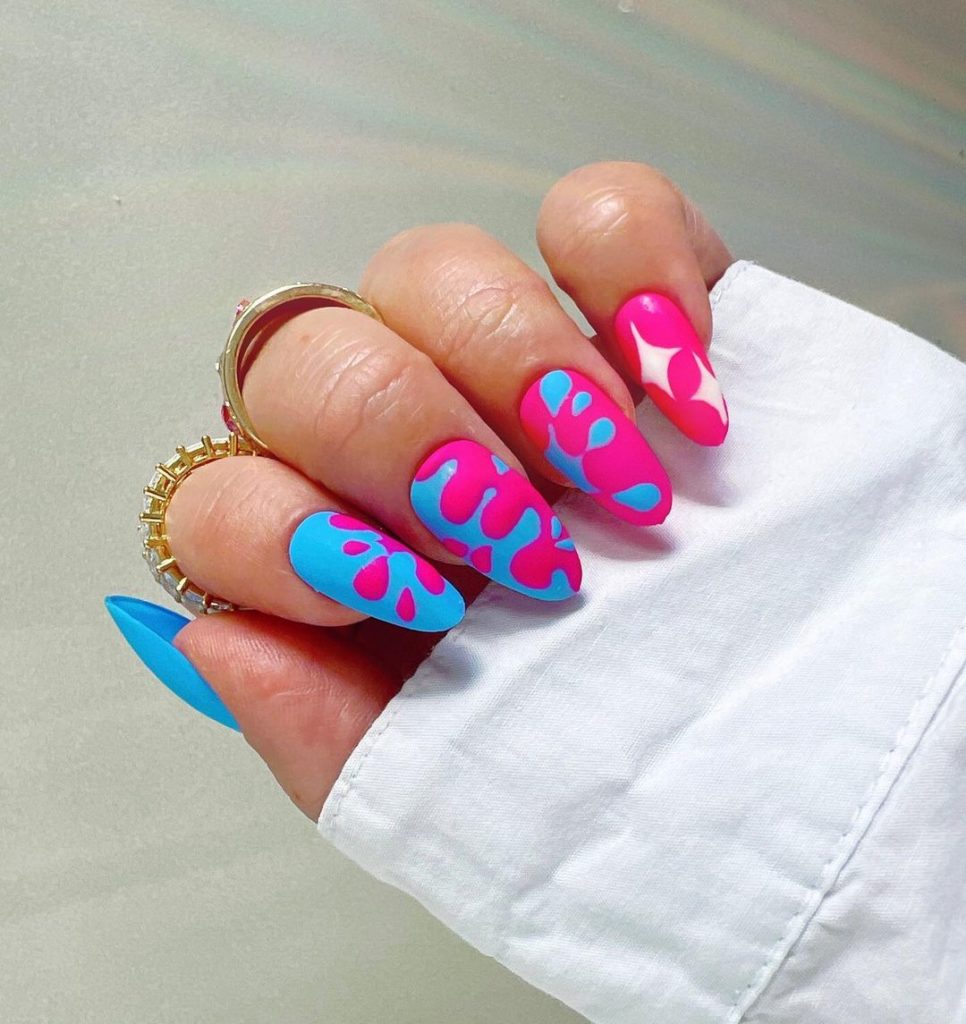 For this look, pink is coupled with blue for a creative splatter nail art design. The colors alternate to make things more interesting, while the pinky finger is given its own unique touch with white stars.
52. Glossy Magenta Pink Swirl Nails
Magenta pink swirls over pastel pink nails have created the utterly gorgeous and elegant design you've been searching for. 
A look you can definitely try at home, all you need are your favorite shades of pink nail polish and a glossy top coat to finish.
53. Blush Pink Squoval Nails with Floral Decals
I love a low-key mani with tons of detail. This is a contrasting look that offers softness to your nail design with trendy nail art for an eye-catching look.
54. Pink and Red Angled French Round Nails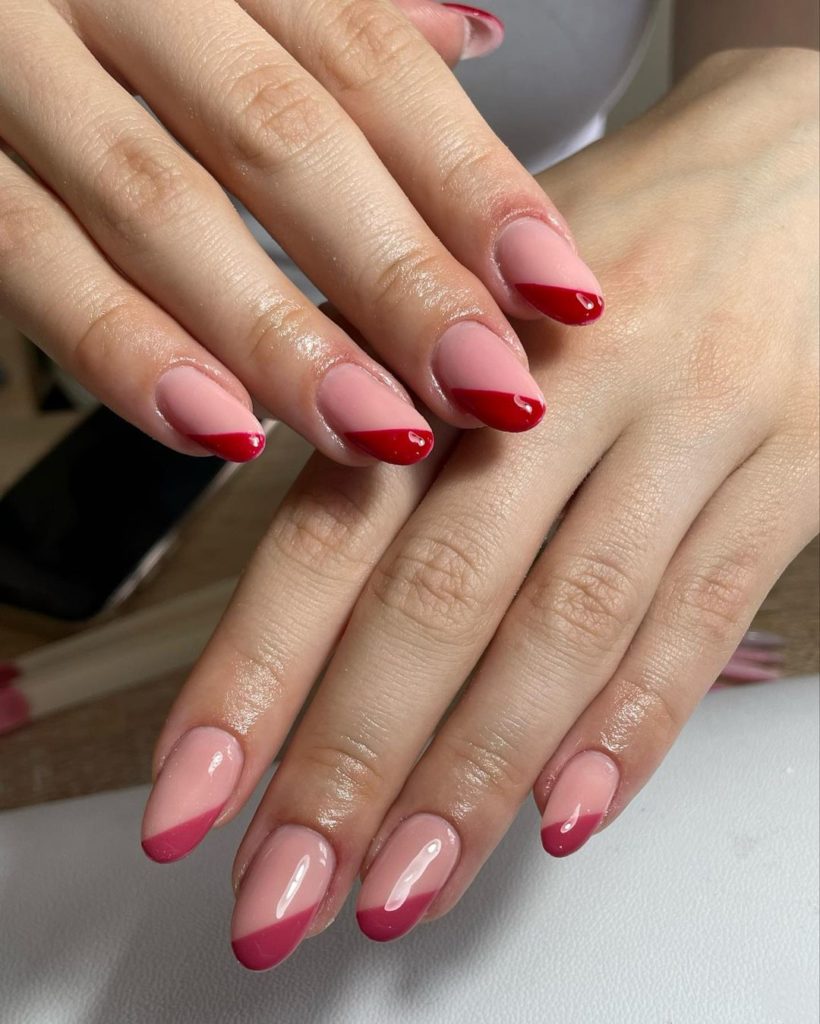 Red with pink is such a bold and confident combo that doesn't happen often enough, but these fashion-forward mismatched angled french tips are showing us exactly why that needs to change.
55. Long Pink and White Square V-Tip Nails with Sequins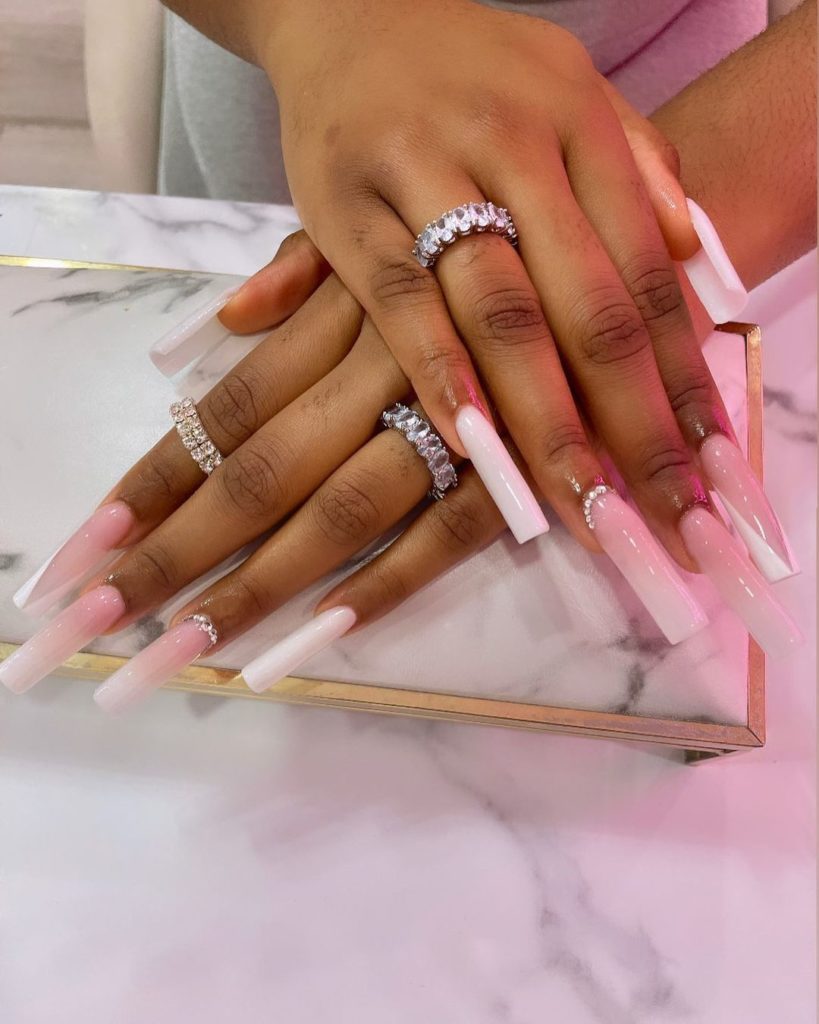 The elegance of this design is striking. Long muted pink and white nails are embellished with silver sequins and amped up by a trendy french v-tip design for a subtle look that doubles as lavish in appearance.
56. Pink French Squoval Nails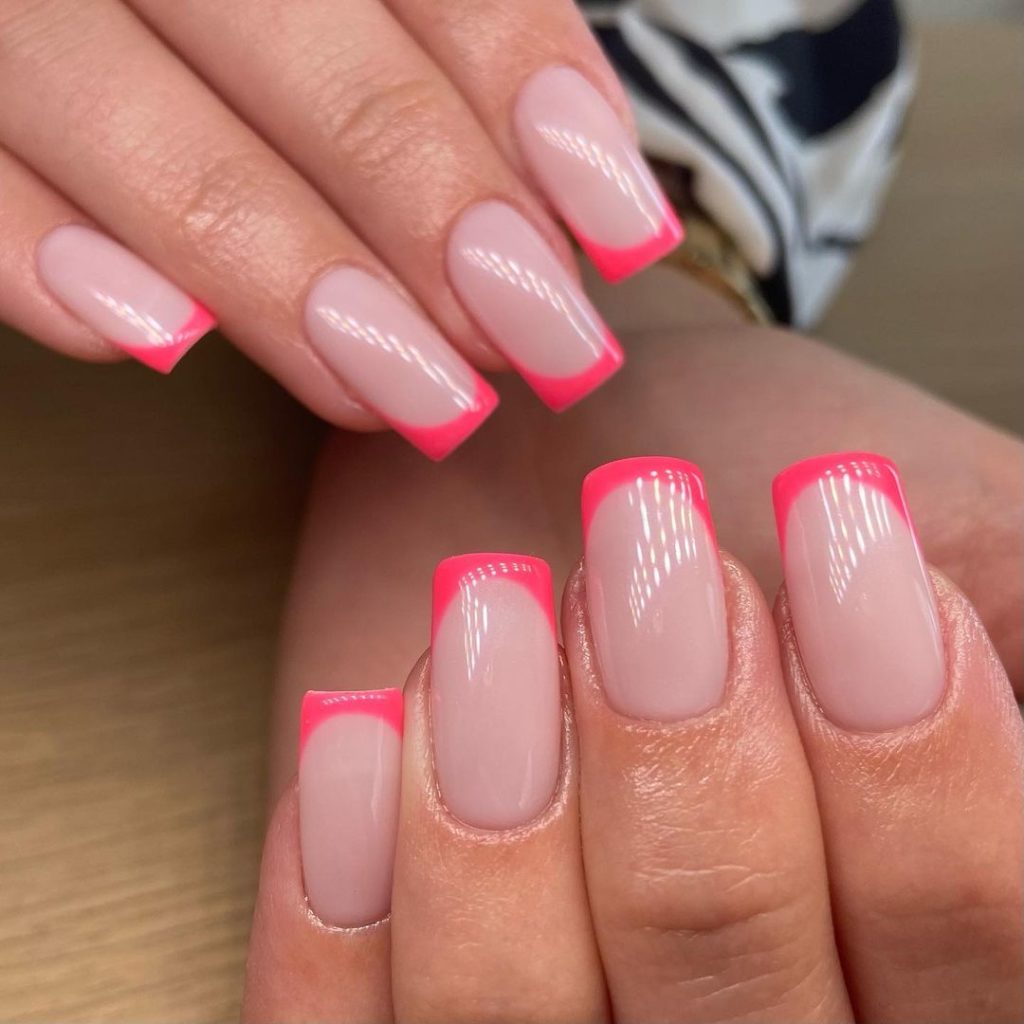 A sophisticated mani to brighten up your day—these nude pink-based nails are given a pop of color by slender french tips polished in pink.
57. Pink Ombre French Almond Nails with Gold Studs
Amp up your pink nail design with a classic french tip and ombre effect. For a luxurious finish, round off your new look in style with a cluster of gold studs adorning your ring finger.
58. Pink Gel-X Coffin Nails with Iridescent Glitter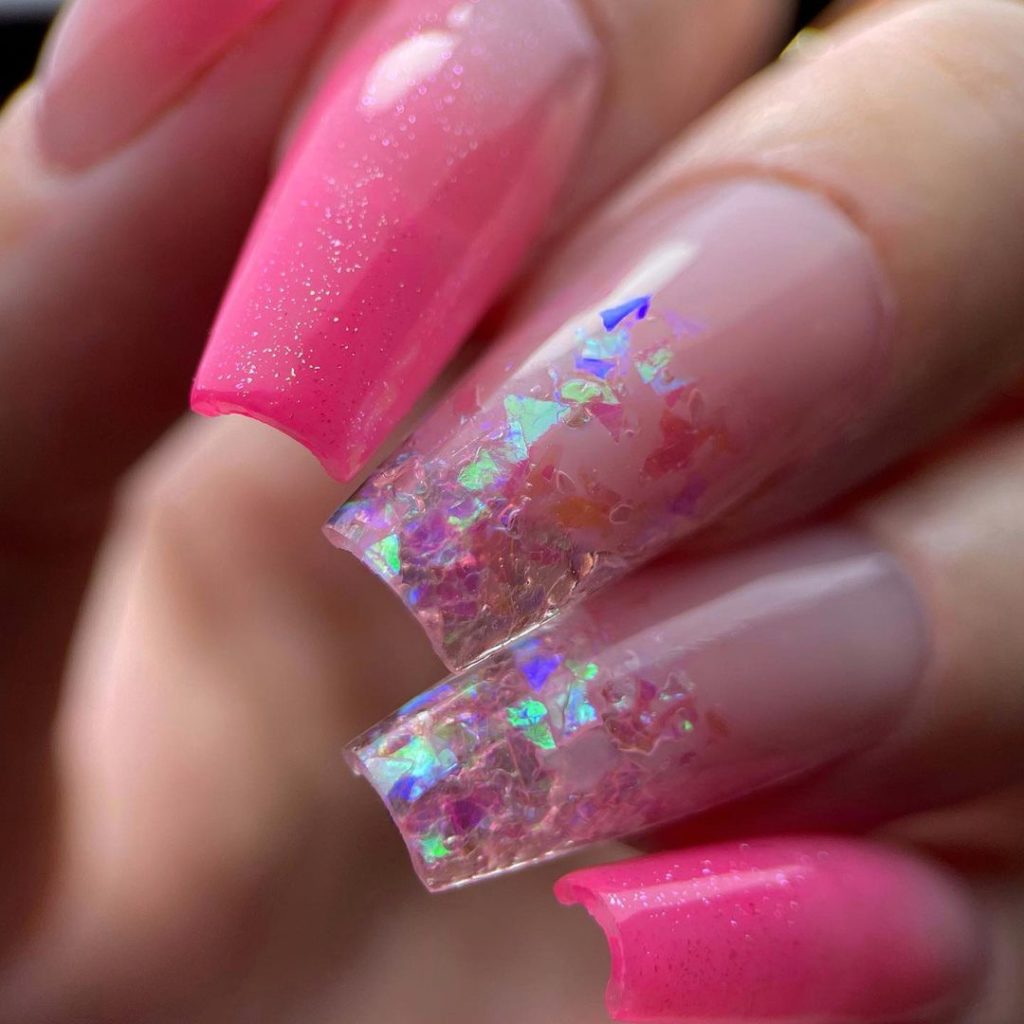 Where there's pink nail polish, glitter is never far away, and they're both featured in this design of sparkly pink nails paired with iridescent glitter that's embedded in gel-x extensions.
59. Pink and Gold Glitter French Rim Nails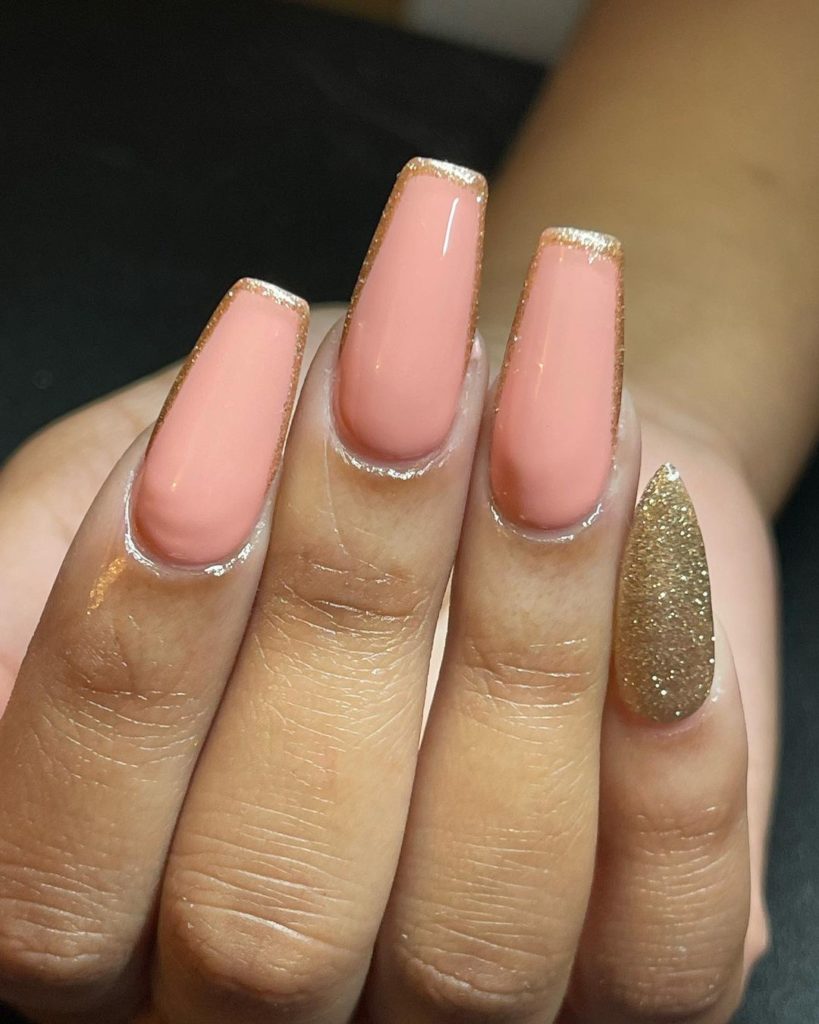 Elegance is a given when you combine blush pink with gold. As seen in this stunning design, gold glitter adorns the rim of all but one nail for a classy french tip look. 
The pinky finger acts as the accent nail of this manicure, gorgeously overlaid with gold glitter on a stiletto-shaped extension for a more dramatic finish.
60. Pink Glitter-Encrusted Almond Nails
Get a sparkling finish the old-fashioned way with crusts of glitter overlaying your pink nails. This fab look is DIY-friendly, so don't hesitate to hop onto this stylish trend.
61. Pink Tie-Dye Coffin Nails with Polka Dots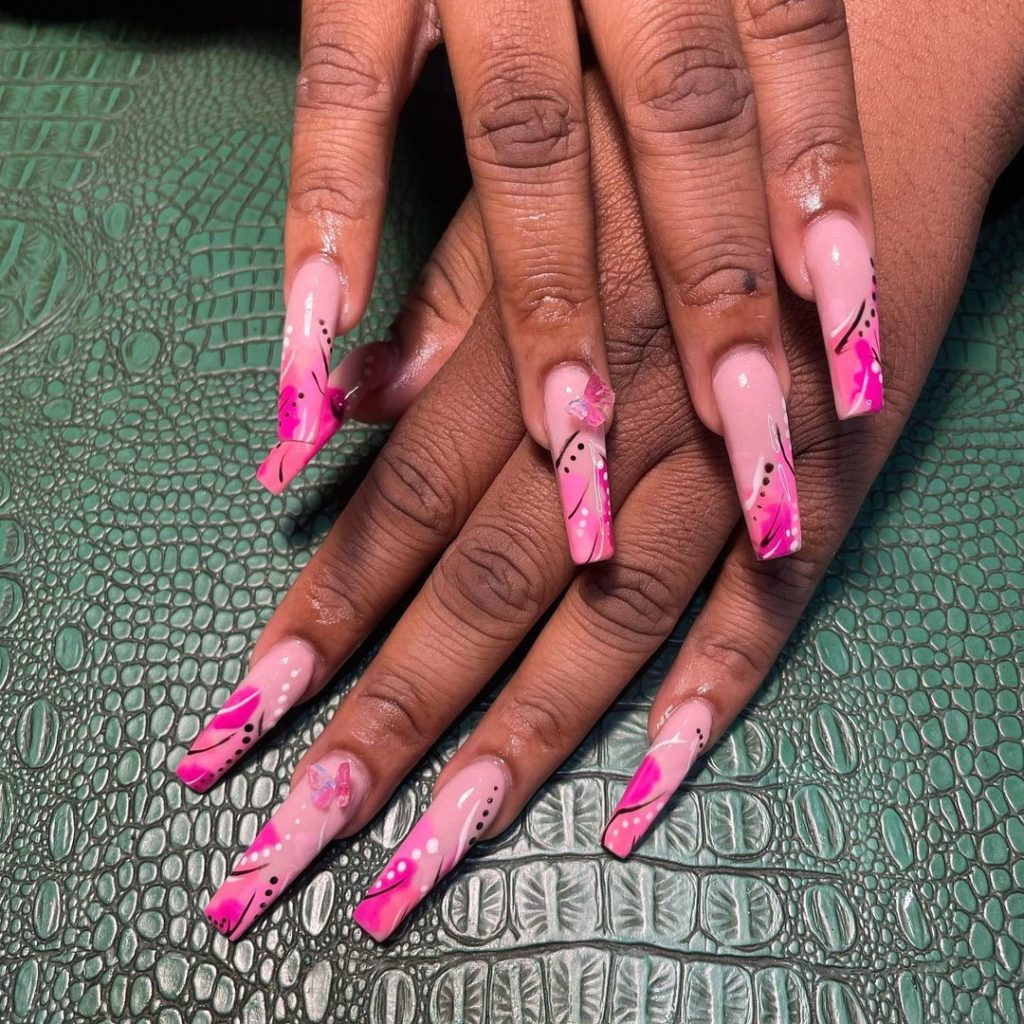 Play around with as many designs as you want to showcase your creativity. These pink polka dot tie-dye nails are a perfect example of how a variety of nail art can come together for a super trendy manicure.
62. Pink Ombre Almond Nails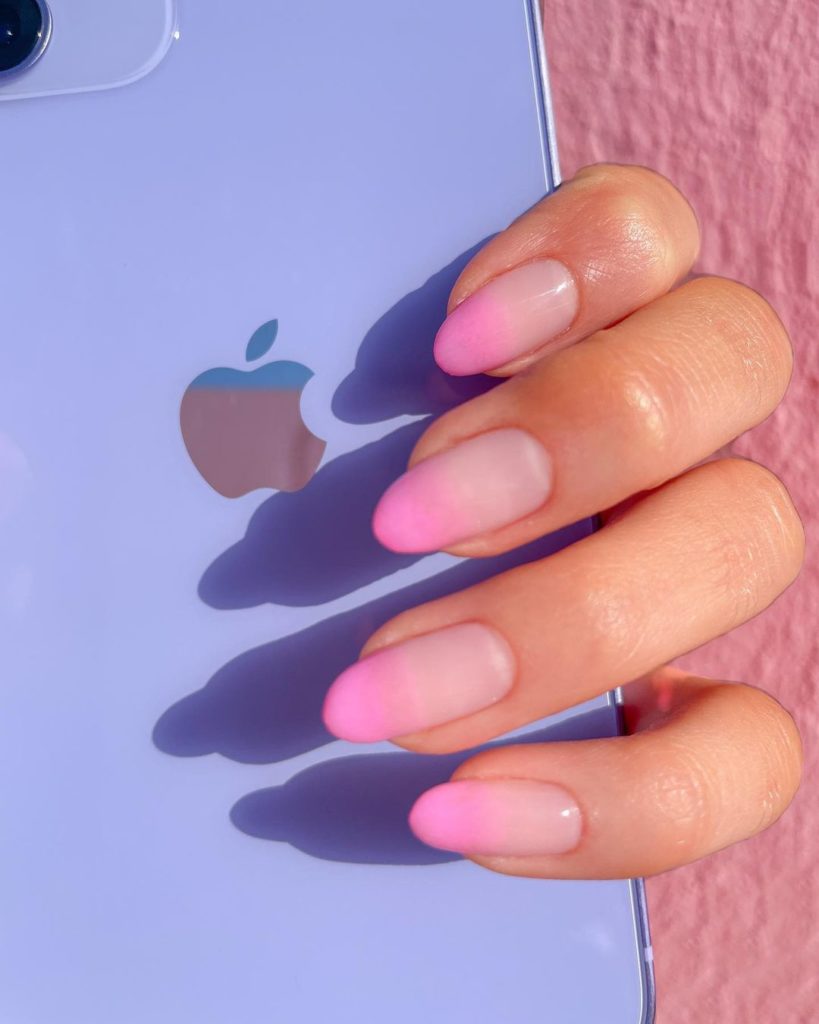 I love simple designs that bring a chic flair. To embody that tone, no design does it better than ombre nails. Opt for a sheer nude to pink transition for a girly vibe.
63. Pink and Nude Floral Round Nails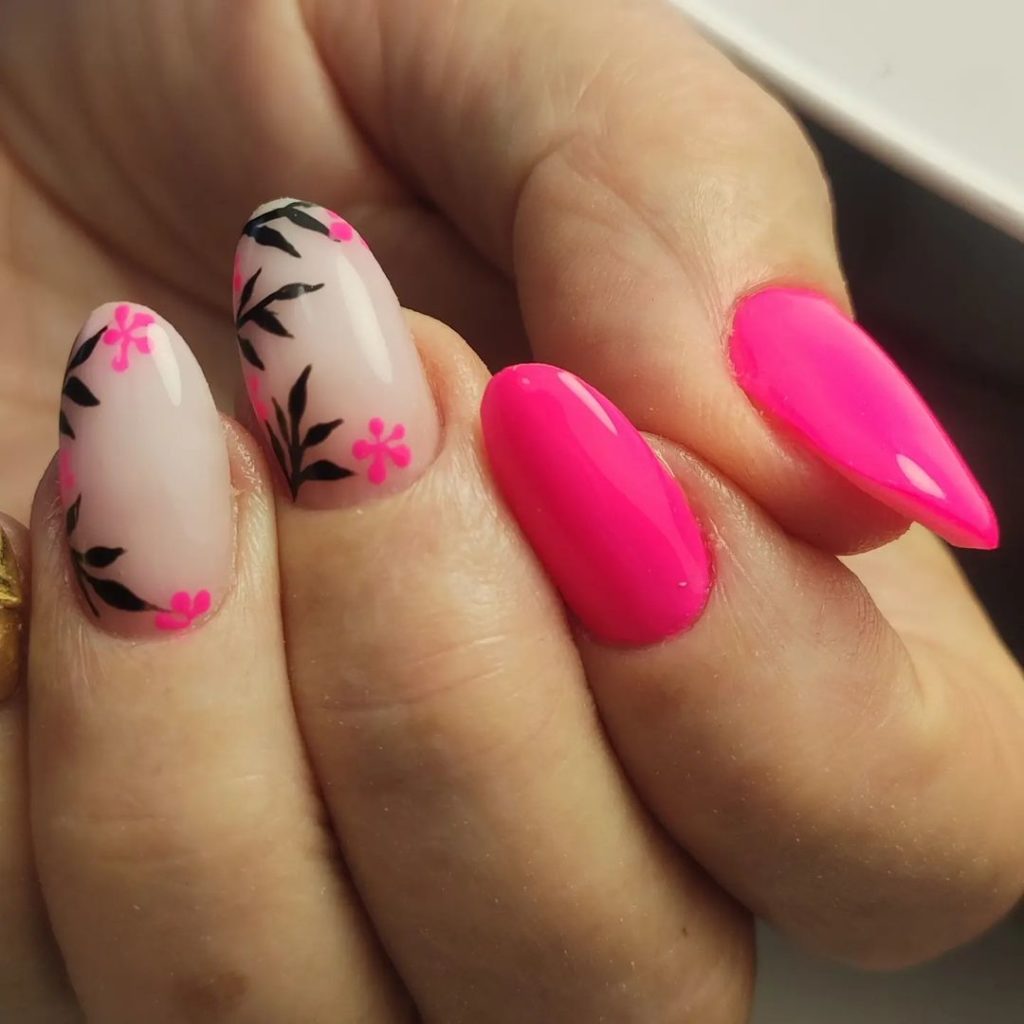 Feeling down? Floral nail art will cheer you up. Overlaying a nude base, pink flowers, and black leaves get their moment to shine as they beautifully complement the bright pink hue on the remaining nails.
64. Pink and Red Swirl Square Nails
Swirls are trending non-stop and vibrant contrasting combos are too, so complement pink nails with red abstract swirls for a look that's bold and chic—everything you want your nails to be.
65. Bright Pink Glitter Ombre Square Nails
Take your nails to the next level with iridescent glitter. The luminous quality really brings this pink mani to life. I also love the use of glitter to amp up the gradient effect on the middle finger. This look just couldn't be any more perfect.
66. Pink Cloud Art Almond Nails with Glitter
Beloved for its dreamy aura, cloud art has continued to trend without any signs of that changing. Paired with pink lacquer, glitter, and other sky-related nail art, you can't help but be won over by its charm.
67. Short Peach-Pink Nails with White Flowers
Dainty nail designs get me every time. I love the peach-pink hue and how beautifully it's complemented by these white flowers. The green leaves are also a nice touch, adding a spark of color and vibrancy to this design.
68. Pink Ombre Rhinestone Cut-Out Nails with 3D Flowers
Rhinestones are perfect for making your nails stand out. The same can be said for three-dimensional nail art. 
For this look, long pink ombre nails are enhanced by gems and sequins, as well as pink and yellow 3D flowers. It's a posh look that you could definitely flaunt in springtime.
69. Short Pink and Black Leopard Squoval Nails
Pink and black nails make for an impeccable combination. Round off this edgy and girly look with cute leopard spots, applied over a white base to foreground this trendy design.
70. Pink and Nude Nails with White Polka Dots
One of the first designs that comes to mind when I think of cute nails is polka dots. For a diverse look, coat a few nails in a nude tone to complement the girly essence of those nails polished in pink, overlaying all with small white dots.
71. Hot Pink Almond Nails with Orange Swirls
I love everything about this hot pink look, from the almond shape of the nails to the vivid orange swirls detailed on top. All in all, this look is giving me girly retro vibes and is definitely a fave.
72. Sheer Pink Almond Nails with Silver Sequins
These soft glam nails are ideal for a wedding with a sheer pink tint that is remarkably elegant, and perfectly placed silver sequins that look just like a crystal tiara.
73. Short Shimmery Hot Pink Nails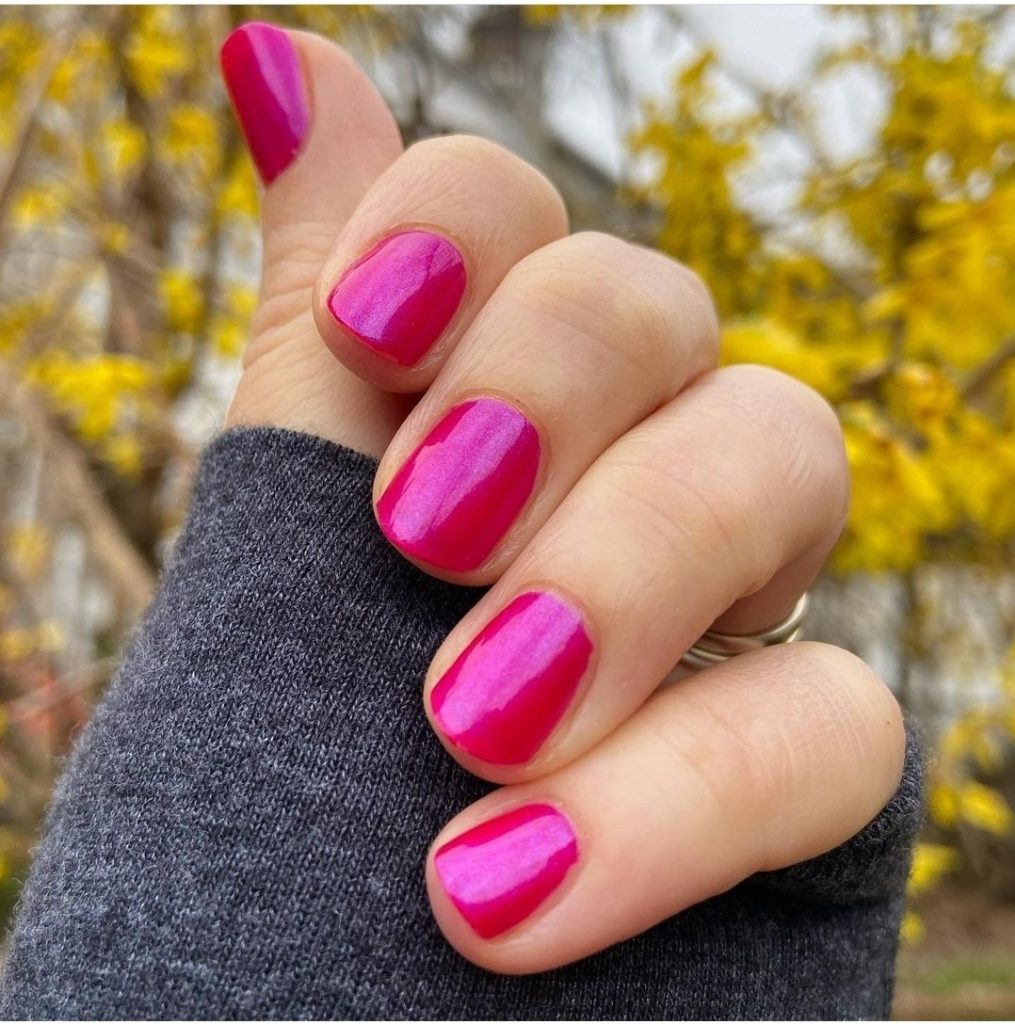 Fashionable and to the point. Yes, sometimes all you need is some shimmery hot pink nail polish to make a lasting statement.
74. Chrome Rouge Pink Glitter Stiletto Nails
The glow on these nails is like nothing I've ever seen, featuring a rouge pink color that gleams with glossy and chrome finishes. The index finger adds to the shiny impact as well, fully coated in glitter nail polish.
75. Pink and White Cloud Gradient Almond Nails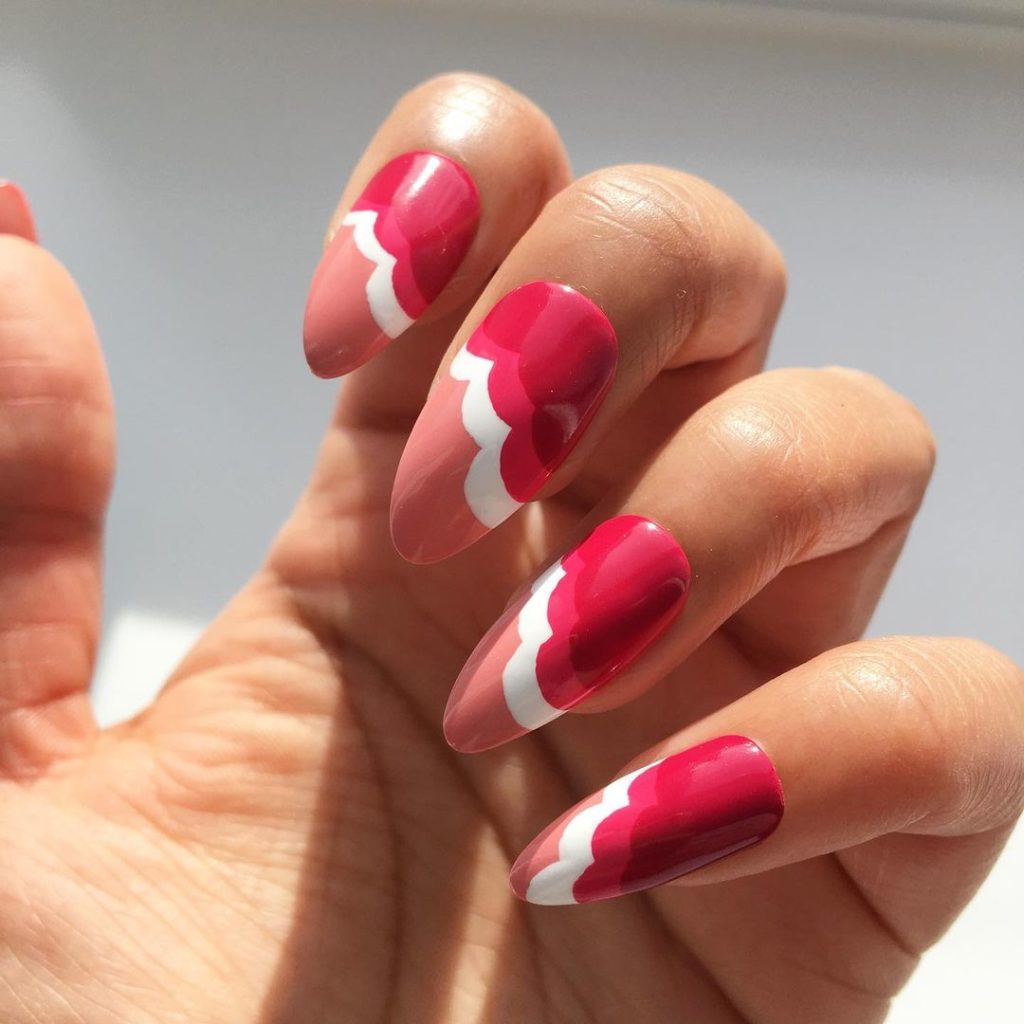 This look is another example of how creative you can get with cloud art. Using multiple shades of pink and white, fluffy clouds are outlined in sequence for a cute and unique gradient design.
76. Chrome Pink Gel Coffin Nails
If you love a manicure with a high sheen level, you've got to get a hold of chrome gel nail polish. It's double the shine and exactly what you need to accomplish a high-quality and adorable pink mani.
77. Pink Cow Print Glitter Square Nails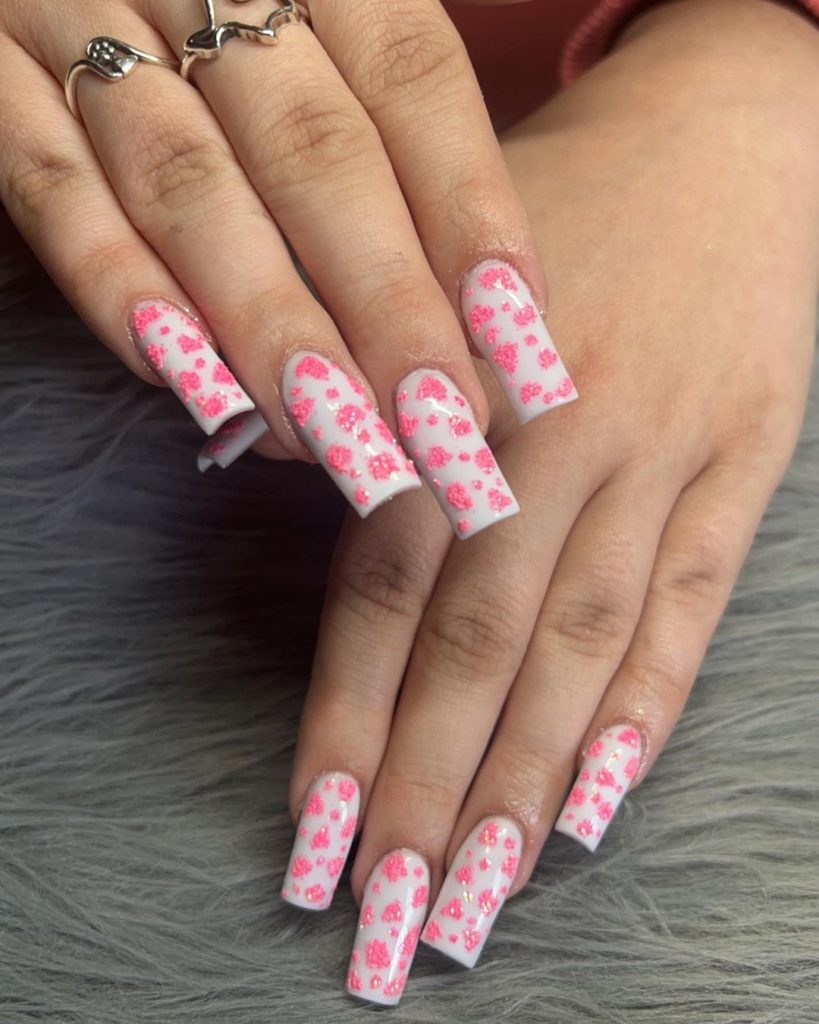 At first glance, all you see is glitter decorating white nails but this look is actually a creative depiction of a trendy cow print design made with pink glitter over a white base.
78. Multi-Shade Pink Glitter Coffin Nails
These are some of the prettiest nails I've ever seen. The combination of rouge and mauve-pink shades is really breathtaking. 
I, of course, couldn't overlook the shimmery finish on the ring finger either which really adds to the formal and elegant nature of this look.
79. Pink and Seafoam Green Stiletto Nails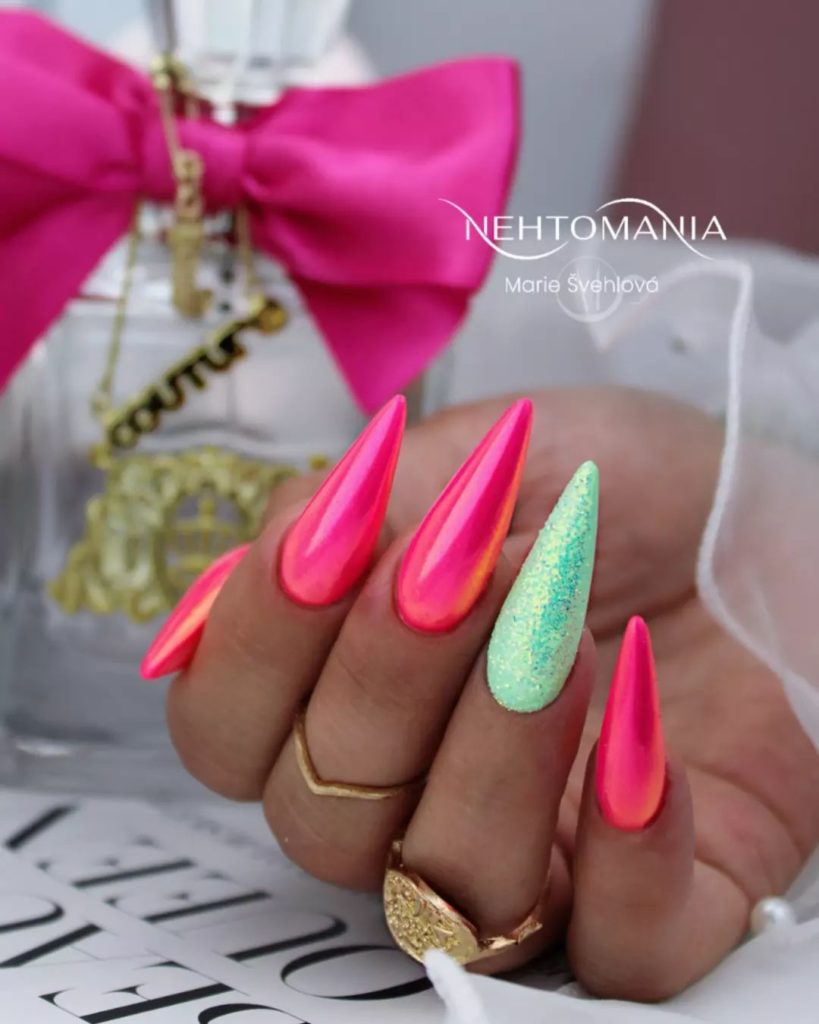 Here's an elegant nail design achieved using bold colors—hot pink, and sparkly seafoam green—polished onto stiletto nails for a striking finish. One thing's for sure, these fabulous nails will be hard to forget.
80. Deep Pink Swirl Square Nails
For cute nails with a creative flair, opt for a nude base decorated with deep pink swirls. This look will take mere minutes to achieve and is a trendy option for everyday wear.
81. Sheer Pink and Rose Gold French Nails
These gel-x nails are so beautiful and classy. They were glazed with sheer pink polish and feature french tips, each of which is varnished in glittery rose gold lacquer.
82. Pink and Orange Negative Space Nails
Pink and orange sit right by each other on the color wheel. Both being distinct colors, they create a vibrant nail combination with a warm undertone that is perfect for fall fashion.
83. Pastel Pink Ombre Glitter Coffin Nails
Here's a cool look you should definitely try—ombre nails with an embedded glitter design. I love the use of pastels to create a subtle yet colorful theme with hints of lavender and orange making an appearance.
84. Short Light Pink Speckled Nails
If you're not aiming for an elaborate design, simply dab a few specks onto your pink nails to jazz things up a bit. This look can be achieved using black nail polish or any other deep-hued color for a cute contrast.
85. Sparkly Pink Round Nails
These sparkly pink nails are everything! Despite their simplicity, they function as chic and classy as well. To double down on their versatility, I could see myself proudly flaunting this look with my casual fits and formal wear too.
86. Pink French Rim Coffin Nails
This manicure starts off with a pale pink base, shifting to a more pigmented pink hue at the tips. It's a look that oozes modern sophistication, all thanks to the vogue french rim design and gorgeous shade combo.
87. Pastel Pink Watercolor Round Nails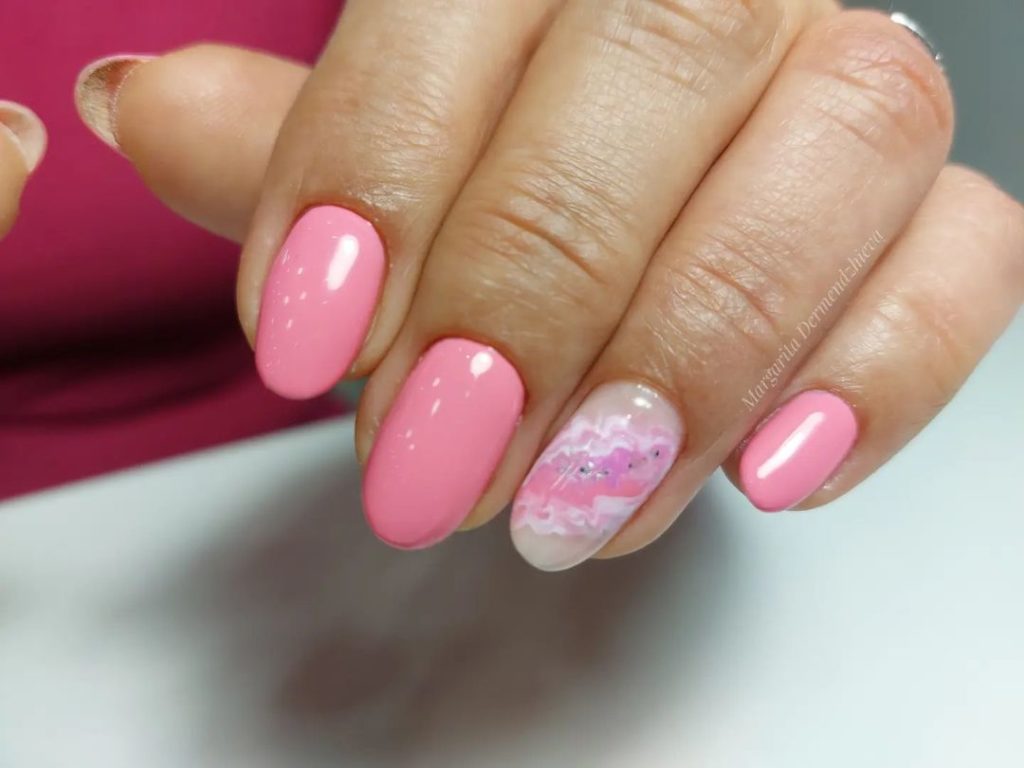 Also known as the aquarelle effect, this watercolor design is best achieved with a white base to easily highlight the colors you'll be using. For this look, pastel pink is the color of choice, with dashes of purple and glitter in the mix.
88. Deep Pink and White Flamingo Nails with Leaf Art
That deep pink is enthralling and immediately draws you in. To lighten the mood, three nails were coated in white and decorated with green leaves and flamingo nail art for an awfully cute touch.
89. Blush Pink Almond Nails
Blush pink is, without a shadow of a doubt, one of the classiest colors ever. Polished onto almond nails, the elegance of this hue is enhanced thanks to their dainty design.
90. Light Pink and White Croc Print Nails
Starting with a light pink base, keep the subtlety going with crocodile print handpainted in white. Croc print will make your pink nails look super trendy, considering it's one of the hottest animal print designs right now.
91. Pink and Orange Coffin Nails with Gold Glitter Swirls
Summer has its influence all over this nail design as pink teams up with orange and gold glitter swirls for a vibrant and warm-toned on-trend manicure.
92. Glossy Hot Pink and Matte Floral Almond Nails
Here, blush pink nails are elegantly framed by pink and white flowers, made to look sharp and refined, thanks to that matte finish. The remaining nails, however, have a glossy finish, which highlights their vivid hot pink tone.
93. Monochromatic Pink Zebra Print Almond Nails
I'm loving the boldness of these pink zebra stripe nails. They shift from magenta to baby pink in a fashionable gradient design while featuring both matte and glossy finishes.
94. Glossy Pink and White French Nails
I'm all for the mismatched design of these pink french tips. Coupled with white, it's a girly combination with a classy touch fit for any occasion.
95. Bright Pink Angled French Squoval Nails
A french tip is a great way to accentuate a basic manicure. Painted in bright pink at a slanted angle over a nude pink base, white lacquer was used to enhance the distinction between both shades in this look, introducing color contrast as well.
96. Mauve and Hot Pink Round Nails
This look is perfect if you're in the mood for an all-pink manicure with diversity. It features sparkly mauve pink nails played up by a hot pink accent nail for an overall girly design.
97. Pink Coffin Nails with Silver Foil
These nails make me want to wear a pink manicure in December. Embellished with silver foil over translucent nails, the design reminds me so much of wintertime and the joy of the holiday season.
98. Pink Watercolor Ombre Almond Nails
The ombre effect has been one of the go-to nail designs for decades but even this classic look can be amped up to your liking. 
To give your pink gradient nails a unique touch, rock the also trendy watercolor design toward your tips and round off that fab look with a glossy finish.
99. Pink Graphic Art French Square Nails
For this look, each nail has a distinct design with a variety of nail art on display in the form of french tips, including cow spots, sunflowers, a happy face, and more. It's a fun graphic nail design that you'll never tire of.
100. Rose Pink Polka Dot Round Nails
Polka dots on sheer pink nails make for an easy-to-achieve design with gorgeous results. I love the selection of a vivid rose pink shade as well—it's a hue you just can't steer your eyes away from.
Summary and Top Picks
Pink nails are far more than just the girly option—they're versatile with a perennial quality, so they can be cute, edgy, classy, or bold. Because of their compatibility with all other colors, one could say, pink nails can get away with anything.
Most infallible in my eyes are nail designs 14, 18, and 31. I was won over by their effeminate appeal and muted pink shade that I can confidently rock anywhere with any outfit.
Now, it's your turn to chime in. Which nail designs stood out to you? Do you have a particular shade of pink that you love to wear most of all? What other colors do you love pairing pink with? Share your thoughts and any questions you have down below.