When I first came across these tribal braids, I said to myself, "Where has this style been all my life?" That's the effect Fulani braids have on practically everyone, and that's why they're plastered and praised all over the internet.
Originating from the Fula people in Africa's Sahel region, Fulani braids generally have the following characteristics: a cornrow braided down the center of the head, cornrows close to the hairline toward your temple, and reverse cornrows braided above the ear.
Some Fulani styles also feature cornrows looped around the crown of the head. Rihanna is one of several Hollywood stars who contributed to the resurgence of this phenomenal style.

So you see, this look has been making waves and continues to do so, and when you see the amazing Fulani braid styles listed in this compilation, I'm sure you'll be just as excited to try out this trend. Without further adieu, let's begin.
1. Black Fulani Braids with Clear Beads and Rings
Youtuber, Teaira Walker, starts things off with a bang! This look took the internet by storm in 2020 and literally had tons of people asking the same question, "What is this hairstyle called?" And I totally get it.
At waist length, these braids feature a center cornrow with horizontally braided ones on both sides. Two cornrows also grace the hairline, falling along the side of the face. This chic look was completed with clear beads and cute silver rings.
2. Black Fulani Braids with Stitch Cornrows and Curly Weave
This Fulani style maintains reverse cornrows on both sides, accessorized by silver hair cuffs. They were accompanied by chunky stitch cornrows that lead into an impressive mane of curly hair, bringing a modern twist to this tribal style.
SEE ALSO: 60 Tribal Braid Styles You MUST See
3. Black Bohemian Fulani Braids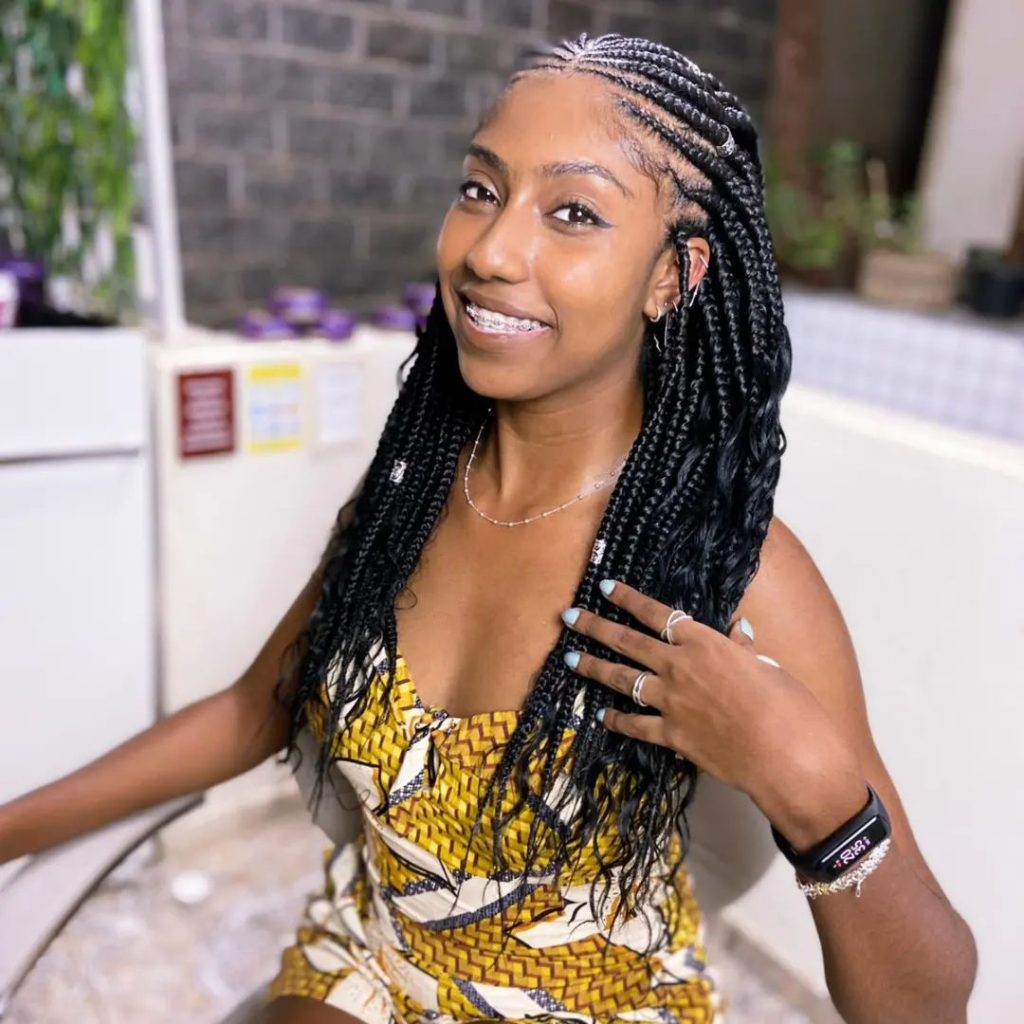 A girly look, but with fewer curls involved than the style just mentioned, these Fulani braids have just the right vibe for the Summer season, as wavy strands and decorative hair cuffs bring a boho-chic flair to the overall look.
4. Long Black Fulani Braids with Two Top Knot Buns
Enjoy the versatility that your braids have to offer by sectioning your hair into three parts, making way for a cool double bun style. 
Leave the remaining braids to fall over the shoulders. It's the perfect opportunity to add some hair accessories too if you'd like.
5. Shoulder-Length Burgundy Fulani Braids with Beads
At this point, burgundy has earned its spot as a classic braid color. It's become a go-to for so many women. Try your Fulani braids in this stunning shade at shoulder-length, adding cute neutral-toned beads to enhance your new look.
6. Large Black Fulani Braids with Stitch Cornrows
An unconventional style as opposed to the others, this cute look is perfect if you're going for simpler Fulani braids.
On one side of the head, large stitch cornrows are braided back behind the ear, and on the other, cornrows swerve horizontally, ending in large box braids down the side.
SEE ALSO: 60 Hot Crochet Braid Styles That You'll Love
7. Large Pink and Purple Ombre Fulani Braids with Curls
I confess, ombre braids are my weakness. The flawless transition from purple to pink and the curly tresses at the back are so pretty and sublime. 
If you're excited to try a new protective style and you also love these colors, why not make it an ombre Fulani braid combo?
8. Black Zig-Zag Cornrow Fulani Braids
Zig-zag cornrows have been on a roll lately. Rock them in Fulani-style with medium-sized box braids at the back. The great thing about this design is that it functions as its own accessory, no embellishment needed.
SEE ALSO: 50 Trending Medium Box Braid Hairstyles
9. Large Brown Fulani Braids with Cowrie Shells
With a style as popular and fun to wear as Fulani braids, you'll want to make it your own. 
Opt for a color you've been longing to try or one that's guaranteed to enhance anything you wear. These large brown braids with cowrie shells should do the trick!
10. Black Spiral Fulani Braids
Music and style icon, Rihanna (RiRi), owned the night at the British Fashion Awards in 2019 when she donned these trendsetting spiral Fulani braids. She looked like a queen, flaunting her braided crown, and I loved every minute of it.
RiRi further confirmed that braids aren't subjected to a particular setting. They can be worn absolutely anywhere at any time.
11. Large Black Fulani Braids with Beige Beads and Full-Bodied Curls
This look grabs your attention for more reasons than one. Firstly, the stitch cornrows do a superb job at getting these braids off to a neat start but how about those thick box braids and full-bodied curls?
To say this combination is flattering would be an understatement, and coming through to round off this fine look? Pretty beige beads.
12. Black and Blonde Ombre Fulani Braids
Ombre braids are back but this time, it's a chill transition from a neutral black tone to a contrasting blonde shade. Thanks to the compatibility of this color combo, this style doubles as laid-back and fashionable.
13. Long Black Criss-Cross Cornrow Fulani Braids with Pink Streaks
Now, where to begin? Should we kick things off with that trendy criss-cross cornrow design or those beautiful streaks of pink hair that complement black so effortlessly? 
Don't be surprised if you find yourself admiring this look each day. That's what Fulani braids with a pop of color will do to you.
SEE ALSO: 30 Stunning Viking Braids to Rock
14. Large Brown Bohemian Fulani Braids with High Bun
Fulani braids in a high bun? Yes, please! It's only fitting that the braid featuring that cute heart-shaped part is left to sway right where the eye can see it. This look is classy and chic with curly strands on display for a bohemian flair.
15. Black Fulani Braids with High Ponytail and Beads
We know diamonds are a girl's best friend, but ponytails are right up there with them. With stitch cornrows braided around the contour of your head, tie your braids into a high ponytail with your reverse cornrows donning some cute beads.
16. Black Freestyle Fulani Braids with Clear Beads
This look features cornrows braided along the hairline and in unique patterns on the crown of the head. Completing this fancy style are layers of clear beads that add a glow to the finished look.
17. Black Half-Up, Half-Down Fulani Braids with Top Knot Bun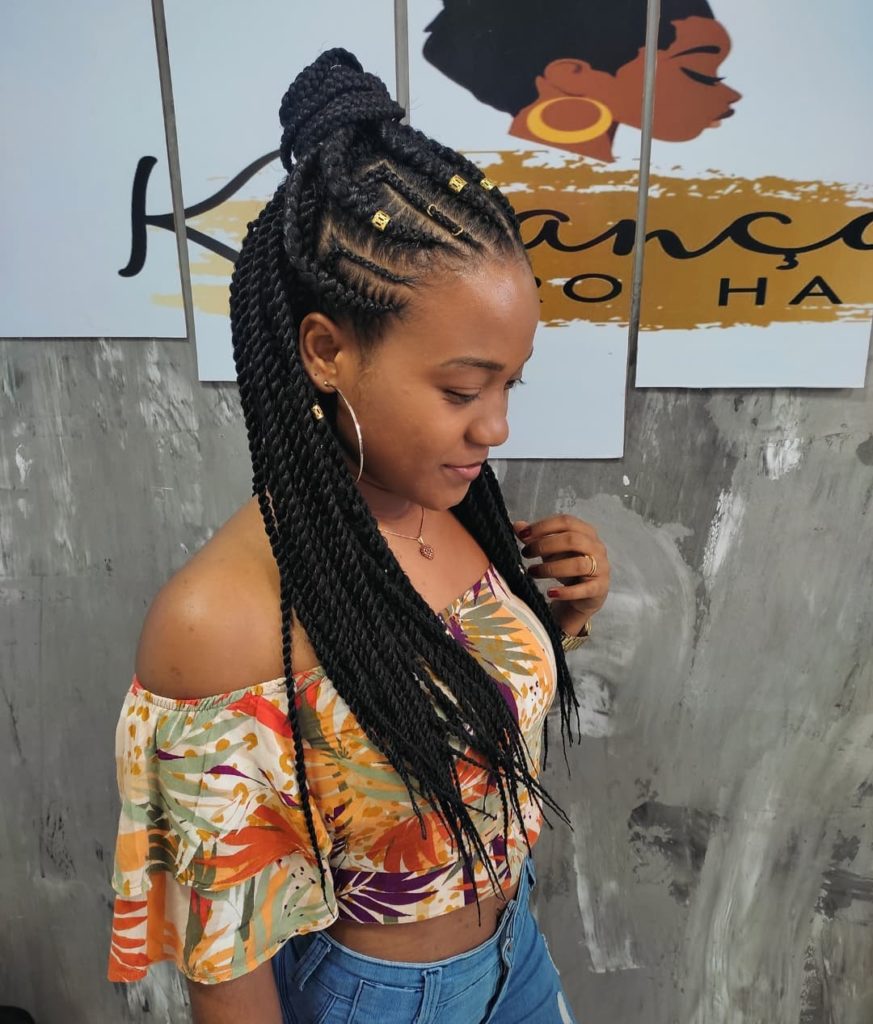 Amp up your Fulani braids with a half-up, half-down style in a cute top knot bun. Slip a few hair cuffs on as well for a more flattering finish. This style can take mere seconds to achieve and you'll look amazing for the entire day.
18. Blonde Bohemian Fulani Braids with Curls
It's a bohemian style takeover as tight curls dominate this braided look. I'm also a huge fan of the hair volume and color choice. Blonde hair stands out from a mile away and will complement anything you style it with.
19. Black Beaded Fulani Braids with Wavy Cornrows and High Bun
I love the wavy design of these cornrows, and how they gracefully lead your eyes to the main features of this Fulani style, specifically, the beaded reverse cornrows and top knot bun. It's an elegant look that beams with creativity.
20. Medium-Sized Blonde Fulani Braids
This look starts off with cornrows that lay flat against the crown of the head, in opposite directions, woven into medium-sized box braids that you can rock in a number of styles. 
You can wear these braids down, in a low ponytail, or a cute bun. To make your new look even more captivating, why not go blonde for a change?
21. Black Fulani Braids with Jumbo Plait
Cornrows looped around the forehead place these Fulani braids in their own league. The braids were then twined into a stylish jumbo plait with gold and white embellishments for an elegant finish.
22. Burgundy Fulani Braids with Side Part
Along with Fulani braids, burgundy is also trending and has been, non-stop. This color gives your braids a chic touch and has a certain subtlety that makes it a versatile option.
23. Black Fulani Braids with Distressed Curls and High Bun
When rocking curly Fulani braids, the type of curls plays a key role in your finished look. For a playful and effortless style, opt for distressed curls, and round off this cute look with a small high bun.
24. Burgundy Jumbo Fulani Braids with Two Top Knot Buns
Everything about this style stands out, from the beautiful burgundy color to the jumbo cornrows and top knot buns. Make this look even more eye-catching with a few hair accessories, like gold hair cuffs, to play up its rich burgundy shade.
25. Short Black Fulani Braids with Beads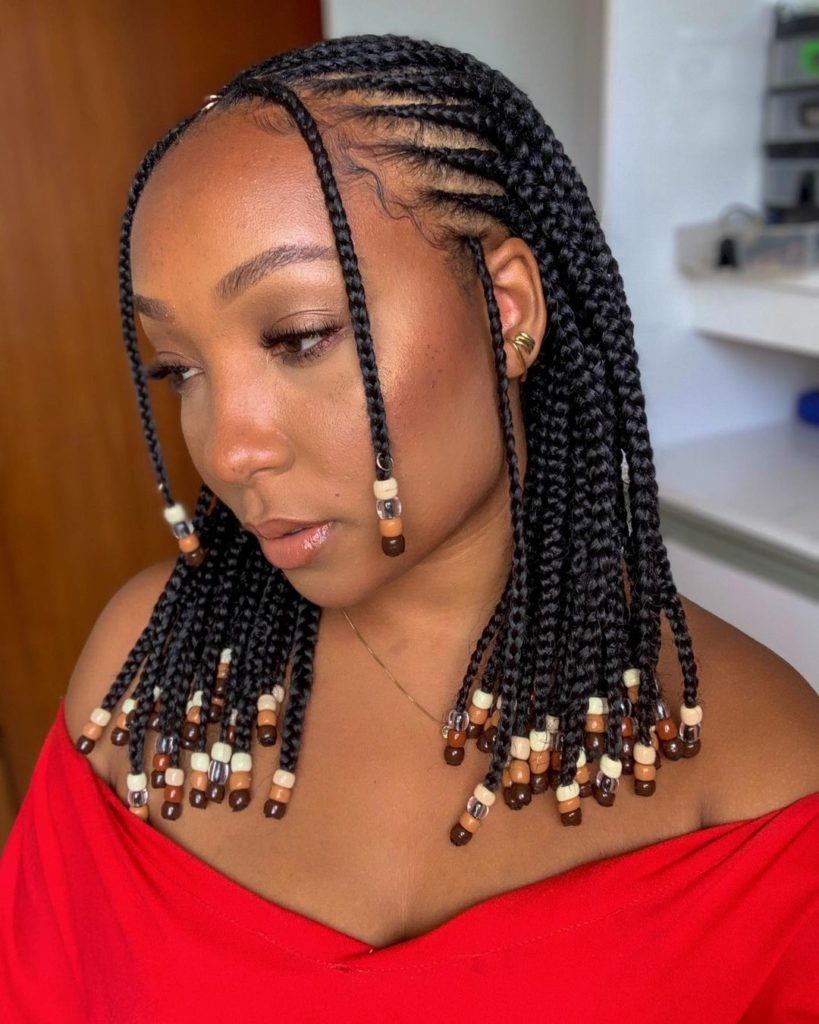 Short Fulani braids look especially attractive with beads as the length ensures the style is at your focal point. Therefore, it's impossible to miss the beauty of this look.
Cornrows are braided back just above the ear, ending in shoulder-length box braids. At the same time, a braid hangs on either side by the jawline, as well as at the hairline.
26. Black Freestyle Cornrow Fulani Braids with Low Ponytail
Ever found yourself battling with how to style your cornrows? That's what freestyle braids are for. 
You can try any design or pattern you want, such as zig-zag cornrows, heart-shaped, and stitch cornrows. Plus, with a trendy style like this, even a simple low ponytail will look extremely chic.
SEE ALSO: 65 Trending Stitch Braid Hairstyles
27. Short Black Fulani Braids with S-Shaped Cornrow and Beads
If cute and unbothered was a hairstyle, here it is. It's a cool and edgy look, featuring stitch cornrows braided back and an S-shaped cornrow. Transparent beads were added, upgrading this look to a high level of sophistication.
28. Large Black Fulani Braids with Three Cornrows
For this style, three large cornrows are braided back behind the ear on one side, with hair styled into thick plaits on the other. Take advantage of this easy-going style and let your braids fall where they may—a look that's fit for daily wear.
29. Long Brown Jumbo Fulani Braids
You need no permission to rock a bold braided style. Let your confidence shine through with jumbo stitch Fulani braids in a vivid brown shade. Have them done long too, to facilitate other fun styles.
30. Black and Blonde Ombre Fulani Braids with Curls and High Bun
These braids were styled with curly ombre hair, accompanied by a cute high bun. Wavy strands were left to hang at either side of the face to enhance the girly flair.
Braids with curly hair make you feel free and ready for whatever the day has in store. It's an empowering style with lots of femininity.
SEE ALSO: 25 Coi Leray Braid Looks (How to & Styles)
31. Black Fulani Braids with Low Curly Ponytail
The curls have returned, but now they're sitting pretty in a low ponytail at the back, preceded by neat medium-sized cornrows. To top it all off, reverse cornrows are braided above the ear.
32. Black Fulani Braids with Bantu Knots and Beads
It was the sleek Bantu knots that won me over instantly, and then I saw those cute trinkets and beaded braid ends, and it was a done deal. These Fulani braids are elite. As intricate as this style is, it's not too difficult to achieve. 
The bottom half consists of your regular box braids. The top half, however, is where it gets interesting, featuring five sections of small cornrows, wrapped into firmly secured knots.
33. Black Fulani Braid Bob
Keep your Fulani braids simple with a bob that rests right on your shoulders. The ends are braided under for a curved design that elegantly frames the face. Jazz up this look with hair accessories of your choice.
34. Black Fulani Braids with Chin-Length Curls and Beads
Fulani braids in the front and a mane of lush curls in the back are responsible for this fab style combination, and once again, an assortment of hair accessories: beads, rings, and decorative cuffs make this look even more remarkable.
35. Brown Ombre Spiral Fulani Braids
If you were inspired by Rihanna's Fulani braid style, this variation is a great option. It features spiral cornrows at the crown of the head with three cornrows on each side. Completing the look are long box braids in ombre style.
Summary and Top Picks
I really hope this compilation served as inspiration for your next braided hairstyle. Not only are Fulani braids significant in symbolizing African culture but you can add your own modern twist too while staying true to the essence of this tribal style.
So, what are you waiting for? If you love these braids as much as I do, go right ahead and give your hairstylist a call, and if narrowing down your options is proving too difficult, I'm here to help.
My personal faves are styles 8, 10, and 23 because I'm a fan of stylish cornrow patterns, and who doesn't love curls? They make any hairstyle a thousand times more attractive.
Now, I want to know what you think. Which of these Fulani braids wowed you the most and why? Share your thoughts and any questions you'd like to ask down below.