Viking braids, or Nordic braids, are a style of braid thought to be worn by ancient Vikings. The women of these cultures were hard workers, and some were even thought to be warriors. Braids kept long hair tight to the head in battle and made room for helmets. 
Today, Viking braids are a beautiful and expressive way to style your hair. They draw the hair close to the head, often emulating a mohawk. They can be as simple or intricate as you like. 
I love Viking braids. They make me feel powerful yet feminine, but they can be difficult to master. Here, I'll show you some of the most stunning Viking braids I've tried to master this year. 
1. Low Key Side Viking Braids and Bouffant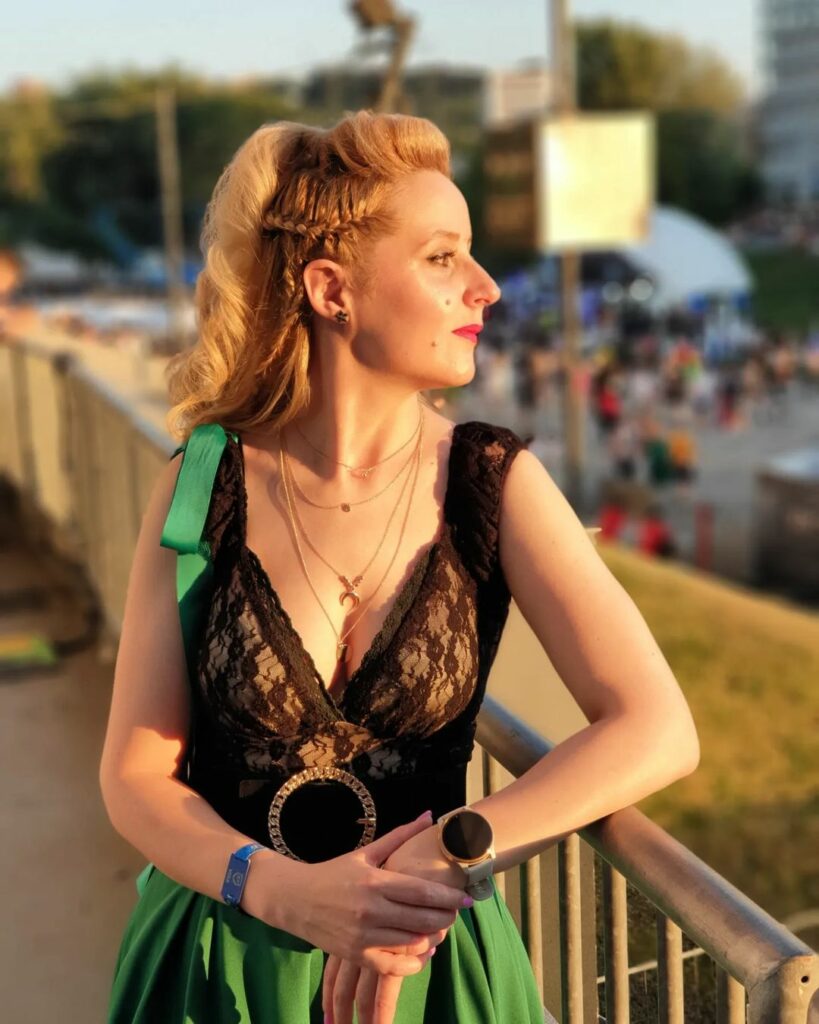 This Viking-inspired style is bringing back the front puff. Hair is braided on the sides while the front section of hair is puffed into a bouffant. A simple half ponytail in the back completes the look. Low key and simple.
2. Forked Top Braid and Tight Side Braids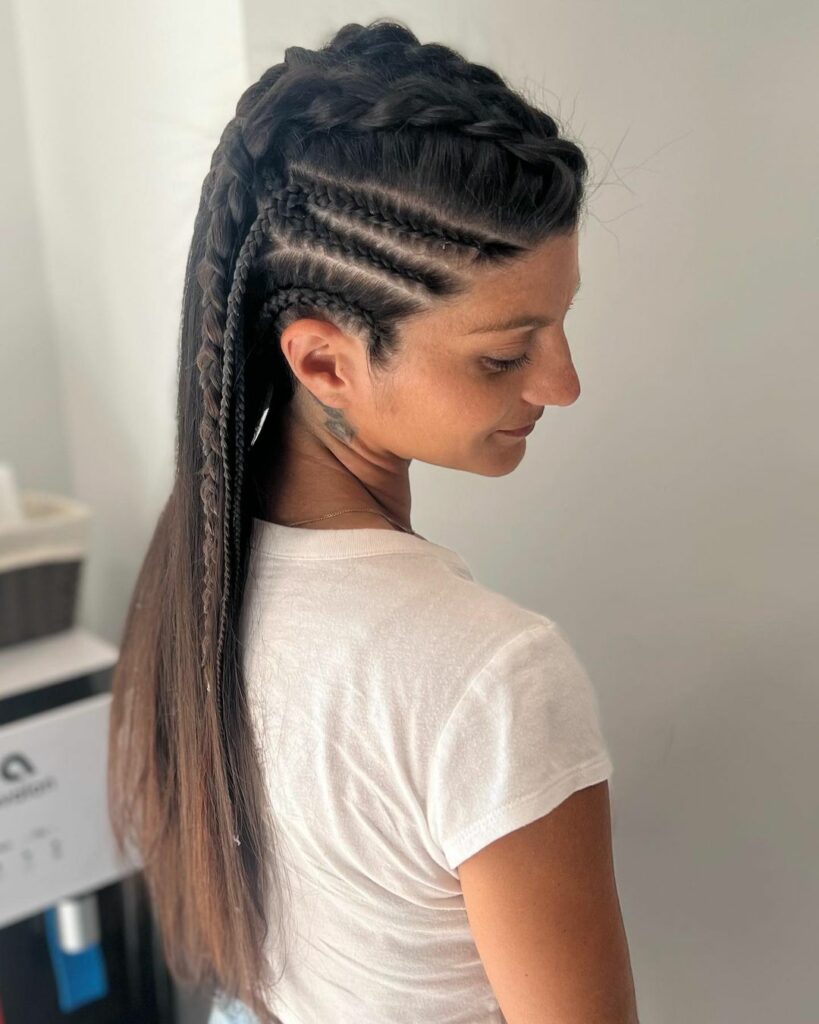 Here, her top braid begins as one and forks into two as it trails down the back of her head. I love the three braids woven tightly on each side of her head. I love that the braids perfectly curve behind her ears, showing off her neck tattoo.
3. Simple Side Braids Interwoven With Fabric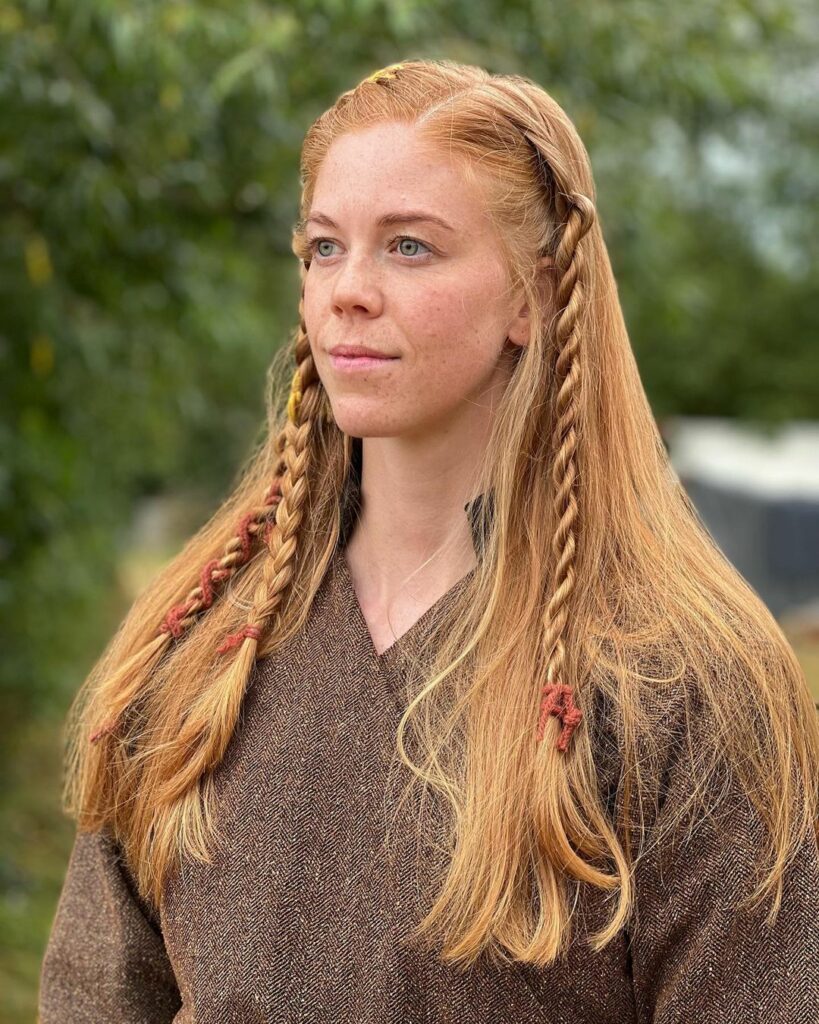 This is a great beginner Viking braid look. She's created three simple braids on the sides of her head and interwoven them with fabric. The look is ethereal and sweet. I like this look because it's simple to create and easy to take out.
4. Intricate Basket Weaved Ponytail Viking Hair
The time and effort that went into this hairstyle blew me away. I love the texture the stylist created by weaving the hair carefully together in the back. The basket-weaved ponytail is definitely a fancier Viking style, perfect for weddings!
5. Multi-Color Viking Braids With Large Fishtail Braid
The beautiful pinks and purples in her hair come together for a vivid Viking braid experience. Her main braid is a fishtail braid running down the back of her head. Small tight braids feed into the larger braid from the sides.
6. Just a Touch of Viking Braids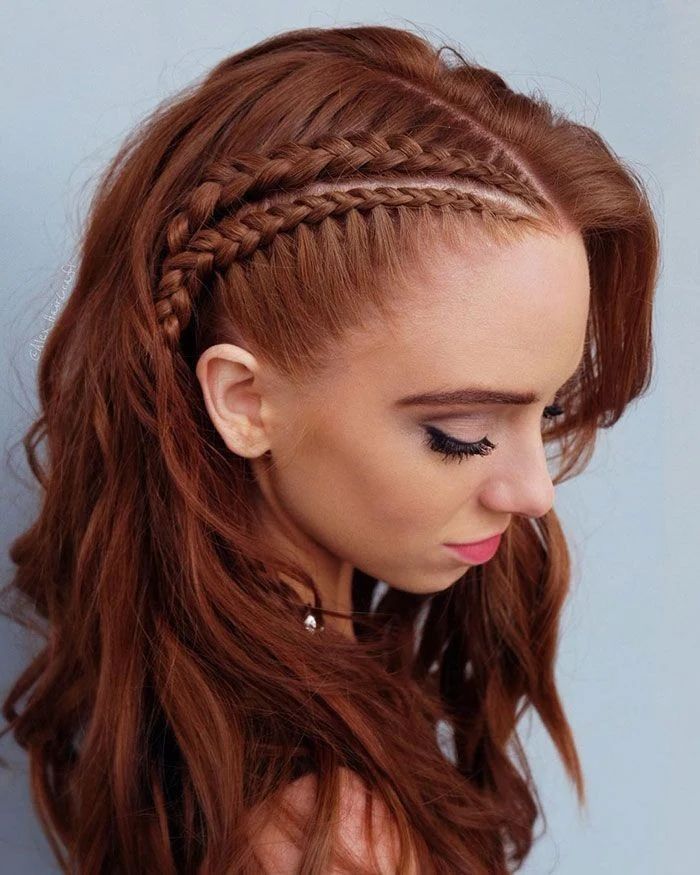 This look is striking and simple. Only two braids trace the side of her left head. This draws back the hair from one side of her face while allowing the rest to fall in gentle waves. I love this for a day out or as a partial updo for a special occasion.
7. Viking Braids With Knots and Beads
This look draws small intricate side braids into a larger braid running down the center of her head. Side braids are adorned with colorful thread and silver beads. By wrapping hair around the center braid, the stylist created large knots or bubbles. I love this look.
8. Large Pull-Through Braid and Decorative Side Braids
Pull-through braids are made by connecting inside-out ponytails to one another. They are continuously looped to completion. Here, she's created a large voluminous braid in this style accompanied by decorative side braids. Stunning!
9. Partial Updo with Viking Braids and Curls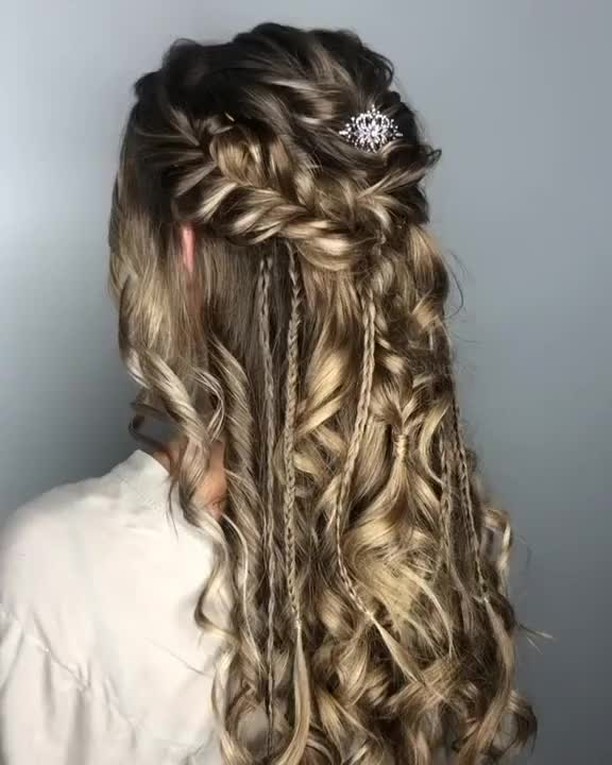 This stunning partial updo is perfect for a special event. The Viking braids weave perfectly in and out of curls, while large braids crown the of her head. I love the added bling for wedding or prom vibes.
10. Teased Top Braid Viking Style
This Viking-inspired style has a top braid teased to perfection. By gently pulling the large top braid pieces out, it puffs up like a mohawk. The braid transforms into a ponytail at the nape of her neck with small side braids feeding into it.
11. Warrior Viking Look With Criss Cross Braids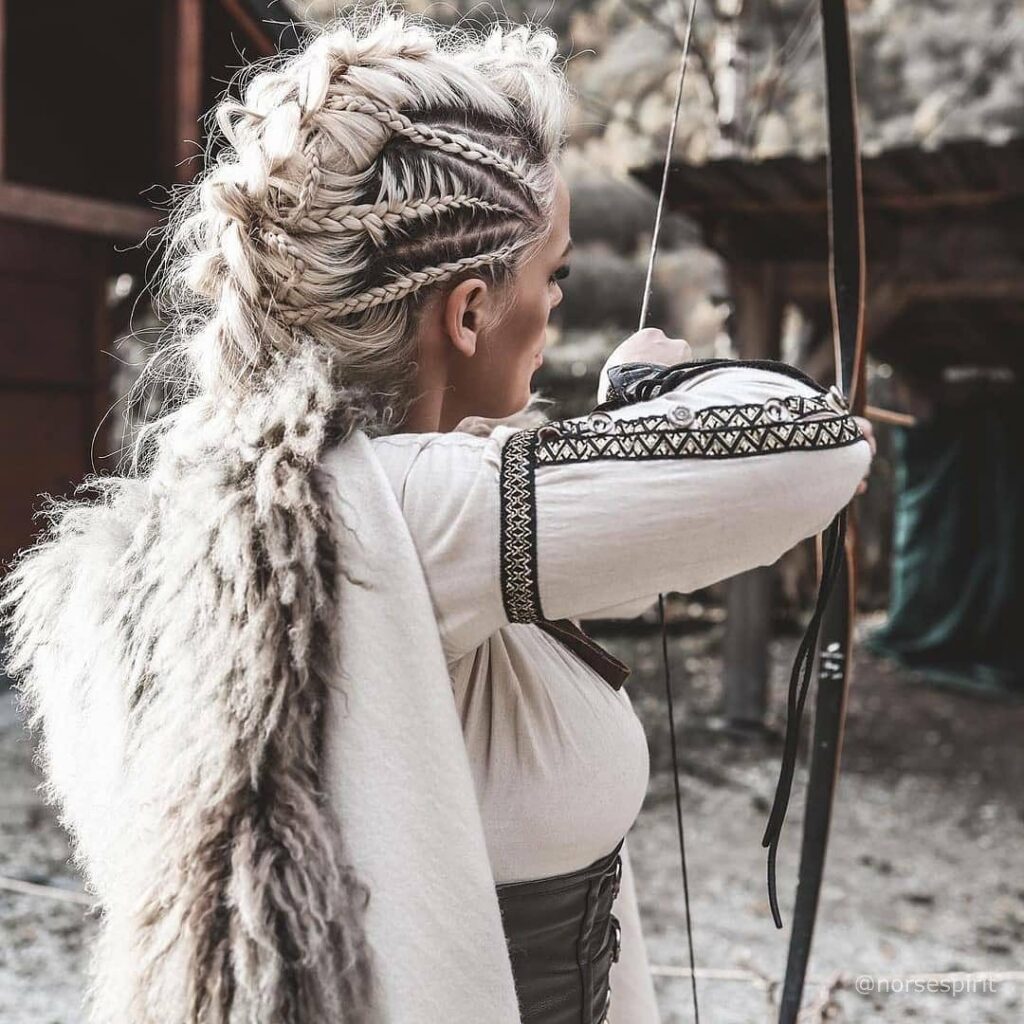 This stunning warrior Viking braid style took a lot of time to perfect. The small side braids criss-cross into the larger braid at the back of her head. More braids loop in and out of the main braid creating an intricate style for any occasion.
12. Tousled Bouffant and Behind the Ear Viking Braids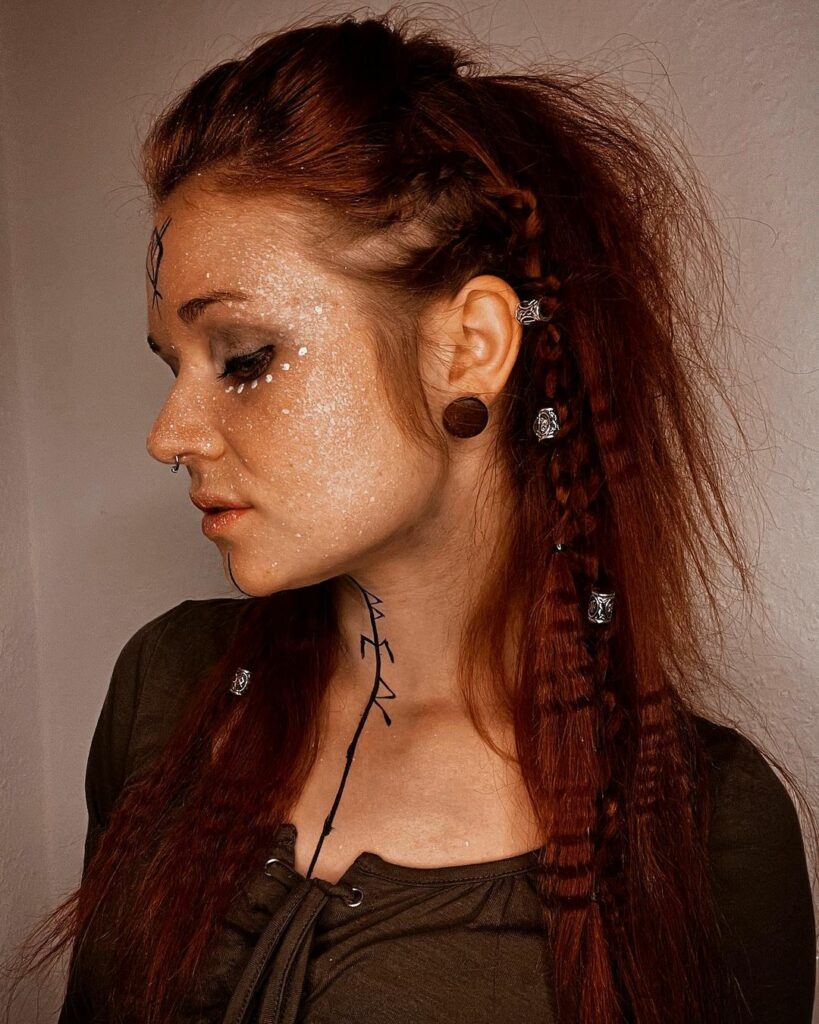 I love this powerful style. A front puff and tousled ponytail with tight braids cascading behind the ears. It's the perfect way to pull hair back at the sides of the face while maintaining length. I also like that she crimped some strands for added texture.
13. Intricate Viking Braid Design With Beaded Bubble Braids
This gorgeous look uses multiple braid styles. Three tightly woven french braids on each side cascade down the back of the head. Two front braids criss-cross and use multiple beads to create bubble braids. I love everything about this sleek look.
14. Dutch Braid Into Pull-Through Viking Braid
This look makes me think of Disney's Elsa. The Dutch braid transitions flawlessly into a pull-through braid style at the nape. One braid on each side feeds into the main braid with ease. It's a beautiful, almost glamorous, Viking style.
15. Tiny Fishtail Braids, Twists, and More Viking Style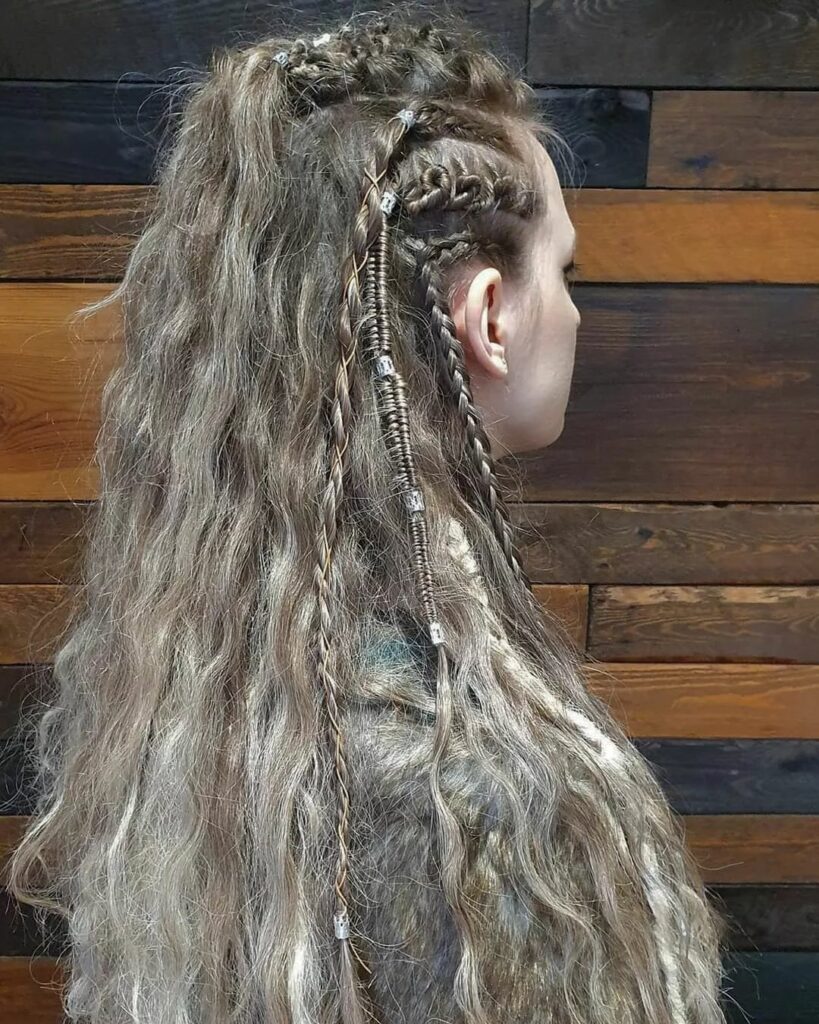 A mish mash of tiny fishtail braids, twists, and french braid make this Nordic style pop. Her loose hair is wavy and natural. I love the addition of silver beads for a warrior girl look. She's ready for battle, or whatever else life brings.
16. French Braids and Straightened Hair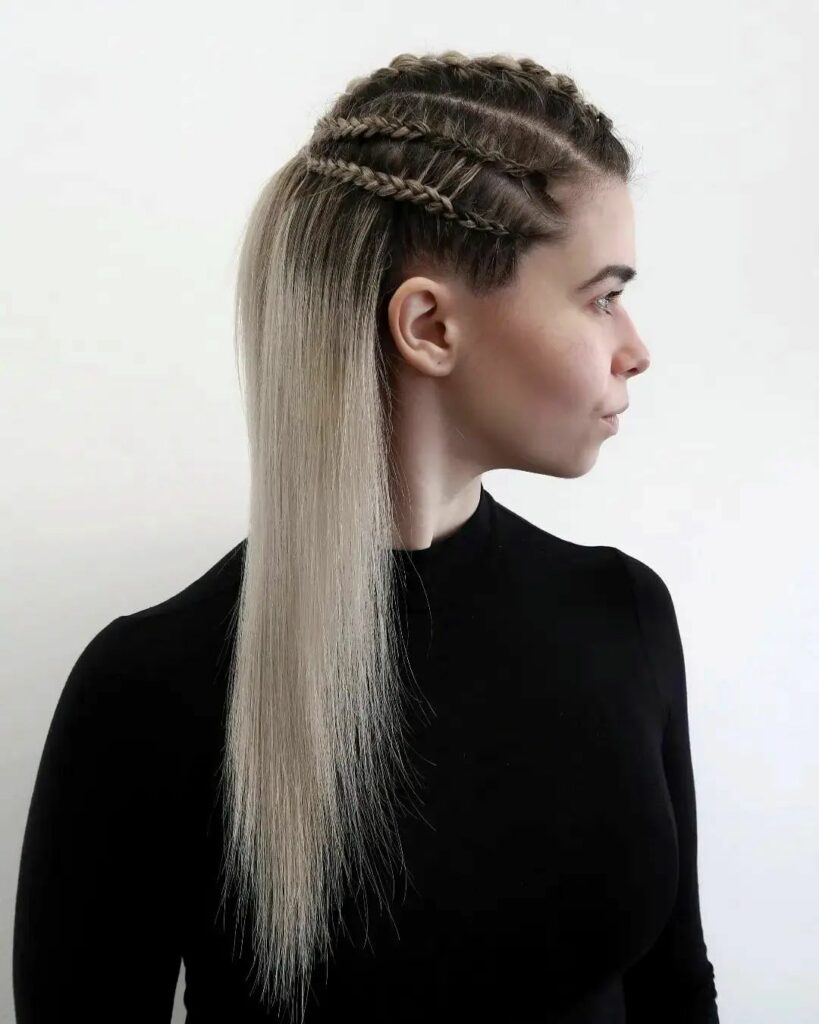 A simple take on the Viking look. She straightened her hair and added two tiny fresh braids at each side of her head, with a single braid on top. The look is warrior chic. I like the two toned look with the platinum and dark color.
17. Viking Style Updo With Twists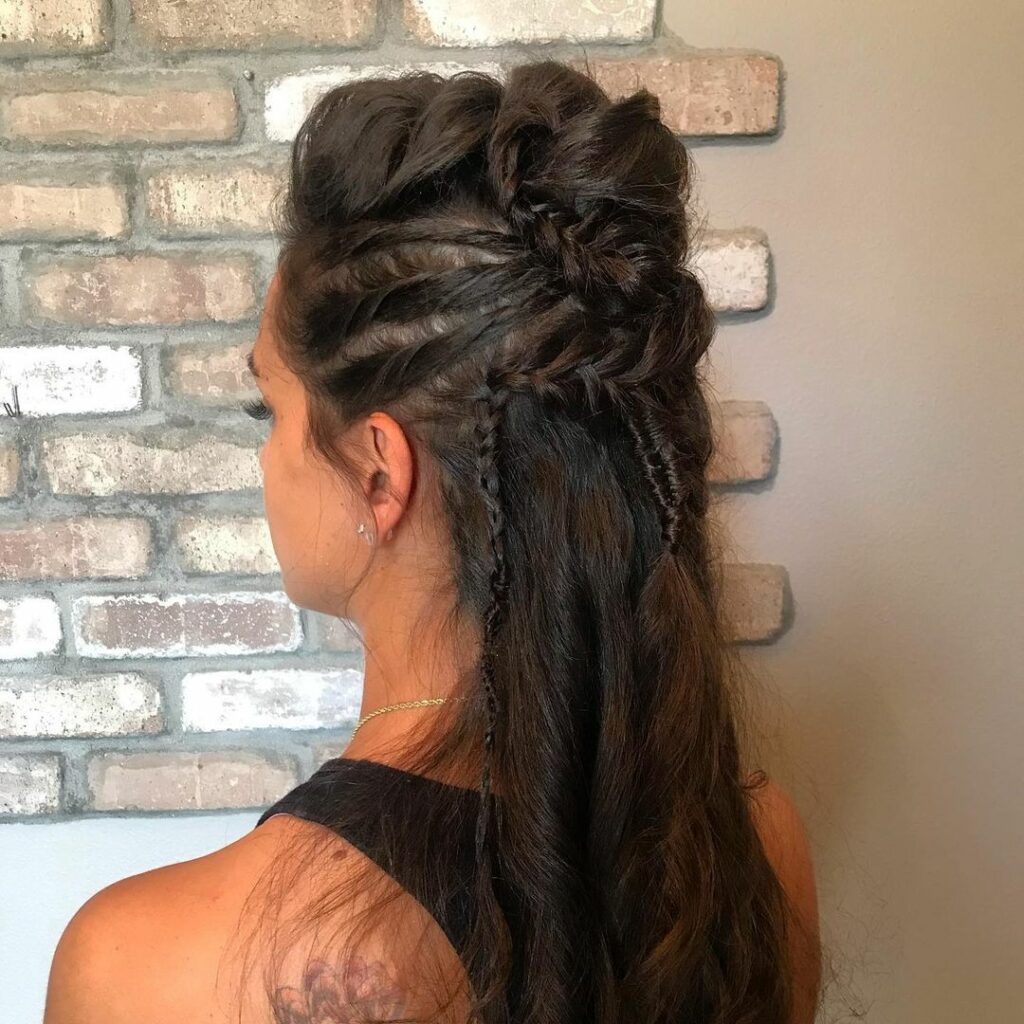 Rather than feed side braids into the top braid, this stylist twisted the side pieces in. The teased top braid stops shorter than most. Decorative fishtail and french braids criss cross below, falling into effortless wavy curls.
18. Forked Fishtail Viking Braid
A forked fishtail braid feeds back into one main braid with two accenting french braids. Hair is swept back behind the ears and pinned beneath the braids. This look is super cute with her curls. Add flowers or gems for a wedding look, or wear it as is casually.
19. Dutch Braid Crown With Wrap Around Viking Braids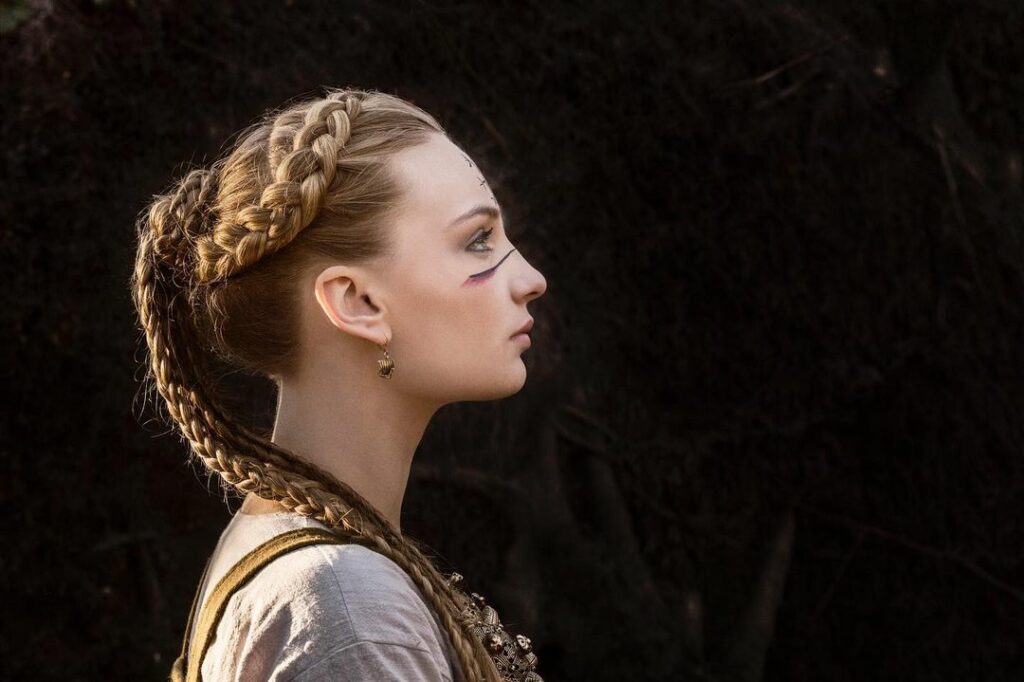 This chic braided ponytail look uses a dutch braid style to create a crown. The remaining hair is braided in small simple braids and made into a ponytail. More tiny braids wrap around the ponytail to hide the hair tie. Super queenly vibes.
20. Voluminous Teased Faux Hawk With Side Braids
This edgy look teases the center portion of hair into a high mohawk-like style. The side braids draw hair back from the face, accentuating the teased portion. It's a very rock and roll Viking goddess.
21. All Braided Up Viking Mohawk
This girl tucked all her braids up and into each other to leave nothing hanging down. Her Viking style mimics a short look with a mohawk, rather than the long cascading style most women choose. Edgy and chic.
22. Voluminous Top Bread and Fishtail Combo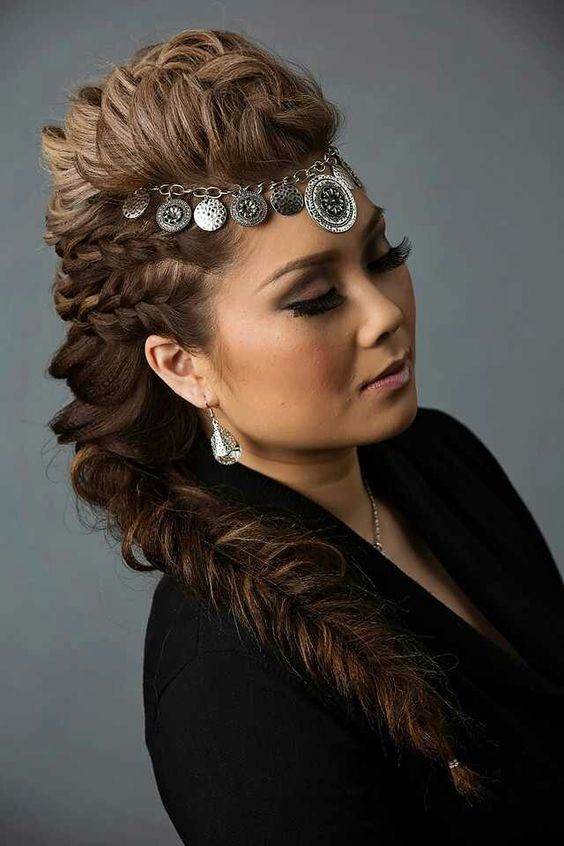 A voluminous Dutch braid on top feeds into a long fishtail braid for an elegant look I love. The sides of the hair are swept back with two smaller braids on each side. A decorative silver chain finishes the look.
23. Teased Pull-Through Braid Viking Style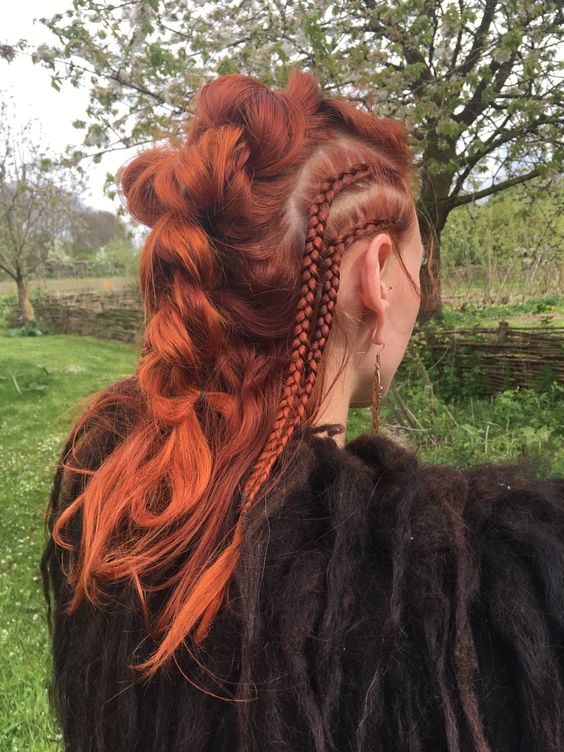 Two side braids on each side perfectly accent this large voluminous pull-through. The stylist has teased it up and out, almost resembling a bubble braid. The resulting look is impactful and ethereal. Very Viking maiden meets elven warrior.
24. Reverse Braid Viking Mohawk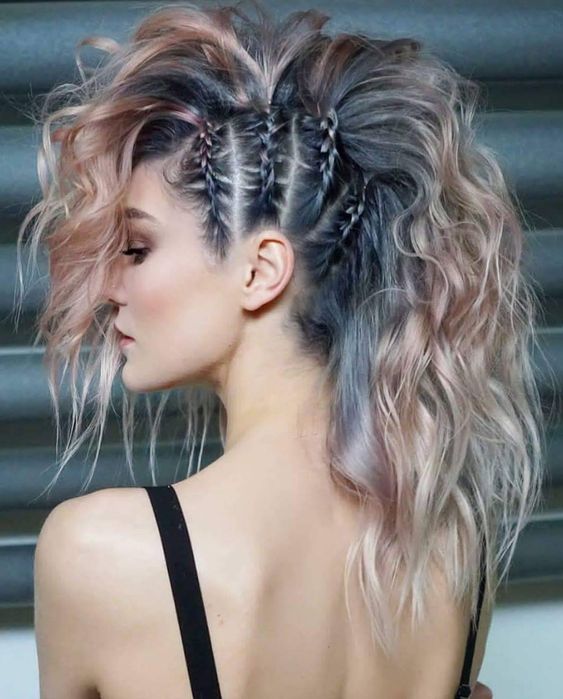 A genius twist on the classic Viking braid style. This look uses reverse braids to strategically lift hair up into a cascading mohawk style. She looks like a woman who knows what she wants and exactly how to get it. #powerhair
25. Viking Braids and Top Knot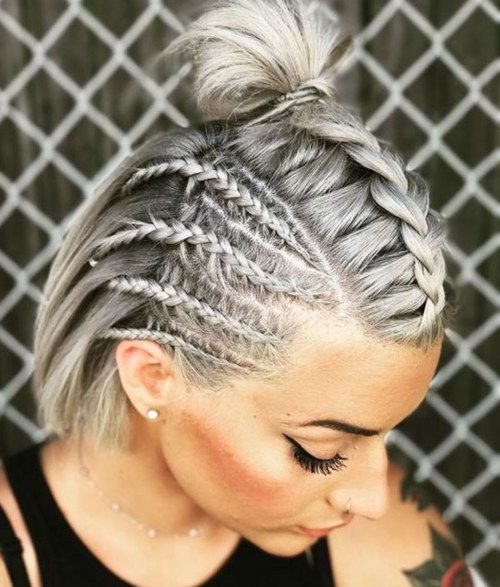 Who says top knots are out? I love this play on an old fave with the Viking-inspired braids at the sides. The top braid looks like a flattened Dutch style with small side french braids as accents.
26. Messy Double Buns With Viking Braids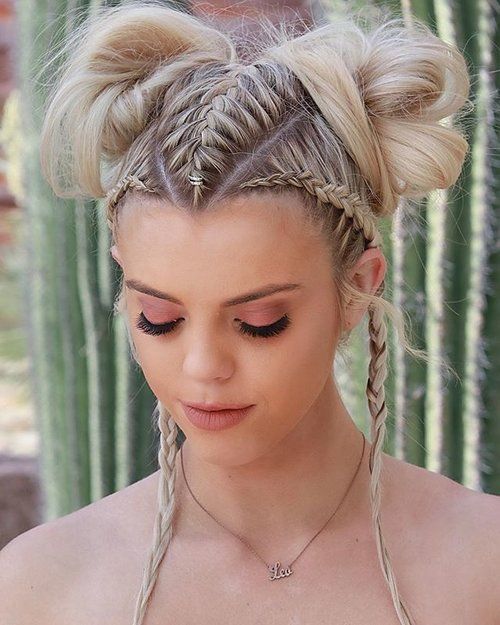 I'm getting Viking Princess Leia from this style. The Viking braids pull back into two beautiful messy buns. The volume here is phenomenal. Two side braids continue down behind her ears, adding length to the updo.
27. Fish Tails, Dutch Braids, and Twists, Oh My!
This multi-color style adds to the texturized look of her hair. With a large Dutch braid and smaller fishtail braids on the side, this model looks feminine but commanding. She could lead a Viking army into battle for sure.
28. Big Curls and Tiny Viking Braids
For a special event, this Viking braid look is classic. Large curls frame the face with elegance, while two small Viking-style braids pull the hair back on one side. It's simple but perfect.
29. Fishtails Over Straightened Hair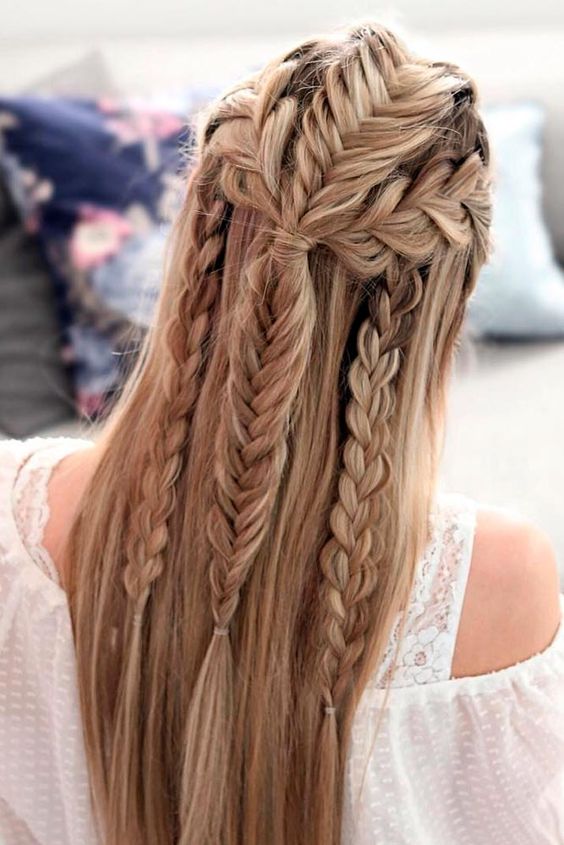 Three large fishtail braids come together over straightened blond hair for a casual Viking style I love. Two smaller braids peek out from the back, cascading down over the straightened hair.
30. Twisted Viking Style With Decorative Braids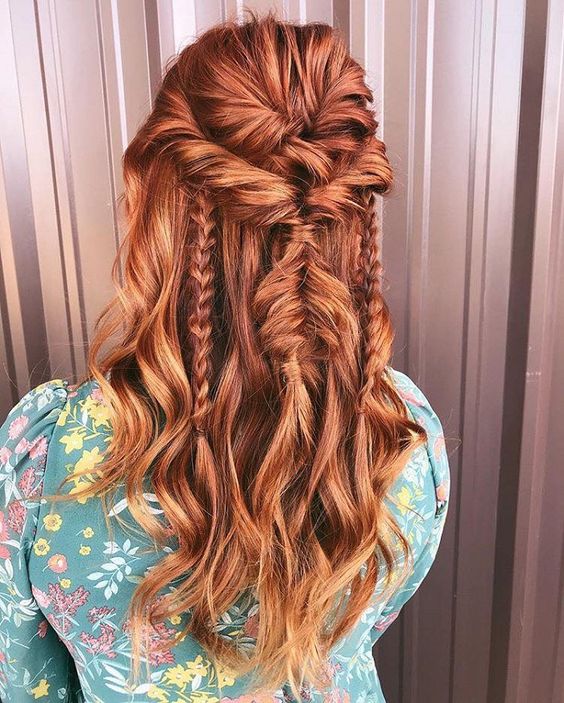 The top of this style is twisted, rather than braided. Two small braids at the back keep the Nordic energy going. I like the twisted look with the addition of the curls. It's less edgy mohawk and more Viking hand maiden.
Summary and Top Picks
This article highlights some of the best Viking braid styles I've seen this year. Viking braids are whimsical and powerful at the same time. I love the way they pull hair back from the face, while retaining length and volume. I hope you were able to find some styles to try.
My favorite three styles from the list include:
#8 Large Pull-Through Braid and Decorative Side Braids: The pull-through braid is such an easy style to pull off and it looks amazing.
#12 Tousled Bouffant and Behind the Ear Viking Braids: The texturized look added by crimping some of the non-braided hair makes this look pop. It's powerful and feminine and everything the Viking style symbolizes. 
#19 Dutch Braid Crown with Wrap Around Viking Braids: This chic Viking-inspired braided ponytail is simply majestic. I love that the stylist wrapped the braids around the ponytail to hide the hair tie. 
When you rock Viking braids how do you style the main braid? I'm dying to see your answers, comment below!