In this post, I'm so excited to be talking about an aspect of beauty that consumes our thoughts pretty much every day, and that's hair. Our hairstyle plays a big part in our overall look and with a busy life, long-lasting and gorgeous protective styles are a go-to.
That's why I'll be highlighting one of the hottest trends including tribal braids. Originating from the Himba tribe of Namibia in Africa, this style features various braiding patterns and sometimes includes accessories such as rings and beads. It's a way by which various tribes have stamped their cultural identity.
To name a  few, some of the most common are box braids, Ghana braids, and Fulani braids; all of which have grown in popularity amongst famous YouTubers, and celebs as well, including the likes of Alicia Keys, Keke Palmer, and Rihanna.
By the end of this compilation, I can guarantee you'll be just as excited to try them.
So, let's begin! Here are the best tribal braid styles you NEED to see right now.
1. Black Beaded Fulani Braids
Start simple with classic black Fulani braids at medium length. This style often features a braid or a few at the side of your face, in front of your ear. Make this look even cuter with neutral-toned beads at the end of each plait.
2. Jumbo Cornrow Ghana Braids
A quick and easy-to-do Ghana braid style that you'll look fabulous in; sectioned in six parts with jumbo cornrows going all the way back.
SEE ALSO: 31 Trending Jumbo Box Braid Hairstyles
3. Brown Ombre Ponytail Fulani Braids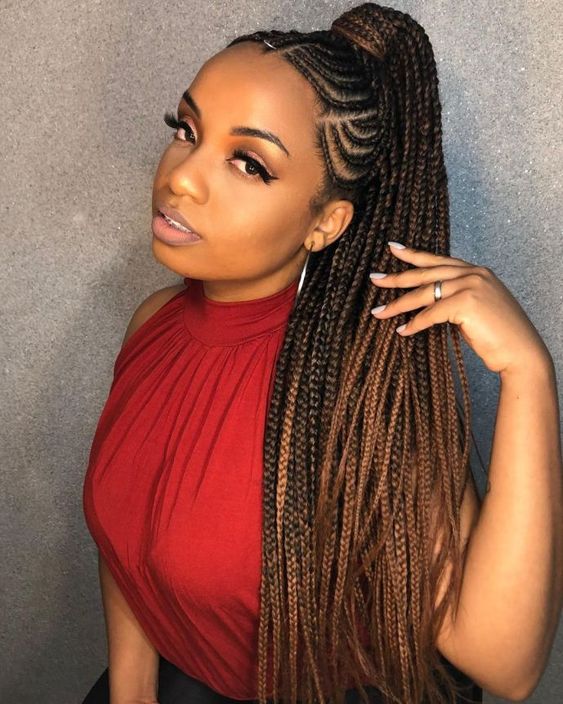 It's half-up, half-down with these stunning brown ombre Fulani braids that cascade down your back and waistline. Dress this look up with the right accessories and head out in style.
4. Imperial Golden Brown Top-Knot Tribal Braids
Try something new with long golden brown tribal braids. Three braids overlap down the center in Fulani style, disappearing into a stylish top knot. Leave the remainder to fall freely over your shoulders.
5. Beaded Side Ponytail Tribal Braids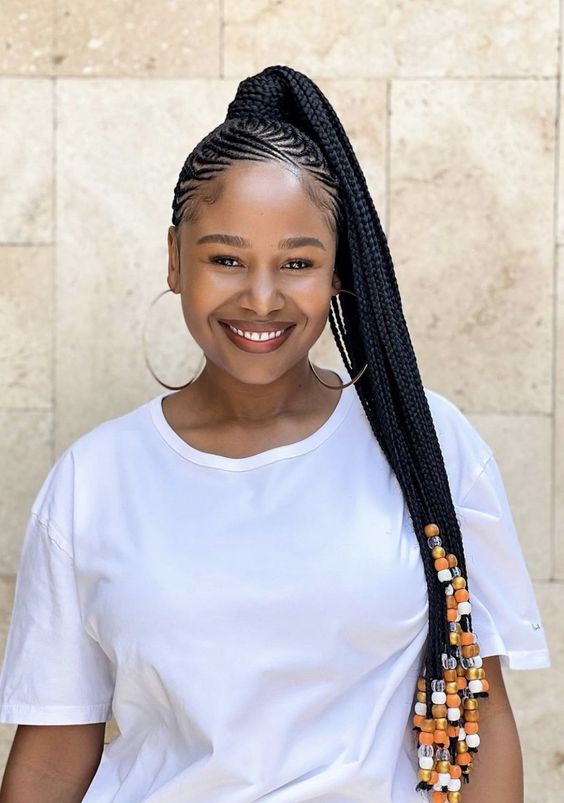 Swoop to each side with neat cornrows that join in a high side ponytail. Rock these long braids over the shoulder for an elegant look and decorate with beads for added style.
6. Cute Top Knot Beaded Fulani Braids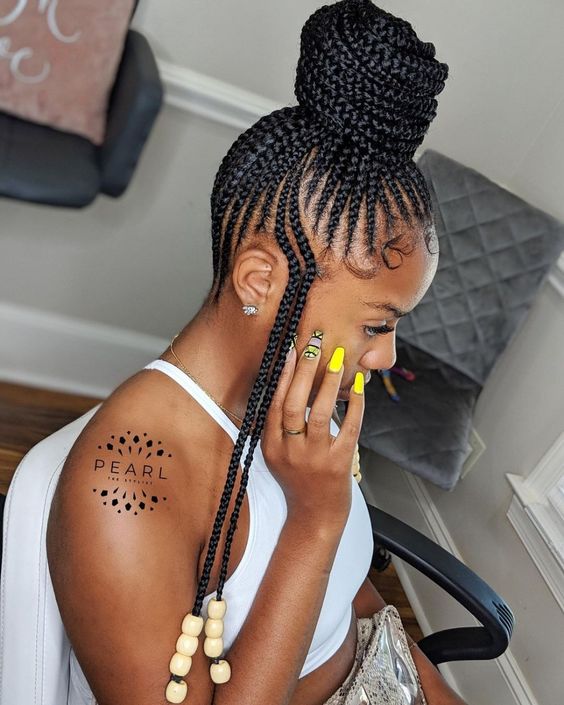 The bigger the bun the better, especially for Summer. Tuck your black tribal braids away for a while in a gorgeous top knot, leaving a few to hang loosely with cute beads for decoration.
7. Double Bun Beaded Fulani Braids
Style Fulani braids into a double bun look with two braids hanging loosely on each side. Add beads and trendy accessories to elevate these braids.
8. Brown Tribal Braids in Bob Style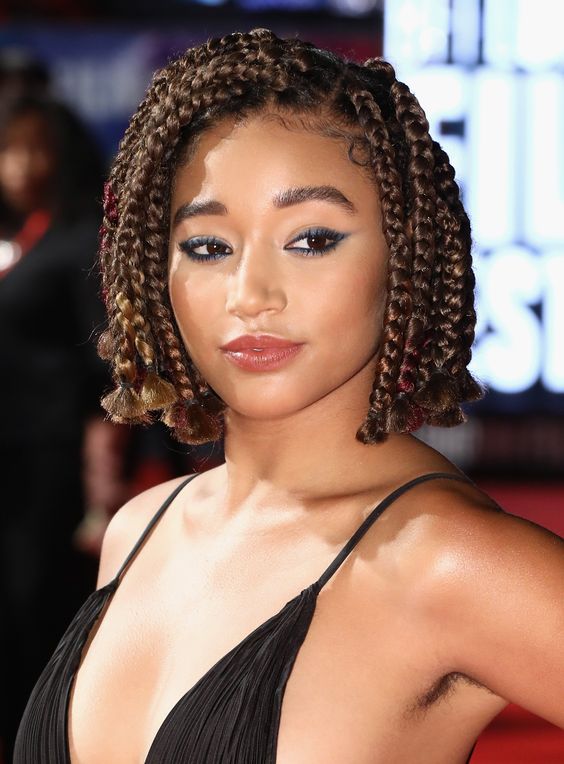 Hollywood actress, Amandla Stenberg is totally pulling off this short tribal braid look. Done in a bob style with loose ends held together by elastics, these brown braids are classy and red-carpet ready.
9. Green Side Cornrow Tribal Braids
Brighten up your protective hairdo with green braids that meet your natural hair color to create a faux ombre look. Try a side cornrow design to make this style more intriguing.
10. Thigh-Length Black Box Braids
Box braids will always be one of my faves. Wear them loose, all the way down to your thighs, to show them in all their glory.
11. Black Senegalese Twists
A tribal braids style that has been making the rounds on social media are Senegalese twists. 
Originating from Senegal in Africa, these twists generally require the use of Kanekalon hair and have a beautiful fluffy, silky feel and look that make you fall in love at first sight.
12. High Ponytail Black Box Braids
Box braids are beloved for being neat and long-lasting, primarily because of the plaited pattern that is harder to unravel than twists. 
A staple look that you can style in so many ways, YouTuber Teaira Walker, is flaunting hers in a high ponytail with a few hanging over her shoulders.
13. Black Senegalese Twists in a Side Bun
Wrap your Senegalese twists in a side bun for an elegant braided look that's versatile. Be sure to slay your baby hairs to accentuate this fabulous style.
14. Black and Brown Ombre Lemonade Braids
Receiving its name from the golden-brown braid look that Beyonce rocked throughout her 2016 visual album, titled Lemonade, this tribal style is also known as side braids.
15. Black Marley Twists
Rock this super gorgeous protective style and let it be the highlight of your look.
Named after Reggae legend Bob Marley, Marley twists, while having some similarities to Senegalese twists, are fluffier in style, with looser twists that utilize Marley extensions.
16. Black Top Knot Bun Box Braids
Tie your box braids in a cute top knot bun, no braid left behind, for a neat and sophisticated appeal.
17. Black Faux Locs
Worn to give a dreadlock look without actually having to loc your hair, faux locs are impressive, to say the least, and everyone wants to try them. Riri is rocking hers casually in a let-down style.
18. Burgundy Fulani Braids with Top Knot Bun
Eager to try Fulani braids but make them your own? Flaunt them in a pretty burgundy shade with gold accessories all over, and a top knot bun with braids over the shoulders.
SEE ALSO: 30 Stunning Viking Braids to Rock
19. Shoulder-Length Ghana Braids with Beads
Thinking of getting shoulder-length Ghana braids but want to make them more stylish? Add beads and trinkets in various colors to stand out in the crowd.
20. Heart-Shape Cornrow Tribal Braids
Cornrows cascading down your back is a classic braid look you may be accustomed to. Switch it up with a design of your choice right at the side. Form a cute heart shape with your cornrows to make these tribal braids exciting to wear.
21. Half-Up, Half-Down Faux Locs
Zendaya had the entire internet in awe when she wore these deep brown faux locs to the 2015 Oscars. It's a simple yet elegant half-up half-down style with a section worn over the shoulder for a sassy touch.
22. Red Hip-Length Box Braids
Red makes everything look great and way more confident; box braids are no exception. Wear this tribal braid style down to your hips, swooping some to the back in a slight ponytail style.
23. Brown Faux Locs with Messy Bun
As your faux locs get looser at the roots it's much easier for you to try new styles. Take advantage and scoop your locs up into a cute high messy bun.
24. Beaded Medium-Length Fulani Braids
Who else remembers Alicia Keys in the early 2000s, and how she'd always stun us with her amazing braided hairstyles? 
Here, she is in a full-on Fulani braid look with layers of cute beads stacked at the ends, and a gold trinket hanging from her center cornrow.
SEE ALSO: 50 Trending Medium Box Braid Hairstyles
25. High Ponytail Box Braids with Scarf
Accessorizing your braided hairstyle is one of the main ways to enhance your look. Rock a colorful patterned scarf like a headband to complement box braids with a high ponytail.
26. Bohemian Fulani Braids
Go wild with wavy curls in a brown bohemian Fulani braid style that's bound to turn heads. A mixture of cornrows, plaited braids, and loose curls, this look is perfect to dress up even the most laid-back outfits.
27. Goddess Braids with Small Low Bun
Tie goddess braids into a small bun at the back for a cute and refined vibe. A style like this is ideal to showcase other elements of your look such as your makeup, jewelry, and outfit of the day.
28. Blonde Box Braids with High Ponytail and Side Bang
Blonde box braids are a go-to when you're not in the mood for the usual black braids. Try this cute style the next time you head to the salon; a braided side bang and a high ponytail.
29. Bohemian Half-Up, Half-Down Box Braids
Here's another bohemian braid style that you'll love; this time in a high ponytail with the remainder cascading down the back, and a single plait positioned at the front for an extra cute touch.
30. Black Micro Braids
Micro braids offer you the luxury of protecting your natural hair while being able to wear a variety of cute styles, simply because these braids are very small and generally easy to handle. 
Try wearing them loose, with a section to the back and another over the shoulder.
31. Long Goddess Braids
One of the cutest tribal braid styles I've ever seen; simple plaits are transformed into a thick goddess braid look, ending in loose wavy curls at the hip.
SEE ALSO: 25 Coi Leray Braid Looks (How to & Styles)
32. Micro Braids with High Bun
Above I mentioned that micro braids make it easy for you to do certain styles. Here's a perfect example with Gabrielle Union where she used micro braids to create a stylish neat bun.
33. High Ponytail Box Braids with Side Braids
I've been seeing this gorgeous box braid style all over and I love it; one braid down both sides of the face and a high ponytail. Complement with a soft glam to look flawless.
34. Minnie Mouse Top Knot Goddess Braids
Goddess Braids look beautiful hanging loosely but how about this stunning updo featuring double top knots in Minnie Mouse style, with a curly strand on each side for a super cute finish.
35. Senegalese Twist Updo with Scarf
Replace a headband for a stylish scarf in a gorgeous Senegalese twist updo. If you still want to show off a bit of this amazing style at the front then leave two twists hanging on both sides of your face to achieve that look.
36. Faux Locs Ponytail
Swoop your faux locs into a high ponytail for a style that's casual but extremely cute. Rock these braids with an oversized sweater, sweatpants, and sneakers, and you'll still look fab.
37. Burgundy Cornrow Tribal Braids
For a neat style, cornrow your braids all the way back with the ends over both shoulders for added flair. 
If you're looking for something different, move away from the traditional black braids with a beautiful burgundy shade.
38. Black Lemonade Braids
Give a bit of attitude with a cornrow style worn all the way to the side, also known as Lemonade braids. Keep this look classic in the shade black.
39. Thick Burgundy Box Braids
The brighter the shade and the thicker the braids, the bolder the entire look becomes. Burgundy box braids are a gorgeous style that you should definitely try. Add cute trinkets to enhance this look.
40. Angled Bob Tribal Braids
Try something new with an angled bob braid look; featuring side cornrows and plaits this style will look amazing with metallic cord strings decorating a braid or two at the front.
41. Beaded Fulani Cornrow Braids with Low Bun
The Fulani braid style is so gorgeous that it's often worn by models on the runway. With chunky cornrows tied into a low bun and a few plaits donning decorative beads, these braids are mesmerizing.
42. Long Purple Box Braids
You should enjoy the hair you wear and maybe you're in the mood for something shocking, in an aesthetically pleasing way. Long purple box braids are a great option. This look is sure to make you glow and elevate anything you pair it with.
43. Rosewood Cornrow Tribal Braids in a High Side Ponytail
One of the most confident women in Hollywood, Keke Palmer, is rocking her cornrow braids in a stunning rosewood shade, combined into a high side ponytail that cascades down her shoulder; a look I definitely recommend.
44. Purple and Pink Box Braids with High Ponytail
One of the most common ways we women express ourselves is with colorful hair. It's as if our hair speaks for us so we don't have to. Accomplish that bold look with purple and pink box braids worn in a high ponytail.
45. Butterfly Locs
As unique as faux locs already are you can still add your own style with a variant of this stunning look known as butterfly locs. 
Adopting the crochet method this look is achieved by looping wavy hair into a braid, and loosely wrapping it for a cute disentangled or unraveled appearance.
SEE ALSO: 60 Hot Crochet Braid Styles That You'll Love
46. Lengthy Black Box Braids with Middle Part
Looking for a simple style to protect your natural hair that's also flattering? I recommend black box braids with an even part down the middle.
This look starts off with a cornrow style that immediately switches to lengthy plaits that fall freely behind you.
47. Swirl Cornrow Semi-Ponytail Tribal Braids
Pin a few of your plaits to the back to bring extra femininity to swirl cornrow tribal braids. It's such a simple style but adds a nice touch to your look.
48. Cornrow Tribal Braids with Beaded Side Bang
Mix cornrows with a braided side bang for a cute twist. Enhance the aesthetic with clear beads at the end of each braid.
49. Golden Brown Goddess Braids with Low Ponytail
Wear your cornrows to the side in a low ponytail, with plaits that flow into wavy curls at the end so you can achieve effortless goddess braids. Try a golden brown shade of hair to complement and brighten up your daily outfits.
50. Cornrow Tribal Braids with High Ponytail and Beaded Bang
Pull out all the stops to look amazing and distinct with a cornrow braided hairstyle that features a high ponytail and a bang, completely accessorized by beads.
51. Chic Black and Blonde Ombre Bob-Cut Micro Braids
Bob-style micro braids are so sophisticated. You'll look stunning if you wear this look, especially in a chic black to blonde ombre style.
52. Ombre Cornrow Box Braids
Here's another beautiful ombre braid style. Starting with sets of cornrows, this look extends into box braids and is just right for your Summer fits.
53. Black Beaded Box Braids with Bang
Want beads all around? Incorporate them into stylish black box braids with a bang for a unique twist.
54. Ghana Braids with Top Knot Bun
If you're wearing ghana braids and you're wondering what style to do next, gather all your plaits neatly in your hands and use a soft scrunchy with the right amount of elasticity to form a top knot bun. 
This look is simple, cute, and takes just a few minutes to do.
55. Black and Blue Mermaid Box Braids
Another tribal braid look that I've been in love with is Mermaid Box Braids. 
This style may look difficult to achieve because of all the colors involved but there are actually synthetic hair types available in various color gradients that give this stunning effect.
56. Tribal Braids with Beaded Bang and High Bun
We've already seen how amazing braids with bangs look but you can make this style even cuter with a high bun. Definitely add beads to intertwine creativity.
57. Half-Up, Half-Down Rainbow Tribal Braids with Top Knot Bun
Steal the show in a colorful tribal braid masterpiece; a half-up, half-down style boasting a top knot bun with rainbow-colored plaits on full display.
58. Tribal Braids with Distinctive Cornrows
Your cornrow braids don't all have to be the same. Incorporate an overlapping style and distinctive patterns to get the artistic look you've always wanted.
59. Black Box Braids with Cornrows
Get a sleek hairstyle with black box braids that begin with sets of cornrows. Allow your braids to fall freely for a relaxed and feminine look.
60. Long Black Box Braids with Two High Ponytails
Now, for one of the cutest tribal braid styles ever, tie long black box braids into two neat high ponytails. This look has "fashionista" written all over it and is a girly hairstyle you'll enjoy wearing.
Summary and Top Picks
I'm still in awe of the tribal braid styles showcased in this compilation. From Fulani braids to box braids and faux locs, there really are enough ideas to inspire you for the entire year.
I was swept away by the Fulani braid styles; also by the box braids and braided bobs. That's why my top picks from this list are looks 25, 40, and 60. Nonetheless, I can see myself rocking all these cute styles.
Are tribal braids a protective style you see yourself wearing often? Also, in your opinion, which of these braids looked the best? I can't wait to know what you think. Share your thoughts plus any questions you have down below.