As braid lovers, versatility is a must when scouting for our next hairstyle, as we seek to ensure that our chosen style will suit our preferences for various occasions. With medium box braids, that's made easy, and we're always guaranteed a neat, trendy look.
Medium box braids fall right between small and jumbo braids, with a general width of 10mm, although they can be thicker. The installation process takes an average of 5 to 7 hours, and they're fairly easy to undo when compared to micro braids. 
Super youthful, and a go-to for women everywhere, these stunning braids have been around for centuries; over 5,000 years ago in 3,500 B.C., African women began wearing this protective style as a way to identify their tribes and enhance their beauty.
So, if you're looking for a style that's enduring and fabulous while shielding your natural tresses from the ever-changing weather conditions and also encouraging hair growth, you're at the right place! Here are medium box braid styles that you need to see.

1. Classic Black Medium Box Braids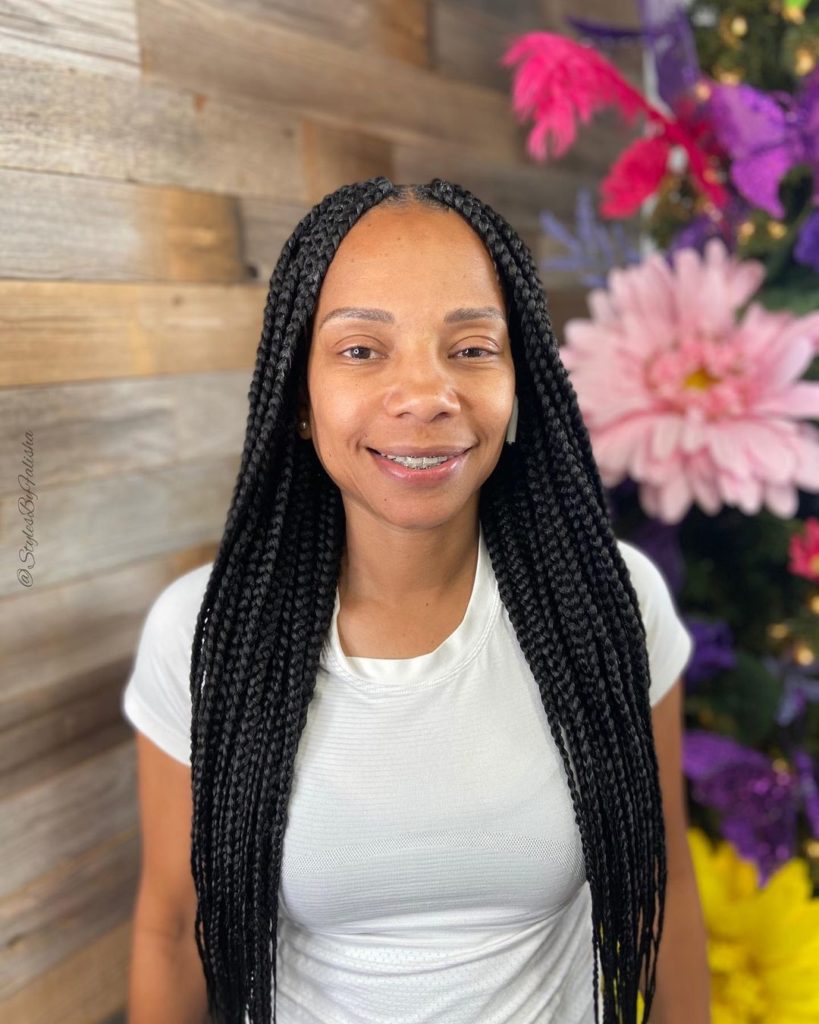 Black box braids are naturally chic and can be worn with absolutely anything, making them an obvious first choice for many women. 
A plus is that you don't have to do the most to look cute in this hairstyle. You can simply secure two sections over your shoulders to spice up your look of the day.
2. Black Pulled-Back Medium Box Braids
A popular way you can add extra style to your box braids look is by pulling a few braids to the back for an elegant semi ponytail. 
This simple look adds additional volume to your hairstyle as your box braids slightly bulge at either side. It also helps to keep your plaits from dangling in your face.
3. Black Medium Knotless Box Braids with Criss-Cross Cornrows
Who said braids can't feature your own special touch? They certainly can just like these knotless criss-cross cornrow box braids. 
It's an intricate and stylish design that you'll want to show off every chance you get, so be sure to keep it as sleek as possible with a silk bonnet while you get your beauty rest.
SEE ALSO: 70 Trending Knotless Box Braid Hairstyles
4. Black Medium Box Braids in a Large High Bun
Buns are simply the best! Whether you just got your braids done or you've been flaunting the look for weeks, a high bun is so neat and classy to wear.
With medium box braids, it won't be too hard to accomplish this style either. Just tie your braids into a high ponytail, then wrap them around until you achieve your desired look. Tuck the ends in or use hair pins to keep them in place.
5. Red Medium Box Braids
The more you get into the habit of wearing braids, trust me, you'll start to become excited about trying new colors. Red is a major color shift that a lot of women have on their list. It's a fierce color that makes you feel empowered.
6. Black and Brown Medium Box Braids with Clear Beads
A blend of two contrasting hair colors can make you feel really pretty and inspire new outfit selections.
Slightly thicker than most medium-sized box braids, this look is a combination of black and brown synthetic hair with clear beads for decoration.
7. Black, Brown, and Blonde Ombre Medium Box Braids
Modern and stylish, that's the vibe these ombre box braids are giving. This look transitions from black to brown then to blonde—a color progression that's so flattering for the eye to follow. You'll always feel brand new, rocking this cute style.
8. Blonde Medium Knotless Box Braids with Criss-Cross Cornrows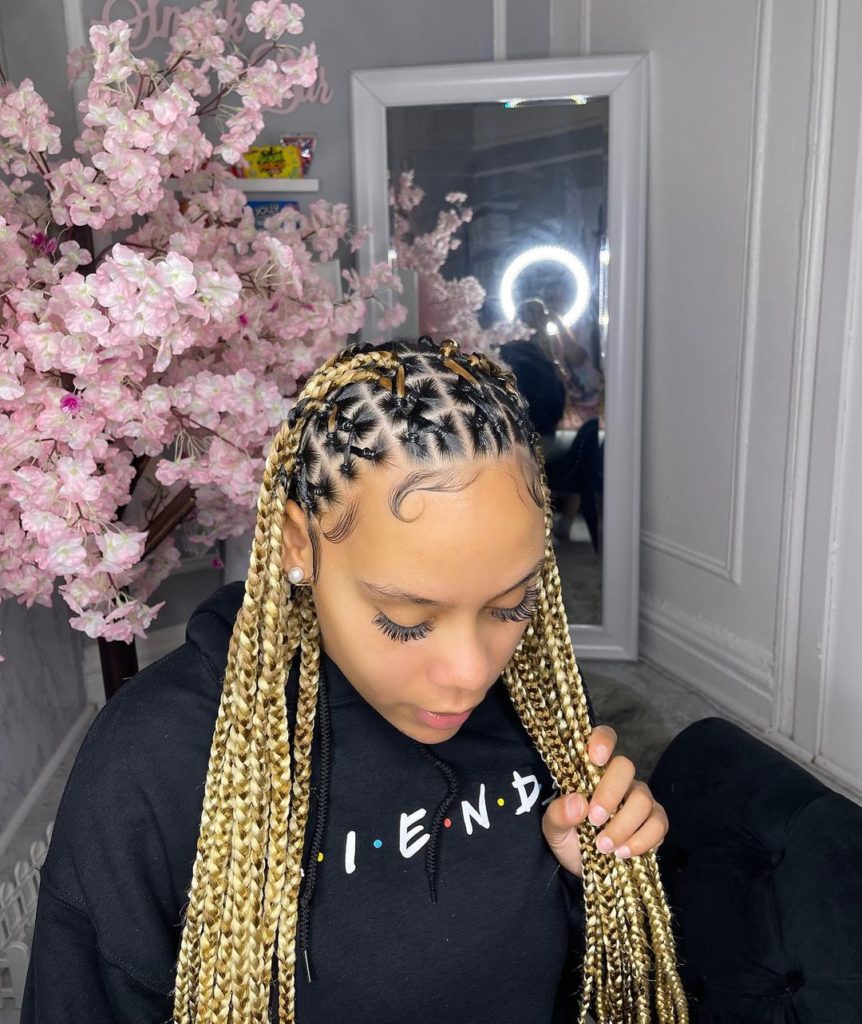 How do you like this version of criss-cross cornrow box braids? They're not too long but long enough for you to have fun with the length and try a variety of styles. Plus, it's an all-blonde, knotless braid look (as contemporary as it gets).
9. Purple Medium Fulani Box Braids with High Side Ponytail
Side ponytails are sassy and fun, and with all this length, you'll have a grand time putting your stunning braids on display. 
That's not the only highlight of this look, however. Check out that mild purple shade, and I know you're just as sold as I am on those nifty Fulani side braids.
10. Long Blonde Medium Box Braids with Clear Beads
Ready to go blonde again? Rock the new hairdo in style with long medium box braids that fall freely at your hips. Greet onlookers with a marvelous array of transparent beads when they've fully navigated the length of this stunning style.
11. Black Medium Angled Bob Box Braids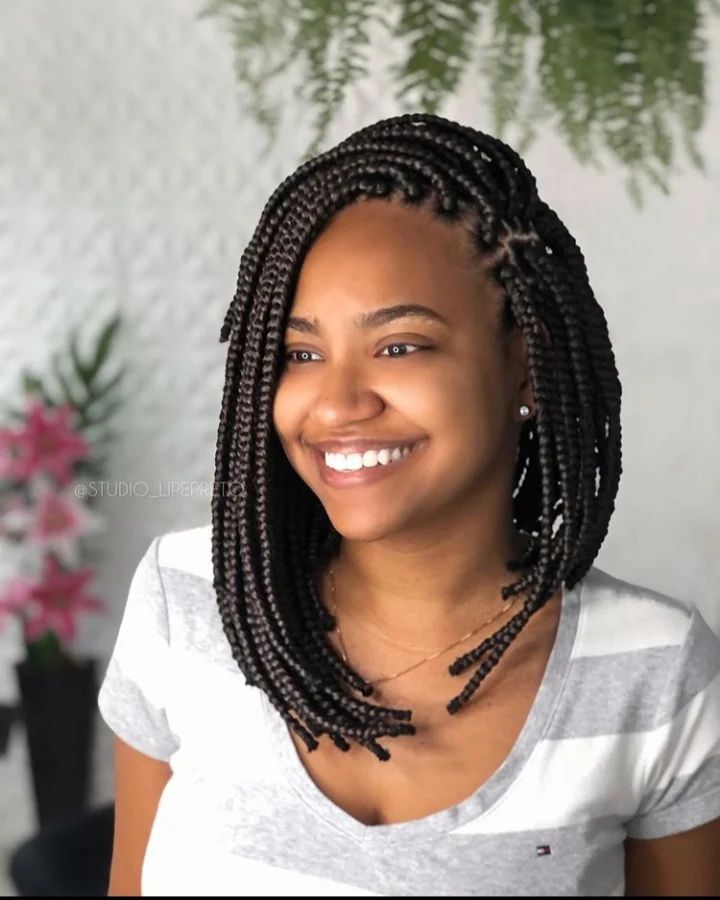 Angled bobs do a fine job at making your face appear more slender than it is, as it increases focus on your features, forming shadows around your jawline that would otherwise be exposed to natural light. 
This look is super easy to bring off and functions as a complementary style for laid-back outfit combos and formal wear too, owing to its clean-cut, feminine finish, and intriguing symmetry.
12. Black and Brown Medium Knotless Goddess Box Braids
If you want an ultra-girly look, your braids aren't complete without loose curls dangling at the end for that goddess braid mix. 
This two-tone style also employed the knotless technique, resulting in a smooth transition from the roots to where the braids begin.
13. Black and Blue Medium Cornrow Box Braids
Wear your favorite shade of blue hair woven into black braids to elevate a cornrow box braid style. Just by incorporating a change of color the entire dynamic of this look is altered beautifully, creating a trendy and vibrant twist.
14. Burgundy Medium Box Braids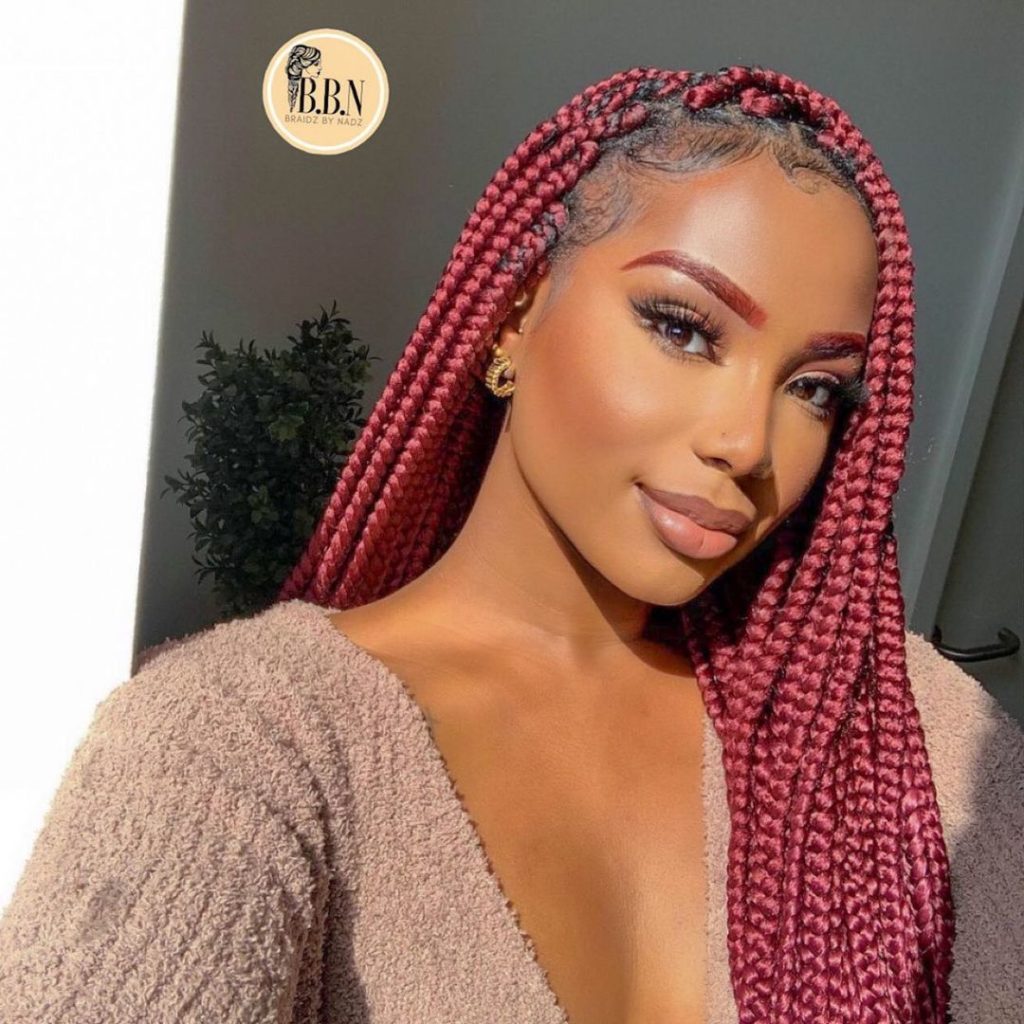 Burgundy is such a chic and alluring shade to wear your box braids in. A worthy alternative to girly pink or fierce red braids, burgundy has a subtle yet refined quality that improves the appearance of anything you style it with.
15. Black Medium Box Braids with Two Space Buns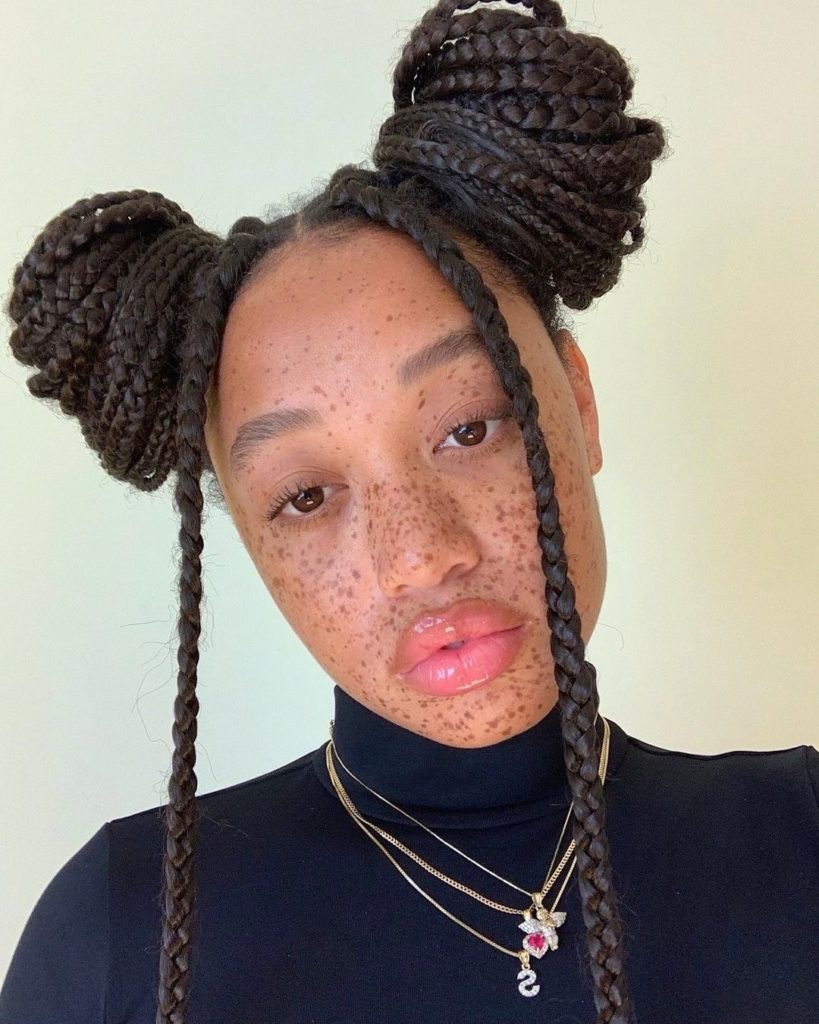 They're called space or top knot buns. Either way, these Minnie Mouse-inspired braids take us way back, and as if this look couldn't get any cuter, two braids are left to sway at either side of the face—a major style enhancer.
16. Long Black and Purple Medium Box Braids
Fun girls love purple! Still, if a full head of purple box braids isn't your vibe, I recommend starting at the root with classic black braids and then transitioning to purple extensions a few inches in.
17. Black Half-Up, Half-Down Medium Box Braids with High Ponytail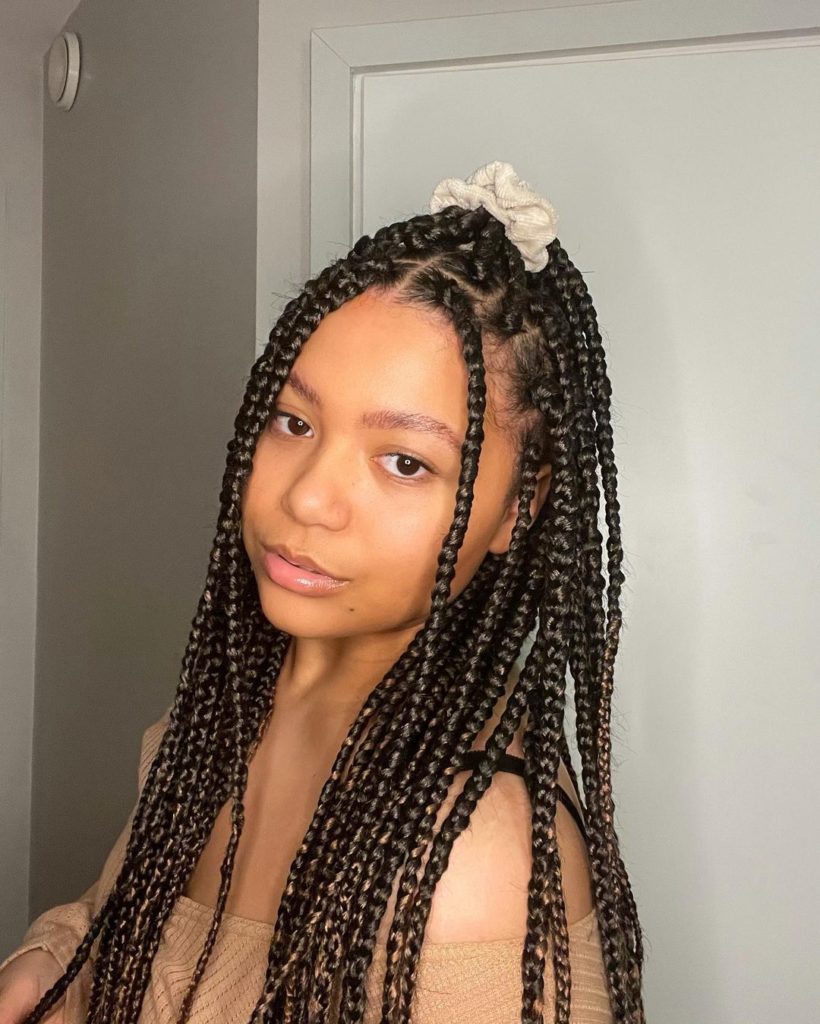 Sometimes all it takes is a half-up, half-down ponytail and your braids falling wherever they may for you to feel and look girly. 
An off-the-shoulder top with blue denim shorts would look so amazing with this braided style, along with cute sandals or sneakers for a sporty twist.
18. Black Medium Knotless Ghana Box Braids with Stitch Cornrows
For a simple, neat, and classy protective style, Ghana box braids are still winning! This look also features knotless stitch cornrows, the technique behind the exceptionally flawless and slick execution.
19. Burgundy Medium Box Braid Bob
So, for your next hair appointment, you'll be getting a short braided hairstyle. A bob to be precise, but you want something with a little kick to make your braids look extra special. 
For that, try a subtle shade of burgundy. The color strikes a lovely balance between modest and trendy with first-rate versatility.
SEE ALSO: 50 Trending Medium Knotless Braid Hairstyles
20. Long Brown Medium Goddess Box Braids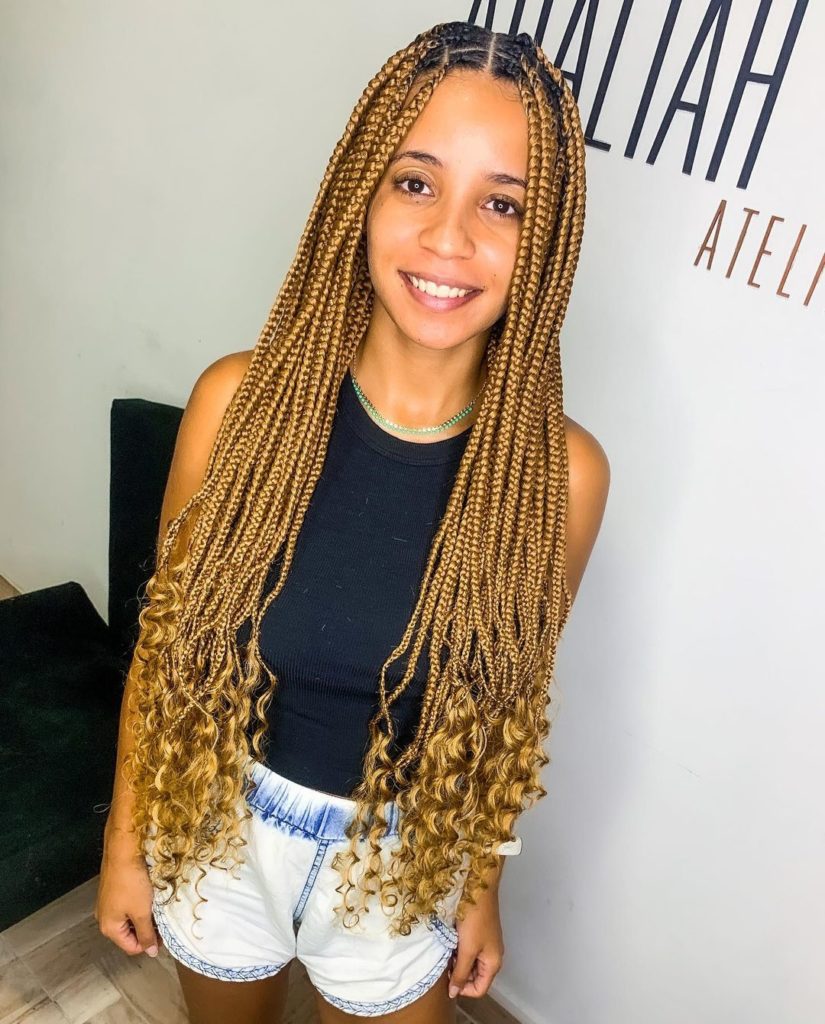 Long medium box braids are all the rave for Summer. To complement the aura of the season, get them done in brown with wavy curls at the end of each braid for a refreshing look. 
They'll stand out, plus, box braids are super stylish and durable, able to last at least a month or more. Sounds like a good deal to me.
21. Brown Half-Up Half-Down Medium Box Braids with High Ponytail
There's at least one thing the color brown has in common with braids. They both contribute to a fresh-faced look, which is enhanced when your braids are done up in a cute ponytail, coddled behind your ears, and over your shoulders.
22. Black Medium Box Braids with Low Ponytail
Looking amazing doesn't have to take all day. This box braid hairstyle is fashionable and simple with a low ponytail and the remaining braids left as is. 
Two plaits were singled out on either side of the face as well, making this look way cuter.
23. Long Brown Medium Knotless Braids
A benefit of medium-sized box braids is they can be manipulated and styled any way you see fit. In this look, a few braids are swooped to the other side of the face, a flattering alternative to the traditional middle part.
24. Black and Pink Medium Cornrow Box Braids with Beads
Cornrows lay close to your scalp for a neat protective style that you can rock for weeks. These simple cornrows branch out into long black and pink box braids, adorned with beads of the same color for a contrasting combo that's irresistible.
25. Black Medium Knotless Lemonade Braids in a High Bun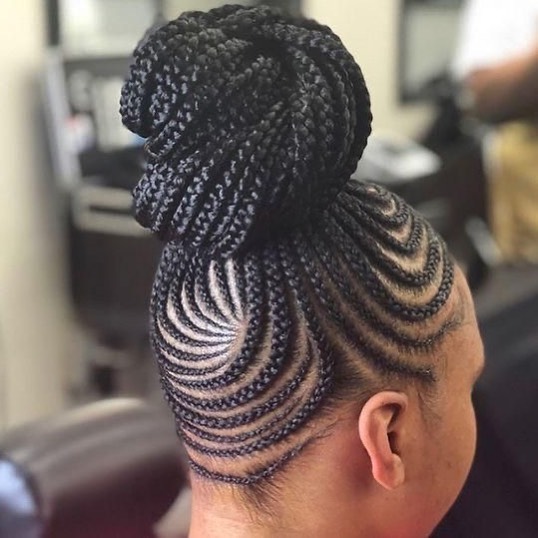 Tying your braids into a neat high bun can feel like a relief at times, knowing you don't have to worry about your hair getting in the way as you go about your day.
That said, buns can be stylish too, right? To help with that, opt for medium-sized lemonade braids. In this look, knotless cornrows were done in a spiral pattern around the shape of the head, giving your braids that extra oomph.
SEE ALSO: 100 Trending Pop Smoke Braid Styles
26. Black Medium Fulani Box Braids with Beads
The variations present in this box braid style may seem slight but they have a huge impact on the overall execution and beauty of this look.
These braids feature Fulani-styled cornrows, primarily those braids that hang on the sides of the head, as well as accessories such as hair cuffs and chunky beads for a whole lot of flair.
27. Black Half-Up, Half-Down Medium Box Braids with Top Knot Bun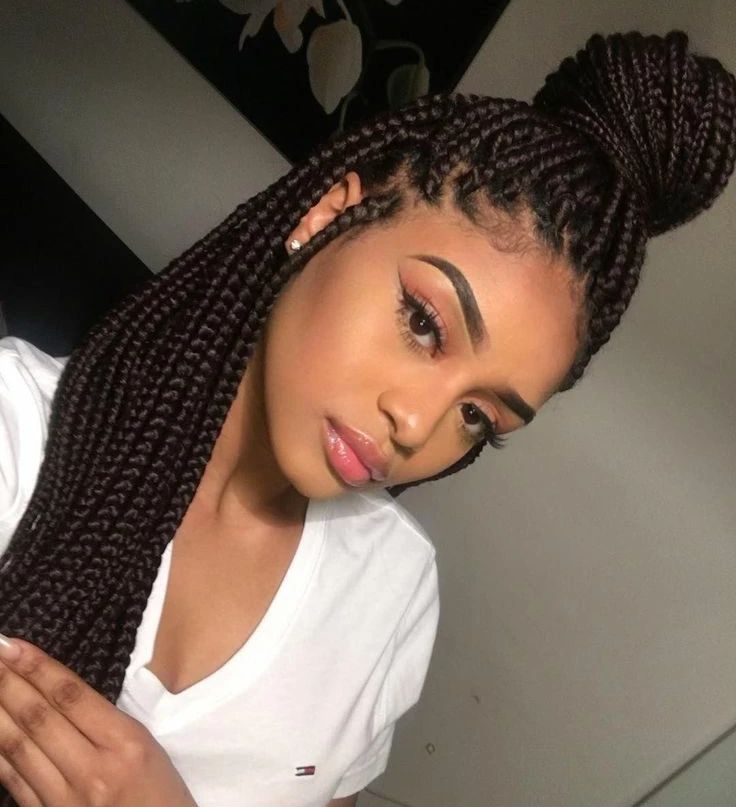 A large top knot bun with a section of braids left to fall behind you can make the most casual of outfits look comfy and stylish. 
Buns have a laid-back vibe as braids are pulled from your face and wrapped around each other but leaving half of your hair down adds so much style.
28. Brown Medium Goddess Box Braids with High Ponytail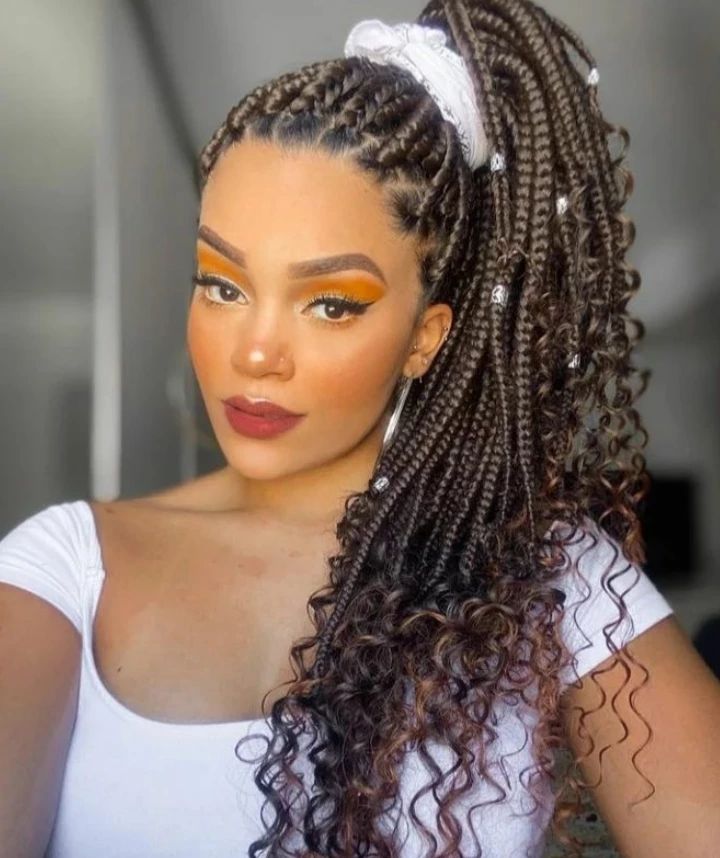 The style that makes you look divine: medium brown box braids with strings of loose curls behind you, or in this case, over your shoulder in a gorgeous high ponytail.
SEE ALSO: 25 Coi Leray Braid Looks (How to & Styles)
29. Long Purple Medium Box Braids
Long hair, don't care! These purple box braids are just the style you need to make a fashionable statement.
30. Brown Half-Up, Half-Down Medium Box Braids with Ponytail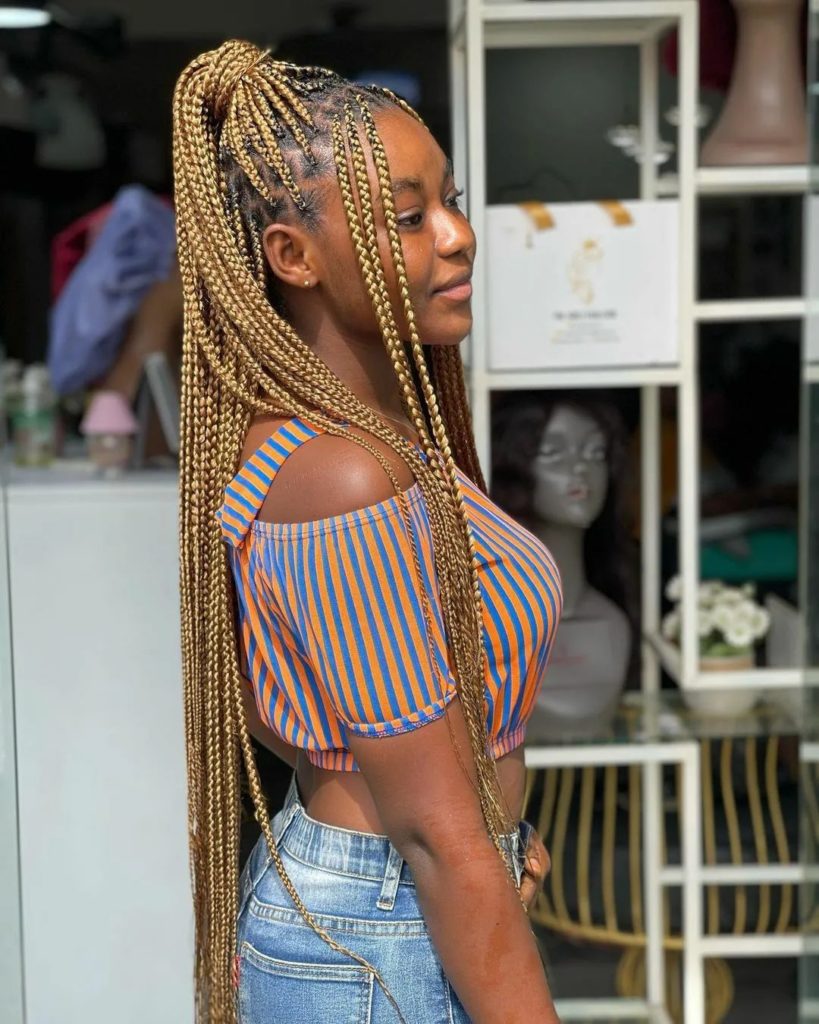 There's no way you can go wrong with a half-up, half-down braided look, and a classic ponytail. Complement this cute style with plaits on either side of your face. Have fun swaying these brown braids as you walk down the street.
31. Black Medium Ghana Box Braids with Stitch Cornrows and Beads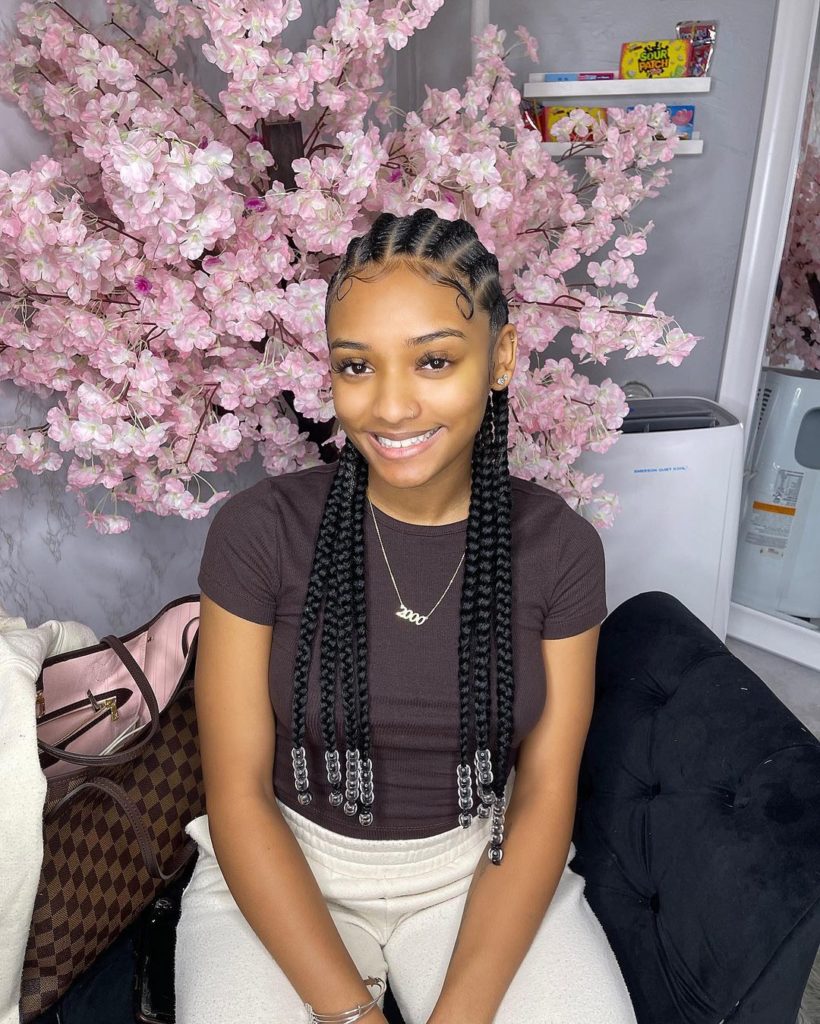 Beads are back and might I add, they're doing a stellar job at amping up these black ghana box braids. Cornrows braided back can be just as chic as any other style.
32. Black Medium Knotless Bohemian Box Braids
Curly hair is so beautiful and so are braids, but you can also have a combination of both. We call this beloved look, bohemian box braids.
In this chic style, loose curls are scattered all over, in the midst of a head of plaits. The knotless braiding technique was applied as well—see how the braids lie flat at the root for a neat finish.
33. Black and Blonde Medium Goddess Box Braids with Butterfly Cornrow
You can literally do any style you want with your braids to set yourself apart. For this look, cornrows are braided back with a large and beautiful butterfly cornrow design at the side.
Yet, that's not all this trendy look has to offer as the color combo of black and blonde is so fabulous.
34. Multi-Colored Ombre Medium Fulani Box Braids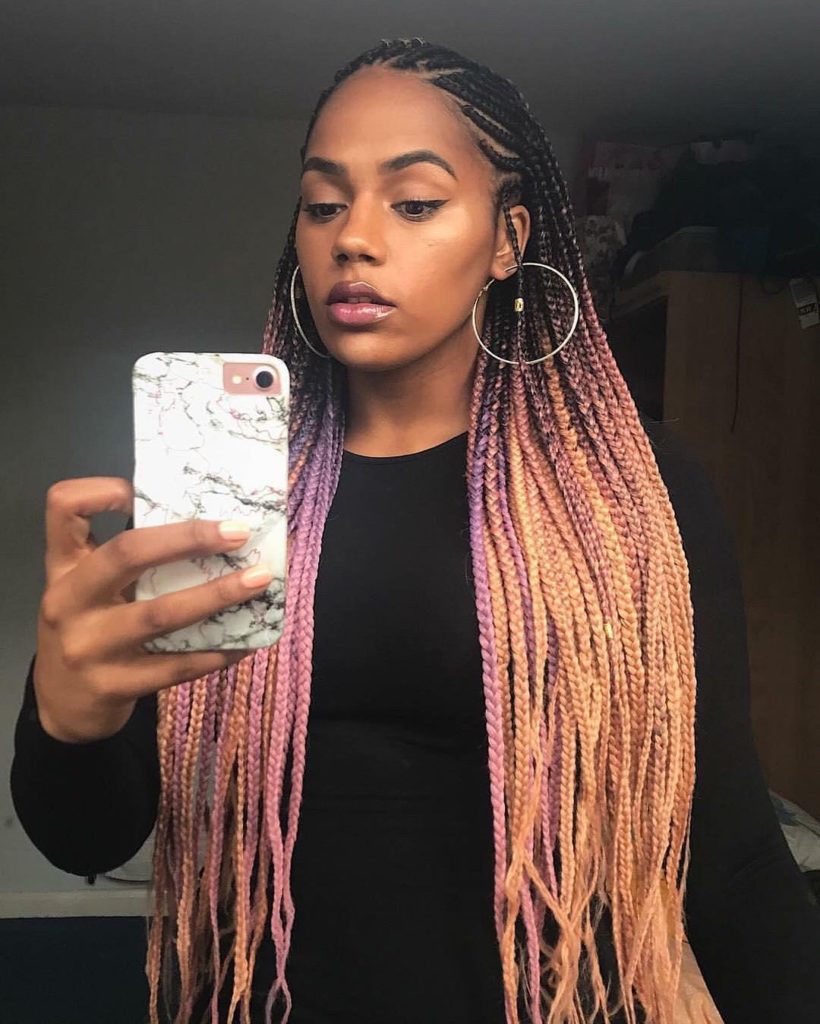 Ombre braids are lit, and I just know they'll be taking over for Summer. Fading from black to pink, purple, and yellow, these Fulani-inspired braids will have you hooked.
35. Black and Pink Medium Box Braids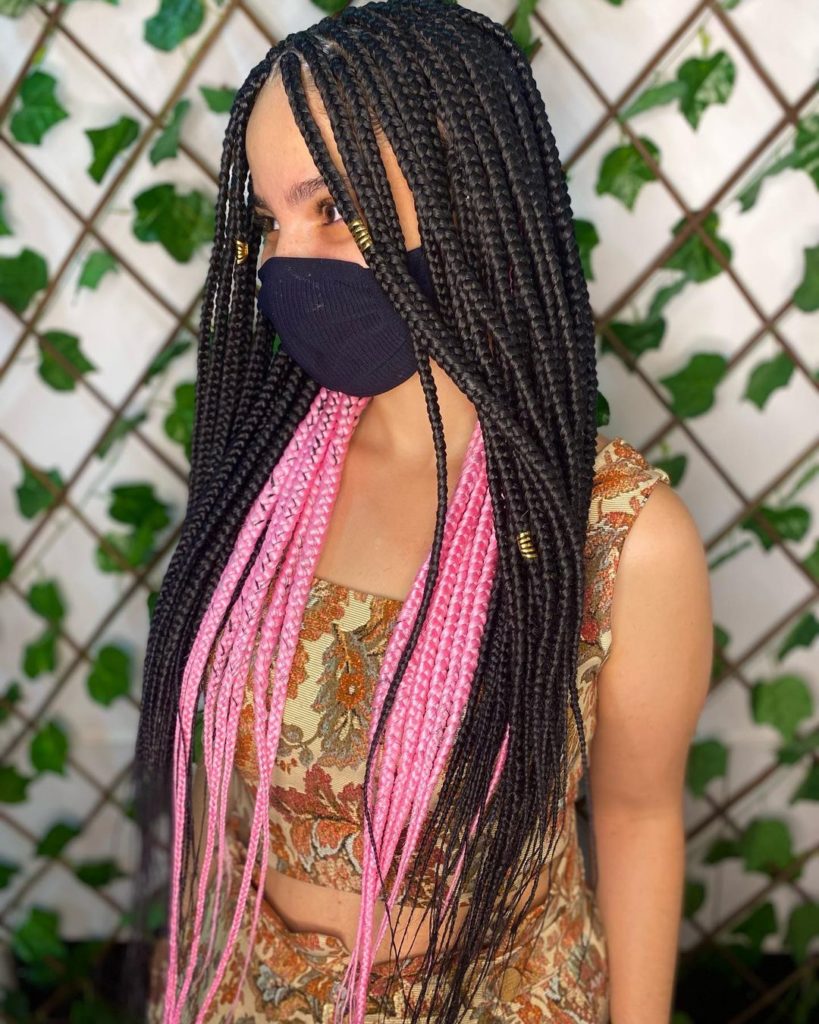 Add a little pink to your black box braids, and you're good to go. Cute wouldn't even be enough to describe this color combo. Just know you've got yourself a stunner for Summer.
36. Black and Brown Medium Lemonade Box Braids
This compilation wouldn't be complete without lemonade braids in the mix. These medium-sized cornrows swerve all the way to the side and over the shoulder, completed by black and brown ombre box braids.
37. Bright Purple Medium Box Braids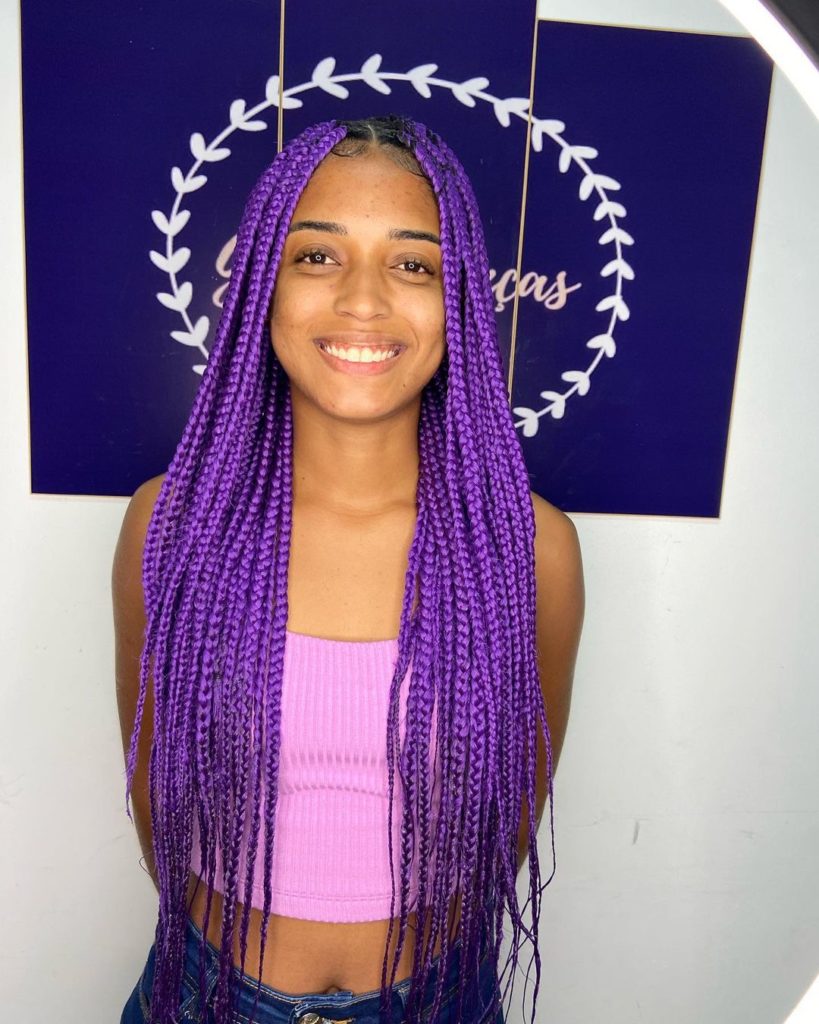 Have a blast wearing box braids in a spunky color that you love like this striking purple shade. This look is so naturally beautiful that you can rock it in the simplest way, over your shoulders.
38. Bold Black and Red Medium Box Braids with High Ponytail
The attitude is all in the braids as curved cornrow box braids are tied into a stylish high ponytail, and of course, we can't overlook that marvelous transition from black to red. I'd be flaunting this look too if I were you.
39. Black Medium Box Braids with Criss-Cross Cornrows and Two Space Buns
Talk about a braided style worth remembering! You won't have to worry about leaving a lasting impression with these stylish criss-cross cornrows, but that's not all this creative style has to offer.
In this look, knotless braids are sectioned into three parts, with two space buns secured on top and the remaining braids worn over the shoulders.
40. Brown and Blonde Medium Knotless Box Braids in a High Bun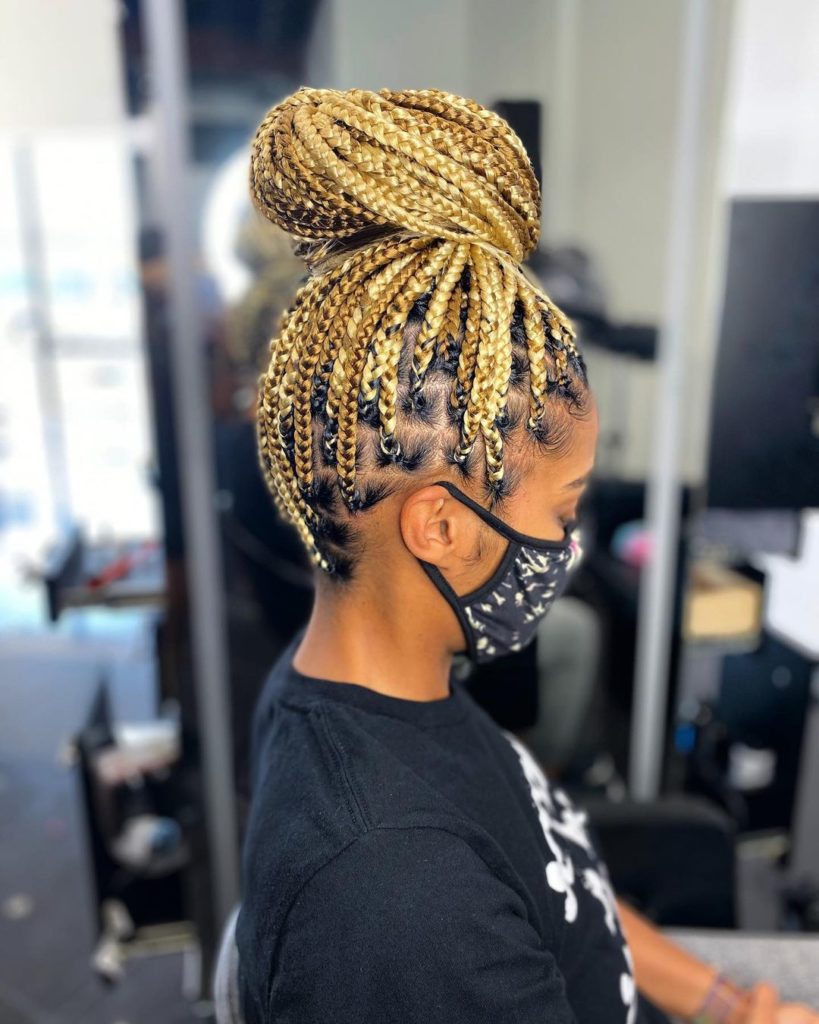 I'm in love with these brown and blonde knotless braids pulled into a large high bun. This look is ripe for Summer. Keeping you in style, and with your hair out of the way, you'll be prepared for that warm sun.
41. Black Medium Box Braids with Two Jumbo Ponytails
Now, we know ponytails are super cute, but we also have to admit they are quite common, so you may be desiring a cute look that's a bit more unique. Look no further because these box braids are killing it! 
Hair is sectioned into two on either side and plaits are braided to form thicker ones. The remaining braids are left as is and worn over the shoulders with two singled out on both sides of the face.
42. Half-Up, Half-Down Burgundy Medium Box Braids with High Ponytail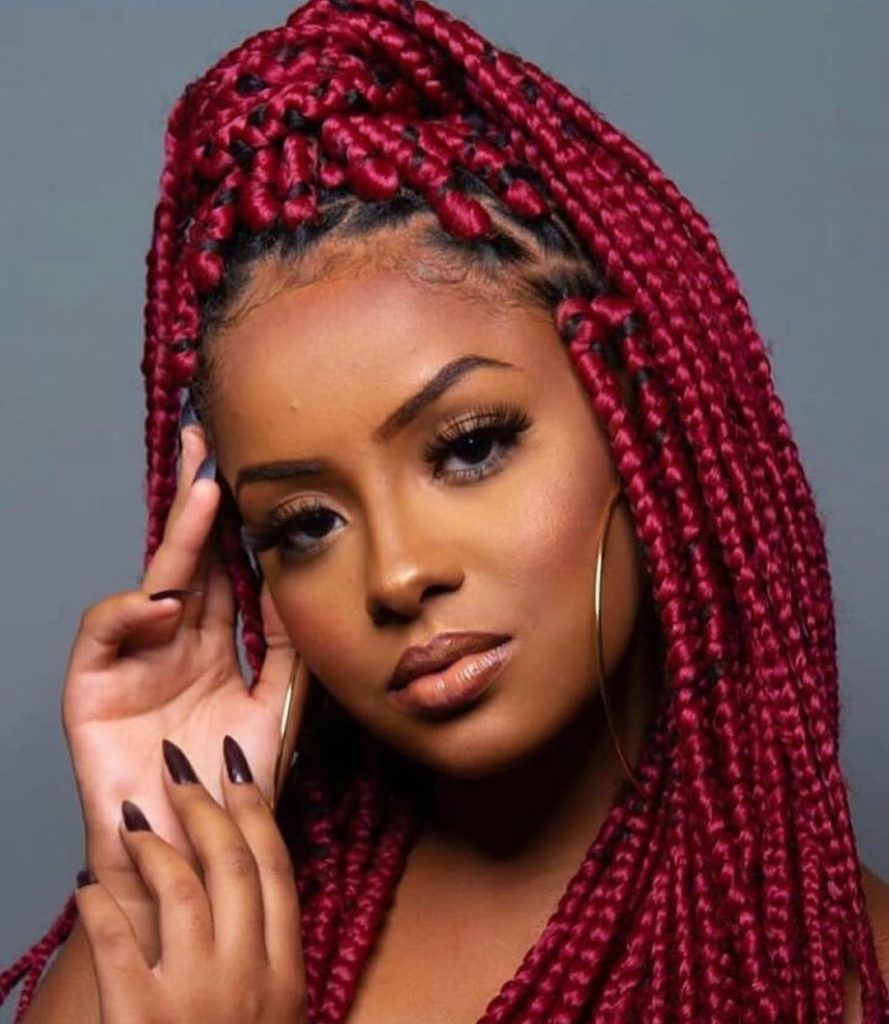 A half-up, half-down ponytail look is one thing but in a luscious burgundy shade, your braids will be in a higher league. 
So, if you want your braids to have a glamorous look, a simple way is to use colored synthetic hair. That way, you can pull out those snazzier jewelry pieces and accessories.
43. Brown Medium Bohemian Box Braid Bob
This is more than your average braided angled bob. It's an elevated version as brown braids and loose curls meet for a breathtaking boho-chic appeal. 
It's so incredibly stylish that you can easily rock this look with dressy outfits like a slim-fit dress and strappy heels. You'd blow the entire room away.
44. Black Medium Lemonade Box Braids with Side Part
It's not set in stone that lemonade braids have to lead to one side of the head, but they do generally feature intricate curved cornrow patterns. 
This style is the perfect example as curved cornrows are braided back and down on one side, all from a side part for a more versatile finish.
45. Black Medium Bow Tie Box Braids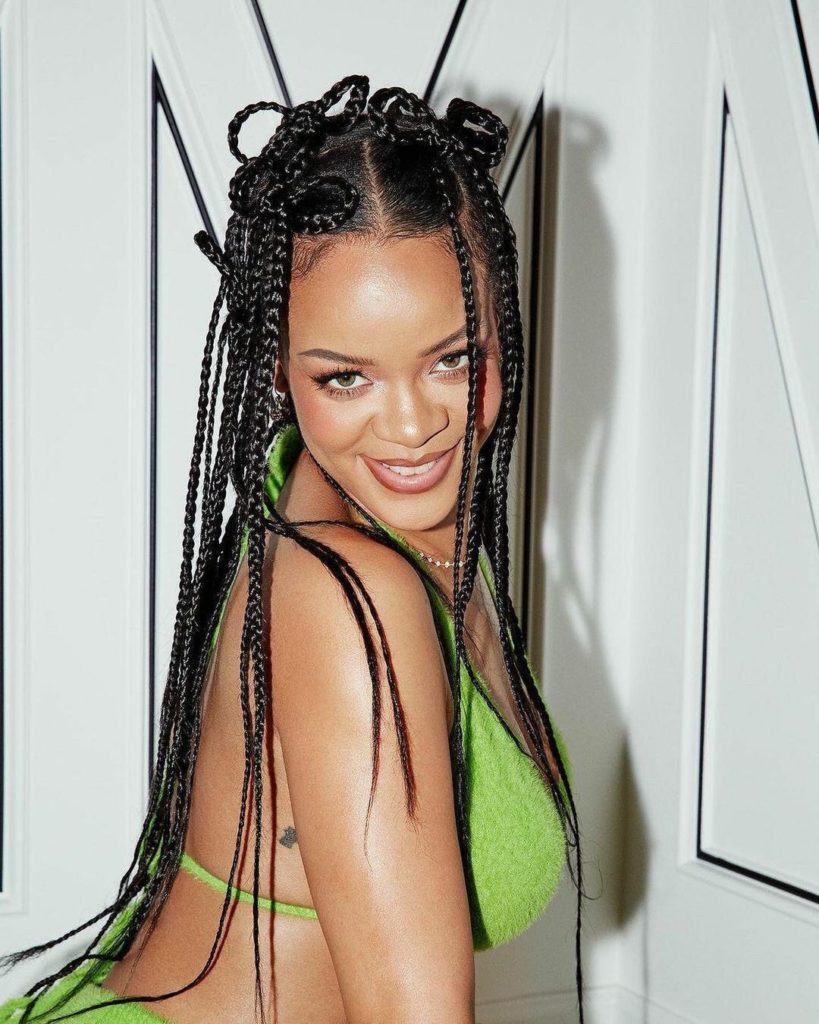 Rihanna has become an inspiration for so many women, not only where her music and entrepreneurship is concerned but also for her impeccable fashion sense.
Here she is blowing us away with a unique braided style, featuring large parts and medium-sized plaits tied into cute bows on the top of her head. It's girly, it's fresh, and it's worth talking about.
46. Black Medium Spiral Lemonade Box Braids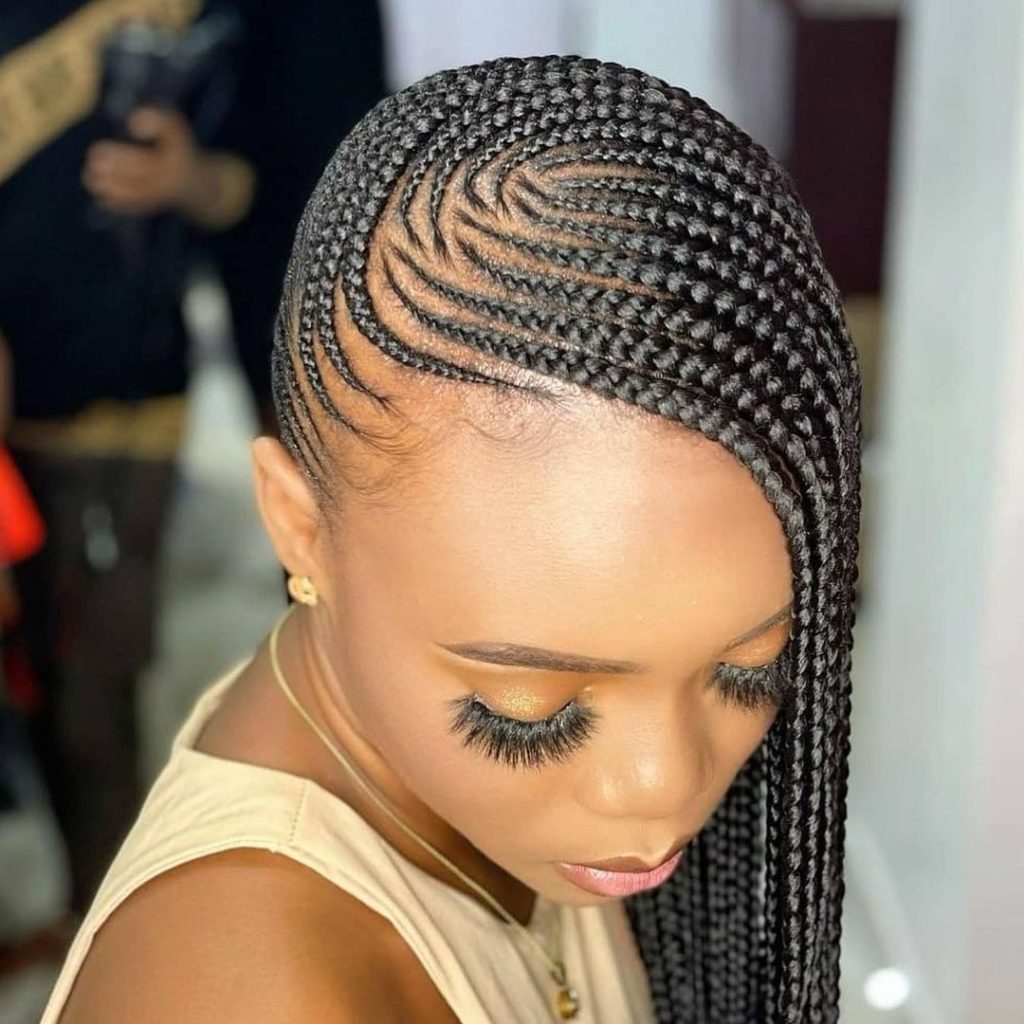 In this look, knotless cornrows are braided closely together, in a spiral pattern for a sleek and stylish lemonade box braid style. 
These braids will naturally slenderize your face, casting a shadow on one side, and they'll look amazing with both soft and full glam makeup.
47. Long Black Medium Box Braids with Top Knot Buns and Brown Beads
There are no limitations when it comes to braids. Play around with all the styles you want to, simply because you can. This look should serve as tons of motivation.
Five sections of cornrows are tied into medium-sized top knot buns with the other half tossed over both shoulders. Plus, chic brown beads were added to this already trendy look. Need I say more?
48. Black Medium Goddess Braids with Knotless Cornrows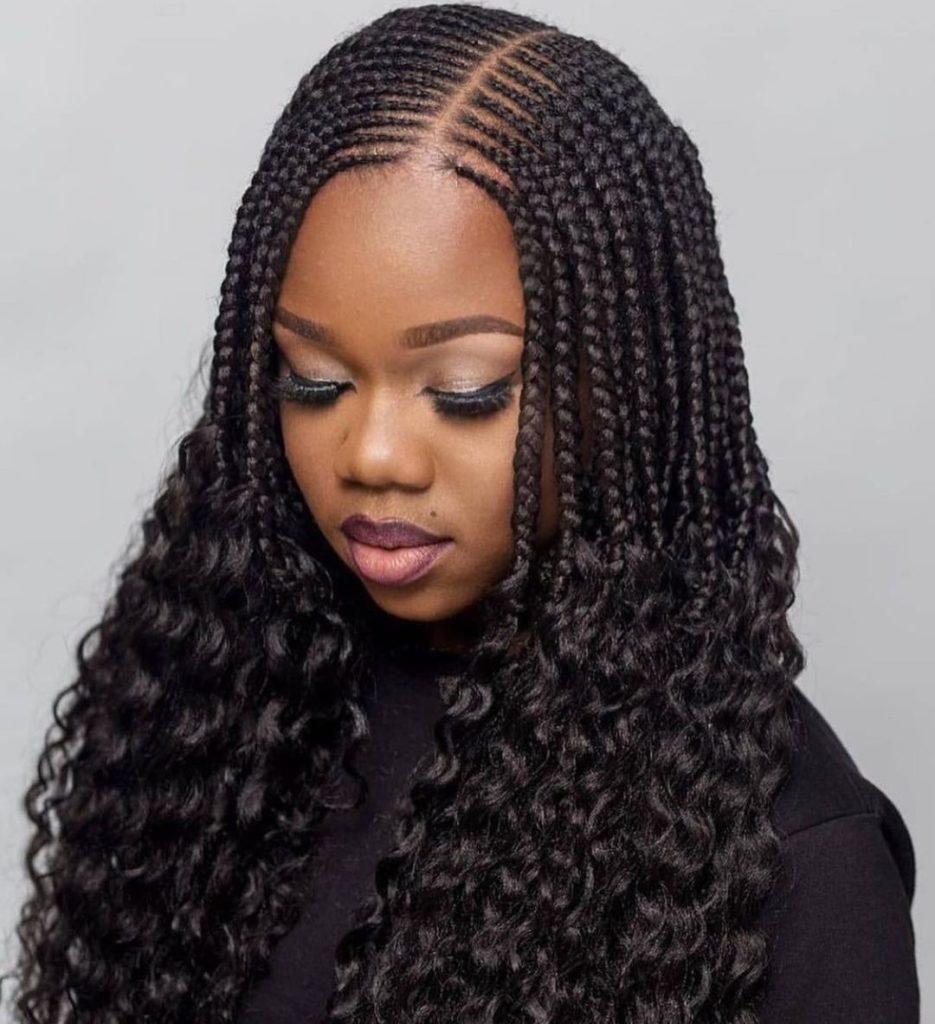 It's goddess braids 2.0! With this style, we often see the curls making an introduction later on towards the end of each braid but here, both the plaits and curls are given equal time to shine, and I absolutely love it!
49. Black Medium Box Braids with Jumbo Fishtail Plait
Another cute style you can do with medium box braids is a large fishtail plait. 
With your hair separated into two top and bottom sections, use the braids in the top section to cross over each other until the plait is complete. Most times, a rubber band is used to secure the ends. 
You can then allow the bottom half of your braids to remain as is for a versatile look.
50. Black Medium Goddess Braids with Swoop Bang and High Ponytail
This look has definitely earned the right to be called goddess braids. Not simply because of the loose curls cascading from each braid but for the exceptional beauty that it exudes from start to finish.
To achieve this style, the hair is tied into a high ponytail with braids at the front used to create a stunning swoop bang. A section was tossed over the shoulder for a superb amount of flair with a plait singled out at the side for a cute touch.
Summary and Top Picks
It's time for you to declare to the world that when it comes to braided hairstyles, no trend is out of your reach, and mastering medium box braids is a great way to diversify your protective style portfolio. 
Despite all these styles being medium-sized, their versatility was in no way hindered. Take my fave looks 1, 31, and 50, for example; three very different styles, ranging from classic to ultra-chic but all classified as medium box braids.
Which of these medium box braid styles are your top picks? Which outfits do you see yourself styling them with and why? I'd love to know what you think. Share your thoughts and questions down below.