If you've been browsing social media as much as I have lately then you've definitely come across one of the hottest beauty trends making waves right now, particularly within the hair braiding community. I'm talking about Coi Leray braids. 
Coi Leray is an American rapper who just so happens to call herself "Big Trendsetter". Coincidence? I think not. She's a Billboard Hot 100 charting artiste who collaborated with the likes of Nicki Minaj and H.E.R. for her debut album "Trendsetter".
As the name of her studio album implies, Coi knows how to keep all eyes on her. She's been doing just that with her popular jumbo knotless goddess braids. The style that has everyone in a frenzy features largely sectioned feed-in box braids with curls at the ends.
These braids are feminine and easy to achieve. Seriously, even if you're not a pro, you can master this cute style at home, and I'm about to show you how to do that, step by step, along with Coi Leray braid styles to inspire your next look. Let's get started!
How to do Coi Leray braids
First, let's identify all the essential items required to achieve this look. You'll need:
Kanekelon braiding hair
A rat tail comb
Shine 'n Jam
Rubber bands
Perm rods
Mousse
A braiding rack
Begin by prepping your synthetic hair and separating it into sections on a braiding rack. This will make the installation process so much easier for you when you begin your knotless braids.
Considering that your hair has been washed, blowdried, and moisturized, use a rat tail comb to part your hair into large sections. The amount will be determined by how thick you want your braids to be.
Next, apply Shine 'n Jam styling gel to all sections to keep your parts looking sleek and neat. Once you're through, it's time to start braiding. 
Apply the feed-in technique by starting the braid with your natural hair, gradually adding synthetic hair, and braiding all the way down to your desired length. 
Wherever you want your curls to begin, use a rubber band to secure that area with braiding hair left loose at the ends. When all sections have been braided, apply mousse all over for added definition, to limit frizz and keep your curls looking silky smooth.
Once you're done, wrap your loose ends around the perm rods and carefully dip them in hot water, using a towel to dry. 
Remove the rods to reveal beautiful bouncy curls then lay your edges with edge control or Shine 'n Jam to complete the look. Add hair accessories if you're feeling the vibe.
There you have it! Coi Leray braids in literally two hours or less, and here's an in-depth visual tutorial that you can also follow for guidance.
Coi Leray braid styles you need to see
1. Black Shoulder-Length Coi Leray Braids
Let's start with the muse herself. Here, Coi Leray is rocking her signature box braids with curly ends that end right above her shoulders. This easy-to-wear style is also popularly called goddess box braids.
2. Brown Coi Leray Braids
Some of the best styles combine inspiration with personal flair. Flaunt your Coi Leray braids in a deep brown color for a cute, sophisticated look that's teeming with versatility.
3. Black and Blonde Ombre Coi Leray Braids
It's the ombre curls for me! What a special twist to an already trendy style. The same technique is applied as with traditional Coi Leray braids, except at the end, where black hair transitions into a gorgeous gradient blend of blonde shades.
4. Black Bohemian Coi Leray Braids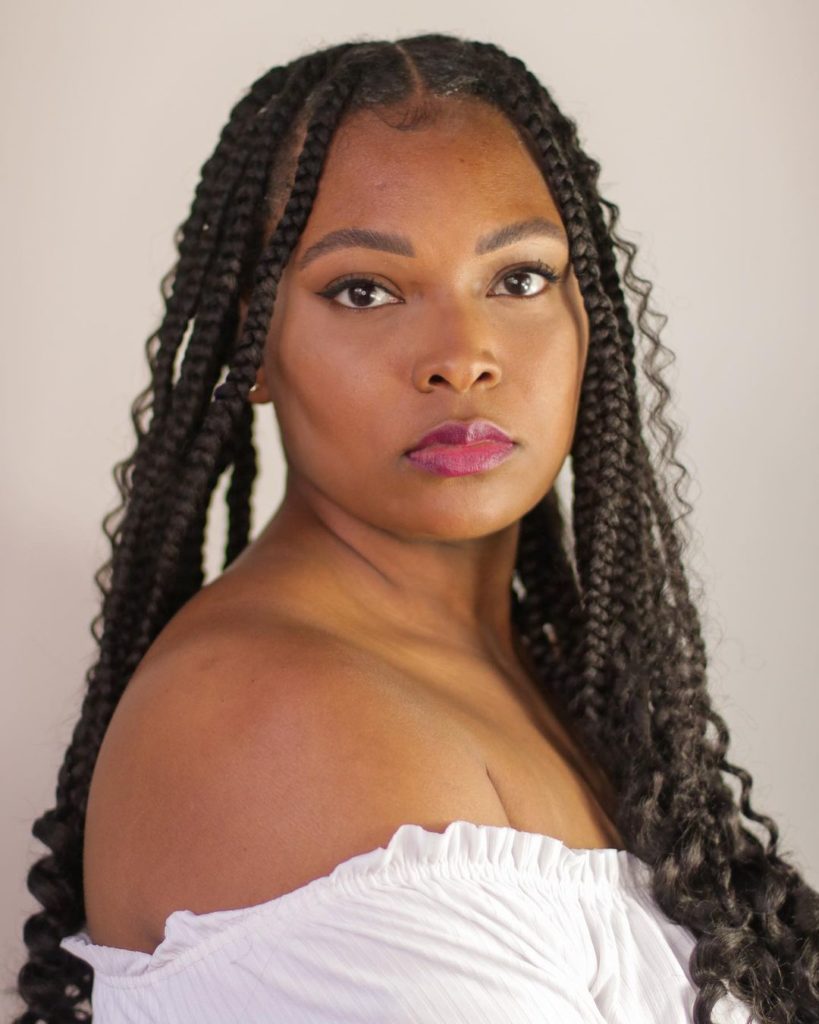 This look features just a few curly strands of hair that alter the entire appearance of these braids. It's a bohemian style combo where curls are worn along with box braids, resulting in a flirty and chic hairstyle.
5. Brown and Blonde Coi Leray Braids
This Coi Leray look did not come to play and is a stylish pairing of brown and blonde braiding hair for a fashion-forward style. Have fun rocking this look with some of your edgy and neutral closet faves. The color contrast will look amazing.
6. Burgundy Coi Leray Braids
You all know how I feel about burgundy braids, right? This color is the perfect balance between a striking and warm-toned look. Its versatility is also worth mentioning and it's great for braid accessories.
7. Blonde Coi Leray Braids
If you're aiming for an ultra-chic and vivid Coi Leray braid style, blonde is just the shade you need. 
Every detail of these curly box braids is highlighted thanks to this color choice, and the glow that's sitting on these full-bodied curls is just remarkable.
8. Fluffy Black Coi Leray Braids
This style is not as tightly braided as the original, resulting in a silkier texture with fluffier curls, and I've got to say, I'm in love with this version. It goes to show that you can add your personal preference without totally diverting from the style.
9. Black Coi Leray Braids with Gold Hair Cuffs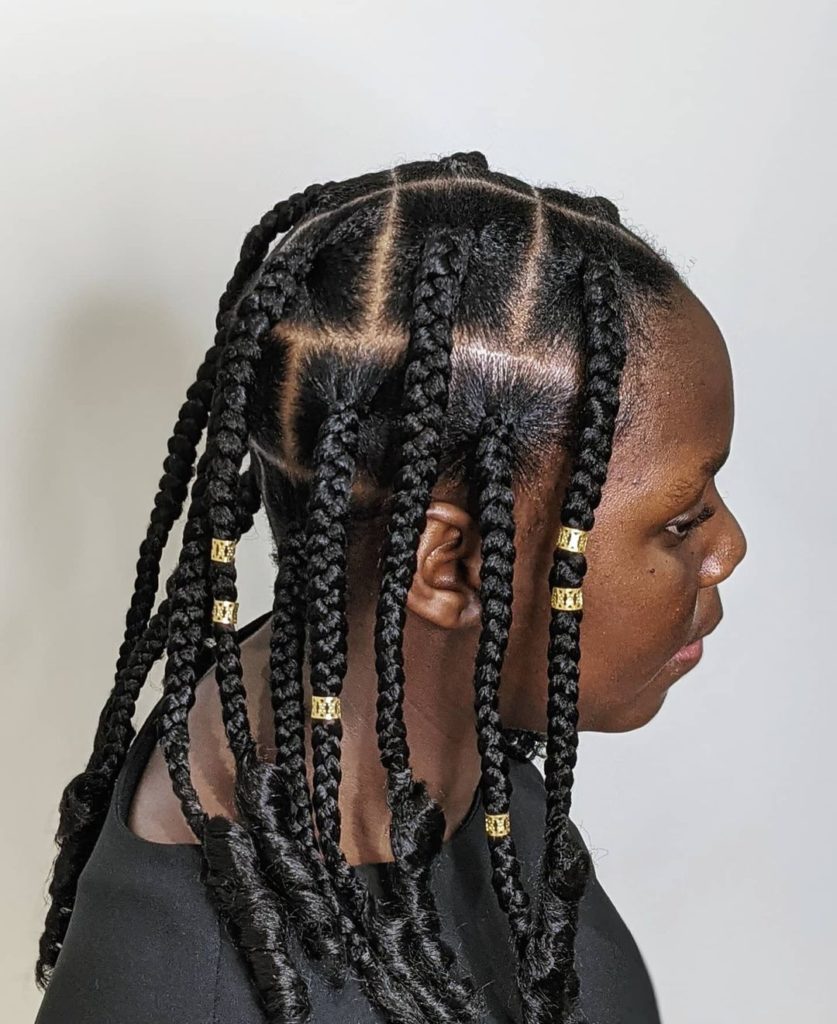 Your braids will also look super cute with gold hair cuffs while the feed-in technique and edge control work together to give your hairline a sleek finish. Wear the curly ends over your shoulder for a flirty touch.
10. Thick Brown Coi Leray Braids
For fuller braids, divide your hair into larger sections or add thicker portions of braiding hair as you go along. Opt for a brown color to give your braids a natural glow.
11. Short Brown Coi Leray Braids
These braids are the definition of pretty, and the length has a lot to do with it. Resting right above the shoulders, these stunning high-colored brown braids quickly twist and twirl their way into well-defined curls.
12. Black and Red Coi Leray Braids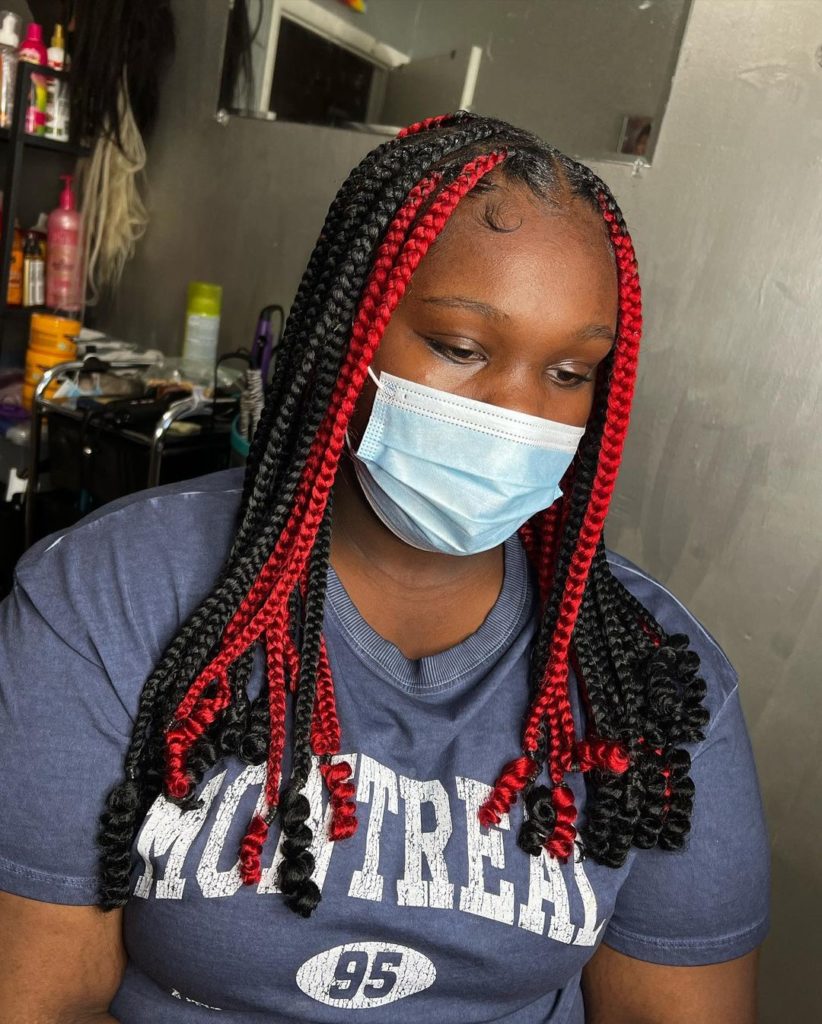 Black and red make a classic combo, portraying an edgy vibe that can also be seen as daring since it's like a magnet for attention. Alternate between these strong shades to achieve your own memorable Coi Leray braid style.
13. Long Black Coi Leray Braids
Coi Leray placed her short goddess braids on pause to make way for this longer style and it's two times as sleek as before. 
Longer braids are best suited for bringing attention to your OOTD or for achieving a wider range of hairstyle options.
14. Black Coi Leray Braids with Pink Streaks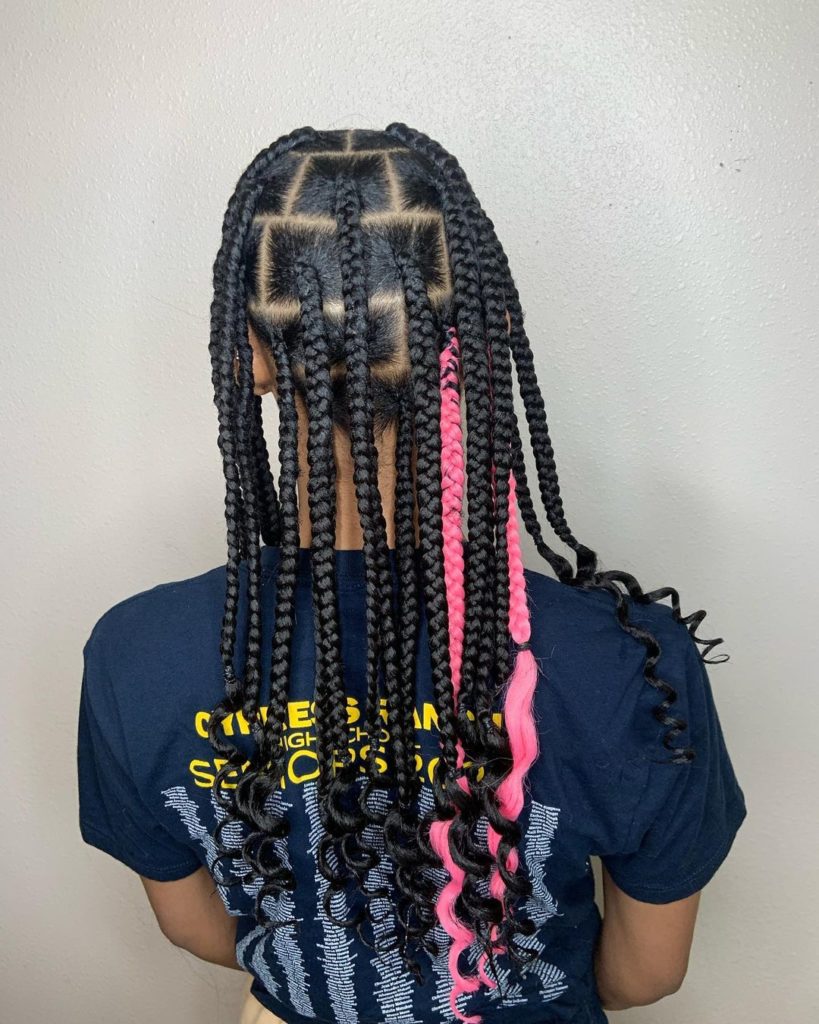 Easily enhance your black braids with streaks of colored synthetic hair. Opt for a bright shade that's not only complementary but one that stands out when paired with black. If you're going for a cool and edgy style then pink is the color for you.
15. Black Coi Leray Braids with Neon Blue Streaks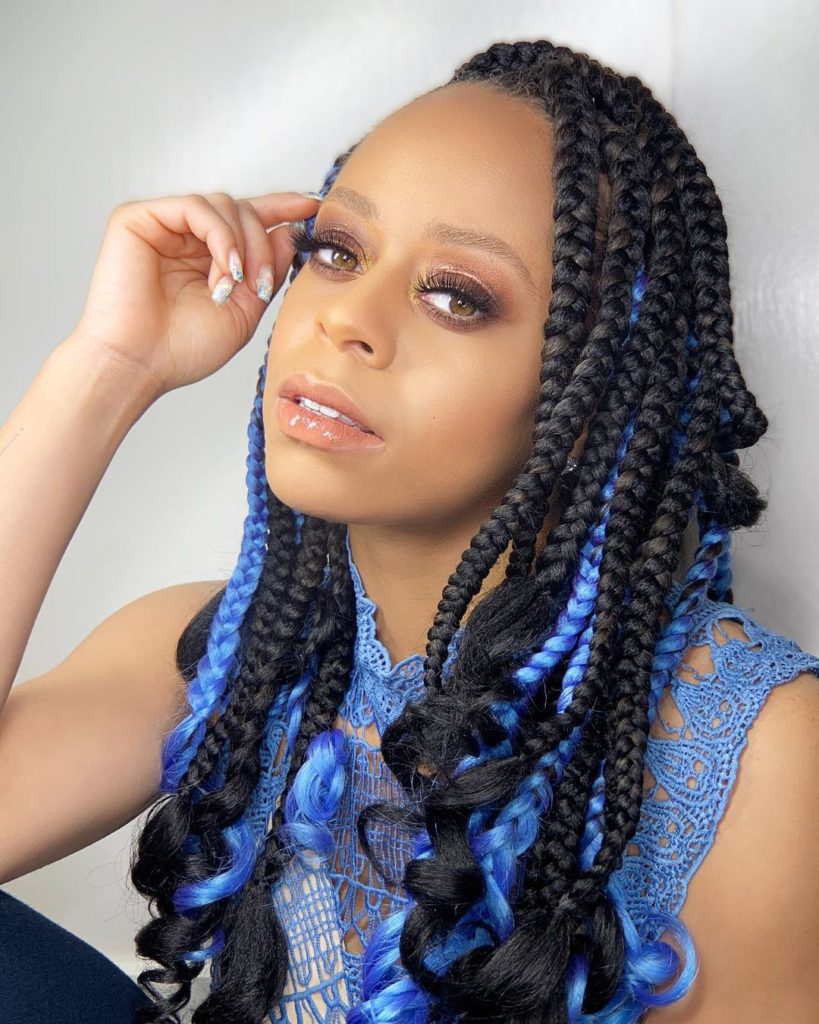 Broadening your options? Wind down with a cool-toned combo of black braids with neon blue streaks. Complement this electric look with soft glam makeup for a balance.
16. Long Brown Coi Leray Braids
Achieve an extra stylish look with long brown Coi Leray braids. There's lots of room to play around with both the length and color. Dress these braids up or down to maximize their potential.
17. Half-Up, Half-Down Black Coi Leray Braids with High Ponytail
There are tons of styles you can enjoy with these braids, and one of the simplest is a half-up, half-down look with a high ponytail. 
This look will take you under a minute to accomplish. Just leave two braids to hang on either side of your face with the addition of cute hair accessories to enhance the style.
18. Red Coi Leray Braids
For a look that's bursting with confidence, go for a full head of red braids. In the meantime, you can count on the curls at the end to add a more relaxed and feminine touch.
19. Black Coi Leray Braids with White Streaks
White and black are in stark contrast to each other yet they make such an impressive combination. With a few of your box braids done in white and the remainder in black, you'll be rocking some head-turning Coi Leray braids.
20. Brown Coi Leray Braids with Triangular Parts
Coi Leray braids are generally divided into large square parts as is customary for jumbo box braids. So, give your style a distinctive look by having your hair parted into neat triangular sections.
21. Black Coi Leray Braids Pulled Back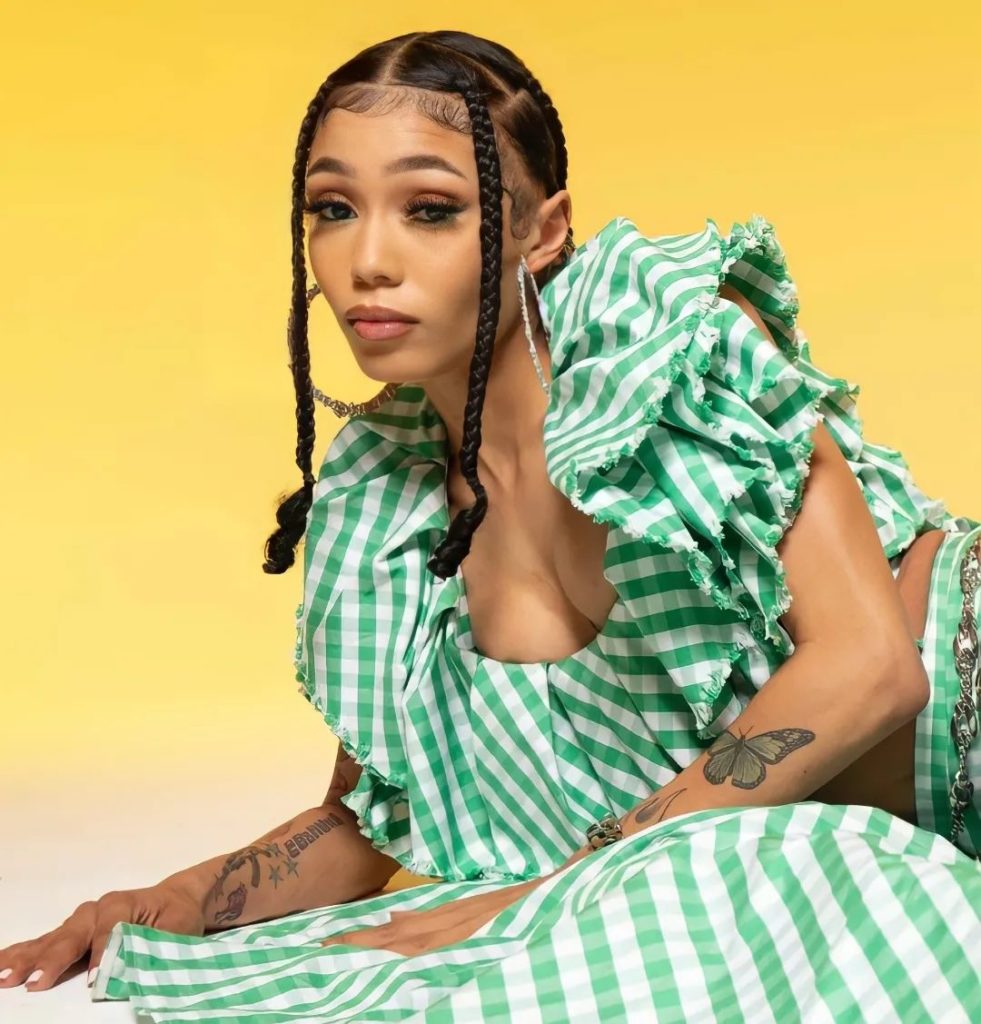 These braids look amazing pulled back, really placing emphasis on how sleek the hairline is. Rock yours in a low ponytail or bun, whichever you prefer, with two braids on either side of your face for a cute flair.
22. Black Detached Coi Leray Braids with Golden Rings
You're looking at a whole new version of Coi Leray braids as golden rings separate the top section from the latter end of the braids where the curls are. Uncommon styles like this are hard to find but easy to fall in love with.
23. White Coi Leray Braids
Many women see wearing white braids as stepping too far outside their comfort zone as the shade is often viewed as classy but too shocking for a protective style. However, these braids are saying otherwise.
Rather than being overbearing, white braids can lift the tone of your OOTD, providing a beautiful high contrast and a fashion-forward look, as well as, enhancing achromatic ensembles.
24. Brick Red Coi Leray Braids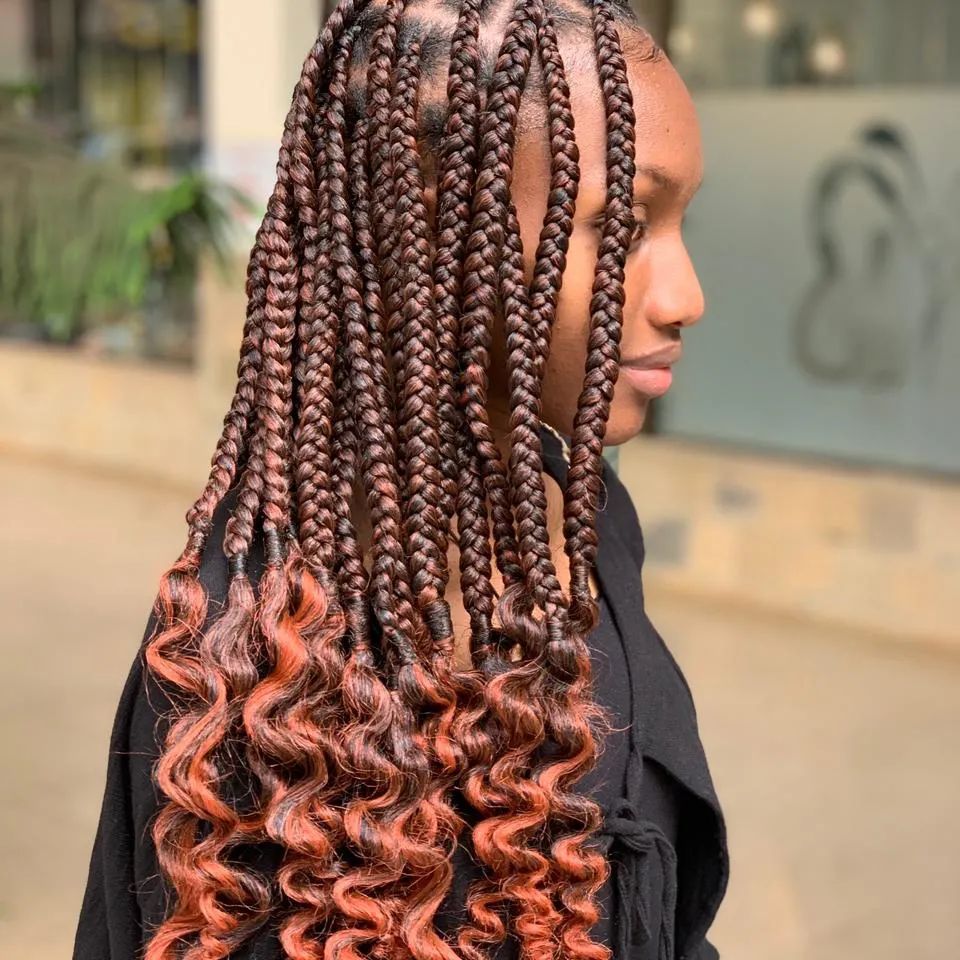 These brown braids have a subtle red undertone that brings an inherent glow to the overall look. It's a versatile option that will keep you looking stylish, even at the office.
25. Shoulder-Length Black and Blue Coi Leray Braids
Try your Coi Leray-inspired look with a combination of black and blue braiding hair for a chic style that's not too serious despite the fusion of two dark shades. Rock these knotless braids at shoulder-length for a cute everyday look.
Summary and Top Picks
Coi Leray braids are so easy to achieve and incredibly stylish – it's no wonder they're a hot topic and on everyone's to-do list. Now that you've got all the steps down pat and the inspiration, you're well on your way to achieving this coveted style.
As for me, I'm still fangirling over styles 5, 8, and 13. The fluffy curls, golden brown combo, and long sleek finish, all in that order, are a definite yes for me!
What about you? Are you ready to try out Coi Leray braids? Which one of these trending styles do you plan on wearing first? I can't wait to know what you think. Share your thoughts and questions down below.