A protective style that saves time and stays neat, knotless braids are literally changing lives. As women, our natural hair is our pride and joy, and we'd do anything to protect it. Thankfully, knotless braids have made that task so much easier for us.
Knotless braids relieve our scalp of the tension we so often face, caused by the traditional knot used to attach synthetic hair to our own during the braiding process, and I think I speak for all of us when I say, the relief is really appreciated.
Whilst being a comfortable protective style, knotless braids, often referred to as feed-in braids, are also incredibly chic, whether you're going for twists, box braids, cornrows, or any other braided style. 
On that note, a reality I can also relate to is being super busy—sometimes even our perfectly organized schedule proves hard to keep up with, and it's times like these that getting a feed-in style with medium-sized braids, in particular, becomes so convenient.
Medium knotless braids are neither excessively time-consuming nor are they difficult to groom. The size keeps them tidy and long-lasting, just how we like them. In light of this, I've compiled a mind-blowing list of medium knotless braids to inspire your next look.

1. Classic Black Medium Knotless Box Braids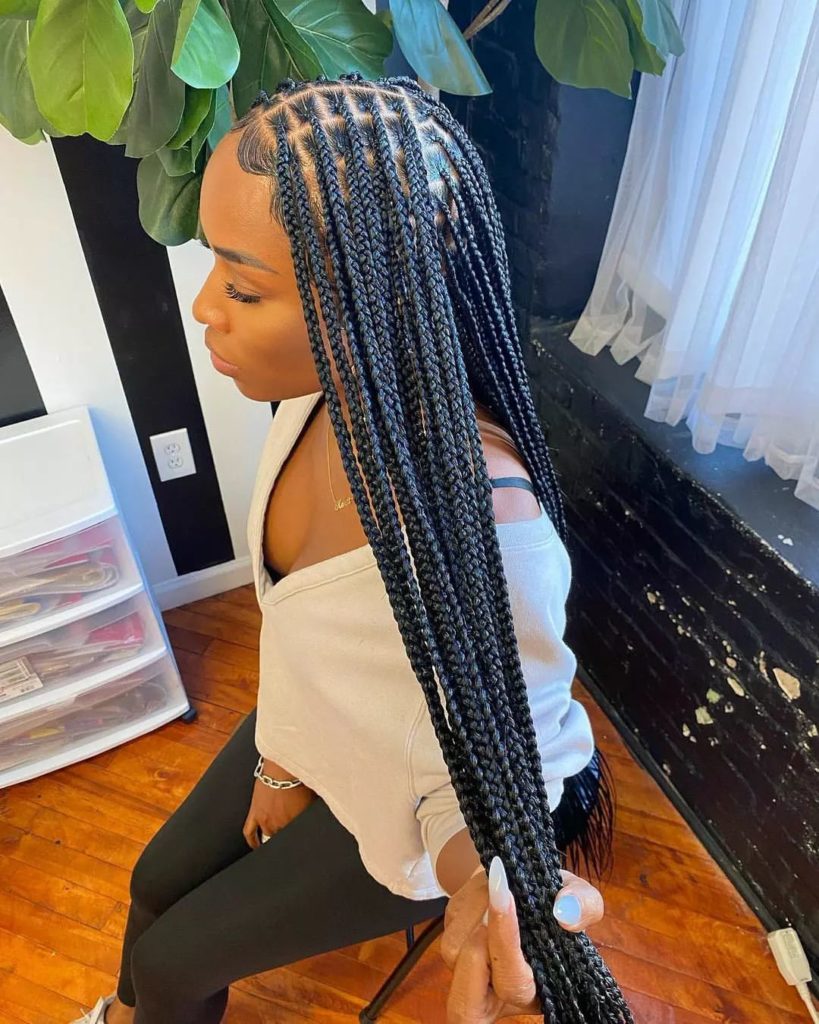 A traditional style that absolutely eludes time, box braids are simply the best. Get them done long and knotless—it makes wearing your hair down something to look forward to.
2. Brown Medium Knotless Goddess Box Braids
Brown extensions can be a refreshing alternative to classic black box braids. Owing to their light brown shade, these braids have a cool undertone, offering a fresh-faced quality. Add a few curls at the end to up the femininity.
3. Black Medium Knotless Ghana Braids
Sleek medium-sized cornrows braided back are such a vibe. These knotless cornrows make the cut for the office just as much as they do for a fun night out. Rock them over the shoulder, and sometimes back, for a little variation.
4. Black Medium Knotless Box Braids with Brown and White Streaks
Heard all about knotless box braids and are eager to try them? Give your braids a unique twist by complementing them with streaks of brown and white for a fabulous high contrast finish.
5. Half-Up, Half-Down Brown Medium Knotless Braids with High Bun
Flaunt a half-up, half-down style with the top section of your braids tied into a neat large bun. 
A high bun is easy to achieve, versatile and chic. Albeit often worn in professional settings, with some braids left to fall freely down your back, you'll be able to boast a more relaxed style.
6. Black Medium Knotless Box Braids with Two Top Knot Buns
Not satisfied with just one high bun? Bump it up to two for a look that is stylish to the utmost degree. Allow a braid on either side to fall at your temple—a simple gesture that adds such a cute touch.
7. Medium Knotless Fulani Braids with Heart Cornrow
When the topic is about cute knotless styles, there's no way you can overlook the compelling heart cornrow trend. This style is everywhere! 
For this look, heart patterns complement dark brown stitch cornrows braided back with a criss-cross cornrow braided down the middle. To complete this style, I'd add a few gold hair cuffs and metallic cords to solidify the Fulani braid effect.
8. Shoulder-Length Medium Knotless Box Braids with Beads
Hair accessories and a hint of colored synthetic hair are a great way to amp up shorter braids. So, make your protective style fun with streaks of brown and neutral-toned beads adorning medium box braids at shoulder length.
9. Long Black and Blonde Medium Knotless Box Braids
You'll definitely be the topic of discussion when you rock this fabulous style. Medium black braids are paired with blonde for a chic box braid combo, and at hip-length, this look is even more captivating.
10. Cinnamon Brown Medium Knotless Bohemian Box Braids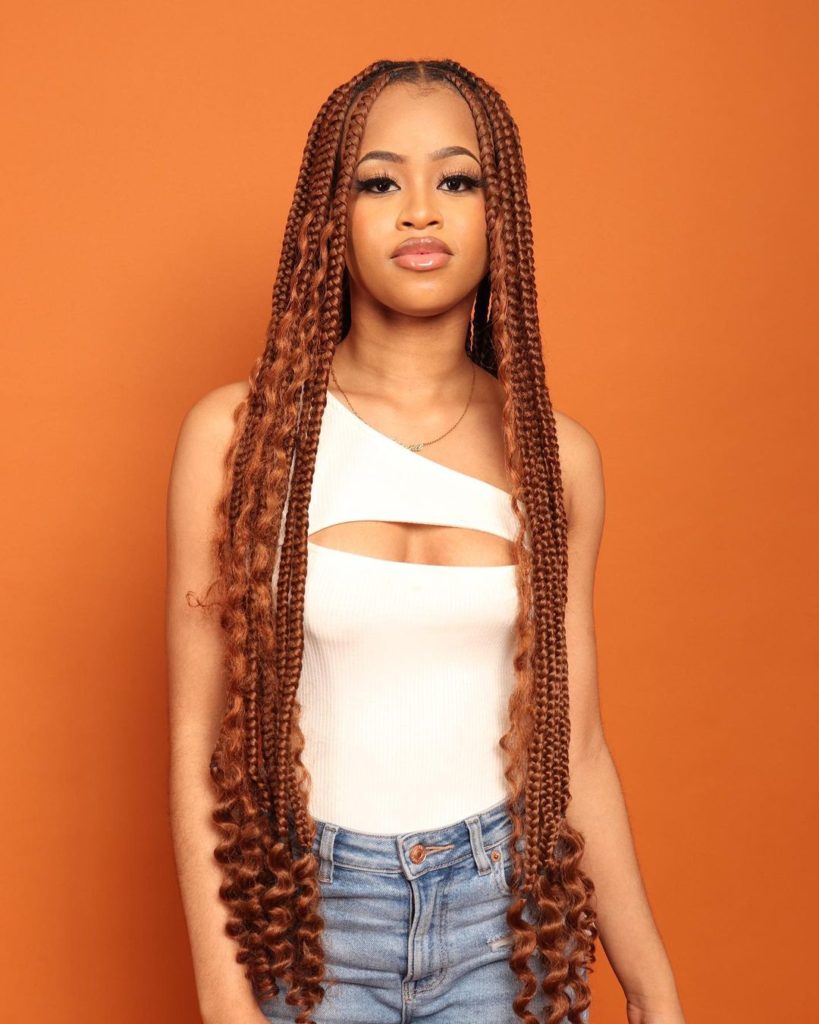 Enhance your beauty with gorgeous long cinnamon-brown knotless braids. This attractive box braid style features slightly unraveled curls, both at the ends and along the length of the braids, resulting in a flirty bohemian goddess blend.
11. Black Medium Knotless Box Braids with White Beads
Complement sleek box braids with decorative beads at the end of each plait. If you'll be flaunting black extensions, opt for white and clear beads to make your braids stand out all the more.
12. Medium Knotless Soft Locs
It's the natural look of this knotless style that makes it so appealing, as synthetic extensions are wrapped around braided hair until the desired length is achieved, resulting in a dreadlock-inspired protective style.
13. Black and Red Medium Knotless Box Braids
Bring the heat this Summer with black and red medium box braids. This stylish look is easy to wear while being edgy and attention-grabbing. That's the effect of incorporating colored hair—it's like your confidence level goes through the roof.
14. Brown Medium Knotless Lemonade Braids
The knotless technique makes lemonade braids look ten times sleeker. In this look, cornrows are braided around the shape of the head on either side, pausing at the crown of the head where regular box braids take over.
SEE ALSO: 30 Stunning Viking Braids to Rock
15. Medium Knotless Criss-Cross Stitch Cornrow Braids
Classic cornrows can't be replaced, but they can surely be enhanced, and they most definitely were with these freestyle Ghana braids. On display are stylish criss-cross and stitch cornrows; two of the trendiest variations out right now.
SEE ALSO: 65 Trending Stitch Braid Hairstyles
16. Black and Burgundy Medium Knotless Goddess Box Braids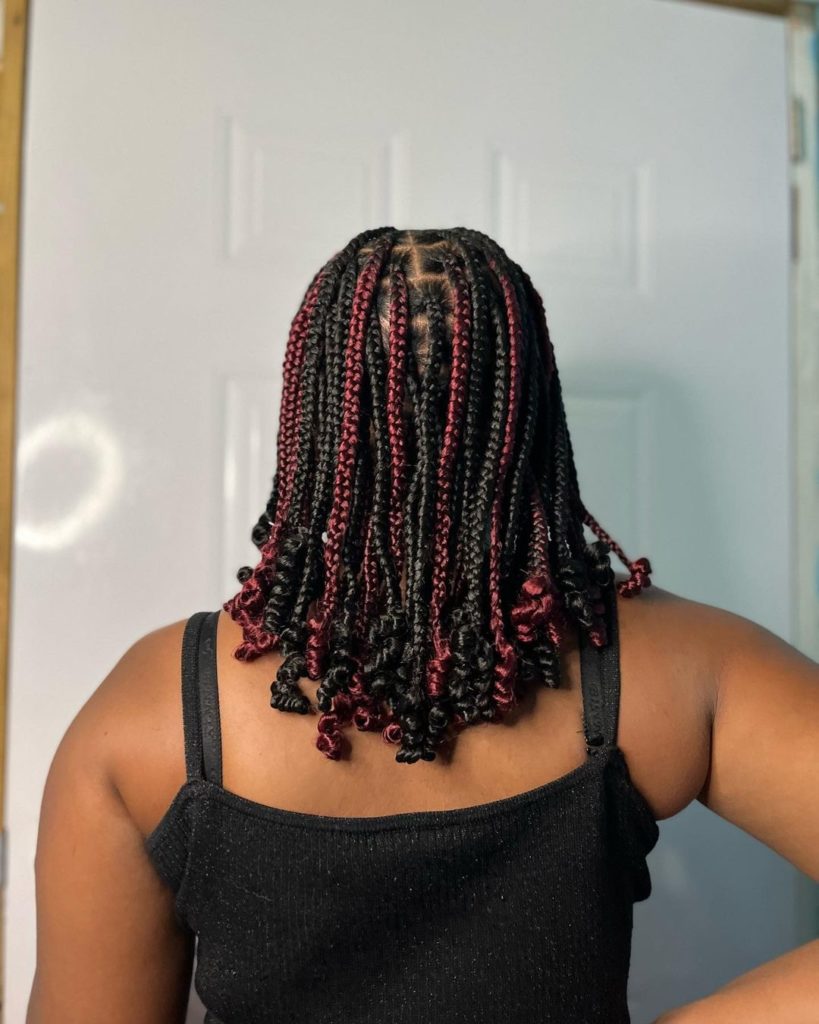 Shoulder-length braids provide the perfect opportunity for the ultimate girly hairstyle; box braids featuring goddess curls. 
Achieve the look by wrapping your braid ends around flexible rods, and dipping them in hot water to achieve bouncy, tight curls. Alternate between colored braiding hair for added flair.
17. Medium Knotless Ombre Ghana Braids
Ombre braids are the type to give you the swag you never knew you wanted. Braided back in cornrows before transitioning to brown and white extensions, this look is incredibly fresh and will have you beaming with charisma.
18. Pink, Blonde, and Brown Medium Knotless Box Braids
Keep the Summer vibes coming by fusing shades of your favorite colors for a vibrant braided style. Hues like pink, blonde, and brown match the fun tone of the season so well. It doesn't hurt that the combination is super cute either.
19. Half-Up, Half-Down Medium Knotless Box Braids with Criss-Cross Cornrows
I love a good half-up, half-down style. It's such a classic look that'll highlight your beauty and keep all the attention on your face. Make it your own with criss-cross cornrows braided at the front for a trendy touch.
20. Black Medium Knotless Passion Twists with Brown Streaks
Passion braids hold a special place in my heart—known for some of the most beautiful twists that protective styles have ever seen. 
If you're yearning for something new, the silky texture of these fluffy twists will never disappoint. You'll also quickly fall in love with the soft and wavy curl pattern.
21. Golden Blonde Medium Knotless Box Braids
The color of these medium-sized box braids is dazzling and has Summer style written all over it.  That golden blonde is heavenly and will act as an accessory for your daily ensembles.
22. Fall-Inspired Medium Knotless Box Braids with High Bun
Mix black with shades of brown and burgundy for chic neutral-toned braids that make a stylish statement. This combination is great for fall fashion. Tie these braids into a high bun to make this look even more gripping.
23. Black Medium Knotless Bohemian Box Braids
In comes bohemian braids—the girlier, more relaxed version of traditional box braids. This look is characterized by tendrils that fall along the length of the style, creating a wavy box braid combo.
24. Black Medium Knotless Stitch Cornrow Lemonade Braids
I'm loving the diversity of these lemonade braids as neat stitch cornrows are braided in different directions, and sizes too. 
Your baby hairs will be on full display with this style, so take advantage, and make them sleek with everyone's fave styling gel, Shine 'n Jam.
25. Black and Pink Medium Knotless Box Braids
I'm always up for a black and pink braided style because I love an edgy look that serves as feminine too. 
Pink is a vivid shade, however, so its impact on the style will depend on where the extensions are braided in. To keep black as the dominant shade, add pink hair on the inside of your hairstyle.
26. Black Medium Knotless Cornrows Braids with High Ponytail
Another trending style is a high ponytail worn to the side. All around the head, cornrows are braided, meeting in the center. 
Use a durable and stretchy scrunchy to tie your hair into an updo, then wrap a few braids around to hoist your ponytail even higher.
27. Burgundy and Blonde Medium Knotless Ombre Box Braids
Try something new by rocking the ever-chic box braids in an ombre style. Step away from the norm by pairing burgundy with blonde extensions, braided at hip-length to show off the full beauty of the style.
28. Burgundy Medium Knotless Box Braids
Thinking of a stylish look that will fit the fall season? Burgundy braids are incontestable when it comes to sophistication and versatility. A cool-toned shade of red, burgundy is great for playing up or even substituting those darker colors.
29. Black Medium Knotless Box Braids with Large High Bun
Oh, yes! The high bun is most definitely king, granting you a level of confidence and style that can't be denied. 
Plus, the knotless technique makes wearing a high bun effortless, with less strain placed on the scalp. This look is perfect for absolutely any setting, both formal and casual.
30. Brown Medium Knotless Box Braid Bob with Beads
I love dressing up short braids and one of the easiest ways to do that is by adding beads. 
For this look, brown synthetic hair was chosen as the shade of choice, resulting in a cute braided bob with clear beads added to complement the darker hue of this protective style.
31. Black and Brown Medium Knotless Bohemian Box Braids with Criss-Cross Cornrow
If traditional box braids aren't tipping the scale enough for you anymore, it's time to venture out into knotless bohemian braids. 
Featuring lightweight, slightly unraveled curls and a criss-cross cornrow design, these braids are a combination of some of the hottest trends.
32. Black Medium Knotless Butterfly Locs with Criss-Cross Cornrows
If you love faux locs but desire a different look for your next hair appointment, I recommend the gorgeous and ultra-stylish butterfly locs. 
Using the crochet method, wavy hair is braided and then wrapped for a boho-chic unraveled appearance. Take things up a notch by incorporating creatively designed cornrows in a criss-cross pattern.
33. Brown Medium Knotless Ombre Box Braids with Stitch Cornrows
Can we fast forward to Summer? Because I am so in love with this look. Perfect to match the warmth and vibrancy of the season are these multi-shade brown ombre box braids. 
My favorite part? Those gold hair cuffs and the stitch cornrows braided along the side.
34. Black Medium Knotless Goddess Cornrow Box Braids with Curls
This look is all about chunky cornrows braided back into medium-sized plaits. Add some cute curls to the end and you'll be mastering goddess box braids in all their glory.
35. Black Medium Knotless Hybrid Cornrow Box Braids
Cornrow box braids save time and they look amazing. Amp up this go-to style with zig-zag and criss-cross cornrows for an even more compelling view.
36. Red Medium Knotless Lemonade Braids
Make lemonade braids fierce by rocking an all-red look. A sure way to keep all eyes on you, these sleek braids will upgrade absolutely anything that you wear.
37. Classic Black Medium Knotless Passion twists
Since its debut in 2018 by the talented hairstylist, Kailyn Rogers, passion twists have made their mark on the hair braiding community. 
Cute and a great alternative for ordinary rope twists, these braids are even more beautiful when done knotless.
38. Black and Burgundy Medium Knotless Cornrow Box Braids with Beads
The most interesting braiding styles often include cornrows, as well as colored hair. These tribal braids got the memo as black hair unites with burgundy, accentuated by clear beads to lighten the look.
39. Brown and Blonde Medium Knotless Box Braids
Need I say more? Colored braids are such a vibe. Give traditional black braids a break and get this fab fall look by pairing chestnut brown with platinum blonde.
40. Black Medium Knotless Spiral Lemonade Braids
Lemonade braids can be styled in so many cute ways despite their main feature of being worn to the side. For this look, cornrows are braided in a spiral pattern; a design that instantly grabs your attention..
41. Gray Medium Knotless Box Braid Bob
The notion of gray being a gloomy shade has lost its basis when it comes to fashion. Now, the neutral hue is seen everywhere and brings this braided bob to life.
42. Black Medium Knotless Bohemian Faux Locs with High Ponytail
Swoop your faux locs into a high ponytail with the help of a classic black scarf to achieve this gorgeously fierce dynamic. Treat this style to a few loose curls here and there to give it a bohemian twist.
43. Black Medium Knotless Cornrows with Middle Part
This cornrow style is so cute, braided down either side with a neat middle part. The ends were left undone for an array of styling choices—you can wrap it into a low bun, do a braided ponytail, or leave it as is for a cute unraveled look.
44. Black Medium Knotless Fulani Braids with High Bun and Beads
This classic high bun was given a Fulani twist with two reverse cornrows braided down the side. It's a great way to make your braided style eye-catching. Drop on a few nude-toned beads to complete the look.
45. Brown Medium Knotless Bohemian Angled Bob
Ready to give short braids a try? An angled bob is an amazing way to get your feet wet. The asymmetrical style is extremely flattering and slenderizes your facial structure. Jazz up this look with loose curls all over for a bohemian flair.
46. Medium Knotless Triple Ombre Box Braids
Transition from Autumn to Winter with a mix of warm and cool-toned box braids. Shifting from black to brick red and then white, this look has all the color and diversity you need.
47. Black Medium Knotless Butterfly Locs Bob
Butterfly locs are one of the cutest protective styles, and they've really outdone themselves in this shoulder-length bob. This look combines simplicity with femininity and confirms that short hair can be flattering too.
48. Half-Up Golden Blonde Medium Knotless Box Braids with Ponytail
A ponytail never fails. Give some height to your blonde box braids in a half-up half-down style that really zeroes in on your facial features, adding a natural glow at the same time, thanks to that golden blonde sheen.
49. Black and Brown Medium Knotless Bohemian Box Braids
Give your next hairstyle a sassy vibe by leaving some braids unraveled as long wavy curls. Use light brown synthetic hair to make your curls stand out against black box braids, and to enhance that bohemian look.
50. Black Medium Knotless Triangle Box Braids with High Buns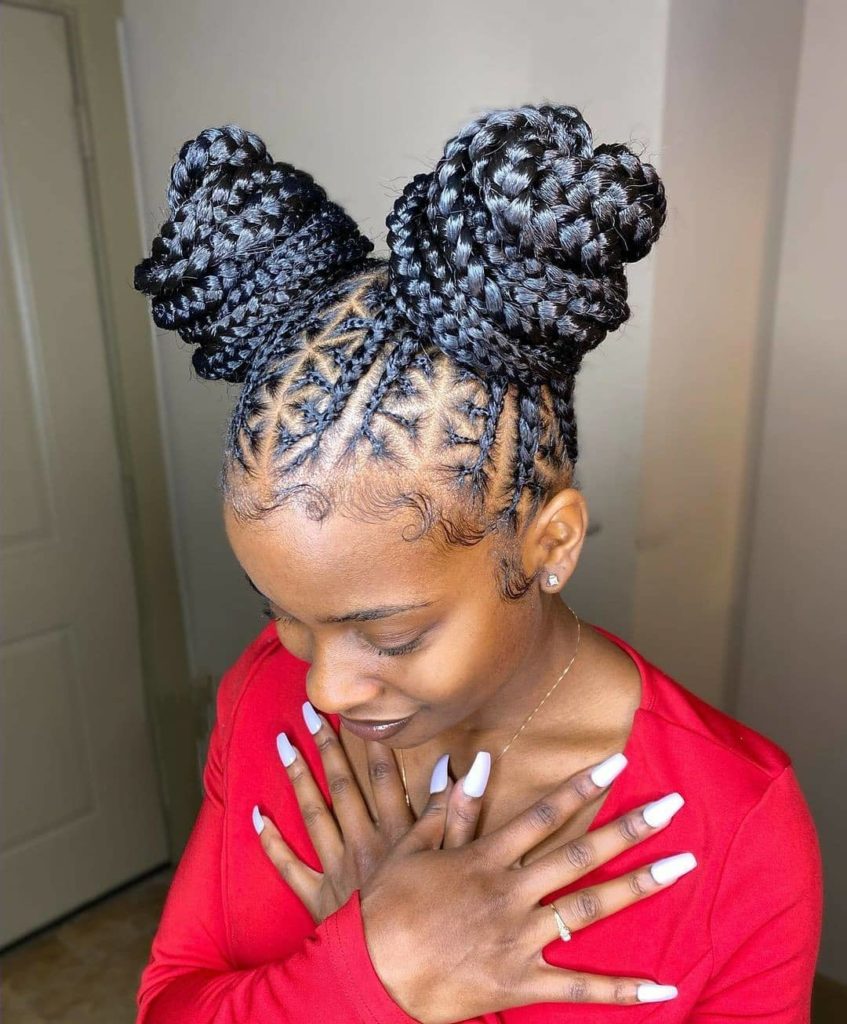 This style gets full marks, doubling as fancy and convenient. Triangle box braids are a fairly new rendition that brings a unique and stylish twist. Paired with high buns, this look is versatile, complementing any outfit choice.
Summary and Top Picks
From classic box braids to butterfly locs, passion twists, and Ghana cornrows, you're never out of options when it comes to knotless braids. Braided at medium size, they're easy to achieve and make styling your hair each morning hassle-free.
This compilation is abounding in diversity, and so, topping my list are three vastly different looks; styles 22, 40, and 47. They each have an attribute that I love—a warm color combination, stylish cornrow design, and a girly flair, respectively.
How about you? Which medium knotless braid styles made your favorites list? Also, how important is the size of your braids when considering a protective style? Share your thoughts and any questions you have down below.