There's no better feeling than your hairstylist saying, "All finished!" Particularly if you're trying a protective style you've always wanted to wear, and you simply can't wait to stare in the mirror. That's the exact buzz surrounding the revolutionary knotless box braids. 
A variation of traditional box braids, this style has been around since 2014 but has really become widespread over the past few years, as more intentionality is being exercised as it pertains to protecting our natural locks.
As the name suggests, knotless braids do away with the knot used to combine synthetic hair with your natural hair at the root. Instead, the feed-in technique is applied, where the braided style begins with your very own hair as the extensions are gradually added. 
This technique results in less traction placed on the scalp, truly protecting your natural tresses. Consequently, you can easily style this look to your taste right after application without fear of a tension headache. 

Believe it or not, we haven't even scratched the surface of how amazing this style is. So without further adieu, here are knotless box braid styles that will absolutely blow you away.

1. Black Knotless Box Braids with Blonde Streaks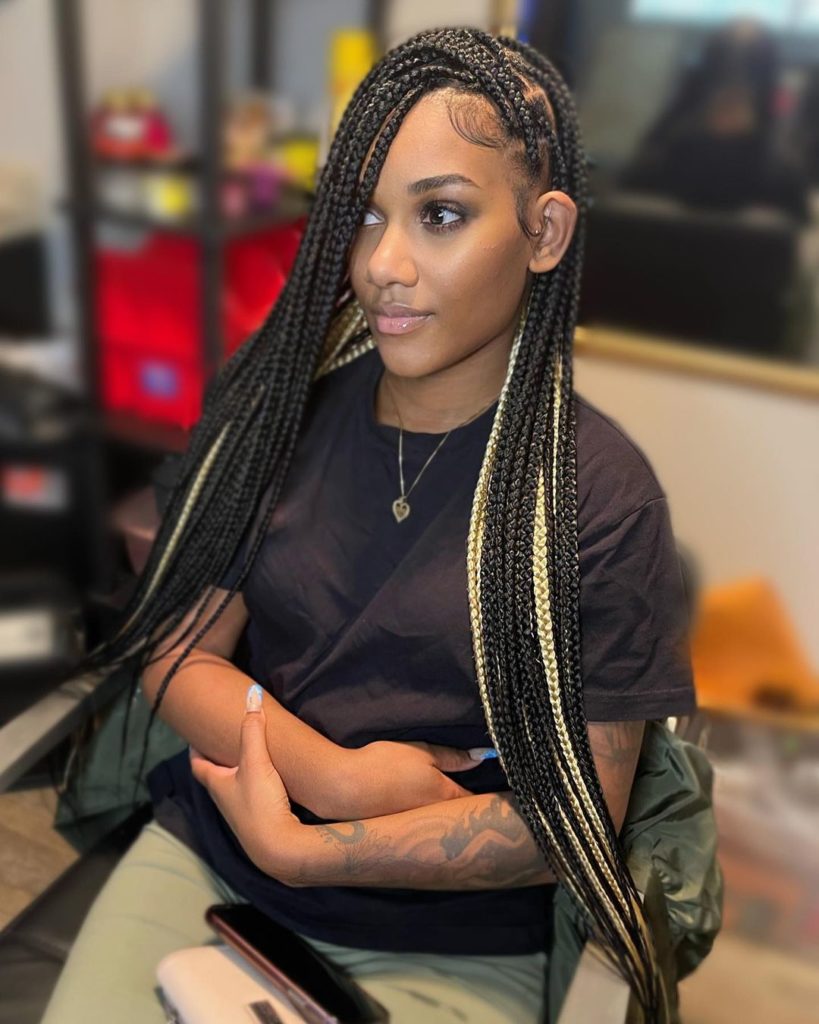 Classic black box braids are always a good place to start, and even better when the feed-in technique is used, with some blonde extensions included for a chic flair.
You'll enjoy rocking this look for weeks, knowing you not only look cute but can switch up your style as you please, even after a few days, without your scalp feeling extremely tender to touch.
2. Long Black Knotless Goddess Box Braids
For this look, hair is sectioned into large square parts and styled into neat, thick box braids but the highlight of this style has to be the well-defined curls at the end of each braid, adding such a cute vibe to this look.
3. Long Black Knotless Ghana Box Braids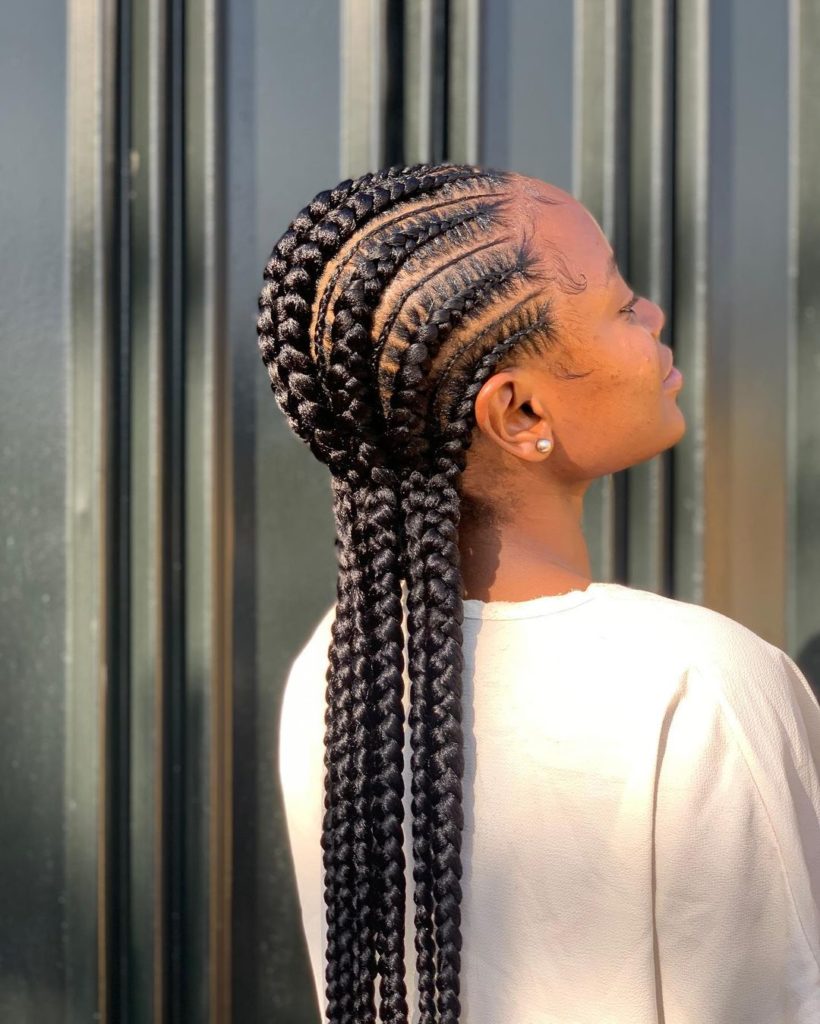 Not in the mood for braids on all sides? Take them all the way back in a cool and neat Ghana braid style. 
Complement these chunky cornrows with smaller versions on the inside. You can rock this look as is or dress it up with cute hair accessories.
4. Small Brown Knotless Goddess Box Braids
Feel like rocking your knotless braids for a bit longer than a few weeks? That's where smaller box braids come in. 
They may require more hours upfront but you'll have a gorgeous, neat, and flexible style that will save you time in the mornings. To complement your daily looks, opt for a neutral shade such as brown with curls for added femininity.
5. Black Knotless Box Braids in a High Bun
You can really put your knotless box braids to the test when you style them in a high bun. With traditional box braids, rocking a bun within the first week is something you may want to stay away from.
It's the complete opposite with knotless braids. All thanks to the feed-in application process, you can wrap your hair into a neat bun, effortlessly, and enjoy that flawless, elegant finish.
6. Black Medium Knotless Lemonade Box Braids
Because lemonade braids are generally styled from one side all the way to the other, the profile of your face along with your hairline immediately garners more attention.
Each section is done in a stylish maze-like pattern, and with knotless cornrows, you can rest assured that the smooth transition from your natural tresses to the braiding extensions will be like a breath of fresh air.
7. Small Brown Knotless Goddess Box Braids with High Bun
Some hairstyles just put a smile on your face. This knotless braid style is stunning with small plaits that flow delicately into loose curls, and a classy high bun, and don't get me started on that gorgeous brown color.
8. Small Brown Knotless Box Braids with Middle Part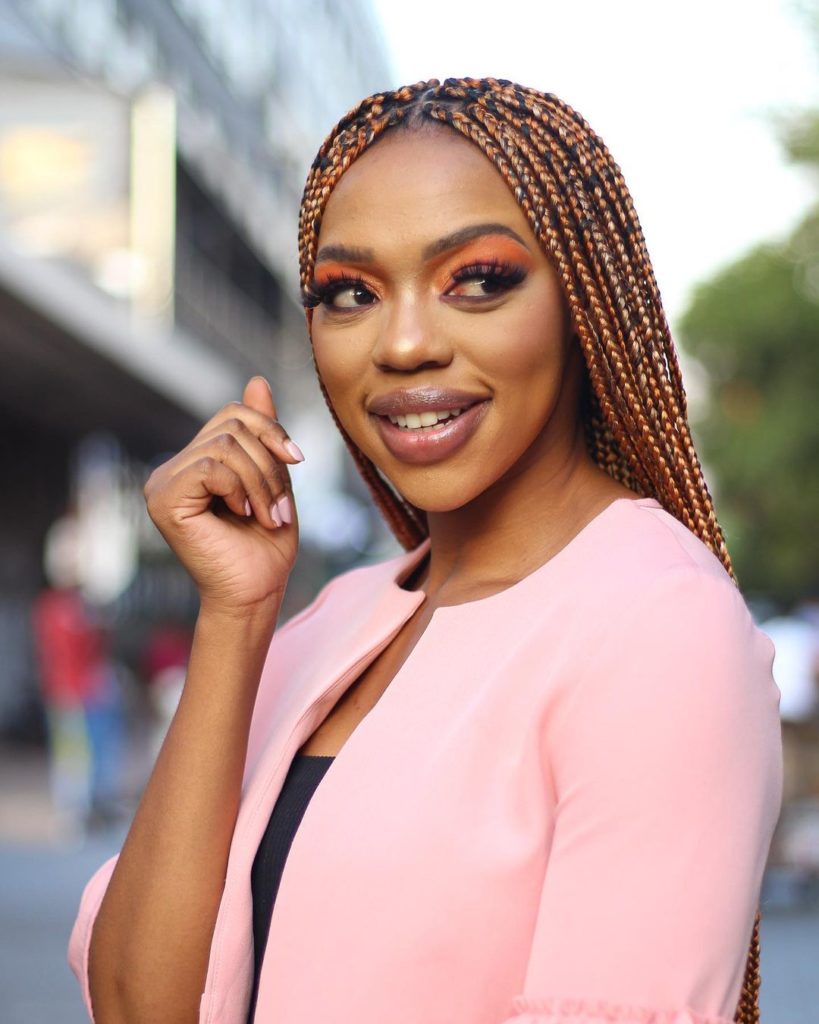 Smitten by the flawless and chic look that brown braids provide? Try this classic style fit for work and play. 
Plaits are braided small for a neat execution, and they're versatile too. Toss these braids up in a high ponytail and see how amazing they do.
9. Black Medium Knotless Goddess Box Braids
For a charming, elegant style, curls are hard to beat. Leave your box braids undone a few inches in with unraveled curls cascading down either side of your face. 
This style is perfect for everyday wear and can make any outfit look fashionable.
SEE ALSO: 65 Goddess Braid Styles You MUST See
10. Blonde, Pink, and Blue Knotless Box Braids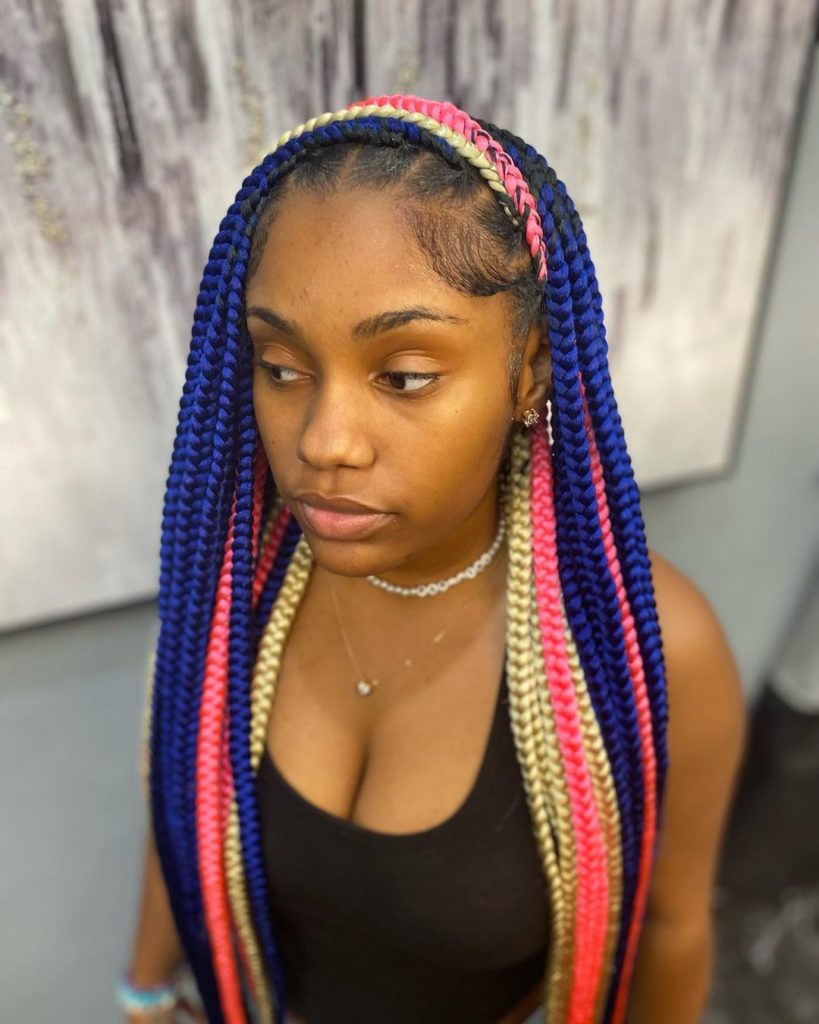 Self-expression is not limited to our outfits; our hairstyle can also mirror our mood and personality. For a vibrant box braid look, go for a combination of bright, feminine tones. In this look, blonde, pink, and blue are the lucky colors.
11. Black Knotless Fulani Box Braids with High Ponytail
In this look, large and small cornrows are braided upward into a high ponytail with Fulani braid-inspired reverse cornrows on either side of the head. 
Each cornrow starts seamlessly with no anchor knot in sight. You can easily switch this look up for a classier approach by wrapping this long ponytail into a high bun.
12. Long Black Knotless Jumbo Box Braids with Butterfly Cornrows
Sectioned into large parts, these long jumbo box braids are beautiful and so satisfying to wear. Each braid features a creative butterfly cornrow design, mixing a bold vibe with a girly flair.
13. Black Knotless Cornrow Box Braids with Super Neat High Bun
Easy does it! These knotless cornrows were scooped into a cute high bun for an overall simple yet classy style. The bun is tightly wrapped so as to show the detail of each roll, adding some character to this classic look.
14. Burgundy Knotless Goddess Box Braids in a High Ponytail
Sometimes all you need is color and lots of it, to make your braided hairstyle come alive. You don't have to seek out the brightest shade either, burgundy will certainly do. 
Style the finished look in a snazzy ponytail, hoisting those stunning curls over your shoulders.
15. Black Knotless Jumbo Twin Box Braids with Low Bun
These jumbo twin braids are tied into a sophisticated low bun with a curved part that begins at the center. 
Casual enough to be worn as a daily look for those busy mornings, this style also has an unquestionable elegance suited for formal and professional settings.
16. Black Medium Knotless Ghana Box Braids
Simplicity wins with these Ghana box braids. Knotless cornrows are woven all the way back, so you never have to worry about what style to wear before you head out in the mornings; at least for the duration of these cute braids that is.
SEE ALSO: 50 Trending Medium Knotless Braid Hairstyles
17. Small Brown Half-Up, Half-Down Knotless Box Braids with French Curls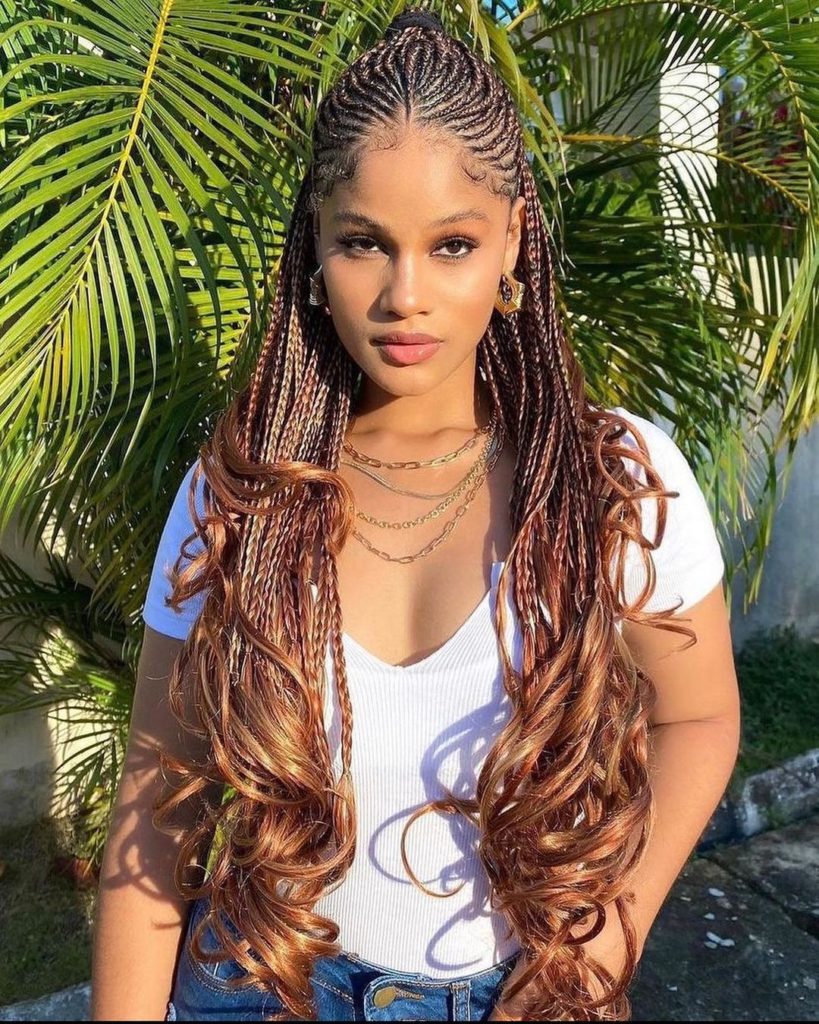 Half-up, half-down with dainty box braids all around; some styles can only be achieved when thin strands of synthetic extensions are intertwined with your natural hair, resulting in a lightweight look and feel.
This style was also dolled up by thick french curls, made possible by pre-stretched wavy braiding hair.
18. Short Black Knotless Box Braids with Beads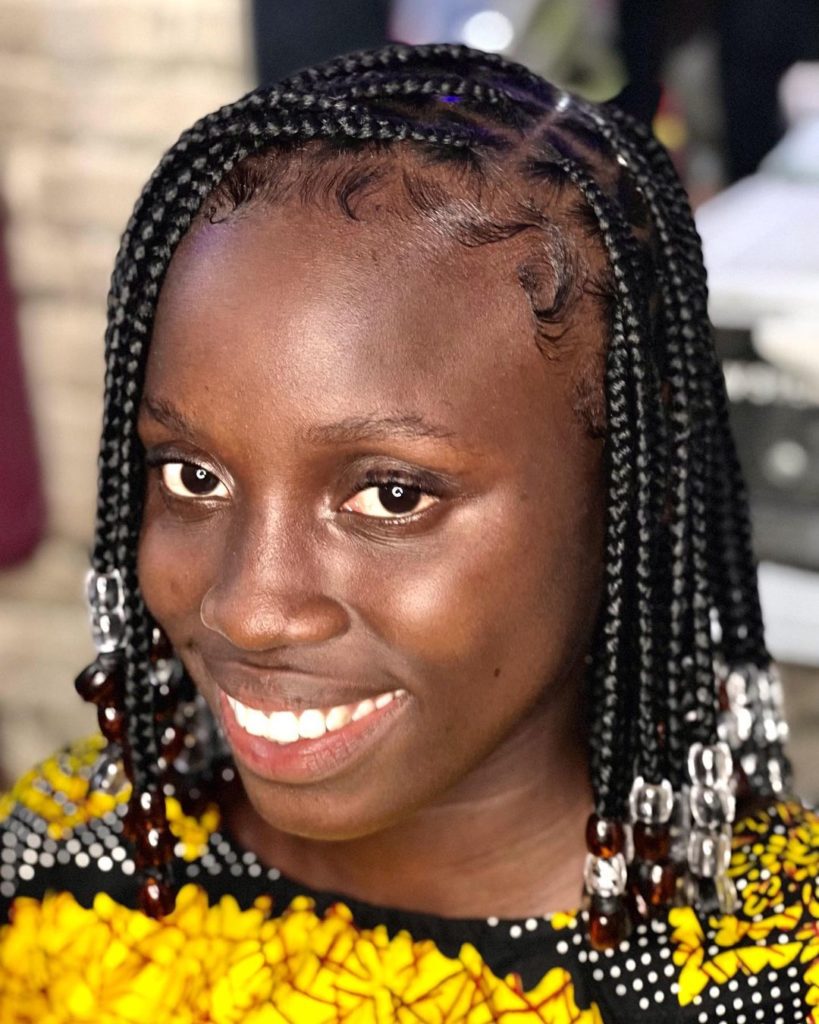 Incorporate the knotless technique in a short box braid style and you'll be rewarded with a neat and modest look that falls right above your shoulders. Amp up these cute black braids with complementary clear and brown beads.
19. Black Knotless Box Braids with Criss-Cross and Heart-Shaped Cornrows in a Low Bun
These box braids are a display of what a mastery of cornrows looks like, as a mixture of stylish patterns is exhibited; from traditional to criss-cross, as well as, stitch cornrows with a heart-shaped design. 
A small low bun formed at the back came through to bring this look to completion.
20. Black, Gray, and Salmon Pink Ombre Knotless Box Braids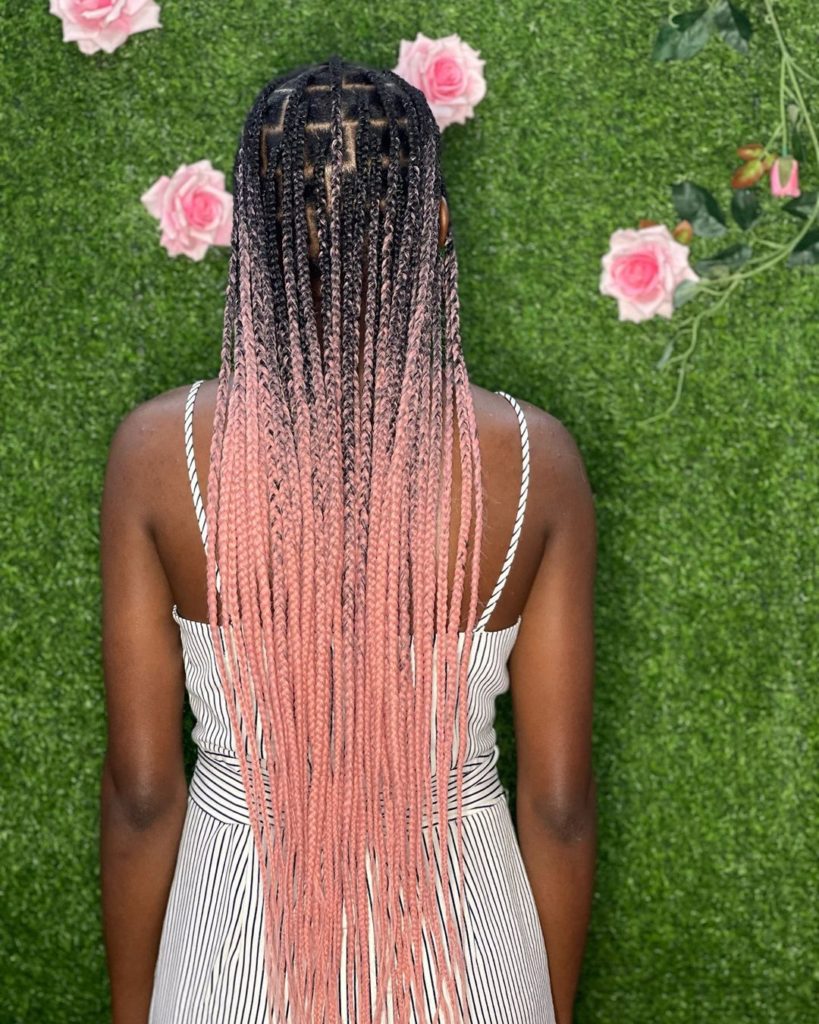 Imagine strolling along the beach at dawn flaunting these cute long box braids. For this look, black, gray, and salmon pink come together for a sweet and feminine ombre style.
21. Black Knotless Box Braids with Mini Ponytail
A style that never gets old; a few braids from either side tied together to form a cute ponytail, while the rest are secured underneath, all the way down your back. Clear beads were added for a simple but noticeable girly touch.
22. Blonde Knotless Ghana Box Braids with Stitch Cornrows
Look amazing without even trying with blonde stitch cornrows, executed in a Ghana box braid style. Chunky cornrows are woven to the back and worn over both shoulders for a relaxed and fresh Summer look.
23. Long Brown Knotless Box Braids Pulled-Back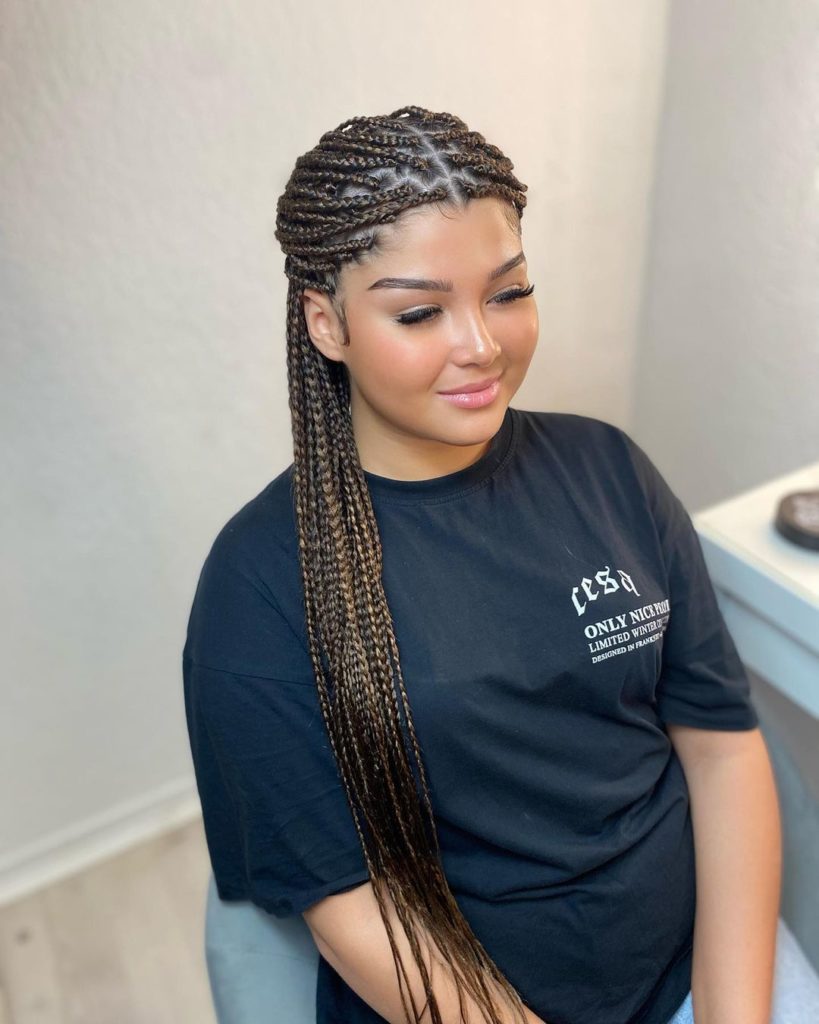 As soon as your knotless braids are complete, you have the liberty of pulling a few to the back for a simple and cute style. You can step it up even further by placing a section of braids over your shoulder.
24. Long Black, Brown and Blonde Ombre Knotless Box Braids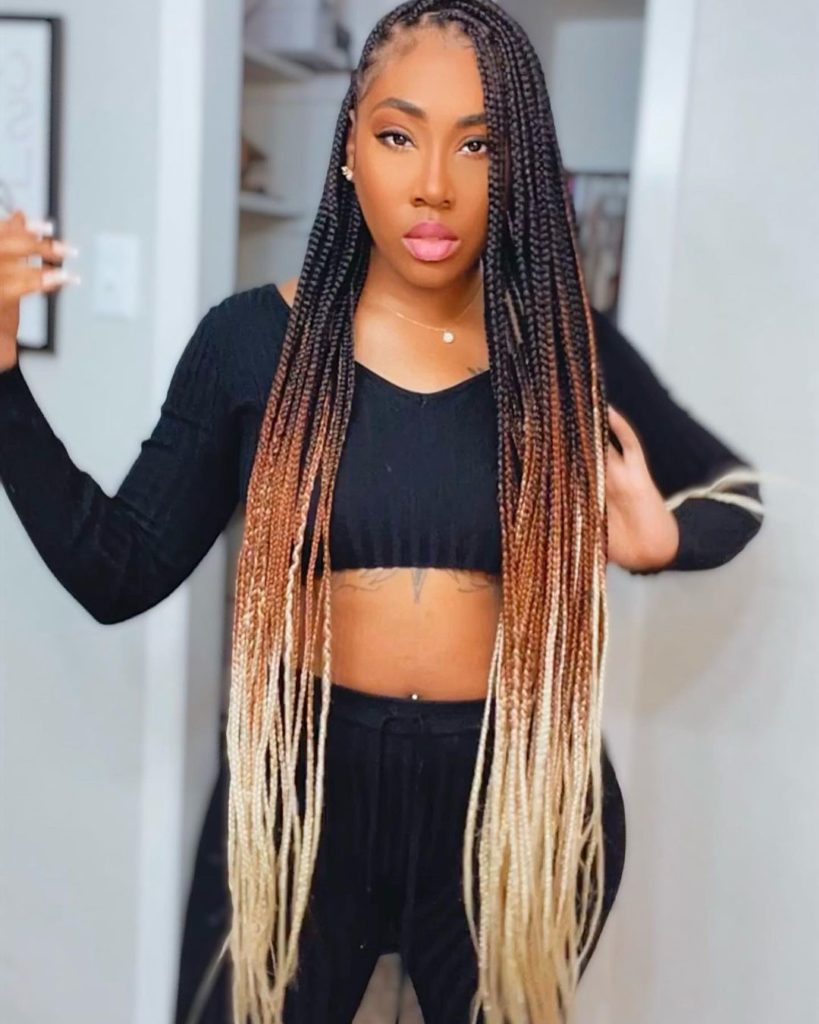 A cute way to show off your knotless braids is with an ombre style. These long extensions transition from black to brown and platinum blonde, sure to make a statement for weeks to come.
25. Blonde Knotless Twin Box Braids
Double dutch or twin braids are basically jumbo cornrows that frame both sides of your head as they curve downward into a box braid style.
This style is not as long-lasting as most on this list, but it sure is cute. These braids look amazing with casual and sporty pieces, bringing a fun and girly vibe. Rock them in blonde to enhance your outfits each day.
26. Black Knotless Stitch Cornrow Box Braids with High Ponytail
A more complex style than your average cornrows, this look features slick, largely-sectioned stitch cornrows. 
They're wrapped into a high ponytail, showcasing the full length of freshly done box braids, as edge control keeps the baby hairs looking sleek and eye-catching.
27. Black Knotless Bohemian Jumbo Box Braids
Boho-chic meets jumbo box braids in a riveting five-star style combo, fit for a magazine, as loose silky curls and knotless plaits compete for your attention, along with a stunning heart-shaped side part.
28. Small Red Knotless Goddess Box Braids
This girl is on fire! Rocking a head of red hot knotless box braids. It's a bold look with a hint of girly flair. Check out those stylish curls at the end to see why.
29. Medium Brown Knotless Box Braids with Beads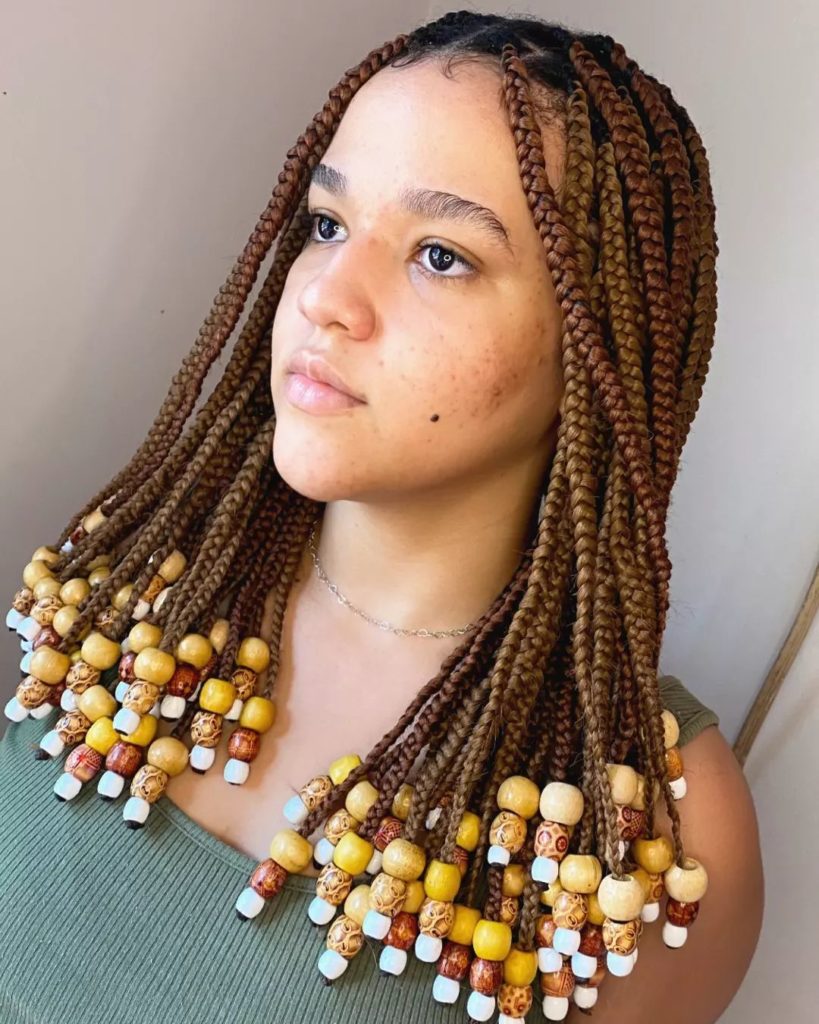 Accessorizing your knotless box braids has become easier than ever. Women all over have been hooked on the level of style that decorative beads provide. 
In this look, medium brown extensions are embellished with a mixture of yellow, white, and brown beads, and I've got to say, this aesthetic would be perfect for fall.
SEE ALSO: 50 Trending Medium Box Braid Hairstyles
30. Brown Knotless Stitch Cornrow Box Braids with High Bun
We've seen zig-zag and stitch cornrows worn all the way back, now here they are in a super neat high bun, with smaller cornrows in the mix for a diverse finish.
31. Small Burgundy Knotless Box Braids with High Ponytail
Now, here's a chic look that'll turn more than just a few heads. Burgundy knotless box braids are wrapped into an elegant high ponytail with two braids left to sway at either side of the face.
An edgy all-black outfit would look mind-blowing with these braids, and a colorful sundress would be just as attractive.
32. Black Knotless Fulani Box Braids with High Bun
Here, we love all styles of braids and this look is a combination of three of our faves: Fulani braids, stitch cornrows, and box braids, all wrapped into a classy bun. What more could you ask for? I guess a few decorative beads wouldn't hurt.
33. Black Knotless Pop Smoke Box Braids with High Ponytail
Feed-in cornrows take the lead with this look before branching out into medium-sized plaits—a protective style known as pop smoke or ket braids. Hair is sectioned into two parts to allow for a ponytail on top.
SEE ALSO: 100 Trending Feed-in Braid Styles
34. Half-Up, Half-Down Golden Brown Knotless Box Braids with High Bun
There are only a few colors that are as regal as golden brown. You immediately stand out and look classy when you wear braid extensions in this shade. Even more so, in a classic half-up, half-down style, featuring a large high bun.
35. Orange Knotless Jumbo Box Braids with Stitch Cornrows
Look bold all Summer in orange jumbo stitch cornrows braided up into a high ponytail. These braids can be rather heavy, especially after installation but with the knotless technique, your scalp will be spared some of that tension.
36. Blonde and Pink Knotless Box Braids with Clear Beads
These Blonde and pink extensions make a gorgeous combo as each half of this box braid look is dedicated to one of these cute colors. It's a girly beaded style that would look perfect with a cute mini dress and classy heels.
37. Black and Blonde Ombre Knotless Goddess Box Braids with High Ponytail
While we're on the topic of ultra-cute braided styles, here's another worth highlighting—small goddess box braids with a black to blonde ombre finish. 
These braids are tied into a high ponytail and worn over the shoulder, leaving those smooth blonde curls on display.
38. Brown Knotless Disheveled Bohemian Box Braids
You'd think disheveled box braids would look anything but cute right? However, this bohemian-inspired look is beautiful and sassy, with straggly curls and medium-sized plaits giving a natural and breathtaking appearance.
39. Black Red and Blonde Knotless Cornrow Box Braids with Low Ponytail
These knotless braids have a lot going on, and I'm here for it! Zig-zag and heart-shaped stitch cornrows add lots of creativity. They were grouped together and tied into a low ponytail. 
As your eyes travel downward you're greeted by red and blonde extensions for a trendy ombre blend.
40. Large Blonde Knotless Box Braids
For this look, hair is separated into large sections, after which, blonde extensions are gradually added to form large knotless box braids.
Blonde braids always look amazing with casual outfits, as they're an easy way to enhance those laid-back everyday looks, owing to the bright contrasting undertone.
41. Long Blonde Knotless Box Braids with Low Ponytail
If you needed more proof that long braids are absolutely glamorous, here it is! Long blonde braids to be exact because this look is a bit more stylish than your classic black box braids. 
Colored hair often acts as an accessory to your established OOTD. That said, for this look, blonde braids are wrapped into a low ponytail at the nape of the neck, and left to dangle over the shoulder, showing off the impressive length.
42. Long Orange Knotless Box Braids
Be prepared because these thick orange box braids will get you noticed wherever you go, and while they're really long they're not too small, so they won't be a hassle to undo.
43. Black Knotless Box Braids with Pink Streaks
Add some color to your black box braids with a streak of pink here and there. The great thing is because pink is such a vivid shade, you don't need a lot of extensions to have an impact on this look.
44. Large Burgundy Knotless Stitch Cornrow Box Braids
In the mood for stylish burgundy box braids? Here's a look that's easy and effective. Large cornrows are braided back using the knotless and stitch techniques. 
At the back, burgundy extensions are left undone for a cool weave and box braid style combo.
45. Black Knotless Ghana Box Braids with Nude Beads
There's nothing like time saved in the mornings when you get Ghana box braids done. This look features a variety of designs including zig-zag, criss-cross, and stitch cornrows. 
They're woven all the way down the end before transforming into box braids, decorated by nude beads.
46. Half-Up, Half-Down Black Knotless Goddess Box Braids with High Side Ponytail
A braided ponytail with curls is a style that's destined to look amazing. Hair is divided into zig-zag sections with knotless cornrows braided up into a high ponytail with the remaining braids sitting cute over the shoulders.
47. Long Brown and Blonde Knotless Goddess Box Braids with Heart-Shaped Cornrows
Some hairstyles you just can't help but admire, and these long braids are truly a weakness, braided with brown and blonde synthetic extensions. 
Curls were added at the end of each braid with heart-shaped cornrows at both the side and back.
48. Brown Knotless Jumbo Fulani Box Braids
There's no denying that brown box braids are a staple protective hairstyle. Get yours done with Fulani-inspired knotless jumbo cornrows, elevating the look with cute hair accessories.
49. Black and Gray Knotless Bohemian Box Braids with Cornrows
For an edgier jumbo braid style, opt for black and gray extensions. This look also features distressed loose curls for a boho-chic vibe.
50. Black Knotless Jumbo Butterfly Box Braids with Curls
Let's all just take a moment to take in this gorgeous style. These are the amazing knotless butterfly box braids, where your plaits are looser and cuter than ever. On top of that, curls can be found at the end of each braid—that's double the style!
51. Small Purple Knotless Lemonade Box Braids in a High Side Ponytail
Purple braids are a sign of confidence, that you're not afraid to try new things. 
It's a style you'll definitely enjoy, so make it count with small purple lemonade box braids for a neat finish. Tie the ends into a high side ponytail and head out in style.
52. Black and Pink Knotless Lemonade Box Braids
A variation of lemonade braids, this look is a combination of black and pink braid extensions worn over the shoulders in cute medium-sized plaits. 
You can also rock this trendy style to the back and dolled up with a few hair accessories.
53. Black and Brown Knotless Goddess Box Braids with Low Ponytail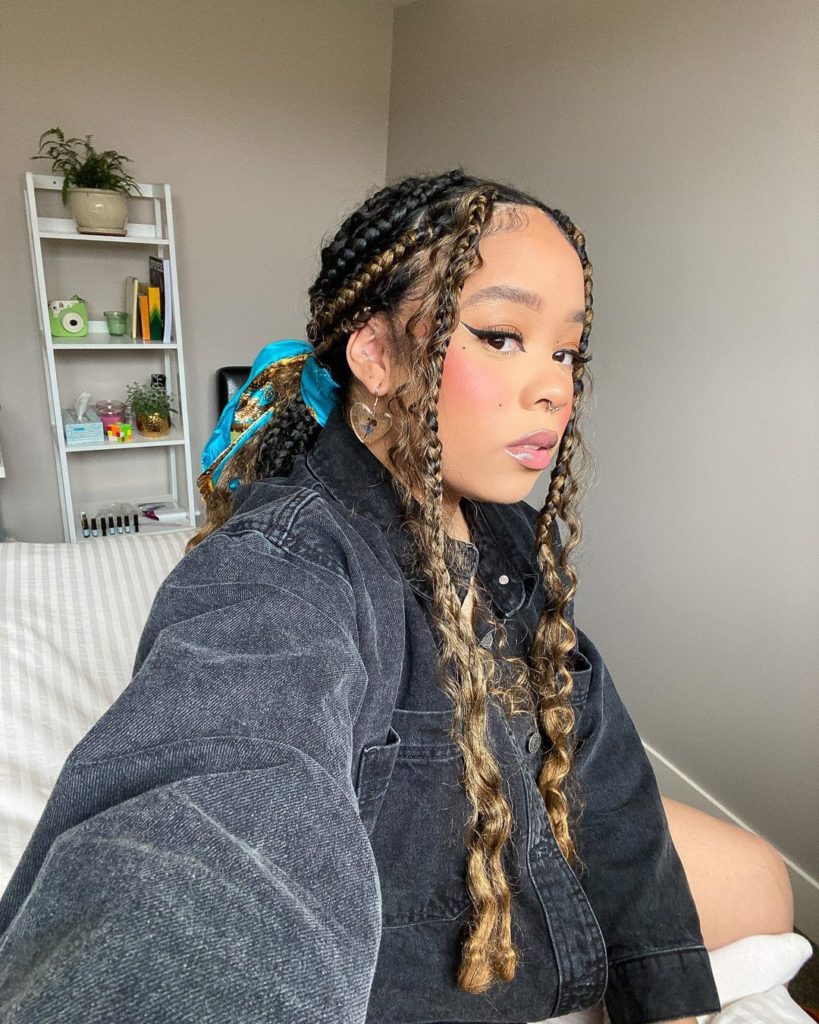 Curls and twirls equal happy girls! These black and brown goddess box braids were styled into a low ponytail, and they still look super cute. 
That pretty blue silk scarf along with the plaits and curls at the front definitely have a lot to do with it.
54. Brown and Black Knotless Fulani Lemonade Box Braids
Bring a swing to lemonade box braids with reverse cornrows at the side for a Fulani braid flair. You can also mix your colors—brown and black make a great team.
55. Medium Black and Red Knotless Box Braids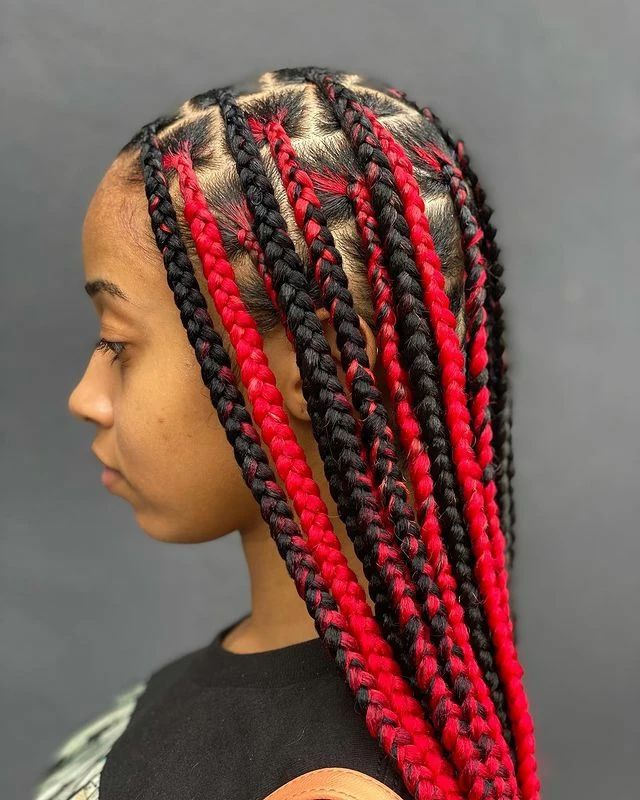 These braids are absolutely amazing. I love how they alternate between black and red for a super cool look that will definitely have you trending online.
56. Brown Knotless Goddess Box Braids with Triangle Parts
These braids are not far off from your traditional, knotless trendy box braids, but they do have some additional features that make them special; neat triangle parts for each braid and an array of curls to top it all off.
57. Black Knotless Pop Smoke Box Braids
These braids are a two-in-one special with knotless cornrows that lead into thick box braids just a few inches in. The stitch technique was used as well for an even more stylish finish.
58. Black and Brown Knotless Box Braids with Abstract Cornrows and High Ponytail
Look fierce in a half-up, half-down style featuring abstract knotless cornrows. Black and brown extensions were chosen for this look with the top half pulled into a high ponytail.
59. Black Knotless Stitch Cornrow Box Braids with Two Low Buns
Speaking of abstract designs, this look has a variation of cornrows on display. Both large and small cornrows, done using the stitch braid technique, all come together for a stylish box braid look.
The braids were then separated into two sections and wrapped into the cutest low buns.
60. Red Knotless Goddess Box Braids in a High Bun
Although goddess box braids are generally completed with curls at the end, you can still wrap them into a cute high bun to switch things up. The curls will give you a stylish messy bun for an effortless everyday look.
61. Brown Knotless Jumbo Butterfly Box Braids
I love these braids more and more each time I see them. Butterfly box braids have that effect, with plaits becoming looser as they go along, almost resembling the fluttering of butterfly wings.
62. Black Knotless Bohemian Pop Smoke Box Braids with High Bun
In need of a braid style that has it all? Search no more because this look right here is quite the package. 
Pop smoke-inspired braids are worn in a half-up, half-down style with a messy high bun, and loose curly strands that make this look extra sweet.
63. Large Black Knotless Box Braid Bob
A braided bob is always a yes for me! I love how they shape the face to look fuller and a bit more mature; a major plus for those professional spaces. 
You can do a braided bob in any size you want but for this classy look, large box braids were the way to go.
64. Gray Knotless Box Braids
Gray has come a long way and I'm so proud. No longer is it seen as a dreary shade but rather, one that's chic, able to enhance your beauty. This is especially true if you're working with a light gray tone, one that is close enough to white.
Gray extensions will get your box braids so much attention as it bridges the gap between other shades, pulling your entire look together. Plus, it's an unconventional color for braids, when compared to traditional styles.
65. Black Knotless Stitch Cornrow Box Braids with Curls
We're accustomed to braided styles starting with cornrows then transitioning to box braids but in this look, they're right across from each other, separated by a curved side part and complemented by cute curly strands.
66. Black Knotless Ghana Box Braids with Zig-Zag Cornrows and Blonde Streaks
Add a twist to black Ghana box braids with all your cornrows styled in a zig-zag pattern. The inclusion of blonde extensions takes this look from simple to chic, instantly. So, feel inspired to bring your own touch with streaks of colored braids.
67. Blonde Knotless Fulani Box Braid Bob with Beads
Braids as fun to wear as these deserve to be talked about. They're stylish too with blonde cornrow box braids falling right above the shoulder like a nifty long bob. This look was accentuated with beads, beads, and more beads!
68. Black Knotless Box Braids with Brown and White Side Streak
Let's be honest, this style is lit! I love how blonde and white extensions were creatively added to this look, resulting in a fun and fashionable contrast to the black braids. 
Tie this look up into a ponytail to really show off that cool side streak.
69. Black Knotless Lemonade Box Braid Angled Bob
We've been showing lots of love to braided bobs and there's more to go around, this time for black lemonade braid, angled bobs. 
For this style, one side is short, just reaching above the shoulders while the other is elongated beyond, just like a slope. This look also features chunky cornrows at the side, pulling hair away from at least one half of your face.
70. Black Knotless Fulani Box Braids with High Bun and Beads
A bit of fancy mixed with some distinctiveness and a whole lot of elegance, and now, here we are! The finished look is Fulani box braids with a classy high bun.
Cute cornrows grace both sides of the head, adorned with beads at the tip of each box braid. A cornrow is also braided down the middle before leading into a thick plait. A high bun completes this gorgeous look.
Summary and Top Picks
Knotless box braids have unapologetically taken over the hair braiding industry, as the importance of protecting our natural locks while aiming to look stylish has become more prevalent than ever. 
It's always satisfying to see new, creative styles that are trending worldwide, and so, if I were to name a few, styles 7, 38, and 59 would be my top picks. What can I say, I have a soft spot for curly box braid styles and classy braided buns.
Now, I want to hear from you. Which knotless box braid styles made your eyes light up? Are you planning to swap traditional box braids for its knotless alternative? Let me know what you think along with any questions you have down below.