It's time we talked about the snazzy protective hairstyle that has everyone in a frenzy. I'm talking about, none other than, lemonade braids. 
Receiving its name from the stylish braided look that Beyoncé wore during her 2016 visual album, "Lemonade," this hairstyle is also referred to as side braids. Nonetheless, the term, "lemonade," caught on so well, and it has since become a highly sought-after style. 
This neat look features cornrows, whether small or large, braided around the contour of your head with the rest left up to you. You can decide to finish the style with box braids or even loose curls for a goddess braid appeal. 
Whatever you choose, lemonade braids are super stylish, and depending on the size, they can last you for a good month or more. Still, there are many more reasons to love this cute look. Here's a compilation of lemonade braid styles that you need to see.

1. Black Lemonade Braids with Fishtail Cornrows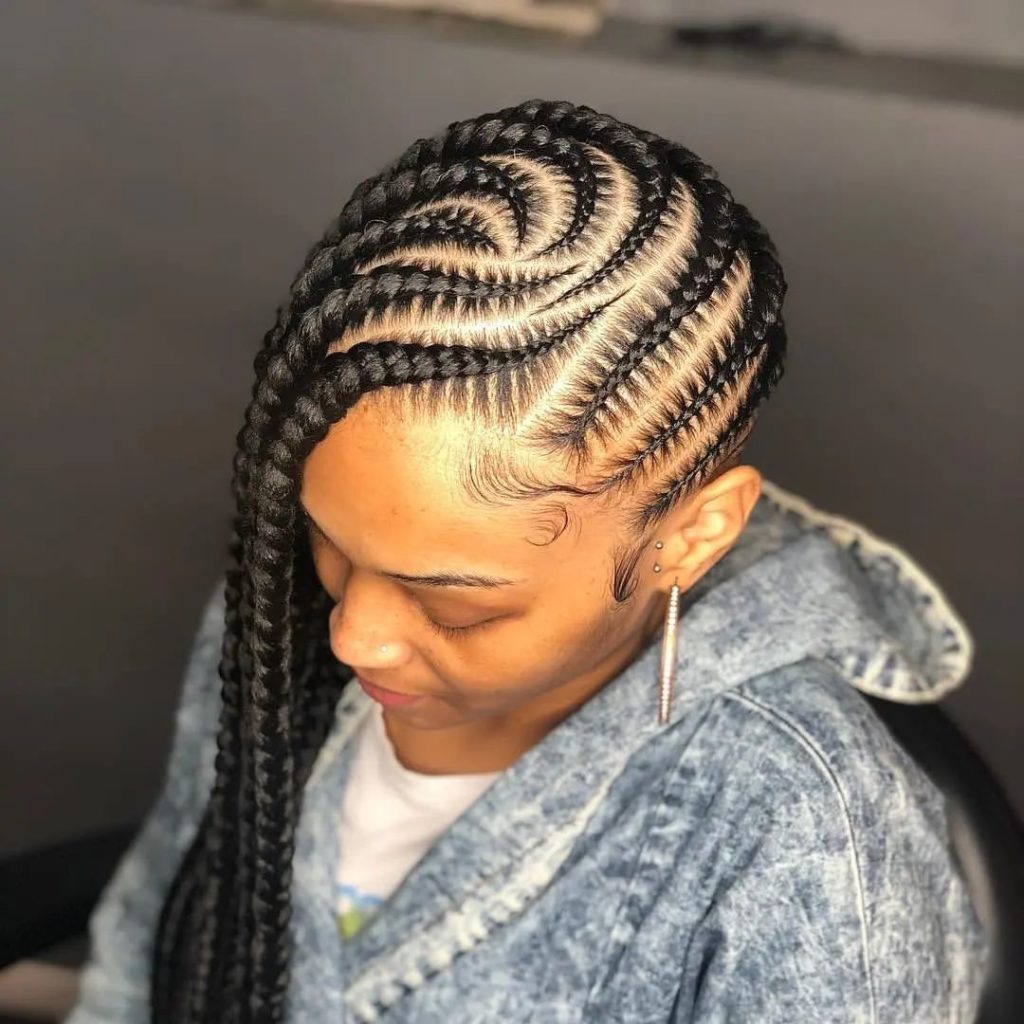 Fishtail cornrows are a stylish option to do your lemonade braids in, especially if you're trying this look for the first time and you're not sure which way to wear them. 
Rock fishtail cornrows in a spiraling motion to one side of your head, completing the look with box braids and sleek baby hairs.
2. Black Lemonade Box Braids with Purple Streaks
I love adding my own unique flair to my hairstyles. In these gorgeous lemonade box braids, purple hair was twined together with black hair, giving a few plaits a pop of color that enhanced the entire look.
3. Black Goddess Lemonade Braids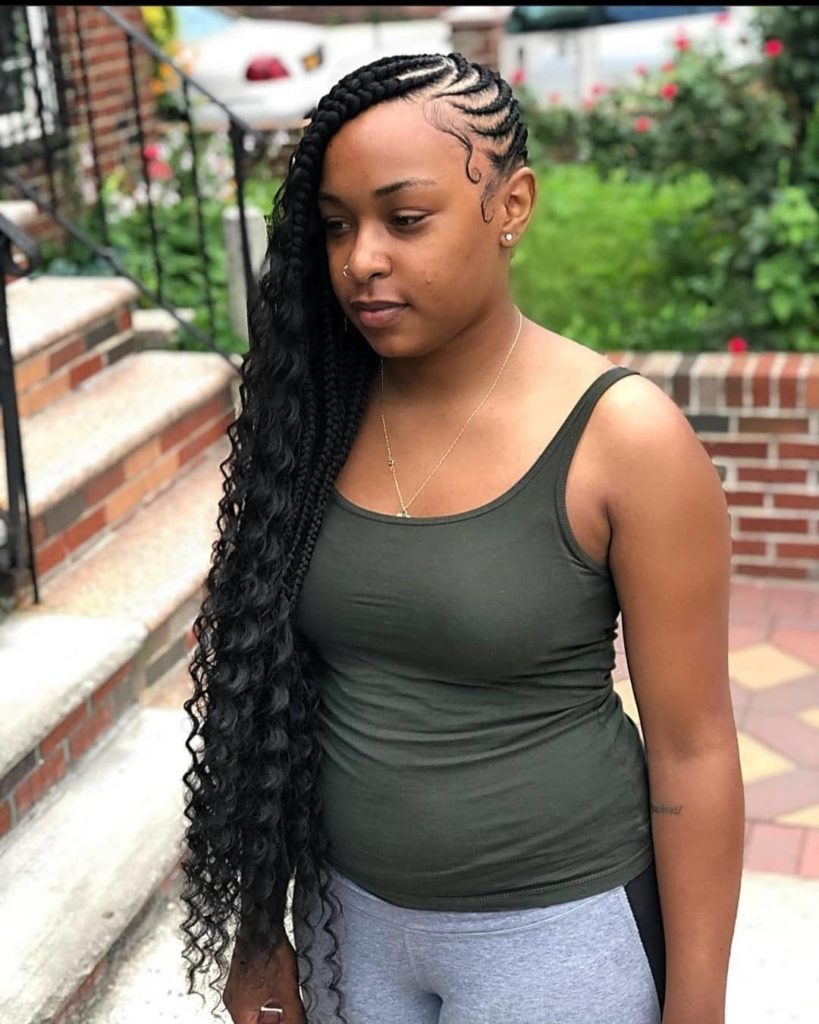 Curls always bring out our girlier side. If that's the vibe you're looking for, opt for a goddess lemonade braid combo, starting from your hairline with thick cornrows that end in loose wavy curls over your shoulders.
4. Black Lemonade Braids in a High Side Ponytail
Although the main feature of your lemonade braids will be that they're worn to the side, you can still make the most of your new hairdo by styling it up into a high-side ponytail. 
This is a sophisticated style with enough variation to keep you excited about your new look.
5. Black Lemonade Braids with Triangle Parts
Another amazing way to elevate your lemonade braids is by sectioning your hair into triangles, as opposed to the average technique known as square parts. This is an ongoing trend that brings a cuter finish to your hairstyle.
6. Multi-Colored, Neutral-Toned Lemonade Braids
Set yourself apart with these multi-colored, neutral-toned lemonade braids. Rather than braiding your hair entirely to one side, switch it up by cornrowing a section down the side of your head into a cute box braid style.
7. Goddess Lemonade Braids with Mixed Cornrows
Mix it up with jumbo-sized cornrows, and smaller ones in between for an intricate goddess lemonade braid style. The combination of large to mini cornrows makes this style neat and refined, so it'll definitely last you for a few weeks to come.
SEE ALSO: 65 Goddess Braid Styles You MUST See
8. Fulani Lemonade Braids with Heart-Shaped Cornrows
The Fulani braid style adds such a creative flair that women everywhere are including it in their lemonade braids. I'm referring to the cornrow box braids, specifically worn at the side, in a stylish heart shape. 
This look was brought to completion by curls at the end of each braid for a boost of femininity.
9. Medium Lemonade Braids
With medium-sized lemonade braids, you won't have to worry about getting your hair done again for a while. Plus, when your style has done its time, it won't be a headache to undo your braids either.
Try this cute style with a few cornrows braided in a deep-curve style that delicately frames your face, and makes this look more interesting.
10. Long Lemonade Braids with Blue Streaks
Add streaks of blue hair to your braids for a cute style that won't take away too much from the classic black lemonade braid look. 
Some women find it more versatile to rock their braids long. For that, I recommend hip-length; you can wear it down, over your shoulder, or in a classy high ponytail.
11. Jumbo Goddess Lemonade Braids
Jumbo spiral cornrows are great for a quick and easy style and will offer you a stylish combo of goddess and lemonade braids when done to the side. Spruce it up with hair accessories to look even more stylish.
SEE ALSO: 31 Trending Jumbo Box Braid Hairstyles
12. Red Lemonade Braids
Lemonade braids in a shocking red shade need no assistance to stand out. Instead, this look will be the highlight among any of the pieces you wear, adding character to your daily looks.
13. Lemonade Braids with Loose Coils
See how these lemonade braids easily enhance the casual outfit this girl is wearing? That's why I'm confident you'll love this look as much as I do. 
Make your lemonade braids extra stylish with loose coils at the end for a boho-chic vibe. Dress this entire look up all the more with cute jewelry.
14. Blue and Purple Fulani Lemonade Braids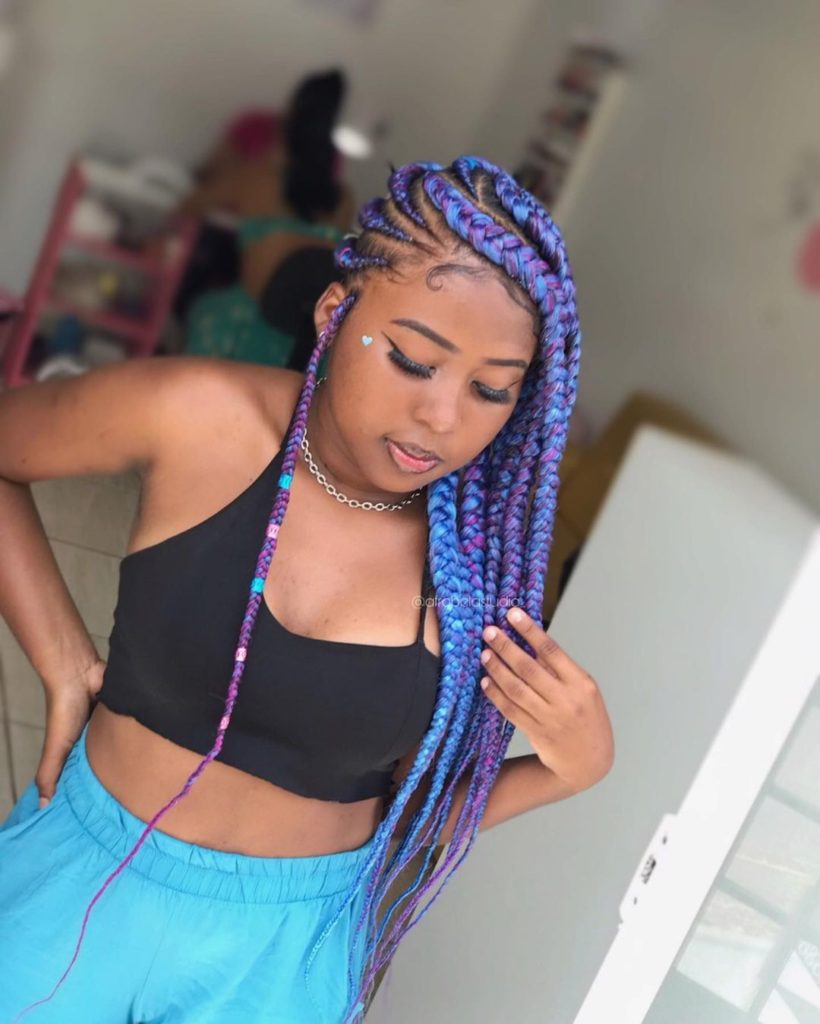 The first thing that caught my eye about this look was all the gorgeous colors fused together. 
The blue and purple mix have a mermaid-like aura as the box braid which falls at the side adds a Fulani element to this hairstyle. Rock this look however you want; resting over your shoulders or in a cute bun to the side.
15. Black Lemonade Braids with Gold Hair Cords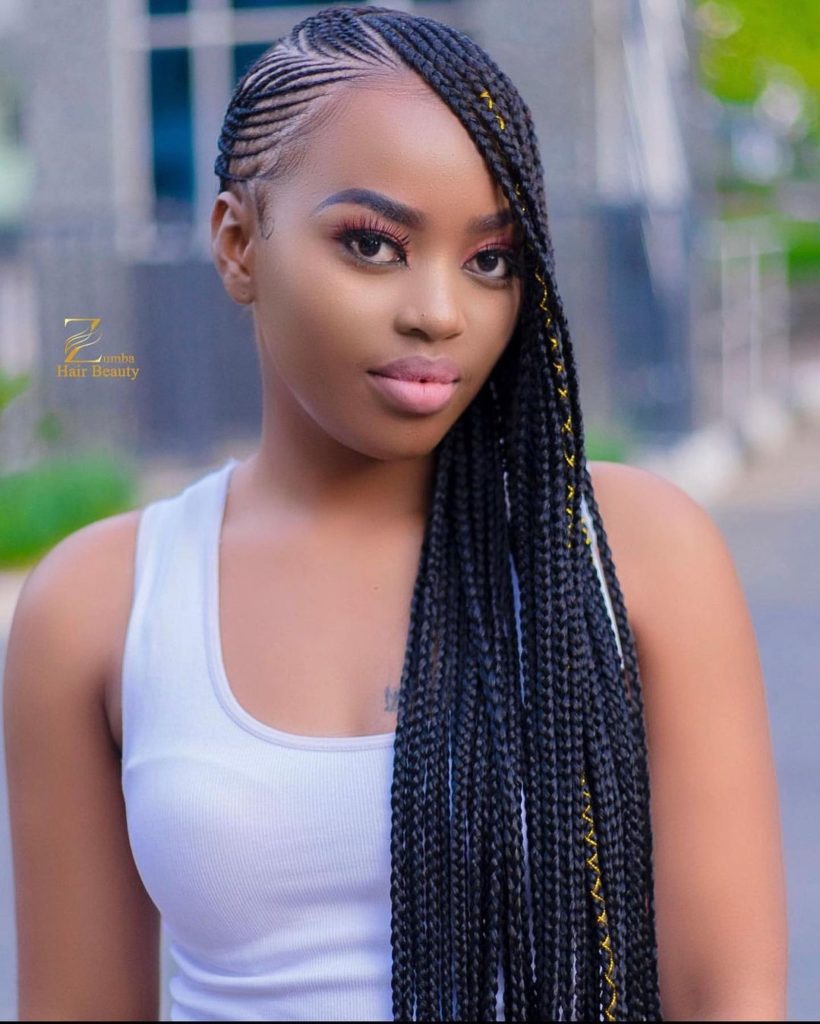 Once your style is complete, make it your own with cute accessories. Stretchy hair cords are a popular option that will help your braids stand out from the rest. 
Wrap a colored cord around one or more of your plaits to have fun with your new look.
16. Blonde Jumbo Lemonade Braids
It's totally fine to step away from the norm. So, for a change, try blonde jumbo cornrows swept to the side. No matter the season or occasion, this look is always trendy.
17. Black Lemonade Braids with Flower Cornrow
Floral designs aren't specific to just our outfits. We can spread this charming style to our lemonade braids too. 
With medium-sized braids, dedicate a section of your hair at the side to a floral cornrow pattern. Leave one braid to protrude from the center of the design, resembling the stem of a flower.
18. Medium-Length Lemonade Braids with Beads
For an above-average look, add beads to the ends of medium-length lemonade braids. These nude beads are subtle which works perfectly if you're going for simplicity with style.
SEE ALSO: 50 Trending Medium Box Braid Hairstyles
19. Small Brown and Black Lemonade Braids
Wearing brown and black braided hair is a decades-long trend that is still considered fashionable today as it provides the right balance between a super stylish and laid-back braided look. 
The cornrows were done small and close together for a neat and polished style that you can flaunt for weeks.
20. Blonde and Black Fulani Lemonade Braids with Heart-Shaped Cornrow
Show off your profile in the most fabulous way with a Fulani braid side part made snazzy by a cornrow heart pattern. The blonde-colored braids mixed with black also do a fantastic job at bringing attention to this statement hairstyle.
21. Black Fishtail Lemonade Braids with Hair Accessories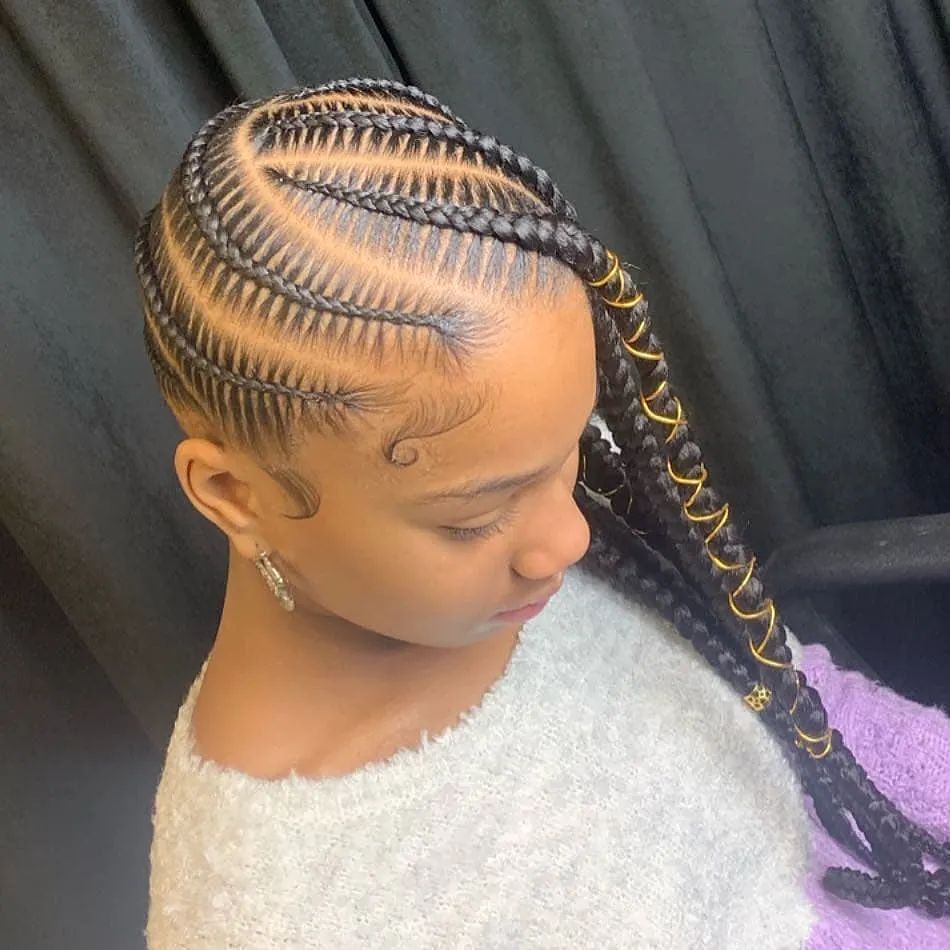 For this look, hair is sectioned into large parts then styled into fishtail cornrows that extend into long thick box braids. To complete the look; stylish gold hair cuffs and chords were the accessories of choice.
22. Black Spiral Lemonade Box Braids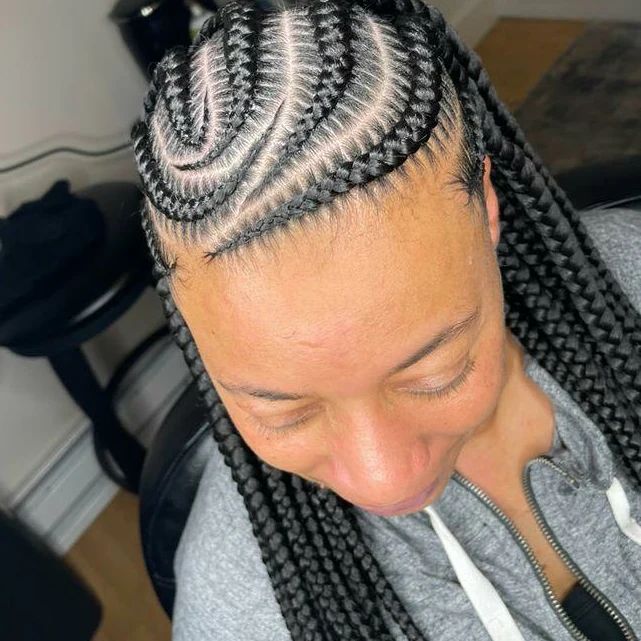 Longing to get it on the lemonade braid trend but with a bit more versatility? This look has all the elements you need. 
Thick cornrows are braided in a spiral design, styled to the back rather than all the way to the side. As a result, you'll be able to rock your lemonade box braids over both shoulders or wear your hair in a center ponytail.
23. Black Fulani Goddess Lemonade Braids
A combination of goddess, Fulani, and lemonade braids, this must-see look has all the style you need to be considered a fashionista in the sight of your peers. Decorate to your pleasure with cute hair cuffs.
24. Burgundy Jumbo Lemonade Braids
Show off beautiful burgundy braids with jumbo cornrows and a few smaller ones in the mix for an intricate and nifty look that you'll look amazing in.
25. Ombre Fulani Lemonade Braids with Dollar Sign Cornrow
Your hairstyle has a huge part to play in how your OOTD comes together. If you don't mind having all eyes on you then I definitely recommend these black and red ombre Fulani lemonade braids. 
A cornrow in the style of a dollar sign is the main highlight of this gorgeous look, showing just how creative you can get with your braids.
26. Skittle-Inspired Lemonade Box Braids
Call it a myriad of colors or skittle-inspired, either way, these lemonade box braids are so vibrant and stylish. It's a look that catches on really quickly so don't be surprised if you inspire those around you to try this fun style too.
27. Lemonade Box Braids in a Top Knot Bun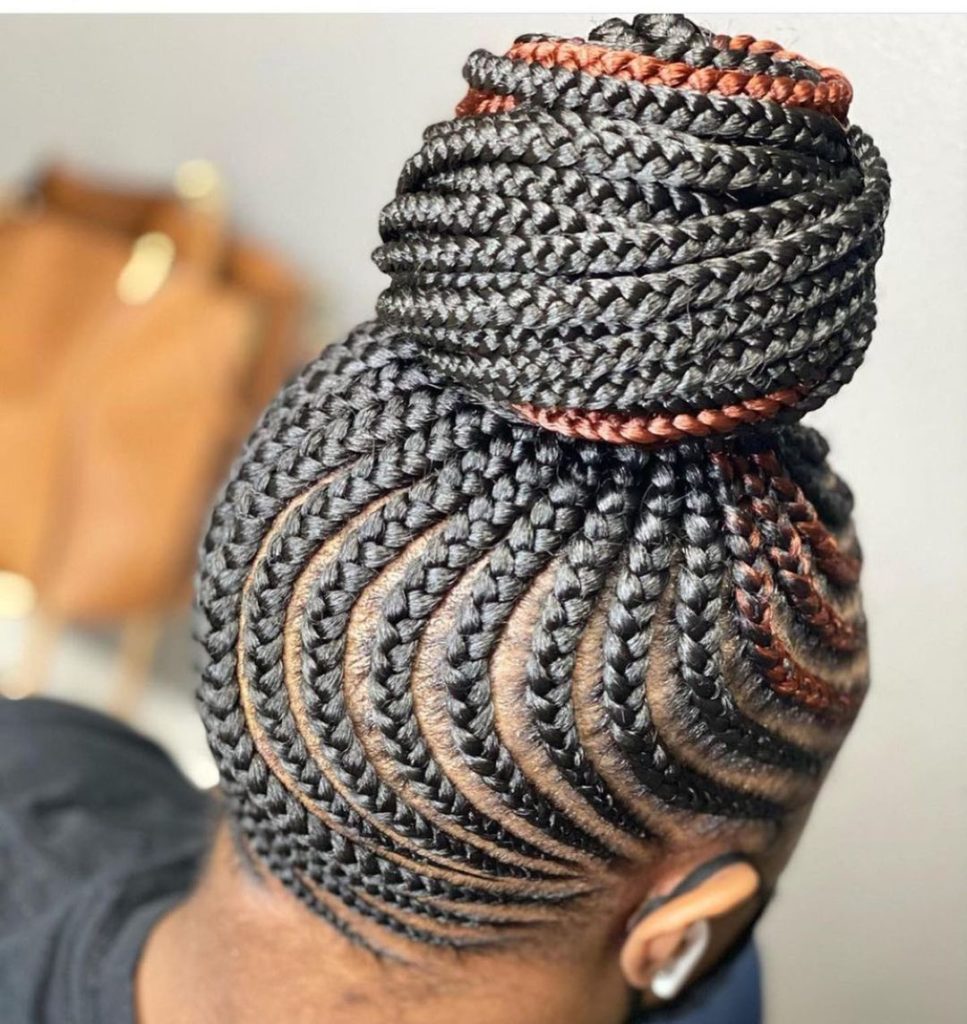 Wrap your braids into a stunning top knot bun for a sophisticated flair and to show off the curved cornrow design. A few braids were done in brown with the remainder in black, just to spice things up a bit.
28. Lemonade Braids with Golden Brown Curls
It waves for days with this braided style as medium-sized cornrows lead into well-defined golden brown curls, tied into a cute ponytail.
29. Pink Lemonade Box Braids
Pink is such a glamorous and captivating color, but it's also super girly. Think you're bold enough to flaunt pink lemonade braids? Here's all the inspo you need.
30. Fulani-Inspired Spiral Lemonade Braids
Music icon and business mogul, Rihanna, is no stranger to trending hairstyles. Here she is looking amazing in Fulani-inspired lemonade braids. 
Her look really varies from the norm though, with only the top half of her head featuring the spiraling cornrows attached to the lemonade braid phenomenon.
31. Reggae-Style Lemonade Braids
Reggae refers to a style of music originating from Jamaica, made famous by the legendary Bob Marley. The colors that represent Reggae are black, green, red, and gold.
Incorporate all these vivid colors in your lemonade braids to make a fashionable statement and express your diverse style.
32. Jumbo Gray Lemonade Braids
We often focus on our outfits for the day but even your hairstyle can look chic. To help with that, opt for gray lemonade braids. 
Gray is the perfect neutral shade to complement each and every one of the pieces from your style collection, bridging the gap between colors, and striking a lovely balance.
33. Brown and Black Mohawk Lemonade Braids
Just when you thought you'd seen how unique lemonade braids can get, here comes the stylish mohawk version. 
On each side, cornrows curve toward the center with brown plaits braided down the middle for a beautiful style that delicately frames and shows off the symmetry of your face.
34. Reverse Lemonade Braids
We're accustomed to seeing lemonade braids worn all the way to the opposite side but this cute look flips the script as cornrows curve upward then back down on the side they started.
35. Jumbo Lemonade Braids in a Top Knot Bun
No matter how thick your braids are they'll look amazing in a top knot bun. Accessorize with hair cuffs on a few cornrows to complement this style.
36. Light Pink Lemonade Braids in– a High Side Ponytail
For a style that's subtle and cute, light pink lemonade braids are definitely worth a few hours at the salon. Wear this look in a trendy high-side ponytail with eye-catching rings decorating your center cornrow.
37. Black Lemonade Braids Pulled to the Back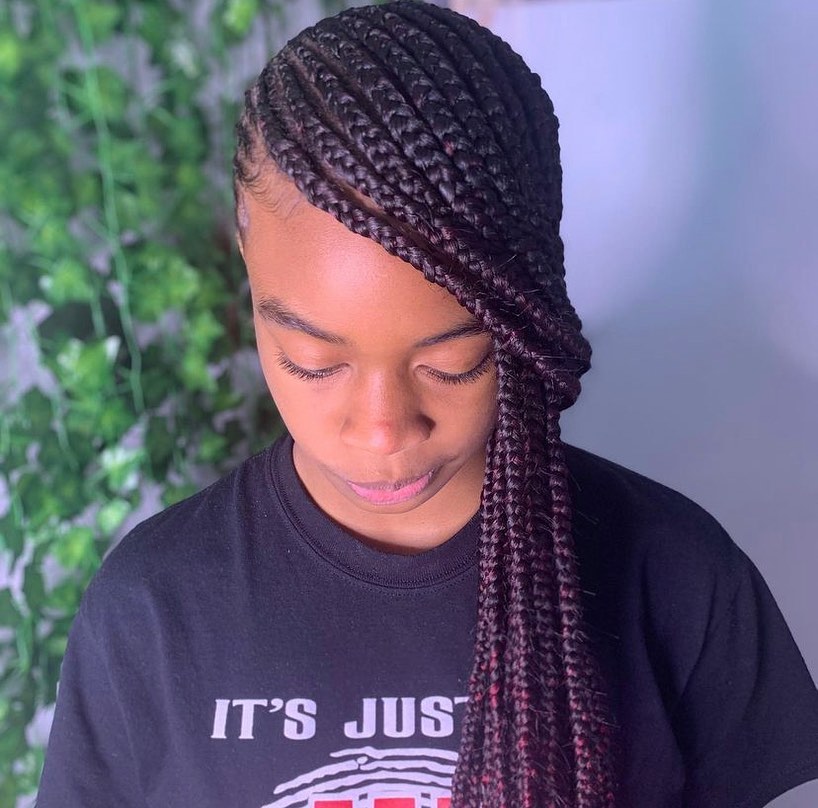 In this look, a section of braids is done in cornrow style to the front rather than entirely to the side. You can rock these lemonade braids as is or pull a portion of your plaits to the back so that one side of your face isn't hidden.
38. Chunky Short Black Lemonade Braid Bob
I'm confident you'll love these chunky short lemonade braids. Styled into a bob with decorative beads, this look will serve as a stunning foundation to inspire how you get dressed each morning.
39. Jumbo Fulani Lemonade Braids
If you're eager to try Fulani lemonade braids but don't have much time to spare, get this style done in no time with jumbo-sized cornrows. 
You'll still look cute and you can accessorize to your preference. This girl did just that with a stretchy hair cord decorating a single plait.
40. Half-Up, Half-Down Lemonade Braids with Ponytail
These braids feature a half-up, half-down style with a ponytail. Streaks of gray provide a beautiful contrast to the dominant black shade with gold hair cuffs that make this look glow.
41. Creative Lemonade Braids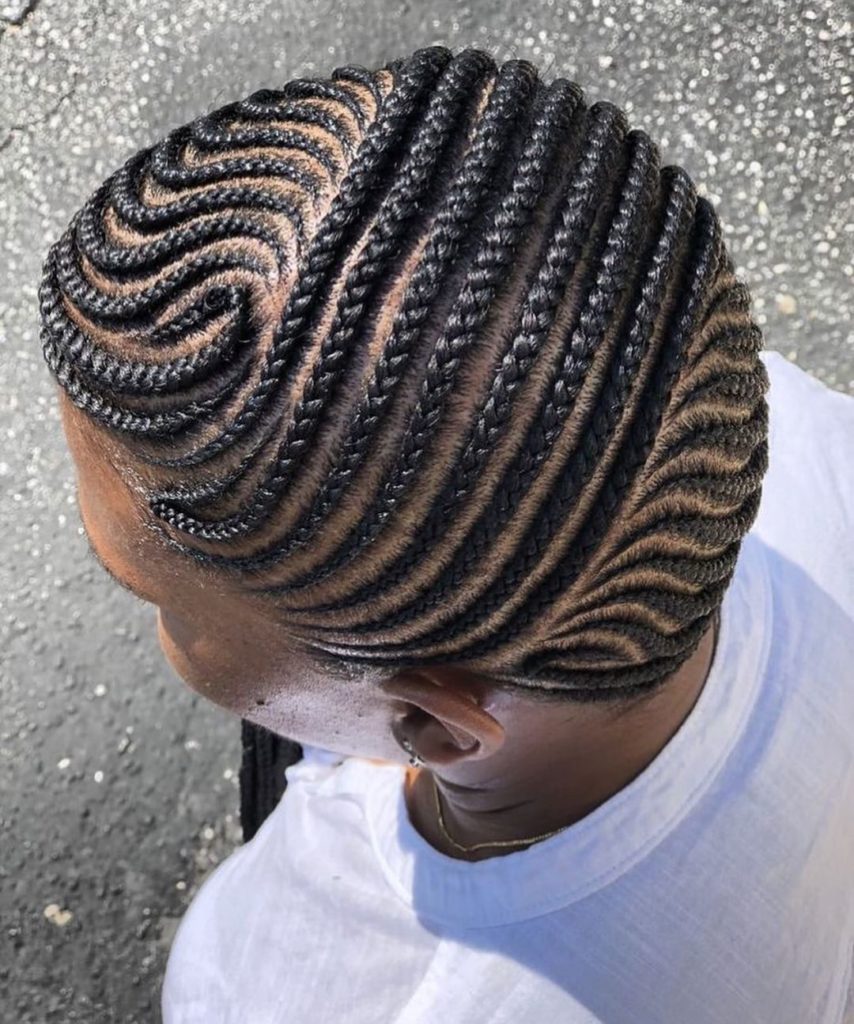 You may think because lemonade braids are mainly worn to the side that there's not much diversity to enjoy from this style but, on the contrary. 
As this look displays, there are several patterns you can braid your cornrows in to achieve the same stylish side braid result, such as spirals and zig-zag designs.
42. Super Long Pink Lemonade Braids
If you're a girly girl who loves long braids, what better look to try than knee-length lemonade braids in a bright pink shade.
43. Lemonade Braids with Criss-Cross Cornrows
A criss-cross cornrow is a unique pattern that will definitely draw attention to your lemonade braids. 
Wear them along with small cornrows to keep your braids looking neat. Finish the style with a few loose coils for that extra feminine touch.
44. Black and Burgundy Jumbo Lemonade Braids
Feel like throwing some color in with your black braids? A shade that works well with black is burgundy. It's a beautiful color that adds so much vibrancy when paired with a darker tone.
45. Side-Part Ombre Lemonade Braids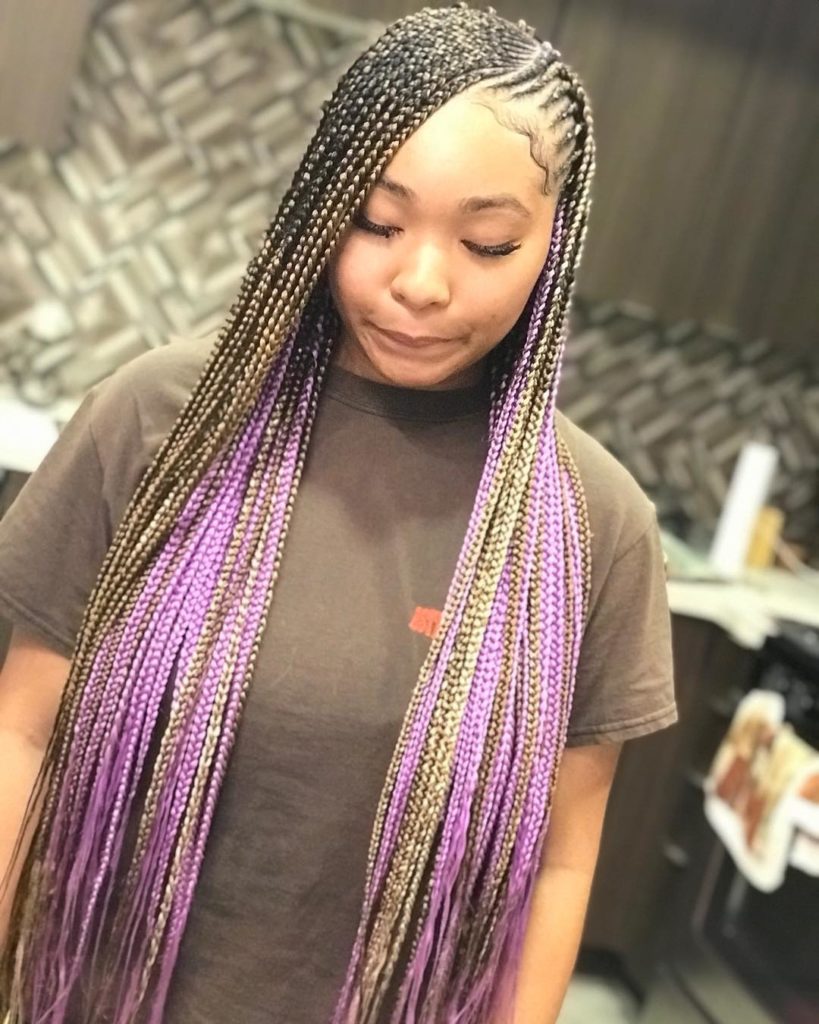 Wear your lemonade braids down for an easy-going style that effortlessly slims your face and makes your appearance softer. 
Achieve this look first beginning with a side part, braiding an entire section of cornrows down the front of your face with the other side braided toward the back. 
As for the color, lilac braids were thrown in the mix with blonde creating a chic ombre look.
46. Lemonade Braids in a Center Ponytail
Wear your lemonade braids up in a stylish high ponytail at the center of your head. This must-see look will definitely come in handy to stave off that Summer heat.
47. Half-Up, Half-Down Lemonade Braids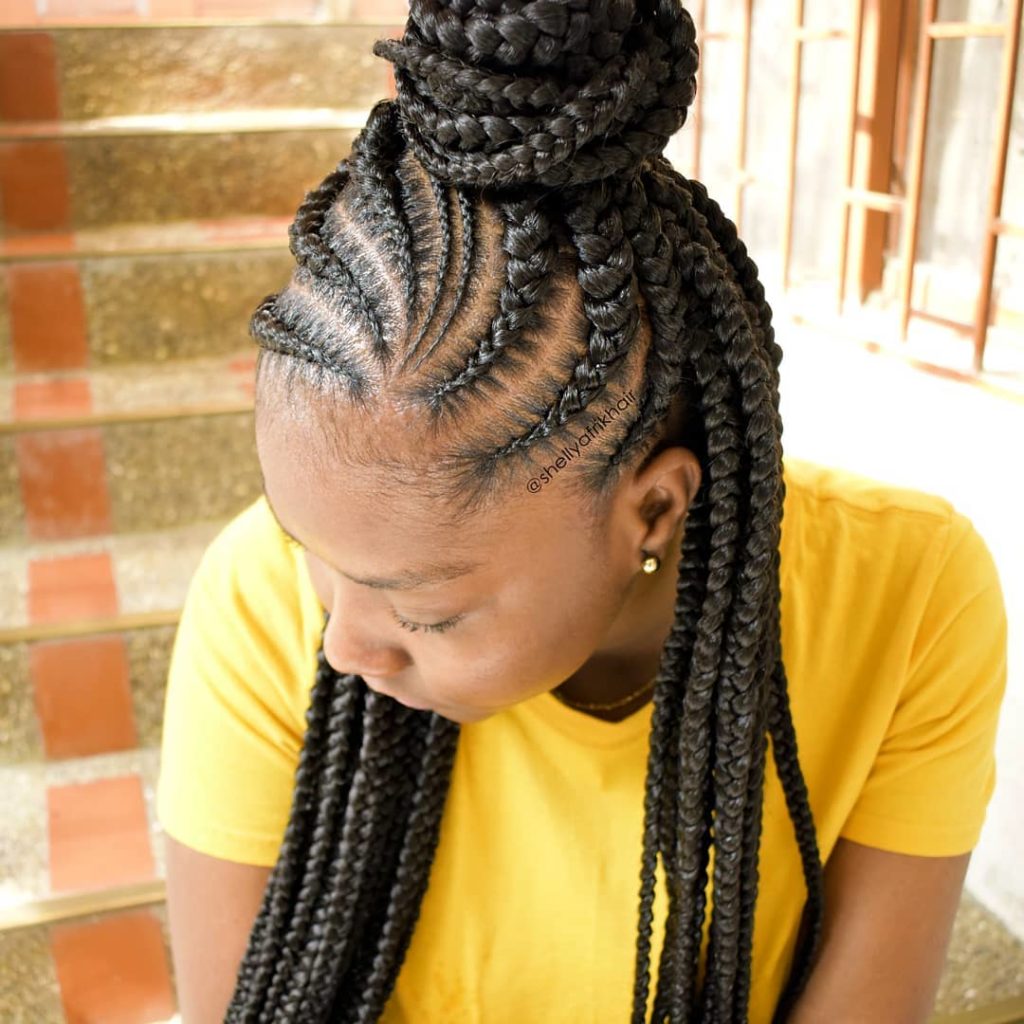 We've seen braided buns and ponytails but what about this half-up, half-down style with a cute bun on top? Now, that's a classy lemonade braid look you've got to try.
48. Angled Bob Lemonade Braids
You can also wear your lemonade braids in an angled bob with thick cornrows. This short style is known to heighten sophistication and femininity, bringing more attention to your facial features in a flattering way.
49. Gray Lemonade Braids in a Side Bun
Want to keep your jumbo lemonade braids looking as traditional as possible but with a feminine touch? That's easy! Simply gather your cornrows into one and style your braids into a cute side bun to pull off that look.
50. Small, Long Blonde Lemonade Box Braids
Synonymous to the trend that started it all, these blonde side cornrow box braids are a true depiction of Beyonce's compelling hairstyle that started the lemonade braids movement.
51. Edgy Red Lemonade Braids in a Ponytail
For a youthful and confident look, sometimes you have to do something different. Choose a vivid red color for your lemonade braids for an edgy appeal. Complete the look with a stylish ponytail.
52. Micro Lemonade Braids
With micro braids, you don't have to concern yourself too much about your hairstyle becoming worn out as these braids are so small that they stay neat for quite a long time. 
Relish the longevity and rock them in a lemonade braid style tied into a high ponytail for a polished and classy look.
53. Creative Swoop Bang Lemonade Braids
Don't limit yourself; make your lemonade braids runway-ready with a section of cornrows swooped to the side in an extravagant and stylish fashion. Have them pulled to the back with the rest falling over your shoulder.
54. Lemonade Braids with Crochet Twists in a Side Mohawk
You may be wondering how you can keep your braided look interesting and switch it up for different occasions. A great option is lemonade braids with crochet twists.
This classy style begins with small spiral cornrows braided to the side, then a latch or crochet hook attaches hair extensions to form loose curls. In this look, a side-mohawk of shoulder-length coils is the finished product.
55. Lemonade Braids in a Large Side Cornrow
If you're feeling for a braided updo that's elegant, have your stylist do lemonade braids, ending in a large side cornrow that wraps beautifully around the shape of your head. 
With this look, no constant styling is necessary. Simply dress to match this cute style.
56. Long Lemonade Braids with Curved Side Part
This look features a curved side part, surrounded by braids on either side. A few plaits are also tied to the back and decorated by white cords.
I love long lemonade braids in small cornrows and plaits because they fall freely behind you, looking neat at the same time.
57. Short Lemonade Braid Bob with Beads
We sometimes wear braids to achieve a hairstyle with length but shorter braids are just as beautiful! Check out this lemonade braid bob, for example, it's so cute, and to make it even more stylish, you can add stacks of beads at the ends.
58. Lemonade Braids with Stylish Senegalese Twists
Look fancy in a braided updo with curved cornrows, all leading to a collection of stylish voluminous twists. This hairstyle works great for those days when you want to dress up just a bit more than the average.
59. Medium-Length Goddess Lemonade Box Braids
A few curls at the end of your box braids can make a major difference. So, for a cuter appeal, complete your cornrow and box braid look with tight coils ending just below your shoulders.
60. Brown and Blonde Lemonade Box Braids with Middle Part
Brown braids mixed with blonde is a great alternative to classic black braids. Rock long lemonade braids in this color scheme for an ultra-chic approach that will definitely stir up intrigue wherever you go.
61. Lemonade Braids with Center Bun
Not too low, not too high, this center bun is just right if you need a neat and snazzy pulled-back style to rock with your braids.
62. Small Burgundy Lemonade Braids
Lemonade braids are already one of the most gorgeous protective styles, and yet, you can still add to the beauty of this look. 
Featuring intricate cornrows, sectioned and braided in a swirl pattern, this style is enhanced by a pretty burgundy shade.
63. Bright Multi-Colored Lemonade Braids in a Low Ponytail
This look is beautiful in every way as chunky cornrows are braided in blonde, pink, purple, and white hair, creating a faux-embroidery design of multiple colors. 
A look as stylish as this doesn't need much help to stand out. You can rock it however you want, even in a laid-back low ponytail.
64. Flat Twist Lemonade Braids
Go for a softer look with flat twist lemonade braids styled in a top knot bun. Not only is this look gorgeous, but it won't be a hassle to undo your braids either because of the twisted cornrows. 
And as a bonus, whenever you decide to part with this style, you'll be greeted by a stunning twist-out hairstyle.
65. Brown Crochet Twist Lemonade Braids
If you're like me then you love to blend different styles together for your own unique look. So, here's a lemonade braid combo of small cornrows that end in cute, fluffy crochet twists. All done in a gorgeous brown color.
Summary and Top Picks
The idea of lemonade braids is pretty easy to accomplish. It's all about cornrows swept to the side in a stylish way, and the great part is you can add your own touch so you don't feel limited with your choices.
Being free to style these braids to my liking is a big deal for me, and so I was really won over by looks 3, 21, and 30. None of these styles are the same yet they can still be easily identified as lemonade braids which I really love.
What are your thoughts on the ever-growing lemonade braid trend? Which of these styles piqued your interest the most and why? Let me know what you think along with any questions you'd like to ask down below.