Often seen as the fancier and more dramatic version of almond nails, stiletto nails received their moniker because of their tapered shape, beginning with a broad base, followed by narrow, sharp tips, just like stiletto heels. 
A high fashion look, these nails can be short, medium, or long. They lead the way when it comes to getting all dressed up as they are classy and distinct, especially when coated in gorgeously creative designs. 
You may think stiletto nails will bring you too far out of your comfort zone, owing to their conspicuous quality but once your look is complete, you'll marvel at how this daring style can function as super girly and feminine as well.
That said, I'll let this amazing compilation bear witness. Here are stiletto nail designs that will leave you speechless.

1. Blush Pink, Gold, and White French Stiletto Nails
Some of the classiest nail looks start with a french mani. Complement the natural elegance of your stiletto nails with a blush pink base and white french tip, decorated by a stunning gold accent. You can get these nails at Etsy.
2. Glossy Medium-Length Black Stiletto Nails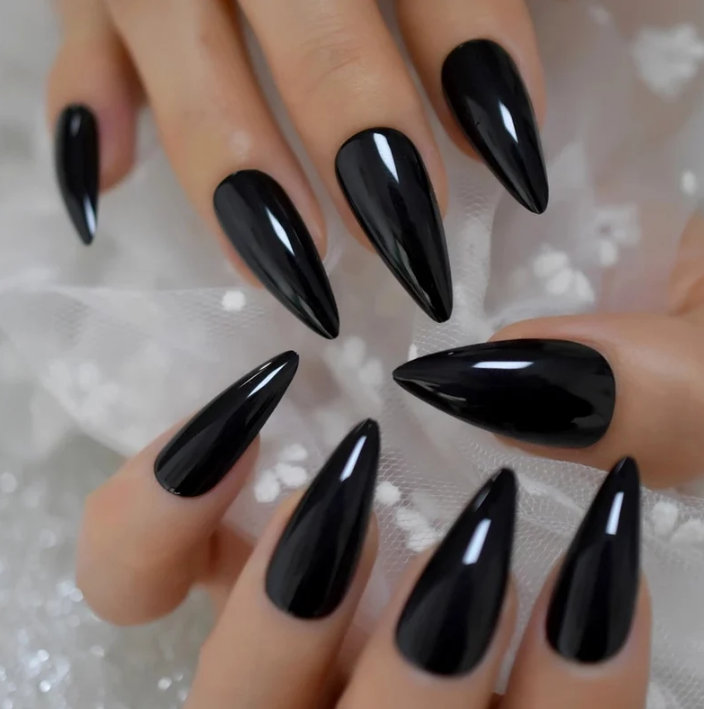 A bold stiletto nail look can be easily obtained with black polish. The glossy finish adds an enthralling sheen that you just can't pull away from. You can get these nails at Etsy.
3. Medium-Length White Stiletto Nails
If you're going for a chic finish, white stiletto nails are a dream come true! White is such a refreshing and clean-cut shade that awards you simplicity partnered with a whole lot of sophistication. You can get these nails at Etsy.
4. Long Matte Red Stiletto Nails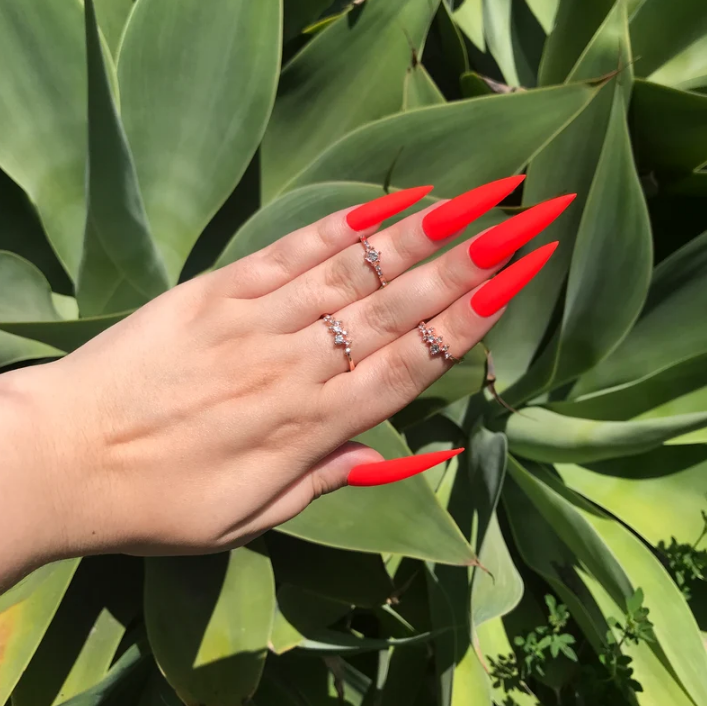 Here's another solid-colored nail look that you'll find absolutely charming and tasteful. The color red allows you to be both bold and elegant with a warm undertone that is an immediate attention-grabber. You can get these nails at Etsy.
5. Azure Blue Crocodile Print Stiletto Nails
Rock a trendy design with stylish crocodile print stiletto nails. For this look, pretty azure blue was the winning shade. The color choice and pattern create a beautiful blend that can be worn any season of the year. You can get this nails at Etsy.
6. Medium-Length Matte Nude Stiletto Nails
For a look that will do all your daily outfits justice, coat your nails in matte nude. An unparalleled shade that works with any color scheme, these nude stiletto nails will have you looking too fabulous for your own good. You can get these nails at Etsy.
7. Medium-Length Maroon Stiletto Nails
It's time to follow your heart and get that extra posh nail look you've been longing for. Overwhelmed by all the colors available to you? My recommendation is a maroon clean sweep. 
Maroon is a neutral yet versatile shade that gives a mature and glamorous appearance. You can get these nails at Etsy.
8. Pink Monochromatic Glitter Stiletto Nails
If pink is a color that you can never get tired of, appease your taste with stunning pink monochromatic stiletto nails. Add a coat of glitter to your ring finger to further highlight this look. You can get these nails at Etsy.
9. Nude Tropical Art Ombre Stiletto Nails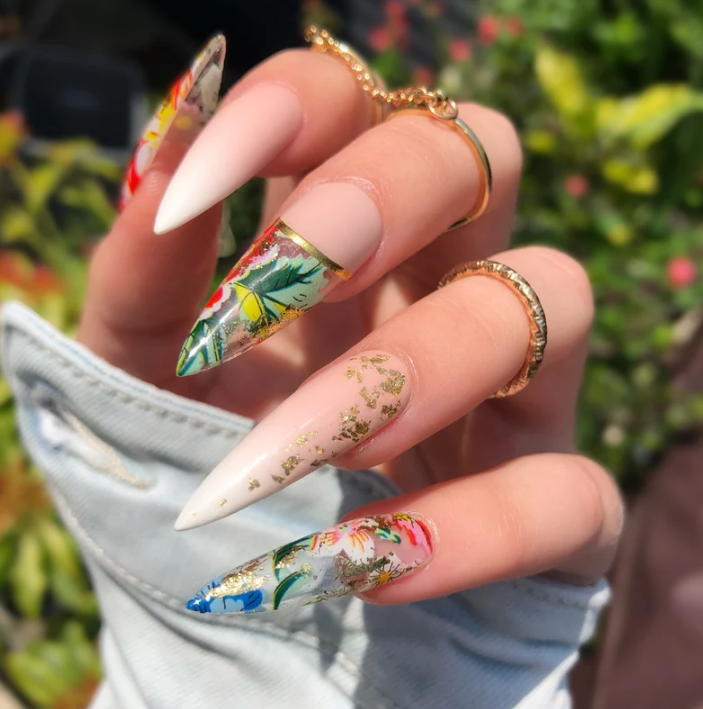 It's customary for so many of us that our nails represent the time of year or a particular event we'll be attending. 
If you're headed for a tropical vacation, transform your stiletto nails into illustrations of nature and the beach with a nude base that matches the chill vibe. You can get these nails at Etsy.
10. Glossy Neon Orange Stiletto Nails
Glow for days on end with your nails coated in a gorgeous neon orange shade. Complete with a glossy top coat to make this color really come alive. You can get these nails at Etsy.
11. Long Light Pink Glitter Stiletto Nails
Light pink nails are so subtle and because of their pastel tint, they also give you a naturally elegant finish. You can add your own twist to this look with your ring finger embellished with glitter. You can get these nails at Etsy.
12. Black Stiletto Nails with White Flowers
So you felt edgy and tried an all-black stiletto nail look but then you had the urge to add a few girly elements. One of the easiest and cutest designs you can go for is floral art.
Black is already the perfect background, so complete the aesthetic with white flowers on just a few nails, leaving the rest to boast an inky black hue. You can get these nails at Etsy.
13. Black and Red Ombre Stiletto Nails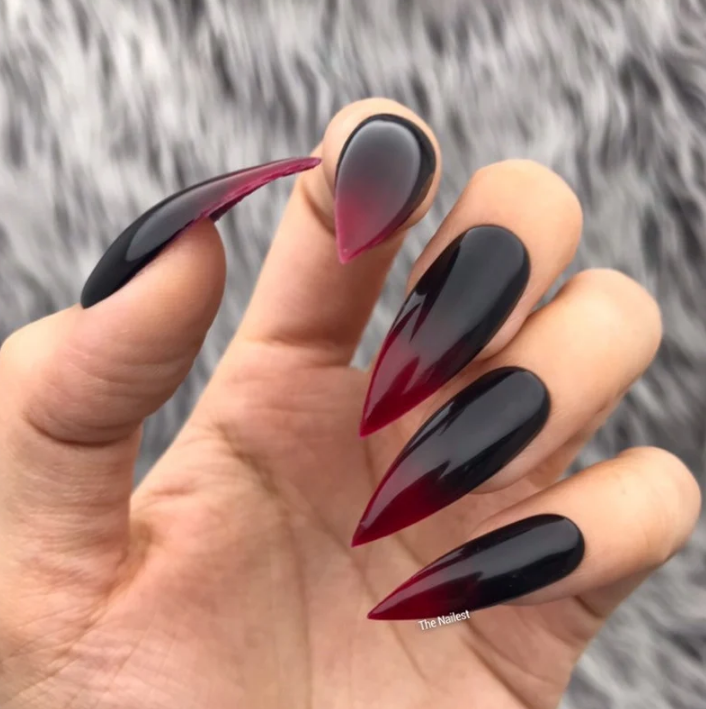 Still in the mood for black but not all on its own? Create an alluring ombre blend with deep red as the secondary shade. You can get these nails at Etsy.
14. Gold Glitter Stiletto Nails
Gold and glitter make an immaculate nail combo. It's elegant, it's timeless, and it's easy to achieve. You can get these nails at Etsy.
15. Navy Blue Holographic Stiletto Nails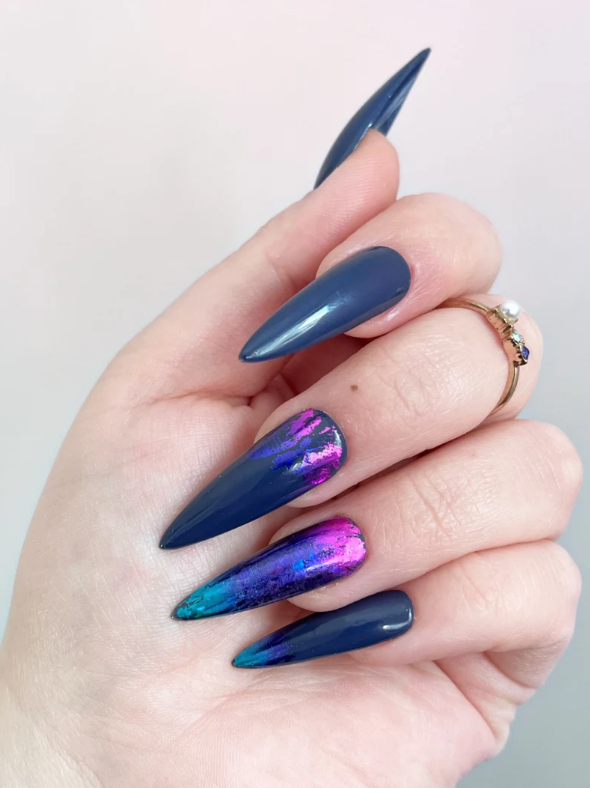 Stiletto nails, although tapered in design, have enough room for some of the most mind-blowing nail art. 
In this navy blue look, a beautiful holographic effect is created with splashes of purple and cyan green for an out-of-this-world, galactic impression. You can get these nails at Etsy.
16. Pastel-Colored Polka Dot Stiletto Nails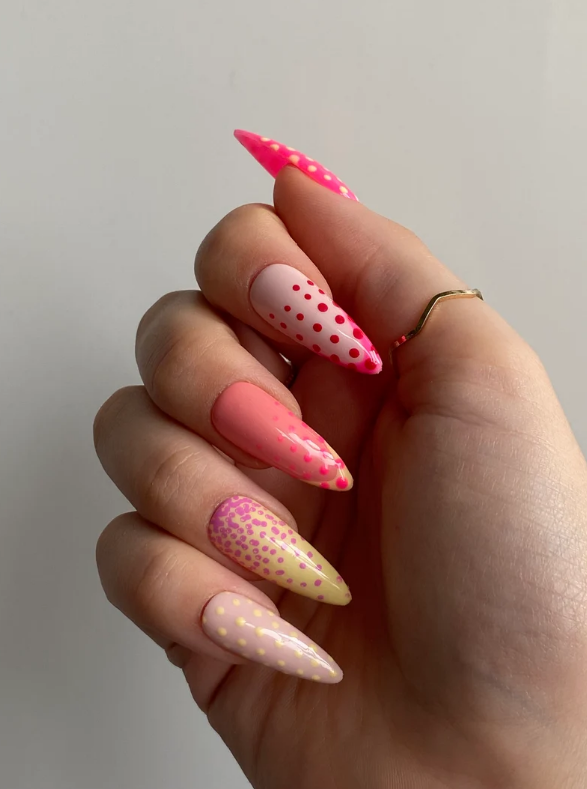 Do you know what's super cute? Pastel shades and polka dots! Pair both together for a trendy and adorable stiletto nail look. You can get these nails at Etsy.
17. Splotched Black and Red Stiletto Nails
In this look, black nail polish is carefully splotched over a bright red base reminiscent of splatter paint art. It's a gorgeously creative design that you'll be eager to show off. You can get these nails at Etsy.
18. Long Yellow Bedazzled Stiletto Nails
In a rush to find a cute nail design for the upcoming season? If you're feeling fancy, rock stiletto nails in bright yellow with your ring finger bedazzled from beginning to end. You can get these nails at Etsy.
19. Blue Monochromatic Ombre Glitter Stiletto Nails
If I were to describe these stiletto nails in one word, it would be, "perfection." Featuring a monochromatic blue color scheme with an ombre effect and sparkles, this look has a surreal aura that captivates you at first glance. You can get these nails at Etsy.
20. Yellow Stiletto Nails with Daisy Art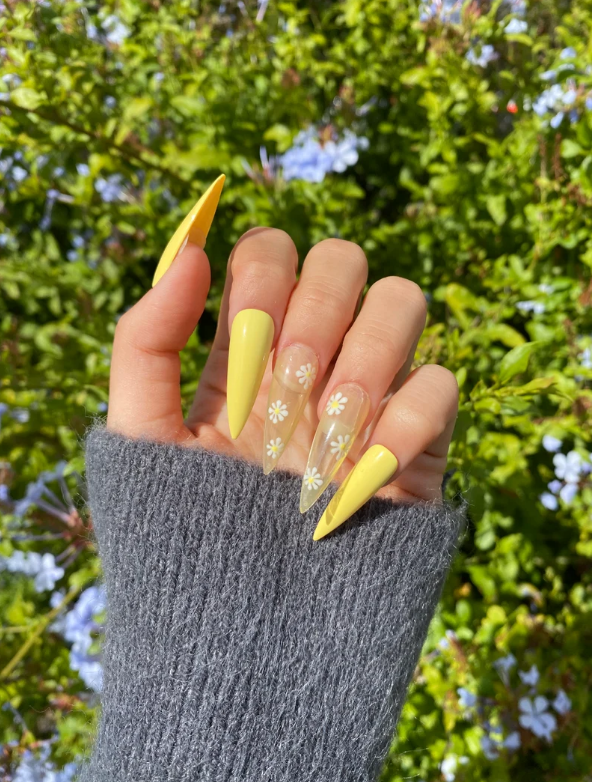 Symbolic of the great outdoors during Spring and Summertime, this look is bright and airy. Yellow and clear nails are paired together with the inclusion of daisy nail art for tons of feminine flair. You can get these nails at Etsy.
21. Pastel Pink Stiletto Nails
Pink gives our nails a gentle and feminine look that appears natural, even more so in a muted tone. In the meantime, the slender shape of stiletto nails also adds to how flattering this manicure is. You can get these nails at Etsy.
22. Glossy Sky Blue Stiletto Nails with Cloud Art
The cloud art design on these nails looks so convincing, thanks to the sky blue base which acts as the perfect backdrop, and a glossy glaze that makes this design so ethereal. You can get these nails at Etsy.
23. Nude Pink Marble Stiletto Nails
It's only fitting that you get marble-designed nails done in a nude pink shade, as both the marble effect and nude tone are classy, and combine to create a versatile everyday look. You can get these nails at Etsy.
24. Matte Multi-Colored Stiletto Nails with Black Dots
A different color per nail is a simple way to achieve stylishly creative stiletto nails. Include cute black dots on each as a way to tie this look all together using a common element, completing the design with a matte finish. You can get these nails at Etsy.
25. Turquoise, Rose Gold, and Black Floral Stiletto Nails with Glitter
Complement cute turquoise nails by coating your ring finger in a black base with a vivid pink floral design. Take this look a step further and dress the nail of your index finger in a sea of rose gold glitter. You can get these nails at Etsy.
26. Gray Stiletto Nails
For a look that's chic and versatile, I recommend dark gray stiletto nails. This neutral hue is a staple that works well with closet basics such as white, black, and nude. You can get these nails at Etsy.
27. Pastel Multi-Colored Ombre Stiletto Nails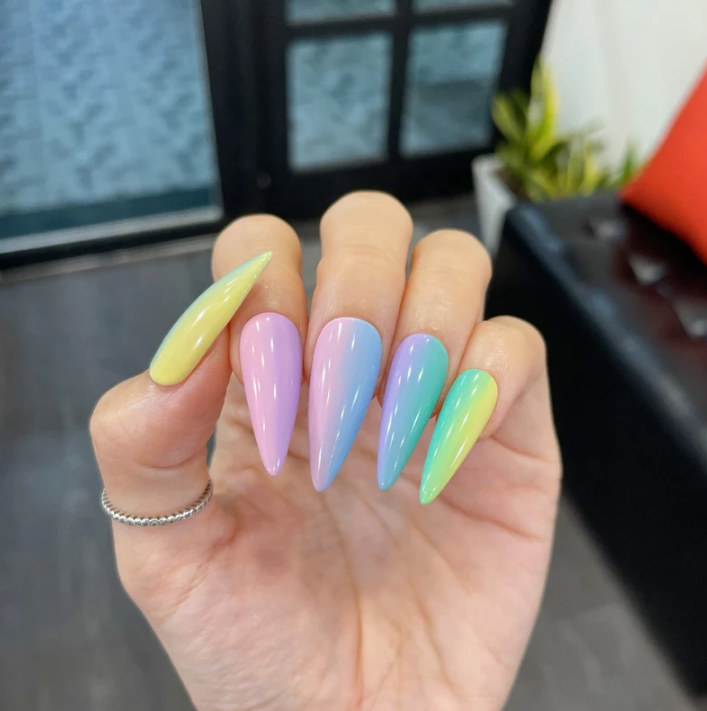 This gradient design is a beautiful blend of pastel colors, including shades of yellow, purple, blue, and green. Although colorful, its muted undertone provides a light and feminine finish. You can get these nails at Etsy.
28. Pink Metallic Glitter Stiletto Nails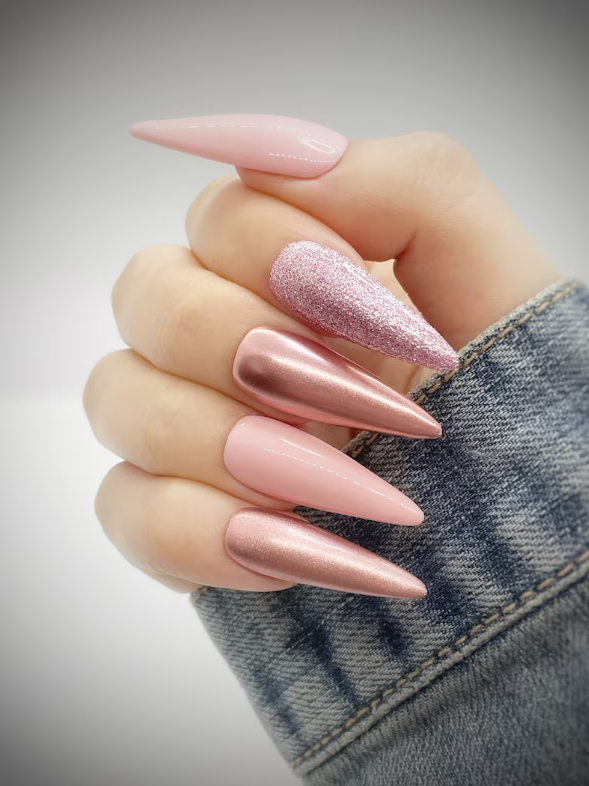 A look that will make even your casual fits come to life, pink stiletto nails. This design features a gorgeous glitter overlay with the middle and ring fingers in a striking metallic finish. You can get these nails at Etsy.
29. Moss Green Stiletto Nails
Earthy tones are finally getting the love they deserve. These moss green stiletto nails are reminiscent of nature, perfect to bring a warm contrast to your outfit of choice, and a great companion for gold jewelry. You can get these nails at Etsy.
30. Pastel Orange and White Ombre Stiletto Nails
Orange nails give a natural glow to your hands. This orange and white ombre look, however, takes on a more subtle approach with a milky appearance, as both pastel hues blend seamlessly together. You can get these nails at Etsy.
31. Glossy Red and Gold Glitter Stiletto Nails with Bow Tie Design
Turn your nails into the perfect gift for yourself with a glossy red base overlaid with glitter accents and a cute bow tie, designed on your ring finger. You can get these nails at Etsy.
32. White and Blue Floral Stiletto Nails
I'm loving everything about this girly nail look. Starting with a chic white base, pretty blue flowers are painted on top of selected nails as the rest are left bare. The outcome is a stunning mismatched floral design. You can get these nails at Etsy.
SEE ALSO: 50 White Acrylic Nail Design Ideas That'll Blow Your Mind
33. Long Nude and Red French Stiletto Nails
The attenuated structure of stiletto nails gives them a lean and elegant look. Here, they're perfectly matched by a nude and red french tip design, and silver glitter sequins for a soft glam finish. You can get these nails at Etsy.
34. Pastel Ombre Stiletto Nails with Silver Glitter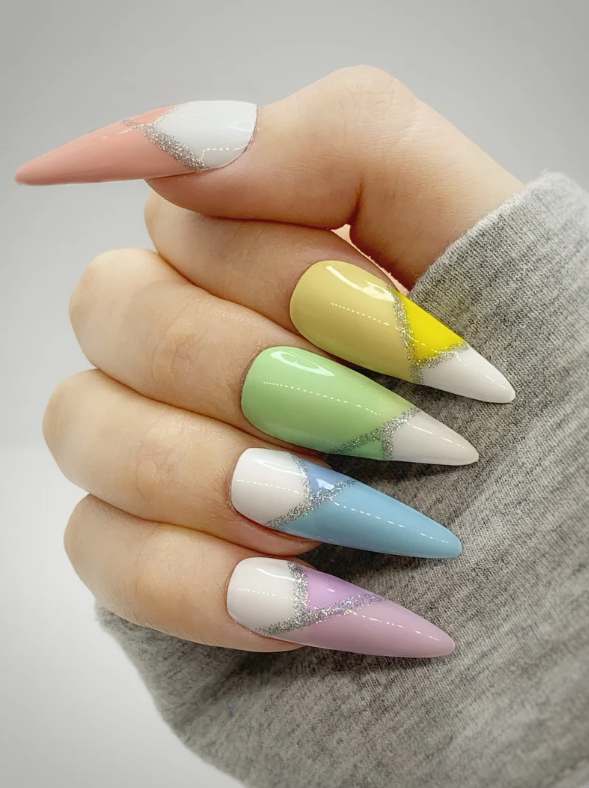 I've been seeing a lot of this cute look recently; ombre nails in pastel colors. If you're a fan of this style but it matters that your look is unique, incorporate silver glitter for a cool abstract effect. You can get these nails at Etsy.
35. Gel-X Multi-Colored French Rim Stiletto Nails
A trendy nail style that's popping up everywhere is gel-x nails. Everyone has been talking about them, and these multi-colored french rim tips are achieved by the application of gel extensions.
Gel-x nails have a softer and gentler appearance when compared to acrylic nails. Nonetheless, they are known for their durability. You can get these nails at Etsy.
36. Nude and Pink Floral Stiletto Nails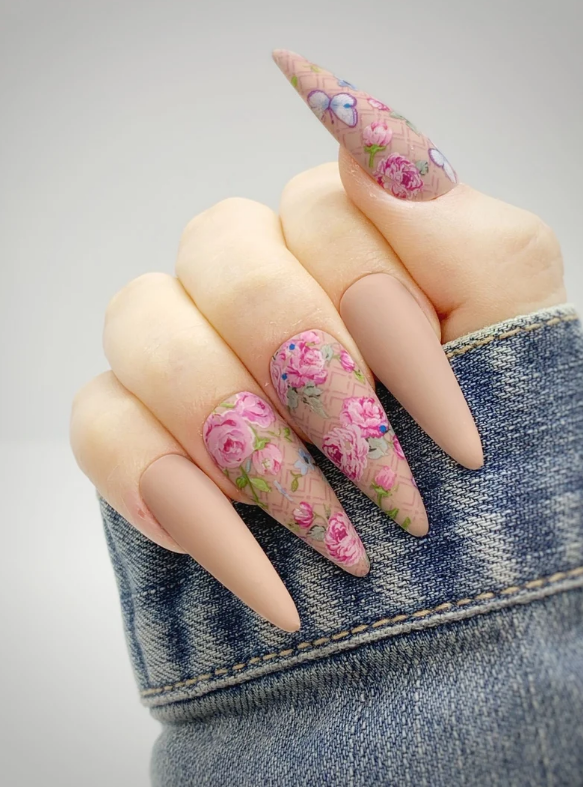 Nude nails look amazing with floral designs as both have a delicate aura and are representatives of femininity. For the cutest mix, opt for pink flowers, in all sizes. You can get these nails at Etsy.
37. Milky Nude Marble Stiletto Nails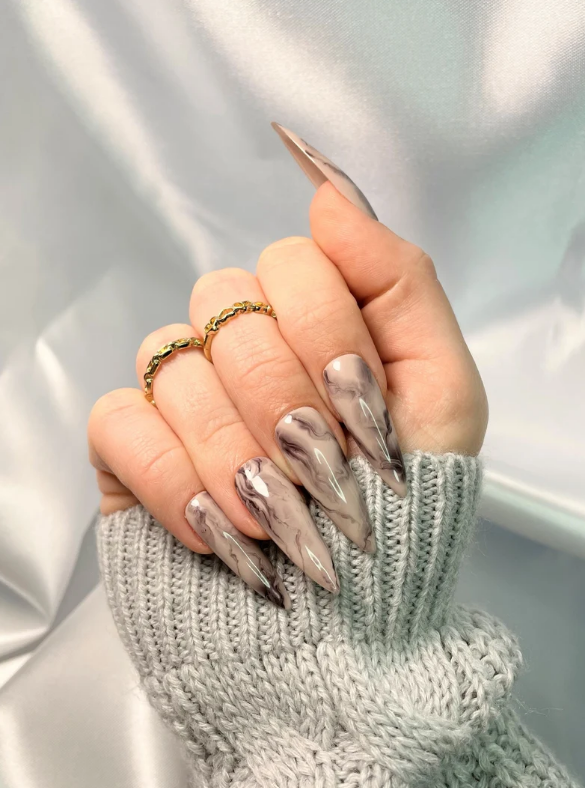 This look is sophisticated and easy to pull off as medium-length stiletto nails are varnished in a milky nude shade. Thin black swirls dance on the surface for an exquisite marble effect. You can get these nails at Etsy.
38. Nude Pink and Leopard Print French Stiletto Nails
Master the animal print trend with a nude pink and leopard french tip design. This fashionable look will do wonders when worn with even your comfiest of wardrobe pieces, and stylish jewelry. You can get these nails at Etsy.
39. Medium-Length Nude Stiletto Nails with Silver Sequins
Feeling for a simple nail design that's chic and attractive? The first step is a solid nude base. Finish the look with silver sequins, applied all over. You can get these nails at Etsy.
40. Short Multi-Colored French Stiletto Nails
We're often led to believe that stiletto nails have to be lengthy. Truth is, you can rock this cute extension short and spicy. Try a design that will keep the fun, youthful vibes going with multi-colored french tips. You can get these nails at Etsy.
41. Green Glitter and Half-White French Stiletto Nails
I love including glitter on my nails because of that impressive glow I receive that makes them stand out from a distance. These fancy green sparkle nails were complemented by a half-white french tip for an all-around stunning finish.
42. Multi-Shade Pink French Rim Stiletto Nails
A muted pink shade provides the foundation for these exceptionally cute nails. They feature a hot pink french rim design and large rhinestone sequins to round off this stiletto nail showpiece.
43. Cherry Red and Nude Stiletto Nails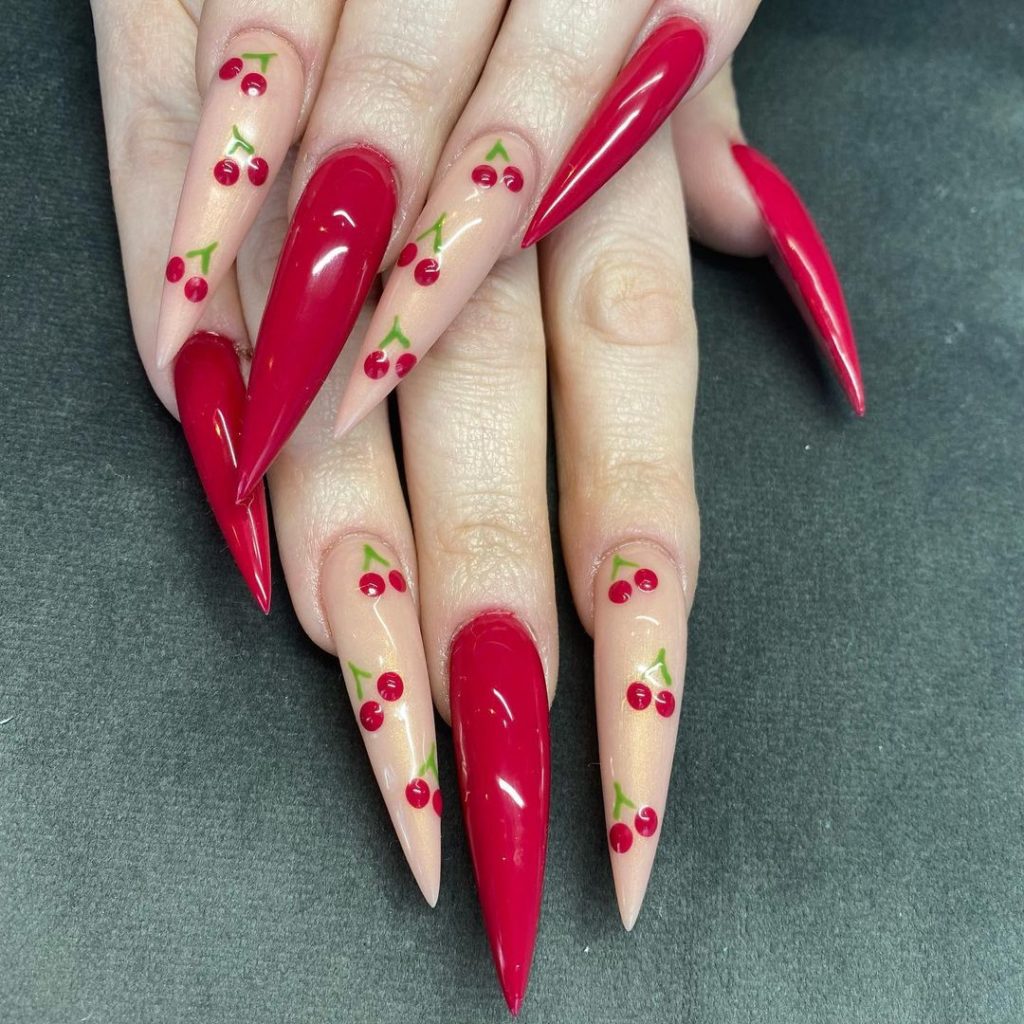 Did you know you can have a sweet tooth for fashionable nails? Satisfy your personal taste with a cute cherry red nail look that also bears a design that shows tribute to the heart-shaped fruits.
44. Nude Stiletto Nails with Colorful Flowers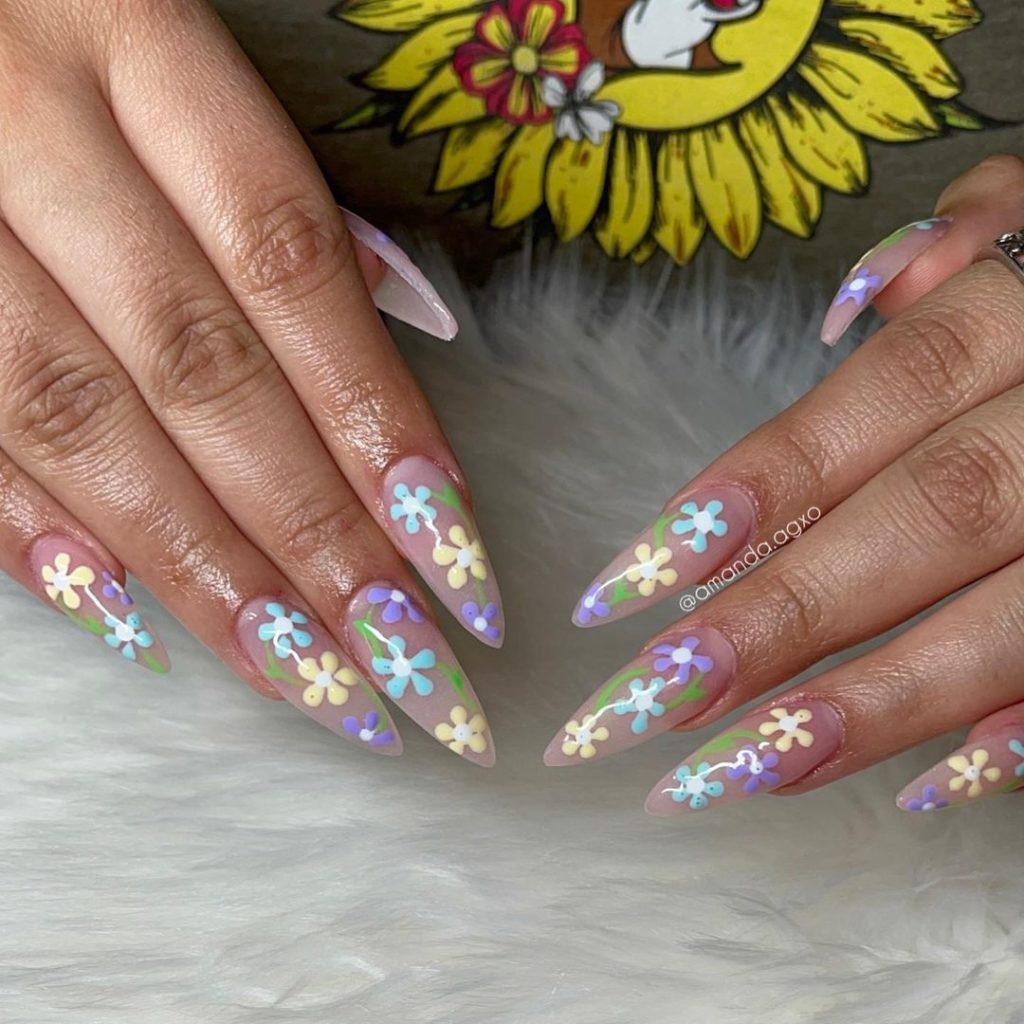 These nails are just what you need to announce that Spring is here! Choose a nude base that allows you to easily show off cute floral designs. Have each flower painted in a different color to keep this stiletto style interesting.
45. Watercolor Rhinestone Sequin Stiletto Nails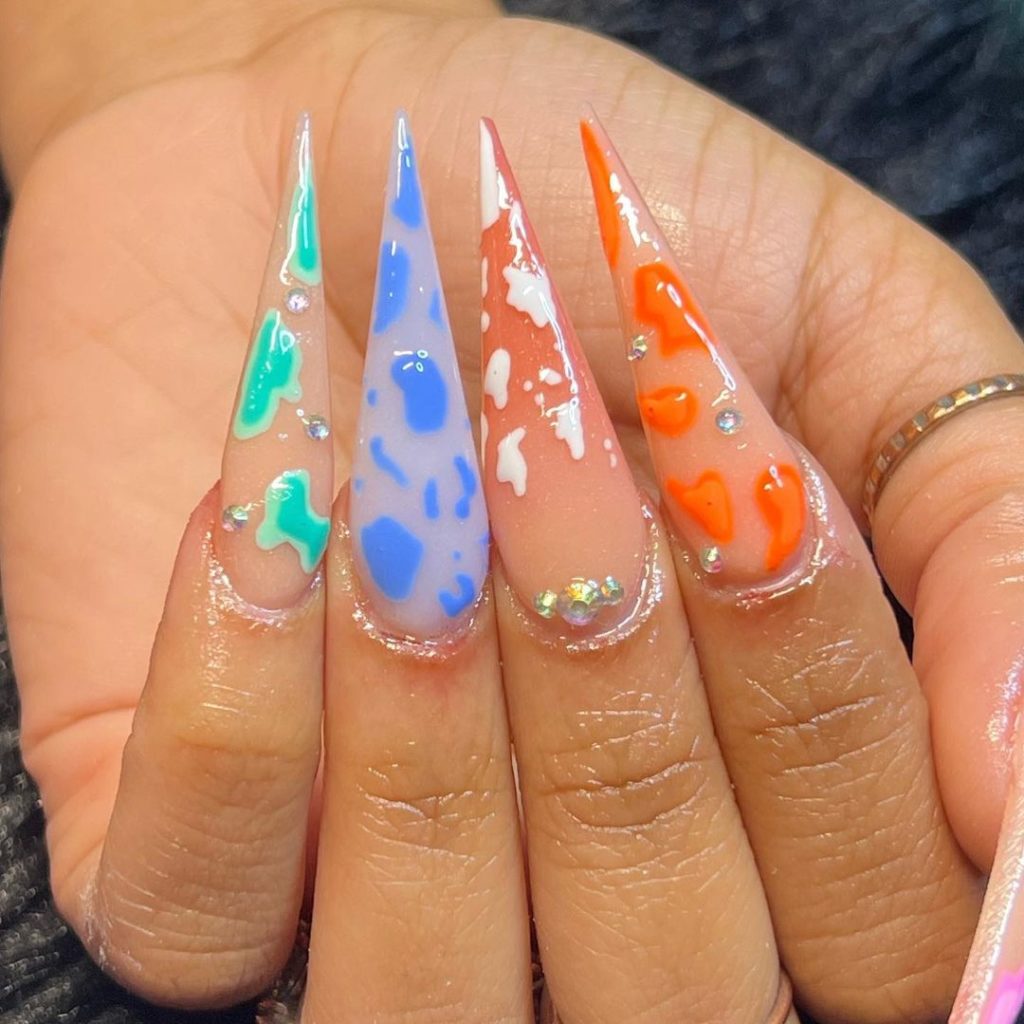 Watercolor art is such an easy way to achieve colorful stiletto nails, especially if you're running against time. Go for a few bright colors along with white for a manicure that's well balanced and aesthetically pleasing.
46. Multi-Colored Flame Stiletto Nails
This nail look is proof that simple designs can be super cool. Flame nail art doesn't have to be red hot for you to get the point across, so mix it up with multiple colors—each nail flaunting a shade that you love.
47. Purple and Yellow Glitter Stiletto Nails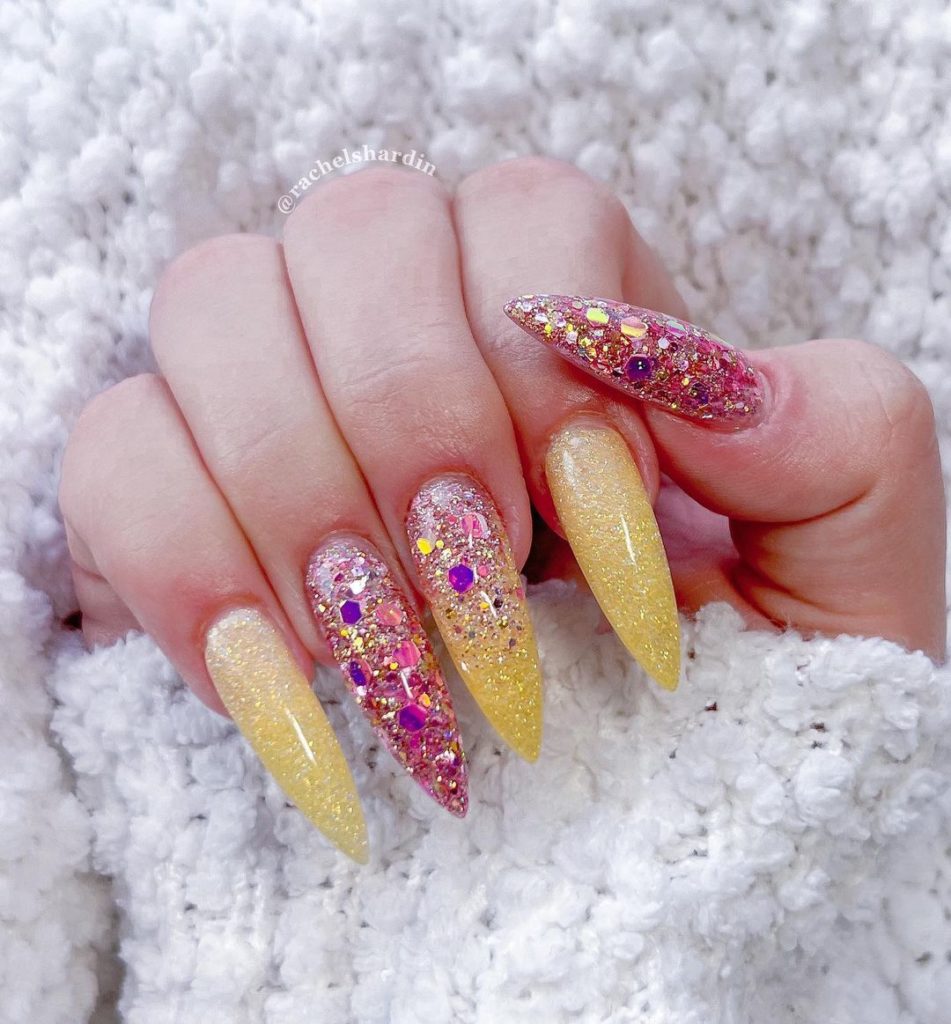 You may be able to tell by now that I'm absolutely in love with glitter nails, and can you blame me? This look is top of the line with a gorgeous pairing of purple and yellow and a bit of ombre flair in the middle.
SEE ALSO: 100 Amazing Ombre Nail Design Ideas
48. Brown Stiletto Nails with Yellow Rhinestone Sequins
All-brown nails are chic all by themselves but if they're looking a bit too basic for your preference, yellow rhinestone sequins can change that in a heartbeat. Look how they shine, and immediately seize your attention.
49. Nude and Pink French Stiletto Nails with White Flower Outline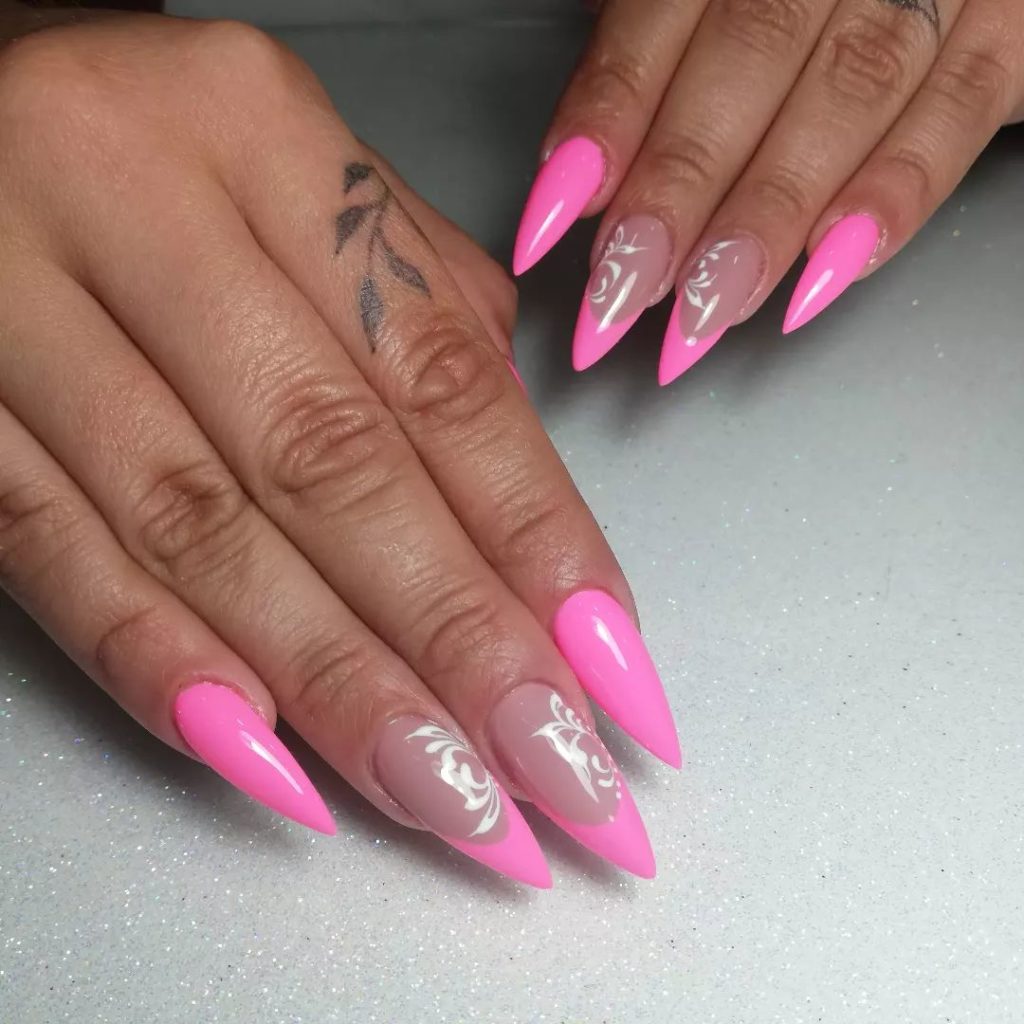 French tips are super feminine and so is pink. Bring both together for a cute combo featuring a white floral outline on the nude base of each french tip design.
50. Orange Stiletto Nails with White Swirls and Glitter
These nails are so satisfying to see and appear as if sugar was sprinkled on top, resulting from the light application of glitter. 
They also have a slightly bulky and sheer orange base, resembling gelatin desserts with thick white abstract swirls to top it all off.
51. Pastel Blue and Purple Daisy Stiletto Nails
Pastel shades possess a soothing quality that's so admirable. That's why the soft-hued appearance of these blue and purple nails makes you look graceful without even trying. 
Plus, they were perfectly combined with white daisy flowers—another feminine element of design.
52. White French Stiletto Nails with Golden Butterfly Accent
A nail design that always gets me excited is white french tips because you can wear them bare and look amazing, but if you wear them with a complementary golden butterfly accent, you'll look absolutely charming.
53. Pink and Blue Mismatched Stiletto Nails with Cloud Art and Glitter
It's a boy! No, it's a girl! These mismatched pink and blue nails are giving me total gender reveal vibes. It'll be like a dream becoming reality with cloud art and tons of glitter.
54. Short Red Stiletto Nails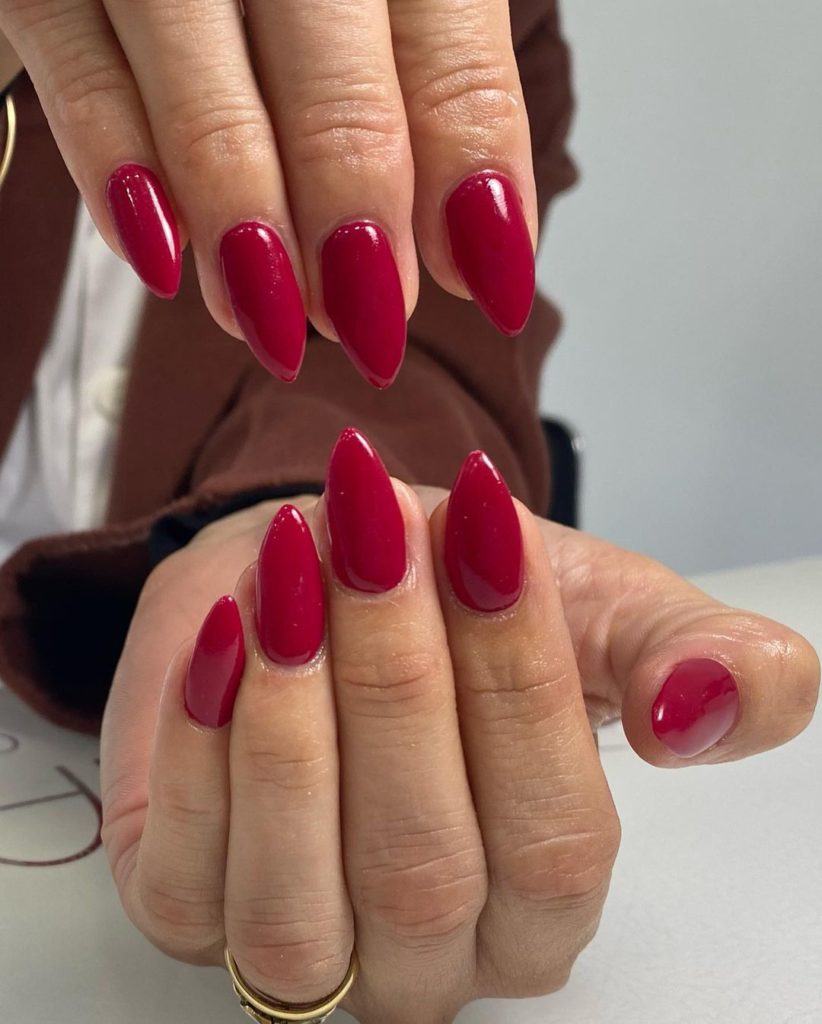 If short and spicy was a nail look, it would be these short acrylic red stiletto nails. The color choice is classy and despite the short length, it's bold too.
55. White Abstract French Stiletto Nails
Get white french tips the way you want them with an abstract geometric design that's as fun to look at as it is to do. It's a great way to make a classic french mani more diverse to suit a wider range of your closet pieces.
56. Multi-Colored Abstract French Stiletto Nail
Here's another look that's all about having fun with your nails. By choosing multiple colors and abstract patterns, there's no limit to how stylish your nails will look. 
Opt for a french tip design if you don't want the colorful theme to be too dominant.
57. Ice Blue and White Ombre French Stiletto Nails with Glitter
The shape of stiletto nails can be likened to that of a crystal; symbolic of luxury and perfection, there's no other way to describe these gorgeous nails. They're a combo of ice blue and white with an ombre effect, french tip, and glitter overlay.
58. Nude and Yellow Ombre Stiletto Nails with Silver Sequins
In this look, a nude base fades into light yellow for a soft gradient effect. Each nail is embellished with a silver sequin and vertical black line for a chic twist.
59. Purple Glitter Stiletto Nails
On the hunt for fancy purple nails? Well, this mismatched glitter-decorated look is all the glam you need!
60. Gray Heart-Shaped French Stiletto Nails with Rhinestones
Spruce up solid gray nails with a moderate amount of rhinestone accents and look chic with ease. Plus, a heart-shaped french tip design in a darker hue doesn't hurt. Sometimes, it's the simple things that make your nails unique.
61. Nude, Pink, and Deep Taupe French Stiletto Nails with Glitter
Have your nails ever looked so amazing that you were in shock for days? That's the feeling I get when I look at these stiletto nails. Following a nude and metallic color scheme, these nails are super sleek and high fashion.
62. Multi-Colored Swirl French Stiletto Nails
Swirls have forever etched themselves in the world of nail artistry, becoming a go-to design worldwide. 
It's because they're easy to do and make your nails super attractive, just as it is with these nude stiletto nails, overlayed by multi-colored swirl patterns.
63. Multicolored Pastel Floral Stiletto Nails
The first thought sparked by these pretty pastel nails was, "Spring is gonna be lit!" All thanks to the fitting color combination and dainty floral design.
64. Wine Red Ombre Stiletto Nails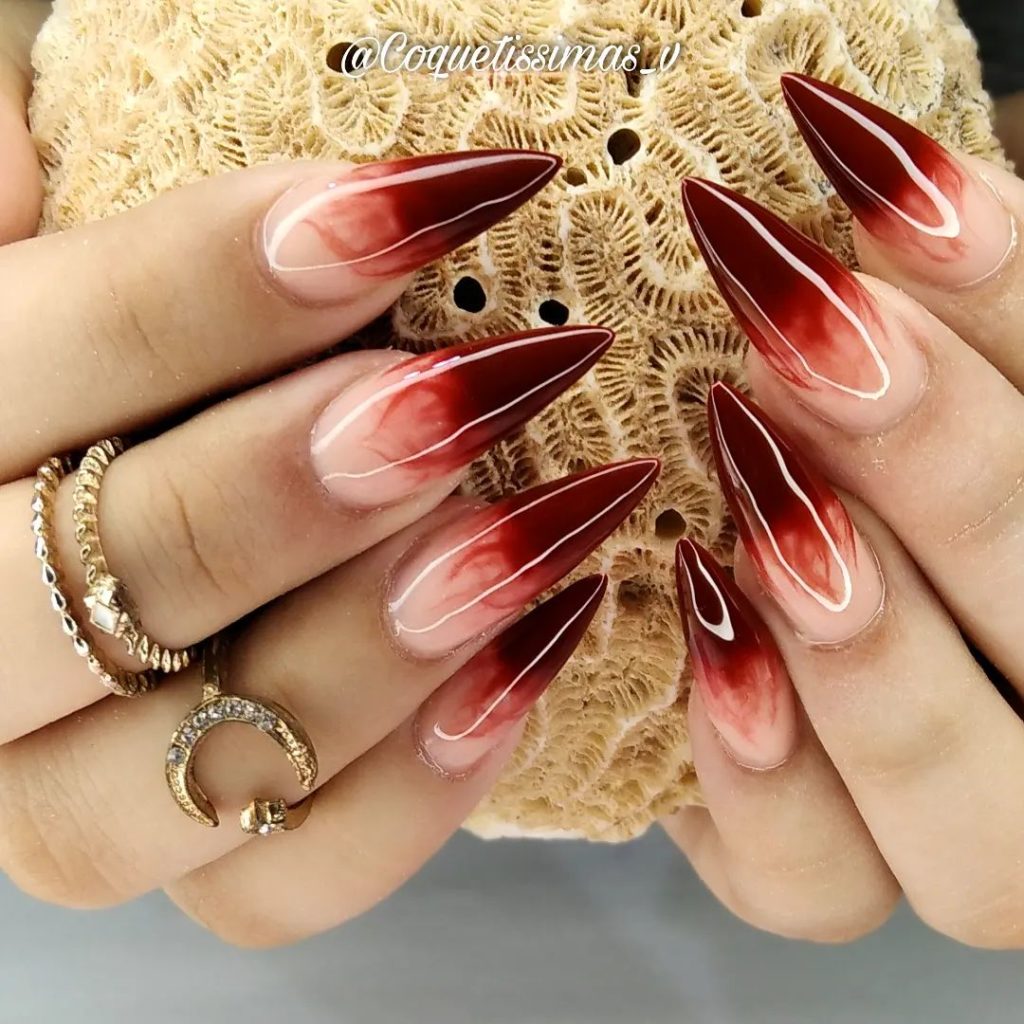 Like a tall glass of wine, these red ombre nails are captivating with a lasting impression. They feature a luxurious glow, owing to that glossy finish.
65. Long Nude and Blue Glitter French Stiletto Nails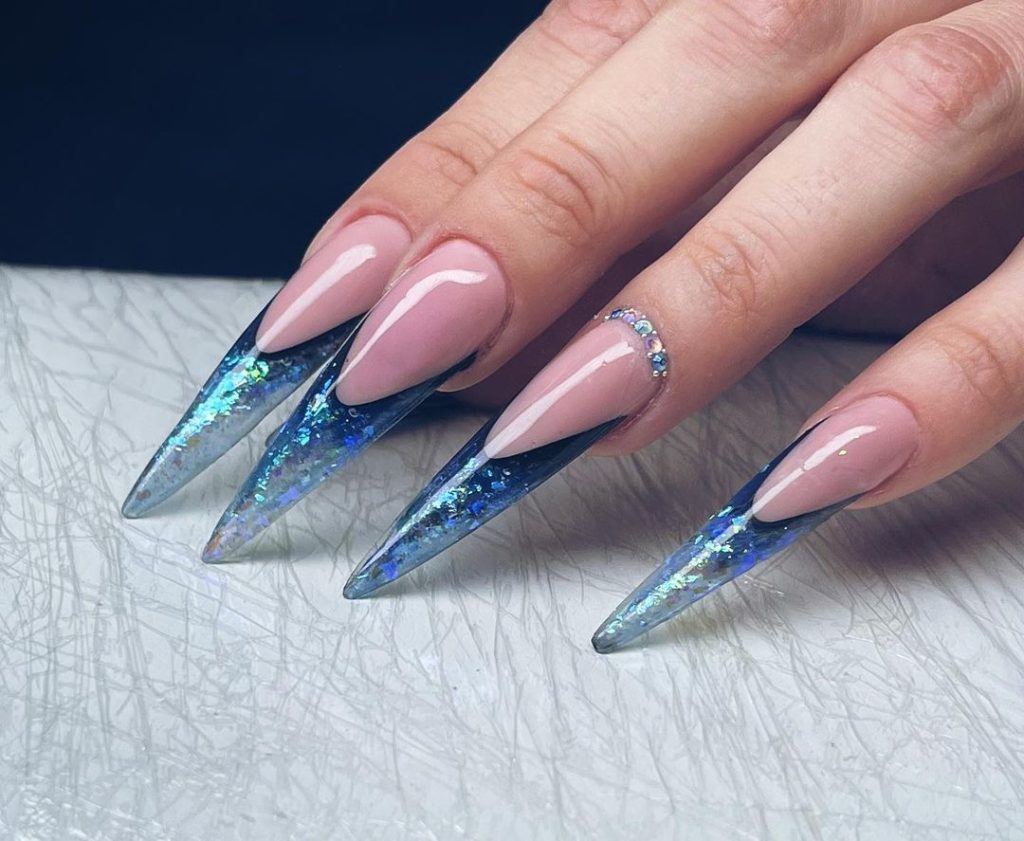 Ritzy nails have become easier than ever to accomplish. In this look, a sheer nude gel extension is transformed into a crystal-like design with blue glitter, and a glossy glaze for a fairytale finish.
66. Pastel Ombre Stiletto Nails with Blue and Purple Glitter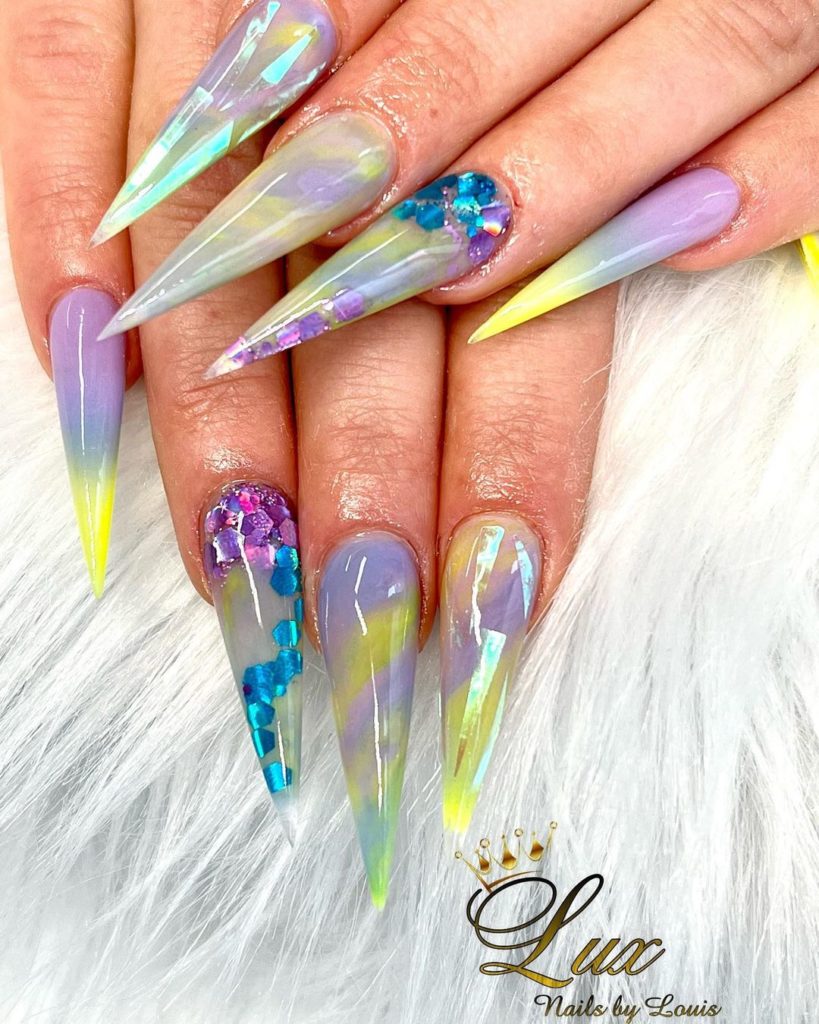 The party is here and these stiletto nails are ready for some Summer fun! Coated in multiple pastel shades in a gradient style, the festivity is all in the crystal resemblance and glitter overlay.
67. Hot Pink and White Stiletto Nails with Green Leaves and Glitter
The feminine aura of these hot pink extensions is effortlessly complemented by dual white nails with green leaf decor. Cute sprinkles of glitter on both pinky fingers also made the cut.
68. Black Red Bottom French Stiletto Nails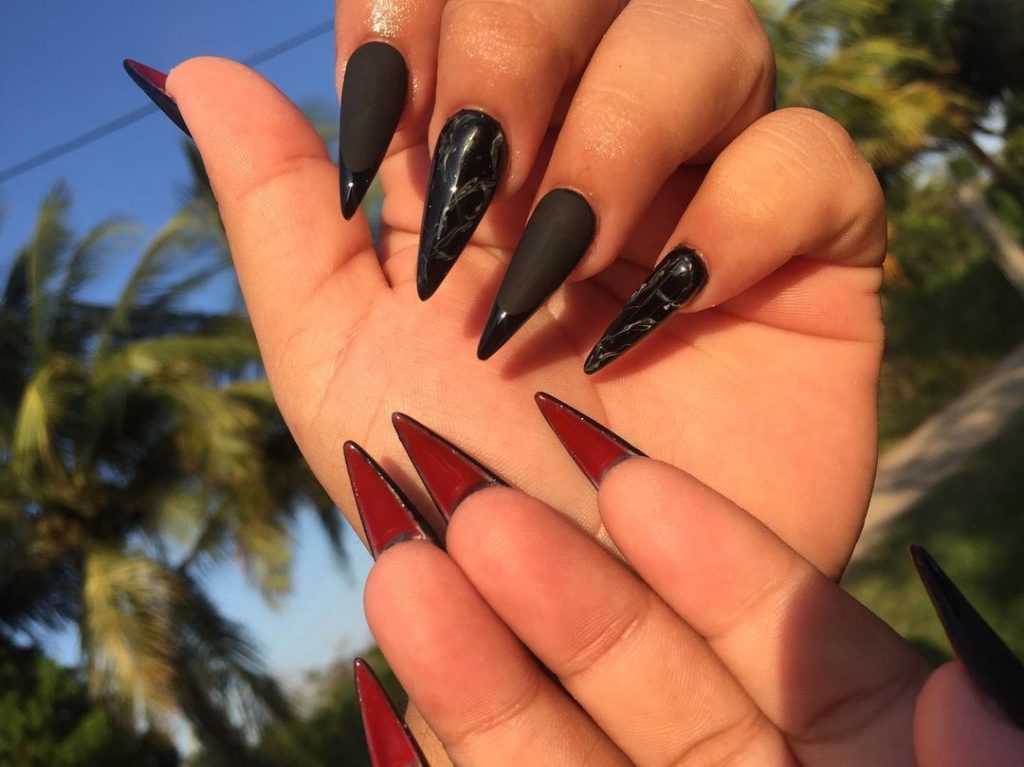 Do you remember when I first highlighted red bottom nails? This is the stiletto-shaped version of that fabulous design. This look also features a marble effect and french tips, switching from a matte to a glossy finish.
69. Glossy Lavender Blue Stiletto Nails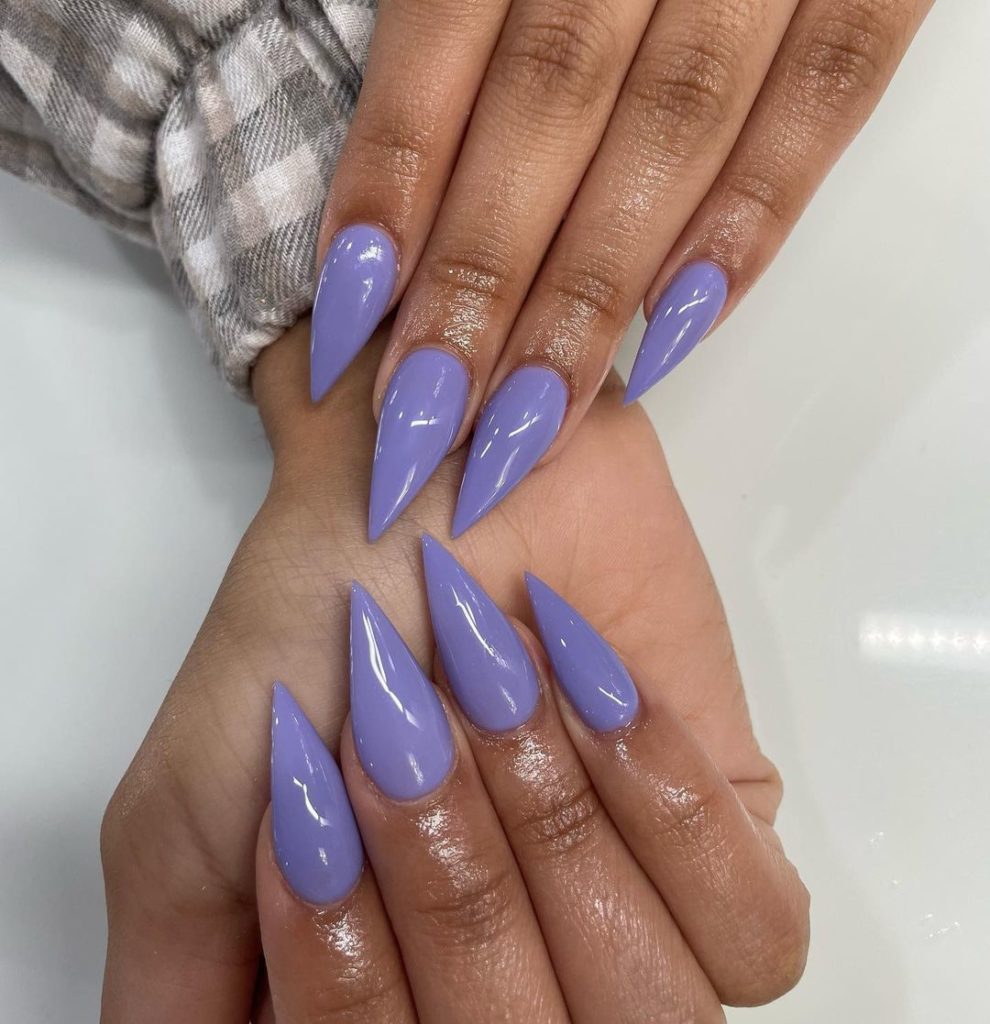 You're starting to go out again and you need a nail look that's simple, chic, and protean; I can't emphasize enough how much lavender-blue nails fit this description. 
This color is compatible with so many outfits in various designs and patterns, it may as well be a neutral shade.
70. White Stiletto Nails with Glitter
To imagine a white nail design with glitter is one thing but the look manifested with the addition of rhinestones. It is truly a sight for sore eyes.
71. Monochromatic Pink Swirl Stiletto Nails
It's pink on pink for all the girly girls! Although monochromatic, swirl designs do a great job at accentuating these stiletto extensions.
72. Nude Pink and White Ombre Stiletto Nails with Purple and Gold Accents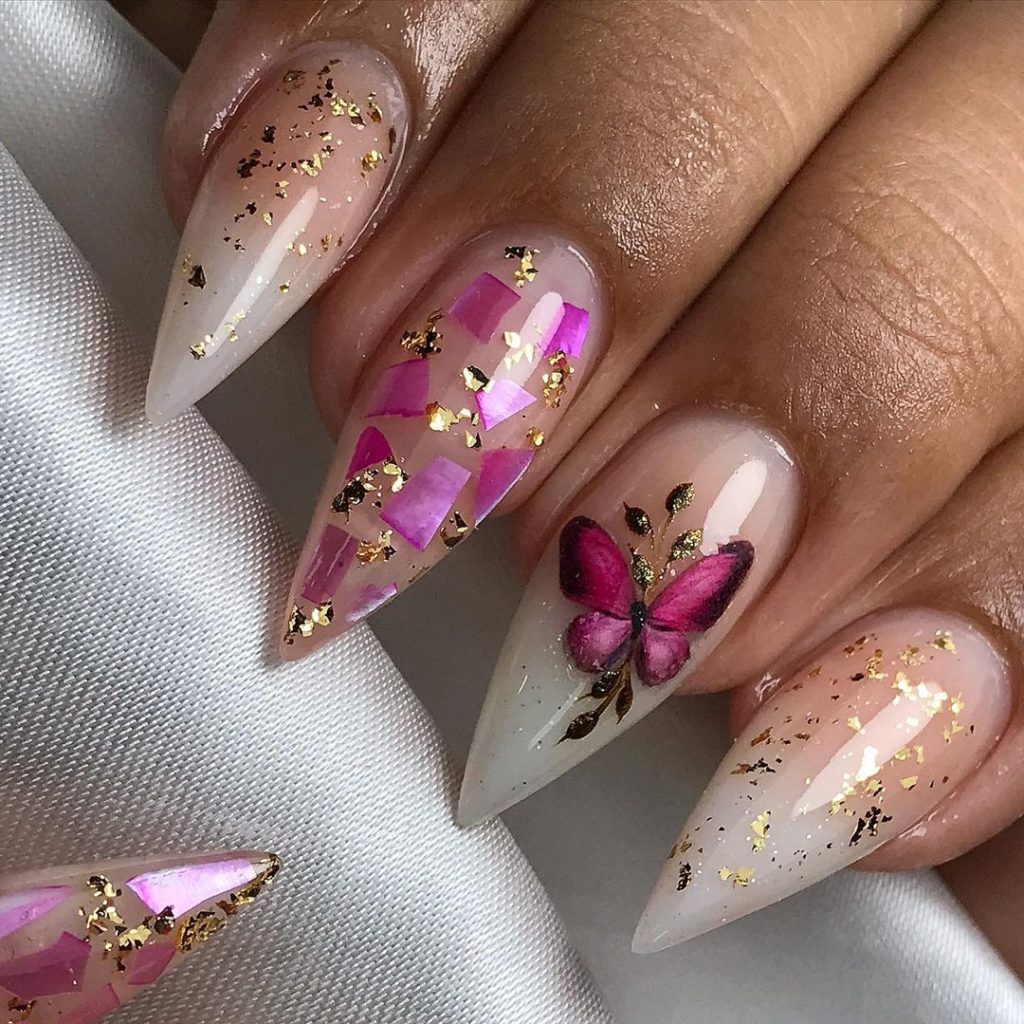 Whether close up or far away, there's no denying how stunning these nails are. It all begins with a cute nude pink and white ombre base, brought to life by purple and gold glitter accents, and a beautiful butterfly nail decal.
SEE ALSO: 100 Pink Ombre Nail Design Ideas
73. Rainbow Swirl Stiletto Nails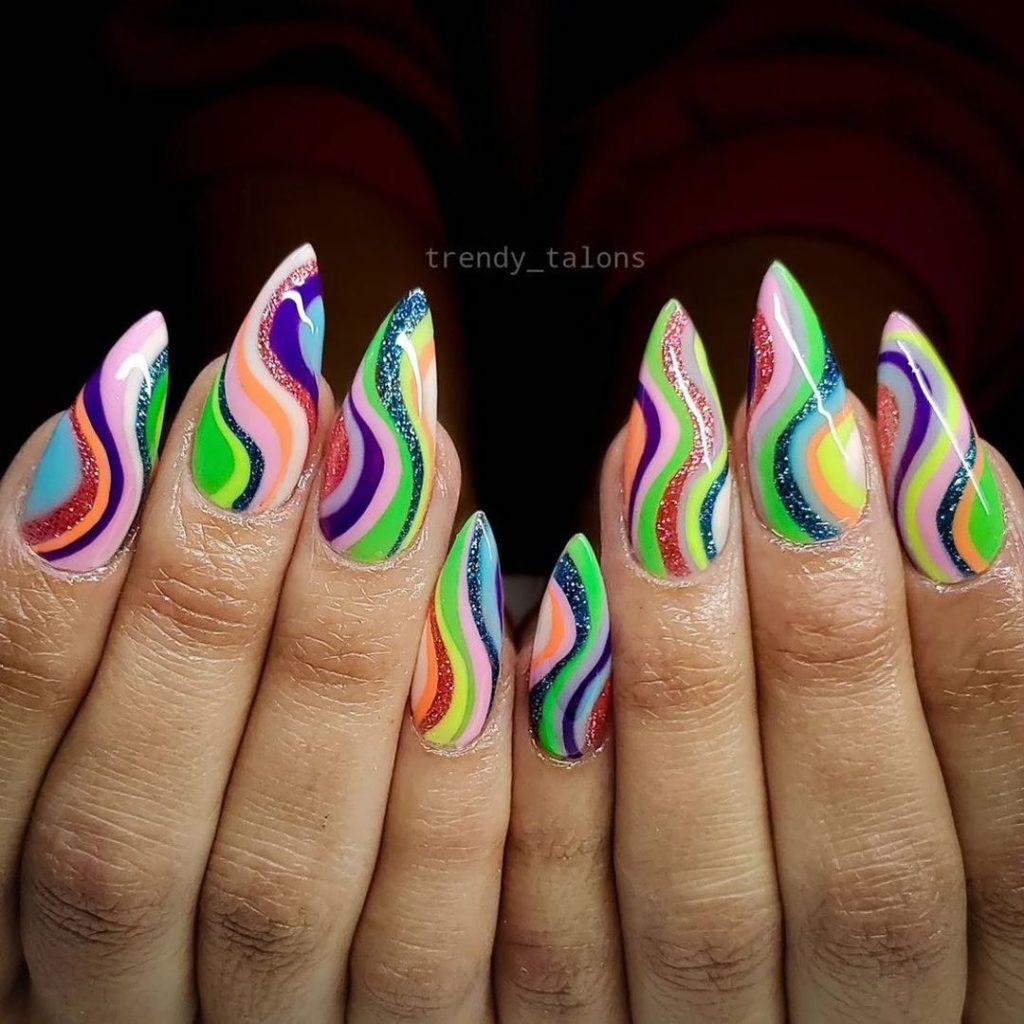 If rainbows and skittles were ever to meet, I think we now have a clear idea of the beautiful blend that would be created. These nails aren't holding anything back with swirl patterns that highlight the super-colorful theme.
74. Short Nude Glitter Stiletto Nails with Leaf Art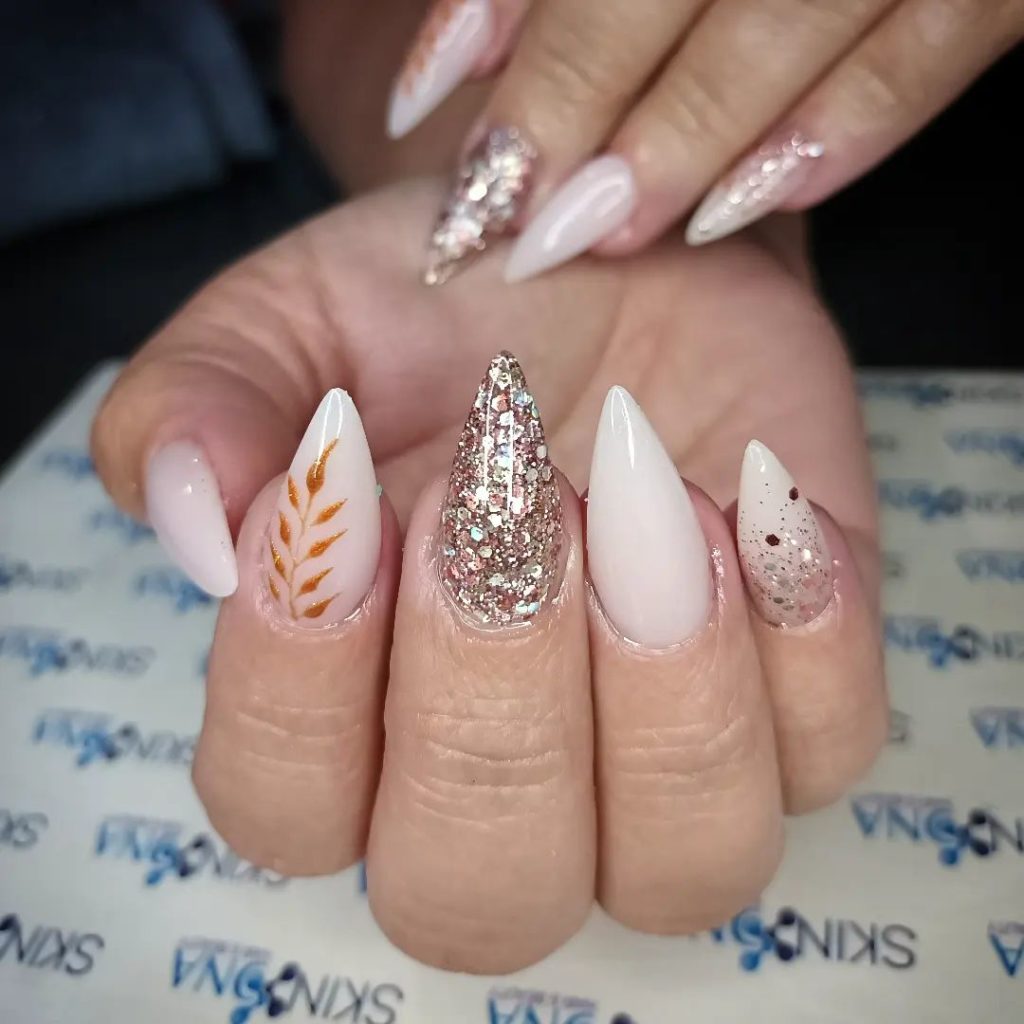 For these short stiletto nails, a nude base is glamorized by glitter galore! Plus, a cider orange leaf design is painted on the index finger, bringing a level of warmth to the entire look.
75. Turquoise and Blush Pink Glitter Stiletto Nails
Turquoise nails are hard to beat! Make them extra cute by applying glitter and mismatched blush pink nails with a stylish animal print decor on your ring fingers.
76. Black French Stiletto Nails with Thick White Swirls
Swirl patterns are all about having fun with your nails, converting a simple and classy look into a work of art. That's exactly what these thick white swirls are doing as they overlay black french tips.
77. Yellow and White Daisy French Stiletto Nails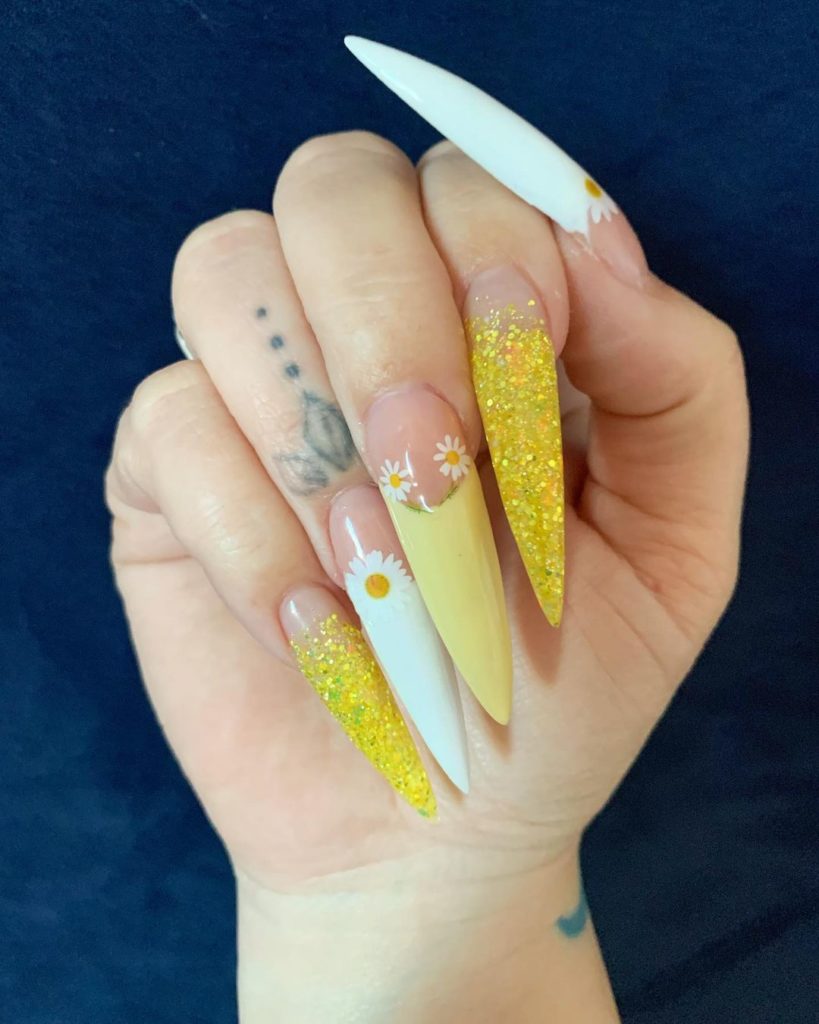 Show everyone who the queen of Spring fashion is with long french stiletto nails coated in yellow and white. The perfect nail art to include with the color scheme of this look? Daisies, of course.
78. Purple and Blue Floral Stiletto Nails with Silver Glitter Rim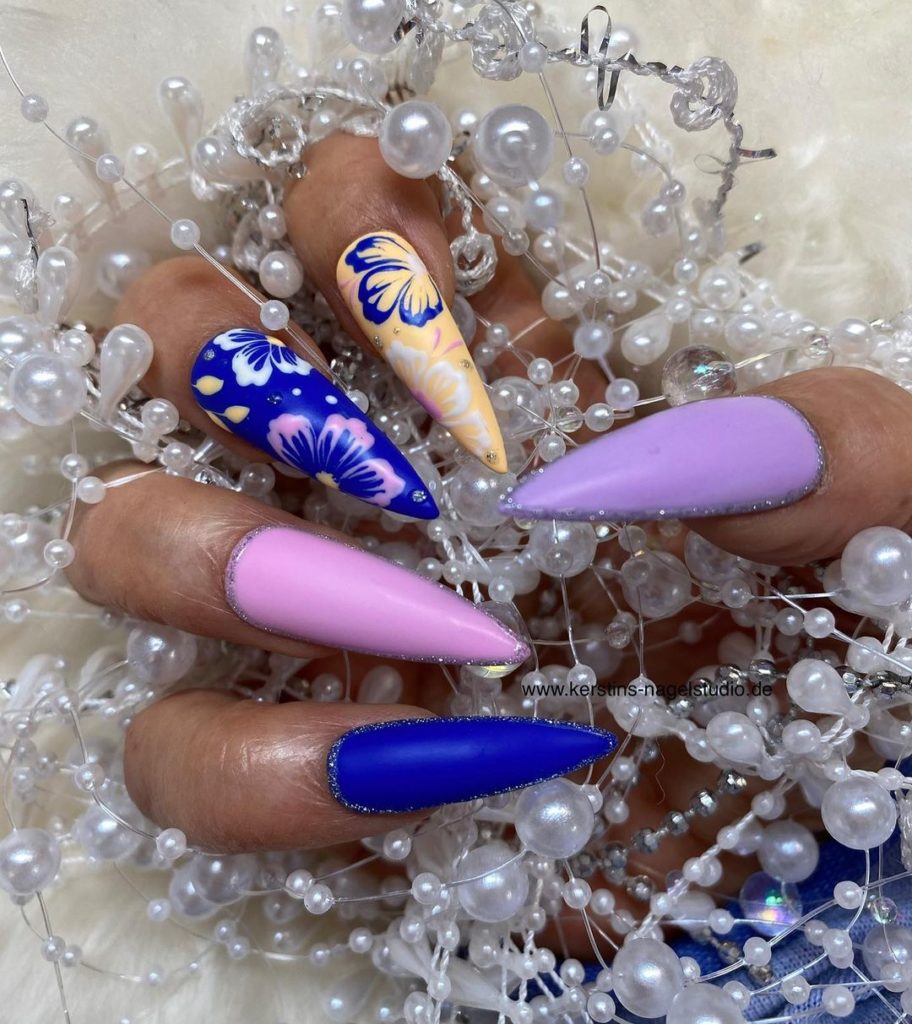 Purple and blue don't receive the credit they deserve among nail polish lovers but in this look, both cool-toned shades are brought together for a flattering and diverse nail design, bearing silver glitter around the rims and floral decor.
79. Pastel Nude Pink and White Ombre Stiletto Nails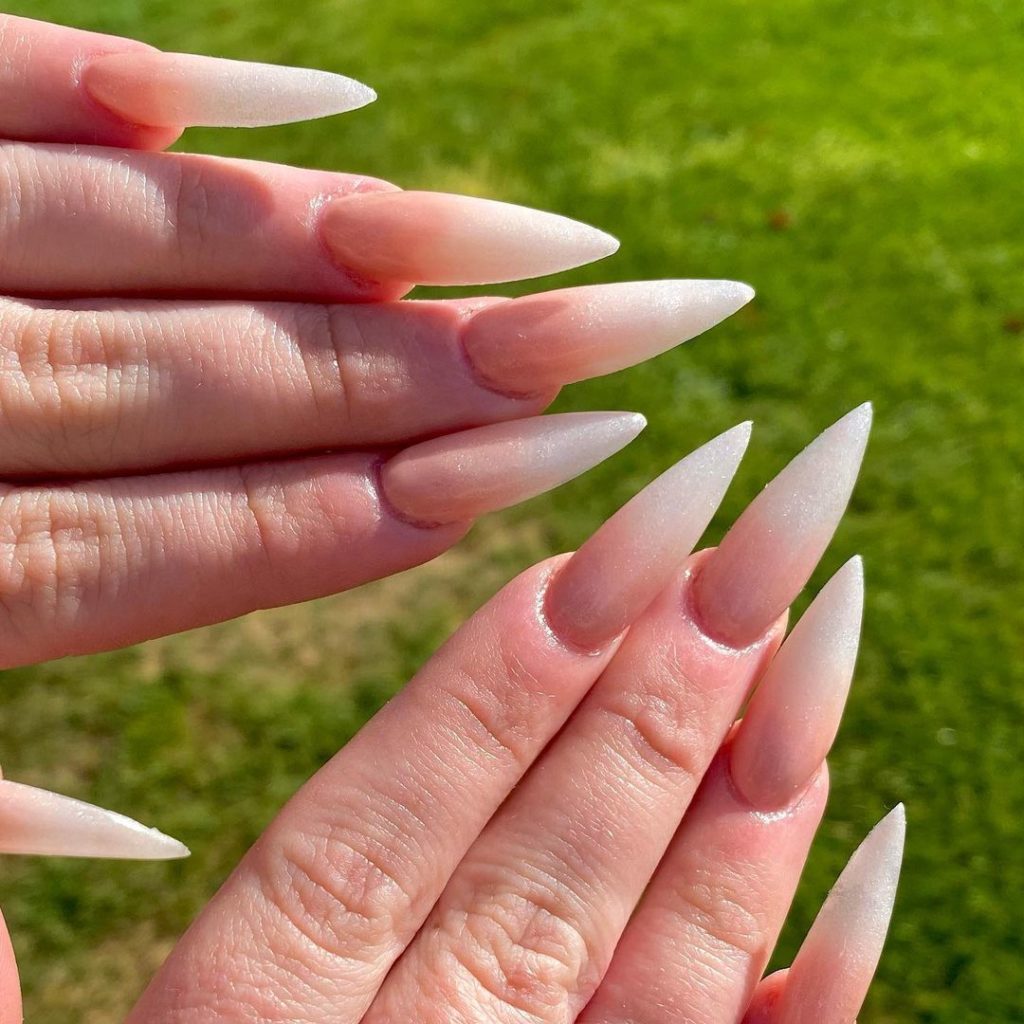 Keep things au naturel with a muted nude pink and white ombre design. This is a multipurpose look, so it works well with your laid-back fits, as well as, your more stylish vestures.
80. Blue Crocodile French Stiletto Nails
Crocodile nails are a fast-growing trend as this stylish design gives your extensions added dimension due to their resemblance to crocodile ridges. 
Coated in a french blue shade, this classy look also features a french tip design and silver rhinestone sequins.
81. Pink and Black French Stiletto Nails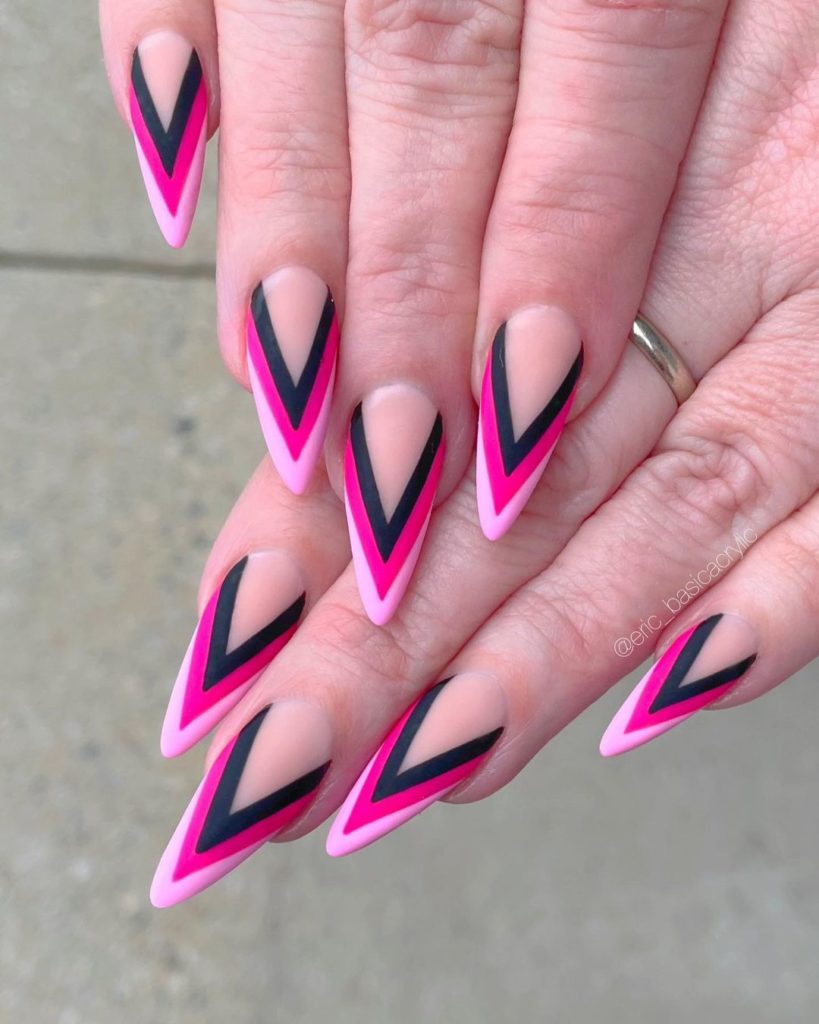 The french tip trend is constantly evolving. If you're a fan of this look but not aiming for the usual nude and white tip finish, try a triple french design, starting with a monochromatic pink v-tip, then black to round off these creative nails.
82. Pastel White and Orange Ombre Stiletto Nails with Glitter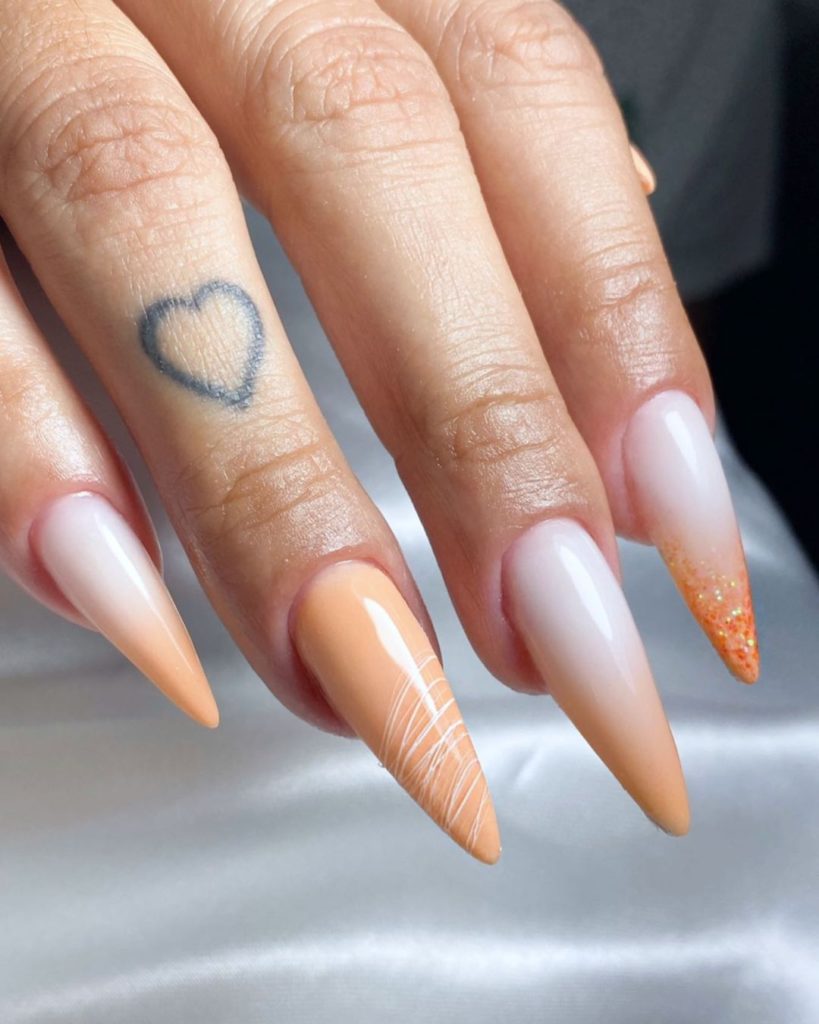 Aren't these milky pastel orange nails so cute? They feature a gradient effect, emanating from a misty white base with a bright orange glitter french tip, because who doesn't love a little sparkle every now and then?
83. Pink Angled French Stiletto Nails with Rhinestones and Glitter
To say these nails are fancy is making light of their gorgeous presentation. If your preference is super long stiletto nails, this pink rhinestone design is right up your alley.
84. Brown Ombre Glitter Stiletto Nails
Brown is such a chic shade, but it looks even better with glitter. So, make your neutral stiletto nails shine by complementing a solid brown hue with a sparkling bronze ombre effect.
85. Pink Crocodile French Rim Stiletto Nails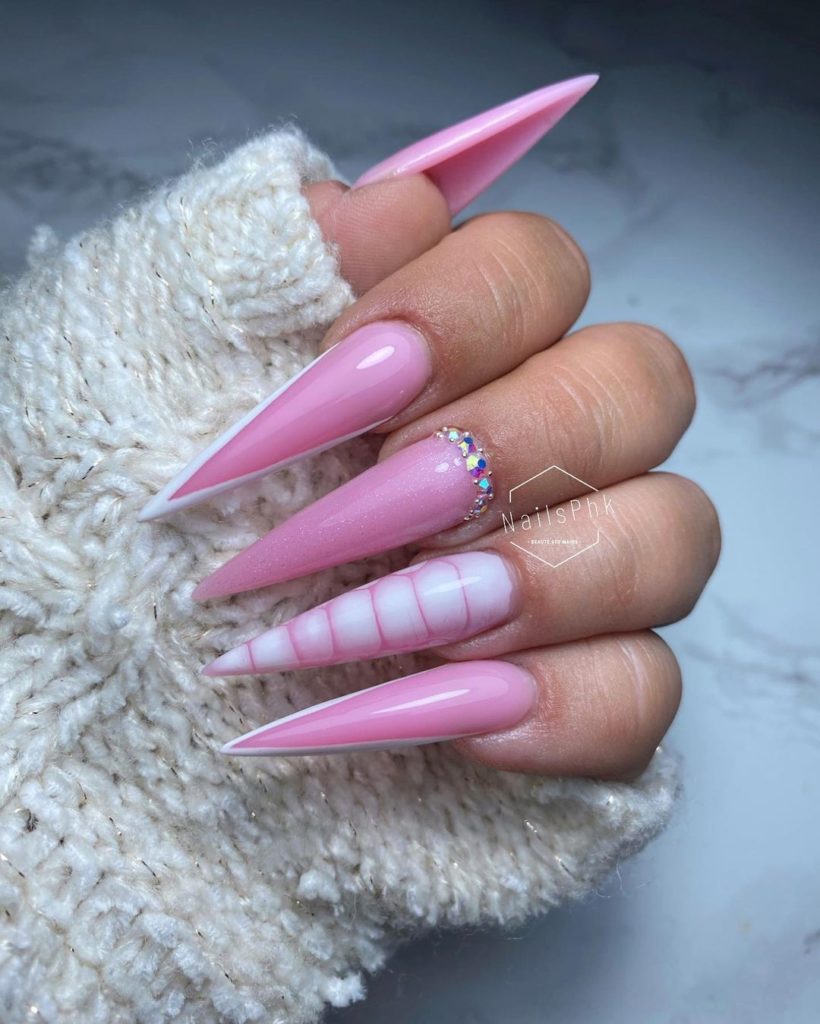 I'm so in love with these stiletto nails. Can you guess why? Could it be the stunning pink shade and crocodile pattern, or the white french rim design and rhinestone sequins? I choose all of the above.
86. Light Pink and Cobalt Blue Stiletto Nails
To seriously amp up light pink nails, you'll need a brighter shade that complements the feminine vibe. Cobalt blue is an ideal choice as it's also a classy tone and will act as the stand-out feature of the entire look.
87. White Glitter Stiletto Nails
White nails will forever be a classic look, and glitter accents are now becoming a traditional design element too. Combine both for an ultra-chic and elegant finish.
88. Pink, Yellow, and Blue Tie-Dye French Stiletto Nails
Now, this is quite a bubbly nail look, if I've ever seen one. It's a brilliant mix of pink, yellow, and blue that immediately draws your attention to the french tip design and tie-dye overlay.
89. Blue and Silver Holographic Gel-X Stiletto Nails
Each time I see holographic nails is like the first; the awe never goes away. Because with a silver chrome finish and complementary cobalt blue shade, these gel-x nails are surreal.
90. Long Glossy Teal Stiletto Nails
These extensions are among the longer stilettos nails on this list and they are cute AF! Plus, they're in one of my fave feminine shades too; teal. Rock this look with a classy gown for a special occasion to really bring them to life.
91. Nude and Multi-Colored Tie-Dye Stiletto Nails
It's totally normal to be stuck between two nail designs. It happens to me all the time. 
You may be in the mood for something simple and chic but also for a look that's fashionably vivid. These artsy nude and multi-colored tie-dye nails form the link perfectly.
92. Orange and Yellow Ombre Floral Stiletto Nails
Orange is for Spring, Summer, and Autumn too. Those warmer seasons where the sun seems to stand still create the ideal environment for bright-colored nails, and it doesn't get brighter than this warm-undertone, orange-yellow blend.
93. Long Edgy Purple-Blue Stiletto Nails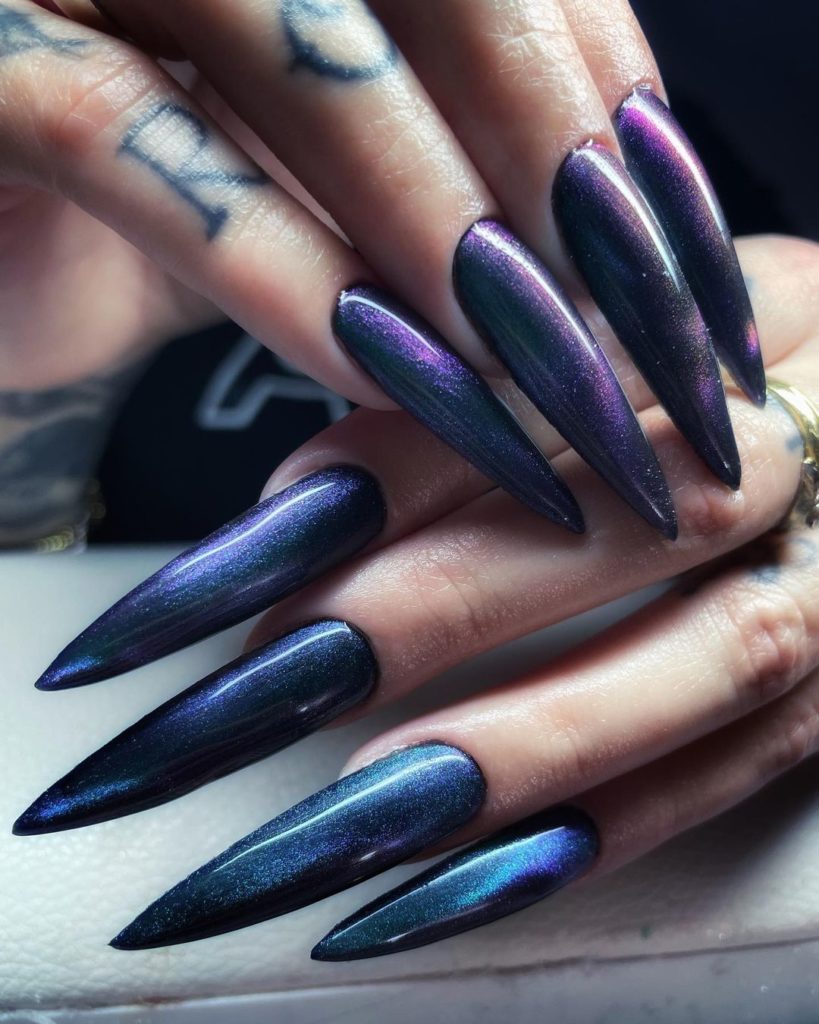 These nails are dark and edgy but also alluring and elegant. I'm ascribing that to the beautiful purple-deep blue blend and shimmering glossy finish.
94. Purple and White Butterfly Stiletto Nails
A major shift from its deep purple counterpart, this purple nail look is so sweet, feminine, and youthful. We have the soft purple shade to thank for that along with the butterfly nail art.
95. Blue, Ombre-Angled French Stiletto Nails with Rhinestones
These stunning blue nails are ballroom ready. That's the undeniable charm of an angled french tip, ombre effect, rhinestones, and glitter; a combination that's second to none.
96. Long Nude and Green Stiletto Nails
This look is a combination of earth-toned tints from different sides of the color spectrum. It has a nude base overlaid by a green, leaf-like watercolor design, and a glossy glaze to add some sheen to the finished look.
97. Multi-Colored Mismatched Stiletto Nails
The simplest way to achieve a multi-colored nail look is to coat each nail in its own shade. This look is a face-off between primary and secondary colors with the addition of hot pink to balance the design.
98. Mahogany Red Gel-X Stiletto Nails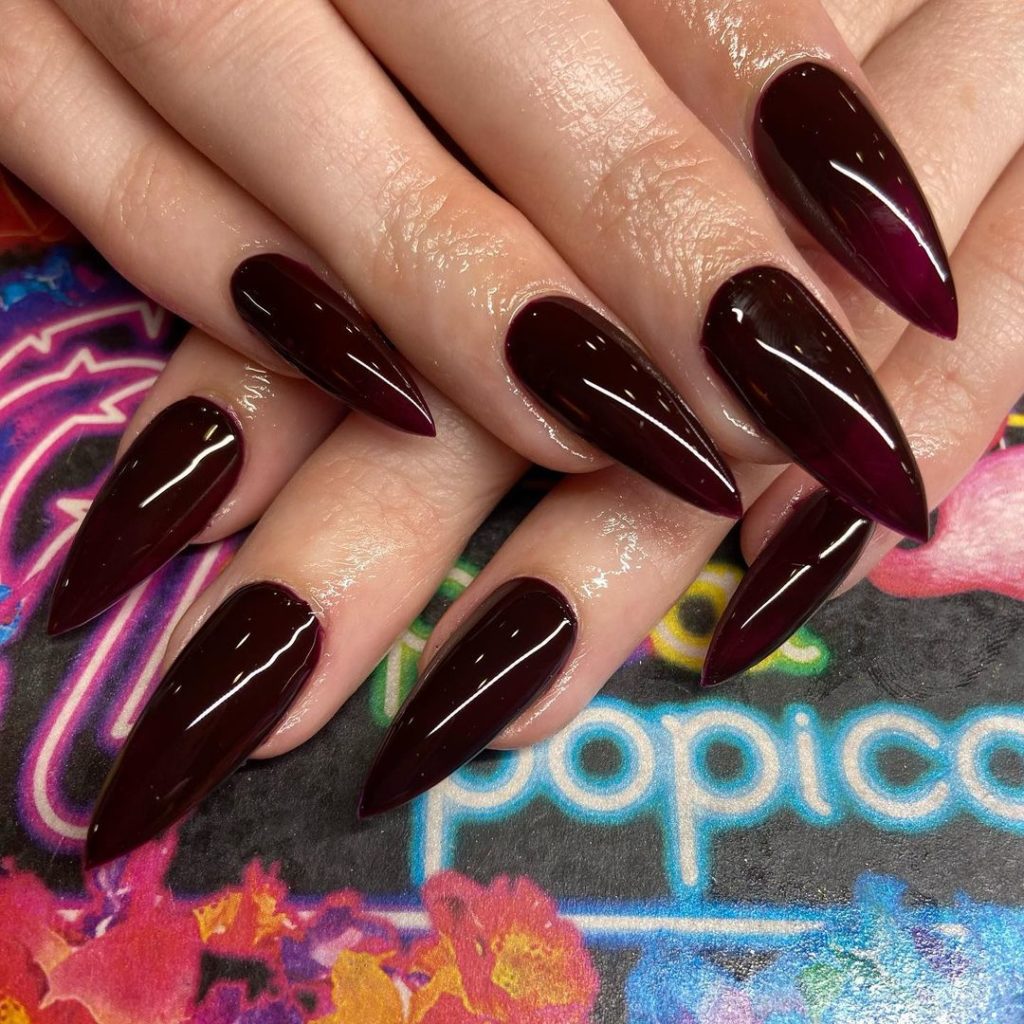 Take advantage of clear gel-x extensions to create a dewy dark nail look. The color you choose also matters, so bring the theme to life with mahogany red.
99. Brown Crocodile Stiletto Nails
What better way to start off your stiletto nail journey than with brown medium-length extensions in a crocodile pattern. The color selection is chic and versatile while the animal print is unusual and trendy, the perfect mix.
100. Nude and Gold Abstract Stiletto Nails
Gold makes everything look classy. Try it yourself with a set of nude stiletto nails embellished with abstract gold lines and glitter accents.
Summary and Top Picks
And that's a wrap! Your stiletto nail compilation is complete and available for you to use as a reference for some stunning ideas. Short to long, they're all here, with designs so versatile that it's easy for you to find a match for your personal taste.
I've made note of quite a few myself that I considered my top picks. Looks 9, 13, and 65 are trendy and classy but in vastly different ways. That's what I love so much about them because for as many stiletto nail styles that I'll do, I'll never run out of ideas.
How has this post inspired you to try stiletto nails and which designs are your faves? Where do you see yourself wearing these bold nails? Tell me everything; I can't wait to know what you think. Also, feel free to ask any questions you have down below.