Twists are among the most common protective styles women love to wear. They are an easy-to-achieve everyday style, requiring less time at the salon than box braids. Twists, however, require more maintenance since only two strands of hair are intertwined.
When you're going for a protective style that's hassle-free but still very cute, twist braids are the first thing that comes to mind. You can opt for your regular Kanekelon twists or take things a step further with Senegalese or Passion twists. 
Your twists can be either super long and small, short and thick, or vice versa. There really are no limitations. Plus, you can spruce them up how you see fit by combining colors, wearing them in a high bun or ponytail, or adding cute hair accessories.
So many new and revised versions of braids have been flooding social media, but sometimes a simpler look is all we need. Here are twist braid styles that look absolutely stunning!
1. Long Black Twist Braids
You can never go wrong with black twists since the neutral color will suit all your outfits. Wear them long so you can style them however you want on any given day and still look fabulous.
2. Black and Brown Ombre Twist Braids With Side Cornrows
I've always loved how side cornrows frame the face so elegantly. These ones continue in a spiral design, falling into soft twists over the shoulders. Added toward the end is brown hair for a cute ombre look.
3. Black Goddess Twist Braids
The well-defined curls at the end of these twists are what caught my eye. Goddess braids are one of my favorite protective styles because of how classy and girly the curly ends make them.
4. Black Twist Braids With Brown Highlight
Adding a colored braid can really spruce up your protective style. These black twists are complemented by a streak of brown, and it really makes quite the difference.
5. Brown Twist Braids
Brown twists are perfect when you want to bring a bit of color to your daily looks without going for shades that are too bright. Since brown is a neutral tone, your twists will still maintain that versatile flair.
6. Brown and Pink Twist Braids
Give your brown twists a pop of color with pink braids. While they are an uncommon combination, the contrast makes this look one to remember.
7. Black Twists With Silver Accessories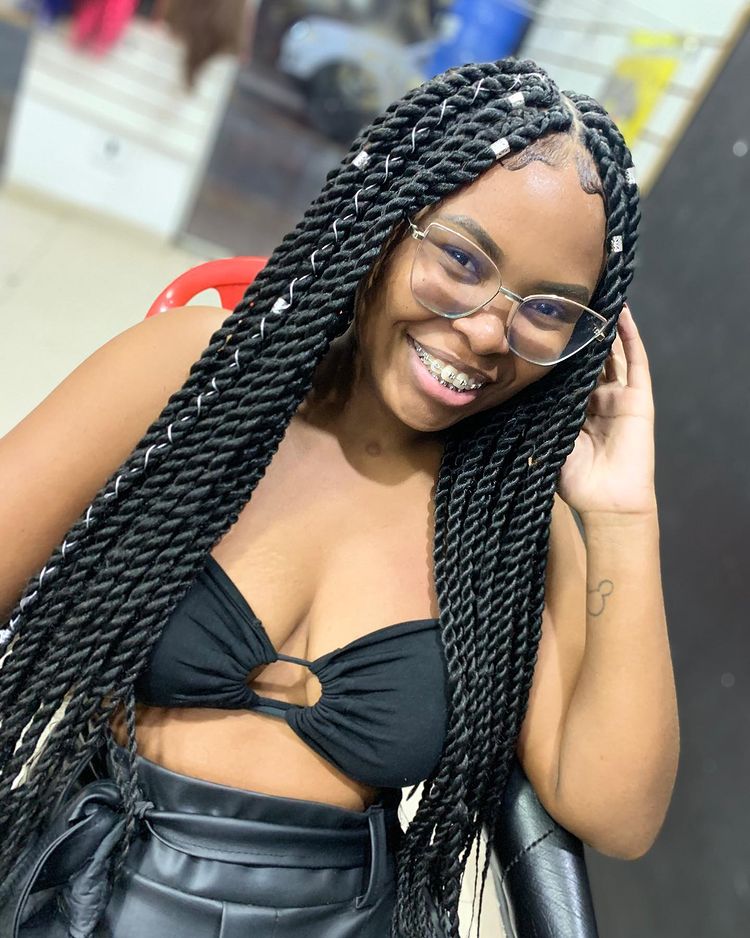 There's so much you can do to dress up your twists. If you're wearing them in black, silver accessories will add a trendy touch. A few cute ones include metallic cords and hair cuffs.
8. Blonde Ombre Twist Braids With High Ponytail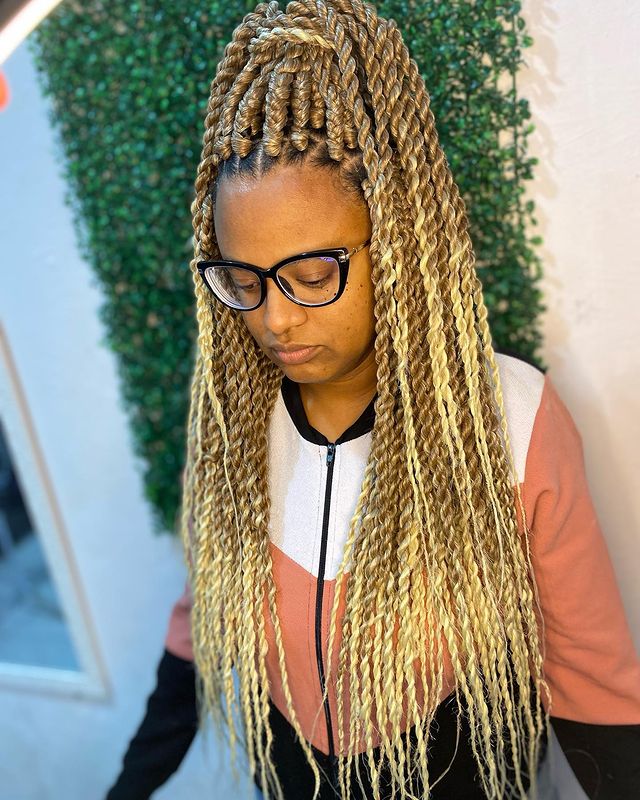 Pulling large twists into a high ponytail is sure to make a fashionable statement. This is especially true if your braids are done in an eye-catching color, such as this blonde ombre style.
9. Black Twist Braids With Small Ponytail
Pulling a few of your twists back on either side is an easy way to achieve a simple and cute look. Sometimes we don't want our braids falling in our faces. This style fixes that in an instant while keeping your twists looking tidy.
10. White Twist Braids
Colored braids give you the freedom to express yourself through your protective style, and this look is unique, too, as it begins with plaits before transitioning to two-strand braids.
All in all, these all-white twists command attention and will add a chic touch to everything you wear.
11. Burgundy Twist Braids
Burgundy is another chic hue that I absolutely love. It's a step up from brown braids without being too bright, but a bold and stylish feel is still present. Toss a few of your burgundy twists over to one side of your head for a sassy look.
12. Brown Ombre Loose Twist Braids With High Ponytail
These twists have an unraveled style that gives them a laid-back appeal. I can see myself rocking this look during my vacation to inspire that easy-going vibe. 
Pulled into a high ponytail with two twists on either side of the face, this look is easily one of the cutest.
13. Brown Ombre Twist Braids With Side Cornrows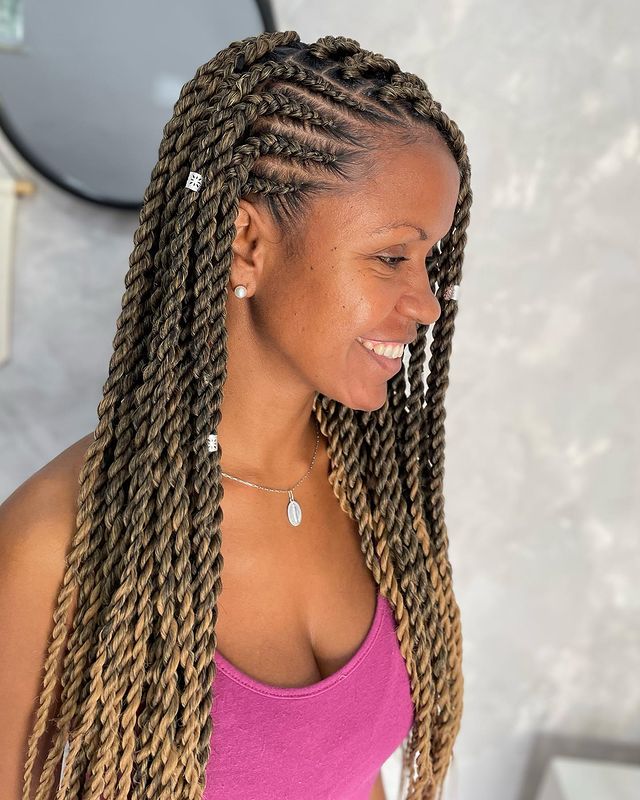 Combining styles can make wearing your twists a lot more fun. This look features large cornrows braided toward the side of the head for a stylish flair. For the finishing touch, a few braids are accessorized by silver hair cuffs.
14. Black and Brown Ombre Fulani Twist Braids With Stitch Cornrows and Curls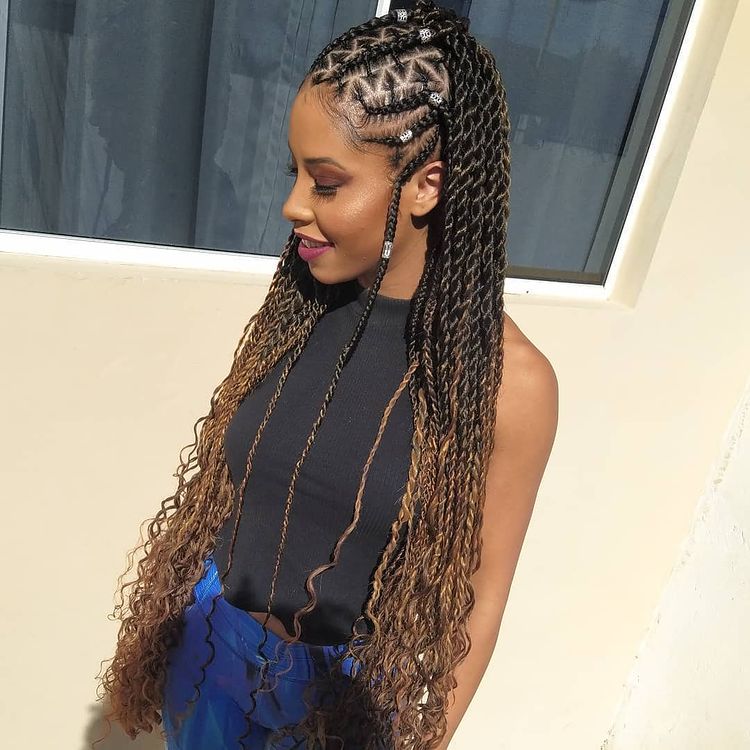 I love everything about this look, starting from the triangular parts to the neat stitch cornrows and ombre curls. These twists also feature reverse cornrows above the ear, a common style added to achieve a Fulani-inspired look.
15. Large Brown and Blonde Twist Braids
Brown twists with blonde on the inside make for the perfect summer look. Pairing both hues will help you achieve a protective style that's versatile and also very chic.
16. Half-Up Black Twist Braids With High Ponytail and Beads
Style your black twists in a half-up ponytail for a cute look that you can wear for any occasion. Add yellow and beige beads for a little color variation and to set your braids apart from the norm.
17. Jumbo Black Twist Braids
Jumbo twists won't last as long as smaller versions, but their size makes them flattering nonetheless. With this look, no matter what you wear, you'll look fashionable. Add a few hair accessories to enhance the style.
18. Black and White Twist Braids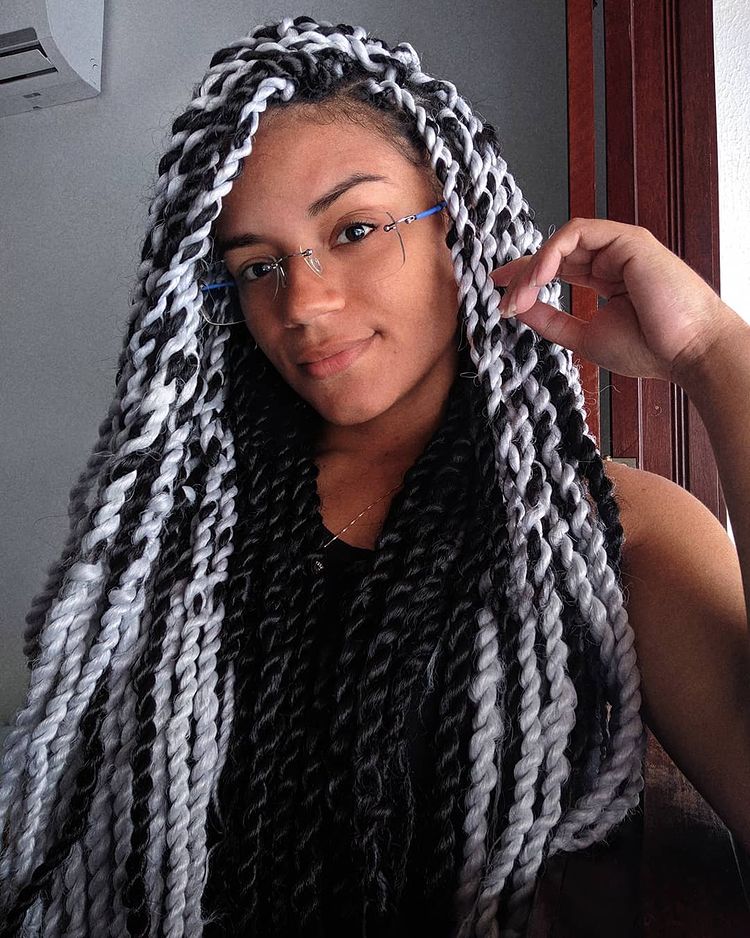 We've seen black twists, and we've seen them in white, but you can also pair both neutrals together for a vibrant and edgy look. Wear loosely around your shoulders to show off this cool monochrome combination.
19. Long Brown and Blonde Twist Braids
For summer, golden brown and blonde are the colors of the season. Rock them together with two blonde twists at the front and the remaining hair styled in brown. 
This style also begins with plaits before transitioning to twists which help to secure the braid from the root.
20. Half-Up Black Passion Twist Braids With High Ponytail
I've always loved the extra silky texture of passion twists. It's a style that gets you in the mood to dress up and get out of the house! Rock this girly look in a half-up high ponytail, leaving two twists out at the front.
21. Half-Up Golden Brown Twist Braids With High Bun
When in doubt, wrap your braids into a high bun! If your twists are super long, you may not know how to style them each day. This look is a great idea to keep you looking professional and sophisticated while in the workplace.
22. Black Twist Braids With Criss-Cross Stitch Cornrows In a Low Bun
It's not often that you see twisted cornrows, but this look is like a breath of fresh air. The silky rope twists are braided in a criss-cross pattern as stitch cornrows. To make this look even cuter, the twists are secured into a small bun at the back.
23. Black Twist Braids With Stitch Cornrows
Start your twist braids with a set of stitch cornrows to keep your beautiful face on display. This look is perfect if you want to avoid the hassle of tossing your braids out of your face. Plus, it's a super cute and versatile style for everyday wear.
24. Brown Twist Braids With Side Cornrows
Spruce up your brown twists with large cornrows braided on one side. If you've been wearing braids for a long time, then opting for a diverse look like this one every now and then will make wearing your twists more enjoyable.
25. Burgundy Ombre Passion Twists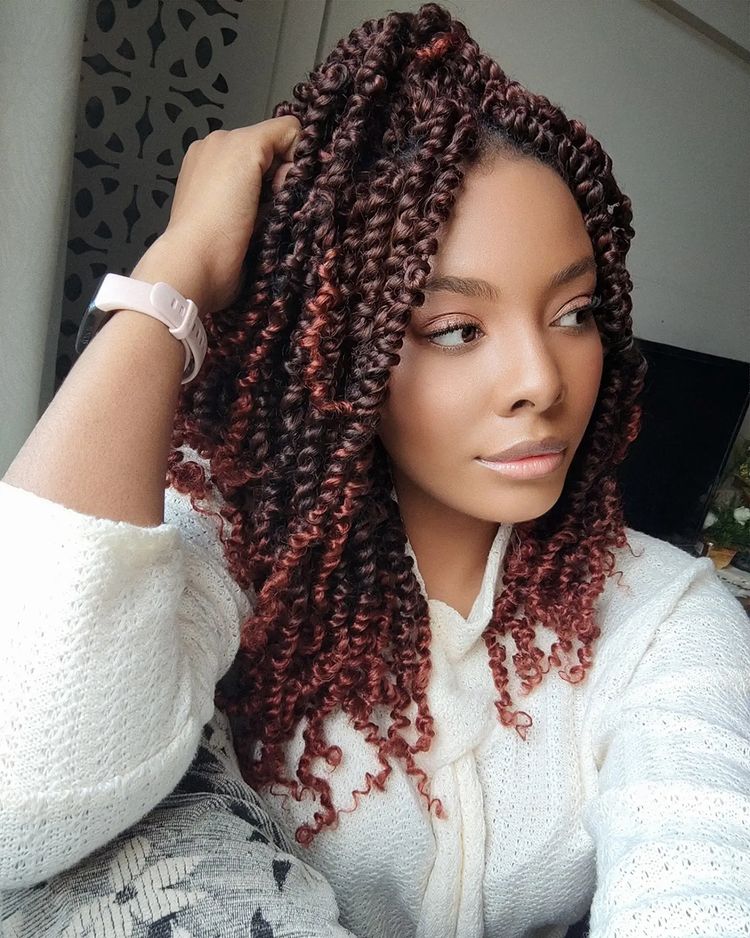 Flaunt your passion twists in a burgundy ombre style with the ends left unraveled in small curls. I love how defined the curls are as well, adding to the sheer elegance of this protective style.
26. Burgundy Twist Braids With Gold Metallic Cord
Accentuate your burgundy twists with a hint of gold to complement the beautiful color. All you need is a gold metallic hair cord to embellish a single braid, and you'll transform your look into a boho-chic style.
27. Black Twist Braids With Gold Hair Cuffs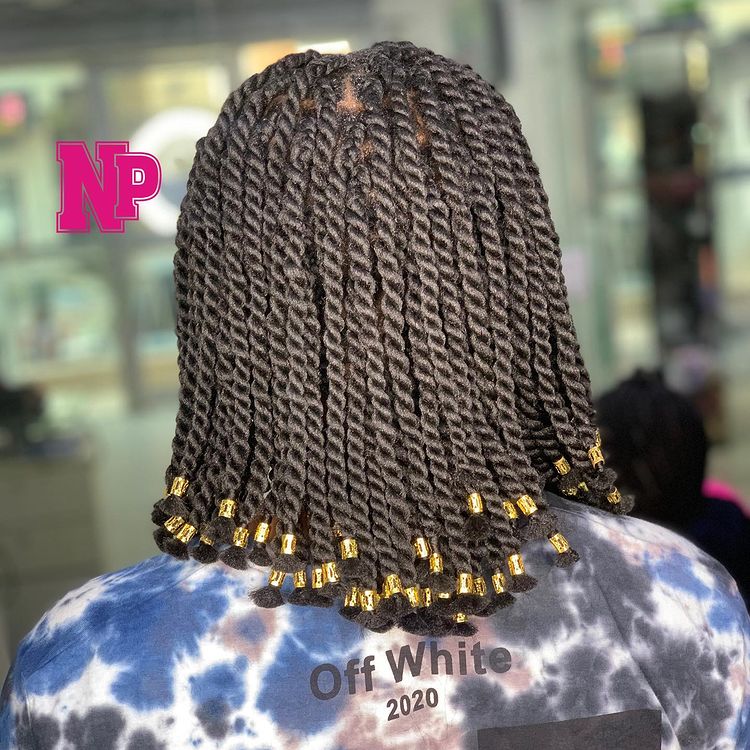 Braids are just as cute worn short as they are worn long. It all depends on your preference. 
These shoulder-length twists won't distract from your outfit, but at the same time, you'll look sophisticated as if you were wearing a bob. Slide on gold hair cuffs on each twist for a more eye-catching finish.
28. Large Pink Twist Braids With Cornrows
Our hairstyle really can impact our mood, and these pink braids are just the inspiration you need to get back into the groove of being fashion-forward every day of the week. 
Large cornrows begin the style before converting to large twists, worn over the shoulder for an ultra-cute vibe.
29. Small Black Twist Braids
This micro style will definitely serve you for several weeks, even more than a month, if you so desire. 
What I love about these small twists as well is that they're easy to maintain, and they'll stay neat no matter how you style them—in a bun or ponytail.
30. Black and Blonde Ombre Twist Braids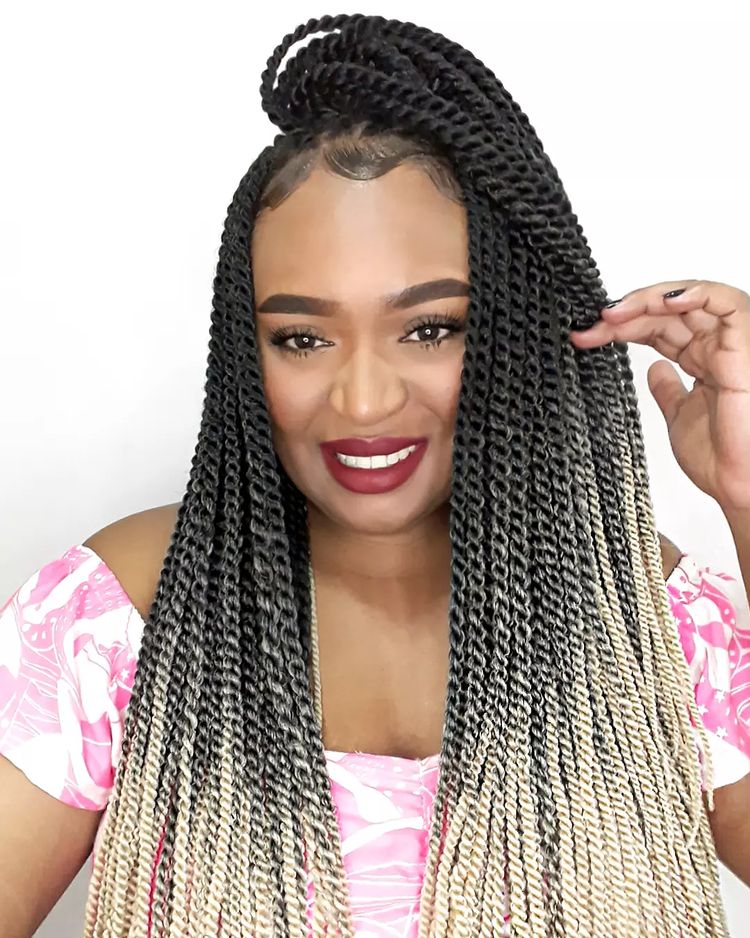 Combine black hair with blonde for a chic and stylish ombre twist braid style. Let's be real. For protective style enthusiasts, black braids can be a little dull sometimes, so coupling the hue with a different color is so worth it.
31. Small Black and Brown Ombre Twist Braids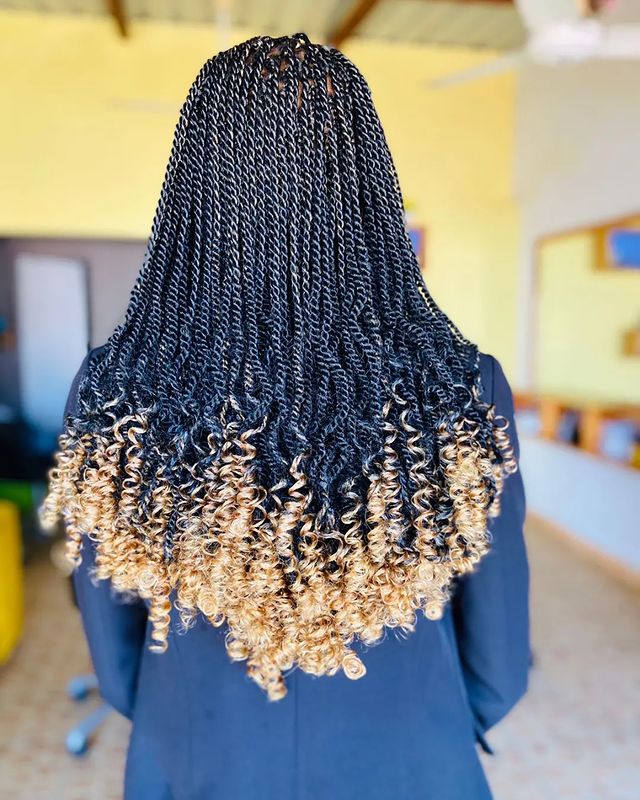 Rock the trendy ombre look in a goddess twist braid style. The curls at the end of each braid are absolutely stunning, especially worn in such a beautiful brown shade. 
32. Black Twist Braids With Large High Bun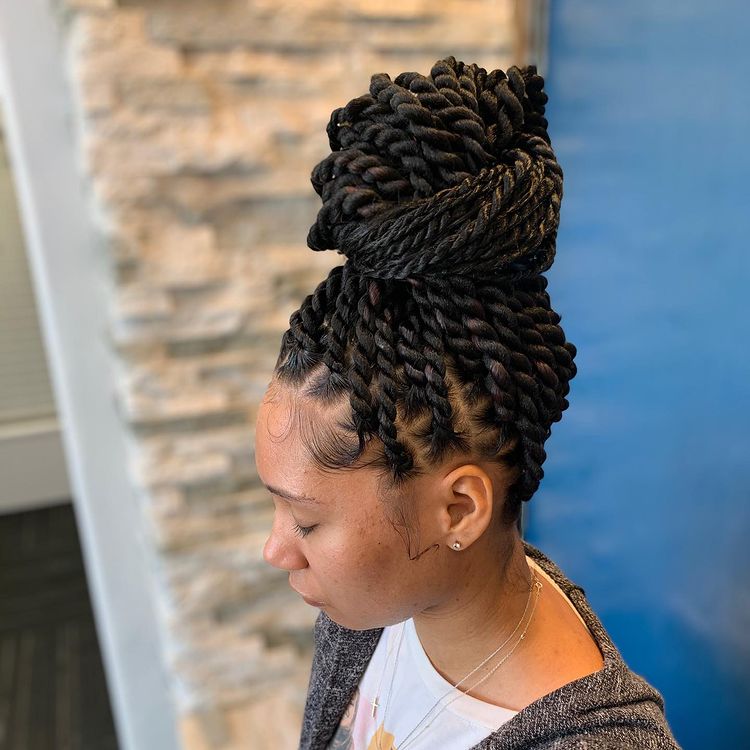 High buns are a personal favorite! This versatile look keeps your twists in one place while giving you a fabulous hairdo at the same time. It's the perfect look for a casual day out or even a formal setting.
33. Shoulder Length Brown Twist Braids With Two Top Knot Buns
If your twists are short, there are still tons of styles you can try to maximize your braids. For a cute look, section your hair into three, with two top knot buns on either side of the head and the remaining twists worn over the shoulder.
34. Burgundy Passion Twist Braids With High Bun
Burgundy is a gorgeous color to wear your twists in. Go for passion twists to achieve that silky soft texture to really complement the hue of your braids. Complete the trendy look by wrapping a few twists into a high bun.
35. Black and Red Twist Braids
Wearing black braids? Include a few twists in red for a super edgy appeal. The color combination is fierce and effortlessly stylish. It's one that can't be ignored.
36. Blonde and Pink Twist Braids
Achieving a girly protective style is so easy when you pair blonde and pink braids. You don't have to wear the colors equally, either. Simply add a few pink twists here and there to give the impression of highlights for your braids.
37. Burgundy Senegalese Twist Braids With Bun
These braids have a subtle burgundy tone which makes them just right for fall fashion. Worn in a half-up style with a bun, it's a cute look to rock for the season. 
Plus, Senegalese twists are long-lasting, so you can definitely enjoy this cute style for several weeks.
38. Long Jumbo Black Twist Braids
Jumbo braids are perfect if you need to save time and look fashionable. These black twists are easy to style, taking the hassle away from getting ready in the mornings.
39. Short Black Twist Braids With Cornrows
Short twist braids deserve love, too, and this style has all the reasons why. The side cornrows add a lovely sense of diversity, while the side bang brings a sassy attitude to the mix. Gold hair cuffs were added to up the fashionable flair.
40. Short Black Crochet Twist Braids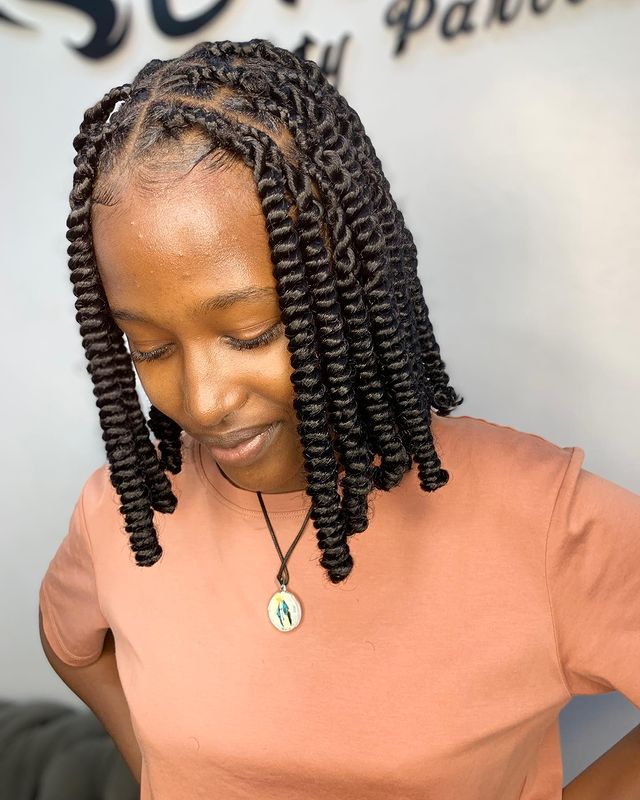 Crochet twists are a stylish alternative to your everyday twist braids. The thick texture gives the twists a bolder look that will look amazing even if you wear the style in a bob length over the shoulder.
41. Black Twist Braid Mohawk
Need a cute way to style your mohawk? Braiding your hair in twists will guarantee a trendy and chic look that you'll enjoy showing off.
42. Light Brown Goddess Twist Braids
I love how light these goddess twists are, both the color and size. The latter will make flaunting a high ponytail look beyond amazing, as neatness won't be an issue which is sometimes the case with larger braids.
43. Black and Purple Twist Braids
Make your twist braids super fun to wear by mixing a few colors you've always wanted to try. This look combines black with shades of purple, and I'm loving the flawless ombre finish.
44. Dark Brown Twist Braids With High Ponytail
A ponytail is one of the most common and cutest ways to wear your twists, but sometimes your protective style needs a little more flair to make you satisfied. 
For that, complement your twist braid ponytail by adding your favorite scrunchy in a color that stands out.
45. Blonde and Brown Gradient Twist Braids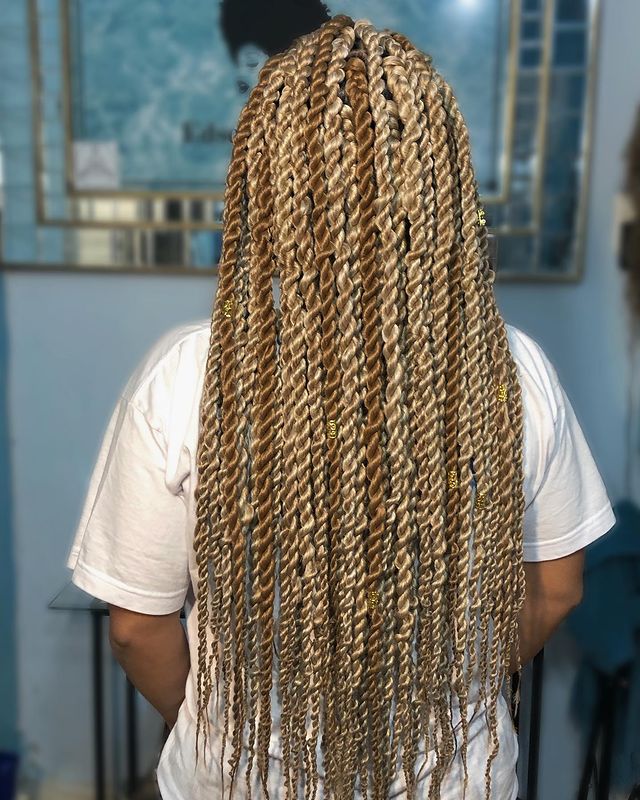 We're accustomed to seeing vertical ombre braid styles, but this horizontal gradient look is really growing on me. Featured are blonde and brown twists. They pair together perfectly for a chic vibe.
46. Black Passion Twist Braids With High Bun and Gold Hair Cuffs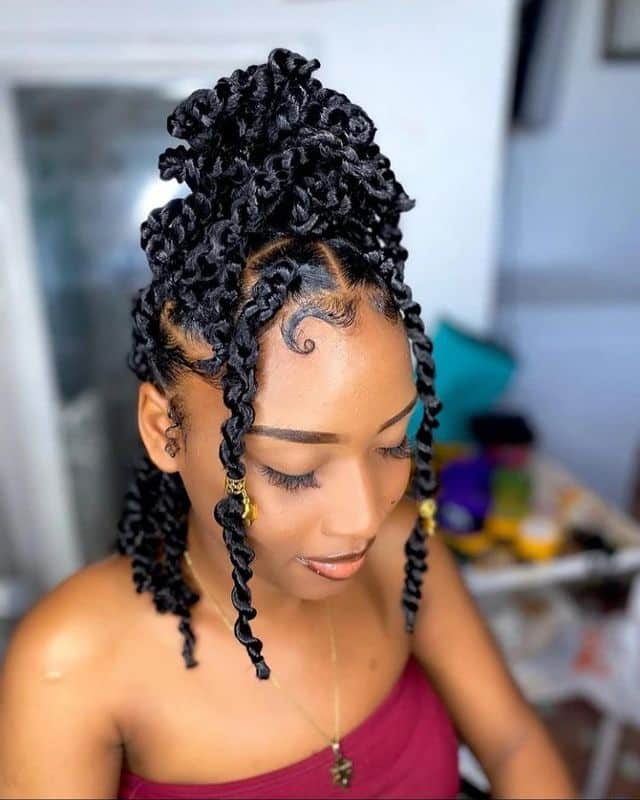 These short passion twists blew my mind the moment I saw them. Styled into a cute high bun and enhanced by gold hair accessories, this look is feminine, elegant, and definitely worth a few hours out of your day. 
47. Small Black Bohemian Twist Braids With High Ponytail
So many women nowadays are opting for braids styled with curls. In this case, black twists are coupled together for a cute bohemian look, along with a high ponytail for that extra girly touch.
48. Black Mermaid Twist Braids With Colorful Hair Accessories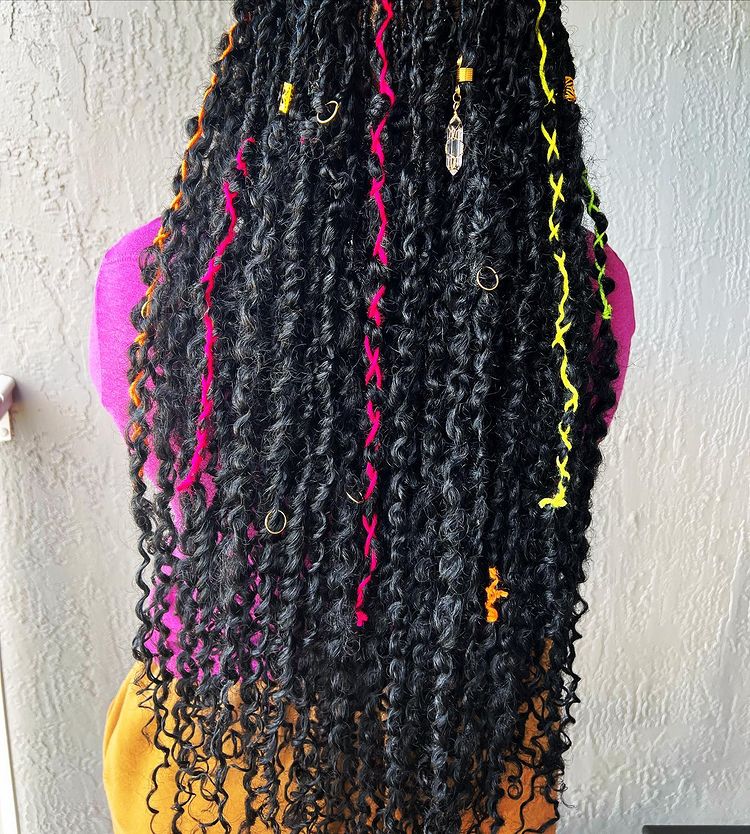 Mermaid twists are similar to the bohemian protective style but with greater focus placed on the curls in a distressed way. However, this look takes things a step further with the inclusion of color hair accessories for a fun and fab vibe.
49. Large Dark Brown Twist Braids With Two High Ponytails
If you want to command attention with your twist braids, these super-high ponytails ought to do the trick. They're also braided large, contributing to a bold and confident look.
50. Black Twist Braids With Curly Brown Ends
If you're always wearing black braids, switch things up by adding a bit of color to the ends of your twists to give yourself something to look forward to each time you look in the mirror. 
51. Half-Up Brown Ombre Twist Braids With Bun
What I love about this look is I can think of so many outfits to wear it with. Thanks to that cute bun, it fits perfectly with a blazer for professional settings. The long twists falling down the shoulders make it ideal for a more fashionable outing.
52. Black Jumbo Viking Twist Braids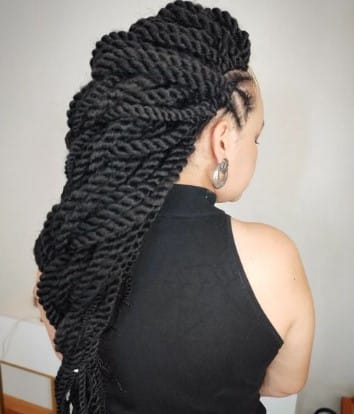 If you've been thinking that jumbo twists would be too restrictive, here's your sign that they really aren't. For this look, large twists overlap each other in a trendy Viking braid style.
53. Black Twist Braids With Red Highlights
Add a few red highlights to amp up your black twist braid style. This is a great idea if you want to introduce color without making your look too vibrant or attention-grabbing.
54. Brown Ombre Spring Twist Braids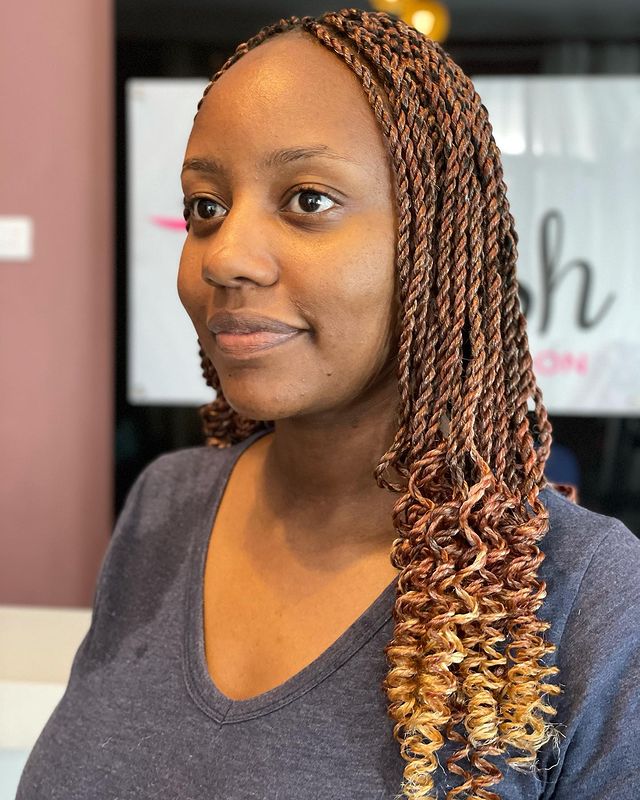 The well-defined curls really set these braids apart from your average twist braid style. I also love the use of the ombre blend to highlight the transition from the dark brown twists to a lighter tone for the curls.
55. Black Twist Braids With Side Swoop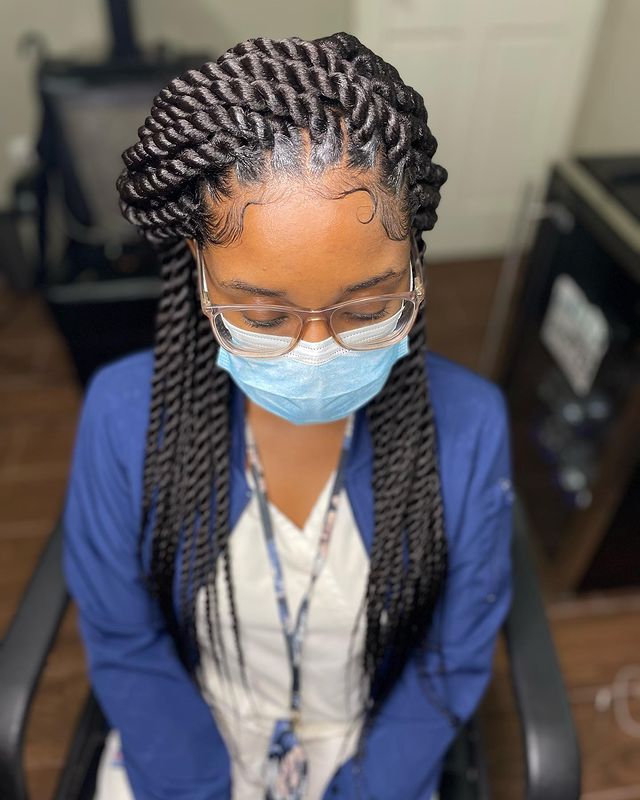 This large side swoop is adding so much intrigue and personality to these twist braids. It's a stylish look that you can flaunt in the office as you step away from the mundane day-to-day looks and seek to spice things up a bit.
56. Half Black and Pink Twist Braids
Red and black are always seen as the edgiest combo, but these black and pink twists are changing the rules. With one side braided entirely in black and the other in pink, it's a girly look with lots of attitude.
57. Black and White Ombre Twist Braids With High Ponytail
Speaking of striking color combos, black and white is another incomparable duo. The colors paired together give a mysterious and edgy vibe in the most fashionable way. Rock in a high ponytail to prove how stylish this combo can be.
58. Burgundy Twist Braids With Cornrows in a High Ponytail
Here's another high ponytail look that's worth talking about. Styled in burgundy with small and large cornrows adorning the hairline, these twist braids are simply fabulous.
59. Black Twist Braids With Large Side Cornrows
This style is similar to the one I just mentioned, however, the cornrows braided at the side are larger. If you want to mix twists and cornrows in your next protective style but maintain a simple look, these black twist braids are for you.
60. Light Brown and Pink Twist Braids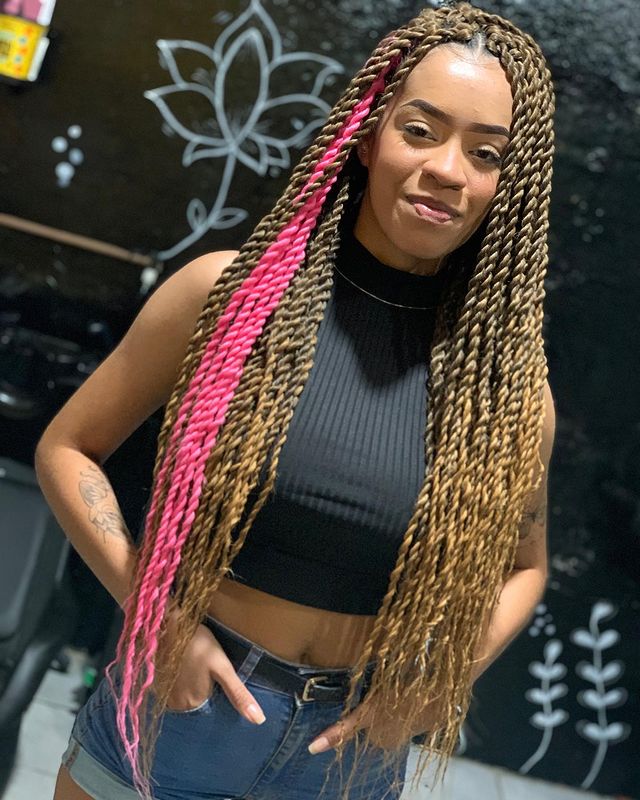 Brighten up your brown braids by adding a dash of pink to complement the color. Keep it simple by braiding pink hair on one side so that brown remains the dominant hue.
61. Brown Jumbo Twist Braids
If you need more proof that jumbo braids are just as stylish as any ever, these chunky brown twists are sure to win you over. They're so effortlessly fashionable, plus you can tie two sections into high buns for a super cute look.
62. Long Purple Twist Braids
Your colored braids don't have to be the brightest to make a statement. These purple braids will do a fine job at turning heads, especially when you add a few cute details, like curls at the front on either side.
63. Black, Purple, and White Ombre Twist Braids
This look is the perfect alternative to all-purple braids if you'd rather not stick to one color. Starting with black, the twists transition in color to purple and white for a modern and youthful look.
64. Black Twist Braids With Pink Highlights
Achieve a girly twist braid style by pairing black twists with pink. All you need are two pink braids on either side of the head to make that striking contrast.
65. Half-Up Large Brown Twist Braids With High Ponytail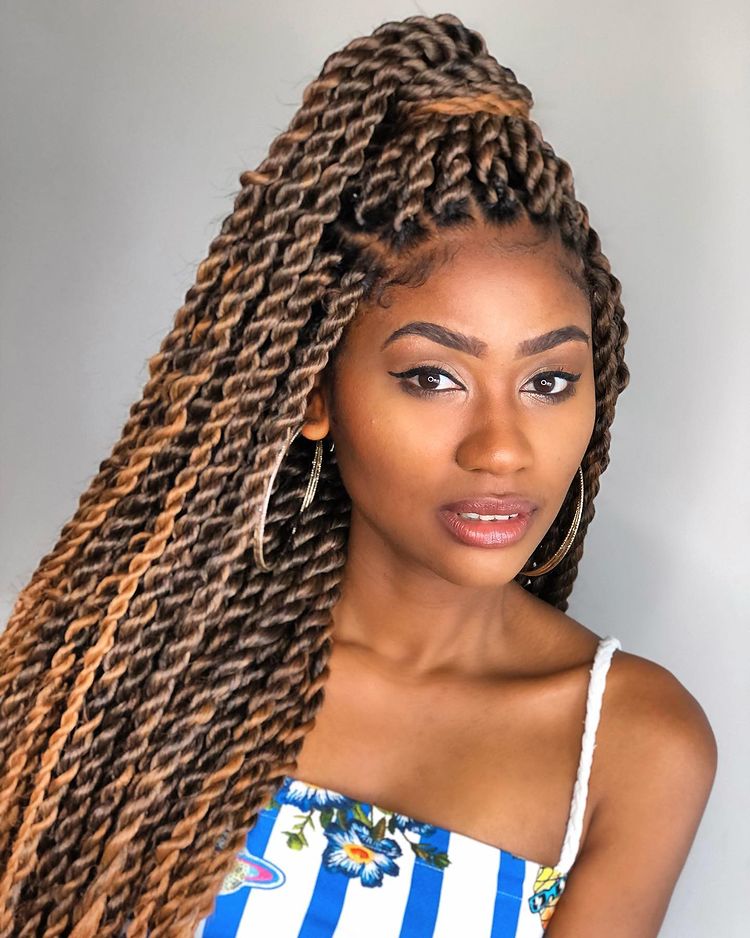 Rock your large brown braids in a half-up, half-down style with a sassy high ponytail to complete the look. Ponytails are great for any occasion, offering a stylish and simple look.
66. Black and Green Ombre Twist Braids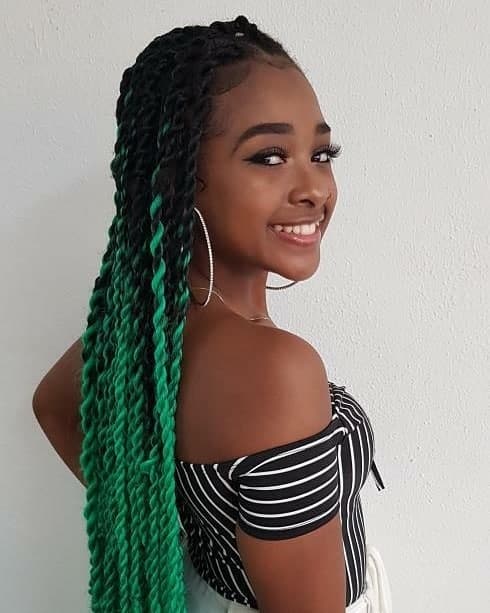 As colored braids grow in popularity, green is another hue I want to highlight. These black and green twist braids look amazing. They'd look even more stunning, accessorized by gold hair cuffs.
67. Black and Brown Butterfly Passion Twist Braids
These butterfly passion twists are so elegant, combining black and light brown for a beautiful neutral combination. I love the length too. It makes these twists hard to look away from.
68. Black Jumbo Yarn Twist Braids With High Ponytail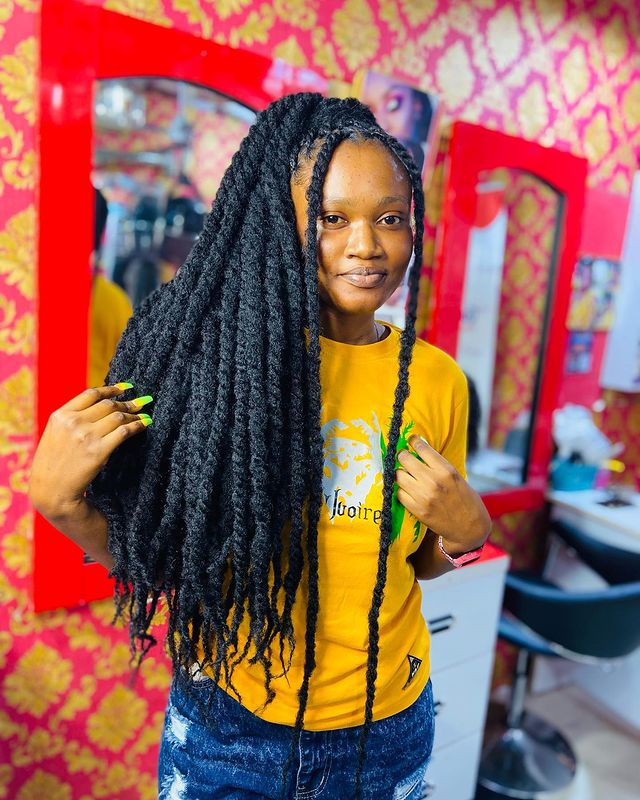 Yarn twists give you an authentic look as it resembles thick natural hair. Rock the style in jumbo size with a high ponytail for an even cuter look.
69. Black Twist Braids With Stitch Cornrows in a High Ponytail
A great way to start your twist braid style is with stitch cornrows. This stylish technique will have your braids looking super neat from the root, making them all the more admirable as you transition to twists in a high ponytail.
70. Short Black Twist Braids With Middle Part
The simplicity of this look is what I love so much. Silky twists fall right above the shoulder with a middle part that elegantly frames the face as no other style can.
Summary and Top Picks
If you're as excited as I am to give twist braids a try, then I consider my mission complete. Twists are that super cute, laid-back protective style that we all need once in a while, and I'm confident you've found more than enough inspiration from this round-up.
I can see myself wearing all these styles, but I do have a few favorites!
#45 Blonde and Brown Gradient Twist Braids: I love the subtle shift in colors for this look. There's diversity at play while a sense of simplicity is maintained.
#48 Black Mermaid Twist Braids With Colorful Hair Accessories: The colorful accessories paired with those unraveled mermaid twists are just too cute to ignore.
#70 Short Black Twist Braids With Middle Part: I really love the simplicity and classy look that these twists have. The middle part and shoulder length make everything so laid-back and cute.
What about you? Which of these twist braid styles are you excited to give a try? Let me know what you think in the comments below!