Braids are always in high demand. Whether it be for the purpose of protecting our natural hair or alleviating the pressure of figuring out what to do with our tresses in the mornings, we're always scouting for the next best style.
A braided look that has been receiving a lot of traction for being able to amp up your appearance is Goddess braids. Originating from Africa and dating as far back as 3500 BC, this hairstyle served as a means of distinguishing particular tribes.
Goddess braids generally feature thicker than average cornrows, braided closely to the scalp, with another characteristic being rope-like braids and cute tendrils that hang from the end of each braid, allowing for a flattering variation from your everyday braided look.
Most goddess braids don't take up too much of your time, and they've become a go-to because of their feminine appeal. With that said, I'm confident that as you read on, you'll find the perfect look for you. Here are goddess braid styles that are trending right now.
1. Black Half-Up Half-Down Bohemian Goddess Braids
Who knew braids could look so elegant? Cute cornrows grace the front, decorated by a few hair cuffs and tied into a high ponytail with the remaining braids flowing over the shoulders. 
Loose curls in a bohemian style bring a super feminine touch.
2. Blonde Goddess Braids
Go for a different look with blonde goddess braids that end at your waist. Tweak this style to your liking with bright-colored hair cuffs. Purple is an amazing color that complements blonde beautifully.
3. Gray Goddess Braids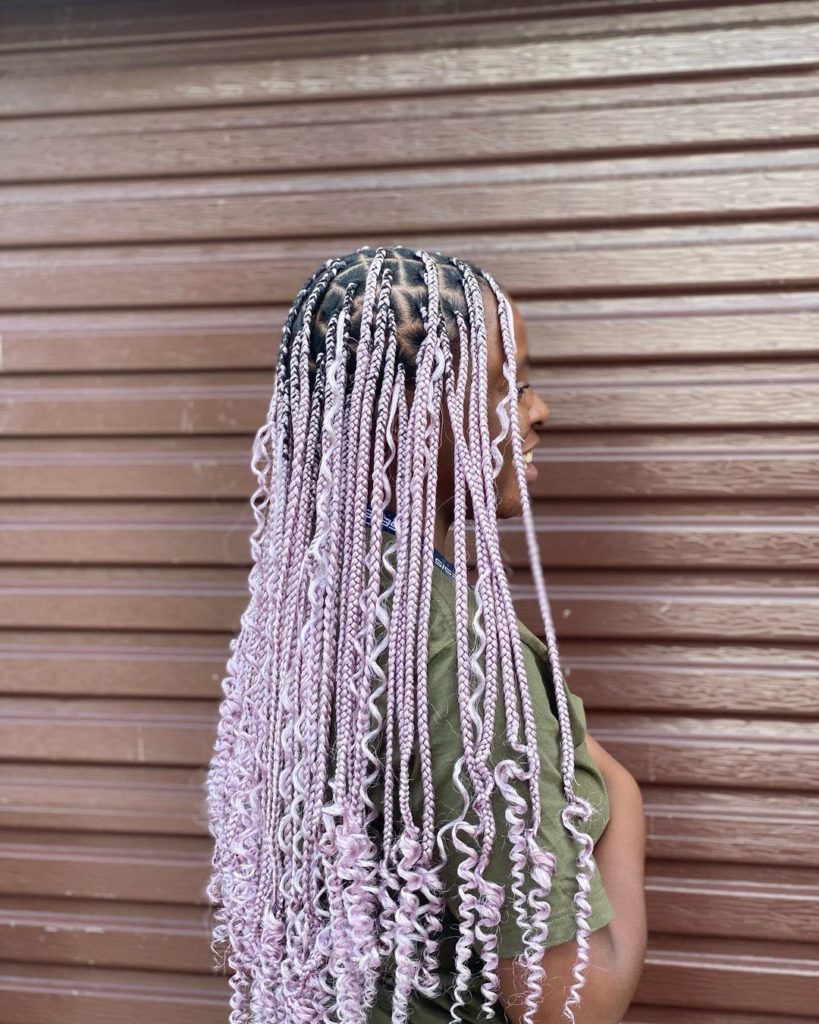 Opt for a protective style that will make you excited to go out in the mornings. Gray goddess braids are so chic and will present a flattering contrast to anything you wear.
4. Brown Ombre Goddess Braids
A simple braided look that you will love; it's all about brown goddess braids that extend into an ombre effect. The light brown hue brings just the right amount of color for spring break.
5. Intricate Goddess Braids with Sleek Baby Hairs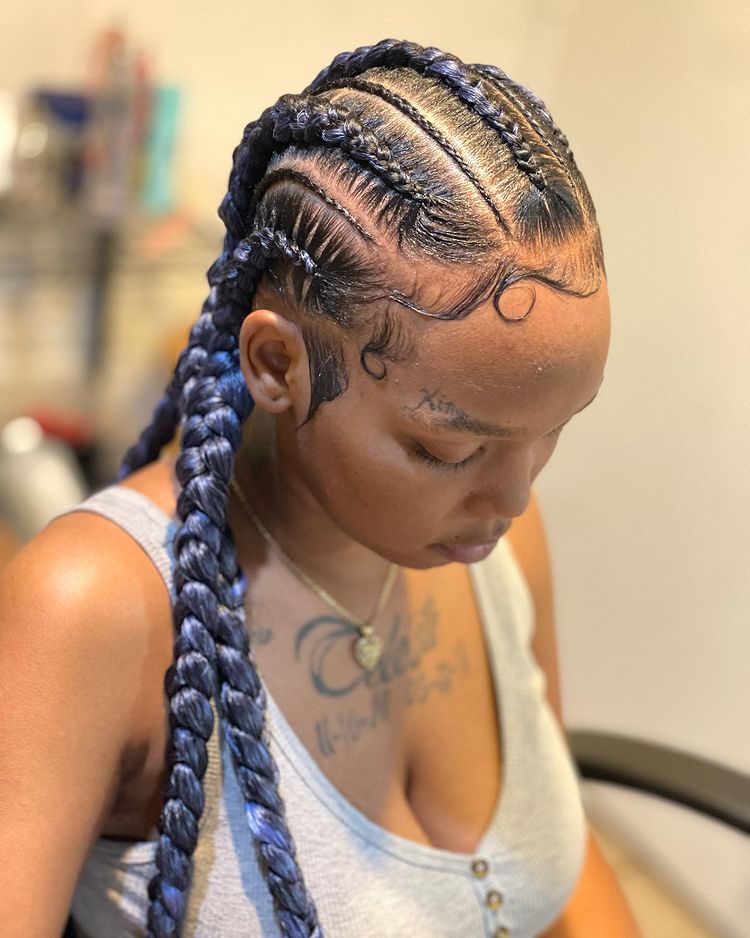 Add a dainty touch to your braided hairstyle by alternating chunky cornrows with small ones. Elevating this look with sleek baby hairs is a definite bonus.
6. Half-Up, Half-Down Goddess Braids with Top Knot Bun
Not sure whether to wear your hair up or down? Why not do both? Pull a section of your braids into a top knot bun with another section worn down to show off the full beauty of this style.
7. Goddess Braids with Loose Curls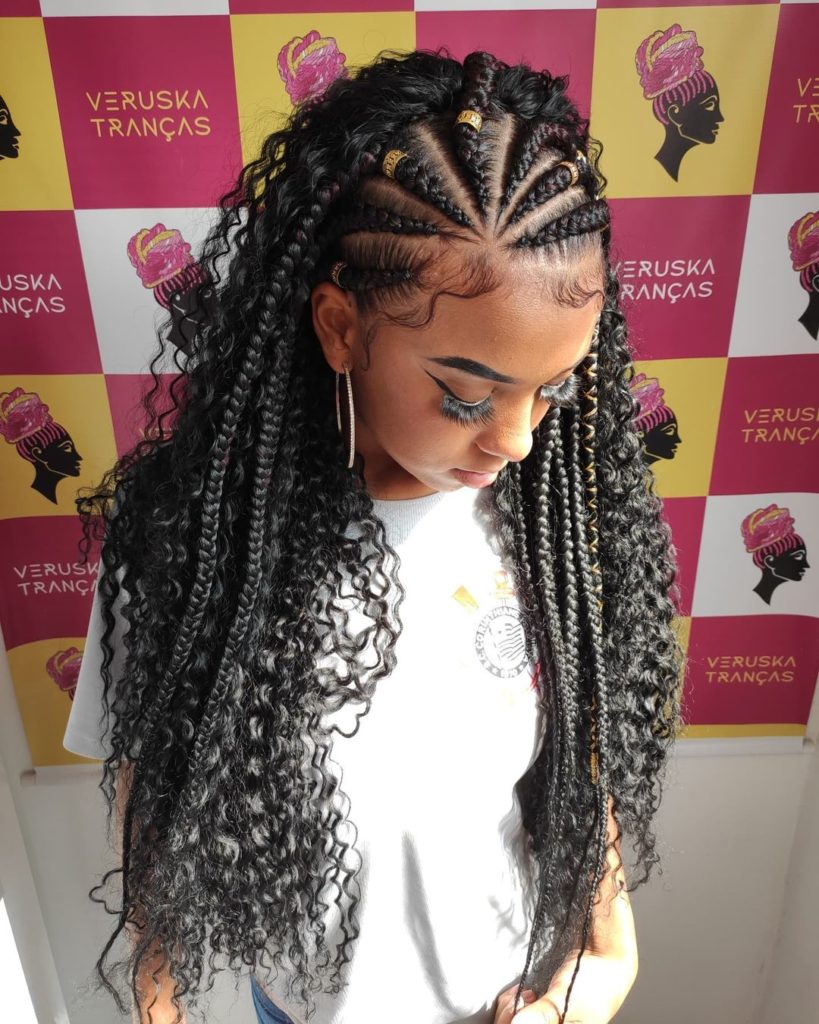 In this look, thick cornrows are styled with layers of long loose curls for a slightly tousled but cute and girly flair.
8. Long Medium-Sized Goddess Braids
I really love long braids. They're extremely stylish and elevate your outfit, no matter how simple the pieces are. 
So, if you're thinking of a cute braided style that won't take too long to achieve, I recommend goddess braids sectioned into medium-sized plaits. Rock this style at hip length with loose curls.
SEE ALSO: 50 Trending Medium Box Braid Hairstyles
9. Brown Goddess Box Braids
Black may be your go-to shade but it doesn't hurt to switch it up a bit with brown goddess box braids. The color change will brighten up your entire look and is a nice swap for the spring season where more vivid colors are often preferred.
10. Black Goddess Box Braids with Cute Pink Beads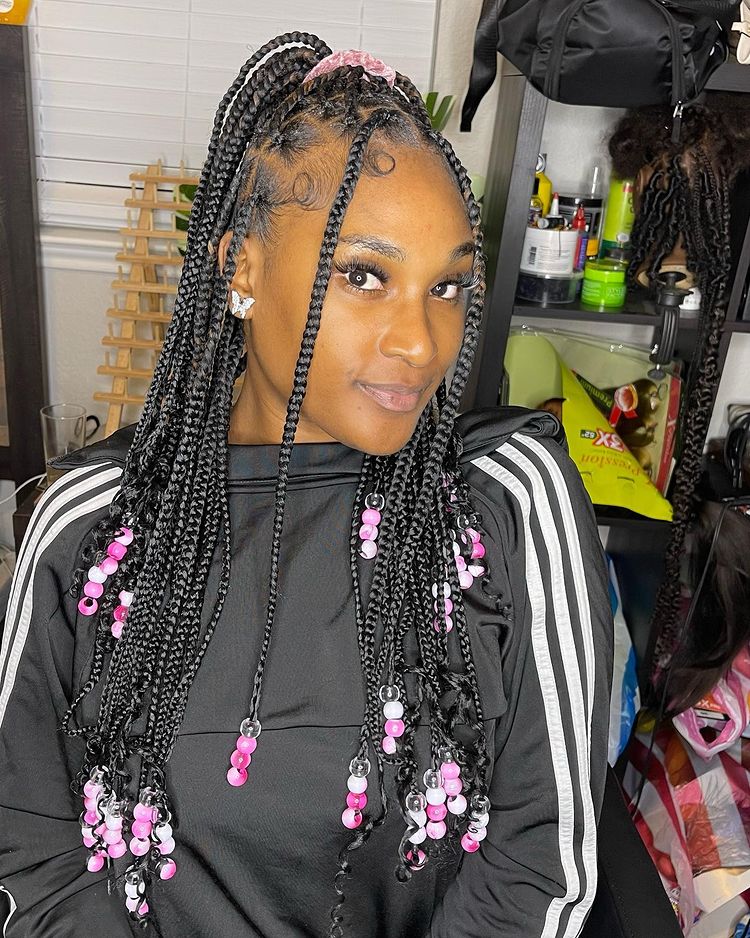 I've always considered goddess braids to be among the cutest hairstyles, so imagine adding stylish accessories such as beads in your favorite color. Then, you can really make this look your own.
11. Black Jumbo Goddess Braids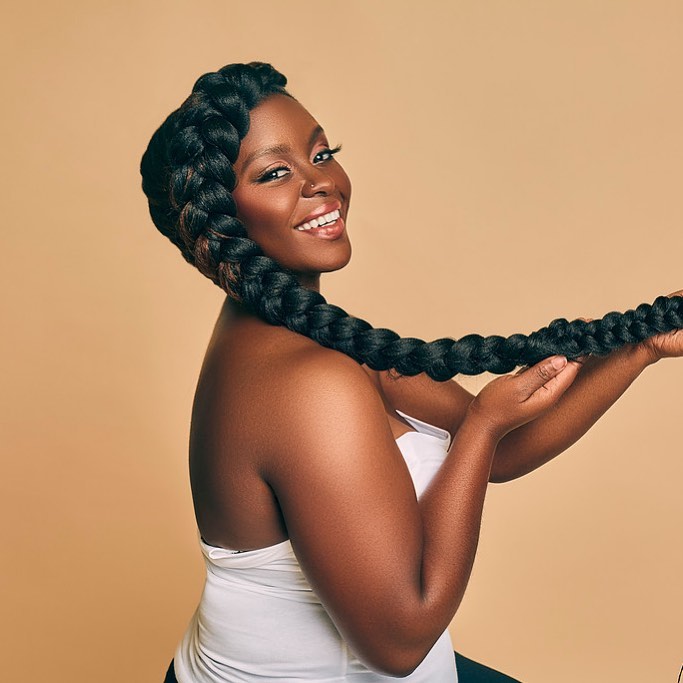 For a hairstyle that will have all eyes on you, jumbo goddess braids are worthy of your consideration. 
Leave this look bare and allow your jewelry to add some pizazz, or do it the other way around, leaving trails of hair accessories along this jumbo braid to beautify a simpler OOTD.
12. Goddess Braids with Criss-Cross Cornrows and Curly Ponytail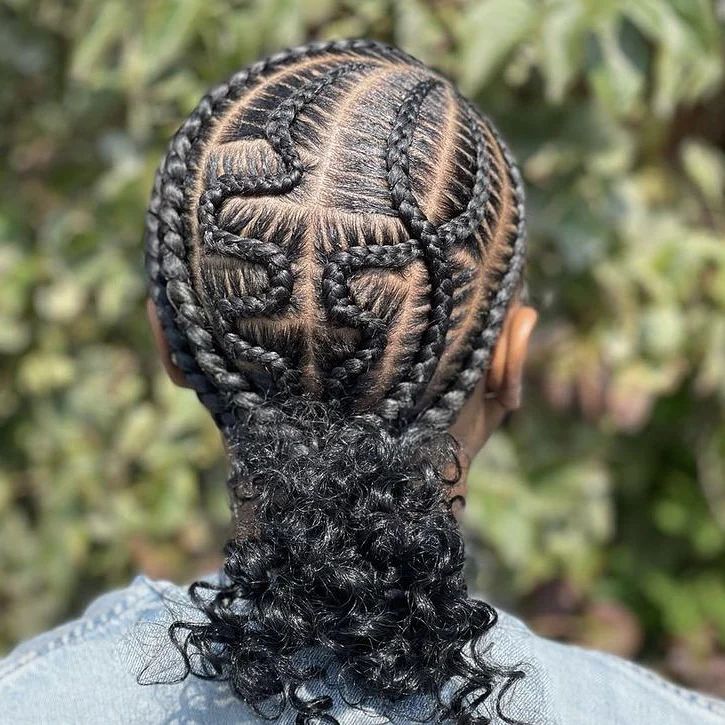 Keep up with the trends in a combination of cute cornrow styles, including criss-cross cornrows with a few overlapping each other. Pull them together in a low curly ponytail for a girly finish.
13. Goddess Braids with Hair Cuffs and Wavy Curls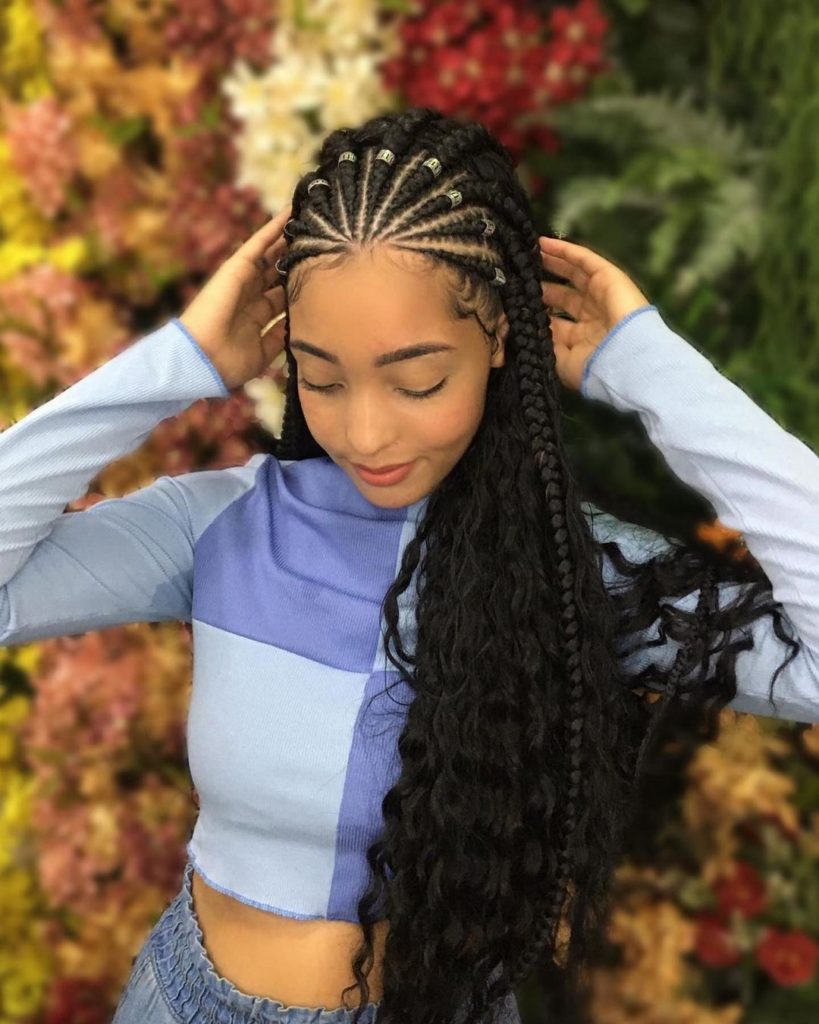 The simplest of accessories can transform your entire appearance. Just by clasping hair cuffs on each braid around your head, you can create a cute crown effect to upgrade a wavy goddess braid hairstyle.
14. Goddess Braids with Yellow Metallic Cord
Metallic hair cords are among the accessories that a lot of women are wearing to enhance their braids. 
You can do the same by lacing even one of your goddess braid plaits with a colored cord as a complementary piece to your outfit that will make your look more attractive.
15. Goddess Braids with Heart-Shaped Cornrows
Adding unique designs to braids has become a major trend; one of the most common being heart-shaped cornrows. Wear this style at the side to bring an ultra-feminine essence to your goddess braid look.
16. Unique Goddess Braids with Double Joined Cornrows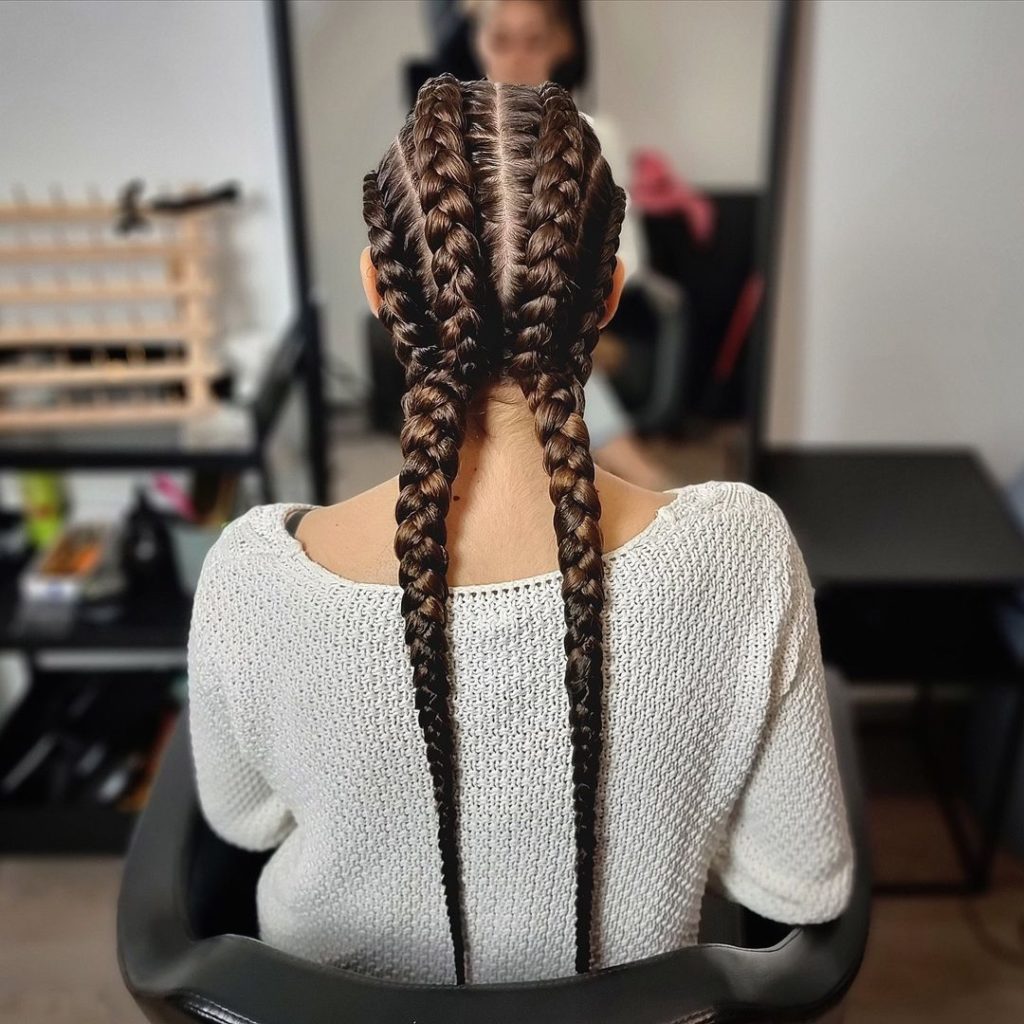 This look features four cornrows braided into two cute ponytails; a variation from your normal cornrow technique. It's a unique style that will bring a refreshing vibe to your casual fits.
17. Burgundy and Black Goddess Braids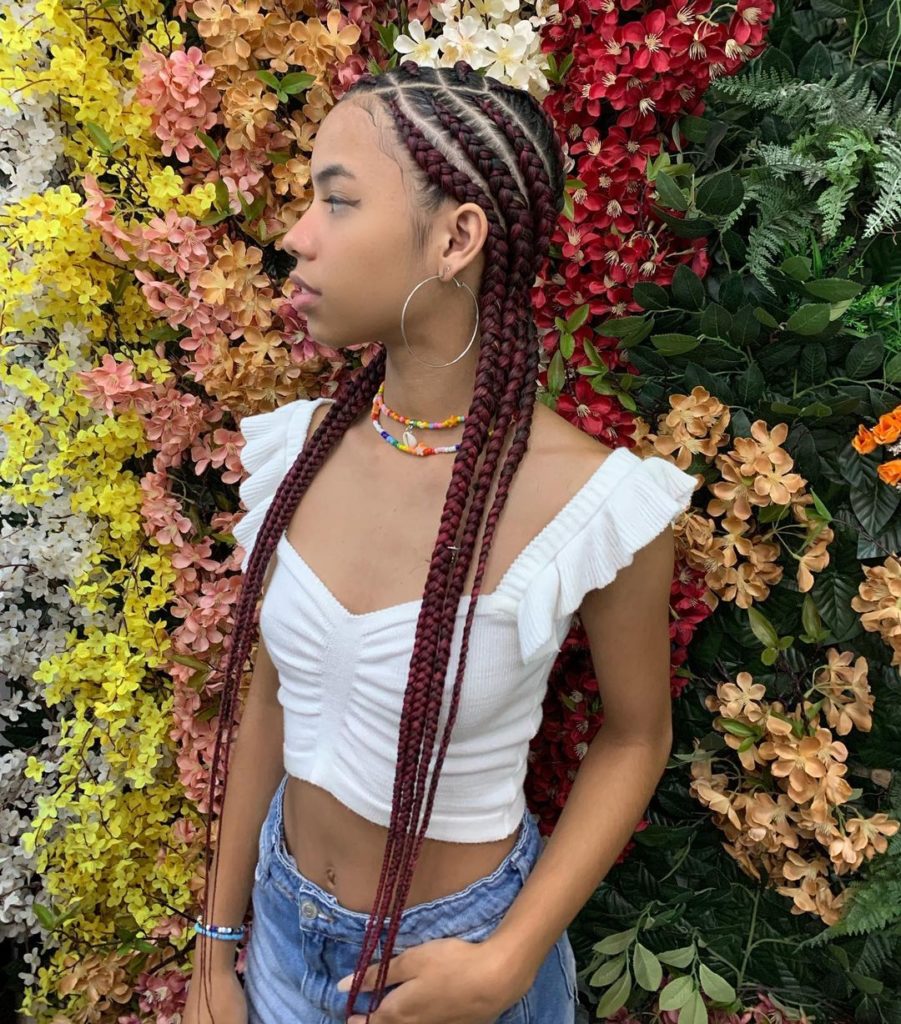 In this goddess braid style, seven thick cornrows are worn all the way back for a cute look that keeps your hair neat and out of your face. 
Mixing two colors that complement each other such as burgundy and black is also a great idea to make this braided look fun to wear.
18. Trendy Black Goddess Braids with Blonde Streaks
Channel any vibe you want to with your goddess braids; this time, the theme is edgy with a few braids done in a light blonde hue at the front with the rest in black. Gold hair cuffs here and there also emphasize the trendiness of this style.
19. Brown Goddess Lemonade Braids
Goddess meets lemonade braids in a tribal braid style combo; with thick cornrows that wrap around your head extending into long plaits. Wear them over your shoulder for a cute vibe.
SEE ALSO: 60 Tribal Braid Styles You MUST See
20. White Jumbo Double Dutch Goddess Braids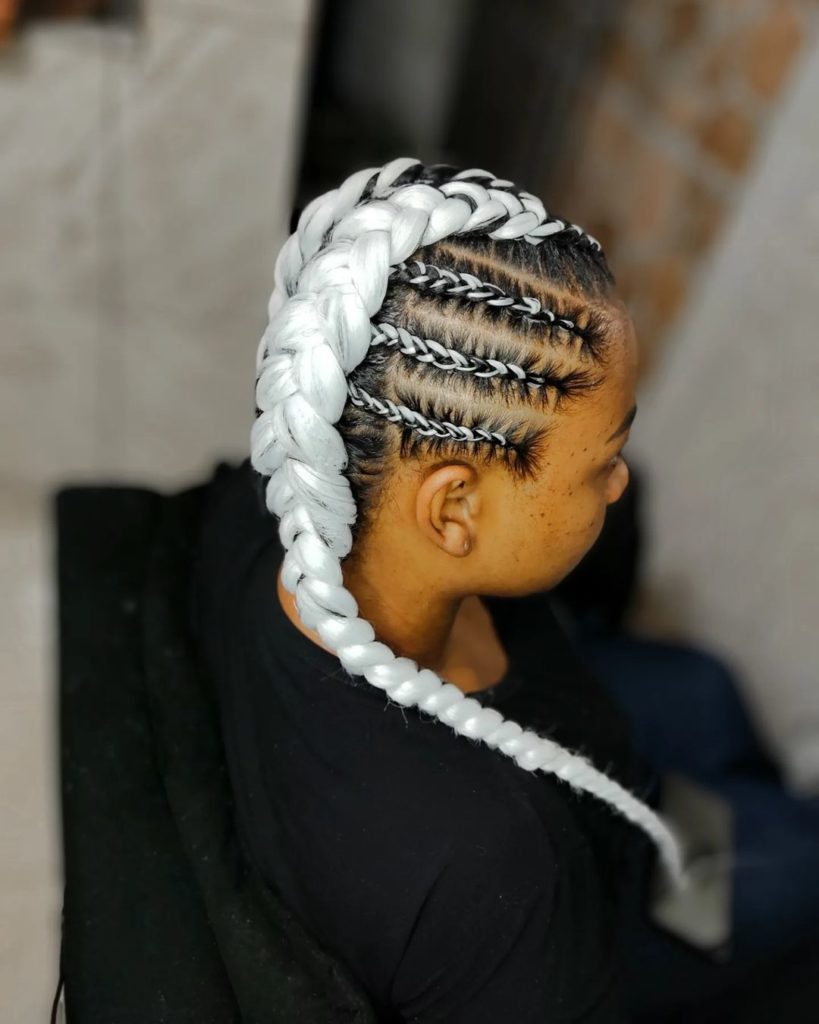 Another gorgeous style that I've been loving recently is double dutch goddess braids. Bring something new to this cute look with smaller cornrows at the side that lead into jumbo ones. 
Wear them over your shoulders or leave them to cascade down your back. Either way is stylish.
21. Goddess Braids in a Ponytail
One of the many reasons I love braids is because they're so many styles you can do while protecting your natural hair. 
Here's a sophisticated look that's perfect for that important meeting and even for daily wear; small to thick cornrows in a neat ponytail.
22. Sleek Goddess Braids with Gold Hair Cuffs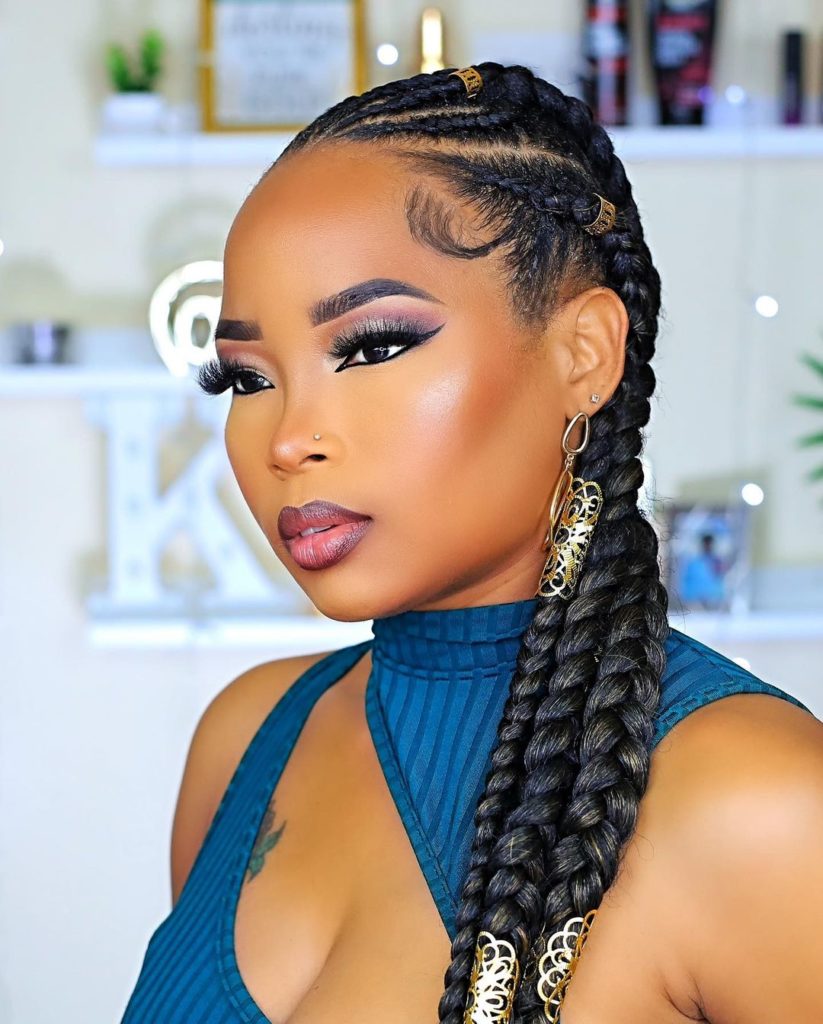 I'm loving how these goddess braids are playing into this full glam look. 
The thick cornrows make your presence hard to ignore, especially when accessorized by fashionable gold hair cuffs and with your edges laid. All in all, this look is gorgeous.
23. Burgundy Goddess Braids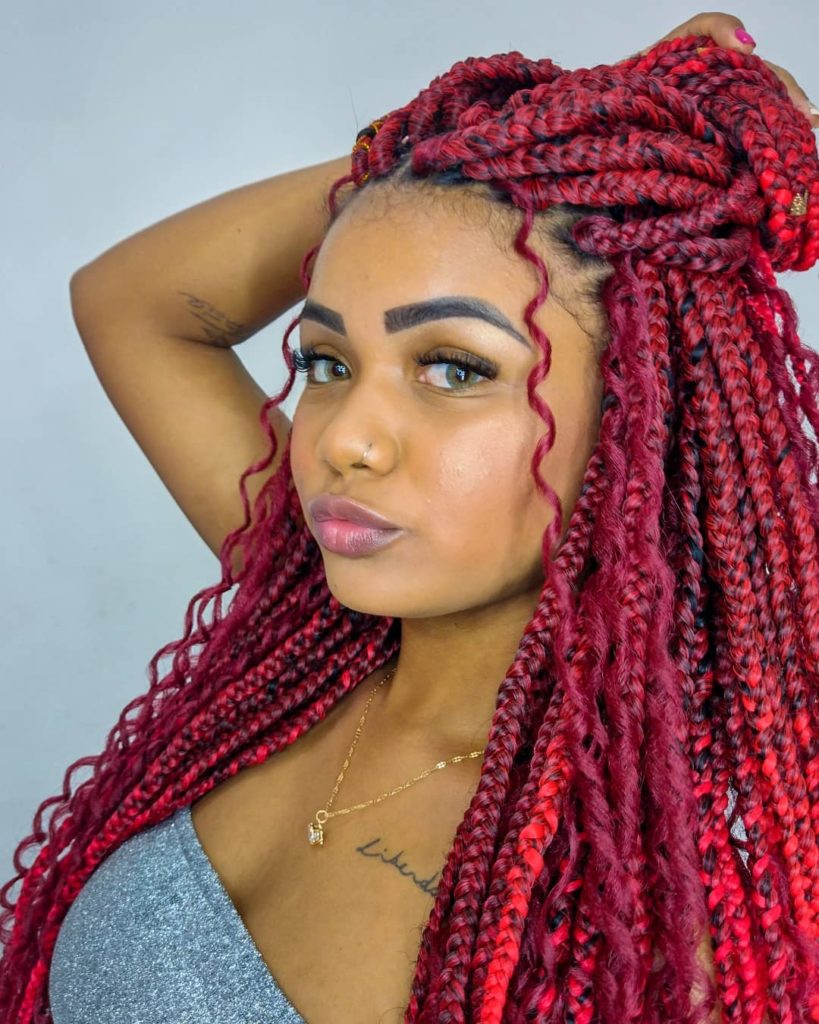 Getting your hair done can be an opportunity to try new things, so divert from the norm with a brighter shade such as burgundy. 
This classy color will enhance not only your goddess braids but your natural beauty; no full glam needed. Pull a few plaits to the back for a cute messy half-up, half-down look.
24. Girly Goddess Fulani Braids with Two Ponytails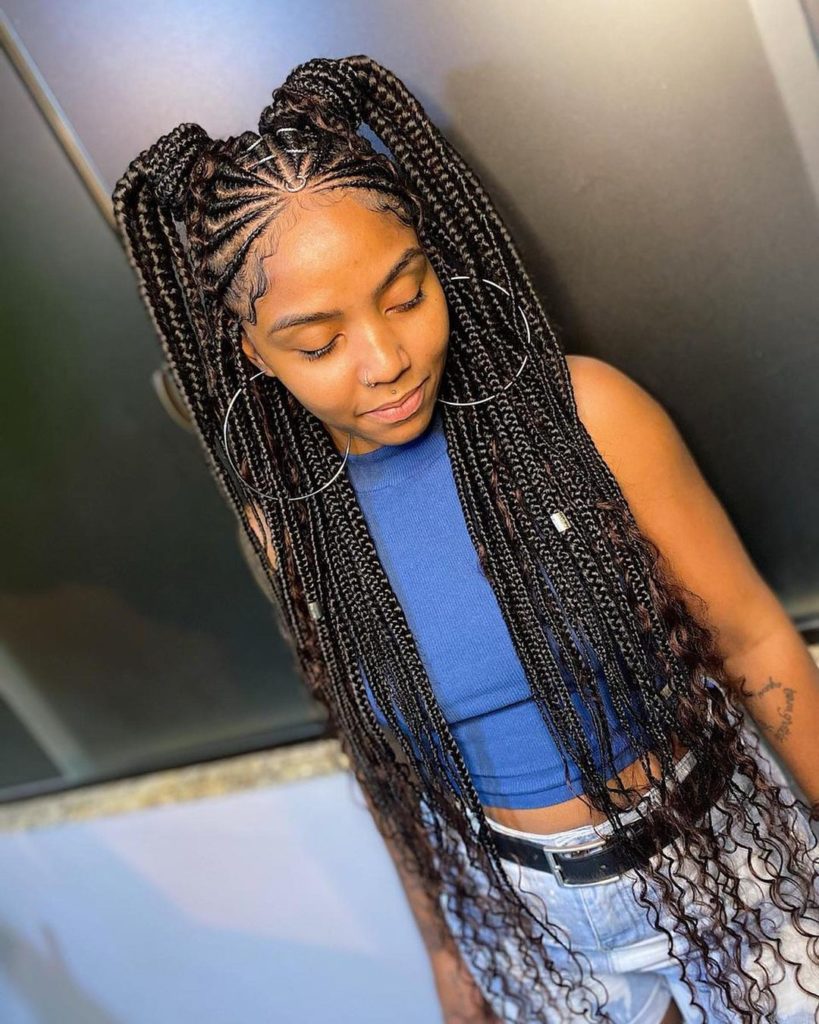 Goddess braids with a bit of Fulani thrown into the mix creates a super cute hairstyle that you can rock for a few weeks.
After a while though, you'll want to switch it up. A great idea is to section your hair into two parts and tie your plaits into two high ponytails; an easy style to do when you're feeling girly.
SEE ALSO: 35 Trending Fulani Braid Styles
25. Pink Angled-Bob Goddess Braids
Women everywhere are becoming more confident and willing to try out new things as it relates to beauty; including wearing colored braided hair. 
Pink is one of the boldest colors that still presents you with a feminine undertone. Try this look in an angled bob style, adorned with gold accessories.
26. Pink and Black Double Dutch Goddess Braids
Weave pink synthetic hair into a double dutch goddess braid hairstyle to add some personality to your look. Adding color to your hair is a guaranteed mood booster.
27. Burgundy Goddess Box Braids with Cornrows
In a spunky burgundy shade, your goddess braids will look amazing. This particular style is diverse with three thick cornrows at the side and braids cascading down the left side of her face.
28. Edgy Criss-Cross Goddess Braids
So, this stunning style has been the talk of the town; criss-cross goddess braids. It's a look that I'm excited to try as well and I'm sure you can see why. 
The design is so edgy plus stylish and gets me in the mood for all-black outfits with trendy boots.
29. Pink and Black Infinity Goddess Braids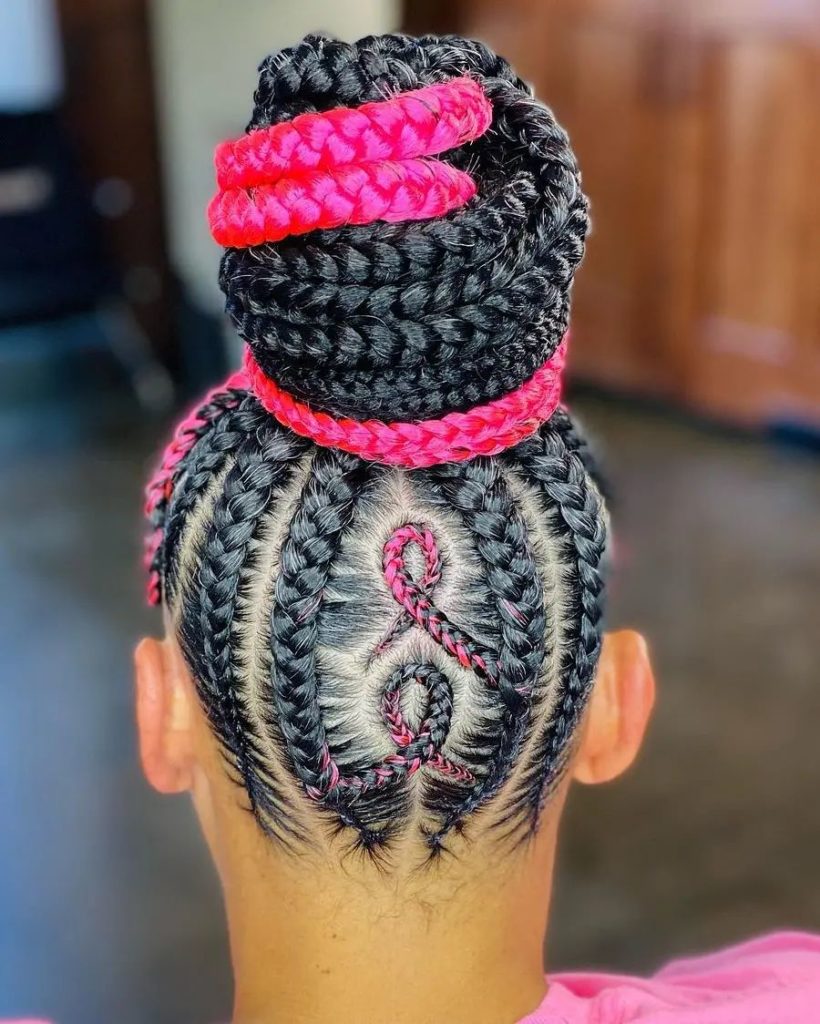 Your goddess braids can become the canvas for some cool hair art. In this look, pink and black box braids are tied into a top knot bun with infinity symbols braided at the back, adding a creative flair.
30. Unique Burgundy Cornrow Goddess Braids
This look slightly varies from the normal goddess box braid style as it begins with cornrows on each side separated by a neat middle part. 
Rather than maintaining a cornrow theme all the way down, box braids become the highlight of this hairstyle with a section following the same unique theme at the back.
31. Goddess Braids with Two Top Knot Buns
Cornrow your goddess braids into a curved shape, completing the look with two top knot buns on each side. This feminine style can spruce up any outfit, whether it be a formal ensemble or your cute casual get-ups.
32. Black Long Goddess Braid Bob
A braided bob works like a charm to accentuate the structure of your face and is said to act as somewhat of a facelift, giving you a refined and youthful appearance.
Add some length and get yourself a long goddess braid bob. Throw some light curls into the mix for a sassy feel.
33. Elegant Goddess Braids with Top Knot Bun
I just love the look of braided buns. One, they keep your hair tamed and out of your face; beneficial, especially during warmer seasons, and also for the classy nature of the style itself. 
This look shows how you can easily elevate a braided bun. All it takes are a few hair accessories to create an elegant view.
34. Goddess Braids in a High Side Ponytail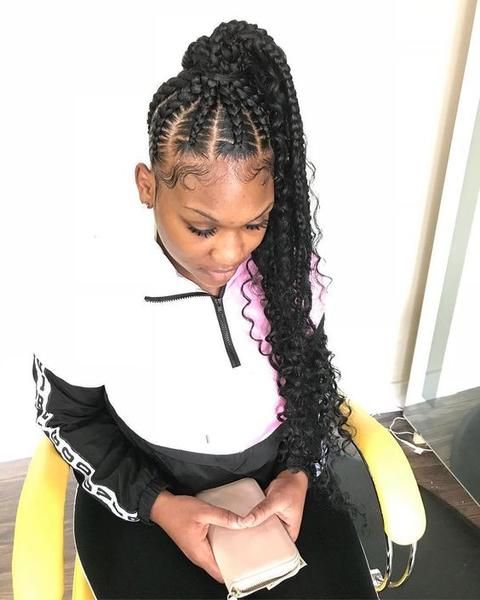 Let your personality shine through your hairstyle. Goddess braids worn to the side are a sign of confidence, knowing that you look fabulous. Toss the ends over your shoulders to show off those pretty tendrils.
35. Black Chunky Goddess Braids with Low Bun
Style that special dress you've been longing to wear with classy black goddess braids. With two chunky cornrows braided on either side, tied into a lovely low bun, you'll look and feel your best for the occasion.
36. Knotless Goddess Braids
Now, here's a super cool and cute style that lasts a bit longer than most braided hairstyles; they're called knotless goddess braids. 
The knotless method speaks to the feed-in technique where, as opposed to regular box braids, there is no small knot used to join synthetic hair with your own. 
This allows for less strain to be placed on your natural hair and results in a braided look that is softer in appearance.
SEE ALSO: 70 Trending Knotless Box Braid Hairstyles
37. Shoulder-Length Goddess Braids
For a cute look that won't take up too much of your day, shoulder-length goddess braids are my recommendation. 
It's a style that's short enough to not get in the way but has the right amount of length to nicely frame your face.
SEE ALSO: 25 Coi Leray Braid Looks (How to & Styles)
38. Jumbo Goddess Braids in a Thick Low Bun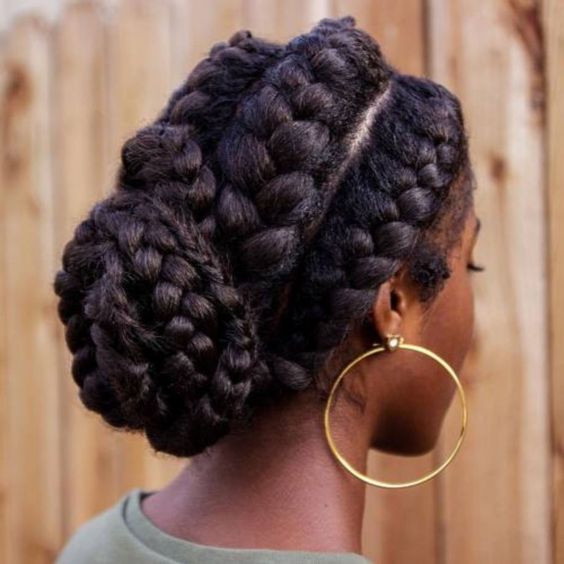 Jumbo braids are beautiful. Look like royalty as you roll the ends into a thick low bun at the back. Large hoop earrings really complement this style but feel free to replace them with cute knobs for a softer finish.
39. Emerald Green Goddess Braids in a High Ponytail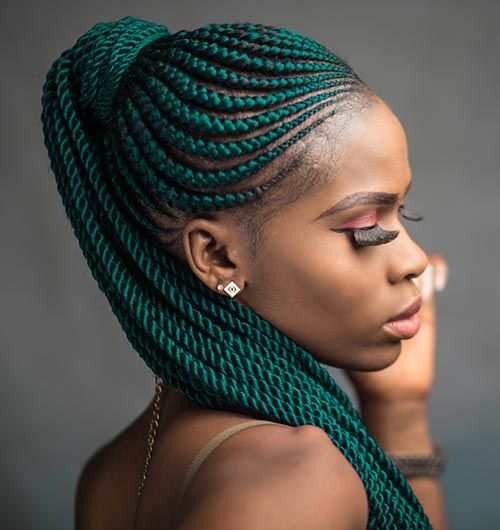 Make an elegant entrance with emerald green goddess braids. Drawn back from your face into a high ponytail, this is just the classy style you've been looking for.
40. Intricate Jumbo Double Dutch Goddess Braids
Incorporate intricate cornrow designs to make your goddess braid look extra special. 
This look features two jumbo double dutch cornrows both connected to much smaller ones that run down the middle, along with a cute fishtail cornrow at the side. The main cornrows extend into cute messy pigtails.
41. Goddess Braid Mohawk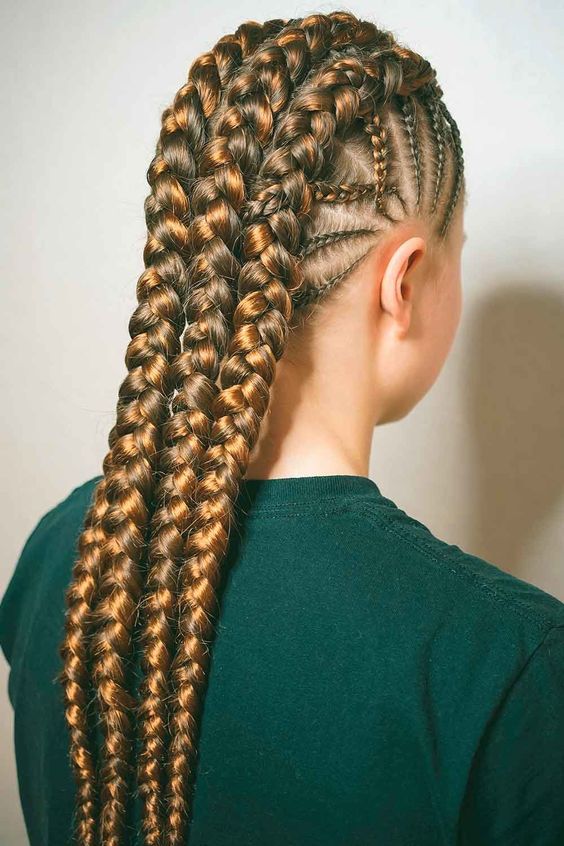 In this look, smaller cornrows at the side lead into three thick cornrows, producing a stunning goddess braid mohawk. 
This beautiful look speaks for itself but because of the large cornrows, it will require keen attention to stay neat, so be sure to cover your hair with a bonnet or silk scarf before bed.
42. Snowflake-Pattern Goddess Braids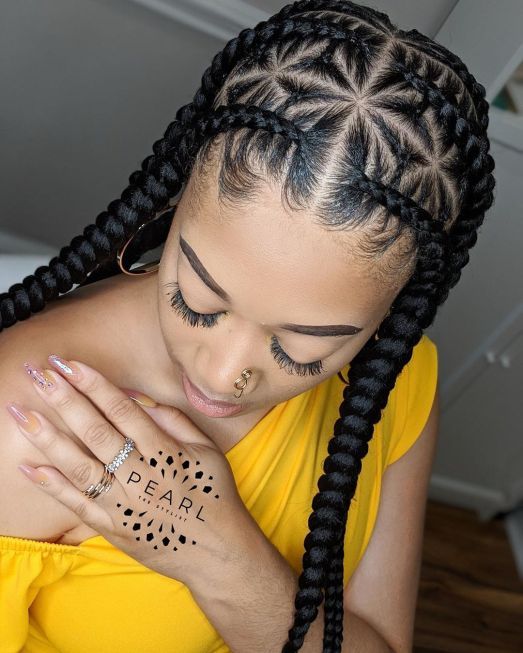 With your hair parted into a snowflake pattern and cornrows on each side, this look has all the creativity you need in one hairstyle.
43. Double Dutch Goddess Braids with Curls
Complete your goddess braids with voluminous curls that stand out from a distance. I'm a big fan of the femininity of this look. Can you see yourself rocking this cute style on a regular day out? I know I can.
44. Goddess Braids in a Low Ponytail
Enjoy the aesthetic of wrap-around braids by alternating between chunky and small cornrows. Then tie them all together in a low ponytail at the back.
45. Laid-Back Goddess Braids
This goddess braid hairstyle really works for Ciara, placing emphasis on her soft glam makeup, as well as, the beautiful toned structure of her face. The same can be done for you with this popular laid-back look.
46. Classy Wrap-Around Goddess Braids with Middle Part
This look sends the message that you mean business. Beautifully frame your face with two large cornrows separated by a middle part, in a wrap-around style that is oh so classy.
47. Low Bun Goddess Braids with Decorative Hair Cords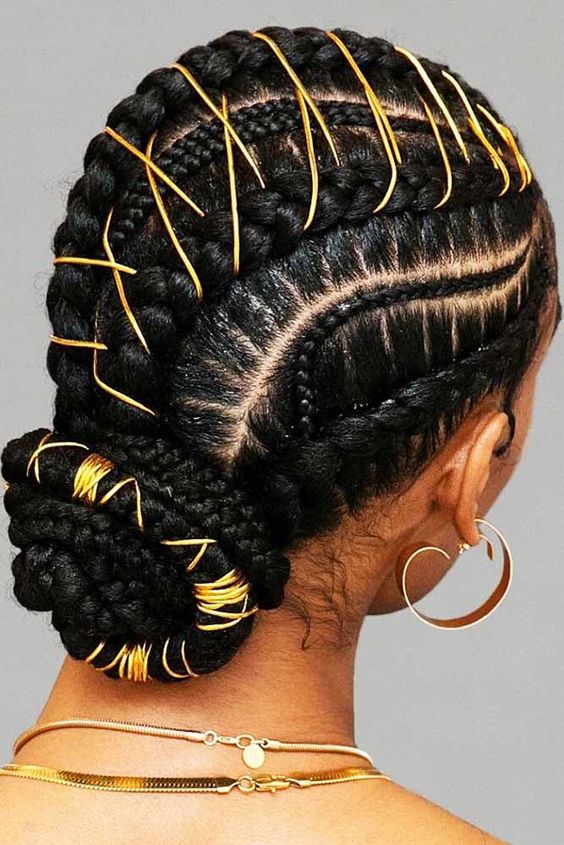 Transform a low bun goddess braid look with decorative hair cords. Loop these stretchy accessories around a few cornrows, as well as your low bun to create an authentic and stylish look that you'll feel proud of.
48. Goddess Braid Mohawk with Single Jumbo Cornrow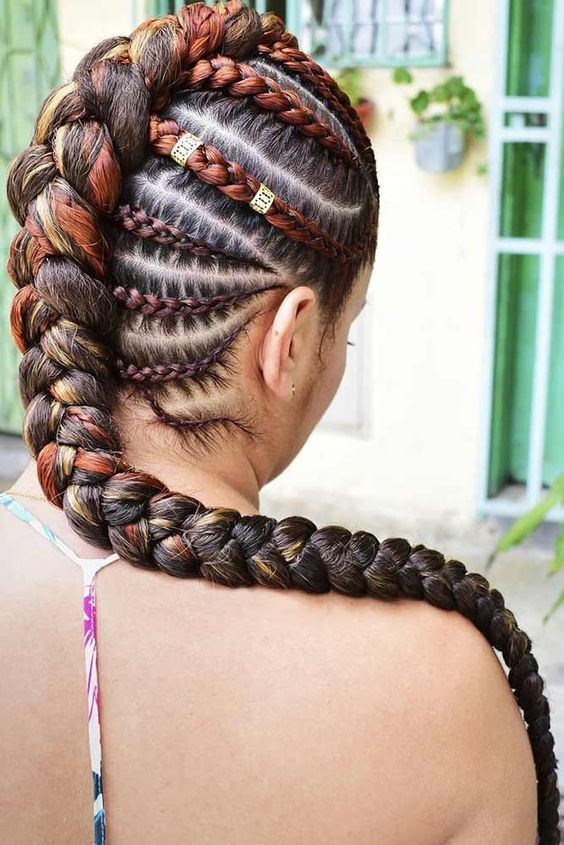 This amazing style showcases side cornrows leading into a single jumbo cornrow for a goddess braid mohawk that is sleek and super trendy.
49. Tight Curls with Goddess Braid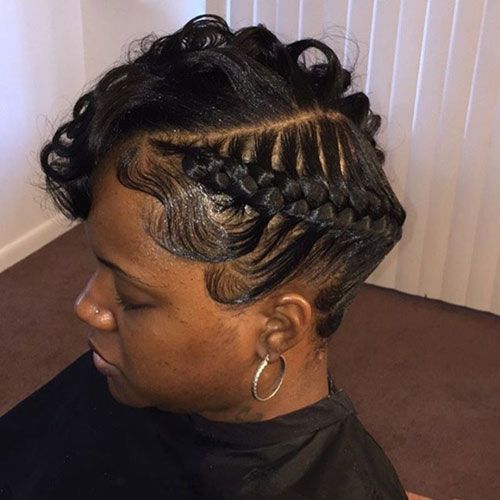 Bring attention to your profile with a stylish jumbo cornrow on one side and tight curls on the next. This braided style is glamorous and perfect to complement your dressy pieces. Pull out your finest jewelry to flaunt with this look.
50. Lemonade Goddess Braids with Curls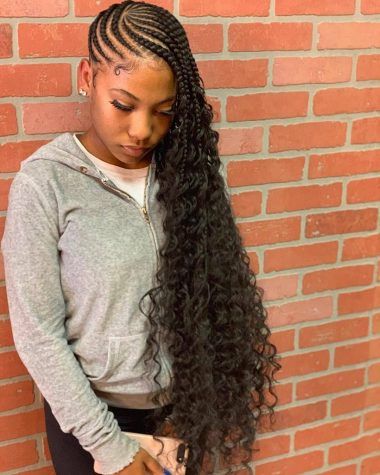 Complete a lemonade goddess braid look with an array of well-defined curls that go all the way down to your hips. Show this style off and wear it with the best your closet has to offer.
51. Fishtail Jumbo Goddess Braids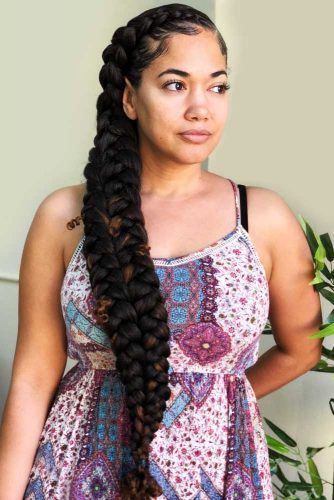 Jumbo goddess braids are best suited for particular occasions as this style tends to last for a much shorter timeframe than others. Nonetheless, it's a gorgeous style that highlights your innate femininity. 
All you have to do is plait two jumbo cornrows into a fishtail pattern for a sweet glam look that'll make you the highlight of the event.
52. High Ponytail Goddess Braids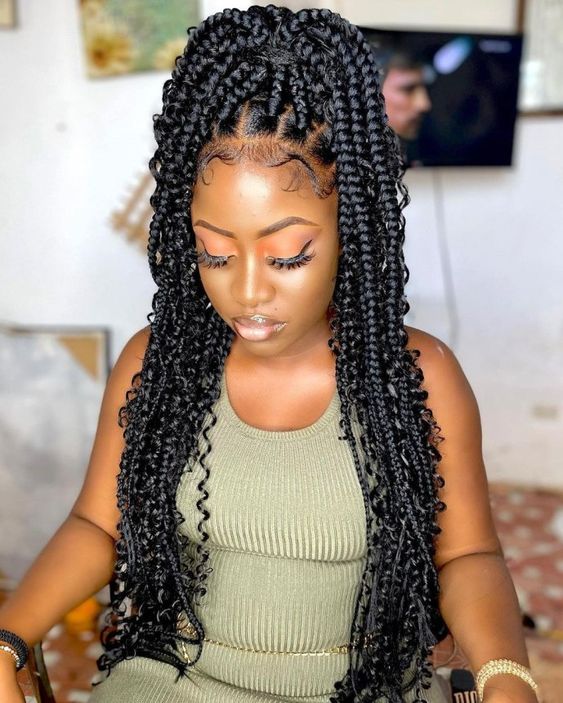 There's no end to the beauty of goddess braids. Get the most out of this style and pull your plaits together into a high ponytail that falls over your shoulders. This style is versatile and will look amazing dressed down or up.
53. Bohemian Goddess Box Braids with Messy Bun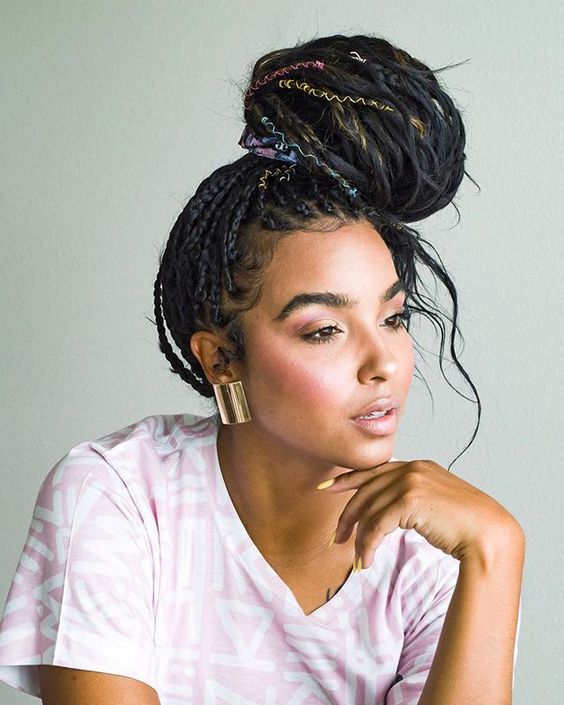 This look is like a mixing pot of some of the most beautiful braided styles. 
Bohemian wavy curls and goddess box braids are all scooped into a messy side bun. Colorful hair cords are wrapped around a few loose ends for a boho-chic finish.
54. Multi-Colored Goddess Box Braids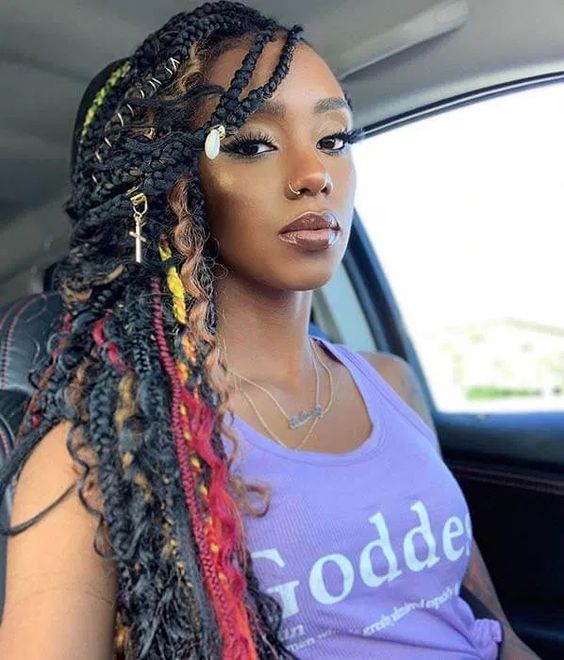 From one colorfully decorated style to the next, this gorgeous goddess braid look is worn in messy fashion to the side, boasting a few cute eye-catching trinkets.
55. Top Knot Bun Goddess Braids with Decorative Rubber Bands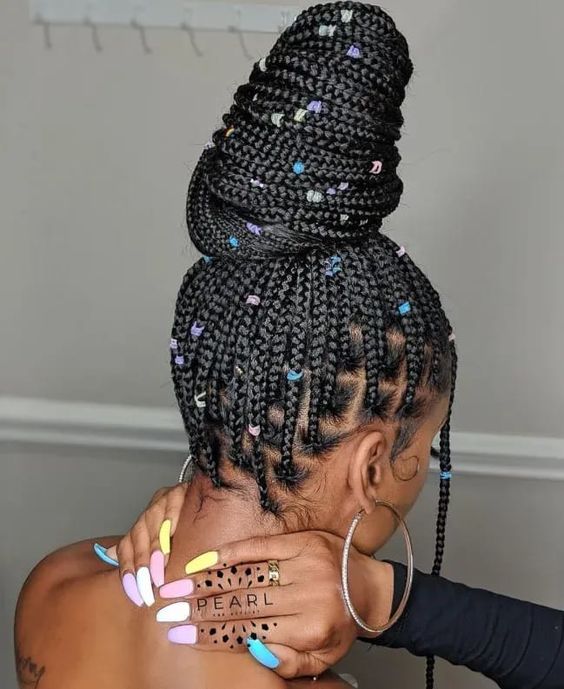 A braided top knot bun is always fabulous but here's how you can turn this style into an even cuter look. Simply leave one plait to hang loosely at the side of your face and embellish your braids with colorful rubber bands.
56. Low Bun Goddess Braids with Rose Patterns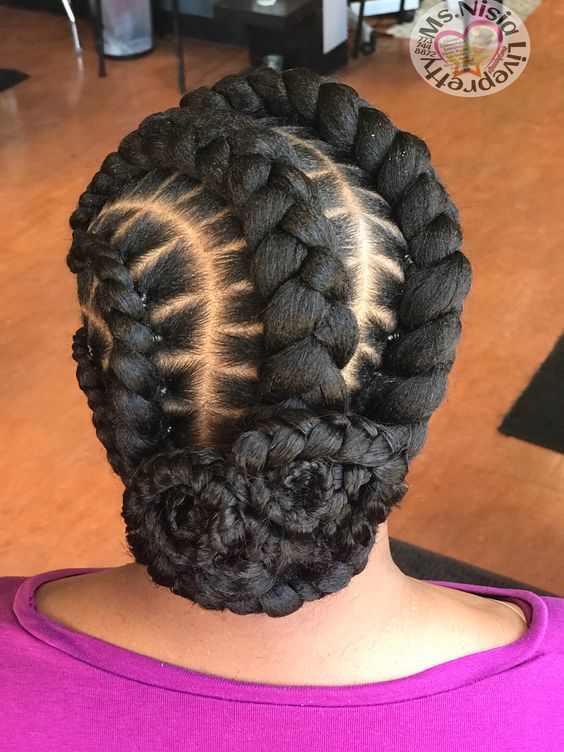 With braided buns, you don't have to stick to one style. Have your stylist do a creative pattern using these rose-like low buns as inspiration.
57. Small Goddess Box Braids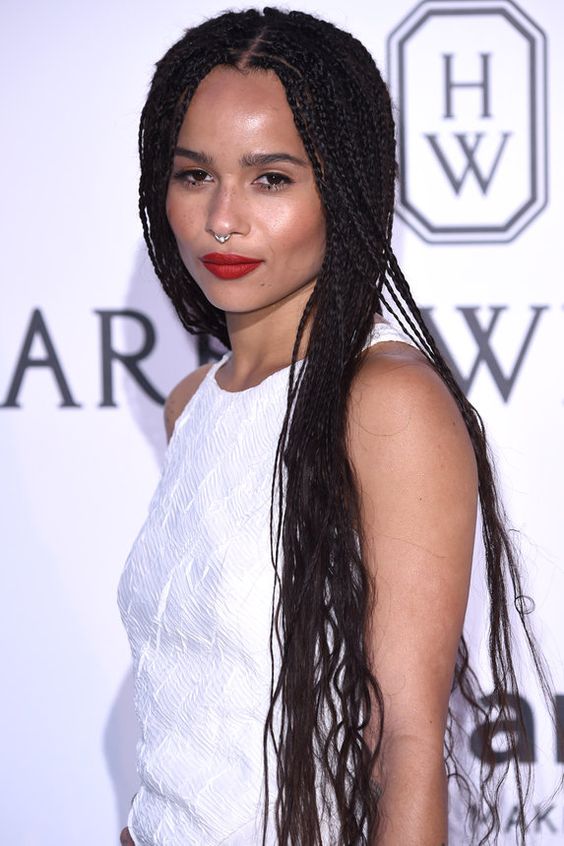 When you think of goddess braids, it's hard not to remember the beautiful actress, Zoe Kravitz, as she is well known for rocking this cute hairstyle. 
She tends to go for smaller box braids with her look and maintains loose wavy curls at the end but with a slightly unraveled appearance.
58. Fulani Jumbo Goddess Braids with Two Top Knot Buns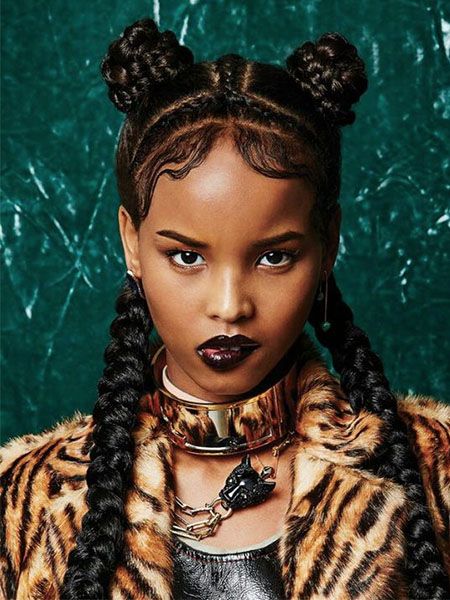 Look high fashion with a Fulani goddess braid mix of jumbo box braids and two top knot buns on either side.
The Fulani edge is brought into this look with a cornrow that extends from one side of the head to the other while another goes straight down the middle.
59. Four Dutch Goddess Braids with Low Buns
Need a low-maintenance and cute protective style asap? I've got you. Try four dutch braids tied together into two small low buns at the back. This look is simple but can be dressed up with the right accessories.
SEE ALSO: 65 Knotless Braid Styles You MUST See
60. Carmine Red Goddess Braids with Defined Curls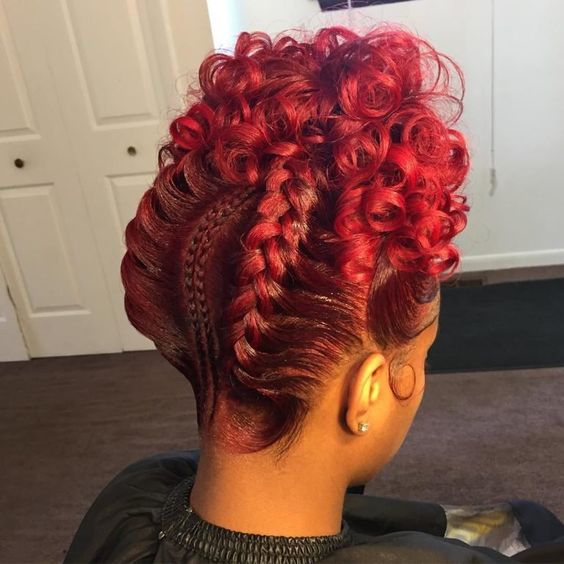 I promise you'll never want to take your braids out if you get them done in this gorgeous carmine red shade. 
With two jumbo cornrows at the back divided by smaller ones in the center, the highlight of this look is the classy and defined curls spouting from the top.
61. Half-Up, Half-Down Brown Goddess Box Braids with Ponytail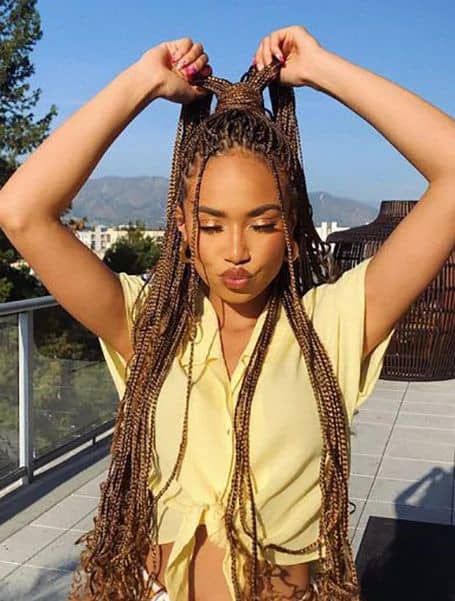 Use your fingers to separate your braids into two sections, wearing one-half down and the other tied into a high ponytail. 
Leave two plaits to fall freely on either side of your face, and in a matter of minutes, you've got for yourself a cute, no-hassle hairstyle.
62. Mild Purple Goddess Braids with Large Bun
Braids and buns go hand in hand. It's a combo that's sophisticated and looks great with absolutely anything.
Add your personal touch to a braided bun style with a colored option; this purple shade is perfect, and mild enough to complement any setting.
63. Pink and Purple Fulani Goddess Braids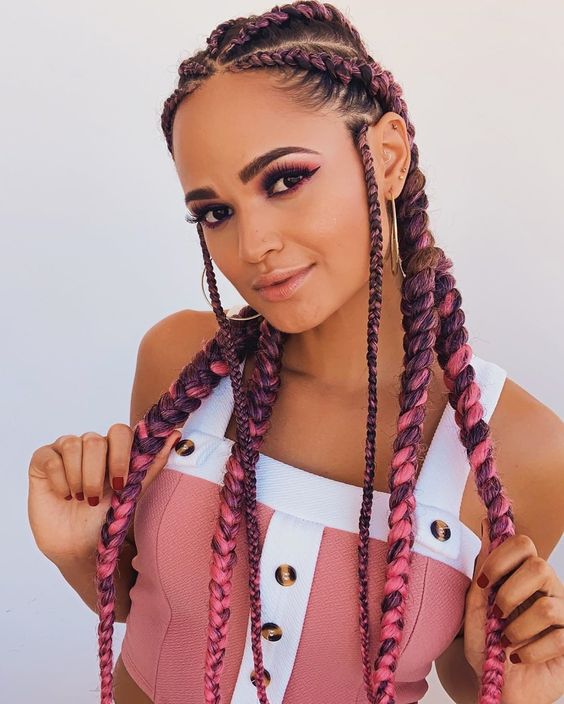 Like the pink and purple combo this girl is rocking, you too can mix your favorite colors to create a fun and stylish goddess braid look. 
This style features Fulani braid elements as well. I'm referring to the plaits positioned at either side of her face. This is one of the trademarks of Fulani braid styles.
64. Goddess Box Braids with Neutral-Toned Beads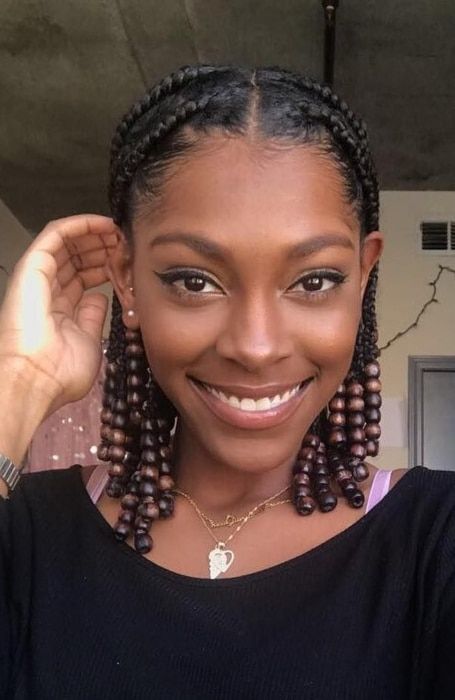 If you've decided to get short, shoulder-length goddess box braids and you're wondering how to spruce them up, I've got just the advice you need.
By adding neutral-toned beads you'll bring extra style to your braids without taking away from the down-to-earth essence of the look.
65. Sleek Black Chunky Goddess Box Braids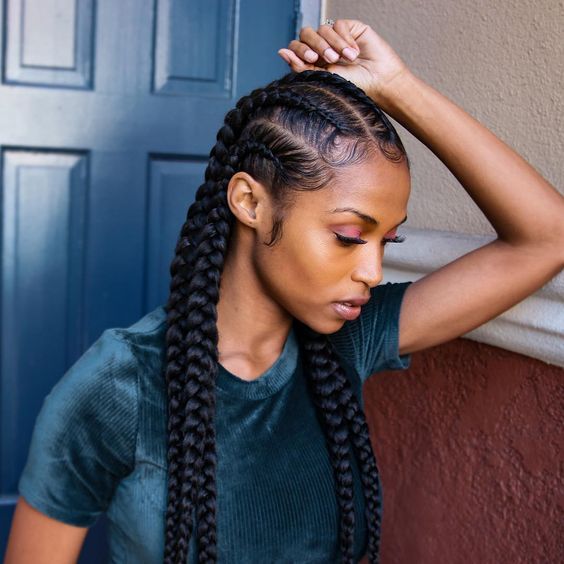 A quality of goddess braids that just cannot be denied is the effortless style that they bring to the table. This cornrow look is on the simpler side yet it's very neat with sleek baby hairs which are a major plus.
Summary and Top Picks
Life is too short to have boring hair. I feel like that's one of the main lessons to learn from this mind-blowing compilation of goddess braid styles. Each style is captivating enough to make you fall in love with wearing braids again.
I've got to say though, looks 1, 25, and 41 are permanently etched in my mind and that's because each style had its own distinctive qualities while staying true to the elements of the goddess braid technique; sleek thick cornrows and refined plaits.
Were you won over by any of these goddess braid styles? If so, what qualities about them caught your eye? Let me know. It's your time to share your thoughts along with any questions you have down below.