It's time for another ombre nail design compilation and this time, pink is on my radar. There are so many ways to describe pink: flirty, girly, feminine, cute. Either way, this composite color is a staple when it comes to nail artistry.
As stunning as the hue is by itself, it's a fantastic team player when paired with other shades, gradient-style included. You can fade pretty much any color you want from a pink base or vice versa, ending with pink at the tips of your nails instead.
In a glamorous state of mind? Pair pink with red. Is simplicity a big deal for you? Pink and white ombre nails are classic. Maybe you want to flaunt your femininity; pink and sky blue are a stellar blend. Plus, you can include fun and artistic nail decor.
So, let's talk about it! Here are pink ombre nail designs that every lady needs to see.

1. Soft Pink and White Ombre Coffin Nails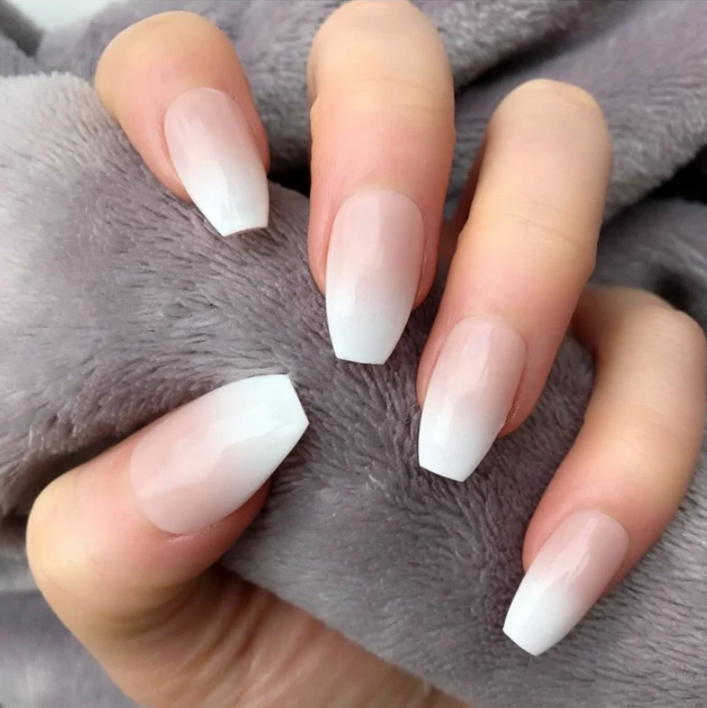 Simplicity first! This muted pink base has a nude undertone. Faded into white, it's a classy look that you can count on for everyday wear. You can get these nails at Etsy.
2. Cute Monochromatic Pink Ombre Almond Nails
You can't go wrong with two shades of the same color. Switch from a lighter to darker pink hue for an ombre look that's cute and will look amazing with your super cozy pieces. You can get these nails at Etsy.
3. Long Pink and Sky Blue Ombre Coffin Nails
Here's that pink to blue fade I was telling you about. Isn't it beautiful? It stands out all the more thanks to the long coffin shape nail extensions and glossy finish. You can get these nails at Etsy.
4. Caramel Nude and Pink Ombre Coffin Nails
Now look, it's all over when you step in rocking nude and pink ombre nails. That mix of caramel nude and pink makes such a chic combination, and I just can't get enough of it. You can get these nails at Etsy.
5. Multi-Shade Pink Ombre Coffin Nails
A mismatched design with one color as the focus also creates a stylish ombre look. Here, multiple shades, from hot pink to pink lemonade, come together for a trendy and diverse finish. You can get this nails at Etsy.
6. Short Pink and Silver Glitter Ombre Nails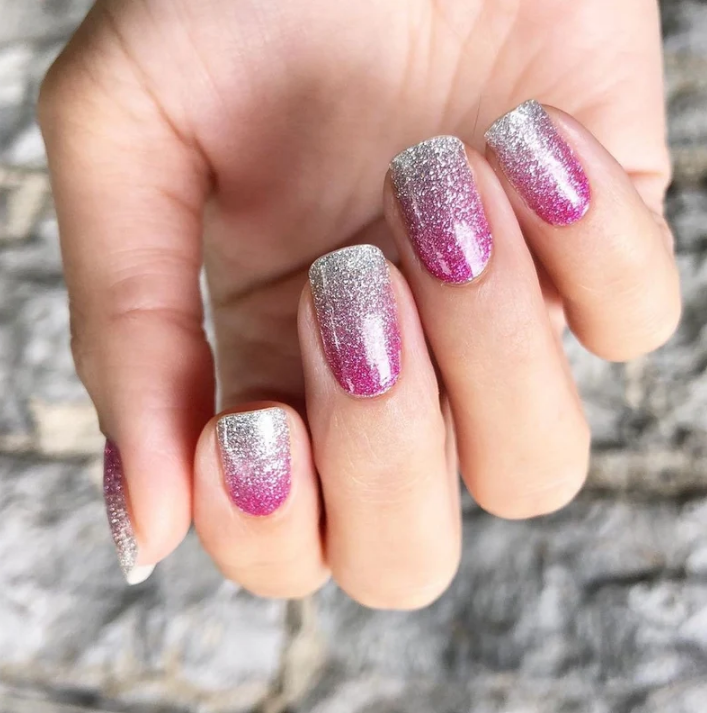 Wherever there's pink, glitter is not too far away. It's the ultimate girly and flirtatious design element, so it'll be right at home on the tips of your pink ombre nail look. You can get these nails at Etsy.
7. Pink, Blue, and Yellow Diamante Ombre Coffin Nails
A sparkling yellow nail among a pink and blue design is bound to garner some attention, and although it's the highlight of this look, it complements the glowing diamante theme. You can get these nails at Etsy.
8. Blush Pink and Purple Glitter Ombre Nails
While we're on the topic of sparkling finishes, how about these blush pink glitter nails? Using glitter to create an ombre effect is a continuous trend and it definitely enhances the entire look. You can get these nails at Etsy.
9. Short Pink and Blue Cloud Ombre Nails
Cloud nail art holds a special place in my heart, as do these cute short nails coated in sky blue and pink. It's the perfect ombre backdrop for these fluffy white clouds. You can get these nails at Etsy.
10. Light Pink and Bright Yellow Ombre Coffin Nails
Summer here we come! And we're bringing our pink and yellow ombre nails with us. 
Notice how subtle the pink shade is in comparison to the brightness of the yellow hue. That's because it's the highlight of this stunning transition. You can get these nails at Etsy.
11. Sparkling Pink and Green Ombre Coffin Nails
Often seen as an unlikely color combo, pink and green actually complement each other beautifully. Positioned at either side of the color spectrum, these colors form a chic and vibrant gradient effect. You can get these nails at Etsy.
12. Pastel Pink and Orange Ombre Coffin Nails
Channel your inner sweetheart with a light pink base that transitions into pastel orange. It's just the simple nail inspo you need for some time away in a tropical paradise. You can get these nails at Etsy.
13. Pink and Gold Glitter Ombre Stiletto Nails
Every woman needs to try a gold and pink nail combo at least once in her life. Once you do, I guarantee it will be a go-to look for you, even more so if you make it a glitter ombre design. You can get these nails at Etsy.
14. Pink and Gray Sparkle Ombre Coffin Nails
Gray is a neutral shade, which means you can rest assured it will look amazing with pink. Neutral tones work well as they act as a foundation that more vivid tints like pink can feed off. You can get these nails at Etsy.
15. Hot Pink and Purple Ombre Coffin Nails
Longing for a bold and empowering nail design? These hot pink and purple ombre nails will certainly satisfy. Rock them with denim, with black or white. They'll make anything you wear pop. You can get these nails at Etsy.
16. Light Pink Ombre Coffin Nails with Bright Pink Glitter
A pink and white ombre look may be a bit too traditional for you. In that case, coat your middle finger in layers of bright pink glitter for a subtle-glam finish. You can get these nails at Etsy.
17. Chrome Pink and Silver Ombre Almond Nails
The greatest trends always come back around. Rock these chrome, pink and silver ombre nails for a refreshing look, symbolic of the 1980s; where fashion was focused on all things shiny, flamboyant, and super stylish. You can get these nails at Etsy.
18. Glossy Light to Medium Pink Ombre Coffin Nails
Fading from light to medium pink is an elegant blend that can be achieved with ease. Opt for long coffin-shaped extensions to show off the full beauty of this design. You can get these nails at Etsy.
19. Metallic Pink and Rose Gold Glitter Ombre Nails with Silver Sequins
Brace yourself for this overload of cuteness! It's a metallic rose gold pink pairing with a glitter ombre design, and silver sequins to top it all off. You can get these nails at Etsy.
20. Nude Pink and Powder Blue Ombre Coffin Nails with Rhinestones
Can simple nails also be fancy? Absolutely, and here's your proof. Nude pink and powder blue team up for this ombre nail look with shadow-like swirls faintly designed on top, plus, a few rhinestones too. You can get these nails at Etsy.
SEE ALSO: 100 Nude Nail Design Ideas That Are Trendy AF
21. Pink and Orange Horizontal Ombre Coffin Nails
It's a horizontal ombre blend as pink and orange meet in the middle for a linear design. Talk about colors that complement each other; these shades are from the same side of the color wheel, creating a warm and vibrant combination. You can get these nails at Etsy.
22. Chic Baby Pink and Sky Blue Ombre Almond Nails
A girly look that's just right for the office. If your work environment features neutral shades such as gray and white, you may want to lift the aura a bit to a vibe that charges you up for the day. 
Apart from including brand new office decor, involve your nails too with a chic and soothing mix of baby pink and sky blue. You can get these nails at Etsy.
SEE ALSO: 21 Coffin Style Baby Blue Nail Design Ideas
23. Glistening Hot Pink Ombre Stiletto Nails
A fresh look for Summer, these nails transition from a nude base to a hot pink stiletto tip with a bold purple undertone. You can get these nails at Etsy.
24. Long Cherry Red and Light Pink Ombre Coffin Nails
Cherry red makes everything look sweet. I'm also a fan of the powdery gradient fade into that light pink hue. This fashionable look is just the boost every woman needs to start her day. You can get these nails at Etsy.
SEE ALSO: 100 Red Nail Design Ideas That Are Trendy AF
25. Pink and Nude Ombre Coffin Nails with White Abstract Swirls
When in doubt, subtlety always wins. So, start off with a nude base then fade into pastel pink. Add cute white swirls to make this look above average. You can get these nails at Etsy.
26. Pink Angled French Ombre Nails with Gold Glitter and Rhinestones
When a woman has an important event on her calendar, you better believe her nails will be on point just like her outfit. 
If the theme is feminine, an option is a light pink base that fades into a darker shade. Glamorize this look with golden glitter and angled french tips with a crown-shaped rhinestone design.
27. Pink Ombre Tie-Dye Square Nails with Floral Art
If you're a lover of pink and flowers too, join them in a cute ombre design. The tips also feature a flattering tie-dye pattern along with silver sequins to complete the finished look.
28. Pink and Peach Glitter Ombre Coffin Nails
Peach is a mix of red and orange with a hint of yellow, making it a refreshingly light shade that effortlessly complements pink. For a girly and trendy execution, apply coats of hot pink glitter to these stunning nails.
29. Pink Ombre Crystalline Stiletto Nails
This nail design is the type to make you stare in awe. These glass-like ombre nails are beautifully painted in glossy light pink with a crystalline finish that's evocative of ice cubes in a pink cocktail drink.
30. Pink Mismatched Abstract Ombre Nails
Easy does it with these cute and simple nails. It's a mismatched design as, on one hand, each nail is polished in a different pink shade, gradually becoming lighter until it reaches a white tint.
On the other hand, a nude base leads to a pink abstract design with black dots for further variation.
31. Pink Ombre Coffin Nails with Bedazzled 3D Flowers
Ombre nails with pink flowers are back but bolder and in 3D! Both flowers are bedazzled in the center with silver sequins to really animate this design.
32. Short Pink Ombre Round Nails with Butterfly Art
Need more cute graphic nail inspo? I've got you. Butterflies are always trending. Have a multi-colored design painted on pink ombre nails for a flirty and sweet vibe.
SEE ALSO: 21 Trendy Pink Butterfly Nail Design Ideas
33. Pink and White Ombre Almond Nails with Leaf Art
For all my nature enthusiasts, you don't have to forsake your love just because you're rocking pink nails. Get creative with a pink leaf design over a white base.
34. Long Pink and Nude Ombre Stiletto Nails
For a soft-toned look that exudes elegance, I recommend nude and pastel pink nails. Lend your ring finger to a seamless ombre effect involving both shades.
35. Short Pink and White Ombre Nails with Purple Glitter
Did anyone order short and sweet pink nails? Here they are with a special serving of ombre flair and purple glitter toppings.
SEE ALSO: 40 Pink and White Nail Design Ideas That Are Trendy AF
36. Short Pink Ombre Nails with White Abstract Lines and Silver Sequins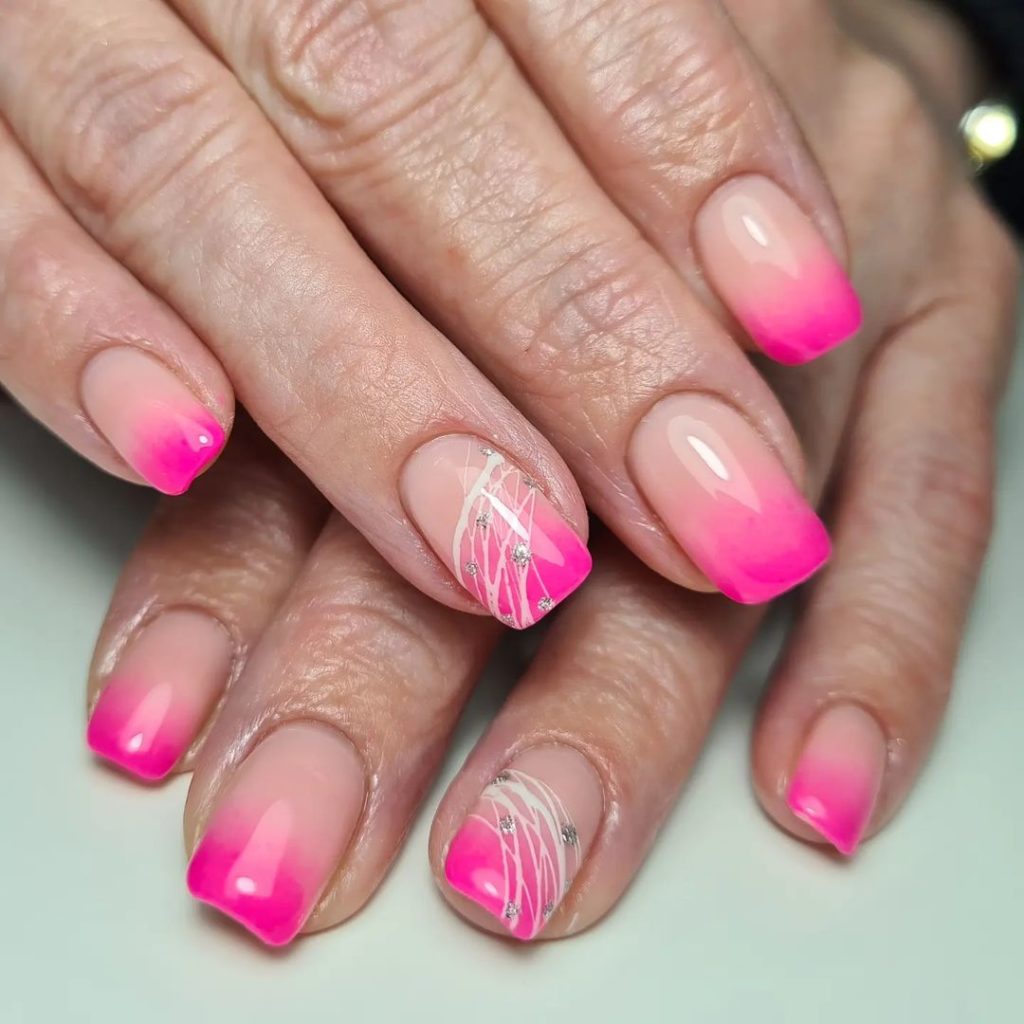 Add a unique twist to your ombre nail look with white abstract lines across the tips of each nail. Silver sequins were also applied to this cute look.
37. Pastel Pink and Off-White Ombre Nails
These ombre nails have a dusky finish resulting from a subdued off-white base and pastel pink tips. This design is perfect if you're going for a simple and cute nail look.
38. Short Pink and Orchid Purple Ombre Round Nails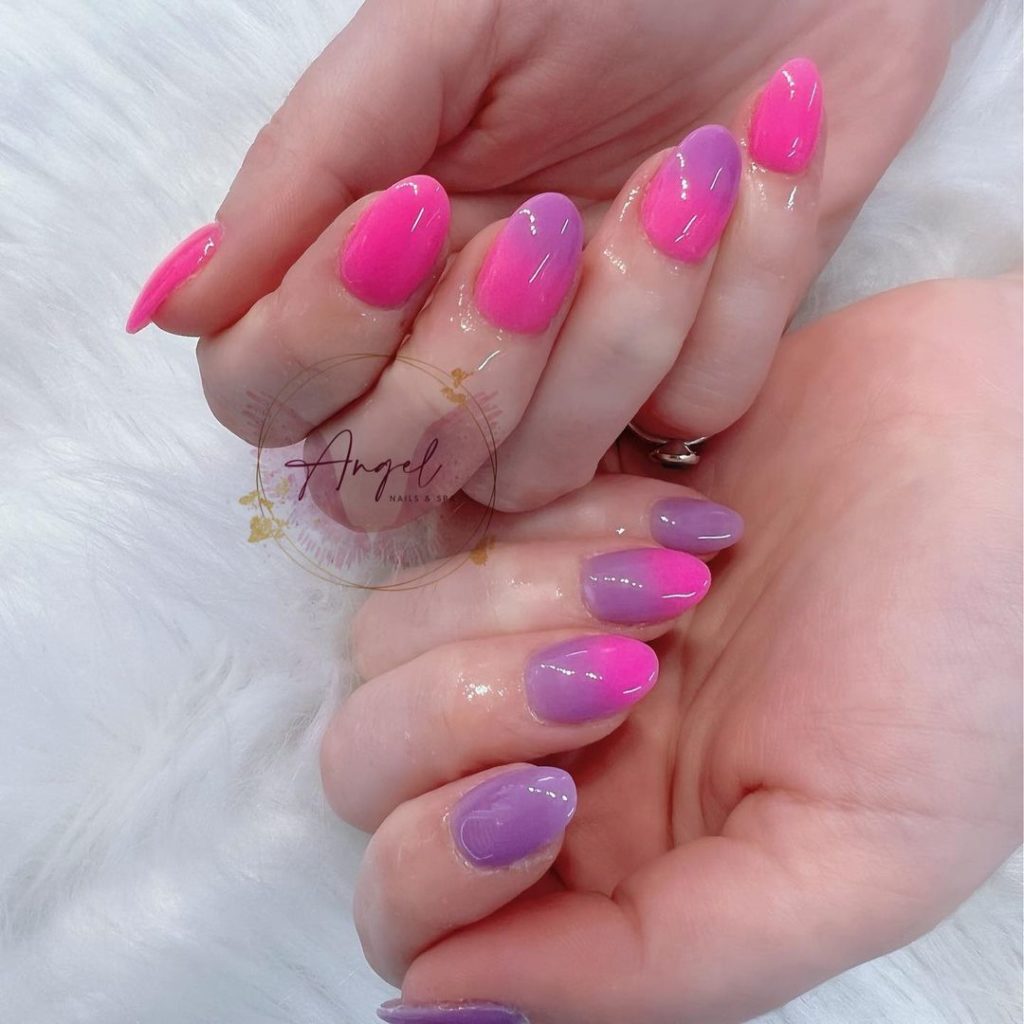 I'd definitely wear these fab nails. The color combination is cute on all levels! It's a delicious fusion of pink and orchid purple polished onto short acrylic nail round extensions.
39. Pink and Nude Ombre Almond Nails with Black Leaf Art
These beautiful black leaf designs are as notes on a musical staff, perfect for those who love nature and music. It adds a light-hearted and whimsical feel to these pink and nude ombre nails.
40. Light Pink and Blue Ombre Coffin Nails with Black Hearts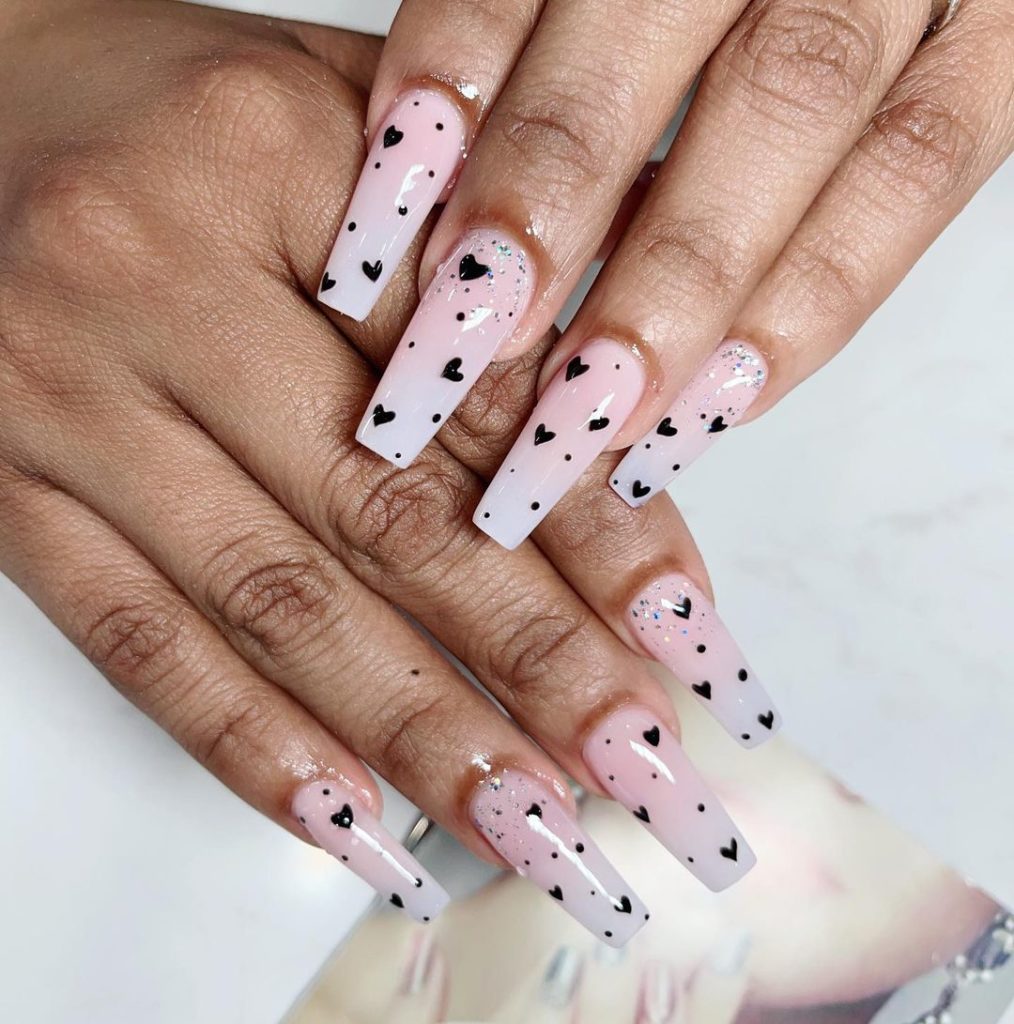 Love is always in the air, somewhere, and so overlays of heart nail art will forever be in style. Try them on light pink and blue ombre nails. You won't regret it.
41. Glossy Pink and Black Ombre Almond Nails
There are so many reasons to rock pink and black together. They create a combo that's edgy yet innocent, high-fashion—easy to pull off. That's the vibe emanating from this ombre design.
42. Pink and Nude Ombre Almond Nails with Hot Pink Hearts
The flirty feels just can't be denied here, and you really can't expect anything less from a pink and nude gradient design, adorned by the cutest hot pink falling hearts.
43. Pastel Pink and Sage Green Ombre Almond Nails
You already know I'm a huge advocate for earthy tones, and this pastel pink and warm-toned sage green merger is such a winning nail look. It's classy and cute, period.
44. Short Pink Glitter Ombre Square Nails
Not feeling your best? A little pink glitter can help with that. The soft-glam aesthetic of this charming ombre style is too cute to ignore.
45. Pink and Blue Jagged Ombre Square Nails
This phenomenon consists of pink sunsets, mountains, and trees that appear blue from a distance. I believe the idea of both is made memorable in this beautiful ombre design. It's a subtle reminder of nature's artistry.
46. Pink and Purple Ombre Nails with Colorful Glitter
This ombre nail design looks like a stunning replica of the innumerable stars in the sky, as a purple base transitions into pink tips with colorful glitter on top.
47. Glossy Pink Ombre Coffin Nails with Pink Hearts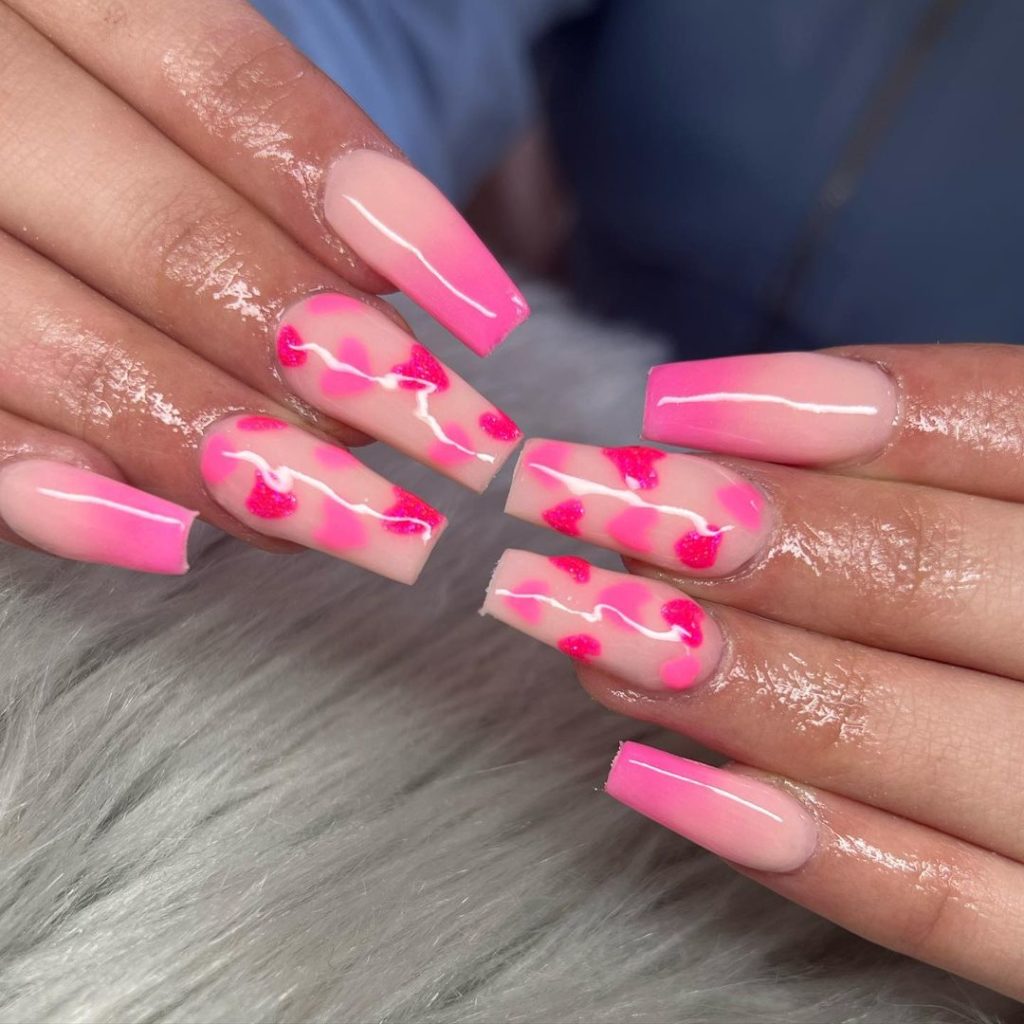 Like candy to our taste buds, so are these pink hearts to our eyes—immensely sweet. They make this feminine pink ombre design one to remember.
48. Short Hot Pink Ombre Nails with Daisy Art
Daisies make your days brighter, so imagine the feeling of joy you'll receive each time you take a glance at these daisy-designed pink ombre nails.
49. Pastel Pink, Nude, and Blue Ombre Coffin Nails
It's a party of pastel shades as pink, nude, and blue all join in for a cute mismatched ombre design. Also, I just have to mention the glossy finish. It makes the gradient effect smoother.
50. Pink French Ombre Almond Nails with Glitter
With pink as the only shade in this ombre design, you can play around with colorful glitter to add diversity, as well as to create a shimmering french tip look.
51. Pink Tie-Dye Ombre Coffin Nails with Glitter
This ombre look is quite the stunning mixture, not only of pink shades but of nail designs too. It features tips coated in deep pink and glitter along with a cute tie-dye effect.
52. Short Pink Polka Dot Ombre Nails with Leaf Art
Dots give an illusion of a textured surface, providing your ombre nails with dimension and upscale quality. They were paired along with outlines of white leaves for a very dainty appearance.
53. Long Hot Pink Ombre Stiletto Nails
For some fashionistas, the longer the nails, the better. Now, if I'm talking about you, you've got to try this dauntless look: long stiletto nails coated in a hot pink gradient design.
SEE ALSO: 100 Stiletto Nail Design Ideas Trending Now
54. Hot Pink and Blue Flame Ombre Coffin Nails
Cool this hot pink ombre look down with a sparkling blue flame design. I just love the paradox of these nails. The color selections denote a cool vibe while the nail art says you're ready for a fiercely stylish Summer.
55. Hot Pink and White Ombre Squoval Nails
So you've got your Summer style down pat but what about Winter? These nails are doing it for me! It's hot pink at first then a shade of coconut white is introduced. In the middle? Splashes of white lacquer for the fun of it.
56. Pink and White Ombre Round Nails with Pink Abstract Stripes
In this look, the pink ombre design is complemented by a solid white nail and another with an abstract pink striped overlay. This look is for the fashionable girl who's ready to play around with new and trendy styles.
SEE ALSO: 50 White Acrylic Nail Design Ideas That'll Blow Your Mind
57. Pink, White, and Purple French Ombre Nails
Seasons come and go but pretty polished nails should always remain. For that, I'm recommending these pink and white ombre nails. They each have a bit of purple at the tip for a fabulous french mani appeal.
58. Long Pastel Pink and Smoky Gray Ombre Square Nails
Achieve elegance with ease when you wear a light pink and smoky gray ombre look. You can enhance the feminine appeal with a white floral nail decal.
59. Short Pink Ombre Nails with Black Smiley Face
Well pleased with your pink ombre nails? Make your feelings known with a graphic black smiley face on your ring finger.
60. Short Pastel Pink and Blue Geometric Ombre Nails
The perfect look for a gender reveal party, stylize pastel pink and blue nails with a cute white geometric pattern, and break the news in fine style.
61. Pink and White Ombre Coffin Nails with Metallic Gold Stripes
Accentuate your pink ombre nails with metallic gold stripes. It's a great way to create a luxurious and classy finish.
62. Pink and Icy White Glitter Ombre Nails with Rhinestones
Icy white sparkles are just right for Winter nails, and might I also add how much I'm loving this cute reindeer design. Not to mention that faux Christmas tree, created from silver sequins.
63. Light Pink and White Crocodile Ombre Nails
These nails are so uniquely executed. A light pink base transitions into a cute white crocodile design in an ombre effect that's oh so trendy.
64. Pink Cow Print Ombre Coffin Nails
Don't worry, I'm not done showing off stylish animal print patterns just yet. Here's a cute cow print overlay, painted in black, that utterly elevates these pink ombre nails.
65. Pastel Pink and Blue Flame Ombre Coffin Nails
The blue flames design is back, and it's more stylish than ever with a flame on each nail. This ombre look is proof that our fave pastel colors can be bold too.
66. Tropical Pink Ombre Almond Nails with Glitter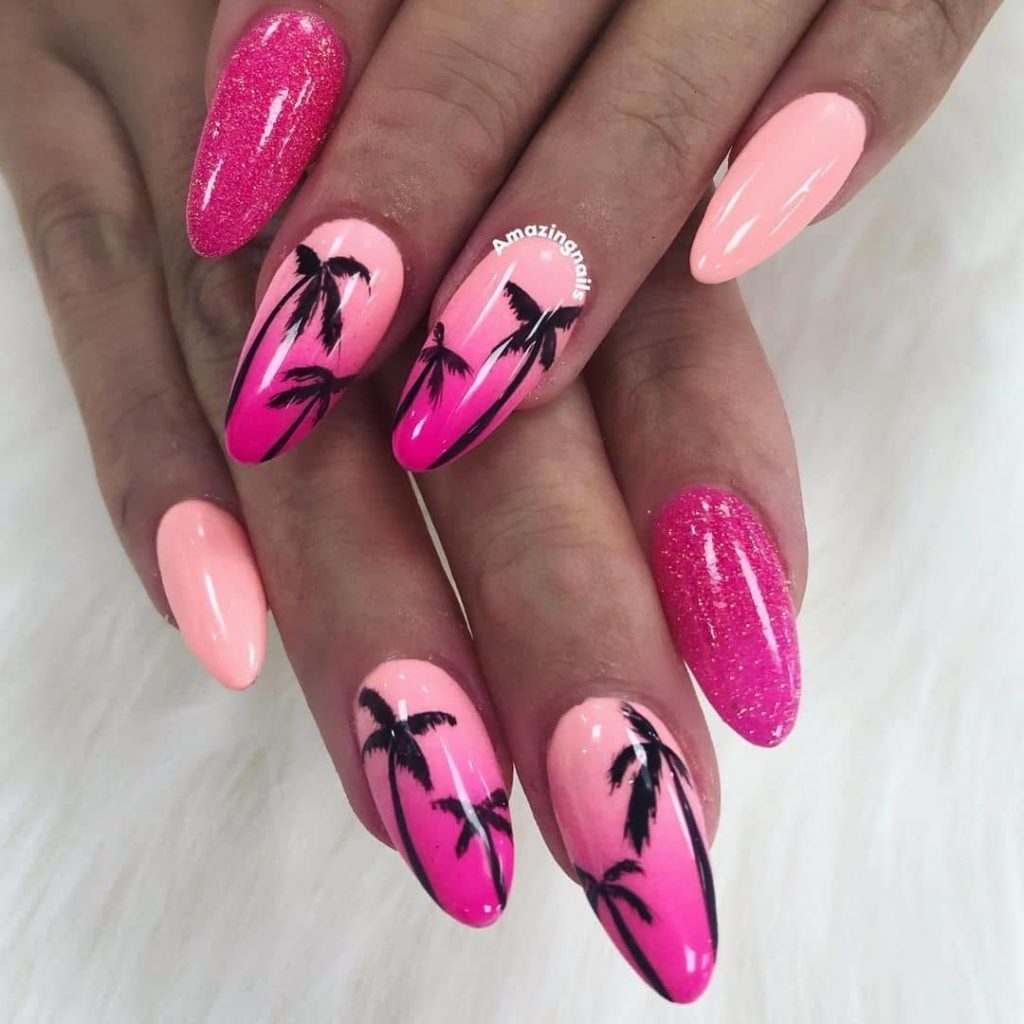 These nails understood the assignment and are among the ultimate tropical-inspired pink ombre nails of this compilation. We have the stunning silhouette of palm trees to thank for that.
67. Pink French Rim Ombre Nails with 3D Flowers
Flirty meets trendy in this pink ombre look. It's a stellar combination of a french rim design with white and gold 3D flowers.
68. Pink and White Marble Ombre Coffin Nails
A white marble effect is an easy way to stylize pink ombre nails. It's a classic feature that instantly upgrades your design from simple to ultra-chic.
69. Pink and White Hummingbird and Floral Ombre Nails with Glitter
Flowers need birds and vice versa, just as every woman needs a stylish manicure. Both notions meet in this sparkling pink and white ombre design. It features the most adorable flower and hummingbird decals.
70. Pink and Black Ombre Nails with Silver Glitter
Black paired with pink creates such a cute and edgy nail combo for you to bask in. For a fancy touch, a silver glitter design is always welcome.
71. Pink Cheetah Print Ombre Nails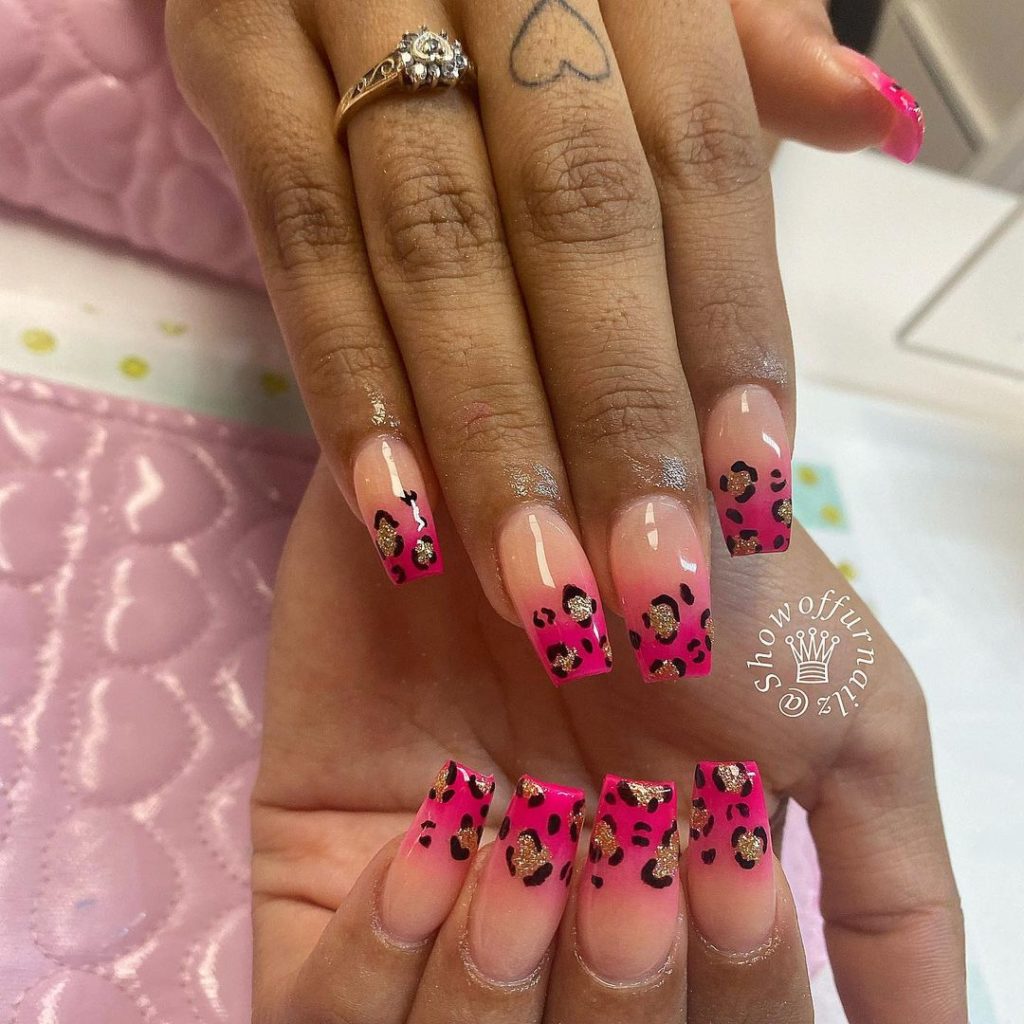 Cheetah print nails are beyond cute and one of my favorite styles to see paired with a pink ombre look. Plus, these particular spots are filled with gold glitter, a total femininity booster.
72. Long Multi-Shade Pink and Purple Ombre Nails
If there was ever an ombre design I'd daydream about, this is it. This look starts with a nude pink base that transitions into a brighter pink hue, but it doesn't stop there. 
The remainder of these super long extensions features a stunning multi-shade purple fade. Moral of the story: You've got to try these fab nails.
SEE ALSO: 100 Purple Nail Design Ideas That Are Trendy AF
73. Short Pink and White, Black Splatter Ombre Nails
Black dabs add an edgy vibe to this classic pink and white ombre look. For this cute mani, keep your nails short. You'll achieve a versatile and trendy design in mere minutes.
74. Pink and Blue Animal Print Ombre Nails
This pink and blue ombre blend has quite the buzz. It's enhanced by a cute animal print decor over a solid blue base. The moment an animal print steps in, the whole look is transformed.
75. Milky Pink and Gray Snakeskin Ombre Stiletto Nails
One of the coolest nail designs ever, this look features a milky pink and gray snakeskin ombre blend, and I couldn't think of a better shape for this design than tapered stiletto nails.
76. Tropical Pink Ombre Nails with Graphic Art
Let's call this design tropical paradise 2.0. It's a warm-toned pink ombre look decorated by palm trees and the most fitting phrase," Summer Vibes".
77. Pink and Red Floral Ombre Coffin Nails
Known as the colors of love, pink and red make an eye-catching combo that will ensure your presence is felt. Enrich this exquisite look with cute red floral nail decals and a few silver accents.
78. Short Pink and Green Leaf Ombre Nails
You can get really creative with summer nails but leaf designs are among the most common. Paint luscious green leaves over pink and white ombre nails, and marvel at the beauty when it's all done.
79. Pink, White, and Yellow Ombre Almond Nails with Silver Glitter
Looking out for a girly spring-worthy design? You'll need a selection of colors that display vibrancy and femininity in a flattering way. 
You can easily attain that look with pink, white, and yellow ombre nails and the addition of silver glitter lines for a gorgeous glow.
80. Pink and White Graphic Ombre Nails with Black Stripes
It's customary for the nail carrying the artistic design to look different than the others. To complement pink ombre nails, a white base with long black stripes was the go-to style, providing the perfect backdrop for the graphic lips artwork.
81. Pink Ombre Coffin Nails with Red and White Flowers
These nails are so fabulous that I can hardly take my eyes off them. It's a gorgeous ombre look highlighted by red and white flowers, elegantly presented against a classy white background.
82. Long Pink and White Floral Ombre Nails with Rhinestones
Can a nail look be too cute? I think this ombre design fits the idea but in a good way, of course. 
They're long, classy, and super girly, as pink quickly fades to white. In the meantime, white flower decals and rhinestones embellish the ring and pinky fingers.
SEE ALSO: 100 White Nail Design Ideas That Are Trendy AF
83. Pink Ombre Stiletto Nails with White Hearts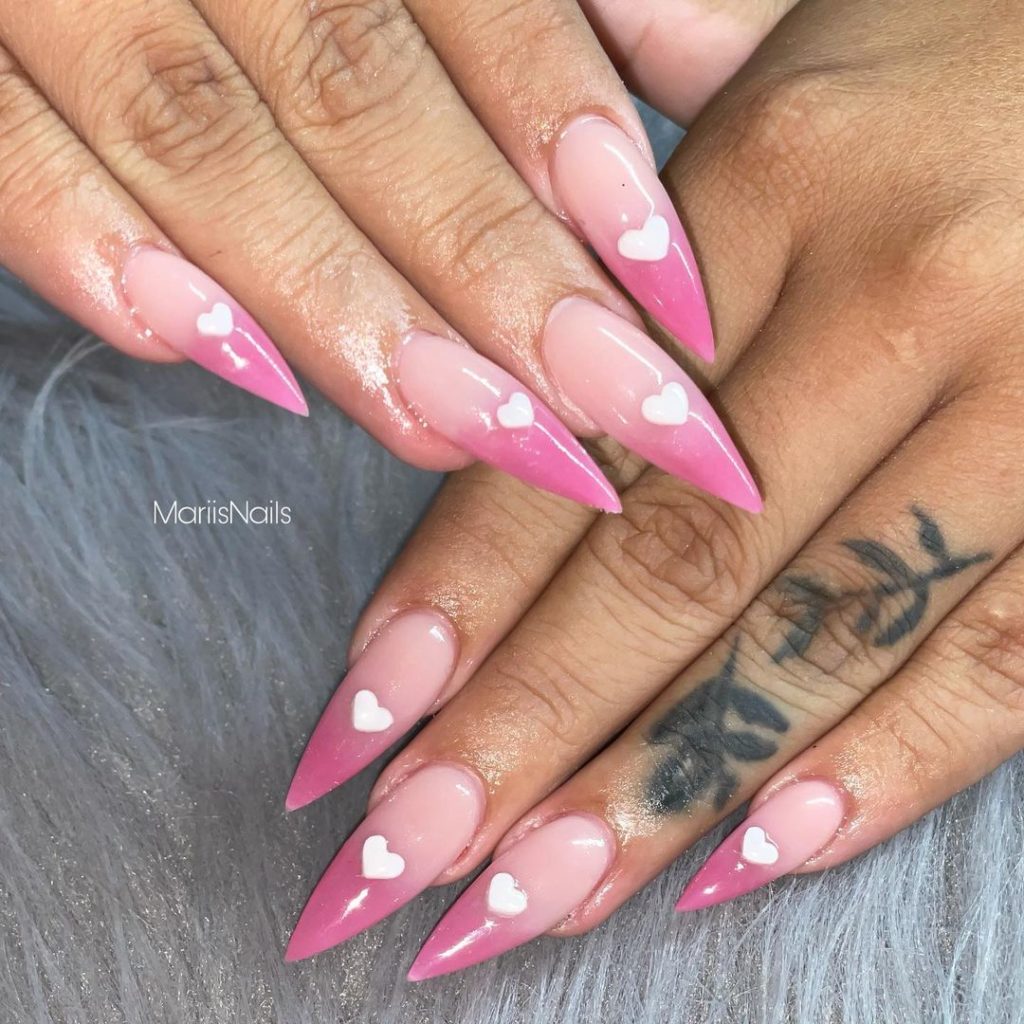 This is a simple and cute way to include a heart design on your pink ombre nails, right in the center, so it can easily stand out. Opt for white hearts for a girly and youthful finish.
84. Short Pink and Orange Ombre Nails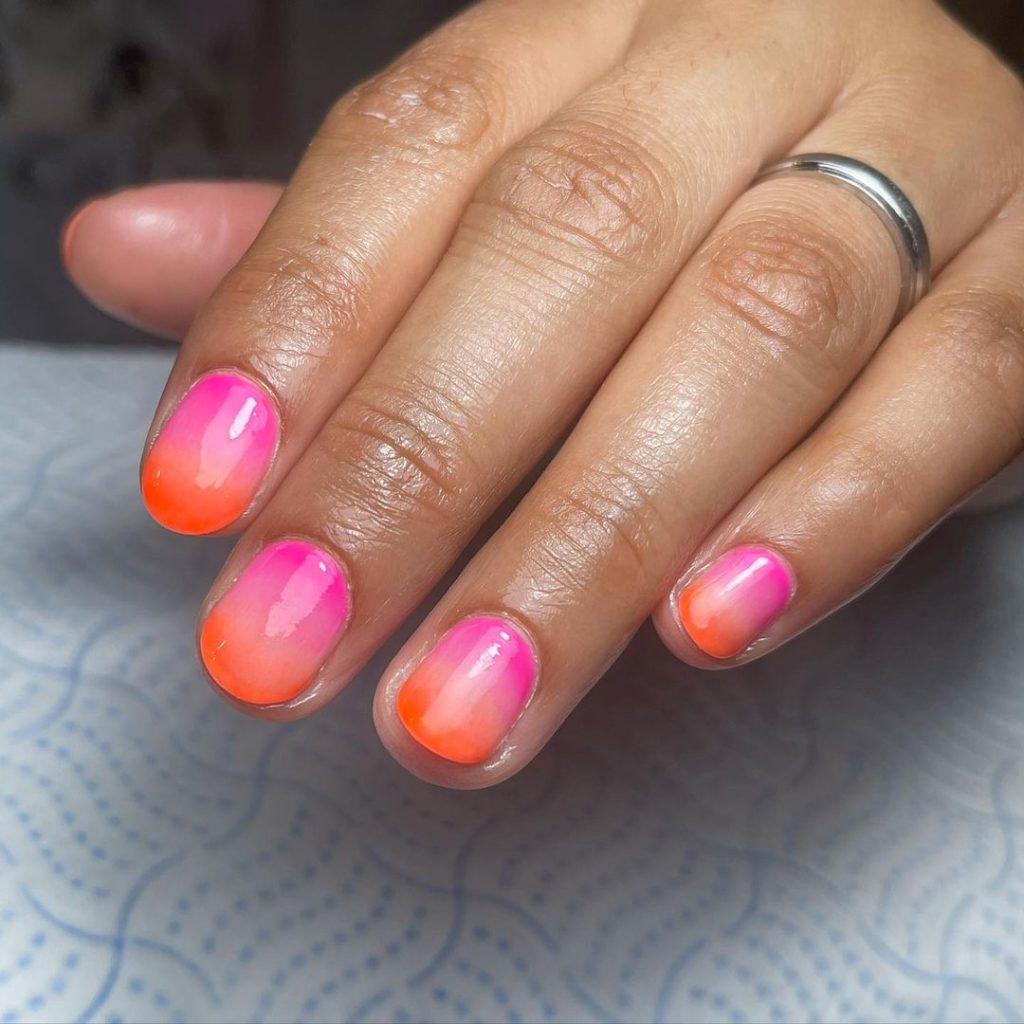 You may think short nails would limit your ombre design but they can actually make it way more adorable. 
In this look, the canvas is shared by pink and a vivid orange shade. It's toned down in the middle where the blend begins, adding a soft feel and balancing out the brighter hues.
85. Pink Ombre Round Nails with Colorful Stars
So, you're a fashion superstar and the trendsetter among your friends? Then, own it with these star-designed ombre nails. This look is girly and creative, and you'll have tons of fun wearing it.
86. Pink, Purple, and Blue Ombre Square nails
This nail look says, "I'm a vibe and I know it!" Pairing pink with black is stunning but it may be too much of an edgy blend. So, to maintain that deep color balance, swap black with the ultra-chic indigo blue, and add purple for the transition.
87. Pastel Pink Marble Ombre Square Nails with Glitter
These nails have a sun-kissed glow and I think I'm in love! It follows a pastel pink theme with a very subdued marble effect. Nonetheless, the design is refreshed by a glossy finish and iridescent glitter.
88. Short Pink Easter Egg Ombre Almond Nails
Easter egg nails are a craze you just have to get into. They're so cute and inspiring, representing hope and turning a new page. 
Short almond extensions are the perfect base for this ombre design as they look just like those cute small eggs.
89. Pink and Black Checkered Ombre Nails with Flame Art
These black and pink nails are the edgy and feminine combo you've been longing to see, and what better way to announce your boldness than with black flame art, and a trendy monochrome checkered design.
SEE ALSO: 100 Black Nail Design Ideas That Are Trendy AF
90. Short Pink Ombre Nails with Multi-colored Polka Dots
Although florals and stripes have seemingly taken over for Spring, polka dots are still in style. 
Reintroduce this trend within your friend circle and among your social media followers with a cute pink ombre base, decorated by multi-colored polka dot nail decals.
91. Pink and Orange Horizontal Ombre Nails
Chic femininity on one side meets vibrant warmth on the next in this fabulous Summer design. I didn't expect anything less though, that's the out-turn of a pink and orange ombre combination.
92. Pink Ombre Almond Nails with Abstract Swirls
It's the design that has manicure lovers in an ongoing frenzy—abstract swirls. Everyone wants to try them and those who have, keep coming back for more. 
Now, it's your turn. Rock these swirls over a pink ombre base. Opt for pink and white swirls to complement the girly theme with a creative twist.
93. Translucent Blush Pink Glitter Ombre Nails
You're looking at the formula for ultra-girly and posh ombre nails. Beginning with a gorgeous blush pink base, this design gets even better as it transitions to a misty translucent finish with dazzling glitter on top.
94. Hot Pink and Golden Orange Ombre Stiletto Nails
As if they were dipped in honey, these nails are sweet and golden, flaunting rich shades of pink and orange in a flawless gradient blend.
95. Matte Salmon Pink and Nude Ombre Coffin Nails
It's the matte finish for me! It gives this ombre design a clean and classy look. I call it, simple luxury, with a gentle blend of nude and light salmon pink.
96. Pink and Nude Chrome Ombre Coffin Nails
For my trendy girls who live for that extra glam, chrome is the way to go. Glamorize those pink nails with a sparkling metallic glaze on your ring fingers.
97. Long Blush Pink and Pastel Purple Marble Ombre Nails
For the dreamers, these blush pink and pastel purple ombre nails will soothe your mind on sight. They feature a subtle marble effect over tapered square nails, and they look simply divine.
98. Pink Ombre Almond Nails with Small White Flowers
Floral patterns are alive and well, and the designs I've seen lately are cuter than ever. 
Case in point, these pretty pink ombre nails are enhanced by white floral art. Created from small dots placed in a circular pattern they epitomize real-life petals.
SEE ALSO: 50 Pretty Nail Design Ideas That are Currently Trending
99. Short Glossy Pastel Pink and Nude Ombre Nails
A more distinct ombre design than the other ideas on this list, here the transition from each shade is clearly seen. To maintain a delicate and feminine flair, soft pink hues were chosen along with a glossy top coat.
100. Pastel Ombre Nails with Blue Caviar Beads
This three-toned pastel ombre look is just heavenly, fading from pink to purple and finally, sky blue, with stylish blue caviar beads to add the finishing touch.
Summary and Top Picks
All set! Some of the most amazing pink ombre designs ever, all together in one place. I know, there are so many cute options to explore, but I say, start with your faves. The others will be right here when you get back, so bring a friend, or two.
As for me, I'm obsessed with looks 5, 22, and 29. On a scale of 1 to 10, each design easily snags the highest mark, when it comes to how chic, distinctive and feminine they are.
Now, let me turn it over to you. Which of these designs do you have your sights set on? Also, where do you see yourself wearing these cute nails, and with what outfits? Let me know, along with any questions you have down below.