One of the most sophisticated shades ever, white will never disappoint, as it sets the tone for a chic and refreshing look. White can be worn with absolutely anything, creating the foundation for some amazing styles. The same rule of thumb applies to your nails. 
Super easy to pull off, white is a color of prestige and simplicity too, making it an all-in-one selection whether your nails are short, long, almond-shaped or have a square design.
You can leave classy white nails to shine by themselves and create the essence of timeless beauty or use them as a canvas for all the new and exciting designs that you're enthused to try. 
The ball is in your court, and I've compiled a list of white acrylic nail designs to make your job a whole lot easier. Let's dive right in.
1. Classic White Acrylic Coffin Nails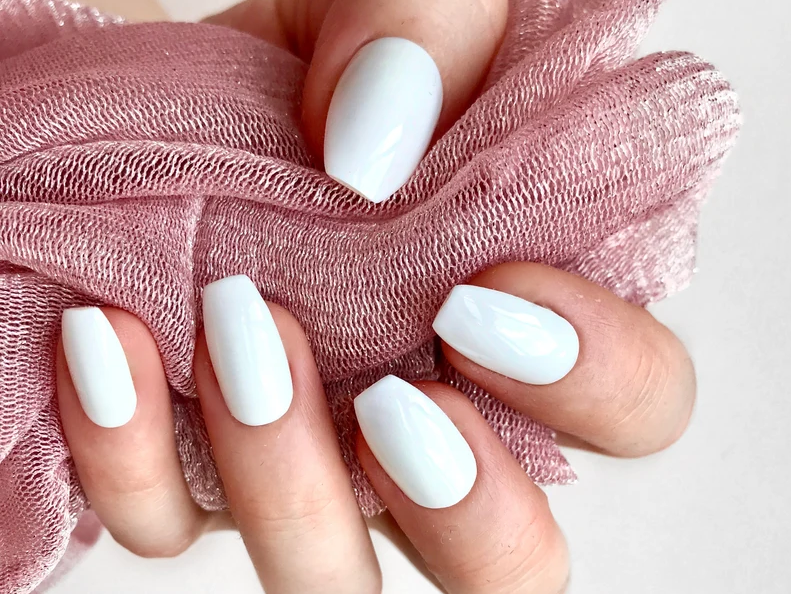 Classic white nails in a short coffin shape get this list off to a great start. This is a posh nail look that you can style with some of your most exquisite pieces. 
It also doubles as a clean-cut and simple design that can complement your more casual fits. You can get these nails at Etsy.
2. White and Nude Ombre Acrylic Coffin Nails
For a subtle look that has a dash of color variation, white and nude nails in an ombre blend will serve you well. Both shades are light and airy, contributing an effortless quality to these nails. You can get these nails at Etsy.
SEE ALSO: 100 Nude Nail Design Ideas That Are Trendy AF
3. Elegant White French Acrylic Nails
Every woman I've ever encountered loves french tips. Beginning with a nude base, the tip of each nail is coated in white. This look absolutely defies time, never losing its elegant appeal. You can get these nails at Etsy.
4. White Marble Acrylic Coffin Nails
Add a unique touch to white acrylic nails by lending your middle and ring fingers to a marble design. 
The marbled effect has become a major trend as it gives your nails a soft and pretty swirl pattern that doesn't distract from, but rather, complements the overall design. You can get these nails at Etsy.
5. White Acrylic Nails with Rhinestones and Glitter
A little sparkle makes everything look better! For an immaculate finish, apply rhinestones on that special ring finger with a sprinkle of glitter on your index. Leave the rest to be fully coated in white, and you'll look simply exquisite. You can get these nails at Etsy.
SEE ALSO: 30 Trendy Rainbow Glitter Nail Design Ideas to Jazz Things Up
6. Short, White-Striped Geometric Acrylic Nails
White polish with striped decals are perfect for short nails like these. Short nails tend to be more basic, but with a few geometric stripes, your nail design will look way more trendy. You can get these nails at Etsy.
7. White Quartz Acrylic Coffin Nails with Gold Glitter
A minimal amount of loose gold glitter is all it took to add some pizzazz to these white coffin nails. This look also features a quartz effect, achieved using multiple layers of acrylic and the feathering method for a soft look that adds dimension. You can get these nails at Etsy.
SEE ALSO: 21 Trending Baby Blue Nail Design Ideas with Glitter
8. White Acrylic Nails with Shiny Gold Strips
Enhance short white acrylic nails with shiny gold strips that resemble stylish rings around the body of your nails. This look is classy and of good taste for girls everywhere who love to see their nails shimmer. You can get these nails at Etsy.
9. White Acrylic Almond Nails
You can achieve a traditional white nail look in various shapes. For an elegant design, almond nails are a top pick as their narrow tip is so flattering and adds to their elegance. You can get these nails at Etsy.
10. Long White Acrylic Coffin Nails with Swirls and Gold Nail Decal
White nails are perfect for weddings, representing unity and pure love! If you're the bride, then you'll be the center of attention, so make your entire look memorable with long white and gold acrylic nails. 
A small nail brush created dancing swirls over clear nails with strips of gold on each that I'm frankly obsessed with. You can get these nails at Etsy.
11. Glossy White Cherry Acrylic Nails
If you love the color red and all things sweet, these white cherry art nails will certainly catch your eye. These nails are so cute and youthful plus the design is fairly easy to accomplish. You can get these nails at Etsy.
12. White Butterfly Acrylic Coffin Nails
This look is so girly, and I love every bit of it! The design starts off with a sheer base with trails of white butterflies painted on top, seemingly fluttering their wings in a breathtaking design. You can get these nails at Etsy.
13. White Acrylic Nails with Black Roses
Roses signify love, life, and beauty, things we can all relate to, but they're generally displayed in their original luscious red shade. 
For an edgier take, opt for nail art of large black roses over your white nails. This is a great idea if you want to tone your look down but still have a classy design. You can get these nails at Etsy.
14. White and Red Rim French Acrylic Nails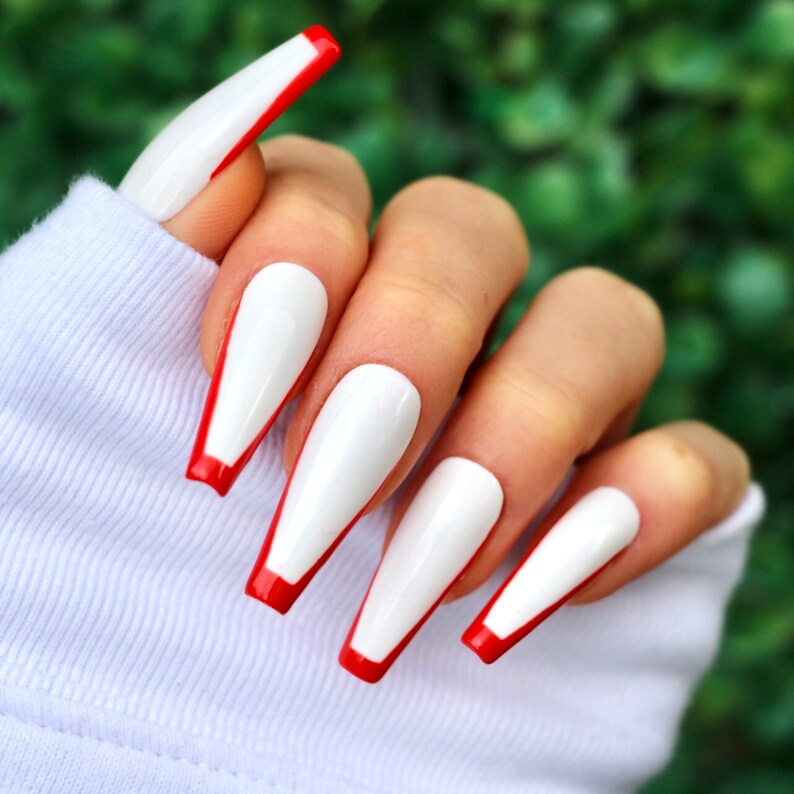 Red and white make such a classy combo. In this look, the rims of these white nails are lined with a glossy red shade, creating a unique french tip design. You can get these nails at Etsy.
SEE ALSO: 100 Red Nail Design Ideas That Are Trendy AF
15. Short White Bunny Acrylic Nails
Bunny nail art is so cute and ties right in with Easter. So, for a simple and girly design, use white nails as the base for bunny faces, outlined in pink and black. It's a simple look you're sure to love. You can get these nails at Etsy.
16. White Acrylic Nails with Black Abstract Swirls
Abstract swirls add dimension and a creative flair to your nails. To complement a white base, black swirls are ideal, providing the perfect contrast of tones for a flawless and incredibly chic look. You can get these nails at Etsy.
SEE ALSO: 100 Black Nail Design Ideas That Are Trendy AF
17. Icy White Metallic Acrylic Nails
The term "icy" regained popularity after rapper Saweetie, released, "Icy Grl," back in 2018; a term she coined for an independent woman. 
What better way to channel your bossed-up energy than with white metallic nails? Although it's a single-tone look, it's serving tons of attitude. You can get these nails at Etsy.
18. White Acrylic Nails with Rose Gold Dandelions
A white floral nail combo is just the mix your nails need for a gentle and beautiful design. Dandelion floral decals were the selection, in an elegant, rose gold color. You can get these nails at Etsy.
19. Short White French Acrylic Nails
Keep your nails looking natural and well-manicured with classic white french tips, and if you're not aiming for anything too fancy, short square nails are most suitable. You can get these nails at Etsy.
20. Long White and Gold Glitter Acrylic Coffin Nails
Rock a glam nail design with gold glitter swirls on long white coffin nails. Go all out with the sparkles on your index finger with your pinky in solid white. It's a lovely mix and match design that pulls together for a high-toned finish. You can get these nails at Etsy.
SSEE ALSO: 100 Gorgeous Coffin Nail Design Ideas
21. White French Acrylic Almond Nails with Pearls
The first word that comes to mind when I see pearls is, "elegant", and so, it's no surprise how classy they make these white french tips. This look is easy to achieve and will look amazing with anything you wear. You can get these nails at Etsy.
22. Short White Acrylic Nail with Sprinkles
Have fun with white nails by applying colored strokes that give the impression of sprinkles or confetti. It's a cute design, ideal for a time of celebration and these short acrylic nails will work for many occasions. You can get these nails at Etsy.
23. White Faux Sugar Acrylic Nails
Alternate between glitter encrusted and plain white nails for a faux-sugar nail design that's clean-cut and simply gorgeous. 
Glitter sequins paired with white are fitted for parties or other celebratory events that require you to stand out amongst the crowd. You can get these nails at Etsy.
24. White Acrylic Nails with Silver Rhinestones
In this look, a few silver rhinestone sequins outline the cuticle of each nail in a beautiful crown design. This is such a low-key glam look and it's suited for everyday wear. You can get these nails at Etsy.
25. Long White and Blue Acrylic Coffin Nails with Gold Sparkles
I'm convinced; blue and white are a match made in heaven. This look begins with long coffin nails coated in white as streams of azure blue flow from one end to the other. Gold sparkles add the finishing touch to these mesmerizing nails. You can get these nails at Etsy.
26. White and Nude Acrylic Coffin Nails with Green Leaves
Incorporating green leaves in your white nail design brings a refreshing tone as articles of nature tend to lighten our mood and ease our minds into a relaxed state. 
To complement the white color scheme, and for a chic twist, the ring finger is coated in a nude base with beautiful streaks of gold.
27. White Acrylic Almond Nails with Black and Gold Glitter
In this look, white nails are accompanied by glitter decal in gold and black. The color selections provide for a sophisticated contrast, producing a neutral-glam design.
28. Short White Acrylic Nails with Metallic Gold Line
A thin metallic gold line accounts for the chic white nail presentation that we're seeing here. These acrylic nails are kept short, bearing a glossy finish; a refined look that's appropriate for professional spaces.
29. White and Blue Tie-Dye Ombre Acrylic Nails
Play around with white and blue nail lacquer and let the result be a beautiful tie-dye ombre design, as your middle to pinky fingers transition between both shades seamlessly. 
On your gradient-free index finger, add a rhinestone accent to take this look to higher heights.
SEE ALSO: 100 Amazing Ombre Nail Design Ideas
30. White Daisy Acrylic Almond Nails
It's promised each Spring that daisies will bloom. Translate the beauty of it all to your white nails with daisy art, joined by flourishing green leaves.
31. White and Black French Acrylic Nails
White is generally the shade that graces your tips in a french mani, but these black french tips have me excited to try something new. 
On the reverse, begin with a milky white base followed by a sharp white smile line that leads into that edgy black tip.
32. White Acrylic Almond Nails with Blue Hearts
If you've got a soft spot for blue, let it show on chic white almond nails. Have your nail technician create cute small blue hearts at the base and tips of your nails.
SEE ALSO: 100 Cute Nail Design Ideas That Are Trending Now
33. White and Gray Acrylic Coffin Nails
Make way for some fruit art on pretty peach nails. Lend your nail with the lightest shade to watermelon decals to get the cutest design.
34. White and Blush Pink Acrylic Nails with Rose Gold and White Swirls
This blush pink and white nail combo is gifting us with a subtle and feminine look that I can't help but marvel at. It doesn't end there though as rose gold and white swirls meet on the blush pink nails, making this design as classy as can be.
35. Intricate White, Black, and Gold French Acrylic Nails
Not sure what nail style to do because you kind of want it all? I've been there, and the remedy is a design that is intricate enough to appease your taste. 
Take these white acrylic nails for example. They feature a french tip design, half-coated in shiny black polish and a metallic gold strip down the middle with the remaining nails kept simple.
36. Short White and Blue Floral Acrylic Nails
This look has all the elements for a cute and charming nail design. The nails are short with a round shape, coated in pearly white, and overlaid with a pretty blue floral pattern.
SEE ALSO: 50 Pretty Nail Design Ideas That are Currently Trending
37. White and Rose Gold Pink Acrylic Nails
One way to make your ring finger even more special than it is, is to have it bear the stand-out design amongst your white nails. In this acrylic look, the ring finger is coated in a classy rose gold shade with a pink undertone, and a layer of glitter.
SEE ALSO: 100 Pink Nail Design Ideas That Are Trendy AF
38. White and Gray Glitter Angled French Acrylic Nails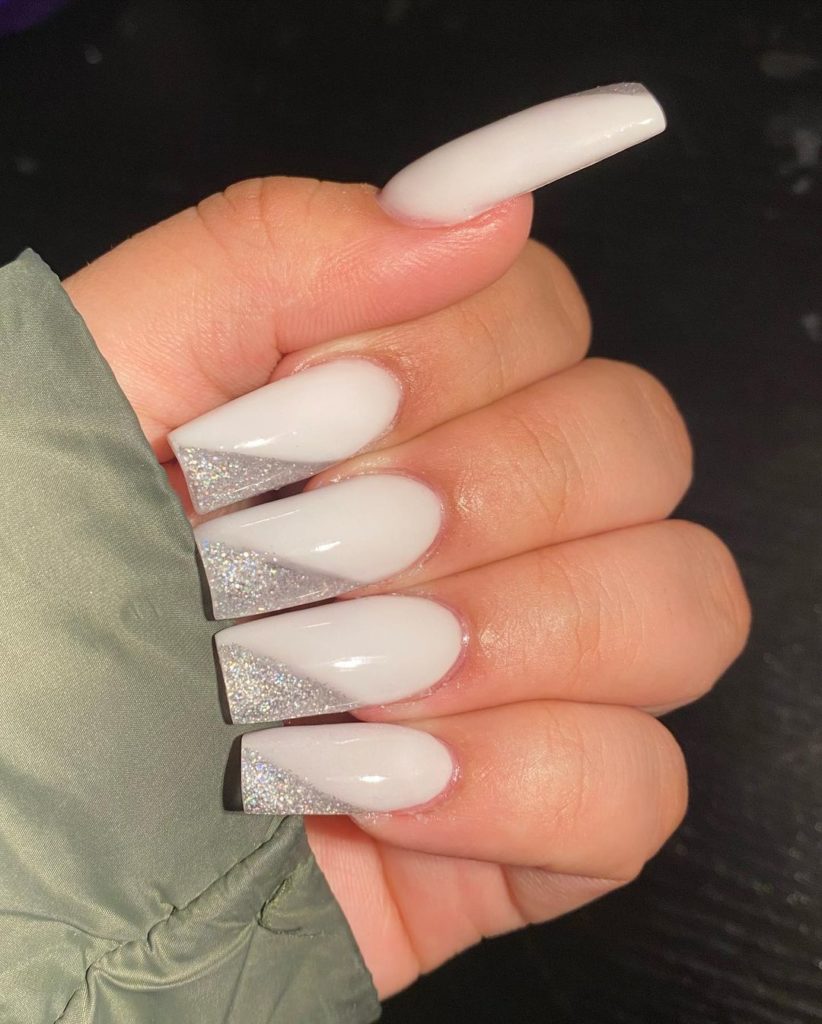 Make your white nails glow with gray glitter in an angled french tip design. It's just the right blend for a laid back yet chic finish.
39. Short White Aquarelle Acrylic Nails
A solid white base makes watercolor nail art so easy to do. Also known as aquarelle, this look is beautiful and fun to wear, as a variety of water-based paint colors are gently mixed together for your very own customized nail look.
40. White Acrylic Nails with Cloud Art
White nails look amazing with cloud art as they give a soft and dreamy effect. To ensure your cloud art is visible, have the design done over a sheer nude base and complete the look with a glossy top coat.
41. White and Black Letters Acrylic Almond Nails
For a nail design that holds sentimental value, including the initials of your name or of yours and your partner's is a great idea. For this look, the initials are placed on either side with cute black hearts beside each.
42. White and Blue Glitter French Acrylic Nails
This cute design has just the right amount of blue sparkles at the tip to create a princess-like white nail look. It was completed by a glossy top coat, perfectly complementing the theme of simple elegance.
43. White Acrylic Nails with Abstract Silver Lines
Create an abstract geometric design with silver lines on top of your white nails. This style is a creative way to enjoy a sophisticated nail look with tons of versatility.
44. White Acrylic Nails with Blue Swirls and Hearts
Looking for some white nail inspiration that includes a pop of color? Look no further because these blue swirls and hearts are doing an excellent job at enhancing this classic white base.
45. White French Acrylic Nails with Cherry Nail Art
Beautify traditional white french tips with cherry nail art and have your nails looking sweet and super girly. 
The red color of the cherries, along with the green stems immediately grab your attention and is the ideal design to keep all eyes on you.
46. White Acrylic Nails with Multi-Colored Nail Art
Thinking of choosing a colorful design the next time you get your nails done? Try these bright, multi-colored and fun artsy nails. 
Flowers, hearts, and swirls make this acrylic look the gallery that it is, and I guarantee that you'll never get tired of it.
47. White, Gold, and Pink Marble Acrylic Almond Nails
In this look, pink polish and gold glitter are used to create stylish swirl patterns that give way to a gorgeous marble design. Rock this look over white almond nails for a fab, feminine vibe.
48. White Cow Print Acrylic Nails
White nails also provide an apt foundation for cute animal print. If you're in the mood for something black and white, then a cow print design would fit right in and look amazing.
49. White French Acrylic Nails with Black Flame Art
Bring the heat to your white nails with black flame art in a way that's classy but not void of that edgy flair. An option is to design the flames at the tips of each nail to create a unique french acrylic look.
50. Long White Multi-Colored Rim French Acrylic Nails
Add depth and flashes of color to long, white acrylic nails by painting bright hues around the rim of each nail, creating a thin french mani look. Without a doubt, this chic design will be a head-turner for Summer.
Summary and Top Picks
There you have it! Tons of amazing white acrylic nail designs to choose from for the entire year, enough for you and your closest friends. This list proves that while white is a basic neutral tone, some of the most stunning nail looks wouldn't be possible without it.
And on that note, maybe the word "stunning" is a bit of an understatement because I'm still hung up on looks 12, 17, and 35. It's just mind blowing to see looks that started with a simple white base so beautifully converted into creative and memorable designs.
Which nail looks do you find to be unforgettable? Do you feel more confident to wear white acrylic nails now, with or without decorations? I'd love to know what you think. Also, feel free to share any questions you have down below.