Thigh tattoos are a bold way to express yourself. Choosing a tattoo for the broadest part of your leg is tough. Some women struggle with the size and placement choices. I say, anything goes! 
These captivating pieces keep you in control of who sees your body art and when. Show it off in a short skirt and heels, or cover it up in a pantsuit. It's the perfect spot to rock a colorful floral design or a dark inky mandala.  
Thigh tattoos are empowering and offer a wide variety of options for style and color. Thinking about getting a thigh tattoo but not sure about the design? Take a look at these cute thigh tattoo ideas for inspiration.
1. Colorful Butterfly and Peony Tattoo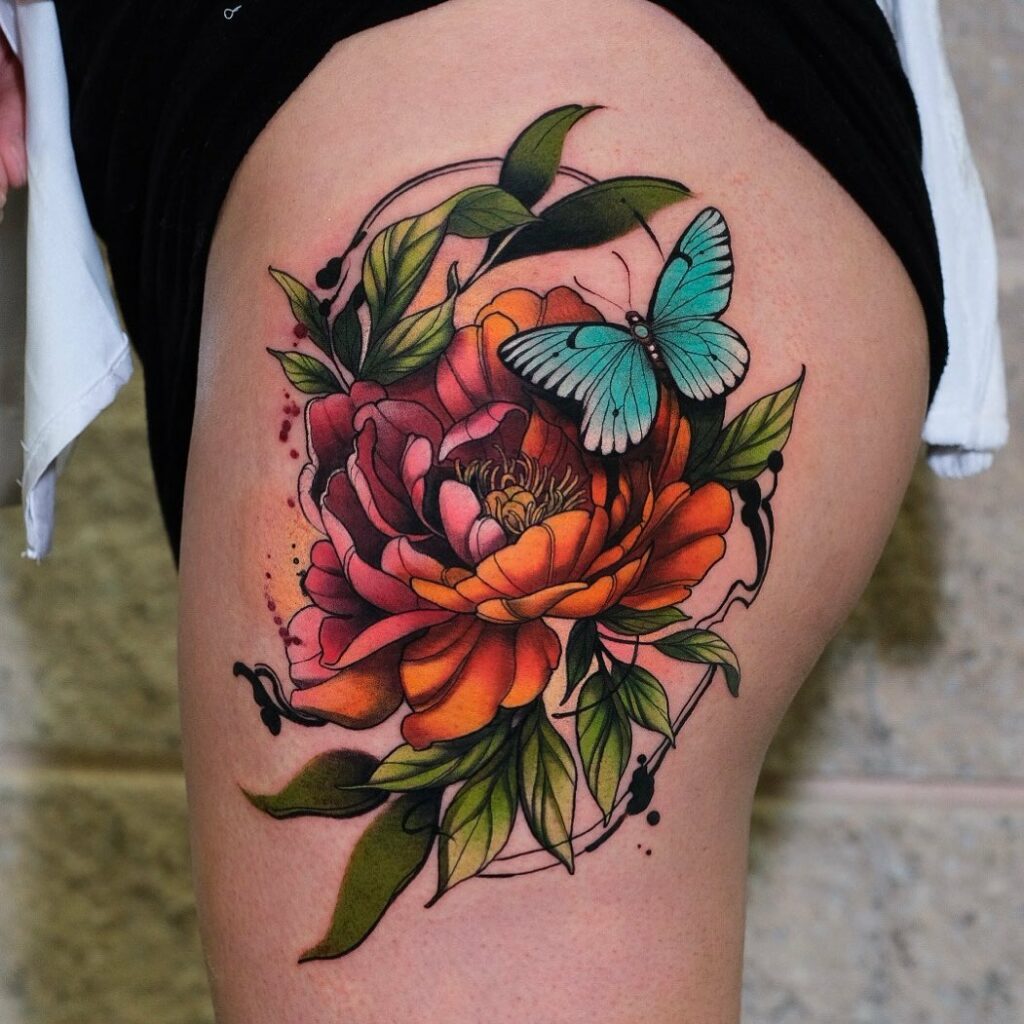 A bright ombre peony breathes life into this thigh tattoo. A blue butterfly perched atop pink and orange petals stands out against beautifully shaded leaf work. I love that the artist created a frame with inky vine-like accents.
2. Simple Delicate Script
Quote tattoos are a popular choice this year, and I'm living for this delicate black font. Wordy tats are a great way to express yourself. This inspirational quote is simultaneously eye-catching and subtle.
3. Black Thigh to Hip Floral Tattoo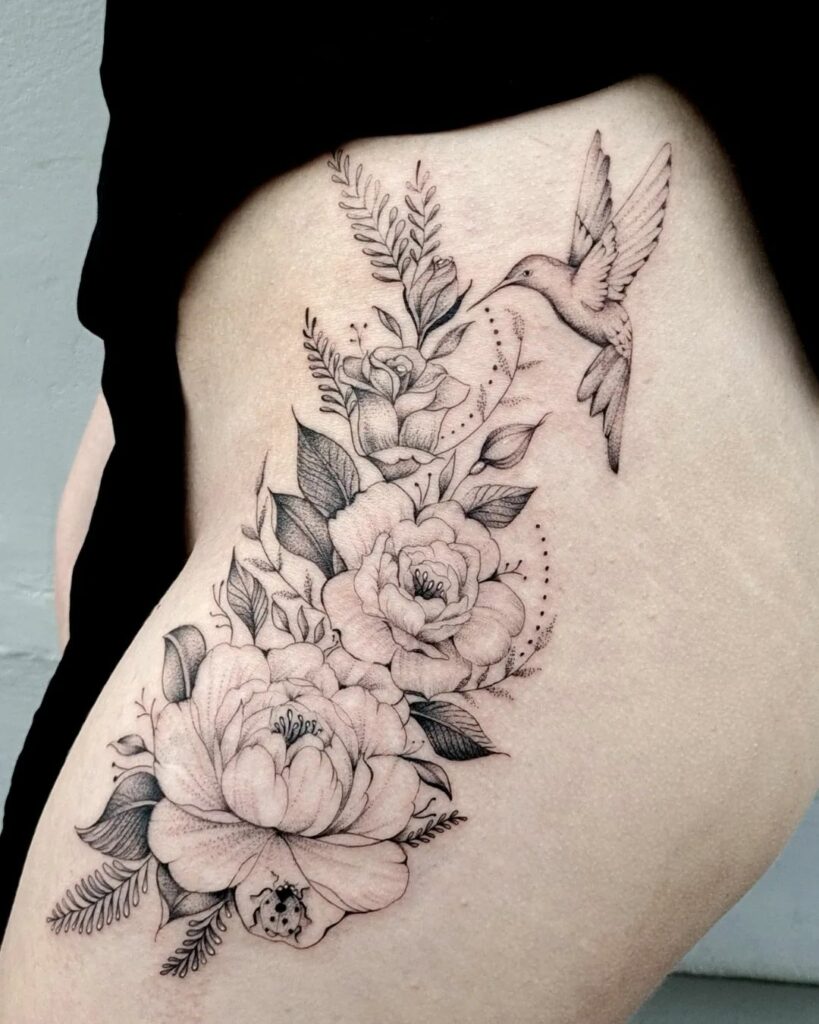 My favorite thing about this tattoo is the placement. The large blossoms look like they're crawling up her thigh and across her hip. Even with no color, it's ultimately feminine and sensuous. I also love how hummingbird and ladybug details add a touch of whimsy.
4. Black and Red Japanese Folding Fan
Black and red tattoos are popular in Japanese skin art. This Japanese folding fan uses both colors to create intricate linework and delicate details. I love that this artist used the entire thigh as a canvas without covering too much skin.
SEE ALSO: 21 Feminine Classy Thigh Tattoos That Are Trending
5. BFF Thigh Tattoos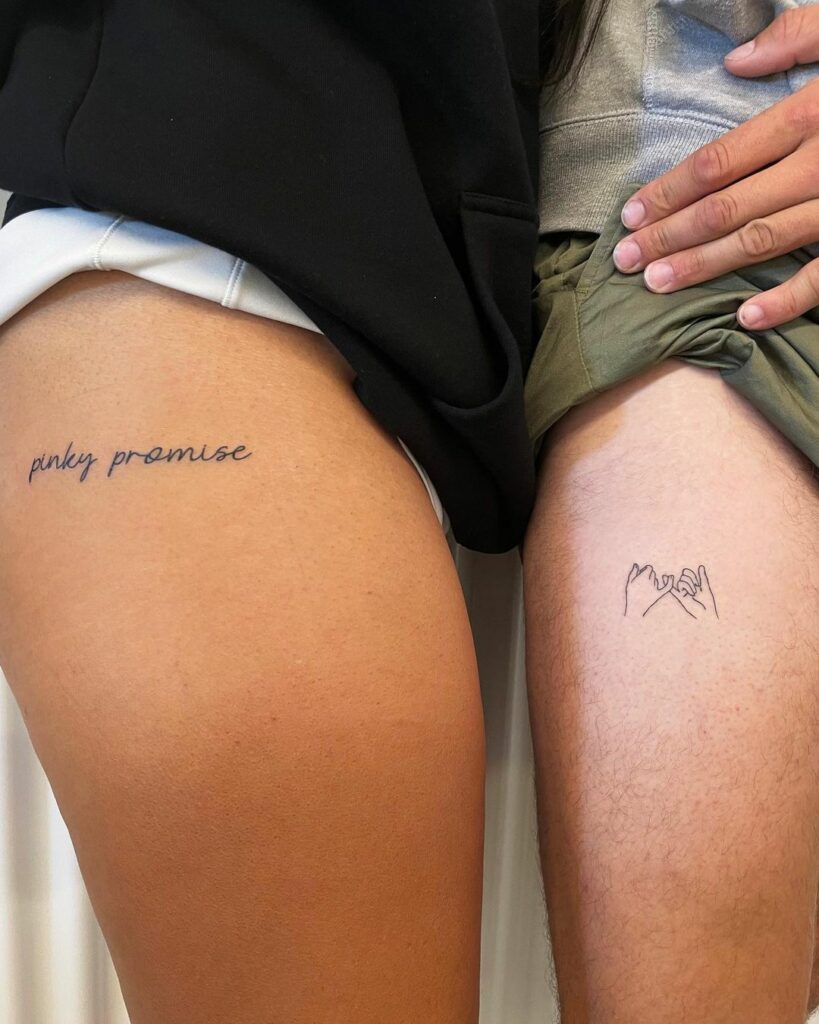 What's cuter than BFF tattoos? Nothing, that's what. These are small tattoos for women that are super cute. One friend rocks a tiny pinky promise in black linework. The other has the words "pinky promise" in a looping feminine font. It's the perfect minimalist thigh tattoo.
6. Anime Wand and Cherry Blossoms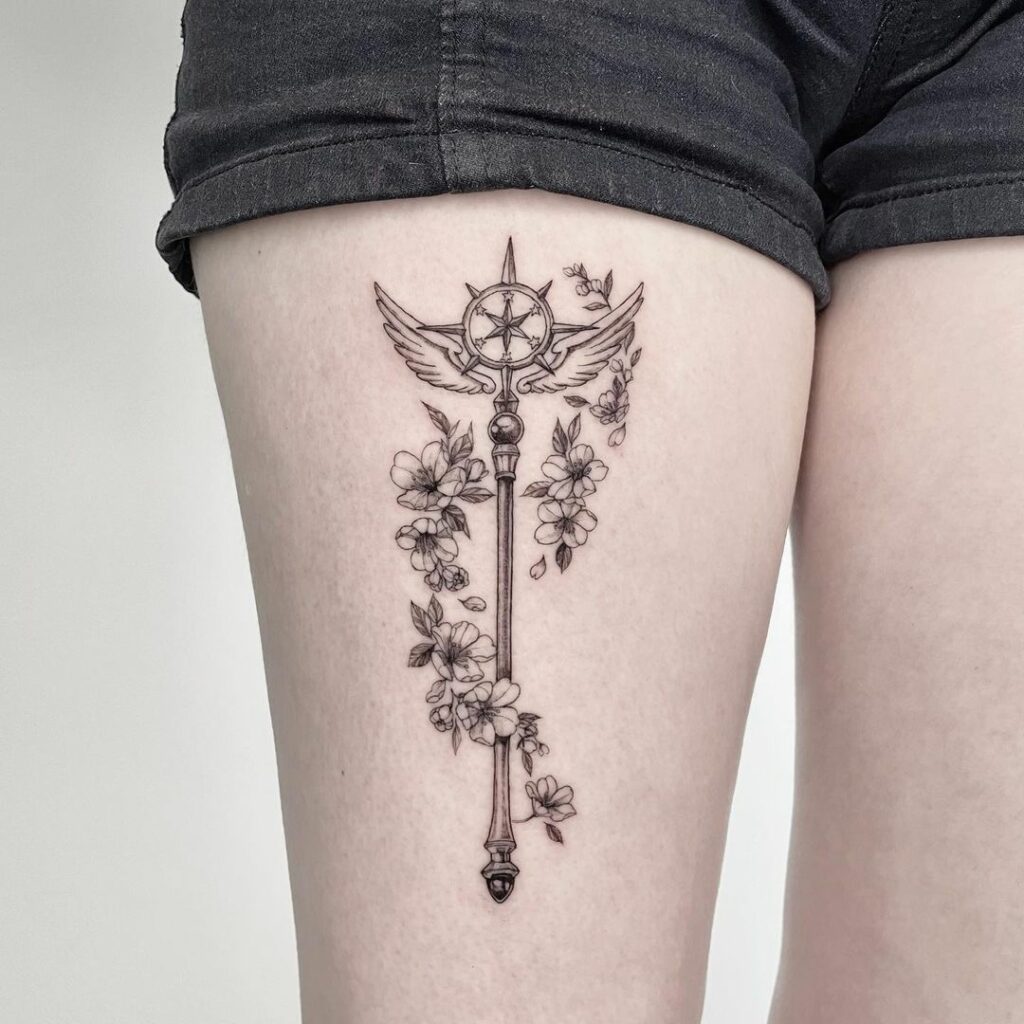 This "Cardcaptor Sakura" wand with cherry blossom accents gives me major nostalgia for childhood cartoons. If you love manga, why not wear it?
7. Ornamental Black and White Mandala
Mandalas are meaningful in Buddhist and Hindu religions. They're also a beautiful way to express yourself through skin art. I'm a fan of big mandalas. This piece covers her entire thigh with symmetrical geometrical perfection.
8. Underwater Scene With Watercolor Accents
Nobody can ignore a bright orange jellyfish on a sea blue watercolor background. This colorful piece is perfect for women who want to get noticed with a feminine thigh tattoo design. I love the addition of pink lotus blossoms to soften the bold design.
9. Full Thigh to Hip Leafy Vine
This free-hand vine spans her entire thigh from upper knee to hip. The fine lines are delicate while still evoking powerful, womanly vibes. I adore the detail in each leaf in this feminine tattoo down the thigh.
10. Realistic Gold Loki Tattoo
Marvel made the Norse God, Loki, very popular. This realistic tattoo features Loki's gold helmet melting onto some mistletoe. I love the symbolism behind the mythical tattoo and the nod to the popular movie and TV villain.
11. Kitty Cat Portrait Tattoo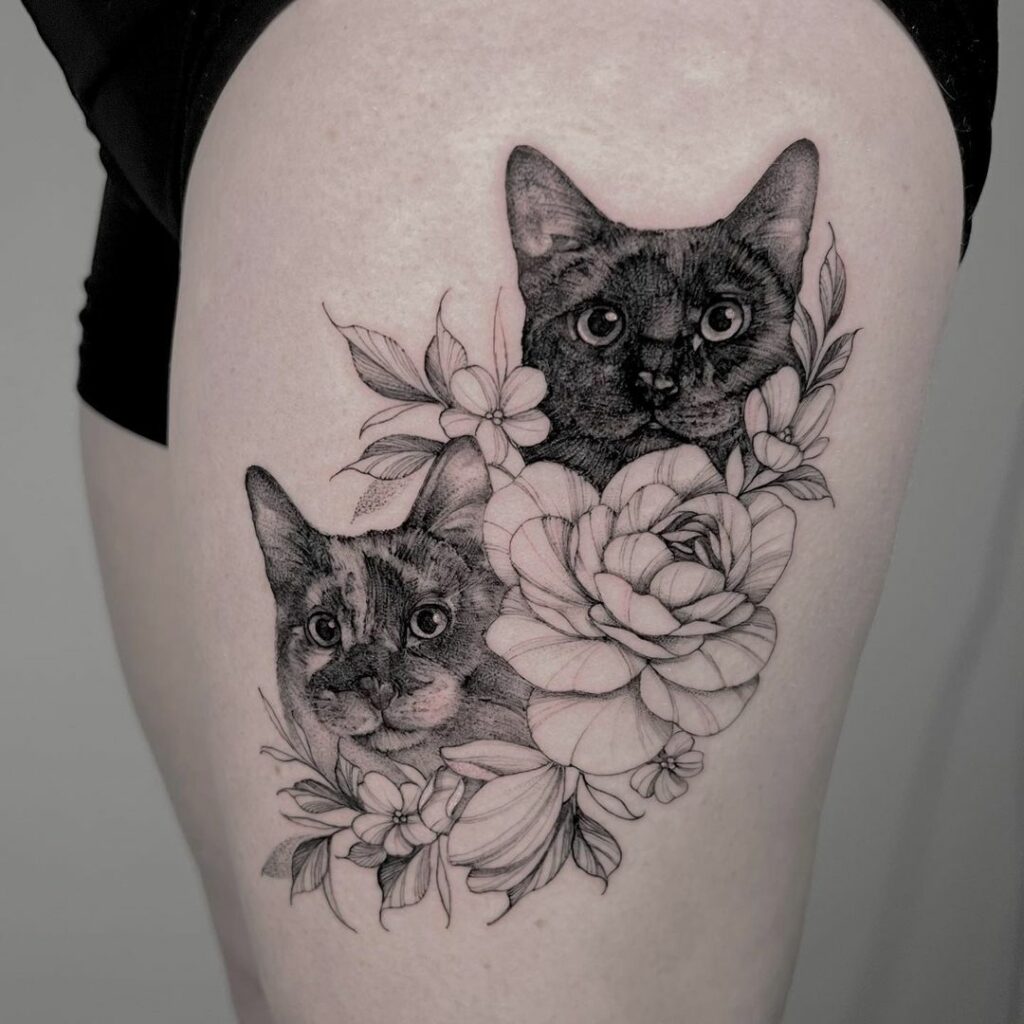 Pets are a prominent tattoo choice, and these kittens are paws-itively adorable. Some animal tattoos are too much. This cute piece is just right. The two portraits peeking out from a bed of flowers are playful and meaningful.
SEE ALSO: 21 Thigh Tattoos For Black Females to Rock
12. Planetary Compass and Butterflies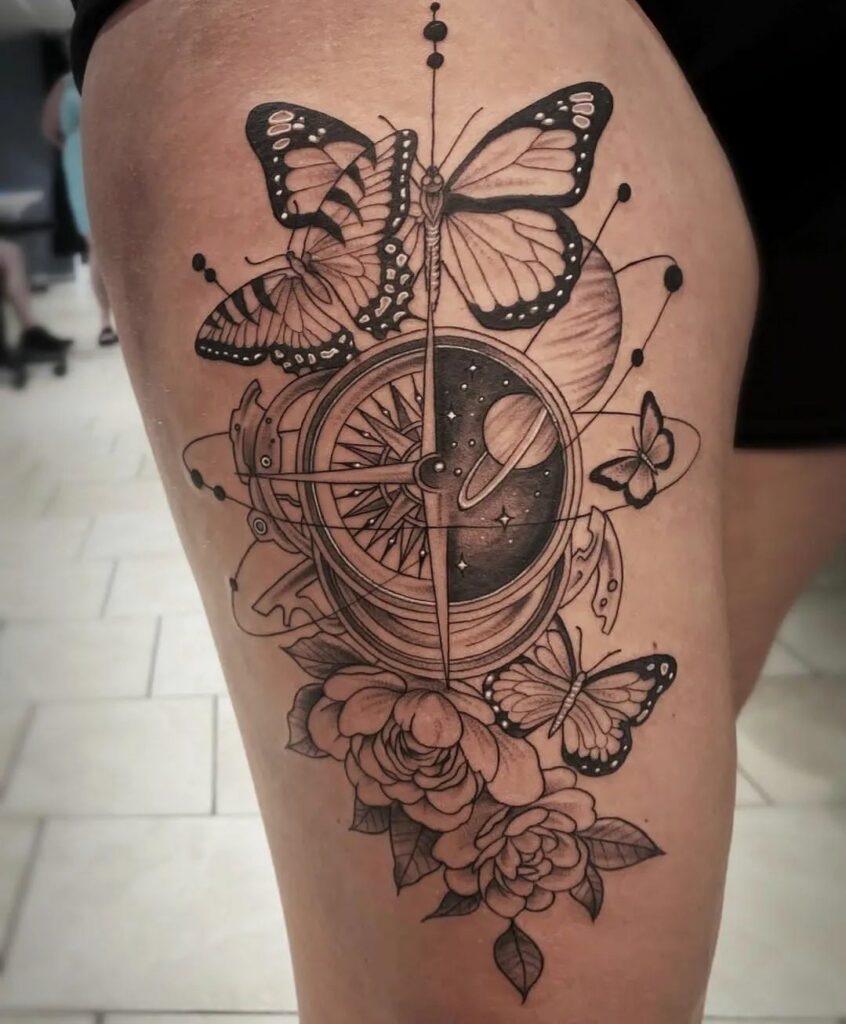 Black linework delicately captures this galaxy-inspired compass perfectly. Although it's accented by butterflies and peonies, I love the subtle steampunk vibe it gives off.
13. Orcas at Play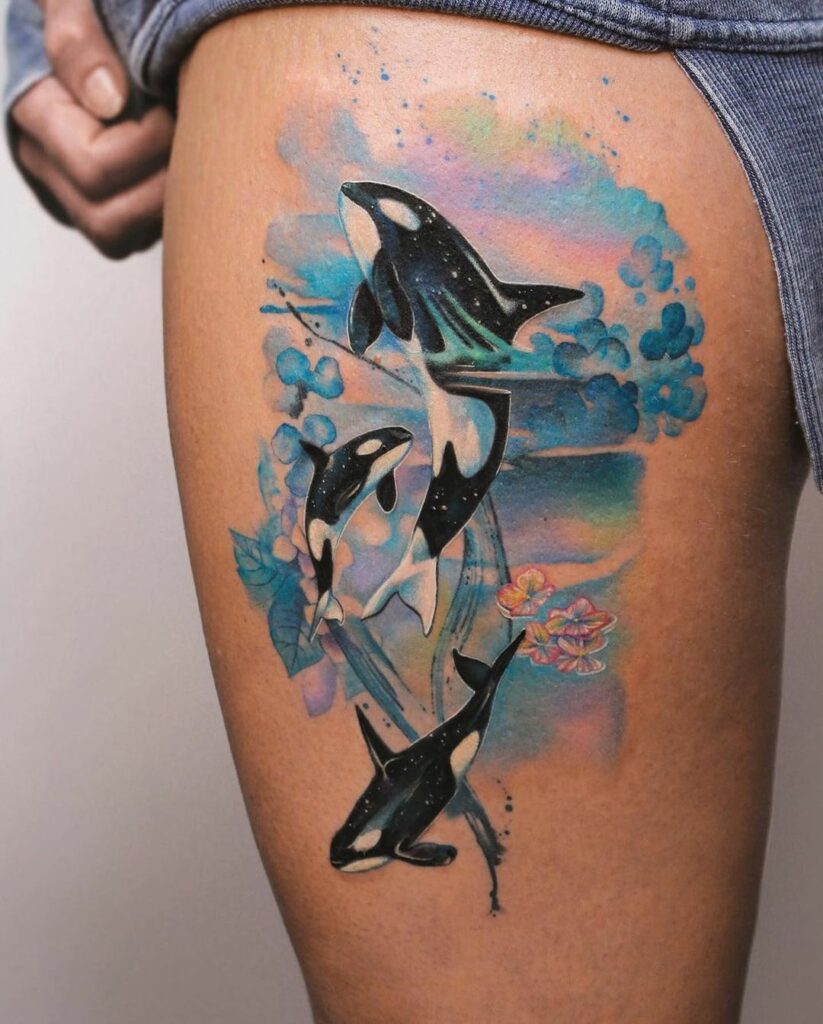 This thigh tattoo gives me total early 90s Lisa Frank vibes. The three orcas stand out, swimming through a sea of rainbow watercolor. Tiny floral accents bring in a beachy feel I'm living for.
14. Celestial Face in Black and Gray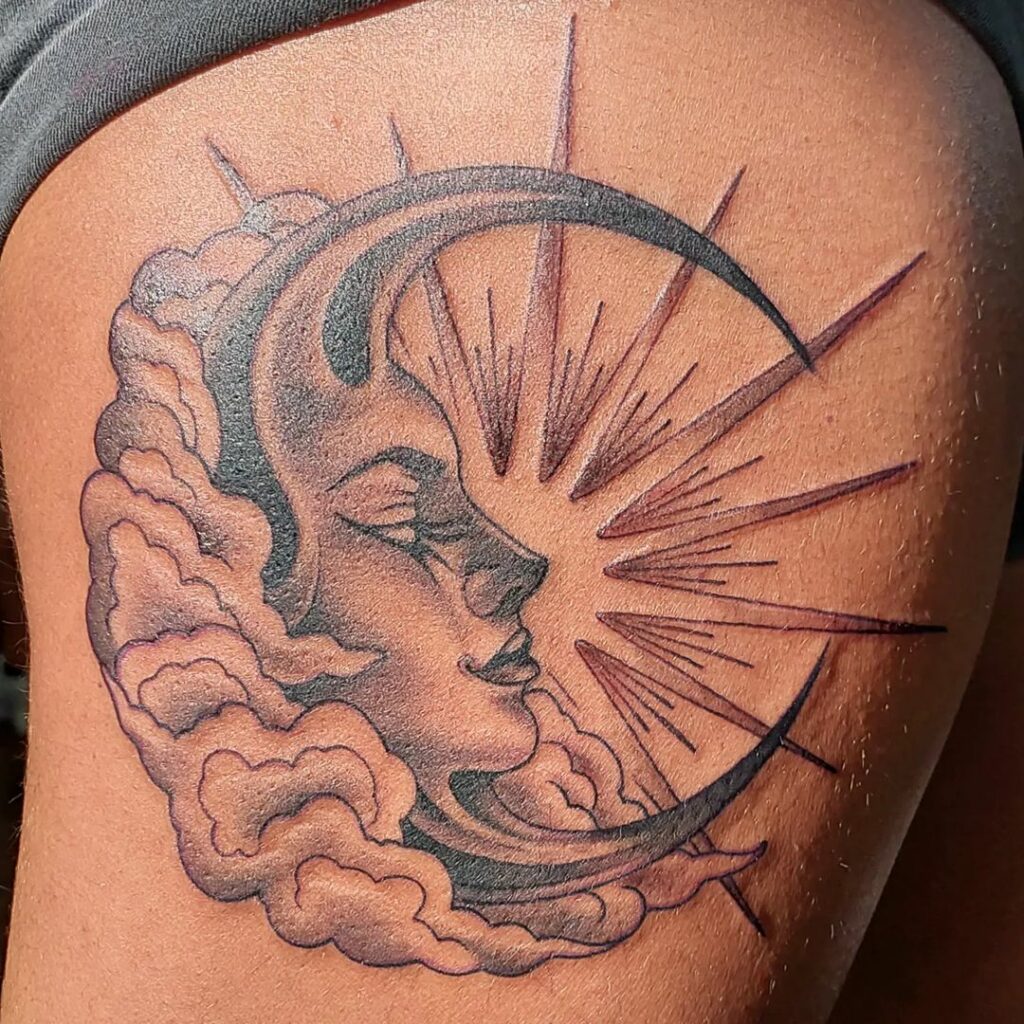 A subtle female face tucked into the curve of a crescent moon is nothing if not feminine. This black and gray tattoo ties together the sun and moon, evoking mystic energies. I love the simplicity of it all.
15. Detailed Dotwork Dragon Tattoo
Dragons are fierce, fiery, and whimsical. This cute little guy is shaded with dot work and surrounded by tiny sparkles. I love fantasy-themed tattoos, so this little guy is right up my alley. This piece would really pop with a white denim skirt.
16. Ombre Moon and Roses
This is one of my favorite thigh tattoos. It's simple, but the colors and pattern speak to me in a witchy woman kind of way. A crescent moon in ombre purple to pink tones on a bed of red roses promises magic to come.
17. "Howl's Moving Castle" Framed by Flowers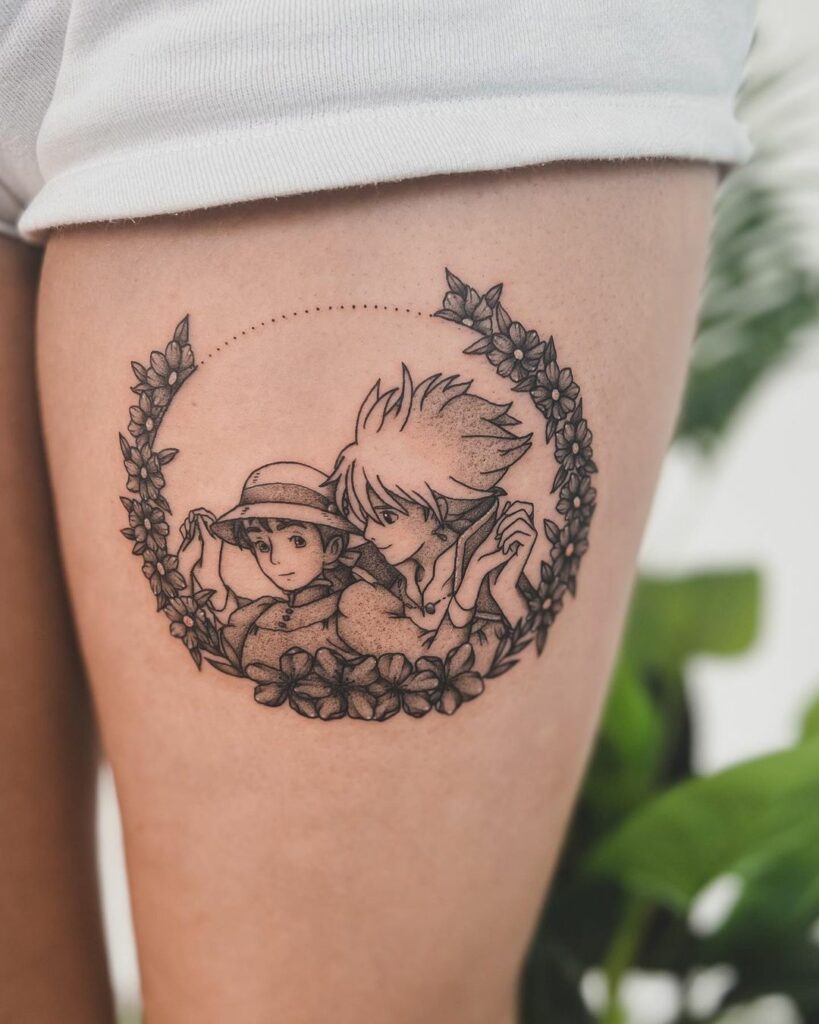 A floral frame surrounding Sophie and Howl from the Studio Ghibli classic, "Howl's Moving Castle." I can't even. This tattoo is so cute and nostalgic. The simplicity of the black linework gives perfect homage to director Hayao Miyazaki.
18. Astrological Line and Dot Work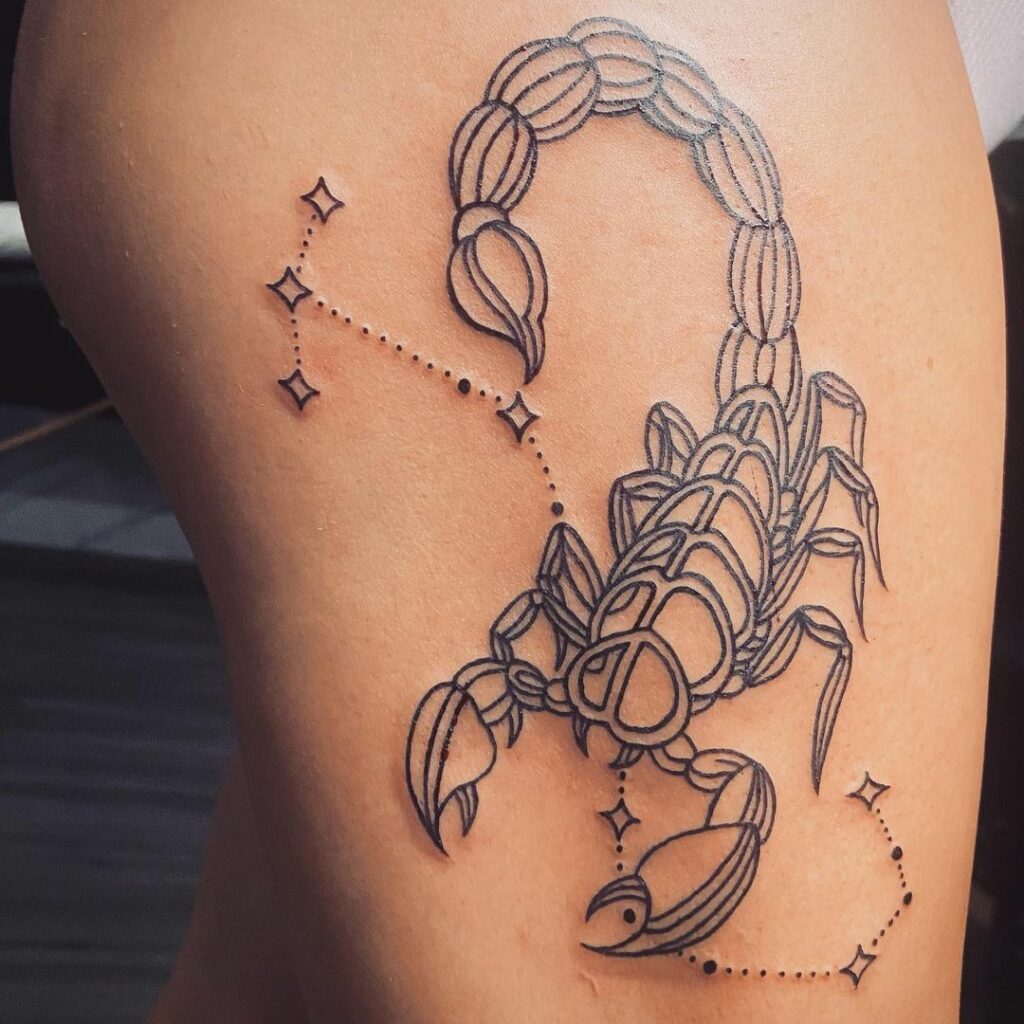 Astrology is an international language, and this Scorpio tattoo has a lot to say. The simple line and dot work takes a predatory arachnid and turns it into a perfectly feminine tattoo. I like that it's set against the original constellation.
19. Floral Garter Tattoo
I've seen many garter tattoos, but this is my favorite. The colorful flower chain is sweet and feminine. Pink, peach, and purple blossoms, interspersed with deep green foliage make for a show-stopping garter design.
20. Fluttering Butterfly Tattoo
Five subtle black butterfly tattoos flutter up the thigh from knee to hip. The choice to emit the orange in these monarch butterflies makes them more noticeable. I like the simplicity of this design. It's a full thigh tattoo without covering the entire thigh in ink.
21. Dual Snake Tattoo
Snakes might not always be thought of as cute, but this duo is adorable in a spooky way. Two snakes, outlined in black, slither down her thigh with just a sprinkling of cobwebs. If you love reptiles and the supernatural, this is a winner.
22. Black Dotwork Cameo with Blue Accent
Cameos became popular in the 19th century as a means of wearing a portrait before photography was around. I love this black dot work cameo tattoo. It gives me 1920s flapper energy. It would look great with a blue nail design.
23. Matching Geometric Hand Poke Tattoos
Geometric tattoos are growing in popularity. This double hand poke design on both thighs seems to have a secret meaning. With one eye open and one eye closed, it has a mystic atmosphere I'm really feeling.
24. Cougar in a Diamond with Flowers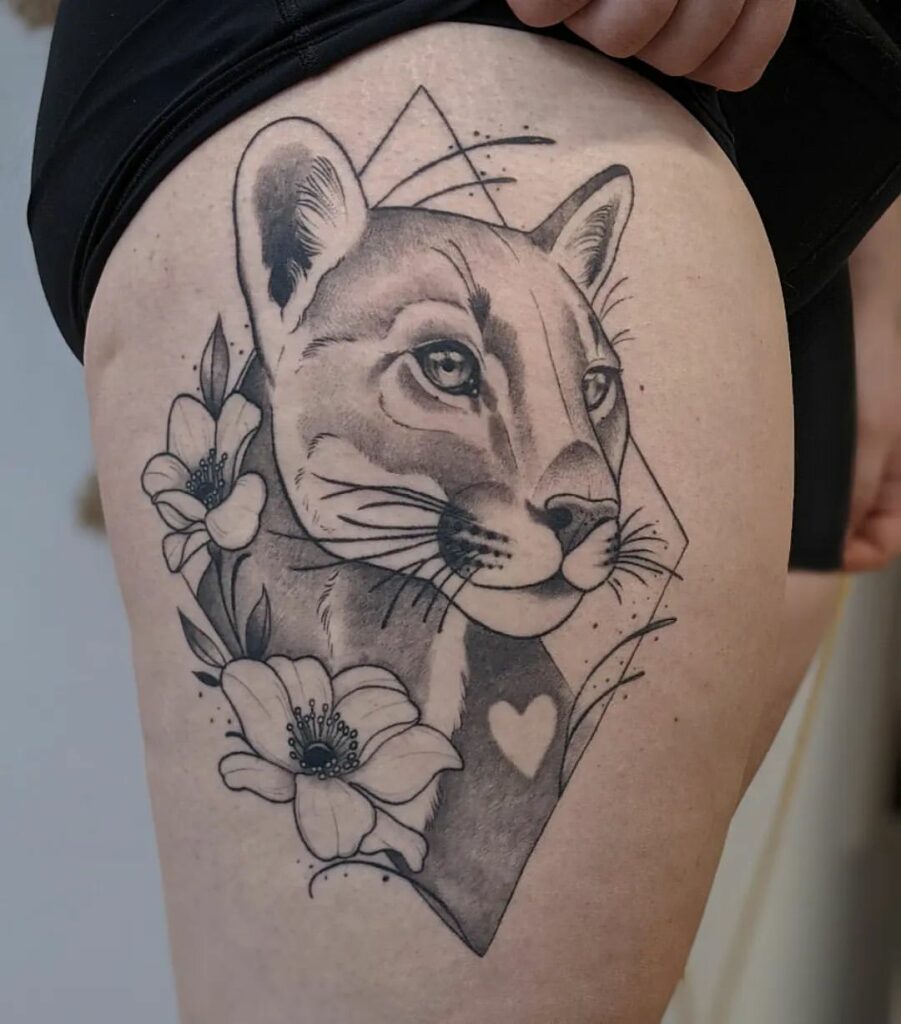 Cougars are the epitome of powerful femininity. This simple cougar outline stands out in a geometric diamond frame with flower accents. Usually, I like detailed pieces, but this "less is more" design is purr-fect.
25. Alice in Wonderland Compilation Tattoo
Alice in Wonderland offers so many tattoo options and this one has a little bit of everything. It makes me think of a tattoo sleeve for the thigh. I love the bright colors and intricate details, especially the Cheshire cat.
26. Field Mice With Mushroom and Pumpkin
These sweet little rodents look like they popped out of a fairy tale. I love the whimsical storybook feeling they give without going overboard. I'd love to see them as part of one collective piece, but even separate, they make a super cute thigh tattoo.
27. Jewel Toned Axolotl
An axolotl is a tropical creature that looks like it's popped right out of a Harry Potter novel. This tattoo captures the curiosity and whimsy of these pets perfectly. I love that the artist went with jewel tones and incorporated actual treasure in the design.
28. Elephant and Peony Tattoo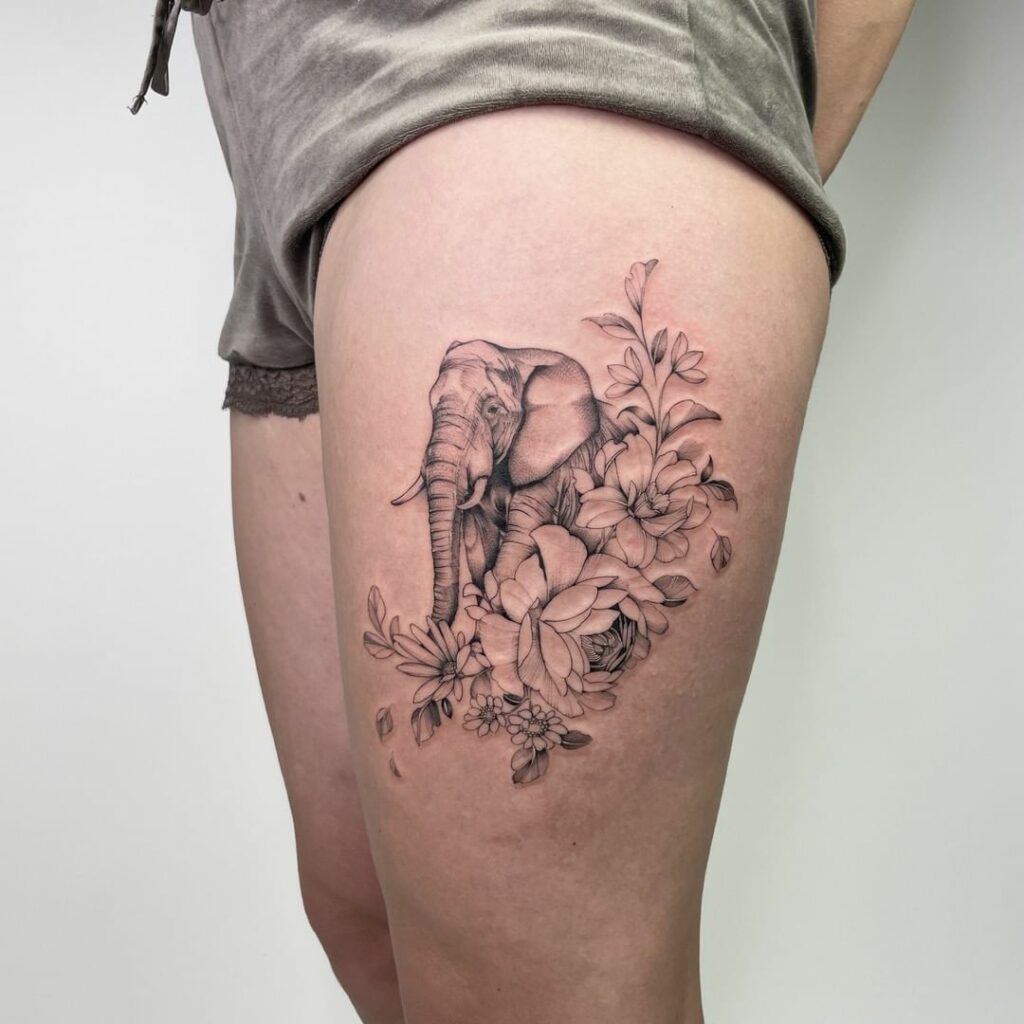 Elephants are a surprisingly cute tattoo idea. This simple black and white elephant perched atop a bed of peonies is delicate yet detailed. You could choose any animal in this style, but I'm a big fan of the elephant.
29. Floral Heart Tattoo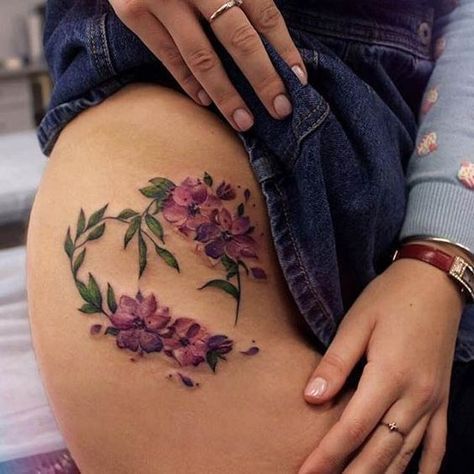 If you want to make a statement with a simple tattoo, this is it. Understated pink and purple blossoms with green foliage shaped into a heart. Perched perfectly in that feminine crease where the thigh meets hip, it's sexy but sweet at the same time.
30. Bejeweled Medusa Tattoo
Medusa tattoos are very in right now, and this luxe bejeweled version is bougie as heck. I love the large ornate crown she's wearing, but most of all, I love her expression. She's taking no nonsense.
SEE ALSO: 50 Eyecatching Medusa Thigh Tattoos for Women
Summary and Top Picks
This article outlines some of my favorite cute thigh tattoos for the year. From astrological signs to floral prints to pets, there are so many thigh tattoos to choose from. Choosing a thigh tattoo can seem daunting. I say, just pick what makes you happy!
I'm a fan of all these options, but my top three picks for a thigh tattoo are:
#4 Black and Red Japanese Folding Fan: I love that this feminine tattoo trails down the thigh with its intricate line work. The black and red really pop. 
#19 Floral Garter Tattoo: Garters are cute and sexy, and this one stands out. I'm a big fan of floral thigh tattoos, and this one is done in a really unique way. 
#27 Jewel Toned Axolotl: Aquatic tattoos are very popular, but axolotls are rare. This is a great way to stand apart with a cute thigh tattoo everyone will ask about. 
I want to know which cute thigh tattoo most speaks to you and what colors would you choose? Leave me a comment below!