In Greek mythology, Medusa was cursed by the Goddess Athena for her love affair with the God Poseidon. She was turned into an ugly monster with snakes for hair, turning men to stone if they should gaze upon her. 
Many people assume Medusa is a bad omen, but she's a symbol of protection. This makes her a great thigh tattoo for women. The dark and light sides of this mythical monster let you play with a variety of design concepts.

I love both black and white and colored Medusa tattoos. I'm also a fan of the many takes on her snake hair and haunting features. Thinking about inking Medusa on your thigh? Here are some of the top Medusa thigh tattoo ideas this year.
1. Fanged Medusa with Crescent Moon Mark
Her fangs say she's feisty, but her eyes are tender. This medusa thigh tattoo speaks to the huntress in me. I love that Medusa and the snakes all seem to be looking at the same thing. It's a powerful tattoo for a warrior woman.
2. Angry Eyeless Medusa Tattoo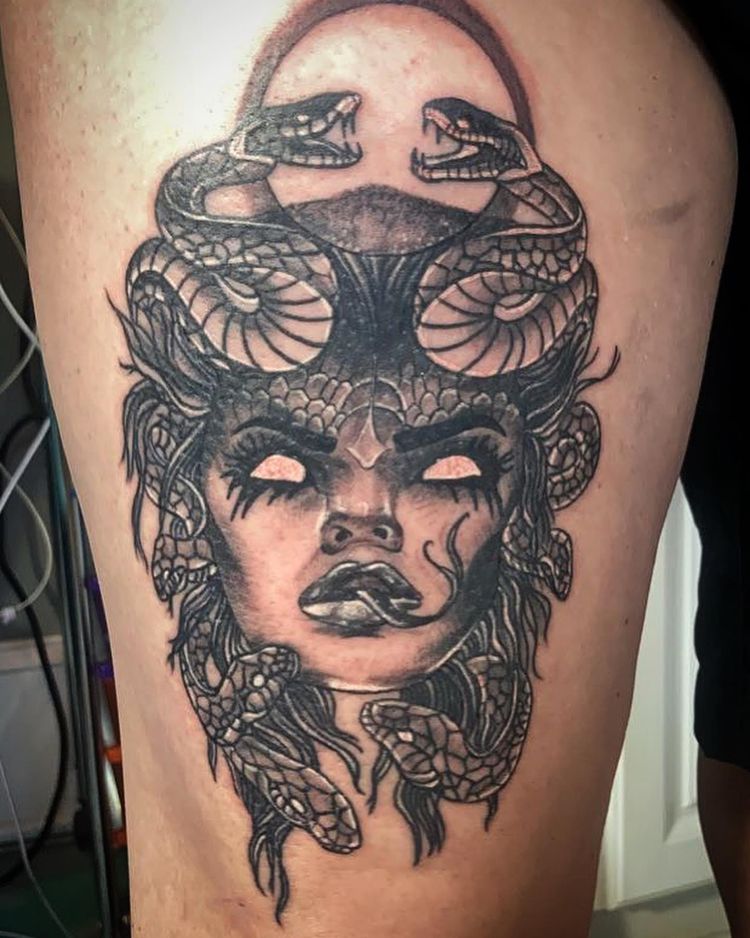 She's eyeless, but it feels like she sees everything. This dark take on Medusa is a nod to the power of women. Medusa was cursed by the goddess Athena to take away her beauty. This tattoo tells us even our dark sides can be beautiful.
3. Simple Black and White Flash Art Medusa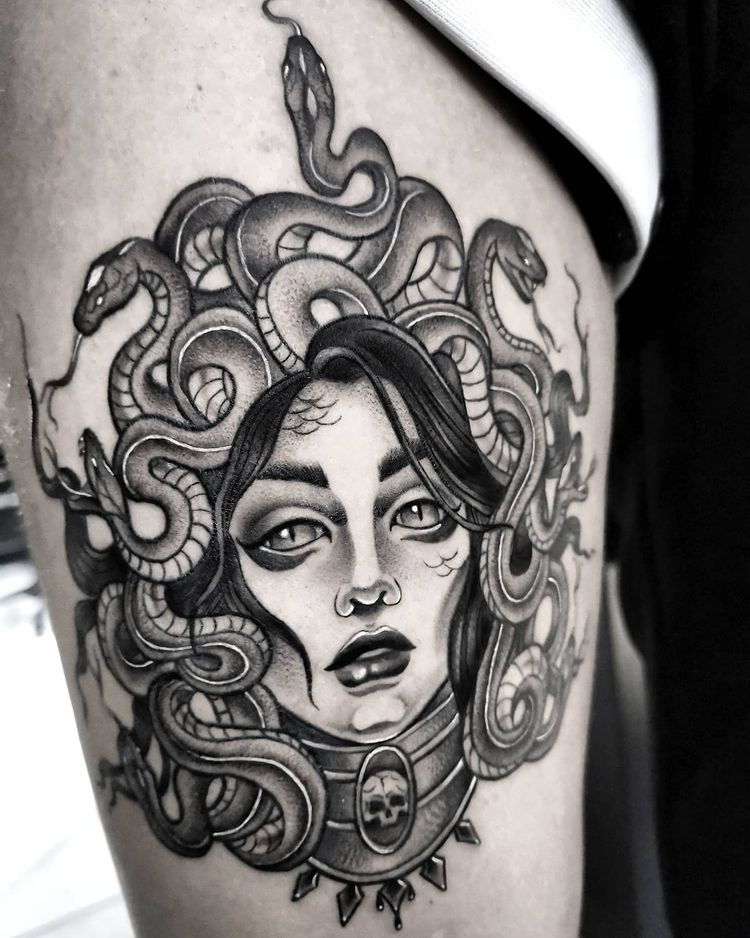 Classic tattoos are simple and clean. This Medusa takes a page from the flash art tattoo styles with a minimalist look. I'm a big fan of her chill look and scaly skin. She knows who she is, and she's cool with it.
4. Intricate Snake and Flower Medusa Tattoo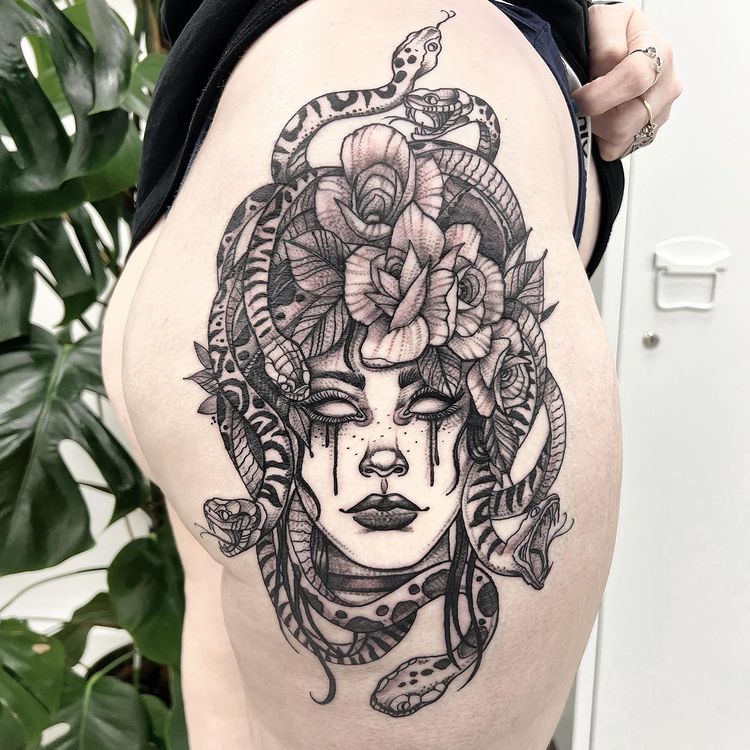 I find this version of Medusa very interesting. Rather than focusing on her expression, the artist has put a lot of detail into the snakes and flowers in her hair. Side note; her freckles are literally everything. I love them.
5. Long Lashed Medusa with Hissing Serpents
This Medusa is angry but enjoying it. Her full pouty lips are set into a devilish smile while her snakes hiss vehemently. Can we just talk about her lashes for a minute? I need the number of her esthetician. Perfectly feminine and powerful.
6. Medusa Marble Bust Thigh Tattoo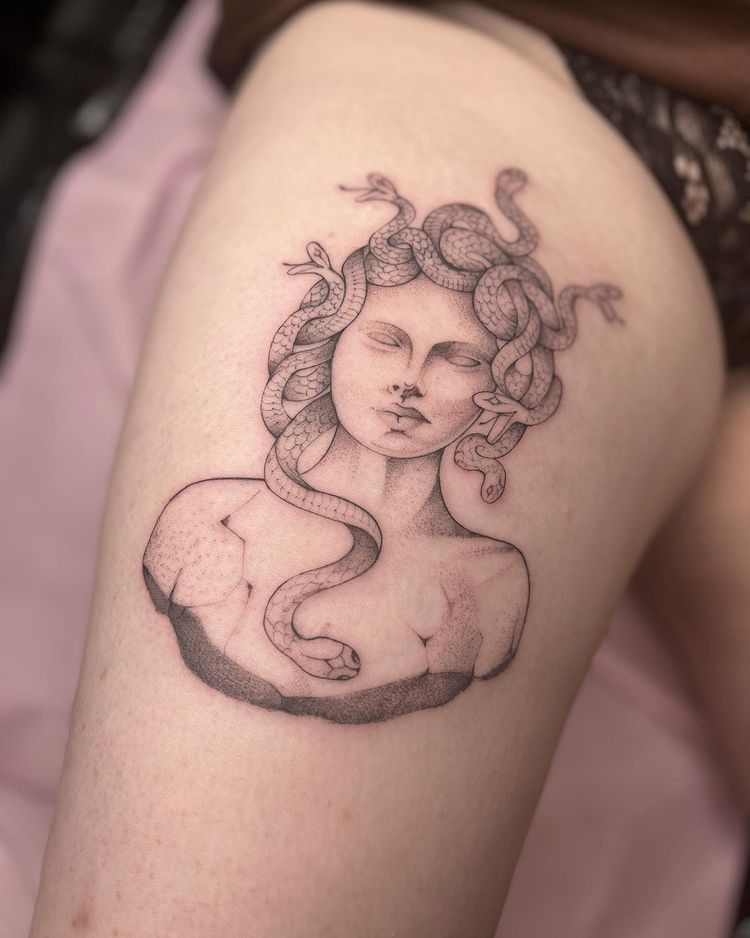 A gray-washed Medusa tattoo from the chest up offers a glimpse of an ancient Greek sculpture. I like that this amazing thigh tattoo brings in a bit of history. She looks like she's cracking yet remains powerful. If only we all felt this way under pressure.
7. Thoughtful Medusa With Cheekbones for Days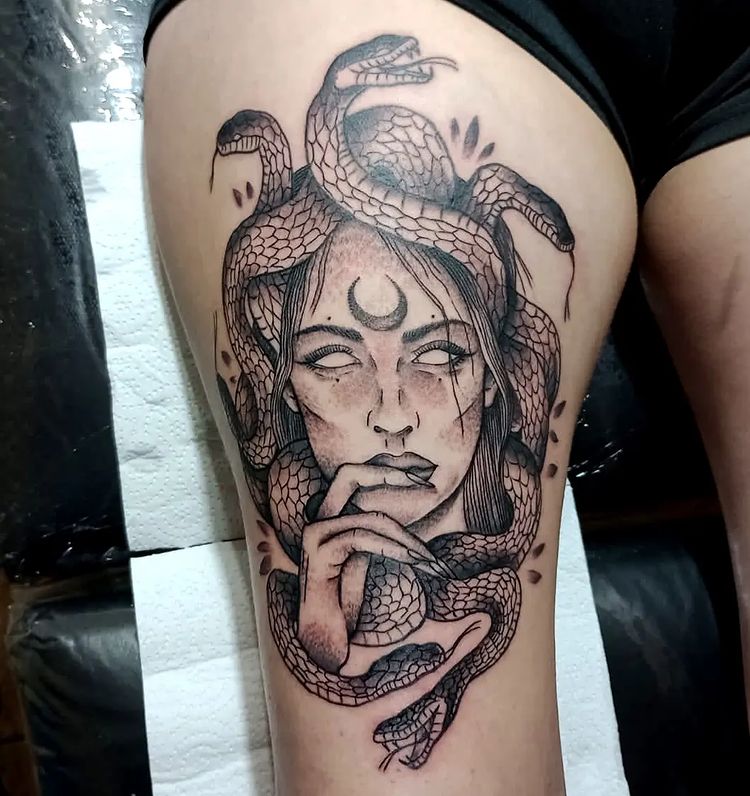 This version of Medusa is deep in thought. Her perfectly manicured finger perched upon her bottom lip. I like that the artist has been detailed everywhere except in her eyes. She's all-powerful and hard to read.
8. Stone Medusa With Blank Gaze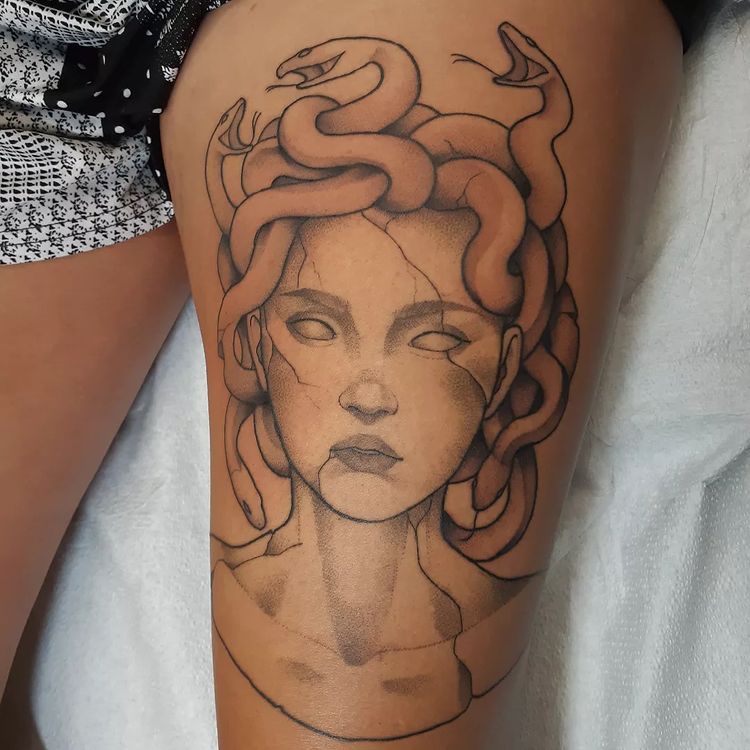 Another stone Medusa, cracking but beautiful. I feel like this tattoo represents women to a tee. We're strong yet delicate. We may look breakable, but there's a resilience to us. 
SEE ALSO: 21 Thigh Tattoo Quotes For Women That Are Trending
9. Cold and Beautiful Medusa With Amulet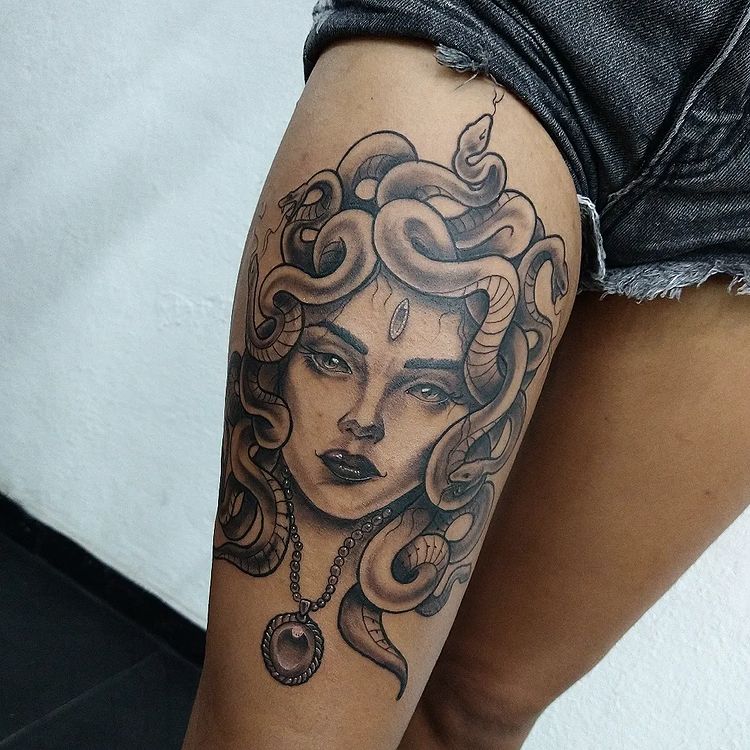 Medusa gets a bad rap for being evil, but she was a woman wronged. This tattoo captures her perfectly with a cold stare and beautiful features. She's dressed to impress but doesn't care what you think.
10. Defined Eyebrows on Medusa Tattoo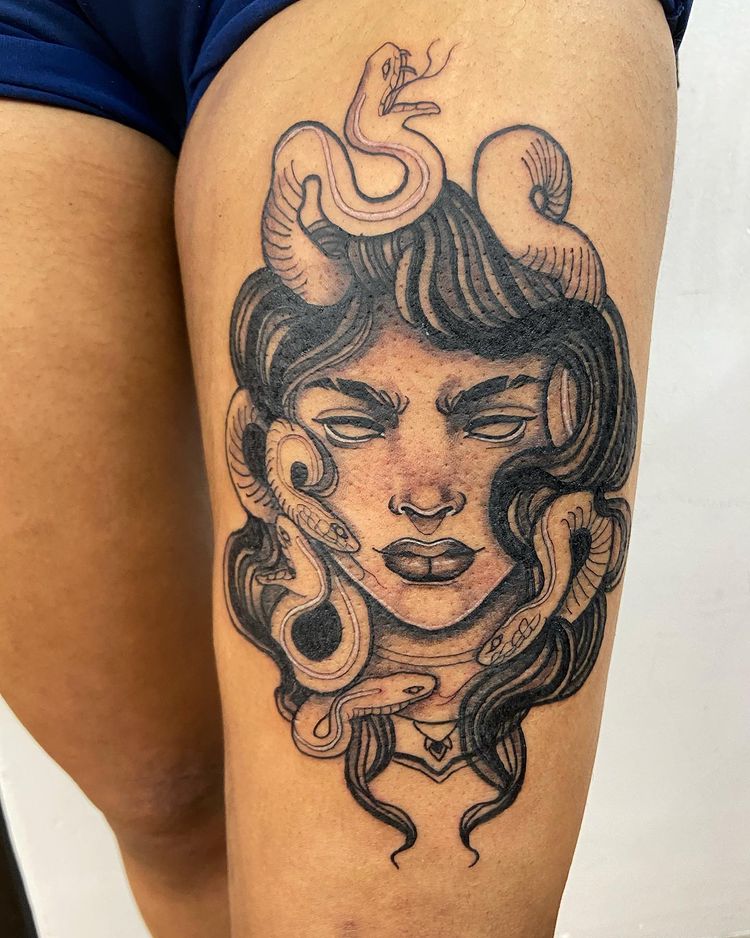 I love a full eyebrow, and this Medusa doesn't disappoint. I like that she has a mix of snakes and human hair on her head. It really captures her humanity along with her mythical power. 
11. Animated Vampiric Medusa Tattoo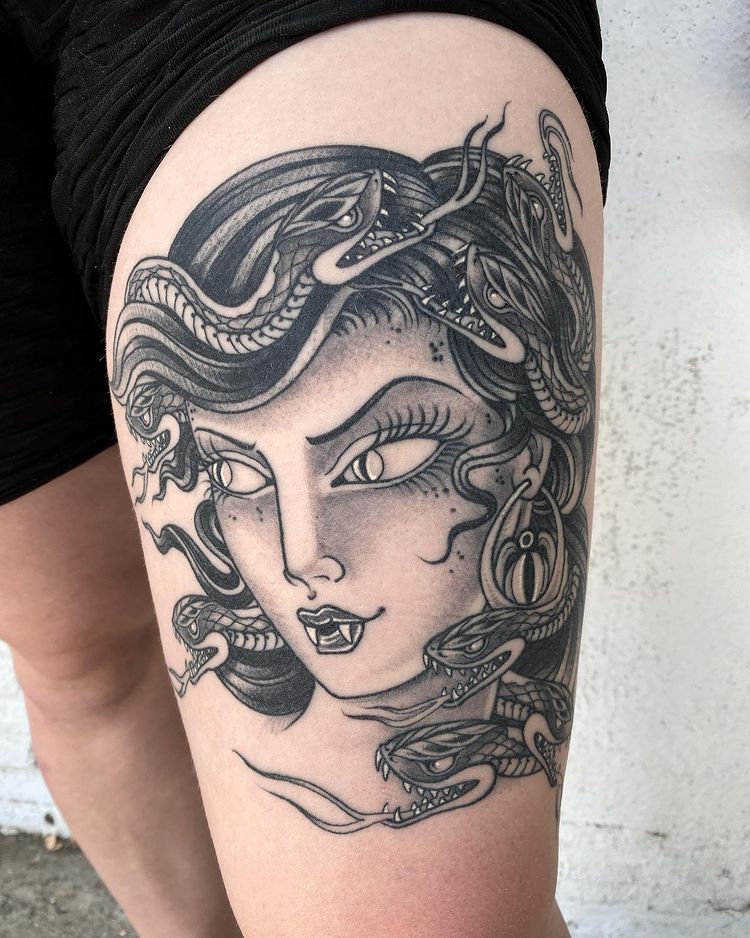 It feels like so many Medusa tattoos take themselves too seriously. This adorable play on an animation-style tattoo gives off playful energy. I love that she's gone full snake. I'm all about her serpent-like eyes and vampiric teeth.
12. Dark and Twisted Medusa Tattoo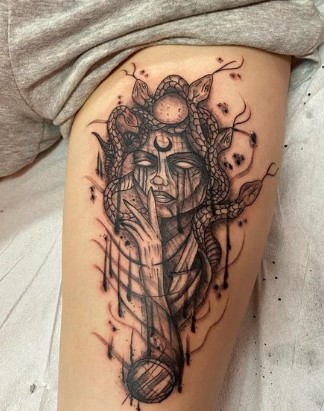 Medusa's story is a sad one. This tattoo takes that story and tells it through art. I'm in love with the zombie-like presence of this piece. She's got a dark secret.
13. Stunning Medusa and Calla Lily Tattoo
Snakes, calla lilies, and a bejeweled forehead soften this Medusa tattoo. She's gorgeous but cursed with a look that freezes men in their tracks. This thigh tattoo for women is captivating and memorable. It's sure to start a few conversations.
14. Medusa Realism Tattoo With Glossy Eyes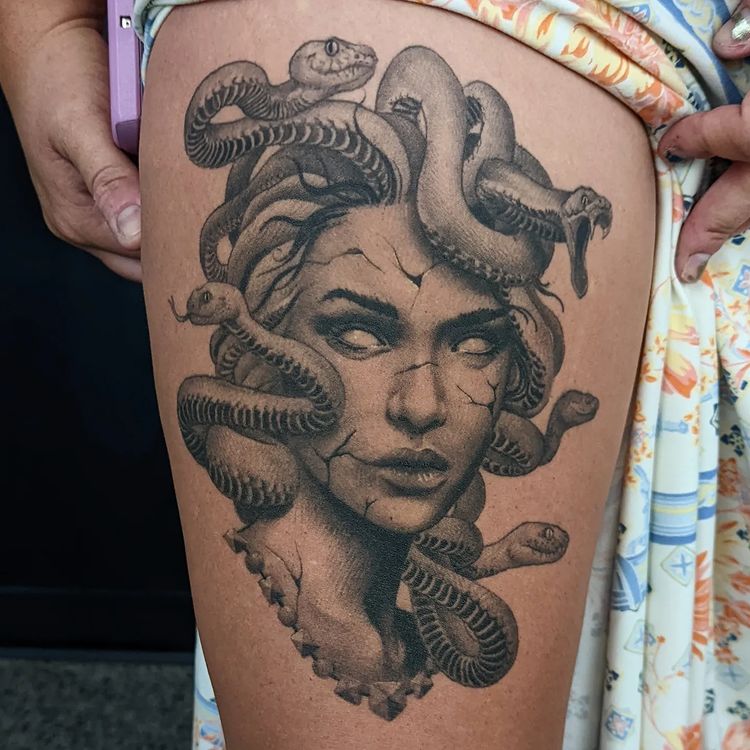 The detail in this Medusa tattoo is super impressive. Her lips and eyes add real depth to the piece. I like that the more you look at it, the more detail you notice. It's chilling but in the best way possible.
15. Regal Full Thigh Medusa and Flowers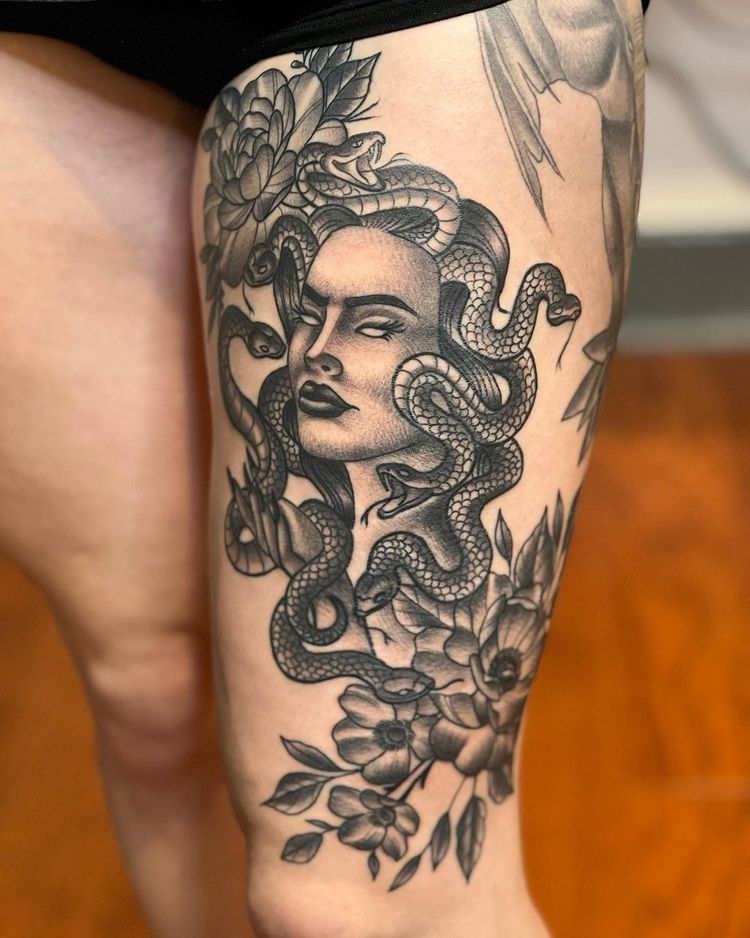 I like this medusa for a full thigh look without covering too much skin. By stretching the tattoo lengthwise with the addition of flowers, the artist made it look bigger than it is. I also love the dark brow on this regal-looking version of the mythical figure.
SEE ALSO: 110 Trendy Shoulder Tattoos for Women
16. Intense Black and White Medusa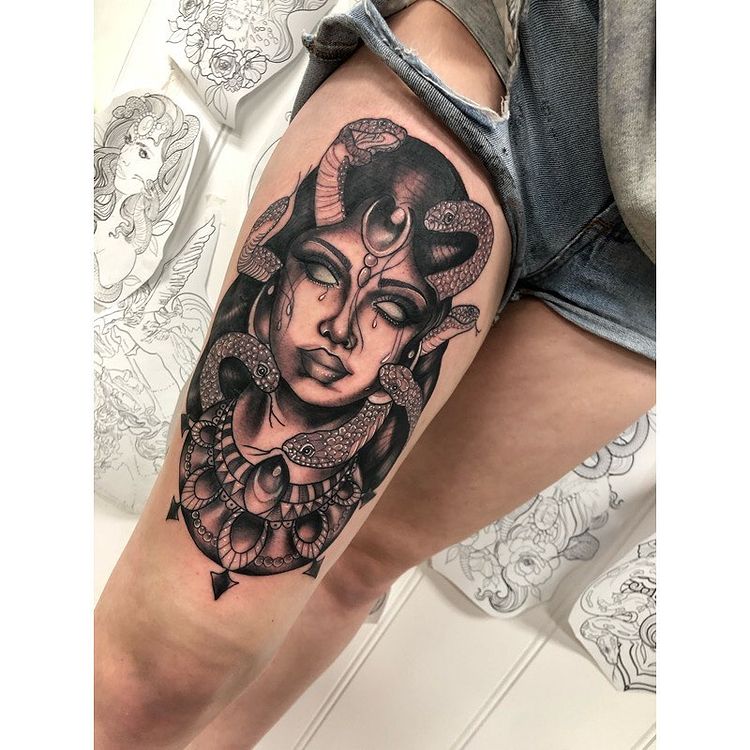 The blacks are so dark and the whites so light, that this Medusa tattoo pops right off her thigh. I know Medusa is a Greek myth, but this tattoo gives me ancient Egypt energy. I love the ornate headpiece and detailed collar. 
SEE ALSO: 113 Trending Back Tattoos for Women
17. Deep in Thought Medusa With White Ink
I love how sharp white ink looks on a tattoo. This Medusa thigh piece is highlighted perfectly with black, gray, and white ink. The pearls at her hairline add an air of royalty. She looks so peaceful with her eyes closed. This is an awesome tattoo for women.
18. Frightfully Real Medusa in Greywash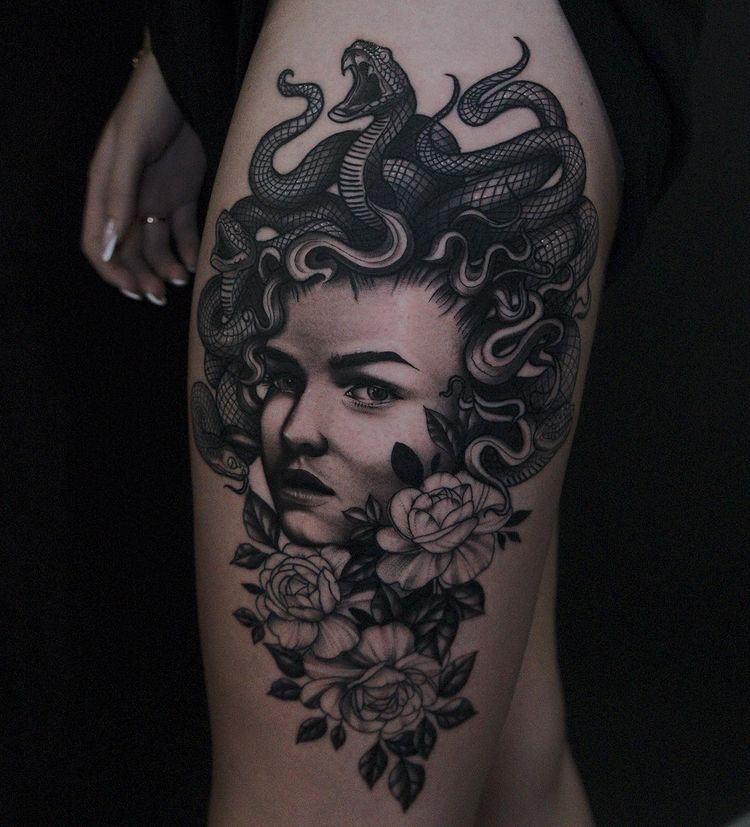 This Medusa seems to come right out of her thigh. The face is so realistic; it could be someone you know. I like the contrast of black line work on the snakes and soft shading on the flower petals.
19. Forked Tongue Medusa With Nose Ring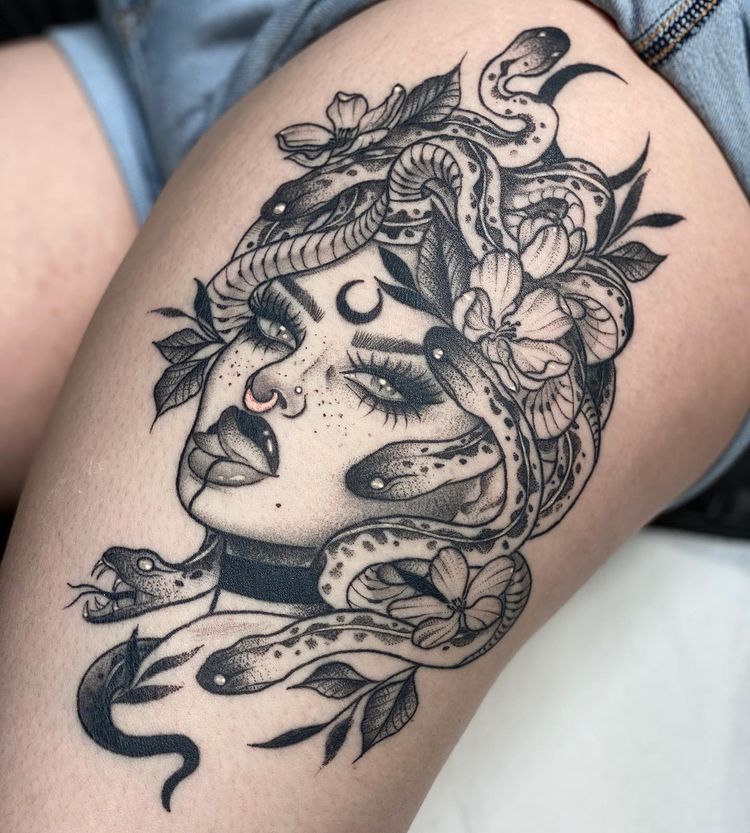 A forked tongue Medusa with a perfect spattering of freckles is the perfect mix of good and evil. This tattoo is so well done. The pop of the gold nose ring on an otherwise black and gray tattoo brings this piece to life.
20. Green Snake Medusa With Peach Flowers
I'm surprised more Medusa tattoos aren't colored. This green tone on her snake-filled hair instantly draws the eye. The peach flower crown softens it again. I like how the artist highlighted her face, playing with light and dark to frame her features. 
21. Rainbow Medusa With Golden Snakes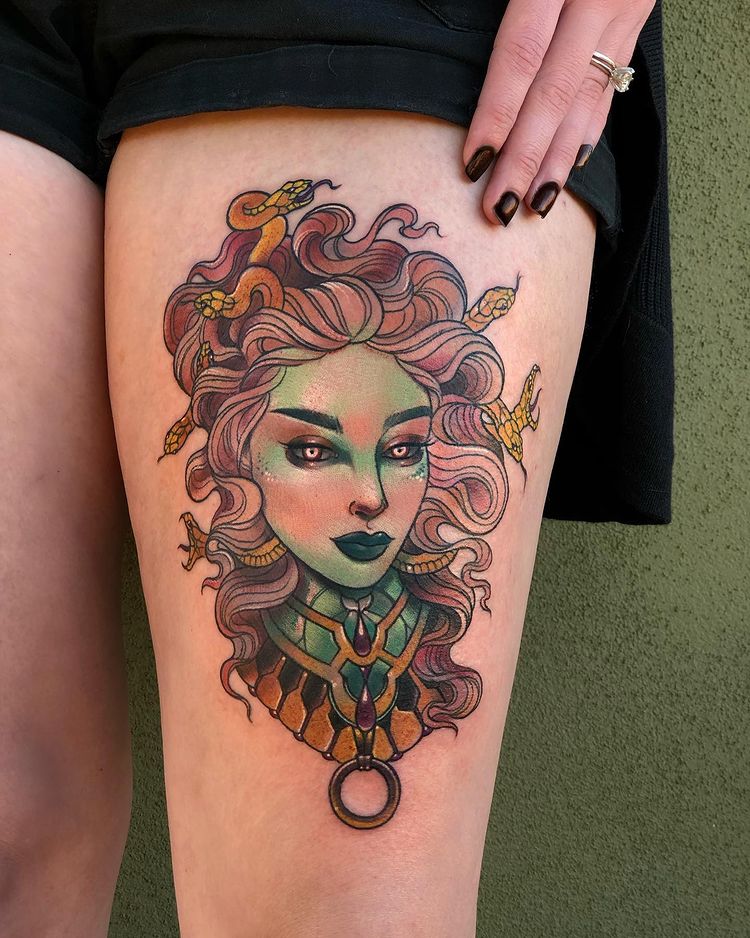 Another colorful Medusa! This rainbow pastel thigh tattoo with gold accents makes me think of mermaids. I adore the subtle addition of golden snakes in her peach and purple hair.
SEE ALSO: 21 Small Shoulder Tattoos Gals Are Inking
22. Voluminous Snake Haired Medusa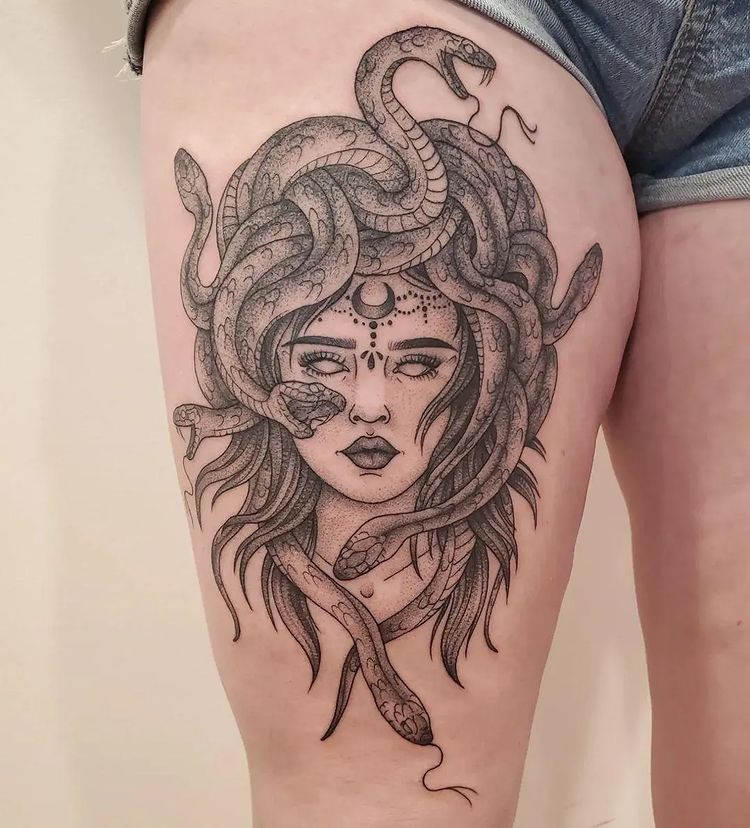 This Medusa gets the big hair award. Her voluminous snakes are interwoven with real hair, making her look more human than myth. I like that her face is super symmetrical and the dot work across her nose and forehead emphasizes this.
23. Dark Medusa With Unhinged Snake
If Medusa were in a zombie film, this would totally be her. The dark limp hair, cracked skin, and empty eyes give her a monstrous look. For a fierce female thigh tat, this is the way to go. I like that one of her snakes is unhinging its jaw and ready to bite.
24. Medusa as a Bigger Picture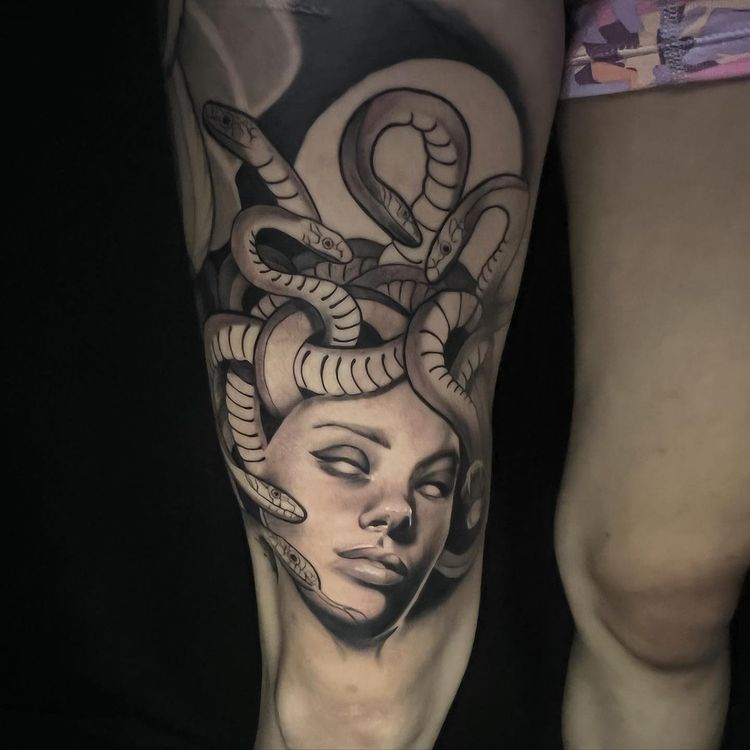 If you want to start a thigh sleeve, this larger than life Medusa is for you. I'm adoring the realism in her face, but the cartoonish look of the snakes. The tattoo stretches the entire thigh, fading into black and melding with a second floral tattoo above. 
25. Athena and Medusa Thigh Tattoos
The very last person Medusa wants to see is Athena, yet there she is. This double-thigh tattoo featuring both Greek mythological figures is insanely well-done. The black ink and stippling effect make it hard to look away. I love them both!
26. Clean and Simple Over the Shoulder Medusa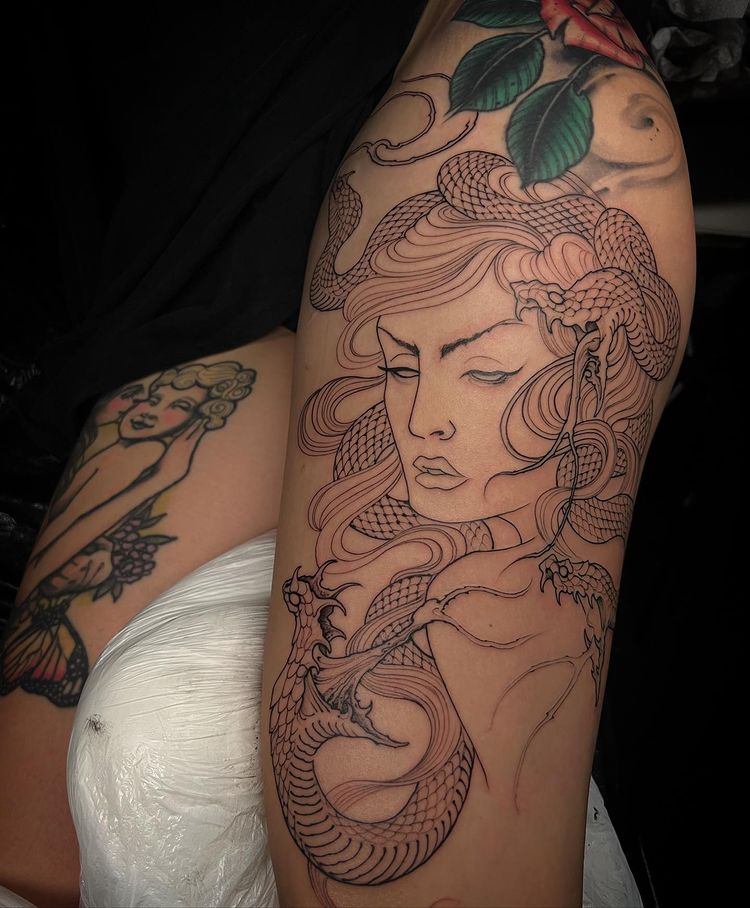 At first glance I feel like this thigh tattoo should feature koi fish and a mermaid. Instead, Medusa and her snakes stare back. It's a mingling of tattoo styles, and I love the clean lines and fine detail of the snake scales. 
27. Perfectly Framed Medusa Thigh Tattoo
In this Medusa thigh tattoo, our venomous queen is tucked inside a circle of snakes. Her hair completely envelopes her. I like the symbolism of this eye-catching thigh tattoo. Forever trapped by the curse of Athena.
28. Blue-Eyed Medusa Thigh Tattoo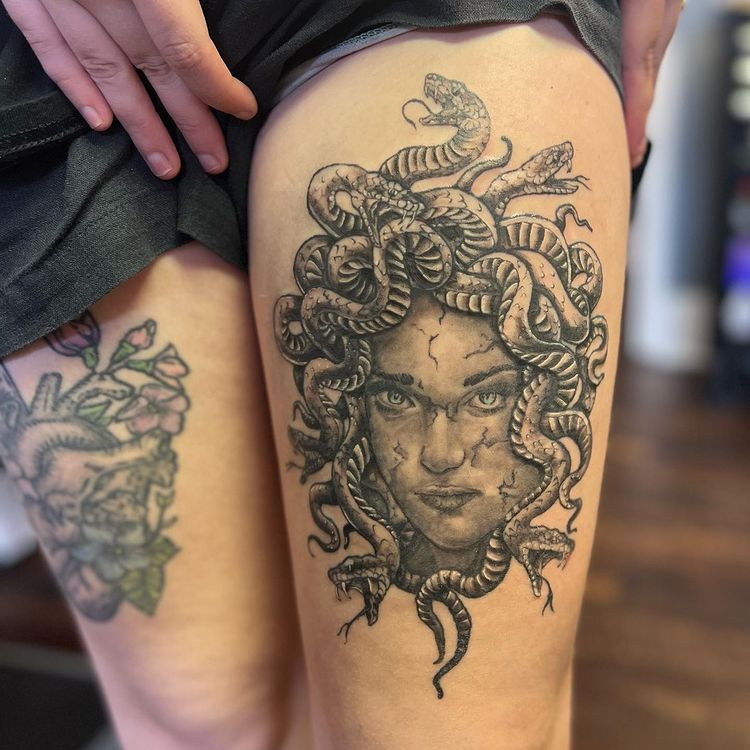 She looks almost sweet and subdued in this realistic tattoo. I'm drawn to the use of only one color. The blue of her eyes appears soft and sad in the gray shadowy face, framed by snakes. A great tattoo if you're into realism.
29. Running Mascara and Flash Art Medusa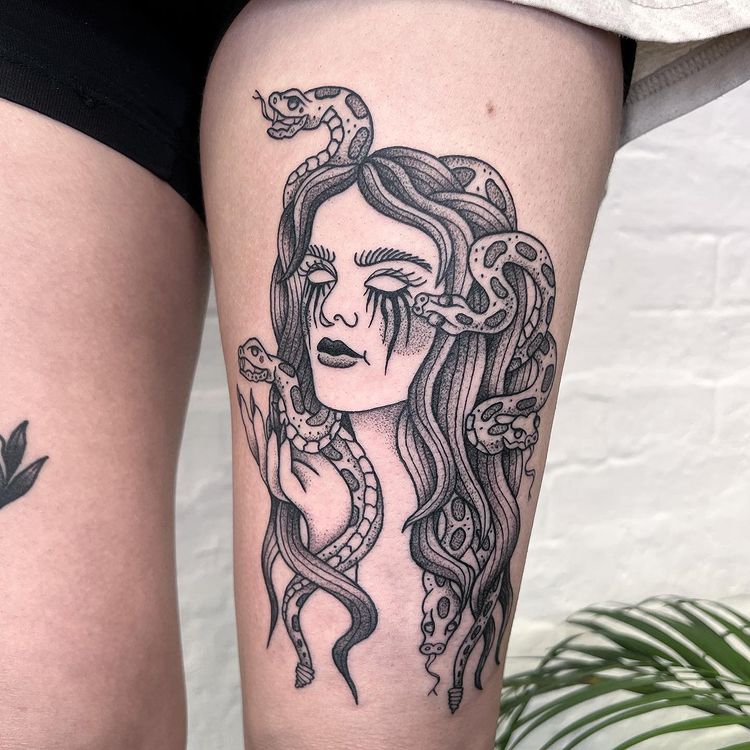 The simplicity of this design makes me think of tattoo flash art. The stippling and black work are so well done. The feminine blush in her cheek is offset by the long jagged streaks of black leaving her eyes.
30. Front Facing Medusa With Intricate Choker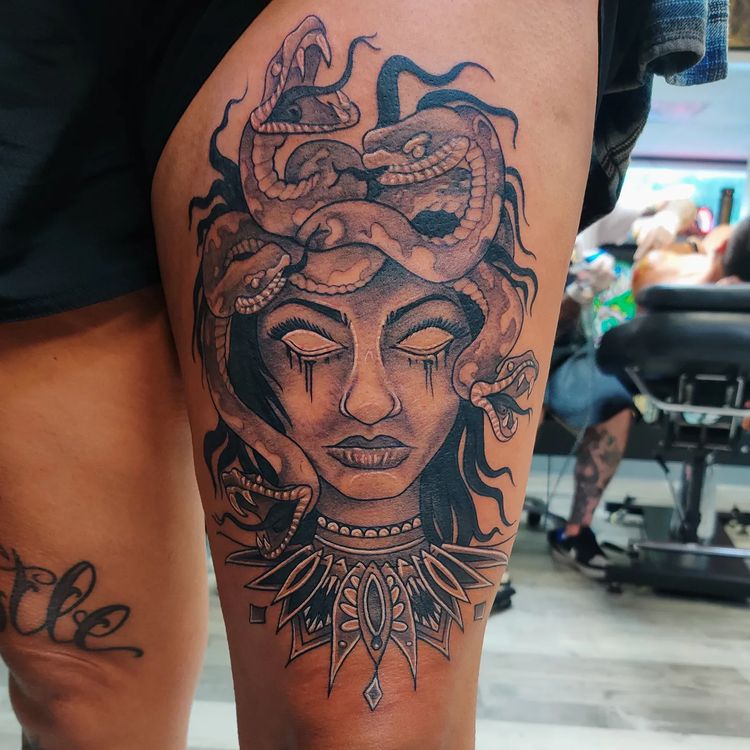 This tattoo focuses more on the symmetry of Medusa's face than her snake-like hair. Her too large eyes draw you in with white on black ink. The white ink detail on the snakes and her choker would look amazing on sunkissed skin.
31. Maneater Medusa With Head
This tattoo gives me Salome and John the Baptist energy. Medusa isn't messing around here. If you like your tattoos dark and twisty, this is the one for you. I love the very Marilyn Monroe look about her, even while holding a human head.
32. Decorative Snake Headpiece Medusa Tattoo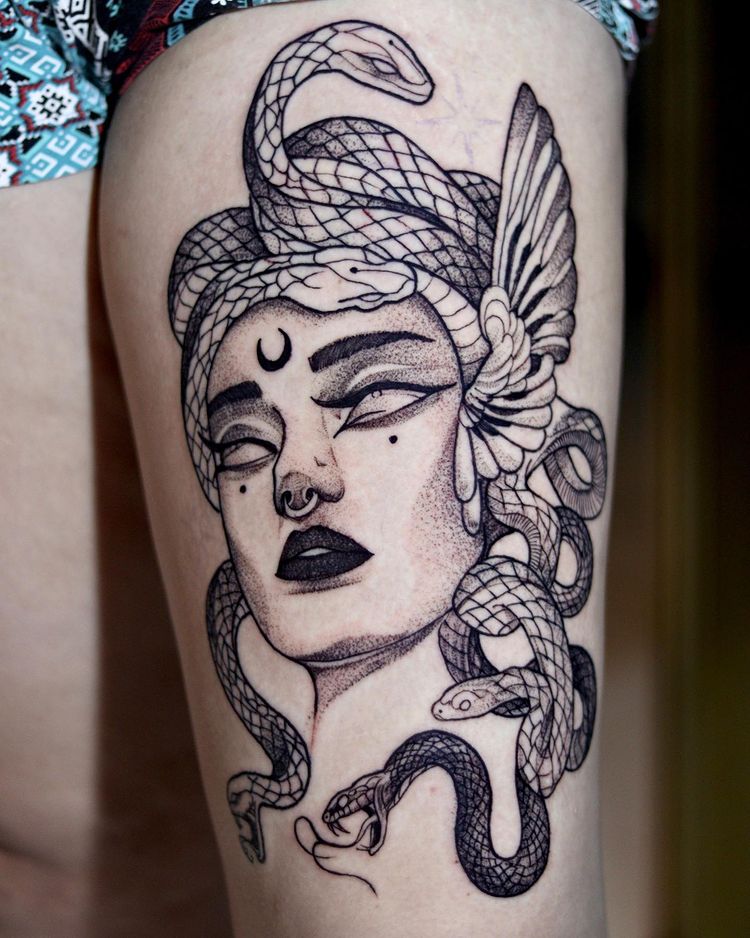 These are some of my favorite Medusa snakes. The way they wrap around her head appears more like a headpiece than hair. The embellishment at the side gives it something of a 1920s flapper look. I love everything about this feminine thigh tattoo. 
33. Snakes and Seashells Medusa Tattoo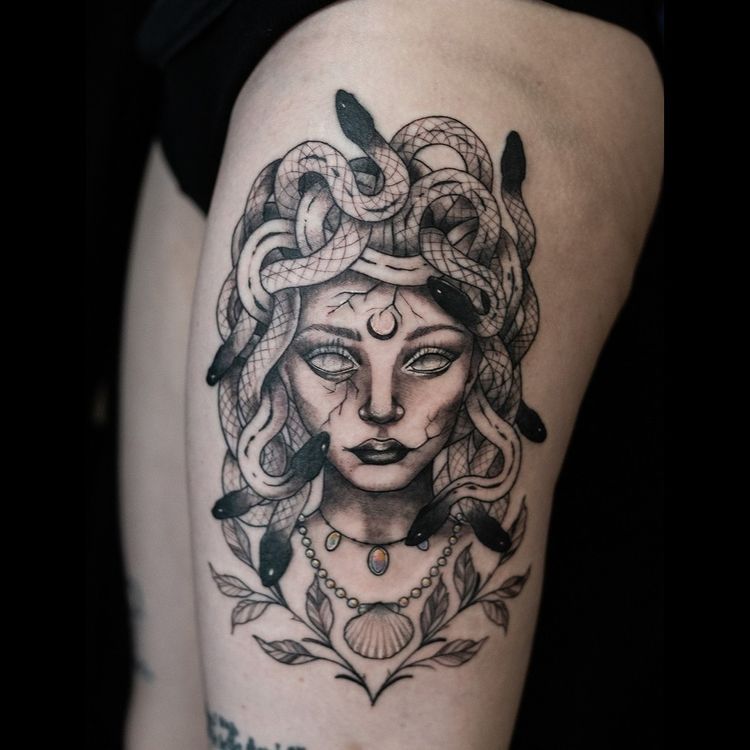 Each snake head on this piece is black. It makes me think about the symbolism between her cursed face and their unseen faces. My favorite part of this rather beautiful version of Medusa is the carefully highlighted opals and seashells at her throat.
34. Medusa Crying Black Tears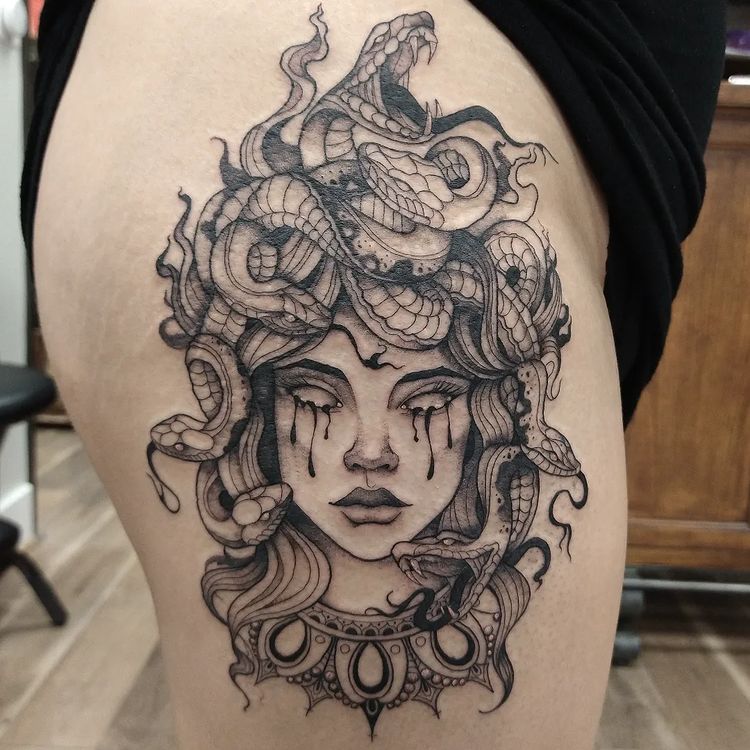 Black tears from unseeing white eyes give this Medusa thigh piece a haunting look. Her snakes are piled atop her head like she's heading to a mythic underworld wedding. This is a really stunning piece. 
35. White Space Shaded Medusa Tattoo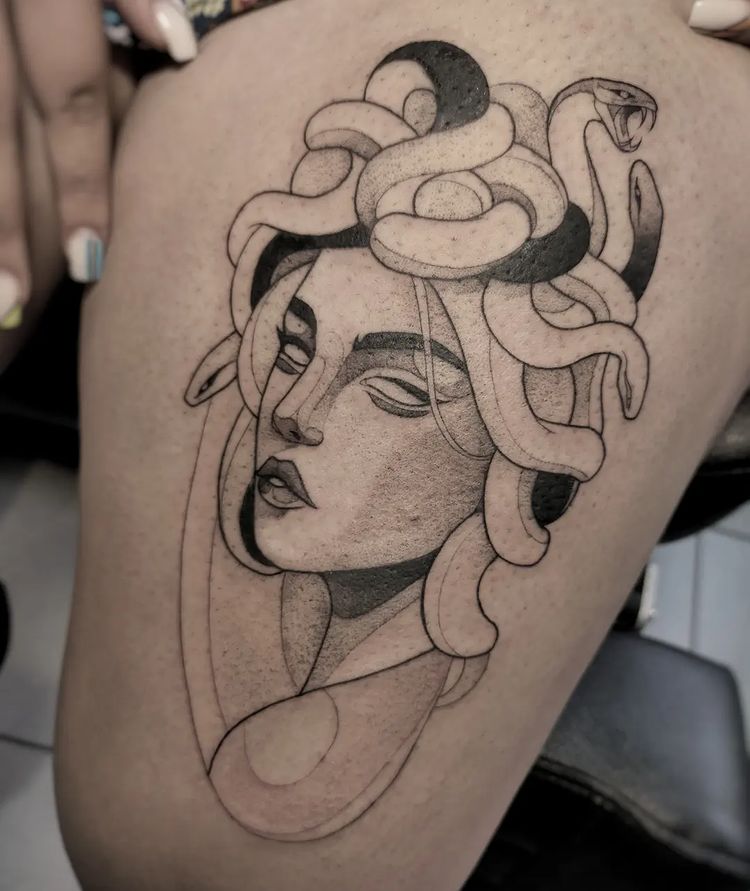 This Medusa tattoo stands out because of how little ink it uses. The white space creates the picture with minimalist guidance from black ink and clean line work. I really enjoy the simplicity of this piece.
36. Medusa Holding the Planet Venus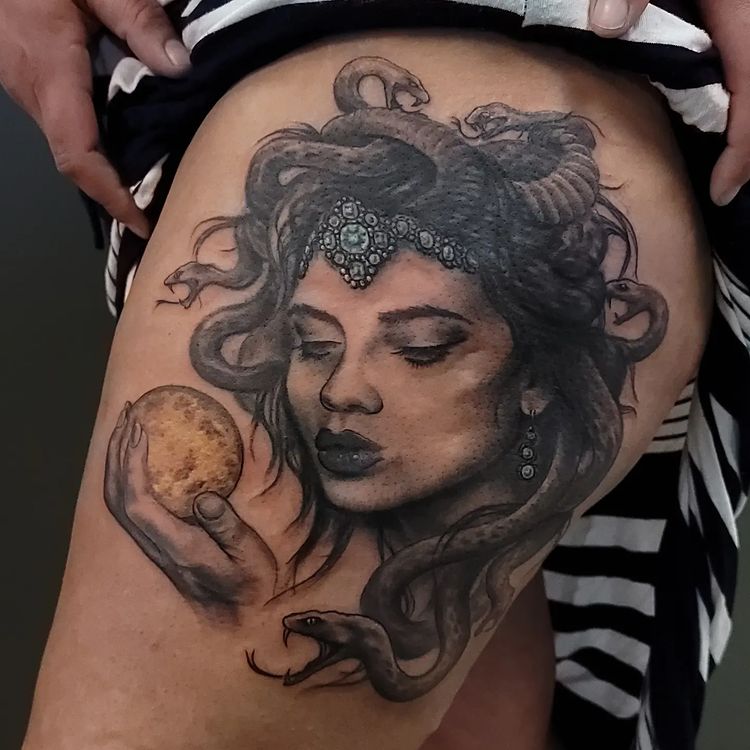 Venus is the Roman goddess of beauty and fertility, while Medusa is a Greek monster cursed by the goddess Athena. This tattoo brings the two together in a melding of female analogies. I like that the only color is in her ornate headpiece and the planet in her hand. 
37. Medusa With Beating Heart Necklace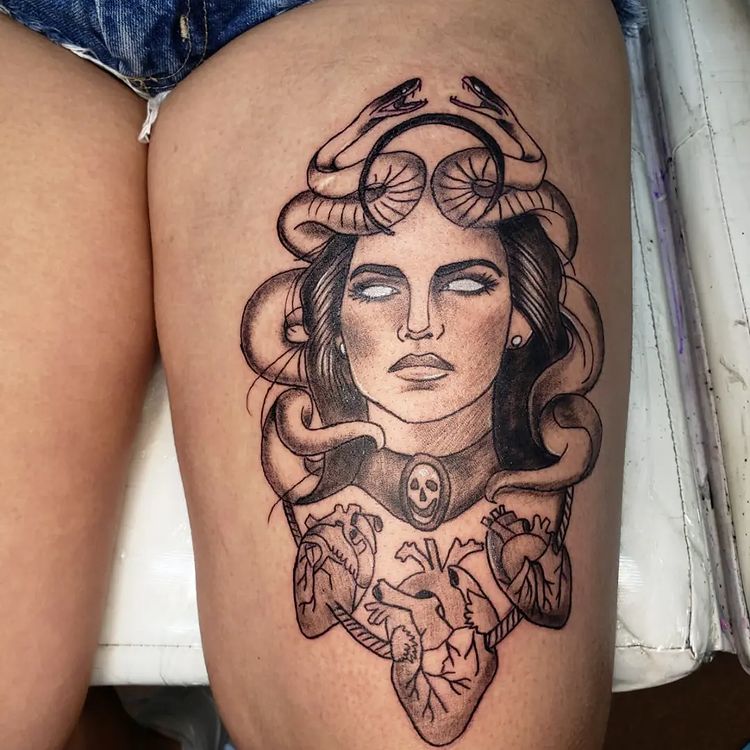 This Medusa gives me Wonder Woman energy (if she were evil). Wearing a skull choker and necklace of human hearts, this Medusa looks ready to exact her revenge. I love the white ink in her eyes and the large black crescent moon over her head.
38. Piercing White Eyes and Deep Black Shaded Medusa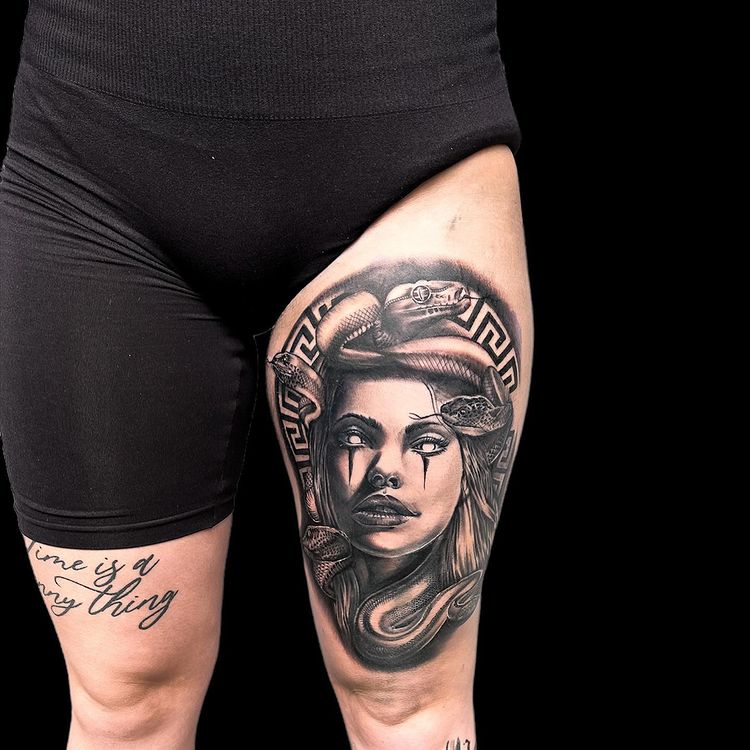 The Greek design around the top of this Medusa tattoo introduces the deep black of the piece. I'm in love with the depth this artist was able to create in her face. The white eyes pierce the soul. It's beautiful. 
39. Full Leg Piece With Medusa on Thigh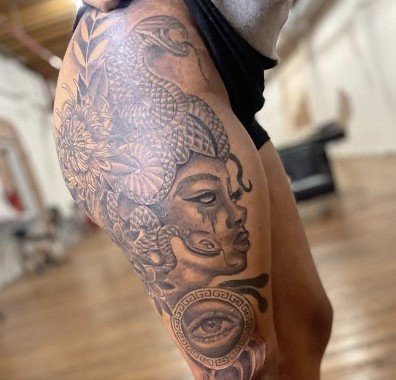 A full leg piece featuring a side profile of Medusa is everything! If you look closely, the entire leg tattoo works together. The eye just above the knee is surrounded by a Greek design, while Medusa's eyes are glossed over white. I love it.
40. Flowery Side Profile Medusa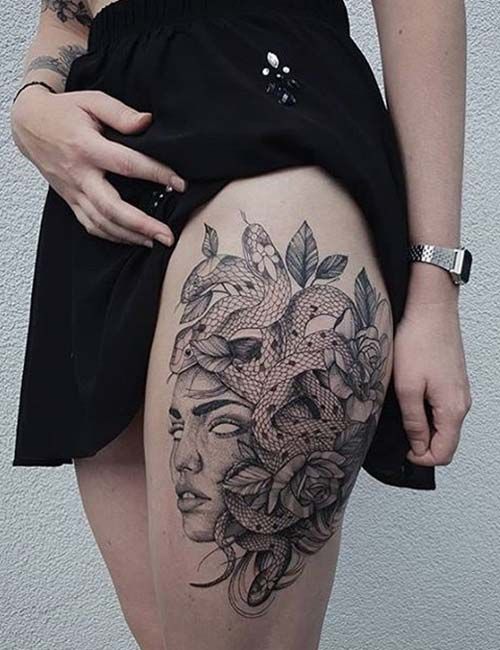 This flowery Medusa makes me think of Megan Fox. Her pouty lips and perfect brows emulate the beauty standards set by modern society. For Medusa, those standards don't apply. 
41. Freckles and Sparkles Medusa Tattoo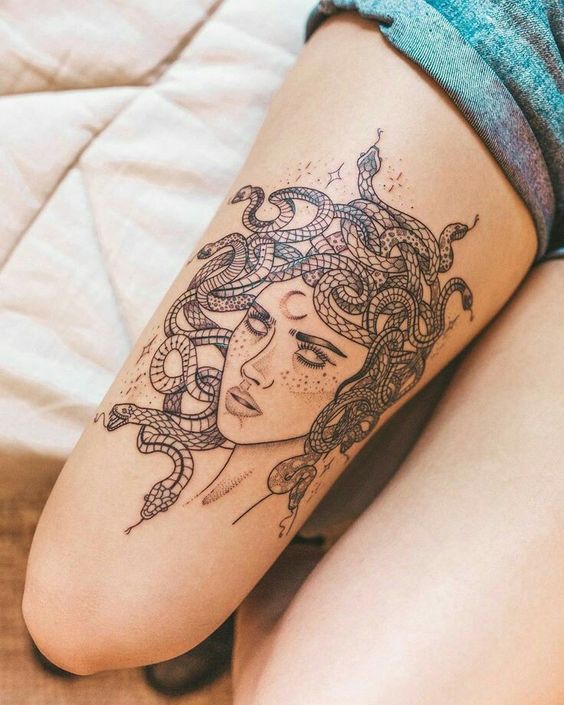 Is that a cute little anime character? No, it's Medusa! This tattoo features a lot of popular tattoo elements, including freckles, sparkles, and a crescent moon. I like the simple yet effective design. 
42. Warrior Princess Medusa Tattoo
The detail in this valkyrie Medusa piece is perfection. Her face tattoos, nose ring, and accent jewelry draw the eye, but her battle-ready headpiece really makes it. I love that they added braids to her real hair among the snakes. 
43. Medusa With Skull Thigh Tattoo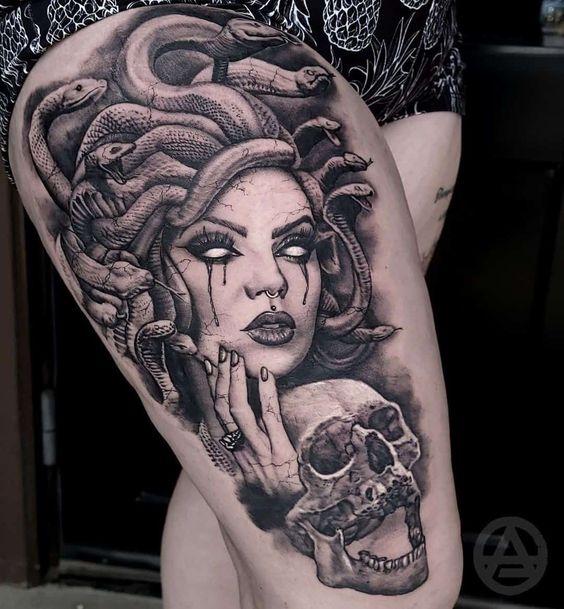 Chances are, if you're a fan of Medusa, you're a fan of other spooky tattoos. This Medusa thigh piece includes a screaming skull. The combination evokes a dark feeling. I like the horror movie energy it brings.
44. Gibson Girl Medusa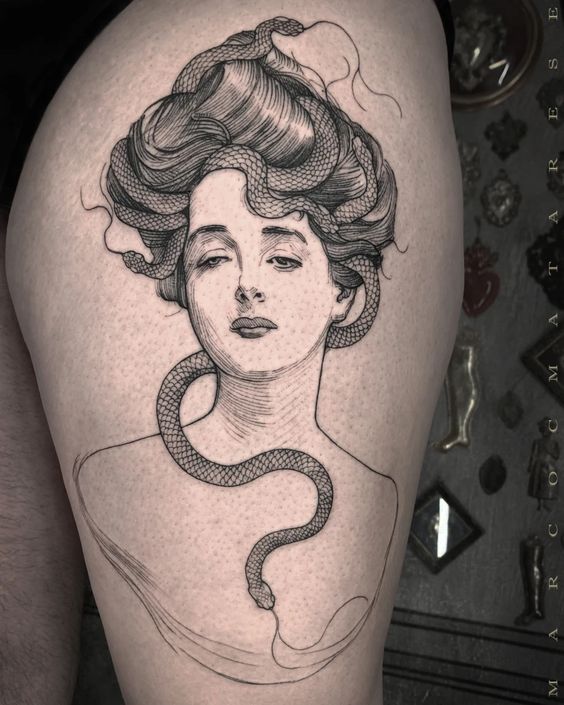 In the 1890s, the idea woman was sketched by Charles Dana Gibson. His pen-on-paper drawings showed a new empowered educated woman. This Medusa thigh piece is inked in the same style, melding the two views of womanhood cohesively. 
45. Colorful Medusa With Skull and Roses
Another Medusa with a skull, but this time with cheery pink and orange roses. I'm a big fan of color tattoos and the teal hue of these snakes are beautiful. I love that she's sort of leaning her chin on the skull as if deep in thought.
46. Green Medusa With Snake-like Charms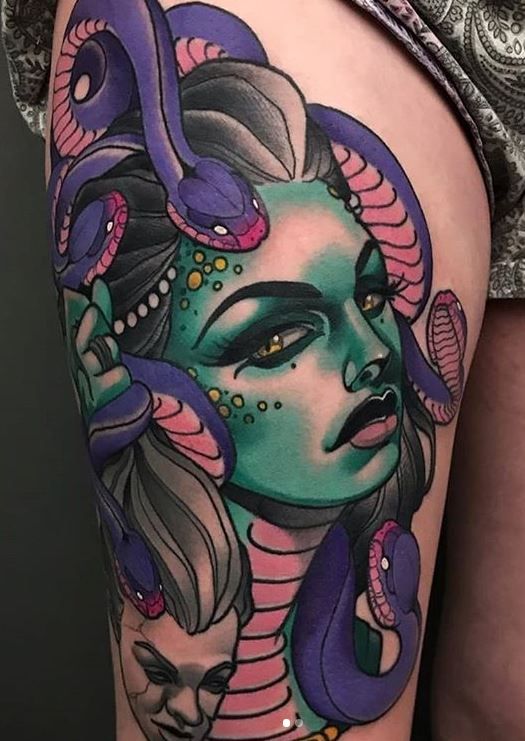 This colorful Medusa looks like a snake herself. The green skin and yellow spots stand out against the purple snakes in her hair. If you look closely, there's another head coming out of her hair. Creepy but captivating. 
47. Angry Medusa With Linework and Gemstones
This linework Medusa thigh tattoo design offers only an outline, but it's all you need. Her blank eyes are brought to life by minimal shading. I like that the snakes almost appear faceted like gemstones. It emphasizes the bling at her head and throat.
48. Pastel Medusa With Yellow Eyes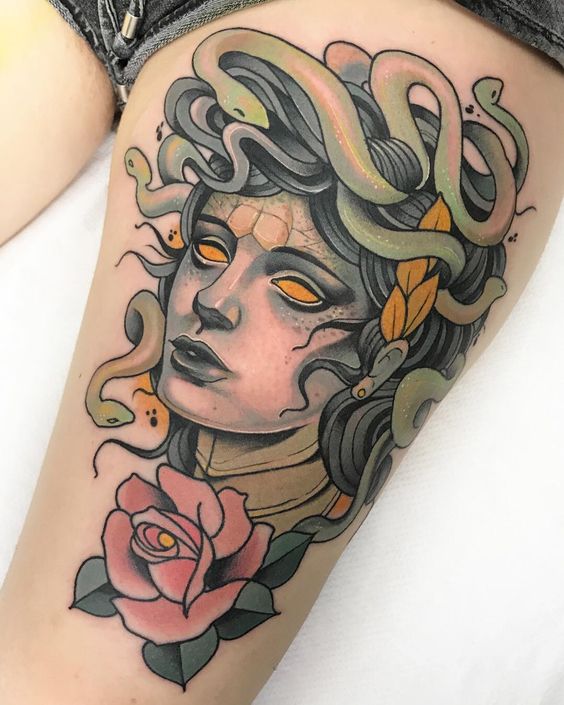 The soft colors of this Medusa tattoo make it an extremely feminine piece. The striking yellow in her eyes and hair accessory really stands out in comparison. I like the way the snakes are highlighted in an almost iridescent way.
49. Medusa Head With Fangs and Deep Black Outlines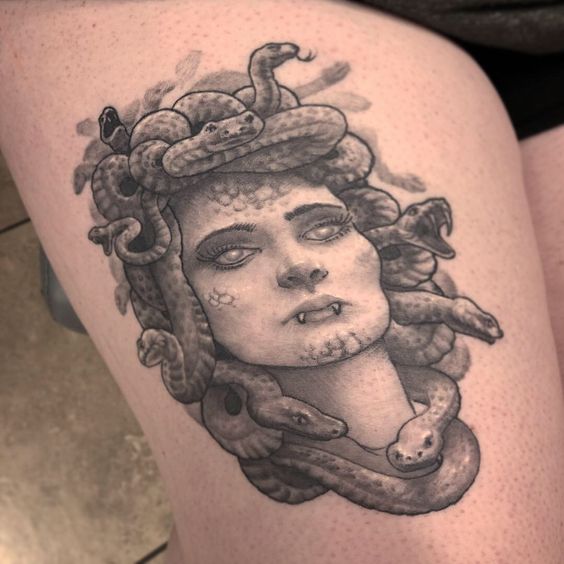 The intense black outlines on this Medusa head give it an animated feel. The in depth detail of the piece will have you doing double takes at your own thigh. I like that this piece says a lot without being massive or overpowering. 
50. Full Body Medusa Thigh Tattoo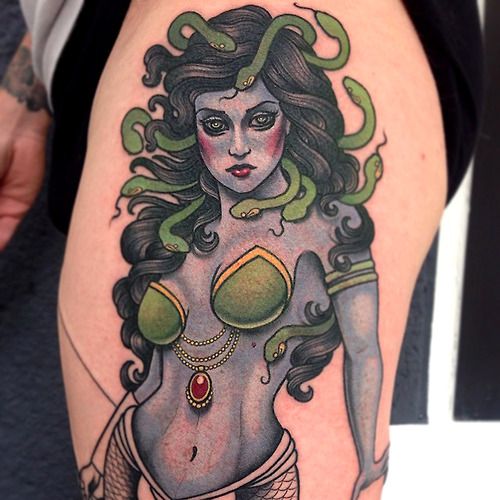 Pale blue skin under a green bikini accents the green snakes in Medusa's hair. A shiny red jewel hangs above her navel, drawing the eye. I really like how the artist incorporated her whole body into this piece. It's a show stopper.
Summary and Top Picks
This piece covers some of the amazing Medusa thigh tattoos out there. I hope by scrolling through these looks, you were able to see how Medusa can mean different things to different people. There's no one take on Medusa, which is why she's such an amazing tattoo for women. 
All of the Medusa thigh tattoos I chose are fabulous, by these are my top three:
#13 Stunning Medusa and Calla Lily Tattoo: Medusa was cursed to be ugly, but this thigh tattoo is gorgeous. I love the ultra-feminine calla lilies. 
# 25 Athena and Medusa Thigh Tattoos: This pair of thigh tattoos captures Medusa's story perfectly. I love the combination.
#44 Gibson Girl Medusa: I love original artwork and this Gibson girl inspired Medusa piece is exactly that. It's smart and thought provoking, everything a Medusa thigh tattoo should be. 
I'm dying to know which of the above Medusa tattoos spoke to you. Would you get one on your thigh? Comment below!