I can't help but love the color red. It seems to steal the show in every context it's in, and that goes for nail designs, too.
One of the best ways to help red shine is to pair it with one of the most elegant design elements out there. What am I talking about? Well, butterflies, of course. 
Whether they're included as accents to complement a simple solid color design, or they're hand-painted to show each detail in its full glory, butterflies are a great way to step up a nail design. Not to mention they go with many different colors, from pink to white to black to gold. So, without further ado, let's take a look at some of the best red butterfly nail design ideas.
1. Red French Tip Butterfly Nails
If you're looking for a symmetrical design, look no further than these nails. Personally, I'm a fan of the half-and-half butterfly look, and the red french tip nails add a simple touch to complete the whole design. Buy these nails at Etsy.
2. Red Nails With Butterflies and Rhinestones
Between the rhinestones at the base of the middle finger nail to the rhinestones on the ring finger and the red color theme, these nails look perfectly coordinated. 
If you're wearing an outfit that involves a lot of red elements (or even a bold all-red outfit), these nails may be the finishing touch you're looking for. Buy these nails at Etsy.
3. Short Red Butterfly Nails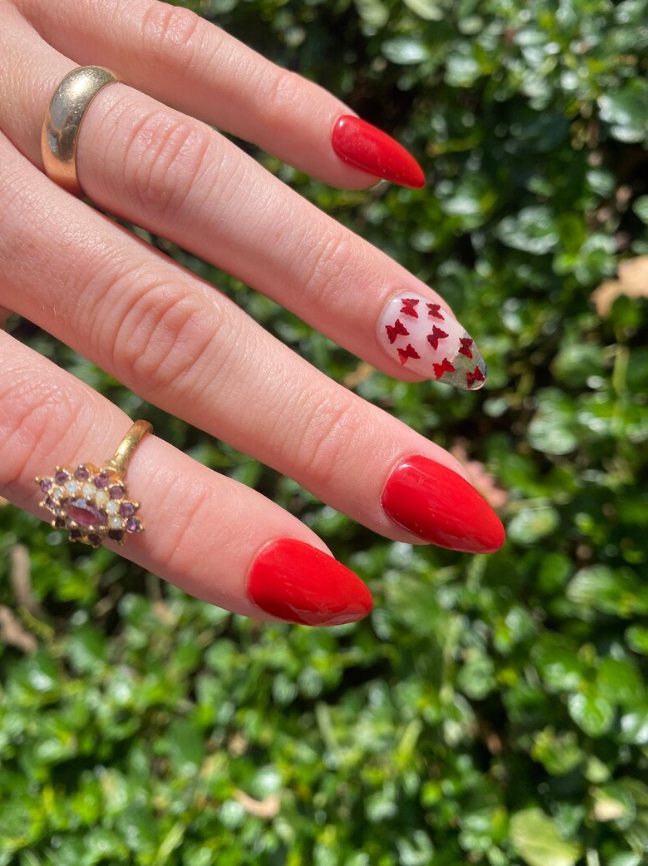 This is a classic design among red butterfly nails, and I'm here for it. Adding the transparent nail with red butterflies is a great way to step up a solid red nail design while retaining its simplicity. Buy these nails at Etsy.
4. Long Red Butterfly Nails
The transparent nail and red butterfly look also works well on multiple fingers and with long nails. 
It really all depends on how much you want the design to stand out. This design would be more suitable for more formal outfits than the last one, like with your favorite red dress. Buy these nails at Etsy.
5. Red Butterfly Glitter Nails With Ombre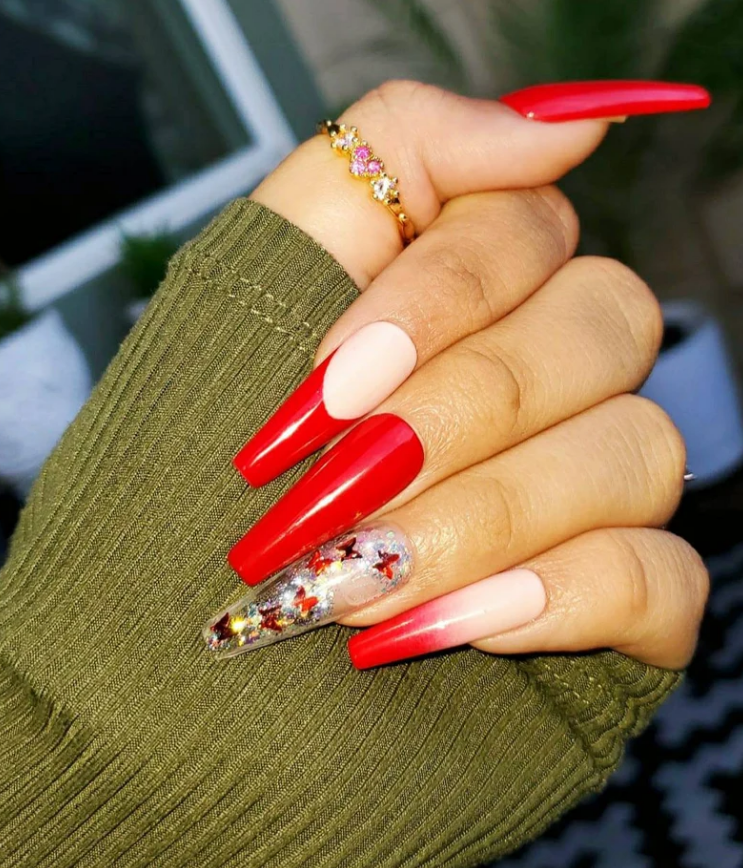 When it comes to nails, the more elements you combine, the more unique the look is. Of course, it's important not to go overboard. 
Otherwise, it might look like you randomly pulled nails from different sets with little regard for the overall design. 
To avoid this, it's best to keep an overall theme or color palette, which I think this nail design achieves well, thanks to the red and nude colors throughout. Buy these nails at Etsy.
6. Pink Nails With Gold Line Details and Red Butterflies
Red butterflies go well with red's lighter cousin, pink, especially if you're going for a Valentine's Day theme. 
While the design is mostly pink and gold, the red butterfly accents cement the theme and make it more clear that it's for this holiday. Buy these nails at Etsy.
SEE ALSO: 21 Trendy Pink Butterfly Nail Design Ideas
7. White Nails With Red Butterflies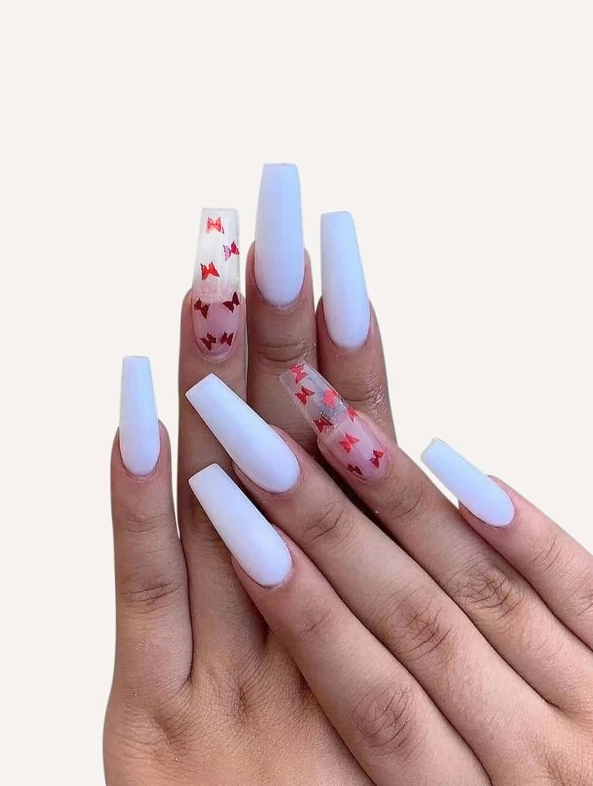 Besides accenting red and pink designs, white is another color red butterflies go well with. I'd probably pair this one with a jumpsuit with red polka dots. 
The body of it is mostly red with white accents, while these are white with red accents, so they're the perfect inverse of each other. Buy these nails at SHEIN.
8. Bling Red Glitter Nails With Butterfly Charms
These nails are the practical definition of bling, thanks to the standout combination of charms. 
It makes the design look incredibly glamorous compared to traditional nail decals, especially with the addition of glitter.
9. Red Glitter Butterfly Nails With Rhinestones
This nail design combines multiple elements, but this time they're kept relatively simple to call attention to the beautiful butterfly design with rhinestone accents.
10. Red Ombre Nails With Rhinestones and Butterflies
Ombre nails are one of my favorite designs, which are made even better in this one. The rhinestones, silver glitter, and shiny butterflies are enough to create a glam effect.
11. Red Ombre Butterfly Nails With Fade Effect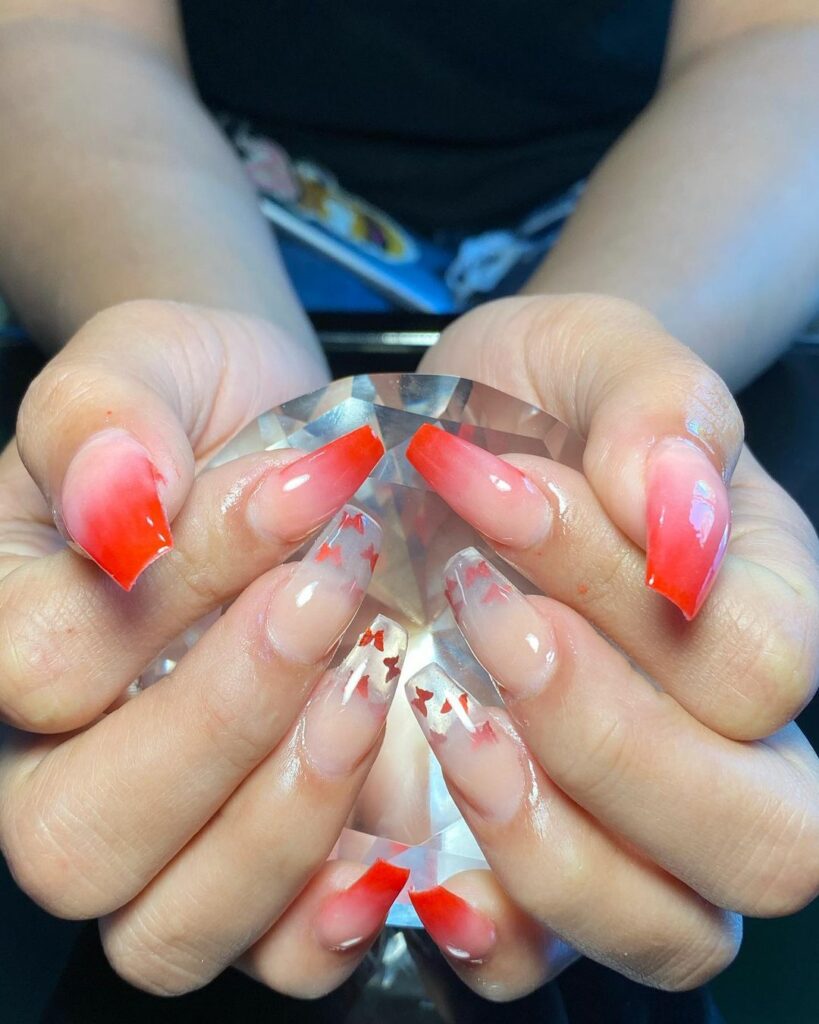 These nails stood out to me instantly. Not only is there the ombre effect once again, but I also like how it looks like the butterflies are fading away, achieved with a layer of nude nail polish.
SEE ALSO: 25 White Butterfly Nail Design Ideas That Are Trending
12. Red Ombre and Marbled Nails With Butterflies
If you want to add even more visual texture to a design besides ombre, you can add a marble effect using the same colors.
13. Red Sparkle Butterfly Nails
Red glitter nails are a recipe for success in my book, but I particularly like the unique way glitter was used in this design. 
The larger sparkles were put at the tip of the nail and the smaller ones closer to the cuticle, creating a gradient effect that almost reminds me of a lava lamp.
SEE ALSO: 60 Gorgeous Blue Butterfly Nail Design Ideas
14. White French Tip Nails With Rhinestones and Red Butterflies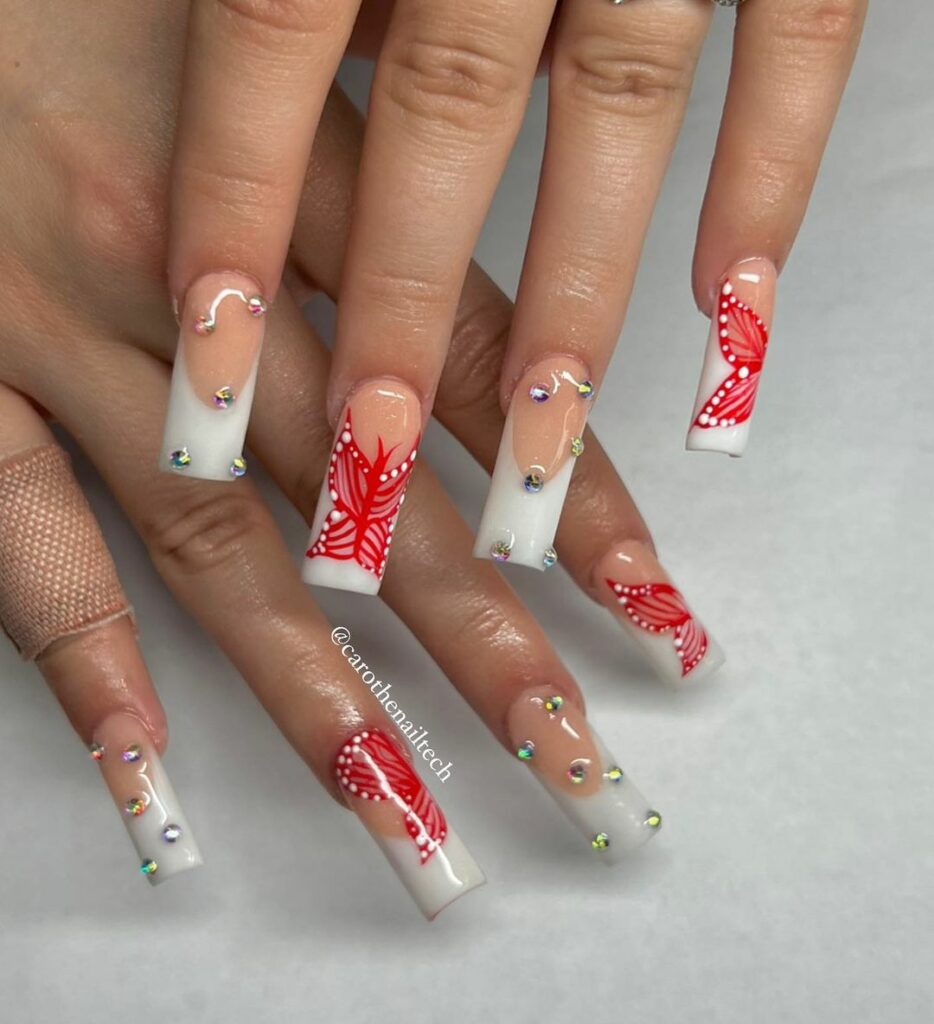 Red sparkle butterflies always work, but I always love the personal touch that comes from hand-painted butterflies. 
You're free to make them much artsier and more detailed than you would with something premade, like how some of these butterflies are purposefully off-center. 
Pair with some simple french tips to make the butterfly nail design stand out, then add rhinestones to add a bit of glamor.
15. Red Hand-Painted Butterfly Nails With White Butterfly Accents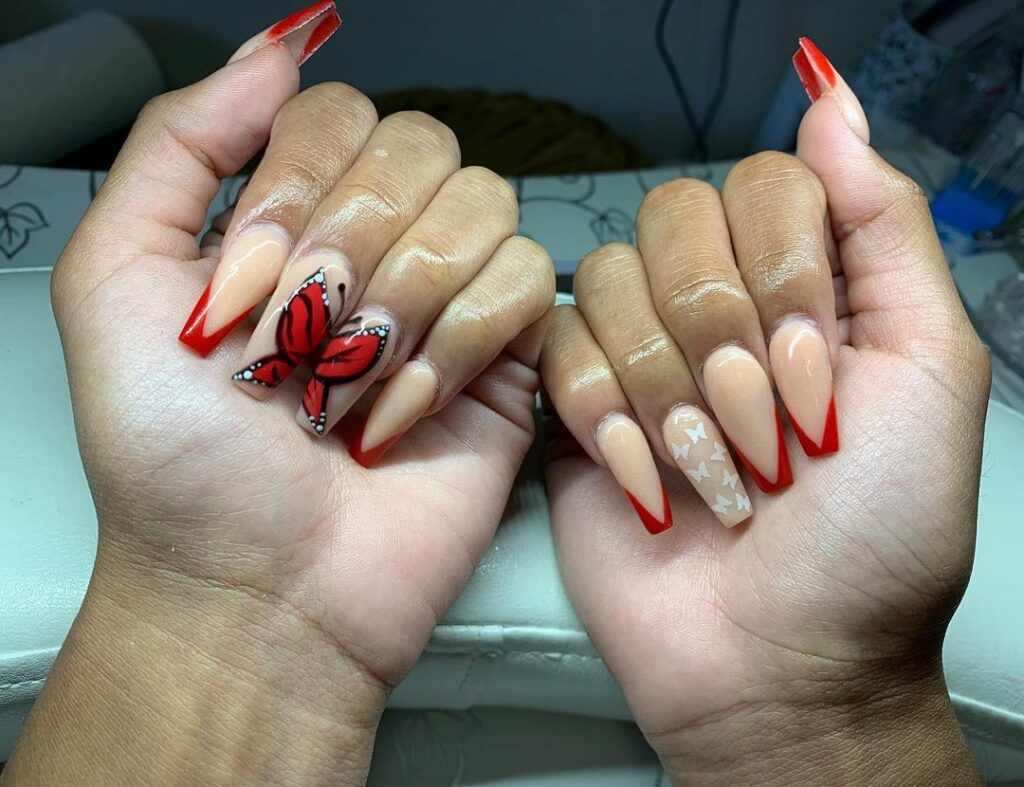 Using a combination of butterflies also works well, like in this design. The tiny white butterflies are the perfect accent to help the gorgeous handpainted butterfly steal the spotlight, while the red french tips bring the whole design together.
16. Red Glitter Nails With Butterflies and Gold Glitter Details
This design is kept simple, with solid red glitter nails complementing the red butterflies. Then the gold glitter accents create an almost regal aesthetic.
17. Nude Nails With Silver Glitter and Red Butterflies
Nude nails have a classic elegant aesthetic, but you can make them more cute-looking by adding some red butterflies and silver glitter. 
Then, to tie these two design elements together, create a fade effect between the butterflies and the solid nude color.
18. Red Galaxy Nails With Butterflies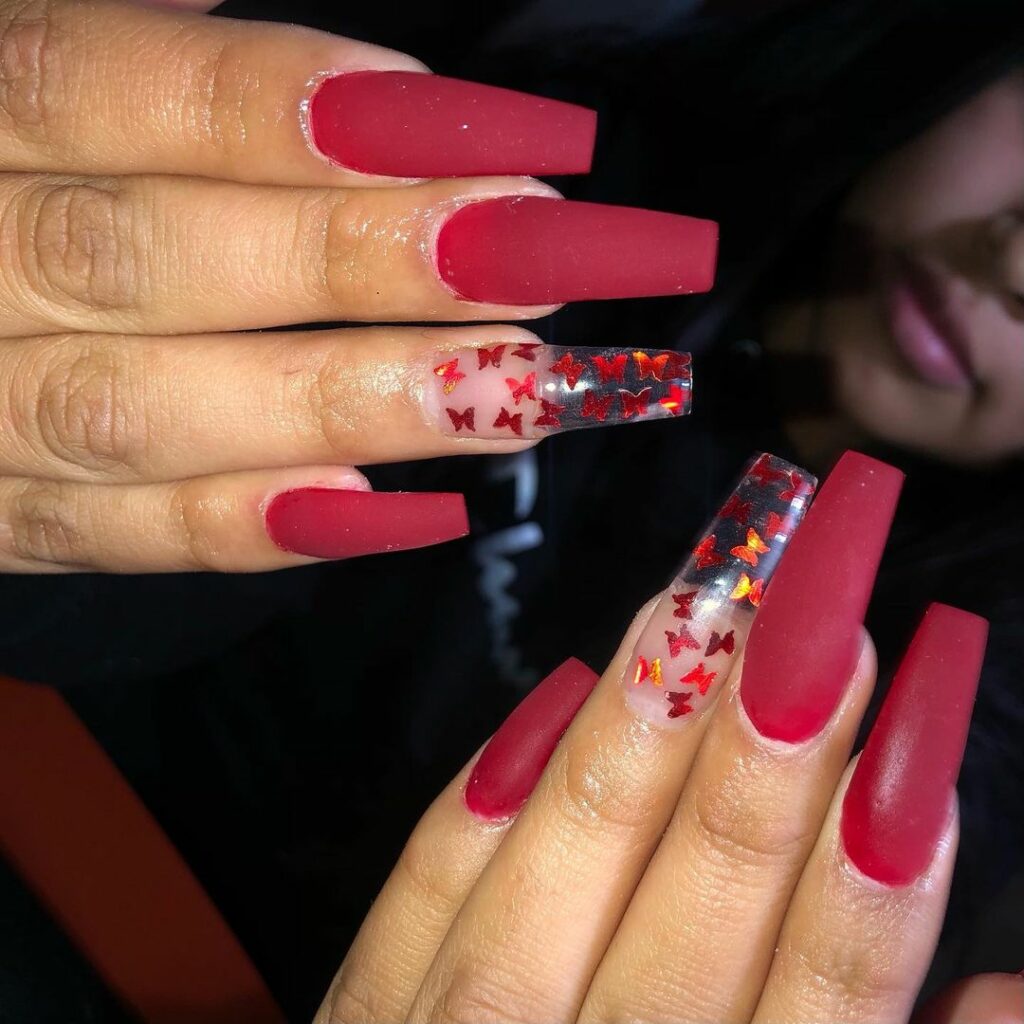 Subtle galaxy effects are simple to achieve with matte nail polish and a little bit of glitter. Then, add some matching butterflies to complement the design and make it look unique.
19. Red French Tip Nails With Pink and Red Marbled Butterflies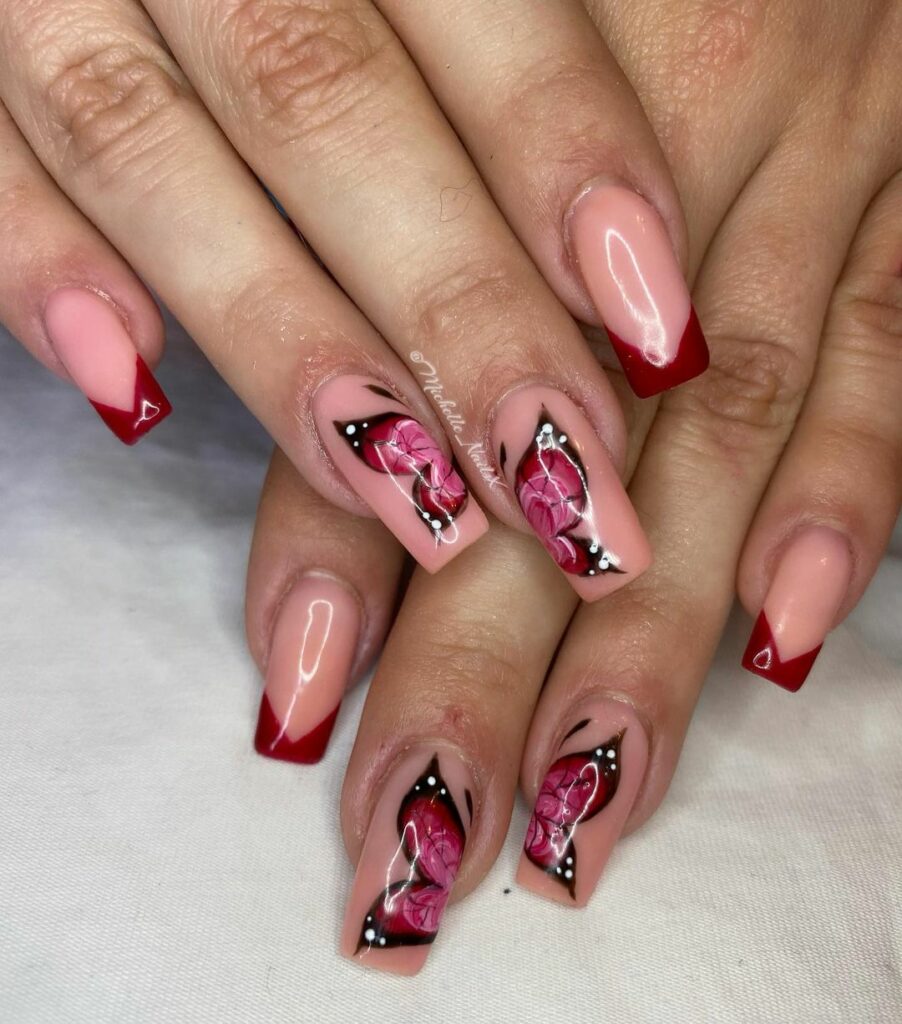 Hand-painted butterflies also allow you to add special effects like these marbled pink and red butterflies. 
Other techniques you could do include creating an ombre effect or blocking red and pink colors next to each other and blending them in between for a softer look.
SEE ALSO: 40 Trendy Summer Butterfly Nail Design Ideas
20. Red Bandana Nails With Butterflies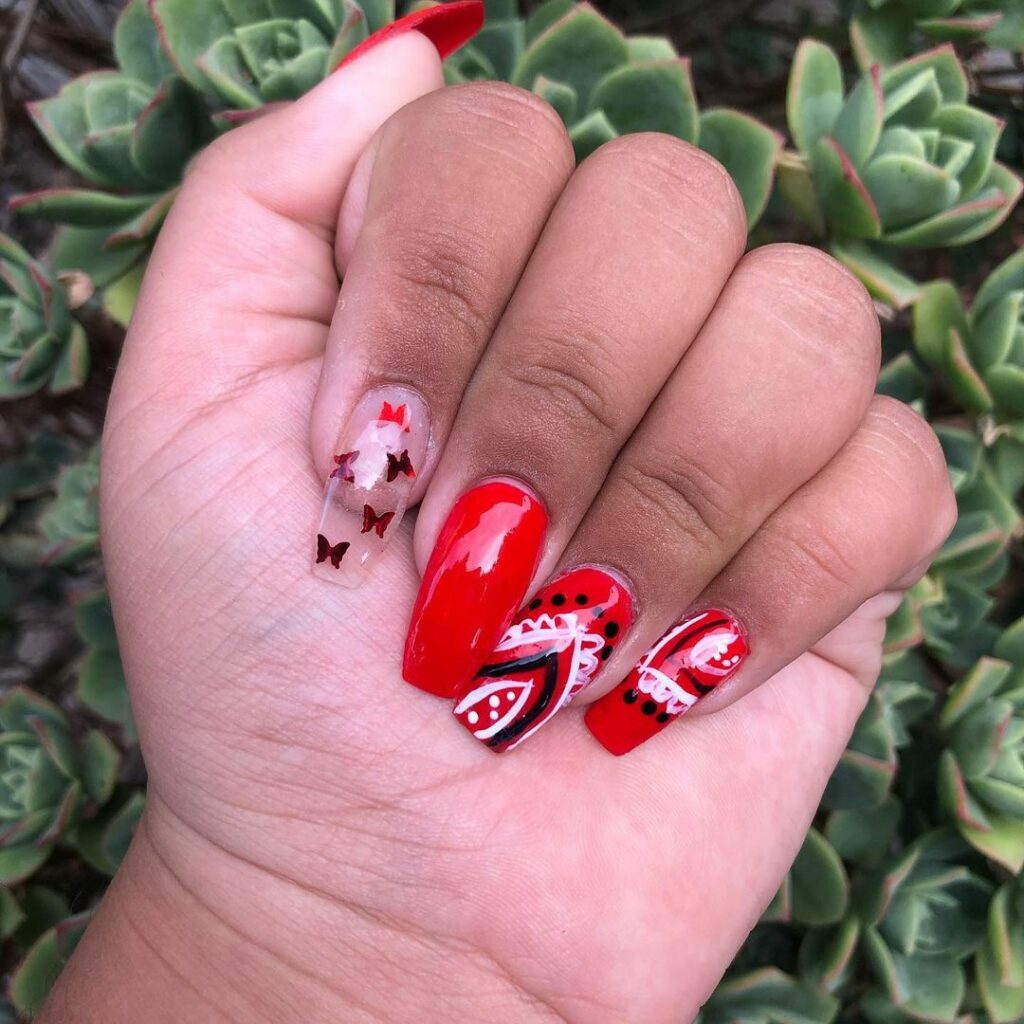 Give your butterfly nails a distinct western theme by painting black and white bandana details and adding cute little red butterflies to accent them.
SEE ALSO: 21 of the Most Elegant Black Butterfly Nail Design Ideas
21. Bling Rhinestone Nails With Red Butterflies
Many of the butterflies are used to complement the red color palette, but I like how these nails use it for the opposite purpose. 
The red butterflies on the transparent nail stand in stark contrast to the bold black color on the other nails. And yet, they still have a sense of cohesion thanks to the red rhinestone details placed throughout.
Summary and Top Picks
In this article, we took a look at some of the best red butterfly nail design ideas. Red is such a standout color that it's great for adding a bold touch to your favorite outfits. I love incorporating red butterflies into nail designs since they can give the color of the nails a cute or elegant twist. I hope you have the inspiration you need to create one that's distinctly yours. 
Of these, I think my favorites were:
#8 Bling Red Glitter Nails With Butterfly Charms: The use of charms here rather than small decals made the entire design bold. I imagine these nails would shine at a formal event. 
#9 Red Glitter Butterfly Nails With Rhinestones: These nails were slightly more minimalistic than #2, but all the little details helped this one to stand out in my mind. I particularly love how it looks like the butterflies are resting on top of the rhinestones. 
#21 Bling Rhinestone Nails With Red Butterflies: This design immediately caught my eye because of the contrast between the red butterflies over a transparent background and the solid black design with rhinestones. It's certainly an unexpected way to use red butterflies, but not in a bad way, and the incorporation of subtle red elements allows this to work as well as it does. 
So, what did you think? Which of these red butterfly nail designs were your favorites? Let me know in the comments below!