As we highlight and gush over the most stylish manicures we've been seeing lately, it's time we talk about one of the trendiest of them all; butterfly nails. Butterfly nails have been such a hot topic, and I can think of so many reasons why.
Butterflies are symbolic of nature and beauty, which is why the design is a go-to for spring and summer. That being said, butterfly nails are so cute we can't help but wear them all year round, and the look is even more adorable when our nails are worn short.
The best part is you don't have to worry about your short butterfly nails being a replica of someone else's. Believe me when I say there are countless ways you can spruce your look up and stand out with fun color combos, cool butterfly decals, and more.
That'll be the focus of this compilation. Join me as I share an amazing list of short butterfly nail designs guaranteed to blow you away.
1. Short Light Pink Nails With Warm-Toned Butterflies
Remember I mentioned butterfly nails being a worthy choice for any season? Well, this look is just right for fall. 
The butterflies are all in different colors, warm-toned hues to be exact, which are perfect to complement that autumn vibe. Buy these nails at Etsy.
2. Short White French Almond Nails With Blue Butterflies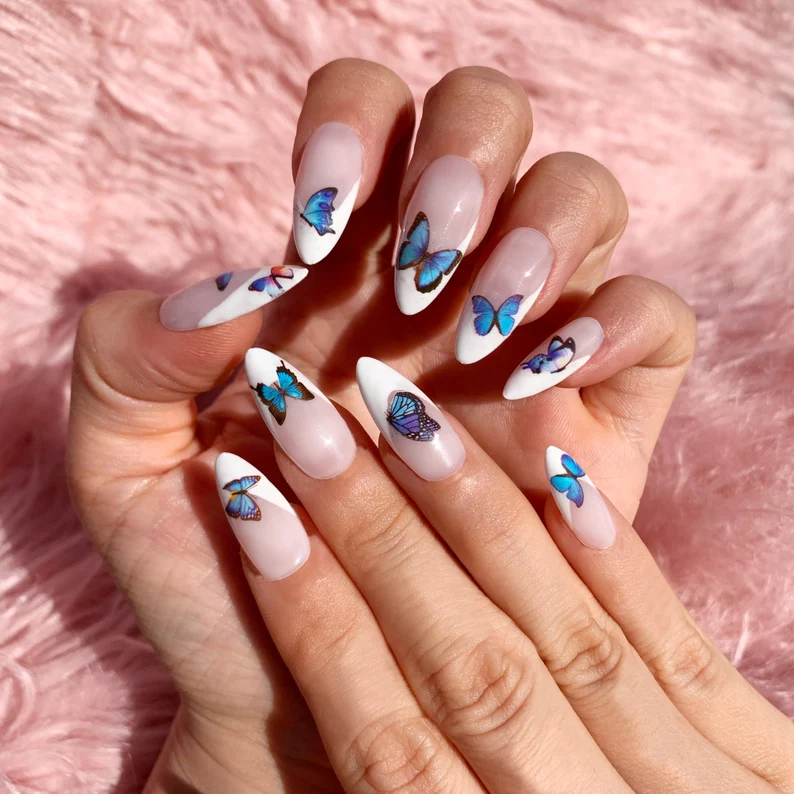 I love the use of blue butterflies to amp up these white french tips. The colors scream summer in a relaxing way that reminds me of sundresses and moments by the pool. Buy these nails at Etsy.
3. Short Translucent Square Nails With Blue Butterflies
The love for blue butterfly nails continues with this adorable look. These nails are all translucent, making them so cute and easy to work with. They also cause focus to be placed on the beauty of the butterfly art. Buy these nails at Etsy.
4. Short Light Gray Square Nails With Butterfly Decals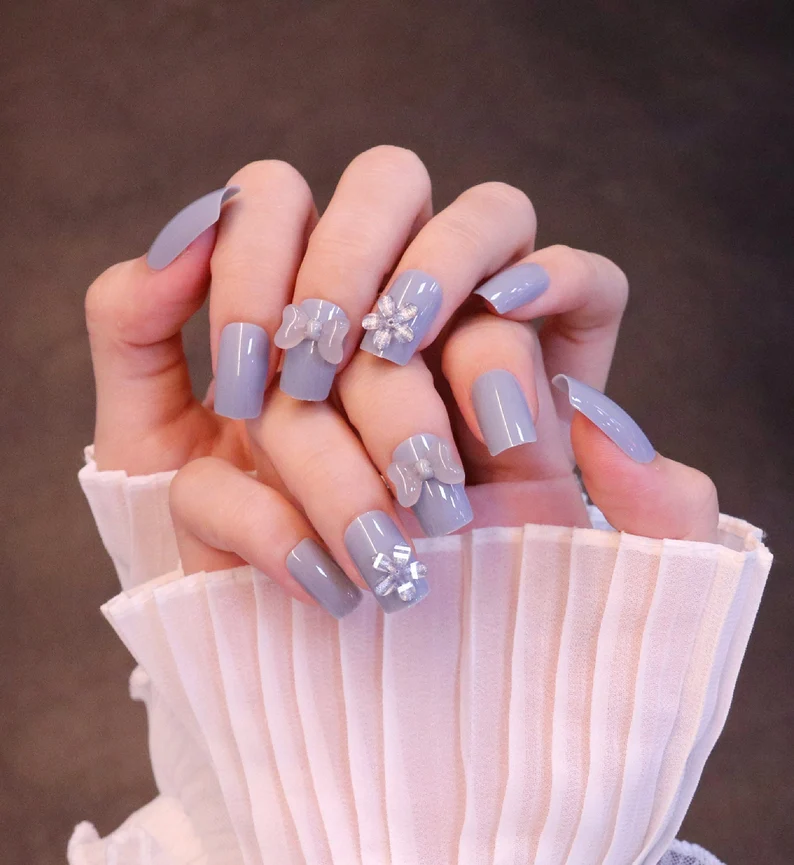 This is such a cute look! Light gray nails fashioned with matching butterfly decals. The undertone of this shade has a touch of lavender, making it quite the girly choice. Buy these nails at Etsy.
5. Short Green and White Almond Nails With Butterflies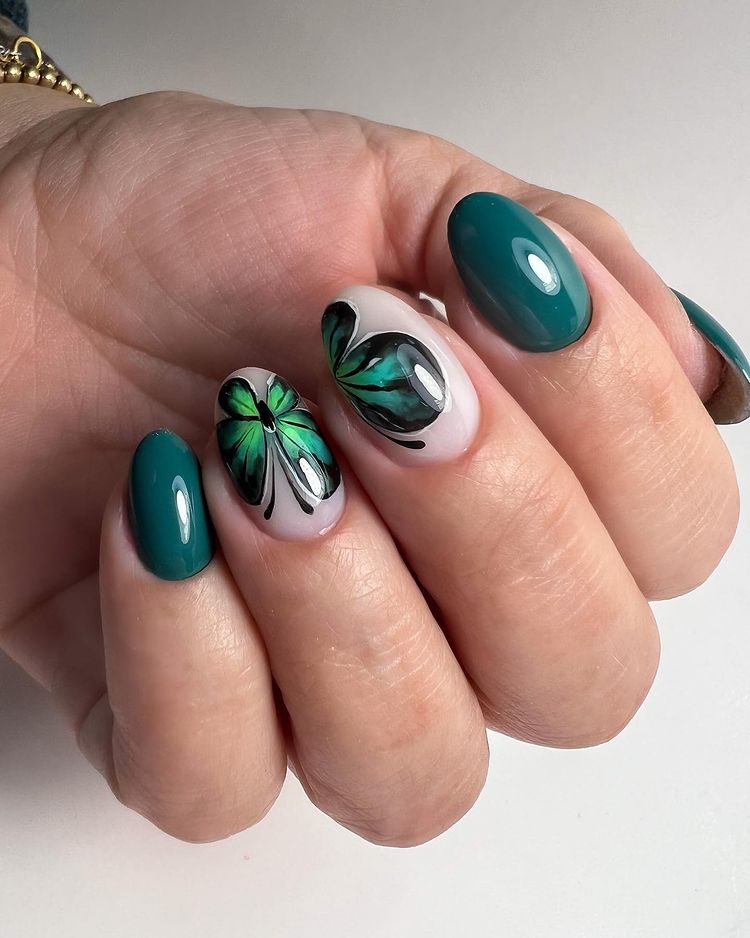 The color of your nails impacts your mood, and this green butterfly set is one to make you feel and look elegant and bold even, as vibrant green butterflies decorate creamy white nails.
6. Short Sky Blue Coffin Nails With Butterflies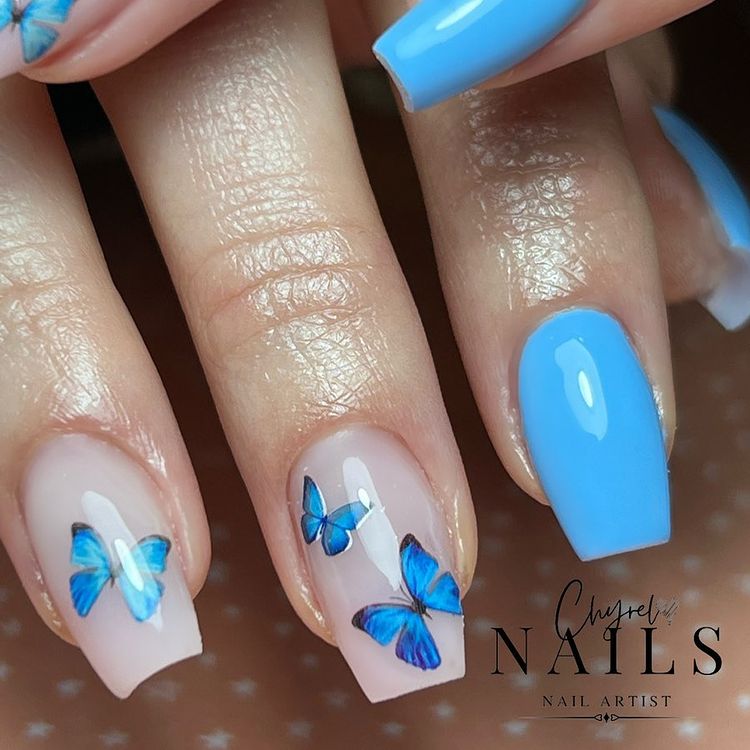 These nails remind me of sunny skies during summertime, and although blue is the sole color of this design, the vibe is cheerful as large butterflies overlay nude nails.
7. Short Pink Almond Nails With Butterflies
So many methods are being used to announce the gender of a baby these days, and nail art is high on the list. If it's a girl, pink nails embellished with cute butterflies are the perfect way to make both a statement and an announcement.
8. Short Lilac and Nude Nails With Butterfly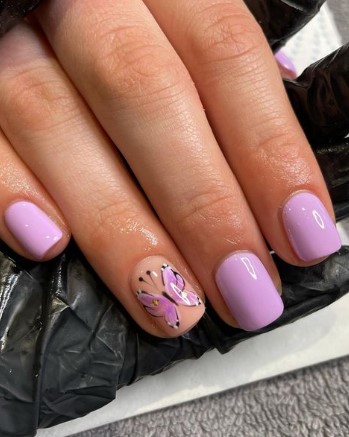 You just can't have lilac nails without a butterfly design to match the cute theme. For this look, a lilac butterfly is covering a nude base. The shades complement each other so well, and I think it's safe to say this look is a 10 out of 10.
9. Short Pink and Blue French Almond Nails With Butterfly and Glitter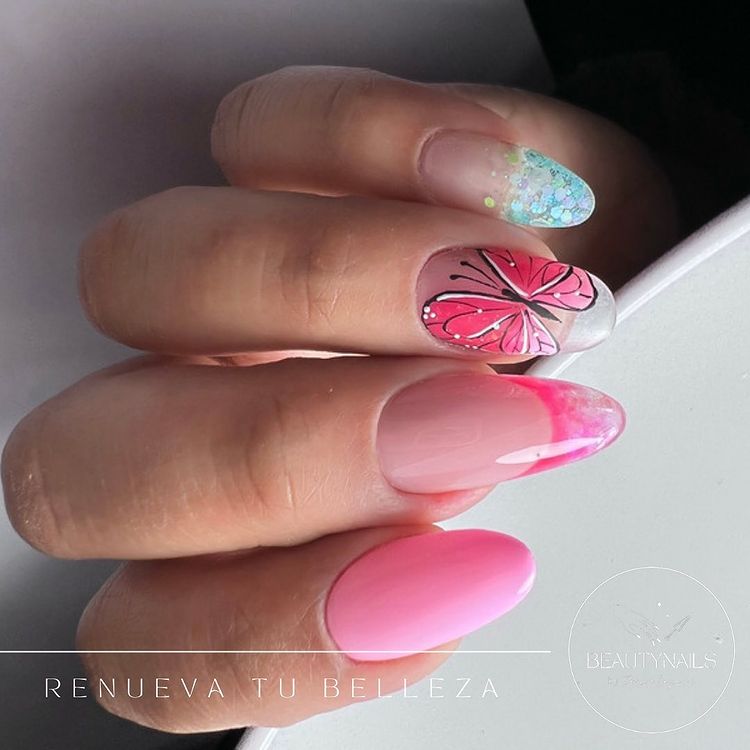 Boost your butterfly nail look by incorporating other trendy designs. This look features a french nail and a spunky ombre design with a ton of blue glitter.
10. Short White Nails With Purple Butterflies
I love how these purple and black butterflies overlay these creamy white nails. So much so that the design resembles the petals of a flower. Such a cute look for women who love a girly manicure.
11. Short Pink and White Ombre Coffin Nails With Blue and Green Butterfly
These nails have an airy appearance as light pink fades into white in a flawless ombre design. A beautiful butterfly adorns the ring finger, colored in blue and green, reminiscent of nature.
12. Short Blue Glitter French Almond Nails With Butterflies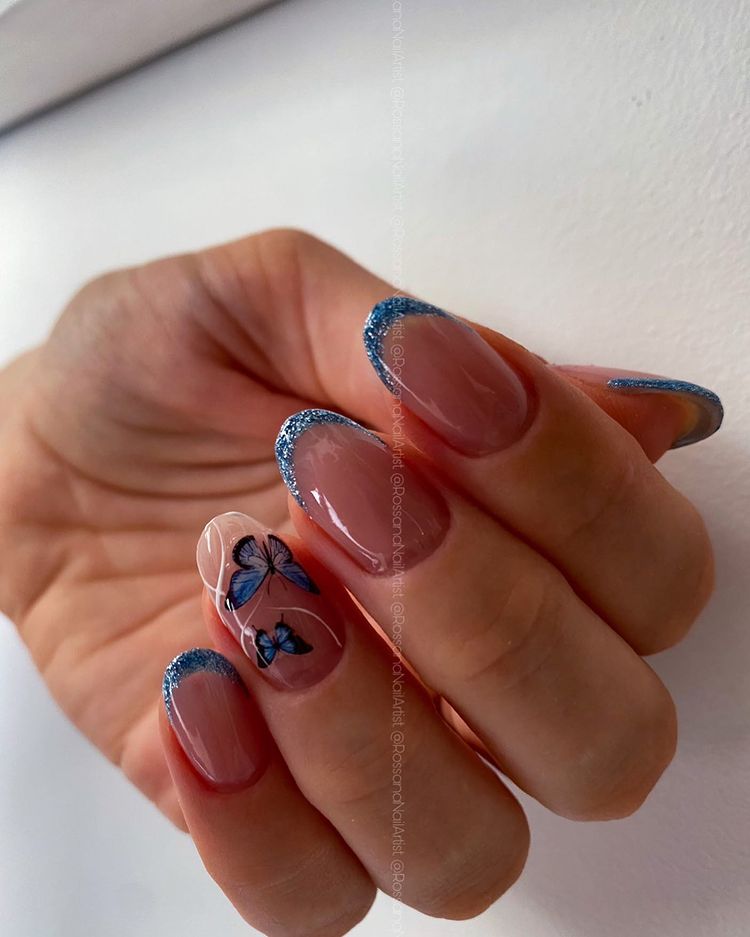 Elevate your butterfly nails from just being cute to being classy. These blue glitter french tips make it easy as they decorate sheer nude nails. I also love the thin white swirls that play around the butterflies. They really enhance the design.
13. Short Pink And White Coffin Nails With Butterflies
Give me pink and white nails any day! I can't think of a combination that's cuter. Add pink butterflies, and you've definitely got something special.
14. Black and Translucent Coffin Nails With Butterflies
For a look that's edgy and cute, rock a combination of black and translucent nails designed with flame art and butterflies for a trendy and diverse finish.
15. Short Sparkling Blue Square Nails With Butterflies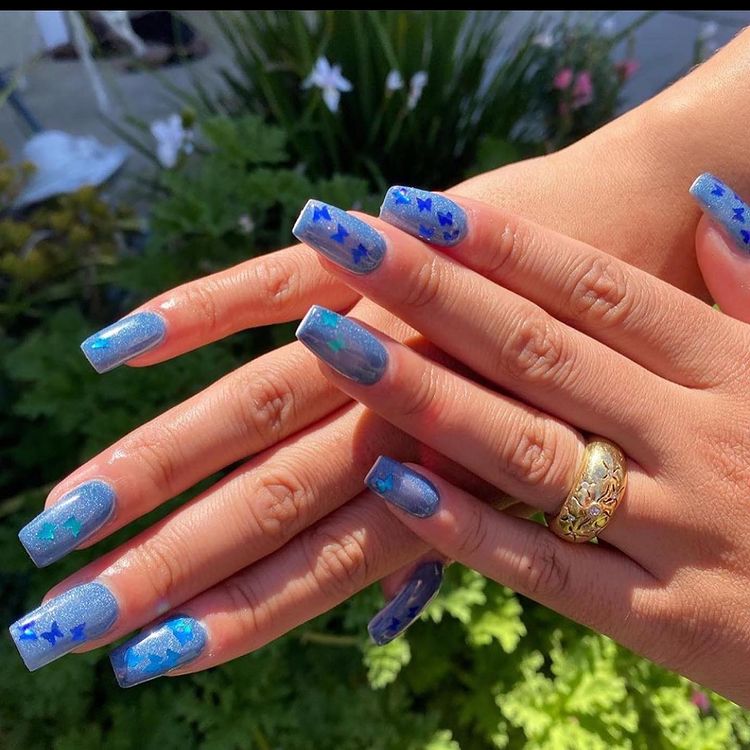 It's the glow for me! Apply small blue butterflies over sparkling blue nails for a fun and flirty combination.
16. Lilac Almond Nails With Butterflies and Glitter
If you love purple nails, but with an extra special touch, I say go for lilac glitter nail polish. It'll look so pretty, along with your bright purple butterfly designs.
17. Short Hot Pink and White Coffin Nails With Butterflies and Silver Sequins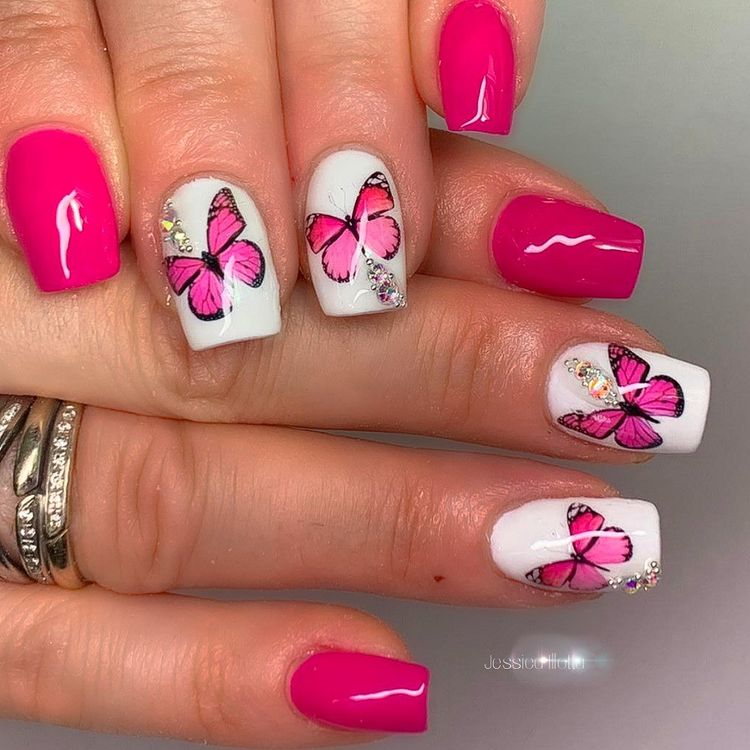 For a super cute and bold design, stand out with hot pink and white nails. Complete the look with large butterflies adorning a white base, accentuated by silver sequins.
18. Short Baby Blue, Black and White Butterfly Nails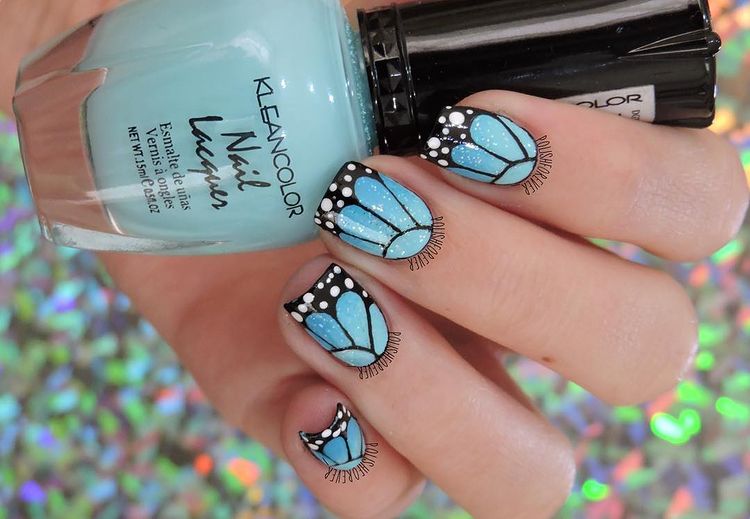 Make the most of your butterfly design by overlaying the entirety of each nail with butterfly wings. Rock the look in baby blue lacquer, detailing the wings with black and white nail polish.
19. Short White Squoval Nails With Black Butterflies
For a clean-cut look that's classy, too, white nails are perfect. The chic neutral theme is maintained thanks to the butterflies being outlined in black, but these nails are also given a glow as a result of those hints of yellow on each butterfly.
20. Short White Coffin Nails With Black Butterflies and Glitter
Here's an edgier take on black and white nails with butterfly art. For this look, the butterfly designs are thicker, with black taking a more dominant role. Glitter is used to decorate each butterfly to make these nails even more stunning.
21. Short Nude Nails With Butterflies and Flowers
Nude nails played up by butterfly art are a great idea for a simple and super cute design. Opt for butterflies in different colors like these blue and green decors. Switch things up by including flowers on some nails for a mismatched design.
22. Short Nude Nails With Holographic Butterflies
These nails are nude all the way, and I'm loving the look. It's such a laid-back mani but still so cute, as small holographic butterflies add a natural and effortless glow.
23. Short Purple Nails With Butterflies and Clouds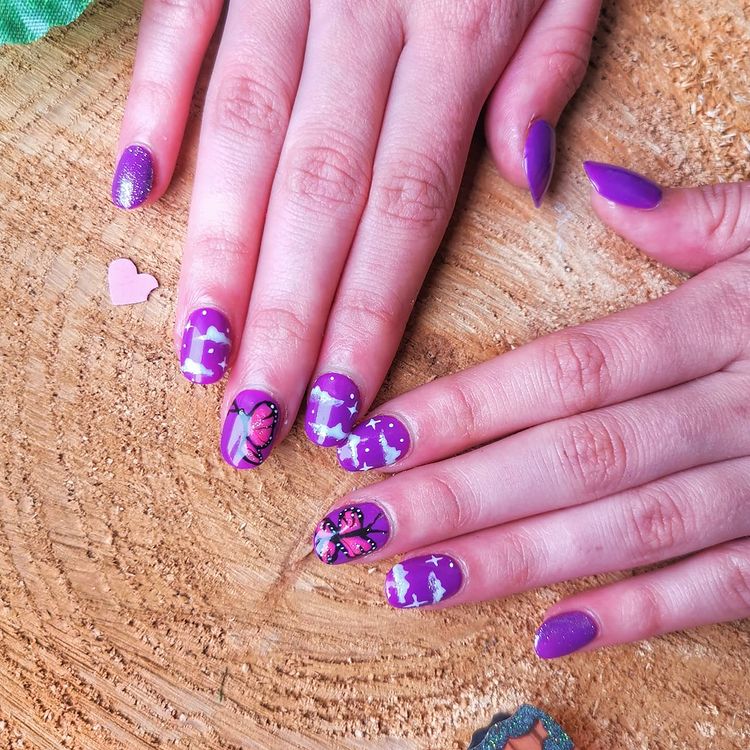 Butterfly art also looks amazing with cloud designs. Bring the two together for a super girly look on bright purple nails.
24. Short Holographic Butterfly Nails With Glitter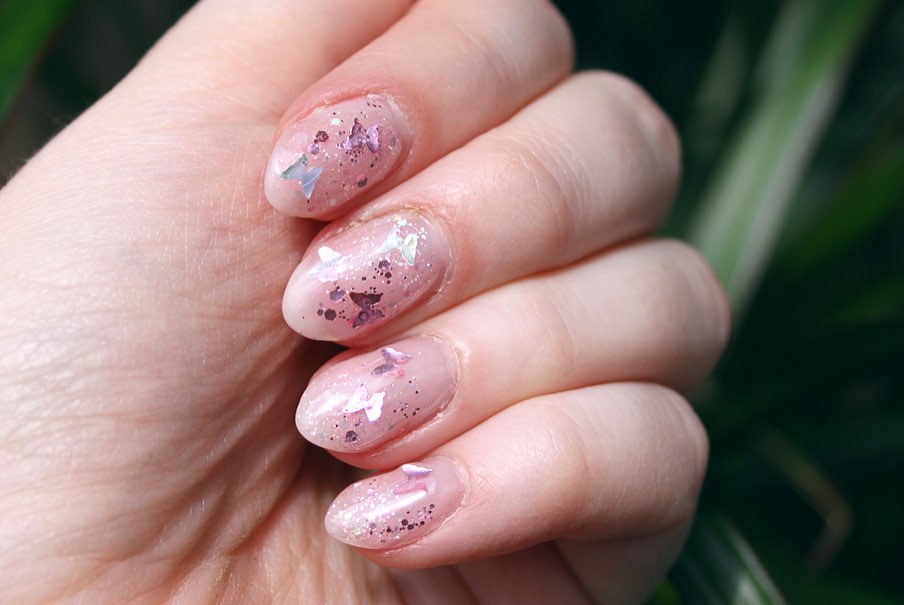 Holographic nails with glitter? How could I ever say no to that? The combination of these sparkling accents is too pretty to look away from.
25. Short Pink and Blue Tie-Dye Nails With Butterflies and Stars
Butterfly nails aren't just cute. They're fun too! Pair them with stars over a pink and blue tie-dye design for a playful look.
26. Short Pink Square Nails With Purple and Orange Butterflies
Purple and pink make the perfect match in this french nail design. It's pink for the tips and purple for the butterflies, with orange to brighten up the entire look.
27. Short Nude Pink and Blue French Coffin Nails With Butterflies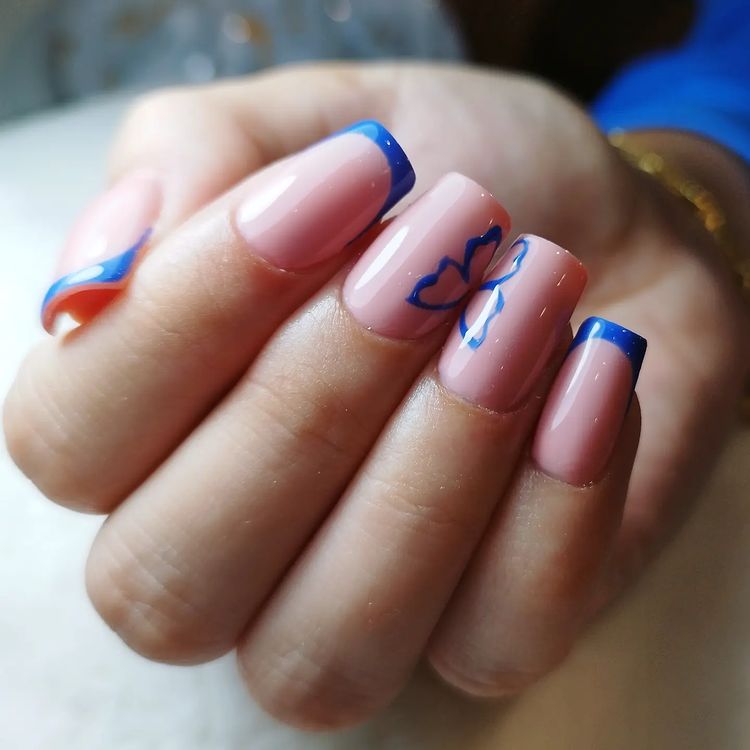 These nude pink nails look beautiful, enhanced by azure blue. The ring and middle fingers are used as the foundation to display an attached butterfly design, and I love the simple creativity.
28. Short Hot Pink and Green Nails With Butterflies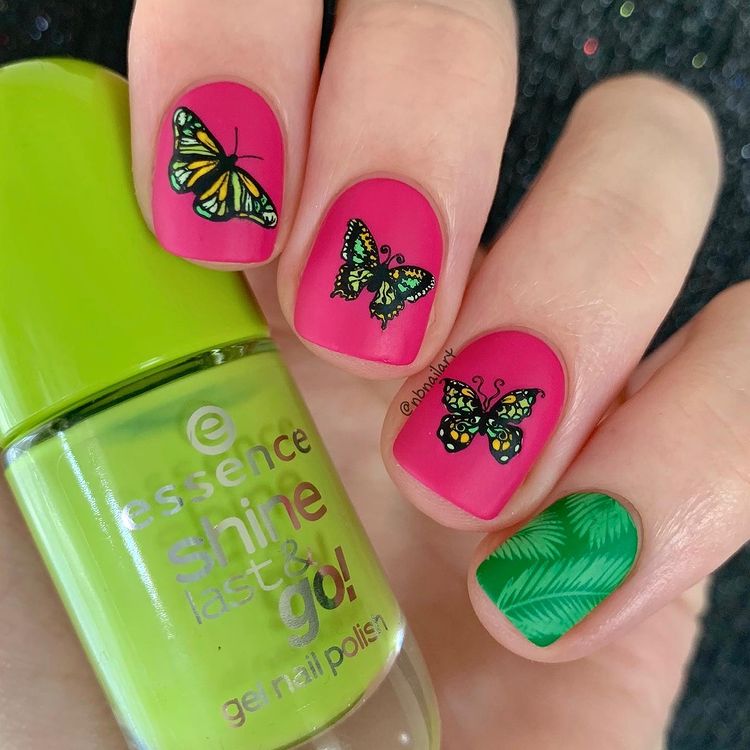 Hot pink with green isn't the most common combination, but it sure is beautiful. I love the leaf design stamped onto the pinky finger. It really complements the bold yellow and green butterflies overlaying the pink nails.
29. Short Red Glitter Round Nails With White Glitter
I can see this look being a hit for the holidays. The red base is vivid but not too overbearing, making it a classy option with a subtle aura complemented by white butterfly art.
30. Short Light Pink and White Nails With Butterfly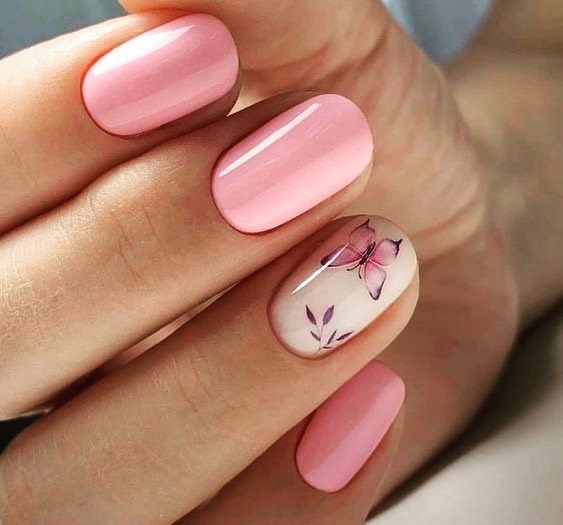 These nails are what I would call the "perfect girly manicure." Light pink is the main color. and it's joined by white which acts as the base for the prettiest pink butterfly. 
31. Short French Nails With Holographic Butterflies
Dressing up your french tips is so easy to do. You just need the right nail art to add that cute touch. To give your classic french nails a girly flair, I recommend small holographic butterfly decals.
32. Short Dark Nude Nails With Pink Butterflies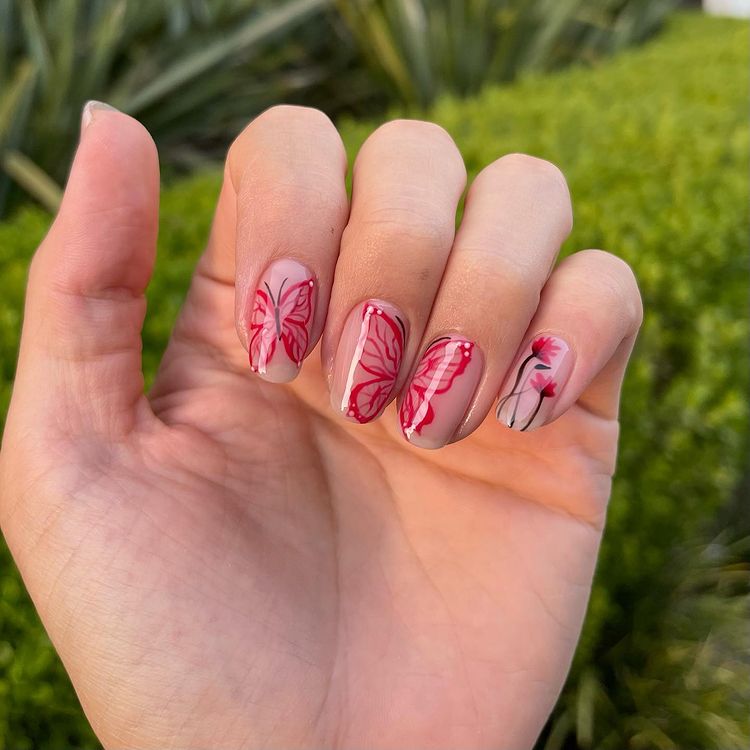 For me, it's the deep pink color of these butterfly designs that makes this look a favorite. I love how the hue pops against that dark nude base. It's such a sultry and effortlessly cute combination.
33. Short Orange, Black, and White Butterfly Nails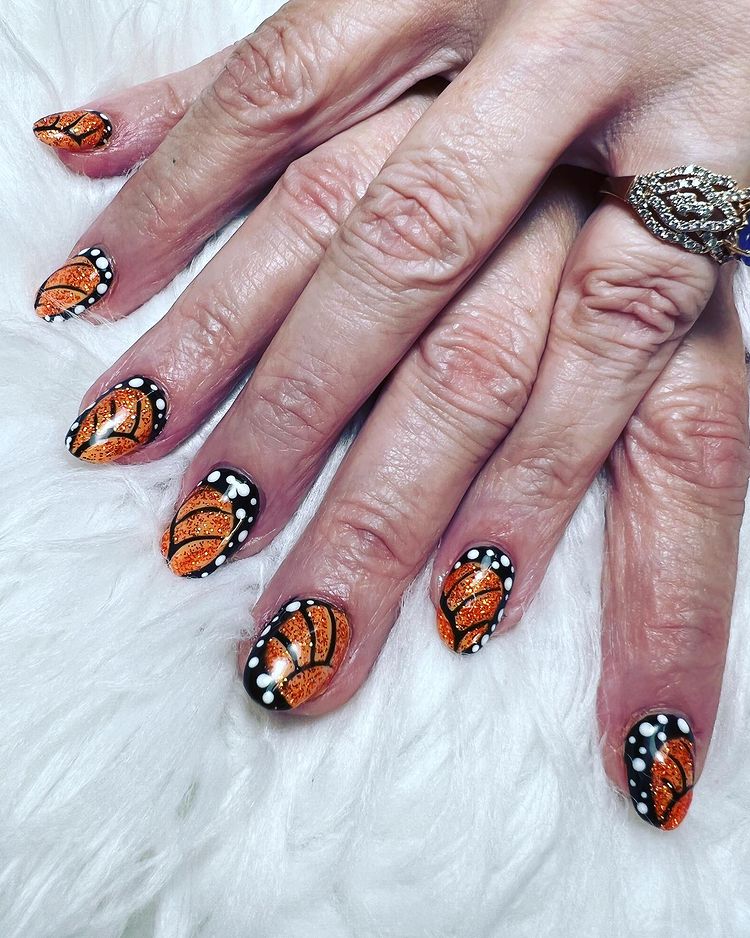 If I were to crown a butterfly nail design as the ultimate look for fall, it would be this orange, black and white combo. The warm orange hue says it all!
34. Short Dark Green Almond Nails With Butterflies
The fall looks just keep on coming, and these dark green nails mean business! They're elegant, bold, and eye-catching. That pretty butterfly design on the ring finger has a lot to do with it.
35. Short Nude Nails With Blue Butterflies
Butterflies and lipstick stains make a great team when you want to achieve cute and flirty nails. Design them over nude nails to show them off all the more.
Summary and Top Picks
Don't second guess any longer. This compilation is that extra push you needed to get those short butterfly nails you've wanted for weeks. Your nails could be polished in any color, and once you pop a butterfly design on, you'll have the cutest look.
My favorite looks from this compilation are:
#12 Short Blue Glitter French Almond Nails With Butterflies: The cute white swirl details of this design are what make it stand out for me.
#30 Short Light Pink and White Nails With Butterfly: I can always count on a pink and white nail combination to be super cute.
#32 Short Dark Nude Nails With Pink Butterflies: I never knew pink and dark nude could be so flattering. I was pleasantly surprised!
What about you? Which of these short butterfly nail designs are you looking forward to wearing? Let me know in the comments!