I often associate butterflies with spring, as I'm sure many people do. But if you're like me and love butterfly nail designs, then you don't have to wait for next spring to use these designs. 
Usually, the color palette makes all the difference if you want to fit with a summer theme. Bright oranges and yellows are great for when you want your nail design to have a sunny feel. 
Meanwhile, blue/green tones, like turquoise, sea green, and aqua, work well for creating a beachy vibe. You can even combine colors like yellow and orange and yellow and blue. 
There are truly limitless possibilities. Let's explore some of them today by looking at the best summer butterfly nail design ideas.
1. Blue/Green Butterfly Nails With Glitter
Green/blue is a great summer color combination, evoking images of blue skies and green grass. You can show these colors in their full elegance through some beautiful butterflies. Buy these nails at Etsy.
2. Yellow and Orange Butterfly Nails With Colorful Rhinestones
With the colorful rhinestones and bright yellow color palette, these nails are perfect for shining in the summer sun. Buy these nails at Etsy.
3. Blue and Yellow Inverted Color Scheme Nails
I love pairing yellow and blue together for summer nail designs. Even without including any beachy elements, they still remind me of the beach where the sand meets the sea. 
I also like this design in particular. It's perfectly coordinated with the blue butterfly and yellow background on the one hand and the reverse on the other. Buy these nails at Etsy. 
4. Yellow Nails With Monarch Butterflies and Flowers
Yellow and orange always make for a sunny color combination, which is why it's always a perfect color palette for summer. Buy these nails at Etsy.
5. Simple Yellow Nails With Holographic Butterflies
Yellow works well by itself, too, as shown in this design. It stands out on its own, thanks to the bright yellow color palette and holo butterflies. Buy these nails at Etsy. 
SEE ALSO: 21 Trendy Rainbow Neon Nail Design Ideas
6. Orange and Yellow Nails With Monarch Butterflies and Marble Effect
Monarch butterflies' natural orange color works well as an accent to an orange and yellow-themed design. I happen to love this one in particular since the yellow and orange marble effect gives it a fiery glow. Buy these nails at Etsy.
7. Yellow and Orange Nails With 3D Butterfly
If you really want your nails to stand out this summer, consider going with a 3D nail art design like this one. The butterfly really pops out against the otherwise simple yellow and orange design. Buy these nails at Etsy. 
8. Orange and Yellow Butterfly Nails With Glitter
Orange and blue is also a great color combo for summer. It's not always the most common, but I love it since it has a bold, contrasting look. Buy these nails at Etsy. 
9. Bright Orange and White Nails With Gold and Blue Glitter Details and Large Orange Butterfly Charm
This nail design really stood out to me, and it's not difficult to see why. The bright orange color really makes the design pop against the white, and the gold accents help bring the warm color palette together. I also love how the 3D butterfly in the center as it matches with all the color elements perfectly. Buy these nails at Etsy.
10. Yellow and White Nails With Clouds and Butterflies
Radiate positivity and cheer this summer with these cute yellow and white butterfly nails. Buy these nails at Etsy.
11. Simple Yellow Nails With Butterflies and Silver Glitter
This one keeps the bright summer theme of some of the other nail designs, but it also feels more balanced thanks to the cool silver accents. Buy these nails at Etsy. 
12. Sea Foam Green Nails With Silver and Blue Butterflies and Glitter
Break out the beachy vibes with these gorgeous sea foam green butterfly nails. Buy these nails at Etsy. 
13. Bright Coral Butterfly Nails
Living coral may have been the Pantone spring/summer color of the year in 2019, but that doesn't mean that it isn't a trendy summer shade anymore.
It's a beautiful and bold shade for whenever you want your summer nail design to stand out. Buy these nails at Etsy.
14. Turquoise Nails With Hand-Painted Butterflies and Glitter
Turquoise is also great for when you want your nails to have a beachy vibe, even if your design doesn't have beachy elements like starfish or waves. Buy these nails at Etsy.
15. Simple Yellow Butterfly Nails
If you want a simple, symmetrical look this summer, try alternating solid yellow nails and transparent nails with yellow butterflies. Buy these nails at SHEIN.
16. Bright Orange Butterfly Nails
These nails are so bright that they practically pop off the screen, which makes them perfect for summer. 
I love all the little details in this design, between the yellow and orange butterfly decals and the transparent parts with orange accents. It definitely makes the design look varied.
17. Orange Ombre Nails With Monarch Butterflies
If you don't want your orange butterfly nails to look too bright, you can always create an ombre effect by blending orange and white. 
They still have a summer feel since they call to mind orange sorbet or creamsicles, both popular frozen treats. 
18. Orange French Tip Nails With Monarch Butterflies and Glitter
I love the variety of this design. Rather than keeping its solid color, it blends french tips, ombre, butterflies, and glitter for a standout design.
19. Simple Tan Nails With Handpainted Yellow and Orange Butterflies
Keep your nails simple this summer by painting them in a lovely tan shade, then painting some yellow and orange butterflies on top.
20. Orange and White Ombre Nails With Butterflies and Glitter
I mentioned orange creamsicles earlier, and these nails definitely have that vibe. Despite being a lighter orange color blended with white, they still stand out thanks to all of the glitter accents.
21. Bright Orange Nails With Glitter, Rhinestones, Butterflies, and Oranges
Besides just having a summer color like orange, you can also add other summery elements like oranges to nail the summer theme.
22. Orange Butterfly Nails With Oranges and Colorful Rhinestones
Speaking of nails with oranges on them, I love these nails. I don't normally think of butterflies and oranges as going together, but this design blends the two elements perfectly. They also have a glam feel thanks to the colorful rhinestones.
23. Tan Nails With Hand-Painted Half-and-Half Yellow/Orange Butterfly
This is another simple look, which I love since the orange and yellow butterfly has more room to stand out.
24. Glittery Blue Butterfly Nails With Silver Rhinestones and Fade Effect
I love how glam this nail design is with the rhinestones and glitter. Plus, the nude nail polish over some of the blue butterflies gives it an interesting fade effect.
SEE ALSO: 21 Trending Baby Blue and White Nail Design Ideas
25. Blue Butterfly Nails With Ombre and Marble Effect
Besides aqua or turquoise, deep blue sapphire nails also work well for summer. They resemble the depths of the sea. 
Plus, the ombre effect looks like waves crashing into the shore, and the marbled look is like the sea foam swirling on the ocean waters.
SEE ALSO: 60 Gorgeous Blue Butterfly Nail Design Ideas
26. Turquoise French Tip Nails With White Butterflies
Turquoise french tip nails are a great look for summer, which look beautiful when accented with white butterflies.
27. Blue Butterfly Glitter Nails
Glittery blue nails are also a great choice for summer. They remind me of the water glistening on the horizon. Adding in some matching blue butterflies is enough to make the design feel complete.
28. Glittery Turquoise Butterfly Nails
This nail design is kept largely simple with the solid turquoise, french tips, and hand-painted butterflies, but the glitter gives it a glamorous flair.
29. Handpainted Monarch Butterfly Nails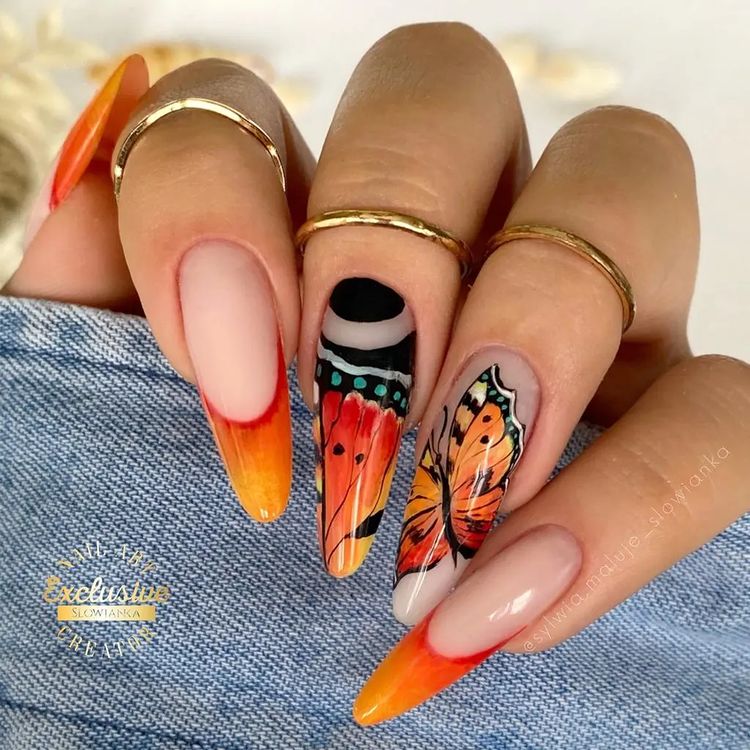 Express yourself this summer by painting some gorgeous monarch butterflies. 
I love how the middle finger shows a zoomed-in wing — it adds so much detail to the design and makes it feel unique compared to just painting a few butterflies in the same position.
30. Blue and White Gradient Nails With Butterflies
Blue and white gradients are great for winter, of course, but they also work for summer when you're trying to capture the essence of beautiful ocean waves.
31. Turquoise Nails With Abstract Butterfly and Glitter
The butterfly is really the star of the show in this design. I like how the body of the butterfly was shrunk down, giving the whole butterfly an abstract look that's almost like a bow. 
32. Blue Ombre Nails With White Line Details and Gold Butterfly
Between the ombre effect, the white line details, and the gold butterfly accent, these nails look gorgeously beachy and perfect for summer.
33. Blue Butterfly Nails With Glitter and Gold Details
I love the half-butterfly look since it gives you the opportunity to paint the wings in more detail than you could otherwise. Then, adding the glitter and gold details gives the whole design a glamorous feel.
34. Glittery Nails With Sapphire Butterflies
Putting butterflies in a random assortment is a great option for variety, but putting them in a specific arrangement like this design creates the illusion of movement, which can make your design feel more dynamic.
35. Light Blue Nails With Sapphire Butterflies
I love the beautiful aqua tone used for this design, plus the sapphire butterflies add a slight bit of color contrast for some visual interest. I also love the wave effect on both ring fingers — it's a nice touch that adds some variety. 
36. Blue Butterfly Nails With Tan and White Wavy Line Details
This design immediately caught my eye. Not only are the handpainted butterflies cute, but I also love the interesting white and tan line patterns. 
37. Blue Marble Nails With White Butterflies and Glitter
I love how the deep blue tones contrast with the white butterflies in this design for a bold summer look.
38. Light Blue Nails With Silver Glitter and Sapphire Butterflies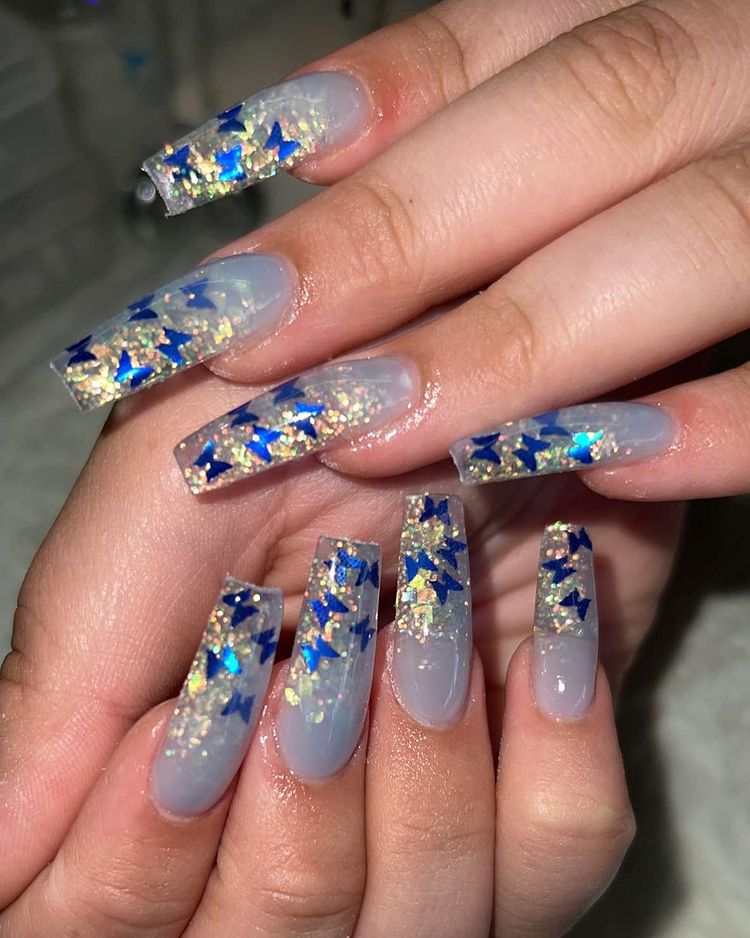 Rather than light butterflies contrasting with a dark background, this design does the opposite and has sapphire butterflies that contrast with the light blue and silver glitter background. 
These nails would look perfect at any summer parties you have going on.
39. Yellow/Orange/Gold Butterfly Nails
The bright warm tones you'd expect for a summer nail design are really put to work in this one, particularly the bright yellow, orange, and gold tones.
40. Yellow Butterfly Nails With Ombre Effect, Glitter, and Flowers
Even a floral and butterfly design can have a summer look when you blend yellow and orange hues. 
I love the mix of styles in this nail design, between the orange glitter, yellow butterflies on the ombre, rhinestone-center flowers, and the plain yellow/orange ombre on the thumb.
Summary and Top Picks
So, did you like looking at these summer butterfly nail design ideas? When you use the right color tones and design elements, even a traditional spring style like butterfly nails can look like it's ready for summer. I loved all of these designs, especially the ones with bright and bold hues. 
Out of the ones I mentioned, these were my favorites:
#9 Bright Orange and White Nails With Gold and Blue Glitter Details and Large Orange Butterfly Charm: These nails are the practical definition of bling, making them great for a party look. I love how color-coordinated these are with the charm — all the little details are on-point. 
#21 Handpainted Monarch Butterfly Nails: I love the bright yellow/orange color palette, as well as how much detail went into the monarch butterflies. 
#32 Blue Ombre Nails With White Line Details and Gold Butterfly: These nails looked perfectly beachy with every detail, like the ombre effect and the gold butterfly as the finishing touch. 
But I'd love to hear from you. What would your ideal summer butterfly nail design look like? Let me know in the comments below!