Confidence lies in a red nail design. Let's face it, red is superior for its boldness and attitude. The choice nail color for some of the most iconic Hollywood actresses – Joan Collins in Dynasty and Olivia Newton-John in Grease – red has the "IT" factor.
I have a few friends who've shied away from painting their nails with red polish, noting its vivid tone, but they soon realized that quality can work in their favor, making them more assertive when needed, while acting as the final touch to complete their OOTD.
Nonetheless, versatility is also found in red. As you begin to experiment with its various shades, you'll find that there are softer hues to play around with that can make pairing with other colors an easier task.
You'll also find tons of opportunities to accent your red nails with sequins, rhinestones, animal prints, floral designs, swirls, and more, at your disposal. There's just so much to uncover, so let's get into the juicy details. Here are red nail designs you need to see.

1. Long Candy Apple Red Coffin Nails
Be unapologetically bold in an all-red nail design. I just love how rich this shade of red is, with a glossy finish that enhances the color, making it pop. You can get these nails at Etsy.
2. Trendy Red French Almond Tips
Go for a trendy look with french tips and your ring finger fully coated in red. An unconventional approach is taken with the middle finger, as the french design incorporates negative space at the tip. You can get these nails at Etsy.
3. Red Glitter Jelly Coffin Nails
Jelly nails are such a great option for your next appointment, especially if you've never tried this cute and trendy design before. 
Basically, you'll be rocking translucent nails made possible by the mixture of clear polish with a color of your choice. Add some glitter to make this design even more appealing. You can get these nails at Etsy.
4. Red and Black Ombre Almond Nails
Red is a naturally alluring color and that quality is enhanced the deeper the shade gets. Starting with a deep red base, transition to black toward the tips for an enthralling ombre blend. You can get these black omber nails at Etsy.
5. Red and Light Pink French Almond Nails with Abstract Swirls
You can accomplish super pretty red nails with the addition of abstract swirls. The shaping of curved lines overlaying a french tip design makes for a playful look with a youthful touch. Round off this set with glitter accents along the way. You can get these nails at Etsy.
6. Romantic Red and Black Coffin Nails
Along with confidence, red also signifies love and romance, making it the main color used to celebrate Valentine's Day. 
So, to make a traditional nail look your own, overlay a red base with romantic symbols, bringing an edgy contrast with your ring finger coated in black. You can get these nails at Etsy.
7. Red Swirl Almond French Nails with Heart Design
French nails have taken on so many designs over the years, you can never run out of fresh ideas! If you want to bring a sentimental twist to this classic look, opt for red swirls at the tips with a nifty heart-shaped pattern. You can get these nails at Etsy.
8. Red and Black Coffin Nails with Red Dots
Go dark red for a sultry vibe with your ring finger donning a solid black nail. It brings an edgy flair alongside cute red dots for a bold glitter effect. You can get these nails at Etsy.
9. Red Coffin Nails with Gold Glitter Flakes
As if red nails could be any more beautiful, this set has truly outdone itself. Each nail is accentuated by gold glitter flakes, making the most of the overall classy aura. This statement design would be a sure hit for Christmas. You can get these nails at Etsy.
10. Shimmering Red Coffin Nails with White Snowflakes
Before you know it, the holidays will be here and the designs are already showing out. Bring some holiday cheer to your nails with a shimmering red base featuring large snowflake designs on select nails. You can get these nails at Etsy.
11. Red and Black Plaid French Square Nails
Some trends will never die out and plaid is one of them, whether you're rocking the pattern as part of your outfit or for your nail design. Make your nails pop with plaid french tips, painted in the ever-bold red and black. You can get these nails at Etsy.
12. Chrome Red and Silver Heart-Shaped French Almond Nails
The result of elegance mixed with creativity, these nails showcase the trendiness and versatility of a chrome finish. With silver as the starting shade, luscious red tips soon take over, designed in the shape of a heart for a flirty feel. You can get these nails at Etsy.
13. Red and Light Pink Coffin Nails with Swirls
It's hard to not love swirls, I totally get it, and with a light pink base, adding a few feminine swirly lines is super tempting. Do it anyway with the help of eye-catching red nail polish. You can get these nails at Etsy.
14. Mismatched Red French Coffin Nails with Rhinestones
Classy nails deserve classy accessories. Enhance red french nails with large and gleaming silver rhinestones. Coat your remaining nails in red for a trendy mismatched design. You can get these nails at Etsy.
15. Glossy Red Cheetah Print Coffin Nails
Complement the fierceness of bright red nails with the timeless cheetah print design. Perfect for dressing up any casual OOTD, these nails were completed by a glossy top coat, further highlighting this stylish combo. You can get these nails at Etsy.
16. Short Chrome Red Nails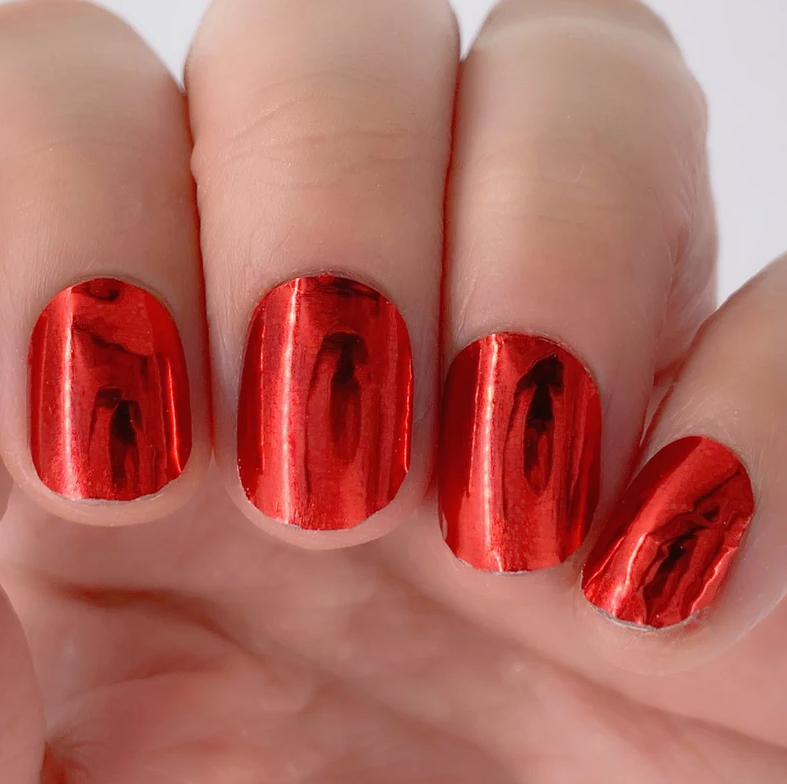 Short red nails have stood the test of time as one of the go-to manicure styles. Thanks to their simplicity, mature appeal, and beauty, they've become a natural selection for every occasion under the sun. 
You can enjoy a red nail design even more by opting for a mesmerizing chrome finish. That final glow is so satisfying. You can get these nails at Etsy.
17. Red Stiletto French Tips with Silver Glitter
These red french tips make looking elegant a breeze. Reward them with silver glitter applied to the crown of your thumb and ring fingers for a regal touch. You can get these nails at Etsy.
18. Red Stiletto Nails with White Heart Design
Love is a wonderful thing! Reimagine the notion with vivid red nails decorated by two halves of a white heart, becoming one where your ring and middle fingers meet. You can get these nails at Etsy.
19. Red French Almond Nails with Red Hearts
Let your french tips know just how much you adore them by pairing them with hearts over a light pink base. You can never go wrong with this romantic design. Play around with white dots in the empty spaces to foreground your red theme. You can get these nails at Etsy.
SEE ALSO: 40 Pink and White Nail Design Ideas That Are Trendy AF
20. Short Red and White Floral Nails
Flowers are the most preferred elements of nature used to amp up nails worldwide. Include floral overlays over several white-coated nails to give a classic red lacquer design a warm tone and welcoming feel. You can get these nails at Etsy.
SEE ALSO: 100 White Nail Design Ideas That Are Trendy AF
21. Long Red Coffin French Rim Nails
For the minimalists at heart, french rim tips are a dream come true. Rock yours with a soft-toned nude base over long coffin nails, lining the corners and edges with glossy red varnish. You can get these nails at Etsy.
22. Cherry and Carmine Red Gradient Coffin Nails
Get dolled up in a multi-shade red nail combo, worthy of its own reel. I adore how these nails shift from cherry-red to a shimmering carmine red hue on the middle and index fingers. It's a varied design, ideal if red is the only color you'll be using. You can get these nails at Etsy.
23. Red Leopard Print Deep French Stiletto Nails
Let leopard print have its way with a nude base that transitions into deep french red tips overlaid by the trendy pattern. It's just the design you need when you boss up this Summer. You can get these nails at Etsy.
24. Sparkling Red Stiletto Nails with White Swirls
Red has a sweet side. Show it off in sparkling fashion with a stylish candy cane design over stiletto nails.
Small and large white swirls are used to overlay the tips and crown of the middle and index fingers with a full-on approach taken for the ring finger. You can get these nails at Etsy.
25. Rose Red and White Ombre Almond Nails
The ombre effect is a nifty way to enjoy a variety of colors on your nails. Complement subtle rose red tips with a translucent white base, fading both hues into each other to achieve a soft glow. You can get these nails at Etsy.
26. Red and White Abstract Almond Nails with Hearts
Abstract designs mean anything is possible. This look sees two popular trends becoming one as french tips morph into large swirls. 
On the index and ring fingers, red and white hearts overlay pale white nails for an overall cute and creative design. You can get these nails at Etsy.
27. Red and Light Pink Coffin Nails with Small Red Hearts
Is Valentine's Day on your radar? Adorn your nails with red hearts for a public display of affection. Start with a pastel nude base to maintain that lovey-dovey feel while ensuring visibility for your nail art.You can have it both ways. You can get these nails at Etsy.
28. Red and White Abstract French Almond Nails
Keep all eyes on you with a snazzy french tip design. White nail polish covers more than half of these clear base nails overlaid at the tips by angled triangles painted in red. The end result? Stylish abstract nails. You can get these nails at Etsy.
29. Red and Silver Nails with Criss-Cross Line Art
For a guaranteed eye-catching look, try thin white lines designed in a criss-cross pattern over your red nails. Switch things up with one nail rocking a silver shade, accentuated by shimmering lines. 
The entire look is a fusion of tradition with modern techniques for a design that's classy and ultra-chic. You can get these nails at Etsy.
30. Matte Red, Black, and White Abstract Coffin Nails
White nail polish makes a sharp transition to red in this design with large black stripes on either side. The look was completed with a matte finish for the chicest presentation.
The combination of red, black, and white is a staple in the world of fashion as neutral tones make it easy for a vibrant color such as red to stand out, leading to a high contrast look. You can get these nails at Etsy.
31. Red, White, and Mint Green Coffin Nails with Roses
Roses and a pretty mint green shade offer such effortless elegance to these nails. The combination brings a balance to the middle finger bright red, softening the look.
I also love the inclusion of a transparent nail and how ethereal it looks with those dainty rose decals layered on top. You can get these nails at Etsy.
32. Glossy Dark Red Squoval Nails
You could get lost in these alluring dark red nails. The richness of the shade engages your focus at first glance. Complete with a glossy top coat to keep you engrossed. You can get these nails at Etsy.
33. Wine Red Glass Nails with Glitter Flakes
Pair wine red nails with translucent ones for a classy manicure worth admiring. The clear nails provide a beautiful glass effect. Amp them up with cute sequins and gorgeous white and gold glitter flakes. You can get these nails at Etsy.
34. Short Red and White Knit Sweater Nails
Knit sweater nail art has become one of the most sought-after designs for its undeniably cute and cozy look. Rock this design to complement fancy red nails, embellished with a thin horizontal line of silver glitter. You can get these nails at Etsy.
35. Glossy Red Gradient Coffin Nails
Coat your nails in multiple shades of red to achieve an absolutely gratifying gradient design. This look is diverse, as well as chic, perfect for any outfit. You can get these nails at Etsy.
36. Short Red Heartbeat Nails with Gold Glitter
Accent short red nails with glitter at the tip, separated from a clear base by cute red heartbeat lines. It's such a simple yet adorable design that you'll be excited to wear each day.
37. Short Red Glitter Nails
Shine without apology in the cutest short red mani. The effect of this red glitter nail polish is riveting. Show them off wherever you go – they're too fabulous to keep to yourself.
38. Red and Nude Abstract Swirl Almond Nails
Neutral nails with a pop of color are still cool, you just have to design them in the most attention-grabbing ways.
To make that a reality, sculpt swirl art just the way you want them to accomplish this trendy combo of red nail polish and negative space.
39. Short Multi-Shade Red Square Nails with Glitter
It's a fact: red nail polish evokes a mature look and feel, making even the most youthful at heart enjoy a boost of confidence. 
Enhance the look with your ring fingers flaunting a deep red shade, embellished with an array of glitter. Set the sequins in place with a glossy finish.
40. Red and Nude Deep French Nails with Polka Dots and Cherry Art
What's there not to love about this set? The length, shape, and design are everything! Featuring deep french tips, these red and nude nails are adorned by white polka dots and a large cherry surrounded by stars.
This look is not only trendy but unique, exactly what you need if you want your nails to be at the forefront of everyone's mind.
41. Red and Light Nude Nails with Red and Black Flowers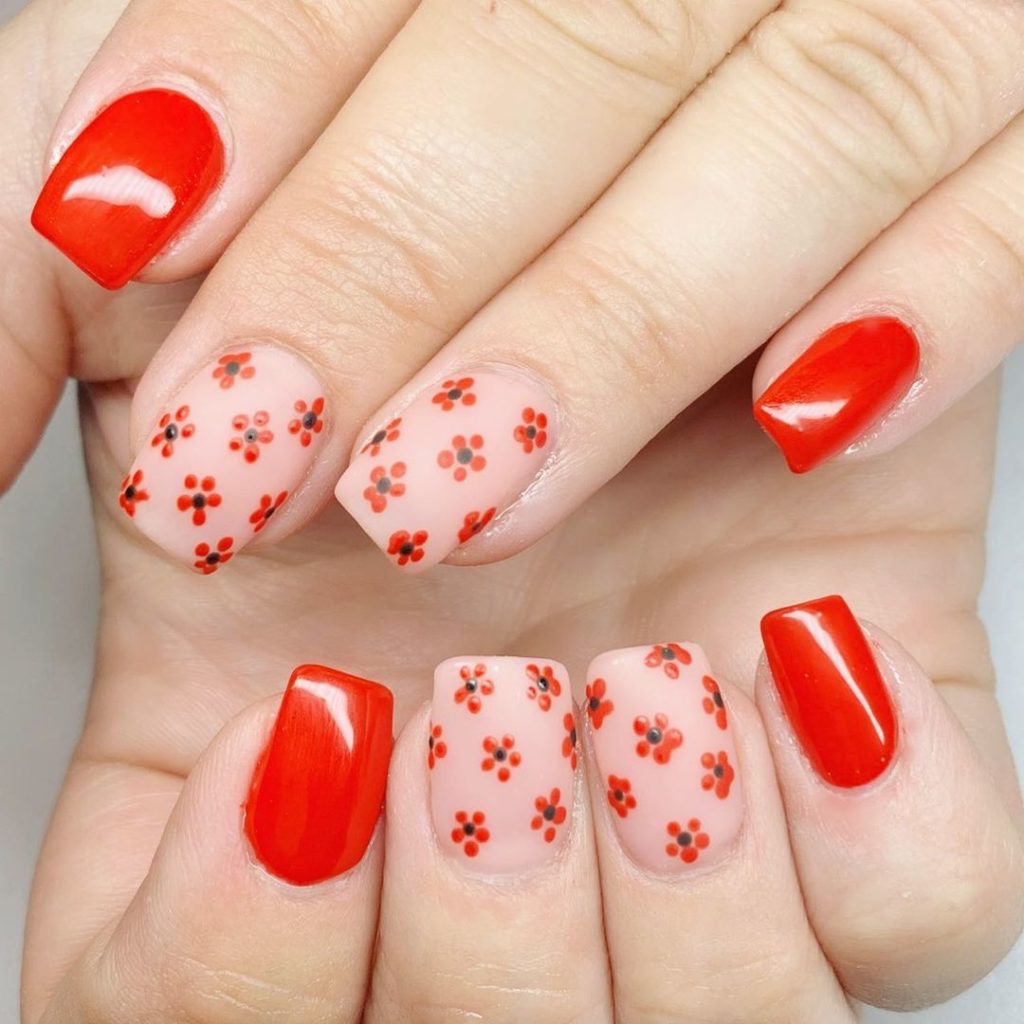 Glossy red nails have teamed up with a light nude shade for a flawless combo that will never go out of style. Top it all off with small red and black flowers for a lovely contrast against that nude base, sealed with a matte finish.
42. Red and Silver Glitter French Coffin Nails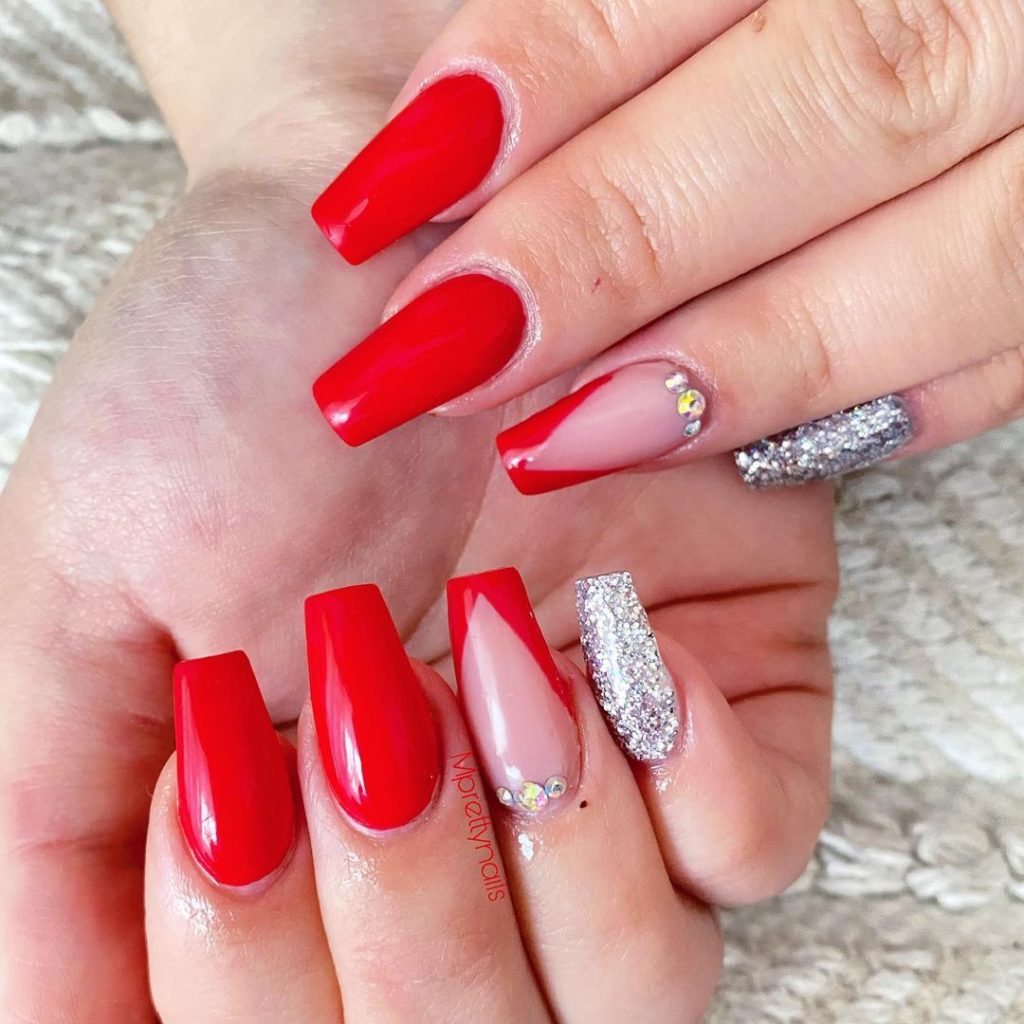 Spruce up your red manicure by dedicating two nails from each set to a french tip design and a statement-making silver glitter overlay. Apply rhinestone accents at the crown of your french nails to add a little pizzaz to that negative space.
43. Red Square Nails with Sprinkles of Silver Glitter
Can red nails be any more attractive? That question is easily answered by sprinkles of silver glitter that cascade to the midsection of the ring finger. It's a simple detail that greatly enhances this classy look.
44. Red and Nude Coffin Nails with Leaf Art
Nature serves as excellent inspiration for nail art, so here's the encouragement you need to try out a trendy leaf art overlay to jazz up classic red nails.
45. Red, and Nude Ombre Coffin Nails with Pink Hearts and Gold Glitter
Pink hearts and gold glitter flakes bring such a playful vibe to these nails. Featuring glossy red nails, an ombre effect, and splashes of light blue nail polish, an array of designs combine, leading to a lighthearted and adorable look.
SEE ALSO: 100 Pink Nail Design Ideas That Are Trendy AF
46. Red Almond Nails with Abstract Swirls and Dots
Don't let the trends pass you by. Hop onto the dots and abstract swirls train in style with these red-themed almond nails. This look is a great idea of how you can use negative space to your advantage to create some cool designs.
47. Red Cherry Almond Nails with Glitter
Cherries have got to be the most fitting design for red nails. Match the sweet aesthetic with cherry red nails, dolled up by coats of glitter on your ring fingers.
48. Glossy Red French Coffin Nails with Red Swirls
It's all about pops of red over negative space in this diverse and classy design. Whether it be an overlay of swirls or a french tip, these nails prove that red lacquer can be bad all by itself.
49. Iridescent Chrome Red Oval Nails
A chrome finish brings these nails to life as their iridescent quality causes them to shimmer and shift between a gradient of colors when exposed to light. 
This design is super fancy and satisfying to look at. They'll definitely make getting dressed up a whole event.
50. Short Red Round Nails with Black Line Art
The glass is more than half full in this photo-worthy design as a neat black line runs across negative space creating a wine glass effect. Poured inside is a bright shade of red, glazed with a glossy finish.
51. Short Red and Milky White Floral Nails with Glitter Flakes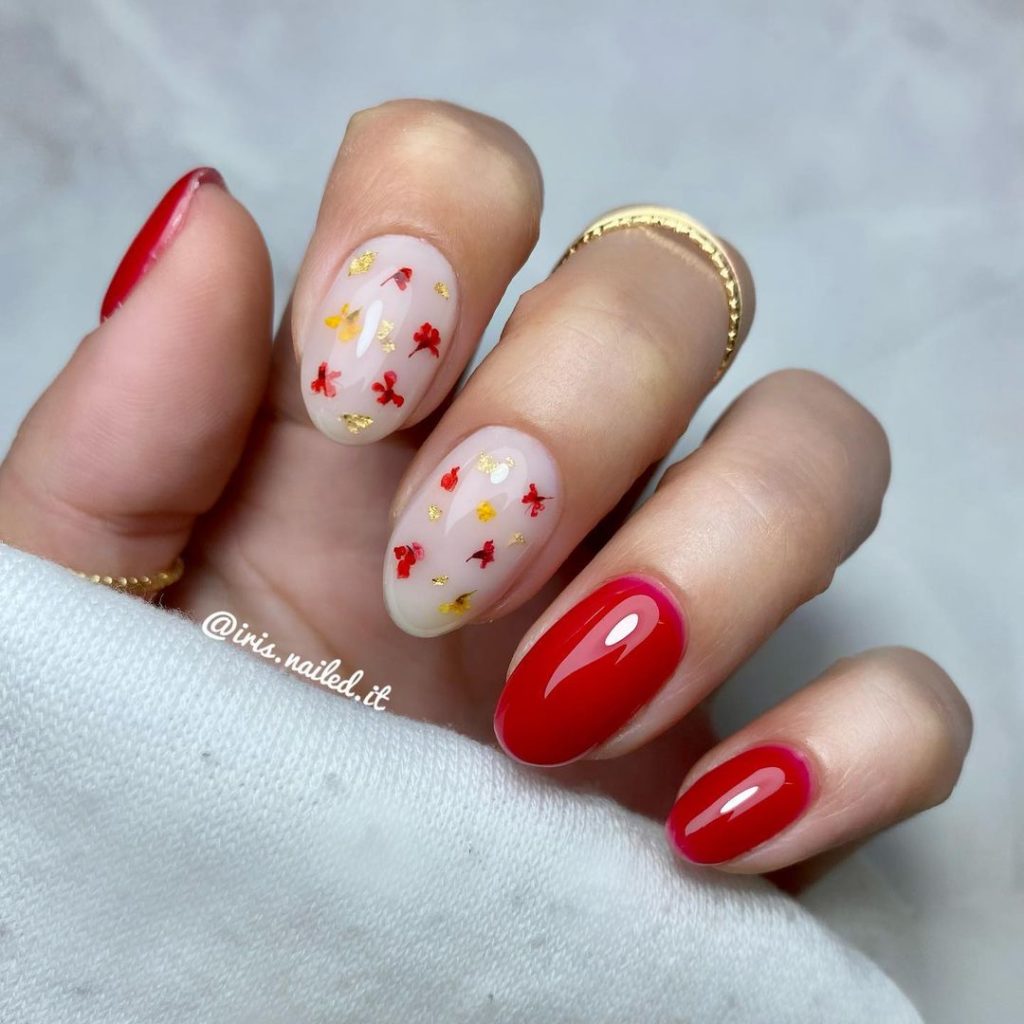 Tiny hand-painted flowers and gold glitter flakes are whisked away on airy white nails with bursts of red coming through on either side. The finished look is enviable and one of utmost grace.
52. Red and Nude Square Nails with Red Dots
Red and nude nail combos are on the rise like never before. Set yours apart with three cute red dots descending on a neutral base.
53. Glossy Red Zebra Print Coffin Nails
Could you guess? Animal prints are among my favorite nail designs and a ton of other nail enthusiasts' too. 
For a sassy look, rock glossy red nails with a spunky zebra print. The black and white striped combo, paired with red creates a fashion-forward and high contrast design.
54. Dark Red Ombre Square Nails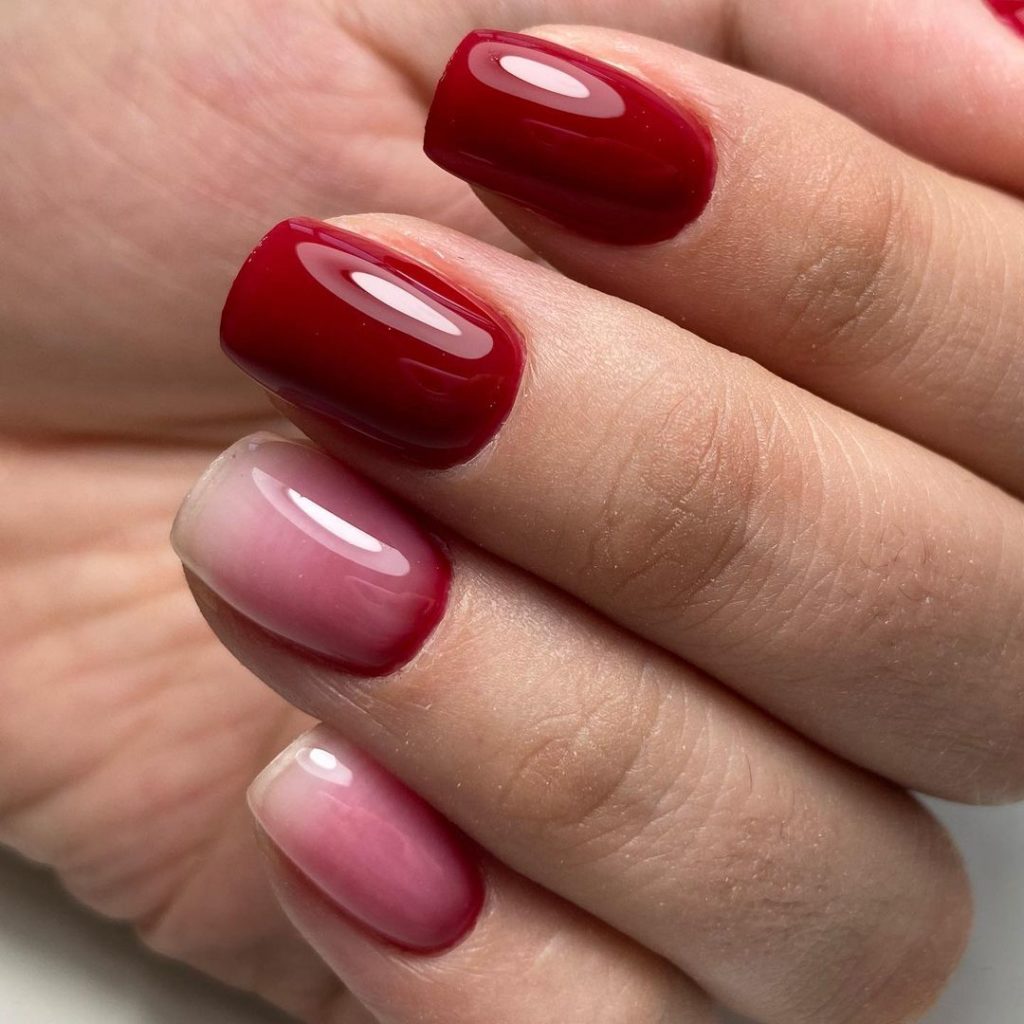 The ombre effect does it again! As red dilutes into white at the tip of select nails, your focus shifts to nails in a tantalizing darker red tone. All in all, this design makes it hard to look away.
55. Short Coral Red and White Floral Round Nails
I'm blown away by how beautiful these coral red nails are. A vivid reddish pink shade, it couples perfectly with this ornate purple and green floral design.
56. Red and Nude Graphic Stiletto Nails with Red Sequins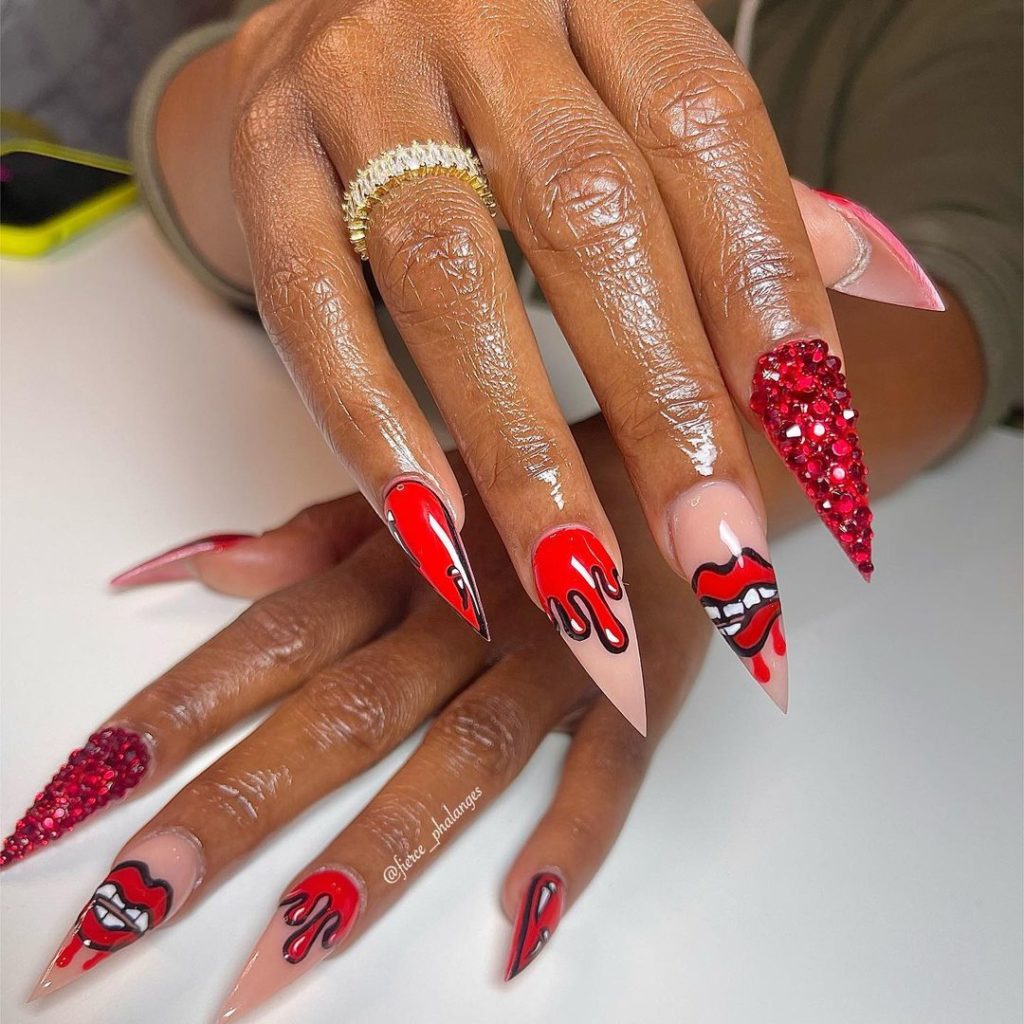 Red and nude nail polish form the foundations for some exciting and vivid graphic designs as stacks of gleaming red sequins overlay the index finger, followed by a bold red lip and dripping paint design.
If you've been searching for a creative look that will make your jaw drop repeatedly, you've found it!
57. Shimmering Bright Red and Yellow Oval Nails
This gorgeous Summer nail look flows between shimmering red and yellow to a simple glossy finish on cute oval-shaped nails. Although a simple combination of two colors, the design is glamorous, gaining points for versatility.
58. Glossy Dark Red and Mauve Nails with Silver Rhinestones
Look and feel your best while you celebrate in short classy dark red nails. The introduction of mauve on the ring finger adds a charming touch, further enhanced by silver rhinestones.
59. Bright Red Coffin Nails with Red and Gold Stripes
Start your week with a bang, stepping out in bright red nails with stylish line art. For a high-end effect, opt for bold stripes, some in red and others in glistening gold over a soft nude base.
60. Short Red Nails with White Flowers
This flawless look is super easy to execute. Starting with a ravishing red shade on short nails, bring this design to completion with dainty hand-painted white flowers.
61. Glossy Red and Blush Pink Floral Coffin Nails
Totally in awe of these red and blush pink floral nails and the cute white floral designs that give them a girly twist. Rock this look for any season of the year.
62. Red French Square Nails with Silver Glitter Dots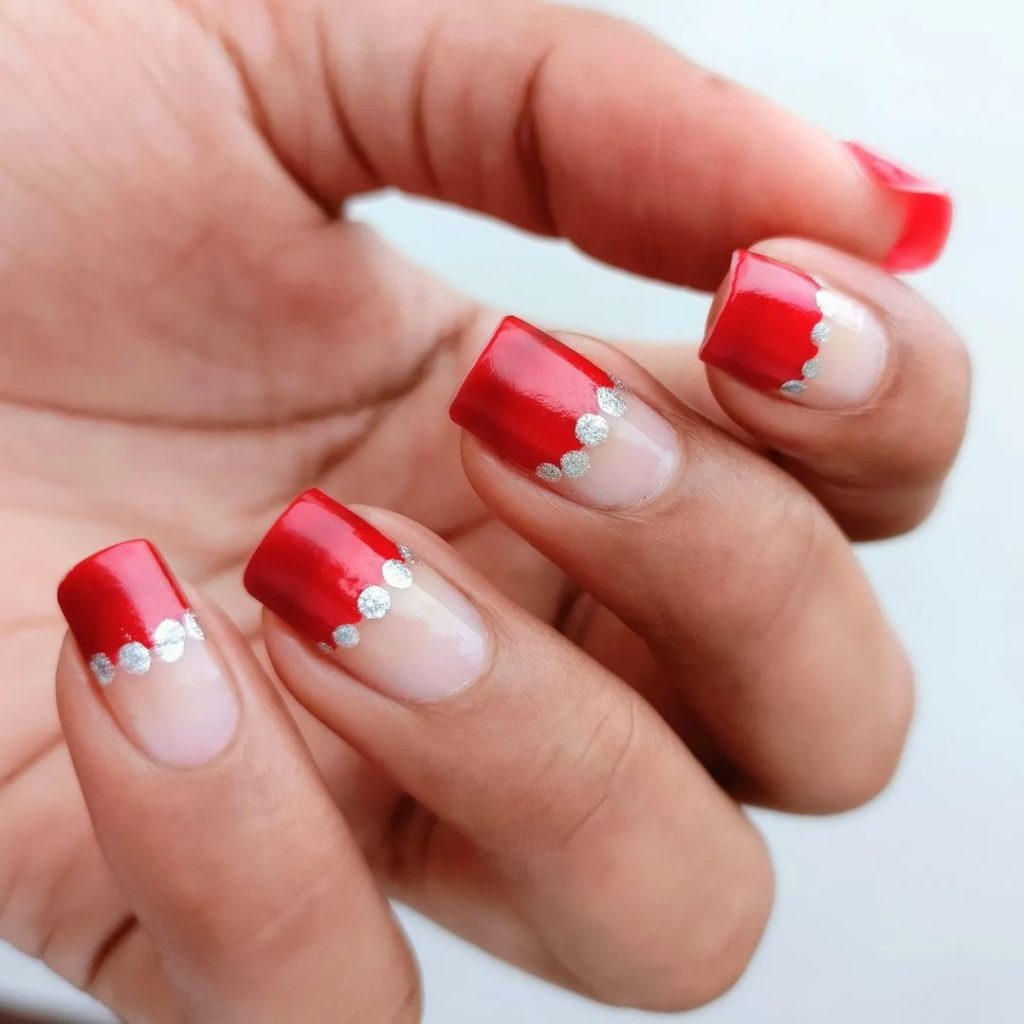 Like the lace hem of a formal white skirt, these sparkling silver dots bring a classy flair to this red french tip design. Save this look for Christmas, a wedding, or a special night out.
63. Short Red and White Strudel Nails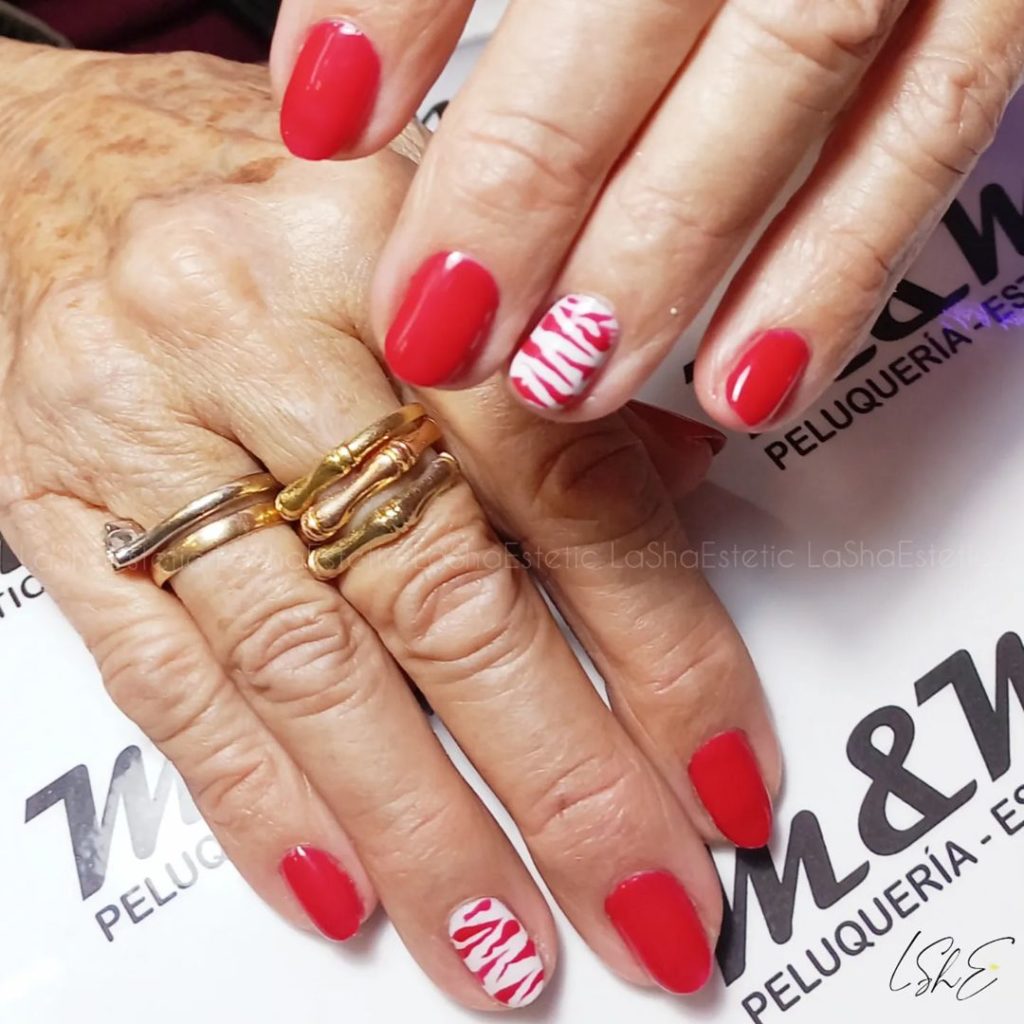 Is it just me or do these nails resemble those delectable toaster strudels we all love so much? White nail polish is whisked back and forth over a red base to achieve this look.
The design stands out, even more, thanks to the dominant red theme of this mani.
64. Red and Nude Floral Rim Almond Nails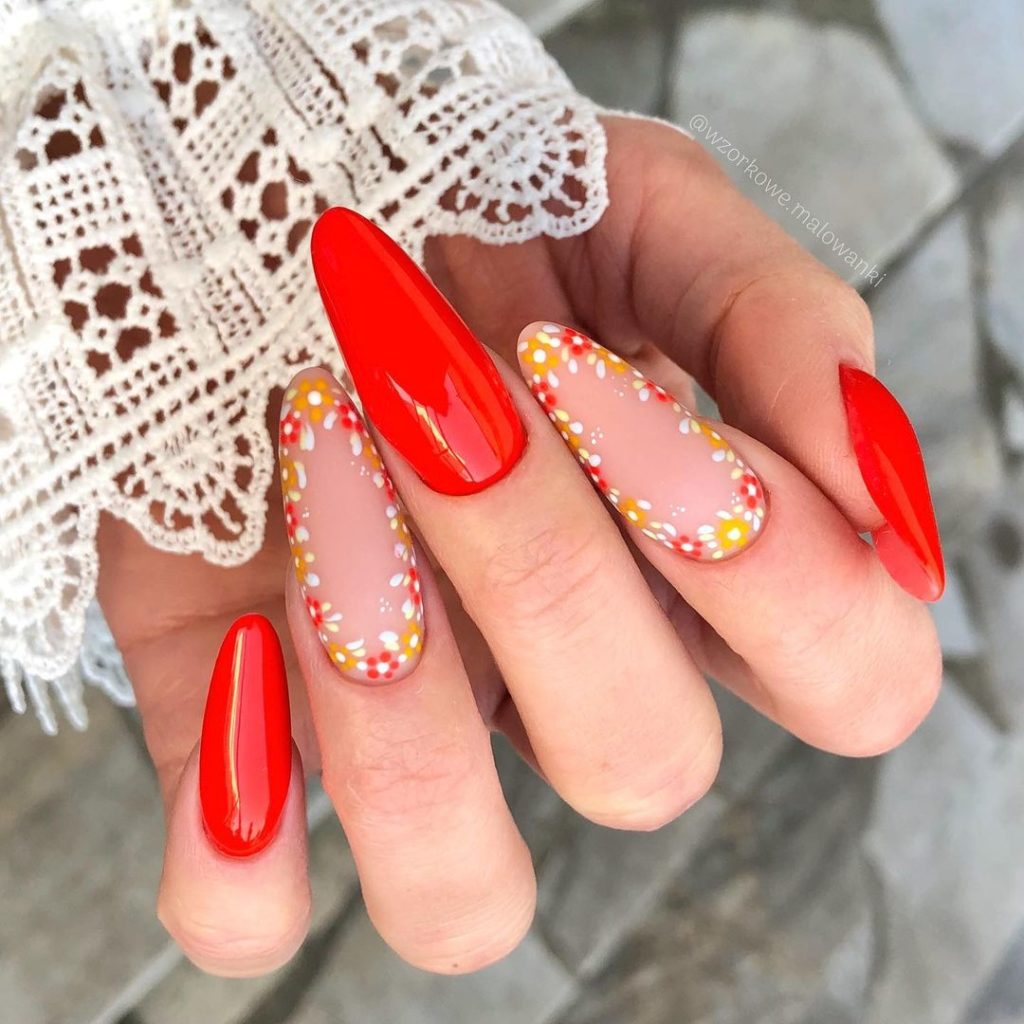 This is such a cool way to incorporate flowers into a red nail design. Simply alternate between a glossy red and matte nude finish with mustard yellow and red flowers looping around the rim of each neutral nail.
65. Red French Square Nails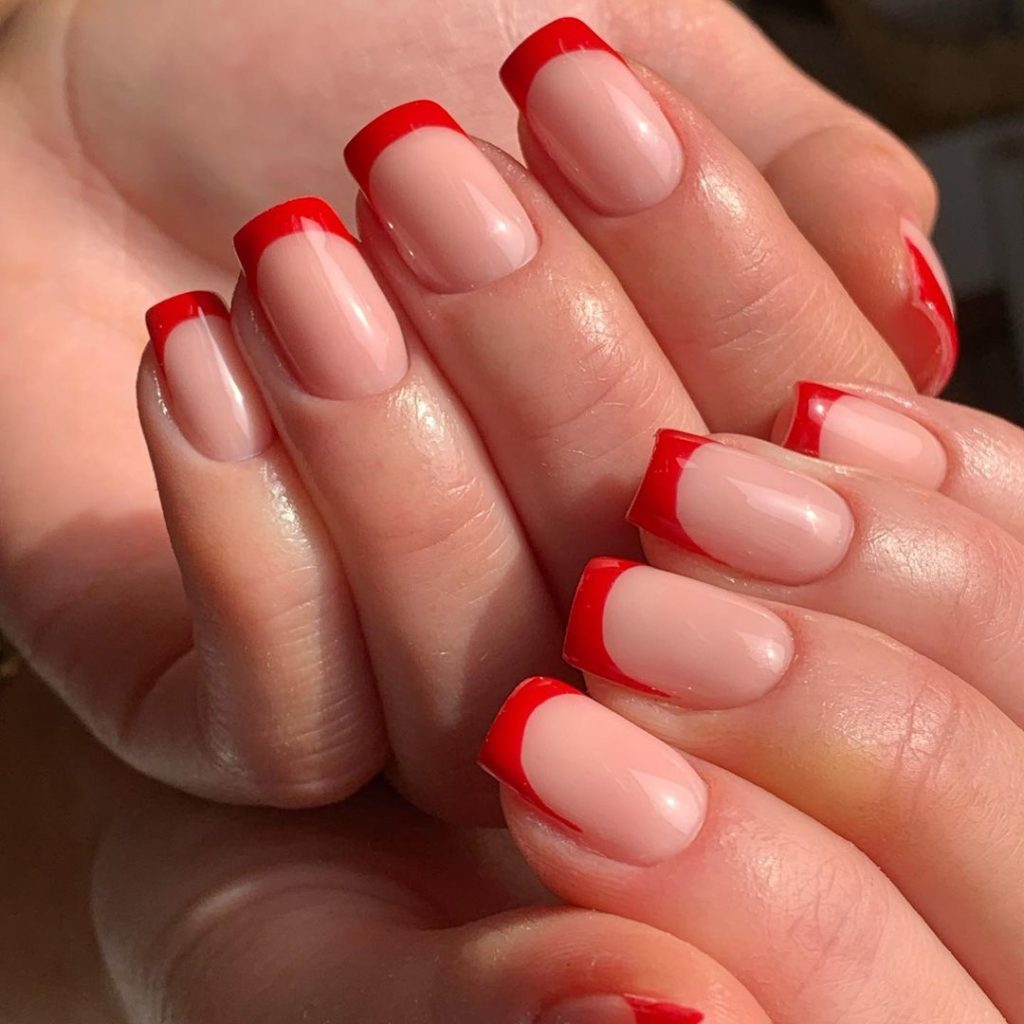 This french manicure has come to claim its rightful place on this list, and I have no objections. Leading with a nude base, the tips of each nail are painted red. 
French tips are bound to no particular season or occasion so take advantage of this classy design whenever you desire.
66. Glossy Red and White Almond Nails with Silver Sequinst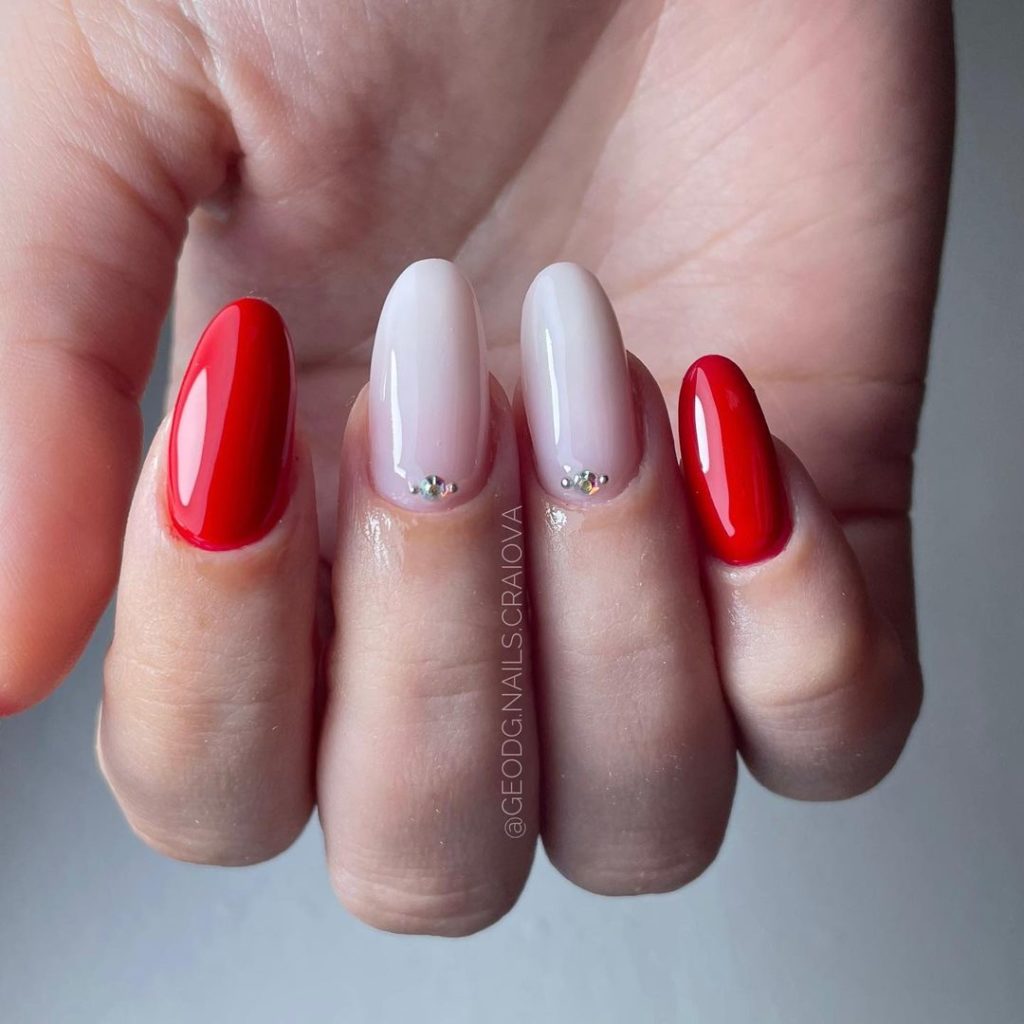 Pair red nails with white for a softer finish. The graceful appeal will only be heightened with this color combo, as red and white alike are effortlessly elegant. Add to the appeal with silver sequins.
67. Red Deep French Nails with Colorful Abstract Art
Getting your nails done can be as fun as you want it to be. So, stand out with cool and colorful abstract art designed over deep french tips.
Experiment by working with the brightest shades you can think of – red, orange, and yellow with specks of blue will definitely get the job done.
68. Short Romantic Red Rim Nails
How quaint are these love-inspired nails? Extremely! Kept at a cute short length, negative space forms the base of this look, followed by red nail polish lining the perimeter. 
Small red hearts fill the empty spaces, and it's enough to win anyone over.
69. Short Sparkling Maroon Red Nails
Set your Instagram feed on fire when you reveal your new manicure. It's a gorgeous sparkling maroon red nail design for those of us who love a look that's bold,  feminine, and easy to achieve.
70. Red and Nude French Almond Nails with Large Red Hearts
For all the words you find hard to express, let your nails say them for you as you celebrate newfound love with stunning red french tips. 
Your ring finger will be more than happy to display a gush of red hearts to enhance this sentimental design.
71. Red and Pastel Peach Coffin Nails with Loose Glitter
For Spring, have fun with colorful loose glitter as you decorate a bold red nail look. Complement the design with a full layer of sparkling pastel peach polish for a softer touch.
72. Coral Red Speckled Nails
Get the look of your dreams in a matter of minutes with this simple method. Dip a nail art brush in black polish before dabbing it against beautiful coral red nails. Before you know it, you'll achieve this easy-to-wear speckled design.
73. Matte Red and Nude Calligraphy French Coffin Nails
Get creative with the word "love" spelled out over the nude spaces of red french tips. Opt for a matte finish for a sharp and refined look.
74. Short Red and Black Plaid Nails with Gold Glitter
Short plaid nails will never steer you wrong. Rock this trendy look painted in black and red with a shimmer of gold to lighten the mood.
75. Red and White Graphic Oval Nails
Red, black, and white make the ultimate team. Put this timeless combo to the test starting with nails coated in red and white. Enhance them with a light addition of black specks and an edgy heart design.
76. Short Candy Red Nails with Silver Bow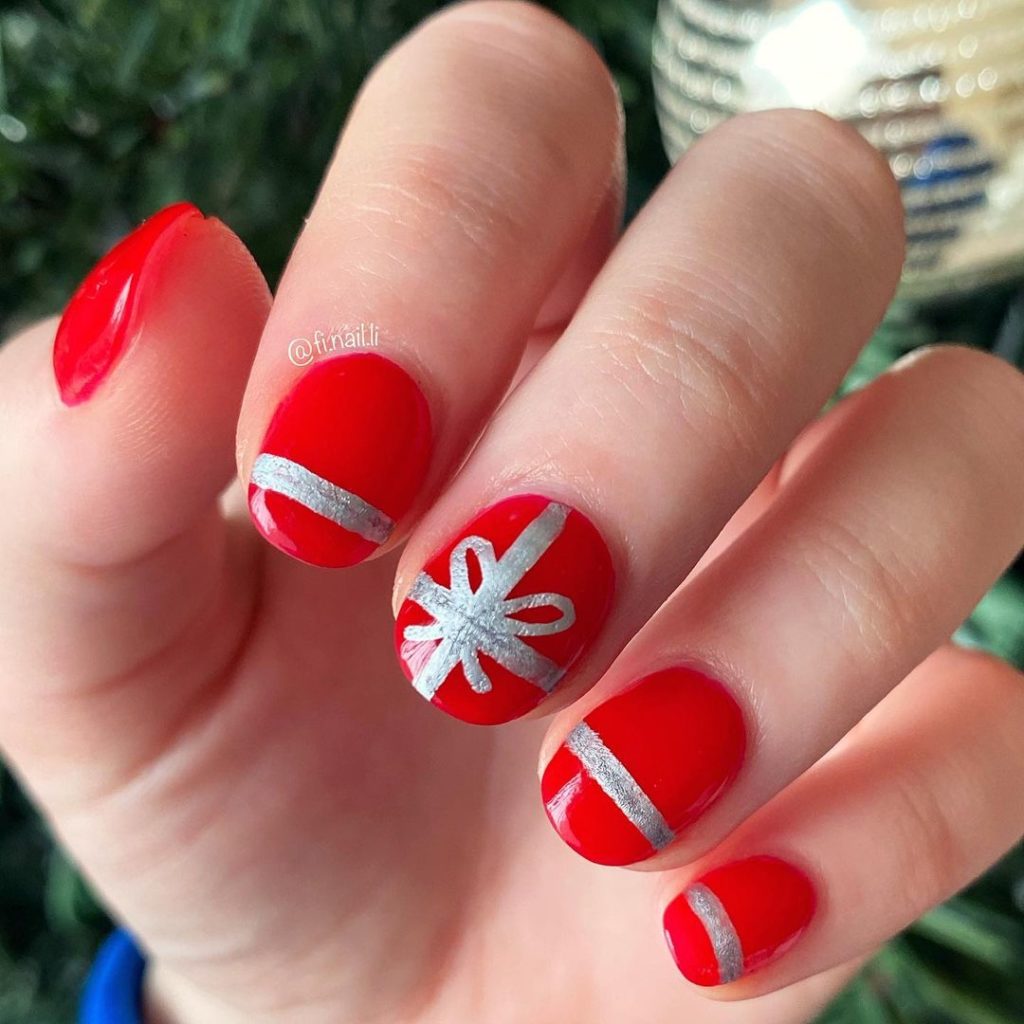 Treat yourself like the gift you are by wrapping candy red nails in a shimmering silver bow design. Try this cute look for a merry Christmas, a birthday gift to yourself, or as something special for Valentine's Day.
77. Red French Nails with White, Red, and Yellow Swirls
Swirls are one of the dominant nail designs for Spring and they also look especially stylish with casual outfits. 
For the greatest impact, complement your nails with swirls designed in bold colors like red and yellow. Paint them over negative space for a playful french tip look.
78. Red and Black Almond Nails with Red Hearts and Glitter
Dare to be brave in a captivating red and black nail combo. Take the edge off with red hearts and glitter accentuating those neutral middle and ring fingers. Round off this design with a glossy top coat.
SEE ALSO: 100 Black Nail Design Ideas That Are Trendy AF
79. Short Red Nails with White Stars
First time trying red nails? Keep things simple with cute hassle-free and DIY-friendly nail art. Let stars light the way as you step into what may be uncharted nail design territory.
80. Matte Red and White Striped Almond Nails
Here's another simple look you can try at home – matte red and white nails with stripes of black and red for a neat and modern twist.
81. Red and Black French Oval Nails with Gold Glitter Flakes
French nails generally feature the lighter shade at the tips but this classy look flips the script. Instead, dark red nails transition to black, with glittering gold flakes adding some spark for the final touch.
82. Short Red Angled French Nails with Black Strokes
Amping up your red nails is as simple as black strokes over a french design. That's the power of a neutral and high contrast color combination. You'll accomplish an ultra-chic look effortlessly.
83. Red and Light Nude Abstract Swirl Almond Nails
Swirls are taking over, and I mean that literally. If you're ready to dive right into one of the trendiest nail designs ever, here's a look you should definitely recreate.
84. Glossy Red and Black Ombre Nails
As if red nails were gently dipped in black polish, this ombre design is a subtle yet impactful transition from one shade to the next. Better yet, it's a classy look with a feisty touch.
85. Short Red Faux-Sugar Nails
A faux-sugar effect makes these red nails look as sweet as candy and I'm loving every bit of it. The look is achieved with sprinkles of glitter on red and clear nails. I'm already daydreaming about the dazzling glow this design will give.
86. Red Tie-Dye Nails with Glitter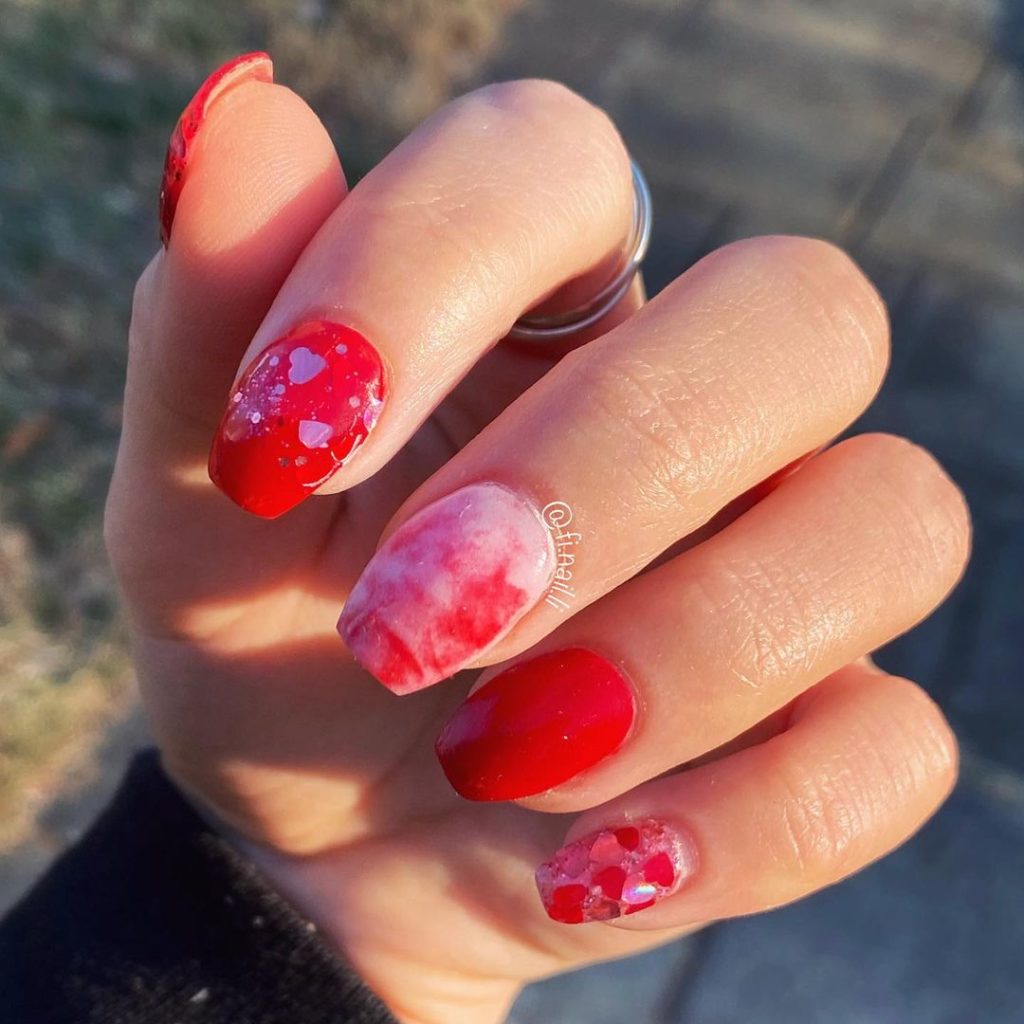 Glitter nails are a vibe but another show-stopping accent for your nails is a tie-dye design, easily achieved with the watercolor technique. 
Simply apply blobs of diluted acrylic nail polish, in the colors of your choice, over your base coat, using a plastic bag or your brush to lightly fuse the colors. As seen in this design, a white base is preferred to make the colors pop.
87. Glossy Red Coffin Nails with Snowflakes
Like unwrapping gifts on Christmas day, these glossy red nails will definitely fill you with excitement as you recall the joy of the season each time you see those pretty white snowflakes.
88. Glossy Red Stiletto Nails
Almost as bold as a red lip are red stiletto nails. How about trying both at the same time? I can already imagine how gorgeous that combination would be.
89. Glossy Red Leopard Print Almond Nails
Leopard print on red nails? Yes, please! You'll experience a burst of confidence with this look, knowing that you're going about your day in such a gorgeous and trendy nail design.
90. Red and Light Pink Bedazzled Coffin Nails with Cherries
How to achieve a bold and girly nail look 101: rhinestone sequins, glitter, and cherries for a sweet touch. As for the nail polish – red and pink, without a doubt.
91. Red Almond French Nails with Flames
You can't have red hot nails without flame art. So, bringing a sassy touch to this look are red and orange ombre flames in a french tip design.
92. Red Heart Almond Nails
The creative design of this mani mimics french nails and I love it. Popping against the tips of a light nude base are the most adorable small red hearts. Expect to turn heads with this cute look.
93. Short Red and Pink Glitter Coffin Nails
Mirror, mirror on the wall, aren't these the cutest nails of them all? With chunks of loose glitter in red, white, and pink embellishing these nails to an even higher level of elegance. 
On either side, full coats of red are having their moment with a soft pink in the center.
94. Wine Red Angled French Coffin Nails
This manicure combines a classic look with trendy angled french tips for the girl who likes to mix things up.
Confession; these nails held my gaze for a good minute – wine red has that effect. The shade is simply compelling.
95. Red and Sparkling Gold Stiletto Nails
Even when paired with sparkling gold nails, red remains the stand-out color. Nonetheless, they make a fine team and have a luxurious effect so don't be surprised when all eyes are on you.
96. Red Deep French Almond Nails with Snowflakes
Snuggled in a cozy oversized sweater with a cup of hot chocolate, all the while your freshly done manicure is peeking through – sounds like heaven to me.
These nails are polished red just above the halfway mark with white hand-painted snowflakes popping out at you one after the other – a friendly reminder of how cold it is outside.
97. Red Abstract Almond Nails
Negative space has become just as important to nail artistry as any other design. Notice how it's a major part of these red nails, dividing each section of red from the other for an easy-to-achieve abstract design.
98. Red and Orange Ombre Nails
Brighten up red nails by blending in orange at the tips to create a vibrant ombre design for Summer. It's just what our pretty sundresses will need to rise to their full potential.
99. Red Glitter Nails with Flowers
This design features real-life flowers pressed onto the nails and secured by red glitter nail polish. The result is a creative, DIY-friendly, and classy look.
100. Short Red and Nude Mauve Floral Nails
A simple design can drastically transform your entire manicure. For a look that's super-feminine that you can try yourself, you can't go wrong with a floral pattern applied over a neutral nail.
Summary and Top Picks
All the proof you need that red nails never fail. Albeit a vivid shade, it's beautiful and looks amazing on everyone, so, I encourage you to not hold back. Red has tons of shades to choose from and you can accent the color with designs that suit you best.
If you need any help choosing a design, my top picks may serve as inspiration. Topping my faves list are designs 2, 29, and 55. I hold french tips and floral designs close to my heart because they always turn out amazing and line art is just too trendy to pass up.
What about you? Which of these designs would you say are your ultimate faves? Are you pumped to try a red manicure more often? Let me know what you think along with any questions you have down below.