Blue nails make a huge statement, even more than many realize. While it's not the first color we tend to opt for when getting our nails done, blue lacquer is one of the most appealing and versatile manicure tints.
Blue offers a cool and conservative, sometimes bold touch to your overall attire. It all depends on the shade that you like best at the given moment. With such versatility, no matter the season, your mood, or the style you're going for, a blue mani is worth it.
Already, I'm envisioning a bold cobalt blue for summertime. For winter? A light blue base with white glitter sprinkled here and there to spark the holiday spirit. And if you'd like to spice things up, blue lacquer comes alive when you dabble in a little nail art.
You can tone things up or down with this amazing hue, and below I've rounded up some of the trendiest blue nail designs that'll make a blue mani next on your list.
1. Baby Blue Coffin Nails
The very essence of baby blue is calming. Polished onto classic coffin nails, this look is delicate with a touch of sophistication. You can get these nails at Etsy.
2. Chrome Cobalt Blue Almond Nails
Everything about this manicure is captivating: the rich cobalt blue shade, the elegant almond shape, and that fancy chrome finish. You can get these nails at Etsy.
3. Steel Blue Deep French Coffin Nails
French nails are utterly timeless. Give them a feminine and flawless finish with your tips coated in steel blue. You can get these nails at Etsy.
4. Light Blue Speckled Almond Nails
Rock this spotted almond nail design for Easter or for an easy way to spruce up your blue mani. This pale blue base is perfect to highlight those black specks for a simple yet creative look. You can get these nails at Etsy.
5. Deep Blue Negative Space Square Nails
Negative space designs never cease to amaze me. Beginning with a nude base, this look features large deep blue swirls as simplicity meets trendy. You can get these nails at Etsy.
6. Blue Monochrome French Almond Nails
Here's a charming blue monochrome french mani that's just right for Spring. Each tip is varnished in a subtle blue shade making this design super cute and lighthearted. You can get these nails at Etsy.
7. Matte Deep Blue Almond Nails
This matte blue set is so chic! The color will look stunning with casualwear, especially denim, doubling as classy for your more refined pieces. If you've been underestimating blue nails, I just know this look has won you over. You can get these nails at Etsy.
8. Neon Blue and Black Lightning Almond Nails
These lightening nails are definitely unforgettable. All it took was an edgy black base highlighted by jagged neon blue lines to pull off this electrifying design. You can get these nails at Etsy.
9. Blue Marble Ombre Almond Nails with Gold Glitter Line
These blue marble nails are giving serene ocean vibes. Transitioning from a nude peach base, shades of blue are swirled together in an ombre effect with a winding line of gold glitter dancing its way through. You can get these nails at Etsy.
SEE ALSO: 41 Amazing Brown Marble Nail Design Ideas
10. Glossy Sky Blue Coffin Nails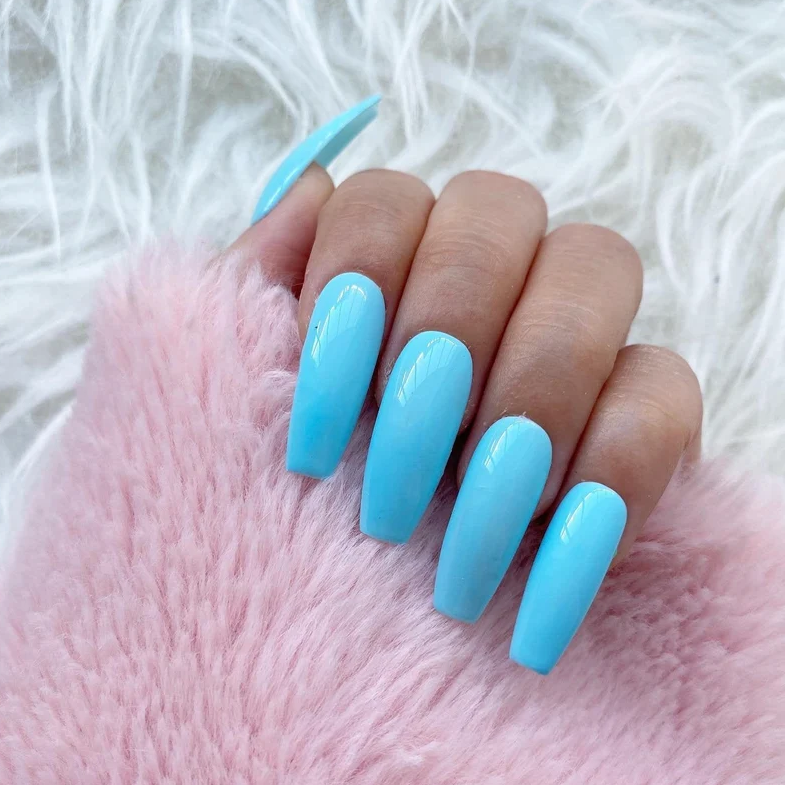 Who knew sky blue could look so fancy? Thanks to the broad coffin shape, the posh vibe is enhanced—even more so by the glossy finish. You can get these nails at Etsy.
11. Short Aquamarine Glitter Nails
Leave it to glitter to amp up an aquamarine mani. The sparkling design equates to a glowing finish, perfect to dress up the simplest of outfits. You can get these nails at Etsy.
12. Blue and Green Gradient Coffin Nails
For a diverse nail design, opt for a gradient effect with your thumb flaunting a bright navy blue shade, lightening all the way to a lovely mint green hue on your pinky. You can get these nails at Etsy.
13. Blue Marble Stiletto Nails
Mix things up by pairing solid-toned blue nails with a trendy marble design. Rock the print on your middle and ring fingers to give your nail art the most eye-catching finish. You can get these nails at Etsy.
14. Light Blue Swirl Coffin Nails
Swirls are in, no matter how minimal. Look how easily these blue swirls jazz up that dewy nude base. It's feminine, sophisticated, and fun, all in one. You can get these nails at Etsy.
15. Light Blue and Black Marble Coffin Nails
Bring an edgy touch to a blue mani with a few nails coated in black. You can make the final look even more interesting with a cool marble effect of light blue highlights against a black base. You can get these nails at Etsy.
16. Multishade Blue Floral Coffin Nails
I'm loving the stylish floral print incorporated into this blue nail design. The use of light and dark blue shades also adds a fresh touch to the overall look, giving this mani a versatile finish and a youthful flair. You can get these nails at Etsy.
17. Navy Blue Holographic Stiletto Nails
I'm impressed each time I see holographic nails. The galactic and scintillating design is enough to keep you in a daze, and with this stiletto set, the navy blue, teal, and purple combination makes the finished look all the more mesmerizing. You can get these nails at Etsy.
18. Blue, Green, and White Stripe Coffin Nails
These nails remind me of a cute striped bikini in the summertime. I also love the inclusion of white and pastel green to bring color variation along with a stylish and playful vibe. You can get these nails at Etsy.
19. Blue Marble French Almond Nails
This trendy blue mani combines a cute french design with a chic marble effect. It's a modish take on a classic look which is what contemporary beauty is all about. You can get these nails at Etsy.
20. Blue Glitter Coffin Nails
Take things up a notch for your next manicure with blue glitter nails. This look works for both laid-back and dressy occasions. You can get these nails at Etsy.
21. Baby Blue Glitter Stiletto Nails
Here's a look that's sure to make a statement, stunning light blue stiletto nails with a sparkling finish. This classy set reminds me of Cinderella's timeless baby blue gown, only with a fancier appeal, thanks to the tapered nail shape. You can get these nails at Etsy.
22. Baby Blue Marble Gel Almond Nails with Glitter
The love for baby blue continues with these hard gel marble nails. Embellished with a light touch of glitter, this almond set is flawless and absolutely angelic. You can get these nails at Etsy.
23. Blue Deep French Coffin Nails with Daisies
Get your nails ready for Spring with a bright blue french design accentuated by daisy nail art. Apply each daisy along the smile line of your french tips for a girly finish. You can get these nails at Etsy.
24. Sparkling Blue Deep French Square Nails with Swirls
This look takes two go-to nail designs and amps them up to create the definition of a dolled-up mani. It's a combination of sparkling blue french tips and swirls with a thick texture that makes the design pop against a nude base. You can get these nails at Etsy.
25. Pastel Blue and Purple Marble Coffin Nails with Glitter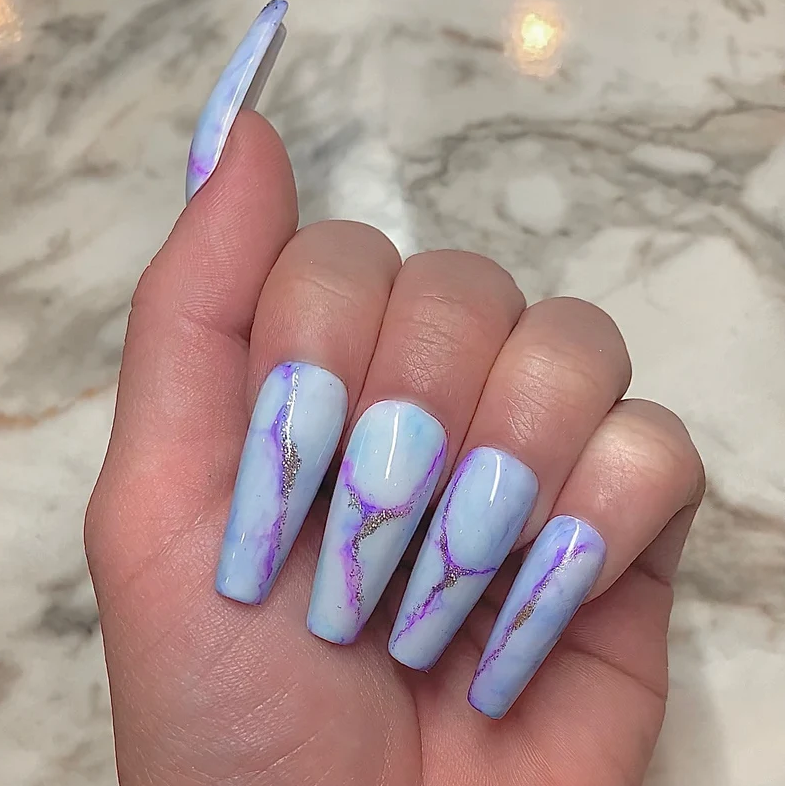 The right shade of blue can help you achieve an adorable set of nails. For this look, pastel blue is the main hue. It's accentuated by a purple marble effect with a trail of glitter as the final touch. You can get these nails at Etsy.
SEE ALSO: 21 Mind-Blowing Long Natural Nail Design Ideas
26. Pastel Blue Sweater Stiletto Nails with Snowflakes
Ever thought of blue nails for the holidays? This pastel set has me placing a blue mani on top of my December wish list. 
The subtle shade is beautifully complemented by white snowflakes and a cable knit sweater design to add a cozy touch to this cute Christmas look. You can get these nails at Etsy.
27. Sky Blue Lemon Coffin Nails
Give your blue nails an extra girly touch with some lemon nail art. Lemon designs are increasing in popularity, so don't let this cute trend pass you by. Rock them in white over a sky-blue base for a pretty and youthful look. You can get these nails at Etsy.
28. Blue and White Swirl Angled French Almond Nails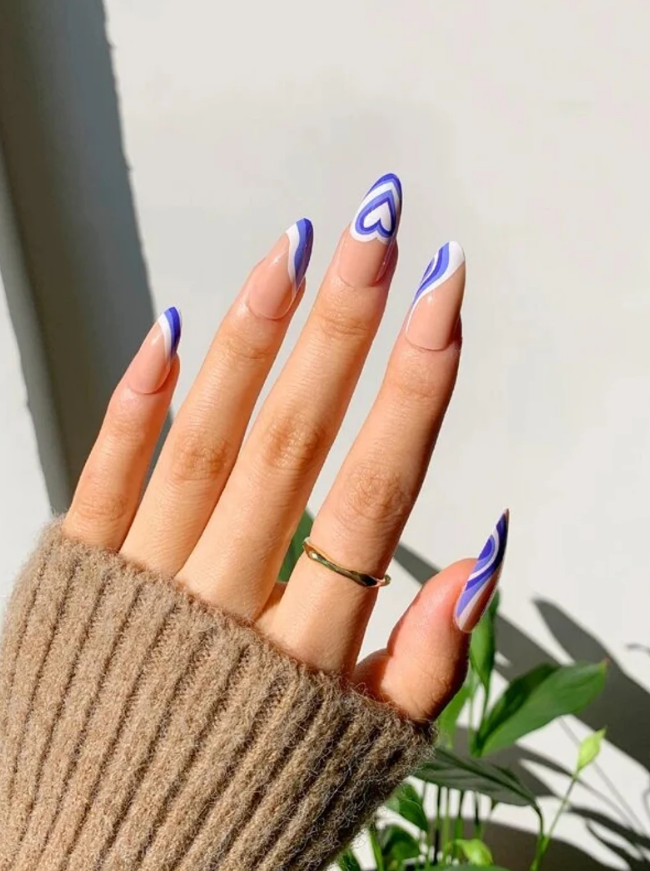 For this look, angled french tips are transformed by blue and white swirls over a nude base but it doesn't stop there. The middle finger is stealing the show with the cutest heart french tip design. You can get these nails at Etsy.
29. Blue Swirl Coffin Nails with Stars
I love how fashionable these nails are with abstract swirls painted in light and dark blue, but what really brings this manicure to life are the twinkling white stars and tiny dots. They add a lovely contrast to those blue swirls. You can get these nails at Etsy.
30. Blue and White Marble Coffin Nails with Gold Glitter
You can count on blue to amp up white-coated nails while maintaining a simple style with a classy edge. For this look, a white base is overlayed by streaks of blue and embellished with gold glitter in a stunning marble design. You can get these nails at Etsy.
31. Periwinkle Blue Floral Almond Nails
See the true beauty of blue when you include floral art in your design. Pair periwinkle blue with flowers painted in pink, blue, and yellow over a translucent base for a girly look. You can get these nails at Etsy.
32. Light Blue Coffin Nails with Violet Glitter
An easy way to jazz up light blue nails is with glitter, of course! Try a color that's comparable to blue such as violet, setting the tiny specks over a gray base to make the color pop. You can get these nails at Etsy.
33. Turquoise Coffin Nails with Faux Raindrops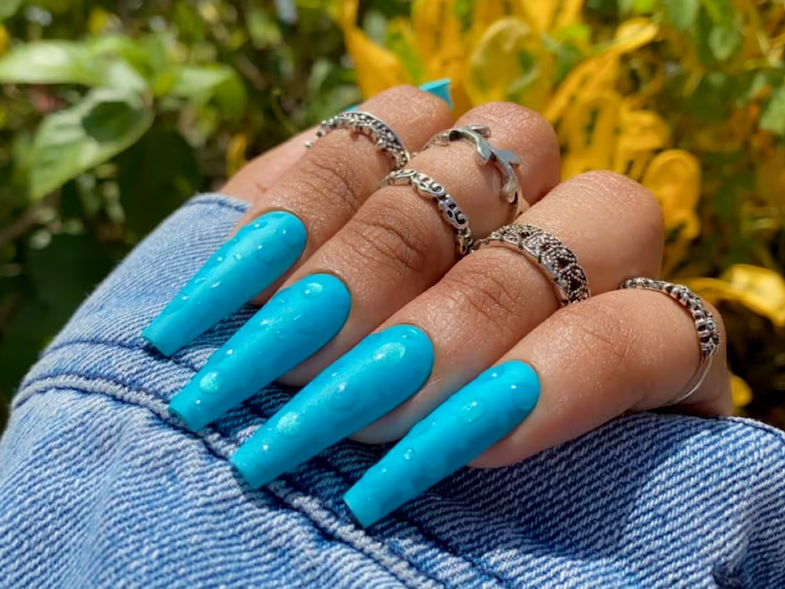 I love the raindrop effect applied to these nails, giving the design a faux wet look. The shade of blue used is a deep turquoise, perfect for Spring and Summer. You can get these nails at Etsy.
34. Light Blue and Brown Floral Almond Nails
Pairing brown with blue may not be the first choice for most but this light blue and brown floral nail design is definitely worth trying. The contrast is unorthodox but refreshing and cute. Plus, you can never go wrong with flowers. You can get these nails at Etsy.
SEE ALSO: 23 Brown Nail Designs to Try for Fall
35. Blue and White Swirl Round Nails
Spruce up negative space with swirls in blue and white. The sizes vary from small to large, adding an abstract style to these cute nails. You can get these nails at SHEIN.
SEE ALSO: 21 Trendy Rainbow Neon Nail Design Ideas
36. Baby Blue Almond Nails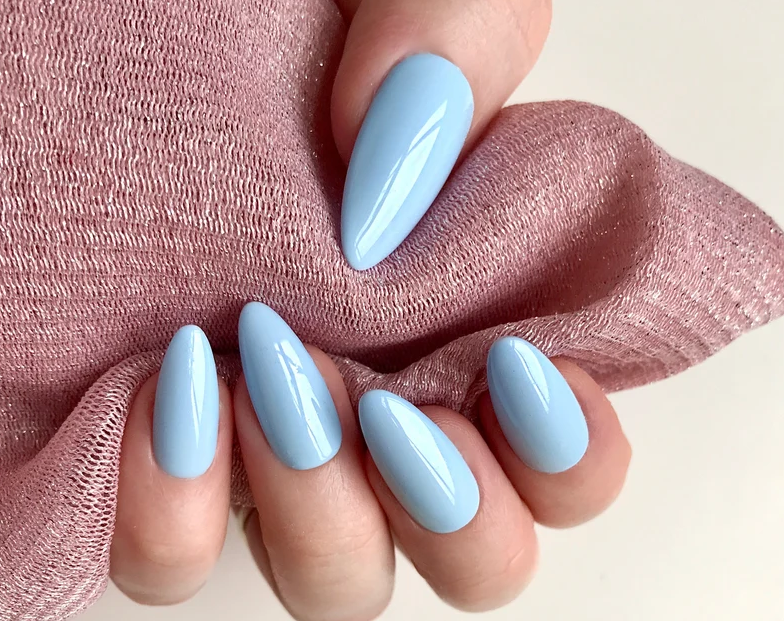 There's beauty in simplicity, and these soft baby blue almond nails are just that—simple with an elegant appeal. You can get these nails at Etsy.
37. Blue Swirl Coffin Nails with Glitter
These nails are a combination of fancy and fun with a blue base decorated by variations of blue swirls and dark blue glitter lacquer to make the design sparkle. You can get these nails at Etsy.
38. Long Chrome Cobalt Blue Coffin Nails
Chrome nails are an amazing alternative for glitter designs. The metallic finish offers a flawless sheen that's even more dazzling and classy with cobalt blue polish. You can get these nails at Etsy.
39. Matte Blue Coffin Nails
Gray isn't the only neutral hue ideal for a low-key, sophisticated mani. This matte blue shade is just as chic and will work even better if you're going for a more modern, professional style. You can get these nails at Etsy.
40. Blue and White Ocean Marble French Coffin Nails
If you're in the mood for an oceanic nail design, a blue and white marble print is exactly what you need. And to make things more interesting, rock a french nail design with the marble effect decorating the tips. You can get these nails at Etsy.
41. Blue Double French Almond Nails
Opt for a classic design and give it a trendy twist with double french tips, coated in blue for a modern and chic flair. You can get these nails at Etsy.
42. Glossy Cobalt Blue Round Nails
I've always loved a high-shine finish. Glossed over cobalt blue nails, this look is simple yet refined, versatile, and classy. You can get these nails at Etsy.
43. Long Baby Blue Stiletto Nails
For an effortlessly classy finish, paint baby blue polish over stiletto nails. The tapered shape of the extensions and the subtlety of color go hand in hand to create a sophisticated look. You can get these nails at Etsy.
44. Short Royal Blue Glitter Stiletto Nails
A special occasion calls for a posh outfit and lavish nails. Stand out in this stunning royal blue stiletto set with embedded glitter and a glossy finish. You can get these nails at Etsy.
45. Light Blue Marble Coffin Nails
A marble print can upgrade a simple mani to one that's super cute and trendy. Complement light blue nails by rocking a white marble effect on your ring finger to add a little diversity. You can get these nails at Etsy.
46. Deep Royal Blue Coffin Nails
Royal blue is one of the most elegant shades. In its deepest hue, it's even more enthralling. Add a high-shine top coat to top it all off. You can get these nails at Etsy.
47. Blue and Pink Double French Almond Nails
These double french nails will look amazing with anything you wear. The light blue and pink combo has a girly appeal, perfect for frilly tops, maxi skirts, and sun dresses. You can get these nails at Etsy.
48. Glitter-Encrusted Turquoise and Sheer Pink Coffin Nails
These glitter-encrusted nails look gorgeous paired with sheer pink. The subtlety of the latter allows for the focus to be placed on the striking beauty of the turquoise blue.
49. Baby Blue Ombre Almond Nails with Daisies
Ombre nails are always in season. Opt for a baby blue shade and spruce it up with some cute daisies.
50. Light Blue and Silver Glitter Angled French Coffin Nails
Add a little shimmer to your nails in the form of silver glitter to enhance an angled french tip design. Light blue and silver paired together make for a classy combo and that nude base is keeping this look fresh and subtle.
51. Blue Ombre Glitter Round Nails
Two of my favorites meet in this magical blue design—glitter and a seamless gradient effect. It begins with a bright blue before fading out into a soft, off-white hue.
52. Royal Blue Glitter Squoval Nails
These nails are too gorgeous to look away from. Polished in light to dark shades of royal blue with a light touch of glitter, this posh look is perfect for the most formal of occasions.
53. Blue Butterfly French Coffin Nails with Silver Rhinestones
This look strikes a balance between girly and flirty. The main focus is a blue french tip design. It's accentuated by silver rhinestones and bold blue butterflies.
54. Blue Splatter Art Round Nails
Achieving a fun nail design is easy with splatter nail art. For this look, blue foil is applied to create the effect of blotches. A dark blue shade is used to guarantee a beautiful contrast with the light blue base.
55. Blue and Orange Ombre Almond Nails with Glitter
If you're looking for a design that transcends seasons, this blue and orange ombre blend is what you need. It features a pink tint with yellow leaves and a glitter overlay on the index finger. To say it's gorgeous is an understatement.
56. Pastel Blue Floral Round Nails
Oftentimes, I like my nails pastel and pretty. If you're feeling for something simple and cute, then this blue mani with small white flowers is just what you need.
57. Light Blue French Square Nails with Gold Glitter
Take your blue french tips to the next level by adorning each smile line with gold glitter. It's a simple touch but the end result is so classy.
58. Blue Polka Dot Mismatched French Almond Nails
Here's a creative way to include polka dots in your next blue mani. Apply each dot as a decorative overlay to accentuate a trendy mismatched french tip design.
59. Short Monochrome Blue Stiletto Nails
I love playing around with different shades of blue on my nails. It gives me a reason to reach for some of my favorite hues like teal and navy blue. Paired with a lighter tone, it's the perfect monochrome mani.
60. Baby Blue and Sheer Pink Ombre Flame Almond Nails
I love the subtlety of this ombre effect as it flawlessly transitions from sheer pink to baby blue. To amp things up, the tip of the ring finger is transformed into a super cute blue and white flame design.
61. Blue Oceanic French Square Nails
I'm always blown away by detailed nail designs and this blue, wave-like french mani is no different. The nude base blends seamlessly into an indigo blue tone with white swirls that add an oceanic touch.
62. Blue Daisy French Coffin Nails
For a look that's both youthful and classy, a daisy french tip design never fails. Painted in blue, nude, and white, it's the perfect color balance for a girly and versatile finish.
63. Blue Squoval Nails with Gold Glitter
I'm absolutely mesmerized by this blue squoval nail design. It features an overlay of white streaks with specks of gold glitter for a surreal galactic effect.
64. Azzure Blue Almond Nails with White Leaves
We often see floral nail art in the form of small leaves, daisies, or roses, but this cute set makes use of a matte azure blue base to highlight large and distinct white leaves. The overall look is charming and is just like a breath of fresh air.
65. Sky Blue and White Ombre Floral Square Nails with Silver Sequins
This floral blue nail design has tons of personality. Long square extensions, polished in a sky blue and white ombre blend are beautifully enhanced by silver sequins and a three-dimensional flower decal for a fancy touch.
66. Blue Coffin Nails with White Hearts
Add your personal touch to a bold blue mani with tiny hearts coated in white. Both hues provide a lovely color contrast that'll make this design pop for any season.
67. Cyan Blue Almond Nails
These cyan blue nails are just the serene aesthetic you need for winter fashion. While this base color is plain, it has just the right amount of saturation to complement your daily looks.
68. Sparkling Multi-Shade Blue Nails
Pairing light and dark shades of blue together is an amazing idea to achieve a diverse nail design without reaching for another color. 
For this look, a sparkling pastel blue base is dressed up on a few nails by a deeper blue tone. The finished look is an abstract blend of hues with a classy and creative appeal.
69. Short Blue Ombre Nails
I love short nails that make an impact. This set combines the shades midnight and azure blue in a trendy gradient blend. It's a bold look that can accompany you in any setting, thanks to its short length and sophisticated style.
70. Multi-Shade Blue Abstract Swirl Coffin Nails
Join the abstract nail trend with a cute and easy-to-achieve design. Starting with a light blue base, ask your nail technician to apply large swirls painted in azure blue to enhance the look. 
Highlight the colors with silver glitter swirls if you're going for an ultra-fashionable finish.
71. Short Deep Blue Swirl Nails
Accent nails are still in style. With your nails coated in a luxurious deep blue, dedicate your ring finger to a nude base with blue abstract swirls. The finished look promises to be elegant and chic.
72. Blue Almond Nails with Rhinestones and Glitter
This design showcases blue as the posh color that it truly is. Embellished with clusters of rhinestones and glitter, it's the perfect choice to ensure your OOTD stands out.
73. Light Blue French Almond Nails with Silver Glitter
French tips paired with glitter make for an effortlessly classy look. Give the design a youthful appearance by opting for a light blue shade with silver glitter to complement the cool undertone.
74. Short Blue Abstract Swirl French Round Nails
French tips are always classy but they're also the norm. Switch things up by decorating your tips with fun blue swirls over a nude base for a fresh summer vibe.
75. Blue and Pink Angled French Almond Nails with Gold Glitter
Blue and pink make for an adorable combo. For a trendy finish, go for an angled french tip design that doubles as classy. Complete the look by accentuating it with gold glitter.
76. Short Dark Teal Glitter Nails
These blue nails are such a fashion statement and have a regal effect. They boast a round shape and are polished in a captivating dark teal shade with the most scintillating finish.
77. Pastel Blue and Green Swirl Nails
These nails feature a touch of green to add a warm tone to the pastel blue base. The design is kept chic but playful thanks to the introduction of swirls on the ring fingers.
78. Light Blue Almond Nails with White Stars
Set a celebratory mood with star-embellished light blue nails. The combination is simple but very cute and will look fabulous with anything you wear.
79. Matte Cobalt Blue Square Nails
I love a matte finish and cobalt blue is easily one of my favorite shades, so this look is a win-win. Whether you're going for a classy appeal or a hue that pops for summer, these nails won't disappoint.
80. Light Blue and White Ombre Square Nails
For the most flawless finish, ombre nails are a go-to. The subtle transition from light blue to white is such a beauty, making this gradient design a worthy pick.
81. Blue Zebra Stripe Square Nails
A popular way to snazz up your nails is with some trendy animal print. This look couples a deep blue shade with zebra stripes for a design that's stylish and unforgettable.
82. Short Light Blue Negative Space Nails with White Swirls
Put a little pep in your step with these light blue nails. They feature negative space with white swirls to bring a delicate touch and a subtle contrast to the overall look.
83. Blue Leopard Print French Nails with Gold Glitter
You can have it all, leopard print, french tips, and gold glitter, all in one vibrant blue nail design.
84. Pastel Blue Almond Nails with Gold Glitter
What better way to spruce up pastel blue nails than with gold glitter? Applied along the crown of each nail, the combination is stunning and incredibly elegant.
85. Sky Blue Ombre Cloud Almond Nails with Pink Butterflies
Light blue nails are perfect for cloud art since the color is reminiscent of the sky. Add a burst of color with large pink butterflies for a girly touch and to enhance the design.
86. Matte Light Blue Daisy Almond Nails
Daisies on blue nails make for a super cute spring design. Rock this set with your casual fits and dressy pieces. You'll look amazing either way.
87. Turquoise and Dark Blue Square Nails
Who knew turquoise would look so gorgeous with dark blue? The color fusion is immaculate, with a glossy finish to seal the deal.
88. Blue and White Speckled Squoval Nails
Give your nails a speckled design with dashes of blue over a white base. It's an easy to achieve and cute way to transform a simple blue and white mani.
89. Monochrome Blue Swirl Almond Nails
Swirl art has made enhancing your nails super easy. With bright blue lines designed in abstract patterns over a light blue base, you can achieve an eye-catching monochrome mani.
90. Long Blue and Green Cut-Out Nails
If you're a fan of dramatic nail designs, opt for long cut-out nails coated in blue and green. Both colors bring a mixture of cool and warm undertones, so you can rock this look all year round.
91. Blue and White Tie-Dye Angled French Coffin Nails
I'd rock this look for summer in a heartbeat! It's the angled french tips and tie-dye design that won me over. I also love the use of both light and dark blue shades with white for a striking contrast.
92. Long Blue Croc Print Stiletto Nails
Croc nails are undefeated. For the past year, this animal print has been the stylish trend everyone has been wanting to try. Now, it's your turn. Rock the print with bright blue nails to add some personality to the design.
93. Short Blue, Black, and White Checkered Nails
Pair blue with black and you'll be guaranteed an edgy and bold nail combo. Keep things interesting with a stylish pattern as well. Drop a checkered print on your index finger—the monochrome design adds a special touch.
94. Short Blue and Pink Floral Nails
It's the cutesy vibe for me! A pink and blue combo will do that for you. Throw some flowers into the mix for a dainty finish.
95. Short Blue and White Swirl Nails
I love the diversity of the swirls in this design. The colors range from light to dark blue with white in the midst. It's a cute, cool-toned look that I'd definitely rock for summer.
96. Blue Abstract Swirl French Coffin Nails
French nails aren't limited to a nude base with white tips anymore. You can get creative with the most abstract designs, like this blue french tip set. 
The tips are designed as large swirls, bordered with black polish to make that pretty blue shade stand out even more.
97. Short Blue Leaf Art Nails with Gold Glitter
For a look that's girly with a classy flair, opt for short nails polished in nude pink. Bring that neutral base to life with blue leaf art and gold glitter flakes.
98. Blue and White Double French Square Nails
If you ever need an ultra-chic french tip design, these blue and white double french nails will help give your daily looks that sophisticated edge. Go for a square nail shape with a matte finish for the most impact.
99. Baby Blue and White Lace Round Nails
This baby blue and white set was inspired by the blue lace gown worn by Daphne in Netflix's Bridgerton series. 
With blue as the base color on most nails and nude on a few, white lace-like details are designed on top for a timeless and elegant appeal.
100. Long Blue and Purple Tie-Dye Coffin Nails
This is one of the most beautiful tie dye nail designs I've ever seen. Shades of blue and purple are blended, resembling the prettiest ocean waves with a nude base that really makes the colors come alive.
Summary and Top Picks
If blue nails are now on your radar, then mission accomplished! A lot of women bypass this color because they think it's too conservative or unfeminine but these designs prove that a blue mani can be anything you want it to be: chic, elegant, bold, or edgy.
The ideas I love the most are designs 2, 10, and 87. I love how classy they all are, as well as eye-catching, despite featuring only one color.
Which designs from this compilation inspired you? What were your thoughts on blue nails before and how have they changed since seeing these amazing designs? Share what you think and any questions you have down below.