Tattoos have long been worn as a form of expression, and the smaller they are, the cuter they tend to be. While large tattoos are bold and beautifully dramatic, small tattoos often carry the most sentimental meanings while looking classy. 
Small tattoos look amazing pretty much anywhere on your body; from your wrist to your forearm, back, ribcage, ankle, and collarbone, and can be concealed easily if need be.
Some of the most common designs I've seen all over my social media feed include hearts, flowers, birds, stars, and so much more. Another super cute idea is calligraphy or text tattoos. 
You can have some of the most meaningful words or phrases inked onto your skin in the font of your choice. So, if you don't want your new body art to be too conspicuous, a small tat can be a brilliant choice.
To help you pick one that suits you best, I've rounded up a list of the cutest small tattoos that every woman needs to see. Let's dive right in!
1. Small Diamond Tattoo with Flowers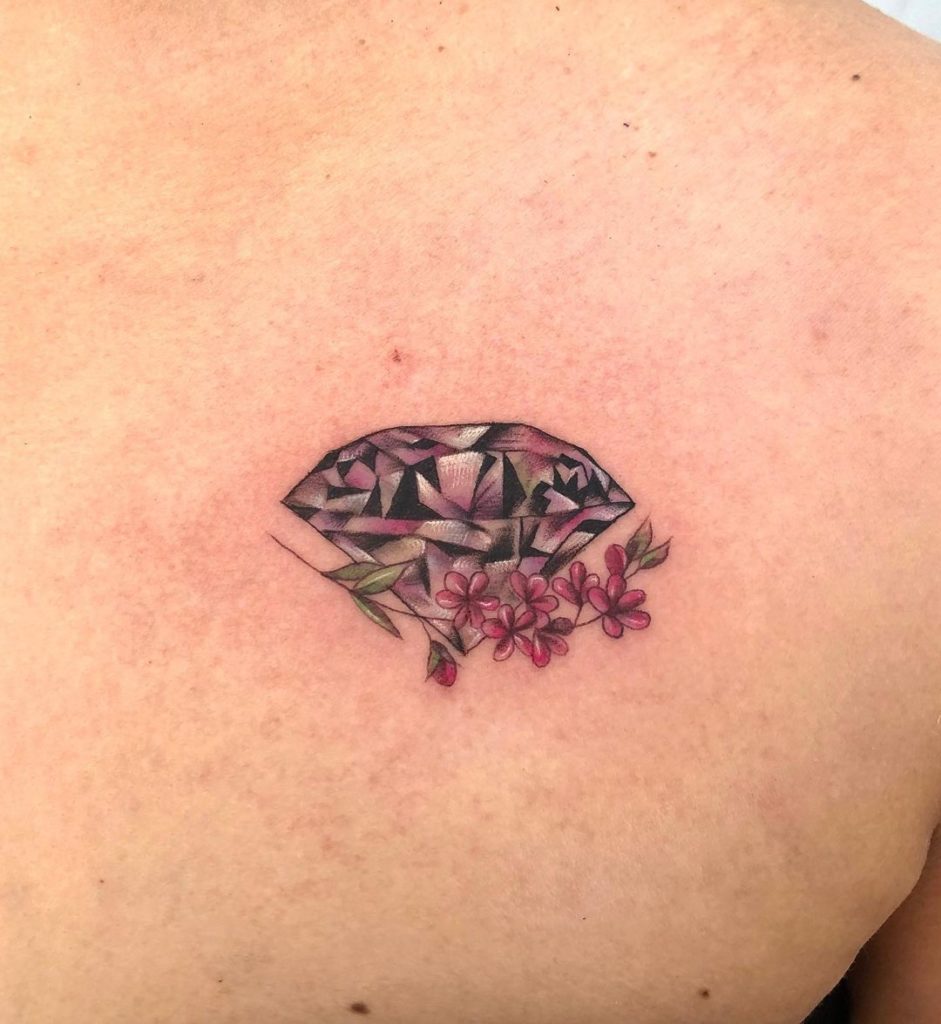 Diamonds are symbols of resilience and beauty. Designed with pink floral art and green leaves, this tattoo will look amazing right below your collarbone.
2. Small Negative Space Butterfly Tattoo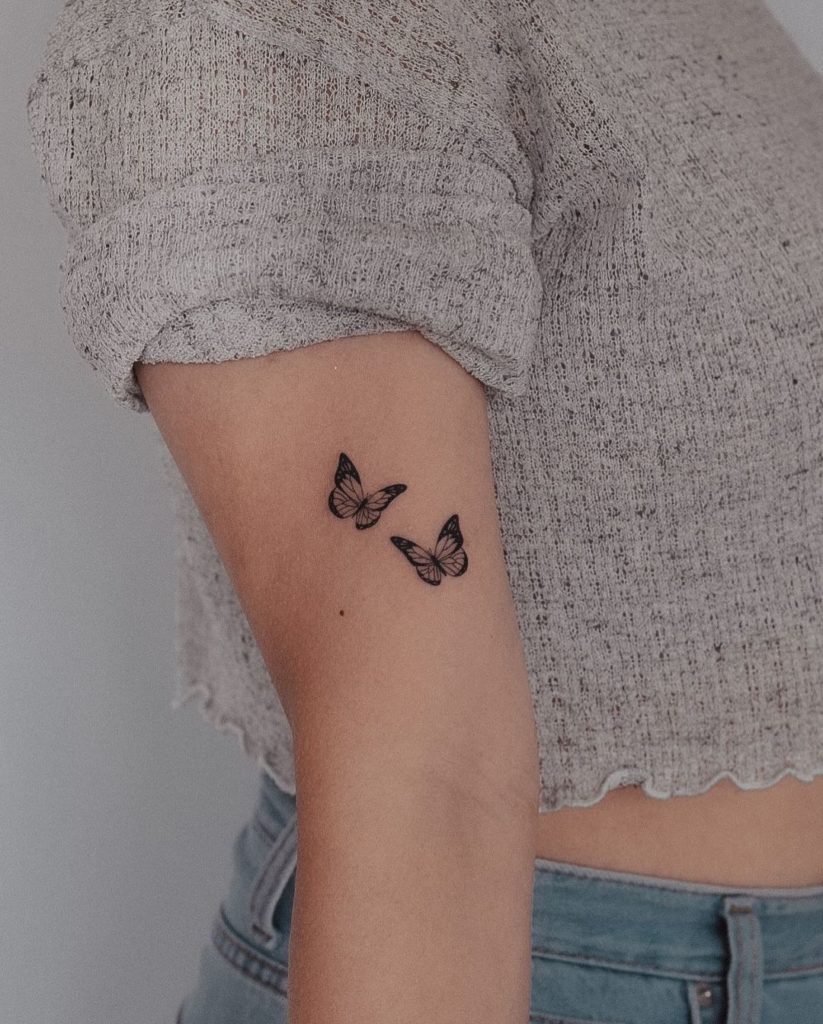 Butterflies represent new beginnings. Give this message double the impact with two butterflies inked in black, flying on the inside of your upper arm.
3. Small 'Free' Tattoo
In a world where life can feel overwhelming, it's important to have a reminder that you'll overcome your circumstances. This 'free' tattoo is the perfect way to keep your mind at ease with a small bird to match the mood.
4. Small 'LA' Tattoo
If you're a proud L.A. resident, you should definitely consider this cool design. It's simple with a fancy touch, inked on the heel to keep its meaning most personal to you.
5. Small 'made in heaven' Tattoo
The ribcage is one of the most sensitive areas for body art but the finished result is beautiful. 
Rib tattoos are associated with the expression of feelings and emotional awareness, and this 'made in heaven' tattoo shows that you know exactly what you're worth.
6. Small 'Psalm 23' Tattoo
This trendy shoulder tattoo is incredibly elegant because of the placement as well as the cursive font. It says, "Psalm 23," a reference to biblical scripture, often quoted as a prayer for protection.
SEE ALSO: 21 Small Shoulder Tattoos Gals Are Inking
7. Small Lightning Bolt Tattoo
This lightning bolt tattoo is simple with a hint of boldness. It highlights that you're brave when you need to be through its tiny size and thin lines, inscribed on your upper arm.
8. Small 'breathe' Tattoo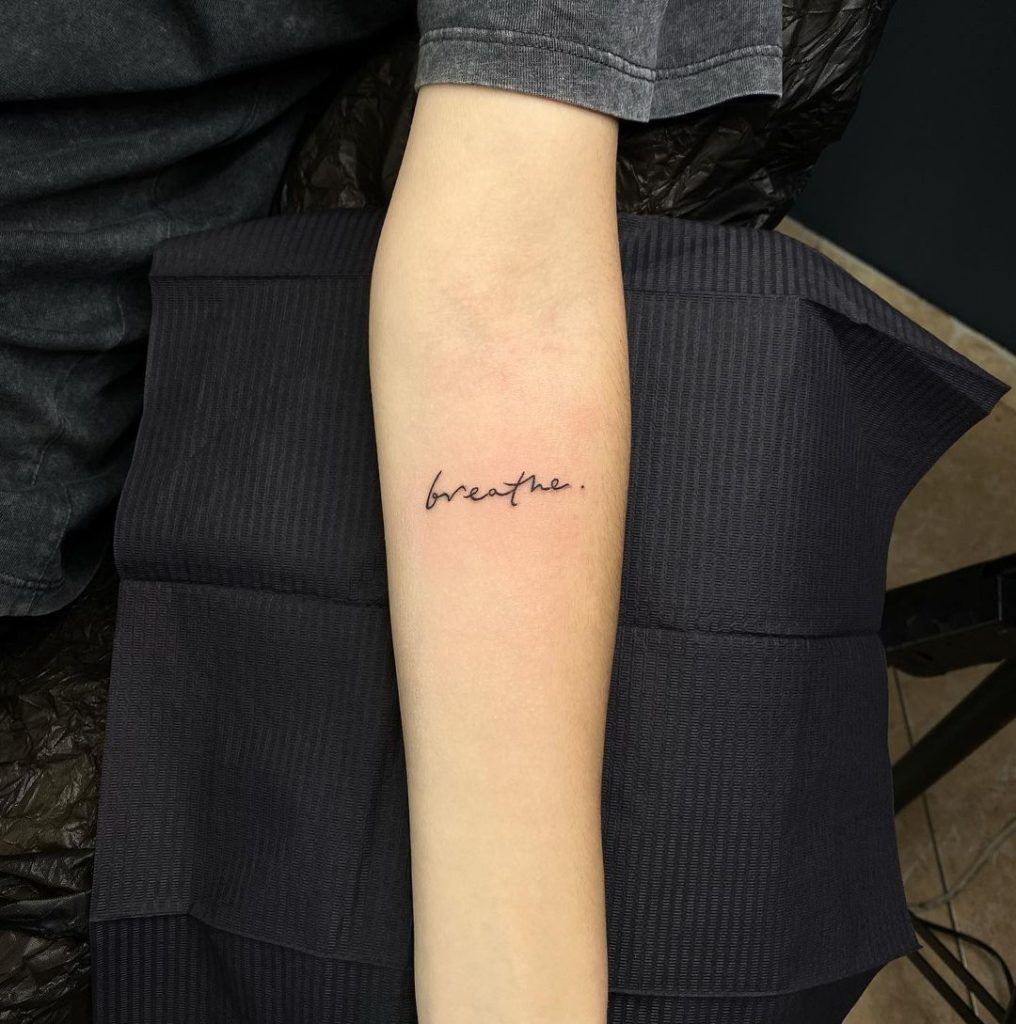 A gentle reminder we all need from time to time is to take a moment to breathe. Here, that sentiment is beautifully depicted through word art on the forearm. At the end of the word is a period mark, to solidify its impact.
9. Small Romantic Initials Tattoo
What if I told you it can be just like the movies? Display your romantic side with a tattoo of your initials along with that of your significant other—surrounded by a heart to make it all the more believable.
10. Small Leaf Art Finger Tattoo
You can count on leaf tattoos to look elegant, especially inked on your finger which adds to the dainty aura of the design. 
Finger tattoos are known to be more painful than art on other areas of the body as well, so a small floral tattoo is perfect.
11. Small Swallow Tattoo
I love the faint shade of this swallow tattoo—it's delicate and so heartening to see. Imagine waking up each day to this design on your forearm, evoking that sense of joy and freedom that these birds epitomize.
12. Small Heart and Airplane Tattoo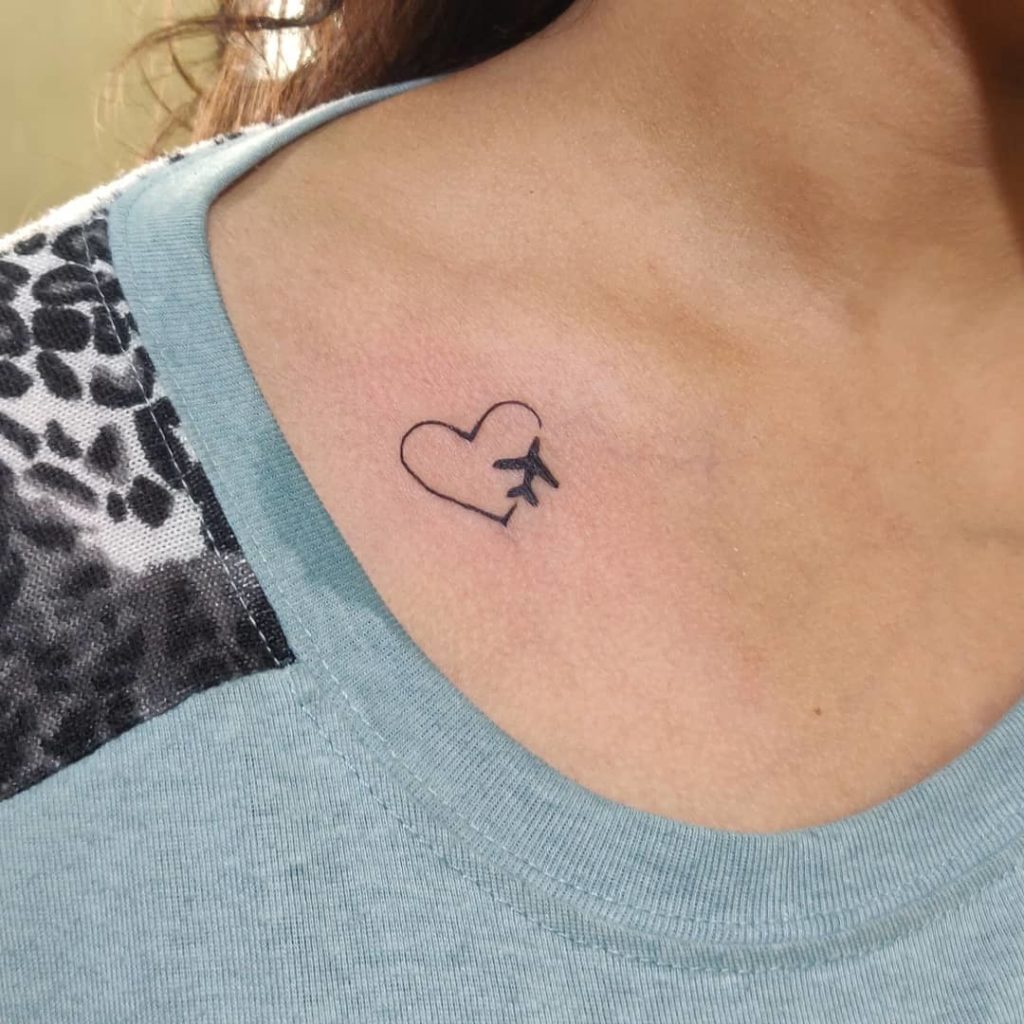 Maybe you have a love for flying or you want to remember the beautiful memory of a loved one. Whatsoever the reason, this combined heart and airplane tattoo speaks volumes in the cutest way.
13. Small Spiral Sun Tattoo
Imagine each day being sunny! This cute spiral sun tattoo inked on the ribcage is like a dream come true—a lovely surprise each time you wear a crop top.
14. Small 'endure' Tattoo
We've all survived something that we never thought we would, and life will always present new challenges but this stylish 'endure' tattoo, inked suitably on the bicep area of the arm, is a note to self to keep going.
15. Small Star Bracelet Tattoo
If you had a bracelet that you adored, chances are you'd never want to take it off and that's exactly the point with this cute star sequence tattoo. It's designed like a band around the wrist and looks classy, edgy, and unique.
16. Small Scar Cover-Up Butterfly Tattoos
These elegant butterfly tattoos are covering small scars. You can opt for this design to simply conceal those marks or you can ascribe to them an even greater meaning: beauty coming from pain, healing triumphing over hurt.
17. Small Flame Bikini Line Tattoo
Some of the sexiest tattoos can be found at the bikini line. Take advantage of this fact with a minimalist flame art tattoo. It's a cute and simple design with a flirtatious edge.
18. Small 'SMILE' Tattoo
Sometimes it's just that simple. A smile can lift anyone's mood and so can this bold-lettered upper arm tattoo.
19. Small Constellation Tattoo
The placement of this tattoo is what stands out most to me. It's a small constellation of stars embellishing the lower thigh like beauty marks. This tattoo will look absolutely stunning with a little black dress and classy black heels.
SEE ALSO: 21 Thigh Tattoo Quotes For Women That Are Trending
20. Small 'DARE TO' Tattoo
It doesn't get any bolder than this. Embed the words 'DARE TO' into your lower back as a testament to your willingness to go against the grain.
21. Small 'self care' Tattoo
You can't pour from an empty cup—taking care of yourself should always come first. This cute script 'self-care' tattoo will serve as a timely reminder to you and your loved ones that a little me time is non-negotiable.
22. Small Bee Tattoo
A bee may be small, but you won't forget its sting. This small tattoo, emblazoned on the back, emphasizes that what may appear minor can have a major impact.
23. Small Ocean Sunset Tattoo
The sun setting over the ocean is so peaceful and reminiscent of a relaxing summer vacation. That's a memory I'd definitely want to keep with me forever, and this ocean sunset tattoo is a great place to start.
24. Small 'cherish' Tattoo
The more you experience and the more wonderful people you meet, the more you realize that life is worth cherishing, an idea beautifully captured by this elegant cursive forearm tattoo.
25. Small World Map Tattoo
This world map tattoo is one of the coolest I've ever seen. If you love traveling with hopes of seeing the world, this tattoo would be the greatest encouragement and promise to yourself of making it happen.
26. Small Triple Mountain Tattoo
Whether you've hiked a real-life mountain or you're tackling a few figuratively, the symbolism of this tattoo matches both. It's designed using thin lines for a dainty appearance and is inked right above the heel to drive the point home.
27. Small Red Flame Art Finger Tattoo
I'm loving the creativity of this flame art tattoo, embedded in red like a ring around the middle finger. Not only is this design eye-catching and cute but it bridges the gap between body art and fashion.
28. Small Sunflower Tattoo
Colored body art is increasing in popularity, and it's about time. There's no better way to capture the beauty and features of a sunflower than with shades of yellow, green, brown, and black to make the design realistic.
29. Small 'beauty' Tattoo
I love everything about this text tattoo: the word, font, and placement between the neck and shoulder all add to the sophistication of the design.
30. Small Double Heart Chest Tattoos
A beauty mark on the chest is common among women. If you've taken a liking to these spots, create your own in a shape you'll love like small hearts—one tattooed on either side. This is a great chest tattoo for women.
31. Small 'Feed your soul' Tattoo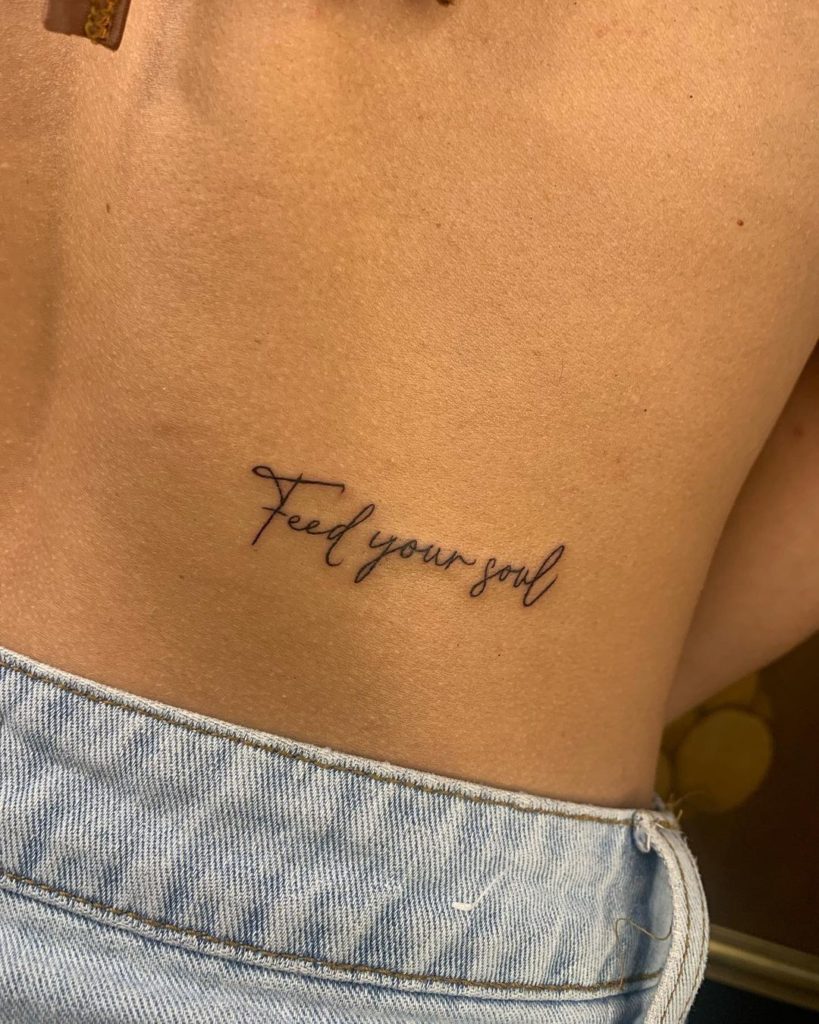 Feeding your soul is a form of self-care, and I love a fancy, distinct tattoo that supports that truth.
32. Small Anklet Tattoo
I definitely see the appeal of this layered anklet tattoo. Anklets are accessories that easily enhance your wardrobe as would a bracelet or necklace. In tattoo form around your leg, you'll be making a permanent fashion statement each day.
33. Small Butterfly and Star Tattoos
This trail of butterflies and stars is nothing short of magical. The design is airy and charming; the perfect embellishment to complement your favorite off-the-shoulder and deep-neckline tops.
34. Small 'whole' Tattoo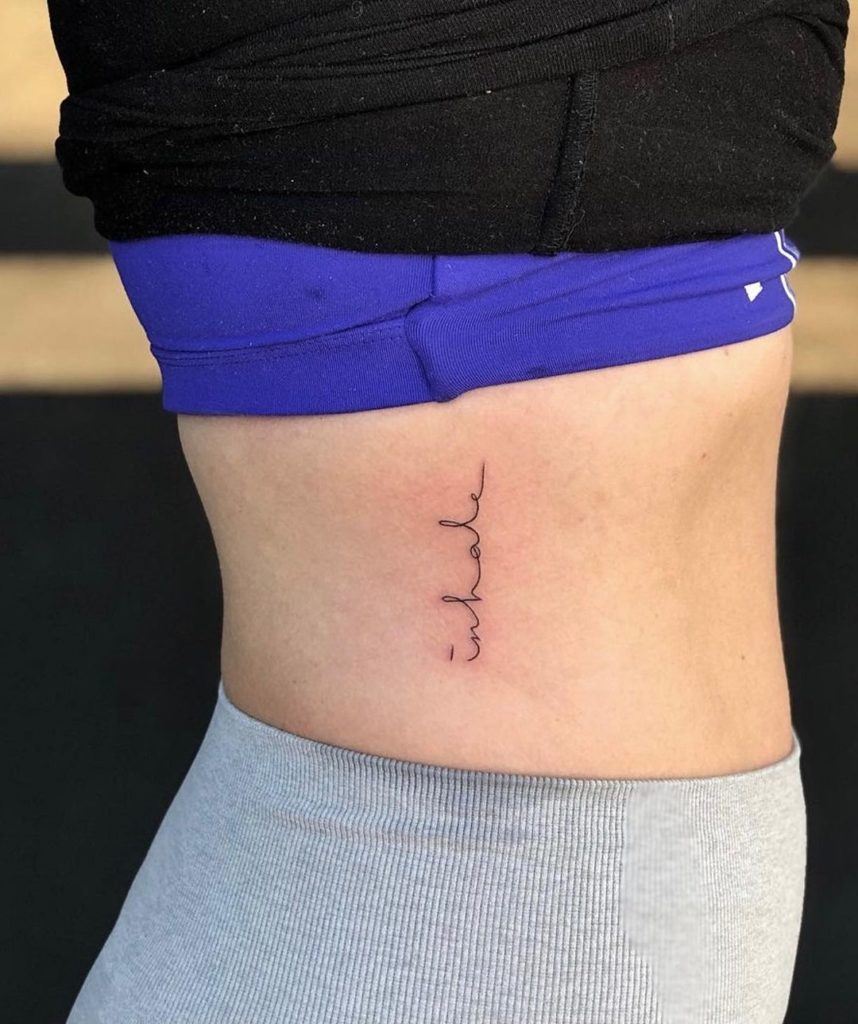 It takes effort to keep your mind and emotions afloat, and this super cute fine line 'whole' tattoo declares that there's no better feeling than mastering that task and becoming one with yourself.
35. Small Rainbow Tattoo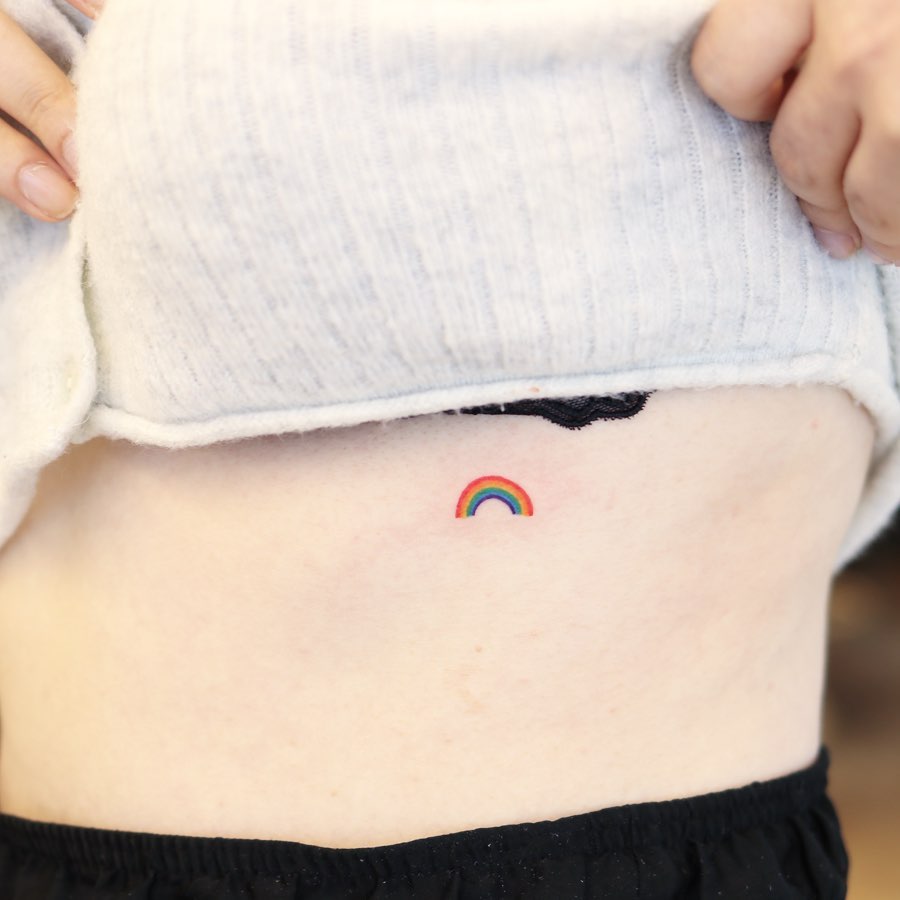 A rainbow tattoo is a no-brainer if you want body art with lots of colors. In the same breath, you'll be greeted with a wonderful reminder each day that after the rain, comes the rainbow.
36. Small Heart Wrist Tattoo
A small heart tattoo speaks a thousand words. Whether you're expressing affection toward yourself, a significant other, or a loved one, a heart design on the wrist is a lovely sentimental gesture that can't be overlooked.
37. Small Palm Tree Tattoo
Palm tree tattoos keep me in a permanent state of relaxation with only one thing on my mind—a vacation in the tropics. This tattoo can serve as a token, so you'll always remember that special trip.
38. Small 'be brave' Shoulder Tattoo
Sometimes, courage isn't innate, and we need a light push to make us bold. I can't think of a better way to start than this cute 'be brave' shoulder tattoo.
39. Small 'July' Tattoo
A great tattoo idea is to have your birth month inked onto your skin. If you were born in or celebrate another significant milestone in the month of July, this text tattoo is perfect for you.
40. Small 'dreamer' Tattoo
A dreamer finds safety in her thoughts—that's where all the visions and ideas come to life. Tattoo the word on your index finger. That way you'll never forget it.
41. Small Line Art Hand Tattoo
Small thin-lined tattoos on the hand are so elegant. This design features dainty line art in the form of an arch, a sure way to keep your hand looking fancy even without jewelry.
42. Small Twinkling Star Tattoo
Add a little spark to your face with a small star tattoo. I love how the design is etched into the skin with thin clear lines and negative space in the middle for that twinkling effect.
43. Small 'family first' Tattoo
Family is everything! That's a truth we should hold in our hearts and if you love body art, display it on your wrist in the form of a cute text tattoo with the top line flaunting a cursive font and the bottom, bold, spaced letters.
44. Small Heartbeat Line Tattoo with Initials
I love how the heartbeat line is transformed in this tattoo art. Also known as a flatline, it's dressed up with flowers and leaves with initials for a romantic touch.
45. Small Double Heart Tattoo
Honor a longtime friendship with identical heart tattoos. These ones have a beautiful layered design, placed right below the collar bone for that super feminine appeal.
46. Small 'Before We Kiss' Tattoo
I live for romantic tattoos with the most distinct details like this "before we kiss" design. It's so creative with a Picasso flair that is absolutely timeless.
47. Small Wine Glass Tattoo
Tattoos can keep you in touch with the things you love, and this artwork signifies that a good glass of wine and some well-needed travel are of importance to you.
48. Small 'calm' Tattoo
What a beautiful way to remind yourself to take life one step at a time. It's only a four-letter word, but this small shoulder tattoo has such a powerful meaning.
49. Small Kitten Face Tattoo
Now this tattoo is way too cute to pass by, and the placement is just as perfect—below the knuckle on the index finger. I love all the details, too, from the tiny ears to the adorable whiskers.
50. Small Crescent Moon and Star Tattoo
If you already have or are considering a navel piercing, this crescent moon and star tattoo would complement your belly button ring perfectly. The symbols are tattooed vertically, leading toward the piercing for the most charming design.
51. Small Elephant Tattoo
Elephants are known to represent courage, wisdom, and strength, so while a small elephant tattoo may seem out of the box, it's well worth the ink.
52. Small Layered Ocean Wave Tattoo
Ocean wave tattoos are among the most popular. Make yours stand out with added details and dimension through multiple waves and shading.
53. Small Face Tattoo with Rose
Face tattoos can be so stunning. This illustration is just that, with one half featuring a closed eye with lush lashes and the other overlaid by a beautiful rose, adding an ultra-elegant flair.
54. Small 'Mom' Text Tattoo
In honor of your mom, opt for a tattoo that highlights just how amazing she is. This text design could be the perfect addition to your next Mother's Day surprise.
55. Small 'To The Sea' Tattoo
Calling all sea lovers! Summer has arrived and this text tattoo is the ideal reminder to enjoy the season to the fullest.
56. Small Ocean Wave Shoulder Tattoo
If text tattoos aren't your thing but you're feeling the vibe of summer-inspired body art, a stylish wave shoulder tattoo will not disappoint.
57. Small 'Smile' Tattoo with Emoticon
Replace the 'i' and 'e' of your 'smile' text tattoo with the emoticon to add a unique touch to the design. Sometimes all you need is a little encouragement and cute body art to lift your mood.
58. Small Seashell Tattoo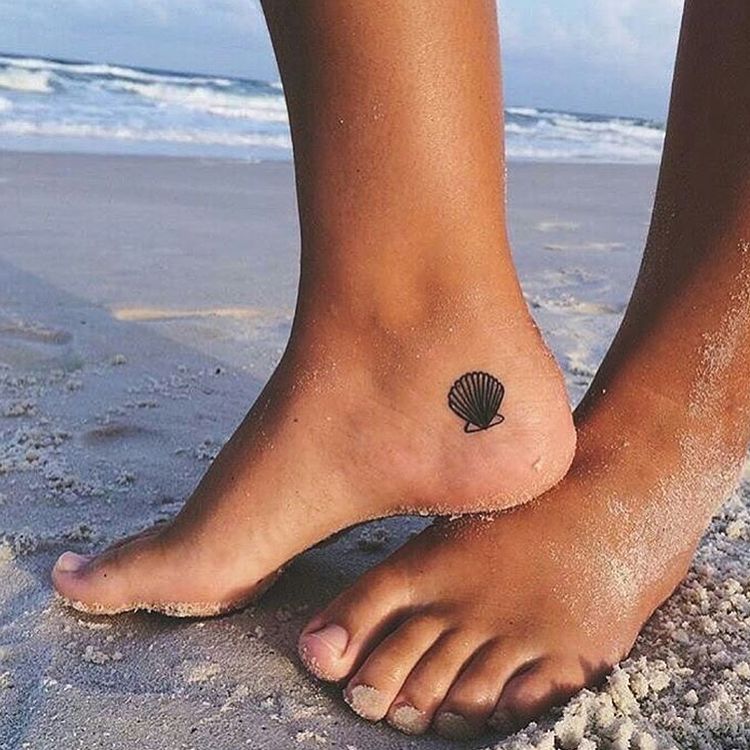 If you're looking for a summer tattoo that's not as common as palm trees and waves, this is it! You can bring the beach wherever you go with this amazing seashell tattoo. The intricate design and heel placement really won me over.
59. Small 'be kind' Tattoo
How about some dainty ink designed in cursive on your upper arm? So you'll never forget to be kind—to yourself and to others.
60. Small 'GRL PWR' Tattoo
This tattoo is styled in bold capital letters in an abbreviation we all know so well. I suppose the decades-old phrase still rings true today, nothing compares to girl power.
61. Small Mountain Sketch Tattoo
This tattoo reminds me of a beautiful mountain portrait. I love the strong depiction of nature in the design as well to make this body art all the more interesting and memorable.
62. Small Anchor Tattoo
This small anchor tattoo fits perfectly above the ankle. It's a symbol of fortitude and dedication. Plus, it looks super edgy paired with sneakers.
63. Small Star and Moon Ear Tattoo
It's the return of the twinkling stars and moon tattoo. This time, designed like cute tiny jewelry, accessorizing the ear.
64. Small Snowflake Tattoo
You'll never have to wait for December to feel the Christmas spirit again after getting this snowflake tattoo. Inked atop the shoulder, it's as simple and magical as it gets.
65. Small Red Heart Stomach Tattoo
Imagine getting this cute red heart tattoo on the side of your stomach, only to find out weeks later that you'll be carrying a little bundle of joy inside. That's got to be the perfect sign to make the journey so much sweeter.
66. Small 'Masterpiece' Tattoo
I thought of Jessie J's song, "Masterpiece," the moment I saw this text tattoo. Its meaning is powerful in every way, and I love its placement—on the side of the back, in the cutest cursive font.
67. Small Colorful Flowers Upper Arm Tattoo
These delicate and colorful flowers loop around the upper arm like the most charming bracelet. The design is incredibly elegant with a whimsical flair. It's a perfect small decorative tattoo.
68. Small Dragonfly Tattoo
For a hand tattoo that's daring but still cute, ink a dragonfly on the side of your middle finger. It's a great alternative for a butterfly tattoo and the fine lines guarantee a feminine design.
69. Small Lemon Tattoo
Make your small tattoo delectable by opting for a fruity design. The details of this lemon are intricately executed on the upper arm. This tattoo would also look super cute inked on your stomach.
70. Small 'L O V E' Tattoo
Love is a beautiful thing and this colorful text tattoo embodies that perfectly, embellishing the side of the index finger in shades of red, orange, green, and pink.
71. Small Winnie the Pooh Leg Tattoo
Not only is this Winnie the Pooh tattoo nostalgic but it's so adorable. All the colors are flawlessly displayed and the artwork looks amazing, tattooed on the side of the leg.
SEE ALSO: 30 Cute Thigh Tattoos Women are Loving
72. Small Red Minimalist Rose Tattoo
Behind the ear is one of the most feminine spots for a tattoo and ideal for flowers. This rose tattoo is outlined in red to give the design a realistic appeal.
73. Small 'Be strong…' Back Tattoo
Tattoos down the middle of the back are so classy, especially inked in cursive. I love the phrase as well, and it's so fitting for its placement: "be strong when things fall apart."
SEE ALSO: 113 Trending Back Tattoos for Women
74. Small Fine Line Leaves Tattoo
Tattoos placed below the collarbone have such an effortlessly alluring appearance, and these elegantly designed fine line leaves, tattooed in black, are all the proof you need.
75. Small 'be brave' Wrist Tattoo
What a treat it would be if each time you pulled up your sleeve you're greeted by this stylish small text tattoo. In all lower case letters it says, "be brave." You can add a small heart at the end as well to amp up this cute wrist tattoo.
76. Small 'yes' Tattoo
Nowadays, couples are getting creative with their wedding rings. If you're a fan of body art, this "yes" tattoo would look amazing inked on your ring finger.
77. Small Bicycle Tattoo
The best tattoos are authentic! For bicycle lovers, here's a cute way to show off your favorite ride.
78. Small Crown Tattoo
I love crowns and what they signify: royalty, boldness, and strength. This tattoo is inked just below the collarbone and resembles a real life diadem with all the gemstones and ornamental jewelry replicated in this design.
79. Small Smiley Face with Heart Tattoo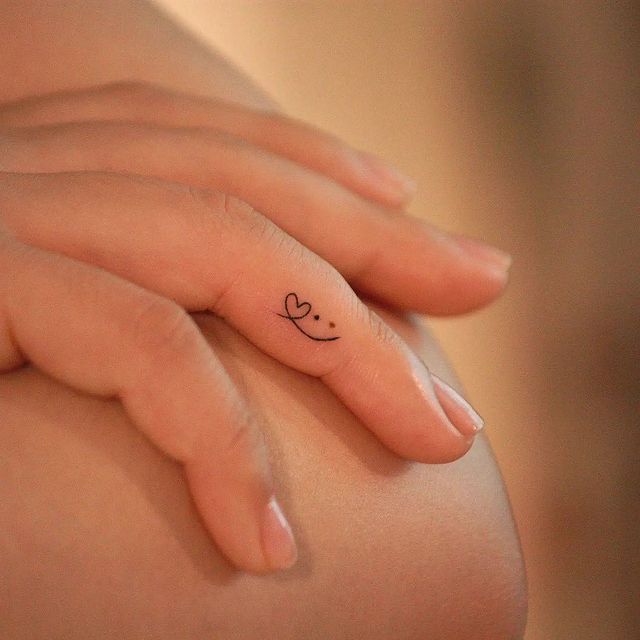 The combination of a heart and smiley face in this finger tattoo is too cute. The wispy lines add to the playful design, giving this tat a flirty touch as well.
SEE ALSO: 100 Best Friend Tattoos For You and Your Bestie
80. Small Tulip Tattoo
Floral tattoos are wildly popular but among the more unique are tulips—their elegance and flair are undeniable.
81. Small 'Love' Tattoo
Lower back tattoos are so intimate. Why not match the vibe with some equally sentimental ink? A certain four letter word comes to mind!
82. Small Minimalist Butterfly Tattoo
Few things are fancier than a fine-lined butterfly tattoo. The wings open to display a fluttering motion and the end result is simply adorable.
83. Small Treble Clef Tattoo
I'm such a fan of this treble clef tattoo. It's the ideal tattoo for a bonafide music lover with a few embellishments in the form of a star and flower to amp up the design.
84. Small 'live laugh love' Tattoo
It's an age-old saying that still hits home: "live laugh love." Ink these three powerful words in a fancy and creative cursive font with a red heart at the end to add some color.
SEE ALSO: 21 Feminine Classy Thigh Tattoos That Are Trending
85. Small Coffee Mug Tattoo
Nothing gets me in the mood to relax quite like a hot cup of coffee. Made with love, it looks exactly like this fine line mug and saucer tattoo with heart-shaped steam.
86. Small Knuckle Ring Tattoos
If you love knuckle rings and body art, these tattoos offer you the best of both worlds. Inked above the knuckles, you'll be rocking the cutest crescent moon, leaves, and other stylish tats day in and day out.
87. Small Star Collarbone Tattoo
Star tattoos are easy to achieve and effortlessly cute. A great spot to wear one? Right below the collarbone.
88. Small 'Do all things with love' Tattoo
A simple tattoo with lots of meaning goes a long way and will always be valuable to you. This text tattoo starts with fine-lined words inked in capital letters. Standing out below is the word "love" styled in lower case with a fancier font.
89. Small Pine Tree Tattoos
Show nature some love with not one but two pine tree tattoos inked on your forearm. Opt for different sizes to add variation.
90. Small Dove Tattoo
The most darling tattoo to place on your arm has got to be a dove. The curved fine lines and detailing on the wing make this design so graceful and feminine.
91. Small Strawberry Tattoo
Looking for a sweet tattoo idea? This strawberry art may serve as some inspiration. Everything's just right, especially the colors—that bright red and green combo is brilliant.
92. Small Inverted Sunflower Tattoo
I love tattoos that beam with personality. This inverted sunflower has color and dimension, with a few falling petals to add a lifelike quality.
93. Small Teddy Bear and Crescent Moon Tattoo
I can't think of a more snug and adorable tattoo—a teddy bear perched on a crescent moon with stars twinkling around.
94. Small Minimalist Rose Tattoo
Minimalist tattoos are always trending and are the easiest to accomplish. With such thin delicate lines, you're able to see all the features of this cute small rose design.
95. Small Puppy Tattoo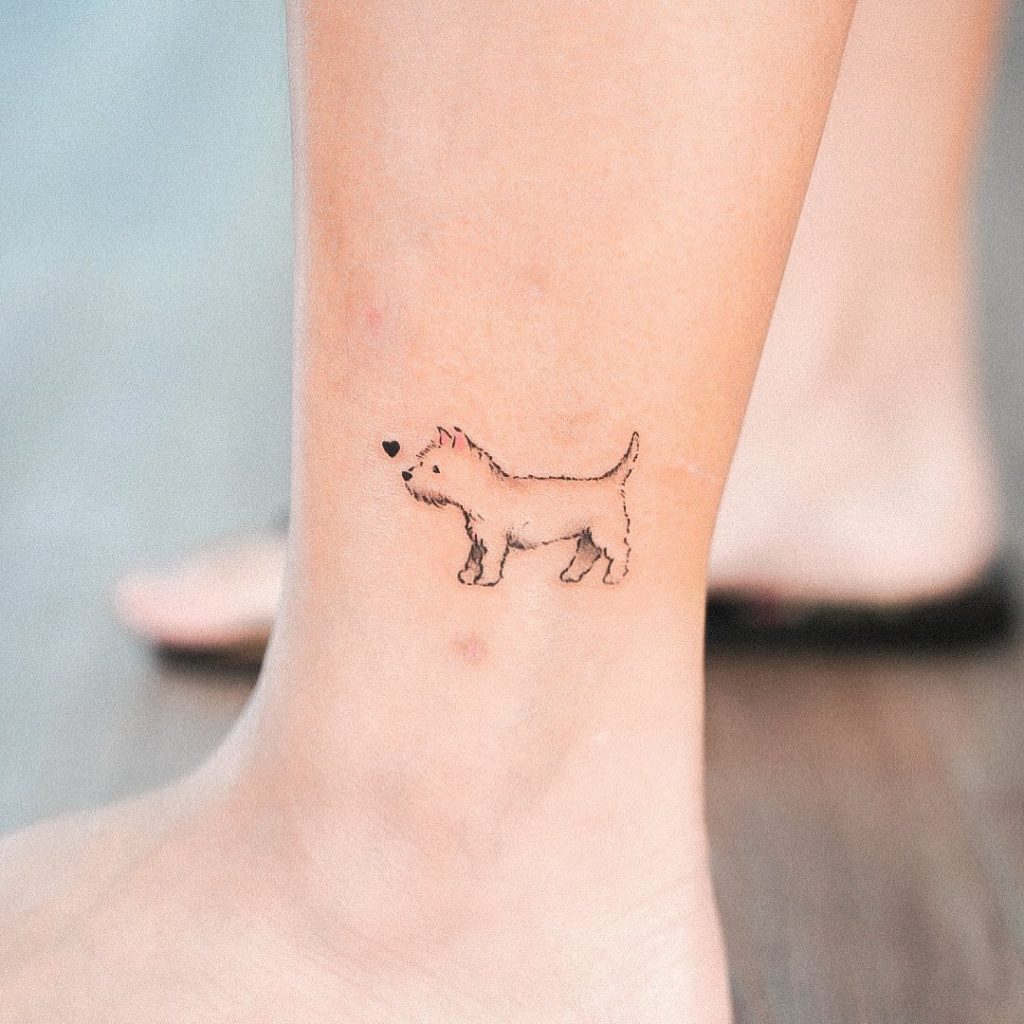 Here's a super cute tattoo for all the dog lovers. Achieved with a minimalistic approach and some shading here and there, this design is simple and feminine with a tiny heart to top it all off.
96. Small Maple Leaf Tattoo
The color blend of this maple leaf tattoo is stunning. The warm shades transition seamlessly into each other, bordered by fine lines for a delicate finish.
97. Small 'Love yourself first' Back Tattoo
Back tattoos are favored for so many reasons—they're easily hidden and are said to be among the least painful. That said, you can still go for something special with a stylish and intimate fine-lined text tattoo.
98. Small Dog Face Tattoo
How cute is this little animal face tattoo? It could be a dog or a bear—whichever you prefer. Either way, it's an adorable and creative way to transform a birthmark.
99. Small 'dream' Neck Tattoo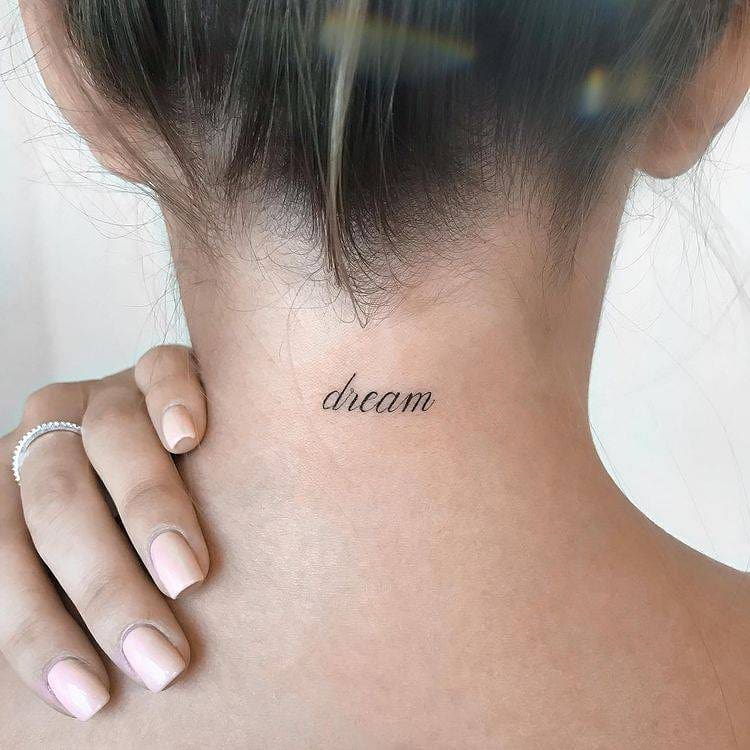 The neck is a sensitive spot for a tattoo but it's also home to some of the most intimate and dreamy script designs.
100. Small Daisy Tattoo
I love the choice of white and yellow ink to make this daisy tattoo as authentic as possible. It's lightly done but still visible so you can appreciate the femininity of the design.
Summary and Top Picks
You really can't go wrong with a small tattoo. If you're aiming for body art that's simple, cute, and potentially easy to conceal, based on its placement, the smaller the ink, the better.
I was super impressed by tattoos 41, 48, and 78. It was so hard to choose from such an amazing list, however these designs had the right amount of simplicity mixed with femininity that I absolutely love.
Now, I want to hear from you. Which tattoos are your top picks? Do you prefer minimalistic body art, text tattoos, or bolder designs with lots of color? Let me know what you think! Share all your thoughts and questions down below.