Hand tattoos are quickly becoming the hottest tattoo trend of the year. I love how creative some of these tiny tattoos get, especially when shared among friends. 
Some people worry that small hand tattoos are too difficult to hide. On the contrary, I think hand tattoos are easy to cover with makeup, especially when designs use fine linework. You can also strategically place them to limit visibility from different angles. 
Hand tattoos include a wide range of sizes, styles, and colors, From tiny finger mustaches to delicate mandalas and beyond. Here's some of my fave hand ink.
1. Ornamental Hand Tattoo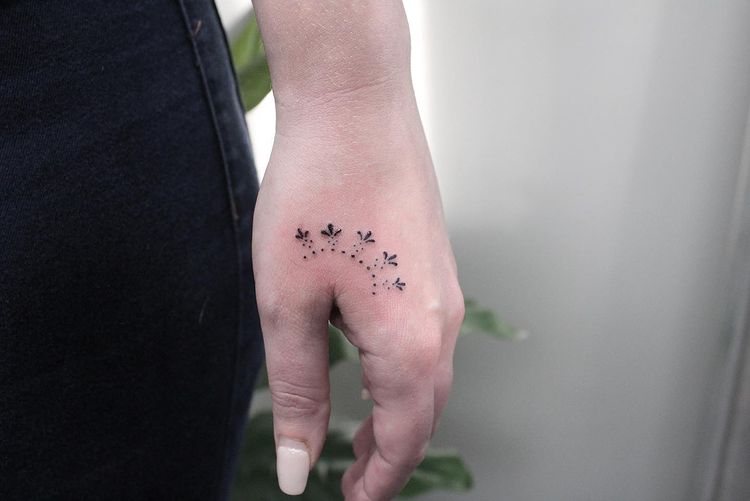 This dainty fine line tattoo is subtle and perfectly placed. It adds a gentle arch of embellishment in the tender place between the thumb and forefinger. I love the nature element hidden in the design.
2. Minimalist Text Tattoo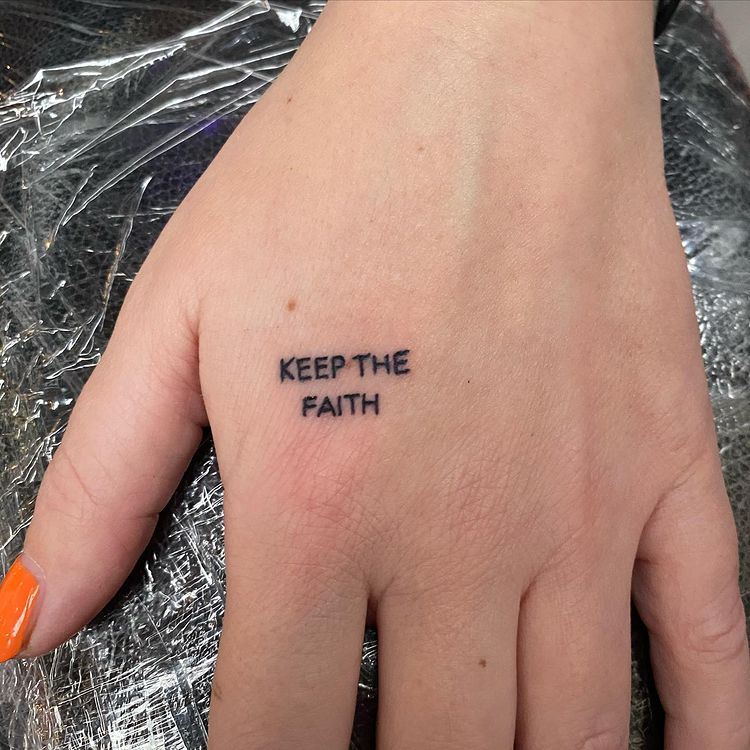 "Keep the faith" is a versatile message with many meanings. I love this idea. Minimalism is all the rage this year, even in the tattoo world. This tiny text tattoo reminds us to trust the process even when things get tough.
3. Ring Finger Heart Tattoo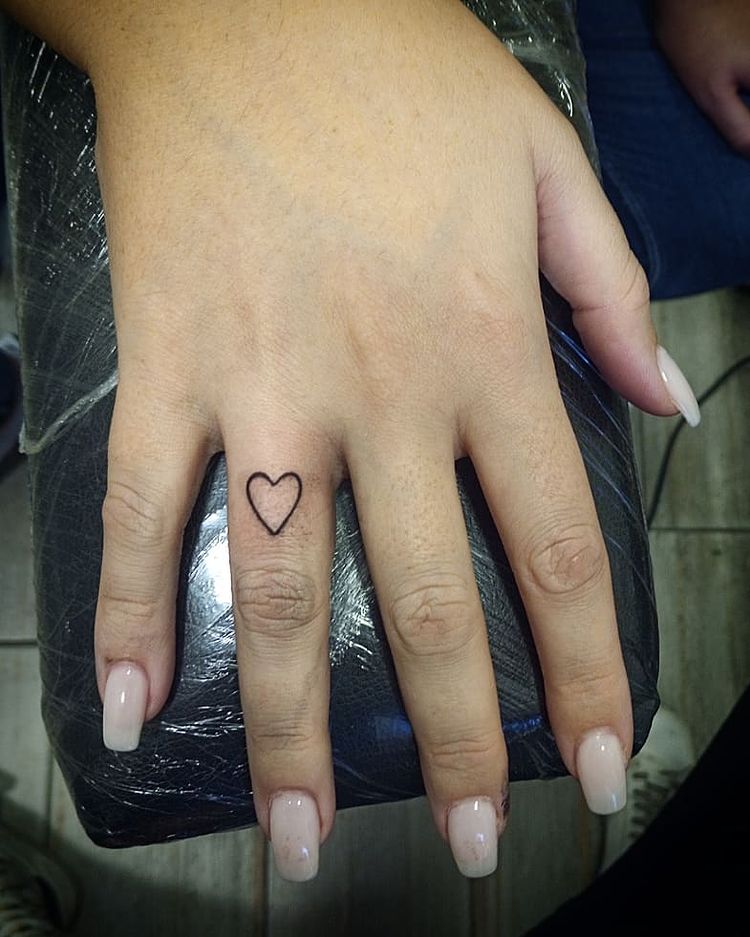 Who needs a ring? This teeny heart tattoo reminds us to love ourselves first. I love how simple but meaningful it is. This is a nice idea for anyone who wants a tattoo but doesn't want to commit to a big piece.
4. Green Thumb Botanical Tattoo
Talk about having a green thumb. This botanical tattoo is a perfect piece for plant lovers. The foliage creeping up from the base of the hand combined with leaves at the thumb is a great look.
5. Fine Line Rose Hand Tattoo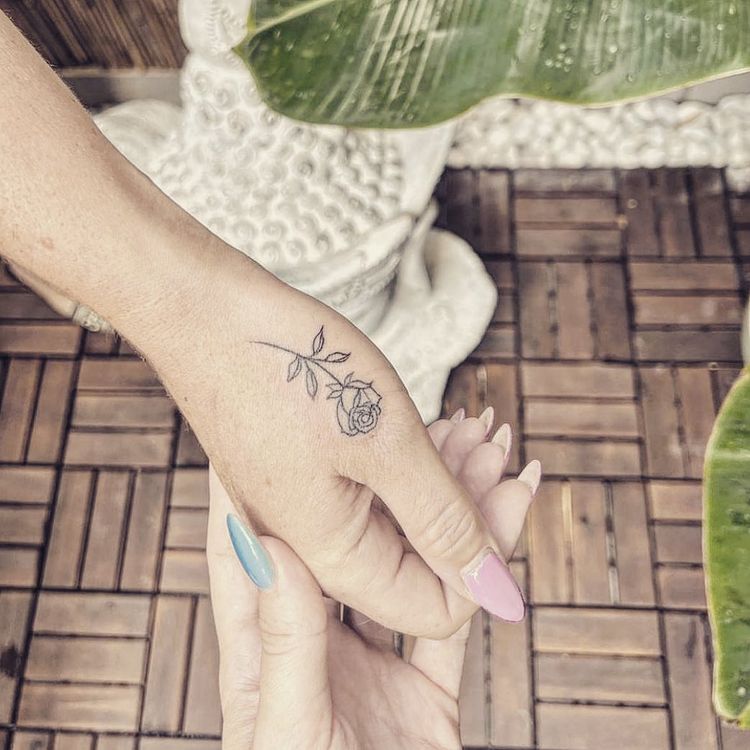 Using just the outline of a flower is a nice way to minimize the amount of ink on your hand. This delicate rose tattoo is just right. I like the placement at the base of the thumb.
6. Sunflower Finger Tattoo
Many small hand tattoos are black and white to capture that minimalist vibe. This gorgeous little sunflower breaks the mold with yellow, brown, and plenty of tiny details and shading. #herecomesthesun
7. Butterfly and Stars With Twinkle Tattoos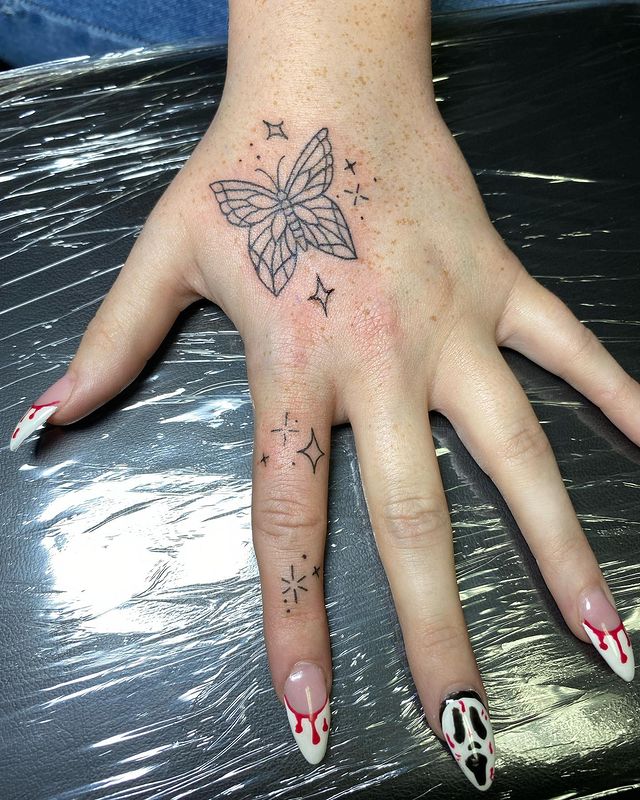 This simple butterfly is in great company with twinkles and stars. Outline tattoos are less work than detailed pieces. This is a good option for a quick hand tattoo! Plus, the "Scream" inspired Halloween nail art is killer!
8. Pawprint Linework Hand Tat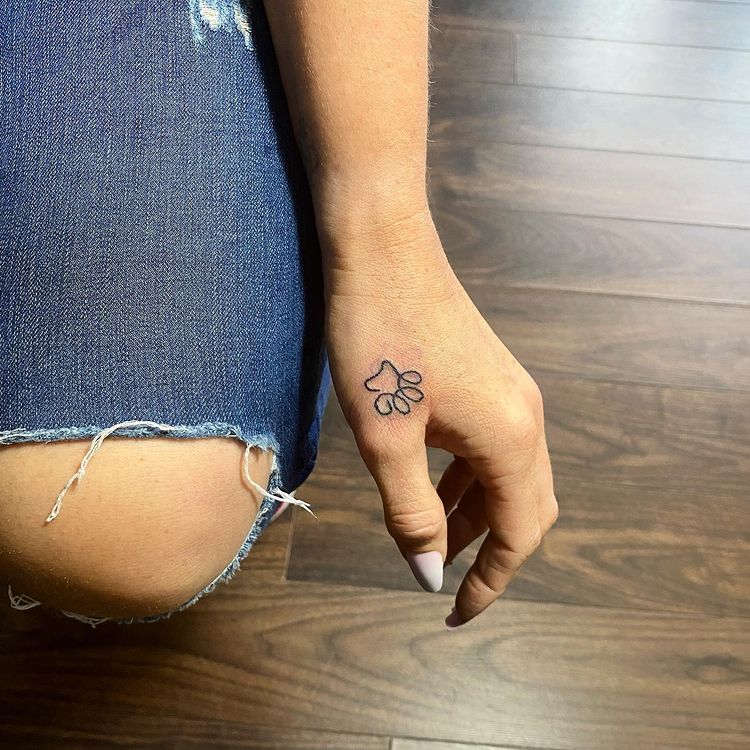 Many tattoos are inspired by pets. This unique paw print tattoo is done in one continuous line. The delicate swirling ink creates a perfect tiny memory of a favorite furry companion. Super cute!
9. Like a Moth to the Light Tattoo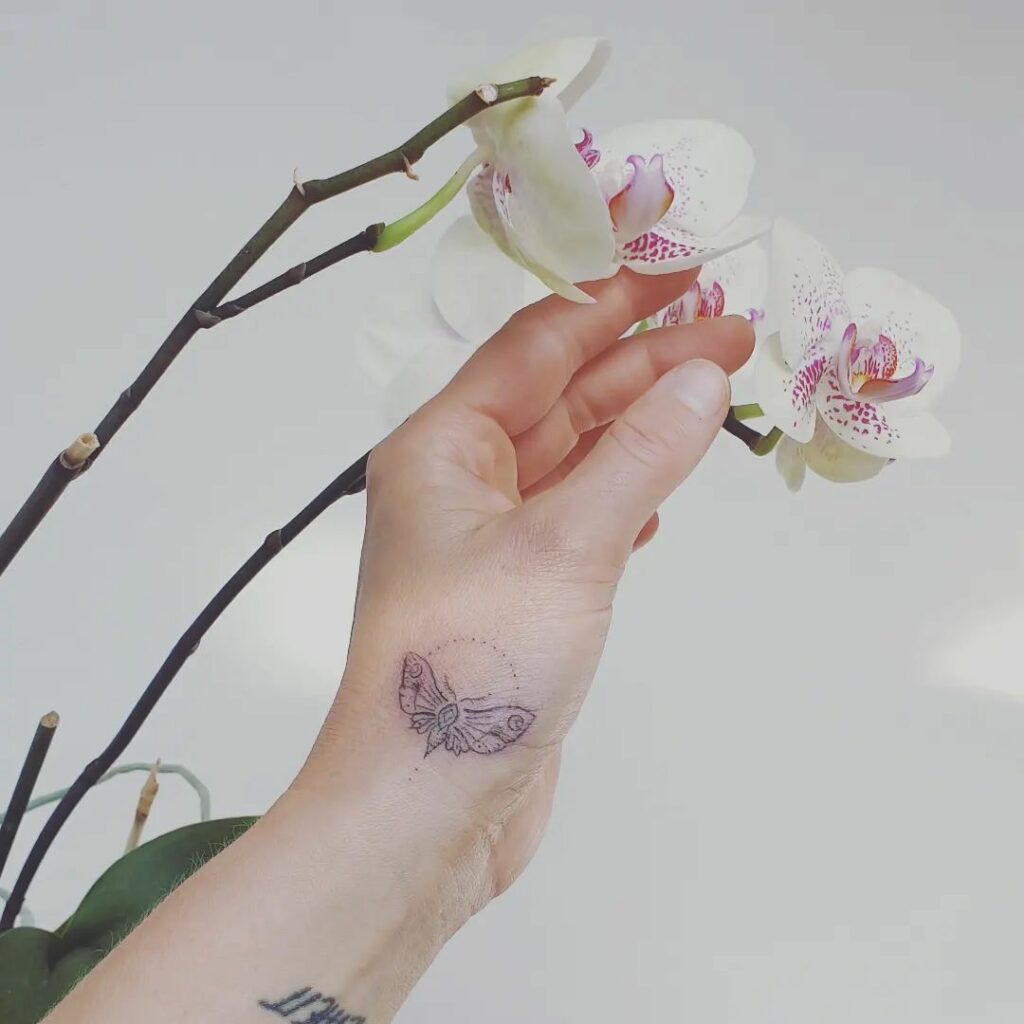 A tiny fluttering moth with a pointillism arch is a wonderful representation of our souls at night. Moths often represent metamorphosis, and as women, we're in a constant state of change.
10. Abstract Lightning Bolt on Side of Hand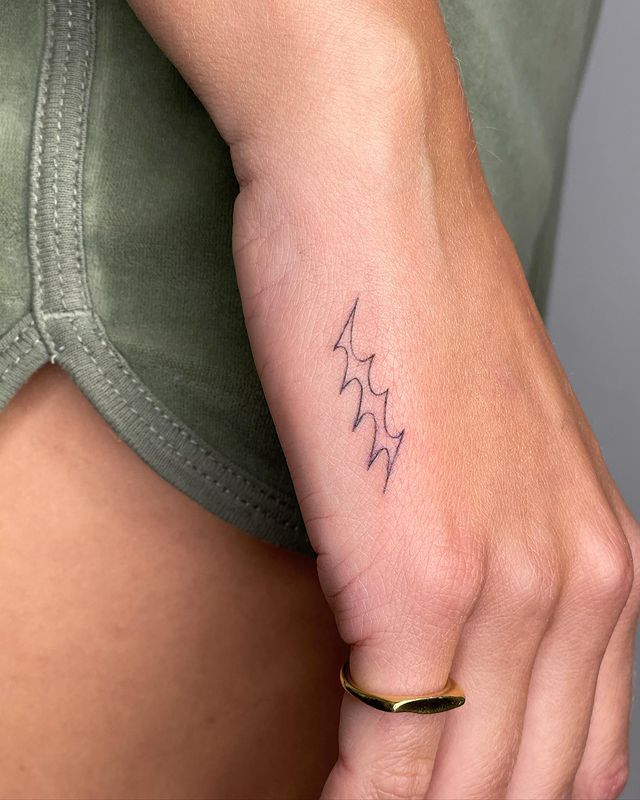 Lightning bolts are related to many pop culture references, including wizards and superheroes. This modern abstract take on lightning gives the tattoo an artsy edge.
11. Tiny Letter Tattoo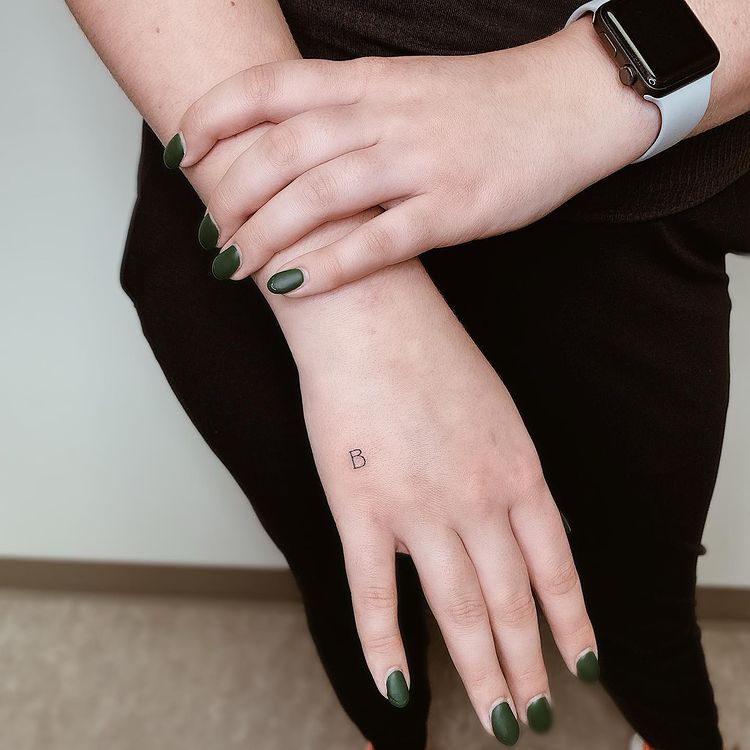 This "B" tattoo is small and mysterious. Is it an initial? A creative representation of a bumble bee? Who knows! Name tattoos can be cliche, but initials, or a single letter, tell a secret story only you know.
12. Detailed Black and Gray Bee Tattoo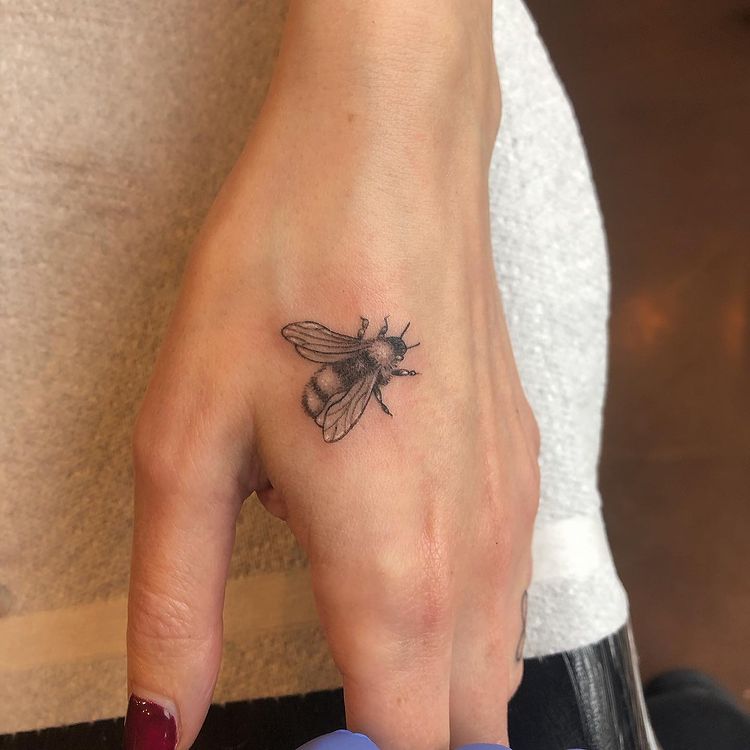 Speaking of bumble bees, this beautiful bee tattoo is so well done. I love the amount of detail the artist brings to life in such a small space. Bees often stand for loyalty, a great tat to wear proudly on your hand.
13. Crescent Moon Ink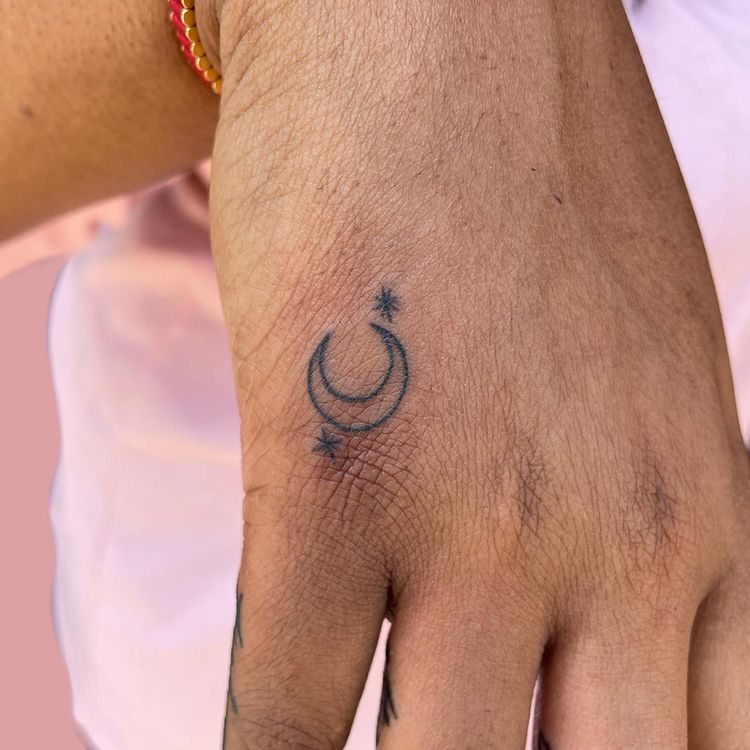 Mysterious and ever-changing, the moon is a lovely representation of femininity. This delicate crescent moon with a hint of starlight adds a nice touch to an otherwise bare canvas.
14. For the Bookworm in Us All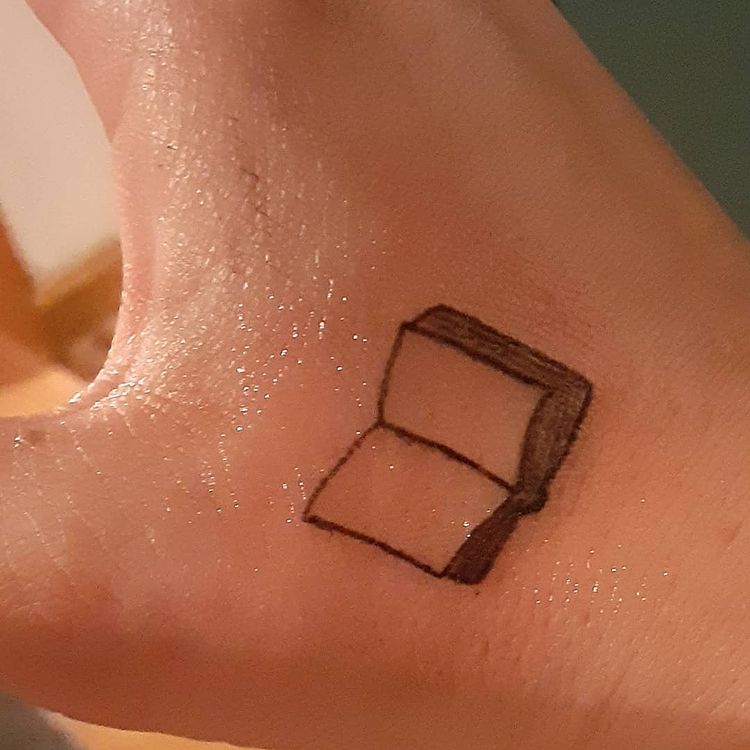 This adorable book hand tattoo is right up my alley. I love to read and almost always have a book in my purse, hand, or shopping cart. I like how small and unassuming this ink is. Never judge a tat by its cover.
15. The Truth Is Out There Alien Tattoo
Sometimes the most simple tattoos make the biggest impact. This tiny alien is a sure conversation starter. It's easy to cover up or show off every time you grab your coffee.
16. Compass and Directional Quote
Life is confusing, and we can all use a little reminder that we're here and living it. This sweet little compass accompanied by the words, "you are here," is a great way to stay grounded.
17. A Collection of Tiny Symbols
Arrows, lines, exclamation marks, and crescent moons create a fun assortment of ink designs. I love how thin and delicate the linework is on each design.
18. Dreamer Hand Tattoo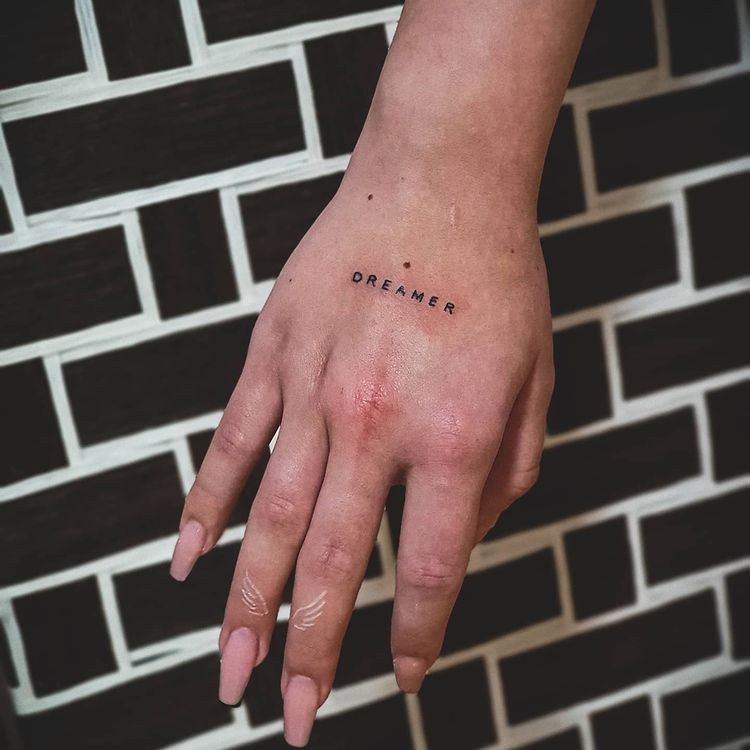 It's so important to have dreams. This little hand design is a great prompt to keep following them. I like that the words are central on the back of her hand. She'll never lose sight of what's important.
19. All Seeing Eye, Spiders, and More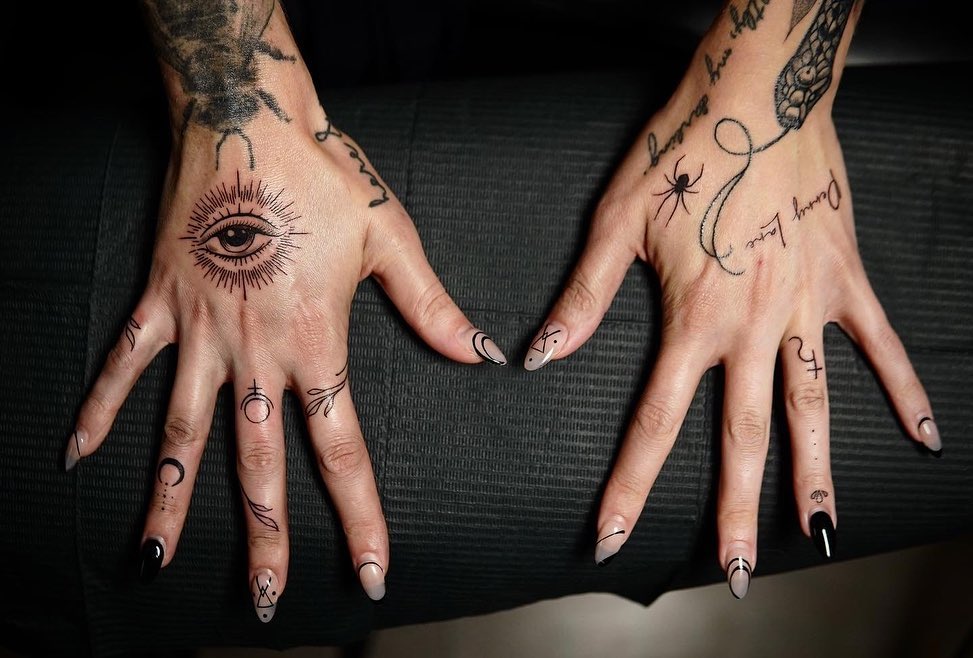 If you're a girl who loves tattoos, collecting small hand designs is tons of fun. I love the mystical vibes this ink gives off. From an all-seeing eye and little black spider to a crescent moon and botanical vines. #spookytats
20. Cheers! Here's to Small Hand Tats
Clinking glasses with your best friends is a memory worth keeping. This tiny martini glass tattoo is a fun way to commemorate those moments. I like the addition of numbers to add personal meaning.
21. Stars and Initials BFF Tattoos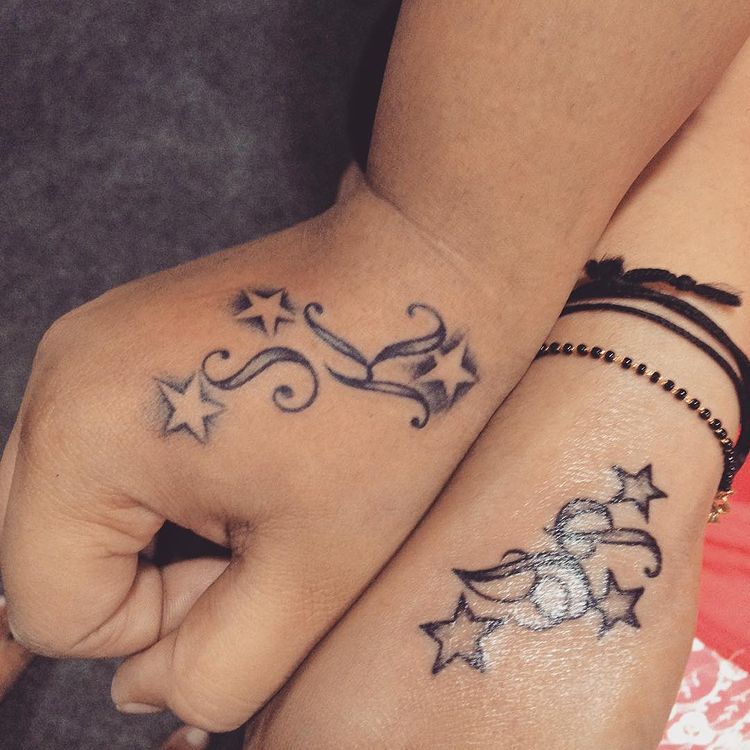 Sharing a tattoo with a friend is a meaningful experience. These stars and initial tattoos show a lot of love. I like the way one set of stars is shaded on the inside, and the other looks like they've been spray painted on.
22. Abstract Sparkle Tattoos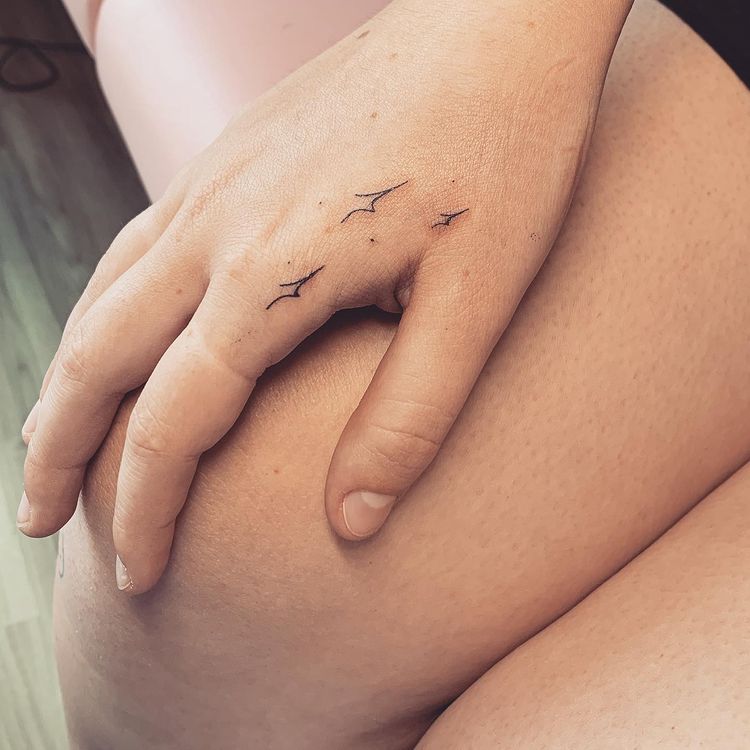 Anything that adds a little sparkle to my day is fine by me. These tiny abstract sparkle design tattoos make me smile. I love how simple they are.
23. Hummingbird Design Hand Tattoo
This hummingbird is small but so detailed. I love the intricate shading and bold outlines. Hummingbird tattoos represent resilience and strength, a perfect combination of womanhood.
24. Teeny Clamshell Tattoo
Sea shells are a beautiful beach memento, but it's always better to leave them in nature. This teeny clamshell tattoo lets her take her love of the ocean everywhere she goes. #seasidefun
25. Ribbon With Bow Hand Ink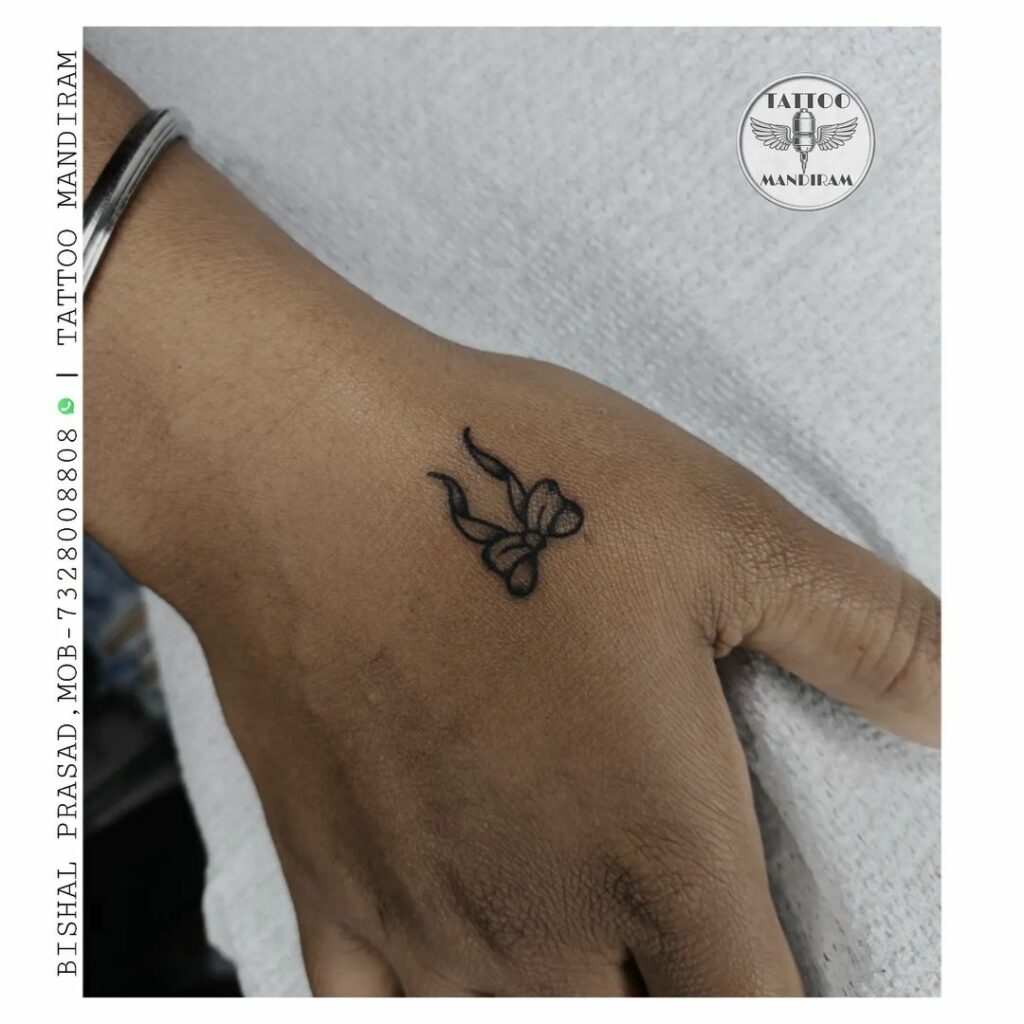 Nostalgic tattoos are trending, and this tiny hair ribbon reminds me of my childhood. I love how sweet and girly it is. It also nods at many pop culture references, including "Sailor Moon" and Marie from Disney's "The Aristocats."
26. Every Snowflake Is Unique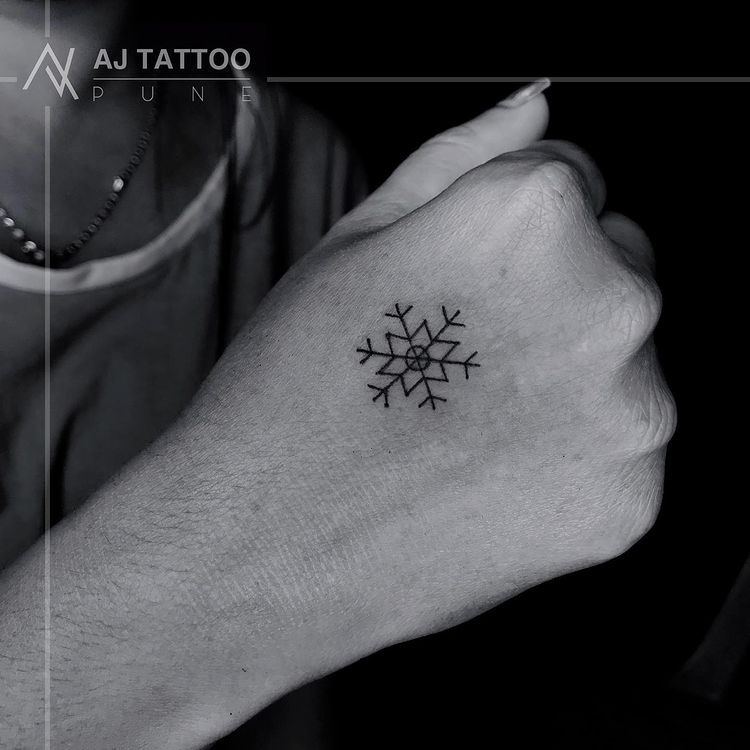 Everyone is different. This tiny snowflake tells a story of our uniqueness on the planet. It's also a great hand tat for anyone who loves Disney's "Frozen." #letitgo
27. Rise With the Sun and Rest With the Moon
The sun and moon play such a big role on planet earth. We live our lives by them, set our clocks to them, and lead richer lives because of them. I adore these tiny sun and crescent moon hand tats.
28. Infinity Symbol and Tiny Birds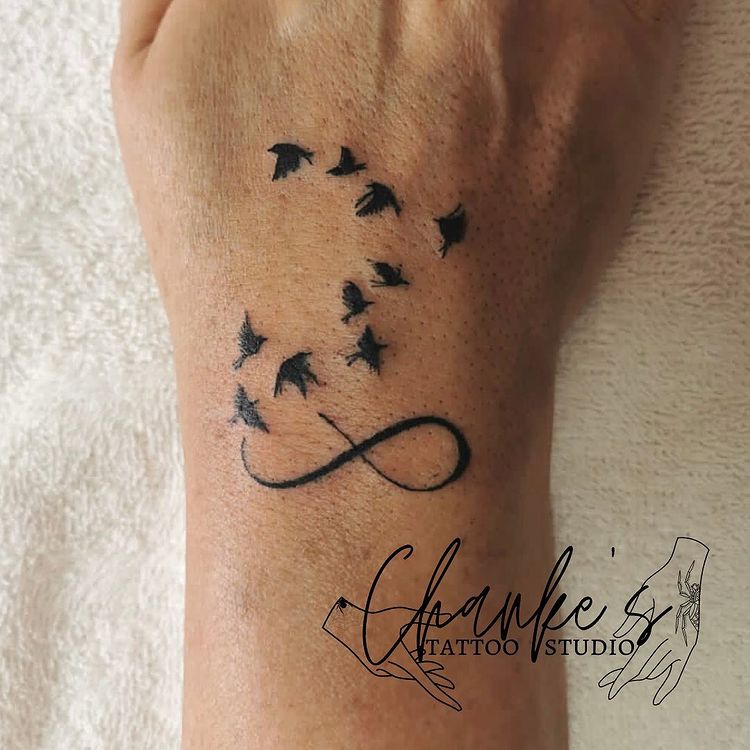 This tattoo was designed for a mother and grandmother to remember their loved ones. Each bird represents somebody in their life. I love this idea. The addition of the infinity symbol shows their ongoing love for them.
29. Extended Crescent Moon Finger Tattoo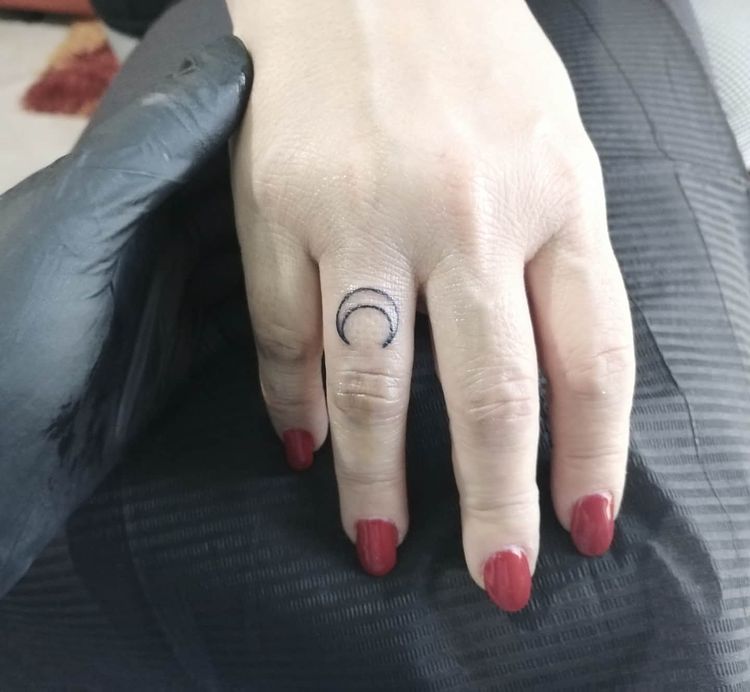 Moon tattoos are very chic this year. I'm really feeling this simple crescent moon. It had an extended curve compared to most moon tattoos I see. #moonphase
30. Year of Birth Tattoo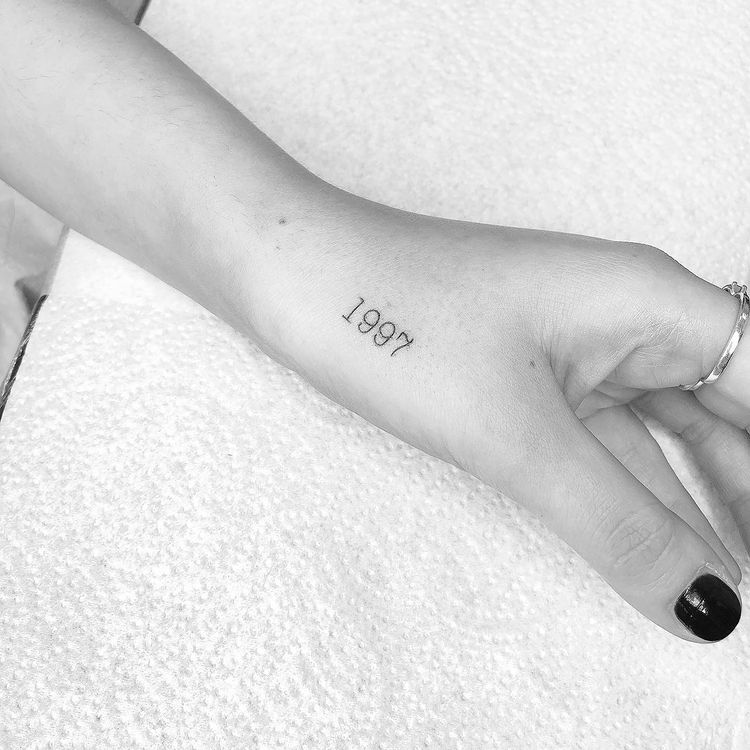 Inking a year into your hand is significant. Whether it's your birth year or the year something memorable happened, it's a great reminder. I like the font she chose for this one. Delicate and feminine.
31. Realistic Bracelet Tattoo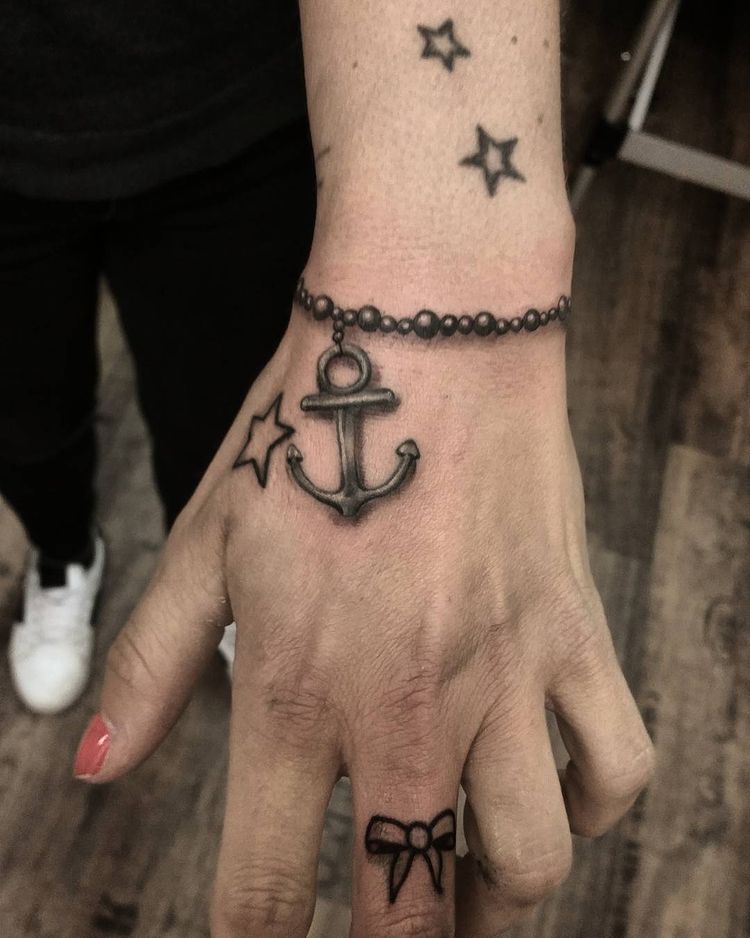 Accessories are my favorite. This tattoo takes jewelry to the next level with a detailed pearl bracelet. I like the choice of an anchor as a charm to keep her grounded and guide her back home.
32. Tiny Delicate Cross Tattoo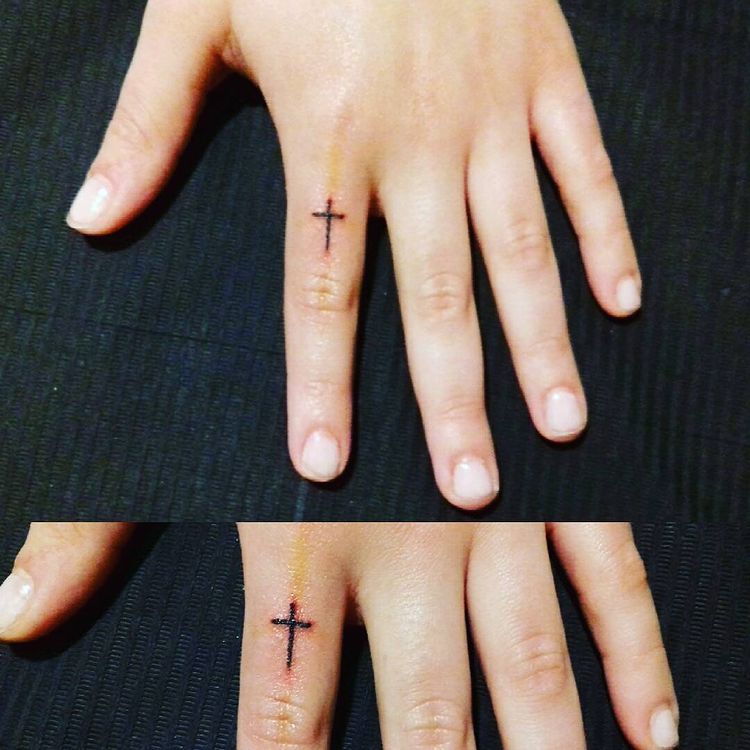 Keeping our faith close is important. This tiny cross-hand tattoo lets her take God with her everywhere she goes. My favorite thing about this tattoo is how small it is. It's tiny but impactful.
SEE ALSO:80 Gorgeous Spine Tattoos for Women
33. Wordy Love Tattoo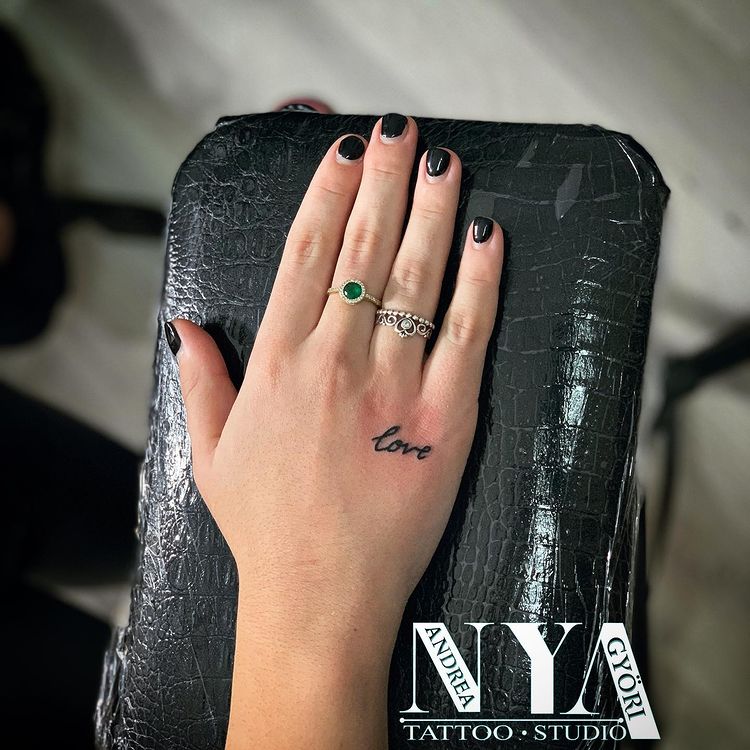 Simple text tattoos are trending, and this "love" tat is right at the top of my list. There's no greater power than love. Inking it on your hand is a special way to stay positive and remember all the things you love in life.
SEE ALSO: 110 Trendy Shoulder Tattoos for Women
34. Vintage Cassette Tape Tattoo
Vintage tattoos are a fun way to remember the past and carry memories forward. This adorable cassette tape tattoo brings me back to the early 90s. #bekindrewind
35. Subtle Saying and Heart Tattoo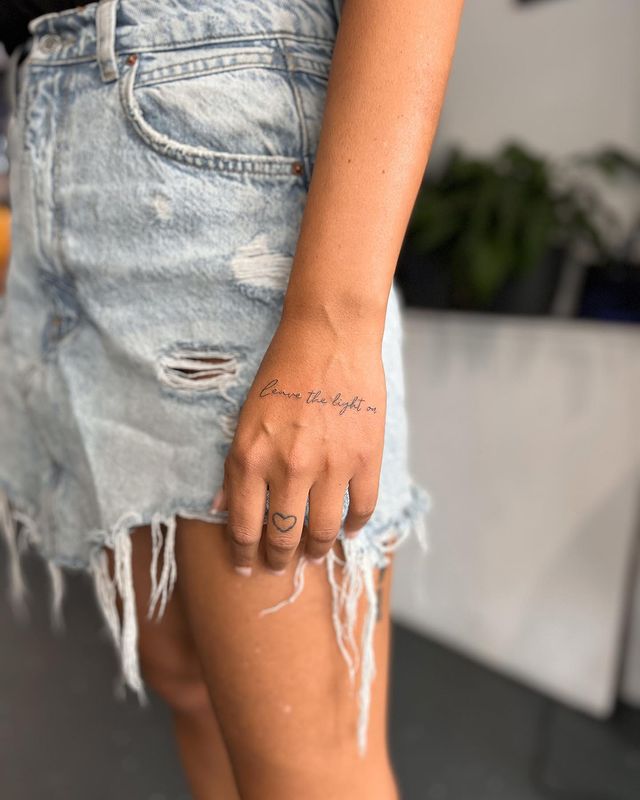 "Leave the light on" has many meanings. It makes me think about the little ways we show people we care. The little heart tattoo on her finger only emphasizes this point. #love
36. Dot Work Finger Art
Pointillism tattoos are super hot right now. These pretty little dotwork pieces add a little life to her hands. I adore the different designs on each finger. These tats look great with asymmetrical french tips on natural nails!
37. Beating Heart Couple Hand Tattoos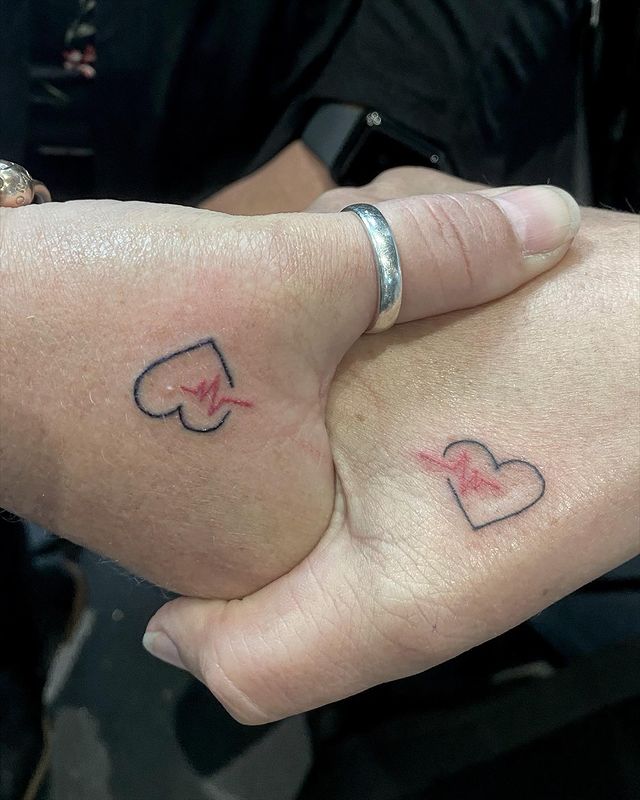 Sharing a tattoo with your partner is a big step. This simple heartbeat tattoo tells me their hearts beat for each other. I love how such a small symbol represents so much.
38. Double Ghost Hand Tat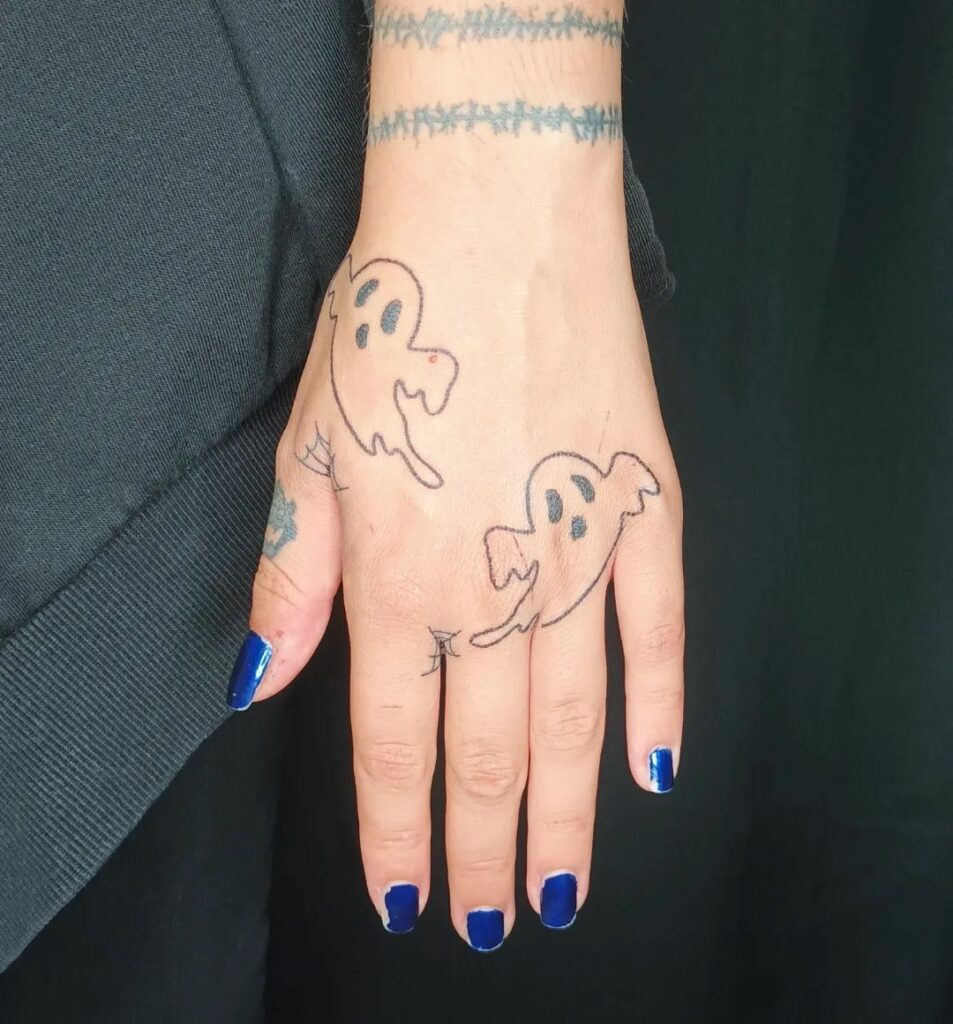 Spooky tattoos are making a comeback. These little ghost hand tattoos are a cute way to get in on the trend. I love that they look like old-school sheet ghosts. #boo
39. Love Falling From the Sky Tattoo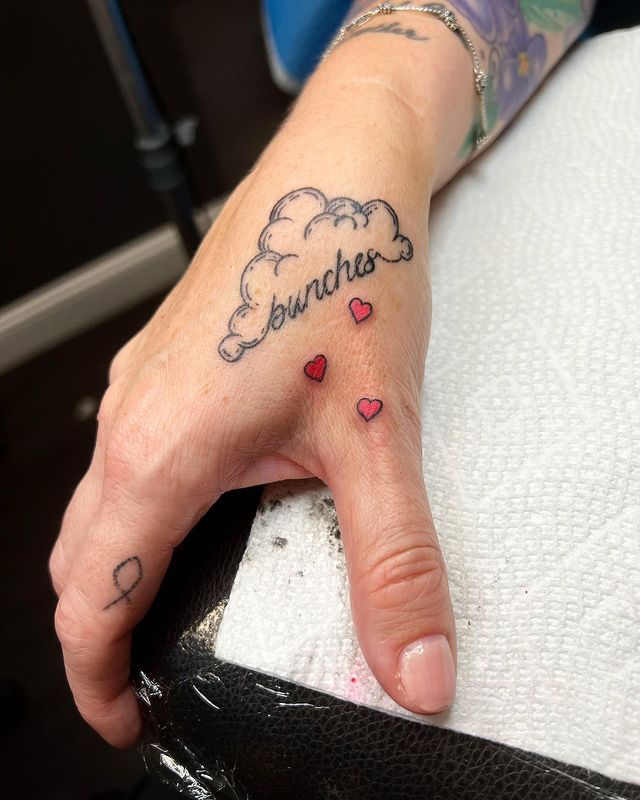 Rain clouds aren't always a bad omen. This adorable fluffy cloud is full of love. Heart rain is a fun tattoo idea and so positive. I love the word "bunches" hidden in the cloud. #iloveyoubunches
40. Wing Finger Tattoo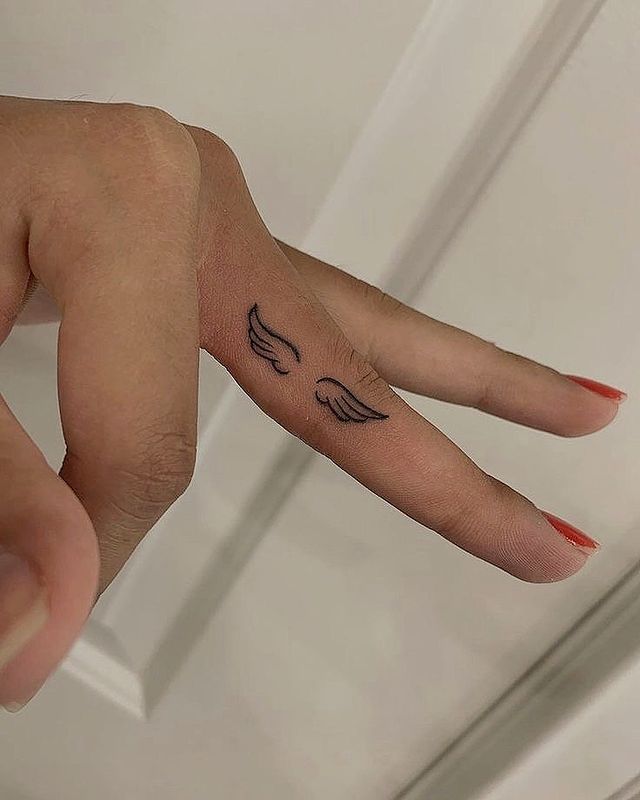 We all wish for wings sometimes. This little set of inked wings is a sweet bid for freedom. I like the unimposing size and location. A little piece of whimsy to take on the go.
41. Sending Love via Snail Mail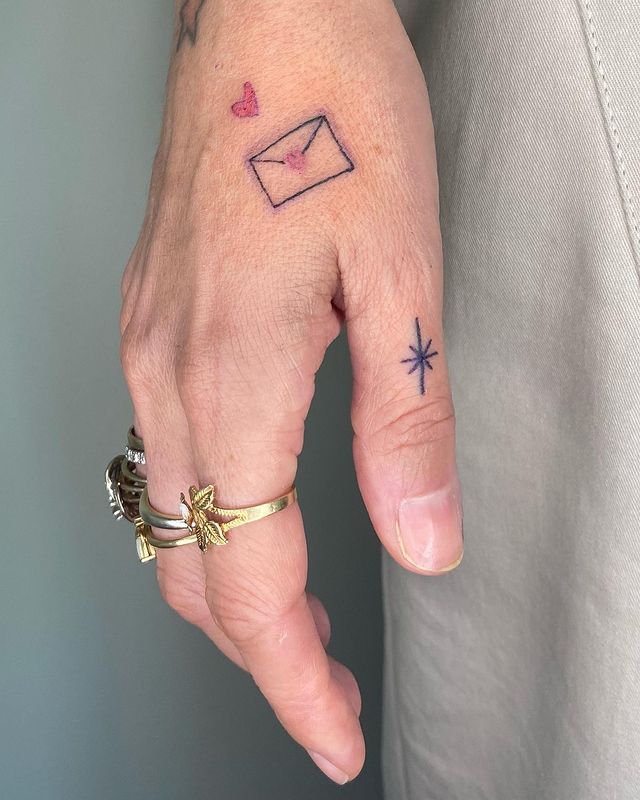 I love minimalistic designs in tattoo art. This little envelope with a love heart seal is charming. The extra heart next to it accentuates the love aspect of the letter. Very cute.
42. Double Ornamental Tattoos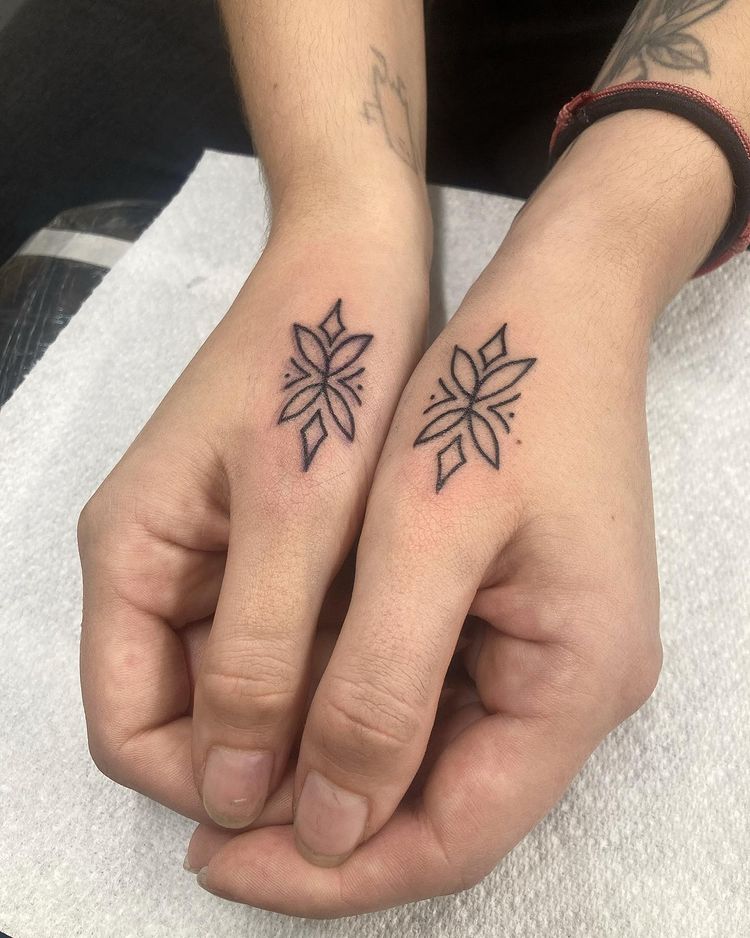 Ornamental tattoos often include some element of symmetry. These little tats are copies of one another, providing just that. I love the location at the base of each thumb.
43. Believe With a Bird Inner Finger Tattoo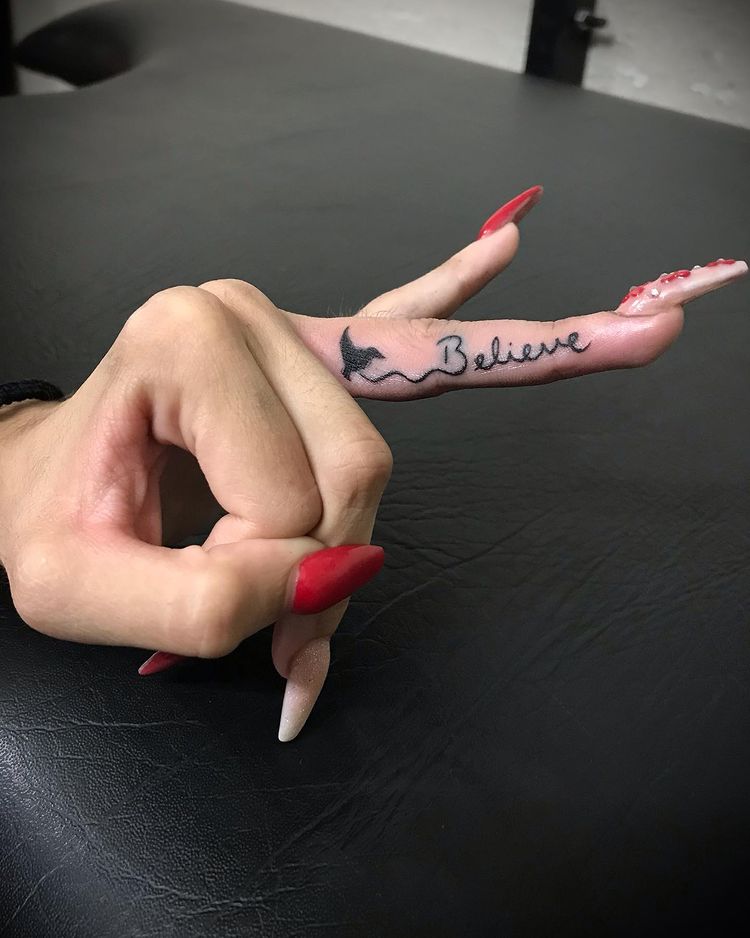 It's important to have something to believe in. Whether you believe in yourself or greater power, this tiny script tattoo is a wonderful way to remember. The blackbird is a nice touch.
44. Botanical Side Hand Tat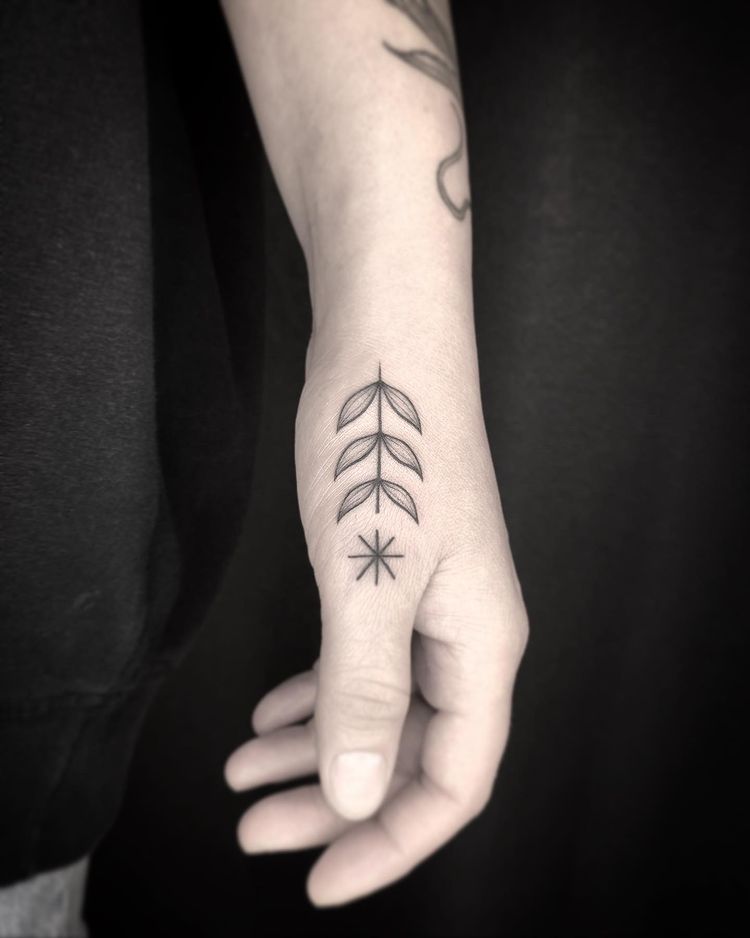 I love this! The botanical tattoos are super in right now, especially the vines and leaves. A little starburst at the top of this plant tat adds a whimsical dandelion fluff effect I adore.
45. Heartagram Ink on Hand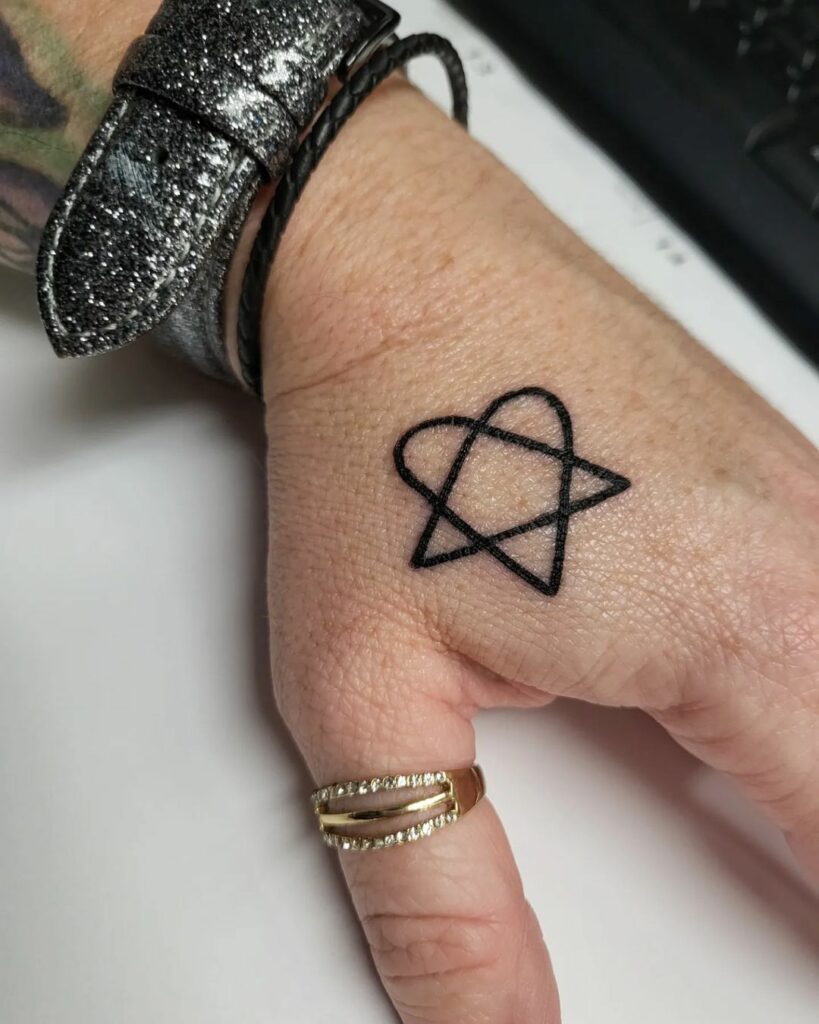 What do you get when you cross a heart with a pentagram? A heartagram! Pentagrams have religious and nonreligious meanings. Whatever the intention, this one is pretty unique.
46. Delicate Bouquet of Flowers and Foliage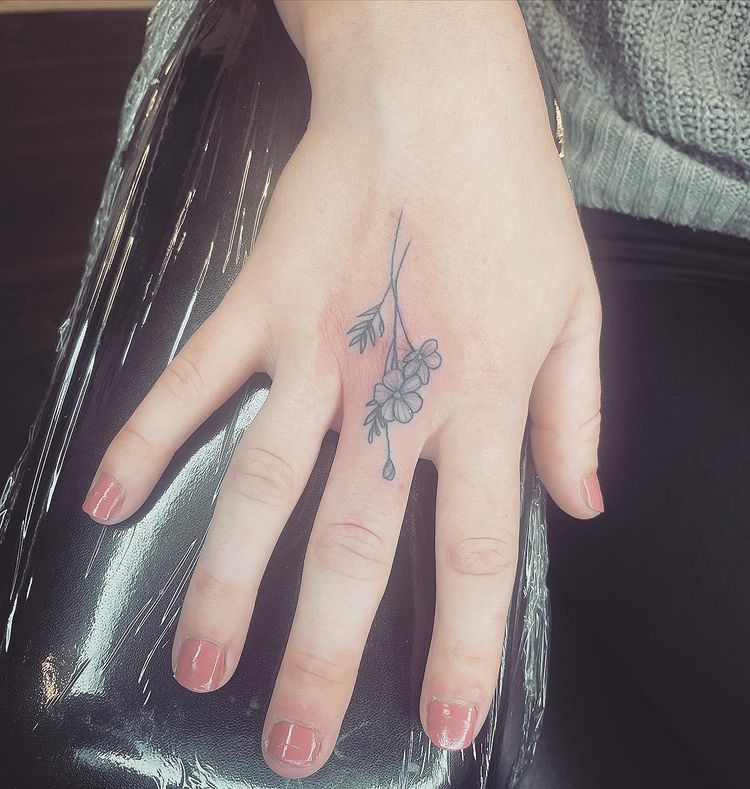 I love floral tattoos, and this tiny bundle makes a great hand tat. Black and gray get lost in delicate art sometimes, but this artist pulled it off. I adore the simple forget me nots over more elaborate flower choices.
47. Creative Butterfly Wings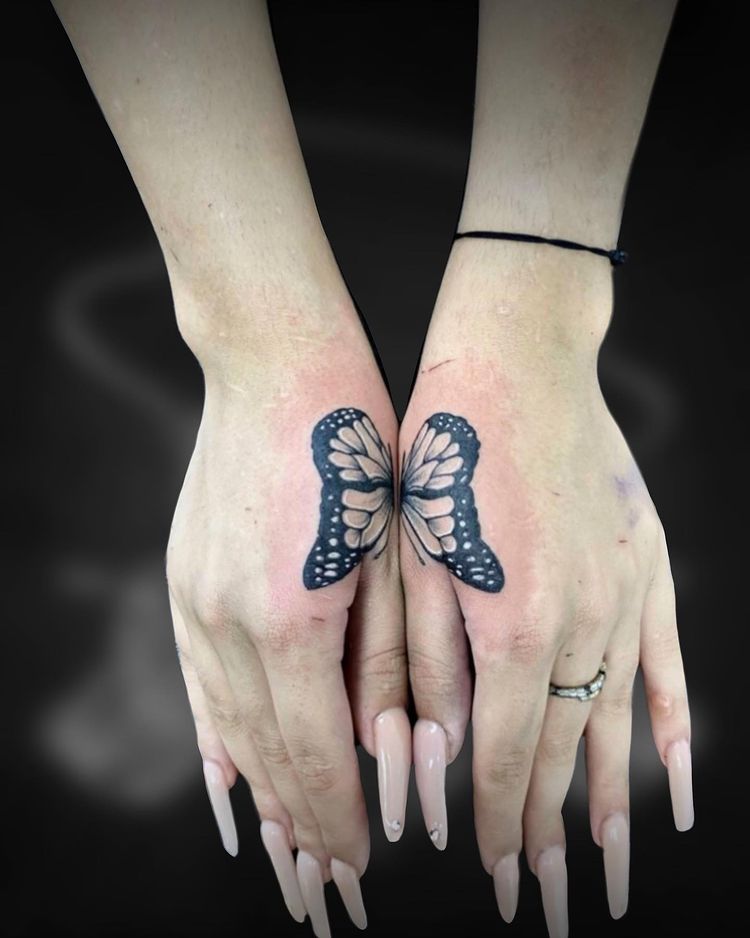 Butterflies are a favorite female tat choice. Inking individual wings on each hand creates a beautiful optical illusion. Put your hands together, and you've got a full butterfly. #lovely
48. Bracelets and Zodiac Sign Tattoo
Zodiac sign tattoos are personal. I like how she chose to have the zodiac name written in cursive rather than just inking the sign. The ink bracelets are another nice touch.
49. Dotwork Flower With Long Stem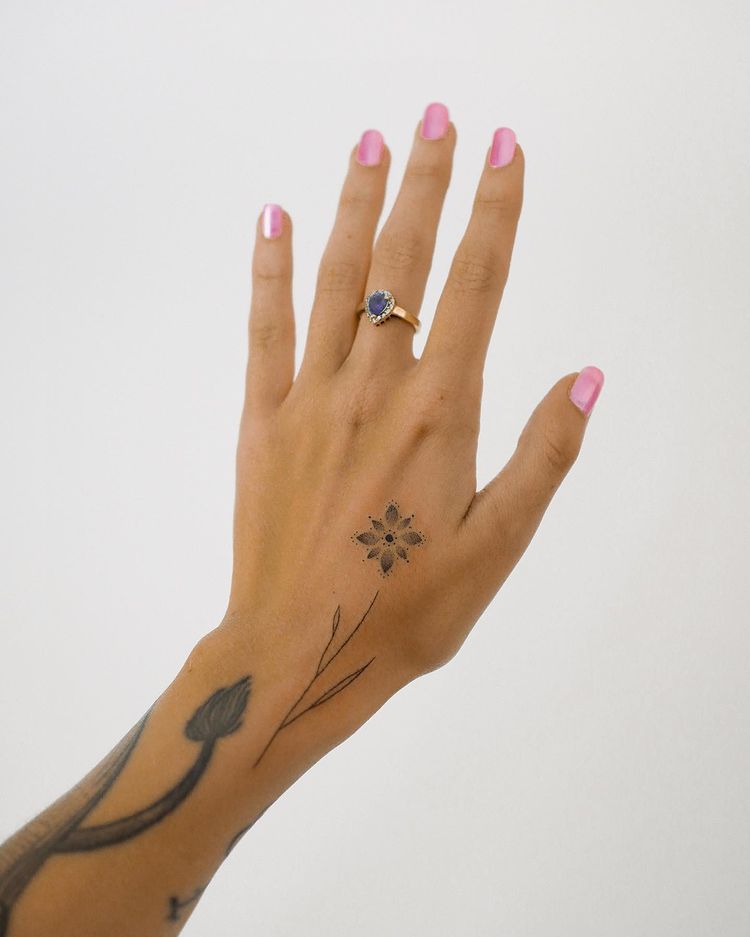 Dotwork makes even the most common tattoos unique. This graceful flower looks even more delicate with an elongated stem. I like how the artist kept the stem and bloom separate. There are so many ways to interpret it.
50. Decorative Finger Art With Snake Tattoo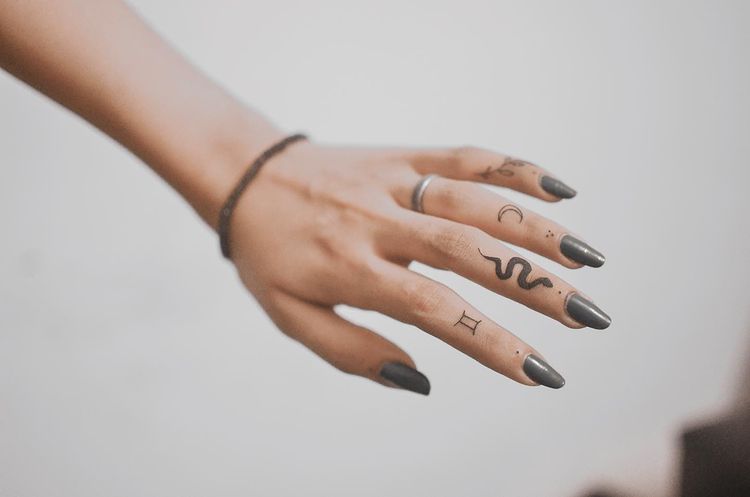 All of these tiny tats are cute, but I love the snake in the middle. Going with all black was a nice touch. It pops next to the fine line designs on either side of it.
51. Original Eye Tattoo on Palm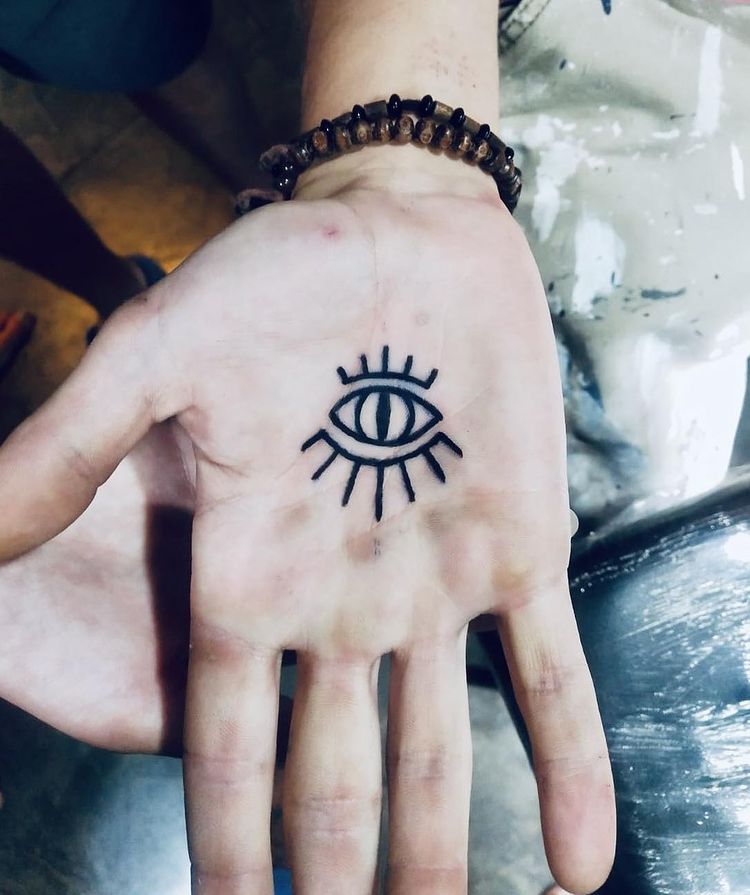 Palms are a sensitive place to get tattooed, so a small tat is a good choice. Eye tattoos often represent protection and knowledge. This one appears to be looking outward.
52. Freesia Color Tattoo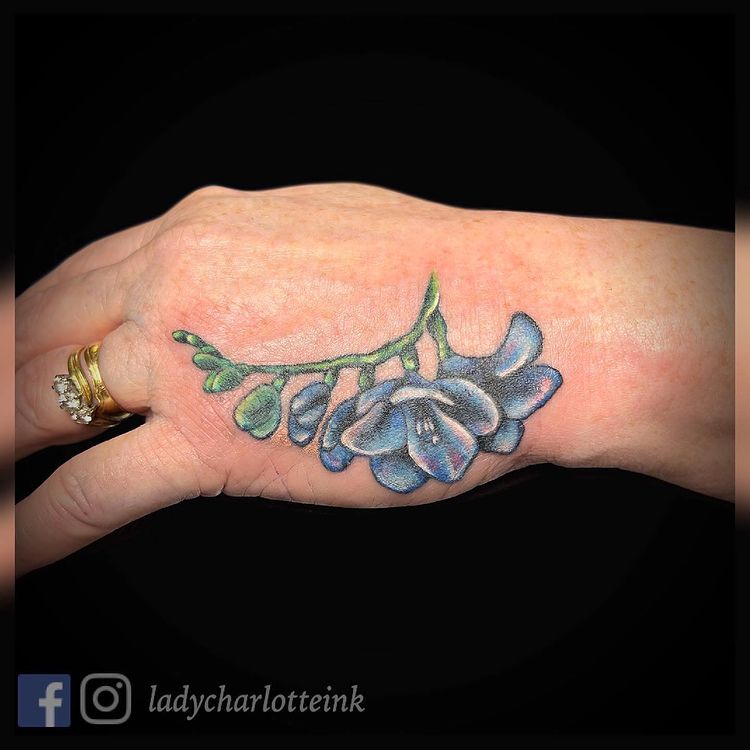 Freesia is one of the sweetest smelling flowers. I love the choice of color the artist has chosen here. I also enjoy the inclusion of some unopened buds to show the progression of life. For a small tattoo, this one packs a lot of detail.
SEE ALSO: 21 Bold Full Back Tattoos for Women
53. Dainty Sunrise Finger Tattoo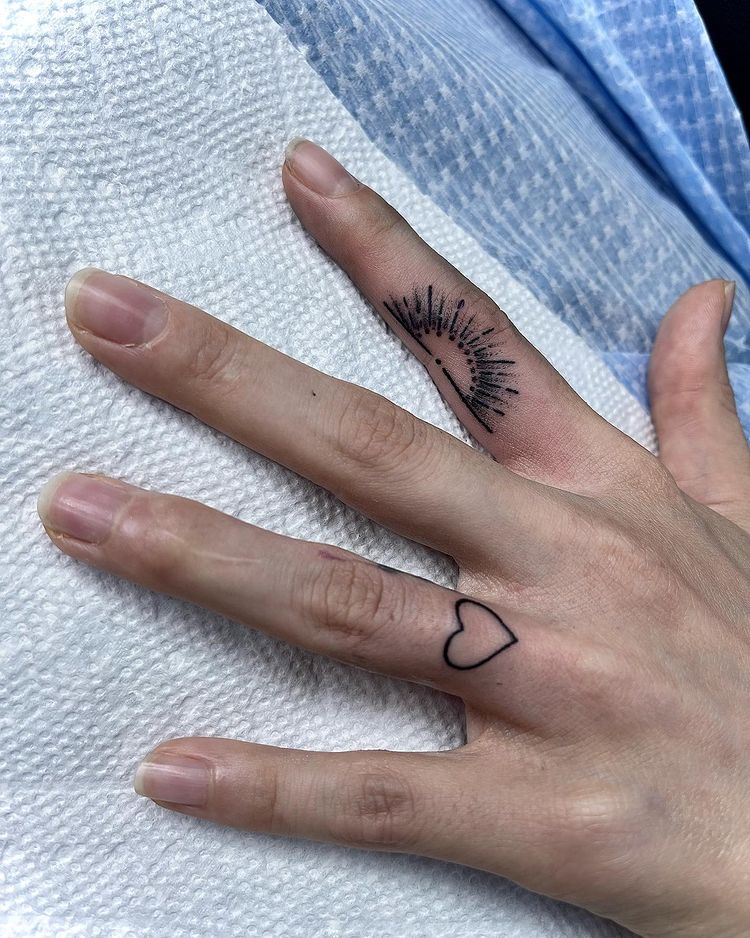 I've seen plenty of lovely sunshine tattoos. This little design is one of my favorites. It's compact but has a lot of spirit. The use of dots and lines lends an air of mysticism to the sunrise.
54. King and Queen of Hearts Couples Tats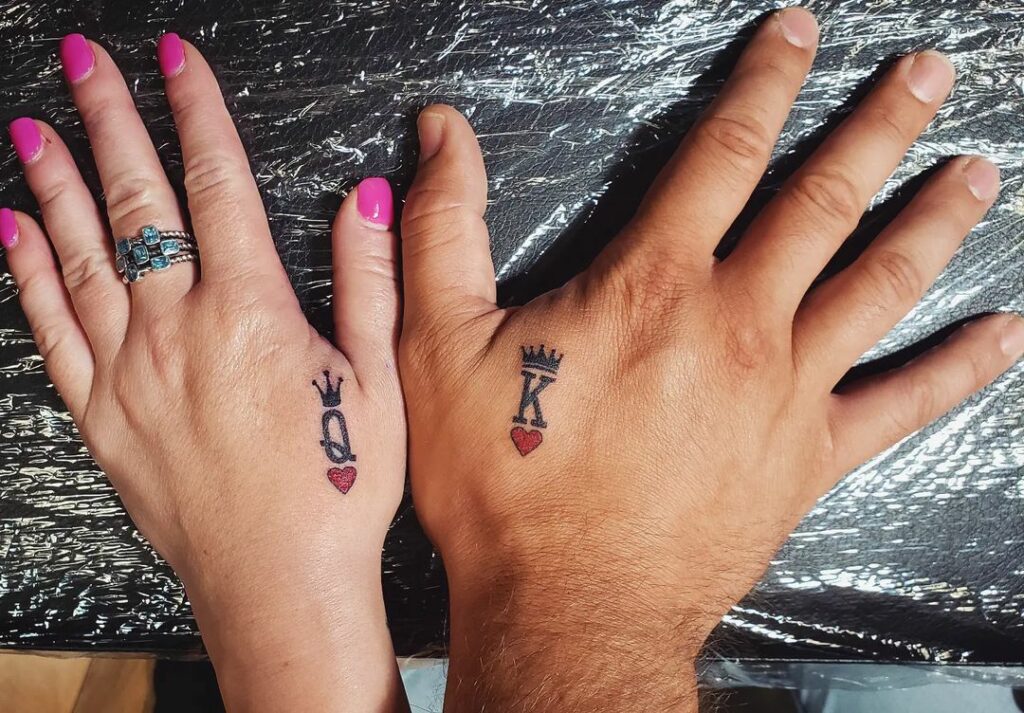 I love these playing card themed couples tattoos. The King and Queen of hearts is such a fun play on two popular symbols. It's also a great way to show your partner how much they mean to you.
55. Super Realistic Rosary
Prayer beads are used by religions around the world. This rosary tattoo is super realistic. I love the highlights on the beads and cross. It's a wonderful way to keep spirituality close no matter where you go.
56. Handpoke Geometry Flower Tat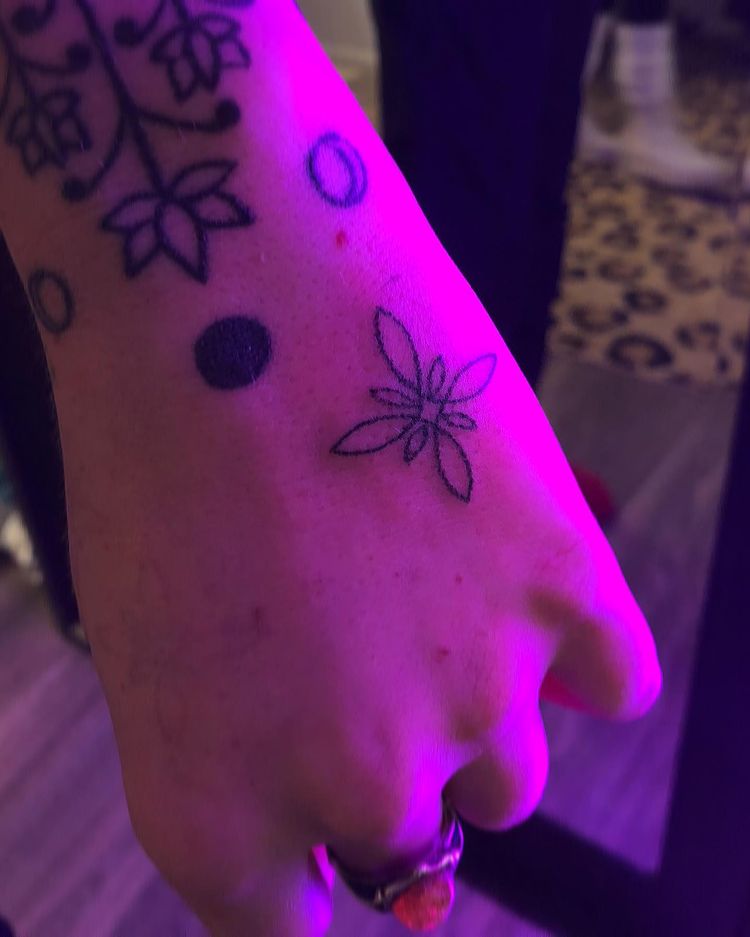 Just because it's small and simple doesn't mean it didn't take a lot of effort. This tiny hand poke tattoo is an example of how much time and meaning go into even the smallest of designs. I love the geometric symmetry of the piece.
57. Detailed All Seeing Eye Tattoo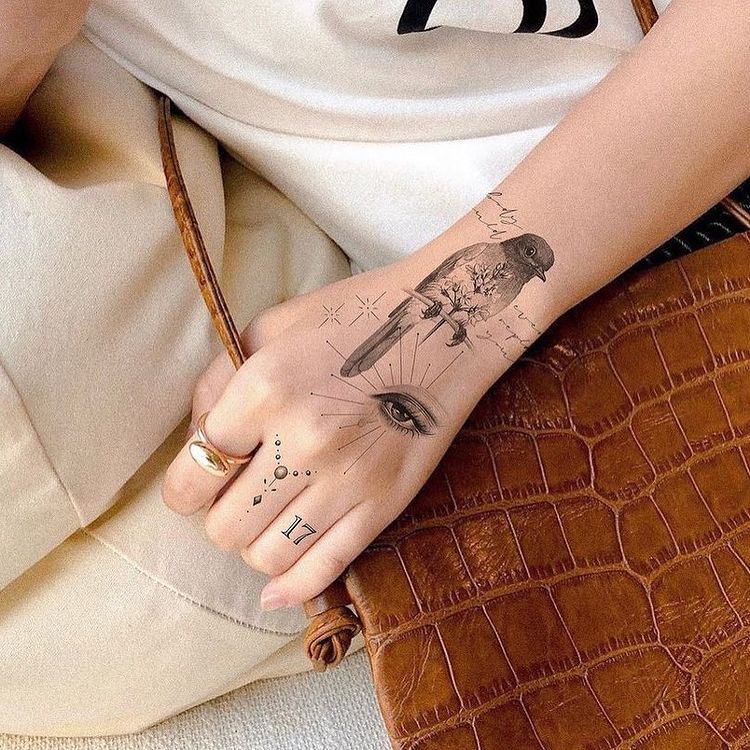 This bird tattoo is gorgeous, but I'm drawn to the all-seeing eye next to it. Eyes often represent protection and guidance in tattoos. The fine detail in this one is spectacular.
58. A Heart for Every Finger
I'm loving this cute heart idea. I've seen lots of tiny hand tattoos with hearts and other themes of love. This collection of tiny black hearts on each finger takes the cake. If you can count the people I love on one hand, you're pretty lucky!
59. Lord of the Rings Elvish Script on Palm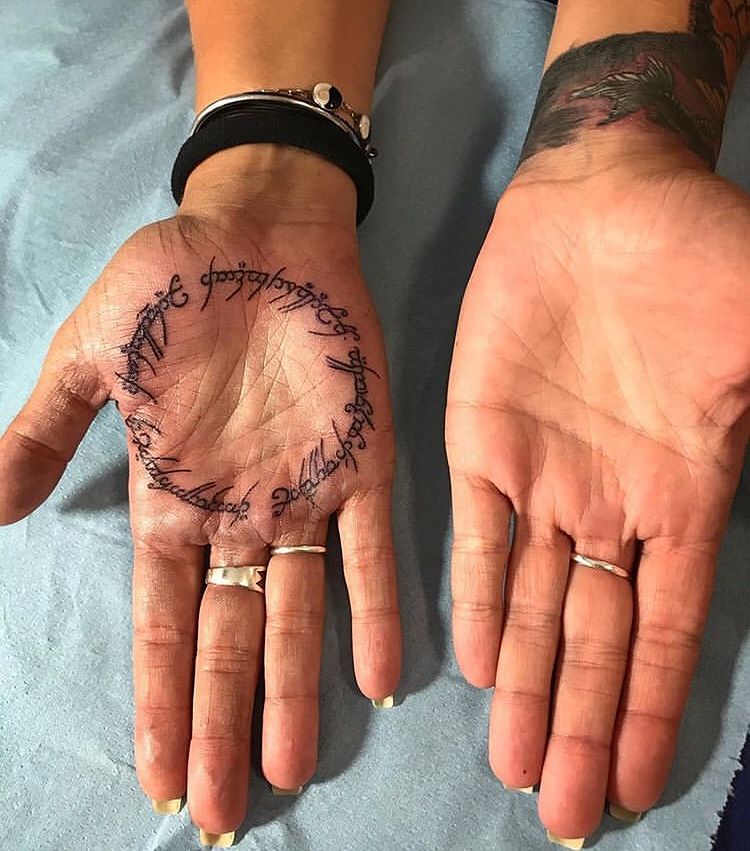 I am in love with this Lord of the Rings-inspired palm tattoo. The script is an elvish writing system called Tengwar. I love any tattoo that brings joy, and pop culture references like these make me happy.
60. Colorful Little Coral Tattoo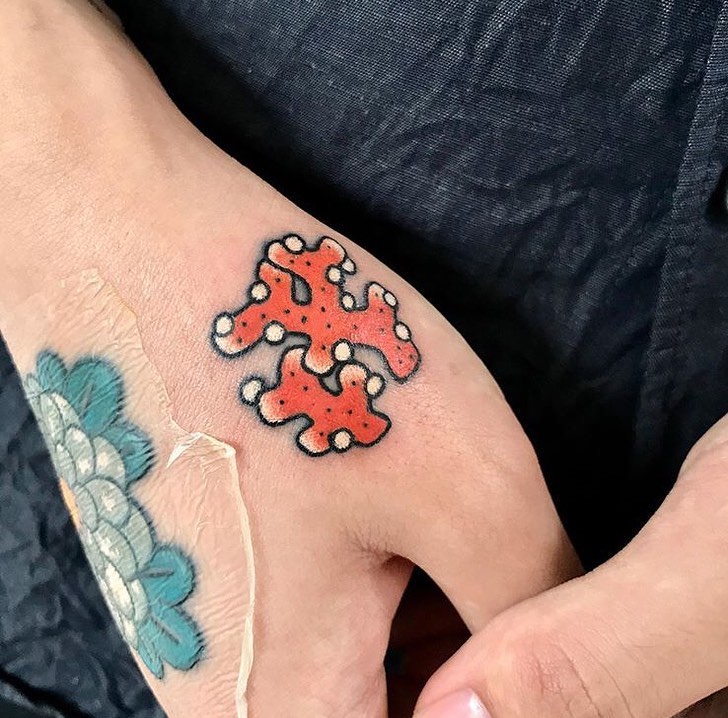 Coral reefs protect our coasts and sea creatures. According to the National Oceanic and Atmospheric Administration, 25 species are endangered. This colorful little tattoo is a wonderful reminder to protect the planet.
61. Koi, Lotus Blossoms, and Constellation Tattoo
The color and detail in these lotus blossoms are everything! I love the look of this small hand tattoo. Koi fish bring luck, which is perfect for a Pisces. The zodiac constellation of Pisces emphasizes this point.
62. Colorful Finger Tattoos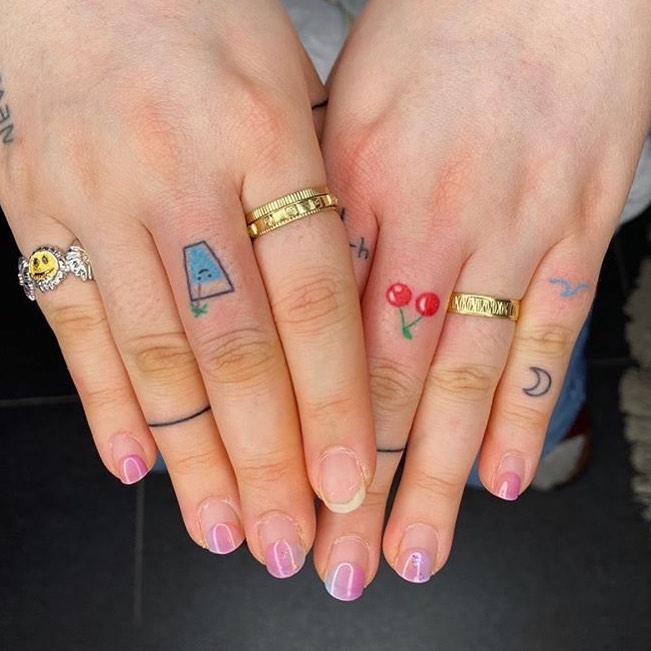 A tiny blue glass of water, red cherries, and a blue wave set these finger tats apart. I love the look of the color ink vs just black and white. It's rare to see on hands, and these little pieces are all adorable.
63. Adorable Collection of Favorite Things Hand Tats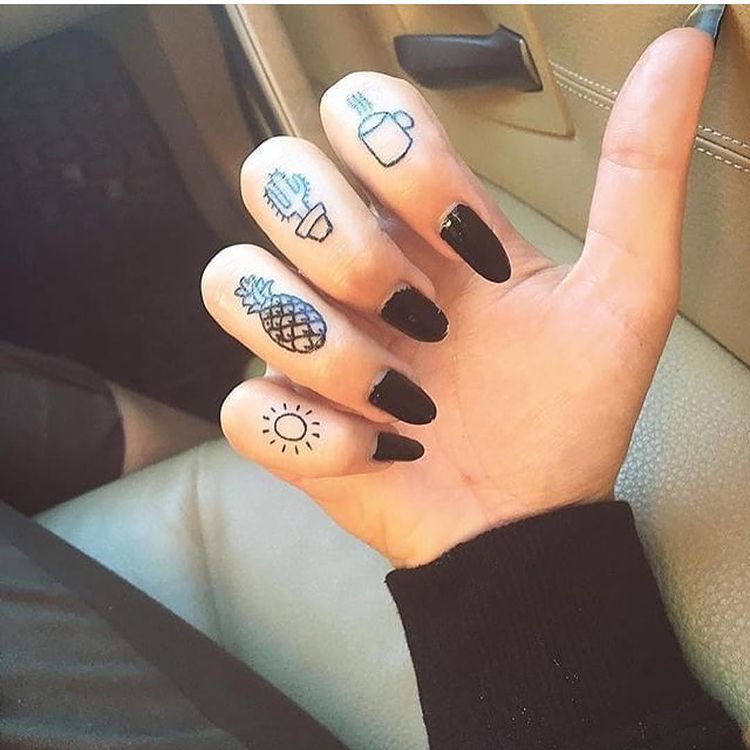 I've seen so many moons, stars, vines, and hearts on hands. This tiny collection of favorite items makes me smile. A pineapple, cup of coffee, sunshine, and cactus make the perfect finger tats.
64. Arrow Side Finger Tattoo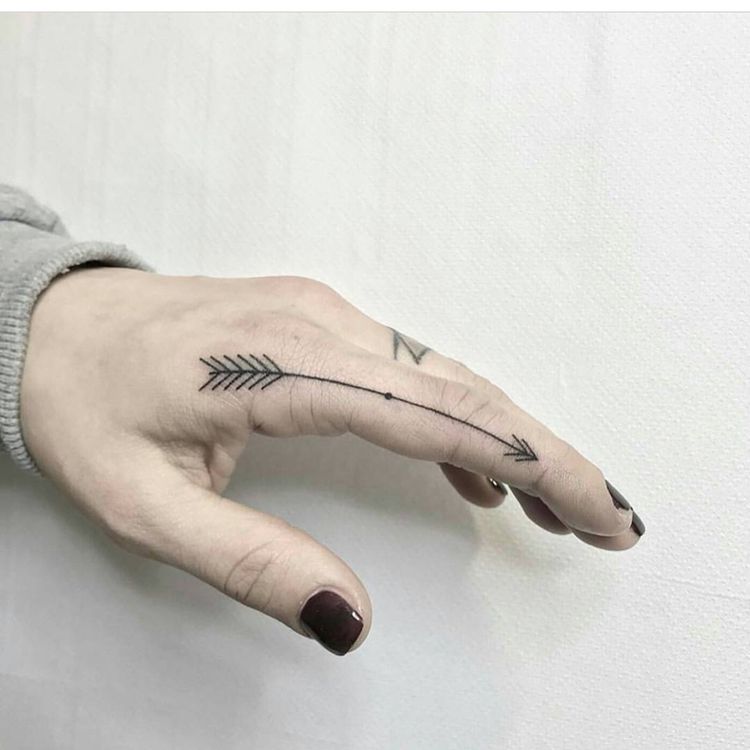 Arrows give direction and help us win battles. This dainty little black arrow tattoo speaks to the warrior woman in me. I love the minimalism of this design.
65. Red String of Destiny Tied Around Her Finger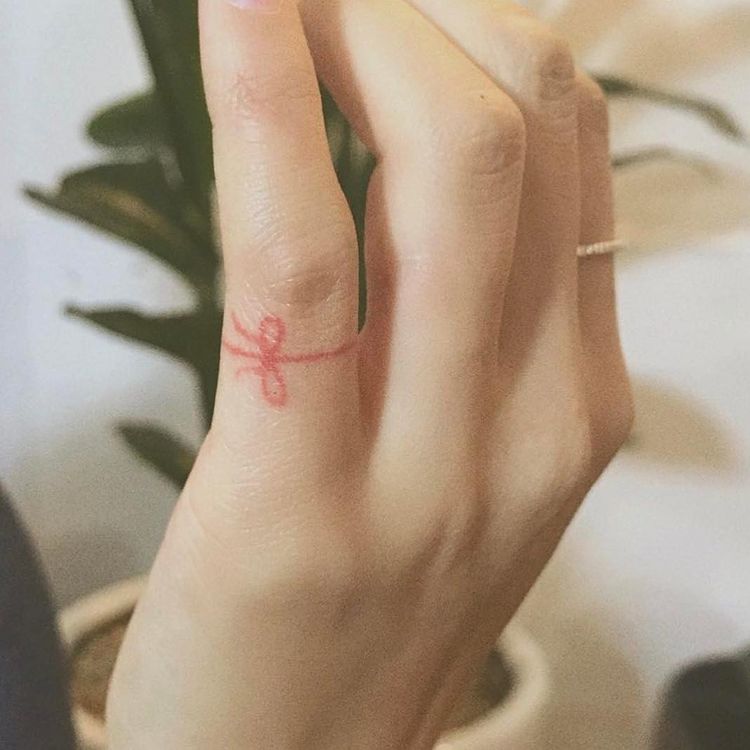 A red string around a fingertip is more than a reminder to do something. In ancient Chinese mythology, it was believed that soulmates were tied together by the red string of destiny. This simple little tattoo has a big meaning.
66. Fish and Bubbles Swimming Down a Hand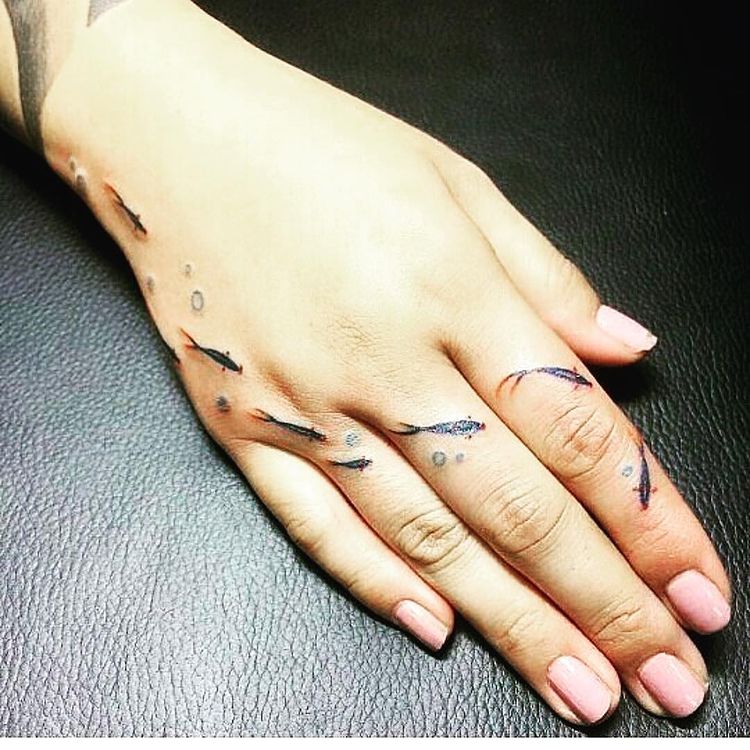 I'm living for these itty bitty fish. The addition of red at the fins, tail, and mouth adds detail and depth to the design. I like the way they appear to swim down the hand, tiny bubbles in tow.
67. Angel Number 222 Tattoo
Another tattoo trend this year is angel numbers. These are a series of repeated numbers, including 222, like this sassy little tattoo. 222 represents balance, commitment, and trust.
68. Flowers in Warm Colorful Hues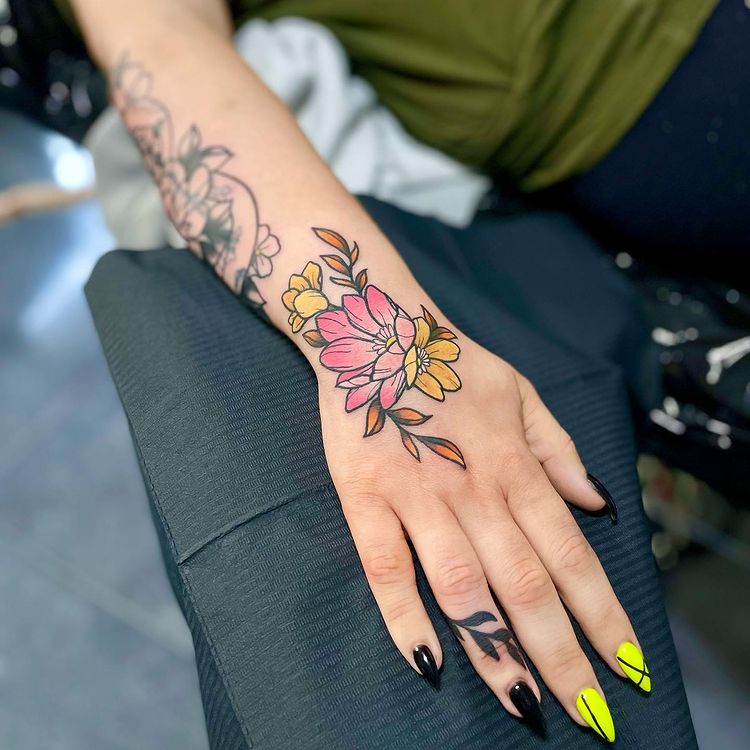 I'm obsessed with the colors in this flower hand tattoo. Yellow, pink, and orange never looked so good together. I love the way these warm colors mingle with her yellow and black manicure.
69. Pretty Little Butterflies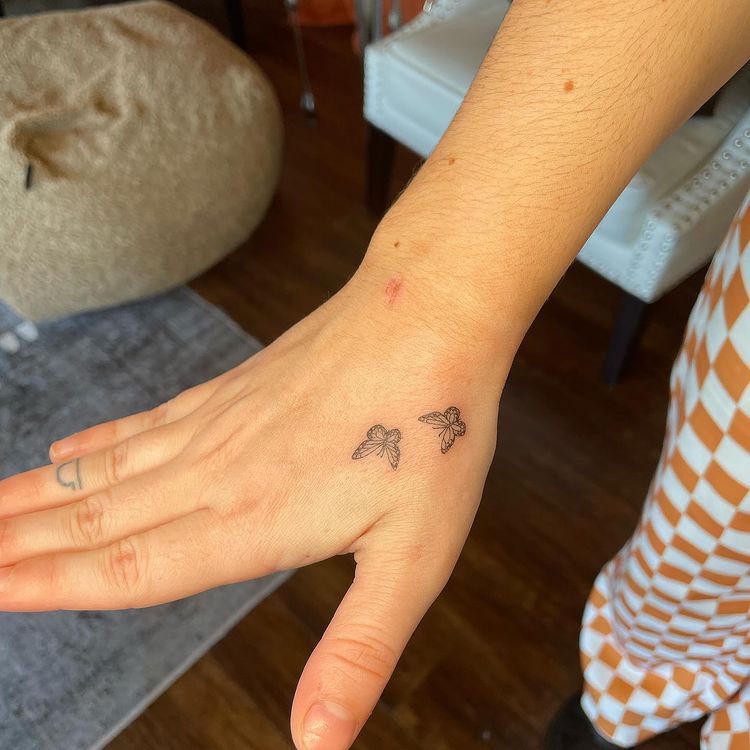 Butterfly hand tattoos come in all shapes and sizes. These little winged beings look so delicate. I like that even with both tattoos, they don't take up a lot of space.
70. Traditional Tattoo Safety Pin
Check out this little safety pin design. Safety pins are useful for so many things and are used in hobbies like sewing and quilting. I like that this tattoo is done in the traditional style. It matches her other tats perfectly.
71. Another Angel Number Tattoo 444
Angel numbers are everywhere if you look for them. Four hundred forty-four stands for ambition and a passion for life. If you're trying to get to the top, this tattoo is sure to guide you.
72. Abstract Hand Poke Tattoos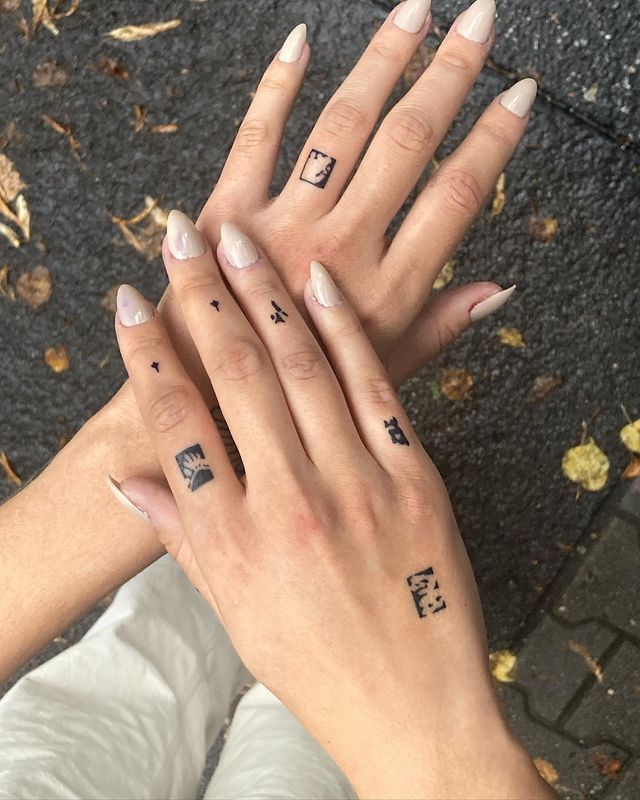 Hand poke tattoos always seem so inspirational to me. These little tribal tattoos make me want to know more about the artist. They remind me of rubber printing blocks. Very creative!
73. I Spy A 777 Angel Number Tattoo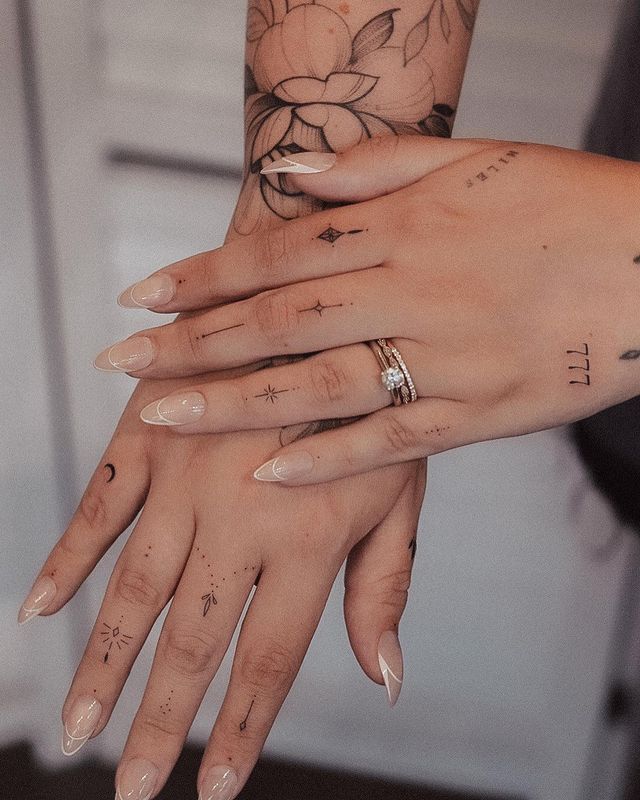 The angel number 777 means you're en route to great success. I love the inspiration and aspiration behind these angel number tattoos. The fine line work on this one blends greatly with her other tattoos.
74. Black and White Bee Tat on Finger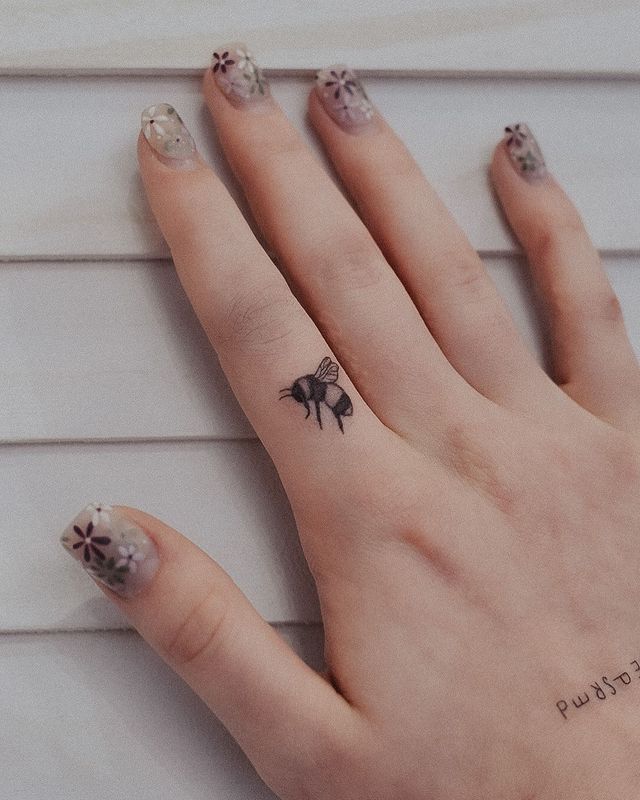 Bees are so important to our environment. This little guy stands as a reminder of our loyalty to the planet. It's also an adorable addition to her hand.
75. Diaphanous Cursive Font Tattoo on Hand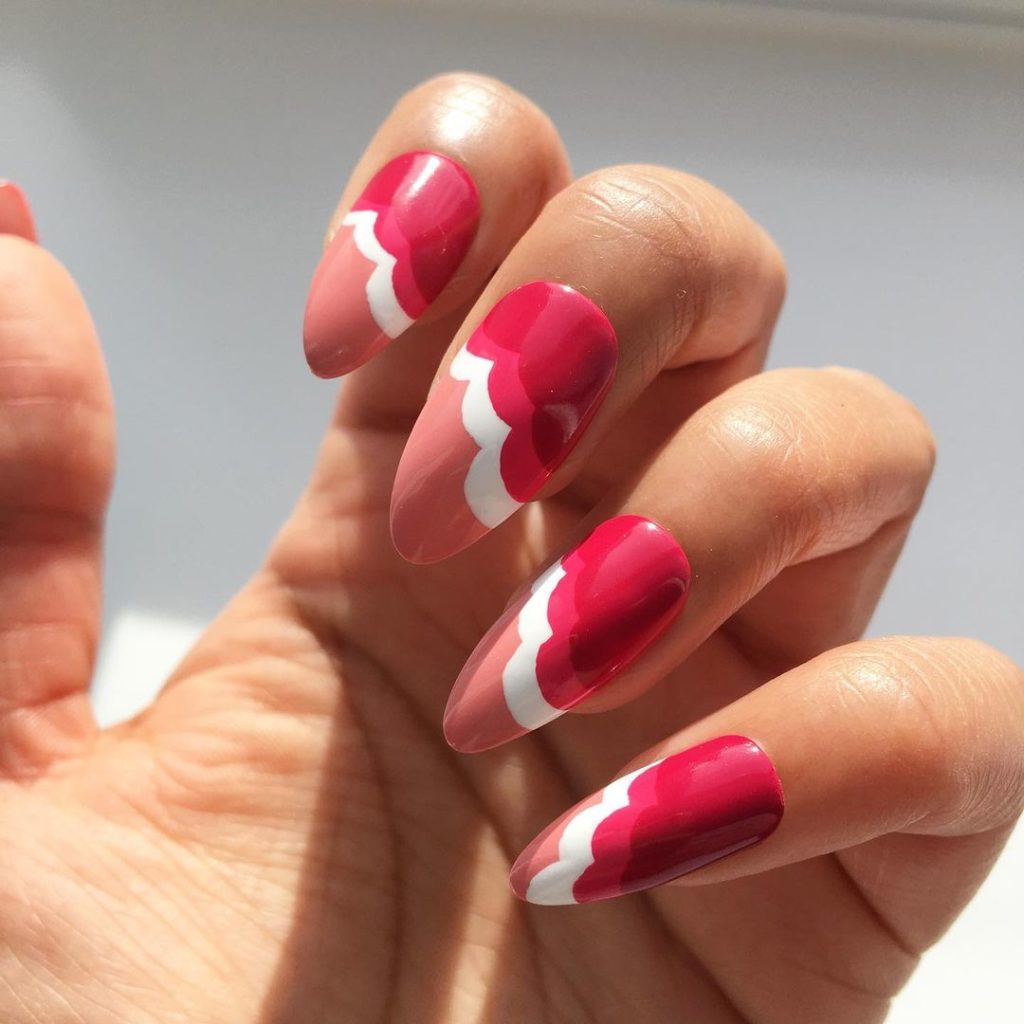 "Have Courage & Be Kind" is my kind of expression. I love the intricate script work on the letters. I also love that this was Cinderella's mantra in the 2015 Disney live-action flick.
76. To Infinity and Beyond Finger Tattoo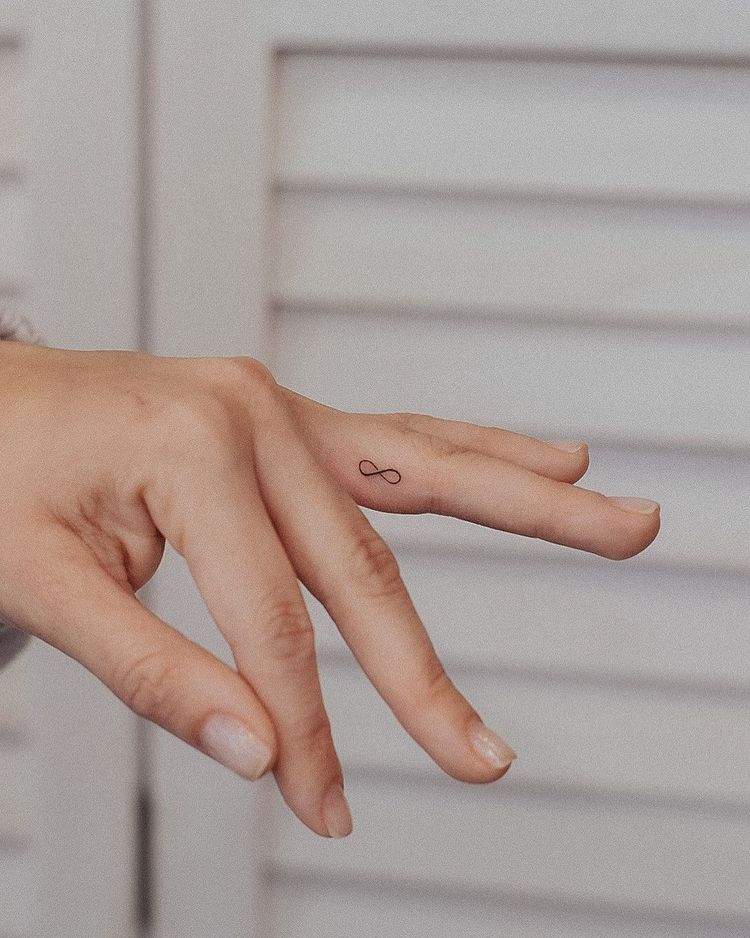 Figure eight means infinity. Whether in love, life, or spirit, the message behind this tattoo is powerful. I like how little this design is. If you didn't know it was there, you might miss it.
77. Master Angel Number 22 Tattoo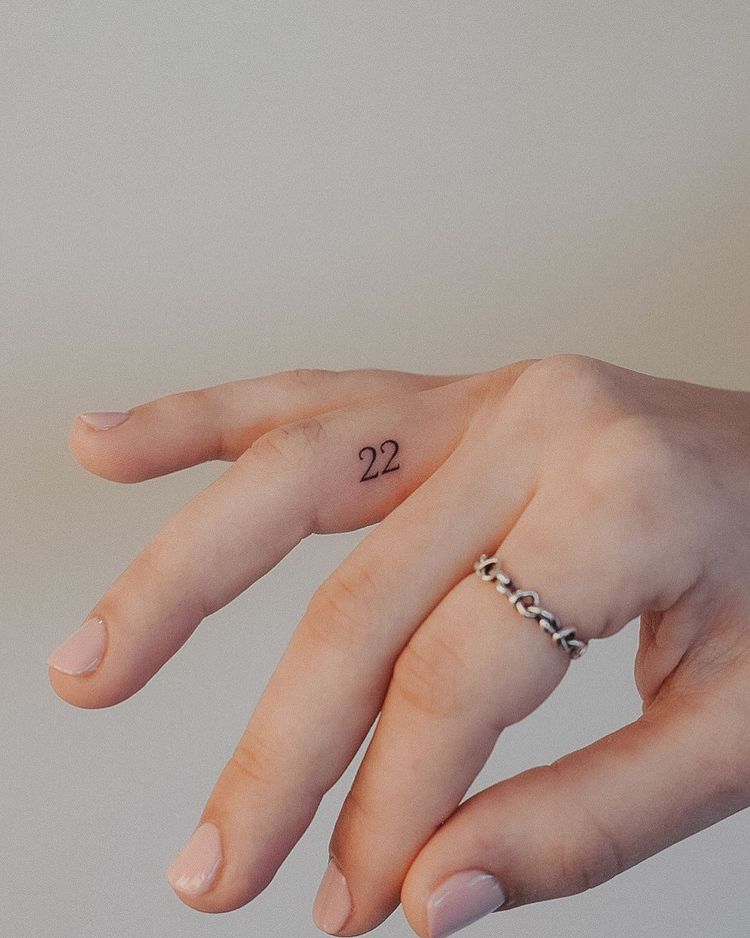 22 is a master angel number. It gives the bearer intuition and life balance. It could also represent a year in your life when something great happened. #longlive22
78. Unpretentious Hand Poke Flower Tattoo
A tiny blossom makes a nice tattoo, especially if you're new to hand ink. This unassuming little daisy outline is so sweet. I like that it was done with extra care of the hand poke technique.
79. Bejeweled Hand Art
Wow! These jewel tattoos have so much detail. From the iridescent pearl finish to the glittering gemstones, it's absolutely beautiful. I'm just sad I can't buy that bracelet somewhere.
80. Deer Tattoo From Finger to Hand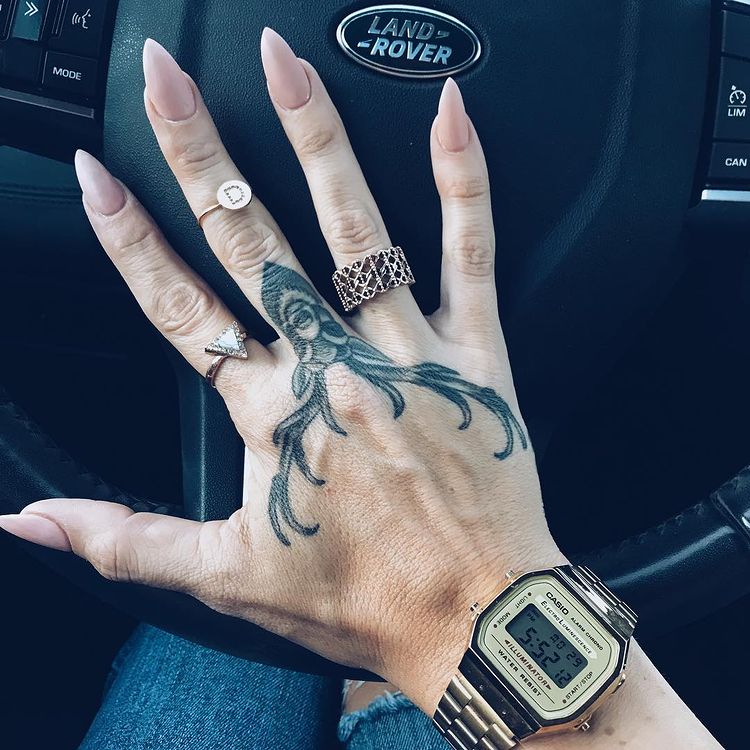 I like the way this deer tattoo branches out from the middle finger up onto the hand. Deer represent different spiritual things. In Christianity, they represent devotion. #deerlydevoted
81. Ombre Birds Flying Across a Hand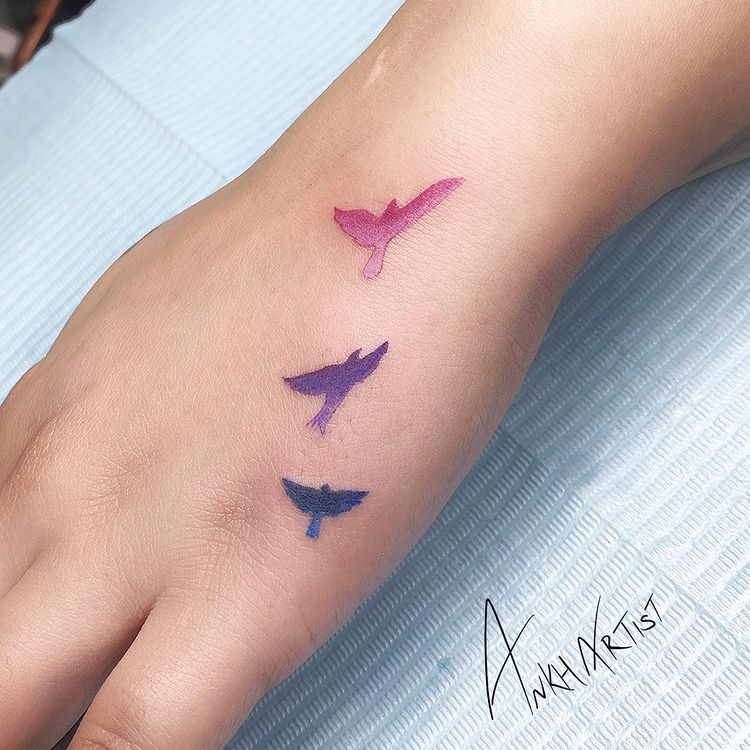 Blue, purple, and pink birds look so free in this ombre hand tattoo. Birds often relate to happiness and freedom. This tattoo is a perfect representation of that.
82. Peacock Feather Inked on Hand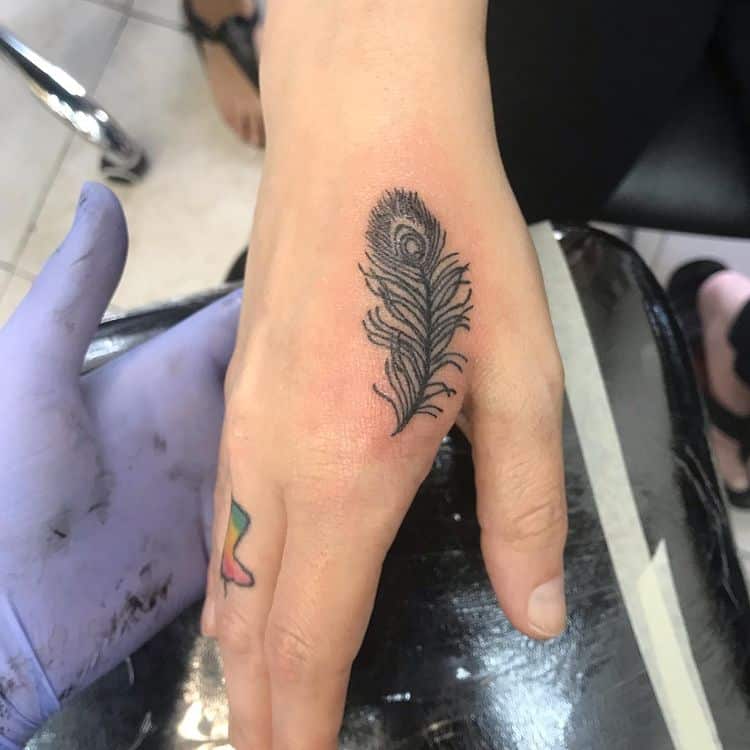 I'm surprised how much I like this peacock feather in black ink. The delicate lines look so light and elegant. These feathers often have meanings of luxury and opulence.
83. Black and Yellow Sunflowers in a Heart
These sunflowers look stenciled into this heart outline. The colors stand out against the subtle shading behind the flowers. Such a fun tat.
84. Regal Butterfly With Intricate Wings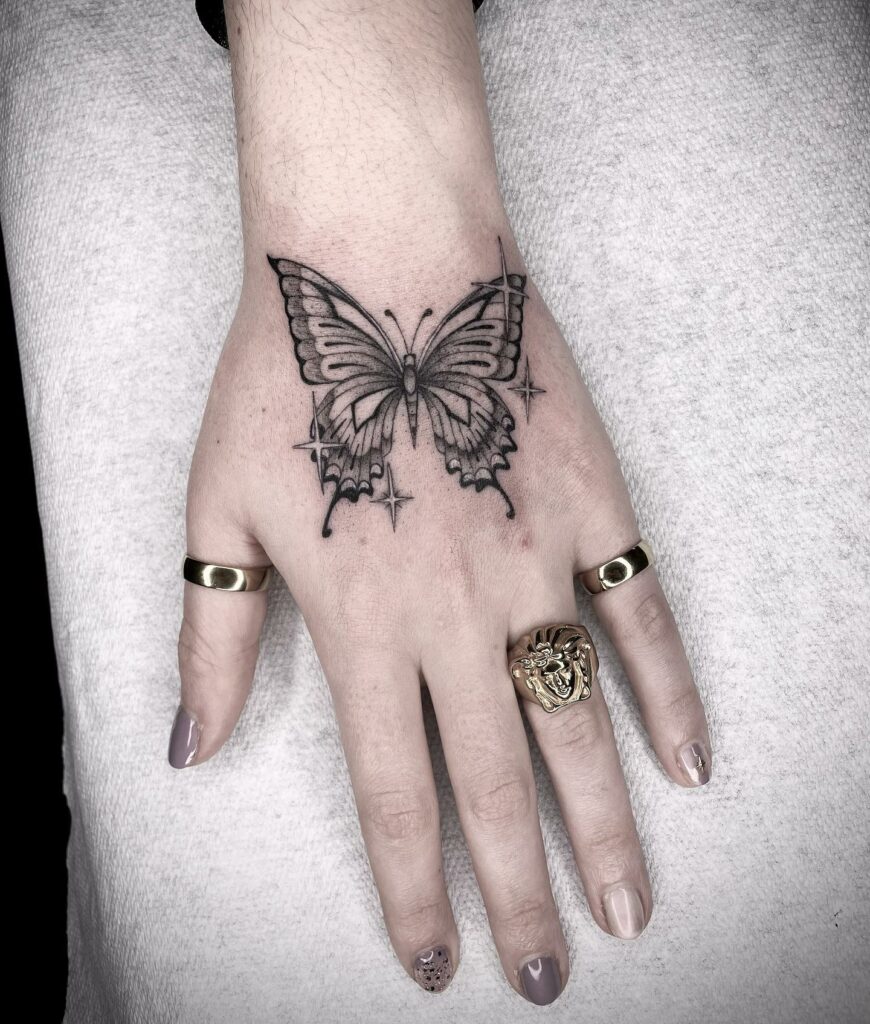 The little details on this black and white butterfly really make it special. Glittery sparkle designs add a little something extra, but it's the shape that stands out.
85. Spiderweb and Spider Tattoo Design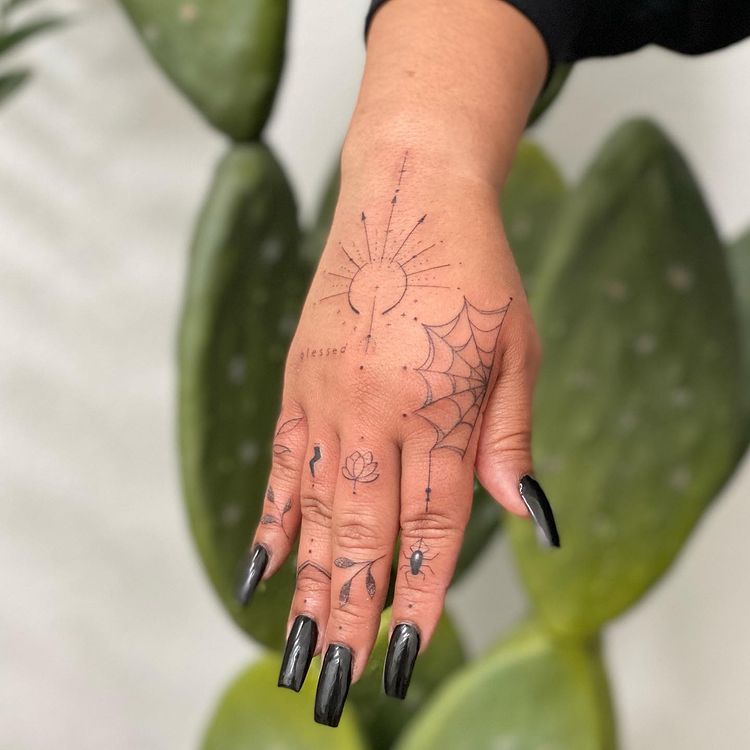 How cute is this tiny little shiny spider tattoo? The detail is phenomenal, considering how small it is. I love how the web on the hand and the spider on the finger are connected by a glistening strand of silk.
86. Adorable Studio Ghibli Finger Collection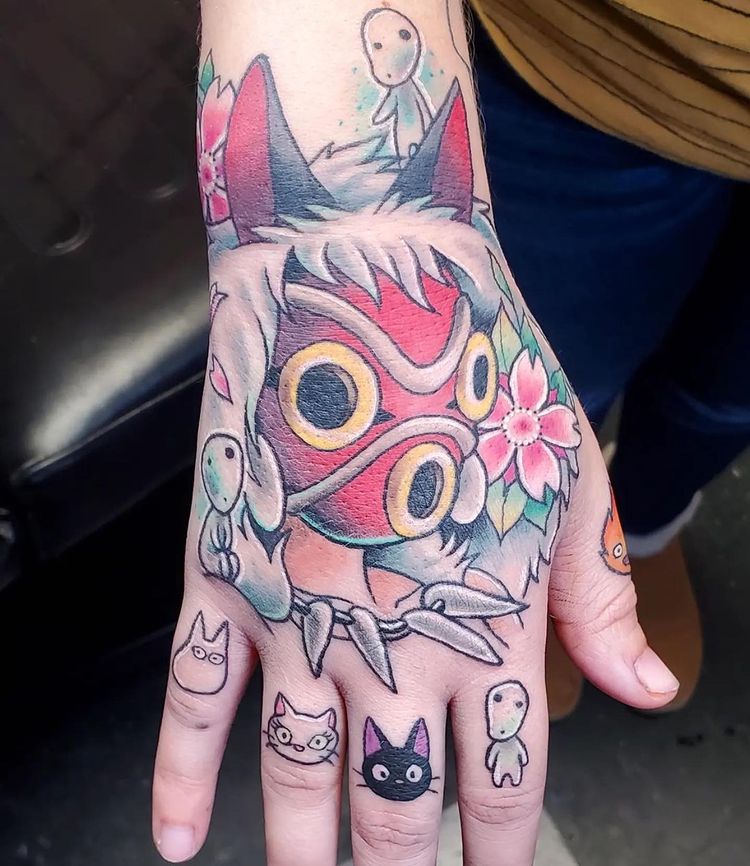 I love Studio Ghibli films. The large mask is a bit much for me, but the tiny companion tattoos on the fingers are killing it! I love the little cat from "Kiki's Delivery Service," the tiny Totoro, and Calcifer on the thumb.
87. Sparrow Flying to the Moon Design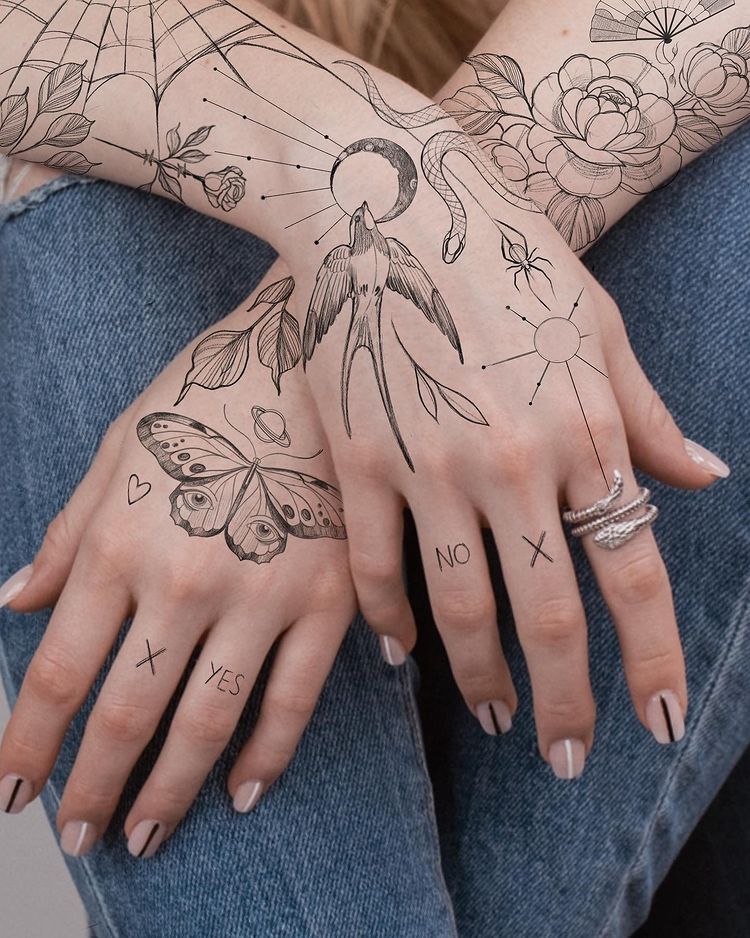 These hands are covered in lovely tattoos, but my favorite is the little sparrow. It's so graceful, arching into the moon above it. Fine lines create detailed feathers and a delicate beak.
88. Traditional Tattoo Vine and Flower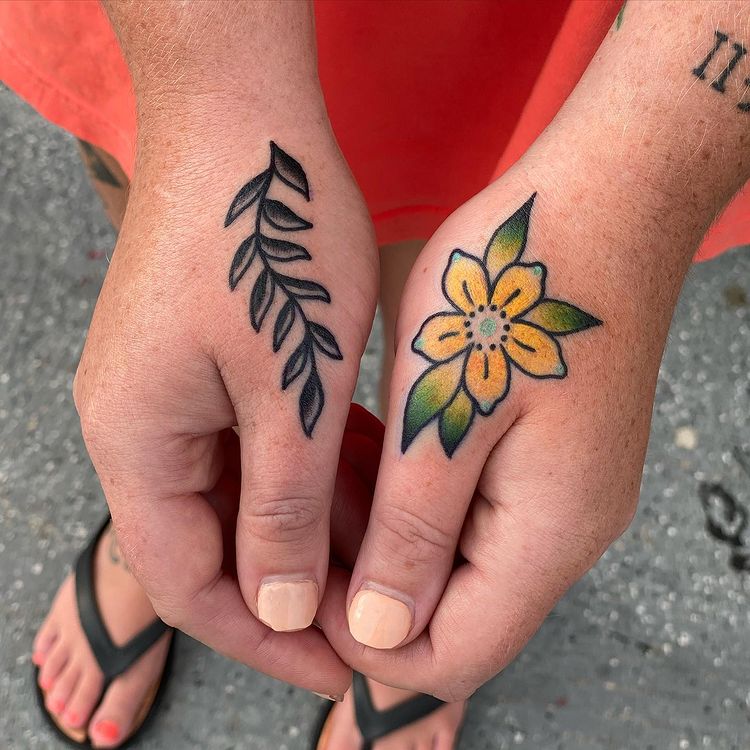 Tattooing the outside of the thumbs is popular. I like this choice of a vine on one side and a flower on the other. The bright yellow and green are a great choice for the traditional tattoo design.
89. Card Suit Finger Tats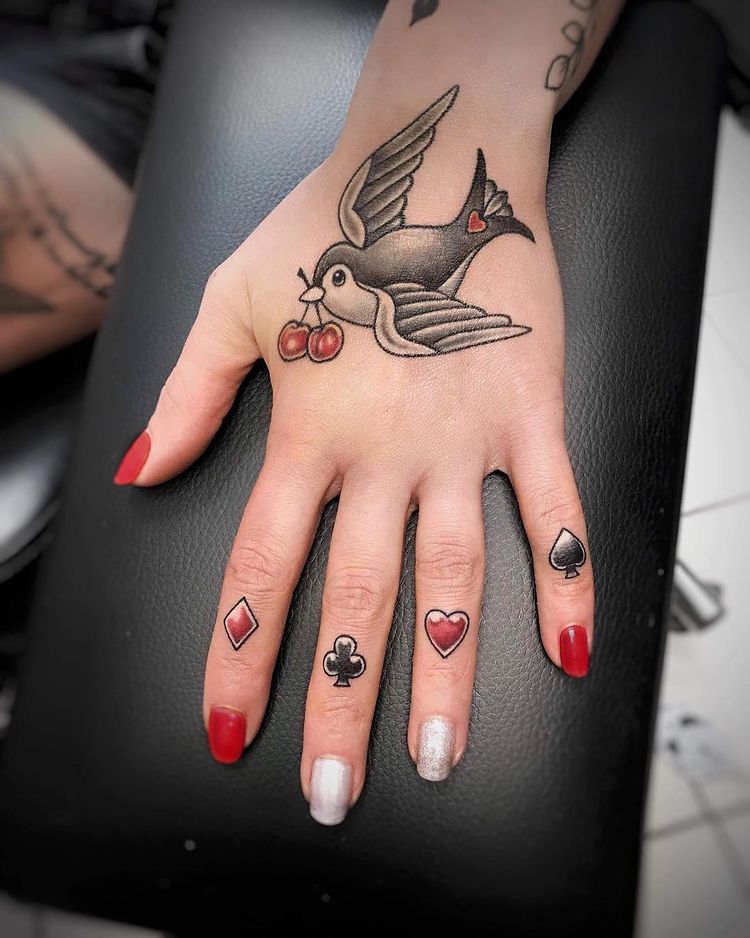 Card suits symbolize good luck. This little heart, diamond, club, and spade are a fun tattoo choice for luck seekers and card lovers. I like the shiny 3D details.
90. Gossamer Arrow Bracelet Tattoo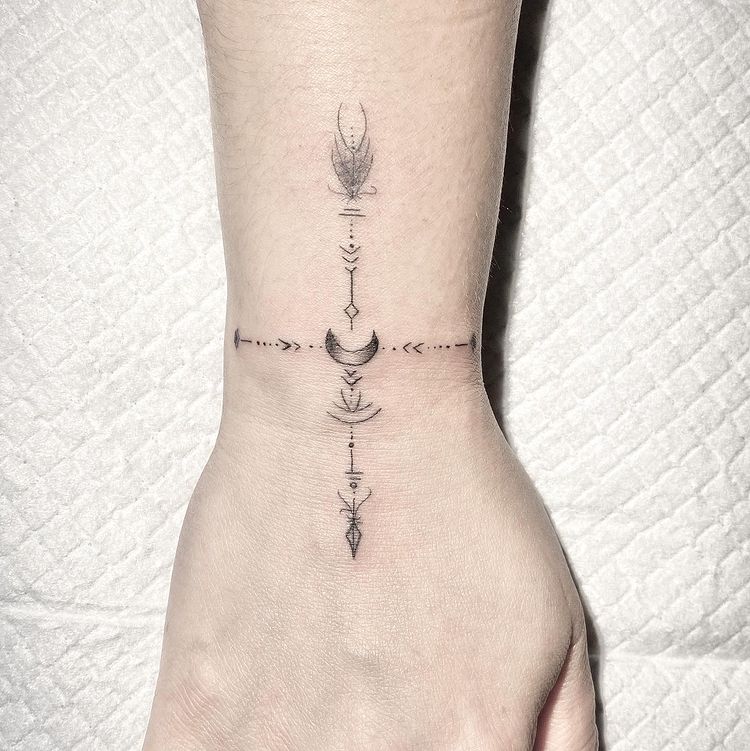 I'm digging the delicate fine lines in this arrow tattoo. There are so many details in the piece. I especially enjoy the light shading in the arrow tail.
91. Traditional Style Fan Flower Tattoo
The deep colors in this traditional style tattoo are perfect for fall. I like the way the black outline makes the design pop. It's a unique hand tattoo in that it resembles a flower and a fan. Bold but feminine.
92. Cherrylicious Hand Tattoo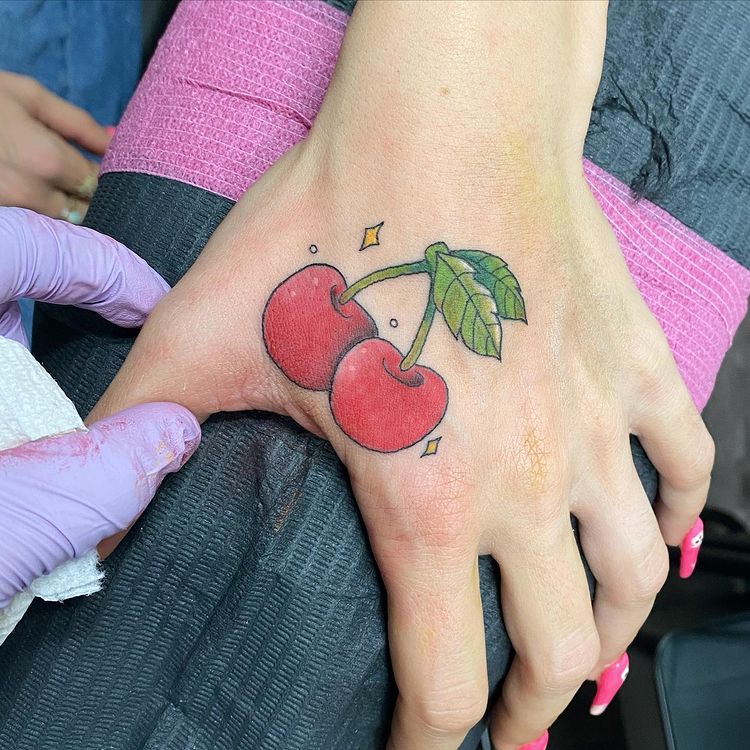 There's something whimsical about these colorful cherries. They have a cartoon vibe but maintain an artistic aesthetic. I love the look of fruit tattoos for some reason.
93. An Ode to Mac Miller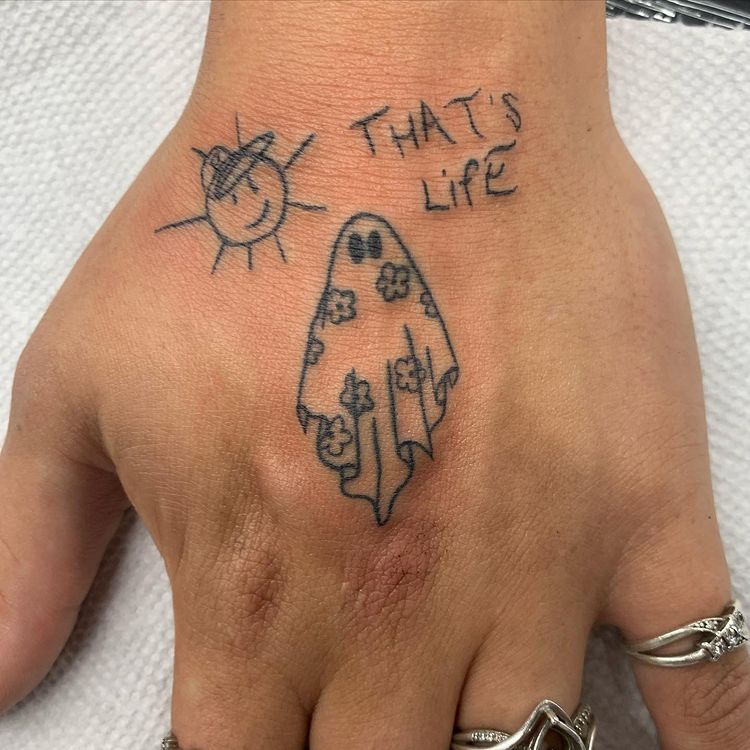 Inking a tattoo inspired by a favorite musician is a meaningful piece of art, especially for musicians who have passed on, like Mac Miller. This little "That's Life" sunshine and ghost is an adorable memento to a beloved rapper.
94. When Life Gives You Lemons Get a Tattoo
She got this collection of tiny hand tattoos for her children, but I'm stuck on the lemon. It's such a cute little design. Normally I like fruit inked in color, but this tattoo looks great in black and gray.
95. Detailed Moon Phases on Back of Hand
The moon is a widely popular tattoo theme. This collection of four moons in different phases is captivating. The shading and detail perfectly capture the mystery of the natural satellite.
96. Tiger Wrist Ink
Detailed tattoos are my jam, and this tiger is among my favorites. I love when artists pack a lot of detail into small designs. Delicate fine lines extend from the tiger giving it a look of illumination.
97. Hello Kitty on Finger Design
Hello Kitty is a beloved Japanese cartoon character. This whimsical little design brings back childhood memories. Plus, she's so darn cute. #meow
98. Petal Falling From a Thorny Rose Tattoo
This rose tattoo is giving me Disney's "Beauty and the Beast" energy. The single petal falling from the flower reminds us that nothing lasts forever. The thorns add to the realism of the design.
99. Dazzling Chandelier Bracelet Hand Tattoo
I'm loving this beautifully layered bracelet tattoo. The chandelier effect with the beads and arrows brings life to the look. Black and white was a great choice for this design.
100. Scorpion and Ankh Hand and Finger Tattoos
Scorpions take many meanings in tattoos, from the Scorpio zodiac sign to symbols of strength and loyalty. The ankh on the finger represents life after death. These tattoos work surprisingly well together.
101. Purple Rose Bloom on Side of Hand
Roses are a popular tattoo choice for men and women. They often represent love. This gorgeous purple rose is perfectly rendered. The white highlights and black stem and foliage provide layers to each petal.
102. Intricate Unalome Hand Tattoo
Unalomes are a Buddhist symbol. They represent the transcendence each unique soul makes toward completion. The slender swirling design reminds me of a sword from hilt to tip. Powerful in any regard.
103. Between the Knuckle Hand Poke Tattoo
Little sparkle designs between each knuckle give me major comic book vibes. It tells me this woman packs a punch. I like that she's chosen to have the art done by a hand-poke artist. It makes the design more special.
104. "Free" Cursive Hand Art
Cursive writing tattoos are classic. This little design really speaks to me. As women, we're burdened with so many responsibilities. Feeling truly free is a feeling I think we all seek. This tattoo speaks to that.
105. Graceful Flower Hand Tattoo Design
I can't get over the delicate linework in this flower tattoo. Flower tattoos are a dime a dozen, but this one is unique. Look at how long and graceful the strokes are on each leaf. The shading on the petals adds depth to the design.
106. Mandala Hand to Thumb Tattoos
Mandalas signify our dream selves seeking fulfillment. These dreamy hand mandalas are super detailed. The fine lines look delicate, and the artist has done an amazing job keeping things symmetrical.
107. Dandelion Fluff Blowing Across a Finger
Tattooing the side of a finger is a great way to add a little art to your hands without making it immediately noticeable. I love the whimsical look of this little black and white dandelion. The fluff is so delicate.
108. Cute Dragon Hand Ink
This little black dragon tattoo is the epitome of cuteness. I love how such small details come together to create something unique. Dragons signify strength, and that's something women possess in abundance.
109. Spooky Castle, Skull, and Crescent Moon
Collecting little finger tattoos is a big trend in the tattoo world right now. These little hand tattoos are amazingly detailed for such small work. I adore the castle, complete with winding stairs.
110. Shooting Stars and Swirls Hand Tattoo
Making a wish on a shooting star is a favorite childhood tradition. This cute little hand tattoo captures the moment in a whimsical display of swirls. The shading of the stars is stellar.
Summary and Top Picks
Small hand tattoos let us express our creativity, be bold, and show off our unique styles. I love how each hand tattoo seems to tell a story about the woman who's chosen it. And while some women worry about visibility, I say, there's a foundation for that!
All the tiny hand tats above are swoon-worthy, but here are my top three:
#9 Like a Moth to the Light Tattoo: I adore the pointillism in this tiny moth tattoo. The entire piece is subtle and delicate.
# 52 Freesia Color Tattoo: Not a lot of hand tattoos are done in color. This gorgeous flower arrangement is made richer with blue, purple, and pink ink.
#96 Tiger Wrist Ink: I love a wild tattoo. This beautifully detailed tiger design is perfect for a wrist-to-hand look.
Now you've seen my hand tattoo inspirations, I'm curious about yours. If you got a small hand tattoo today, what would it be and why? Comment below!