A chest tattoo is a big commitment. It's out there for the world to see (unless you wear a high-necked t-shirt). This makes choosing a design quite a daunting task. 
While chest tattoos are a statement piece, they don't need to be bold or literal to make that statement. Some women like them to stretch the entirety of the chest and up onto the shoulders. Others opt for a small significant symbol.
I love a variety of chest tattoo options. One thing they share is how empowering they make us feel as women. Here are some of my favorite chest tattoos for women this year. 
115 Empowering Chest Tattoos for Women to Explore in 2022
1. Candy Colored Fantasy Chest Piece
What do a unicorn, wolf, and diamond have in common? They make a cute but quirky chest piece when you ink them in candy colors. I love the lunar theme accented on both sides and the airbrush background design in this tattoo.
2. Beautiful Protection Ritual Design Chest Tattoo
This gorgeous design took a lot of patience and skill. The dot and line work in this chest piece requires extreme precision and attention to detail. I love the symmetry and delicate femininity in the design. 
3. Shoulder to Chest Floral Ink
The fine line work in these delicate blossoms is phenomenal. Flowers and greenery drape across each shoulder, reaching toward the center of her chest. I love that the artist chose black ink over color for this piece. #itjustworks
4. Lifesize Lynx Coverup Chest Tattoo
Some tattoos aren't keepers. I love that the artist covered unwanted art with something new and bold. You can see blue ink peeking out from the old tattoo, but all eyes will be on that stunning detailed Lynx.
5. Hand Poke Nature-Inspired Chest Tattoo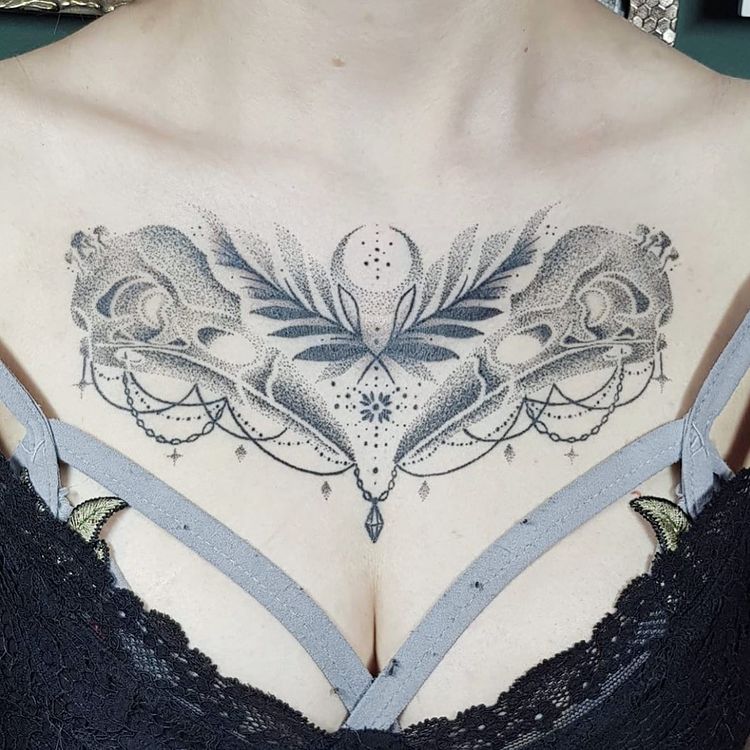 This showstopper tattoo was designed without the use of a tattoo gun. Hand poke tattoos are applied by hand. I'm in awe of the time and detail that went into the delicate stippling for this nature-inspired chest piece. 
6. Optical Illusion Serpent Chest Tattoo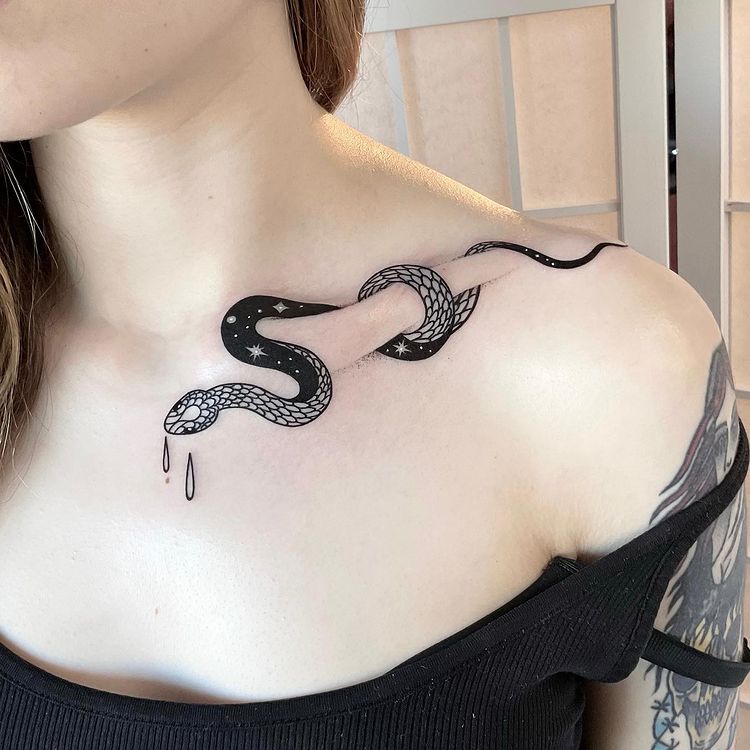 Collar bones are unquestionably sexy. This venom-dripping snake tattoo certainly enhances her collar bone. I'm drawn to the optical illusion of it all. There's something a little magical about it.
7. Bold Moonphase Chest Tattoo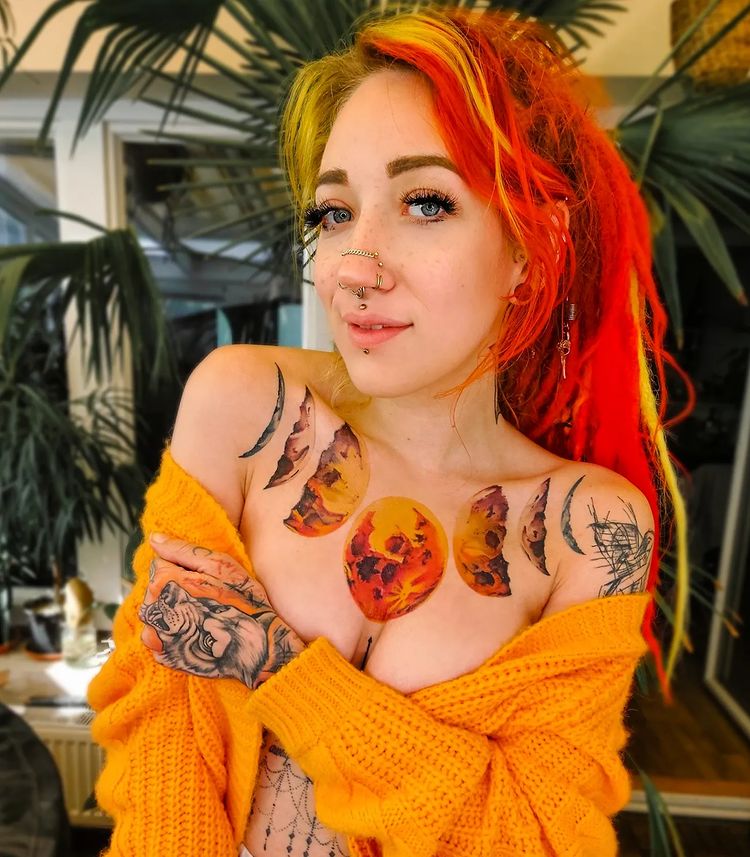 There's something about this brightly-hued chest piece I can't look away from. The orange and yellow ink is striking and stands out with the detailed shading. The moon is such a feminine symbol. It's powerful and alluring as a tattoo. 
8. Big but Simple Skull and Roses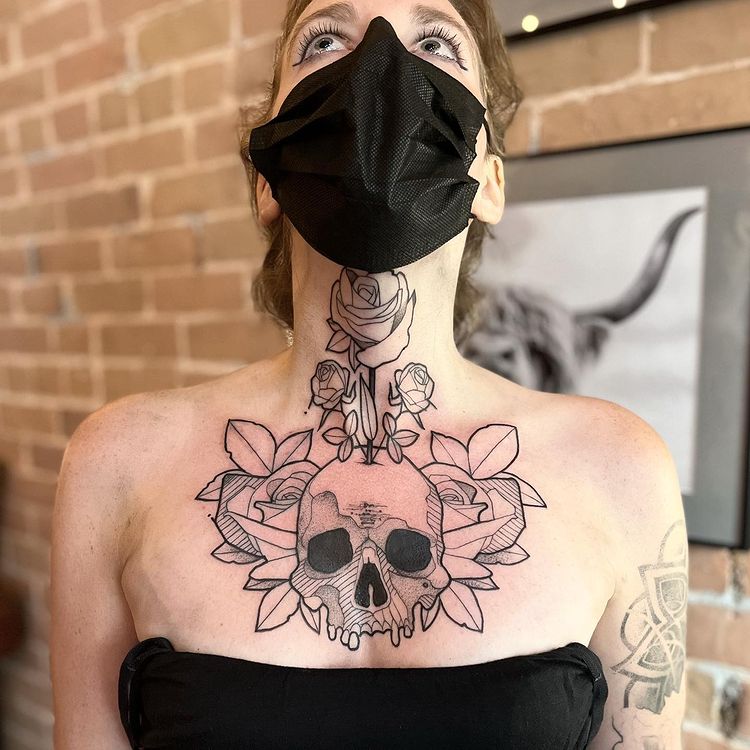 This skull chest tattoo is brilliant in its simplicity. It's striking without all the heavy shading or color of other large chest pieces. I love that she's accentuated the symbol of death with roses. It softens the tattoo somehow. 
9. Chest to Neck Iris in Bloom
An iris represents faith and hope. It makes sense to ink this flower close to the heart. I love the center placement and upward flow of leaves and petals. The artist chose to ink the flower in color but the foliage in black.
10. Neo Traditional Butterfly and Flowers
Neo Traditional tattoos limit colored ink. This remarkable butterfly and floral design play with yellow hues. I like how the artist framed the butterfly with the flowers, draping them around her shoulders like a shawl.
11. Perfectly Petite Hydrangea Chest Tattoo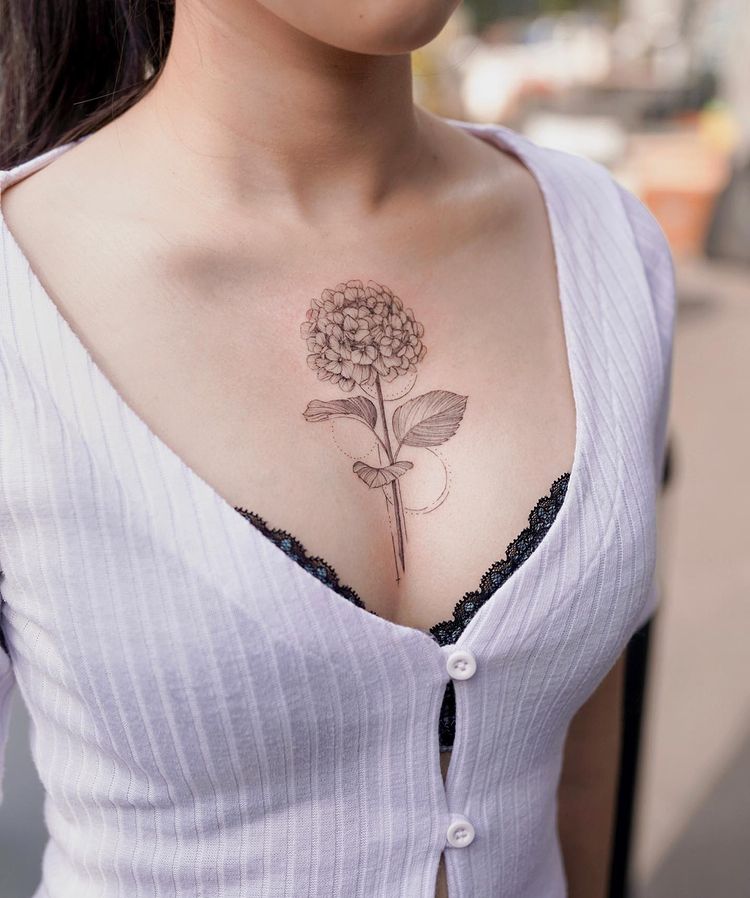 This sweet hydrangea proves a chest tattoo doesn't need to be big to be impactful. The delicate line work creates ultra-feminine energy. I love how modest and graceful the tattoo is.
12. Legend of Zelda Triforce Tattoo
The Zelda triforce encompasses power, wisdom, and courage. This large colorful chest piece took courage to complete. I love tattoos based on passions and fandom. The addition of the fairy on the bottom left is everything!
13. Like a Moth to a Dark Moon
Many chest tattoos include beautiful butterfly designs. This moth stands apart with the addition of wheat fronds and a black circle centered above it. The dark moon and long wings give this chest piece a romantic feel I adore. 
14. Small Simple Sparkle Tattoo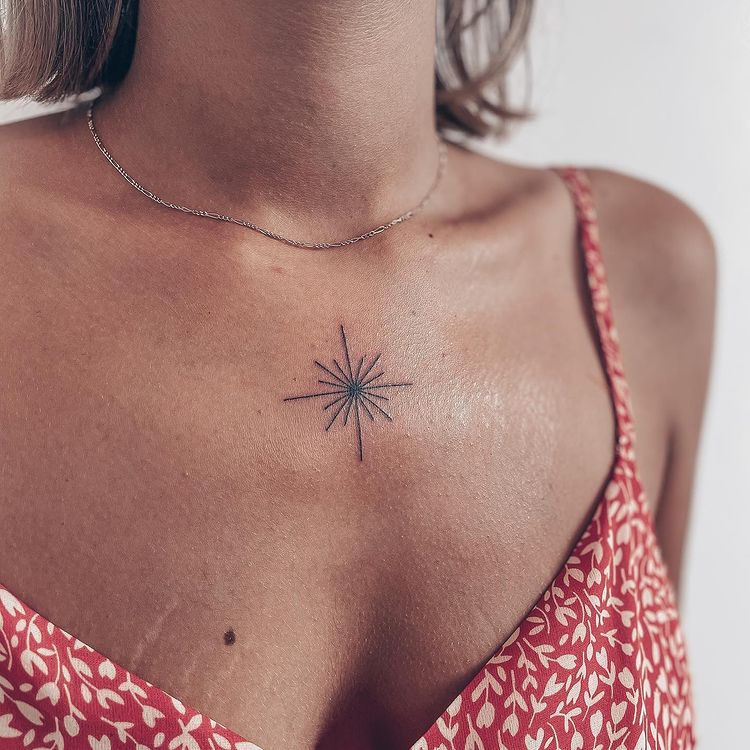 This tiny black glitter star makes her sternum look light up. The piece is small but significant. I'm in love with the simplicity of the flash art design. The placement really catches the eye. 
15. Large Colorful Moth in Nature Coverup Chest Tattoo
Cover-ups aren't always easy. This one does the job perfectly. A large moth and colorful background of nature-inspired components stretch across her chest. I love the addition of deep black outlines and shading to offset the color. 
16. Pearls, Flowers, and Video Game Character Tattoo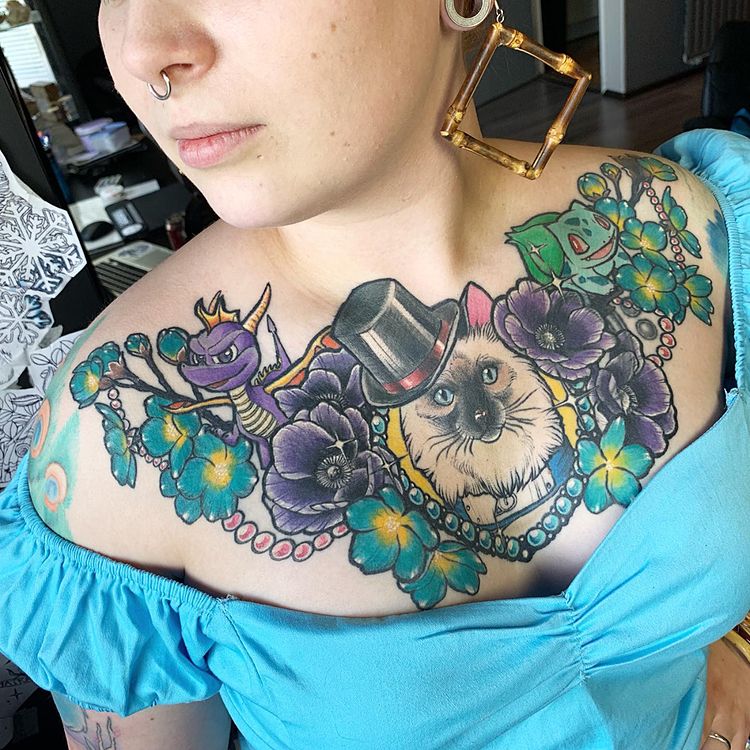 Every woman has a little geek in her waiting to burst free. This bright chest tattoo incorporates the feminine charm of flowers and pearls with classic video game characters. I love the quirkiness and originality of the piece. 
17. Han and Leia Cameo Chest Tattoo
Another geek chic tattoo. This chest piece hosts a romantic cameo of Han Solo and Princess Leia. The swirly accents evoke renaissance period vibes, keeping with the theme of the cameo. Love!
18. Black Ink Cherry Blossoms and Dragonfly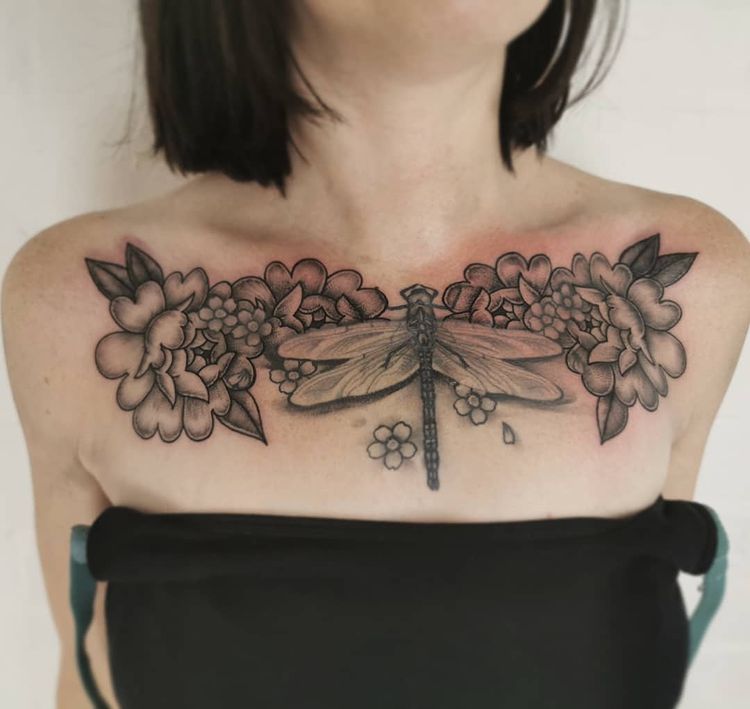 Winged creatures are a big hit this year for chest pieces. This dragonfly stands out among all the butterflies and moths out there. I love the addition of cherry blossoms to soften the look of the stark black ink. 
19. Between the Bust Lotus and Dot Work Tattoo
This tattoo makes the most of its canvas. A large lotus nestled between the bust makes a sexy impact. The tiny dot work tattoo above it is delicate and feminine. I like that the tattoo changes depending on what she wears. 
20. Intricate Snake and Flower Medusa Tattoo
I find this version of Medusa very interesting. Rather than focusing on her expression, the artist has put a lot of detail into the snakes and flowers in her hair. Side note; her freckles are literally everything. I love them.
21. Soft Pink Watercolor Lotus Chest Tattoo
I'm in love with this watercolor lotus blossom chest tattoo. The centered position draws the eye and infuses symmetry into the piece. Soft pink, purple, and green hues give it an ethereal glow. 
22. Rockin' Boombox Chest Tattoo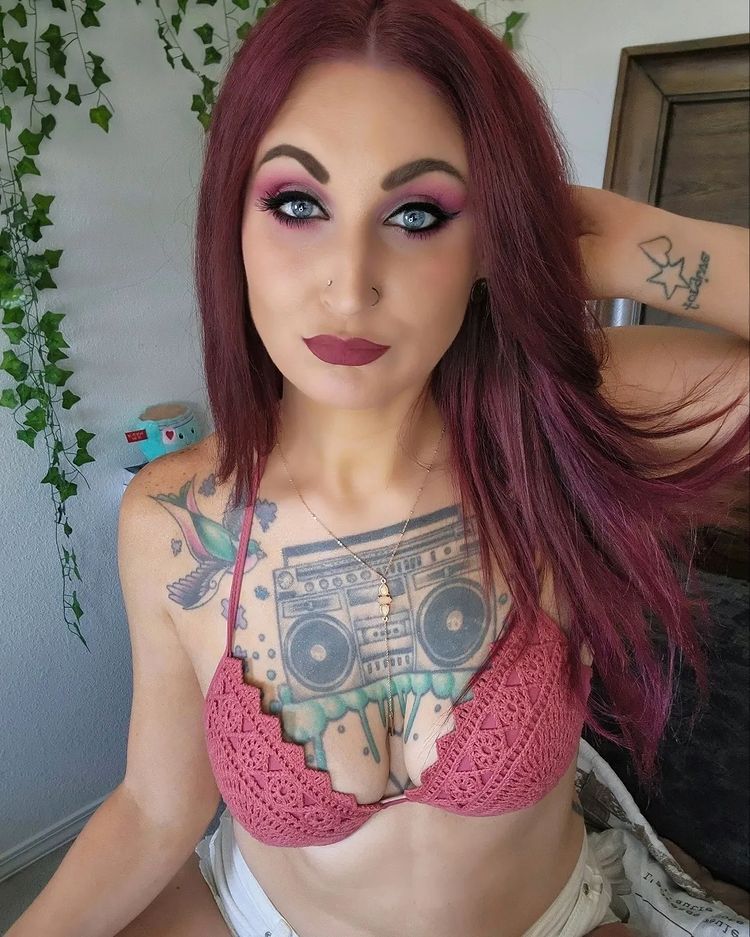 John Cusack's got nothing on this boombox. While well-loved and a little faded, this tattoo still rocks. I love music-inspired tattoos, and this one makes a big statement.
23. A Blue Rose by Any Other Name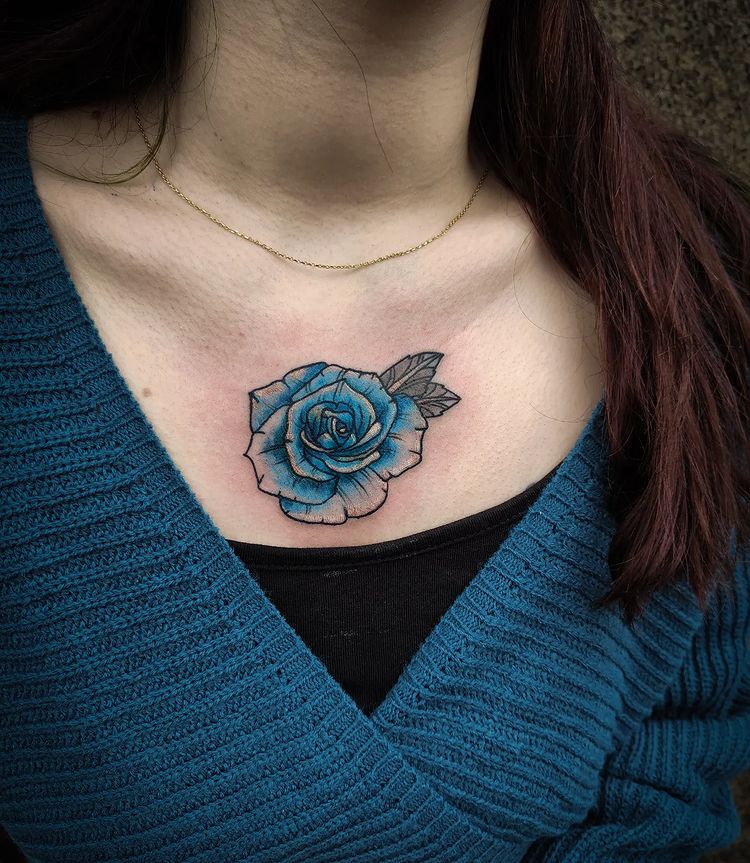 Roses are often inked in red or pink. This single blue rose tells a story. At least, that's what it makes me believe. I love that all the tiny details are created with fine linework. Stunner!
24. Tiny Panda Bearing Gifts Chest Tattoo
Different things make different women feel empowered. This tiny panda tattoo is adorable. I love the little frond of pink blossoms it carries. #cuteasapanda
25. Black and White Bee and Honeycomb Chest Piece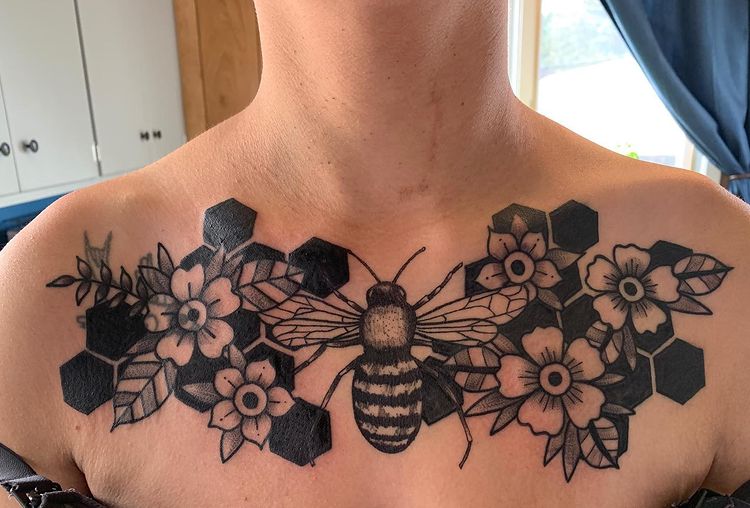 Bees are so important to our world, and this tattoo speaks volumes on the subject. An impactful black and white bee with dark black honeycomb and flower accents. 
26. Wise Old Owl on Watercolors
Watercolor splatter tattoos are trending. This black and gray owl chest piece adds a little wisdom and mystery to the colorful accents. I'm drawn to the decorative scrollwork on this owl every time.
27. Red Spider Lilies and Moth Tattoo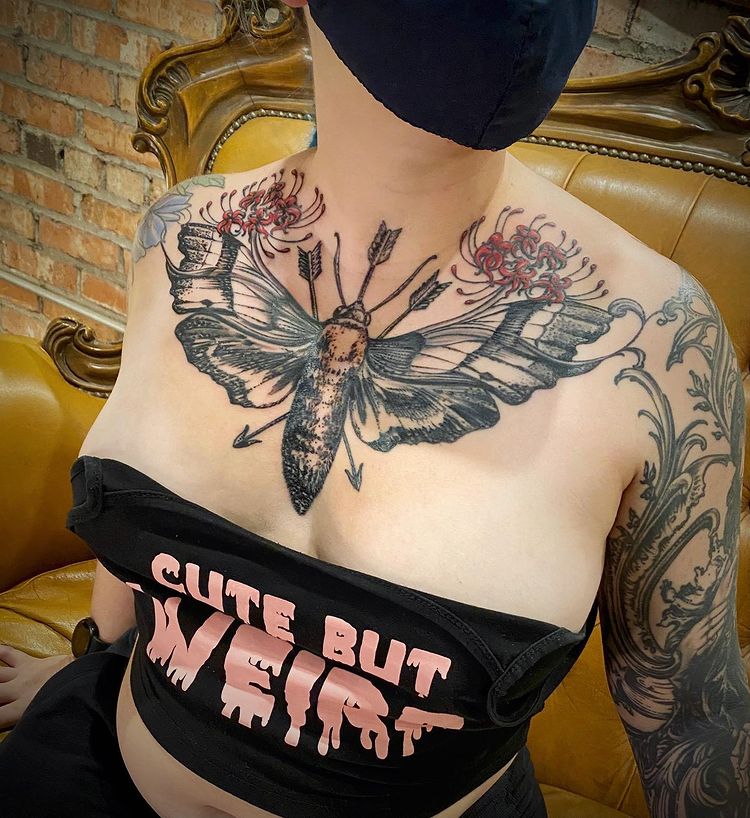 The arrows through this black and gray moth tattoo seem meaningful somehow. I want to know her secret. I'm also loving the bright red spider lilies in contrast with the black moth. 
28. Watercolor Roses and Name Chest Tattoo
Women with children are often drawn to tattoos dedicated to their little ones. This name tattoo across watercolor roses is perfectly maternal. I love the fine scrollwork in the letters.
29. Cherry Blossom Branch in Pink Ink
Cherry blossoms are the embodiment of spring. These tiny pink blossoms bring her chest piece to life. The branch is so simple yet so feminine and eye-catching. I love it. 
30. Gothic Lantern Chest Piece
The gold and red inside her lantern pop against the gothic black exterior. The piece makes a big statement, stretching from throat to sternum.
31. Feminine Wildflowers in Color
A variety of wildflowers in color create a stunning chest piece. I adore the delicate work here with the subtle shading and fine linework. 
32. Dark Tower and Bat Chest Tattoo
Every woman has her dark side. This gorgeous gothic chest piece includes a rickety fence, dark tower, and big fanged bat. The fiery background colors keep the scene from bleeding together. Eat your heart out, Stephen King!
33. Ram Skull and Roses Design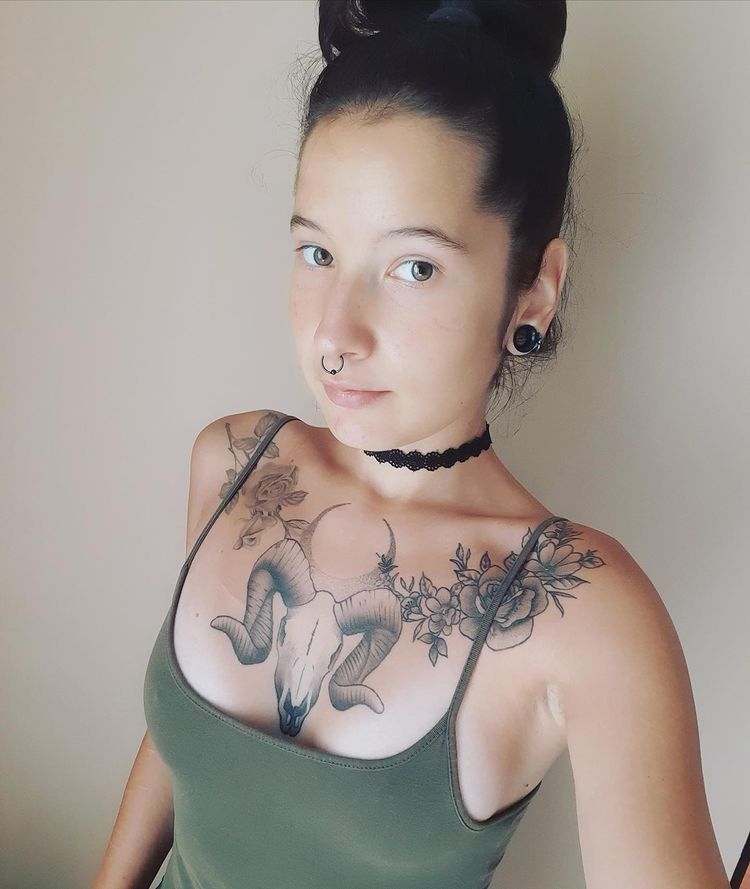 Black ink in fine lines makes up this large ram skull tattoo. The addition of a crescent moon and roses amplify the feminine charm of the piece. Who knew skulls could be beautiful?
34. Black and Gray Beetle and Peonies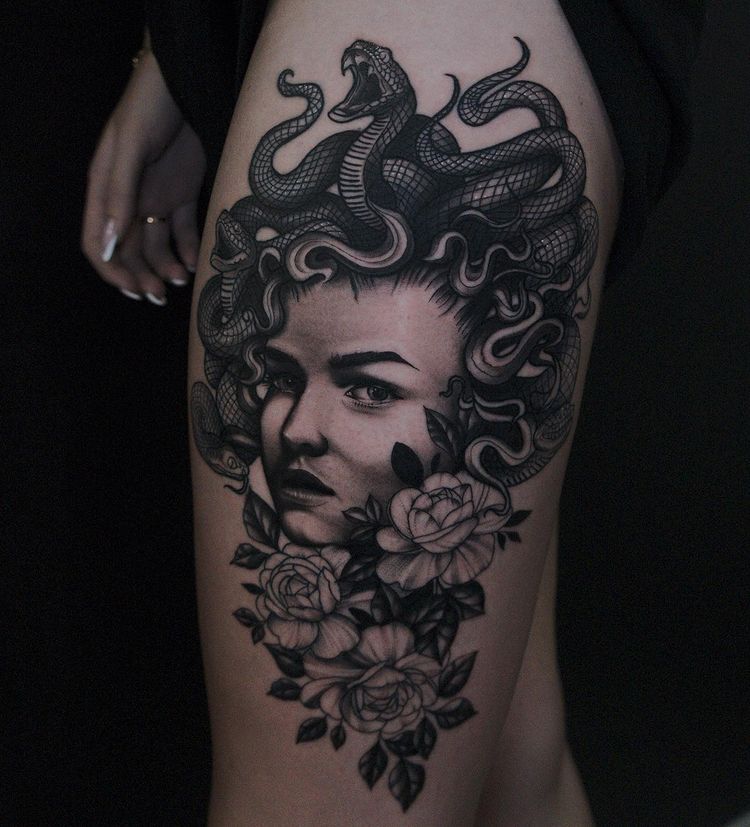 It's shocking how many women adorn their chests with insects, but it works! This impressive beetle tattoo seems soft and girly somehow. It looks perfect, tucked among peonies, sparkle designs, and foliage. 
35. Large Peacock and White Roses Chest Tattoo
I'm always blown away by white ink tattoos. These white roses, branching off of yellow stems, are stunning. I love the way the peacock blends into the piece, the head and tail standing apart in stark detail.
36. Asymmetrical Shoulders to Chest Floral Tattoo
If you love flowers, this is the chest tattoo for you. A gorgeous pink and peach flower blossoming into ombre green foliage. It's picture-perfect.
SEE ALSO: 110 Small Hand Tattoos Women are Obsessed With
37. Delicate Butterfly Chain in Black Linework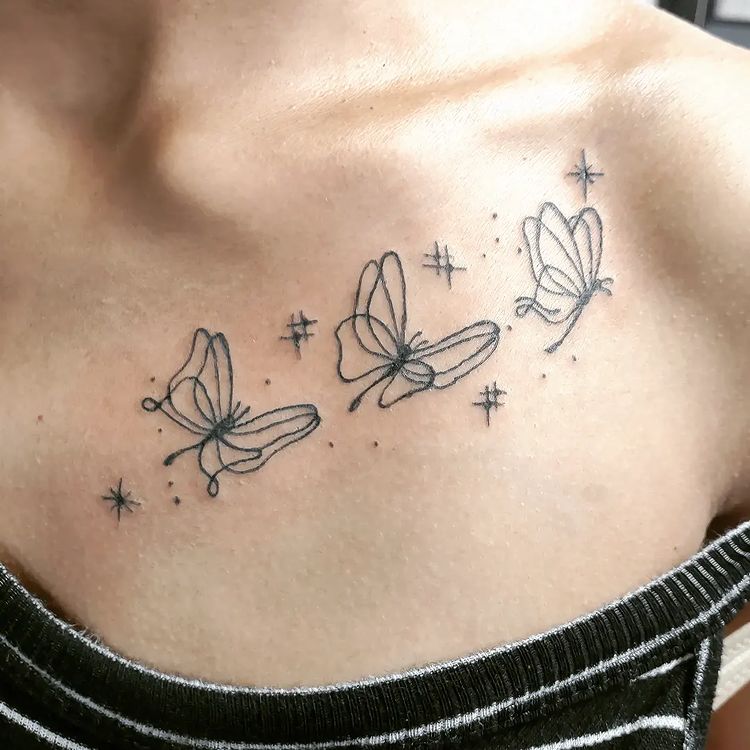 Three butterflies trail after one another in this simple but delicate chest tattoo. I enjoy the modest detail and fine line work. It looks like freedom in a tattoo, and that speaks volumes. 
38. Bold Lines and Pointillism Flowers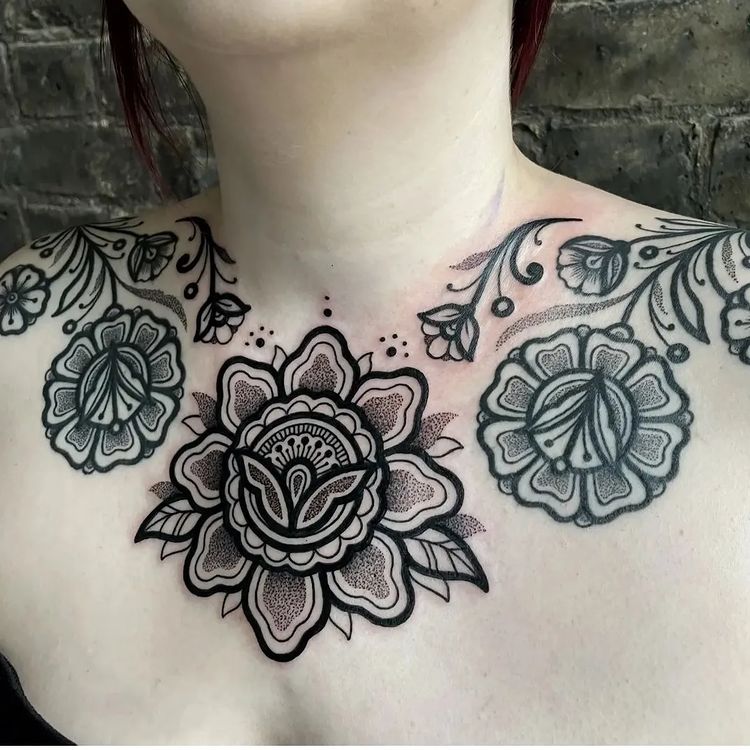 This floral piece stands apart from others in its bold lines and pointillism shading. It has a somewhat nordic vibe that I enjoy. If you're a fan of black tattoos, this adds a feminine twist to typical black tats. 
39. I Love You, From Dad
Meaningful tattoos come in all shapes and sizes. This small chest piece consists of only three words, "I love you." The writing is her dad's handwriting. Such a beautiful tribute. 
40. Tribal Ink with Nature Vibes
Tribal art tattoos are making a comeback. The inky vine-like appearance of this piece makes me think of branches or stag antlers. I like the nature theme it evokes. 
41. Batwing Design Chest Tattoo with Crescent Moon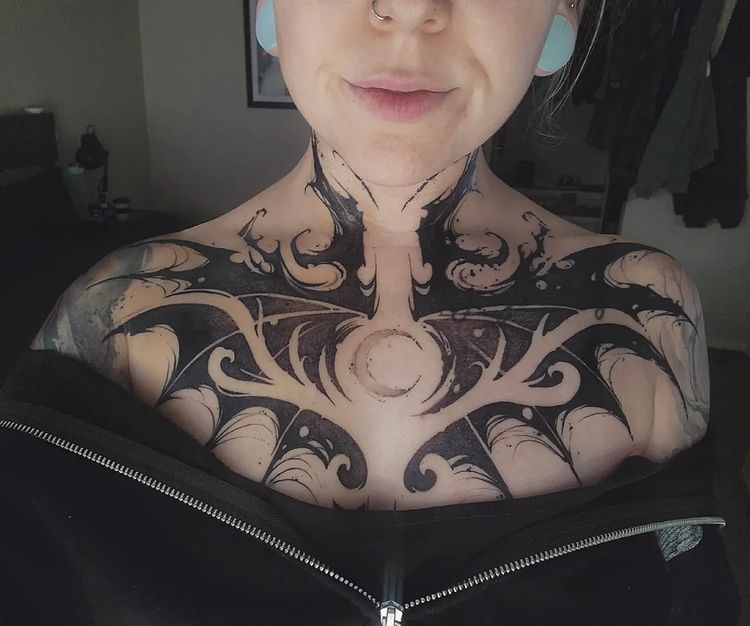 This bat wing design tattoo gives me major Disney Maleficent vibes. It's dark but girly in the same beat. I like how the crescent moon at the center seems to send windy tendrils into the air. It adds a natural element I enjoy. 
42. Anchor and Roses Chest Piece
I adore nautical tattoos, and this anchor chest piece is doing it for me. I love the addition of the roses for two classic tattoo symbols with a boost of feminine wiles. Color is a great choice here to distinguish the two symbols from one another.
43. Colorful Clock With Wings Tattoo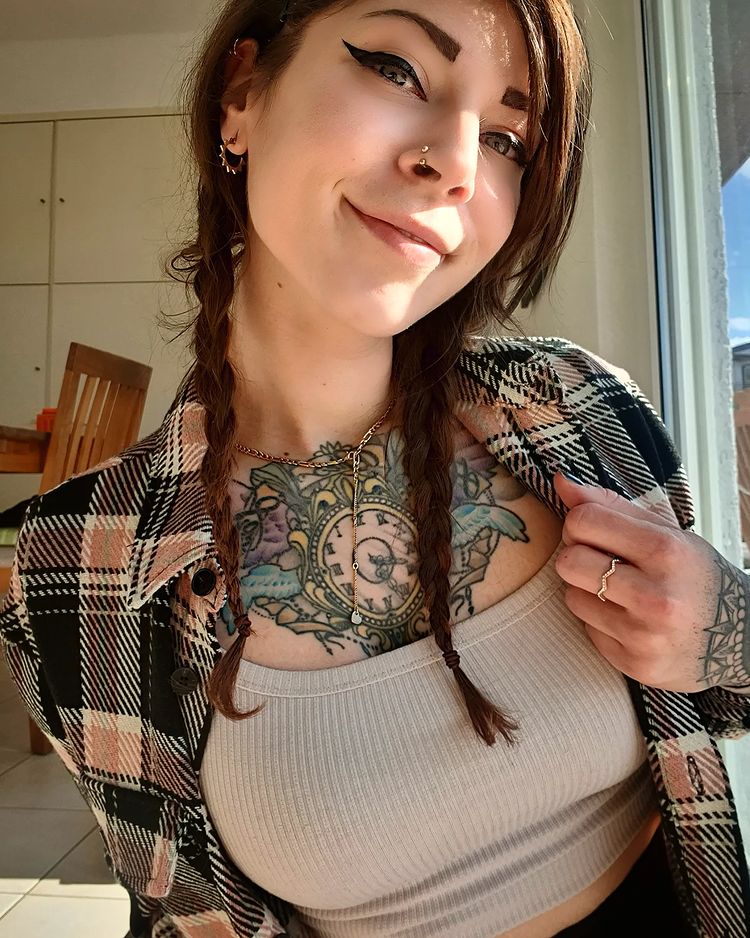 They say time flies, and in this case, its wings are blue. I get Alice in Wonderland energy from this winged clock chest piece. I'm a fan of clock tattoos because it's a theme we can all relate to. There's never enough time. 
44. Triple Goddess Witchy Woman Tattoo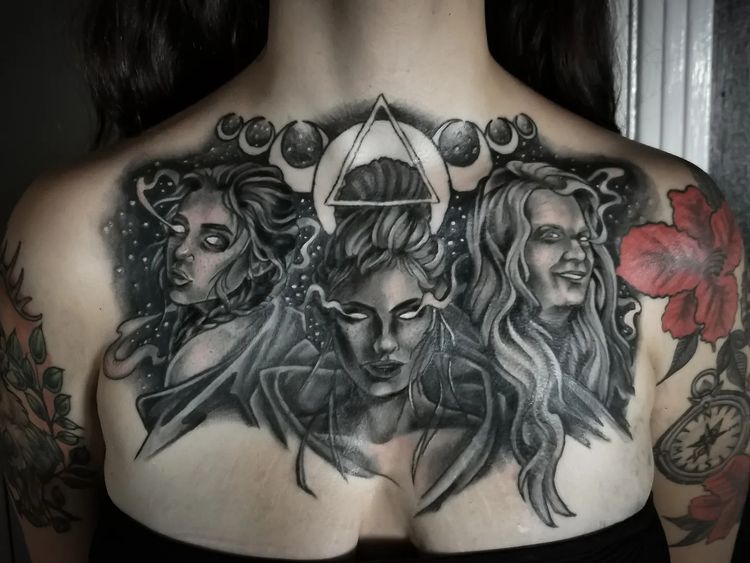 This witchy chest piece is certainly spellbinding. She's chosen three goddesses with crescent moons and other symbols to adorn her chest art. I love the detail and shading in this piece.  
45. Floral Owl With Old School Vibes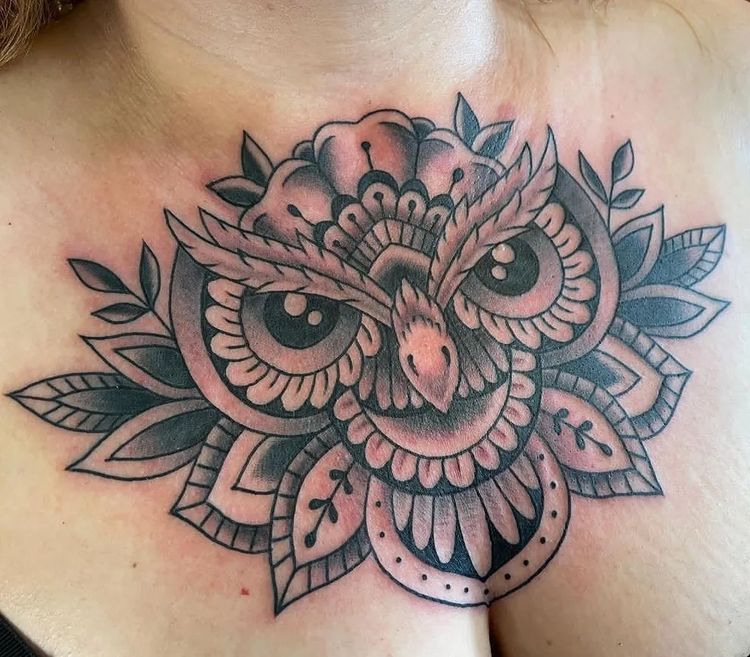 Owls are a hoot, and this one is unique in that it's made entirely of petals and foliage. I love the intertwining themes of nature and animals coming together. 
46. Botanical Mandala-Inspired Chest Piece
This unique botanical tattoo has a design and symmetry akin to a mandala. I love the upward motion of the leaves and foliage. Some of the plants even resemble butterfly wings. It's beautiful and delicate while remaining bold and empowering.
47. Sun, Moon, Wind, and Vines Chest Tattoo
This tattoo gives me chills, and not just because of the puffs of wind on her shoulders. A large central sun design with crescent moons rising toward her throat is framed by vines and wind tendrils. The magic of nature in ink. 
48. Fearless Vine Chest Piece
I'm not usually a fan of wordy tats, but now and then, I see one I like. It's the message more than the style I like here. She's fearless, and those traditional inked vines help make the message clear. 
49. Linework Peonies in Bloom
Peonies are a popular chest tattoo style for women. These peonies are done entirely using linework. The black outlines burst up from between her bust, appearing as if in bloom. 
50. Tropical Blossoms and Butterfly With Bright Background
Tropical flowers look best in color. Her huge blossoms almost camouflage the butterfly in this chest piece. Pink, purple, blue, yellow, and green create a piece of living art. 
51. Black Thistle With Moon Dots Tattoo
Thistles are both flower and weed, representing strength and pride. This beautiful black chest tattoo shows all of this. I'm intrigued by the three moon dots below the thistle. Is there more to this piece than meets the eye?
52. Artemis and Constellation Tattoo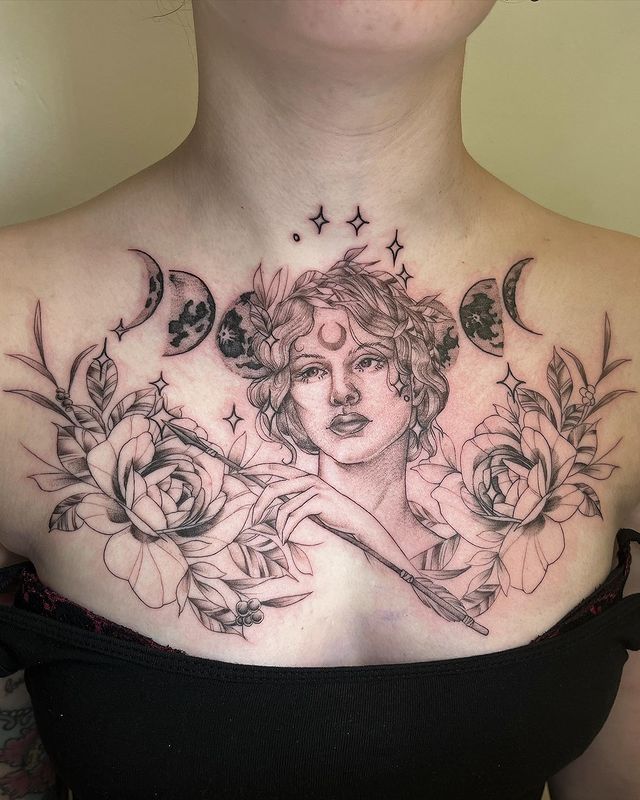 Artemis is the Greek goddess of the hunt. While Medusa tattoos are trending, this Artemis chest piece is a breath of fresh air. I love the moon phases, constellations, and magic wand. Very mystical. 
53. Delicate Fern Tattoos From Shoulders to Chest
Fern fronds are underappreciated, in my opinion. These delicately draped plants appear to cloak her shoulders, draping onto her chest. It's a beautiful display of nature as a protector. 
54. Bejeweled Dragonfly With Vines
The colors in this larger-than-life dragonfly are spectacular. I love jewel tones and fall-colored leaves on the vines. Together it creates an eye-catching chest tattoo. I like the way the artist turned the dragonfly into something of a jewel as well.
55. Neotraditional Black Fox Cover-Up Tattoo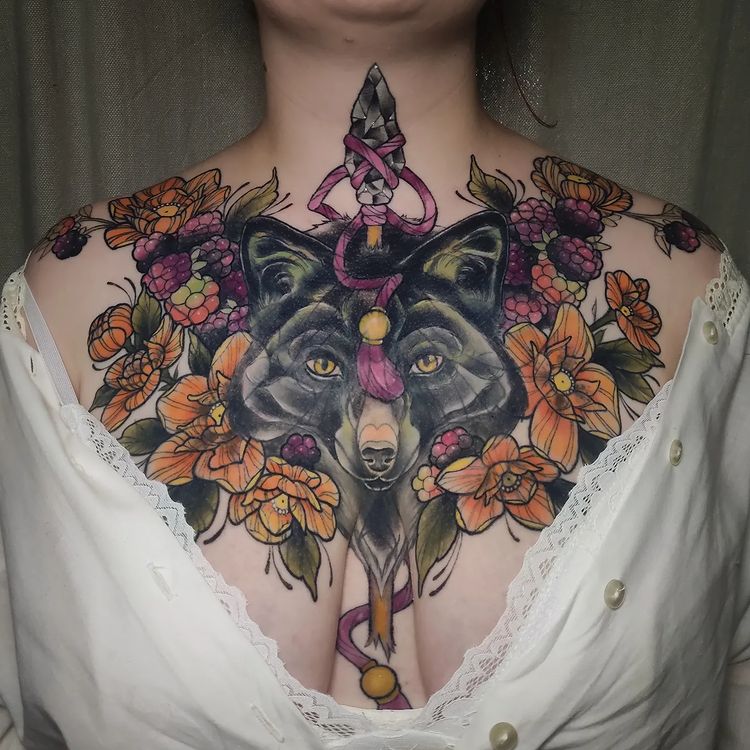 It's nice to know when mistakes are made, there are cover-ups worth inking. This beautifully done neo traditional black fox does a great job hiding her old chest tattoo. It speaks to the female power of transformation. 
56. Amazing Under the Sea Octopus and Diamond Tattoo
The colors in this under-the-sea octopus tattoo are killer! I love the bright orange against the blue water. A multifaceted gem casts geometric rainbows into the piece. If you like aquatic tattoos, this is a winner. 
57. Blackwork Tattoo With Botanical Dragonfly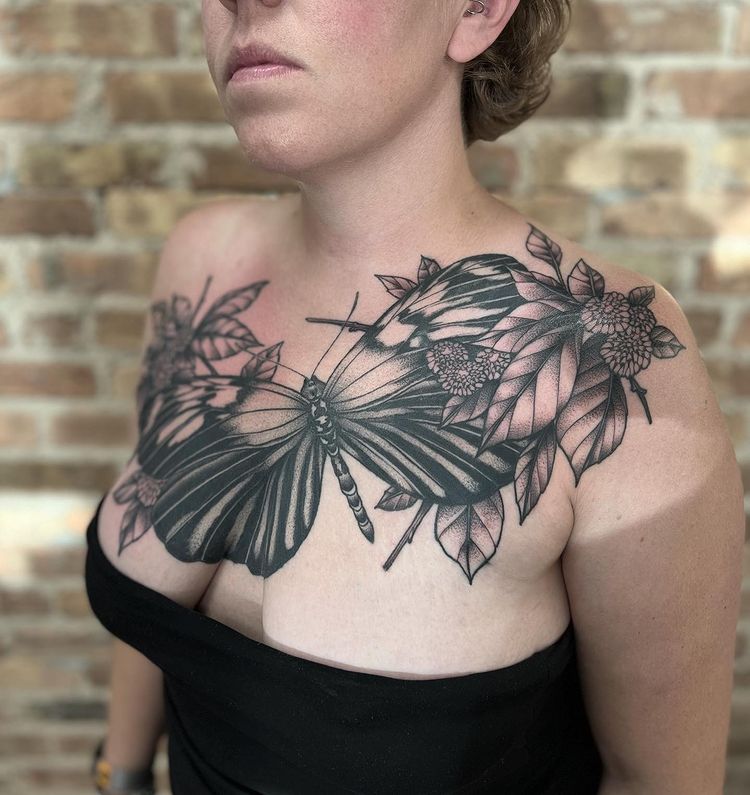 Nature is tough to capture in only black ink, but this botanical dragonfly does the job. I like the detailed foliage across her shoulders. The placement of the dragonfly is also unique. Not centered but flying diagonally across her chest. 
58. Delicate Floral Cheetah Tattoo
This cheetah tattoo speaks to the wild woman in me. I like the delicate detail and fine line work. Even though it's inked in color, it's not too in your face. The flowers around the cheetah soften the image. 
59. Emerald and Dotwork Design Chest Tattoo
Who says diamonds are a girl's only best friend? This emerald tattoo with extensive dot and linework designs is a true statement piece. I like the idea of never needing a necklace to complete an outfit. 
60. Ornamental Butterfly With Mandala-Inspired Design
Butterfly center chest pieces are popular. This butterfly jazzes things up with a jewel core and extending floral accents. I like the mandala-inspired dotwork across the collarbone. 
61. Black Fine Line Nature Tattoo
I simply adore the placement of this eye-catching nature tattoo. Flowers and black embellishments wrap around her chest like an ancient Egyptian Usekh collar. 
62. Wolf and Raven in Starbrite Ink Colors
Some women like cute pandas and kittens, others like fierce wolves and birds of prey. This wolf and raven chest tattoo is inked in Starbrite colors. The muted palette gives it a vintage look I quite like. 
63. Death Head Moth in Black and Gray
Death Head moths have a skull-like design on the thorax. They often represent mortality and living without regret. This bold black and gray Death Head is spooky but mesmerizing. Perfect for women who live life to the fullest.
64. Luna Moth With Purple Gem Accents
Luna moths have unique green wings and are another popular tattoo choice. They represent resilience, something we women are rather good at ourselves. The purple gems and flowers on this chest piece amp up the feminine vibes.
65. Black and White Solar System Chest Tattoo
I see plenty of moon phase tattoos, but this solar system stands out to me. The small details in the moons and rings tell a story about our galaxy. I like this artist's style of inking the sun. It reminds me of a big fluffy dandelion.
66. The All-Seeing Eye Tattoo
Eye tattoos often mean protection and knowledge. This tattoo is powerful because she didn't worry about trends or opinions. The black and gray eye sits on an intergalactic background with scarab beetles. Perfectly unique. 
67. Traditional Style Deadhead Moth
Another Dead Head moth, this time in the traditional tattoo style. The bold colors on this piece are brightly inked, while the skull remains white. I like the intensity of the tattoo.
68. Unique Fig Chest Tattoo
Holy figs! This tattoo is one of my favorites because it's such a rare find. These figs might mean prosperity or abundance. They might just mean she likes figs. I'm a fan of any art that makes you happy, and the colors in this make me smile.
69. Stipple Art Dragon Tattoo
This Haku-inspired dragon tattoo looks just like his "Spirited Away" muse. The use of stippling gives the design a soft, delicate touch. The flowers further feminize the piece. It's beautiful in black and gray. 
70. Astrology Chest Tattoo With Libra Theme
The Libra zodiac sign is represented as scales. This Libra tattoo uses a dagger to balance the scales⁠—an intriguing concept. Large flowers on each side add to the balance of the piece. I'm no Libra, but I'm digging this design. 
71. Large Red Poppies Shoulder and Chest Tattoo
Poppies are such a gorgeous and underrated flower. The red hue in this poppy shoulder-to-chest piece is killing me softly. I love that it's the only color the artist used in the flowers. The black and gray shading make it pop.
72. Neo Traditional Robin Tattoo With Blue Flowers
I love the detail in this neo traditional robin tattoo. So many birds appear in tattoos, usually swallows and hummingbirds. The appearance of a robin seems significant. I enjoy the addition of red berries among the blue flowers. 
73. Inverted Black and Gray Long Stem Rose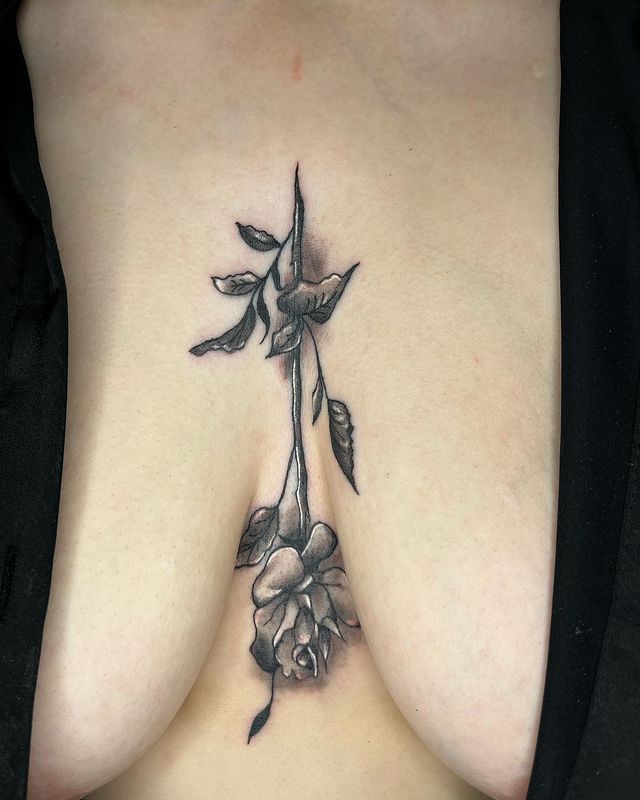 Roses are popular in chest tattoos, but this one is unique. The long inverted stem rose makes me think of drying flowers as keepsakes. I wonder what the occasion is for this particular piece. Maybe that's the power in it. 
74. Adorable Daisy Tattoo With Resting Face
This simple daisy tattoo branches out into fine line work. The tiny sleepy face with long lashes and pouty lips is positively feminine. The design has a nordic feel I enjoy. 
75. Handpoke Thistle and Bee Tattoo
I love thistles as a tattoo flower concept. This hand poke thistle tattoo is finely detailed and surprisingly elegant. The addition of the symmetrical honey bees and glitter pattern are icing on the cake. 
76. Pastel Stork and Flowers With Heart Pendant
This custom piece incorporates all the things she loves. A stork holding a baby with a heart pendant around its throat and flower accents tell a story. These tattoos are powerful and meaningful. I love the soft colors. 
77. Blackwork Phoenix Chest Tattoo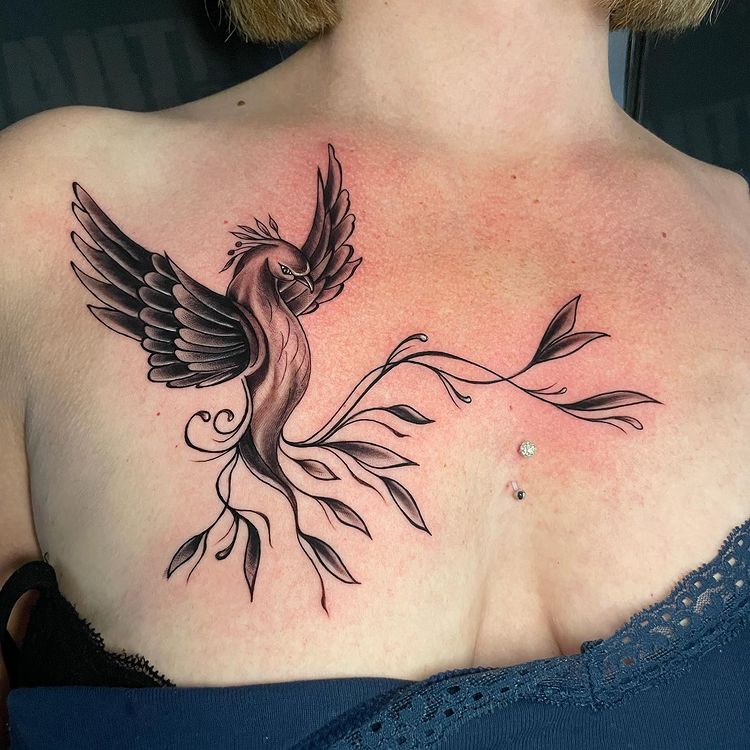 In Greek mythology, the phoenix was an immortal bird. In art, it often represents rebirth and immortality. This beautiful blackwork phoenix has a long delicate tail. I love how the tail feathers almost look like leaves instead of feathers.
78. Neo Traditional Scarab Beetle and Berries Tattoo
I love when botanical tattoos include unique elements like blackberries. The minimalist flowers in this one aren't overshadowed by the highly detailed beetle. They're almost illuminated by the subtle gray shading used by the artist.
79. Dotwork Geometric Mandala Tattoo
This mandala is obviously custom shaped to her chest. It's a perfect fit, and the symmetry in the geometric design only enhances this fact. I like that the artist used dotwork to detail an already intricate piece. 
80. Leaves and Dotwork Botanical Tattoo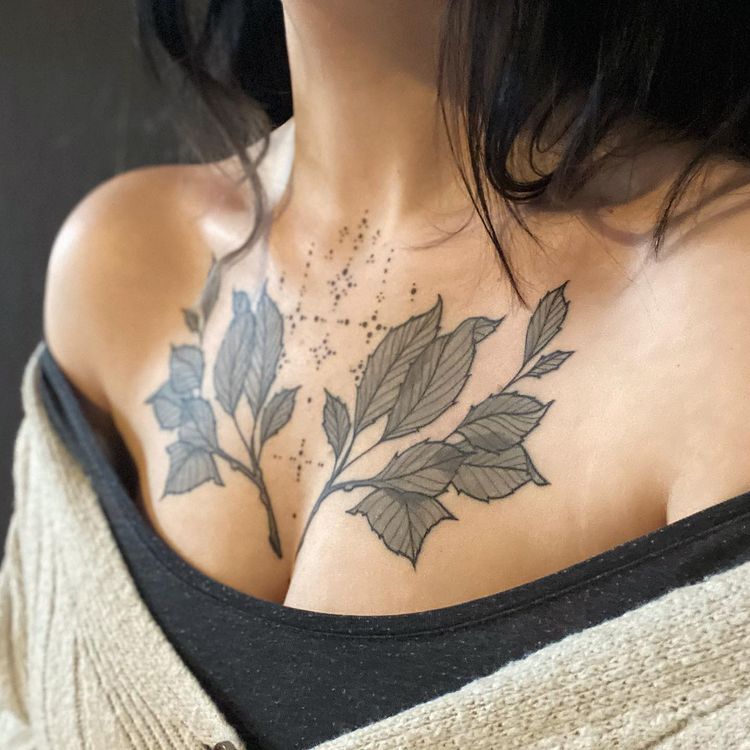 Using fine lines and dotwork, this botanical tattoo branches out from the center of her chest. It's a beautiful illustration of the power of nature in our lives. The symmetrical dotwork really makes the design sparkle. 
81. Colorful Fantasy Tattoo With Dragon
An illuminated lantern and fire-breathing dragon make for a powerful chest piece. Large purply-pink blossoms add an air of feminine beauty to the piece. I really love the use of color and shading.
82. Neo Traditional Snake and Berries Tattoo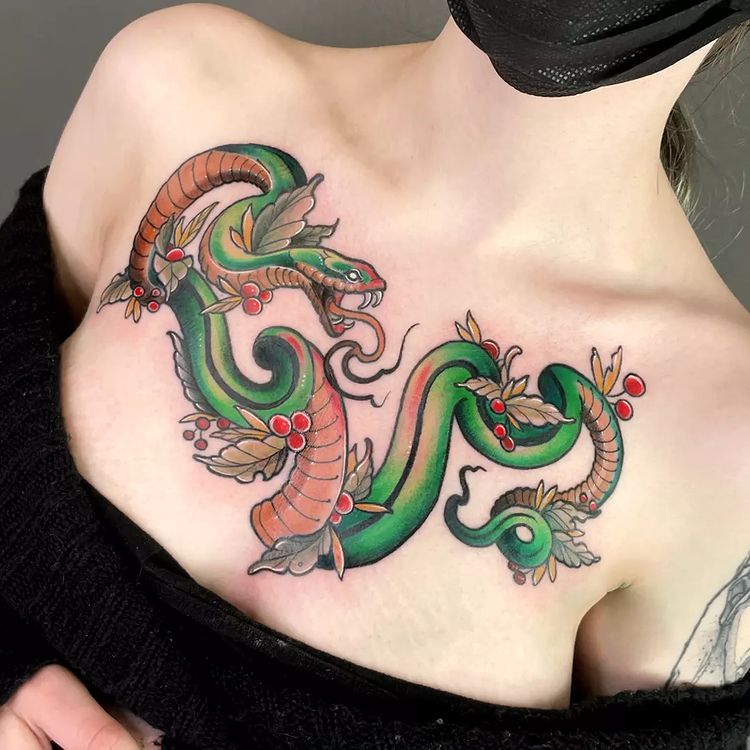 Snakes represent fertility and power. It's the perfect tattoo for a woman on top. I like the use of bright and muted colors together with minimal black interspersed throughout. 
83. Large Black and Red Raven Chest Piece
This large neo traditional raven tattoo is impressive. The imposing wingspan reaches across her entire chest and up both shoulders. The minimal color palette is perfect for a dark and mysterious piece like this.
84. Leafy Butterfly With Dotwork
The extraordinary wings of this butterfly chest piece look like leaves. The addition of accent foliage branching out from the winged creature adds to the illusion. I'm all for botanical tattoos, and the dotwork in this one is captivating. 
85. Black Birdcage and Birds Chest Tat
Sometimes we all feel a little caged. This tattoo shows an empty birdcage with two birds flying freely outside. I love that this could be a powerful hidden message or just a design she loved. The shading is on point.
86. Skeleton Cameo Tattoo
In the 16th century, cameos were used to remember people or events. This skeleton cameo event gives us renaissance energy with a touch of gothic chic. It's sassy, to say the least, and I love sassy. 
87. Sun and Wind Chest Tattoo
I'm a big fan of elemental tattoos. This sun tattoo gives me tarot card energy. There are so many moon chest pieces, and while this tat has a tiny moon, the sun is the star.
88. Tiny Moon and Dot Inkwork
I've chosen a lot of big chest pieces to show, but this tiny tattoo sends a big message. I love the subtleness of the moon and dotwork. It's purely ornamental, and that's perfect for a chest tattoo. It should be something you want to show off.
89. Mandala Style Ornamental Tattoo
This beautiful mandala-inspired tattoo evokes thoughts of sunflowers and lotus blossoms. The two aren't usually seen together in nature, but that's the beauty of a tattoo. 
90. "The Last Unicorn" Inspired Chest Tattoo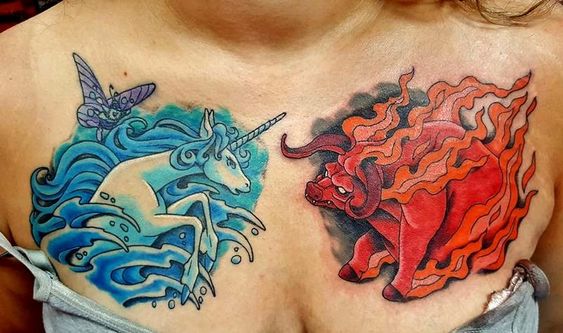 Besides looking beautiful in tattoo designs, lilies are also symbols of purity, innocence, resurrection, and renewal.
91. Mother Fox and Pups in Watercolor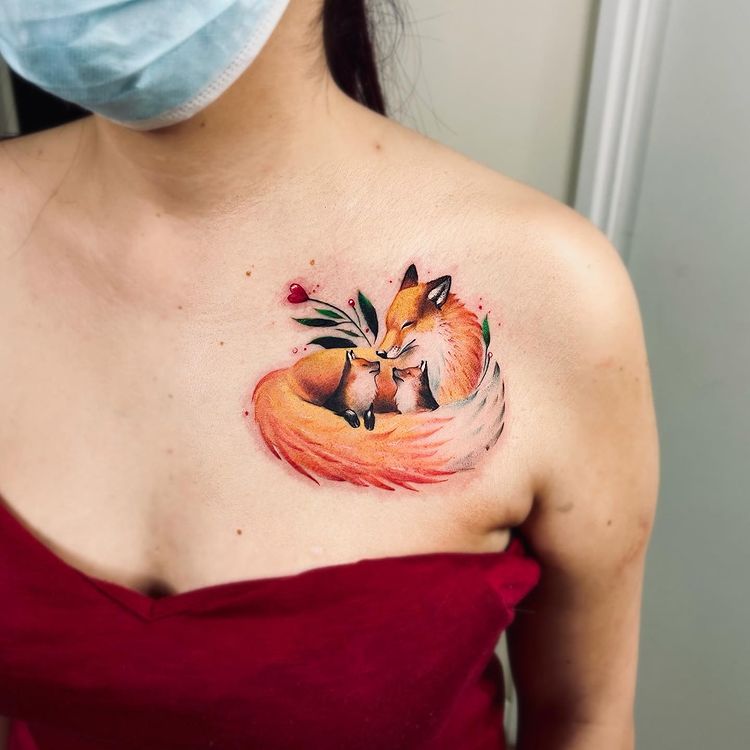 This adorable fox family gives me warm fuzzy feelings. I love the watercolor palette and application style. It's soft and feminine, and it doesn't overpower the chest. 
92. Perfect Little Constellation Tattoo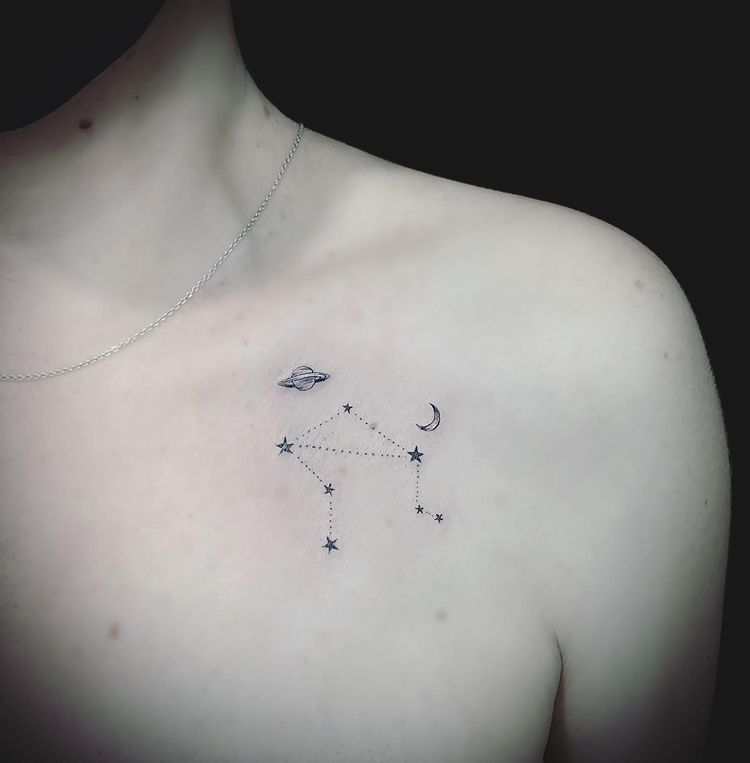 Small, inconspicuous, and in line with the planets. This constellation tattoo represents the Libra zodiac sign. It's balancing the scales in the sky, and I'm loving the tiny spaceship and moon accents. 
93. Golden Snitch Collarbone Tattoo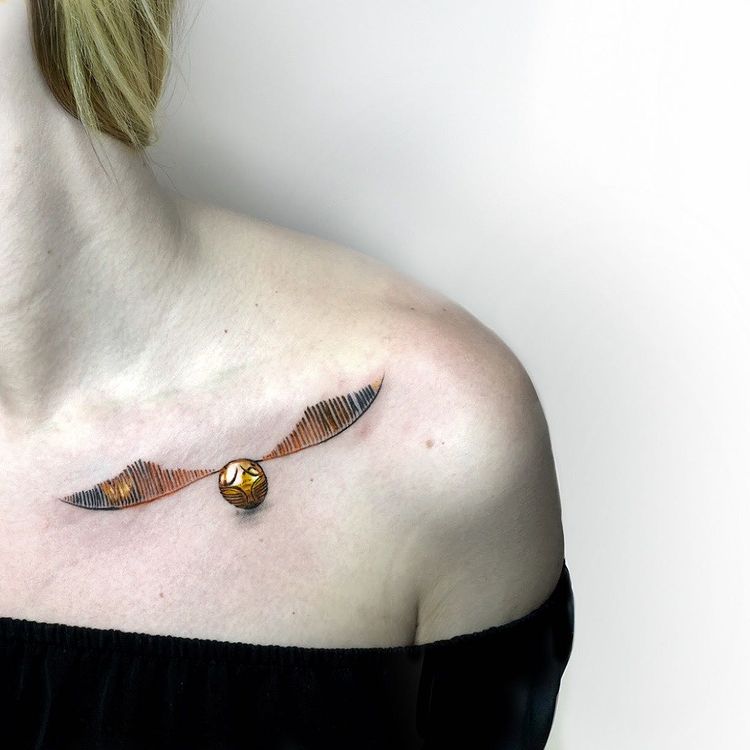 This finely detailed golden snitch tattoo is the perfect chest piece for die-hard HP fans. The use of white, yellow, blue, and orange vividly capture the essence of the snitch. #100pointstogryffindor 
94. Two-Faced Chest Piece
This tattoo works in two ways. It's a representation of the Gemini zodiac sign and of the little voices in our heads. One angel and one devil back to back. I'm not usually big on face tattoos, but the minimalism in this one caught my eye.
95. Cat and Butterflies With Decorative Centerpiece
There are many butterfly and moth tattoos, but add a cat, and you've got something unique. This tattoo purrs to me as a cat lover, but it also has that edgy, dark tat energy I like. The decorative center adds a little je ne c'est quoi. 
96. Watercolor Mountain Range Painting Tattoo
This watercolor-style tattoo would give Bob Ross a run for his money. I love how the tattoo takes shape through the individual shaping of each color. The highlights look like real paint. 
97. Seven Chakras and Mandala Art Tattoo
Chakras come from the early stages of Hinduism. They represent seven core energy centers in your body. This tattoo uses symbols and colors to deliver all seven in one bright chest piece. It's literally a power tat!
98. Traditional Style Ship and Roses Tat
As women, we're all on our own unique journeys. A ship on the high seas is a great analogy for this. This tattoo uses bold colors and minimal detail to deliver a punchy chest tattoo in the traditional style.
99. Gemstones, Ribbons, and Roses in Ink
Bold, bright, and beautiful. I like the way this tattoo seems to incorporate stereotypical female items in a nontraditional way. Ribbons and jewelry are great, but this stunning jewel-toned chest tattoo is forever. 
100. Shoulder to Chest Dragon Tattoo
What woman doesn't want to drape a dragon over her shoulder? This impactful red, black, and gray dragon is bold and menacing. It's a powerful reminder of the inner strength women carry. 
101. Fawkes the Phoenix Chest Piece
I'm living for this Harry Potter-themed chest piece featuring Fawkes the phoenix. Dumbledore's pet phoenix has never looked so good. Bright yellow and red colors interspersed with purple and blue make for a magical tattoo.
102. Gemstone Beetle and Pastel Roses
Beetles have been a theme this year in chest tattoos. I like how this one plays with softer colors, incorporating pastel roses. Similarly, the color work in the gem brings a real dimension to the piece. 
103. Traditional Style Peony Tattoo
I've pointed out plenty of peonies in this piece, but this one is unique. The artist uses a traditional tattoo style, creating simple lines and minimal shading. The pink and red petals against the black background are absolutely eye-catching.
104. Bold Traditional Collar Tattoo
This wide band of flowers and ornate designs creates a collar. I love the boldness of the traditional tattoo style and colors. As a chest piece, it speaks to the accessorizer in me. 
105. Bright Peony and Mandala Tat
Love! If you like floral tattoos and mandala art, this chest piece is probably calling your name. The detail in the mandala stands out in stark black ink below bright peonies. #yesplease
106. Old School Sparrow Chest Tattoo
Old-school tattoos sometimes come off as harsh on a female form. These gorgeous little sparrows suit her perfectly. Red and black with just a hint of green keep this chest piece bold but not too busy. 
107. Lotus and Moon Pointillism Chest Piece
Delicate dots come together in this lotus pointillism chest piece. The addition of a crescent moon and decorative details create a romantic feeling. It's graceful but impactful at the same time. 
108. Black and Gray Medusa and Flowers
This massive Medusa chest piece isn't messing around. Wild eyes and even wilder hair demand respect, while delicately draped pearls speak to the woman in her. 
109. Neo Traditional Peonies and Moth Tattoo
The blue, gray, and purple shades in this peony and moth tattoo give me mystic vibes. I love the neotraditional style of limiting color and emphasizing bold lines.
110. Bold Yellow Blossoms and Intricate Center Piece
I love love love this shade of yellow. It's everywhere right now in fashion and makes these large blossoms pop. The intricate black center design adds a calligraphy theme to the piece that I enjoy. 
111. Medusa Shoulder and Chest Tattoo
The Greek monster Medusa is popular in tattoos right now. This one showcases her graceful profile, complete with snake hair and scaly skin. To me, it represents the perseverance of women. What do you think?
112. Elephant and Fall Foliage Chest Art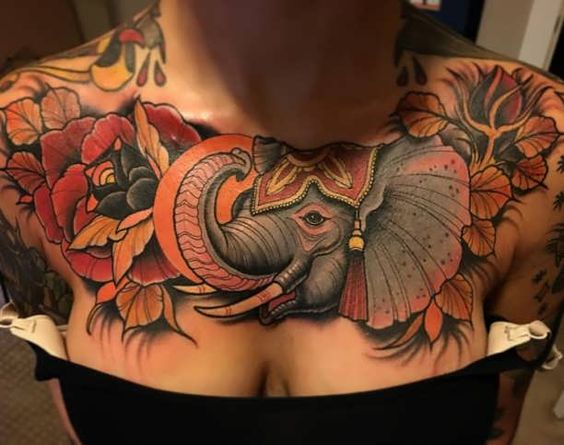 Elephants are such beautiful creatures. I'm captivated by the orange outline against fall-themed foliage. It's colorful and realistic, and completely hypnotizing.
113. Massive Butterfl-Eye and Wildflower Chest Piece
The colors, depth of detail, and shading make this tattoo unforgettable. I'm so blown away by the elegance and femininity of the piece. It's creepy but beautiful somehow. 
114. Swan, Pearls, and Cherry Blossom Tattoo
Swan princess in ink. This colorful swan tattoo with cherry blossoms and pearls speaks to me. The white ink on the pearls creates a realistic opal effect. I love it!
115. Bejeweled Heart Locket Tattoo With Flowers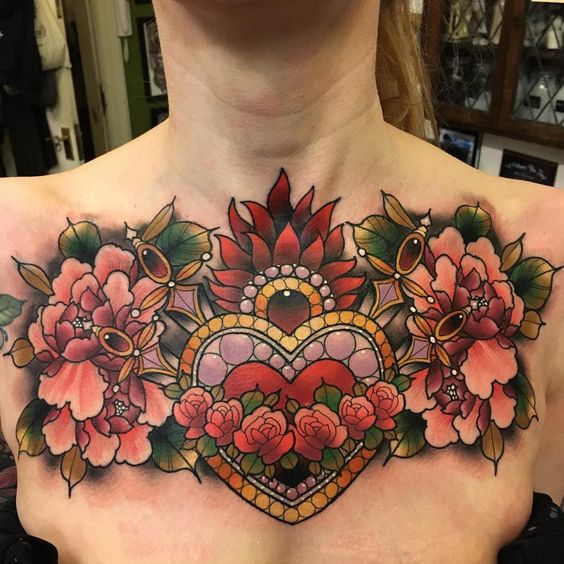 Talk about a show stopper! This bright and bold chest art is definitely eye-catching. I almost need sunglasses to take this one in, and that's what I love about it. The jewels and flowers are everything feminine and perfect in the world.
Summary and Top Picks
A chest tattoo makes a statement and offers a true tribute to self-expression. There are so many beautiful and unique designs to choose from, and picking just one feels daunting. My advice is to follow your heart and customize your tattoo to your size, color, and style preferences.
I selected each of these chest tattoos because they speak to me, but my top three are:
#21 Soft Pink Watercolor Lotus Chest Tattoo: This ethereal watercolor lotus blossom is everything feminine and empowering. I love the fine details in the piece. 
# 35 Large Peacock and White Roses Chest Tattoo: I can't get over the white roses in contrast with the gray and peach peacock feathers. The blending work in this tattoo is phenomenal. 
#56 Amazing Under the Sea Octopus and Diamond Tattoo: Those colors, though! I love nautical and aquatic tattoos. The array of colors and beautifully detailed sea life in this chest piece are outstanding. 
These are my faves, but I want to know yours. Would you consider one of these designs on your chest? Comment below!