Shoulder tattoos are easily visible, making them a vulnerable spot to get ink. There are so many meaningful shoulder tattoos for females to choose from. I love the assortment of colors, designs, and styles out there. 
One challenging thing about shoulder tattoos is selecting art I'll love forever. If I'm going to see it every time I put on a tank top or bathing suit, I don't want to get sick of it. Fortunately, selecting a meaningful design guarantees a long-term love affair. 
Is a new shoulder tattoo on the horizon for you? Here are some of my favorite designs, including some interesting tidbits about what they mean. 
1. Huge Peonies on Her Shoulder
Peonies are classic tattoo flowers. They're positive omens representing nobility. In Japanese culture, peonies are daring tattoos reflective of masculine energy. Whatever their meaning, these red and pink blooms are stunning.
2. Cross and Irish Claddagh Ring Tattoo
The Irish Claddagh ring has three meanings. Love for the heart, loyalty for the crown, and friendship for the hands. This significant shoulder tat also includes a cross for faith. 
3. Beautiful Blue Abstract Snake Tattoo
Snake tattoos mean many things, including fertility and power. This beautiful blue snake design is both realistic in abstract. Parts of the snake are corporeal, while other parts appear as mist or spirit. 
4. Heart Indent Shoulder Tattoo
A trick of the eye makes this heart tattoo appear indented into the skin. Shading and light work is expertly applied to create a unique little symbol of love. 
5. Bold Flower Mandala Design
Mandalas tend to represent our search for fulfillment in the dream world. Meanwhile, sunflowers mean growth and happiness. Together this detailed design brings growth and fulfillment. 
6. Delicate Snowflake Shoulder Ink
Every snowflake is unique, just like people. Snowflakes symbolize rebirth. A blanket of fresh snow to start anew. I love the tiny dot work details in this piece. #letitgo
7. Moon Tattoo Blooming on a Shoulder
Moon tattoos are a symbol of femininity. This beautiful moon is made up of flowers and leaves. The simplicity of the black and gray tattoo is offset by the delicate details within it.
8. Freedom Is a Butterfly Tattoo
Butterflies are an incredibly meaningful tattoo choice. They represent things like a rebirth, change, starting over, and metamorphosis. I love the graceful lines of this butterfly. It looks so fragile on her shoulder. 
9. Body Positive Botanical Tattoo
Body positivity is so important. This lovely little female form is made entirely of wildflowers. There's something beautiful and fulfilling in celebrating womanhood as an extension of the earth. 
10. Dolphin in a Wave Shoulder Design
Dolphins are smart, playful creatures. This fun tattoo captures these feelings in a piece of art. This is the perfect tattoo for somebody free-spirited and full of life. I love that the artist chose to ink it in color. It really amplifies the fun.
11. Dragon Shoulder Tattoo Design
Dragon tattoos are a symbol of good luck. They also represent power and prosperity. This dragon design has a magical quality. It looks almost diaphanous in fine lines and wispy details. 
12. Meaningful Pet Tattoo
Pet tattoos are a powerful symbol of love for our furry, or in this case feathered, companions. A budgie bird tattoo keeps our winged family members with us always. I like the addition of flowers and berries for a natural vibe. 
13. Fairies and Stardust Tattoos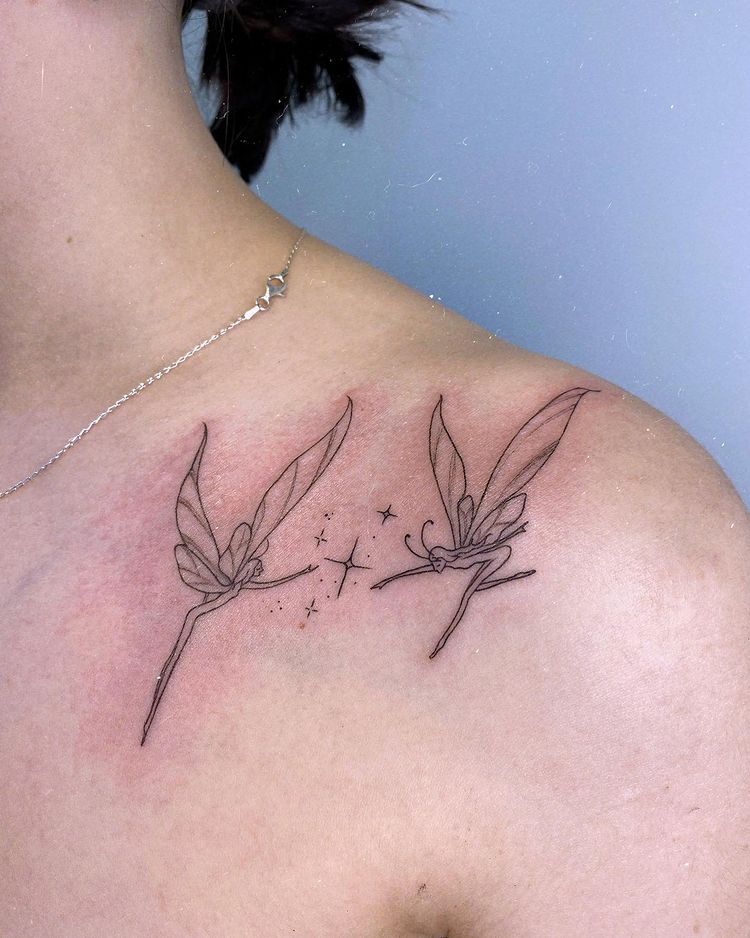 Do you believe in magic? These little fairy tattoos show a connection with the unknown universe. There are unexplained forces at work all around us. I adore this playful shoulder design to capture that fact.
14. Sun and Moon and Many Eyes
Sun tattoos show our masculine side, while moon tattoos represent the feminine. We're all a combination of both. This detailed design includes a third eye, representing wisdom. It's interesting that the third eye is on the sun.
15. Hydrangea Shoulder Ink Design
Hydrangeas are such a lush feminine flower. I love the way they cluster together like little popcorn balls. This tattoo draws on the energy of the hydrangea to represent grace and beauty. 
16. Large Circular Mandala Tattoo
This large round mandala is another search for fulfillment and unity. The symmetry in these designs is so complex and detailed. I like that the tattoo uses a circle as a way to represent completeness. 
17. Stunning Pink Cherry Blossom Branch
Cherry blossoms are a perfect representation of life stages and renewal. They're beautiful because they're impermanent. They last only two weeks before returning the following year. 
18. Fine Line Blue Rose Tattoo
The color in this royal blue rose tattoo is divine. I love the details in the design. It's small but powerful. Roses symbolize love, but blue roses represent reaching unobtainable goals. 
19. Tiny Airplane Shoulder Tattoo
Sometimes tiny things are the most potent. This little airplane packs a big meaning. Not only can it represent a favorite trip, but our journey through life. #flyon
20. Black Sun and Crane Japanese Tattoo
In Japan, a crane shoulder tattoo is a symbol of luck. Cranes also represent fidelity and longevity. I love the way the artist filled the sun in with black ink. It really makes the delicate crane stand out. 
21. Red Anemone Shoulder Art
Red anemones draw symbolism from Greek mythology and early Christianity. They often mean death or forbidden love. Sometimes they represent Jesus and the blood he shed for us. Whatever the meaning, red anemones are powerful.
22. Hibiscus Tattoo in Black and Gray
Hibiscus is a tropical flower known for its delicate beauty and mildly sweet scent. This black and gray hibiscus shoulder art captures the grace of these blooms. They symbolize charm and beauty. 
23. Minimal Crescent Moon
Moon tattoos often represent the phases of our life and our connection to the lunar cycle. This is more powerful for women who follow a fertility cycle much the same as the lunar cycle. This minimalist tattoo is a perfect reminder. 
24. Floral Lion Sketch Tattoo
Lions stand for bravery and loyalty. They're pack animals and known for their fearless protectiveness. I love this tattoo through and through. The sketch-like design suggests a rough beginning. We all start somewhere. 
25. Big Bold Crysanthemum
Chrysanthemums are a classic tattoo flower design. They have a tentacle-like appearance when blooming. They symbolize determination and tenacity. I love the colors in this one. So deep and bold. 
26. Dandelion Fluff and Flying Birds
As a little girl, I made wishes on dandelions before blowing the fluff into the wind. This beautiful rendering of dandelion fluff transforming into flying birds brings me back to my childhood. Such a powerful image. Perfect in watercolor. 
27. Stunning Lifelike Purple and Pink Rose
This larger-than-life bloom is majestic. The rich colors fade from pink to purple with highlights and subtle shading. Purple roses stand for royalty, while pink mean gratitude. Hold your head high. 
28. Dying Snapdragons on Shoulder
This cascading arrangement of dying snapdragons looks like human skulls. They're strange little flowers symbolizing strength and devious desires. I like this dark rendition of botanical art.
29. Gossamer Koi Fish Swimming on a Shoulder
These koi fish are so finely detailed they look like sheer gossamer threads against her shoulder. Koi fish symbolize perseverance. We all have struggles to surmount. 
30. Large Black and Gray Moth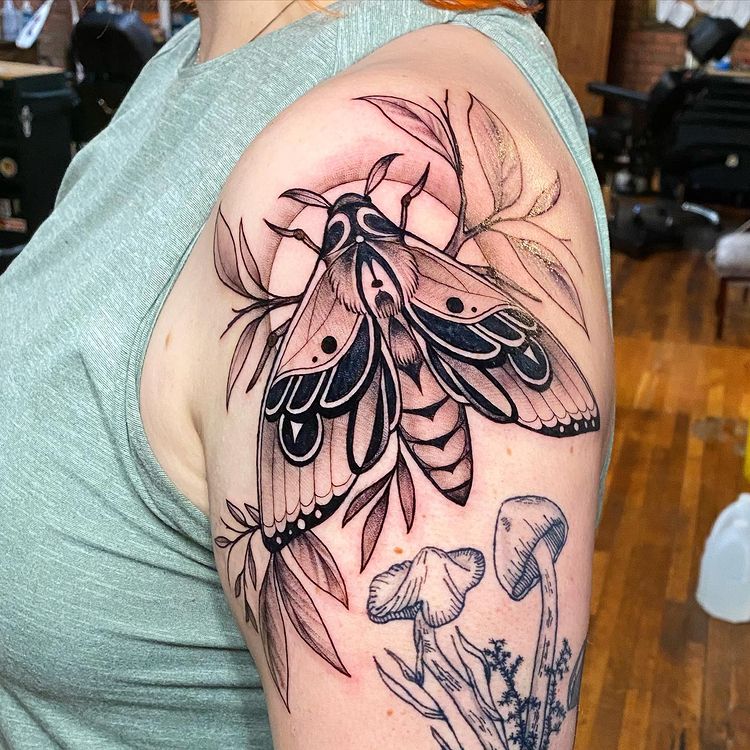 Like butterflies, moths are a popular tattoo choice this year. They also symbolize change and evolution. They also represent self-acceptance, an important life lesson. 
31. Cartoon Dog Portrait Ink
Remembering our beloved pets is meaningful enough. Add ink to the act, and it goes one step further. These cartoon dog portraits will be a constant reminder of her furry friends. 
32. Bright Traditional-Style Tiger Tattoo With Flowers
Traditional tiger tattoos are so mysterious. They always look ferocious and ready to pounce. I love the colors in this design and the addition of flowers to soften the look. 
33. Pinecone for Eternal Life
This nature-inspired tattoo holds a deeper meaning. Pinecones symbolize eternal life and the search for enlightenment. I like the added pine needles, flowers, and berries. 
34. Muted Blue Roses and Blackberries
Blue roses are mysterious, rare, and filled with fantasy. Blackberries symbolize many things, including family love, nostalgia, and Christianity. Whatever her tattoo means, it's beautifully done. 
35. A Circle of Pretty Purple Flowers
This elegant floral wreath evokes images of springtime and romance. The circle has long been a shape symbolizing eternity, wholeness, and completion. The fine detail in this design is absolutely flawless. 
36. Astrophile Script Tattoo
An astrophile is somebody who loves the stars, space, and astronomy. How fitting that her looping cursive font begins with stars and sparkles. It almost looks like a magic spell inked on her shoulder. 
37. Alis Volat Propriis and Birds Tattoo
The Latin phrase "Alis volat propriis" is the motto of the state of Oregon. It translates to mean, "She flies with her own wings." So fitting that the text ends with birds in flight.
38. Peony Blooming in a Pale Moon
A pale crescent moon and a blooming peony are similar to the sun and moon design. They represent the feminine and masculine parts of ourselves. Both beautiful and powerful. 
39. Eye of Horus Shoulder Design
Protection and healing power come from the eye of Horus. This ancient Egyptian symbol protects all those dead or alive from evil energy. I like the simplicity of this design. 
40. Violets, Gladiolas, and Chrysanthemum Bouquet
Violets are for modesty, gladiolas for the strength of character, and chrysanthemums for generosity. Together this tattoo is a collection of aspirations. I love the beautiful deep colors and delicate shading. 
41. Blue and Purple Plum Blossoms
These plum blossoms are a work of art. The dark branch contrasts so well against the deep blues and purples of the petals. Plum blossoms are a sign of health and perseverance. 
42. Small Snake and Flower Tattoo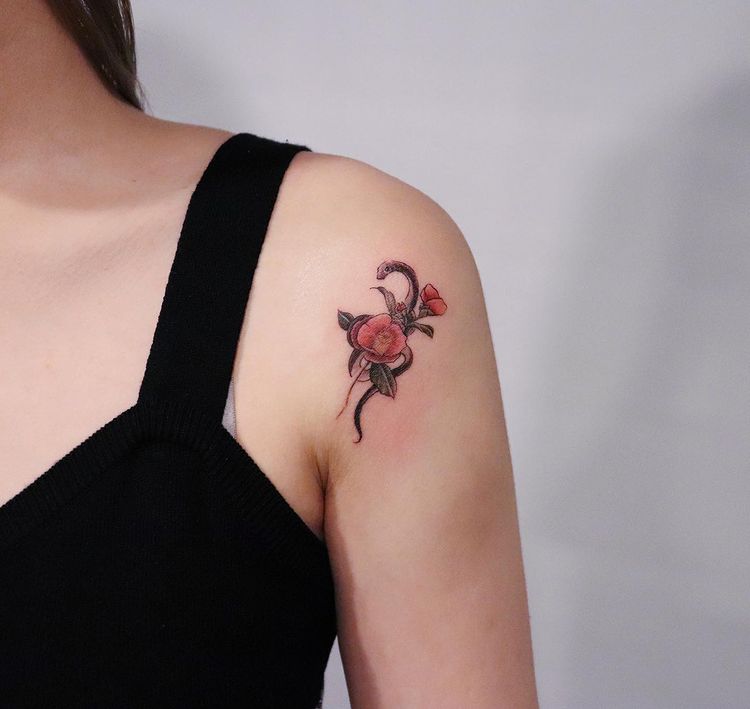 Again snakes herald fertility and power but also a temptation. I like to think snakes also offer symbolic cleverness and adaptability. This tiny tattoo is cute in a way, snuggled against the red blossoms.
43. Purple Floral Phoenix Shoulder Art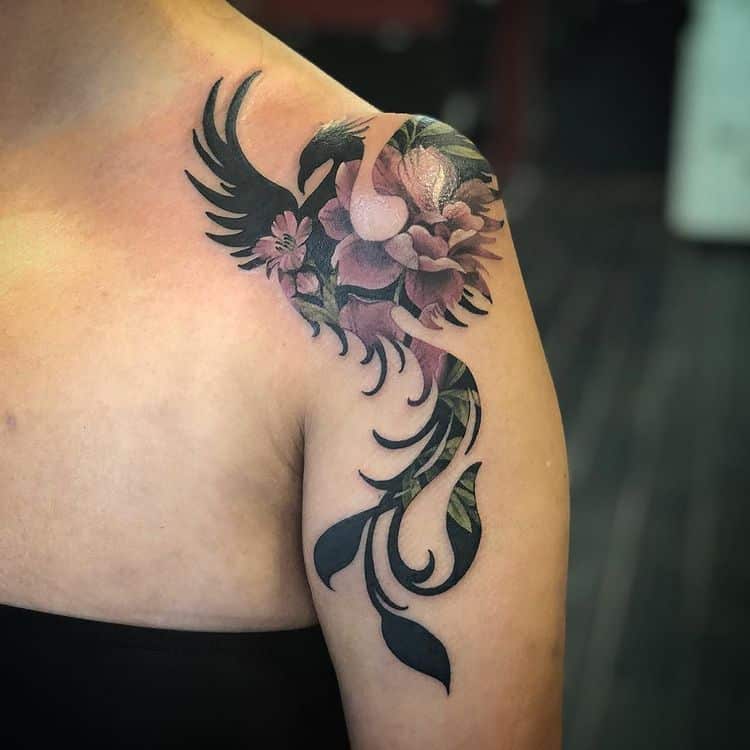 I'm obsessed with this purple phoenix tattoo. The phoenix is a mythical born again in its ashes each time it dies. The blackbird with green leaves and purple petals scattered throughout emphasizes its feminine qualities.
44. Floral Stained Glass Circle Tattoo
Stained glass could be a reflection of old things made good again. It could also just be a beautiful way to incorporate flowers into a shoulder tattoo. I love the delicate linework in this design. 
45. Palm Trees in a Bottle
This beachy design isn't just a bottle and a beach. It's a memory trapped in a bottle for all time. A beautiful day, a favorite trip, a special place, inked onto her shoulder forever. 
46. The Dark Robin Tattoo
A red-breasted robin could be linked to spring and rebirth. In ancient Europe, they've also been thought of as harbingers of death. This sweet little bird is bright, bold, and beautiful. Let's hope it symbolizes the former.
47. Naming a Loved One
Getting a loved one's name in ink is a bit of commitment. This shoulder tattoo is for her son. I like how the script tattoo and floral ink are the same. Using lines to fill in the leaves rather than color or shading is rather smart. 
48. Waning Gibbous Moon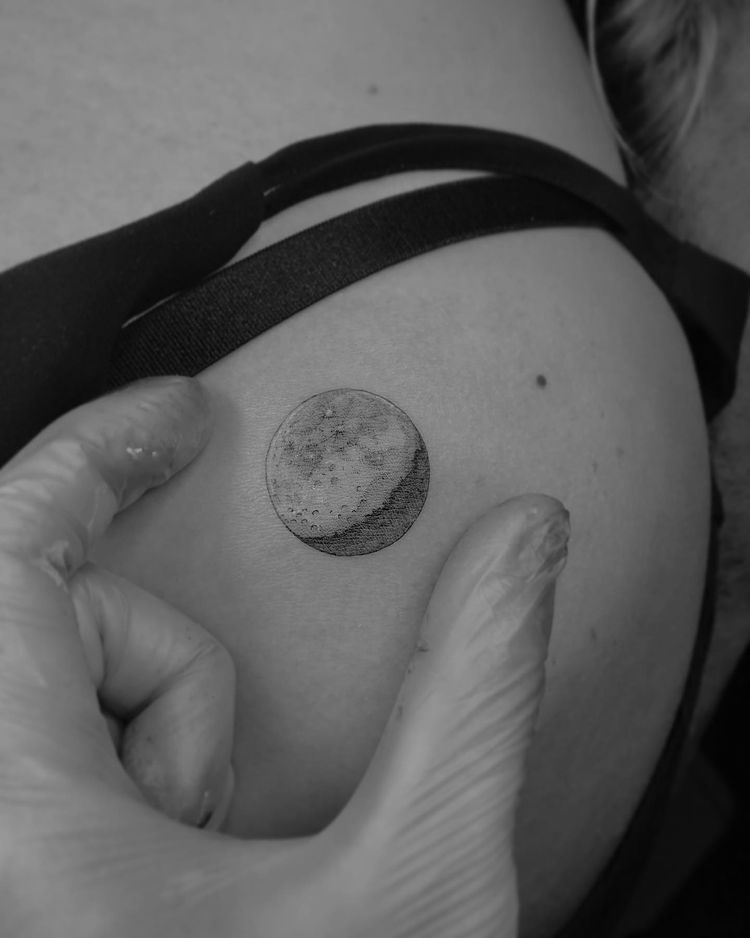 This small moon phase design features the waning Gibbous moon. This is the phase after the full moon, lasting until the third quarter moon. It represents a new beginning. 
49. Honey Bees and Flower Sleeve
This shoulder-to-arm sleeve is made up of wildflowers and honey bees. Bees represent loyalty and family. All worker bees are female, and they are a matriarchal society. That's meaningful in itself. 
50. Diving Crow Tattoo
Crows are big dark birds, sometimes thought of as spooky. In Northern Native American cultures, they are spirit guides. This one, with its blank eyes, is so mysterious.
51. A Peony Galaxy Shoulder Cap Tattoo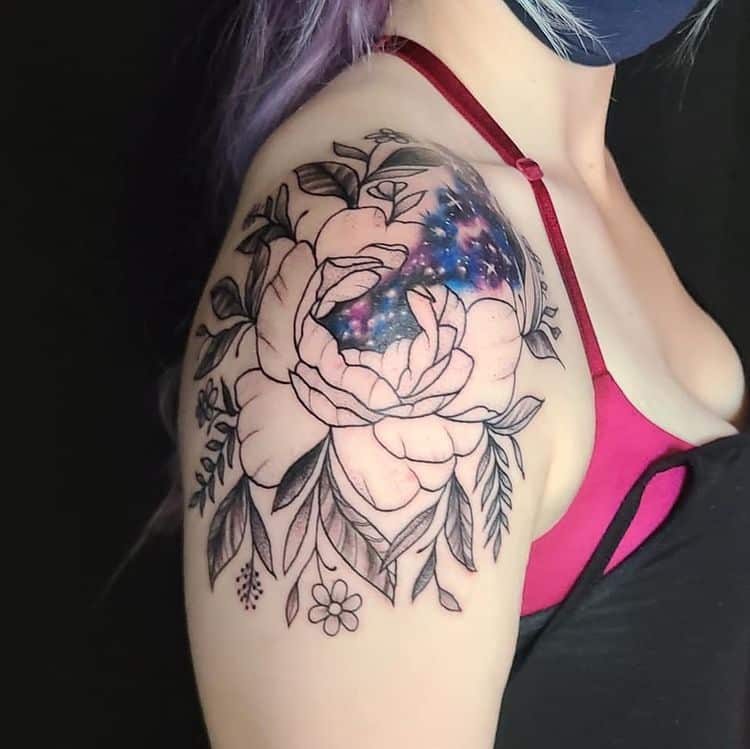 Peony tattoos come in all shapes and sizes. I like the way this one holds the galaxy inside of it. It's mysterious, hinting at something big to come. 
52. Blue Jay Shoulder Ink in Color
Blue jays indicate purity and honesty. They're also a beautiful reminder of the natural colors in our world. I like that the artist chose to ink this particular design in color. 
53. Yellow Rose Blossom
Roses mean different things depending on their color. Yellow is for friendship. This giant bloom tells me she has a lot of love to give. I love the small traditional red flowers inked around it. The contrast is so vivid.
54. Watercolor Jewel Tone Mandala Artwork
Mandalas bring wholeness to our dream selves. This watercolor-style tattoo in jewel tones is dreamy enough to do just that. I'm in love with the colors in this design. 
55. Large Purple Lilies
Lilies for devotion are a lovely reminder of loved ones and commitment to pursuits. I'm living for the color in these lilies. The purple hue is enhanced by yellow and green. 
56. Purple Rose, Lace, and a Locket
Purple roses are filled with bravery and love. A touch of lace and a locket mean secrets are kept. I love the sensual feminine qualities in this design. 
57. Geometric Yellow Swatch on Roses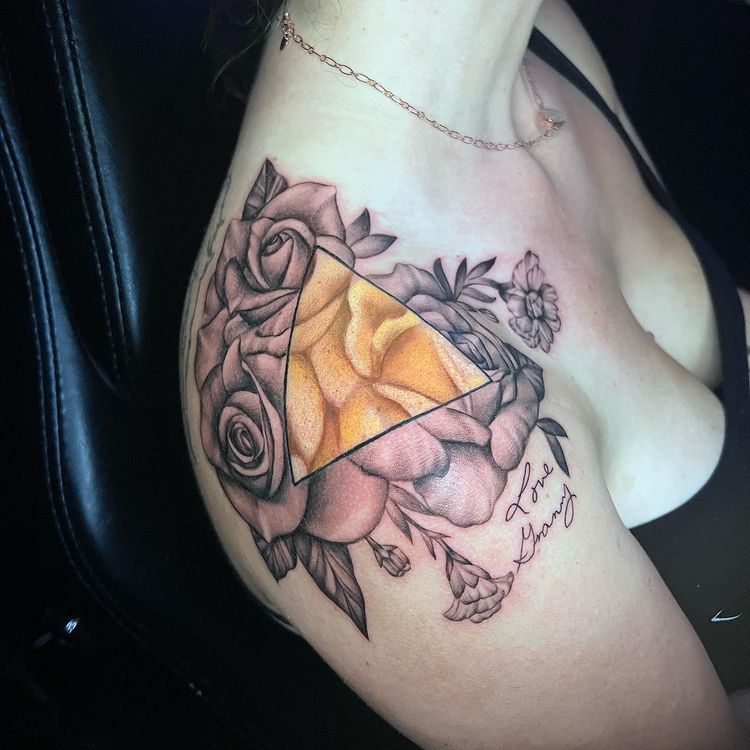 Triangles symbolize perfection and unity. The placement of this yellow triangle over black and gray roses changes the flower colors. Yellow roses are a beautiful sign of friendship. 
58. Breathtaking Watercolor Butterflies
The colors in this design get me right in the feels. I love the blue and purple watercolor swatches fading into one another. Butterflies are for freedom and change. 
59. Universe Shoulder Tattoo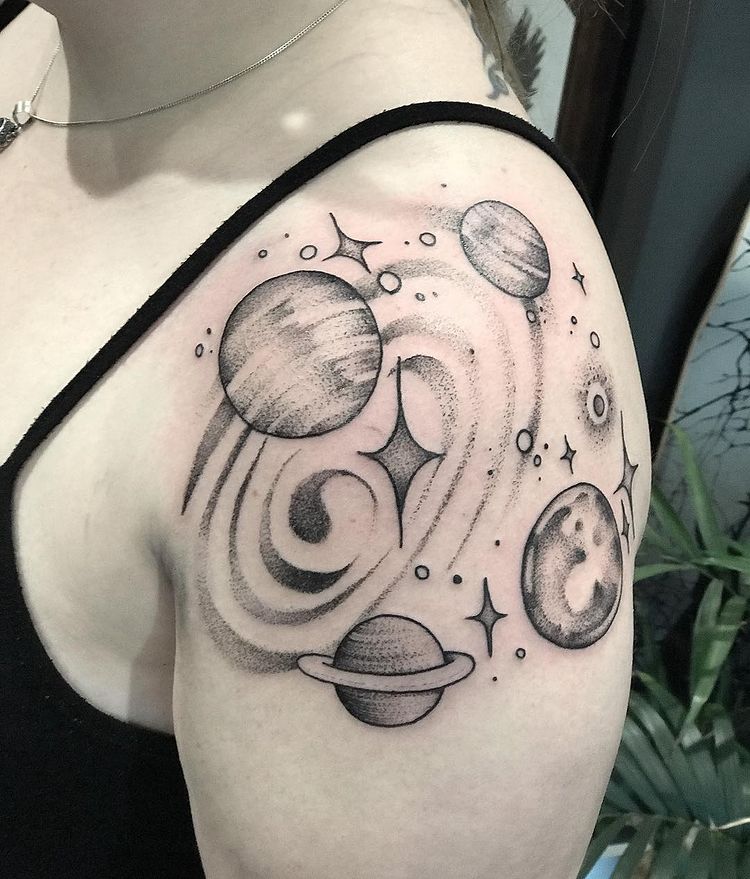 A tattoo of our galaxy reminds us how small we are in the universe. This black and gray solar system tattoo has a fantasy element about it. The swirls and stars tie it all together.
60. Black and Gray Hummingbird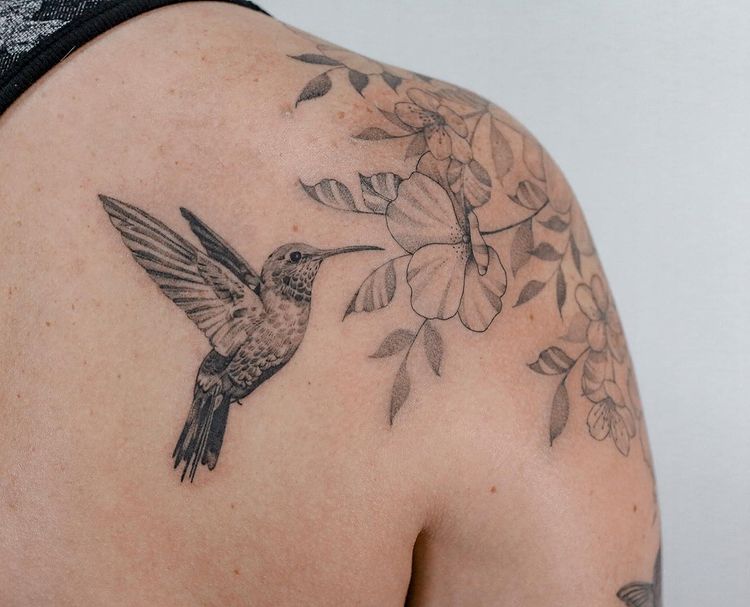 Hummingbirds are symbolic of joie de vivre, the joy of life. These tiny birds are fast, flighty, and delicate. I like the fine linework in the bird and flowers. It's reflective of the graceful animal. 
61. Yellow Daisy in a Hand
This tattoo has a hand-drawn quality I really enjoy. Yellow daisies, like yellow roses, are symbols of friendship. This one looks like it's been plucked to give to somebody. Maybe as a token of friendship.
62. Colorful Watercolor Feather and Birds
Feathers can signify freedom, courage, or wisdom. This gorgeous colorful feather gives way to tiny black birds, another symbol of freedom. I like the watercolor style in this design. So fitting. 
63. Big Beautiful Owl on Shoulder Back
Owls are wise, and in tattoos, they often symbolize magic and clairvoyance. This colorful owl has a majestic quality. The jewel tones in the flowers and jewelry on its head give a fantasy element to the design. 
64. Compass and Mountain Range Tattoo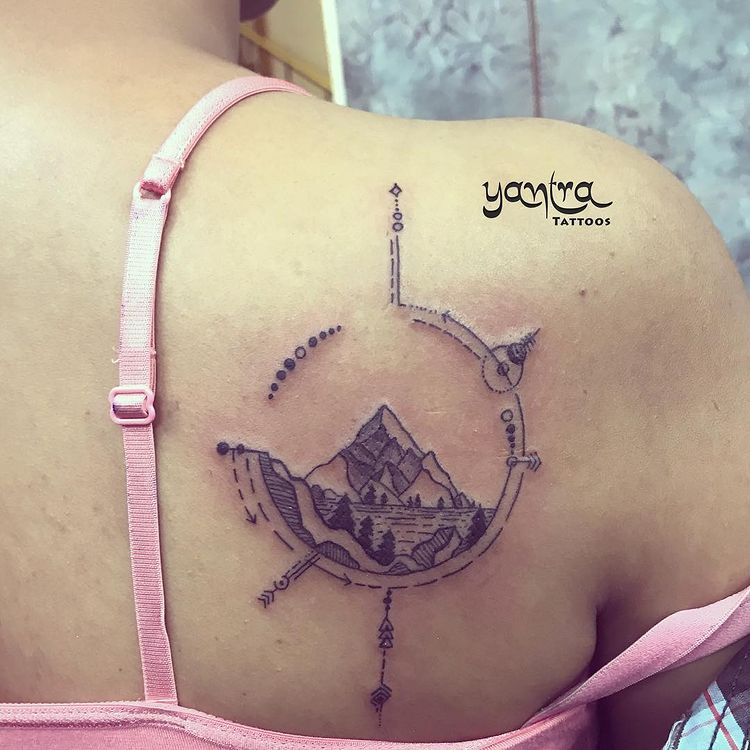 I love tattoos that represent hobbies. This mountain range gives me a travel bug vibe. The compass helps us find our way through life. I love the dot work and tiny details in this shoulder tattoo.
65. Black and Gray Pomegranate with Red Background
Pomegranates sometimes represent marriage or fertility. In Greek mythology, Hades uses pomegranate seeds to trick Persephone into staying with him in the underworld. The red background lends ominous energy to this design.
66. Shoulder Wings in Pale Pink
Wings can be a connection to those we've lost or to a higher power. I like the placement and design of this wing. The soft pink hue adds a little feminine flair to the tattoo. 
67. Blue Flower Chain Across Shoulders
Blue wildflowers creeping up around her shoulders and across her back are lovely. Botanical tattoos are very popular among women. The vines could mean progress or survival. 
68. Simple Flower Outline Tattoo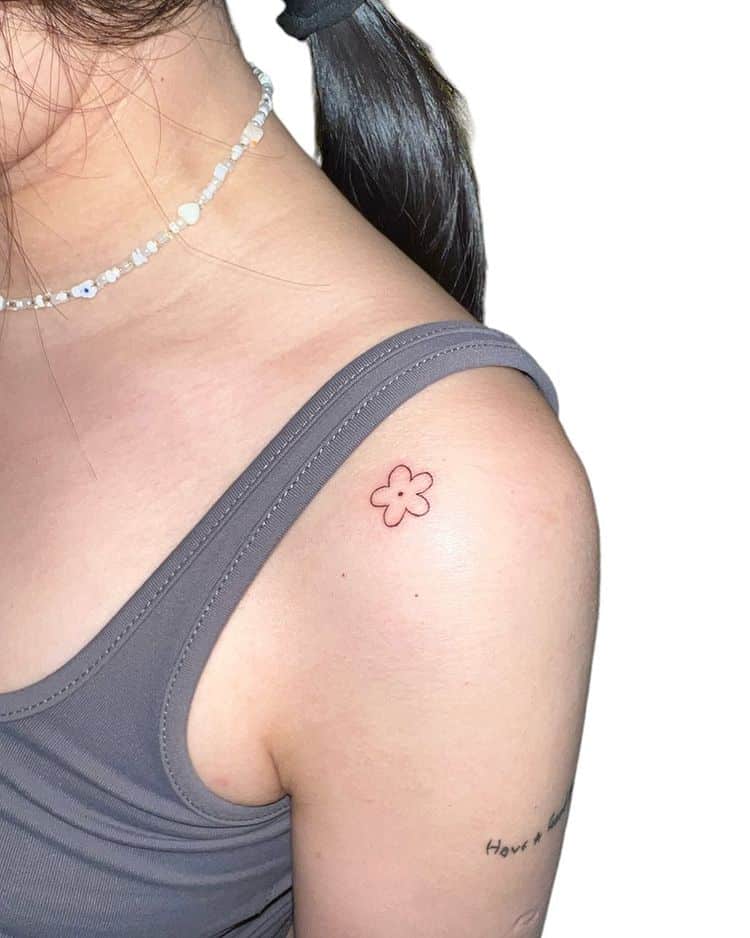 Simplicity can, in itself, be meaningful. This tattoo is small and without detail, but we still know what it is. Knowing who you are inside is much the same. Sometimes it's the little things that make us who we are. 
69. Heart and Brain on Strings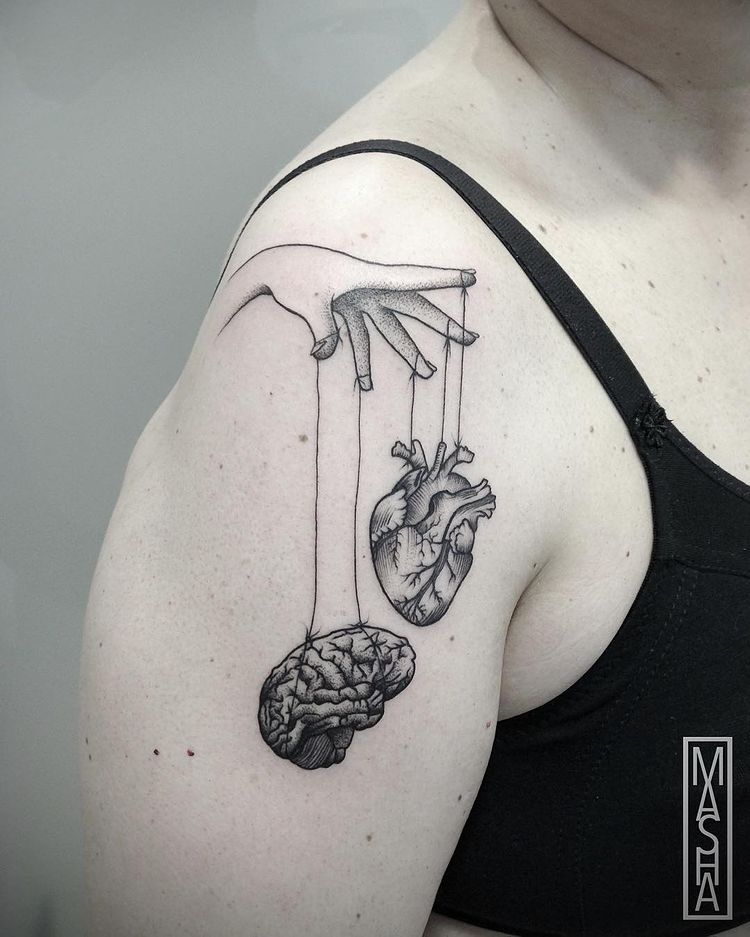 Like marionette strings, this heart and brain dangle from fingertips. Are we in control of both? This tattoo is telling. Does the wearer believe they're in control, or someone else is?
70. Cat Silhouette Tattoo
I love this! Pet tattoos are always popular and meaningful. This unique cat silhouette perfectly captures fluffy fur and long whiskers. #lessismore
71. Military Ornamental Epaulette Art
Do you feel in control of your own life? Military ornamental epaulets are worn for special occasions and signify rank. I like to think the gold and tassels mean she's in charge. 
72. Be Yourself Tattoo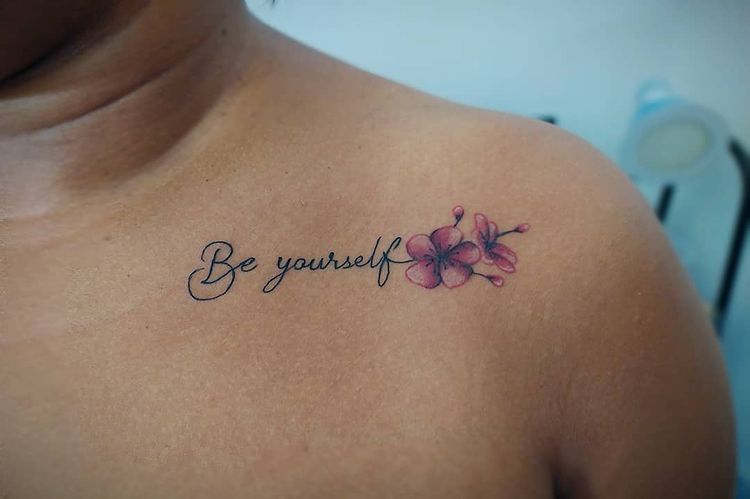 "Be yourself" is a meaningful and powerful statement. It's hard to know who we are deep down sometimes. A gentle reminder in ink helps reinforce the importance of living for yourself. 
73. Bright Colorful Elephant and Mandalas
Elephants are good luck. They're also considered divine in some cultures. I adore the colors in this piece. I love color tattoos, and this one is so powerful. The symmetry of the piece enhances the many mandalas. 
74. Decorative Abstract Design With Floral Elements
Ornamental designs are pure art. It's not always the image in the tattoo that's meaningful, but the way it makes you feel. This abstract piece has floral elements to it that make me smile. 
75. A Flying Leap Tattoo
Sometimes taking a chance on something feels like leaping into the unknown. This big plunge tattoo shows a woman jumping from a boat with an anchor inside. 
76. Mystical Bow and Arrow
Arrows are used by hunters, warriors, and explorers. Whether you're a Saggitarius or looking for direction, an arrow can point your way. I enjoy the celestial elements in this piece. 
77. Colorful Snowflake Mandala
This mandala looks an awful lot like a snowflake. It's almost like it signifies a unique one of a, kind individual seeking wholeness. I love the colors. It almost glitters on her skin. 
78. A Whale on the Moon
Whales represent gentleness and intelligence. The moon symbolizes femininity and growth. Together it feels like a lot of good things are coming her way. Plus, it's got dreamlike energy I love. 
79. Translucent Butterfly With a Ring
Like Saturn, this butterfly has a celestial ring circling it. The translucent nature makes it feel magical in some way. Butterflies signify change. I hope it's a good one. 
Summary and Top Picks
Selecting a meaningful design for your shoulder enhances its beauty. If you link it to a fond memory or something you love, it will never get old. For me, this means finding a connection to the deeper meaning of the design. 
All the shoulder ink I mention above is beautiful, but my top three favorites are:
#9 Body Positive Botanical Tattoo: Women of all shapes and sizes are beautiful. This botanical tattoo links our feminine beauty with nature. 
#29 Gossamer Koi Fish Swimming on a Shoulder: The delicate fish in this design are dreamlike. Koi fish symbolize perseverance. I love that.
#43 Purple Floral Phoenix Shoulder Art: The colors and symbolism in this tattoo are stunning. Women take on so many forms in life. Just like the phoenix, we are reborn each time. 
Symbolism in tattoos is big for me. It helps me connect with the art. When you select a shoulder design, what makes it meaningful to you? Comment and let me know below!
I'd love to hear from you — which of these tattoos would you get and why? Let me know in the comments!