There are many reasons to get a tattoo. To commemorate a special occasion, remember a loved one, or simply add beautiful art to your skin. However, one of the most popular trends is best friend tattoos.
Commonly referred to as BFF tattoos, this type of body art is meant to express the love and bond between two or more friends. The styles vary from cute minimalistic art to sentimental words and phrases and colorful illustrations. 
BFF tattoos are a special way to tell everyone that your friendship means the world to both of you. You can get matching ink on your arms, fingers, shoulders, or back with so many more placement options available. 
You'll find tons of inspiration for you and your BFF in the compilation below! Here are best friend tattoos for you and your bestie that you need to see.
1. Large Blue Butterfly Tattoo with Flowers
Match your bold personalities with large beautiful butterflies. One side features a light blue butterfly wing, while the other half is a combination of flowers like roses and daisies and leaves.
2. Minimalist Star Tattoo
Opt for a minimalist star tattoo to represent the sparkle you and your best friend add to each other's lives.
3. Small Pine Tree and Crescent Tattoos
These pine and crescent tattoos inked on the forearm are too cute. I love the attention placed on the tree's details to make the naturalistic vibe more realistic.
4. Cursive "Better Together" Text Tattoos
The closer we are to our besties, the harder it is to imagine life without them. These cursive text tattoos say it all. Have the word "better" tattooed on one arm, while "together" can be placed on the opposite arm of your best friend.
5. Face With Rose Tattoo
I will forever love face tattoos, especially when they're so small, cute, and well-detailed. These tattoos aren't ordinary, however. On one half is a rose held by perfectly manicured hands, and the placement on the forearm is just as fitting.
6. Minimalist Elephant Tattoo
I love what these fine-lined elephant tattoos signify; strength and loyalty, which is what the best friendships are built on.
7. Romantic Roman Numerals Tattoo
If you're dating or married to your best friend, it makes getting matching tattoos even more meaningful. How about inking the date of your anniversary in Roman numerals on the side of your wrist? This simple design is too cute to pass up.
8. Fine-Lined Heart and Airplane Tattoo
If you and your best friend love to travel or maybe you met in a foreign country, this fine-lined heart and airplane tattoo will match your story perfectly.
9. Small Sword Tattoo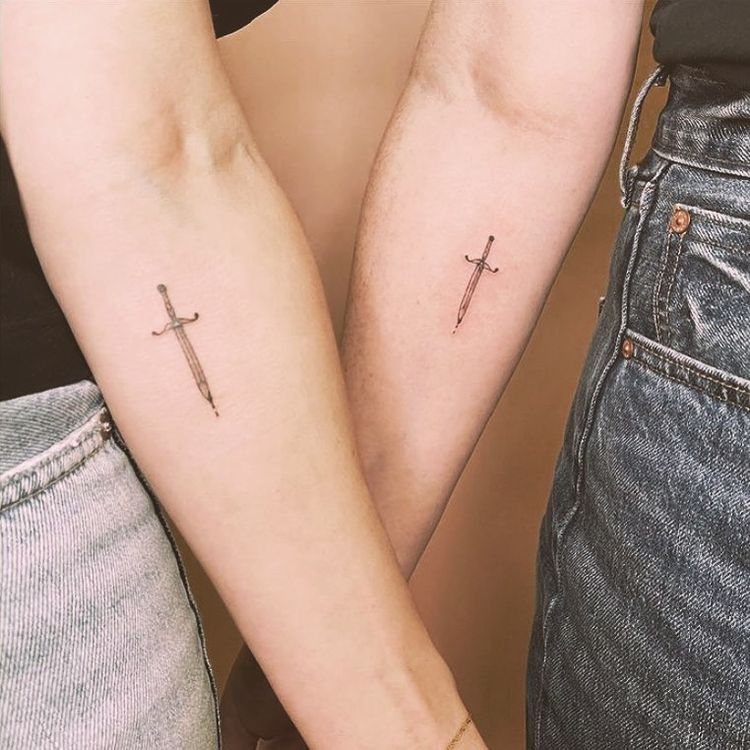 If your best friend is worth keeping, this ink is worth getting. You've fought for your friendship all these years. Why not illustrate that with matching sword tattoos? 
10. Elegant Tulip Tattoo
I love the elegance of this floral tattoo. The curved design of the flower's stalk, coupled with the stunning details of each tulip, look heavenly tattooed between the chest and shoulder.
SEE ALSO: 21 Small Shoulder Tattoos Gals Are Inking
11. Colored Daisy Tattoo
The best way to bring floral tattoos to life is by adding color. These daisies look so adorable, inked near the wrist in yellow and white.
12. Crown Wrist Tattoo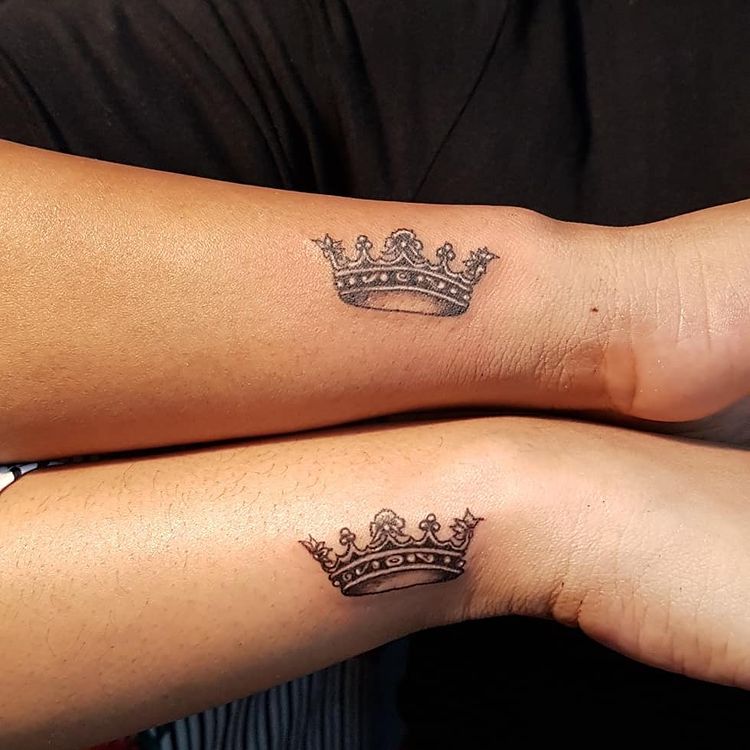 A crown tattoo symbolizes the value with which you and your best friend see yourselves and your friendship as well. The shading and intricate details make the design come to life, inked on the wrist where it can be easily seen.
13. Butterfly Thumb Tattoos
What a perfect spot for a BFF tattoo. You and your bestie can each have a wing inked on the lower part of your thumbs, creating an entire butterfly when you bring them together.
14. Large Rose Text Tattoo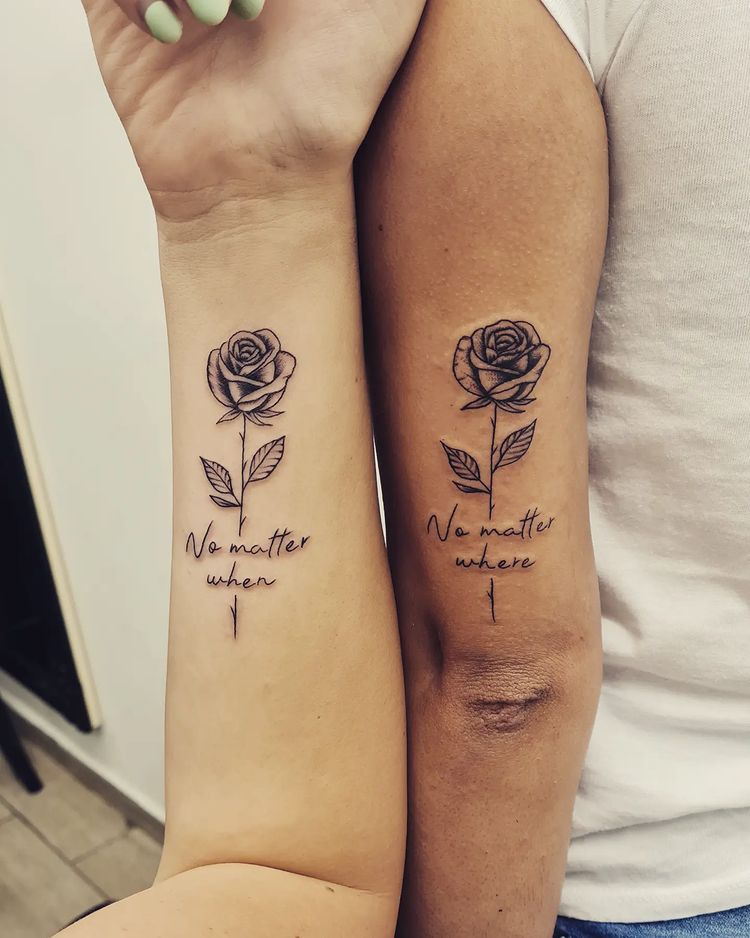 "No matter when, no matter where"—Who wouldn't want such a meaningful reminder to wake up to each day? Incoporated into a large rose tattoo, the symbolism is ideal for you and your bestie.
15. Minimalist Floral Behind the Ear Tattoo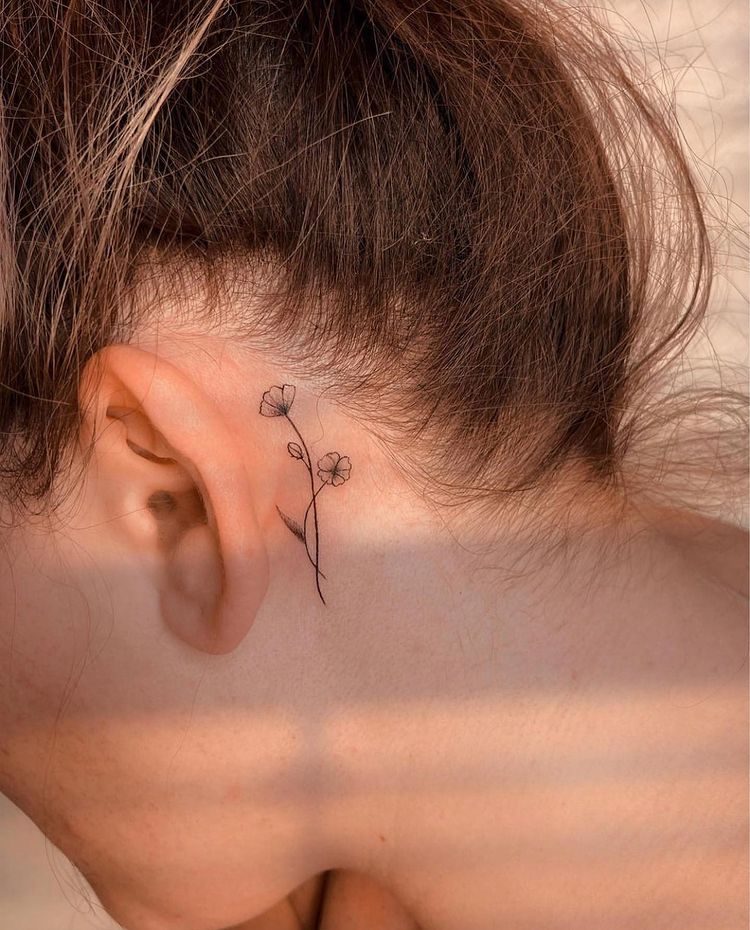 Tattoos behind the ear are among my favorite best friend ink designs. They're so cute and simple with an airy quality. Opt for fine lines and details for the most feminine appeal.
16. Bee Tattoo
Bee tattoos have been flooding my timeline lately, and for good reason. A representation of love and dedication is just the design you and your best friend need.
17. Cursive "Love You" Tattoo
It's as simple and powerful as that, "Love you." Such a cute way to show your bestie that you care.
18. All-Black Bird Wrist Tattoo
I'm floored by how beautiful this tattoo design is. Sure, it's on the simpler side. However, the all-black finish adds an edgy touch and makes these flying birds look all the more captivating.
19. Cursive "No Matter What, No Matter Where" Tattoo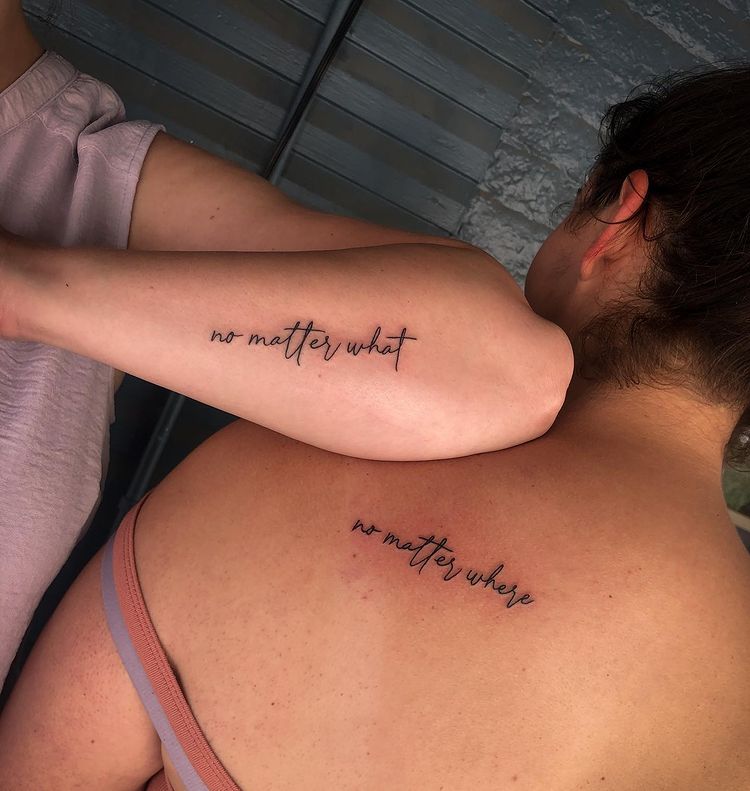 This time it's "no matter what, no matter where," and I'm loving the cursive font and placement. One friend begins the phrase on her lower arm. The other completes it on her back.
20. Colorful Beach-Inspired Tattoo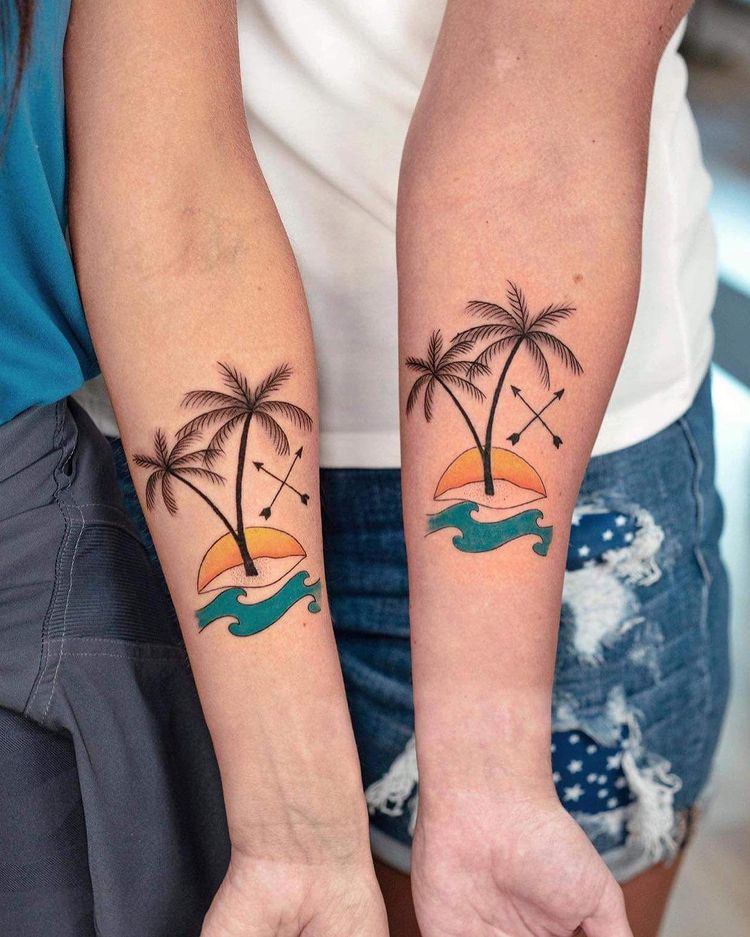 The beach is always a vibe, and so are summer-inspired tattoos. I love the application of light strokes to create the palm tree leaves, and the burst of colors—orange and blue—really add to the scenery.
21. Minimalist Lightning Tattoo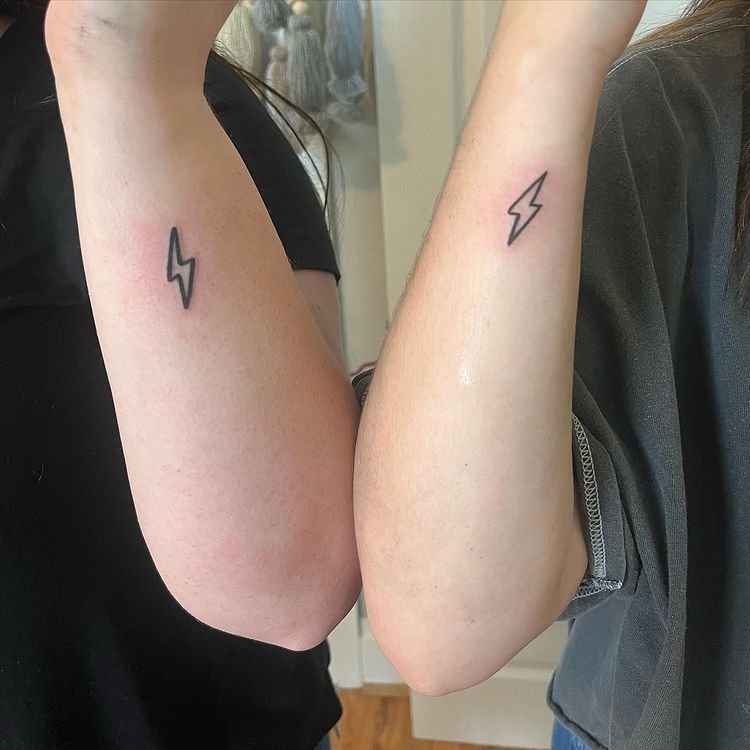 With these cute minimalist tattoos, lightning strikes twice. Your BFF body art can be super simple. It's the design you choose that makes it stand out.
22. Seashell Tattoo
These scallop seashells are such beauties. Both designs are slightly different, as the shading of the patterns varies. Nonetheless, opposites attract.
23. Cursive "To Infinity and Beyond" Tattoo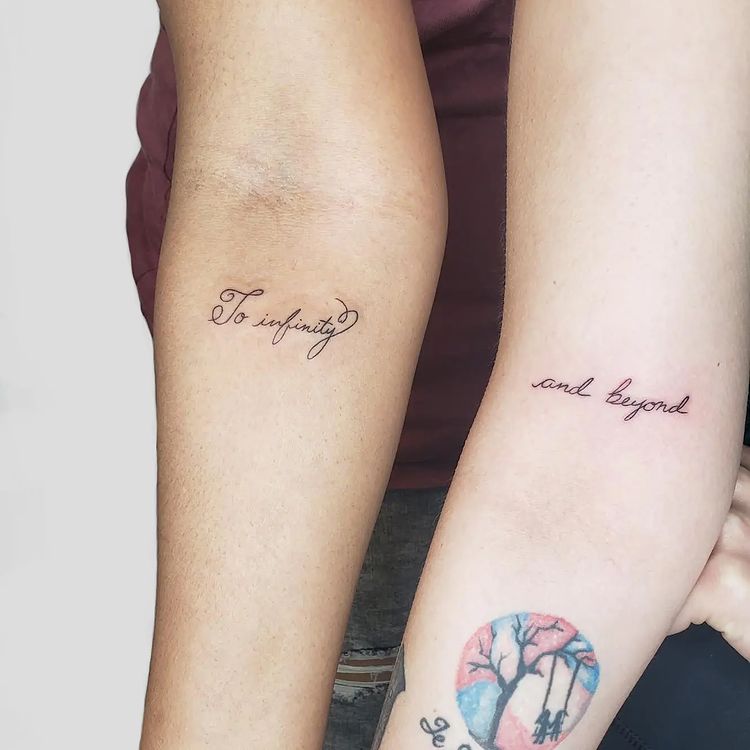 First of all, I love the Buzz Lightyear reference. Second, the font is stunning, and it's handwritten, which makes these BFF tattoos even more impressive.
24. Neat ''Always, I'll Care" Text Tattoo
If you've ever needed more confirmation that you matter to your BFF and vice versa, this neat forearm text tattoo sends a clear message.
25. Bold Sparkling Star Tattoo
I love a bold star and constellation tattoo. The defined linework and sharp finish are something to talk about. Show it off along with your best friend right on your lower arms.
26. Small Red Wine Glass Tattoo
Everyone loves to have a good time, and this red wine tattoo is symbolic of just one of the elements that make a girl's night out fun!
27. Cursive "Keep Me Safe" Text Tattoo
It's an amazing feeling when you can rely on your closest friend. This stylish text tattoo can be seen as a promise from one friend to the other of how far that dedication goes.
28. Butterfly Finger Tattoos
If you're considering cute finger tattoos for you and your BFF, switch things up by inking a butterfly on your thumb with your friend boasting the same design on her middle finger.
29. Bold-Lettered Text Tattoo
Best friends stick together, and this bold-lettered text tattoo signifies that when they do, nothing is impossible.
30. Minimalist Heart Ankle Tattoo
It's true that besties go almost everywhere together. That's why the ankle placement of these minimalist heart tattoos is so perfect.
31. Cute "Now" Text Tattoo
There's no time like the present. If spontaneity describes the relationship you have with your best friend, I can't think of a better way to display that than with these cute "now" tattoos.
32. Large Floral Tattoo with Crescent Moon
The artistry that can be displayed through matching tattoos is amazing. These artworks feature tulips climbing up the arm with a bold crescent moon to complement the design.
33. Beaming Lighthouse Tattoo With Wave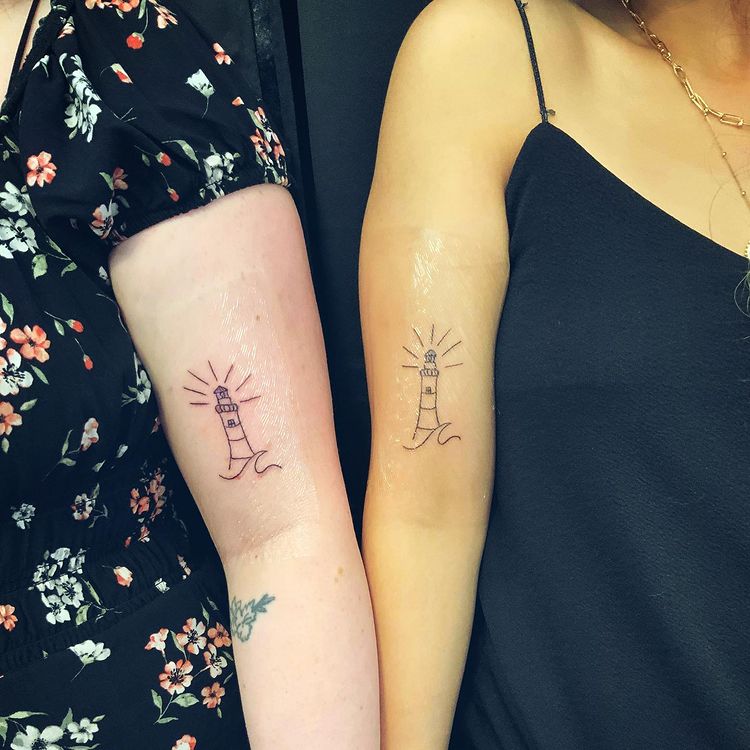 A lighthouse represents what so many friends are to each other. I love the inclusion of a small wave as well to add a realistic quality to the subtle artwork.
34. Red-Outlined Flame Tattoo
Flame tattoos will never lose their flair. Have yours tattooed near your wrist, outline in red with a matching one inked on the same spot for your best friend.
35. Birth Year Tattoo
Sisters oftentimes make the most amazing friends. A cool idea for you and your sis is to get tattoos with the years you were born, inked above your elbows.
36. Cursive "Promise" Text Tattoo
Verbal promises are great, but a cute script tattoo can really seal the deal.
37. Delicate Floral Anklet Tattoo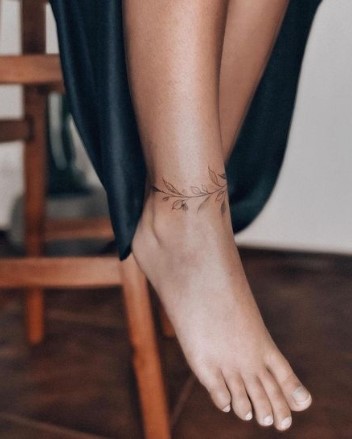 If I were ever to describe a tattoo as luxurious, it would be this floral anklet design. Since the start of the year, friendship circles have been promoting a "soft life" culture. I think this delicate tattoo is the perfect representation.
38. Small Airplane Tattoo
This airplane tattoo is small and simple but holds a lot of meaning. It's just right for besties who love to travel and even for those who are miles apart.
39. Cursive ''I Love You'' Wrist Tattoo
The wrist is a great spot for elegant script tattoos. The words ''I love you'' are joined together in a cute cursive font with thick letters, and I'm in love with the finished look.
40. Bold "No Matter Where" Leg Tattoo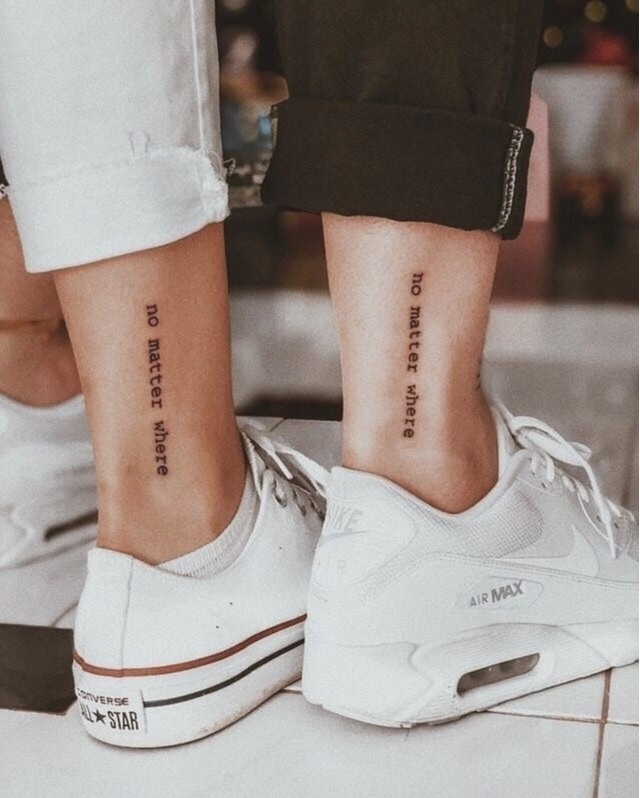 The "No Matter Where" tattoo returns but this time, it stands alone, inked vertically above the ankle in chic bold letters.
41. Looping Heart Collarbone Tattoo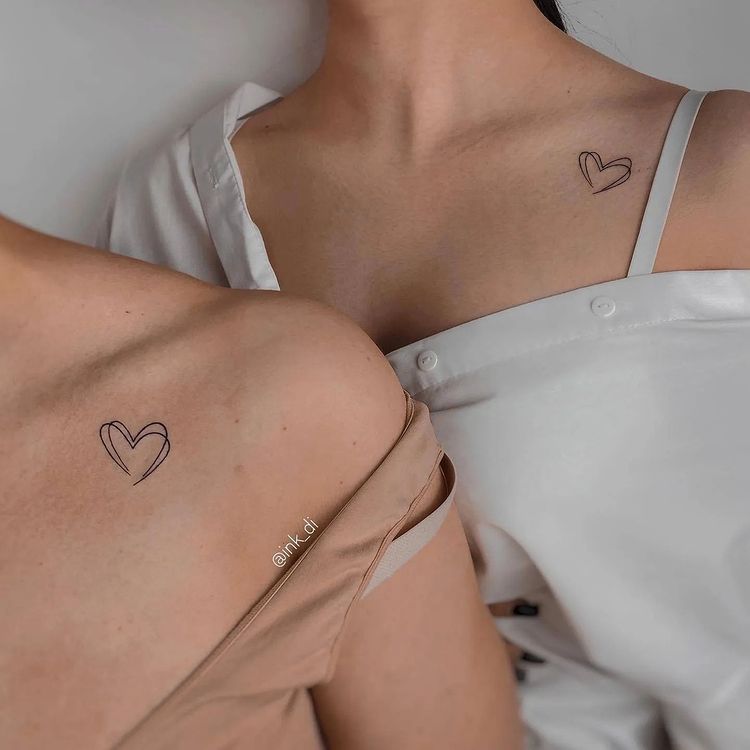 You can't go wrong with matching heart tattoos, but you can make them stand out. How flattering is this collarbone placement? With an even more intriguing looping heart design.
42. Upside Down Butterfly Hand Tattoo
You'll see butterfly tattoos daily, but rarely do I see them inked in black, upside down. There's a fashionable edge to this ink that would look amazing tattooed on the hands of you and your bestie.
43. Small Globe Tattoo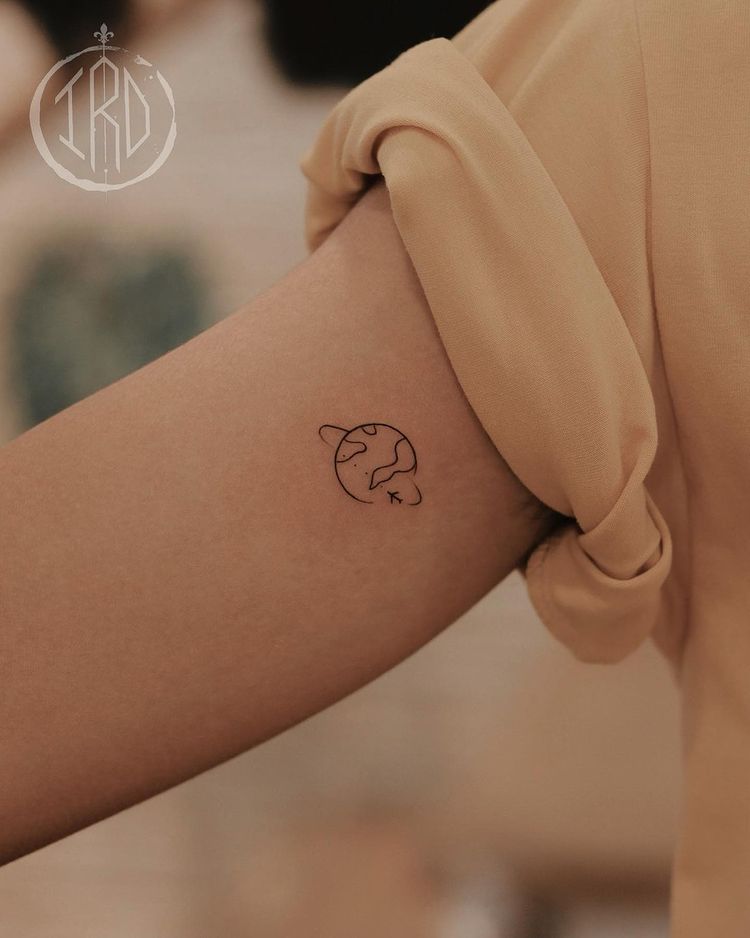 Tattoos that portray the globe, no matter how small, make a major impact. It says to you and your BFF, "the world is ours for the taking."
44. Minimalist Red-Outlined Butterfly Tattoo
Tattoos outlined in red have been making the rounds on social media. It gives tattoo lovers an alternative to the usual black and negative space minimalist design.
So, if you're looking for a minimalist tattoo that's simple with a special touch, I definitely recommend this adorable butterfly design.
45. Layered Wave Tattoo
If you and your best friend love the ocean, then you'll also love this fine-lined layered wave tattoo.
46. Deep Pink Flower Shoulder Tattoo
I love the placement and coloring of this tattoo—a deep pink flower with a loose petal inked on top of the shoulder. It's such a subtle and elegant design.
47. 1998 Tattoo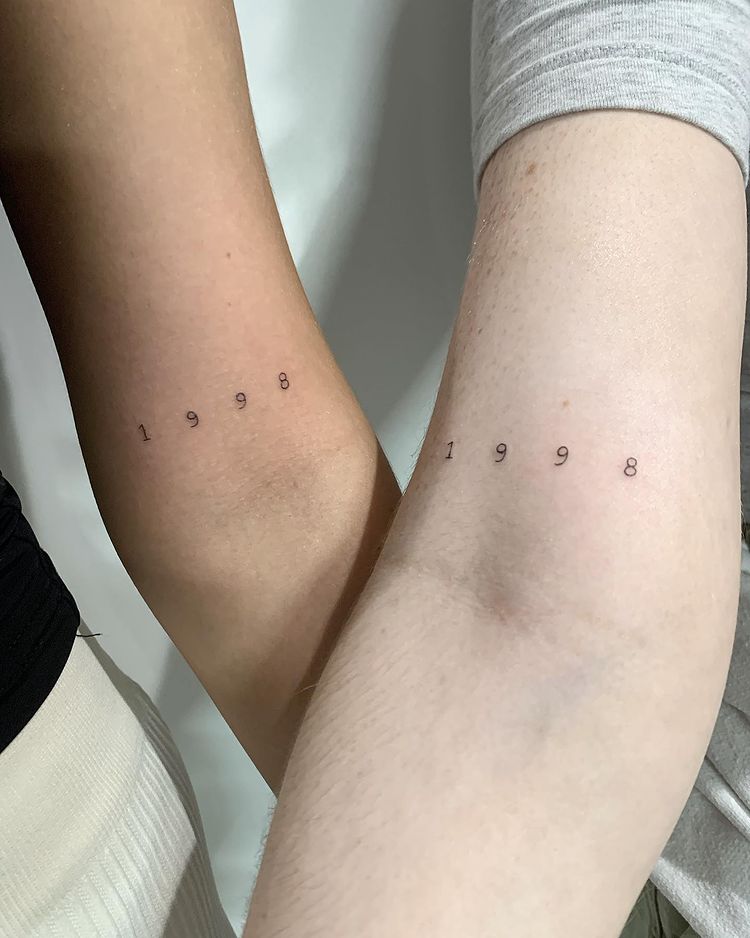 For all the besties born in '98, this tattoo works like a charm. The numbers are inked delicately and spaced far enough to make use of your forearm's surface area.
48. Butterfly Index Finger Tattoo
Holding hands just became more meaningful with these cute butterflies inked on the index finger. The line work is simple and elegant, just the design two girly girls need.
49. Heartbeat Line and Airplane Tattoo
I love how this heartbeat line transforms into an airplane at the end. For best friends who love to travel and prefer doing it together, this design is a must-have.
50. Minimalist Day and Night Tattoo
Dedicate your forearms to a beaming sun tattoo. In its negative space lies a crescent moon. It's a creative way to include both day and night elements into your BFF tattoo.
51. Minimalist Wine Glass Wrist Tattoo
I love the representation that this minimalist tattoo brings. Wherever two longtime best friends are, an occasional wine glass is never too far away.
52. Bold "CREATE" Text Tattoo
The past few years have seen the rise of some of the most creative people online. If that's you and your best friend, I know this bold-lettered "CREATE" tattoo will stand out to you both.
53. Daisy Finger Tattoos
Daisies are pretty common on the tattoo scene. Their simplicity and cuteness are to thank for that. If you're looking for an adorable matching tattoo design for you and your bestie, these daisy finger tattoos should be at the top of your list.
54. Bold Lightning Bolt Tattoo
For a bold look that's easy to achieve, black lightning bolts are worthy of consideration. Get yours inked below your shoulder. It's an ideal spot if you want to cover it up with a sleeve or show it off with a tank top.
55. Intricate Butterfly Waist Tattoo
Aiming for butterfly ink but one with a little more detail than the usual? This cute butterfly waist tattoo features intricate linework with a darker outline for added dimension.
56. Colored and Minimalist Heart Tattoo
These matching hearts are so sweet. One friend's tattoo is colored completely in a lovely brown shade while the other's is left as minimalistic as can be; the perfect opposites.
57. Best Friends Hugging Finger Tattoo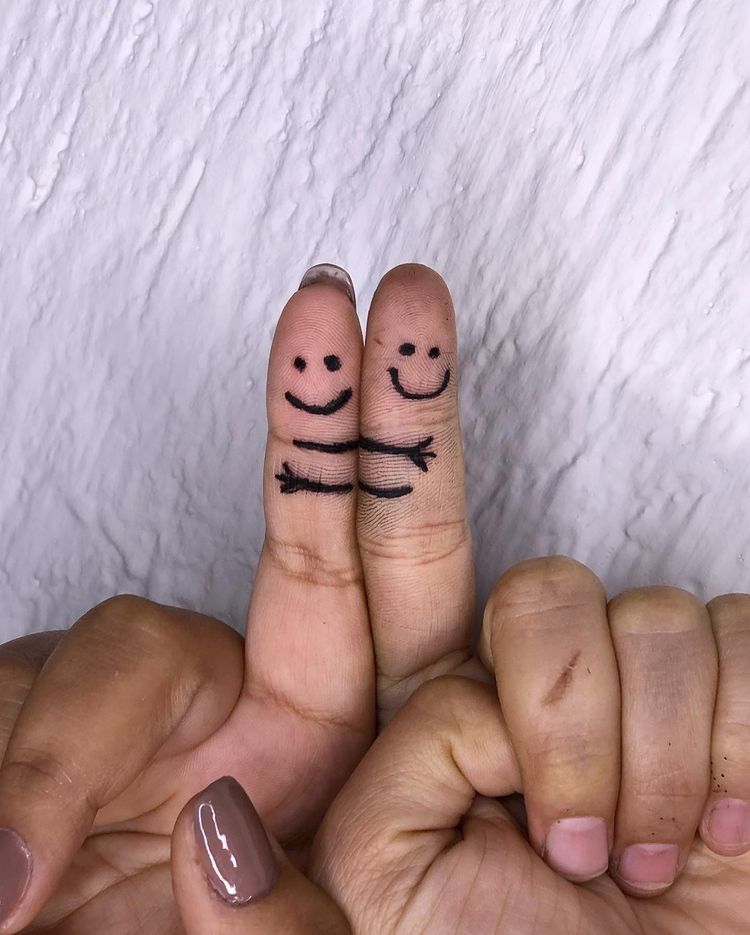 I'm not crying, you are! This is definitely one of the most heart-warming best friend tattoos I've ever seen. I love how the lines and dots of the face and arms aren't perfect, adding to the authenticity of the design
58. Vibrant Daisy Shoulder Tattoo
I love the vibrancy of this daisy tattoo. The petals are detailed and so realistic, and the daisy disc's golden yellow color pops beautifully against the skin on the shoulder.
59. Smiley Face Tattoo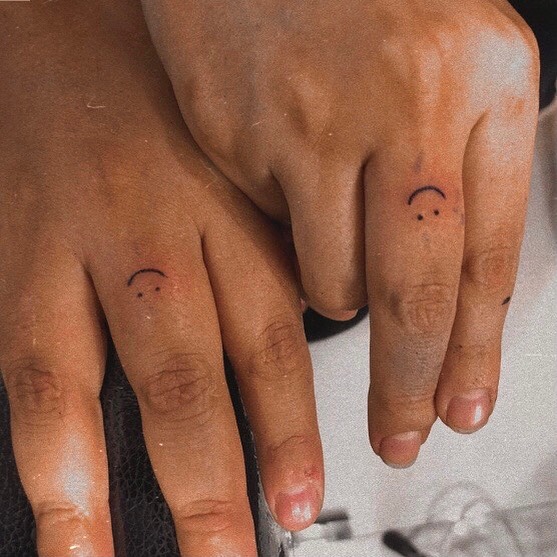 For best friends that always make each other smile, vow to do so forever with these super cute smiley face finger tattoos.
60. Minimalist Jigsaw Tattoo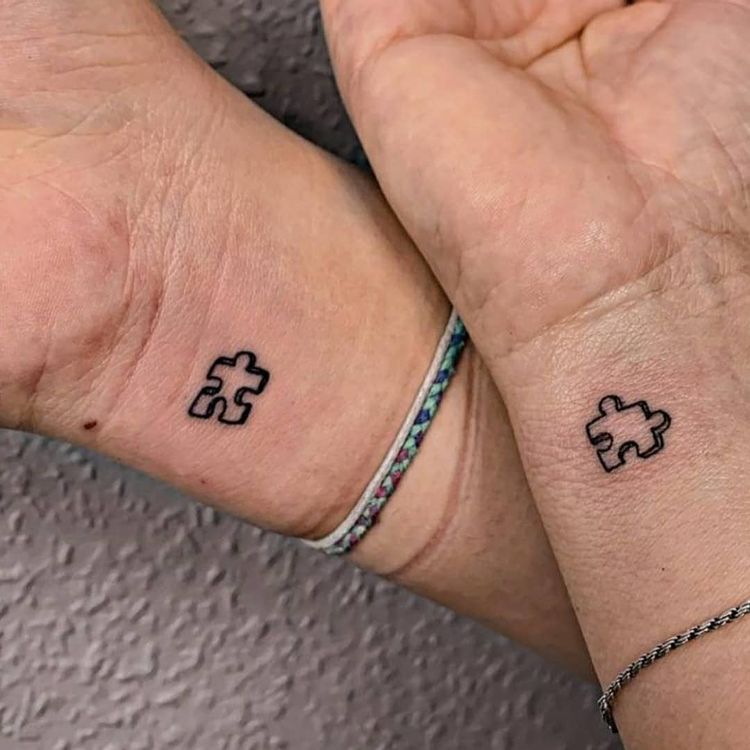 Your best friend is like the perfect puzzle piece that completes your life. Put it in art form with a cool minimalist jigsaw tattoo inked on your wrists.
61. Sun, Moon, and Star Wrist Tattoo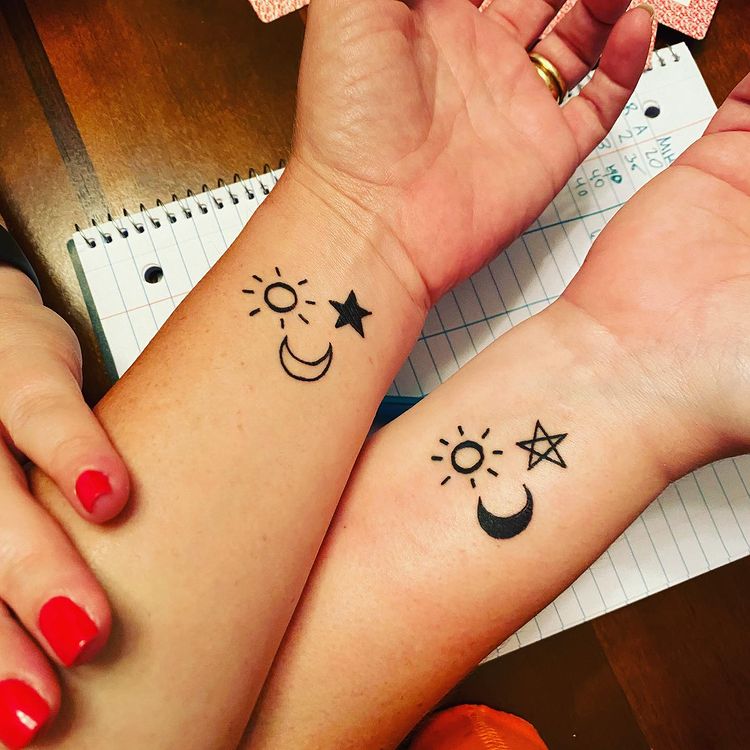 I love the combination of the sun, moon, and star in this tattoo design. One friend's art features the star colored in black. The other's star is left with negative space while the moon captures the edgy, dark vibe.
62. Animal Lover Tattoo
If your pets mean the world to you and your best friend, it's only right to display the love with matching ink. The light shading on both is impeccable, and the features are spot on!
63. Poppy Bouquet Tattoo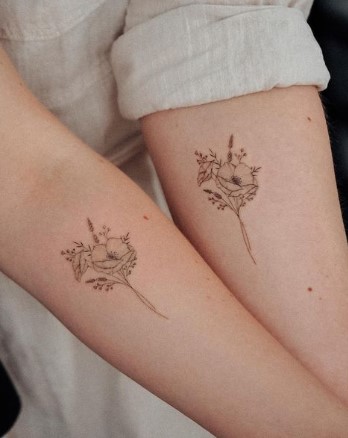 Poppy flowers have long been used to represent hope and peace, and while these tattoos don't showcase the bright red hue of the flower, the beautifully elaborate design does justice.
64. Swallow Tattoo
Swallow tattoos serve as a great alternative for doves. If you and your best friend are eyeing body art of birds that's not replicated too often, this soft-featured design will do wonders.
65. Handpoked Blazing Sun Tattoo
The blazing effect of this minimalist sun tattoo is mesmerizing, to say the least. Achieved using the handpoke technique, it's a design you and your bestie will never get tired of.
66. Paper Plane Leg Tattoos
I'm won over by the effortless creativity of these paper plane tattoos. The shading is light yet impactful, and the dots leading up to the arrow-shaped tip add such an airy flair.
67. Spongebob and Patrick Tattoos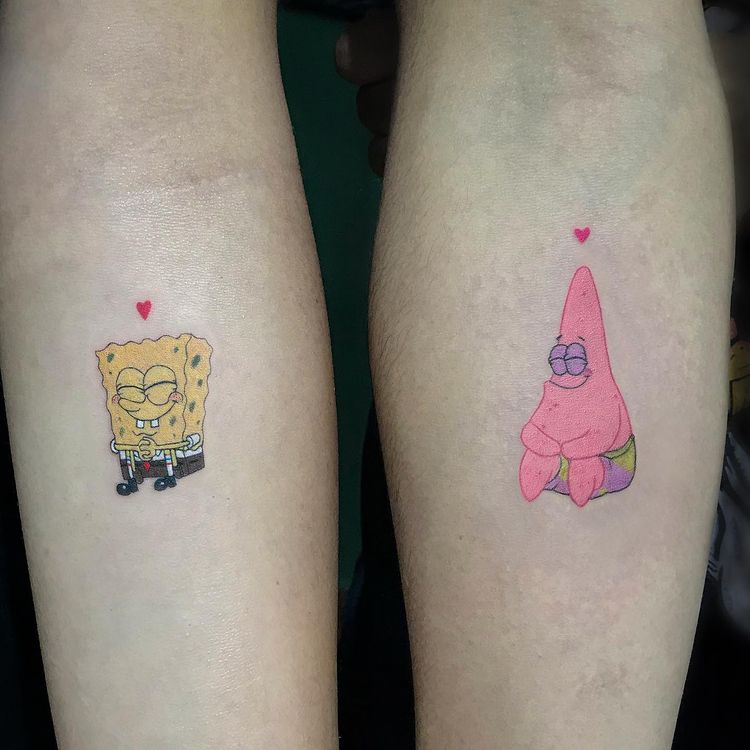 These colored Spongebob and Patrick tattoos bring so much joy. Many of us grew up watching this cartoon. It's no surprise it's among the trending BFF tattoos this year.
68. Pinky Promise Tattoo
Pinky promises have been around for ages, but the tradition still holds weight to this day. If your friendship has stood the test of time, this matching is definitely worth the ink.
69. Sun and Crescent Moon Finger Tattoos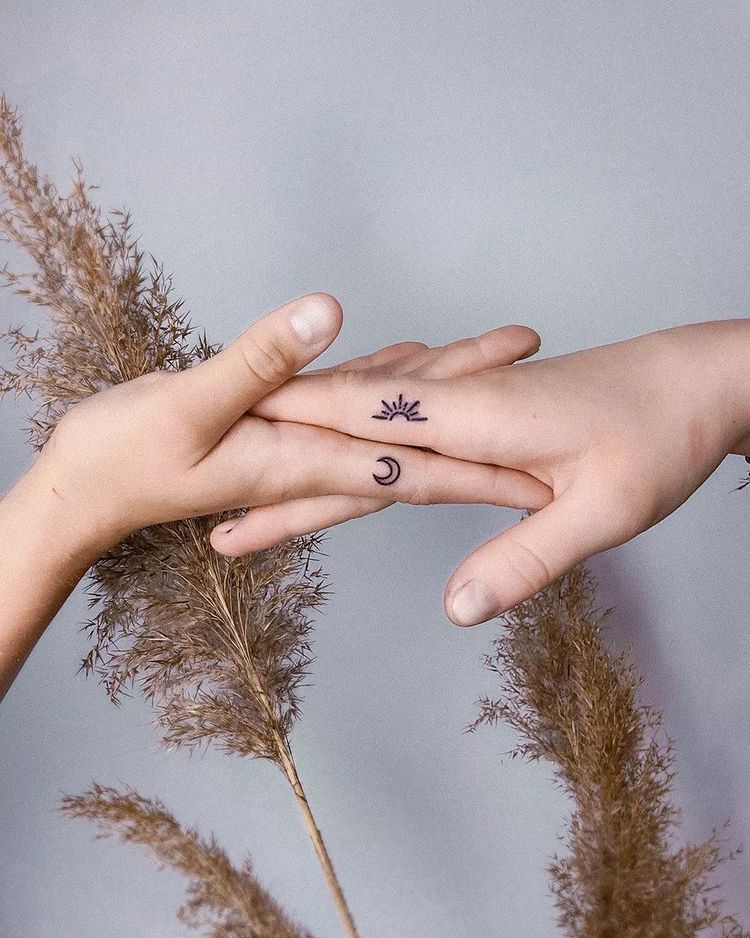 The moon and sun have different functions, but they both need each other to complete night and day. Get a cute sun design inked on your index finger to complement a crescent moon on your besties.
70. Sailor Moon Anime Tattoos
Japanese anime tattoos have been around for many years, and they're still popular today. These Sailor Moon and Sailor Mars tattoos are proof. 
The original series wrapped in 1997, but best friends are still loving the colorful and playful illustration of the anime's characters.
71. Cursive "Together Forever" Tattoo
The best friendships are worth keeping, and these text tattoos capture the sentiment perfectly. The cursive font is clear and easy to read but fancy at the same time.
72. Abstract Line Art Face Tattoo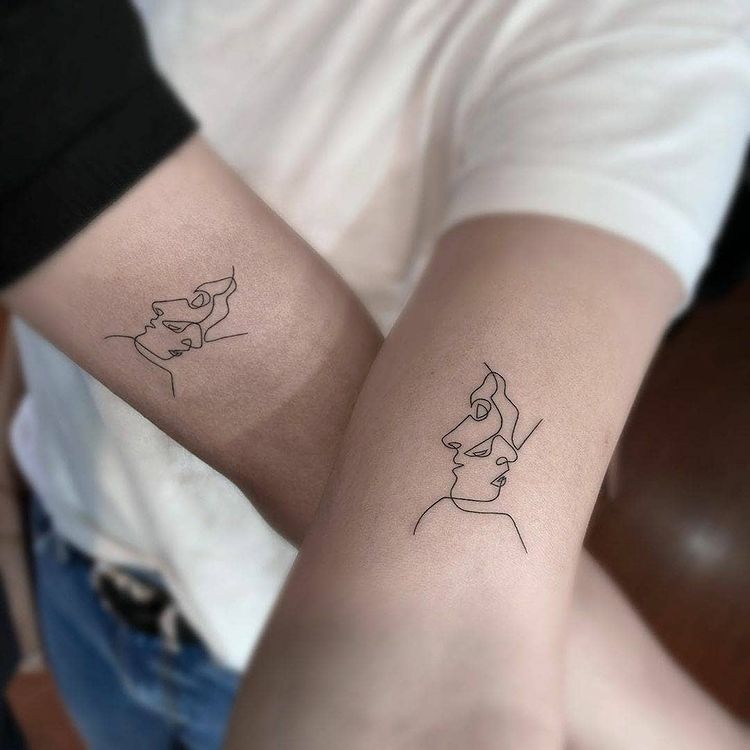 Abstract tattoos offer so much freedom in creativity. With these abstract line art tattoos, it's not so much about perfection as it is about the feeling you get when you see the design.
73. Minimalist Dove Finger Tattoo
Dove tattoos signify love, as well as peace—two things best friends should always add to each other's lives.
74. Music Lover Tattoo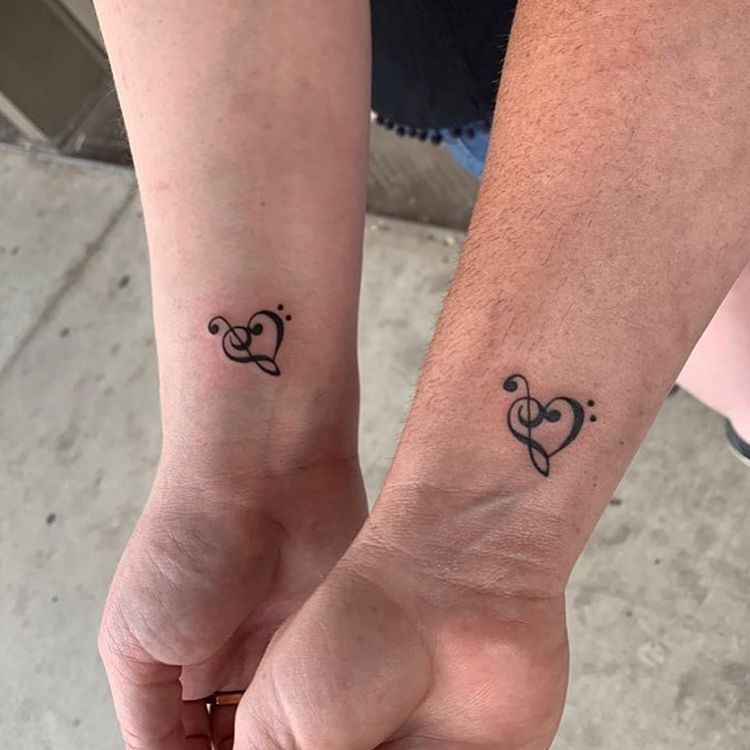 Here's a cute way to incorporate your love for music and your best friend in one tattoo. The heart is formed into an elegant treble clef design and is a beautiful blend of delicate and bold linework.
75. Sun, Moon, and Star Collarbone Tattoo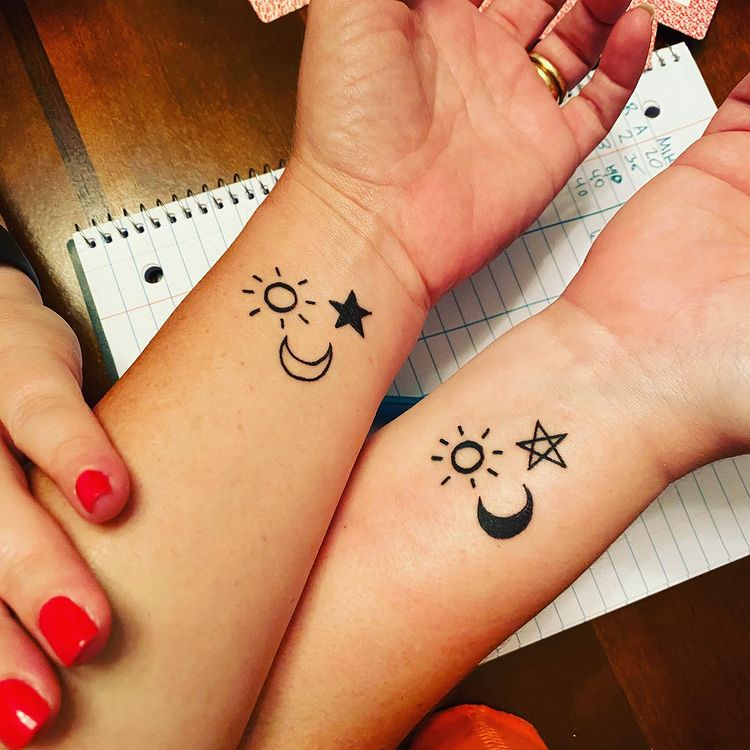 Has it ever felt like the sun, moon, and stars all align when you're around your best friend? If so, this chic collarbone tattoo is waiting just for you.
76. Palm Tree Tattoos
After a vacation in the tropics, it's only fitting that you and your BFF keep the memory alive with matching palm tree tattoos inked in green and brown.
77. Red-Outlined Butterfly Finger Tattoo
Half tattoo designs are gaining popularity, especially for best friends, since you can join the artwork together based on where it was inked. 
That's made easy with these red butterfly finger tattoos. The line work is graceful, with emphasis placed on negative space.
78. Lyrics Tattoo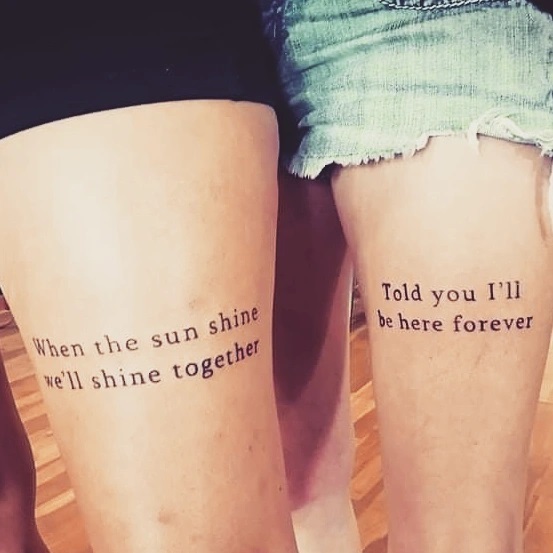 Lyrics are another amazing idea for a tattoo. This one is all about the beginning of the chorus for Rihanna's hit song "Umbrella," and the words couldn't be more fitting for best friends.
79. Smiley Face Ankle Tattoo
Smile face tattoos will always be a cute option, but you can switch things up by opting for a unique spot for this simple body art. Right by the ankle is unassuming but so adorable nonetheless.
80. Dainty Flower Tattoo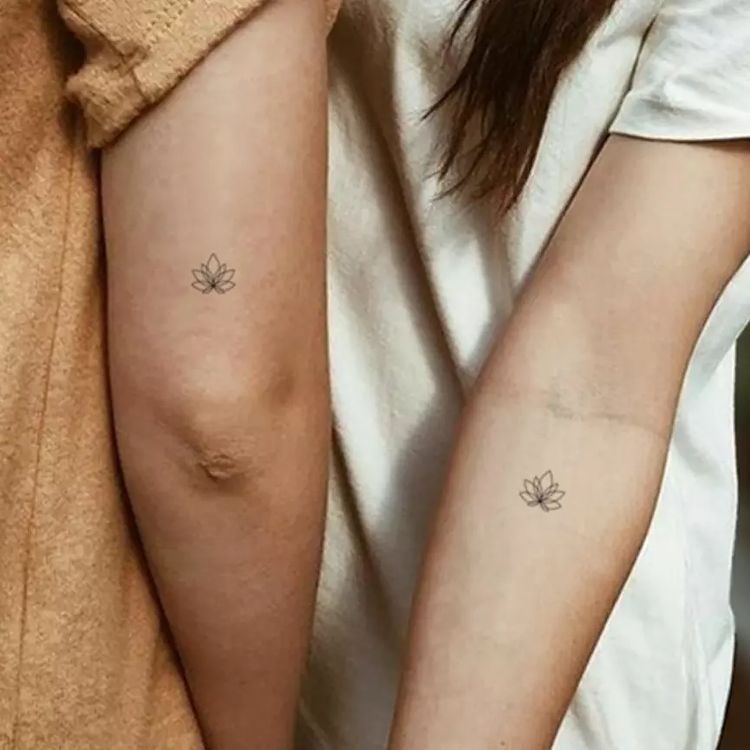 If the elegance of your tattoo matters, you can't go wrong with a dainty floral design. Ink yours on the back of your forearm while your BFF flaunts hers on the opposite side. 
81. "LOVE" Finger Text Tattoo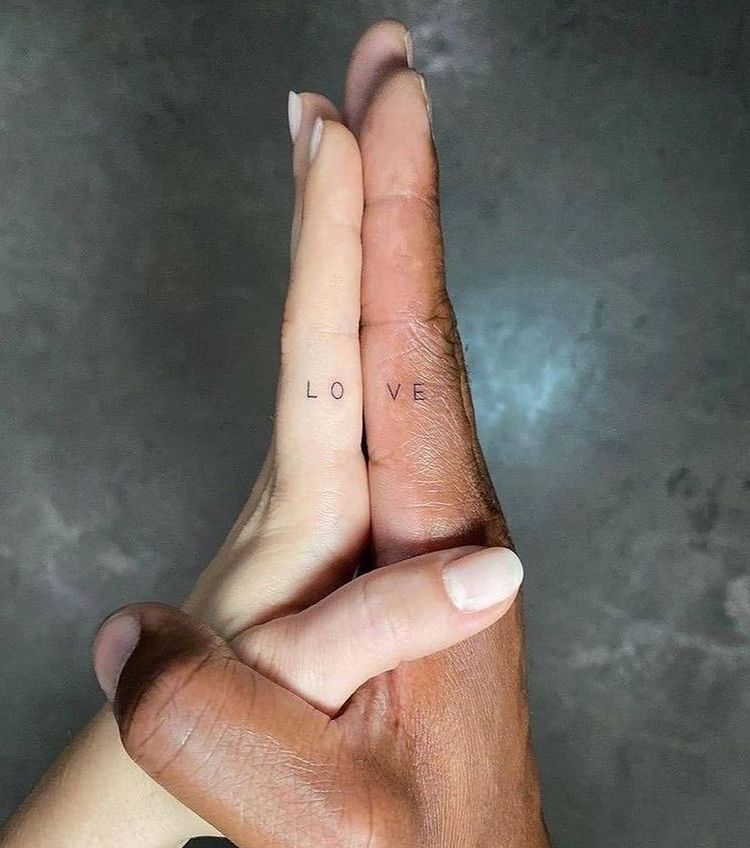 Use the letters from the word "LOVE" to create a connecting tattoo. With the right spacing, ink the first two letters on your index finger to complement the remaining on your best friend's
82. Floral Postage Stamp Tattoos
No matter how far you are from your friend, a postage stamp tattoo is a sentimental way to bridge the gap. Design it as cute as you want with fancy edges and floral art.
83. Cursive "Always" Tattoo
The best friends in life are the ones you can count on forever. This "always" tattoo is a stylish yet subtle reminder that your bestie won't leave your side.
84. Wine Glass Toe Tattoo
Wine glass tattoos are definitely some of the most popular, but it's certainly unique to see the design inked on toes. I've got to say, it's a cute look. Plus, it can be easily concealed if that's your preference. 
85. Fancy Heart Tattoo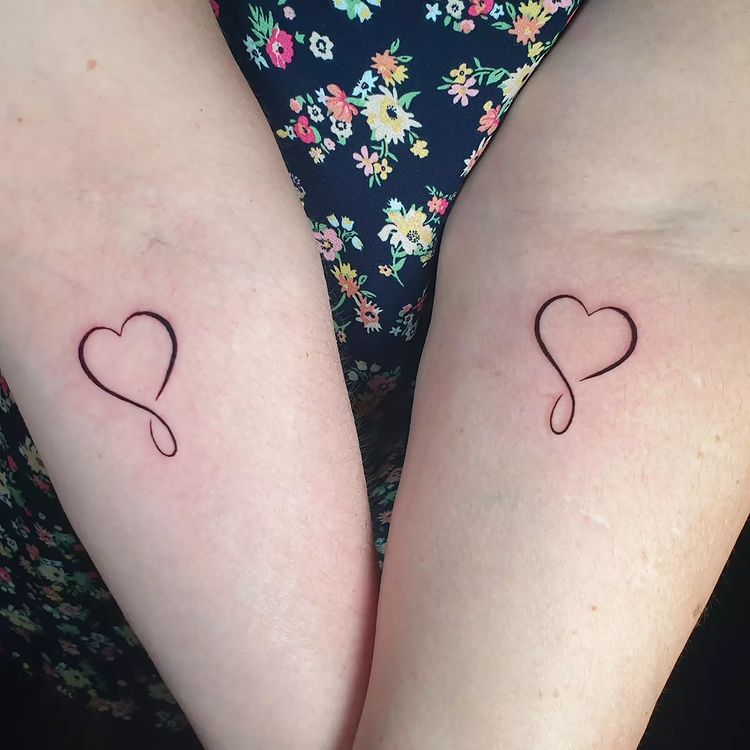 I love when heart tattoos are displayed in creative and stylish ways. Instead of forming its suual shape, the end loops into a curved tail for emphasis and a fancy finish.
86. Pinky Promise with Looping Line Tattoo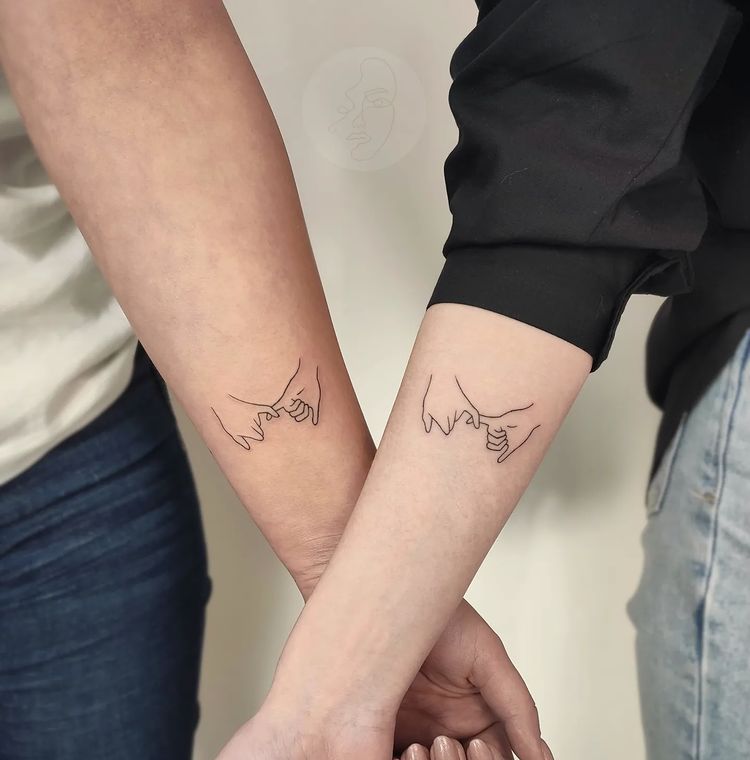 Here's another fancy design that's perfect for besties. A looping red line connects both pinkies together, forming small hearts at the end for an extra sentimental touch.
87. Quaint Leaf Tattoo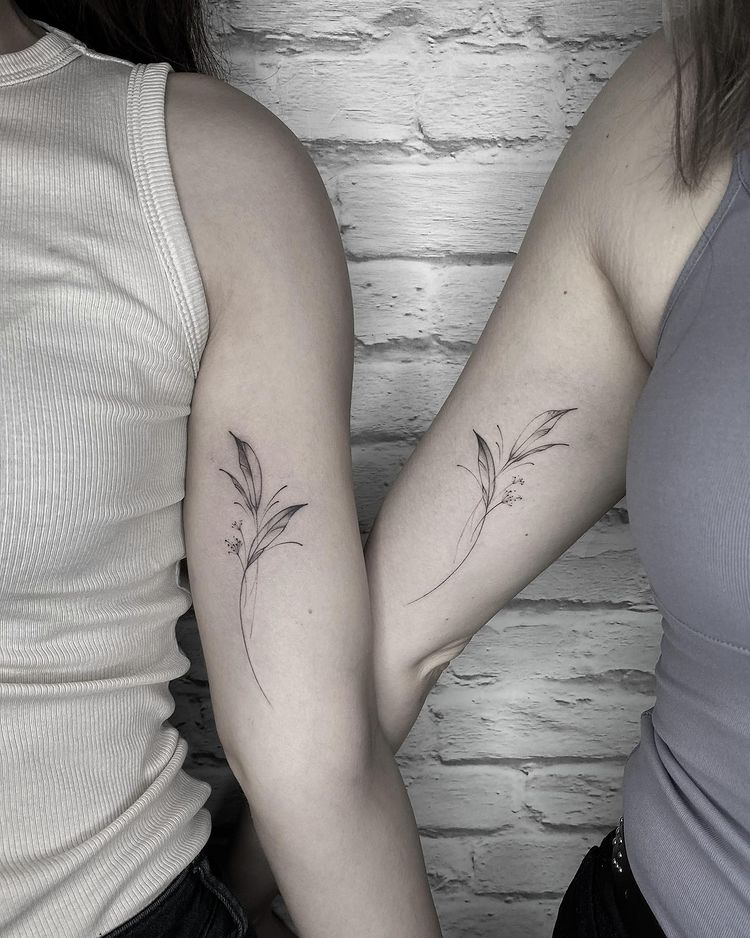 I love the whimsical style of these leaf tattoos. They cover much of the forearm but in an elegant way with light shading and quaint linework.
88. Birth Year Leg Tattoos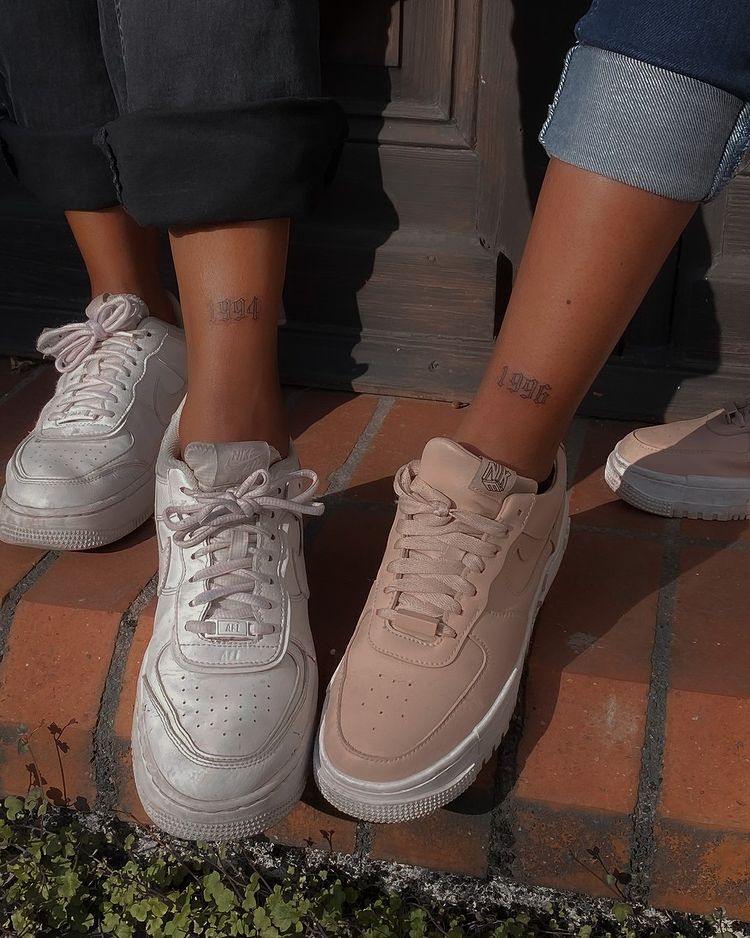 Rock the year of your birth on your leg and have your bestie do the same. Opt for a stylish font that's still legible for the best results. 
89. Rose Leg Tattoo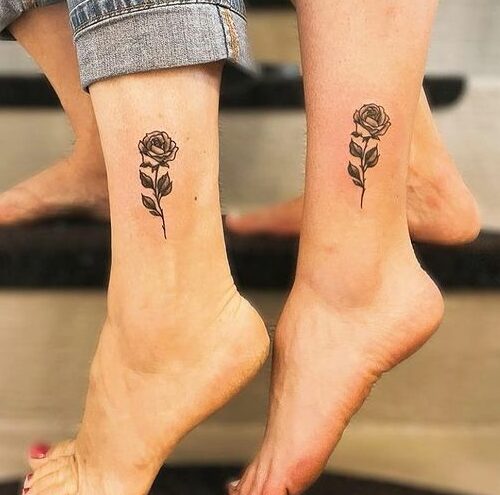 For a bold design with a classy touch, opt for a perfectly shaded rose. Inked along the side of the leg, this tattoo is oozing femininity.
90. Hand Hugging Heart Tattoo
I love the unique touch given to this heart tattoo. It's such a cute expression of love with an arm extending from one side to the other.
91. Mosaic Diamond Tattoo
For colorful and uncommon designs, abstract mosaic tattoos are the best! I was won over by the combination of colors and the diamond shape, which is so cool.
92. Abstract Sun and Moon Tattoos
With the right shading and details, your BFF tattoo can truly stand out. Here, the popular sun and moon design is taken to another level, with both elements being held by immaculately inked hands.
93. Butterfly Text Tattoos
Like the yin to your yang, your BFF may be your total opposite. Celebrate your differences with these contrasting butterfly text tattoos.
94. Girly Girl BFF Tattoo
The bond of true friends can never be broken. I love how this artwork captures the idea in a fun and creative way, with two girly girls having a chat on either side.
95. Infinity Symbol Tattoo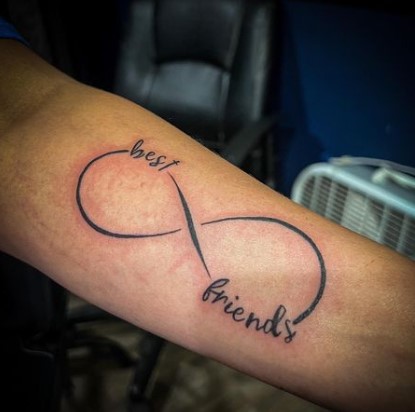 Keep things plain and simple with a cute infinity symbol tattoo coupled with the words "best friends" in the script.
96. Red and Black Flame Finger Tattoos
Your matching BFF ink doesn't have to be identical. These finger tattoos are both flames, but their colors set them apart.
97. Cursive "Focus on the Good" Tattoo
This tattoo serves as a permanent reminder to stay positive. It's food for thought that a good friend would always hope to leave behind.
98. Cursive "You're My Person" Tattoo
Script fonts are best for sentimental messages like these, and the cute heart at the end is like the icing on the top.
99. Maple Leaf Tattoos
The maple leaf is associated with so many meanings, but for you and your bestie, a love for nature may be the greatest of them all. Have your maple leaf tattoos designed in different colors to set them apart.
100. F.R.I.E.N.D.S Tattoo
One of the greatest TV shows that taught us about friendships was, of course, F.R.I.E.N.D.S. The iconic logo has been printed on tons of apparel for years. Why not flaunt the trend with your bestie on your wrist in a snazzy tattoo.
Summary and Top Picks
With so many fresh ideas, you and your best friend may need to set some time apart to choose the perfect tattoo that speaks to your amazing friendship. The options are vast, ranging from floral to word art, anime, abstract, and minimal designs.
If I were to choose, my absolute favorites would be:
#2 Minimalist Star Tattoo: I love simple tattoos with a cute touch.
#7 Romantic Roman Numerals Tattoo: The romantic display in the form of Roman numerals is so sweet. 
#12 Crown Wrist Tattoo: The elegance of this design is what caught my eye, and the details are stunning too!
How about you? Which of these best friend tattoos are you and your BFF considering? Share your thoughts in the comments below!