Shoulders are an underappreciated body part. Personally, I think showing a little shoulder is sexier than wearing a short skirt or low top. And a tiny shoulder tattoo is the perfect way to emphasize this point. 
One of the things I hear about tiny tattoos is, "They don't seem serious enough." This couldn't be further from the truth. Just because a tattoo isn't large doesn't mean it isn't meaningful. 

If you're on the hunt for inspiration for your next tattoo choice, check these out. Here are some of my very favorite small shoulder tattoos trending this year.
1. Teeny Tiny Heart Indent Tattoo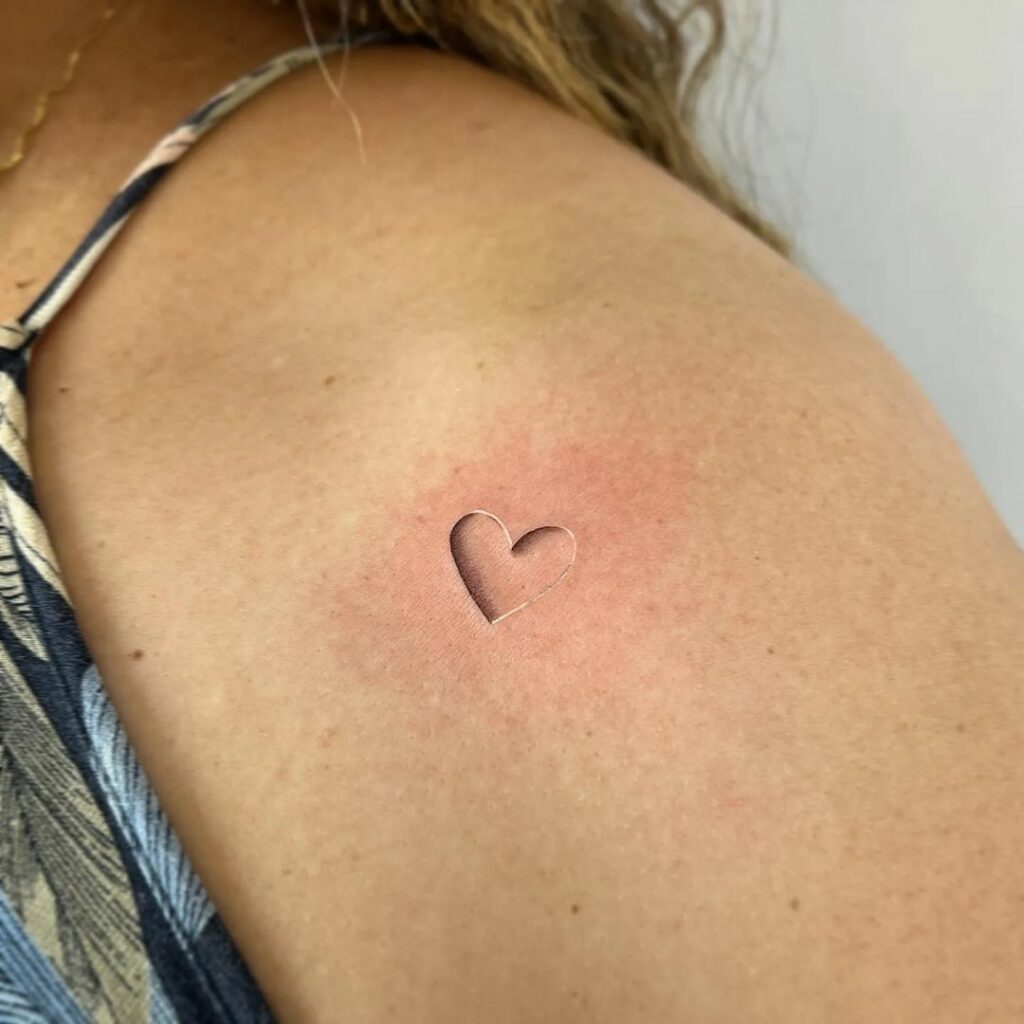 Heart tattoos are always trending, and this little shoulder tat includes an optical illusion. With a white outline and gray shading, it looks like a tiny heart-shaped indent. 
2. Diaphanous Butterfly Design
Butterflies are another popular shoulder tattoo idea. This beautiful little guy is done with extremely fine linework. The result is an ethereal diaphanous design that appears otherworldly.
3. Pointillism Moon Shoulder Ink
Moon tattoos carry many meanings, including change. I see plenty of crescent moons, but this one is unique. Inked entirely in fine pointillism, it gives the moon a mystic edge. It also goes great with the tiny sun tattoo on her chest.
4. Ornamental Snowflake Tattoo
Every snowflake is unique, just as every woman is unique. This small ornamental tattoo takes the shape of a delicate snowflake. I love the transition between shades of dark and light gray.
5. Dolphin in Waves Shoulder Tattoo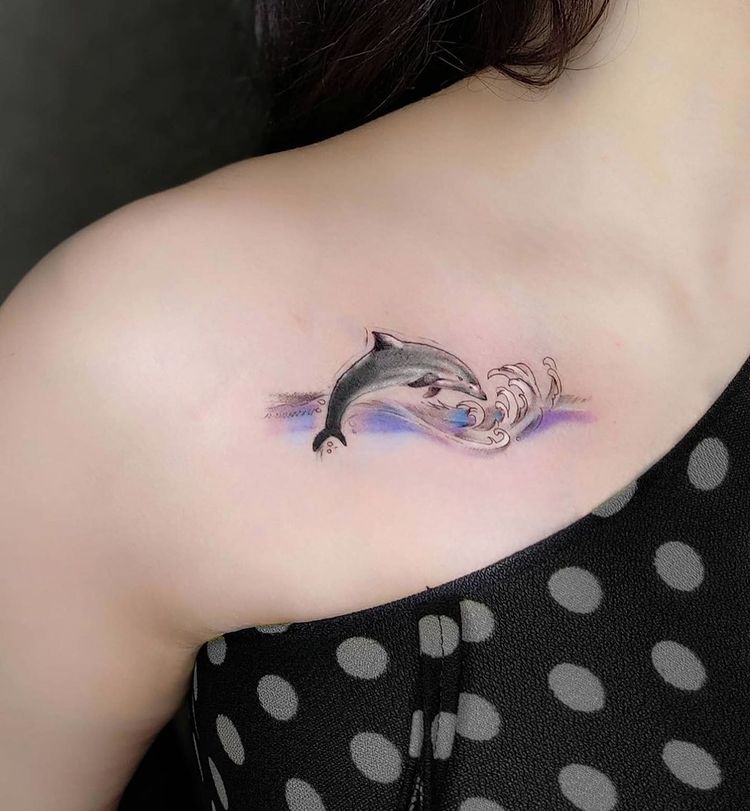 Colorful dolphin art was huge in the 90s, and it's making a comeback. I like this sweet little guy, splashing in and out of the waves. The color was a great choice to bring the dolphin to life in this amazing shoulder tattoo.
6. Delicate Flower Stalk in Black and Gray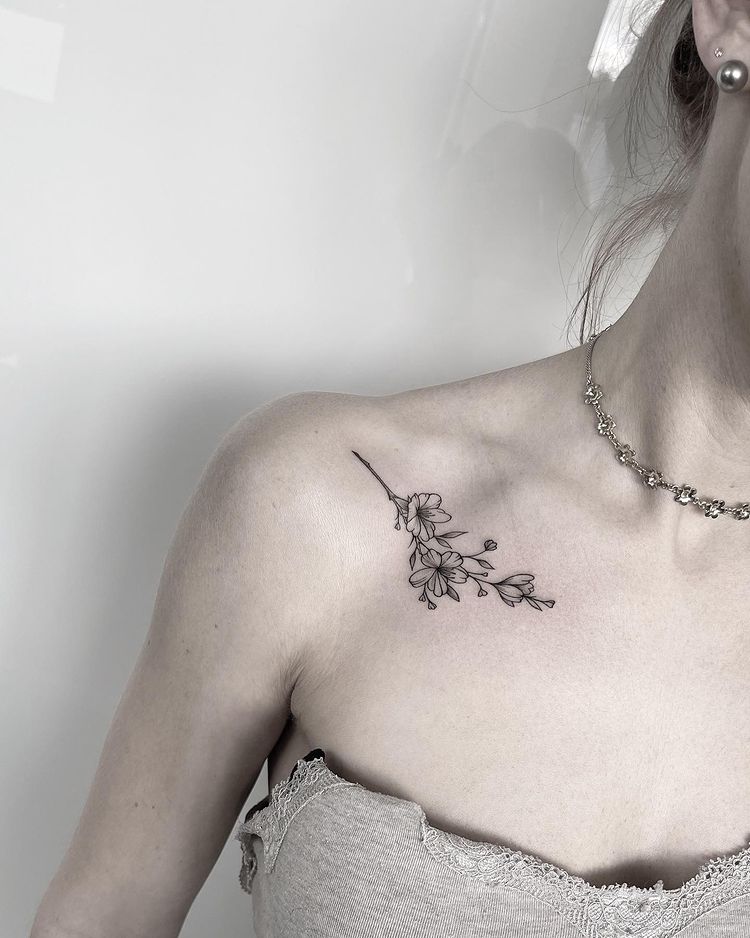 This small flower tattoo is ultra feminine. Delicate linework creates a graceful stalk of blooms worth fawning over. I like that the artist chose to use whip shading here by rotating the needle away from the entry point for fine detail.
7. Freehand Lotus With Fine Shading
Lotus tattoos represent the journey to becoming a fuller person. They're super trendy this year, and this one is especially beautiful. I love fine-line tattoos. They're so dainty and feminine. This lotus is exactly that.
8. Hearts and Stars Inked on a Shoulder
There's something whimsical about these hearts and stars. Tiny symbols representing love and magic make a great addition to any collection of tattoos.
9. Rose in a Glass Case Tat
It's a "Tale as old as time, song as old as rhyme," or so says the Disney classic. This "Beauty and the Beast" inspired rose tattoo makes my inner child gleeful. I love the extremely fine linework on the glass case.
10. Double Lightning Bolt Tattoos
J.K. Rowling's "Harry Potter" series put lightning bolts on the map. These two little matching shoulder tats get me in the feels. I like that the artist used a different color for each piece.
11. Rainbow Hummingbird and Lily of the Valley
Hummingbirds represent resilience, while a lily of the valley means purity. I love the bright colors in this little shoulder tattoo. It has watercolor vibes that give it an artistic edge.
12. Swan Bathing in Moonlight Shoulder Ink
I loved "The Swan Princess" as a kid. Seeing a swan standing in the moonlight makes me believe there's a princess at the other end. I love love love the delicate details in this piece. The swan is so well done!
13. Queen of Tattoos Crown Art
There's a queen in every woman, and this tiny crown tat speaks to me. I love how simple and small it is. It's the perfect way to express your royal energy without going overboard.
14. A Sliver of Moon Tattoo
This crescent moon tattoo is barely visible. It's so small and delicate it could almost go un
15. Mystical Bow and Arrow With Moon and Stars
This graceful bow and arrow appear to be shooting for the stars. I love how ethereal this design is, like something from a fantasy film. The crescent moon and feather embellishment are the perfect details.
16. Bright and Bold Blue Rose Tattoo
The depth of color in this royal blue rose gets me in the feels. I love minimalist tattoos, but this detailed rose makes me rethink that love. The shading and highlights make it look like you could reach out and take it.
17. Tiny Totoro Shoulder Tattoo
Studio Ghibli's "My Neighbor Totoro" is a childhood anime classic. These cuddly little Totoros are absolutely adorable. The simplicity in the design and shading makes them extra-lovable.
18. Moon, Planet, and Snowflake Design
I love the purple and pink colors in this simple galaxy tattoo. Moon tattoos are super trendy, but it's not often you see a snowflake floating in outer space. The planet, moon, stars, and snowflakes somehow work. It's perfect.
19. Stick and Poke Text Shoulder Tat
Sometimes the best tattoos spell things out for you. This tiny red stick and poke tattoo tells the world she's a lover. Better to be a lover than a fighter!
20. Butterfly Fishbowl Crayon Tattoo
The color and texture in this tattoo remind me of crayons on a coloring book. I love the originality of fluttering butterflies in a fish bowl. #colormemine
21. Grandma's Flower Drawing Tattoo
How meaningful is this delicate flower tattoo? It was drawn by her grandmother and inked to keep her memory forever. I love this idea. I also love this tattoo as a standalone concept. It's so simple yet elegant.
Summary and Top Picks
I hope you found some inspiration from my list. Some people worry small tattoos aren't significant. I feel the opposite. Sometimes, the smallest things in life make the biggest difference. It's all about perspective, and these tats have plenty of that.
All of these tiny tattoos are killer, but my top three are:
#2 Diaphenous Butterfly Design: Butterflies represent rebirth, and this one is so well done. I love the fine linework and delicate details. 
#9 Rose in a Glass Case Tat: I love classic Disney movies. This glass-encased rose screams "Beauty and the Beast," and it makes me happy inside. 
#18 Moon, Planet, and Snowflake Design: Who doesn't want to explore our galaxy? This tiny shoulder tattoo takes you to infinity and beyond. I love the snowflake. So unique!
I love checking out the latest tattoo trends, especially for tiny tats like these. Where do you plan on getting your next tattoo? Leave me a comment below!