Lion tattoos are growing in popularity, especially among women. Lions often symbolize fearlessness, and that's a quality most of us need to navigate this world. I love the variety of designs to choose from, both in color and black and gray.
I used to worry that a queen lion thigh tattoo design might be perceived as masculine. The truth is we all have an inner queen, and a lioness is the perfect representation of it. You can also add flowers, gemstones, and other embellishments to soften the tattoo.
Are you searching for the perfect queen lion thigh tattoo? Before you take the plunge, find a pattern you can really connect with. Here are some of my top choices.
1. Abstract Lion in Minimalistic Line Art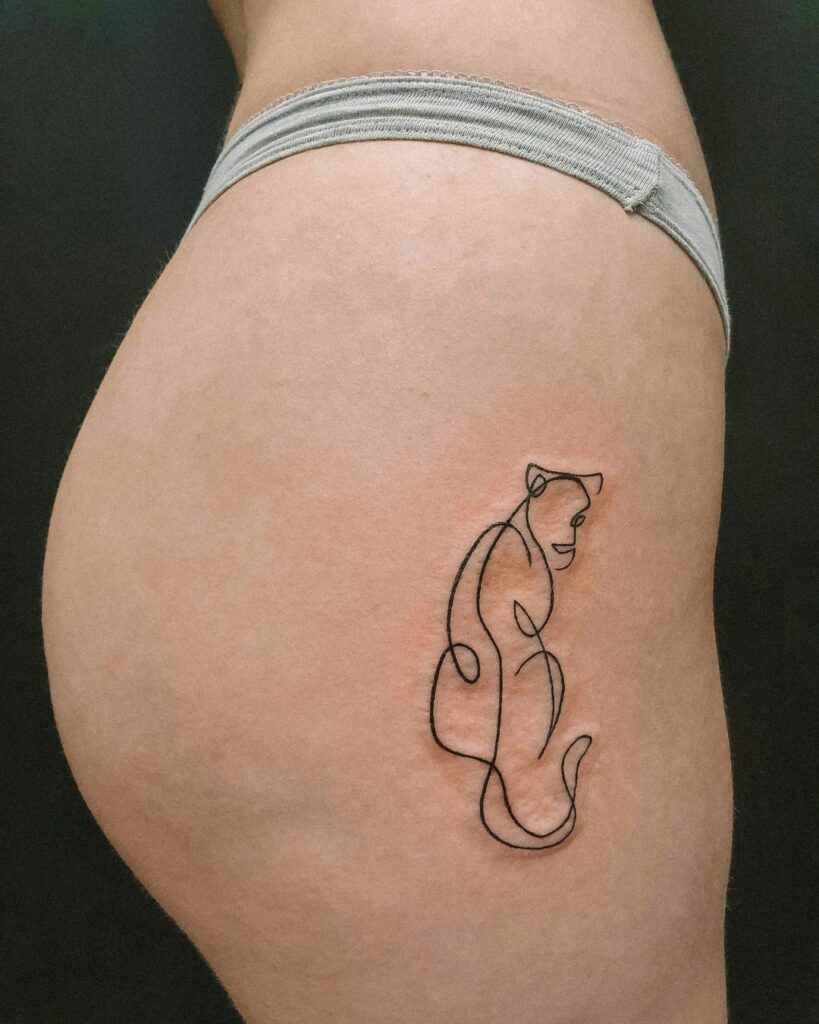 Sometimes the lion inside needs a little shaping. This unique abstract lion is designed with looping line work. The result is a beautiful tattoo that keeps people guessing.
2. Queen of the Jungle Thigh Design
This regal lion wears a crown with a glowing emerald. I love that the only other colored portion of the tattoo is the eyes. They radiate the same powerful energy.
3. Black and Gray Lioness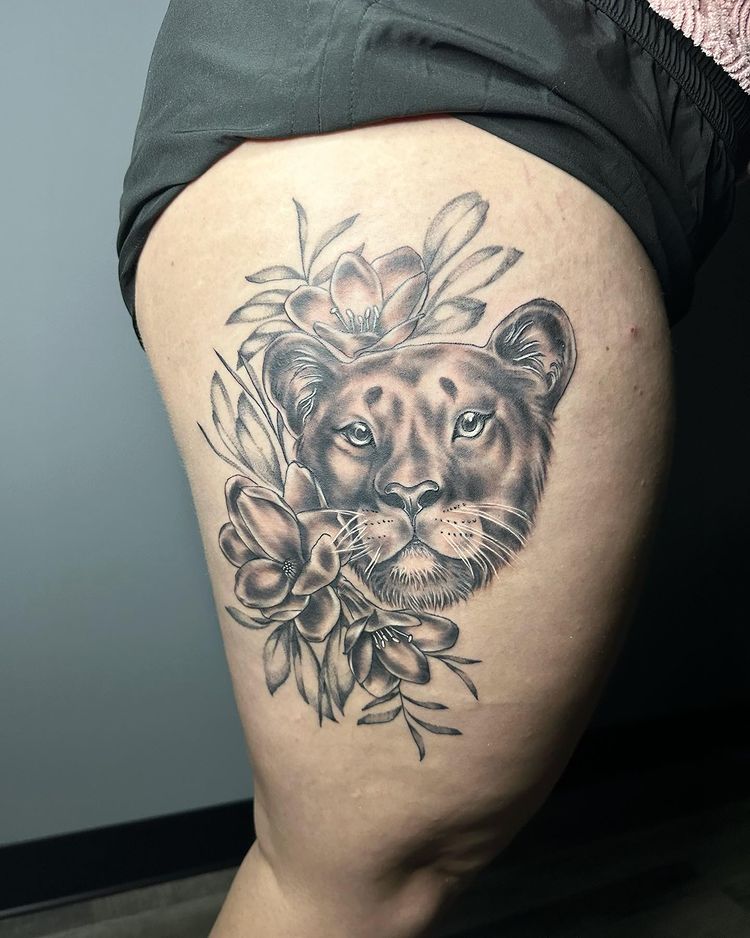 The shading in this lioness thigh tattoo is so smooth it looks air-brushed. Her glossy fur resonates with pride, enhancing the fearless energy lions possess. I'm a fan of the floral embellishments.
4. Crowned Queen Lion Tattoo
This playful lioness has a mouthful of vines and flowers. It's whimsical but delicate in the careful linework the artist has chosen. The royal crown atop her head speaks to her courage and confidence. 
5. Decorative Lioness With Mandala
Mandalas represent our search for wholeness in the dream world. It takes bravery to look inside and try to be better. This gorgeous lioness tattoo has such soulful eyes. I'm loving the highlights.
6. Thoughtful Lioness With Crown and Flowers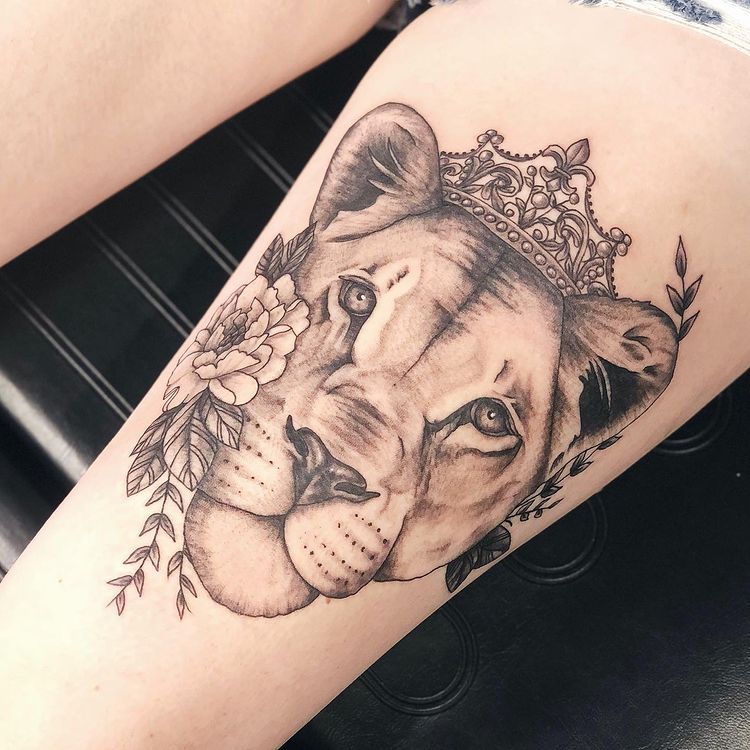 Flowers are a growing theme among queen lion tattoos. This one uses impressive detail on the beadwork and fleur-de-lis. I like that the artist chose a thoughtful expression for her.
7. Peony Lioness Hybrid With Geometric Background
This is one of the most unique queen lion tattoos I've come across. I adore the way the peony petals make up the animal's face. The geometric pattern behind her adds to the segmented quality of the design.
8. Weeping Willow Mane
Female lions don't have manes. This gorgeous rendering of weeping willow fronds creates one for our lioness. The peonies keep the feminine energy on point.
9. Queenly Lion With a Heart-Shaped Beauty Mark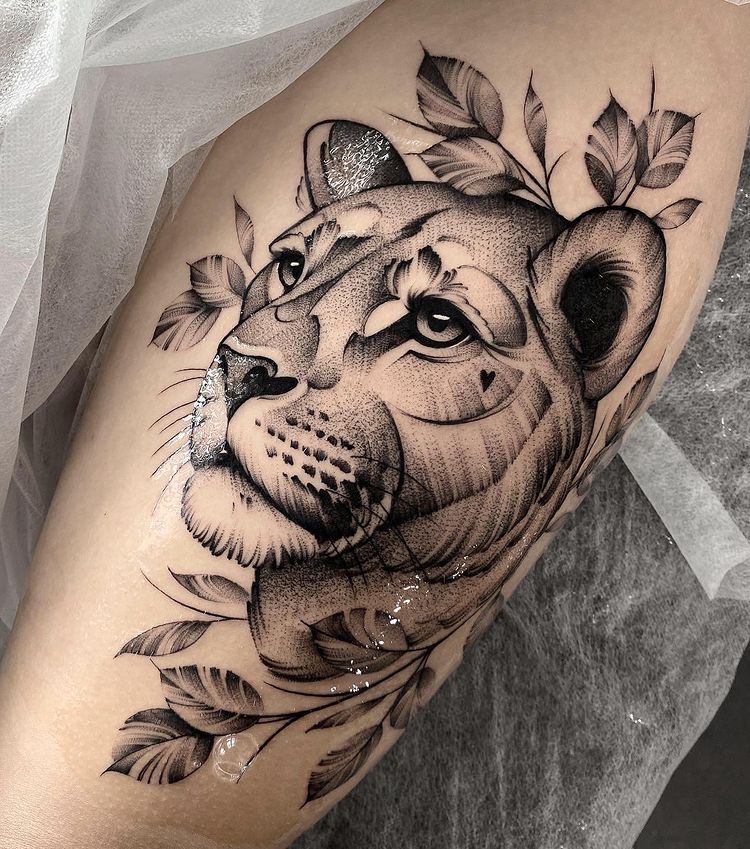 I'm obsessed with this bold queen lion. The black ink is so rich. It makes the highlights in her eyes pop. The heart-shaped beauty spot is the perfect finishing touch.
10. A Bear of a Lioness With Flowers
Botanical lions are extremely trendy this year. With more classic peonies, this lioness stands out because of her short face and round ears. She has a bear-like quality that makes her look quite cuddly. Don't judge a book by its cover.
11. Diamond Framed Lion Lady
Geometric tattoos have taken off this year, and I love to see artists mixing designs. The queenly lion in this tattoo is so finely detailed. It makes the unassuming daisies appear light and delicate before her.
12. Feather Headdress and an Eye for the Flowers
With petals for lashes and feathers in her hair, this lioness is ready to rule. I've seen similar base designs, but this one has a variety of unique elements I really enjoy. If you look closely, you can see the beginning of a mandala.
13. A Mother and Her Cub
Parenthood tattoos are meaningful. This mother lion and cub are a wonderful way to express love for a child. I like the minimalist approach to the peonies and cherry blossoms.
14. Fantasy Colored Botanical Lioness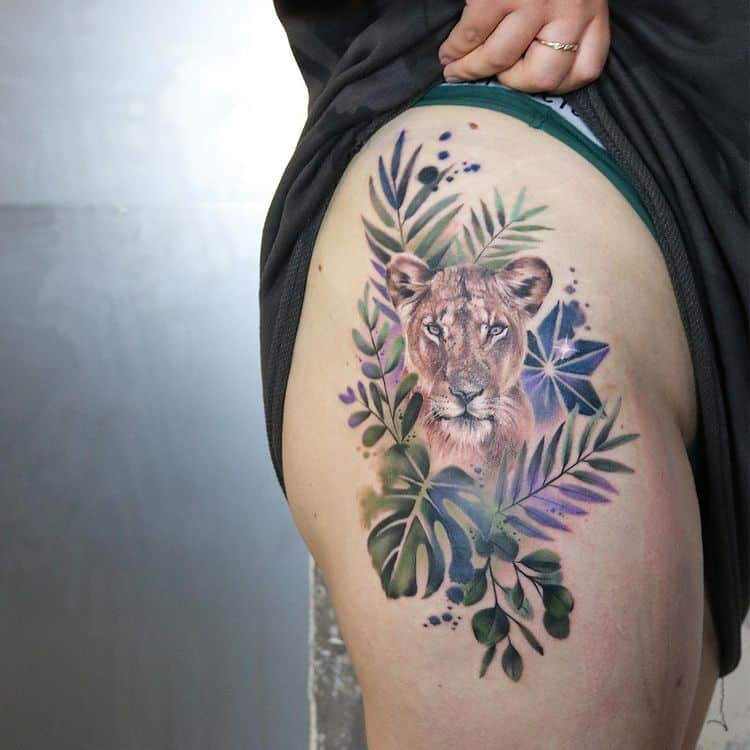 The color and light in this tattoo are epic. I love the way the artist captured the lion in the jungle without the use of black outlines. The colors blend together effortlessly in an almost ombre effect.
15. Two Parts of the Same Whole
This tattoo gives me majorly mystic vibes. The beautiful anime woman with the crescent moon on her head appears to be one-half of a being. The lioness completes her.
16. Throwing Shade Lioness in a Garden
The shading in this design is phenomenal. I don't think I've ever seen a black and gray tattoo with so much light in it. There's an ethereal glow to the lioness.
17. The Woman Within the Lioness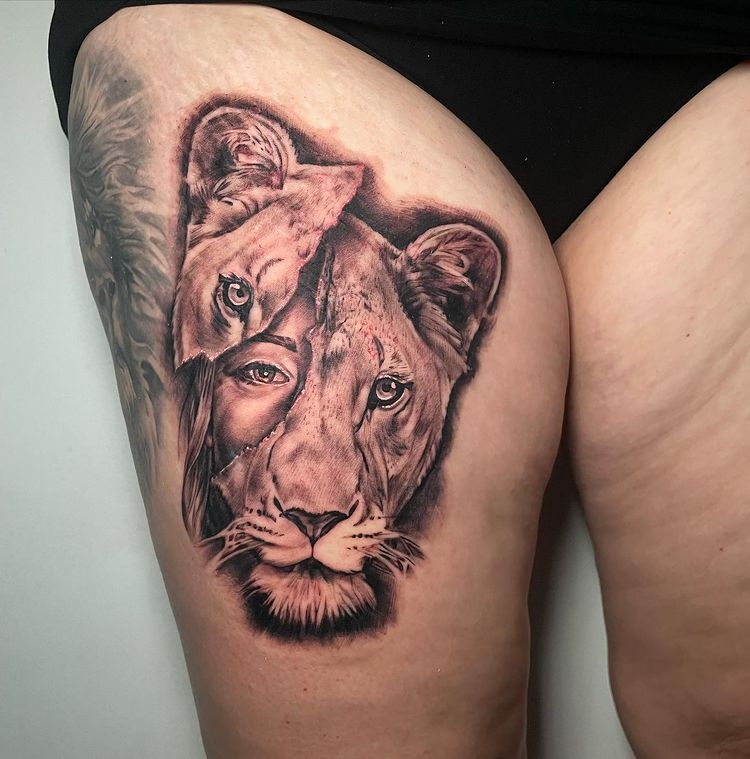 Women are multifaceted. We have so much hidden within us if we're willing to look inside. I adore the significance of this piece. Inside every woman is a lioness, but perhaps inside that lioness, there's something more.
18. Unique Watercolor Lion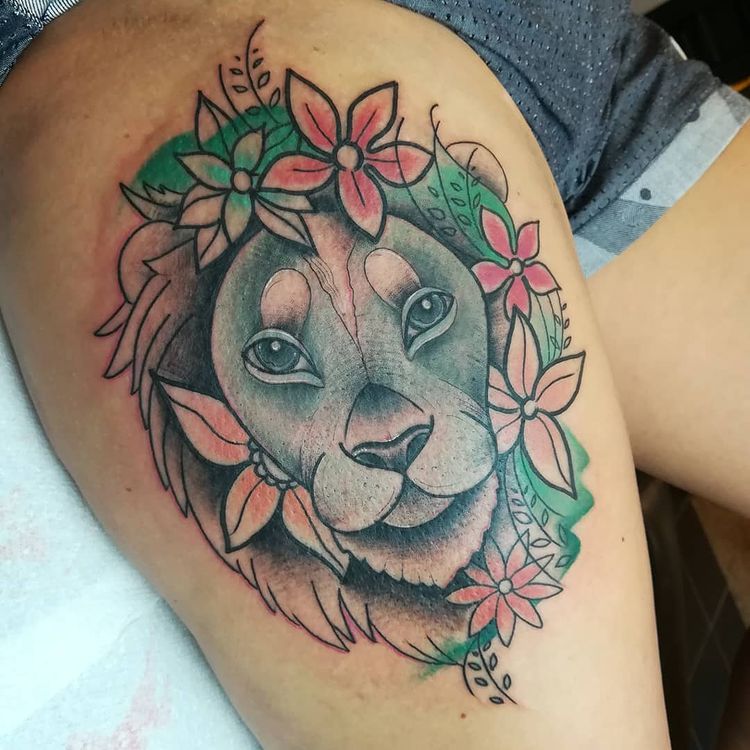 There's something about this watercolor lion design I really like. It has fantasy elements to it. The eye patterns remind me of something you'd see in a circus, but not in a silly way.
19. Loving Mother and Her Cubs
What mother hasn't been there during a family photo? The playfulness and family component in this design is heartwarming. A mother lioness and her two curious cubs.
20. Full-Color Lioness With Monarch Butterfly
So many queenly lions are inked in black and gray. This full-color design makes me so happy inside. I love the way the orange and blue butterflies soften the look and meaning of this tattoo.
21. Ruby and Mandala Queen
Red means many things in tattoos: love, passion, power, and bravery are only a few. I love that red is carried through this lioness design from top to bottom. It enhances everything from the dreamlike mandala to the ruby in her crown.
Summary and Top Picks
Thigh tattoos come in all shapes and sizes. I'm loving this queen lion thigh tattoo trend. Whether you choose a design with soft feminine energy or something edgy and masculine, The design is yours to select. 
All of these gorgeous lions are queens in my eyes, but the top contenders are:
#3 Black and Gray Lioness: A literal representation of a queen lion. For someone who loves color, this black and gray tattoo speaks to me. 
#7 Peony Lioness Hybrid With Geometric Background: I'm head over heels for this unique take on a lioness. She's one with the peonies.
#21 Ruby and Mandala Queen: The color in this piece makes it stand out. From the red of the ladybug to the ruby to the mandala, it's perfection. 
I hope scrolling through all these queenly designs has helped you find your perfect match. I'm curious, what is it about lion tattoos that speak to you personally? Comment below and let me know!