Thigh tattoos are trending hard. It's a sensitive place, but a large canvas, inspiring many big beautiful designs. I love the array of floral and nautical-themed tattoos popping up lately. There are also a lot of unique designs to love. 
One of the troubles with choosing the right thigh tattoo for black females is having to validate your choice. You don't need to convince anybody why your tattoo is meaningful to you. That's the beauty of art. It is what you make it. 
Are you looking for a new thigh tattoo? Before I choose a design, I like to see what other people are inking. Here are some of my favorites. 
1. Mysterious Underwater Multitaskers
These octopus tattoos are gorgeous! I love that they match but are unique in their own way. Perfect for best friends or sisters. The deep jewel tone colors are extra opulent.
2. Comic Book Catch Phrases
"Pow!" is the perfect catchphrase for a powerful woman. The bright colors, even faded with age, look spectacular on her. The placement on her upper thigh elongates her legs. #legsfordays 
3. Body Positive Mermaid With White Highlights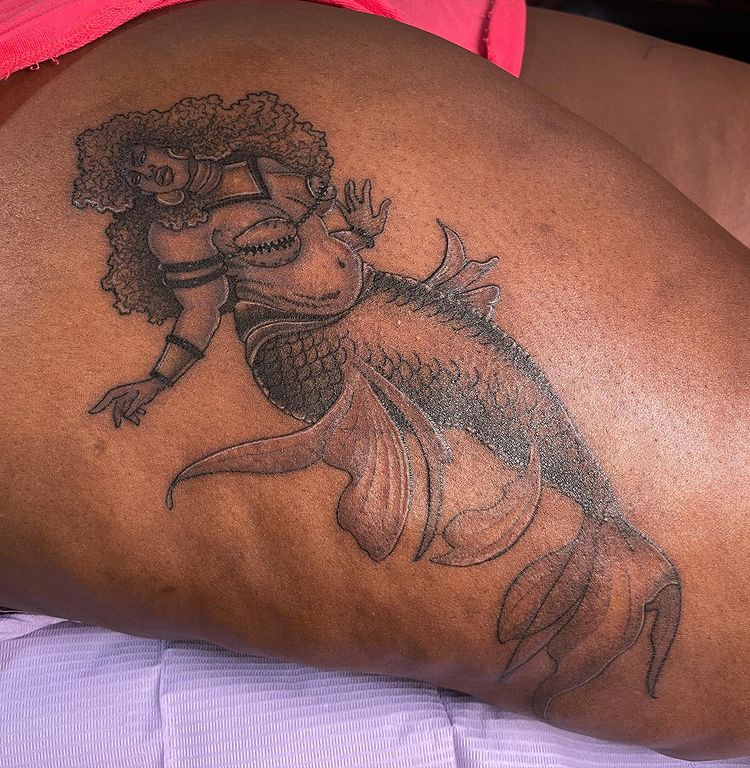 I love supporting my fellow women. We come in all shapes and sizes, and each and every one of us deserves to be a mermaid. This beautiful fine line tattoo emphasizes body positivity. I love the white outlines.
4. Two Stunning Cowry Shells
Cowries are a type of sea snail. Their unique shells are often scalloped at the edges. In West Africa, cowries have been used over the years as money and for religious purposes. These two larger-than-life thigh cowries are beautiful.
5. Protective Dagger Thigh Tattoo
Weapons aren't always to harm. Many were originally created to defend. This protective dagger looks badass. The stippling on the handle gives this thigh tattoo a glossy look.
6. Fierce Black Panther Thigh Tattoo
This black panther is looking powerful and confident. Her big hoop earrings and winged liner show the world she ain't taking sass from anyone. The fine detail in the piece really makes it shine.
7. Classic Fine Line Peonies
Peonies are a classic tattoo flower design. This fine linework creates a delicate look to the blooms. The shading in the leaves and tiny fern accents tie the tattoo together. 
8. Nutmeg and Tropical Flower Tattoo
I love the unique elements of this tropic-inspired tattoo. The deep pink hue of the flower is a perfect contrast to the green palm tree and golden nutmeg. All that's missing is surf and sand. 
9. Huge Blooming Peonies on the Thigh
Another striking peony tattoo. Peonies stand for love and honor. These huge blossoms have so much depth to them. The layers of petals are evident by the artist's use of shade and light.
10. Empowering Medusa Leg Art
Powerful women seek out other powerful women. Medusa got a bad rap in Greek mythology. She stands today as a symbol of the strength of women, especially against domineering men. This tattoo is a reminder of that strength.
11. Simple Elegant Butterfly Tattoo
I love this delicate little butterfly more than words can see. It's so simple, yet so beautiful, just like a real butterfly. They often represent freedom and rebirth.
12. Back-of-the-Thigh Script Ink
Back-of-the-thigh tattoos have a little something extra. They're bold and sensual. This "Black Divinity" tattoo packs a powerful meaning. The gorgeous script work is spot on. 
13. Sun, Moon, and Roses
The sun represents masculinity, while the moon implies femininity. We're all a mix of both, no matter our sex or gender. This tattoo embodies that balance. The roses add a little extra feminine power to the design. 
14. Pale Pink and Green Lotus and Hummingbird
Hummingbirds are small and delicate. The pastel shades in this tattoo enhance that ethereal quality. Lotus flowers indicate a longing to be a better person and rise above negativity.
15. Amazing Mermaid Thigh Piece
This mermaid has grace and attitude. Her long majestic tail is looking fierce, and her hair is taking nonsense from nobody. I love the minimalist approach. Less is more. 
16. Botanical Beauty Thigh Art
Mangos, lemon balm, and sunflowers make me think of sunny summer days. Each of these elements is sweet, and the artist has captured that with warm colors and fine line work.
17. Nkonsonkonson Adinkra With Flowers
This ode to Ghana uses the Nkonsonkonson Adinkra, a West African symbol representing unity and strength. I love the way the flowers and leaves grow out of the symbol, showing perseverance. 
18. Large Blooming Sunflower Thigh Tattoo
Sunflowers signify good luck and long life. Multiply that by three, and this lovely lady should have happy days ahead. Sunflowers have always made me happy inside. I love the look of this thigh tattoo.
19. Detailed Pineapple Leg Ink
I've seen a few pineapple tattoos, but this one is the boss. I love not only the level of commitment to ink such a large fruit on your upper thigh but the detail too. This design has such gorgeous shading. Looks good enough to eat.
20. Moonbeams and Starlight in Her Hair
I think this might be my favorite of this bunch. A crescent moon and twinkling stars in her hair mean this girl is a dreamer. The smile on her beautiful face says the dreams are good ones.
21. Deep Black Mandala Fading to Flowers
This almost symmetrical mandala represents our search for self-unity in our dreams. I like that the geometric design fades into preexisting flower ink. It speaks to the way we build our lives on past decisions and experiences.
Summary and Top Picks
Choosing the right thigh tattoo isn't complicated. Anything that makes you feel confident is the right choice for you. Whether you love bold jewel tones or simple black outlines, your tattoo is yours to wear with pride. 
All of these gorgeous thigh tattoos are praiseworthy. These are my top three:
#3 Body Positive Mermaid With White Highlights: White ink adds shine and depth to tattoos. This mermaid positively shimmers with it. I adore the realism in her body type. 
#11 Simple Elegant Butterfly Tattoo: Butterflies are delicate in reality. This tiny winged creature amplifies the quality with fine lines and minimal details. 
#20 Moonbeams and Starlight in Her Hair: Having dreams is important, and this beauty with a crescent moon and stars in her hair is a dreamer for sure. I'm in love with this one. 
These tattoos have so much meaning and soul to them. I love the way color and black and white tattoos make such a stark difference from one to the other. Are you more of a color gal or a black-and-gray tattoo enthusiast? Leave me a comment to explain why!