Thigh tattoos are trending this year, providing a broad scope of canvas for artists to work with. They're a great way to add a little sex appeal to your look because thighs are innately sensual.
Some women wonder what makes a thigh tattoo sexy. I think it comes down to confidence and power. If your tattoo makes you feel poised and capable, I'd say that's one sexy tattoo!
Finding the right thigh tattoo is like looking for a needle in a haystack. Here are some of my favorites to draw inspiration from. Be sure to check out my top three sexy thigh tattoos at the bottom of the blog. 
1. Mandala Blossom with Teal Accents Thigh Tattoo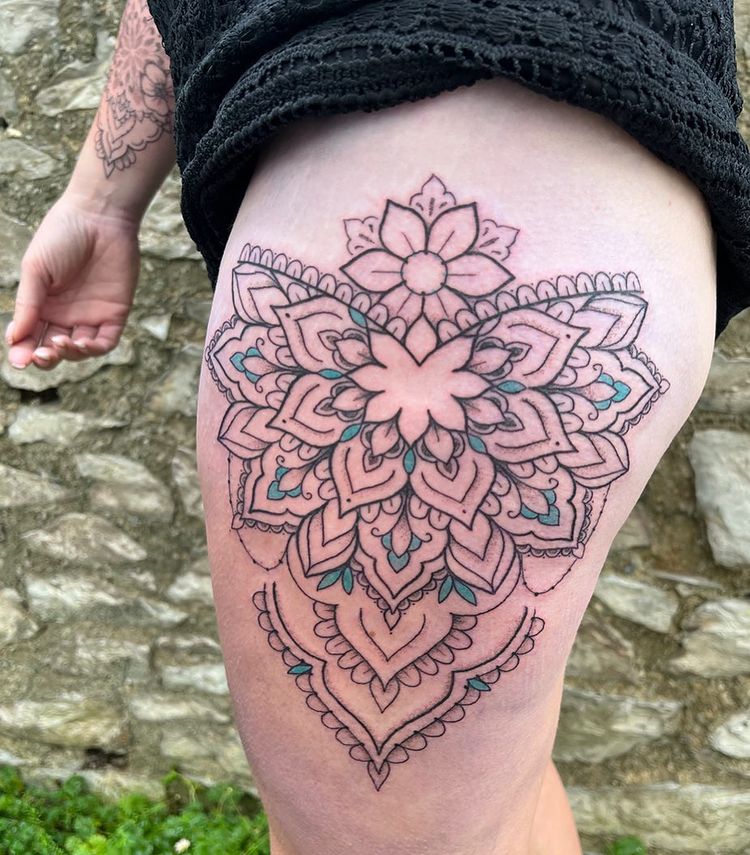 Mandala tattoos are trending big time. This beautiful piece splays across the side of her thigh. Mandalas represent the dreamer's search for completeness. There's nothing sexier than knowing who you are inside.
2. Reaching Tiger With Flowers Tattoo
Tigers mean power and strength. This black and gray tiger tattoo have all the makings of an epic thigh piece. The lilies in the background, combined with a thin crescent moon, add a touch of femininity.
3. Large Medusa Tattoo With White Eyes
I know what you're thinking, but Medusa is another wonderful representation of the power of women. She was seduced by Poseidon and punished by Athena. Recently, she's become a symbol for survivors of abuse. 
4. Thigh-to-Side Extra-Large Rose Blooms
These gorgeous roses are made sexier by their placement. Creeping up her thigh, across her hip, and onto her side. If this black and gray tattoo doesn't turn heads, I don't know what will.  
5. Cobra and Peaches Thigh Art
Cobras carry many meanings, including wisdom and strength. Like the tiger, this is a confident predator. I love the addition of peaches in this thigh design. It softens the black ink and hints at a playful, youthful side.
6. Garter and Ribbon Tattoo
Garters are a staple in seductive lingerie. This sassy tattoo turns up the heat. I enjoy the way the shading adds depth and movement to the piece. That little pink bow is the cherry on top.
7. Thigh Jewelry Butterfly Tattoo
The jewel tones in this butterfly tattoo are emphasized by the surrounding jewelry. Large gemstones and intricate dot work create a feminine design I simply adore. After all, diamonds are a girl's best friend. 
8. Celestial Bodies on Her Body
There's something mystical about sun and moon tattoos. This black and gray tattoo includes both and a small mandala embellishment. The moon and sun often represent femininity and masculinity. This design is truly something. 
9. Beautiful Woman Surrounded by Roses
Women in tattoos are trending. Especially beautiful women with pouty lips and alluring eyes. This gorgeous gal is surrounded by inked roses. The thigh was the perfect place for this design. 
10. Dreamcatcher Tattoo With Monarch Butterflies
The orange of the monarch butterflies stands out against the grayscale moon and dreamcatcher tattoo. Feathers hang down as a reminder that this moon is a good omen.#beautifuldreamer
11. Regal Crowned Lion Tattoo
This crowned king of the jungle is a great representation of strength and bravery. Being a woman, even in this modern world, requires a bit of both. I love the feminine additions to this piece, including the gemstone and feathers. 
12. Transforming Flower Butterfly
Butterflies already have a connection to metamorphosis. This butterfly is one part winged creature, one part flower. I love how the wing pattern also looks like petals. 
13. Bright Phoenix Thigh and Hip Tattoo
The colors in this phoenix thigh tattoo are stunning. Orange, red, yellow, and blue come together to celebrate the theme of rebirth. It starts just above her knee and finishes at the hip. That's a spicy tattoo.
14. Abstract Colorblocked Crysanthemum Tattoo
This amazon chrysanthemum tattoo is a work of art. The color block technique gives it an abstract painted-on look I love. The color palette is phenomenal, blending petals into leaves with an ombre effect. 
15. Mythical Valkyrie Warrior Tattoo
Valkyries are mythical Norse warrior women. They are chosen by the god Odin to pick the fallen warriors worthy of a place in Valhalla. This beautiful thigh art is larger than life, including a Valkyrie in full armor. 
16. Black and Gray Dragon Tattoo
I'm living for this long dragon thigh and hip ink. The dragon is done in an Eastern Asian style with a few starbursts for extra pizzazz. The delicate linework makes for an extremely detailed tattoo.
17. Bright Red Line Work Peonies
Peonies mean love and honor. These unique blooms are inked entirely in lines. No filler color. No shading. The simplicity of it creates something with depth and meaning. I love the use of only red and black as the color palette. 
18. Dreaming in Color Thigh Ink
Dream catchers represent safety. This beautiful dreamcatcher tattoo is captivating with a rich depth of color and detail. I love the way the roses are inked. They almost look like origami. 
19. Botanical Bookwork Thigh Art
Book smarts are sexy. This on-trend botanical tattoo captures a bookwork at her best. I like the minimalism in the piece. It makes you think about the message, not just the picture. 
20. Wild Roses on a Vine Tattoo
The way these wild roses wrap about her thigh resembles a garter. I love the graceful look they lend with fine line work and subtle shading. Gray, rather than black, is the perfect color for this piece. 
21. Floral Thigh Tattoo With Hidden Butterfly
Peonies, daisies, and sunflowers create a botanical paradise in this black and gray tattoo. The butterfly is encircled by a dot and line work circle. It makes me think of a garden on a sunny day. #flowerpower
22. Moon Phases Garter Tattoo
I love these unique garter-style tattoos. Moon phases are a popular tattoo for women. We live our life by the moon, and it often represents femininity. This detailed tattoo is absolutely lovely. 
23. Camping Tent Thigh Tattoo
Sexy is subjective. To me, knowing what you love and expressing it is very appealing. That makes this starlit camping tattoo a beautiful thing. Who doesn't love a girl who loves nature?
SEE ALSO: 110 Trendy Shoulder Tattoos for Women
24. "The Lovers" Tarot Tattoo
This dark, edgy tattoo gives me goosebumps in the best way. The Lovers card represents the choices we make in relationships and is one of the major arcana cards. 
25. Geometric Rose in Bloom
I'm obsessed with this geometric rose design. The way the artist framed the flower to include color only inside one triangle hints at a deeper meaning. The beauty of art is in the eye of the beholder.
26. Two-Headed Serpent Thigh Ink
The two-headed snake represents rebirth and renewal. This sexy thigh piece shows the duality of the two heads. One is calm, and one is ready to attack.
27. Colorful Feminine Flower Tattoo
The subtle muted colors in these flowers are so feminine. Even the leaves have an almost Victorian-style color and design to them. 
28. Floral Love Heart Tattoo
A wreath of roses for love and friendship makes this thigh tattoo meaningful. The heart shape adds to the love theme and exposes bare skin in the center for a little va va voom. 
29. Borderless Bird Nesting in Flowers
Borderless tattoos are my new favorite thing. I love the way the artist creates the design with only color and shading. The long feathers sweeping down her thigh elongate the leg and draw the eye. 
30. Large Stippling Shaded Peonies
Peonies are a classic tattoo choice. These extra-large blooms look elegant across her thigh and hip. I like how the stippling technique was used to shade the leaves and petals. It adds highlights without the use of color. 
31. Marco Mazzoni Lily Design Tattoo
Marco Mazzoni is famous for his pencil color sketches of flowers and female portraits. This gorgeous Mazzoni-inspired tattoo features a mysterious woman with calla lilies for hair. 
32. Geometric Starburst Floral Tattoo
This eye-catching starburst design is totally captivating. The geometric pattern forms a flower shape, exploding outward from the side of her thigh. It accentuates her curves and draws the eye. 
33. Cherry Blossom Tree and Tiger Tattoo
Tigers are cunning and powerful, while trees represent birth and death. In a way, this tattoo tells us to be brave in life and live to the fullest. I love the mix of feminine and masculine energy. 
34. You Are My Sunshine Coffee and Cookies
Cute can be sexy too. This adorable coffee and cookie cartoon tattoo makes me smile. It's the little things in life that bring the most happiness sometimes. Embrace it!
35. Delicate Pink Blossoms and Greenery
Flowers are a huge trend in thigh tattoos this year. I like the soft simplicity of this delicate piece. The small flowers are so feminine in subtle pink hues with deeper pink outlines. #prettyinpink
36. Traditional Lightning Storm Umbrella Tattoo
I love this umbrella and lightning storm tattoo. It's dark and twisty with a touch of rock and roll. The traditional tattoo technique is the perfect style for this piece. The dark colors and minimal detail makes the tattoo noticeable. 
37. Sexy Hip and Thigh Pirate Ship
What's sexier than pirates? This pirate ship tattoo is edgy and fun. I love all the tiny details, including the waves and linework in the clouds. The skull and crossbones below are an homage to the Jolly Roger. 
38. Longstem Roses With Abstract Leaves
How sweet are these roses? The long stems elongate the thigh, and the little thorns remind us that with pleasure comes pain. I love the abstract leaf designs. The hatchwork creates small geometric patterns. Very trendy.
SEE ALSO: 21 Thigh Tattoos For Black Females to Rock
39. Little Bird Free From Its Cage
I love the colors in this birdcage tattoo. The large blue peony offsets the golden feathers of the tiny bird. The entire tattoo emanates freedom. 
40. Tropical Flowers, Sand Dollars, and Starfish Tattoo
This tattoo takes you away. Capturing a little tropical vacation on her thigh is a beautiful way to relive beachside memories. I love the intricate shade work. It's original to see a sand dollar, starfish, and shell tucked into a floral tattoo. 
41. Lace Dragonfly Mandala Tattoo
Dragonflies usually represent big life changes. I love the way this artist incorporated gemstones into the dragonfly and the lace design behind it. 
42. Part Wolf Part Design Thigh Art
I love tattoos that are true art pieces. This wolf is just that. The ornamental pattern is on point for current tattoo trends. The wolf represents strength and loyalty. 
43. Heart Spotted Leopard
This leopard tattoo is too cute. I've never seen one quite like it, and I love the placement on her thigh. The little black heart spots make it stand out as a fun and quirky design. 
44. Little Black Birds Flying Free Across Thigh
For a long time, these bird silhouette tattoos were popular. They're back in style, and this delicate piece is thought-provoking. The birds might represent freedom or unity. Their upward direction shows good things to come. 
45. Triple Violet Rose Blooms Thigh Tattoo
Purple roses are royal flowers. They're majestic and represent the enchantment in life. These large blooms look great in a blend of dark and pale shades of purple. The highlights on the leaves are incredible. 
46. Black Snake and Sword With Cherry Blossoms
Wow! This snake tattoo blows me away. There's something edgy yet artistic in this snake design. The stark black with bright pink cherry blossoms show masculine and feminine qualities.
47. Neotraditional Lion in Watercolor With Irises
Bravery is a requirement in womanhood. We go through some stuff. This lion is a wonderful representation of that bravery. The bright watercolor style inkwork is lovely. The irises add softness and charm to the piece. 
48. Teal Flowers With Paisley Pattern Thigh Tattoo
There's something unique about this deep teal-colored thigh tattoo. The flowers, all inked in different shades of blue-green, are totally captivating. I like the little paisley embellishments. 
49. Amazing Fuchsia Flowers
These gorgeous fuchsia blooms look like they were drawn on in oil pastels. The soft blend is phenomenal. So ethereal and feminine, like something from a dream. 
50. Bright Blue Butterflies Fluttering Across the Thigh
Butterflies make me think of freedom and destiny. Their gorgeous turquoise wings resemble stained glass. It's all very elegant and graceful.
51. Single Simple Rose Tattoo
It's small and simple, but that's what makes it sexy. It alludes to modesty with just a touch of rebellion and fire. I like the minimalism in this piece. It is what it is, just like me. 
52. Lipstick, Roses, and a Lifelike Gramophone
This thigh tattoo blows me away. The realism in the gramophone is astounding. Subtle, understated blush-colored roses and a single red lipstick make this piece pop.
53. Mandala Thigh Band Tattoo
I'm living for this black mandala thigh band. The artist connected the decorative front piece with a narrow line. The result is an extremely delicate band dripping in jewel-like embellishments. 
54. Back of the Thigh Sailor Moon Inspired Tattoos
Whether Sailor Moon has sex appeal or not, these back-of-thigh bow tats are hot! They're playful and give off stocking and garter energy. 
55. Mandala-Inspired Giant Flower Thigh and Hip Piece
This floral mandala gives me poinsettia vibes. The symmetry in the mandala is broken up by the frame of vines around it. This artist exercised extreme patience with stippling shading.
56. Mountain Range and Compass Thigh Ink
Being a world traveler is an attractive quality. This mountain range and compass thigh tattoo hint at places to be discovered. I love how unique this piece is. Among the selection of flowers and butterflies, this stands out to me. 
57. Wise Old Owl With Water Color and Flowers
Owls are filled with mystery and wisdom. This wise old owl has magic in its eyes. The blurred black and white floral background is enhanced by speckled watercolor embellishments.
58. Gold and Orange Phoenix With Red Background
Rising from the ashes, this orange phoenix is set against a red background. I enjoy bright-colored tattoos. This one stands out because of its fiery hues and representation of rebirth.
59. Delicate Front Thigh Lyric Tattoo
Thin, delicate script down the thigh makes a big impact. She's chosen song lyrics from Maroon 5's, "She Will Be Loved." It's vulnerable to share inner feelings on the outside, even in song.
60. Large Crane Thigh Tattoo in Color
Bird tattoos seem to be a popular thigh choice. Cranes stand for hope and peace. This crane is both simple and detailed. The thing that stands out most is its position, as though falling down her thigh. 
61. Legend of Zelda Sword Tattoo
Swords are edgy, literally. This sword has extra meaning because it comes from a beloved video game. For Legend of Zelda fans, this is a top-notch tattoo. I love the colors and ink style. The watercolor ombre look is very in.
62. Elven Princess With Mushrooms and Twinkle Lights
This elegant elven princess is so sassy with her pert freckled nose and pointed ears. I love the earth element of mushrooms. Twinkling stars make it all the more magical. 
63. Time is Fleeting With Dove Tattoo
Clock tattoos remind us of significant times in life or urge us to live life to the fullest. This black and white timepiece has some mystery to it. The bird is a nice touch. It seems to say, "Hurry up, time is fleeting."
64. Full Moon With Muted Moth and Flowers
The muted colors in this moth tattoo are delicate and feminine. Dusty rose and sage green comes together for a unique winged creature perched atop the moon. The black and white flowers amplify the moth's colors. 
65. Death's Head Hawkmoth and Butterfly
Corresponding moth and butterfly tattoos are a sexy look. They emphasize our dark and light sides. The death's head hawkmoth's skull symbol adds a little punk rock vibe to this look.
66. Dagger in a Bramble of Blackberries
This juicy tattoo includes some of my favorite berries. Blackberries are known to be succulent and tart. The dagger only amps up the danger and attitude in this thigh tattoo. 
67. Skull and Flower Leg Design
Speaking of edgy tattoos, this skull is up there. Skull tattoos sometimes symbolize overcoming obstacles. In some cultures, they also represent wisdom and power. 
68. Massive Thigh-Sized Peony and Extended Floral Leg Design
This amazing giant peony is rich in red, orange, and burgundy, with a center of white and gray. The piece extends all the way down her leg in an entire sleeve design. #stunner
69. Thigh and Shin Mandalas
These matching mandalas enhance the decorative element of her leg tattoos. One rests on the lower thigh front, while the other sits below the knee. They're elegant and delicate yet remind me of battle armor.
70. Dripping Jewel Thigh Band
This mandala-inspired thigh band resembles jewelry chains and glittering gemstones. If you look closely, some look like suns and stars, while others are traditional beads. 
71. Sunflower Garden Blossoming in the Fall
Sunflower tattoos are symbols of good luck. These sunflowers look like pencil sketches. I like the blackberries and foliage. It has a distinct autumn look to it. 
72. Black Outline Dragon and Peonies
Outline tattoos in black ink appear simple at first glance. But these intricate designs have a lot to say for themselves. This fierce dragon is powerful and menacing but softened by the peonies and cherry blossoms around it.
73. Spiritual Abstract Girl Tattoo
Women are spiritual beings by nature. This abstract artistic tattoo represents our constant search for inner balance. I love that she's cradling the planet in her lap with the sun for a halo. Powerful women rock!
74. Large Glistening Lily Tattoo
Lilies are pure and symbolize devotion. These larger-than-life flowers capture the essence of lilies with white, black, and gray ink. The shading and linework bring the tattoo to life. 
75. Big Beautiful Octopus Thigh Tattoo
This octopus tattoo has a magical note about it. Underwater creatures are fascinating, and octopuses are known to be intelligent sea dwellers. I like that the artist used only black and gray.
76. Butterfly and Intricate Framed Outdoors
The butterfly in this piece almost goes unnoticed. It's the framed outdoor scene that steals the show. I adore the big full moon with rays of light spilling into the woods. The stippling is amazing.
77. Spiderwebs and Blackberries
Blackberry plants are trending hard! I love this tattoo concept. The spiderweb, blackberries, and bees are all part of a living ecosystem. It's a little dark and spooky but also beautiful and unique. 
78. Deathly Hallows Harry Potter Floral Tattoo
Ah! I love this Harry Potter Deathly Hallows tattoo. The linework on the roses and leaves looks great with the stencil-like outline of the mystical mark. Inking a literary symbol you love is a beautiful commitment.
79. Black and Gray Mermaid and Blossoms
Mermaids are mystical and mysterious. This underwater beauty is nestled among gray and black blossoms. I love the mixing of nautical and land tattoos. 
80. Watercolor Splatter Art Butterfly Tattoo
Rainbow watercolor tattoos are another big trend lately. I love the splatter art effect the artist used on this butterfly thigh piece. The extension of the splatter art into the black of the wing design amplifies the effect. 
81. Neotraditional Fan With Chrysanthemums
I adore this neotraditional fan tattoo. The black and yellow are bold yet elegant. The chrysanthemums bloom to their last with long curling petals. 
82. Knee to Thigh Wings in Color
The white in these wings takes on iridescent hues blending into blue, gray, and purple. They start at her knee and rise to mid-thigh. What a way to fly. 
83. Simple Grayscale Lotus Tattoo
A lotus usually represents our ability to rise above. It's also a beautiful and unique flower, sacred in Hinduism for its ties to fertility and spirituality. Gray captures the shading on these delicate petals perfectly. 
84. Regal Full Leg Butterfly Ink
This gorgeous butterfly thigh tattoo extends the length of her entire leg. The colors are bright, bold, and cheerful, and the vines curl and tendril from start to finish. 
85. Flameless Icy Blue Phoenix
Sometimes a phoenix stands for a new chapter in life. Restarting from the ashes of the old is tough, but women are resilient, and we carry on. This gorgeous blue phoenix powers through with icy blue heat. 
86. Stack of Books and Elegant Flower Thigh Art
Knowledge is power, and this stack of books is emanating strength and capability. I love to read, so to me, this tattoo has plenty of sex appeal. I love the minimal use of filler. More skin adds to the sensuality of this rose-laden design.
87. Traditional Style Butterfly and Crescent Moon Tattoo
Dark and chaotic. This butterfly tattoo isn't your typical girly thigh art. I'm digging the traditional style ink job with basic details and limited colors. The black ink in this design touches the surface of every element, tying them together. 
88. Mystical Midnight Bird and Flowers
I am obsessed with the bird in this tattoo. At first glance, it looks like the night sky. The vibrant orange blossoms stand strong against the stark backdrop of stars. A sliver of moon above gives it a witchy feel.
89. Flowers, Honeycomb, and Honeybee
Bees are loyal and an integral part of our planet. This sassy thigh tattoo features a honeycomb, a bee, and some accompanying flowers. I love the message behind this tattoo. Women, like bees, are givers of life. #slayqueen 
90. Lush Green Foliage Colorful Leg Art
Botanical tattoos are all the rage. This remarkable tattoo depicts lush green foliage in a wide assortment of flora. The varying shades of green add depth to the design.
91. Neo Traditional Flowers and Berries
Minimal color and details make these neotraditional tattoos interesting. I see many floral thigh pieces, but the blueberries and strawberries make this one unique. 
92. Geometric Watercolor Ink With Wildflowers
Stunning watercolor ink with white highlights makes these geometric designs glitter. There's something so powerful about bold, bright ink spanning the entire thigh.
93. Rebellious Rose in Breaking Glass Tattoo
This glass-encased rose is very Disney's "Beauty and the Beast." The broken glass gives it an edgy, bad-girl princess vibe I'm digging. #beyourownprincess
94. Neotraditional Poppy Tattoos on Back of Thighs
Poppies are one of the most beautiful and underrated flowers. Their bright red petals and stark black centers make for a stunning tattoo color palette. I love these neotraditional back-of-thigh tats. Simply stunning.
95. Dueling Black and White Koi Fish
Koi fish stand for luck and perseverance. One dark and one light fish could represent the opposing forces inside ourselves. Their tails are so delicate and diaphanous. Just beautiful. 
96. Epic Words Back of Thigh Tattoo Quote
"Don't judge my story by the chapter you walked in on" is a quote filled with authority and confidence. This is a woman who knows her value. There's nothing sexier than that. The loopy cursive font is a beautiful touch.
97. Watercolor Floral Thigh Band Tattoo
Watercolor paintings are so romantic. This floral thigh band tattoo is full of soft feminine energy, amplifying the effect. I love the muted color palette.
98. Back of Thigh Barbed Wire Heart
Hearts are symbols of love by default. It makes them extra sensual tattoos. This heart adds a little spice with barbed wire details. Back-of-the-thigh tattoos are always so feisty. #hotstuff
99. Little Red Butterflies
Two tiny butterfly outlines create a striking thigh tattoo. Red ink is the perfect choice for a small but mighty design. It adds a little fire to the otherwise subtle and delicate tattoo choice. 
100. Dark Red Roses With Intense Shading
The dark colors in these roses lend a seductive quality to this thigh tattoo. The Red deepens to black in an intense ombre effect. I like that the foliage around the roses uses complementary fall colors. 
101. Stunning Jeweled Thigh Band
This jeweled thigh band is regal and opulent. I love when tattoos have realistic highlights and shading. It makes the jewel pop. Although it's a crown design, it has a garter-like vibe to it, adding to the sex appeal. 
102. Uniquely Placed Floral Tattoo
Sometimes placement is the sexiest part of a thigh tattoo. This unique floral arrangement is made sensual because of its position high on the thigh and hip. #curvesfordays
103. Lacy Ornamental Thigh and Hip Design
I'm in love with this ornamental thigh tattoo. It's intricate and elegant, resembling lace and jewels. This tattoo would look amazing peeking out beneath distressed jeans. 
104. Peony and Compass Thigh Art
A compass helps us find our way. This unique tattoo includes an ornamental design with land masses. The tattoo is made more elegant and framed by peonies.
105. Decorative Moon Phases in Purple and Blue
Moon phases signify change. This gorgeous representation of the lunar cycle is stunning in blue and purple. The deep colors enhance the intergalactic feel. I like the geometric embellishments behind the moons. 
106. Mermaid Enchantress Thigh Ink
Mermaids are hugely popular right now. This sea enchantress is mysterious and magical. I love that she's a tattoo with tattoos. The most amazing part is her tail. The fine details make her one of a kind. 
107. Patterned Feather Thigh and Hip Tattoo
Peacock feathers are whimsical and luxurious. They bring to mind opulent jewel tones and mesmerizing patterns. This feather tattoo is in black and gray. Intricate details in the feather make up for the lack of color. 
108. Back of the Thigh Ornamental Tattoo
Va va voom! Back-of-the-thigh tattoos are so sassy. I love how this one is shaped for the curve of her body. The ornamental design brings together a mandala and a dangling jewelry look. 
109. Hidden Tigress Thigh Tattoo
The style of the leaves in this wild tattoo blends perfectly into the tigress. She's almost invisible, waiting for her prey in the long brush. This tattoo screams power and prowess.
110. Curvy Vine Thigh Tattoo
The way this botanical vine curves around her thigh and buttocks makes this tattoo extra sensual. It draws attention to some of her most feminine qualities. I love the addition of flowers to soften the look. 
Summary and Top Picks
Sex appeal is in the eye of the beholder. For me, there's nothing sexier than a tattoo that makes me feel powerful and confident. Whether that comes from placement, style, or the design itself, all that matters is the feeling it gives. 
All of these thigh tattoos make my list of  favorites, but if I had to pick three, they'd be:
#4 Thigh-to-Side Extra-Large Rose Blooms: These giant roses scream sex appeal. I love their placement creeping up her hip to her side. 
# 22 Moon Phases Garter Tattoo: Lunar tattoos carry meanings of femininity and change. It's sensuous the way this one wraps around her thigh like a garter.
#110 Curvy Vine Thigh Tattoo: The vines in this tattoo emphasize her feminine curves. I adore the little flowers. They add a delicate touch. 
The definition of "sexy" changes from person to person. When you think about thigh tattoos and sex appeal, what design comes to your mind? Comment below and let me know!