Women with thigh tattoos always seem to ooze confidence. This year I've been noticing a lot of tattoos on the front of the thigh rather than the classic hip-to-side thigh design. I like the front thigh as a canvas because it puts your art right out in the open. 
Sometimes thigh tattoo placement is an issue, especially for women embracing mini or high-waisted skirts. There's a chance only half the design gets seen. I think this adds to the mystery. It will certainly encourage interest, anyway. 

Are you in the market for a front thigh tattoo but unsure which one is right? Here are some of the trendiest designs this year for inspiration.
1. Song Lyrics on Front of Thigh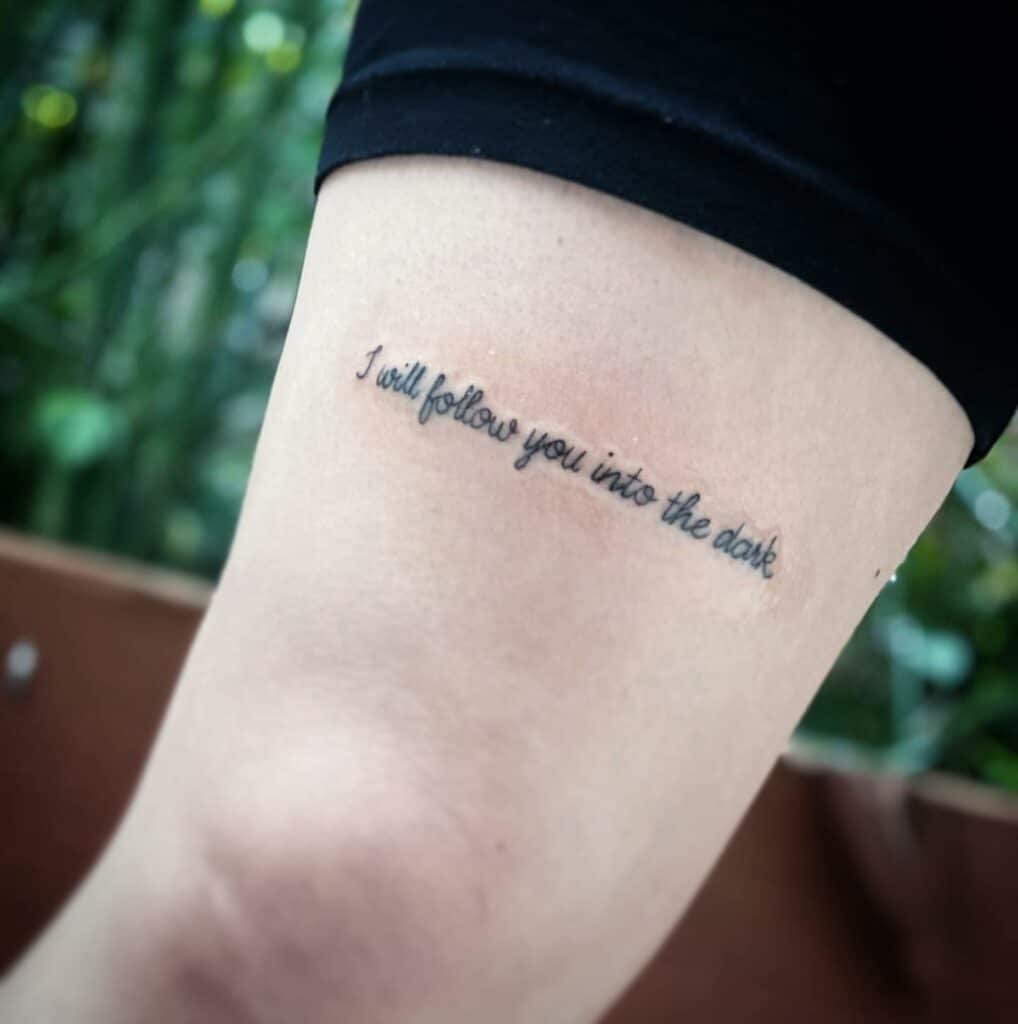 Song lyrics are a classic tattoo option. These Death Cab for Cutie lyrics are a great choice for a leg design. "I will follow you into the dark" is a poignant love note to a partner, and you've gotta use your legs to get there.
2. Unique Horror Movie Tattoo
Every now and then, I come across a unique tat that I can't look away from. This "Shining" inspired design is exactly that. Horror movie tattoos are fun, especially if you're a big fan of the genre.
3. Blue and Purple Butterfly Leg Ink
This feminine butterfly stands out in purple and blue ink. I love how the design makes the winged creature look a little like stained glass. The black body and outline make it pop.
4. Black and White Medusa Tattoo
Medusa tattoos are growing in popularity this year. They tend to represent the strength of women. I love the detail in her features here. And her stiletto nails are to die for.
5. Compass Design With Branches
A compass helps you find many things. Your way home, the right answer, maybe even the right outfit. This simple compass design has an air of mystery to it. I like the branches and arrow embellishments on this sexy thigh tattoo.
6. Punky Belle and Maleficent Tattoos
I love the fun energy in these Disney-inspired tattoos. Why can't our favorite childhood characters grow up and be just a little bit badass? Belle and Maleficent have never looked better!
7. Floral Sun and Moon Tattoo
Celestial tattoos are trendy AF. This design is one of my favorites. I love the floral element as a way to tie the moon, sun, and earth together. I also like the minimalism of this piece. Not adding color was a great choice.
8. Fiery Fox Tattoo With Abstract Tail
The colors in this fox tattoo are mesmerizing. There's so much detail, and yet the abstract tail fits perfectly. I adore the way the watercolor design creates flames near the end. #thisfoxisonfire
9. Cute Little Bumble Bee Tattoo
How cute is this small bee? Bumble bee tattoos stand for loyalty. They also celebrate the big difference small beings make to our planet. Buzz on, little bee!
10. Lace and Pearls Heart Locket
Lockets are all about secret treasures. This lacey locket has a sensual look about it. I like this design as an alternative to the classic thigh garter tattoo. The lotus blossom and other hidden details make the tattoo unique.
11. Flash Art Lily Tattoo on Thigh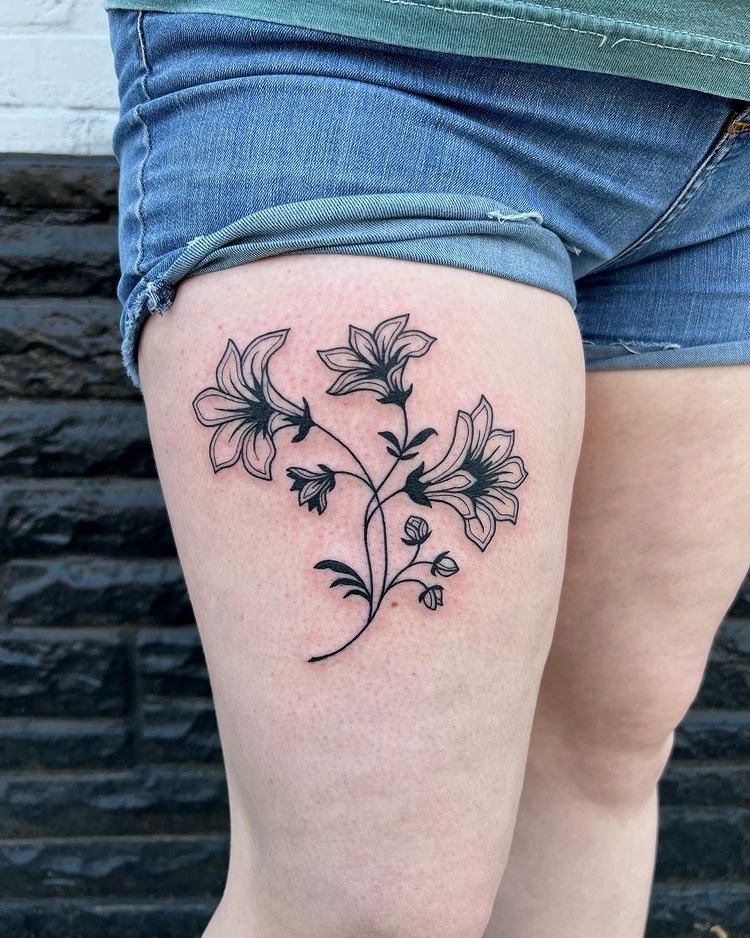 Flash art can be a lot of fun for front-thigh ink. It takes the work out of choosing a tattoo because the artist has pre-set designs to pick from. This flash art lily design is gorgeous. I'm loving the bold black linework.
12. Blue-Eyed Tiger With Floral Frame
Black and white tattoos become something new when a single color is added. This blue-eyed beast is absolutely regal. I love tigers, and this one is so well done. The floral frame softens the piece, giving this thigh tattoo a feminine flare.
13. Shades of Gray Butterfly Ink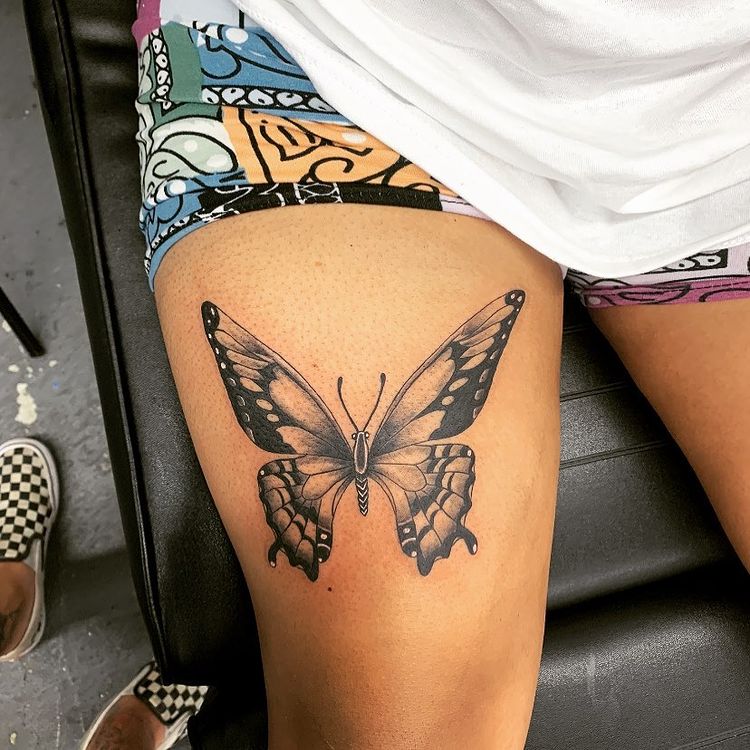 Butterflies will never go out of style as tattoo designs. This grayscale design is simply lovely. I love the long wings and intricate details in both the wings and body.
14. Spooky Ghosts and Garden Kittens
This tattoo might be a little niche, but I don't care. I love it. Black cats peeking out from inside flowers is such a unique concept. The tiny ghosts are a spooky bonus. This is a great design for Halloween lovers.
15. Turtle and Rose Thigh Art
Turtles are patient creatures, moving as slowly as they do. This turtle tattoo must have taken some of that patience. I like the addition of roses. It plays into the sustainability theme many turtles represent. #saveourplanet
16. Plant in a Vase Flash Art Tattoo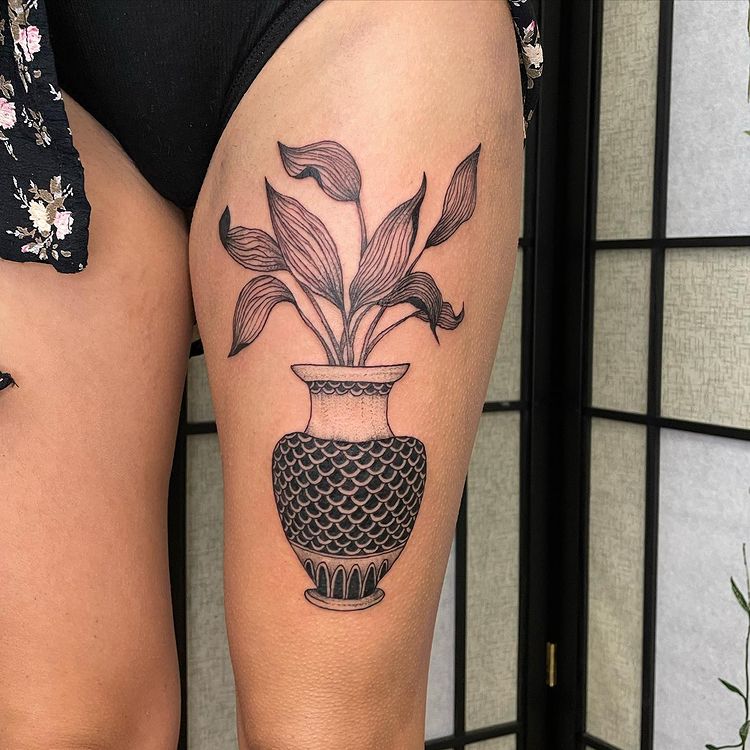 House plants are becoming so popular these days. I like that detail in this vase tattoo. The mermaid scale design is very on-trend. A great choice if you have a green thumb!
17. Flowers, Butterfly, and Moon Tattoo
The blend of deep blue and purple on roses and butterflies gives this design a nighttime feel. A crescent moon hanging above them completes the nocturnal theme. It's magical.
18. Engraver's Tattoo Style Sword Out of Water
This thigh tat is inked in an engraver's style to look like a wood etching. There's so much to love in this original piece. The sword coming out of the water gives me major Excalibur and Lady of the Lake vibes.
19. Jurassic Park Inspired Thigh Tat
Fossils hold the secrets of our universe. It's no surprise many of us are fascinated by them. This cute little dino bone thigh tattoo is simple yet eye-catching. The geometric border and flowers give it a feminine touch.
20. Delicate Butterfly Outline
The simplest things can be beautiful. This little butterfly outline has an abstract swirl design I adore. It's obvious that it's a butterfly, but it isn't clouded with shading or detail. It's just right.
21. Floral Mandala With Pointillism
The detail in this mandala tattoo is impressive. The design is completed using a pointillism technique. Large flower blossoms bring a natural element to the piece.
Summary and Top Picks
I love that the world is finally embracing thick thighs. And what better way to emphasize this slammin' feature than a front thigh tattoo? Thigh tats risk getting cut off by skirts or hidden under jeans. I think this only makes them more interesting! 
All my favorite front thigh tattoos are worth a second look, but these are the very best:
#4 Black and White Medusa Tattoo: Medusa has become a prominent figure in tattoos. She captures the power and beauty of women perfectly.
#16 Plant in a Vase Flash Art Tattoo: Having a green thumb is on trend this year. I adore this plant and vase thigh tattoo. The mermaid scale design on the vase is killing it!
#21 Floral Mandala With Pointillism: I love pointillism tattoos. The detail always blows me away, and this floral mandala is breathtaking. 
I love the plethora of botanical and butterfly thigh tattoos on trend right now. If you were getting one today, would you go for something unique or one of the trendy designs above? Comment and tell me about your dream design!