Floral tattoos are trendy AF. From color to black and white to grayscale, I love them all. The one problem I come across with flower thigh tattoos is how to pick the flower and make it unique. 
I love roses and peonies as much as the next girl, but I adore artists who take risks and try new designs. Adding an unusual color to the mix or inking in a phrase with your flowers shakes things up.
Are you thinking about a floral thigh tattoo? Here are some of this year's hottest flower tattoo designs. Hopefully, you will find some inspiration!
1. Vintage Peonies in Color
Peonies are classic tattoo flowers. These gorgeous pink blooms look graceful, climbing the side of her thigh and across her hip. There's a subtle sexiness to this design I love.
2. Simple Wildflower Bouquet
Subtlety isn't something you always get in thigh tattoos. This sweet little bouquet of wildflowers is simple yet elegant. Understated floral tattoos make me swoon a little, and this one is totally swoon-worthy. The lack of color makes it noteworthy.
3. Traditional Style Double Rose Tattoo
Rose tattoos have been trending since the dawn of the tattoo gun. This beautiful set of roses is inked in the traditional style. I love the ombre effect used to create depth in the petals.
4. Outstanding Onyx Raven With Purple Flowers
Ravens are known to be wise yet tricky. It lends these purple-hued blooms a mystic feel. The shading and highlights on the feathers match that of the flower stems and leaves.
5. Blue and Gold Flowers With Celestial Embellishments
The color choices in this thigh tattoo are outstanding. Gold and pale blue give these pennies a regal feel. I adore the dot work used to accentuate the sunshine and moonlight in this piece.
6. Sunflowers Blooming Among Wildflowers
There are so many rose and peony tattoos, many of which I love. It's so nice to see unique blooms among the classics. These sunflowers have such detailed centers. I'm living for the shading on the leaves of this sexy thigh tattoo.
7. Big Beautiful Dahlia With Orange Moth
Every flower has a meaning. As far back as the 1800s, dahlias represented elegant dignity. The orange of the moth and purple of the flower contrasts beautifully despite their boldness.
8. Bejeweled Flowers and Butterfly
Flowers and jewelry look so good together. The broad petals of these blossoms appear almost animated. I love the highlights on this bejeweled butterfly body and pearl necklace.
9. Pencil Sketch Tattoo With Flowers and Bees
The delicate linework in these little blooms creates a purely feminine motif. The bumble bees and butterfly give the tattoo a comforting English garden vibe.
SEE ALSO: 21 Thigh Tattoos For Black Females to Rock
10. Band of Wild Roses Around the Thigh
Garter tattoos are a popular thigh design. I love the idea of flowers in place of fabric and lace. Wild roses often represent adoration, so it's not surprising how much I adore this small thigh tattoo.
11. World Traveller and Tropical Flower Tattoo
This flower thigh tattoo is perfect for ladies who love to travel. The abstract earth with the tiny plane and a heart inked at the edge expresses a desire to get away. The tropical flower border only amplifies the look.
12. Roses in the Shadows Tattoo
The inverted shading and highlight technique create pale gray roses on a black canvas. I love the depth this design creates by playing with the light.
13. Black and Gray Flower Mandala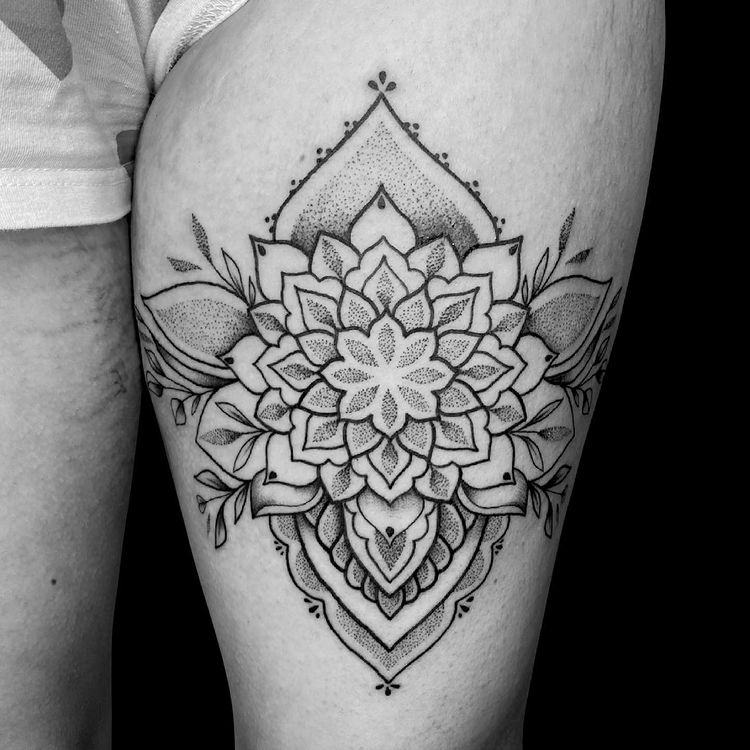 This mandala tattoo takes the form of a blooming flower. The fine details in the piece are created with dot work. I love the delicate touch of the pointillism within the bold black outline.
14. Tiny Cartoon Flowers With Rain Quote
The phrase, "No rain, no flowers," is such a meaningful quote to have inked. The meaning is made clearer by these tiny flowers. Sometimes we need to get through the rain to see the sunny side of life.
15. Flowers and Butterfly in Fine Line Tattoo
There's something graceful and feminine in fine line tattoos. Especially when the design involves flowers and butterflies. I like how simple the artist designed the flowers, while the butterfly has a little more depth and shading to it.
SEE ALSO: 80 Gorgeous Spine Tattoos for Women
16. A Bird and a Bloom Tattoo
I really like flower tattoos that incorporate additional elements into their design. This small bird that's nesting against a rose is a prime example. It gives the black and white thigh tattoo life.
17. Flowing Flowers and Koi Fish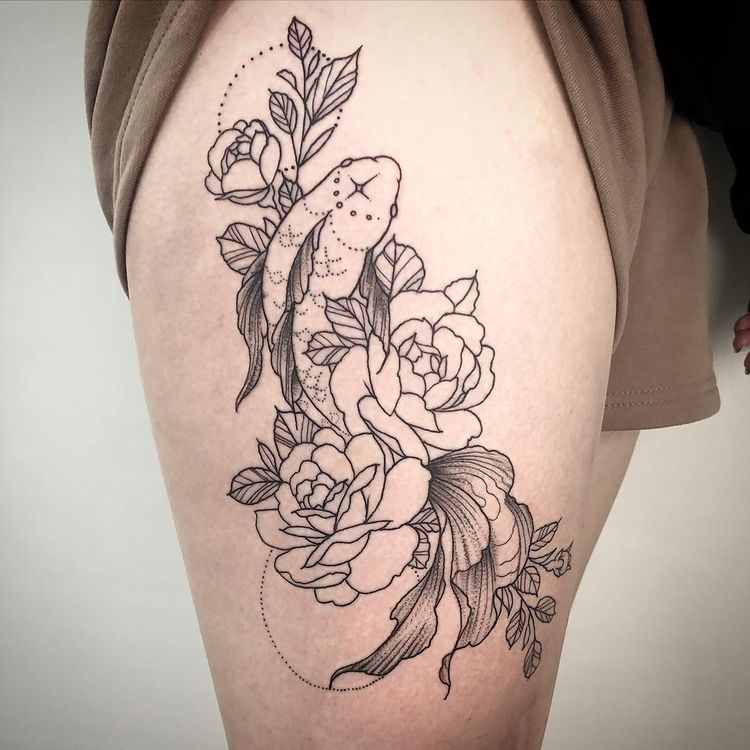 Koi fish represent luck and good fortune. This koi certainly lends a little something extra to these roses. There's something nice about the simplistic outline design with no filler.
18. Varying Stages of Peonies With Ornamental Dot Work
Peonies are popular tattoo flowers for a reason. The blooms are so captivating. This design showcases peonies at different stages and includes an ornamental network akin to mandala embellishment. It checks all the boxes.
19. Floral Lineup in Pink Gradient
I'm in love with these small pink flowers. The detail and depth of color paint a beautiful picture. How amazing would this thigh tattoo look with a short floral skirt?
20. Double Vase Tattoo With Chrysanthemums and Peonies
Okay, I'm in love with these vases. The deep color in the flowers and pottery makes me smile. I also adore the use of chrysanthemums in the piece. They represent friendship and happiness. #perfection
21. All Blue Traditional Flower Art
Blue isn't a classic flower color in tattoo art. Maybe that's why I love these traditional-style tattoos. I like that the artist used a dark blue to line the work, rather than black.
22. Typewriter and Flower Thigh Art
This is an amazing tattoo idea for any woman who loves to write. The classic black typewriter with flowers is a unique concept. I like the basic design of the flowers.
23. Bright Colorful Peony Tattoos
The color in these flowers is killing me softly. I love love love the lack of black. No black outline, no black shading. Just color! The only black in this design is on the butterfly wings, and it really makes them pop. #peoniesforever
24. Geometric Ornamental Floral Tattoo
This triangle-framed floral tattoo is giving me major "Deathly Hallows" vibes. The color palette in this piece adds to the stylish design. I love the dot work embellishments in the upper leaves.
25. Whimsical Butterfly and Flower Tattoo
This playful thigh tattoo has a fun magical element to it. Between the lines, sparkles, and full moon, the colorful blossoms really steal the show.
26. Full Thigh Flower and Vine Wrap Tat
Sleeves and full-back tats are trending, but this full thigh piece is where it's at. I love the way the vines wrap around her entire thigh. There's something bold and powerful in this floral design that draws the eye.
27. Wild Flowers and Blackberries
Botanical tattoos are a beautiful tribute to nature. This wildflower thigh tattoo does just that. Black and gray add a sketch-like quality to the design. I love the blackberries as embellishments.
28. Moon Mandala Thigh Flowers
Moon tattoos are trending, but this moon is a little different. The design is outlined completely with ornamental dot work and flower patterns. Large blooms extend from the crescent moon to fill the thigh.
29. Ethereal Watercolor Rose With Hummingbird
This ethereal design is otherworldly. I adore the watercolor style color work on this rose tattoo. The addition of black embellishments, including a hummingbird and flower blossoms, only makes it better.
30. Hydrangea Tattoo in Color
Ahh! This hydrangea tattoo is so pretty. I can't get over the way this design replicates brushwork in a painting. It looks like an artist painted this tattoo onto her thigh.
31. Bold Bright Neotraditional Flowers and Cat Tattoo
I love yellow roses. They represent friendship, and there's no greater friendship than a girl and her cat. The addition of a fluffy feline to this tattoo makes it that much more loveable. I'm obsessed with the colors.
32. Black and Gray Warrior Thigh Band With Flowers
Warrior tribal art was huge in the 90s and early 2000s. It's making a comeback, and this addition of flowers adds a feminine touch. Women are powerful and resilient. This thigh band tells that story in ink.
33. The Universe in a Flower Garden
Adding planets to the center of flowers is a unique twist. It ties the grand scheme of the universe to our tiny planet and everything in it. The watercolor style is one of my favorites.
Summary and Top Picks
Flower tattoos are a dime a dozen, but that doesn't mean yours can't be completely unique. There are so many ways to jazz up a floral thigh tattoo, including the addition of an animal or the use of a unique flower species.
All of these blooming tattoos are gorgeous, but my faves are:
#5 Blue and Gold Flowers With Celestial Embellishments: I can't get over the colors in this tattoo. The blue and gold are so regal.
#9 Pencil Sketch Tattoo With Flowers and Bees: This tattoo has such a delicate feel to it. The fine linework resembles a pencil sketch. The flowers and bees are a perfect pairing.
#23 Bright Colorful Peony Tattoos: The use of color in this tattoo is phenomenal. I love that the only black is in the butterfly wings. 
I love floral thigh tattoos, but it's so hard to choose the flower type. When you think about the perfect thigh tattoo, which flowers do you see? Comment below and let me know.