As we continue to marvel at trending nail designs worldwide, we've got our sights set on the achromatic classic—white nails. What's so exciting about it? It's a big deal to feel confident enough to pull off a neutral, especially one as eye-catching as white. 
Don't tell me you've forgotten Miley Cyrus' white nails era. I sure haven't. The iconic, "Wrecking Ball," visuals still resonate and if you recall, she paired those white nails with a platinum buzz cut and bold red lipstick. 
Does that mean white nails can be edgy too? Absolutely! White is a basic tone, not boring but foundational, making it compatible with all colors and shades, so it's super easy to achieve different moods and textures.
A look for any personality type, fashion preference, season, and occasion, a white mani is an all-rounder you'll love, and we're about to see it in all its glory, on its own and paired with other hues as well. Here are white nail designs that will blow you away.

1. Classic White Coffin Nails
These white nails are every woman's dream—classy, fresh, and the missing piece to accessorize every outfit you'll ever wear. You can get these nails at Etsy.
2. Classic White Almond French Nails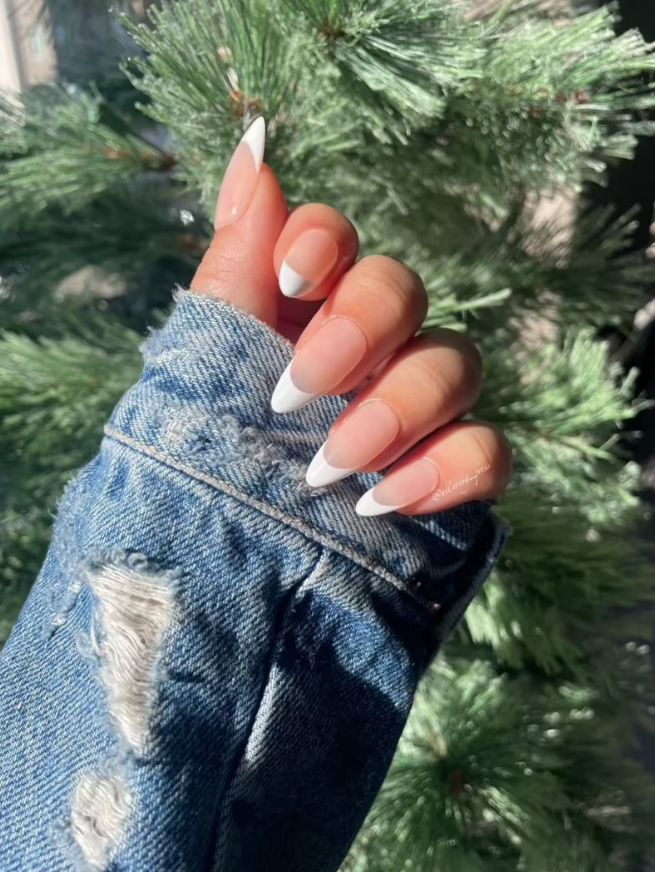 Another classic design for my simpler fashionistas but with negative space to make it trendy. I don't even want to imagine what life would be like without white french tips. You can get these nails at Etsy.
3. White and Nude Marble Coffin Nails with Gold Glitter
It's always a given that neutral shades will be serving grade-A style when paired with an elegant marble design but don't stop there. Add gold glitter to complement the white and nude color scheme and make this look sparkle. You can get these nails at Etsy.
4. Mismatched White Swirl Coffin Nails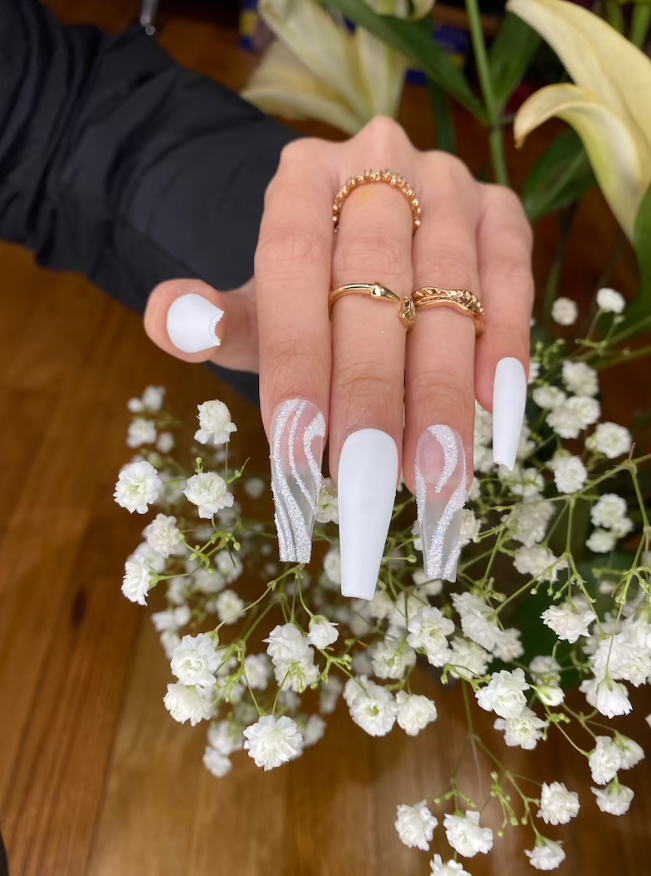 These nails are the epitome of contemporary elegance. It's a mismatched design featuring solid white nails and swirls painted over translucent extensions for a chic finish. You can get these nails at Etsy.
5. Short White and Nude Nails with Abstract Line Art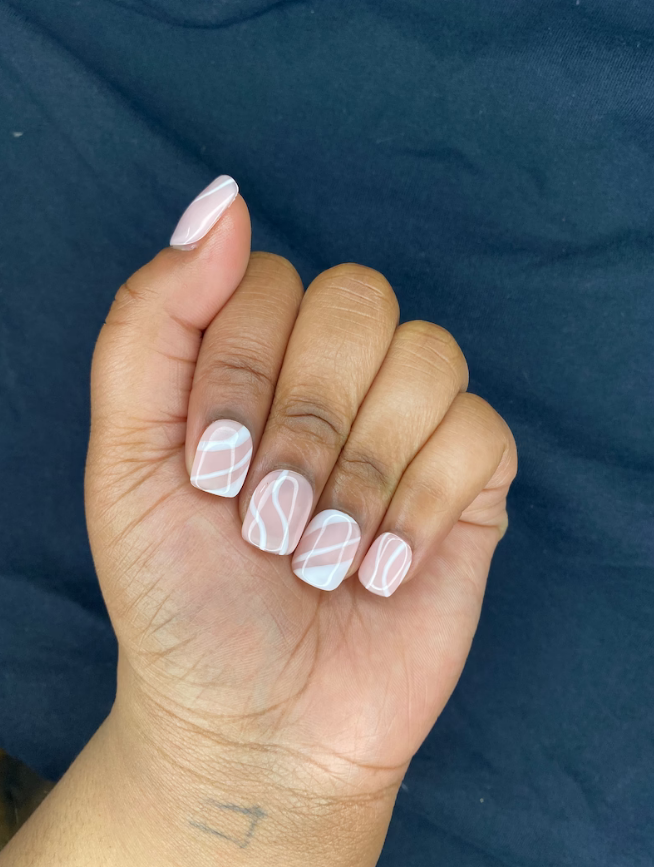 When short nails are given a trendy twist, that's a vibe I love to see. A nude base is overlayed by white swirls, even featuring the slightest angled french tip design. This look gleams brightly, thanks to that glossy finish. You can get these nails at Etsy.
6. White and Pastel Watercolor Floral Almond Nails
Spring gets me in the mood to look extra pretty, and these white nails provide the perfect base for the cutest watercolor art. For this look, pastel colors are lightly blended into each other in faint floral patterns, for a subtle and airy finish. You can get these nails at Etsy.
7. Milky White Square Nails
Square nails help to give your manicure a bold look. To add a classy touch, opt for a milky white textured lacquer, not far from semi-transparency, bringing a softer quality to this design. You can get these nails at Etsy.
8. White and Nude Swirl Coffin Nails
Swirls always get a yes from me. Paint this cute and trendy design over a nude base for a chic all-neutral combo that you can flaunt anywhere at any time. You can get these nails at Etsy.
9. White and Nude French Rim Coffin Nails
French tips are, without a doubt, one of my favorite nail designs ever. The classiness of this mani is incomparable, particularly when done in a french-rim style with subtle tones like this white and nude pairing. You can get these nails at Etsy.
10. White Abstract Square Nails with Silver Glitter
Negative space nails are having a moment as nude bases are being incorporated into creative and abstract designs. For a look that you'll love, enhance your nails with curved white patterns, bordered by silver glitter. You can get these nails at Etsy.
11. White Marble Nails with Gold Foil
Spice things up with specks of gold foil scattered over a chic white marble design. Dress this look up or down and still make a fashionable statement. You can get these nails at Etsy.
12. White Glitter-Encrusted Coffin French V-Tips
Double the glam with french v-tips and a frosty white glitter accent nail. This look is hard to beat, setting the standard for luxury-inspired nail designs. You can get these nails at Etsy.
13. Dazzling White Glitter Coffin Nails
A manicure worth wearing to the Met Gala, this design is what you call exquisite, and I'd expect nothing less from white nails accentuated by dazzling glitter. You can get these nails at Etsy.
14. White Coffin Nails with Gold Flakes
The right accents can make a world of a difference and this manicure is serving elegance on a platter, owing to a timeless white and gold combination.
Sparkling gold flakes adorn transparent nails, reminiscent of the shedding of golden leaves at fall. Complement them on both sides with solid white nails. You can get these nails at Etsy.
15. White and Gold Marble Coffin Nails
Play around with gold glitter to execute a modern marble nail impression. Devote your index finger to an entire glitter overlay with your pinky boasting a solid white base, adding to the sharp and eye-catching finish of this design. You can get these nails at Etsy.
16. White Floral French Almond Nails
Add a cute touch to a classic french mani with floral decals taking center stage on a nude base. This look is by no means restricted to any particular time of year, as they would definitely be a great bonus to your girly Spring ensembles. You can get these nails at Etsy.
17. Sparkling Short White Angled French Nails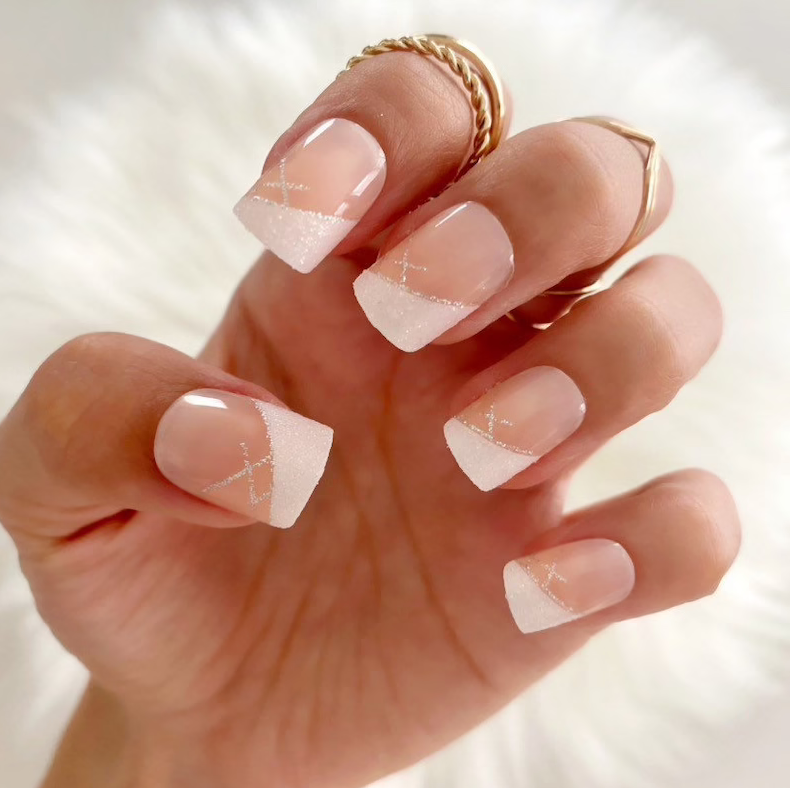 Sometimes it's the simple things that bring the most happiness. To add some sparkle to your daily routine, get started with a set of short white angled french tips that twinkle fervently with a faux-sugar effect. You can get these nails at Etsy.
18. White Knit Sweater Coffin Nails
Get the coziest white nails ever with a cable knit sweater design. This design has remained one of the trendiest since its inception so you'll love wearing it.
A matte finish is most suitable for this look to add depth and really highlight the fine details. Imagine rocking these nails while wearing your favorite winter sweater. Plus, it features a gray accent nail for an overall chic look. You can get these nails at Etsy.
19. Short White French Nails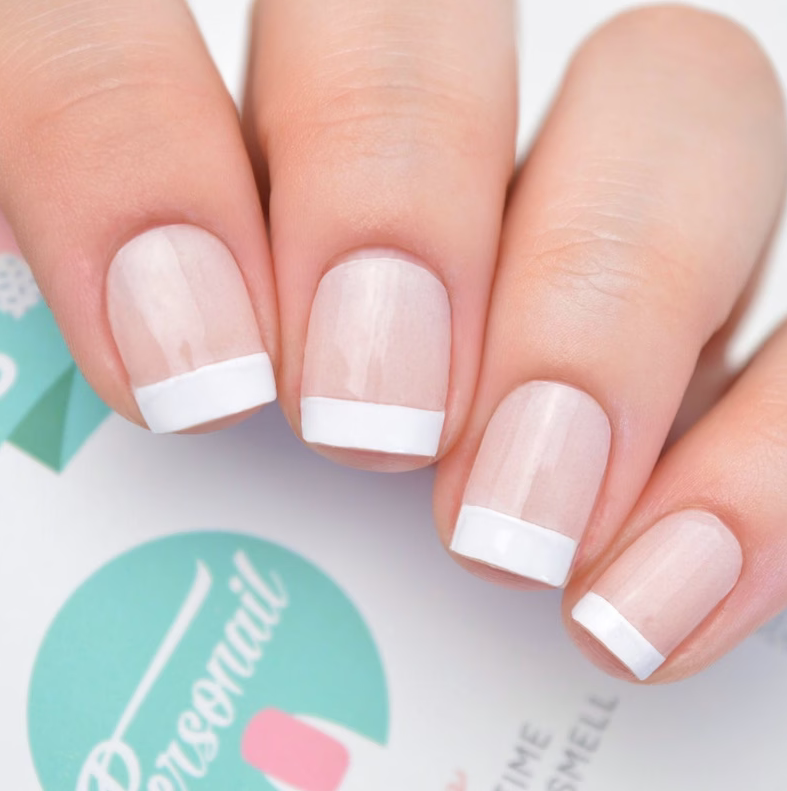 When you want a quick design with a sophisticated finish, short french nails get the job done. Opt for thick white tips for a classic and versatile look. You can get these nails at Etsy.
20. White and Blush Pink Snowflake Coffin Nails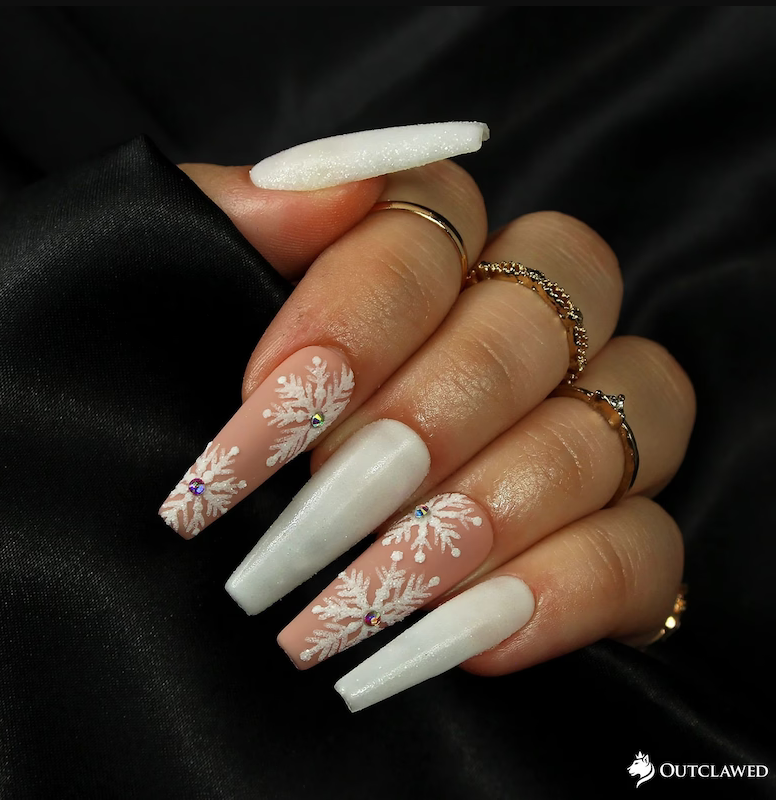 White is winter's shade but a little color doesn't hurt. Blush pink acts as the perfect base for stylish snowflake designs, still maintaining the subtle tone of these gorgeous nails. You can get these nails at Etsy.
21. White and Brown Caramel Swirl Almond Nails
Sophisticated and it feels so good! These brown swirls designed over white nails are a sight for sore eyes, combining chocolate-brown and caramel for a sweet pastry vibe. You can get these nails at Etsy.
SEE ALSO: 23 Brown Nail Designs to Try for Fall
22. Matte White Coffin Nails with Black Flowers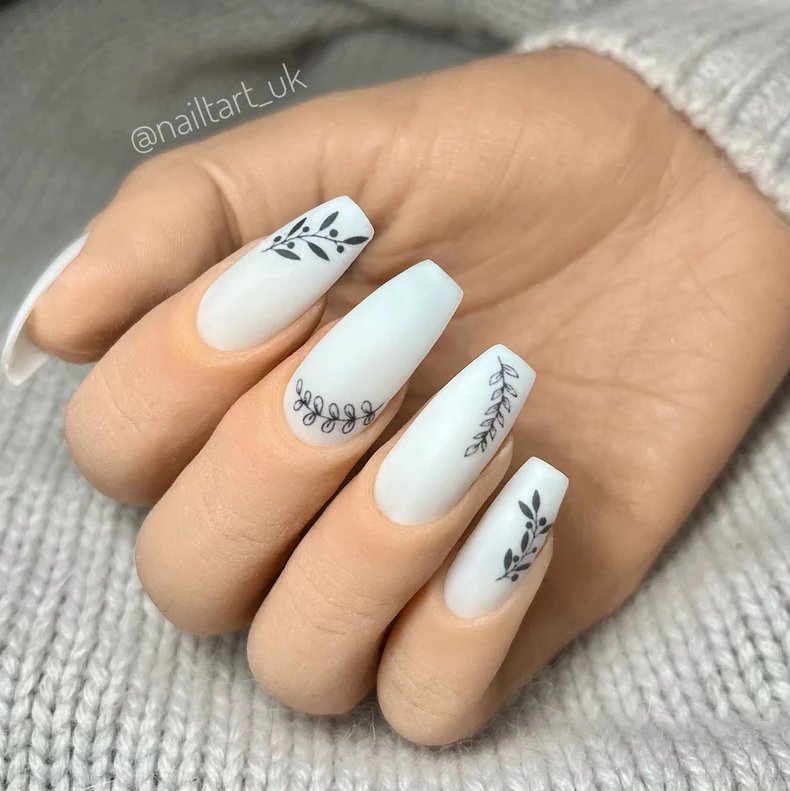 These nails are cute with an artistic edge as dainty floral designs embellish a matte white base. I love that no style is the same, offering femininity and diversity all in one look. You can get these nails at Etsy.
23. White Cherry Coffin Nails with Checkered Print
Add some cherries on top to bring a sweet touch and color contrast to white-themed nails. Proceed to jazz up this design with a checkered print on the thumb for a trendy twist. You can get these nails at Etsy.
24. White and Gold Flake Marble Coffin Nails
These white nails have been given the Midas touch with gold glitter flakes overlaying the index and ring fingers in an ultra-chic and elegant marble design. You can get these nails at Etsy.
25. White Stiletto Nails with Blue Tulips
It's the compatibility for me! This design is a match made in heaven as white nails are foregrounded by pretty tulips painted in azure blue. You can get these nails at Etsy.
26. White Crocodile Coffin Nails
We've grown accustomed to the trendy cheetah and zebra prints but these white croc-inspired nails have come to be such a chic alternative, and I'm calling it—crocodile nails are the design of the decade. You can get these nails at Etsy.
27. White and Black Flame Stiletto Nails
I love the double flame illusion of this white and black nail design. It's a softer take on flame art but the monochromatic theme on stiletto nails keeps things edgy. You can get these nails at Etsy.
28. White Coffin Nails with Gold Glitter
Spruce up classy white nails with sprinkles of gold glitter. Allow these beautiful accents to fall where they may for a more relaxed look then round off with a glossy top coat. You can get these nails at Etsy.
29. White Squoval Nails with Red Hearts
A design to make you fall in love, these red heart-designed white nails aren't just worthy for Valentine's Day but for catching hearts all year round.
30. Short White Abstract Swirl Nails
When all your nails are competing for accent nail status, it's hard to not give in. So, add fun swirls to each, painted in a white over negative space for a cute everyday look.
31. White Floral French Almond Nails
I'm a sucker for a floral display. If you are too, accentuate classic white french tips with a stunning overlay of white flowers for the utmost elegance.
32. Short White Bedazzled Nails
Dress up an average white mani with a bedazzled design on your ring finger. This stand-out feature transforms this look from cute and simple to high-end and elegant.
33. Short White, Blue, and Pink Ombre Nails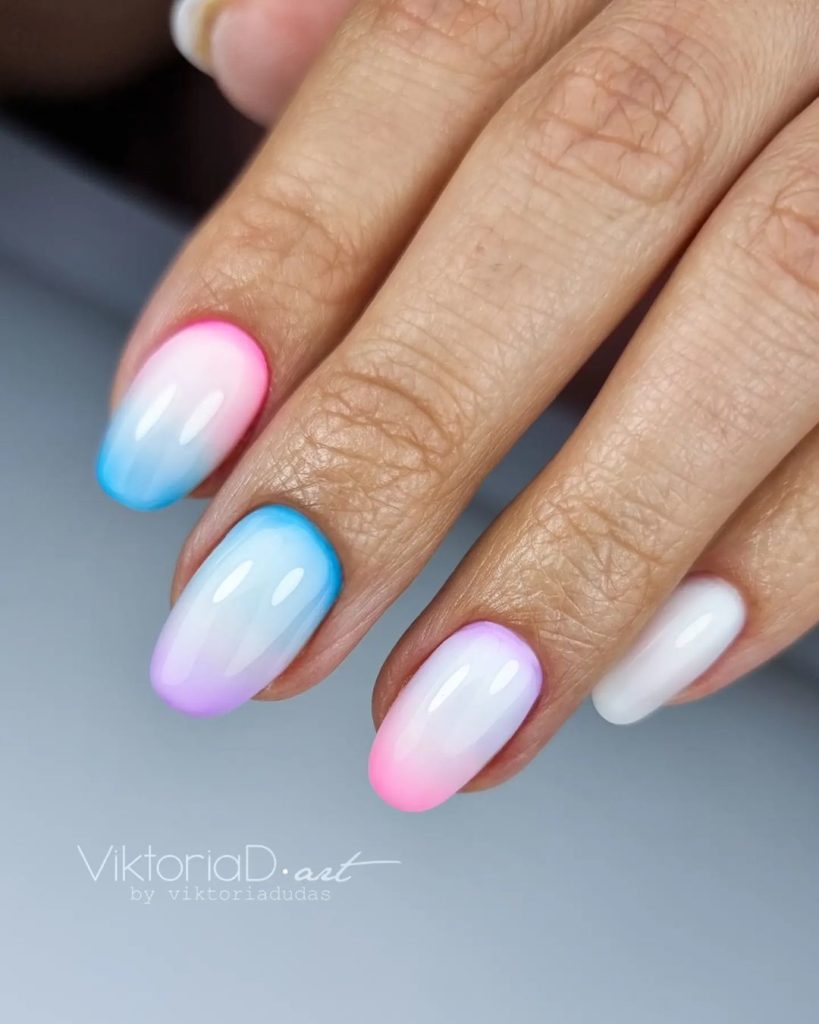 Treat yourself to a little ombre fun for Spring with a pastel gradient effect, featuring transitions of white, blue, and pink. Round off this smooth design with a glossy top coat.
34. Short White and Pastel Cheetah Nails
Pastel tones look amazing with white, adding color while complementing the subtlety of the design. Accentuate with trendy prints and nail art to bring your personal taste to the finished look.
35. White Square Nails with Blue Line Art
The simple stroke of a nail art brush can bring such a chic flair to a classic white mani. So, for a versatile look with a pop of color, I proudly nominate blue line art, a look you can definitely try at home.
36. White and Pink Nails with Black Leaf Art
Bring your white nails to life with patches of pink and an overlay of stylish black leaves. This design involves a level of intricacy but comes together in the end for an effortless look.
SEE ALSO: 60 Pink and Black Nail Design Ideas That Are Trendy AF
37. White and Purple Square Nails with Gold Glitter
Add a few stripes here and some swirls there to jazz up your white mani. If you're going for a feminine and classy style, opt for a bright purple shade, completing the look with gold glitter.
38. White and Black Dalmatian Nails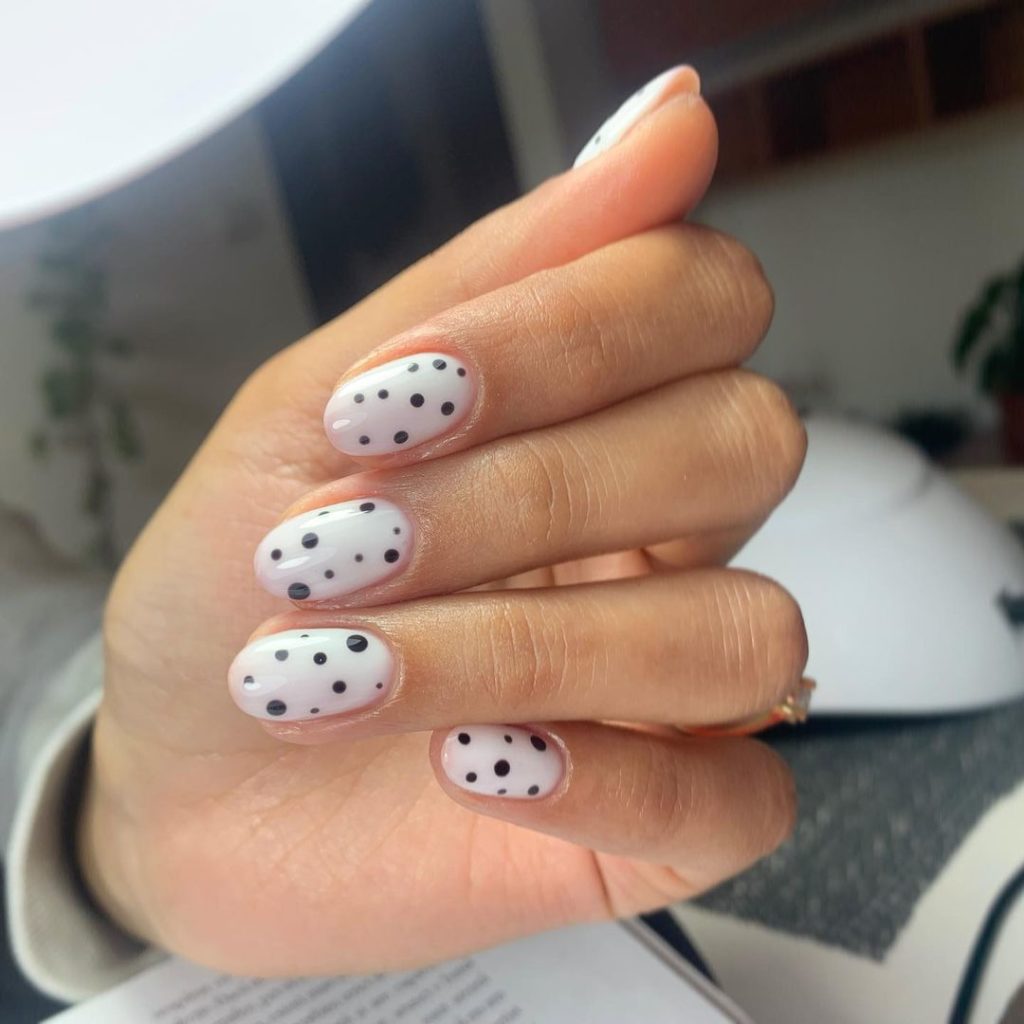 I absolutely adore this look because it reminds me so much of Dalmations. If you're a true dog lover like me who also has an affinity for white nails, you should certainly combine the two and rock a chic black-spotted white nail design.
39. White French Almond Nails with White Flower Decals
This design is all the way elegant as white flower decals accentuate shimmering white french tips. Flaunt this look for a wedding, brunch with friends, or for any special occasion that you want to stand out for.
40. White and Gold Metallic Nails
Gold lacquer streams across these white nails in the most graceful way resulting in a unique and beautiful metallic design. Be sure to take lots of pictures wearing this look. They're simply too flawless to be a one-hit wonder.
41. White and Blush Pink Floral Square Nails
Like a frame, these white flowers form a border around a subtle blush pink base and I'm loving the picture of elegance and poise. The pinky finger and thumb are coated in plain white, enhancing the classic essence of this design.
42. White and Turquoise Almond Nails with Gold Foil
White nails look simply divine when paired with pastels. Get the look with the addition of turquoise nail polish, applied in an abstract angled french tip design and complemented by a dash of gold foil, if you're in a fancy mood.
43. White French Almond Nails with Abstract Stripes
A french mani deserves a little pizzaz every now and then, so treat this classic look to abstract stripes designed in white, putting that negative space to good use.
44. White and Royal Purple Nails with Glitter
Time to call upon that pigmented royal purple you've been eyeing for some time. The richness of the shade does wonders for these Winter white nails, with glitter and thin stripes overlaying the top half for heightened elegance.
SEE ALSO: 100 Purple Nail Design Ideas That Are Trendy AF
45. White, Mint Green, and Gold Wave Coffin Nails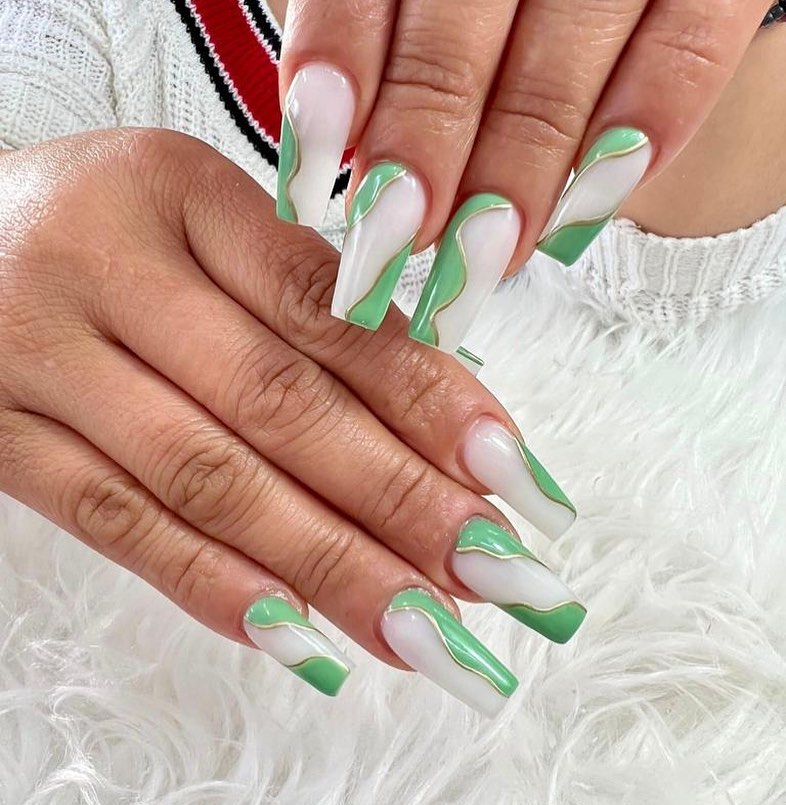 Mint green is making its debut on this list and doing so in fine style, might I add. The shade is introduced in dramatic waves as metallic gold carefully follows each curve and indentation, executing a creatively classy design.
46. White Coffin Nails with Metallic Gold Strips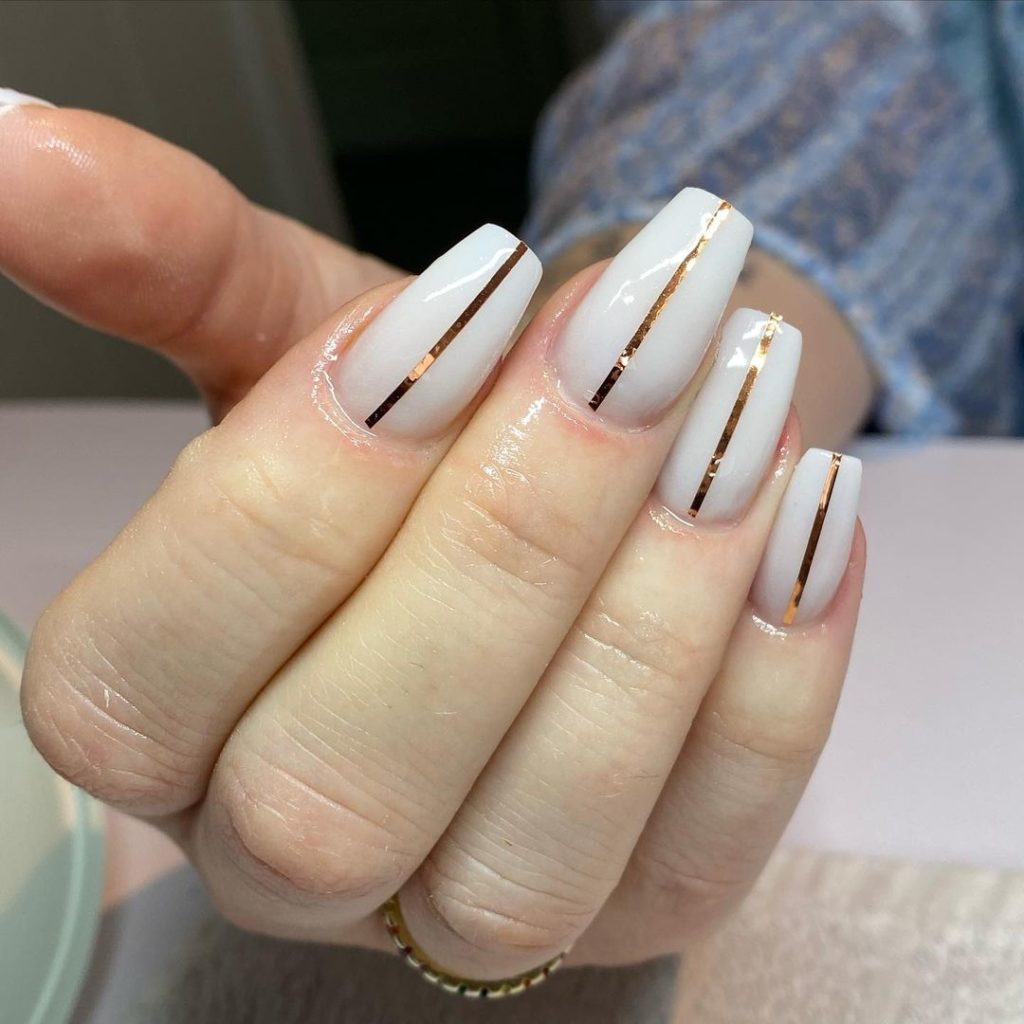 Chrome designs are on the rise and even white nails are getting their fair share. No surprise there! It's a great way to accentuate your neutral soft-toned mani—with a stunning glint of gold.
47. White and Pastel Pink Ombre Square Nails
Ombre nails—the design that pulls on your heartstrings each time you see them. I just love the simplicity and charming effect of this mani as pastel pink shifts to a milky white shade on long chic square nails.
48. White Daisy French Almond Nails
White daisies and french tips are such a cute combination. These nails can do casual outings, classy events, date nights, and more, giving versatility with style; a major win.
49. White Almond Nails with Hot Pink Flowers
I immediately started humming, "Girls just wanna have fun," when I saw these nails. Bold hot pink flowers against a white background are giving retro vibes with a modern twist, a tribute to the fashion aesthetic of the 1980s.
50. White Rose French Coffin Nails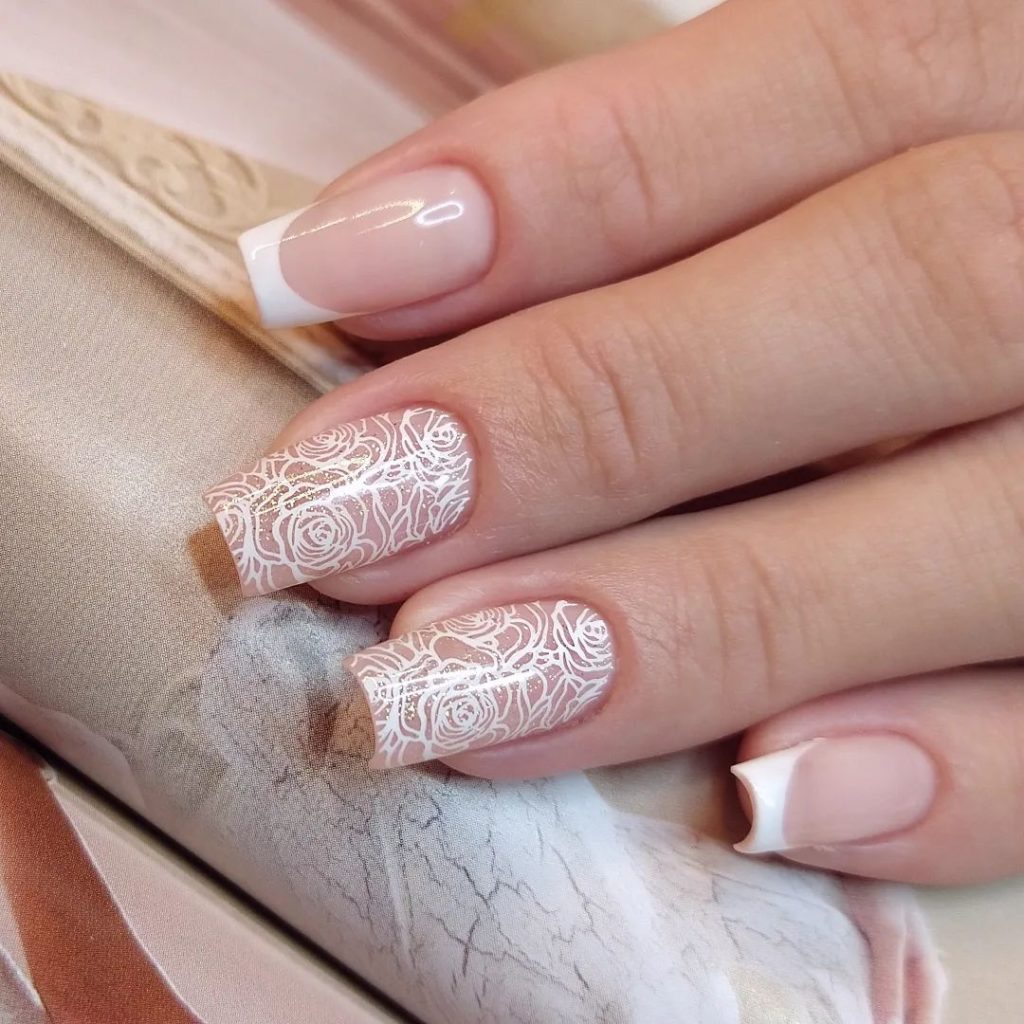 This look features three of the classiest elements combined, french tips, roses, and a detailed lace effect. It's an intricate design with a touch of simplicity manicure I'd definitely revisit.
51. White and Purple Floral Squoval Nails
A purple and white nail combo is guaranteed to look amazing. For this look, a purple flower design feathers into white, creating a delicate and seemingly effortless finish.
52. White Kitten Round Nails with Black Polka Dots
Here's an easy way to amp up your white nails: apply a trail of bold black polka dots to decorate each. If the vibe fits, add a cute kitten design, turning that ring finger into a trendsetting accent nail.
53. White French Almond Nails with Pastel Flowers
Get your french tips ready for Spring by adorning them with small pastel flowers. If maxi dresses and flowy skirts aren't exactly your thing, this eye-catching design may just change that entirely.
54. White and Brown Giraffe Print Coffin Nails
It feels good to take a step up the color spectrum every now and then without losing the neutral, earthy essence of your design. 
For a warm-toned alternative to black and white cow print nails, try a trendy giraffe print instead.
55. Short White and Silver Glitter-Encrusted Nails
Share the canvas of your nails with a solid white base and iridescent glitter for a glamorous and youthful everyday look.
No matter how short our nails are, we can all do with some sparkle from time to time, and this design is sure to inspire some new and improved outfit selections.
56. White and Blue Glitter Ombre Coffin Nails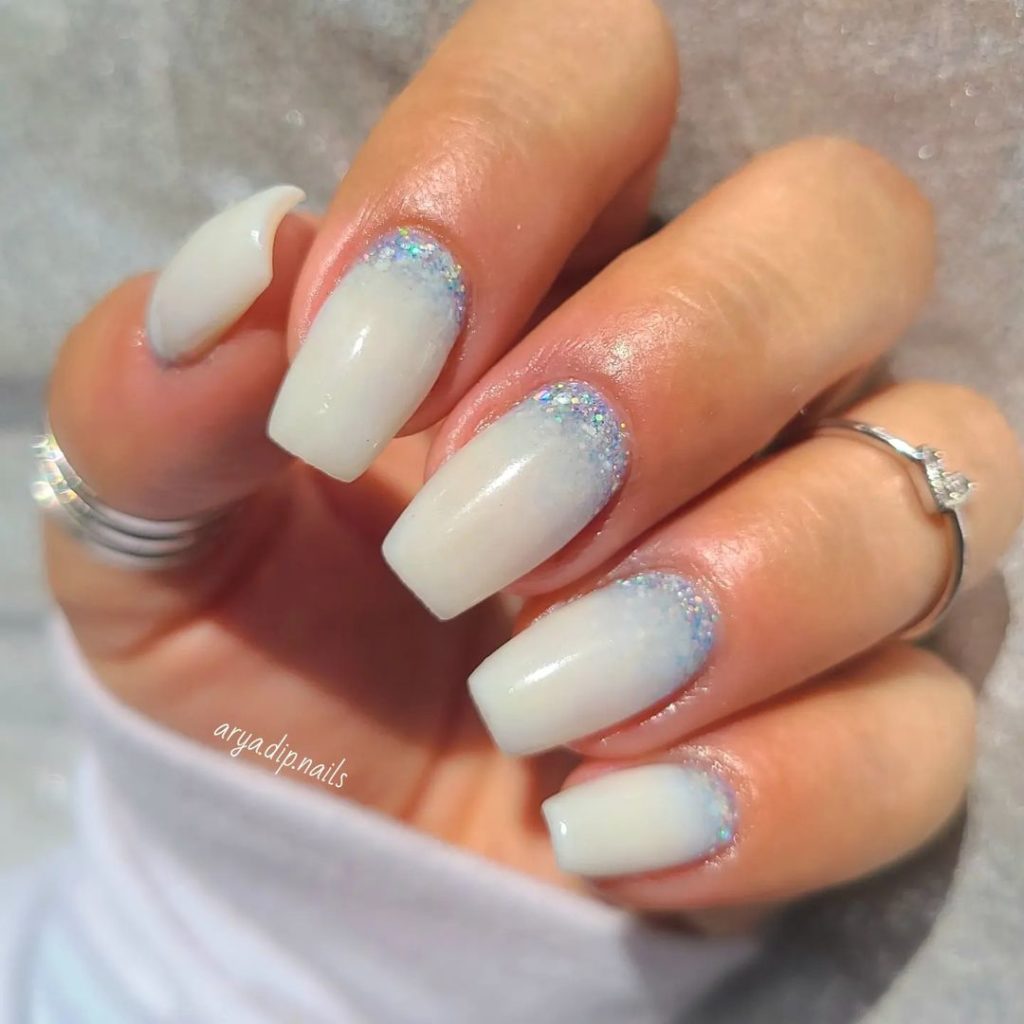 Some more sparkle for the girl who was born to shine but let's switch things up just a bit by applying glitter at the crown of each nail for a regal ombre effect.
57. Short White Zebra Stripe Nails
What better animal print to pair with your white nails than zebra stripes? The style of these stripes will bring such an amazing contrast to your white nails.
If doing this design free-hand proves to be a challenge, seek the assistance of nail art stencils or make it super easy with zebra stripe nail stickers.
58. Short Milky White and Gold Glitter Nails
Nothing beats a simple design packaged with elegance, and I'm truly enamored by how gold glitter decorates the side of these milky white nails. You see, nail art doesn't have to be hard, it just has to be something you're proud of.
59. Short White Reverse French Nails with Gold Glitter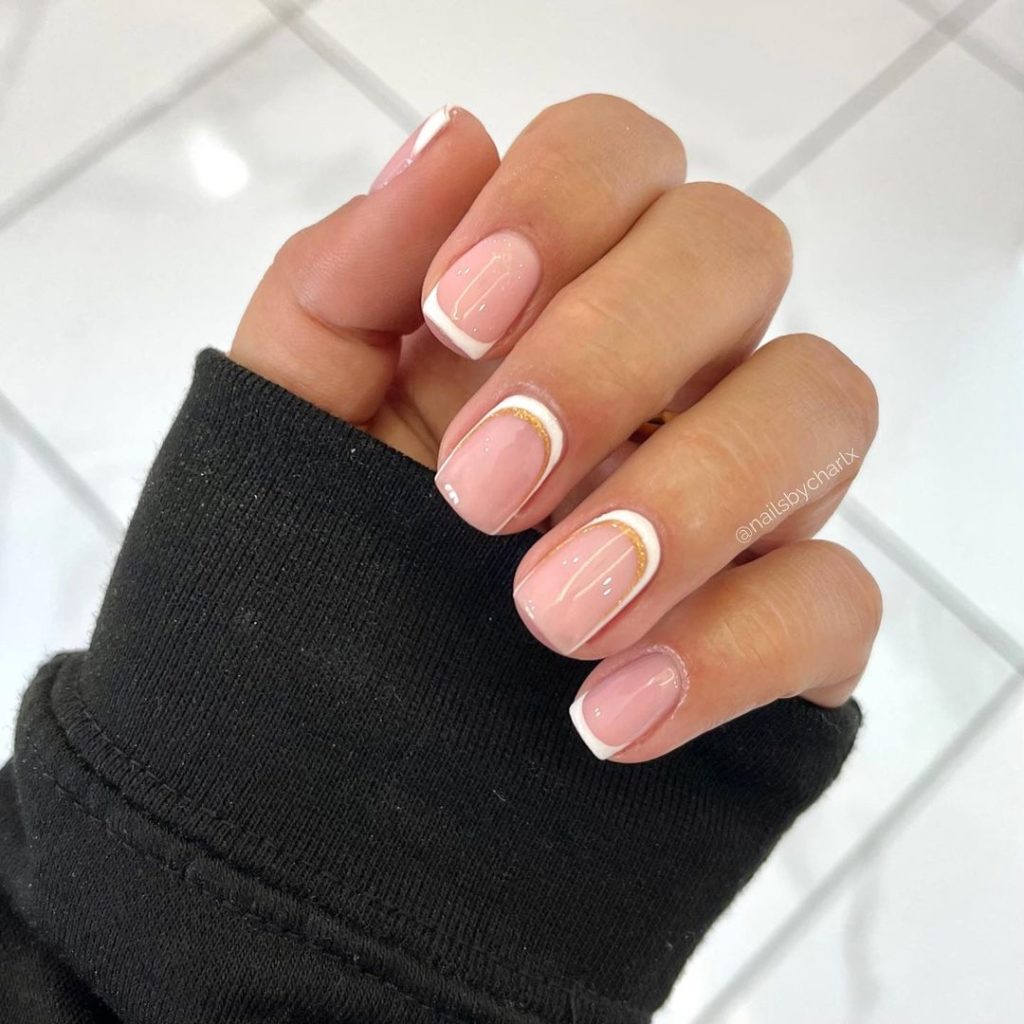 Reverse that french tip like the trendsetter you are and achieve an ultra-chic design that'll look so fresh with those neutral pieces you've been hiding in your closet. 
And there goes gold glitter again, emphasizing the unique twist of these classic white french nails.
60. White Almond Nails with Chrome Silver Triangles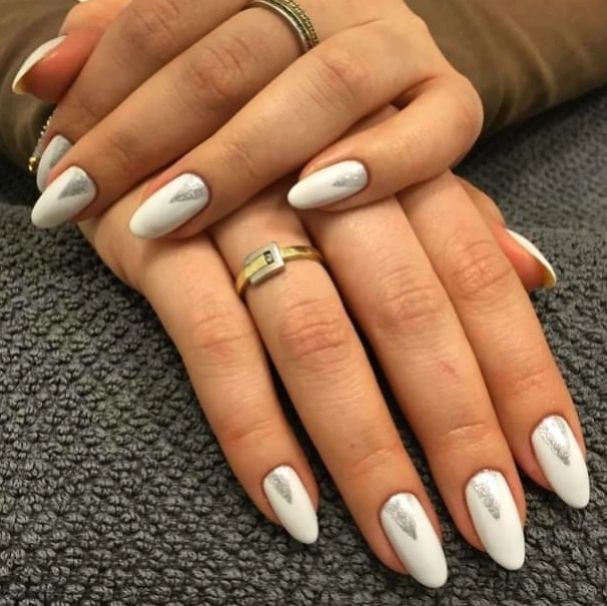 Give chrome designs a chance by incorporating the look into a white manicure. If you're not ready to dive right into this nail art phenomenon, introduce this feature with silver triangles to add some glam to your nails.
61. White and Baby Blue Glitter Ombre Nails
There's a type of blue that takes the sadness away and I'm convinced it's this lovely sky blue shade. It's highlighted by crusts of glitter with nails on either side coated in white to complement the soft elegance of this design.
62. White Christmas Tree Stiletto Nails
The holidays will never be the same and we've got these highly creative and fashionably designed nails to thank for that. 
An array of colors; white, red, green, and gold act as ornaments, leading to a stylish Christmas tree effect, enhanced by stiletto-shaped nails. Strips of gold also chime in and the finished look is so chic.
63. Short Mismatched White and Black French Nails
There's nothing to me quite like a neutral palette and while my closet is loaded with outfits to match that theme, I also appreciate a monochromatic mani. 
There's so much to love, but I'll allow the sophistication of these mismatched white and black french nails to do the convincing.
64. White and Rose Pink Glitter Nails
To make white nails fun, go for glitter nail polish. The colorful specks give this look a celebratory vibe with scintillating rose pink glazed over the lucky ring finger.
65. White and Pink French Almond Nails
First impressions last forever, so bring your A-game with a chic set of french nails. Sophisticated, classy, and gorgeous are just a few words to describe this design, as it transitions from a matte white base to glossy pink tips.
66. Sparkling White Floral Coffin Nails
Floral is the nail art for every season. Rock this design to complement the warmth of Summer and Spring, enhance your earthy ensembles for fall, or to amp up frosty white nails for Winter.
67. Short White Nails with Black Abstract Stripes
Design black stripes however you want for a cool abstract look that'll upgrade your white nails, making them chic and attention-grabbing.
68. White Square French Nails with Flower Decals
Here's another Spring-worthy design to save to your, "must-haves," collection. Nude and yellow flower decals create a 3D effect, making it super easy to love these stylish french nails.
69. White and Sky Blue Striped Coffin Nails
Go for bursts of sky blue to enhance icy white nails. Take things even further with the application of neat white lines and small white hearts overlaying the blue of your ring and index fingers.
70. Short White Nails
All-white nails have the ability to upgrade anything you wear. The ivory canvas easily complements a wide variety of color combinations and is a chic all-rounder.
71. Long White Cut-Out Nails with Thorny Hearts
Nails can be like poetry sometimes as you explore your creative side. For this look, thorny hearts overlay long cut-out nails varnished in creamy white. Interpret this design as you may and you'll find it'll become a lot more special.
72. Long White Floral Cut-Out Nails with Emerald Gemstones
White nails are intrinsically classy but with emerald gemstones, they're out of this world. This stunning design also features large white 3D flowers and quite frankly, I'm blown away.
73. Pale White Square Nails with Pearls
Swirls and pearls are a few of my favorite things! Paired together, they accentuate pale white nails for an elegant design that's on the simpler side.
74. White and Gold Glitter Abstract French Almond Nails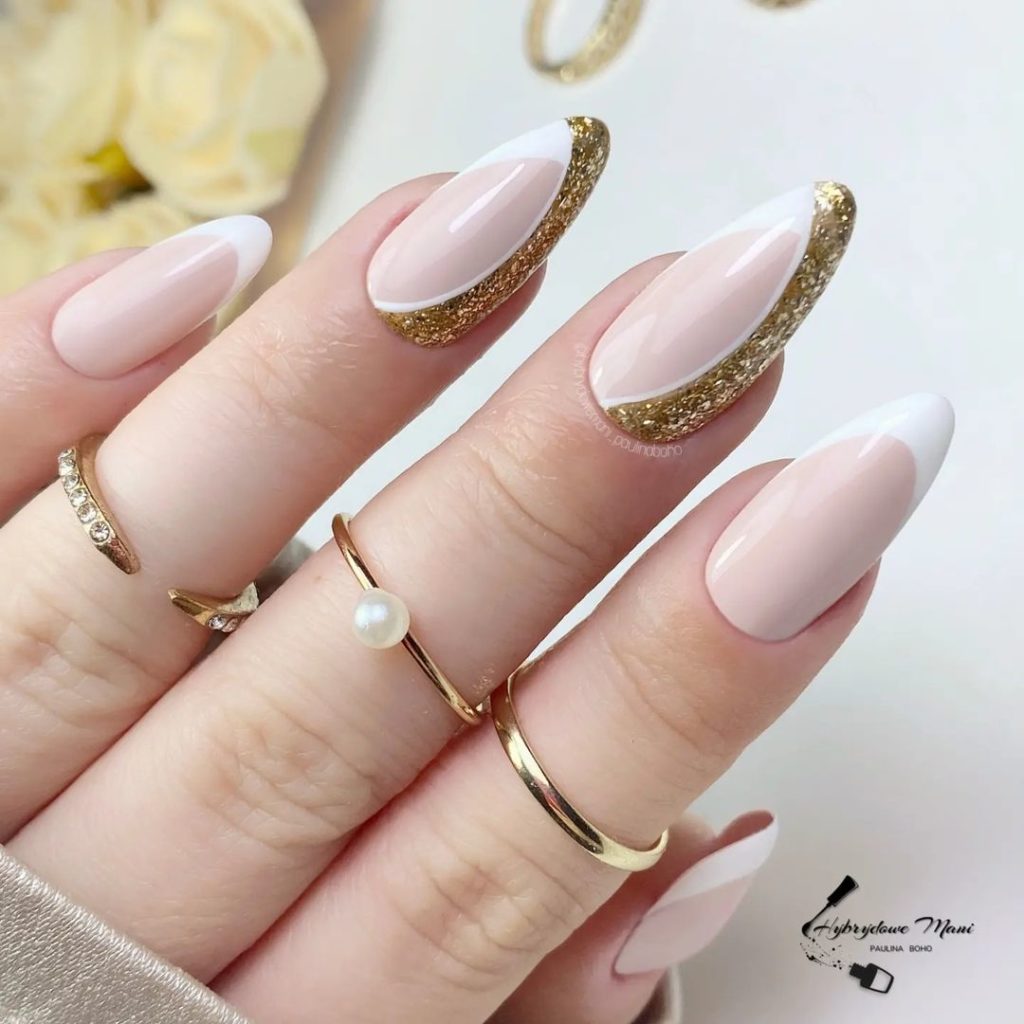 Another one of my favorites, gold glitter gets these white nails all dressed up to match a classy date night outfit. Let this fabulous design be a reminder that french nails are way more than just a classic option.
75. Sparkling White Almond Nails with Green Swirls
Swirls in shades of green turn these sparkly white nails into a trendy Summer hit, and that's all you need. Watch the season's sun do the rest, casting light on the surface to create an even more dazzling finish.
76. White Oval Nails with Pastel Splatter Art
Tempted to add a little creativity to all-white nails? Go for it! Play around with your favorite pastels, dabbing against the surface to create a cute accent nail design.
77. Glossy White Stiletto Nails
These medium-length stiletto nails are coated in milky white lacquer and the elegance is mind-blowing. The texture is played up further by a glossy top coat for a remarkable shine.
78. White and Pink Marble Stiletto Nails with Silver Rhinestones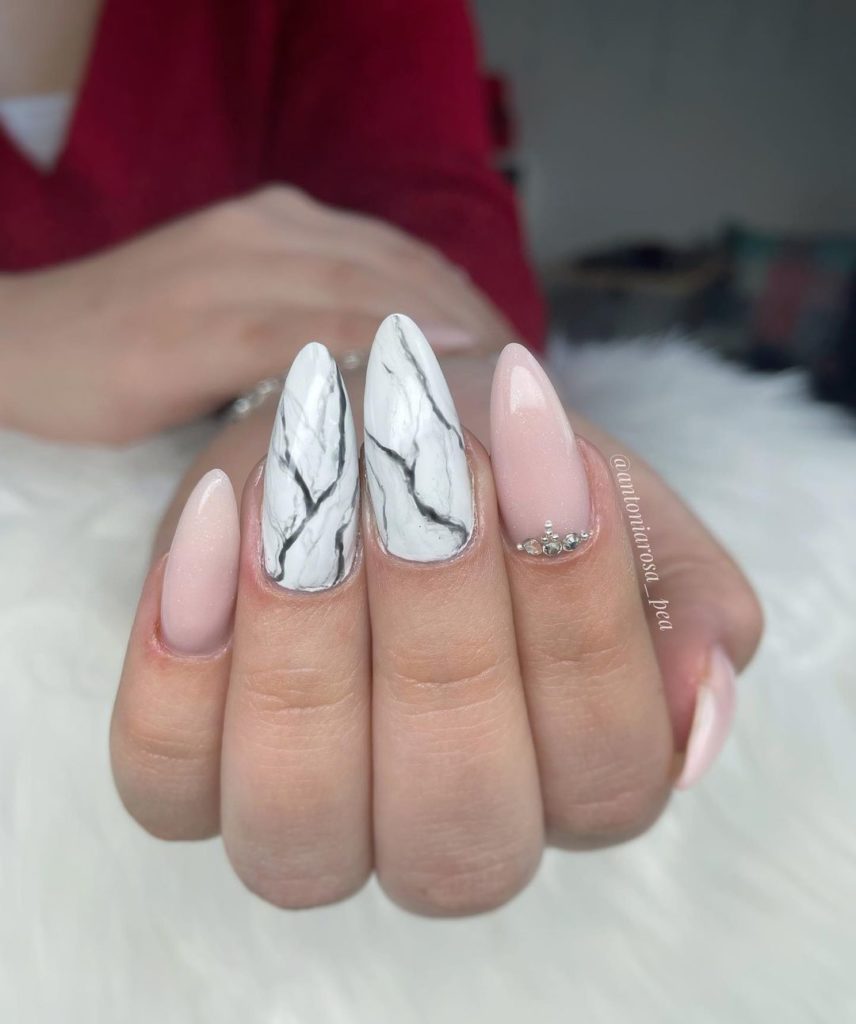 If it's a marble design then count me in! Coupled with dusty pink, this white nail design has quite the charm, enhanced by silver rhinestones for a luxurious touch.
79. White, Silver, and Red Glitter French V-Tips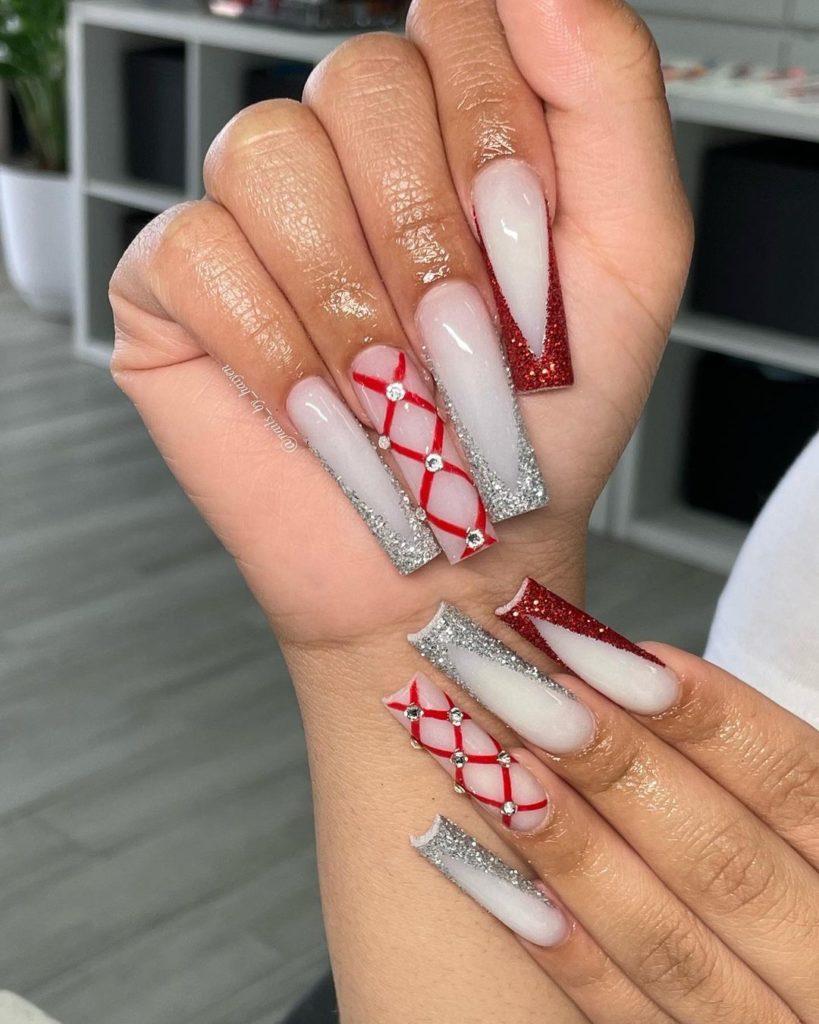 Sparks are flying, and it has everything to do with my love for these shimmering white-based french nails. This look features glitter-encrusted silver and red v-tips with a criss-cross rhinestone-embellished design on the ring finger.
80. White and Navy Blue Swirl Stiletto Nails
All lines connect in this navy blue and white combo leading to a clever abstract swirl design. It's such a chic look with a playful twist.
81. White Stiletto French Nails with Brown Stars and Dots
Forever grateful when all the stars align, as they do in this sharp white french tip design. Brown stars and dots pop out onto the surface with some fading away into a chalky white texture..
82. Short White and Black Animal Print Nails
For a classic design that's trendy too, animal prints overlaying white nails are the answer. Mix things up with a cow and zebra print combo along with mismatched black nails for an edgy finish.
83. White and Dusty Pink Ombre Butterfly Nails
It's double the cuteness as hot pink butterfly nail art makes its debut on this white and dusty pink ombre mani. This look also features flecks of glitter for an overall sparkling design.
SEE ALSO: 25 White Butterfly Nail Design Ideas That Are Trending
84. Chic White and Nude French Almond Nails
From a classic white french tip to triple the fun, these nails just keep getting better and better. This look has all the versatility you need with a chic flair to top it all off.
85. White Nails with Small Multi-Colored Polka Dots
If you're accustomed to wearing simple designs but want to shake things up a bit, you can't go wrong with polka dots. Apply small dots in bright colors on each nail to brighten up a white mani without being too elaborate.
86. White Coffin Nails with Black Smiley Face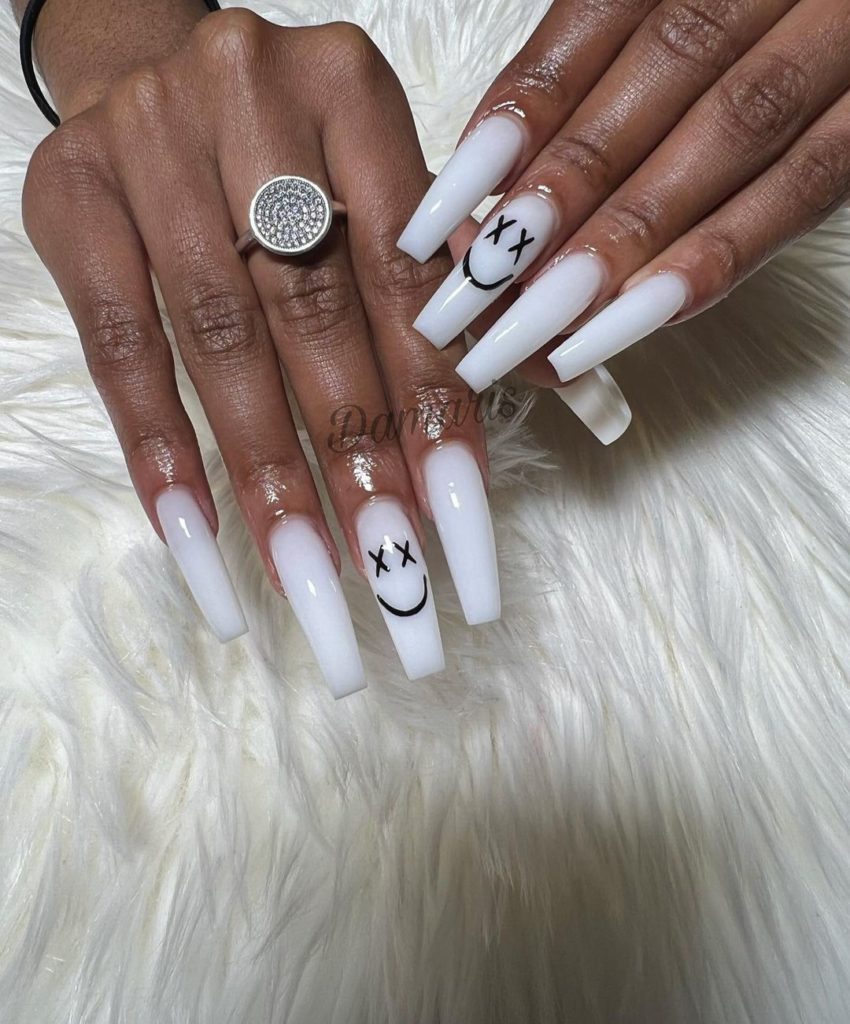 Sometimes all it takes is a smiley face to create a stellar accent nail. Rock the emoticon in black for a bold color contrast.
87. Abstract White Negative Space Nails
This milky white and negative space design is one of the reasons I love nail art so much. The combination is unique plus super trendy and is a look you can wear with any outfit.
88. White Floral Square Nails with Silver Sequins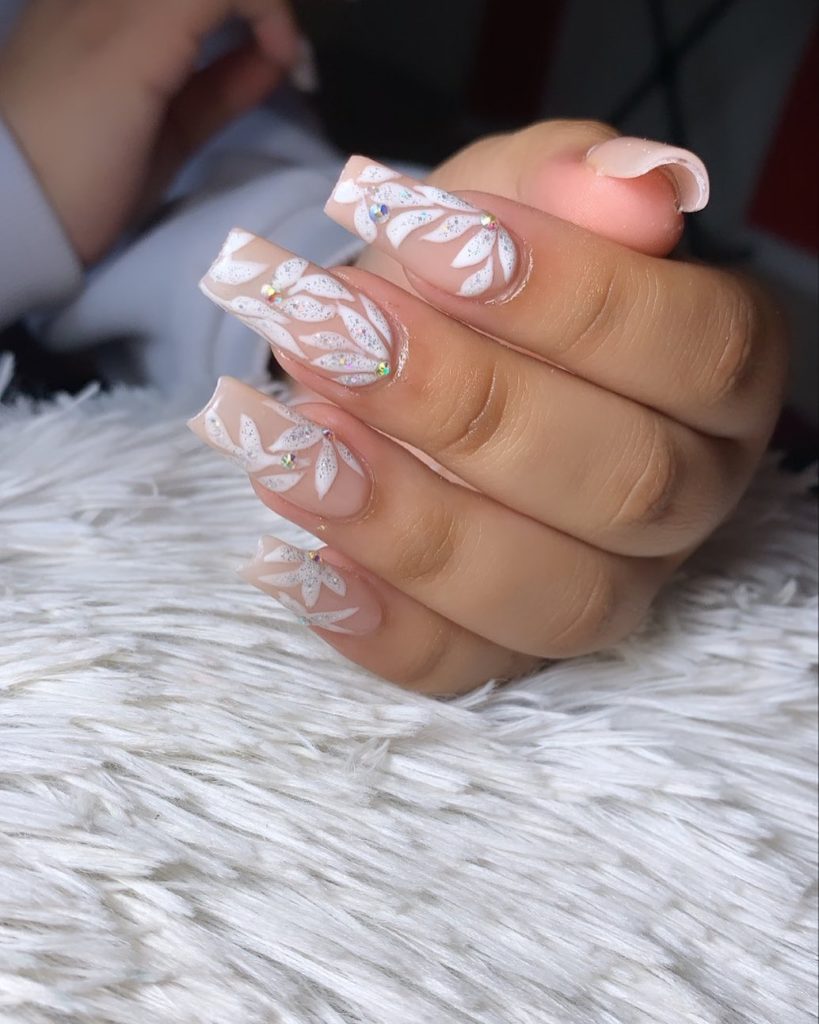 Calling all soon-to-be brides and romantics— I hope your love blooms as beautifully as these pretty white flowers. Designed over a nude base, this floral art features cute silver sequins and just might be the wedding nail design for you.
SEE ALSO: 50 Pretty Nail Design Ideas That are Currently Trending
89. White Squoval Nails with Small Red Heart
The ring finger is the perfect choice for a little PDA and this look says it all, with a small heart designed in red, outlined in black. 
Amidst plain white nails, this romantic icon instantly steals your attention and is a great idea for Valentine's Day.
90. White Deep French Coffin Nails with Green Leaves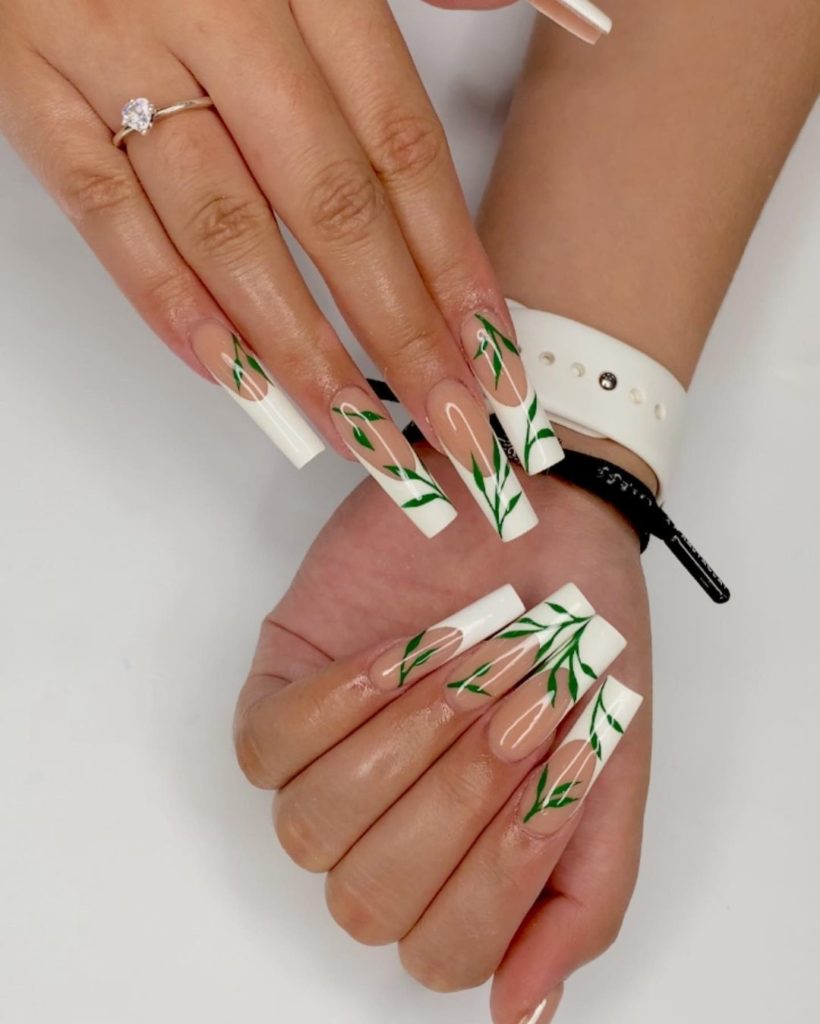 Top up your nails with a white french mani and a whole lot of greenery for a boost of color. Green leaves give this look a fresh Summer vibe, and I'm already making space in my gallery for all the photo ops.
91. Short White Nails with Multi-Colored Swirls
Here's another fresh look for vacation season. Stylish swirls in vivid colors dance along the expanse of short white nails. The design of each swirl is all up to you, so feel free to get creative with this look.
92. Shimmery White and Black Polka Dot Gradient Nails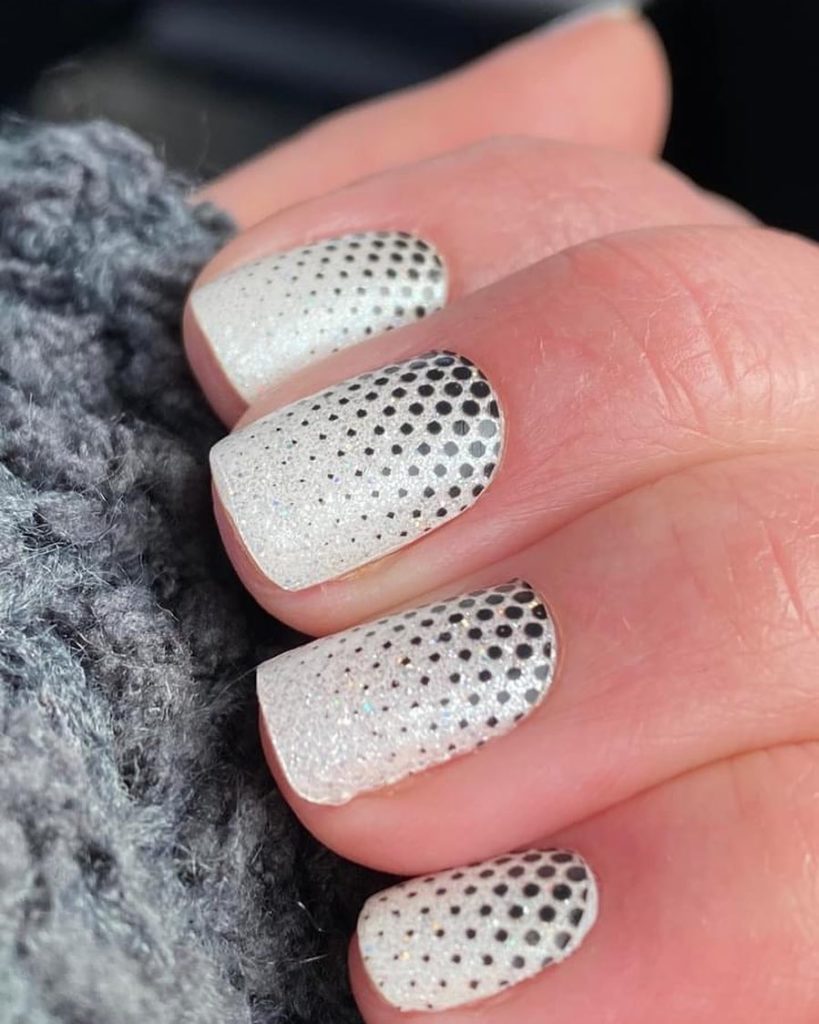 Feeling for a sassy neutral look? The steps are easy. Pair black polka dots with a shimmery white base and enjoy a chic monochromatic gradient design.
93. White and Pale Pink Nails with Red Hearts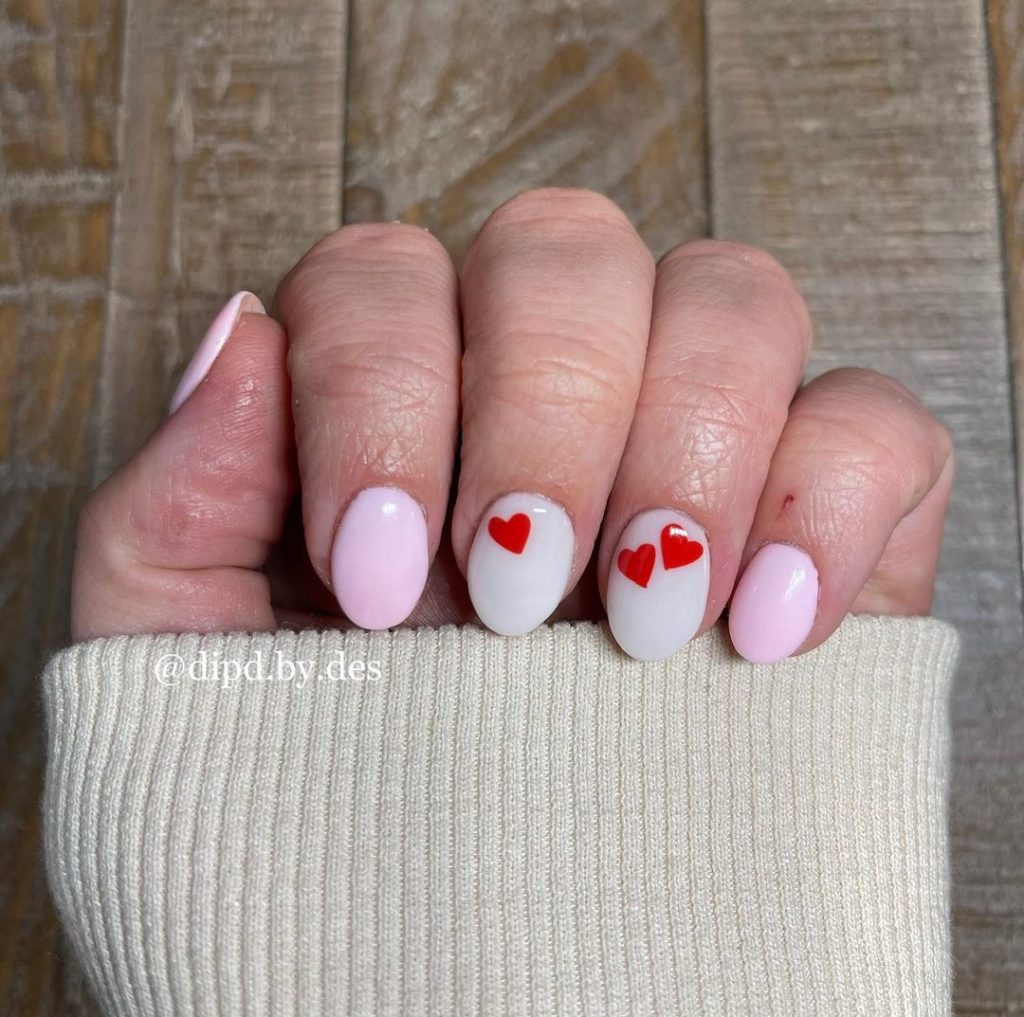 These white and pink nails would be the perfect way to announce that you've got a little bundle of joy on the way with the red heart on your middle finger representing your sweet baby.
94. White Almond Nails with Sleek Black Lines
Paint black lines over white nails for an ultra-chic and perennial design. The sharper the lines, the sleeker the finish.
95. White French Coffin Nails with Red Flames
For a bold finish, amp up your white nails with red flame nail art. Combined with white french tips, you're in for a confident and classy design.
96. White Multi-Colored Ombre Almond Nails
These nails remind me so much of popsicles because of the frosty white base and color-coated tips. I love how each hue blends into white, creating a smooth ombre design.
97. White Nails with Small Dots
Small dots in black and white were all it took to enhance this manicure. This look is perfect if you're not super keen on conspicuous designs but still a fan of a diverse look.
98. White Glitter Nails with Colorful Sequins
For the holidays, we decorate our homes and even sport Christmas-themed outfits, but this year, we're bringing festive nails to the party too.
Try this stunning ornament design made manifest through colorful sequins and deep burgundy swirls, overlaying white glitter nails.
99. White Stiletto French V-Tips with Black Line Art
Never thought it possible for french nails to look any more sophisticated than they already are? To that I say, nothing's impossible with chic line art.
100. Milky White, Pastel Yellow, and Orange Nails
If you're the sporty type, this design is the perfect match for you. Not only do I love the milky white texture but the addition of pastel yellow and orange gets me in the mood to get all dressed up in cute casual wear and white sneakers.
Summary and Top Picks
Still amazed? I know the feeling. After years of second guessing, it was only a matter of time before I too became obsessed with the amazing options white nails provide. 
Whether you opt for a clean canvas or decorate with trendy designs and seasonal shades, you won't be able to stop yourself from falling in love with white nails.
For me, It was love at first sight with designs 18, 38, and 52. I'm a super fan of the intricacy of sweater nail art and dotted designs are such a trendy fashion statement with a timeless quality that I appreciate.
What about you? Which of these white nail designs are your favorite? What were your thoughts on white nails before as opposed to now? Let me know what you think along with any questions you'd like to ask down below.