Most of us agree that at some point in our lives, we've experienced what it's like to be pretty in pink, but according to nail designs popping up all over the internet, it's the color purple that we should start looking out for, now more than ever.
That's right, purple is no longer seated on the sidelines. From the natural elegance of an airy lilac shade to the royal exuberance of deep violet, you won't believe some of the designs I'm about to show you. Still, they're as real as can be and very attainable.
In this compilation, we'll be turning the spotlight on purple nails that you can rock for all seasons and to match any occasion with french tips, floral, animal print, abstract art, and rhinestone-decorated designs all making the cut.
I've made room for unconventional styles as well to spice things up a bit. Ever heard of geometric gradient nails? If you love surprises and all things beautiful, then you're right where you should be. Here are trendy purple nail designs you need to see.
1. Deep Purple Almond Nails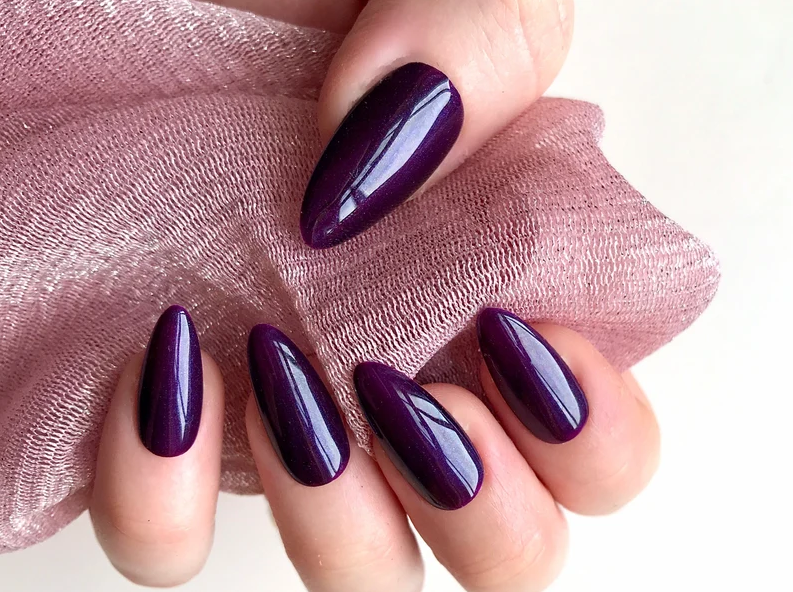 Deep purple, if you're feeling fancy. Apply this color over almond nails with a glossy top coat to highlight its rich quality. You can get these nails at Etsy.
2. Lavender Almond Nails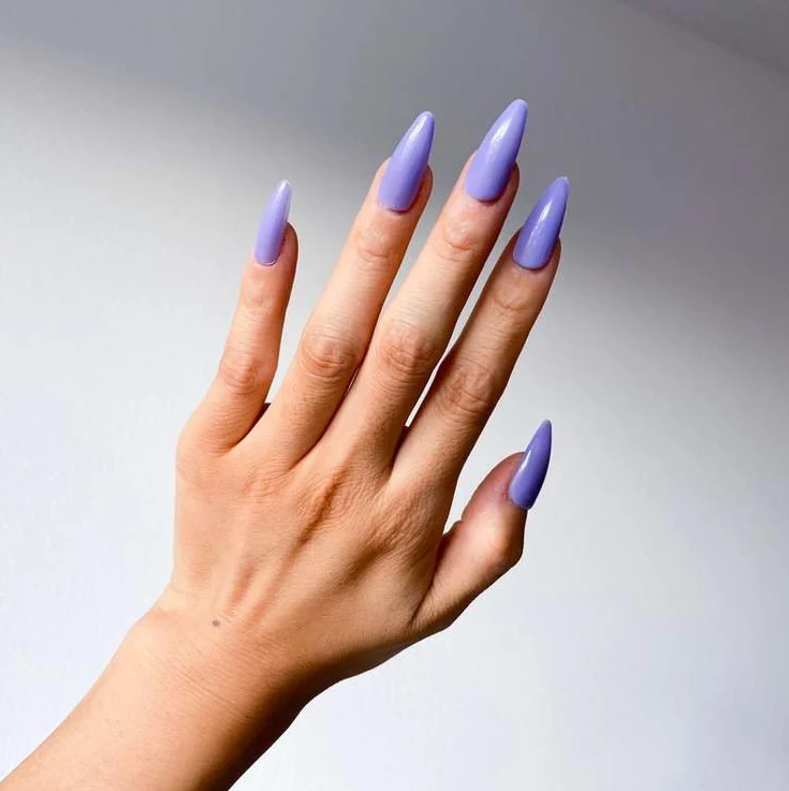 Subtle shades make me feel extra sweet. Capture the vibe with a glossy lavender set, perfect for dressing up those Spring dresses. You can get these nails at Etsy.
3. Dreamy Purple Marble Glitter Stiletto Nails
For nails that take your breath away, opt for a dreamy marble design, with feathered swirls and glitter that place you in an enviable reverie. You can get these nails at Etsy.
4. Short Mood-Changing Purple Glitter Nails
More proof that purple nails are simply out of this world as purple glitter lacquer gets you ready for a weekend of fun.
No matter how loud the DJ plays, he won't be able to compete with the mood-changing color effect of these shimmering nails, shifting between purple hues with ease. You can get these nails at Etsy.
5. Lavender Daisy Almond Nails
Daisies are right at home on these lavender nails. The subtle tone grants these white and yellow flowers the perfect opportunity to brighten up your manicure. You can get these nails at Etsy.
6. Pastel Purple Glitter Jelly Coffin Nails
Nothing enhances translucent nails better than a glitter overlay, and with pastel purple being the shade of choice, you'll have a sparkling jelly nail design on your hands. You can get these nails at Etsy.
7. Purple and Nude French Ombre Coffin Nails with Silver Sequins
These nails are so diverse, and they show it with grace as a muted nude base transitions to lavender in a trendy french tip and ombre design. This look is accentuated by translucent glitter accent nails and silver sequins. You can get these nails at Etsy.
8. Purple, White, and Gold Foil Coffin Nails
Glitter foil nail art has cemented itself as a worthy alternative to traditional glitter, simply because it's different from the norm, and also, super easy to apply.
Up the creativity and elegance of your purple nails by putting this trend to use with gold glitter foil. Bring white into the mix on your index finger to create the perfect accent nail for this classy look. You can get these nails at Etsy.
9. Lavender Deep French Coffin Nails with Flower Decals
Lover of french tips but longing to try something new? Get your feet wet with deep french nails. Accentuate this cute look with floral decals applied over negative space. You can get these nails at Etsy.
10. Translucent Deep Purple Glitter Stiletto Nails
The Vampire Diaries wrapped up in 2017, but the series' love triangle remains a hot topic. So much so, that I just couldn't pass on this vampy deep purple design. Who knew translucent stiletto nails with sprinkles of glitter could be so nostalgic? You can get these nails at Etsy.
11. Mismatched Lavender Glitter Coffin Nails
A manicure fit for the ballroom—the perfect description for these mismatched purple glitter nails. Complement the theme with a stunning white mermaid dress because this design is too chic to only rock in a casual setting. You can get these nails at Etsy.
12. Pastel Purple French Coffin Nails with Swirls
Dress up pastel french nails with a stylish swirl art, designed on a nude base. This accent nail brings diversity and an extra girly touch to the overall look. You can get these nails at Etsy.
13. Purple Floral French Almond Nails
Talk about cute! Pop a few flowers onto the tips of a translucent nail for the most effortless girly design ever achieved. Round off this look with your remaining nails coated in a muted purple shade. Loving the femininity of this mani. You can get these nails at Etsy.
14. Deep Purple and Black French Almond Nails
Set the mood with an alluring deep purple manicure, brought to completion by inky black french tips. You can get these nails at Etsy.
15. Dark Orchid Almond Nails with Black Swirls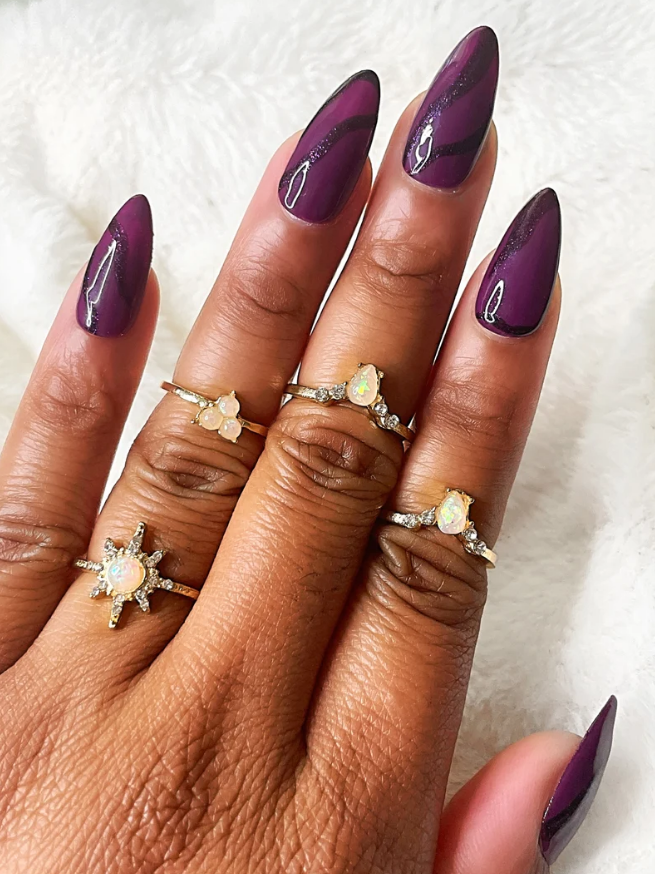 You'd think black nail polish would further deepen the tone of these purple nails but thanks to the subtlety of the black swirls, the result is a charming design, well suited for that upcoming nuptial. You can get these nails at Etsy.
16. Purple and White Marble Coffin Nails
This look melts my heart in the same way purple melts into white for a beautiful marble effect. Coat your ring finger in solid white to enhance the classy aura of these nails. You can get these nails at Etsy.
17. Holographic Purple Glitter Coffin Nails
Opt for purple glitter nail polish to achieve an absolutely mesmerizing iridescent design. Standing out won't be a concern for these nails, and they're just what you need to stave off those Winter blues. You can get these nails at Etsy.
18. Matte Dusky Purple and White French Rim Coffin Nails
I've always loved the well-defined quality of a matte finish—it's just so chic. Achieve this look with a dusky purple base that transitions to a modern white french rim design. You can get these nails at Etsy.
19. Purple and Nude Tie-Dye Coffin Nails
If the sky were purple, this is how I imagine it would look. Patches of purple seem to overtake nude coffin nails in the most flattering way for a cute tie-dye design. You can get these nails at Etsy.
SEE ALSO: 37 Pastel Rainbow Nail Designs
20. Short Lavender and White Floral Nails
Short nails polished in soft shades are like a dream. Enjoy the blissful feeling with an airy white floral accent nail. You can get these nails at Etsy.
21. Grape Purple Coffin Nails with Small Pink Dots
Purple nails in the shade, grape, are underscored by small cute pink dots for a low-key posh vibe, and I'm here for it. You can get these nails at Etsy.
22. Short Chrome Magenta Nails
There's nothing like the shine your manicure receives as that warm Summer sun beams against the pretty color of your nails. So, why not play along? Coat each nail in magenta with a dazzling chrome finish. You can get these nails at Etsy.
23. Pastel Purple and Pink Geometric Nails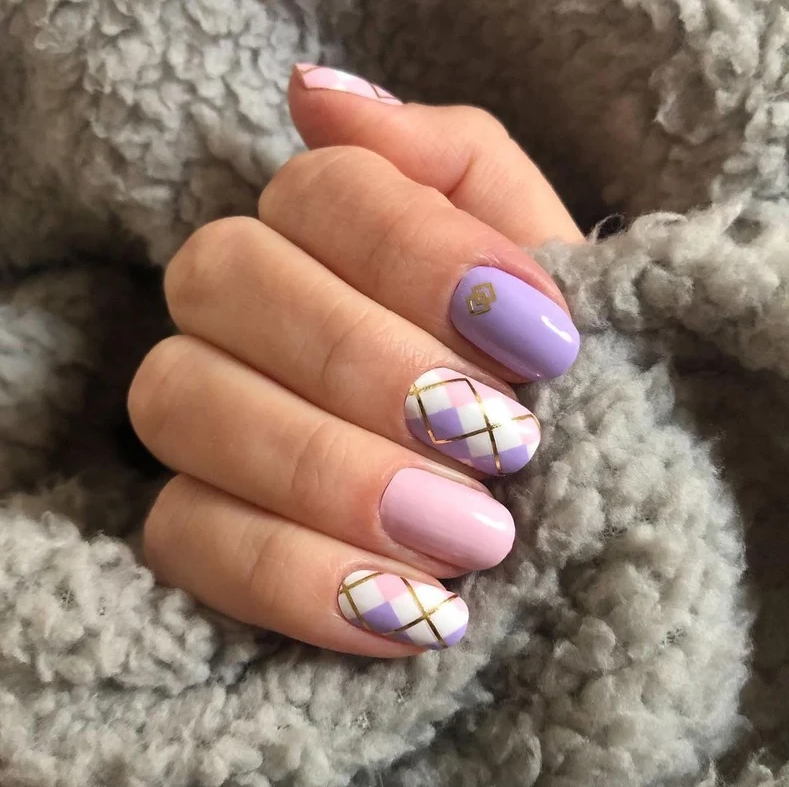 We're paying homage to the Mean Girls franchise with these darling geometric art pastel nails. On Wednesdays, we wear pink and purple. You can get these nails at Etsy.
24. Euphoria-Inspired Purple Glitter Square Nails
Don't get left behind—Euphoria nail art has been causing quite the stir lately and with good reason. Cop this stylish Maddy Perez-inspired look with negative space bordered by purple glitter lacquer. You can get these nails at Etsy.
25. Matte Lavender Square Nails
Spring feels like the start of something new. Turn a new page with matte lavender nails polished over bold square extensions. You can get these nails at Etsy.
26. Purple Sweater Coffin Nails with Snowflakes
Purple nails for Winter are the aesthetic we all need. Make it count with cute white snowflakes and sweater nail art for the coziest vibe. You can get these nails at Etsy.
27. Purple and Pink Tie-Dye Coffin Nails with Gold Foil
Purple nails with a pink tie-dye effect are super cool but how about shiny gold foil art to top it all off? I'm definitely a fan. You can get these nails at Etsy.
28. Translucent Purple Glitter Coffin Nails
I see glitter nails, and I click—it's that simple. Rock your fave sparkly purple nail polish over translucent nails. Coat your nails midway for a unique twist. You can get these nails at Etsy.
29. Short Lavender Cow Print Nails
Here's a look that will thrive off your casual Summer pieces. These lavender and white nails are adorable with a cow print design adding a trendy finish. You can get these nails at Etsy.
SEE ALSO: 100 White Nail Design Ideas That Are Trendy AF
30. Purple Daisy Stiletto Nails
Flower-decorated manicures have been a go-to for a feminine nail design, particularly daisies.
One of the simplest floral designs to accomplish, you can rock this look over a purple base to give your nails a boost. You can get these nails at Etsy.
31. Pastel Purple and Nude Abstract Wave Coffin Nails
All hail nail art royalty! Waves are like the it-girl of all abstract nail designs. Paint them over a solid nude base in light to dark purple shades for a chic pastel combo. You can get these nails at Etsy.
32. Glossy Purple Coffin Nails with Deep Purple Glitter
Rock a glitter accent nail to enhance a soft-hued purple manicure. Round off this look with a glossy top coat to make the finish even more impressive. You can get these nails at Etsy.
33. Light Purple Coffin Nails with Butterfly Decals
Butterflies proved to be the perfect decals to complement these twinkling purple nails. Apply these cute decals over a translucent nail and achieve an angelic look with these purple butterfly nails. You can get these nails at Etsy.
34. Purple Taupe and Black Almond Nails with Silver Sequins
Wedding bells around the corner? Whether it's your special day or a friend's, the dusky tone of these purple taupe and black nails brings a subtle romantic feel, perfect for the occasion. Top it all off with a collection of silver sequins. You can get these nails at Etsy.
35. Glitter-Encrusted Purple Coffin Nails
Be the girl who's not afraid to shine bright. Go heavy on the purple glitter nail polish for a fanciful effect. You can get these nails at Etsy.
36. Purple Rain French Square Nails with Gold Foil
Nowadays, purple rain stands for two things: Prince's 1984 mega-hit single and the deep purple hue I've been dying to coat my nails in. This look was completed by flecks of gold foil and a french tip design. You can get these nails at Etsy.
37. Short Pastel Purple Coffin Nails with White Bow
Oh, wow! Aren't these nails simply breathtaking? Amazingly, all it took were stubby pastel purple nails and a charming white bow. You can get these nails at Etsy.
38. Sparkling Purple French Almond Nails with White Stars
Decorate negative space with bright white stars, leading the way to the highlight of this design, sparkling purple french tips. You can get these nails at Etsy.
39. Short Purple Daisy Coffin Nails
"Every little thing is gonna be alright." Of that, these Spring-inspired nails remind us. It's the power of the daisy combined with the zest of the color purple. You can get these nails at Etsy.
40. Lilac and Baby Blue Coffin Nails
Pair lilac with a baby blue accent nail and enjoy the effortless beauty of a simple and feminine design. You can get these nails at Etsy.
41. Purple, Black, and White Swirl Almond Nails
Dress up a clear base with swirls of purple, black, and white. Each swirl complements the next, completing this look as if it were a three-tiered ensemble. You can get these nails at Etsy.
42. Light Purple Freestyle Coffin Nails
Purple nails can be trendy too, so mix things up with a variety of designs. How many can you name? I see animal print, swirls, glitter, clouds, and a detailed set of hearts.
43. Short Purple and White Marble Almond Nails
Keep your nails classy with a purple and white marble effect. Marble nail art has become such a staple design that you can rock this look with absolutely anything and still look amazing.
44. Pastel Purple and Pink Vertical Ombre Coffin Nails
The Spring and Summer seasons tend to see a rise in gradient nail designs as the desire to play around with more colors increases. Achieve the look with a smooth vertical ombre effect, shifting from pastel purple to pink
45. Short Mood-Changing Purple Nails
These bohemian nails feature clear lacquer polished over a black base. Cool right? There's more to the story.
The sparkly effect is a result of the mood or color-changing quality of the clear polish, allowing it to shift between purple, magenta, and red.
46. Purple Gradient Coffin Nails
Realizing that gradient nails are your thing? Coat each nail in a different shade for a diverse look. Go as dark as purpura on your thumb, transitioning to lavender blue and back to deep lilac on your pinky finger.
47. Short Lilac and Deep Purple Glitter Nails
If short and spicy is just how you like it, go for this lilac manicure. Complete with a deep purple glitter accent nail to round off this fabulous set.
48. Light Purple Glitter Nails with Swirls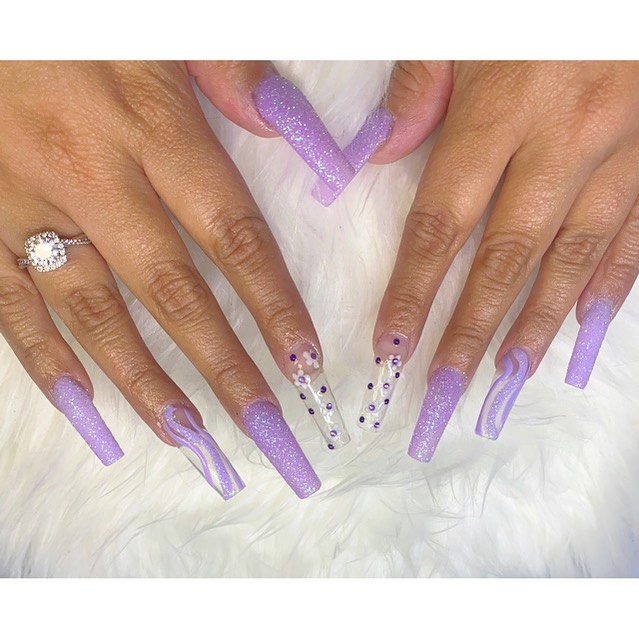 Fuse as many styles as you want to amp up your purple nails. This look is a combination of glitter, swirl art, flowers, and sequins, all coming together to give these nails a fancy flair.
49. Short Purple Ombre Glitter Nails
Tease your nails with a bit of everything. For creativity, go for an ombre blend and for spunk, add trails of glitter.
50. Pastel Purple and White French Coffin Nails
Just the laid-back purple mani you've been looking for. Line your tips with white for a chic french tip design.
51. Short Light Purple Almond Nails with Stripes
Let's do thin stripes in purple, blue, and white to stylize these light purple beauties. Paint each stripe in a slightly curved design for that extra oomph.
52. Purple Ombre Square Nails with 3D Flower and Rhinestones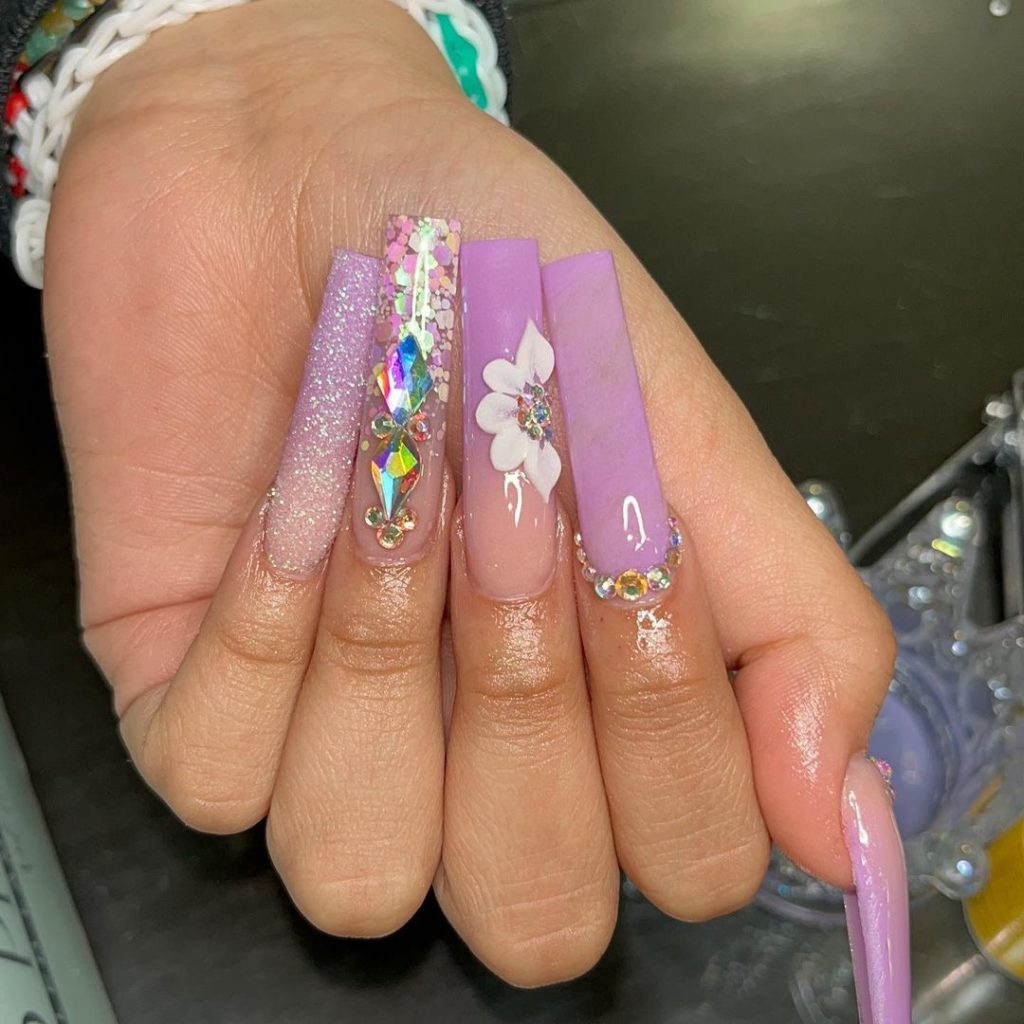 Graduated from the classics and ready to take on a more complex design? Look no further—these purple ombre nails are the bomb! They were elevated by a 3D white flower, rhinestones, and of course, one of my faves, glitter.
53. Short Purple French Nails
It's back to the basics with short purple french tips. If you're not feeling a neutral-themed mani this time around, this pastel look is perfect for you.
54. Short Purple Angled French Nails with Flowers
Classy weds are cute in this ultra-feminine nail design. This multi-shade look features angled french tips which I absolutely love and white flowers, adding to the delicate aura.
55. Iridescent Multi-Shade Purple Nails with Rhinestones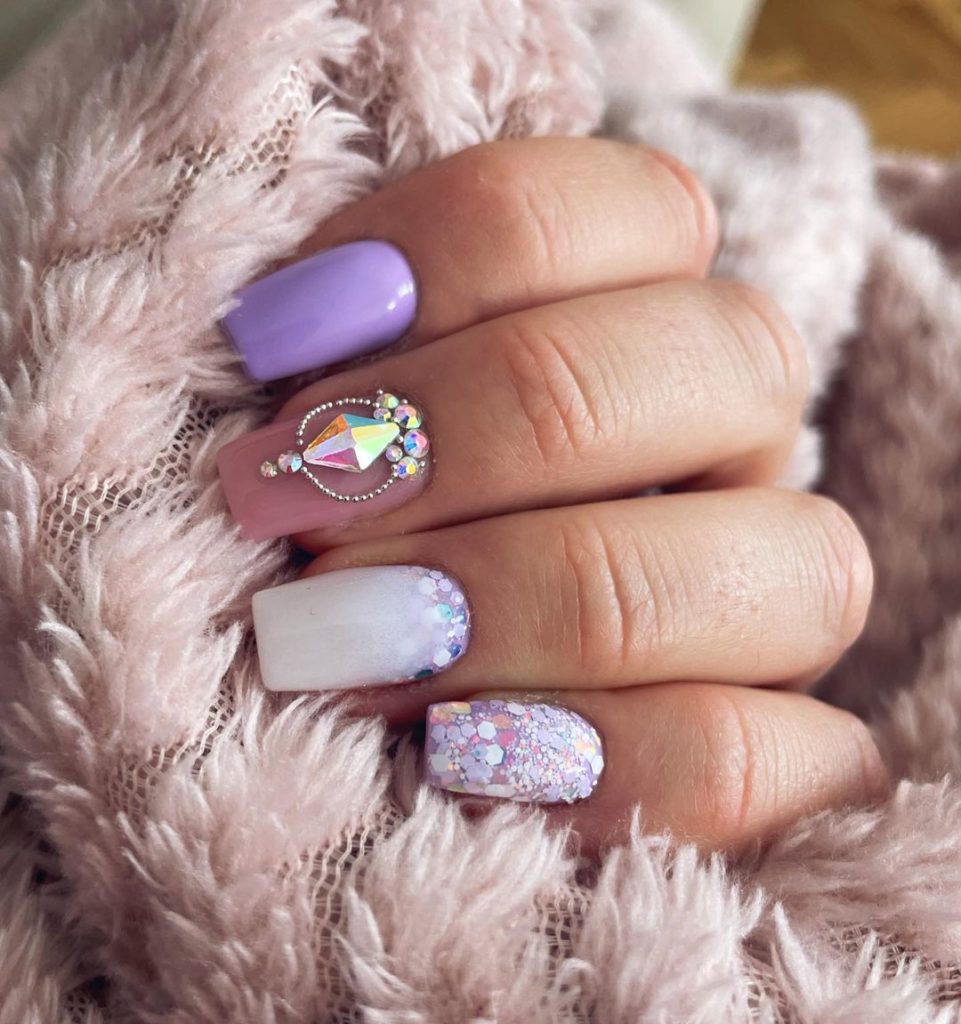 Achieve this posh design with muted shades of purple accentuated by glitter and rhinestones for a dazzling finish.
56. Short Purple and White French Nails
Elevating your french tips doesn't have to be a difficult task. With the help of a universal neutral shade like white you'll be able to upgrade your nails in no time.
57. Glossy Purple Glitter Ombre Coffin Nails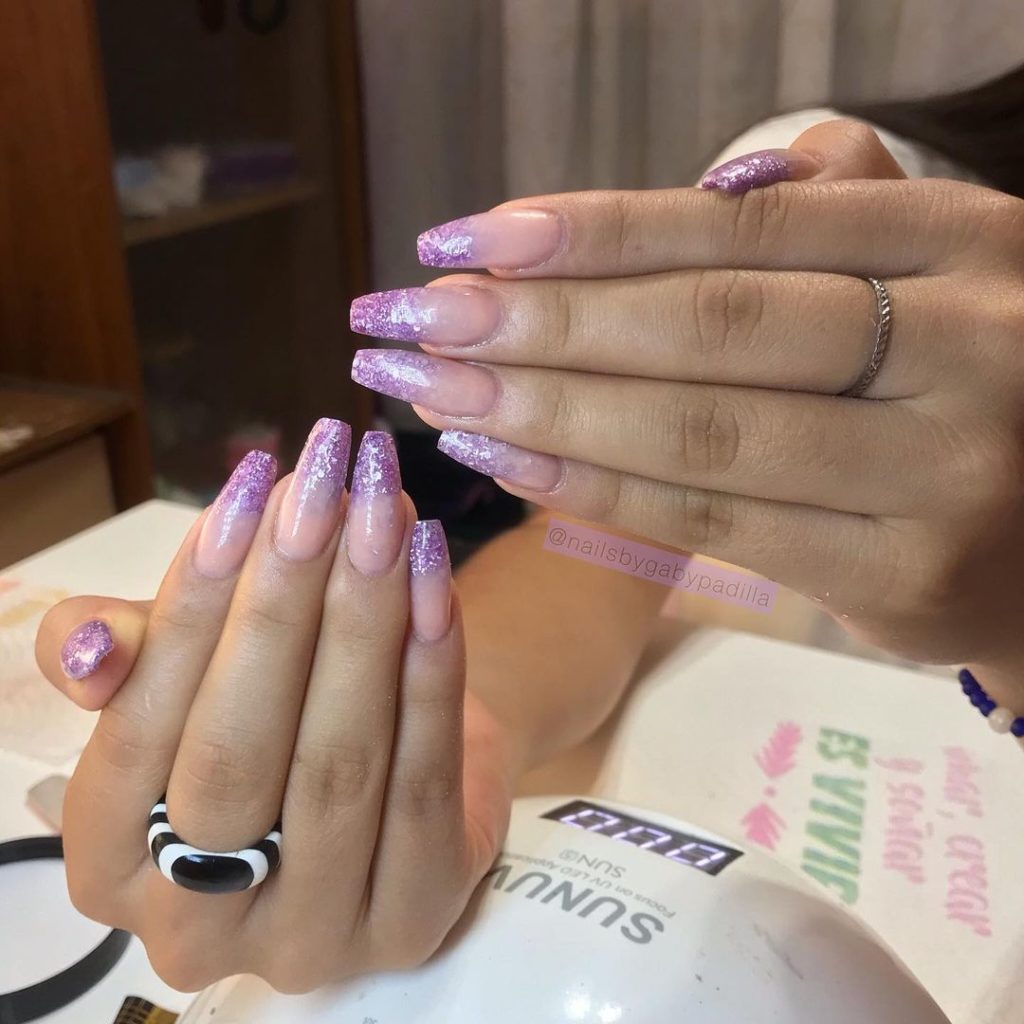 Apply lacquer from the middle of your nails to the tips, feathering out the thickness at the top to create a seamless transition from your clear base. 
Opt for glittery purple nail polish, completing the look with a glossy top coat, and you'll have for yourself a super cute ombre design.
.
58. Purple Nails with Negative Space
Enhance your purple nails by incorporating negative space on your ring finger, transforming it into the perfect accent nail to complement this cute look.
59. Purple Negative Space Almond Nails with White Swirls
Here's another look that's making good use of negative space. This method really lessens the time you spend wondering how to design your nails. Simply add pops of color with purple nail polish and overlay with thin white swirls.
60. Grape Purple Bejewelled Coffin Nails
As it is with lipstick, it's always beneficial to have multiple shades of nail polish to choose from. If that weren't the case, we wouldn't have these stunning grape purple nails to admire.
61. Short Purple Nails
If you're not going for anything too serious, top up your own nails with a pretty purple shade. A simple nail design can oftentimes be the most versatile.
62. Purple Ombre Glitter Almond Nails with Flower Decals
When you've had your fair share of simplicity, raise the bar with a far more elaborate design. Fancy purple ombre nails with glitter and white floral decals should do the trick
63. Purple Faux Sugar Leopard Print Almond Nails
These purple sugar nails are quite the treat. Give them a trendy twist with a stylish leopard print design.
64. Purple Ombre Square Nails with Flower Decals and Glitter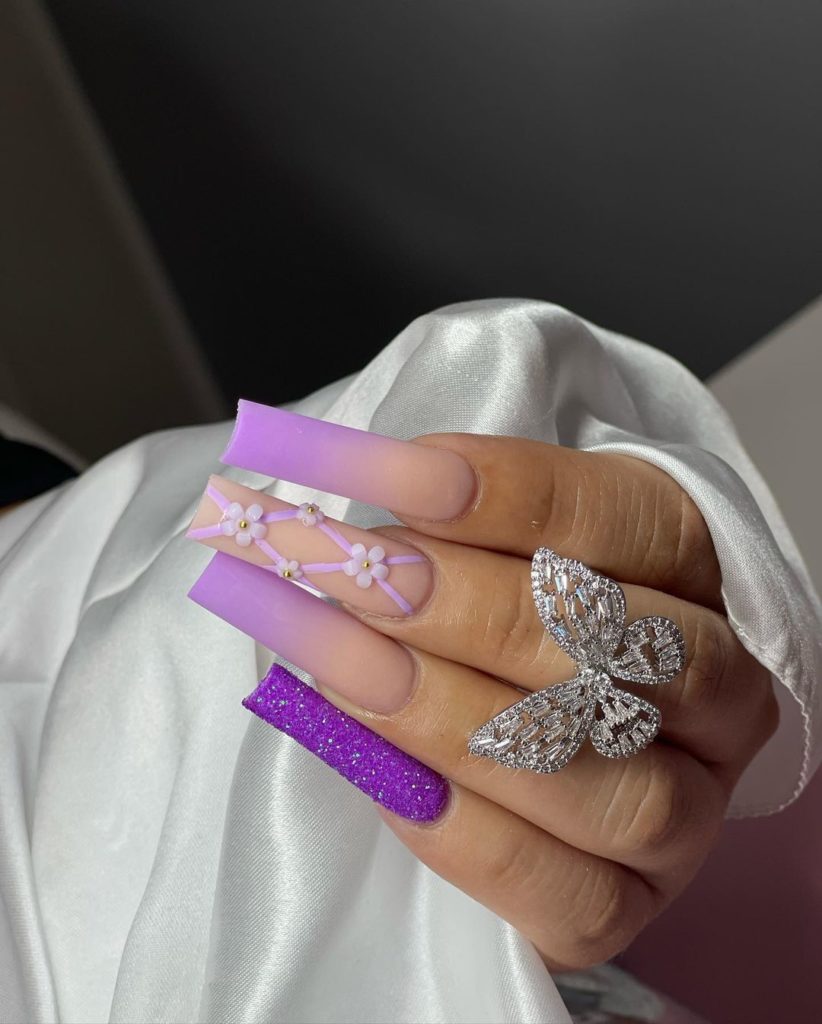 I love the blend between subtlety and boldness that these nails have. The main theme is a pastel ombre effect amped up by criss-cross line art, glitter, and dainty white flowers.
65. Light Purple Butterfly Almond Nails
Butterfly art on purple nails? How cute! I'll definitely be jumping on this girly trend, a lot sooner than later.
66. Short Purple Gradient Striped Nails
Deeper-toned nails can portray a more serious and mature vibe. With the application of purple gradient stripes, you can bring a youthful balance to this design, achieving the best of both worlds.
67. Short Lavender Nails with Gold Flakes
Spoiling yourself is made easy with lavender lacquer glossed over short nails. Enhance this pretty shade with gold glitter flakes for a high-end finish.
SEE ALSO: 50 Pretty Nail Design Ideas That are Currently Trending
68. Long Pastel Purple and Pink Swirl Coffin Nails
Jazz up a pastel purple and pink set with soft-hued swirls to add a playful vibe to a subtle design.
SEE ALSO: 100 Pink Nail Design Ideas That Are Trendy AF
69. Lilac Square Nails with White Leaves
I love everything about this look, from the thick square-shaped extensions to the adorable lilac shade they're polished in. To make this design even more flattering, cute white leaves are neatly hand-painted for a delicate finish.
70. Purple French Almond Nails
Enjoy diversity with your purple nails by including a french tip design to amp up those solid-colored nails. French tips are as classic as it gets but they're still so fashionable, which keeps them trending each year.
71. Glossy Deep Purple Nails
With the right shade, your purple nails can stand out in a marvelous way. Opt for a highly pigmented color to achieve an even more vibrant finish. Once you're all set, round off this look with a glossy glaze.
72. Purple Glitter French Square Nails with Black Spots
For a little french nail pizzaz, dab black nail polish over the white base of your design. The spotted nail art complements the shimmering purple tips while bringing a flattering contrast to the entire look.
73. Short Lilac Nails with Silver Sequins
Lilac nails are inherently elegant—even more so when silver sequins are brought into the picture.
74. Light Purple and Black Daisy Nails
This look features light purple nails with black nail polish that has a dark purple undertone. The darker shade acts as the perfect accent nail for a cute daisy design. I hereby nominate this gorgeous manicure for Spring.
75. Short Indigo Purple Butterfly Nails
Let's go indigo. These deep purple nails are beautiful with a rich texture. Their cute short length was complemented by pretty butterfly nail art.
76. Medium Purple Almond Nails with Loose Glitter
This look has an effervescent glow thanks to the application of colorful loose glitter. Overlaying medium purple nails, these shiny accents help to create a memorable evening sky-inspired design.
77. Purple Gradient Geometric Coffin Nails
After a little geometry and a whole lot of color shifting, here we are—gradient nails to make you fall in love with purple all over again.
78. Matte Purple French Coffin Nails with White Smile Line
Bold french tips are such a vibe. Cop the look with matte purple nails and a white smile line for a chic touch.
79. Purple Tie-Dye Ombre Square Nails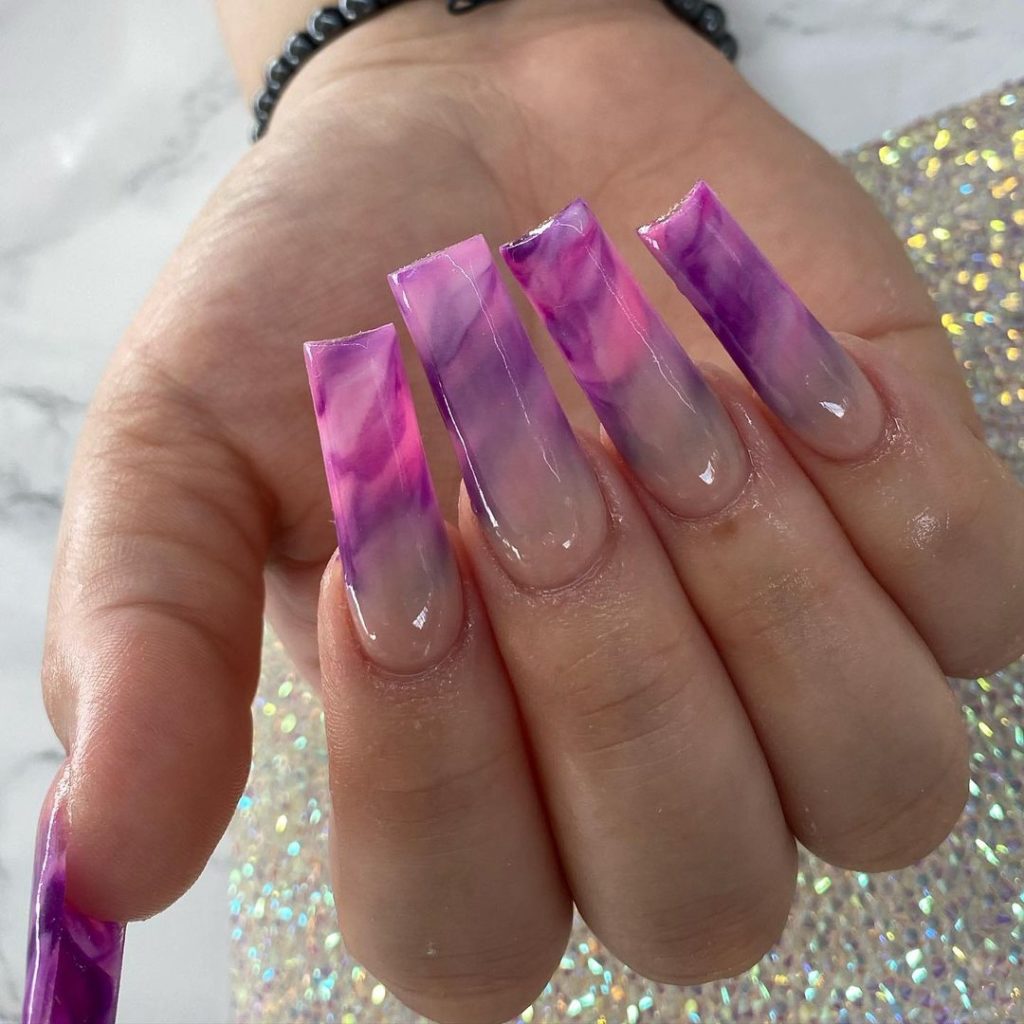 I love how various shades of purple just fade into each other creating a soft tie-dye design at the tips. An ombre effect is another main feature of these nails, as the colors transition from a nude base.
80. Short Purple and Nude Nails with Flower Decals
Purple nails paired with nude will guarantee you a classy and eye-catching manicure. If I were you, I'd play up this set with pastel flower decals for increased elegance.
81. Short Lavender and White French Nails
Picture this: an oversized hoodie, jeans, and comfy sneakers, all while you're rocking these undeniably chic lavender and white french tips. Sounds like the chill yet fashionable aesthetic we all need right now.
82. Purple Daisy Double French Almond Nails
There's no greater joy than being ahead of the curve, so, be sure to save this daisy french tip design in your "Hello Spring" collection.
83. Violet French Rim Coffin Nails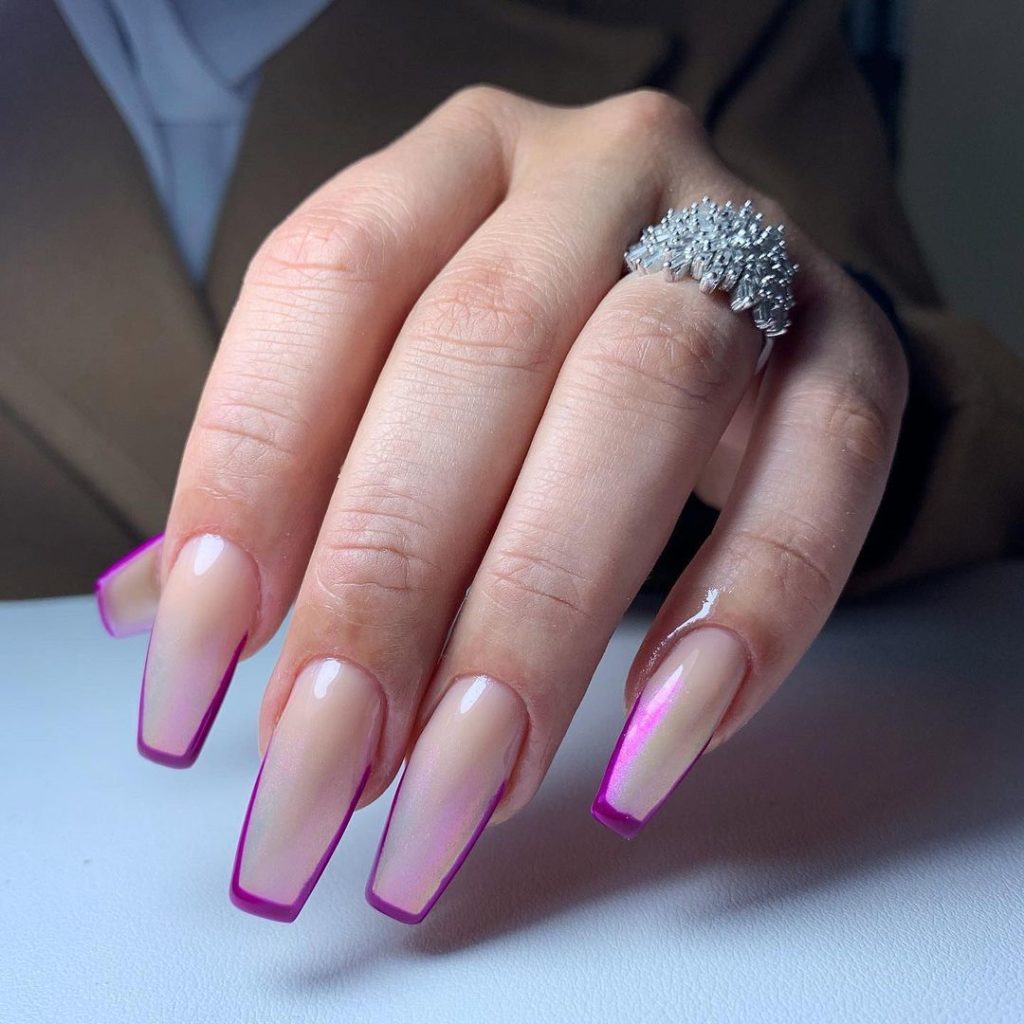 The french rim design is absolutely fabulous and one of my all-time favorites. For a fashionable touch, line the border of your nails with bright violet nail polish. The final look will be incredibly beautiful.
84. Short Purple Nails with Black Splatter Art
Amp up your purple nails with splashes of black decorating each. It's a simple way to add a fun twist to your manicure.
85. Holographic Dark Purple Glitter Coffin Nails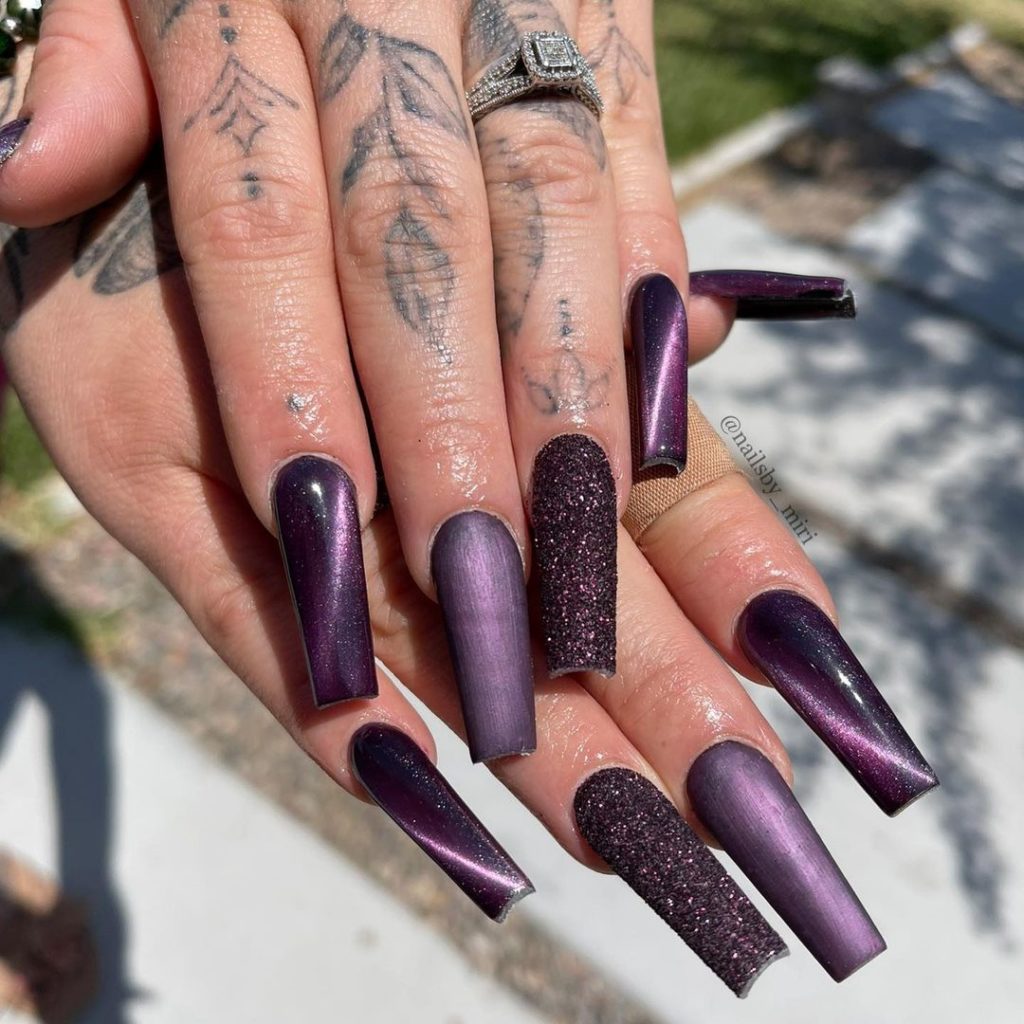 Like black, these dark purple nails give you an edgy look—albeit with a chic modern flavor, thanks to the inclusion of a glitter overlay, partnered with matte and holographic finishes.
86. Lilac Oval Nails with Cloud Art
Hand-painted cloud art is super DIY-friendly and is the perfect way to achieve a simple and girly look. This cute design overlays a lilac base, enhancing the dreamlike aura. How does it feel to be on cloud nine?
87. Pastel Purple and White Zebra Print Almond Nails
Not your ordinary zebra stripes, and that's why I love them so much. It's a pastel purple and white takeover, bringing something new to this classic animal print design.
88. Lilac Glitter French Coffin Nails with Rhinestones
Pastel nails with lots of glitter get you lots of compliments. I'm taken back to the sparkly chrome set Hilary Duff wore in The Lizzie McGuire Movie. Lilac french tips with rhinestones—isn't that what dreams are made of?
89. Lilac and Pastel Orange Floral Almond Nails
Sometimes a pop of color is all you need to break the mundane. If single-toned nails aren't your thing, accentuate with a hue you love. This lilac manicure was given wings by a pastel orange accent nail.
90. Short Purple Polka Dot Nails
It's an old trick in the book but a great way to add color to your nails, polka dots! Take your purple nails to higher heights with this colorful design.
91. Iridescent Deep Purple Glitter Squoval Nails
One thing's for sure, we love glitter but if you're not a fan of too much sparkle, here's a look you'll love. 
Boasting a maroon undertone, this iridescent deep purple lacquer comes handy with just the right amount of flakes for your manicure to shine without dazzling you too much.
92. Long Lilac Stencil Art Coffin Nails
If you haven't been following the stencil nail art trend, we're about to change that now. Simply choose a cute design like this adorable heart and butterfly display and press the stencil over your nails. 
To complete the look, use a beauty sponge to apply the color you want your nail art to be in.
93. Lavender and White Flower Square Nails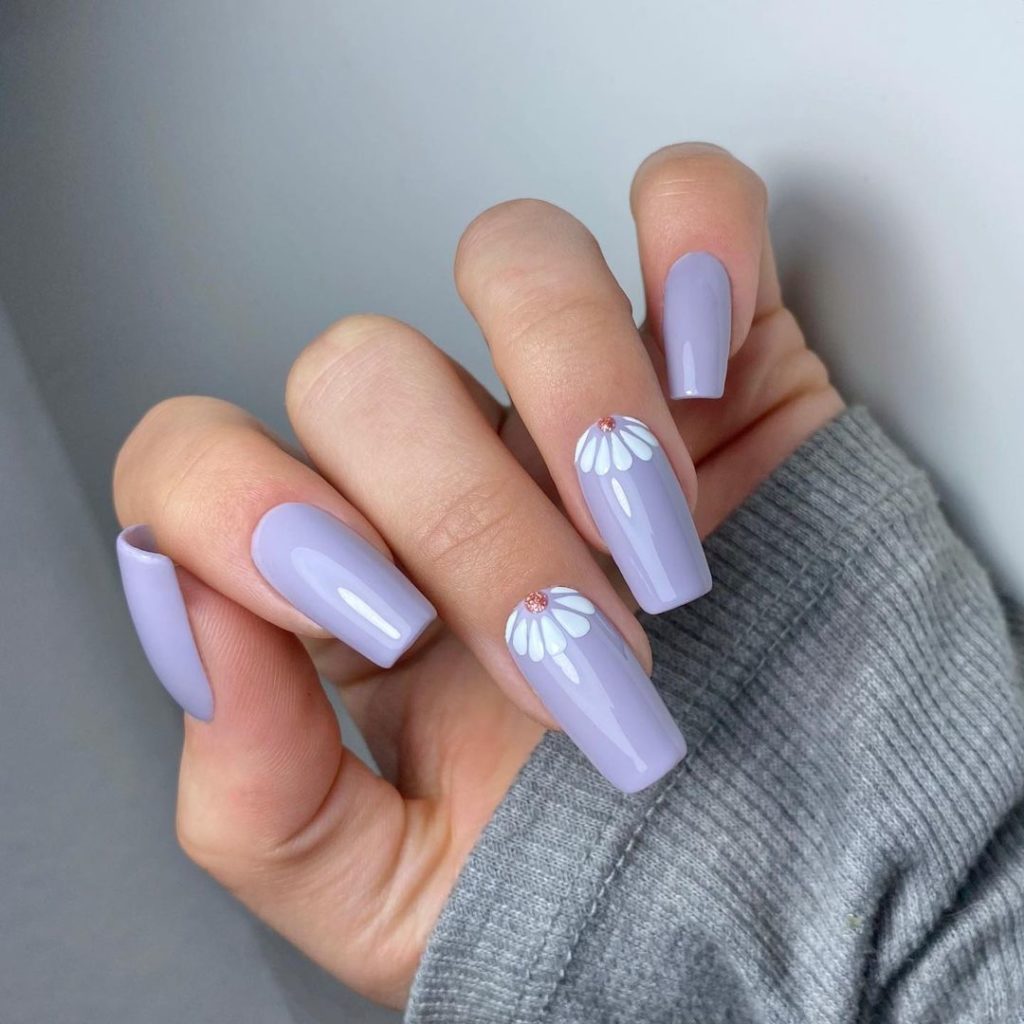 I just love to see floral art paired with soft-toned shades. For an elegant design that's also super girly, try this lavender and white flower nail combo.
94. Purple Marble Cut-Out Nails with Gold Foil
If you're feeling posh, purple marble nails are just what you need. Add a sparkling finish with some gold foil accents.
95. Pastel Purple and Blue Glitter Ombre Coffin Nails
Indulge your senses in a beautiful pastel purple and blue ombre mani. This exquisite look features a twinkling glitter accent nail, bringing a candy-flavored finish to this design.
96. Purple Floral Coffin Nails with Glitter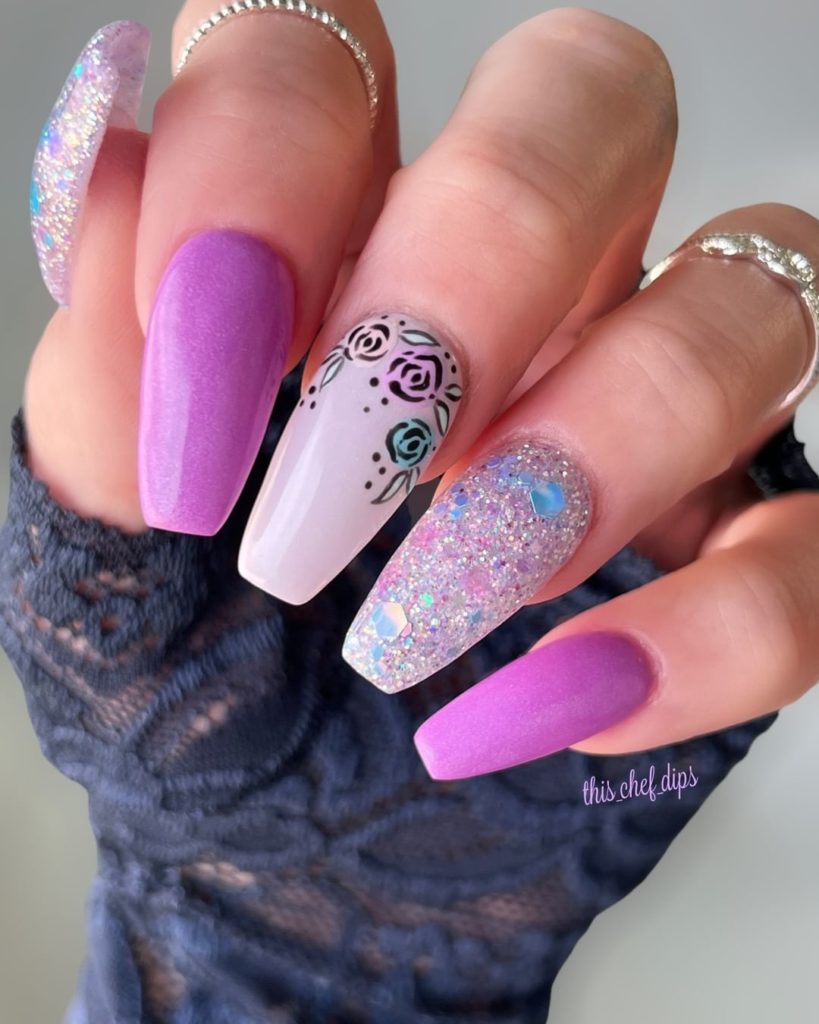 Purple is great for inspiring cute and ornate designs. Once you've settled on the perfect shade, embellish your nails with floral art at the crown of your middle finger, and don't forget to add tons of glitter for an immaculate finish.
97. Purple and Hot Pink Almond Nails
These nails alternate between purple and hot pink for a creative wrap design that's beyond trendy. Black nail polish was also used to create sharp lines for a bolder look.
98. Purple Layered Heart French Coffin Nails
There are plenty of ways to rock a heart design. For a look that's fun with a youthful vibe, go for layers of hearts decorating your middle fingers while enhancing classic french tips.
99. Multi-Shade Purple Double French Coffin Nails
Speaking of french nails, keep the purple theme going but switch things up by pairing multiple shades together, in a contemporary double french tip design. Complete this trendy look with a glossy top coat for sure.
100. Holographic Purple Marble Round Nails
From the plazas of Chiba, Japan to the world at large, marble nail art has truly evolved and thankfully, we're able to witness it with these trendsetting and imaginative holographic purple nails.
Summary and Top Picks
With so many nail designs that you can use for inspiration, you'll literally be set for the entire year without your manicures feeling or looking repetitive. So, I hope you're now motivated to rock this fabulous color because I sure am.
I'm super excited to try out designs 15, 37, and 100. I just love how cute and elegant purple nails are no matter how you wear them, and you know I had to snag that holographic set.
How excited are you to give purple nails a try? Which designs will you be rocking as soon as you get the chance? Let me know what you think, and share any questions you have below.