Contrary to popular belief, black nails are always in season. So many times we shy away from getting a black manicure because of how daring the shade is – we wonder if we can pull it off. To that I say, we absolutely can!
Black isn't only meant for our outfits, and we've already concluded that neutral shades are the foundation of all things fashion, so we need not shy away. Black nails can be classy, casual, edgy, minimal, eye-catching, and I could really go on and on.
Whether you're going for a simple all-black look, a daisy design for Spring, or an edgy ombre effect, there's no missing the mark with a black mani, and I'm about to prove it to you. 
Ready to be knocked off your feet? Keep scrolling for a master compilation of black nail designs, trending worldwide.
1. Classic Black Coffin Nails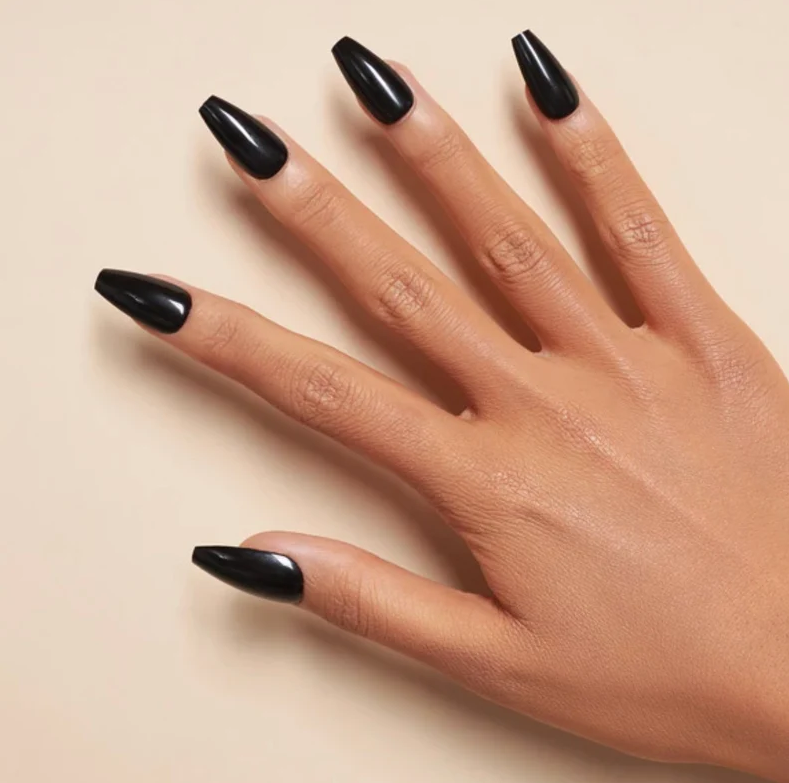 Time to go all-in with each nail painted in a solid black shade. No other color to share the attention and no accents to accessorize. We're letting this classic all-black mani shine on its own. You can get these nails at Etsy.
2. Glossy Black and Gold Almond Nails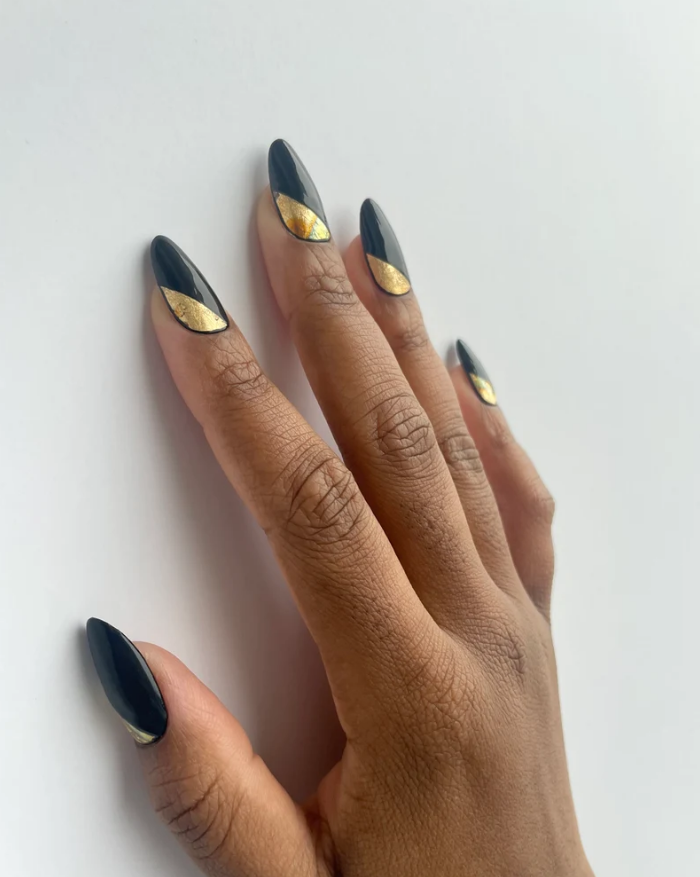 Now, let's add some pizzazz by slowly introducing color, and not just any color, but a striking gold applied with a thick stroke from left to right at the crown of each nail. You can get these nails at Etsy.
3. Long Black Deep French Coffin Nails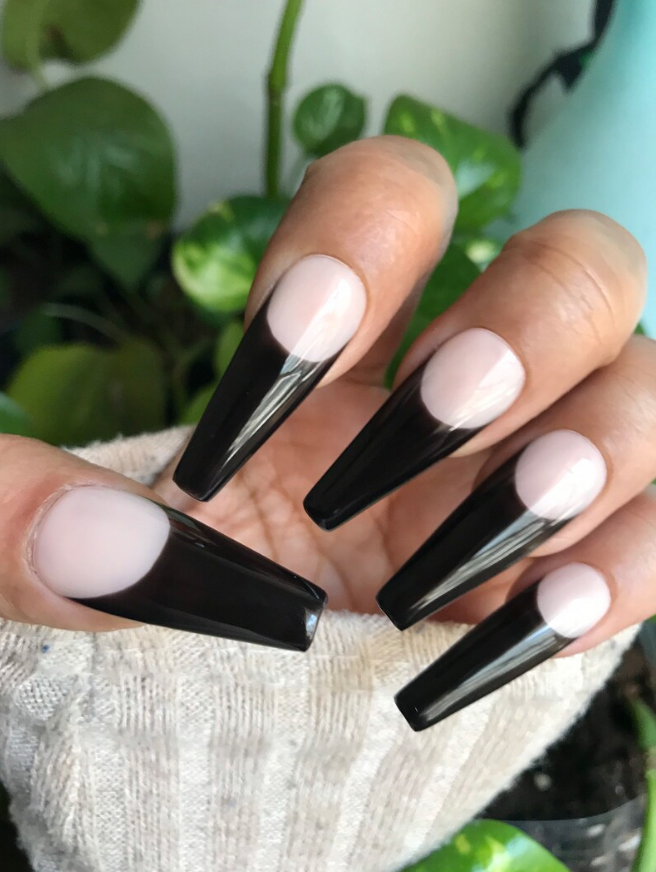 All my worries seem to slip away when I get my nails done, especially with a design as versatile as black french tips – or should I say, deep french tips? They're just way more dramatic, standing out boldly on long coffin nails. You can get these nails at Etsy.
4. Black Checkered Almond Nails with Flame Art
Black checkered nails with flame art are just my style and if they're yours too, here's a cute way you can incorporate them into your black nail design.
These flames are designed in a french tip display, leaving negative space to add a light contrast. A checkerboard print is designed on the middle finger, for a double dose of style. You can get these nails at Etsy.
5. Black Butterfly Coffin Nails with Black Sequins
If you found it hard to believe that black nails could be girly, let's take a moment to admire this design. 
The application of butterfly decals and black sequins over clear nails brought this cute look to life, softening the impact of those bold black nails and bringing a girlier touch. I'll definitely be adding these nails to my Spring manicure list. You can get these nails at Etsy.
6. Matte Black and Nude Coffin Nails with Small Heart
No color combo does a chic nail design better than black and nude. Opt for a matte finish to maintain that sleek and refined look. Pleased with the final results? Pop a tiny heart at the tip of your nude nail to stamp your approval. You can get these nails at Etsy.
SEE ALSO: 21 Cute Brown Heart Nail Design Ideas
7. Black French Almond Nails with White and Black Hearts
For the love of black, add sentimental value to french tips with your ring finger donning layered outlines of white and black hearts. Try these nails for an edgy Valentine's Day look or for an everyday design that has a girly flair. You can get these nails at Etsy.
8. Matte Black Almond Nails with Gold Butterflies
Do you feel that? It's the excitement bubbling inside of you to leave your comfort zone and give black nails a try. These pretty gold butterflies did it, and this design turned out to be amazing, stunning in fact. You can get these nails at Etsy.
SEE ALSO: 21 Mind-Blowing Long Natural Nail Design Ideas
9. Short Matte Black and Metallic Gold Nails
Yes, now I'm really rubbing it in. Welcome to the luxurious design that is a black and gold nail combo. Executing this look is a matte black base with a thick metallic gold line decorating the top section. 
I can already hear my favorite formal dresses and high heels calling my name. You can get these nails at Etsy.
10. Black and White Marble Almond Nails
Against a black base, a marble effect truly shines, as white lines spread and feather out, melting into the darkness of the shade. This design has been and I truly believe, will always be one of the classiest nail trends ever. You can get these nails at Etsy.
11. Long Black Glitter Stiletto Nails
Glitter sprinkled over black nails will reward you with the most satisfying glow. For the most dramatic and memorable effect, let stiletto extensions be your nails of choice. You can get these nails at Etsy.
12. Black Lace French Stiletto Nails
Mix elegance with creativity by pairing your black nails with a black lace french tip design. This look is unique with a bit of fancy. Jazz these nails up with some fine jewelry. You can get these nails at Etsy.
13. Black and Yellow Coffin Nails with Smiley Face
Bring a distinct contrast to your black nails with a pop of color on your ring finger. Opt for a bright yellow shade for a stunning impact with a hand-painted smiley face to bring a playful twist. You can get these nails at Etsy.
14. Black Red Bottom Leopard Print Almond Nails
Be bold, classy, and unique all at the same time with black nails overlayed by a trendy leopard print. This look also features a red bottom design, increasing its style, tenfold. You can get these nails at Etsy.
15. Glossy Black and White Marble Coffin Nails
Rock a marble design on each nail for a classy look all-around. This look is fairly easy to accomplish as a small brush dipped in white nail polish details quirky lines over a vivid black base. 
A glossy top coat sets the finished look, revealing a stunning marble effect. You can get these nails at Etsy.
16. Matte Neutral Abstract Coffin Nails
At the end of the day, we all want our nails to look chic and nothing understands that request better than a neutral mani with a matte finish. 
Achieve the look by pairing black with white and nude, in abstract shapes, to make your nails interesting. You can get these nails at Etsy.
17. Black Coffin Nails with Multi-Colored Neon Swirls
Nail art makes wearing black nails way more exciting, so how about giving your nails a boost with multi-colored neon swirls? They're easy to accomplish and will beautifully accentuate your outfits. You can get these nails at Etsy.
18. Short Black Round Nails with Glitter Stickers
Put some pep in your step by applying glitter stickers to your black nails. This design features an array of colors used to add personality and a playful vibe to the finished look. You can get these nails at Etsy.
19. Black and White Daisy Coffin Nails
It's time to show out in some Spring-inspired black nails. You already know what to do – have your favorite flower handpainted in white, using a black base as the perfect foundation to highlight the details of your floral design. You can get these nails at Etsy.
20. Black and White Polka Dot Coffin Nails
If you're looking to enhance black nails in the simplest way possible, this look is worth your attention. 
On each nail, small white dots are applied all over and overlaid by a glossy top coat. The outcome is a trendy and chic black and white polka dot design. You can get these nails at Etsy.
21. Matte Black and Fuchsia Ombre Almond Nails
There are several reasons why I love ombre nails – the subtle transition and the opportunity to wear two or more complementary shades are just a few. 
In this design, black nail polish fades into fuchsia, evoking a variety of compelling qualities; allure, sophistication, and boldness. You can get these nails at Etsy.
22. Black and Orange Coffin Nails
Pairing your black nails with orange is an awesome way to create a warm-toned nail design that won't drop the ball on brightening up your everyday looks. 
If brown is too dark a shade for the earthy vibe you're going for then apply bright orange nail polish on your ring and middle fingers for the best results. You can get these nails at Etsy.
23. Black and Light Pink Coffin Nails with Black Heart
Not only will pink polish look super cute with black nails but they also lighten the mood, thanks to the soft undertone that pink has. Pop a black heart on that statement pink nail to up the feminine flair. You can get these nails at Etsy.
24. Black Coffin Nails with Colorful Polka Dots
As we get closer to Summer, polka dots are once again taking over the manicure scene. Follow the tide by amping up your black nails with dots in various sizes and colors for a guaranteed trendy design. You can get these nails at Etsy.
25. Matte Black Almond Nails with Shiny Black Hearts
Feeling for an all-black look with a flirty touch? That can be arranged. These nails are coated entirely in black lacquer with a matte finish, completed by black hearts that glimmer on the surface. You can get these nails at Etsy.
26. Black Multi-Colored Mosaic Coffin Nails
Mosaic art gives you the opportunity to rock some creative and stylish nails that will astound you each time you see them. Starting with a black base, thin strips of tape can be used to divide the different colors you'll be wearing. 
Although the design on the ring finger is altered with splashes of color used instead, the result is still artistic. Once complete, this design was set by a glossy top coat, adding to that galactic glow. You can get these nails at Etsy.
27. Black Metallic Splatter Coffin Nails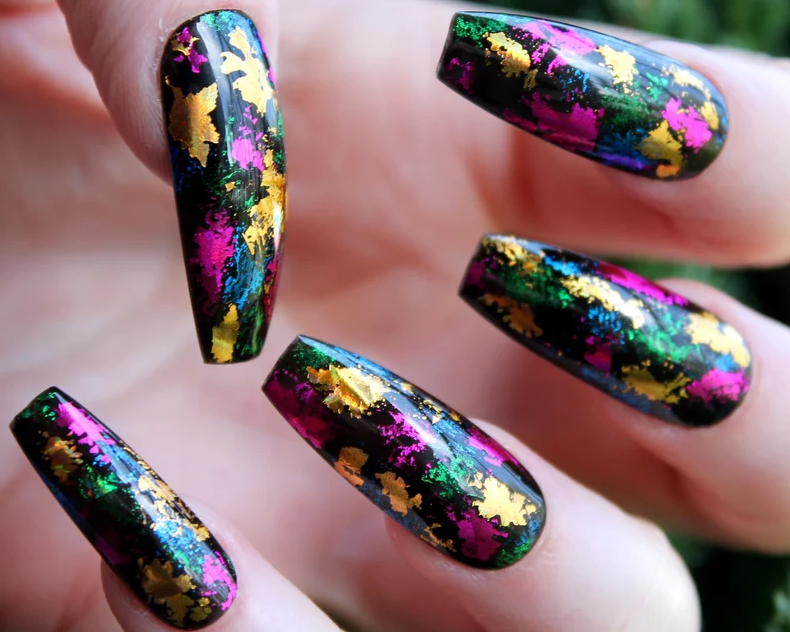 Splashes of color bring an inviting and energetic vibe to this black nail design. If these nails could talk, they'd say, "We're ready for the party!" Then again, with a striking metallic finish like that, I expect nothing less. You can get these nails at Etsy.
28. Short Black Nails with Tiny Silver Sequins
Willing to risk it all but with the tiniest bit of color contrast? Apply minuscule silver sequins on each nail to bring that design to life. The details are small but impactful.
29. Short Black Nails with Gold Glitter Flakes
Black nails are classy all by themselves, but we can't deny the power of gold accents. These gold glitter flakes pop against a black base like the stars at nighttime, with a timeless glow that truly speaks for itself.
30. Black Gothic Stiletto-Edge Nails
Fearless and willing to try something that will garner more than a few stares? Introducing black stiletto and edge-shaped nails. 
This look is clean-cut and a total fashion statement, enhanced by gothic nail art to make the theme more believable.
31. Black Oval Nails with Glitter
A glitter overlay will easily add extra oomph to your nails and looks amazing any season of the year. Apply the accents on your ring finger and watch as your black nails immediately take on a whole new look.
32. Black Splattered Ombre Almond Nails
A fan of ombre designs with a little shimmer? Use the splatter technique to apply blotches of color at the tips of your nails. The finished look will have a creative gradient effect combined with a stunning glow.
33. Black French Coffin Nails with Rhinestones and Glitter
Obtain a classic black mani with a glamorous look with the help of a french tip design and silver sequins. 
Detail the smile line of these gorgeous french nails in an array of small to large rhinestones while swirls of glitter twist and turn on plain black nails.
34. Short Black and Deep Purple Crinkled Nails
Opt for a textured design to bring dimension to your black nails. To achieve this look, the base coat is intentionally smudged with the assistance of a crinkled plastic bag.
Deep purple nail polish is then painted over the surface to lighten the look. In the end, gold glitter steps in for a sparkling finish.
35. Short Black and Nude Swirl Nails
"And all these little things!" Don't you just love One Direction? The boy band reminded us there's beauty in simplicity. These black nails are championing the same cause with cute black squiggly lines designed over a milky nude base.
36. Black Glass Almond Nails
I'm loving every aspect of this glass nail look as diluted black nail polish swims over the surface of translucent nails for a dramatic finish. 
Here's what I'd do to enhance these nails if the occasion called for it;  lightly sprinkle gold glitter for the most surreal black nails ever.
37. Black and White Zig-Zag Stiletto Nails
You can bet on it that overlaying black nails with white stripes will turn out amazing. Rock the look in a zig-zag design for the trendiest finish.
38. Black Leopard Print French Coffin Nails
Leopard print makes everything way cooler IMO. Use this design as the perfect accent to your black nails with a shimmering gold line creating a border that reveals a classic french tip on the opposite end.
39. Black Double French Almond Nails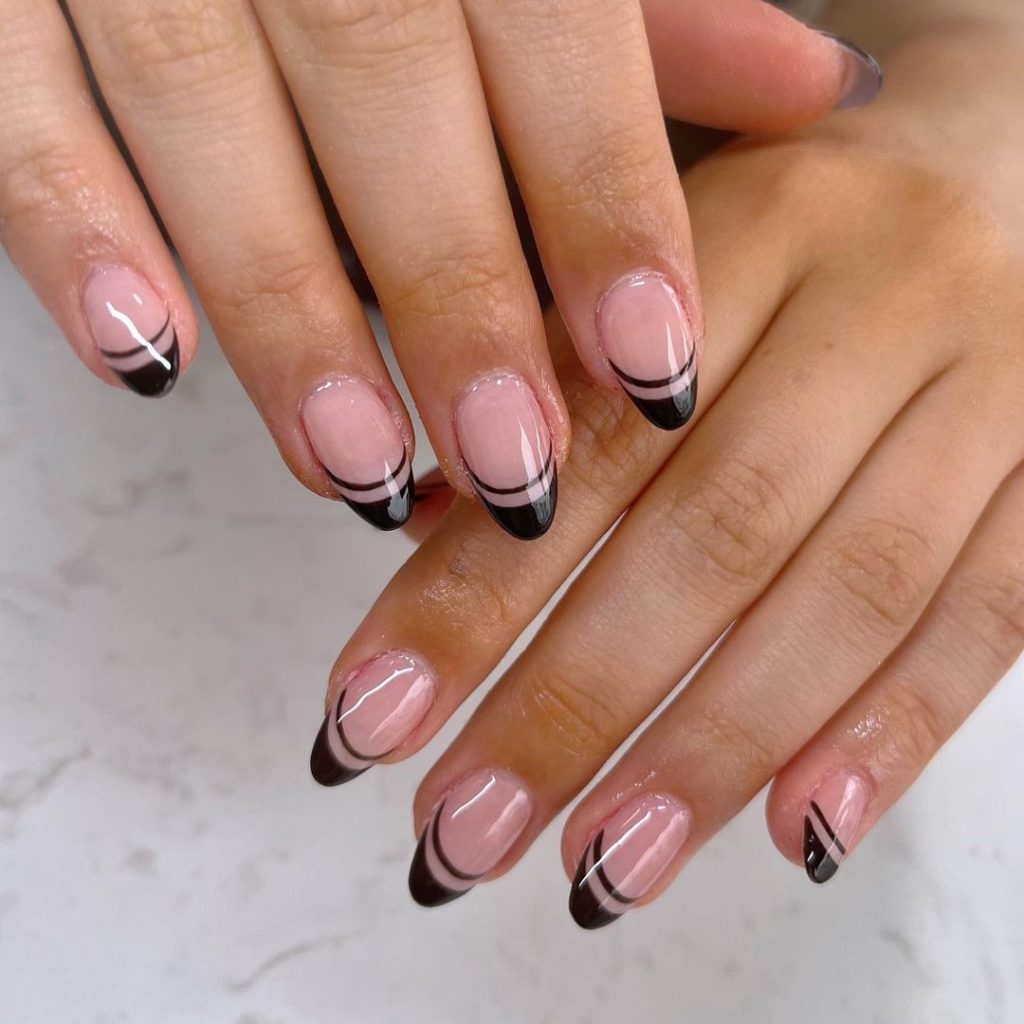 Bring something more to the table by elevating classic black french nails to double tip status. Rock this look with a nude base and a glossy finish to acquire simplicity and versatility, all with an elegant touch.
40. Chic Black Coffin Nails with Silver Glitter
Silver glitter against black nails? Sign me up! Whoever said black nails are all doom and gloom has never seen this sparkling masterpiece. Plus, with a glossy finish highlighting the other matte nails in this set, there's just so much to love.
41. Short Classic Black Nails
Set the tone for a cute laid-back look with short black nails. A design that will last for generations, this classic mani knows no limits and is a wonderful way to accessorize any outfit.
42. Black and White Polka Dot Stiletto Nails with Bow
Transform trendy polka dot nails by rocking the design over stiletto-shaped extensions with a chic french tip. Add a bow to enhance the nude base and give this Spring design an adorable flair.
43. Short Black and Red Ombre Stiletto Nails
We all like to be a little mysterious sometimes – maybe play a little hard to get, and this look certainly aids the mission. 
Stubby stiletto nails are painted in an enthralling black and red ombre design, with a glaze so thick you can see your reflection.
44. Short Black French Nails
Black french tips may seem like the easy way out but let me tell you, this design packs a punch. From a nude base to sleek black tips, these nails defy time with their elegance, reliability, and effortless finish.
45. Black Glitter Nails with Double French Tip
You don't have to settle for one design, so why not spruce up your black manicure with glitter and a french tip? The combo adds diversity and an ultra-chic appearance.
46. Black and Pink Butterfly Coffin Nails with Silver Sequins
Black and pink will forever be among my favorite color combinations. Both colors set the stage for such a girly and fashion-forward design. This look was beautifully enhanced by large black butterfly wings with charming silver sequins.
47. Black and Nude Angled Round Nails with Gold Lines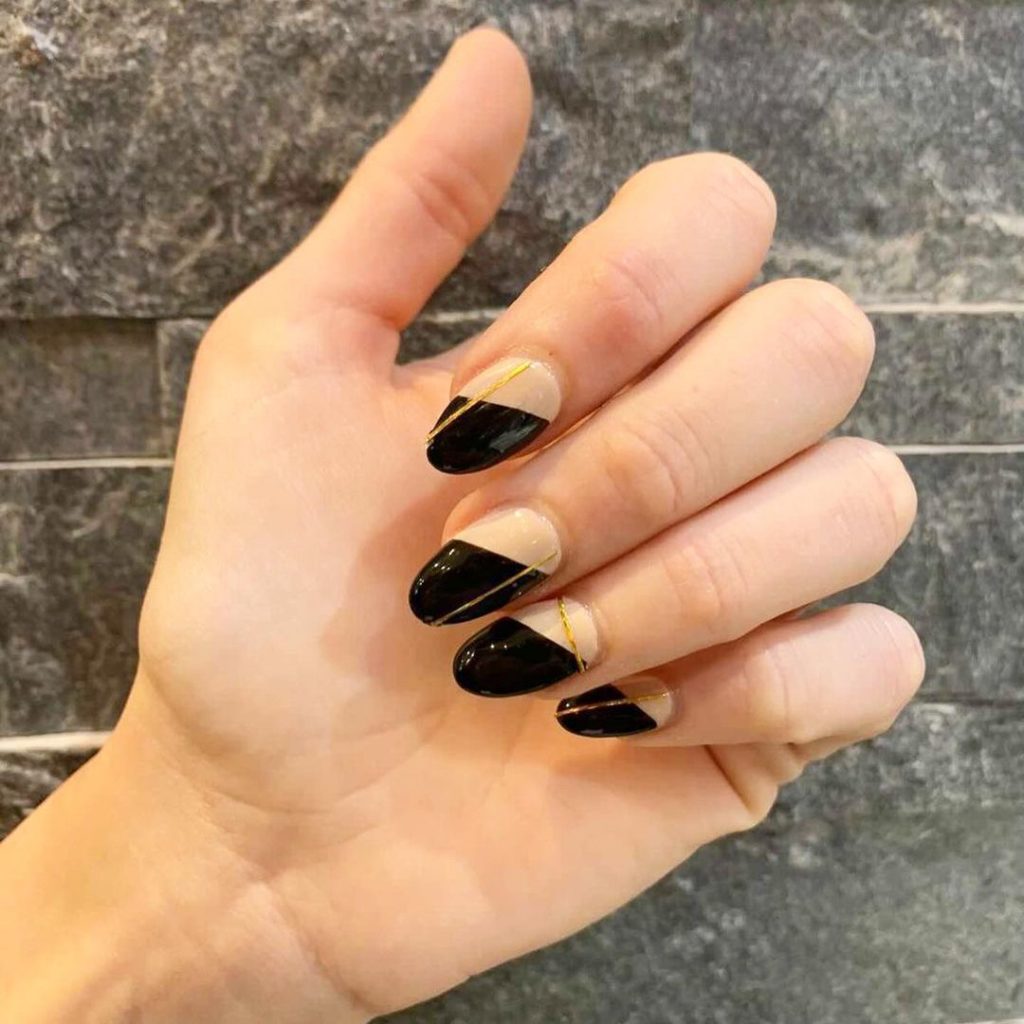 A nude and black set is one such look that's always on demand and extremely chic  With such a timeless design, you may want to bring your personal touch. The ball is in your court! 
Use this look as inspiration to switch things up, opting for a cute angled design and gold line art to accentuate the neutral theme.
48. Black and White Splatter Stamp Nails
If free-hand nail art proves too hectic of a task, don't worry, that's where the stamp art technique comes in. 
Way easier than tackling the design on your own, you can achieve this creative splash paint design by using nail stamping plates. A nifty stamper will, in turn, transfer the artwork to your nails.
SEE ALSO: 100 White Nail Design Ideas That Are Trendy AF
49. Matte Black Nails with Glossy French Tips
To dress up an all-black nail look, opt for a matte base, adding a glossy sheen at the tips for a super chic french nail design.
50. Black Nails with Colorful Flowers
Bring a girly edge to your black nails with stylish floral decor. Go for a colorful design to get you in the mood for Spring.
51. Matte and Glossy Black Nails
Torn between a matte and glossy finish? Settle on both and enjoy a crisp, ultra-chic set of black nails fit for any setting.
52. Black Marble Coffin Nails
It's guaranteed that black nails accented by white nail polish will look amazing in any design but if you're feeling for a look that's trendy and elegant, suit your taste with a black and white marble mani.
53. Short Black Zebra Print Nails
Keep your look up to date with a modern zebra print design. Apply the pattern over your ring finger where it's right at the center of focus to effortlessly elevate your nails.
54. Long Black Coffin Nails with Pink Hearts
Hearts are a great way to soften daring black nails. Apply them in pink at the crown of each nail to channel your inner flirt.
55. Black and White Leaf Art Coffin Nails
Elevate your black nails with a naturistic design applied over a white base that easily brings your nail art to the forefront. This look is perfect if you prefer a feminine look that's not too girly.
56. Short Black and Gold Glitter Coffin Nails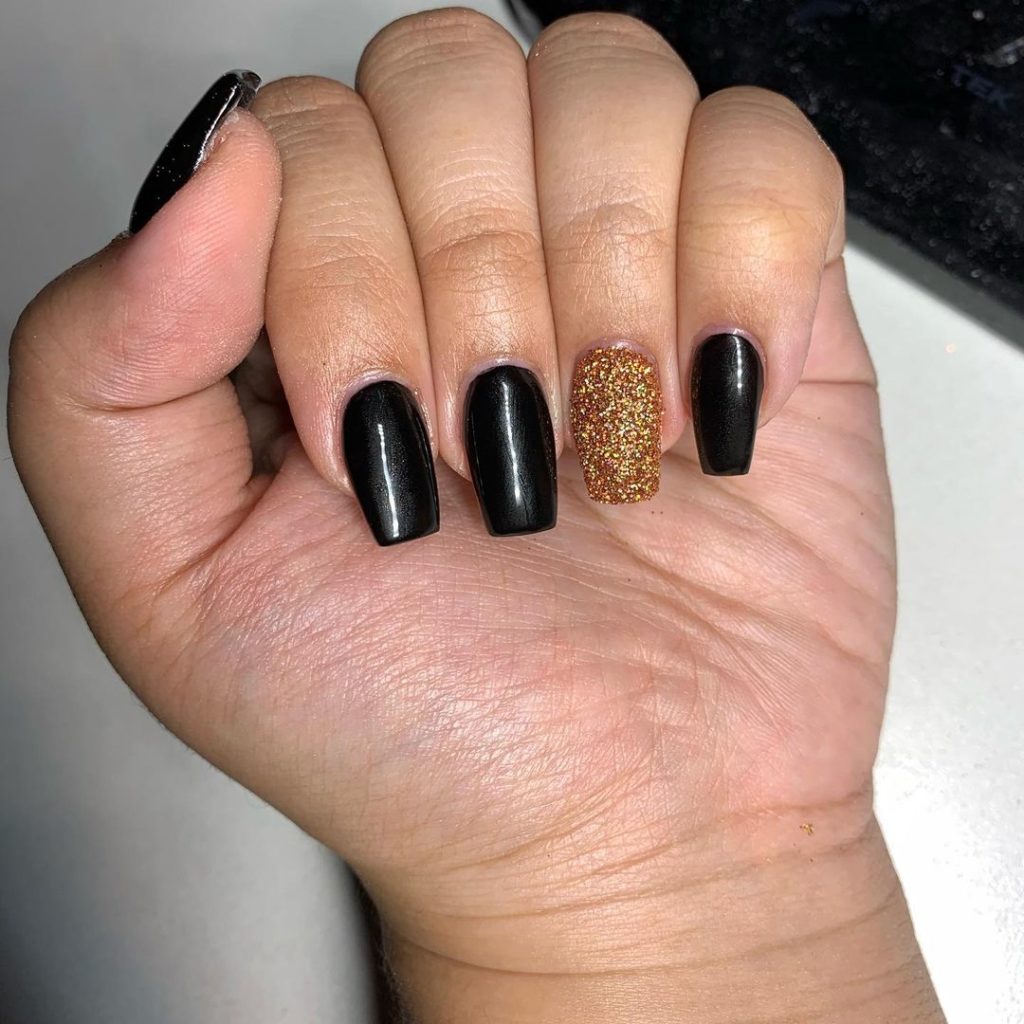 Add to the striking appeal of your black mani with a glittering gold accent nail that'll shine way off in the distance. Black and gold are polar opposites, creating the recipe needed for a gorgeous color contrast.
57. Short Black Graphic Swirl Nails
Black nails make playing around with all sorts of colors so tempting. Make it an abstract design at the tips of each nail with animated blotches and swirls mingling to create an eye-catching and eccentric look.
58. Black and Light Gold Glitter Ombre Nails
Wear a smile as you celebrate your next big achievement in a classy and festive nail design. Light gold glitter gathers toward the end for a sparkling ombre finish that shines brightly against a black base.
59. Black Pastel Mosaic Almond Nails
Ready for another mosaic masterpiece? Rock the design in pastel green and purple shades for a creative yet subtle twist to naturally edgy black nails.
60. Glossy Black and Nude Angled French Nails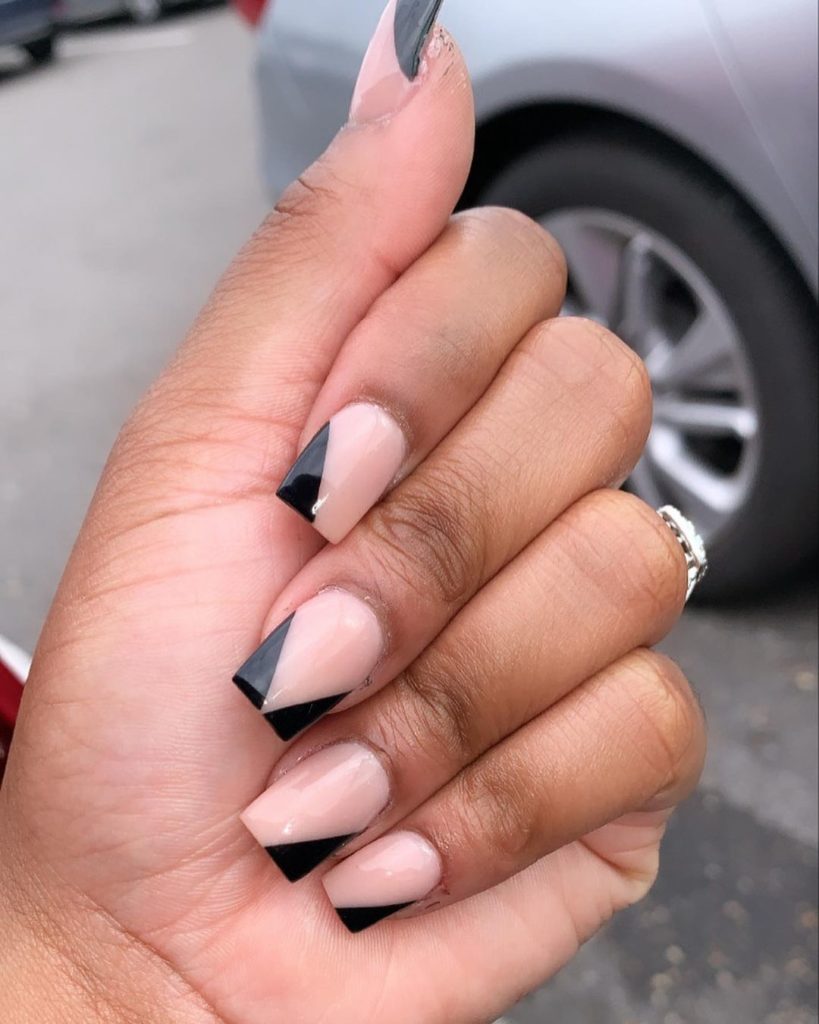 To every classic nail look, there's a modern twist. I'm talking about the angled french tip design. These stylish nails are a lot trendier than the traditional version, making them a great option if you're going for a more youthful look.
61. Long Black and Nude Coffin Nails with Abstract Swirls
Go all out in a deluxe french tip design, applied over long coffin nails. These nails become narrow towards the end for a dramatic finish, enhanced by abstract swirls and a glossy top coat.
62. Black and Pink Glitter Coffin Nails with Silver Sequins
Brighten your black nails not only with glitter and silver sequins but with a cute color of your choice. To complement this dusky shade, go for a light pink hue, incorporated into a trendy angled french tip.
63. Black and Frosty Blue Squoval Nails
Here's a cool way to rock black nails for Winter – with streaks of frosty blue adding a mesmerizing glow and a chilly vibe, making you want to reach for those turtle necks and Winter boots.
64. Black Crystal Stiletto Nails
The kind of nails you'd flaunt with a faux fur coat, this posh look features a classic black manicure paired with a chic crystalline accent nail. The first words that come to mind? Simply stunning.
65. Black and Bright Pink Glitter Coffin Nails
Don't sleep on a pink and black nail combo. The colors pair so well with each other, giving you an attitude with a classy flair. Coat an entire nail in a bright pink shade to really make these nails pop, with glitter and a glossy finish.
66. Metallic Black and Gold French Almond Nails
For a sleek finish, nothing beats metallic gold at the tips of black nails. Complete the look with a glossy top coat for double the impact.
67. Black Technicolor Glitter Almond Nails
Upgrade your black nails with a technicolor design on your ring finger. The application of loose glitter has an artistic dot effect to bring out your creative side.
68. Black French Round Nails with White Smile Line
Longing for a classic design but one that diverts just a bit from the norm? Definitely go for black french tips with a white smile line for a simple yet effective style upgrade.
69. Black and Sparkling Gold Nails
Light up your neutral mani with an airbrush effect of a sparkling gold design. These nails score points for their versatility as you'll be able to rock them in a casual setting or with fancier outfits – a total win!
70. Black Cow Print Almond Nails
Animal print is always in, so vibe with these black cow print nails for a trendy look so you never miss a beat with the most popular designs.
71. Black, Pastel Pink, and Blue Nails
I love, love, love everything about these nails! From the adorable pastel blue and pink tints on the index fingers to the matte and glossy finishes, this design gets the golden buzzer for sure.
72. Short Black Silver Foil Nails
Foil nail art can be tricky to accomplish but once you've worked out the kinks, the results are rewarding. For this look, silver foil is pressed onto the surface of black nails for a textured and shiny finish that you won't be able to get enough of.
73. Short Black and White Mismatched Nails with Hearts
Heart nail art on a black and white mani is an effortless way to achieve a cute everyday design. Paint black hearts on white nails and vice versa for a trendy mismatched look that you can easily pull off.
74. Black and Pink Nails with Black Flowers
Black and pink nails are super cool and all but nothing beats an in-your-face floral design. Decorate your pink nails with large black flowers to add a lighthearted vibe to one of the most adored nail combos.
75. Black and Nude Abstract Art Square Nails
For a more neutral style that's chic too, pair your black nails with nude. Handpaint a few hearts and abstract shapes for a refreshing spin on a neutral-toned look.
76. Short Black and White Musical Nails
Like the melodic tune of a cabaret singer, these nails are smooth, sultry, and a music lover's dream. 
White nails bring black musical notes to the foreground, complemented by sparkles that shimmer like the silver sequins of a lavish black dress.
77. Black and Pink Stiletto Nails with Thin Looped Lines
Dreaming of a design that will ensure your black and pink combo stands out? Choose stiletto nails as the lucky shape to keep your design on top. Once your colors are dry, loop thin lines across the tip of your pink nails to enhance the look.
78. Black and Pastel Purple Flame Almond Nails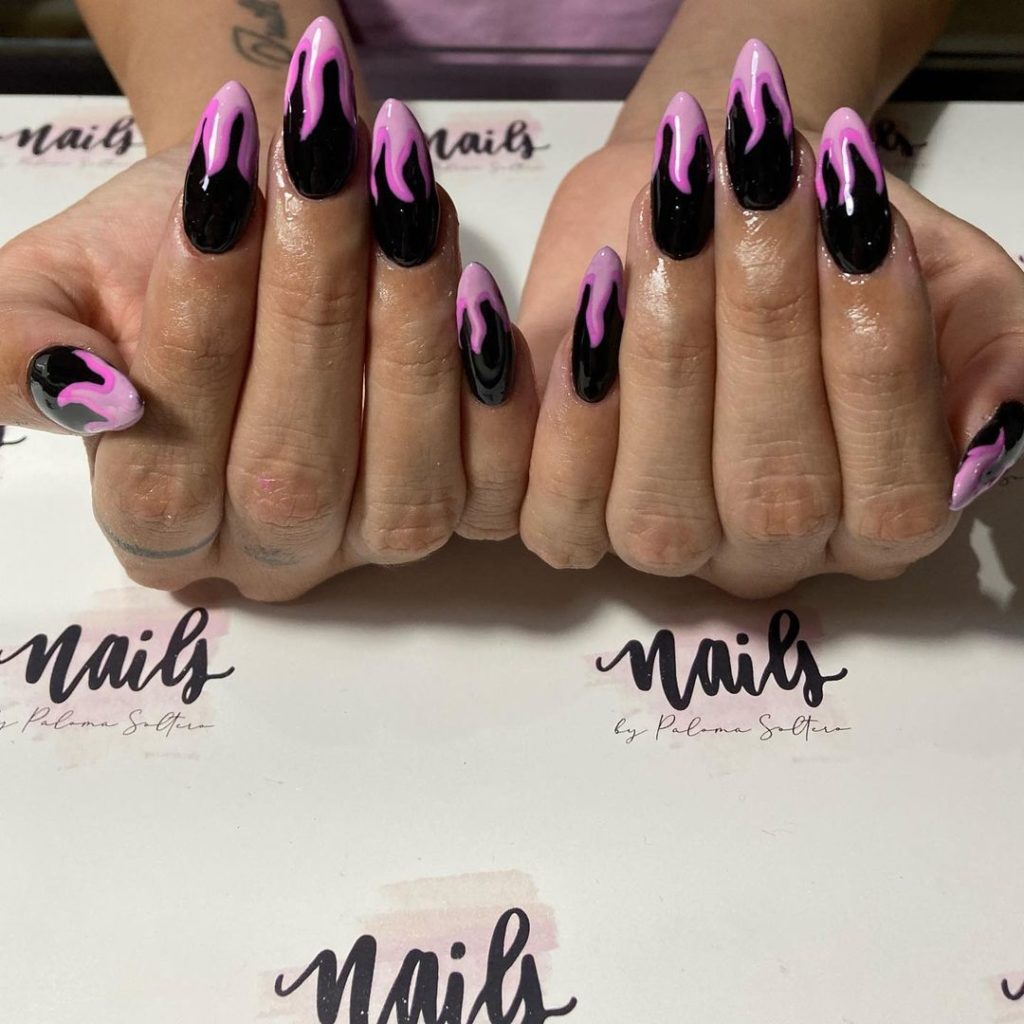 Here, black nails are dramatized by purple pink flames that also resemble drip nail art. They were coated with a glossy finish that adds a velvety look at the tip.
79. Black and Green Coffin Nails
Green enhances your black nails by maintaining a sense of maturity coupled with elegance. This look is vibrant and automatically draws attention. Make it classy by applying the design over dreamy clear nails.
80. Black Cut-Out Nails with Small Red Heart
A simple red heart accent brings a flirty twist to everyday black nails. Apply the romantic symbol on your ring finger – the most suitable for displaying a sentimental message.
81. Black Colorful Floral Nails
The sun is up and an unpredictable day is ahead but believe me when I say that getting dolled up has made my days a whole lot better.
So, try boosting your morale as well with a vibrant Summer-inspired design. Use black nail polish as the base from which you can create stylish patterns with as many colors as you'd like.
82. Long Black and Nude French Square Nails with Silver Sequins
Cop a bold and classy look with black and nude french tips designed over long square nails. The smile line is detailed with silver glitter that naturally compliments the silver sequins at the crown of each nail.
83. Black and Red Ombre Coffin Nails
Going from one powerful shade to the next can seem pretty daunting, especially if you're not used to it but let this ombre design be the assurance you need to give this confident look a try.
84. Inky Black Coffin Nails with Shiny Black Swirls
If you're not too picky about color, an inky black nail look may very well be the design you've been looking for. Plus, you can easily amp up these nails with abstract swirls to tie in a creative flair.
85. Black Cut-Out Nails with Silver Cross
Bless your finished look with silver cross accents, sitting pretty on your ring fingers. Like white, silver looks amazing with black and offers an effortlessly elegant appearance.
86. Black and Purple Glitter Almond Nails
Not only is purple a lovely contrast to black but with a shimmering finish, these purple nails contribute to the breathtaking glow and elegance that we're seeing now.
87. Black and White Picasso Almond Nails
We all have a little Picasso within us and black nails are the perfect foundation to let it show. For the best results, go for white as your detail color to create a monochromatic painting.
88. Short Black Leopard Print Angled French Nails
Got your heart set on short black nails? I've been there – simple and classic manicures are some of my favorites to wear. 
That said, you may want to raise the bar a bit, and for that, you can't go wrong with a trendy leopard print in an angled french tip design.
89. Black, Nude, and Red French Almond Nails with Sequins
Take a break from tradition with a modern twist on the worldwide-loved black and nude french tips. 
The subtle introduction of red for the smile lines along with black and red sequins makes trying something new with your nails extremely worth it.
90. Black Rainbow Swirl Almond Nails
Rainbows are associated with bright sunny mornings after the rain but against a black base, this sequence of colors looks just as beautiful. Opt for a swirl design to make the finished look even more eye-catching.
91. Black and Green Flame Almond Nails
Flame art has been popping up in all different kinds of colors these days, and I'm loving the combinations. For this look, black nails are highlighted by a roaring green flame, channeling your inner lioness.
92. Black, Pink, and Rose Gold Foil Almond Nails
When pink enters the chat, it's only right that rose gold follows suit. Combined with black, you're in for an ultra-feminine and chic design.
93. Black and Nude Square Nails with Small Hearts
Play around with a nude base by rocking a simple double french design. Accentuate this cute look with small black hearts.
94. Matte Black Graphic Art Nails
These nails are the perfect excuse to grab a few drinks and chill with friends. The matte black finish emboldens each design, resulting in a crisp execution.
95. Matte Black Stiletto Nails with 3D Sunflowers
Thank goodness for 3D nail art! These sunflowers look so real, contrasting matte black nails in the most beautiful way.
96. Sleek Black Marble French Almond Nails
As if sleek black french tips weren't enough for us to handle, a white marble design completely wins us over – for the girl who loves a bold and classy look.
97. Black Silver Rim Almond Nails
Opt for simple elegance by detailing the rims of your black nails with silver glitter. This design is perfect for almond-shaped nails to enhance sophistication.
98. Black and Silver Zebra Print Square Nails
For a luxurious spin on the timeless zebra print, trade white spaces for shimmering silver. The glitter effect couples beautifully with a glossy finish and I swear there's nothing like it.
99. Black and Yellow Abstract Almond Nails
Add some light to your black nails by sneaking a yellow design in over negative space. This design is for the free-spirited as bursts of yellow are overlaid by stylish line art.
100. Black Glitter-Encrusted Square Nails
Sparkle me please! Glitter-encrusted black nails are always in season. Don't wait another second before trying this fab look.
Summary and Top Picks
I bet salon telephone lines are already ringing because I speak from experience when I say, once you've seen the beauty of a black manicure and all the inspiring designs you can achieve, the next step is setting that appointment.
We all have our fave nail looks that are forever etched in our minds, and my top picks are designs 19, 21, and 71, simply because daisies look amazing with black, and ombre and pastel color combos can never go out of style.
The moment I've been waiting for – it's your turn to chime in! What are your favorite black nail designs from this compilation? Also, how have your views on black nails changed after reading this post? Share your thoughts and questions down below.