Brown is such an underrated nail color. We see it year-round in bags and purses but rarely on nails. This year is different! Brown nail designs are becoming popular, and I'm so on board with the look. My only problem is, how do I make it unique?
Brown nails are a sure sign of fall. Crisp air, falling leaves, and all my favorite holidays. When I choose a brown fall nail design, I want it to stand out. A great way to do this is by alternating colors, adding a decal, or playing with matte and gloss styles. 
If you're thinking about adding brown nail designs to your fall fashion repertoire, check these out.
1. Bold Chocolate Swirl Nails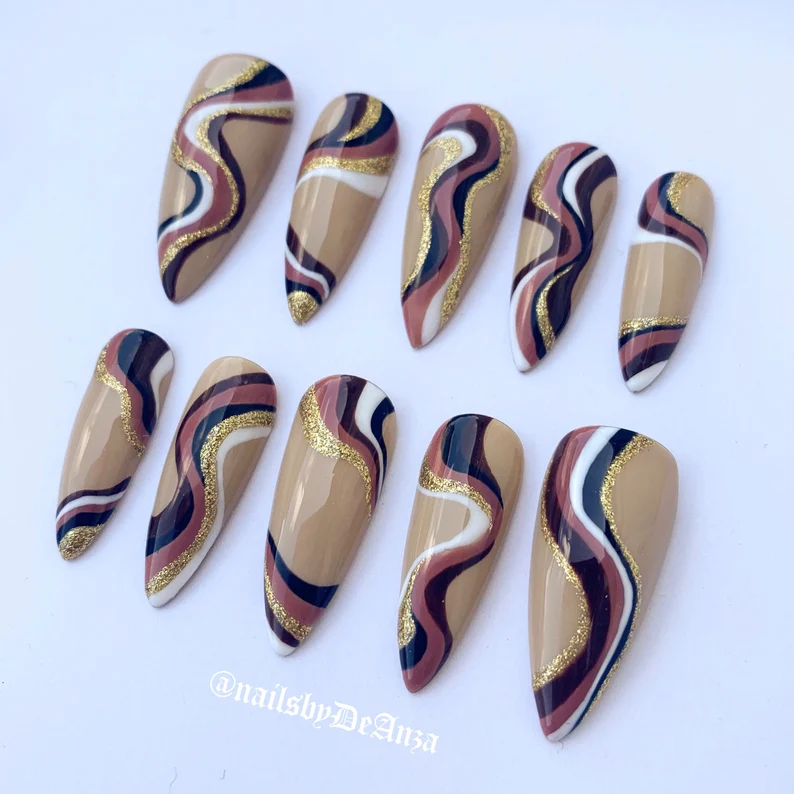 This multi-shade chocolate swirl design is just the thing for heading into fall. The addition of a white swirl really makes the brown shades stand out. I like this swirl pattern on an almond nail. It softens the bold look into something very feminine. Buy these nails at Etsy.
2. Brown and Teal With a Touch of Gold
Brown looks amazing with dark colors, and this teal really pops. It turns the matte brown color into something very regal. I adore the gold accents. The style looks very expensive, especially with the elegant rounded coffin shape. Buy these nails at Etsy.
3. Alternating Solid and Tips With a Splash of Green
I love a french tip, and this alternating solid tip design is super sassy. Breaking up the solid and tips is a splash of green on just one nail. It gives everything an asymmetrical vibe I like. Buy these nails at Etsy.
4. Goddess of Fall Brown, Orange, and Gold Nails
This is one of my favorite fall looks. The richness of the brown polish is highlighted by orange flecks, glitter, and gold leaf. This is a look for celebrations, red carpets, or just because. Buy these nails at Etsy.
5. Handpainted Brown Flower Press-Ons
Brown flowers are a cute way to soften the boldness of a dark brown. This white and brown mix with handpainted flower accents is beautiful. I especially like the mix of solid nails, floral print, and a brown french tip. Buy these nails at Etsy.
6. Dark Brown French Tips
These espresso brown french tips are striking. On an almond shape, the brown tips look delicate somehow. A glossy top coat locks it all in, and I'm loving the finished look. Buy these nails at Etsy.
7. Brow Sugar Claws on Square and Coffin Nails
This style mixes color and shape with coffin and square tips. Each nail is unique with a glitter french tip, swirl design, light brown tip, and solid espresso. I'm rarely a fan of super-long, coffin nail designs, but these claws are killing it. Buy these nails at Etsy.
8. Brown Gradient Solid Nails for Fall
There's something about solid brown nails I live for. This gradient look explores several shades of brown for a perfect representation of autumn leaves. The almond shape creates an elegant vibe. Buy these nails at Etsy.
9. Toffee Brown Matte Nails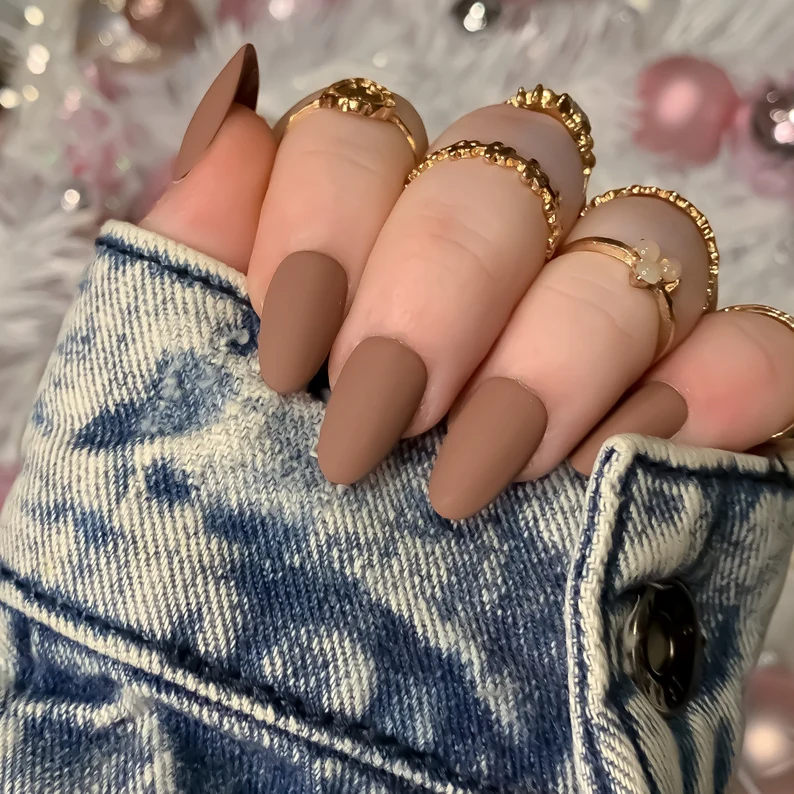 LOVE! This has to be my favorite brown fall nail style. I know it's simple, but that's what makes it so perfect. Brown matte nails carry an air of sophistication a glossy nail just can't achieve. Buy these nails at Etsy.
10. Nude to Espresso Gradient Nails
Nude and brown accentuate each other sublimely. I love this nude to dark brown gradient. The effect is eye-catching and so feminine. I'd wear this brown nail design casually or to an event. Buy these nails at Etsy.
11. Long Coffin-Shaped Nails With Brown Crocodile Effect
These press-ons are so unique. The deep brown already makes these nails noticeable. The addition of crocodile print in a textured finish adds to the magic. This style wouldn't be the same on a short nail. Buy these nails at Etsy.
12. Light and Brown Chocolate Love Heart Nails
Almond nails with a toffee brown base coat are the perfect place to show off chocolate brown hearts. Add one chocolate brown nail with toffee hearts, and you'll turn heads. These little hearts are subtle, adding just the right amount of sugar to spice. Buy these nails at Etsy.
SEE ALSO: 21 Cute Brown Heart Nail Design Ideas
13. Midlength Coffin Shaped Nails With Heart Design
Here's another heart design for brown autumn-themed nails. The beauty of this pattern is the natural nail underlayer on all but one. This mix makes the one massive heart design stand out. Super cute! Buy these nails at Etsy.
14. Gradient of Brown French Tips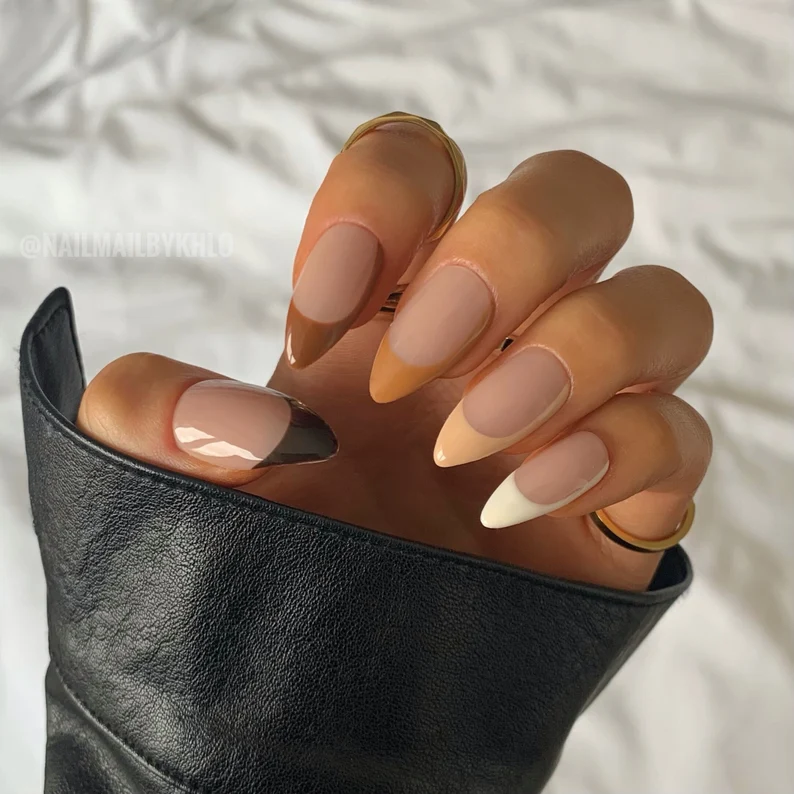 These hand-painted press ons add just a touch of fall magic. The gradient of browns adds a pop of autumn without too much brown. I like that one nail has a white tip, emphasizing the difference in each brown shade. Buy these nails at Etsy.
15. Autumn Mist Gold and Brown Nails
Gold and brown are such a fierce combination. This misty-looking blend of rich brown, nude, and gold leaf are fiery. I love that it looks like little gold leaves have fallen onto each nail. Buy these nails at Etsy.
16. Clear Tips with Brown Base Coat Nails
The first time I saw this look, I had to try it immediately. The clear tip is such a fun look and always gets compliments. The brown base coat adds a little autumn cheer to the vibe. Buy these nails at Etsy.
17. Dark Brown Holographic Nail Design
Brown glitter polish always looks expensive. This beautiful dark brown holographic nail design gives bronze energy. It's classic and understated on short round shaped nails. Buy these nails at Etsy.
18. Bows, Hearts, and Cheetah Print on Brown Nails
Too much nail decor is tacky, but these adorable brown nails add just the right amount of pizzaz. The 3D bow is charming, while the heart and cheetah print spice things up. Perfect for fall! Buy these nails at Etsy.
19. Dark and Light Brown Yin Yang Nails
Yin and yang represent opposite forces in the world. This style is also another nod to the 90s revival. I like that the here stylist didn't go overboard. Two yin yang nails interspersed with solids are just right. Buy these nails at Etsy.
20. Brown, Nude, and Gold Press-On Nails
I've already harped on my penchant for gold and brown nails, but this look is a show stopper. The stripe of gold against just a few brown and nude nails, mingled with solid brown and solid nude, is so well-balanced. Buy these nails at Etsy.
21. Deep Brown Magnetic Brown With Glitter
Magnetic polish texturizes the look of nails. These glitter brown almond-shaped nails almost look iridescent with the magnetic finish. I love how deep and coppery this color turns out. Buy these nails at Etsy.
22. Autumn Woods Light Brown and Gold Flake Accent Nails
Gold flake on clear press-on nails is the ultimate look. Pressed over a natural nail with the addition of light brown solid nails creates an unbeatable fall vibe. I love the long coffin shape for this style. Buy these nails at Etsy.
SEE ALSO: 21 Classy Brown and Gold Nail Design Ideas
23. Brown Leopard Print Tips on Coffin Nails
These wild leopard print tips are feminine and powerful. I love the shades of brown used to achieve the effect. On a coffin-shaped nail, they're extra fierce. Buy these nails at SHEIN.
Summary and Top Picks
This article is an ode to my favorite brown nail design trends. As I mentioned, brown nails are hard to jazz up because they're so easy to overwhelm. Fortunately, there are ways to play up the fall vibes without overpowering things. 
I love all the nail art I outlined above, but for me, there are three clear winners:
#9 Toffee Brown Matte Nails: Matte nails always have something extra going for them. This solid toffee design wins fall!
#16 Clear Tip with Brown Basecoat Nails: Clear tips are one of my favorite looks. This brown basecoat, clear tip coffin nail gives me chills. 
#22 Autumn Woods Light Brown and Gold Flake Accent Nails: Gold flakeS make any fall-themed nail design seasonally appropriate. Paired with solid brown nails, it feels like a walk in the woods.
I know brown nails aren't for everyone, but I sincerely feel every woman should try them once. Do you see any styles you would wear this fall in my selection? Comment below to tell me which ones stand out to you.