Nothing says 'sophisticated' better than a brown and white nail combo. A clean contrast is created that will give your mani a light and chic appearance. This is the reason brown and white are the go-to colors for office decor. The subtle blend puts your mind at ease.
If you're in the mood for a simple design that will literally go with anything you wear while evoking a sense of comfort and tranquility, I can't think of a better look than brown and white nails.
Another benefit of this combination is both colors can be played up by brighter shades and cute accents to change the vibe entirely to a design that has more oomph and personality. 
You're about to see all that and more in this chic compilation. Here are brown and white nail designs that are trending right now.
1. Brown and White French Almond Nails With Swirls
Swirls with french tips are so cute and fun. Achieve the look by pairing dark brown with white over a sheer nude base for a stylish and chic design. Buy these nails at Etsy.
2. Brown and White French Coffin Nails With Silver Sequin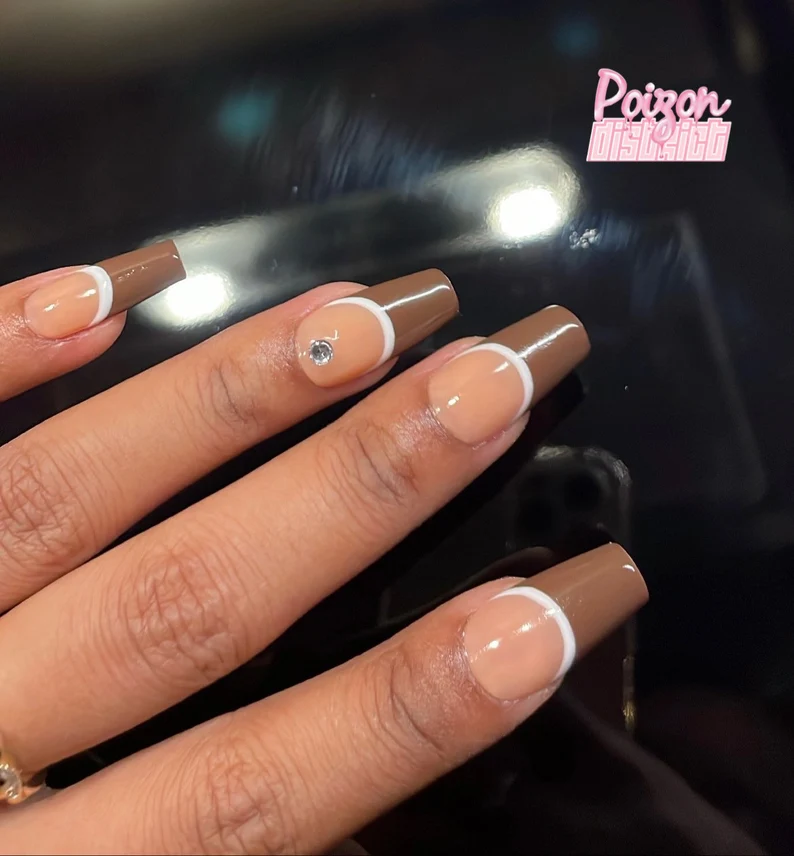 Give your brown french nails a special touch by painting each smile line in white. Complete the look with silver sequins to add a cute flair to this mani. Buy these nails at Etsy.
3. Dark Brown and White Almond Nails With Heart
One nail coated in white is enough to create the gorgeous color contrast you're looking for. Paint a small heart in dark brown to match the color of the other nails while bringing a romantic flair to your design. Buy these nails at Etsy.
4. Brown and White Coffin Nails With Gradient Swirls
Swirl art makes getting your nails done something to look forward to. Painted in various shades of brown are large curved lines, decorating white coffin nails in the most fashionable way. Buy these nails at Etsy.
5. Light Brown Coffin Nails With White Swirls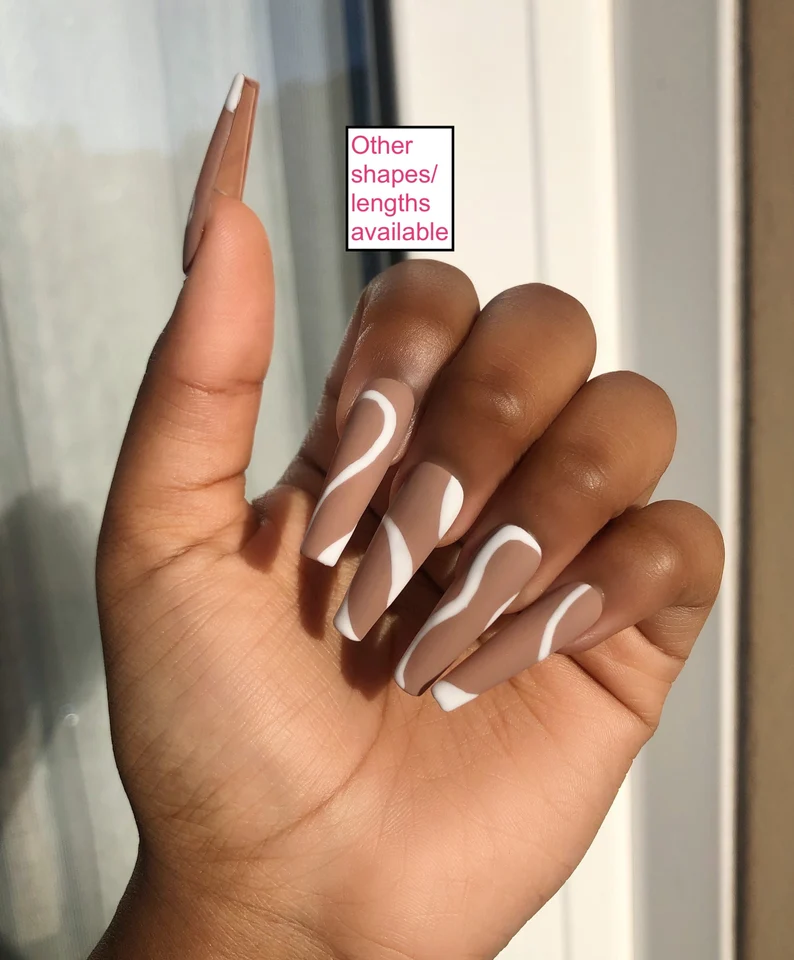 These light brown nails serve as the perfect backdrop to show off thick white swirls. The pairing of light shades makes this design so simple yet incredibly chic, modern, and playful. Buy these nails at Etsy.
6. Dark Brown Coffin Nails With White Swirls and Silver Glitter
If light brown isn't the style you're going for, dark brown nails look just as amazing with white swirls. Add silver glitter to give these nails some holiday cheer. Buy these nails at Etsy.
7. Brown and White Gradient French Rim Coffin Nails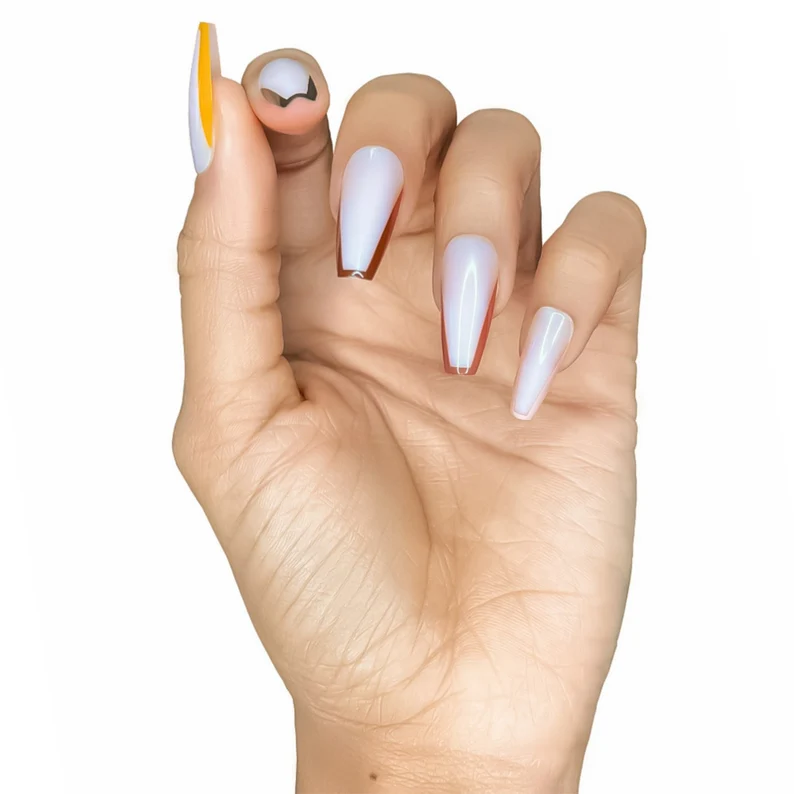 French tips never fail, and nowadays, modern versions of the classic look are emerging, including these french rim nails. 
Each nail is coated in white with a brown gradient design, amped up by yellow on the thumb. Buy these nails at Etsy.
8. Brown and White Coffin Nails With Patterns and Abstract Art
The most exciting nail designs include trendy patterns. This look has so many; checkered print, swirls, and cow spots with other cute abstract art that makes the brown and white nails incomparable. Buy these nails at Etsy.
9. Brown and White Coffin Nails
Keep things simple with two nails polished in light brown and the remaining in white. This look is effortlessly cute and so easy to achieve. It's definitely recommended if you're doing your nails at home.
10. Short Brown and Chalk White Nails
I love the chalky look of this white lacquer. Its texture brings out the rich pigment of these brown nails all the more. Altogether, it's an eye-catching and unique design.
11. Brown and White Leopard Print Stiletto Nails
A trendy nail design is easy to accomplish when leopard print is brought into the mix. Overlaying brown stiletto nails, these white leopard spots are giving this look a fashionable vibe that will be such a hot topic for fall.
12. Brown and White Negative Space Angled French Almond Nails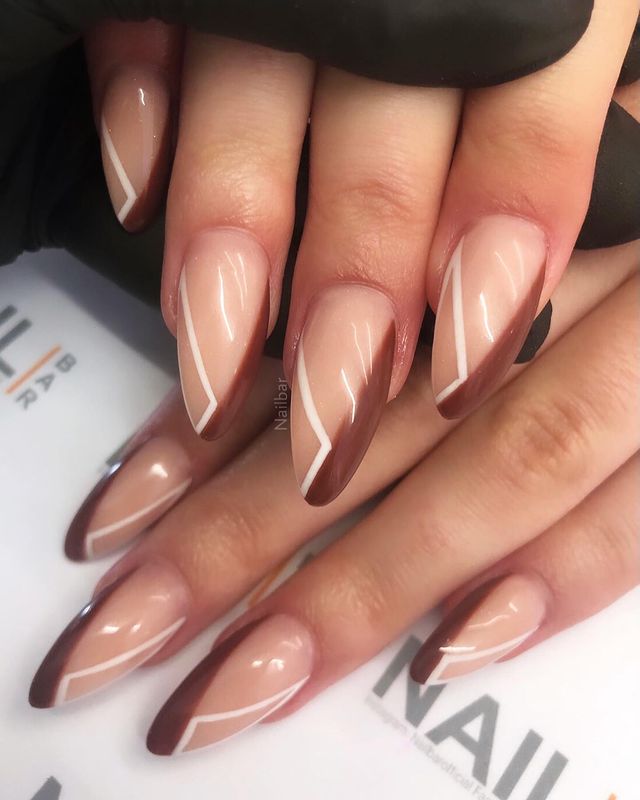 Rock an angled french tip design but not like the norm. This look is inspiring us to try something different as one side is coated in dark brown and the other outlined in white with negative space bringing a trendy twist.
SEE ALSO: 21 Amazing Brown Almond Nail Designs You Need to See
13. Short Brown and White Cow Print Nails
Cow print nails are always in style, and what better way to wear them than with brown and white nail polish? The length also adds to the cuteness of this look. Rock these nails in any season, especially autumn.
14. Short Brown and White Coffin Nails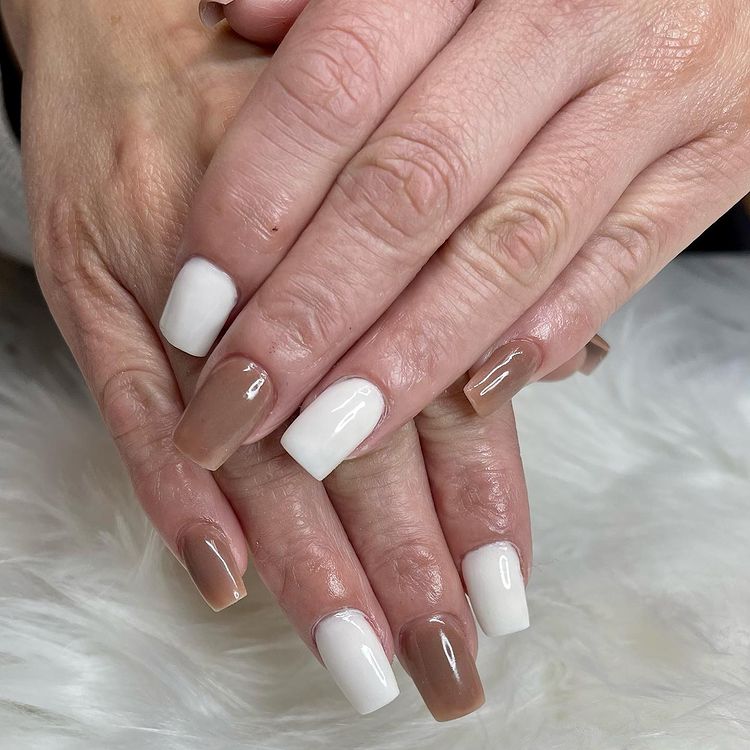 Mismatched brown and white nails are such a vibe. It's as if simplicity and style are wrapped in one. Plus, it's a look you can easily master at home.
15. Brown and White French Coffin Nails With Polka Dots
What would this compilation be without polka dots? They're still as trendy as ever and look amazing in this brown and white nail design. 
I've been seeing a lot of polka dot nail art being worn with french tips as well, so you'll definitely be on-trend with this look.
16. Short Brown and White Nails With Polka Dots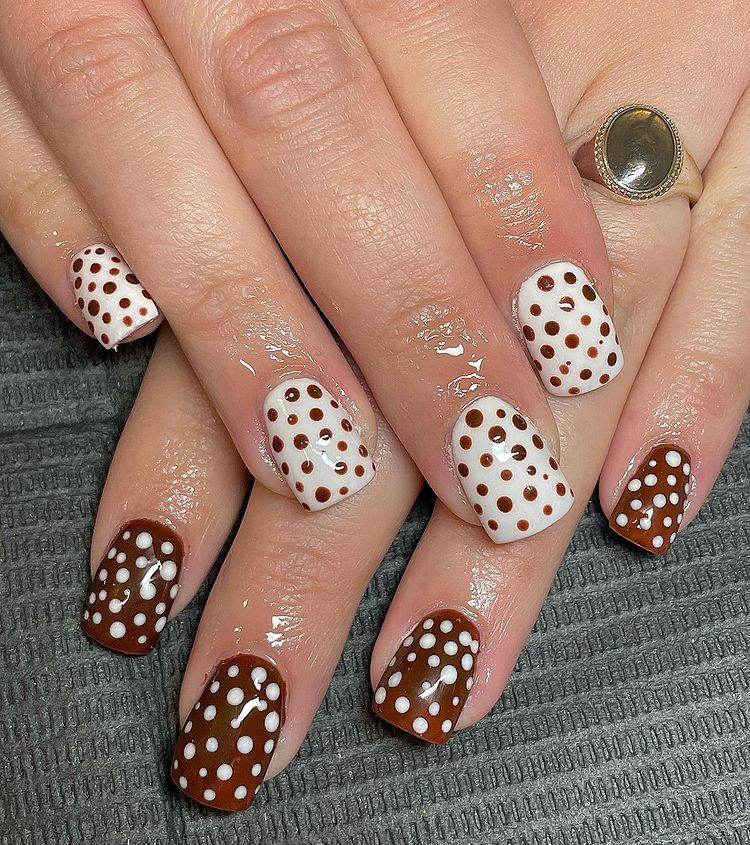 If you're really into polka dots, then don't be shy. Overlay each nail with dots painted in brown and white in a trendy mismatched short nail design that is just so adorable.
17. Brown and White Angled French V Tips
For a look that's chic and simple, angled french tips are a go-to. Polished in brown and white, it's a v-tip design, perfect for women who love to put a modern spin on classic trends.
18. Brown and White Holiday Coffin Nails With Snowflake, Reindeer Art, and Glitter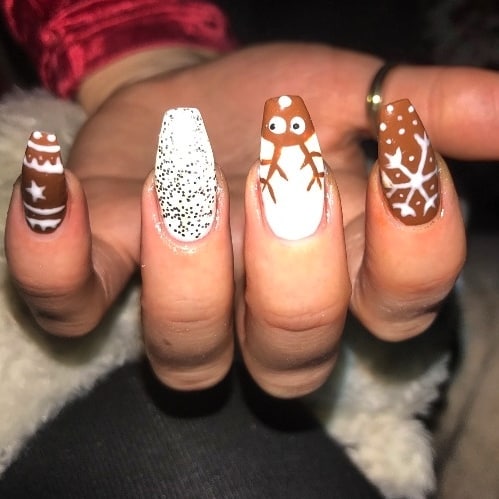 Ever thought of brown and white nails for the holidays? I bet this look is giving you all sorts of ideas. It's giving White Christmas vibes with snowflakes, a reindeer, and glitter to add that holiday spark. 
19. Brown Almond Nails With White Daisies
These nails are beyond cute! I love that the daisies were kept in white, too, making this design more realistic. Small sequins were added to play up the cute essence of this look.
20. Brown and White Coffin Nails With White Hearts
Hearts immediately give your nail design a romantic touch. With a white base as your background, overlay a few nails with small brown hearts and revel in the girly flair this design has. 
21. Light Brown and White Almond Nails With Line and Leaf Art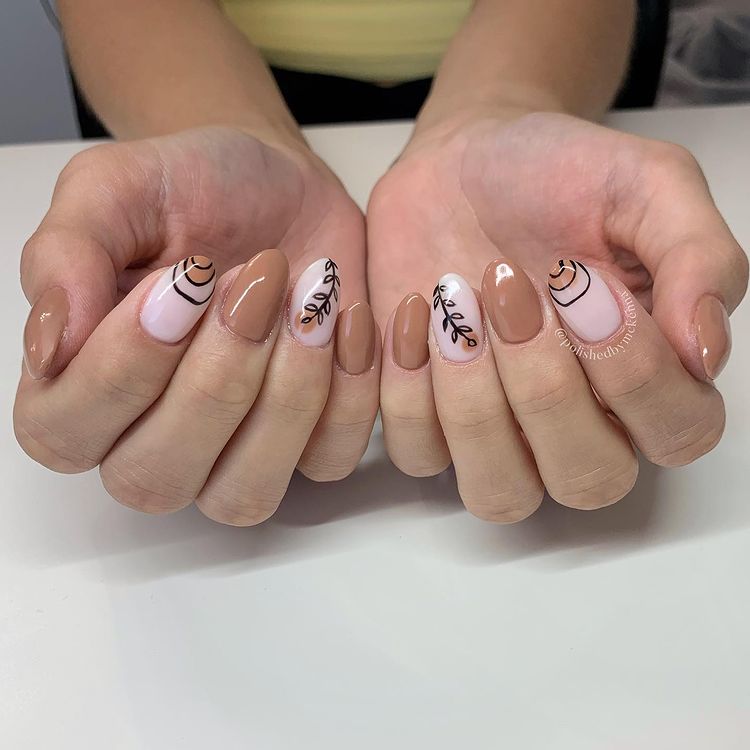 How about a soft look for fall fashion? Generally, warmer colors are worn during the season—you'll find lots of chocolate brown taking over. 
For this design, however, a much lighter shade of brown is the color of choice. It's complemented by dewy white nails overlaid by line art and leaves for an outdoorsy vibe.
Summary and Top Picks
You'll never run out of cute nail designs when you're working with brown and white, and rest assured, each look will be versatile, owing to the simplicity and timeless nature of both colors.
I would wear all of these designs in a heartbeat, but there are a few that really caught my eye:
#12 Brown and White Negative Space Angled French Almond Nails: I love how these angled french tips incorporate negative space. It's one of the coolest designs I've seen.
#19 Brown Almond Nails With White Daisies: This look was too cute to not make my top picks. Just look at how those white daisies pop off those dark brown nails.
#20 Brown and White Coffin Nails With White Hearts: Nail designs with hearts give the flirtiest vibes and are the most fun to show off.
Now, I want to know what you think. Which of these chic brown and white nail designs won you over and why? Let me know in the comments below!