One of the reasons I love the color brown is because it's so chic, and it's the same reason I love almond nails. Their tapered design makes them perfect, classy, and super cute, whether short or long. 
The almond nail shape is one of the most popular, and since brown manicures are rising in popularity as well, it's the perfect opportunity to rock both together. That's what this compilation is all about; the top trending brown almond nail designs for this year.
You may be wondering what styles you can create, relying on the color brown, but there are so many ideas out there. I'll be covering designs with animal print, ombre blends, cute abstract patterns, and more. 
The nails you're about to see are all the inspiration you need for your next appointment. Let's jump right in!
1. Cinnamon Brown Almond Nails
For a guaranteed chic look, all-brown nails are the way to go. Coat each in a cinnamon brown shade. You'll love the versatility they have to offer. Buy these nails at Etsy.
2. Brown Almond Nails With White Swirls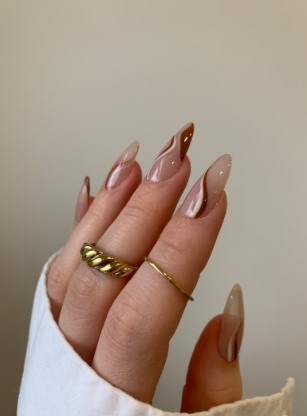 Brown looks absolutely fabulous paired with white over sheer nude nails. The combination is so subtle yet sophisticated as brown, and white swirls overlay each nail to achieve a trendy look. Buy these nails at Etsy.
3. Brown Gradient French Almond Nails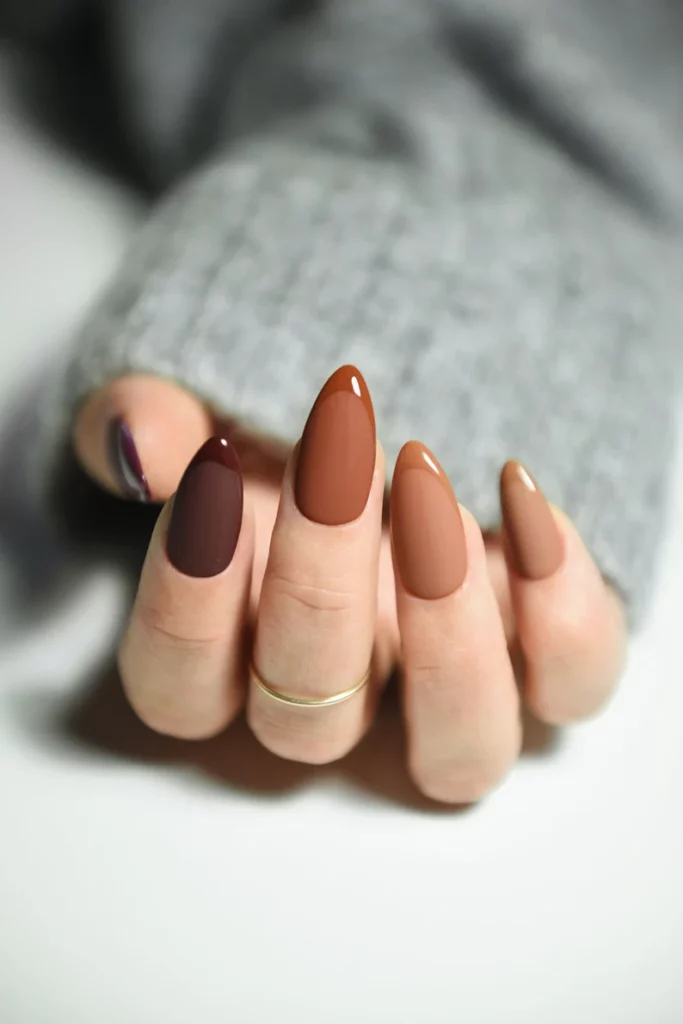 Have you ever thought of all-brown almond french nails? It's a look you should definitely try. This one features a chic gradient design with multiple shades of brown and gorgeous matte to glossy finishes. Buy these nails at Etsy.
4. Brown Gradient Swirl Almond Nails With Gold Glitter
Add a special touch to your nails by pairing a brown gradient swirl design with gold glitter. Overlaying a nude base, the colors really pop and complement each other so well. Buy these nails at Etsy.
5. Dark Brown Almond Nails With Abstract White Swirls
Abstract swirls are so fun to wear. In this look, the design is bold and vibrant, thanks to the dark brown base. White nail polish painted over brown is a look you definitely can't ignore. Buy these nails at Etsy.
6. Light Brown and White Almond Nails With Lipstick Marks and Coffee
For the cutest look ever, opt for light brown nails paired with white but don't stop there. Make use of the clean white canvas by decorating your nails with cute designs such as lipstick marks and a hot cup of coffee. Buy these nails at Etsy.
7. Brown French Almond Nails With White Swirls
French tips with swirls are a go-to for trendy and cute nails. I love that one nail is designed differently from the rest, with brown and white swirls decorating the tip of the ring finger. Buy these nails at SHEIN.
8. Brown Abstract Swirl Almond Nails
Another amazing idea is to decorate a nude base with thick brown swirls. I just love the rich texture of these swirls. They remind me so much of chocolate, making this almond nail design look incredibly sweet. Buy these nails at Etsy.
9. Glossy Brown Almond Nails
These brown nails are so posh, and they needed no decorative features to pull them off. Just a glossy finish to make the color even more enthralling.
10. Brown Almond Nails With Smiley Faces
Your brown nails don't have to be plain. Amp them up with a few smiley faces for a youthful and trendy look.
11. Brown Almond Nails With Leopard Print
Brown nails with leopard print are a combination like no other. Design your leopard print in black with gold glitter to bring an edgy touch with a bit of classy to your nails.
12. Brown Marble Almond Nails With Glitter
This look has all the elements of a fancy nail design. It features a marble effect, glitter, and holographic nail art. With such a combination, you'll never grow tired of your nails.
13. Brown and Nude Marble Almond Nails
Marble nails are among my favorite looks, and this brown and nude mix makes the design so flattering. The glossy finish also adds a dreamy effect that I love.
14. Brown Almond Nails With White Smile Line
I love when the emphasis is placed on the smile line of a french tip design. For this look, brown tips are enhanced by thick white lines. It's an easy way to play up a classic look.
15. Brown Gradient French Almond Nails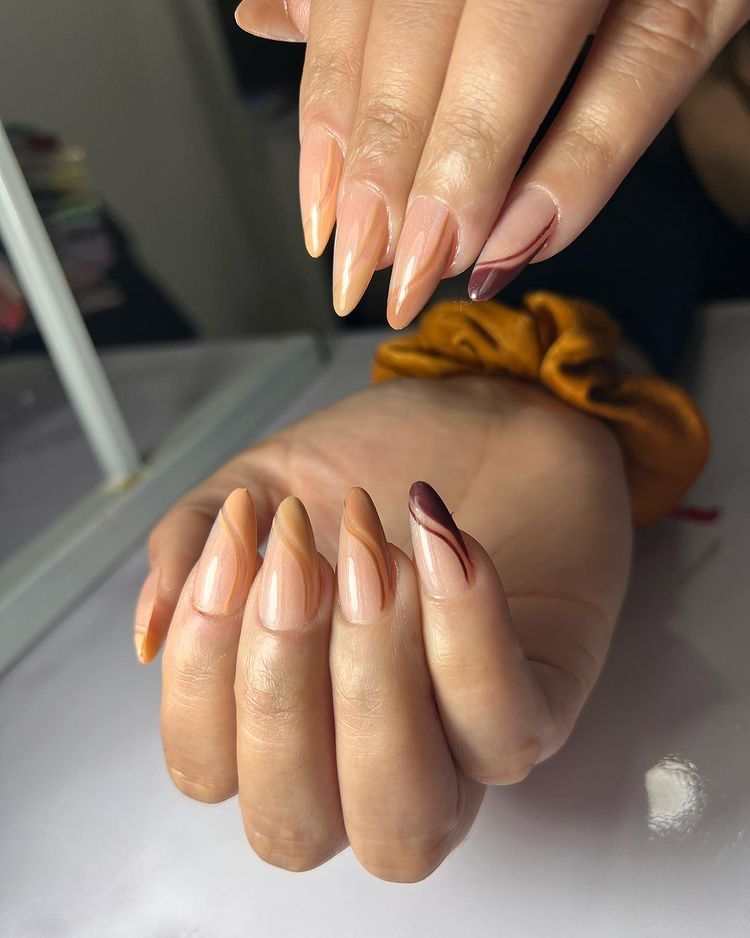 If classic french tips aren't the vibe you're going for, switch things up with an angled french nail design. Coat each nail in a different shade of brown to make things interesting, with thin swirls to add a girly flair.
16. Brown Marble Ombre Almond Nails
You can also dress up your nails with a cute marble design like the one seen here. It's an ombre blend featuring a sheer nude base and a combination of brown and white at the tips. Very simple yet very stylish.
17. Brown Almond Nails With Gold Glitter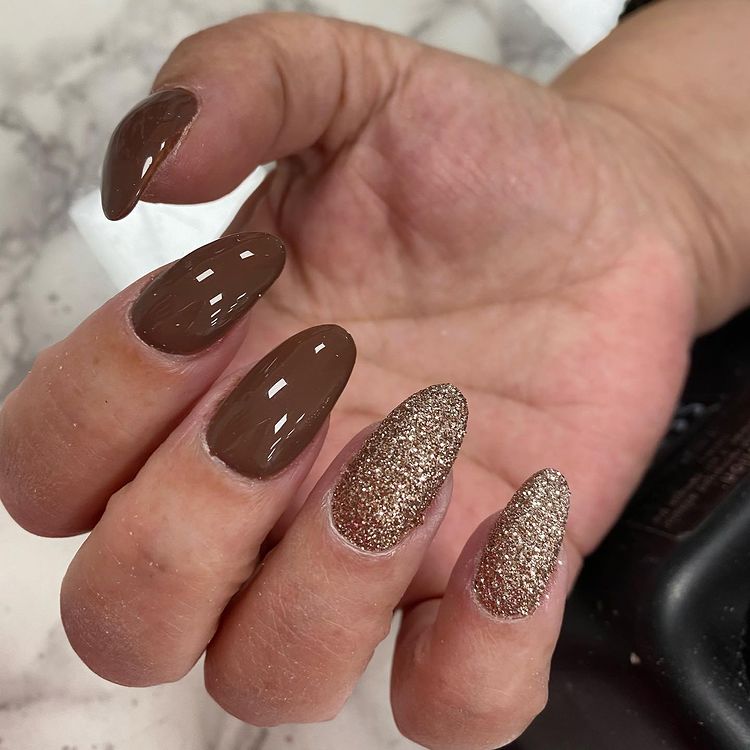 Brown nails look amazing by themselves, but they are even more captivating paired with gold glitter. Instead of sprinkling the glitter on the brown base, dedicate two nails to the sparkling design for the most impact.
18. Brown Plaid Almond Nails With Glitter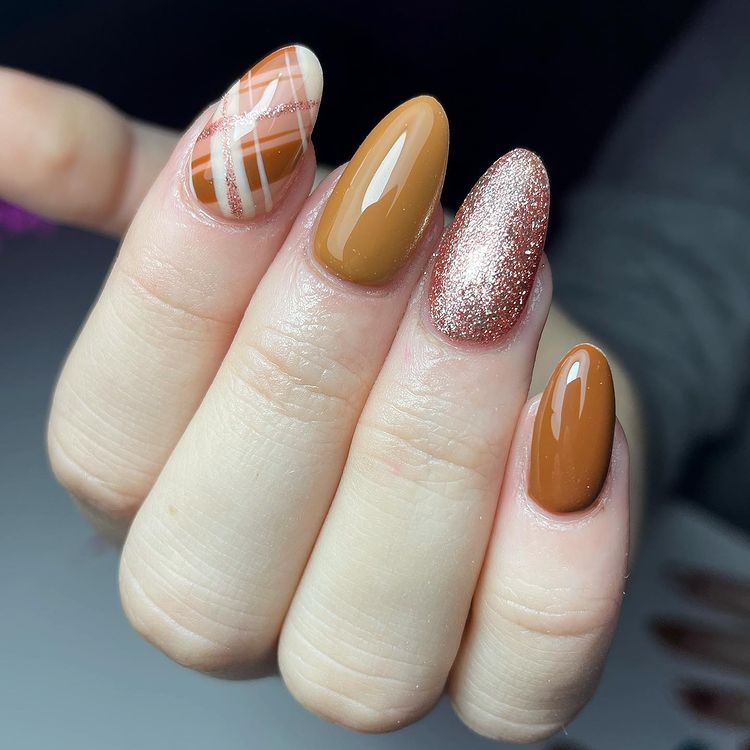 This look has it all; a trendy plaid pattern, scintillating rose gold glitter and a glossy finish that really enhances those pretty brown nails. I could see myself rocking this look for autumn. How about you?
19. Short Brown Almond Nails
I never knew I could love short brown nails as much as I do right now. Polished in a deep brown hue, these nails are beyond beautiful. They're simple, but they'll definitely improve your daily looks.
20. Brown Monochrome Almond Nails
If you want to try a brown nail design but you're accustomed to diverse looks with various colors, this monochrome mani is a great option for you. Starting from dark brown to nude, you'll have just the amount of color your nails need.
21. Glossy Brown Swirl Almond Nails
Chocolate brown swirls over nude nails are such a vibe! This is a look you can easily DIY at home too. Imagine how proud you'll be when you see those beautiful swirls come to life.
Summary and Top Picks
Choosing a nail design can take hours, even days, but there are those designs that are easy to achieve while looking effortlessly amazing. Brown almond nails fit the description perfectly, and I'm confident you've found a few that you can't wait to wear.
As for me, my favorites are:
#3 Brown Gradient French Almond Nails: These nails are so neat and classy, but the matte and glossy finishes are my favorite part. 
#4 Brown Gradient Swirl Almond Nails With Gold Glitter: The addition of gold glitter was a great idea. I love the contrast it brings to these brown nails.
#9 Glossy Brown Almond Nails: The glossy finish can't be ignored. It makes the color irresistible.
What about you? Were you won over by any of these brown almond nail designs? Let me know in the comments!