It's difficult to wear something yellow and not have a smile on my face. It's such a cheerful and bright color that looks great with white, black, and bright colors like blue. 
The sad thing is that it's often underused in fashion. Colors like red, blue, and pretty much any neutral tend to take the spotlight far more often. Of course, if you don't have anything yellow in your closet, you can still show your love for this color through your nails. That's why today we're going to look at the best eye-catching yellow butterfly nail design ideas.
1. Yellow Butterfly Nails With Gold Glitter and Silver Rhinestones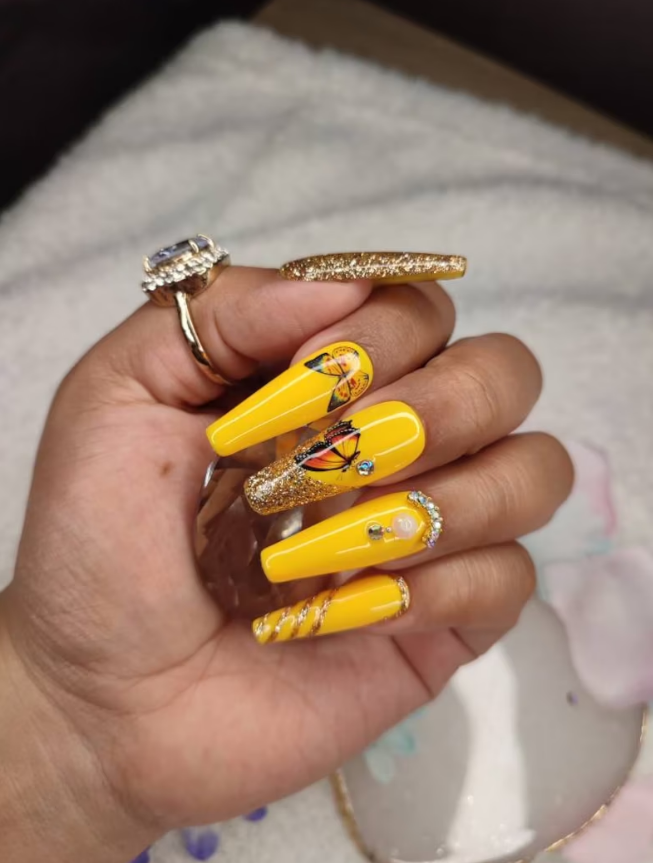 This design perfectly showcases how yellow goes well with both silver and gold, like the gold glitter and silver rhinestones. The yellow butterflies add the perfect finishing touch to bring the whole look together. Buy these nails at Etsy.
2. Yellow Nails With Yellow Holographic Butterflies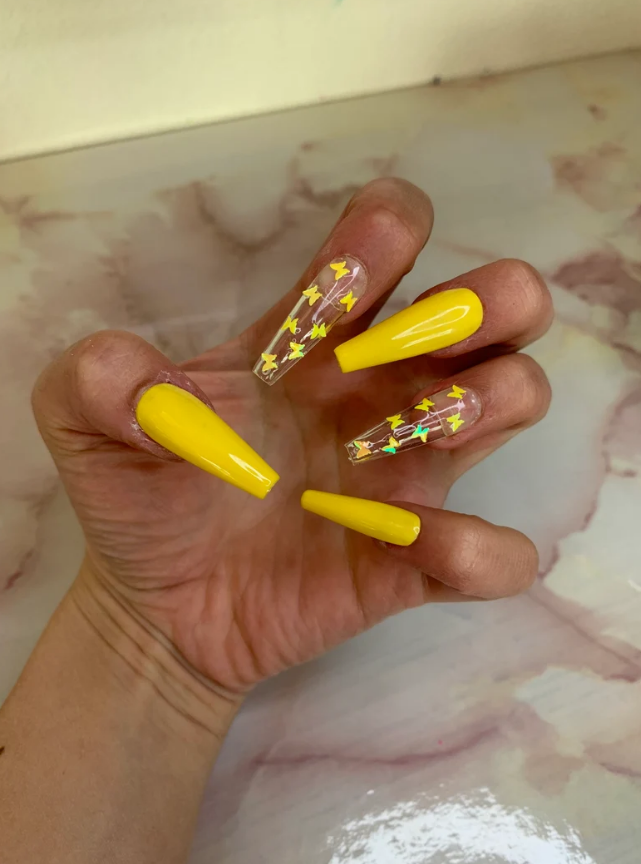 The small butterflies over transparent nails mixed with solid color nails is a classic that works with a variety of different colors, including yellow. 
I also like the fact that the butterflies are holographic. It's a subtle touch that makes them stand out in the light. Buy these nails at Etsy.
3. Yellow Butterfly Nails With Silver Glitter Accents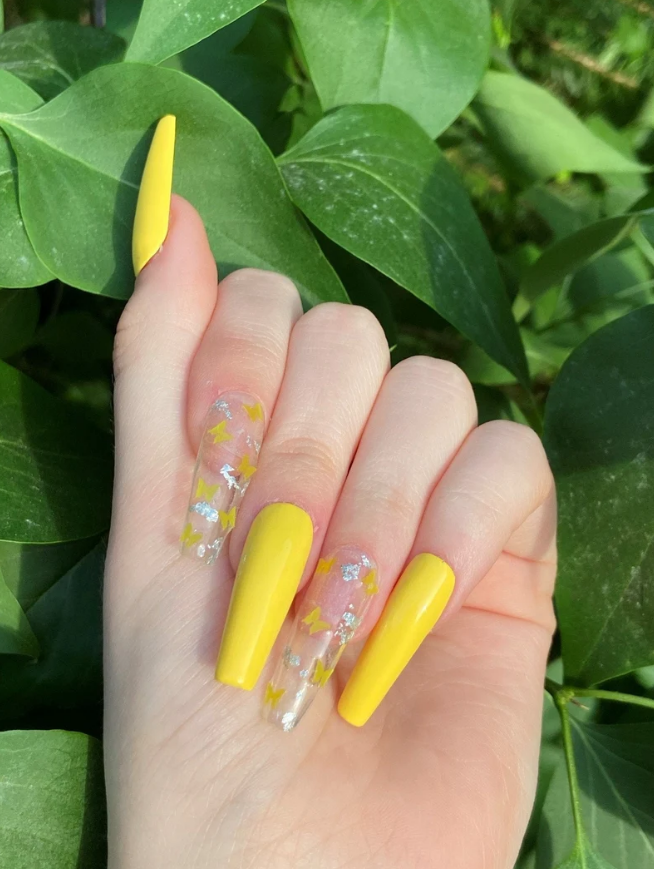 This is similar to the last design, but the sparkle is found in the silver glitter rather than having holographic butterflies. 
I also like how this one has subtle contrast in tones since the silver glitter is cool-toned while the yellow is a very warm color. Buy these nails at Etsy.
4. Nude Nails With Clouds and Yellow Butterflies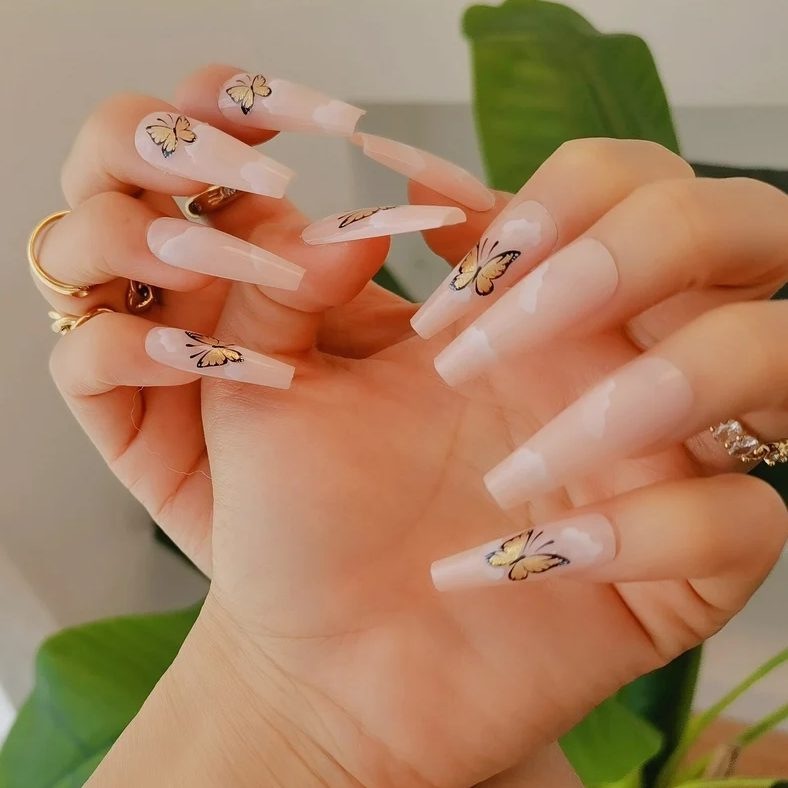 I love a bright and cheery yellow any day, of course, but yellow is also capable of being soft and elegant, too. 
Choosing a lighter and more toned-down yellow and pairing it with neutrals like these nude nails with white clouds allows yellow to show off its uncharacteristic sophisticated side. Buy these nails at Etsy.
SEE ALSO: 21 Trendy Rainbow Neon Nail Design Ideas
5. Yellow Butterfly and Daisy Nails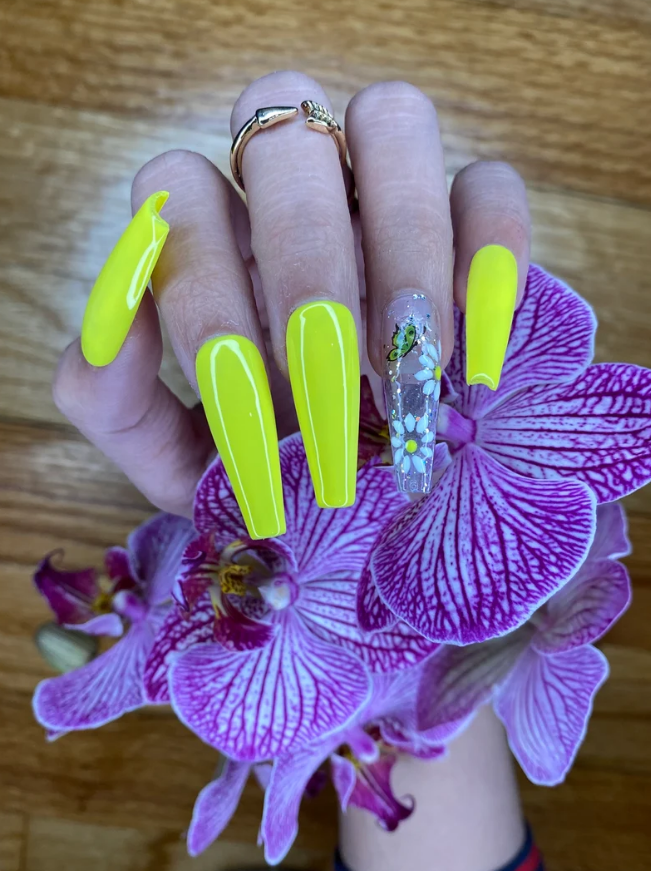 Yellow is once again showing off its cheery side with this bright nail design. This is a great one to wear in the spring, thanks to the butterfly and flower motif. 
It would look beautiful with a yellow floral dress, or even to complement a yellow shorts look. The possibilities are limitless. Buy these nails at Etsy.
6. Yellow Butterfly Glitter Nails With Colorful Rhinestones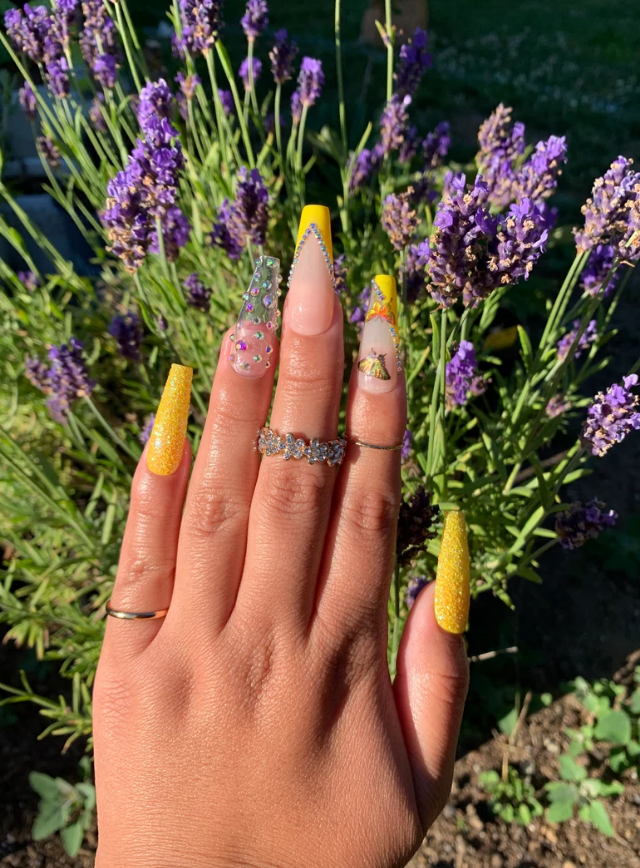 This nail design combines multiple elements, from glitter to butterflies to colorful rhinestones, for a perfect glam look. Buy these nails at Etsy.
7. Yellow and Orange Nails With 3D Yellow Butterfly
I don't think these nails will win "The Most Practical Nails" award anytime soon, but I couldn't help but include them on this list due to how unique they are. 
I love how the 3D butterfly pops off the nails. With that one element, it turns the basic solid yellow/orange look into something you can't help but stare at. Buy these nails at Etsy.
SEE ALSO: 25 White Butterfly Nail Design Ideas That Are Trending
8. Green Nails With Yellow Butterflies
Green and yellow is a somewhat underrated color combination. I love it because it conveys growth, energy, and vitality. Plus, it also looks springy, like you're looking at a flower with green leaves and yellow petals. Buy these nails at Etsy.
9. Pastel Yellow Nails With Flowers and Butterflies
Another way to achieve a soft look with yellow is to go for its pastel version.
Pastel yellow works well with white and other pastel shades. Also, since it's a lighter color, it prevents your nails from overshadowing your outfit. Buy these nails at Etsy.
SEE ALSO: 21 Trendy Pink Butterfly Nail Design Ideas
10. Yellow Butterfly Confetti Nails
As I just mentioned, pastel yellow looks great with other pastel shades. In this case, you can use multiple pastels to create a festive and fun theme. Buy these nails at Etsy.
11. Yellow and Orange Butterfly Nails With Ombre Effect and Rhinestones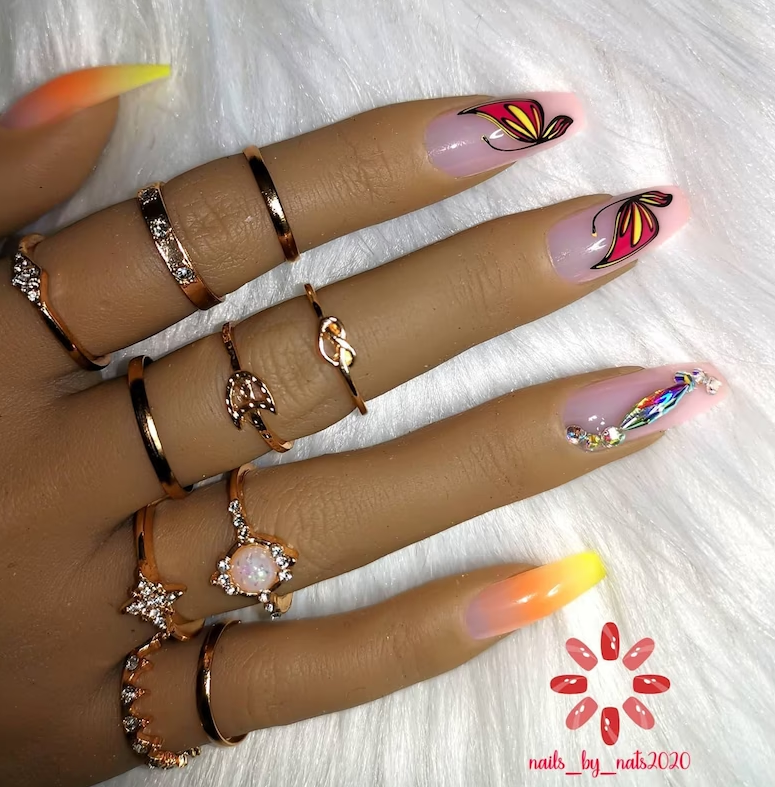 Yellow's other neighbor on the color wheel is orange, which is one explanation for why they work so well together. Another is that they're both warm colors, so they both work to create a sunny and cheerful aesthetic. 
Show your love for these energetic colors by incorporating them into a cute yellow/orange butterfly and adding rhinestones to make the butterfly nail design truly shine. Buy these nails at Etsy.
12. Yellow Rhinestone-Outlined Butterfly Nails
Instead of using rhinestones to accent butterflies, you can also use rhinestones to be the butterfly — or, rather, the outline for one. It's a great way to step up a solid color nail look. Buy these nails at Etsy.
13. Yellow Rhinestone Butterfly Nails
Rhinestones also make up the butterfly in this design, but it looks far more glam thanks to the bright yellow color, the longer length, and the addition of rhinestones on the butterfly's wings. Buy these nails at Amazon.
14. Yellow and Purple Butterfly Nails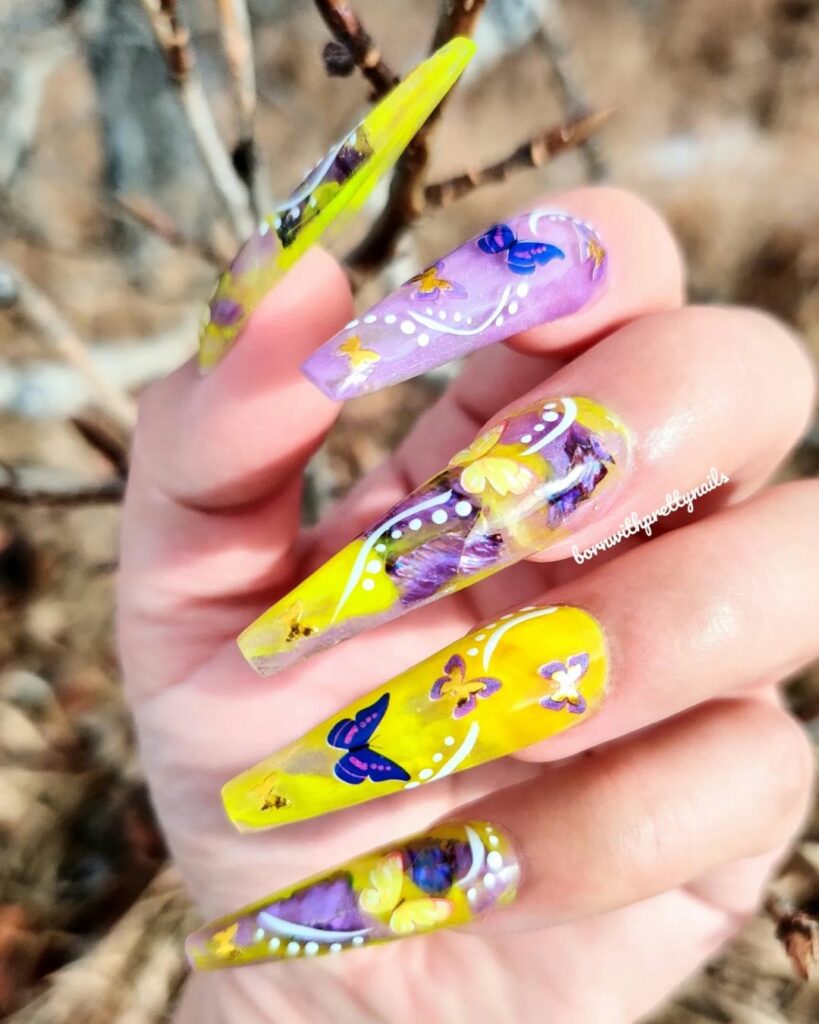 Yellow and purple are also a beautiful color combination that fuses the energy of yellow with the regality and elegance of purple. 
I love how this design marbles the colors together rather than keeping them separate. It's such a colorful and eye-catching design.
SEE ALSO: 21 Standout Red Butterfly Nail Design Ideas
15. Yellow and Lavender Butterfly Nails With Ombre Effect, Glitter, and Rhinestones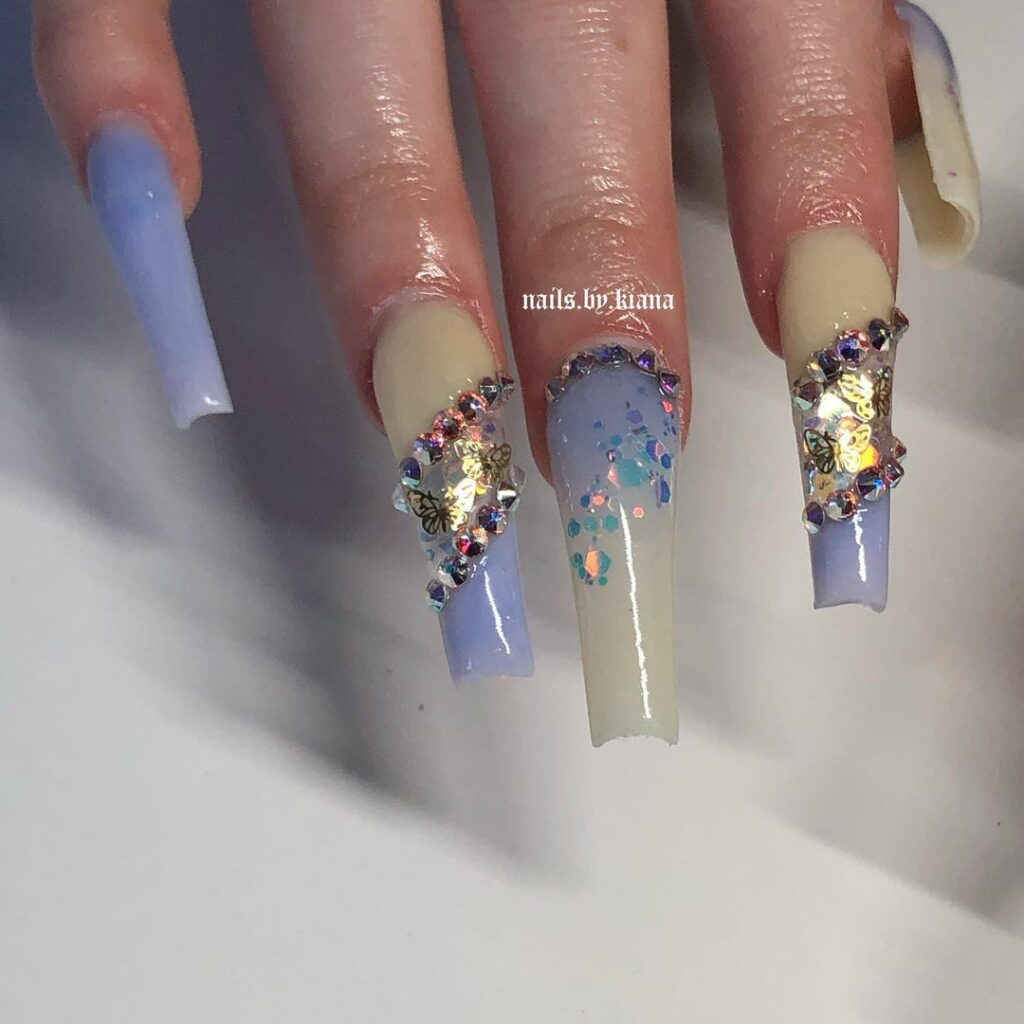 Despite using lighter shades of yellow and purple, this design still manages to look as glam as the last one, thanks to the addition of crystal rhinestones, shimmering butterflies, and just the right amount of glitter.
16. Yellow Half-Butterfly Nails
Putting half butterflies on your nails gives you the chance to showcase the wings in more detail, which works well with a subtly elegant look like this one.
17. Yellow Butterfly Nails With Multicolored Glitter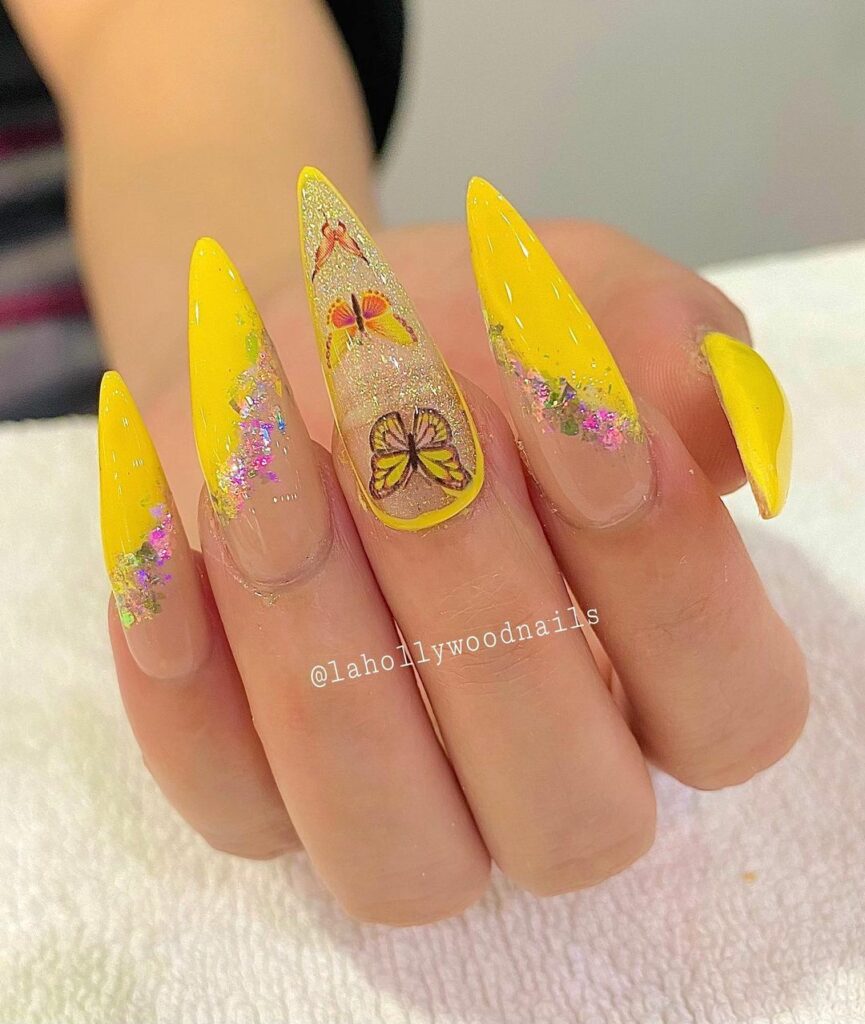 I love how this design uses framing to transition between the different style elements. 
It has multicolored glitter between the transparent and yellow polish, for example. It also has a yellow frame to transition from the solid yellow into the yellow butterflies and glitter.
18. Yellow Butterfly, French Tip, Polka Dot, Glitter, and Solid Color Nails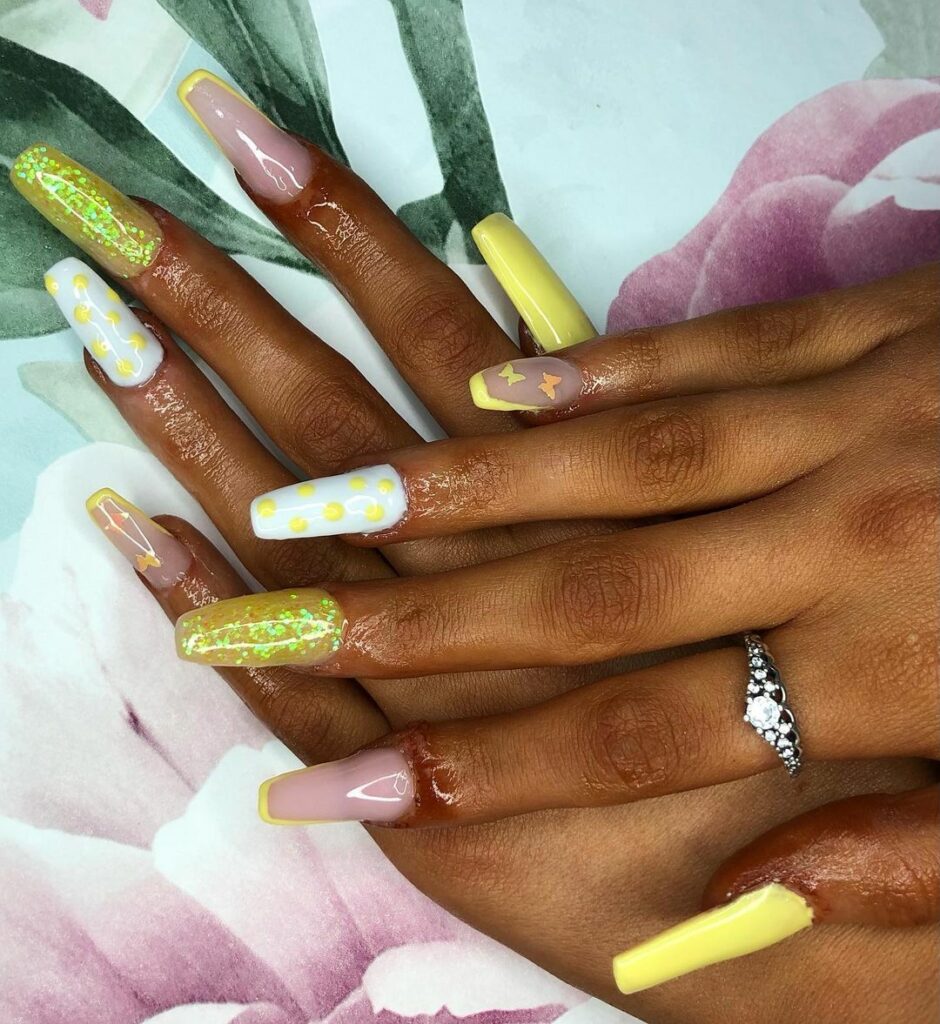 Combining many design elements in the same design like butterflies, french tips, glitter, polka dots, and solid colors can create a fun and varied look. 
Just make sure to keep a consistent color scheme. Otherwise, the variety might tread into the overboard territory.
19. Yellow Butterfly Nails With Silver Glitter and Rhinestones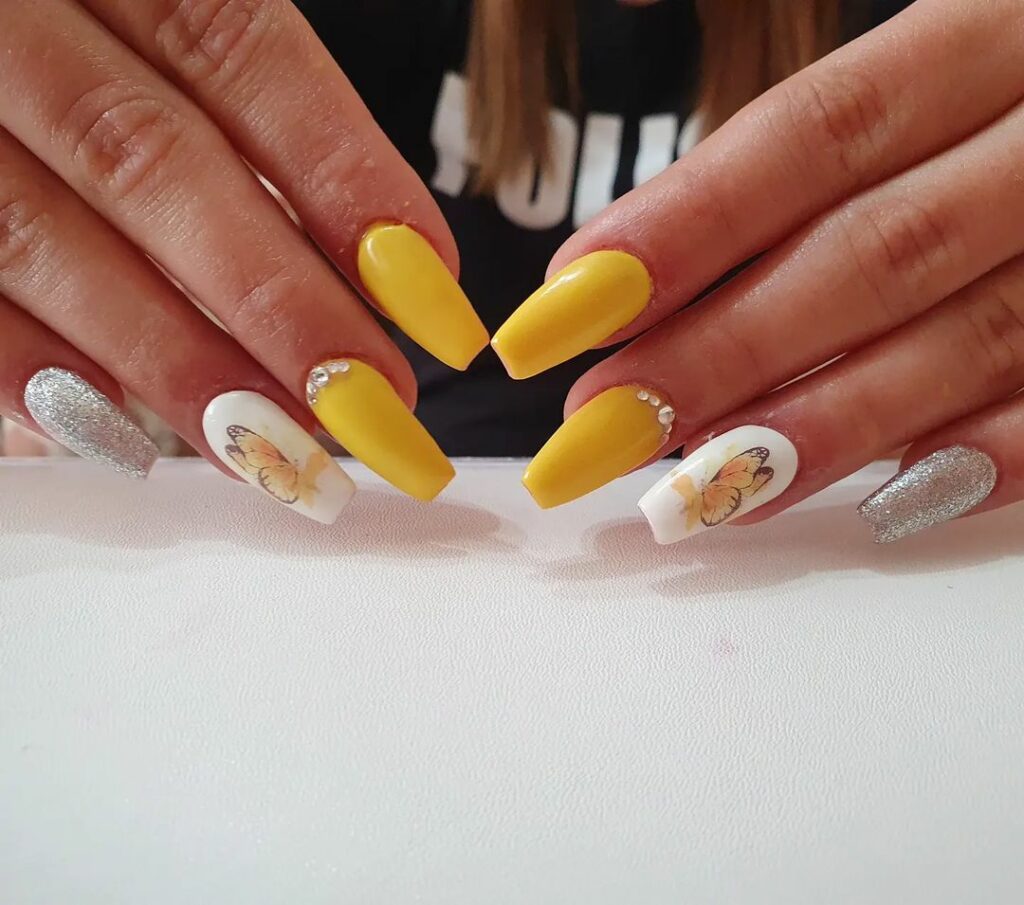 This is once again a perfect showcase of the beautiful contrast between yellow and silver. I also like the addition of white here, which effectively bridges the gap and also works as a blank canvas for the yellow butterfly to pop out.
20. Yellow Pastel Nails With Yellow and Black Butterflies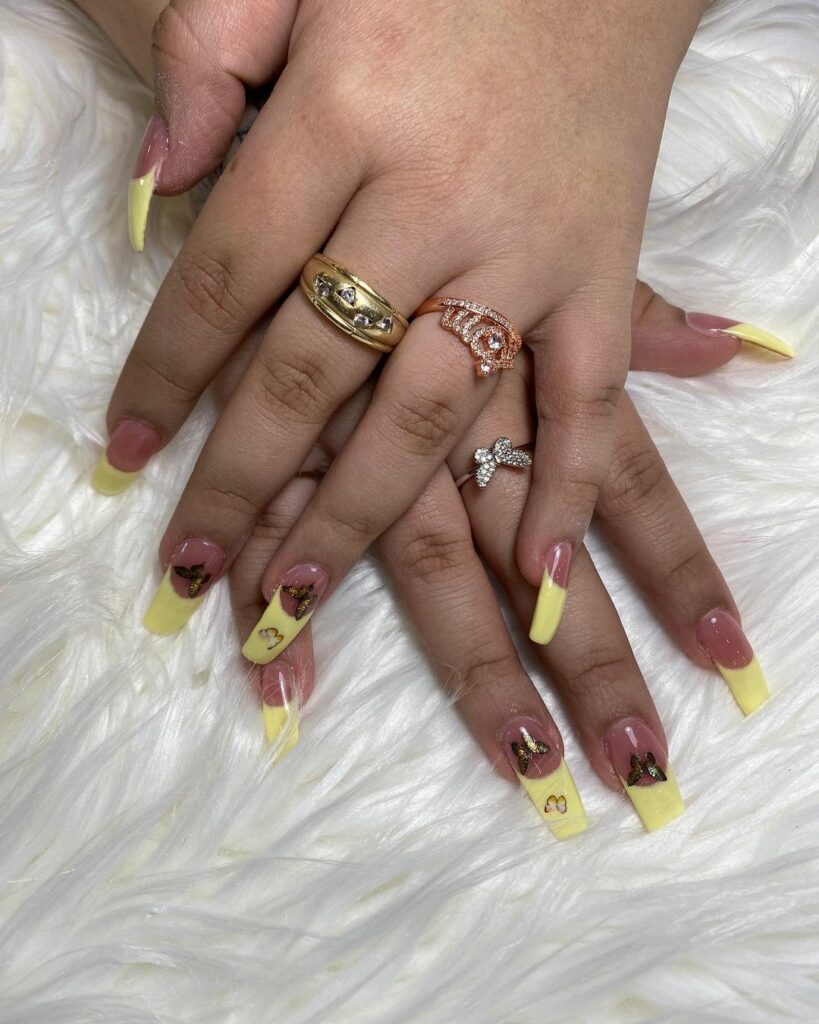 Oh, and speaking of contrast, you can also achieve it by pairing a bright yellow shade with a darker shade like black. That's exactly the case here between the pastel yellow and black butterflies.
21. White Nails With Silver Rhinestones and Yellow Butterflies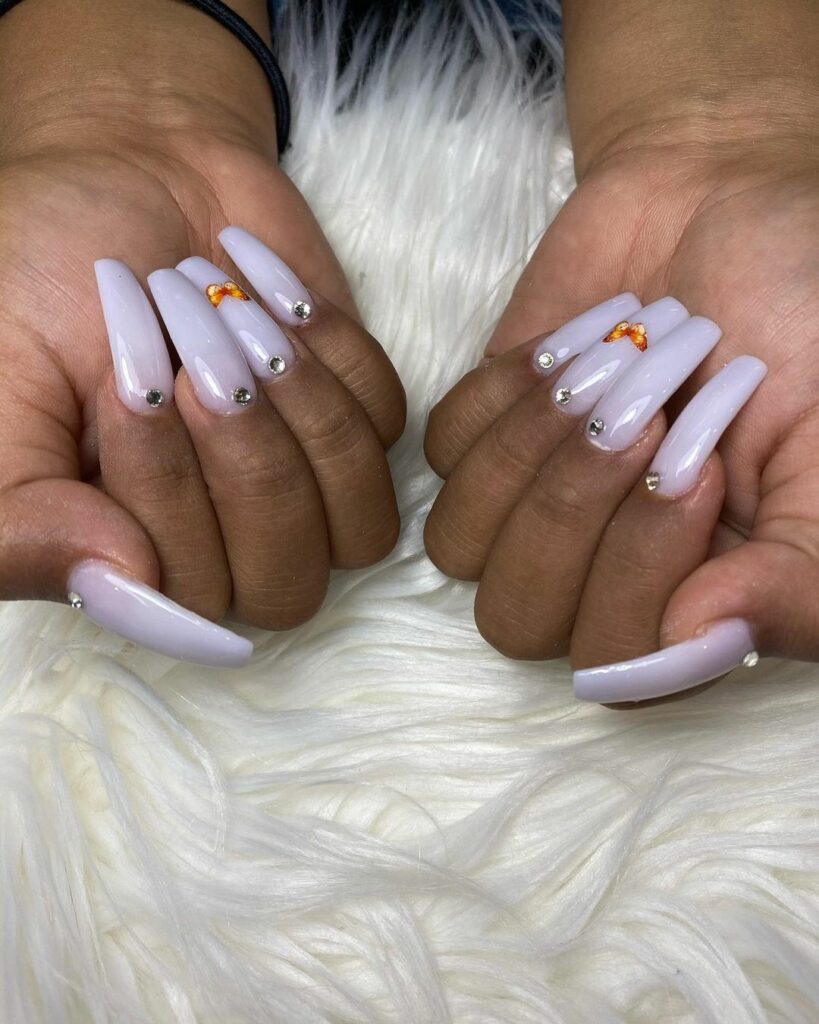 This design shows that two yellow butterflies are enough if you're looking to transform a white nail design.
Summary and Top Picks
Did you enjoy looking at all of these yellow butterfly nail design ideas? Whether a soft and cute pastel yellow or a bright and bold yellow, this color can fit into many different aesthetics. But no matter what shade it is, I love how it adds a cheery touch to any outfit. 
Of these designs, my favorites were:
#5 Yellow Butterfly and Daisy Nails: This is a bright set of nails that looks beautiful for spring. 
#9 Pastel Yellow Nails With Flowers and Butterflies: I like the soft pastel look, which makes this floral and butterfly set more elegant. 
#14 Yellow and Purple Butterfly Nails: I love how colorful these nails are between the bright yellow and saturated purple. 
But I'd love to know what your thoughts are. What outfits would you wear these yellow butterfly nails with? Let me know in the comments below!