With Summer fun on the agenda, extra stylish nails are a must! So, as you enjoy the season, you'll need a cute, versatile, every day mani to keep you looking trendy. The good news is that coffin nails fit the description perfectly and look amazing with any design.
Coffin nails are among the most popular nail shapes around. They can be worn either short or long and are characterized by a broad base that becomes narrow at the tip, resembling a coffin, or pointe shoes, thus earning them the nickname, ballerina nails.
These nails are everywhere, so it's no doubt you've been spotting them all over your online feeds. Moreover, style icons such as Kylie Jenner, Heidi Klum, and Billie Eilish have long stamped their approval on the look, each putting their own spin on the trend.
While it's tempting to add some drama to your Summer fashion with gorgeous long showy nails, there's much to be appreciated in a short, clean-cut manicure too.
That's why this round-up is all about stylish short coffin nail designs that are trending right now. Let's get started!

1. Short White Coffin Nails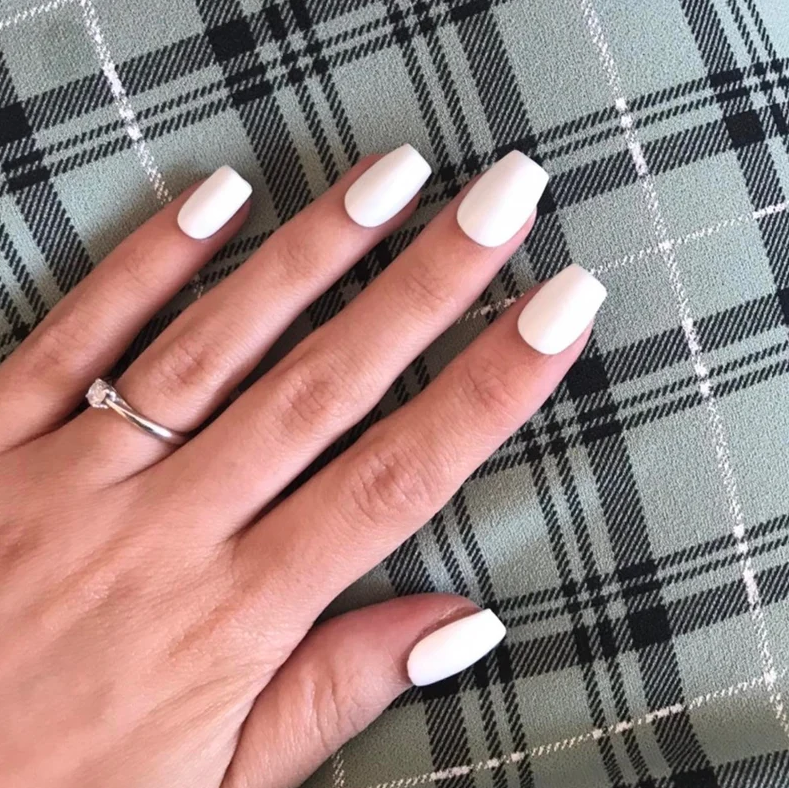 I'll take fresh white coffin nails any day. This look is so sophisticated and classic but still manages to bring a modern feel that I truly love. I also can't downplay how versatile they are. Put them to the test and rock white nails with any OOTD. You can get these nails at Etsy.
2. Short Blush Pink and White Coffin Nails with Flame Art
Nail art can bring any manicure to life. Design white flames over a cute blush pink set to add a daring touch to that soft-toned base. You can get these nails at Etsy.
3. Short Matte Emerald Green Coffin Nails
I love the boldness of these green nails. Emerald is one of the most elegant shades of green and is a color I'd reserve for a top-notch and classy event. The matte finish is also worth noting, adding a compelling quality to this design. You can get these nails at Etsy.
4. Short Pink and White Marble Coffin Nails
Marble nails never cease to blow my mind. It's a design that manages to be simple and beautifully complex all at once with subtle swirls that blend colors together. 
Featured in this look are pink and white, and the combination is fun, girly, and incredibly classy. You can get these nails at Etsy.
5. Short Red and White Coffin Nails with Criss-Cross Line Art
Why not put a little abstract spin on your next nail design with a chic line art display? Get the look by overlaying red nails with thin white criss-cross lines and sparkling silver lines dressing up a white accent nail. You can get these nails at Etsy.
6. Short Baby Blue Coffin Nails with Glitter and Holographic Butterflies
Glitter and holographic butterfly decals make the perfect accents for these baby blue nails. They were applied to every other nail to add a little shimmer to this girly look. You can get these nails at Etsy.
7. Short Deep Blue-Gray Velvet Coffin Nails
If you're feeling for something fancy, try this mesmerizing, deep blue-gray velvet nail design. Just like the silky fabric that it gained its name from, this look boasts a sparkly semi-chrome finish that you won't be able to look away from. You can get these nails at Etsy.
8. Short Pastel Pink and Purple Ombre Coffin Nails with Glitter
For a simple look with tons of femininity, ombre nails get the job done. Starting with a light pink base, transition to pastel purple with sprinkles of glitter to amp things up, and a few tips lined with white polish for a french tip flavor. You can get these nails at Etsy.
9. Short Sheer Pink and White Coffin Nails with Gold Glitter
Here we've got the perfect classy nail design; gold glitter on sheer pink and white marble nails. 
You can get creative with how and where you apply glitter by adorning the tips and cuticle area of your design with some gold shimmer, using the accent to also highlight the white marble effect. You can get these nails at Etsy.
10. Short Milky Nude Coffin Nails
What's not to love about these airy neutral nails? The milky nude shade is most captivating and has such a naturally chic flair that will elevate your daily ensembles. You can get these nails at Etsy.
11. Short Nude and White Marble Coffin Nails
A great way to jazz up a nude mani is with the classic and ever-stylish marble effect. Designed over a white base, this design adds a trendy touch and really enhances the neutral aesthetic. You can get these nails at Etsy.
12. Short Nude and White French V-Tips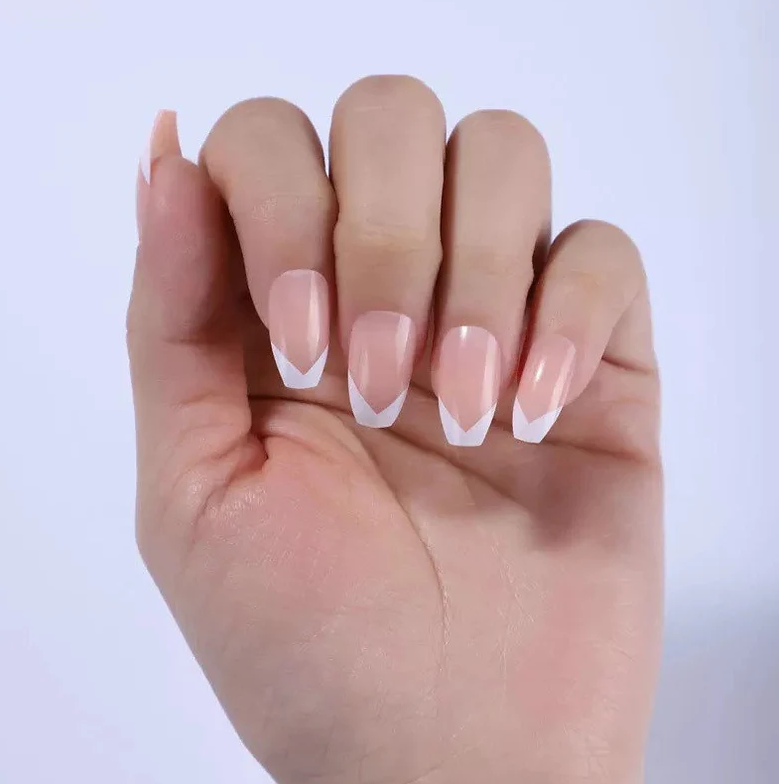 Since we're keeping it classy, it's definitely time to show some love to the timeless french nail design. However, this look comes with a pep in its step, featuring a sheer nude base and white v-tips. You can get these nails at Etsy.
13. Short Red Coffin Nails
This year, we're showing just how fierce we can be, and these all-red coffin nails have the spunk and vibrancy needed to spark that fire of confidence within you. You can get these nails at Etsy.
14. Short Rose Quartz Coffin Nails
I love the simple elegance of this design as faint white swirls are detailed over a translucent pink base. The finished look is a set of absolutely charming and feminine rose quartz nails. You can get these nails at Etsy.
15. Short White Coffin Nails with Pink and Purple Swirls
It's so fun to dress up white nails. You can literally reach for any color, and it'll be like painting art on a canvas. 
This white mani is accentuated by the cutest pink and purple swirls with glitter nail polish in the mix as well to highlight the gorgeous combo. You can get these nails at Etsy.
16. Short Metallic Deep Cherry Coffin Nails
Deep cherry nails are perfect for those special dinner dates where fancy outfits are a must. Opt for a metallic finish to make the most of this sassy look. You can get these nails at Etsy.
17. Short Nude and Pink Coffin Nails
A french mani is a classic nail design that every girl needs to flaunt at least a few times in her life. The best part is you can switch things up to your liking on each occasion, veering from the traditional look with a chic nude and pink combo. You can get these nails at Etsy.
18. Short Pink Angled French Coffin Nails with White Line Art
This manicure is enhanced by a simple stroke of white, applied diagonally across the base of this coffin nail design.
It's a contemporary and cute look, combining white with peach and monochromatic pink angled french tips for the girly girl who loves stylish nails. You can get these nails at Etsy.
19. Short Black and White Angled French Coffin Nails
You can rock the monochrome trend in more ways than one. This look inspires you to give neutral tones a chance, shifting between black and white in an ultra-chic angled french tip design. You can get these nails at Etsy.
20. Short Black, Pink, and White Tropical Coffin Nails
When I think of Summer nails, a tropical aesthetic with bold colors instantly floods my mind. This look lets you have a mixture of subtle and vibrant hues with a soft pink and black pairing.
The colors are complemented by the ring finger coated in white—the backdrop for bold and lush palm tree silhouettes. You can get these nails at Etsy.
21. Short Multi-Colored French Rim Coffin Nails
Get creative with a french mani by lining each tip in a different color. Each hue stands out without overpowering the other, giving these nails a fun and eye-catching finish. You can get these nails at Etsy.
22. Short Pastel Purple Cow Print Coffin Nails
These cute nails remind us that we don't have to choose between our fave designs. It's all here! Animal print in the form of cow spots, bordered by gold glitter with a pastel purple marble effect decorating the opposite side.
23. Short Pink Glitter French Coffin Nails
If not purple, how about pink? This warm pink shade will have you feeling on top of the world. It's coupled with a glittery pink french tip design and I'm loving how fancy the finished look is.
24. Short Pink and White Ombre Coffin Nails
Another classic look that continues to trend is ombre nails. With a gradient blend of muted pink and white, this manicure is a great option for winter fashion with an airy flair that is oh so classy.
25. Short White and Nude Floral Coffin Nails
If you love dressing up simple nails with cute nail art, then this floral-designed mani should serve as some inspiration.  White nails form the basis of the entire look, dolled up by a nude accent nail, and embellished with pretty white flowers.
26. Short Baby Blue and Pink Coffin Nails with Glitter
This pastel fusion is like the perfect daydream. It's an ethereal combination of baby blue and pink polish, awakened by sprinkles of gold glitter, strewn delicately on top.
27. Short Blue Daisy Coffin Nails
Not only is daisy art cute but it's DIY-friendly. Paired with blue polka dots over translucent nails, I love how easily each flower complements this shimmery blue nail design.
28. Short Red, White, and Blue Coffin Nails with Stars
Pull out all the stops for Fourth of July celebrations with a manicure inspired by the American flag. This star-decorated red, white, and blue look couples fashion with patriotism and is a trendy design worth recreating.
29. Short Milky White Coffin Nails
There's so much to love about these milky white nails—the canvas is clean—the type of nails that give you a fresh perspective. They're all-rounders too, bringing a sense of simplicity and elegance to any and every outfit.
30. Short Yellow and Chrome Silver Coffin Nails
Yellow is bright and energetic, making it a go-to color for the warm Spring and Summer months. Nonetheless, it can be lavish as well. Get the aesthetic with an accent nail polished in silver lacquer with a chrome finish to transform the design.
31. Short Light Pink and Blue Glitter Coffin Nails
I just love the muted shades of pink and blue used for this design. This look was given a sparkly finish with chunks of iridescent glitter overlaying the ring and middle fingers. The end result is adorable with a fancy edge.
32. Short Lavender Glitter Coffin Nails
Lavender has become one of my favorite colors. It's so simple yet ladylike and is a great option for purple lovers who want to try out a lighter hue. Opt for lavender polish embedded with glitter to achieve the same shimmering finish
33. Short Multi-Colored French Coffin Nails
Colorful nails tell the world you're ready to have the time of your life or at least that you're feeling creative. Have fun with this vibrant double french design in yellow, orange, pink, and more vivid tones.
34. Short White and Yellow Glitter Lemon Coffin Nails
These nails are a mix of classy and sweet, coated in a milky white shade with pale yellow glitter lacquer and lemon nail art that pops right out at you from the side of the middle finger. It's an elegant look that doubles as playful and relaxed.
35. Short Sky Blue Swirl Coffin Nails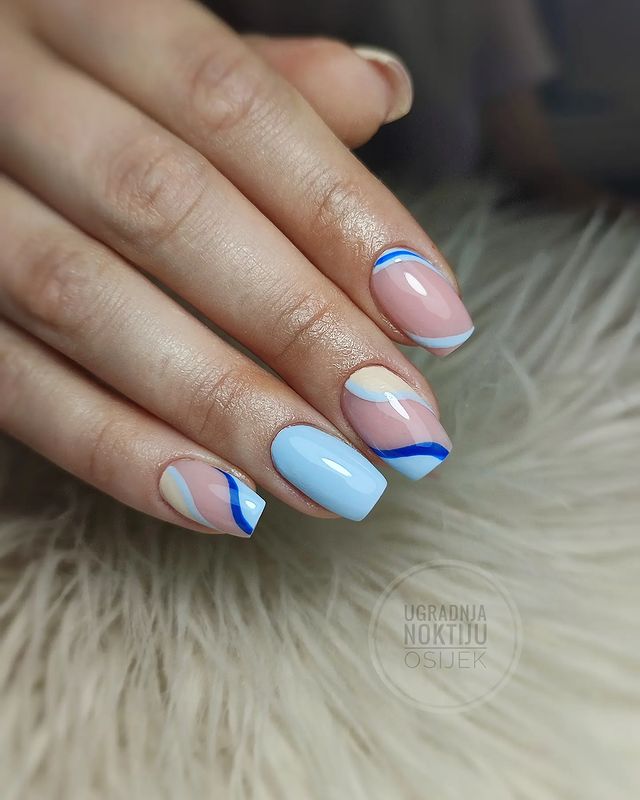 Blue nails remind me of the ocean and pure blue skies in the summertime. This look captures the aesthetic perfectly through a pattern of swirls that depict those tempting waves.
36. Short Sky Blue Cloud Coffin Nails
Cloud nail art has been taking over. Not only is it a super cute design but it's easy to achieve. For this look, white fluffy clouds are complemented by twinkling stars and light blue nails, creating the prettiest sky ambiance.
37. Short Multi-Colored Swirl French Coffin Nails
The moment I saw the matte finish of these colorful nails, I was won over, with Summer style instantly coming to mind. Even more impressive is the french nail design, as a nude base transitions to layers of blue, pink, and yellow.
38. Short Pink and Orange Ombre Jelly Coffin Nails
Pink and orange is a combo I love to see. In this jelly nail design, both colors are brought together in pastel shades with a seamless ombre effect. This look is enhanced by large and small spots and a glossy finish for a mesmeric sheen.
39. Short Pastel Pink and Blue French Coffin Nails
It's impossible to not get baby fever after seeing these nails. A nude base is used as the canvas for pastel pink and blue newborn footprints, gradient french tips, and a misty blend of both colors on the middle finger for a creative twist.
40. Short Peach-Pink Glitter Coffin Nails
Given the number of pink nail designs I've seen making the rounds online, I'm persuaded that pink has joined the neutrals club. 
The color works like a charm every time, guaranteeing a girly look that only gets better with glitter, as seen on the ring finger of this cute design.
SEE ALSO: 21 Trendy Pink Butterfly Nail Design Ideas
41. Short Wine Red Coffin Nails
I love the alluring quality that dark-colored nails have. This wine red mani would be perfect for a dinner party, and since darker tones are known to make you look more mature and professional, you can rock these at the office as well.
42. Short Monochrome Blue Swirl Coffin Nails
This look is an amazing example of how negative space can beautifully impact your design. It forms the foundation of this look, decorated by swirls of monochrome blue for an easy-to-achieve summer-inspired style.
43. Short Red and Pink Glitter Coffin Nails
These nails are among the girliest I've ever seen, pairing a bold red with soft sparkly pink and dazzling loose glitter to top it all off.
44. Short Hot Pink and Orange Ombre Coffin Nails
Short and sweet—these nails embody the warmth and fun spirit of Summer, varnished in a radiant hot pink to orange ombre design.
45. Short Nude and White French Coffin Nails with Swirls
French tips just got a whole lot fancier, thanks to the introduction of abstract swirls and line art that you can spin in your own cool way.
46. Short Pink and Blue French Coffin Nails with Flame Art
You can also dress up french tips with bright colors and bold designs. This look features flame art in pairs of red and white, enhancing a contemporary set of french tips, painted in light pink and blue.
47. Short Glossy White and Pink Ombre Coffin Nails
If you have a soft spot for creamy pastels as I do, then you're already melting at the sight of this chic combination. Coupled into an ombre design are milky white and light pink polishes, made irresistible by a glossy finish.
48. Short Pink Monochrome Coffin Nails
What better way to celebrate your love for pink than with a trendy monochrome design? Starting with a deep shade of pink on your thumb, follow a gradient theme by coating each nail in a hue lighter than the one before.
49. Short Orange French Coffin Nails
There can truly be no Summer fashion without orange. One of the most vibrant hues on the spectrum, an orange mani will spruce up your daily wardrobe selections. Rock the color with a french tip design to keep your look trendy.
50. Short Pink and White Polka Dot French Coffin Nails
Here's a fun way to incorporate polka dots into a french mani. Each white dot comes together to form a cute smile line that complements and adds a spark to the pink tips.
Summary and Top Picks
Convinced? Short coffin nails are leading the way, and the designs we've seen so far are all the proof we need. Whether you've got your heart set on a look that's classy, vibrant, abstract, or subtle, that can be easily achieved with a short coffin-shaped mani.
I was really impressed with manicures 10, 13, and 19. Their simplicity and style work hand in hand, and I found myself gravitating toward the unembellished beauty of their design.
Which of these short coffin nail designs won you over and why? What is it about the coffin nail style and length that you like the most? Let me know what you think. Share your thoughts on this list along with all the questions you'd like to ask down below.