Brown nail designs are in this year, and I'm loving the look of coffin-shaped talons. I'm always aware of embellishments when choosing brown nails. Brown is sometimes viewed as a drab color. I feel the opposite. Brown is rich, warm, and luxurious.
Accessorizing coffin brown nails is easy. I simply look for colors and textures than emphasize the depth of color. Metallics like gold, copper, and bronze are some of my favorite accent shades.
If you love brown manicures, you're in the right place! Here are some of my absolute favorite ways to dress up brown coffin-shaped nails.
1. Glossy Brown Nails With Gold and White Marble Accents
This set of coffin-shaped press-ons features glossy cocoa brown polish and two marble accent nails. The marble design includes varying shades of brown, cream, and metallic gold swirls. I love the coffee and cream vibe. Buy these nails at Etsy.
2. Solid Clay Colored Ballerina Coffin Nails
Not all brown nails need embellishing. These gorgeous clay brown coffin nails shine as a set of solids. I love the neutral look. They allow for a wide selection of outfit colors and styles. Buy these nails at Etsy.
3. Shades of Brown Ombre Nails
Ombre is huge in nail styles this year, and I love this set with intense darks and lights. From deep chocolate brown to creamy white, these coffin-style nails slay. Buy these nails at Etsy.
4. Glitter for Days Brown Coffin-Style Nails
This set of fall-inspired nails are glitter-rific. I love the addition of gold sparkles against a gradient of brown shades. It's a perfect reflection of the changing leaves. Buy these nails at Etsy.
5. V-Shaped French Tips in Dark Brown and Nude With Gemstones
I love v-shaped french tips. The finished look is so regal and commanding. This set of chocolate brown coffin-shaped nails features two stunning french-tipped accent nails complete with gemstone embellishments. #todiefor Buy these nails at Etsy.
6. Silver Glitter Accent Nail With Pale Caramel Brown Nails
Normally, I pair gold with brown, but this single silver glitter accent nail is killing me softly. The pale caramel coffin nails are enhanced by a platinum shimmer nail with crystal gemstones. Buy these nails at Etsy.
7. Mahogany Brown Nails With Geode Marble Accents
Accent nails are a great way to mix up brown nail designs. This set of mahogany nails looks stellar with the addition of geode-inspired gold marble nails. I adore the pink touches on the geode nails. Buy these nails at Etsy.
8. Watercolor Snake Skin Vibes on Brown Nails
This unique set of brown coffin-shaped nails is super chic. The snake skin design on these accent nails has a watercolor look. Artsy and fashionable. Buy these nails at Etsy.
9. Matte Brown Coffin-Shaped Nails With Marble and Gemstones
I'm obsessed with matte brown nails. This set of press-ons in brown and marble are very, "I am woman, hear me roar!" I love the colors used in the marbling. The brown shades intermingle with peach and yellow for a pop of color. Buy these nails at Etsy.
SEE ALSO: 21 Super Cute Pink and Brown Nail Designs
10. Subtle Gold Leaf Accents on Shades of Brown
This glossy manicure screams sophisticated glamor. I'm a huge fan of gold leaf on brown nails, and this set of coffin press-ons is doing it right! Just a hint of gold on two caramel-colored accent nails. Buy these nails at Etsy.
11. Coffee and Cream Swirl Manicure
This blend of cream, caramel, nude, and copper create a swirl of fall colors. The pattern on these coffin nails is so fun. It adds a little whimsy to an otherwise refined manicure style. Buy these nails at Etsy.
12. Gingerbread Nails With Garnet Embellishments
Obsessed! I love love love this chic set of autumn-inspired press-on nails. With gingerbread brown, hickory glitter, and glittering garnet gemstones, they're sure to turn heads. #highlyrecommend Buy these nails at Etsy.
13. Gold and Tawny Marble With Solid Brown Manicure
You can never have too much gold with brown. This set of gorgeous solid and marble coffin-shaped nails glitter all the way. I'm a big fan of the single french tip accent nail. Buy these nails at Etsy.
14. Caramel Ballerina Nails With Cream Swirls
A swirly marble-inspired manicure is a great way to jazz up simple brown coffin nails. These are anything but simple. A mix of cream and caramel, with solid caramel nails. #whatcouldbesweeter Buy these nails at Etsy.
15. Silver Glitter Butterflies on Pale Brown Nails
I adore these tan colored nails with a glossy clear coat and shimmery silver butterflies. A single solid accent nail in matching tan with a matte finish is the perfect way to complete the look. Buy these nails at Etsy.
16. Nude and Chocolate Brown Swirl Nails
Swirls are a fun accent for brown nail designs. I'm loving this coffee cake-inspired swirl. Against the nude nail, the dark brown pops. It's a very sassy look.  Buy these nails at Etsy.
17. Light Mahogany Matte Nails With Gold Leaf Accent Nails
This glittery look needs no added accessories to sparkle. Matte mahogany nails are chic and sophisticated, while clear accent nails with gold leaf shine. I love the contrast of gold and brown together in this design. Buy these nails at Etsy.
18. Brown, Nude, and Rose Gold Glitter Coffin Nails
Rosegold glitter turns a simple brown ombre effect into something special. This look is perfect for any event with a champagne pop. I'd wear it anywhere. Buy these nails at Etsy.
19. Clear to Brown Ombre With Gold Flower Decals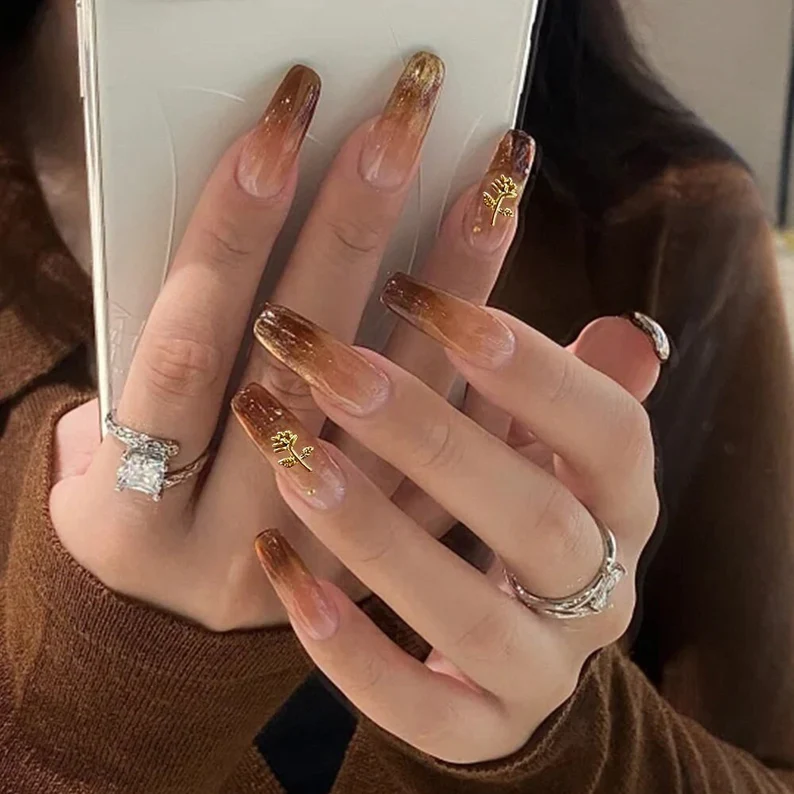 Clear nails are my jam. This set combines two of my favorite nail colors—brown and gold. The shimmery ombre effect on the brown portion of the nails is emphasized by delicate gold flower decals. #simplylovely Buy these nails at Etsy.
20. Polkadot Coffin Nails With Brown French Tips
This 1950s inspired set of polka dot press-on nails gives me Marilyn Monroe vibes. Brown and white french tips with a natural glossy base are flirty and fun with accenting spots of color. Buy these nails at Etsy.
21. Leopard Print Coffin Nails in Brown and Beige
Take a walk on the wild side with this set of coffin-shaped press-on nails. The animal print draws the eye and amps up the brown and beige color palette. I love the leopard print! Buy these nails at SHEIN.
Summary and Top Picks
This blog is all about my love of coffin brown nail designs! I hope you've found some new styles to add to your lookbook. Brown is a beautiful color, especially when paired with the right accent tones. Dress it up with rings and embellishments to make it shine.
I adore all these looks, but my three favorites are:
#5 V-Shaped French Tips in Dark Brown and Nude with Gemstones: French tips are elegant and timeless. This dark brown and nude combination is enriched with tiny crystal gemstones.
#12 Gingerbread Nails With Garnet Embellishments: I often pair gold and brown, but these garnet accents are some of my favorite. I adore the contrast of brown with red glitter and gemstones.
#19 Clear to Brown Ombre With Gold Flower Decals: Delicate gold flower decals create an ultra-feminine coffin-shaped nail design. Brown ombre makes the gold pop.
I chose a lot of brown nails with metallic decor. What are your favorite ways to style brown coffin nails? Comment below with your top look.